Last updated on November 23, 2021
Christmas can be a stressful time of year – especially if you're living with a disability. But there are ways to help people out and make their lives easier.
Below we explore how you can support your disabled relatives and friends over Christmas.
Table of Contents
Do They Have the Right Supplies?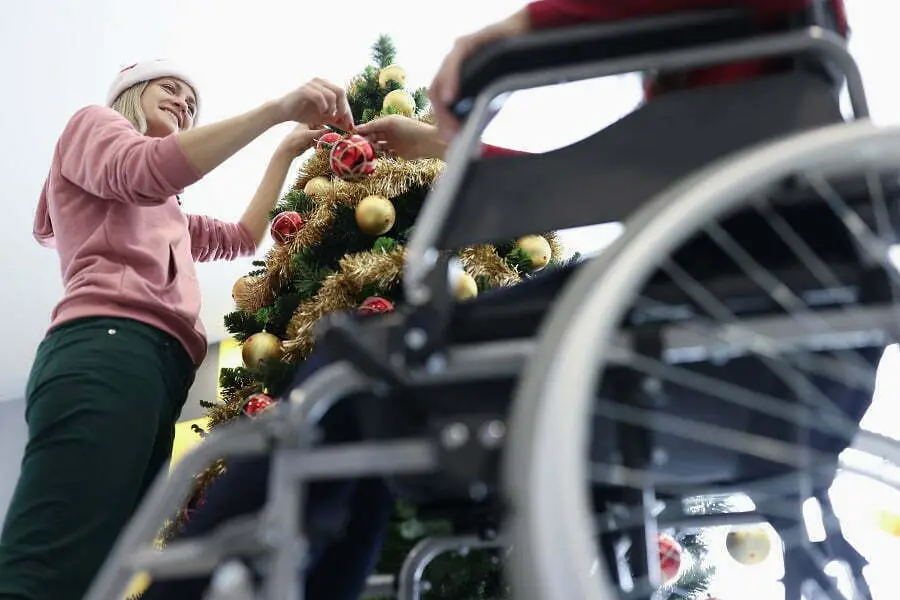 Christmas is often accompanied by freezing weather and dangerous road conditions, making it difficult to quickly gather supplies. One way to support disabled friends is to check that they have adequate food and drink supplies in this period. The supplies needn't be extensive but should be enough to cover emergencies. If a friend or relative does find themselves understocked, you can help out by gathering supplies on your next trip out.
Do They Have the Right Medication?
In a similar vein, it's worth checking to see if they have the right medication leading up to Christmas. Both doctors and pharmacies might have less availability over Christmas, so you don't want to find yourself in an emergency. Make sure your friend is stocked up and offer to help out if there's an emergency.
Check-in on Them
If you know someone living alone then you should make sure they have someone to check up on them over the Christmas period. If they have a carer, then you should ensure that they have check-ins scheduled during this time. If not, then family or friends could be called upon to pop over from time to time to make sure everything's okay.
Make Your Home Accessible
If they are coming to spend time with you in your home over Christmas, you should prepare in advance to make sure it's accessible and welcoming. If you'll be driving it could be worth buying a wheelchair-accessible vehicle for practicality. At the same time, you should be aiming to make it as simple as possible for your friend to get around your house. This could involve sleeping on the ground floor and ensuring any patio outside isn't slippery.
Virtual Help
If you can't physically meet up this year, then you can still catch up and check in virtually. A video-call can be one ideal way of achieving this – this can either be a one-off, or a series of checks of the Christmas period. A family video call can be a lovely way of getting family from all over the world catching up and enjoying the festive period together.
Christmas is a time where you should provide extra support to those with a disability. You can achieve this through regular check-ins, virtual support, as well as arranging for them to be stocked up on crucial supplies.
Continue reading: