Last updated on October 26, 2023
Transform the mundane necessity of a bathroom trash can into a fashionable accessory because even small spaces deserve big style.
I'm proud to have crafted this article on 20 Stylish Bathroom Trash Can Ideas for my readers, hoping that you will not only find it inspiring but also enjoy it as much as I loved creating these unique designs.
Looking for a way to blend functionality with style in your bathroom? You've landed at the right place.
This article will provide you with creative and practical ideas for bathroom trash cans that not only serve their purpose but also enhance the overall aesthetics of your space.
From chic, compact designs to eco-friendly options, we've got it all covered.
Stick around to uncover the perfect trash can that matches your bathroom decor and fits seamlessly into your lifestyle.
Let's dive into the details and transform your bathroom into a stylish and efficient space.
Pedal Bin With Soft Closure Lid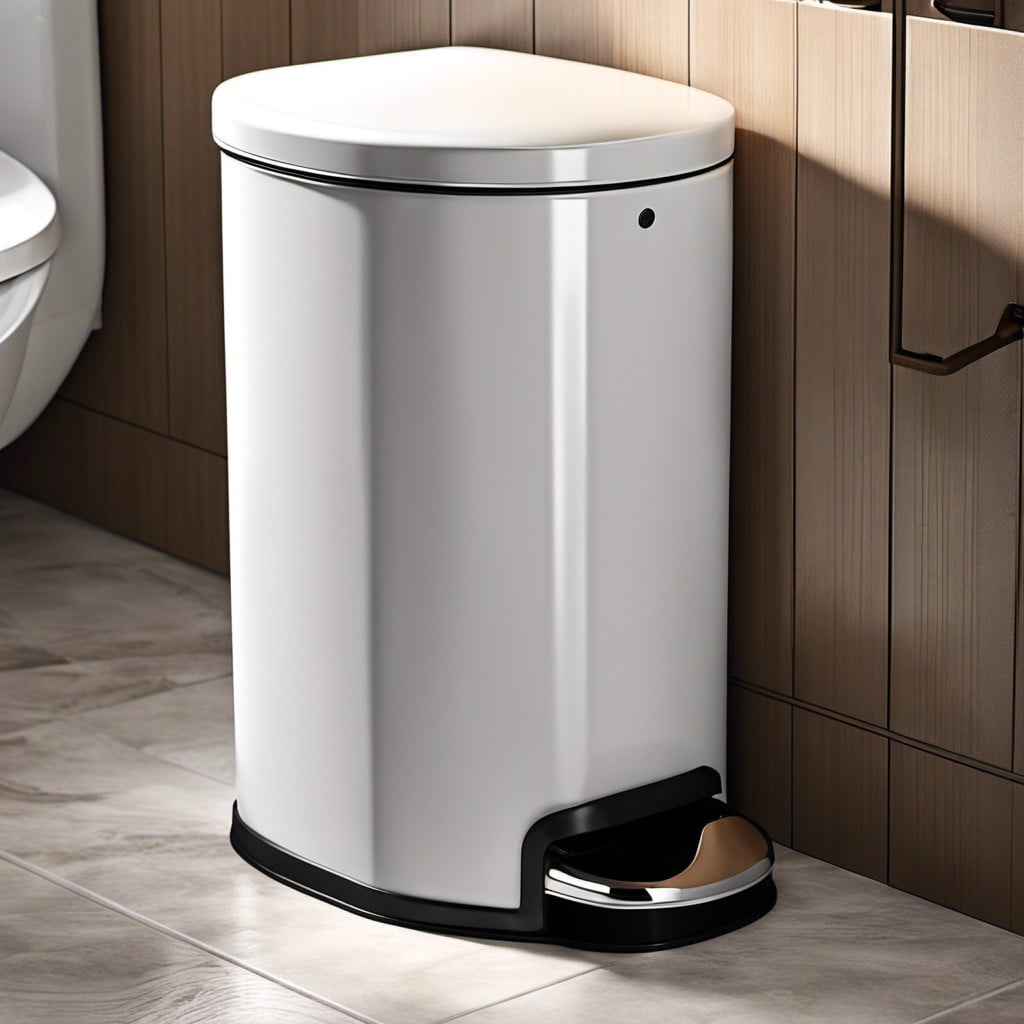 What's key about this type of trash can is that it's built to be long-lasting and extremely user-friendly. With just a gentle press of your foot, the lid opens up — no hands required! The soft closure lid design ensures that it closes silently, preventing any harsh banging noises. This feature also significantly decreases the wear and tear on the bin over time, contributing to its durability.
The mechanism's design ensures the lid stays open if required, great for tasks that need both hands. It's not just about functionality – the outer aesthetic is also considered, with sleek finishes in various metallic or neutral shades to blend seamlessly with your bathroom décor. They're available in a variety of sizes, perfect for bathrooms of any dimensions. Remember, the goal is an optimum balance of design, durability, and user-friendliness.
Trash Can With Automatic Sensor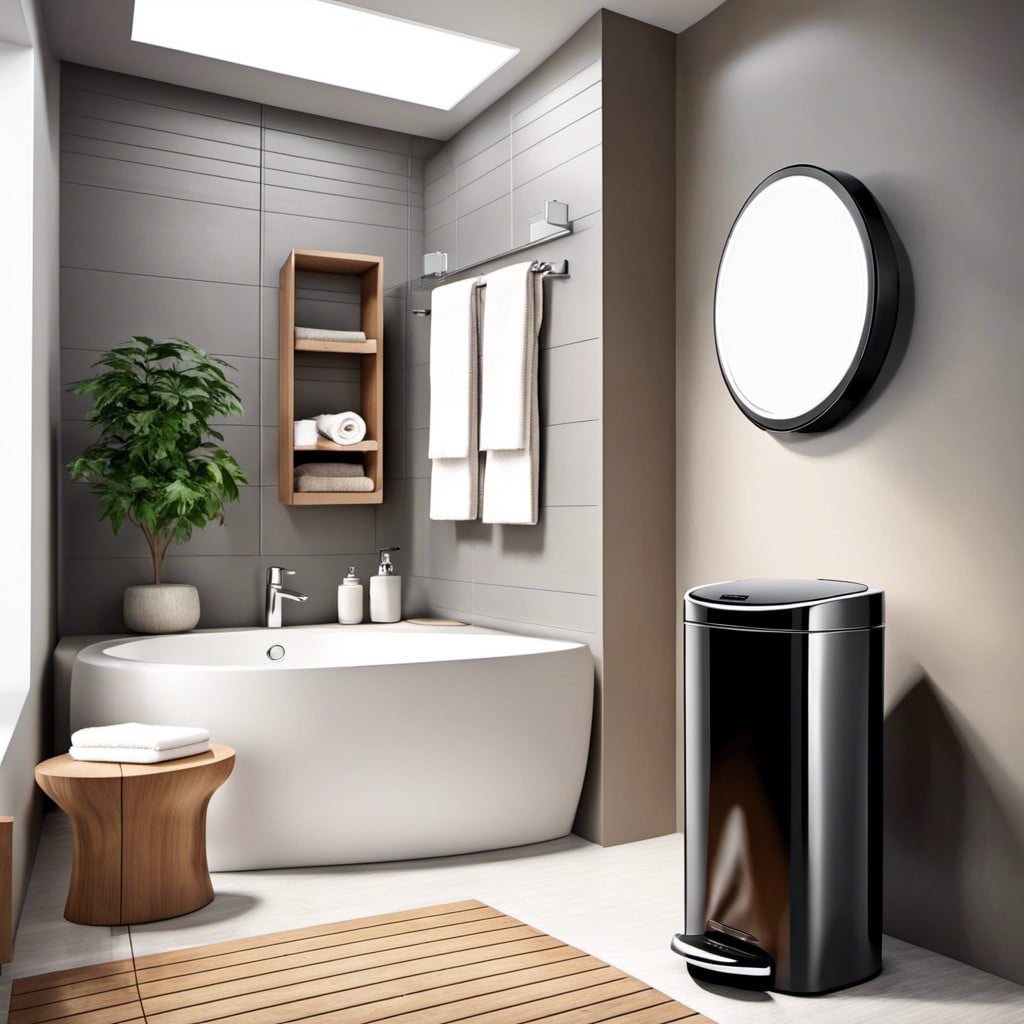 An automatic sensor trash bin is a smart choice for a contactless waste disposal experience. Its intelligent design allows for effective waste management without having to touch the lid, a handy feature especially in hygienic environments like bathrooms.
Here are the key points:
Sensors detect motion and automatically open the lid.
It uses battery power, ensuring continuous operation.
These bins come in various sizes, from compact to larger versions.
Generally made of stainless steel for durability and style.
Can be operated manually during power shortages.
This no-touch option promotes better hygiene, modernity, and convenience in your bathroom area.
Wicker Basket Trash Bin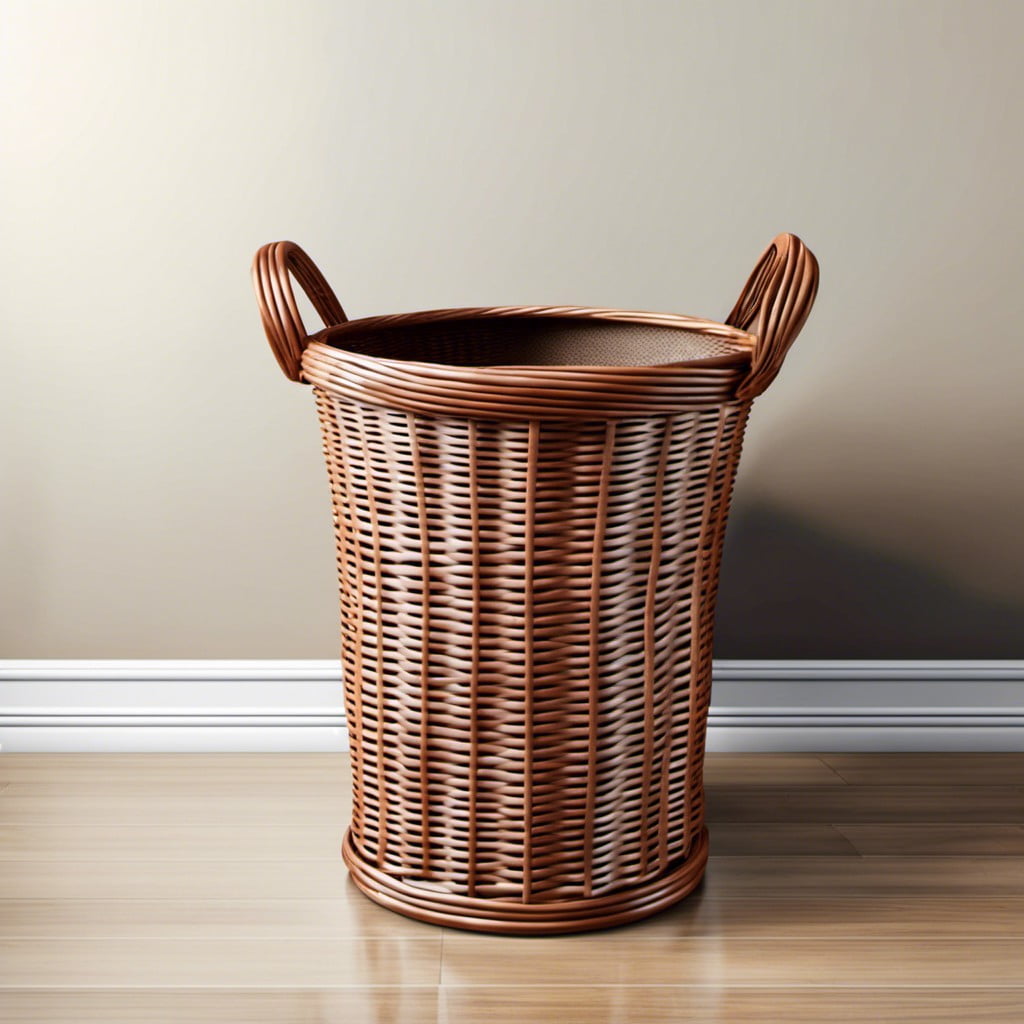 In every bathroom, functionality and style need to harmonize, and a wicker basket as a trash bin does a wonderful job at this. Its natural texture brings a warm, earthy feeling, providing a sense of hospitality and charm.
Being lightweight yet sturdy enough to endure daily use, wicker is a practical choice. It's also easy to clean with just a damp cloth. Since it comes in various shapes and sizes, it's simple to find one that suits your bathroom layout.
Moreover, the open-weave design of wicker provides a sophisticated look while silently promoting sustainability. A tastefully chosen wicker basket can turn an ordinary trash bin into a decorative element, effortlessly blending with the rest of your bathroom décor. Carry on this earthy theme by pairing it with matching wicker baskets for storage.
Vintage Style Bin With Foot Pedal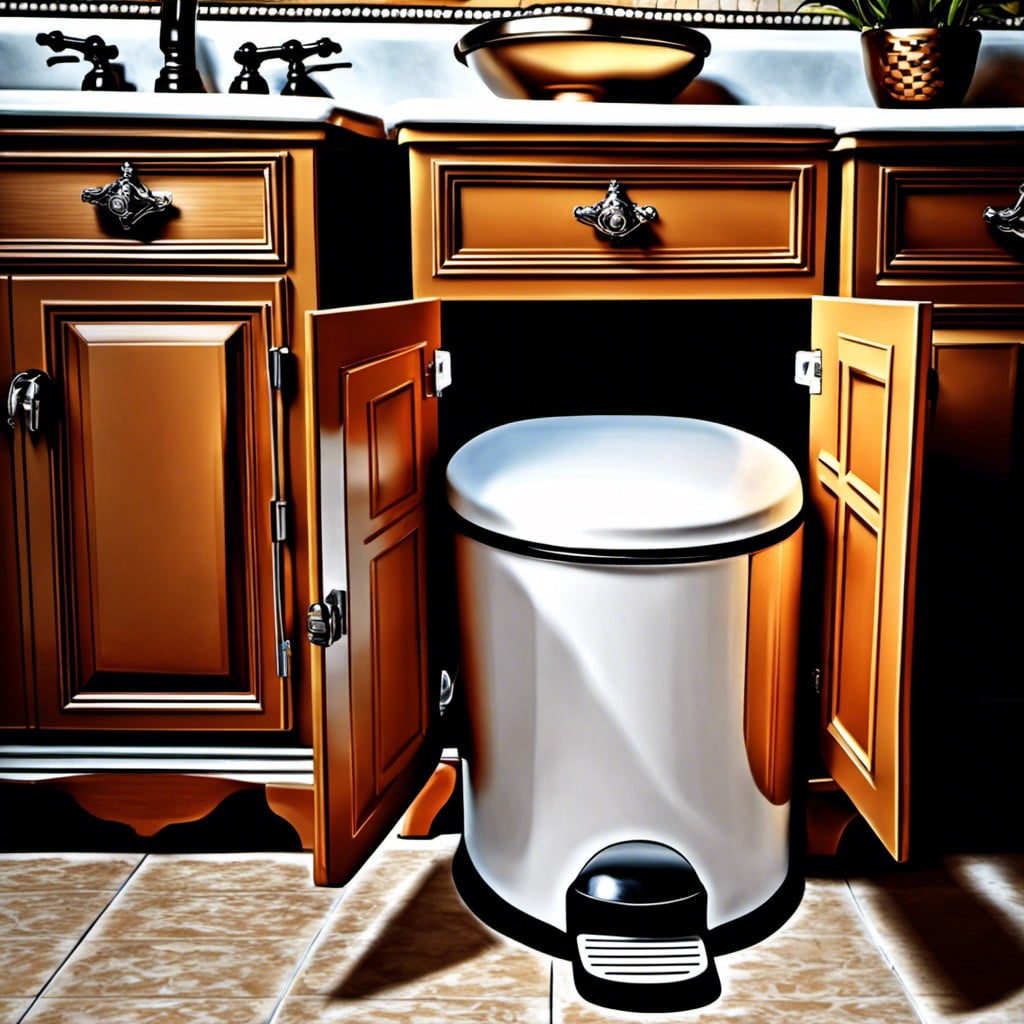 These bins certainly make a chic statement, their old-fashioned design combined with utility make them a popular option.
The foot pedal ensures you don't have to touch the lid, thereby maintaining hygiene.
You can find these bins in a variety of materials, including metal and wood, which further add to their aesthetic appeal.
Plus, their sturdy design makes them durable, which means they're an investment that will serve you for years.
They fit well with any decor style, but especially bring out the charm in a home that uses vintage or rustic themes.
Stainless Steel Slim Trash Can
Crafted from highly durable materials, this svelte option is perfect for those looking to save space without compromising on style. Its unique slim design provides a large holding capacity despite its slender form, making it easier to keep those unsightly heaps of trash out of sight.
Disposing of waste is a breeze thanks to the built-in foot pedal, providing a hands-free, hygienic solution. This trait, accompanied by an easy-lift lid, ensures that any unwanted smells are reliably contained. Additionally, the brushed stainless steel finish not only guarantees longevity but also enhances any bathroom decor with its minimalistic elegance.
Remember, its lean figure suits even the tiniest of spaces – a savvy choice for those tight corners or next to the sink.
Mini Desk Trash Bin for Vanity
With its petite size and chic design, this little wonder is perfect for disposing of those cotton pads, makeup wipes, and occasional beauty product fails.
Placed on your vanity, it helps maintain a neat, clutter-free space, promoting an enjoyable and hassle-free beauty routine.
Consider models featuring lids to eliminate unwanted smells or touchless designs to avoid stains on the shiny surface.
Plus, their small footprint makes them easy to tuck away into corners while still being within arm's reach.
Some designs even come with mini brooms and dustbins, further simplifying the cleanup after a beauty session.
A fun, functional, and fashionable addition to your vanity.
Hanging Trash Bin for Cabinet Doors
Swing-out or attachable hanging bins are a functional and space-saving solution, especially fitting well into snug bathroom spaces. With minimal installation, these bins conveniently hang over cabinet doors, keeping waste off your bathroom floor while also tucked out of sight.
Enjoy the quick and effortless disposal of waste items. There's no wrestling with a lid or stepping on a pedal. Simply swing the bin door and drop in your trash. Plus, it's always easy to reach – even if you've got your hands full.
Choose from a variety of designs and materials to blend seamlessly with your bathroom decor, from clean plastic designs to sophisticated stainless steel options. The sizes also vary, allowing you to select an ideal bin based on your waste disposal needs.
For maximum efficiency, opt for models with an incorporated bin liner fixer to avoid the bag slipping out of the place. The vast majority of hanging bins are also easy to detach for quick emptying and cleaning, adding convenience.
Though the location is unseen by guests, it's easy to access for you. A hanging bin undoubtedly provides a perfect blend of functionality, style, and discretion, making the most out of your space.
Dual-compartment Recycling Bin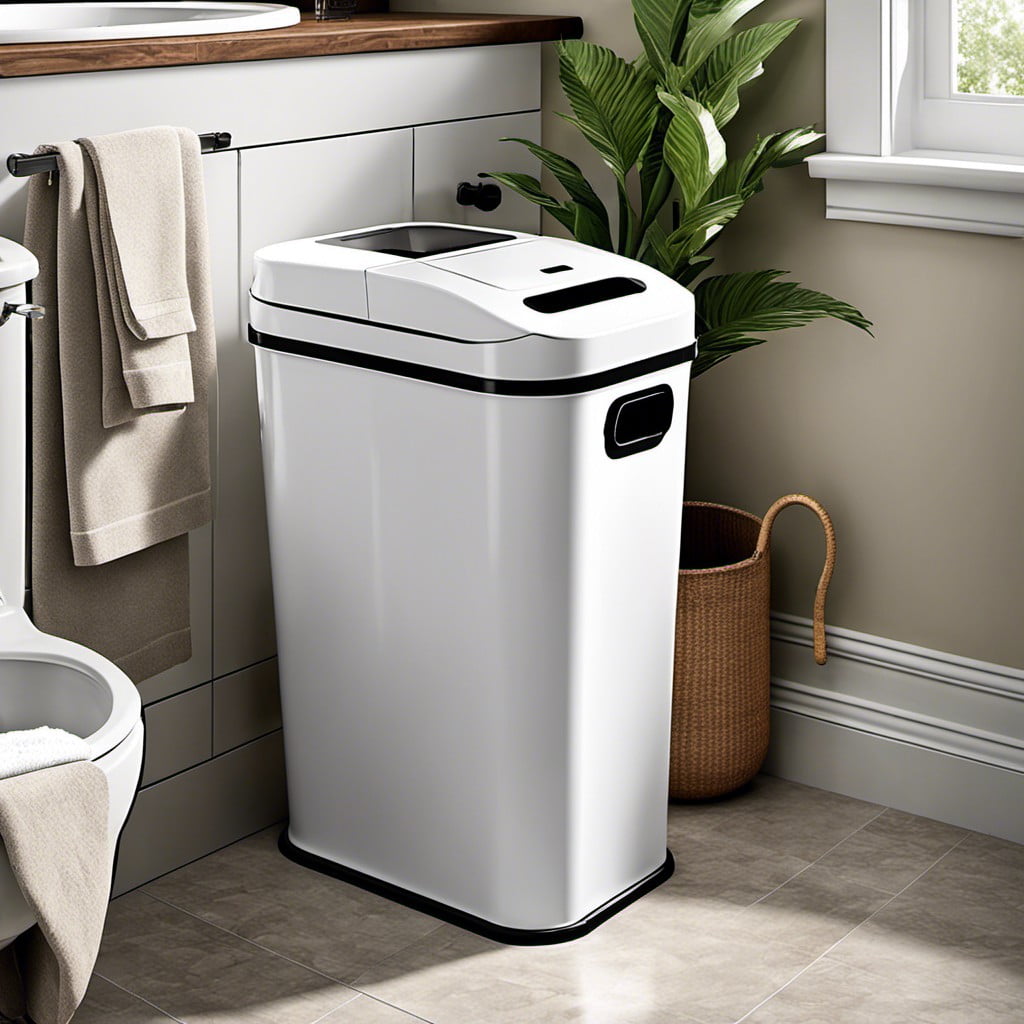 The beauty of this option lies in its added functionality and commitment to the environment. This dual feature enables you both to dispose and sort your waste in the same place. You dedicate one side to general waste, while recyclables can be stowed on the other.
Here are a few points with this innovative pick:
1. Keeps Tidiness: It invites you to tidy up easier due to immediate sorting.
2. Environmental Friendly: This bin promotes an eco-conscious disposition in your home.
3. Space Efficient: It prevents clutter by having two waste systems in one compact unit.
4. Easy Disposal: It allows for easy disposal once it's trash or recycling pick-up day.
No sacrifices should be made on style – availabilities range from sleek stainless steel to vividly colored plastic bins. With the right size, it can snugly fit within any bathroom setup. You'll be wowing guests with your stylish yet considerate trash disposal system.
Sleek Design Touch Top Bin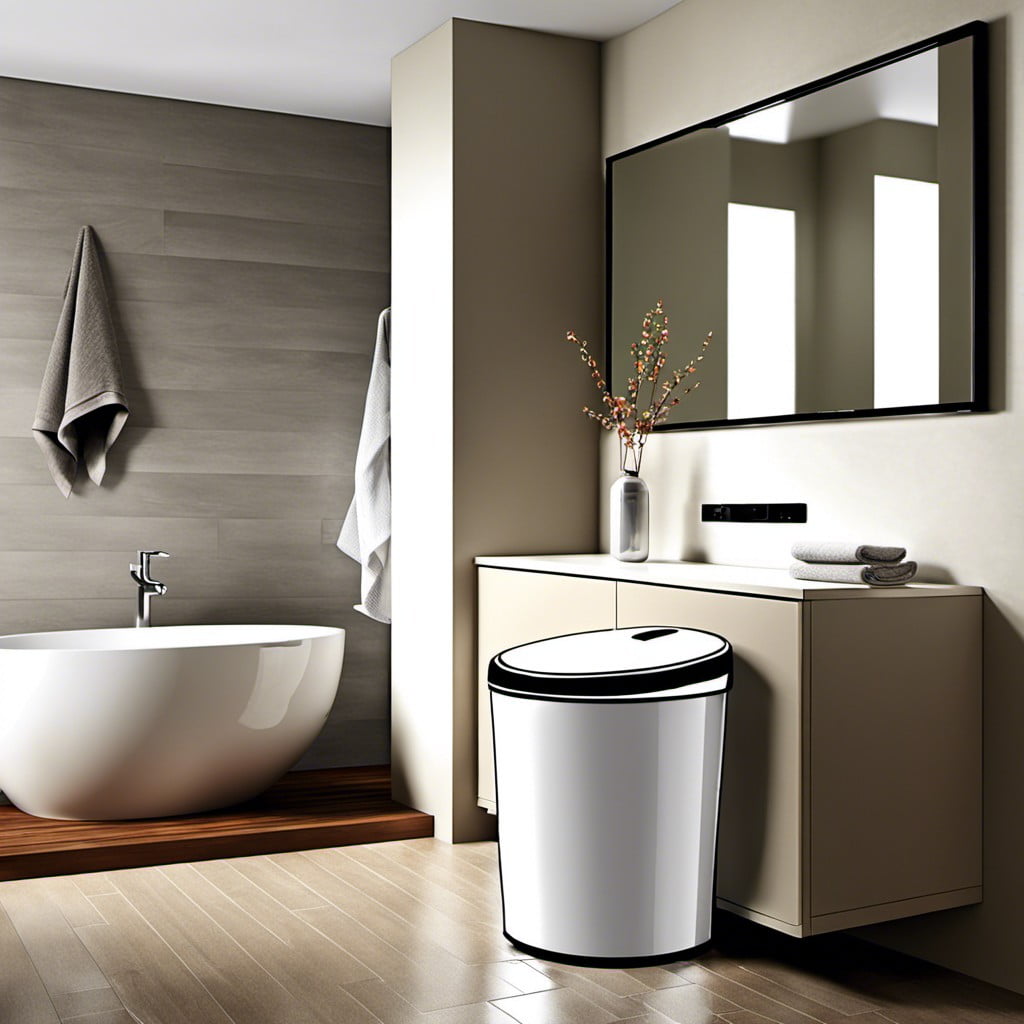 Primarily alluring for its aesthetic appeal, these models are perfect for modern, minimalistic bathrooms.
The touch top functionality offers simplicity; a light press on the top suffices to open, eliminating the need for foot pedals or handles.
It's an ideal solution for maintaining a clean surrounding, as you don't have to touch the bin itself, which can reduce germ spread.
The sleek design also ensures it fits well into narrow spaces or corners, thus taking up minimal room.
Materials vary from leather to plastic to stainless steel, matched to your overall bathroom theme; the options are vast.
Variations in color and finish further personalize your choice, making this not just a functional item but a fashion statement in your bathroom.
Ceramic Trash Can With Lid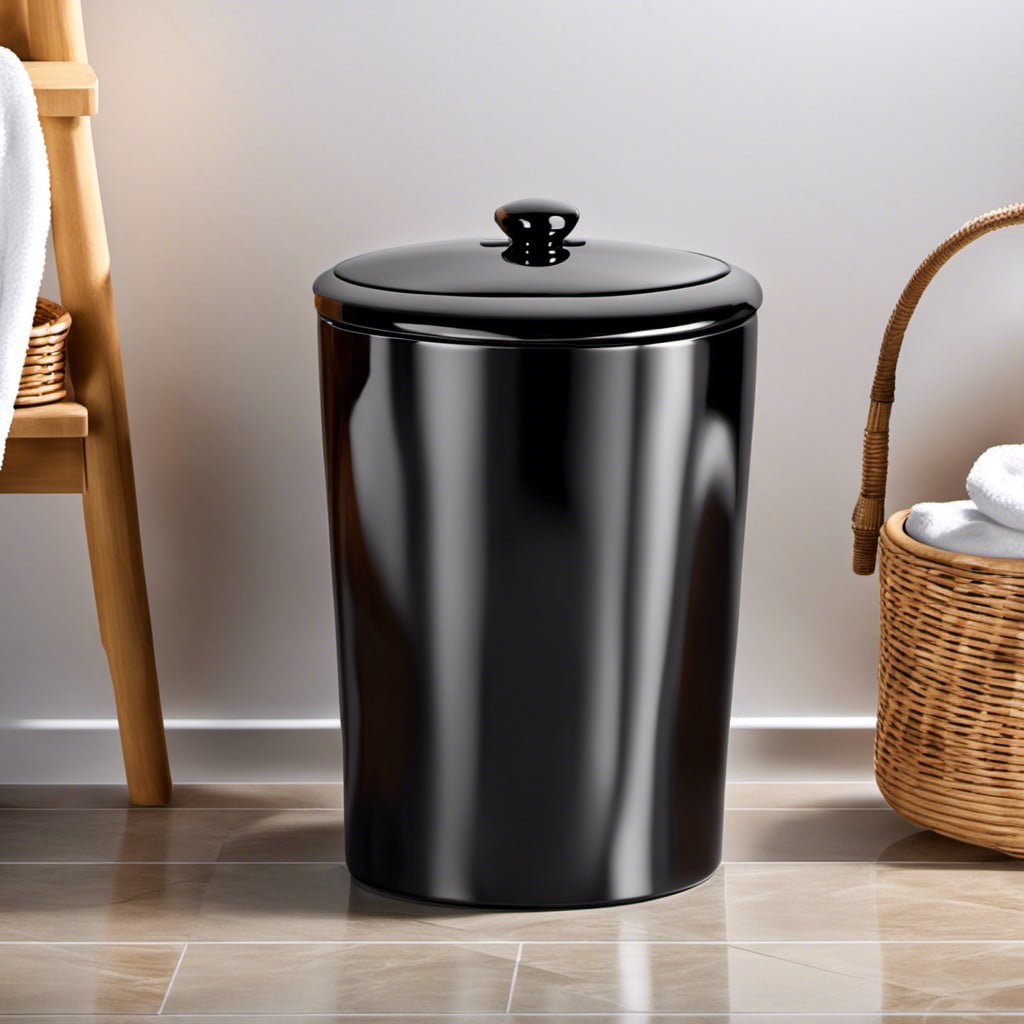 Crafted with precision, these containers are a delightful addition to any bathroom, both practically and aesthetically. The ceramic finish is smooth to touch and luxurious to behold. Sturdy and resilient, it's built to withstand exposure to moisture, making it especially apt for the restroom environment.
With a matching ceramic lid, it ensures your waste is hidden out of sight, maintaining cleanliness and preventing any unpleasant odor from escaping. The container's design allows for easy opening while also fitting securely to prevent accidental spills.
The best part? Variety in design and color. From minimalistic whites to glossy blacks, ornate floral designs to avant-garde patterns. No matter your bathroom decor, there's a ceramic bin to match or contrast beautifully.
Maintenance is pretty straightforward – a damp cloth or, for more thorough cleaning, soapy water is all you need. This ceramic elegance truly combines style, sturdiness, and simplicity.
Bamboo Made Eco-friendly Bin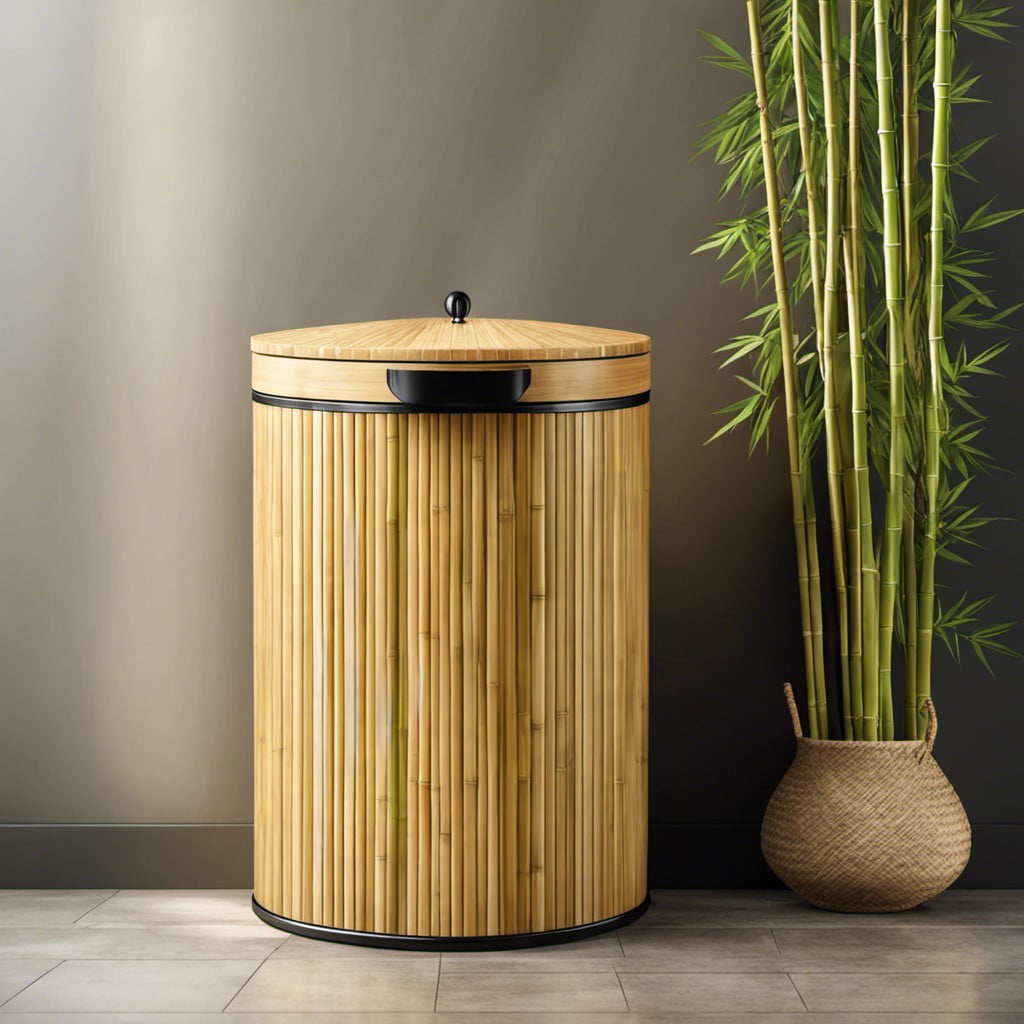 While maintaining a stylish decor, it's important to consider the ecological impact as well. And one such option that marries aesthetics with sustainability is a bin made from bamboo.
Here are three key reasons why this is an excellent choice:
Environmentally Friendly: Bamboo is a renewable resource that grows rapidly. This makes it a sustainable choice that leaves a smaller carbon footprint than other materials.
Durable and Robust: Despite its light weight, bamboo is incredibly strong and durable. You can count on this bin to withstand day-to-day usage.
Naturally Stylish: The unique, warm texture of bamboo can complement almost any bathroom decor, adding a lovely hint of natural beauty.
Choosing a bamboo bin is a small, yet effective step towards living in harmony with our environment, without compromising on style or durability.
Plastic Free-standing Roll Out Bin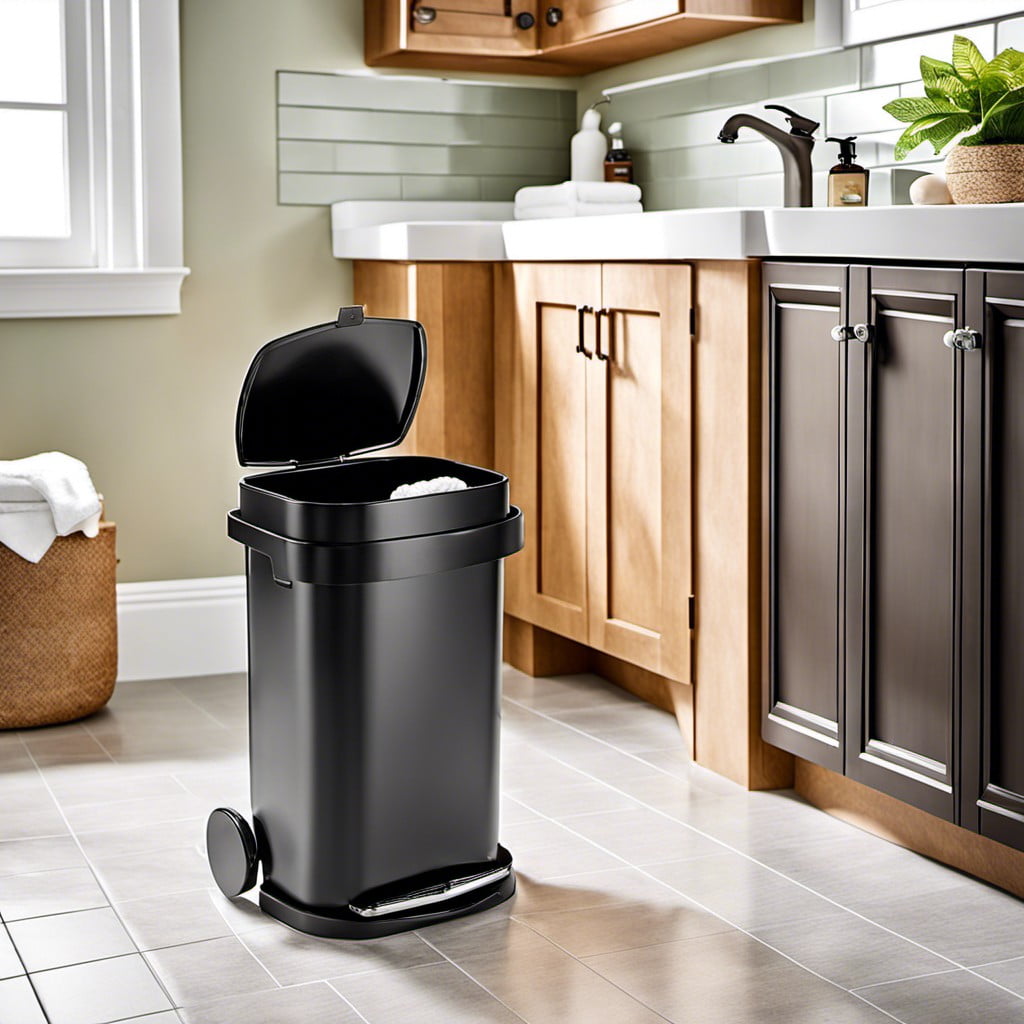 This design boasts both practicality and affordability. Concealed within your bathroom cabinet, these bins glide smoothly on a track, keeping your space tidy. Plus, you don't have to look at your waste bin all the time.
Maintenance is a breeze, it's easy to roll out, remove the bag, and replace. It saves floor space, making your bathroom look neat and spacious. Also, the bin's plastic material ensures durability and ease of cleaning.
Convenient, functional, and out of sight when not needed – the perfect blend of utility and discretion.
Wall-mounted Waste Bin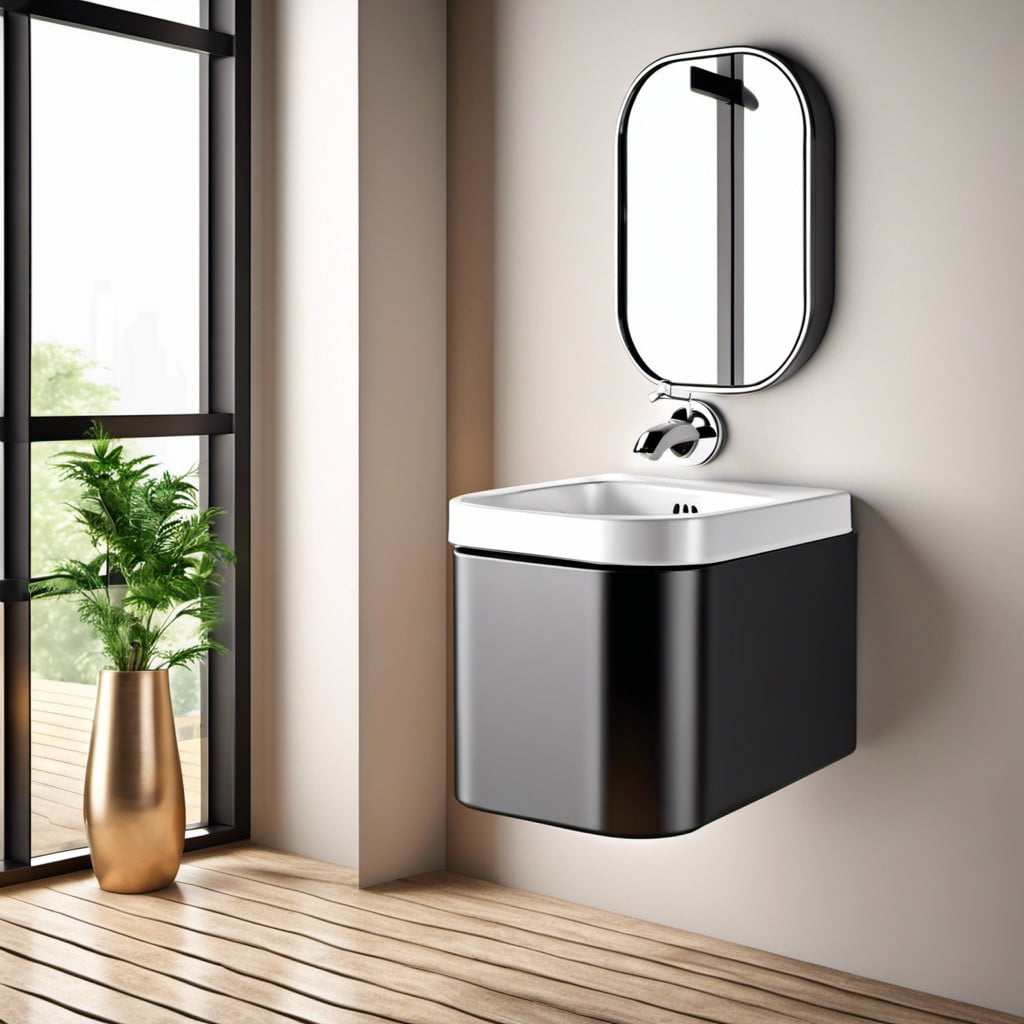 An attractive solution for small bathrooms, a wall-mounted bin provides a clever and space-saving alternative. It optimizes your floor space while maintaining the aesthetics of your bathroom.
Choose a style and material that complements your decor, such as stainless steel for a modern look, or a matte black for an industrial edge. With easy installation, often just requiring adhesive strips, these are ideal for renters as well.
And let's not overlook the ease of cleaning; a quick wipe down or the occasional removal can keep things spotless. Consider models with a lid to ensure a neat look and keep odors contained. For more convenience, opt for units with removable liners for effortless trash disposal.
Compact Trash Bin With Swing Top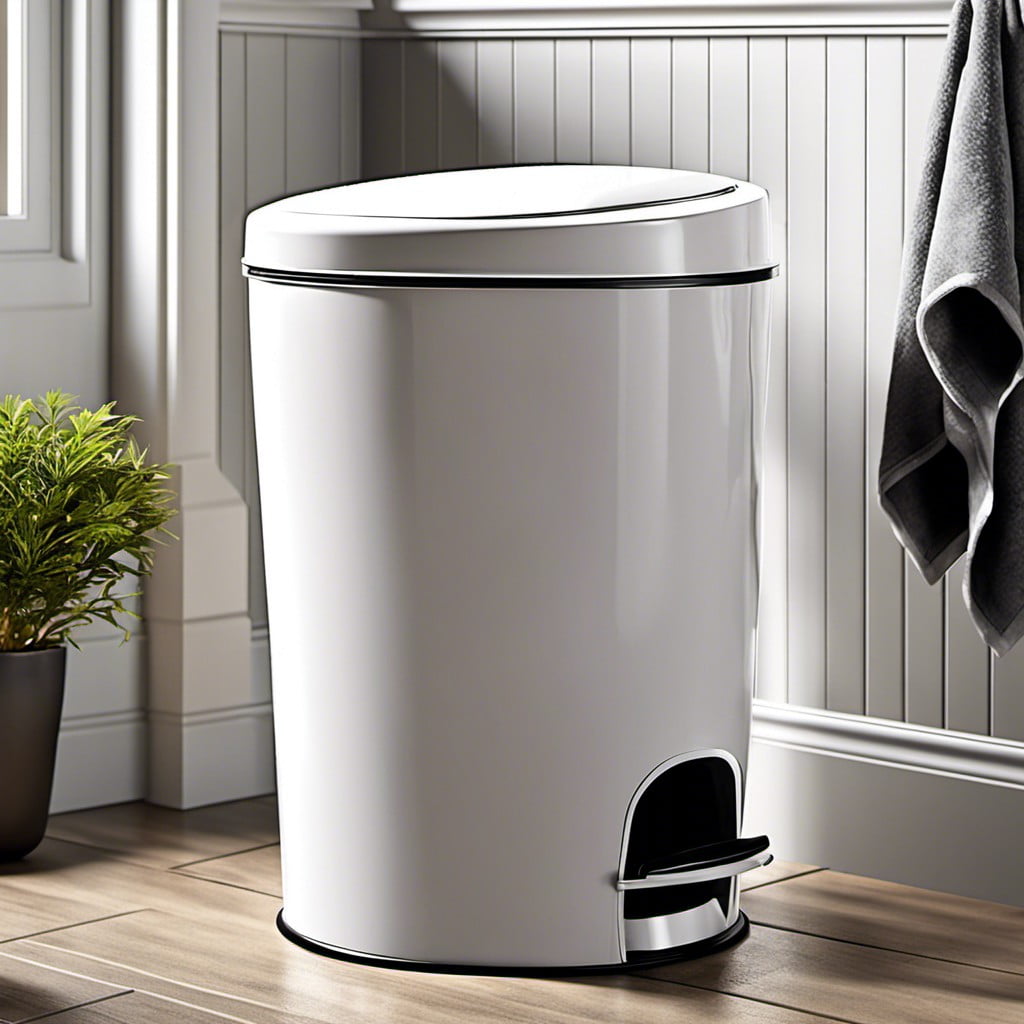 This option offers a seamless balance between style and practicality. Its compact size makes it ideal for small bathrooms or for use under the sink.
The swing top design makes it easy to dispose of scraps and toiletries, and it closes automatically to keep unsightly waste out of sight.
Being lightweight, it's easy to relocate, making it perfect for those who prefer flexible decor arrangements.
Easy to clean due to the absence of mechanical parts, it serves as a low-maintenance yet effective solution for waste management.
It is also a great choice for those who prefer an unobtrusive presence of a trash bin in the bathroom.
Decorative Metal Waste Basket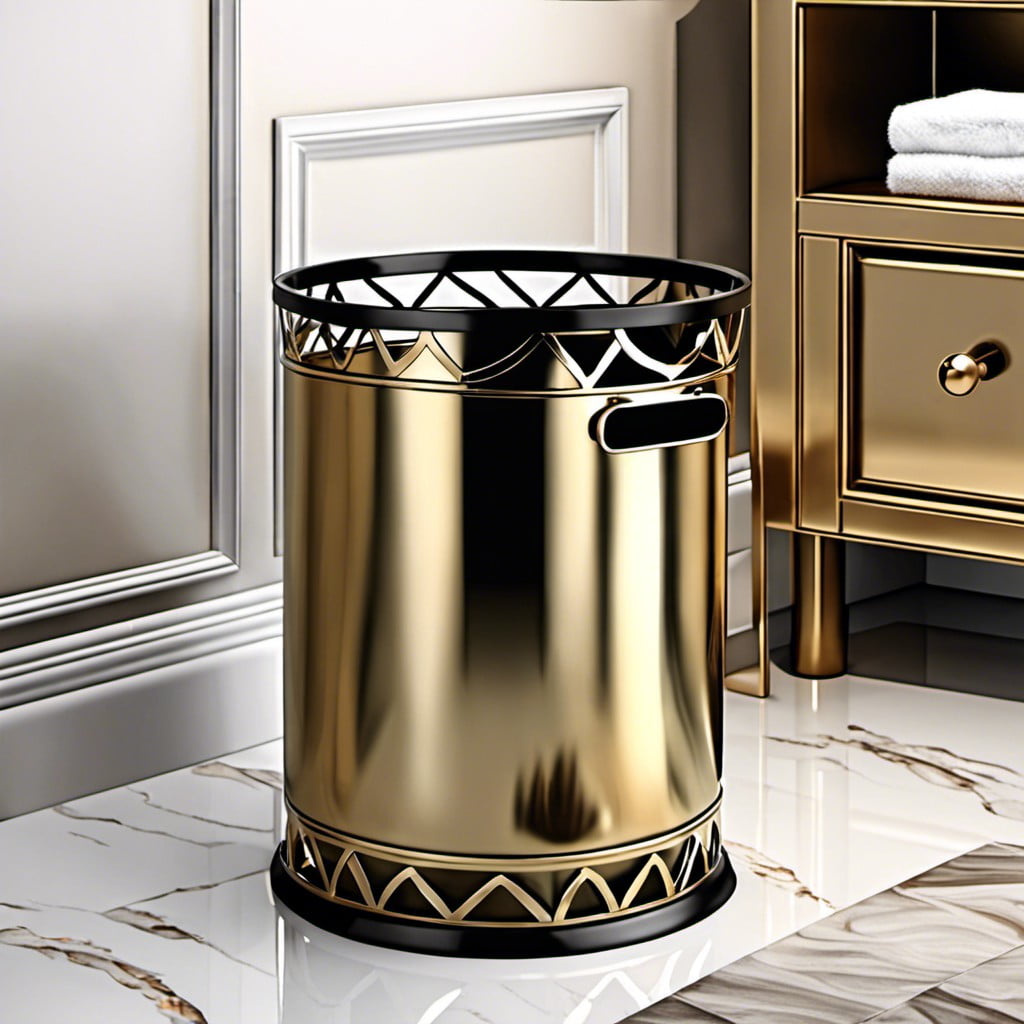 Gracing a bathroom with an unexpected dose of sophistication, this option embodies both functionality and aesthetics. Its sturdy design ensures it can handle daily use, while the perforated patterns add a touch of elegance.
Depending on personal taste, you can find models ranging from intricate floral designs to minimalist geometric patterns. Another advantage is ease of cleaning; a damp cloth is enough to keep it shiny. The fact that it doesn't hold onto odors like some other materials are added bonuses.
The best part? There's an array of finishes to choose from – shiny chrome, brass, matte black. Changing the appearance of your bathroom could be as simple as choosing the right metal waste basket!
Corner Trash Bin for Space Saving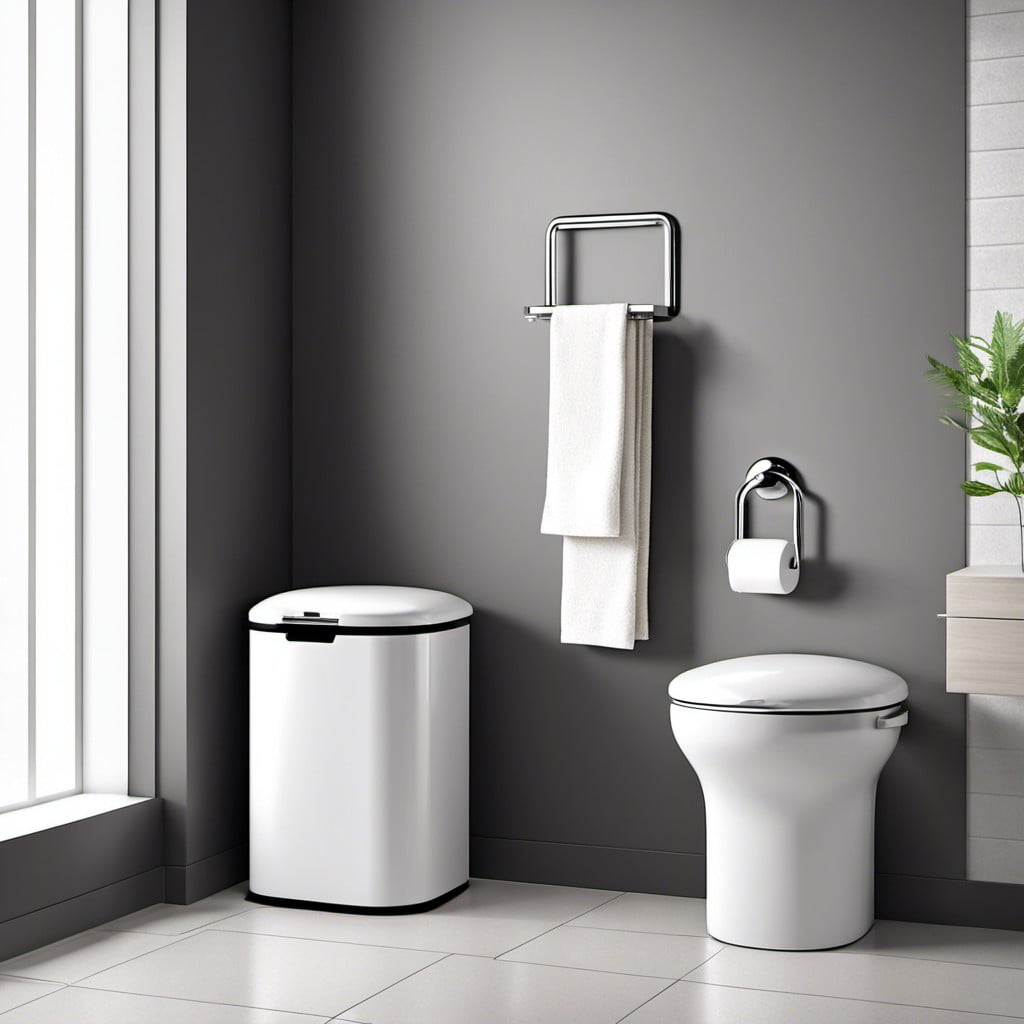 Making use of every inch of your bathroom is essential and corner bins are perfect for optimizing space. Designed to fit snugly in any corner, these bins won't interrupt traffic flow or take up room. With many fashionable designs and durable materials like stainless steel, plastic, or bamboo, these bins not only serve a functional purpose but also add a stylish touch to your bathroom decor.
Consider models with lids for better odor control. Remember, the height should be manageable for easy disposal, and the size should correspond to the amount of waste produced in your bathroom. For cleaning ease, opt for bins with removable liners.
This cleverly positioned waste solution proves that convenience and style can go hand in hand.
Roll Top Waste Bin for Under Sink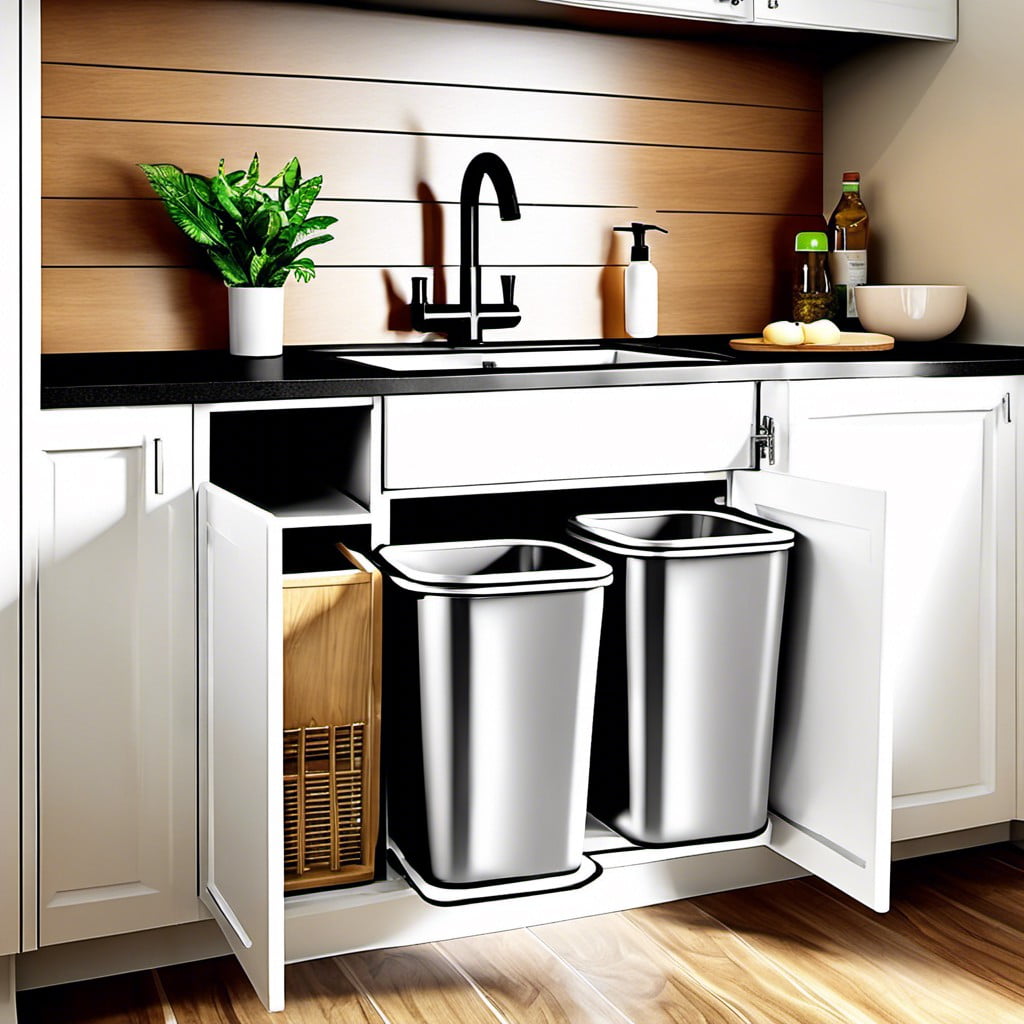 Slipping out of sight when not in use, a roll top bin is a great under-sink solution. Its easily-operable cover adapts to restricted spaces, making it perfect for bathrooms that want to maintain a clutter-free look.
1. Space Efficient: Its design optimises the often-unused space under your sink.
2. Ease of Use: The roll-top mechanism ensures accessibility even in tight spaces.
3. Enhanced Aesthetics: Keeps trash hidden from sight, not interfering with your bathroom décor.
4. Hygienic: Helps contain odours and maintains general hygiene.
5. Assorted Material Options: Comes in various materials including stainless steel or plastic to match your style.
This type of bin serves not only its purpose but also your overall bathroom aesthetic. It enforces efficiency in your space without sacrificing the design value.
Rustic Wooden Trash Bin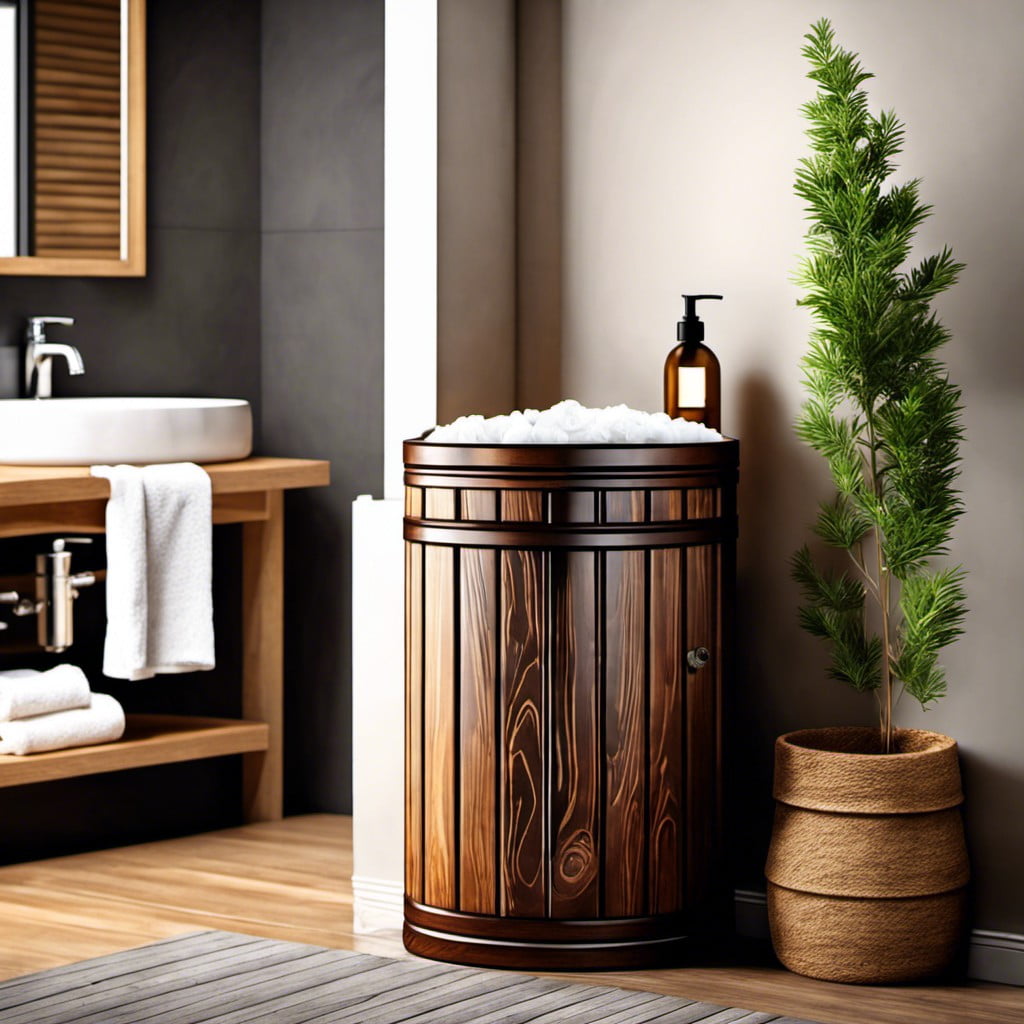 Embracing the warm authentic charm of this style, the bin introduces organic textures that instantly make a bathroom feel homely.
The weathered wood or distressed finishes contribute to a cozy, lived-in aesthetic.
Functionally, these bins conceal trash in a way that aligns with a country cabin or farmhouse setting.
Additionally, you could opt for a design with rope handles for effortless transportation and emptying.
To achieve a cleaner interface, consider a hinged lid or a lift-off variant.
Remember, the key is the harmonious blend of utility and appearance.
Clear Acrylic Waste Bin for Modern Look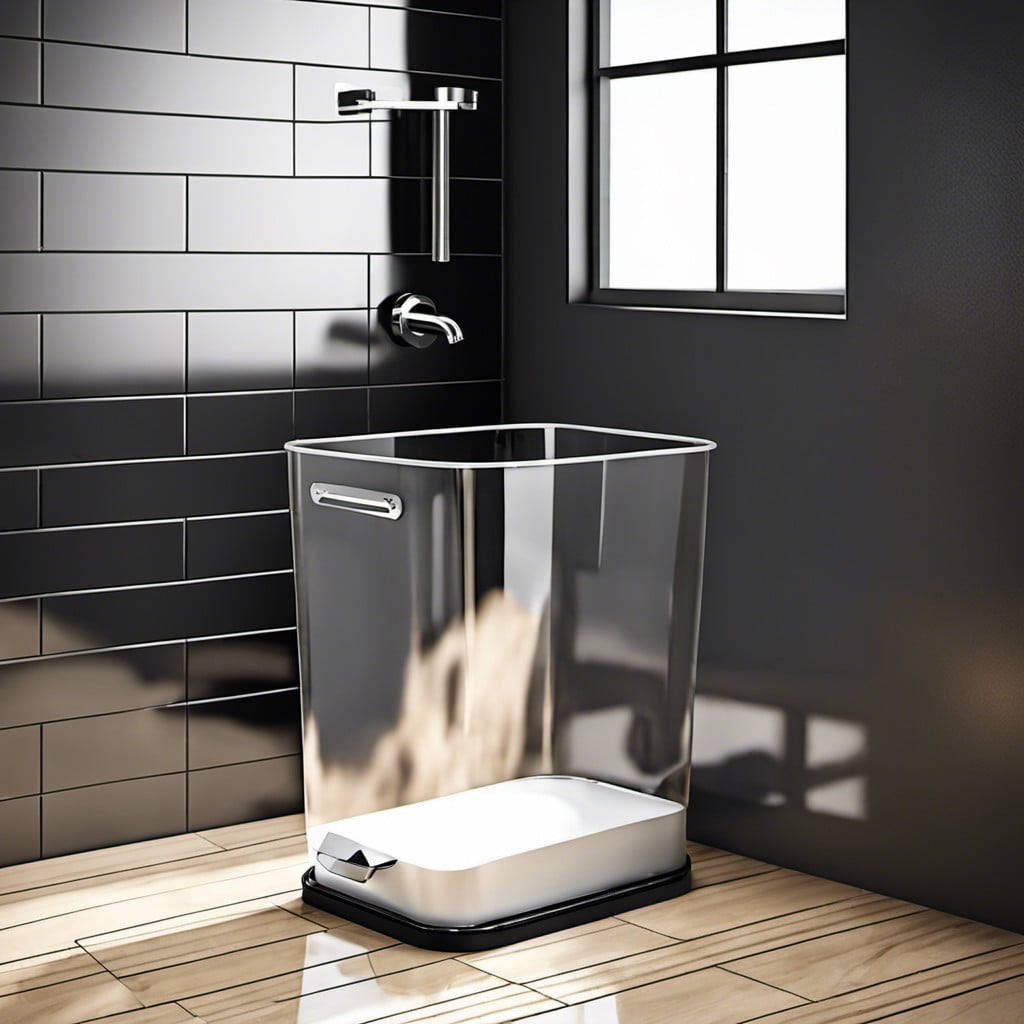 Choosing a clear acrylic waste bin is an excellent way to maintain a modern and clean aesthetic in your bathroom. Their transparency gives a refreshing openness that doesn't obscure any part of your decor style. The sleek, minimalist design complements modern themes perfectly.
1. Space-enhancing: Due to their clear nature, these bins don't take up visual space, making the bathroom appear more spacious.
2. Easy to clean: Being made of acrylic material, it's easy to see when the bin needs cleaning.
3. Matches any color scheme: It perfectly goes with any color pallet, not interfering with your bathroom's main hues.
4. Durable: Acrylic is a hardy material ensuring this bin will serve you for a considerable amount of time.
Remember, a transparent bin prompts for regular emptying and cleaning, maintaining hygiene levels high in your bathroom. So fashion can indeed meet functionality with a clear acrylic waste bin.
Pull Out Cabinet Trash Can System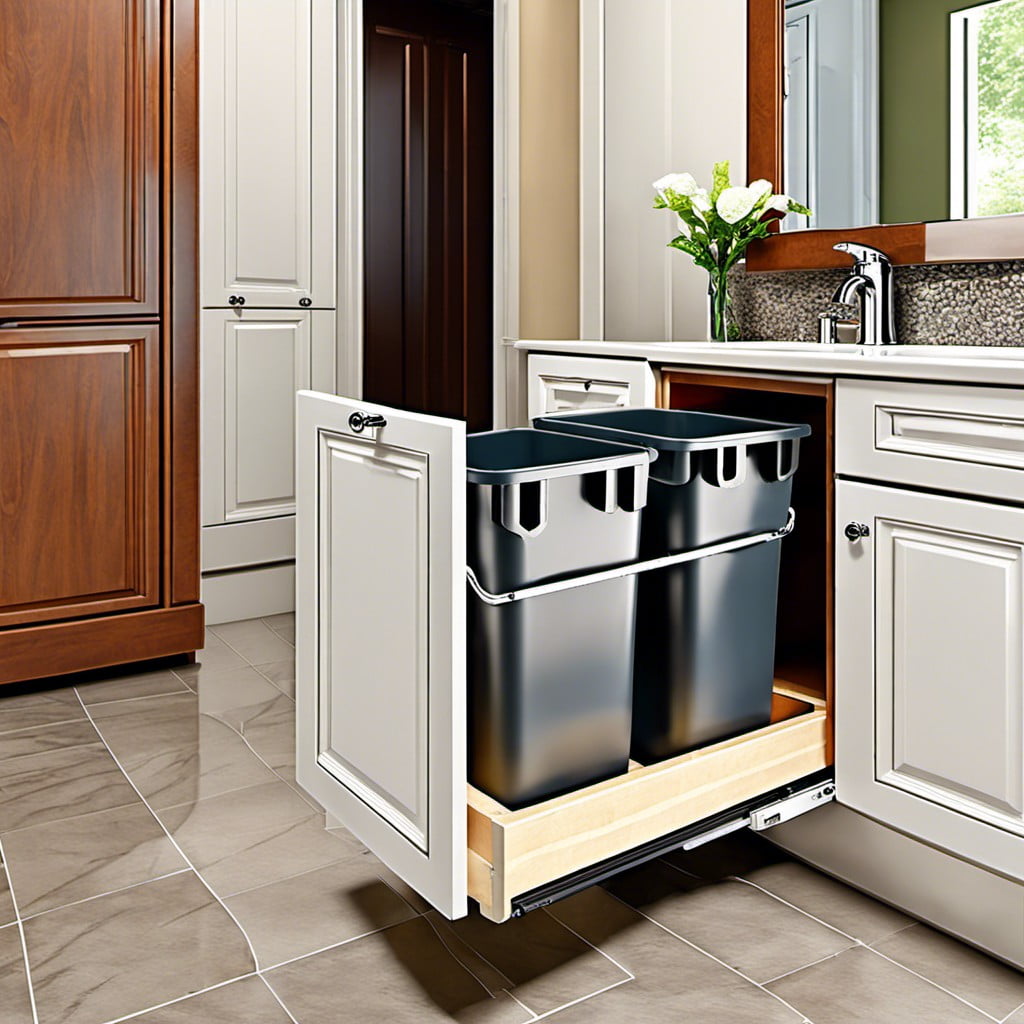 Tucked neatly inside your cabinet, this type of trash system is a marvel of home organization. With the ability to slide in and out smoothly, it provides easy access while keeping your waste out of sight, ideal for maintaining visual cleanliness in the bathroom.
One highlight is the easy installation, requiring minimal hassle. Additionally, it makes efficient use of space, especially in petty bathrooms. It's also worth noting that many pull-out models come equipped with dual compartments, perfect for managing recycables and regular waste separately.
Opt for a system that includes a lid for odor control, and remember, this design will inevitably require a cabinet, so it's best suited to bathrooms that can spare the storage.
Continue reading:
Recap