Last updated on July 9, 2023
Discover a world of elegance and sophistication with these twenty stunning black vanity bathroom ideas that will transform your space into a luxurious haven.
Are you tired of the same old boring bathroom decor? Do you want to add a touch of sophistication and elegance to your space? Look no further than a black vanity! Not only does it provide ample storage for all your bathroom essentials, but it also adds a sleek and modern look to any bathroom. In this article, we'll showcase 20 different ideas for incorporating a black vanity into your bathroom design.
From minimalist styles to bold statement pieces, there's something for every taste and budget. So grab some inspiration and get ready to transform your bathroom into a stylish oasis with these black vanity ideas!
Table of Contents
Matte Black Vanity With Gold Accents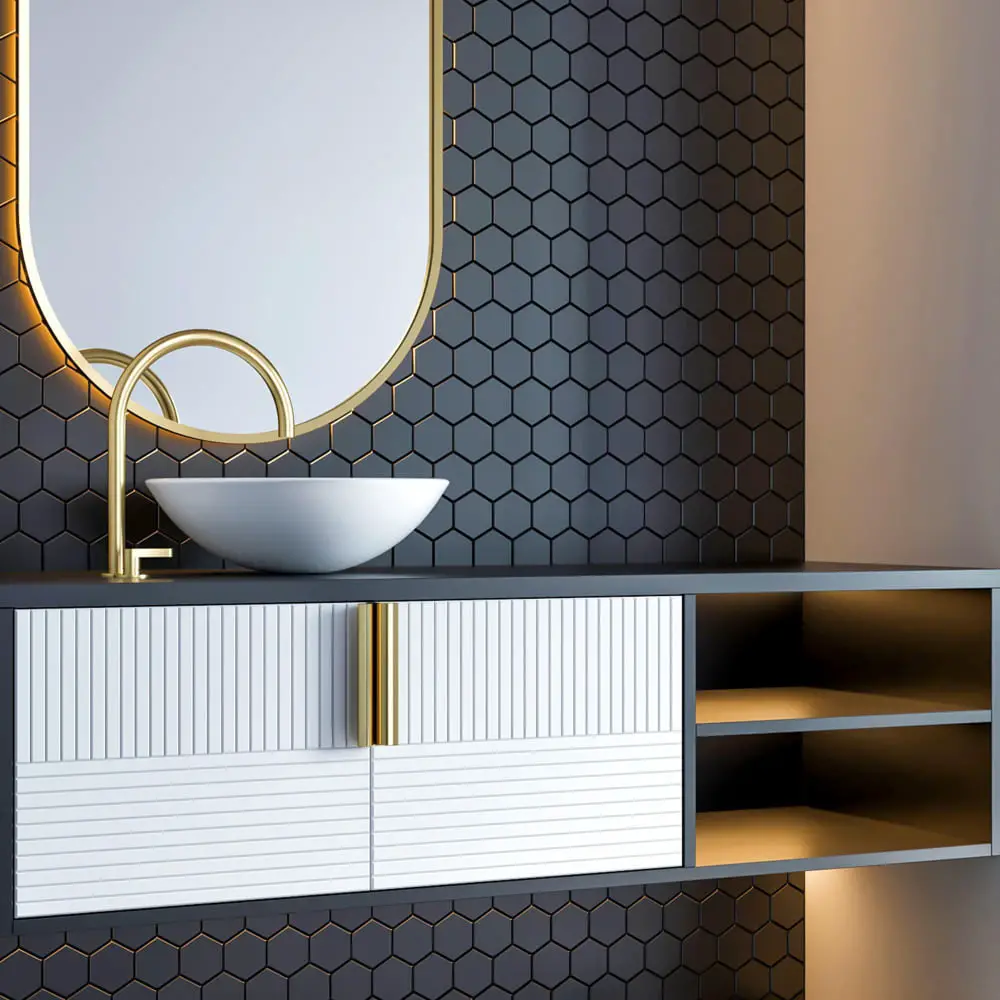 A matte black vanity with gold accents is a stunning addition to any bathroom. The combination of the sleek, modern black finish and the luxurious gold detailing creates an elegant and sophisticated look.
This type of vanity can be paired with various styles, from contemporary to traditional, making it a versatile choice for any home decor.
To achieve this look, consider choosing a matte black vanity with simple lines and minimalistic design. Then add touches of gold through hardware such as drawer pulls or faucet fixtures.
Another option is to incorporate golden elements in accessories like soap dispensers or towel racks.
Black Marble Countertop Vanity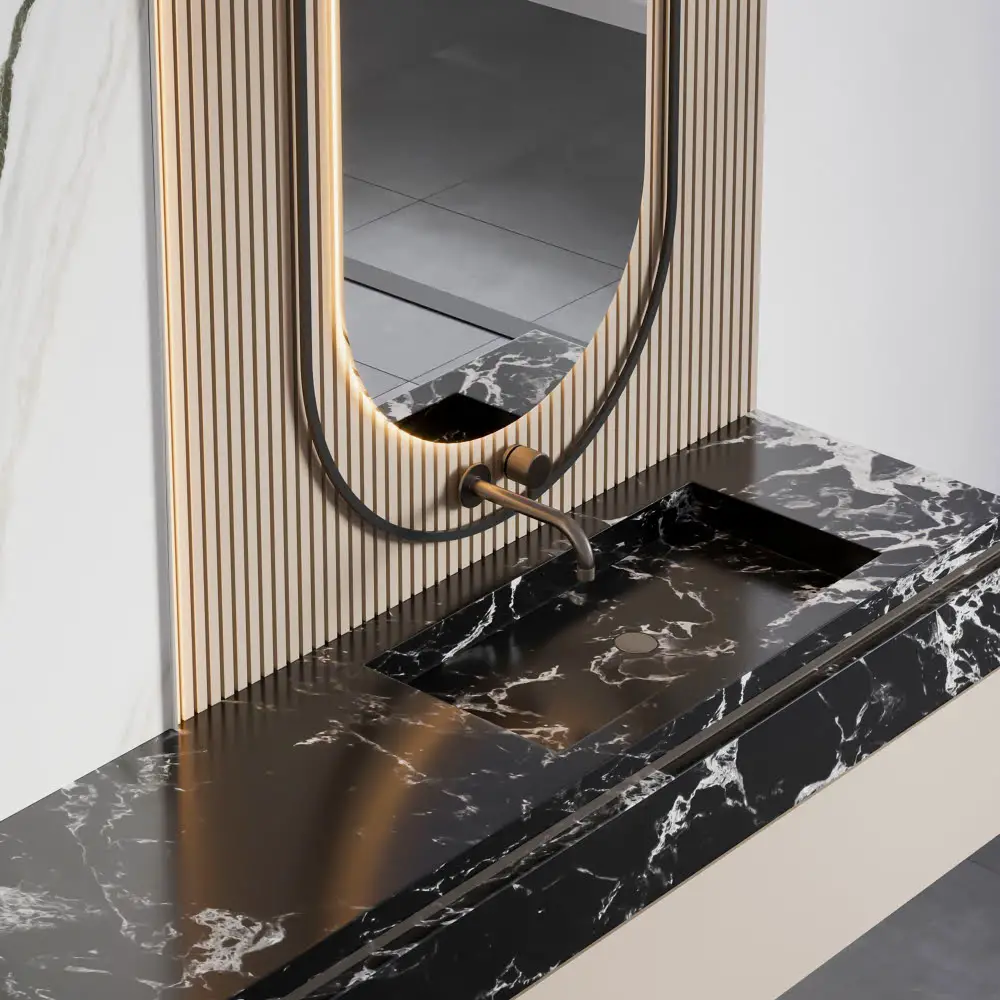 The natural veining of the marble adds depth and texture to the sleek black surface, creating a stunning focal point in your space. Pair it with white or light-colored walls for contrast, or go bold with dark walls and gold accents for an opulent look.
Keep in mind that marble requires regular maintenance to keep its shine and prevent staining, but the beauty it brings is worth the effort.
Floating Black Vanity With LED Lights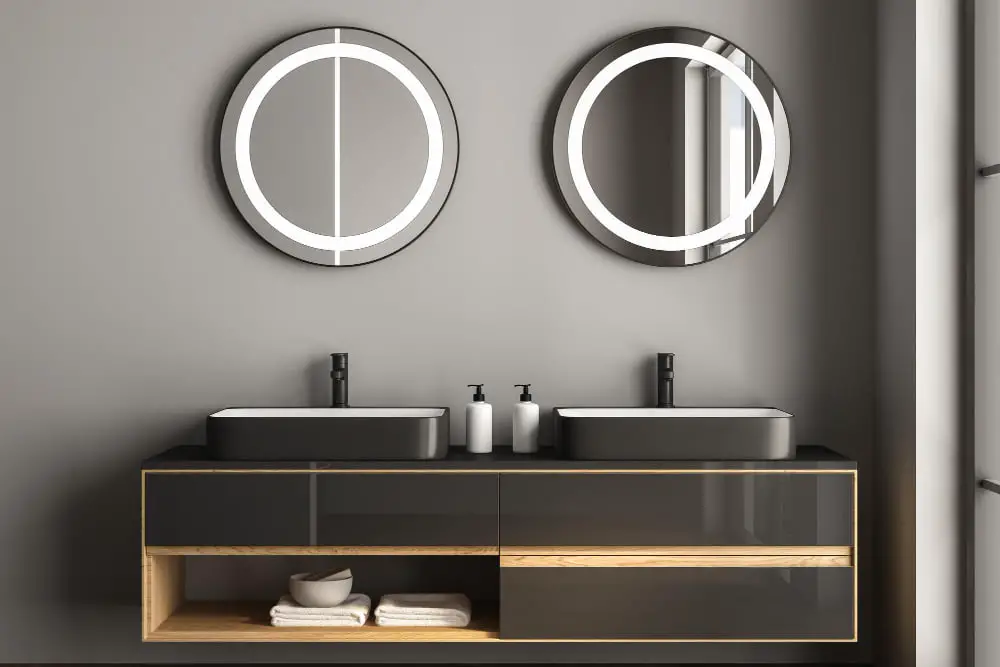 The sleek design of the vanity creates an illusion of more space in the room, making it perfect for smaller bathrooms. The LED lights provide ample lighting for grooming tasks while also adding a touch of ambiance to the space.
This type of vanity can be customized with different finishes, such as matte or glossy black, and can be paired with various countertop materials like marble or quartz. Incorporating open shelving underneath the floating vanity provides extra storage without taking up valuable floor space.
A floating black vanity with LED lights is an excellent choice for those looking to add both functionality and style to their bathroom design scheme.
Vintage Black Vanity With Ornate Mirror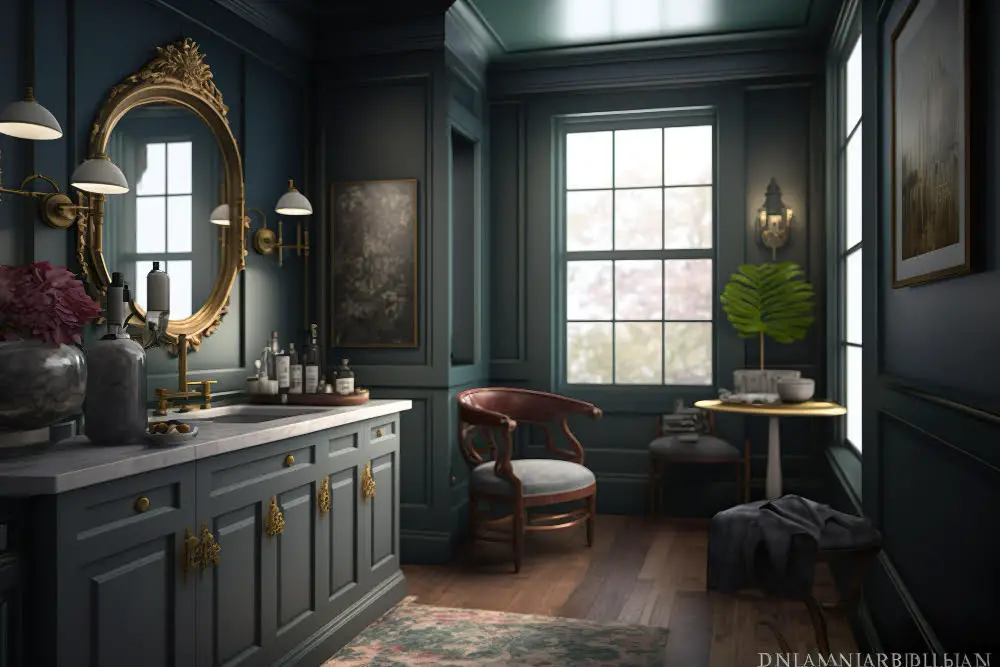 The intricate details of the mirror frame can create a focal point in the space, while the black finish adds sophistication and elegance. Pairing it with vintage-inspired accessories such as antique perfume bottles or old-fashioned soap dishes can enhance its overall appeal.
To complete this look, consider adding some soft lighting fixtures that will highlight both the vanity and its surroundings for an even more dramatic effect.
Glossy Black Double Sink Vanity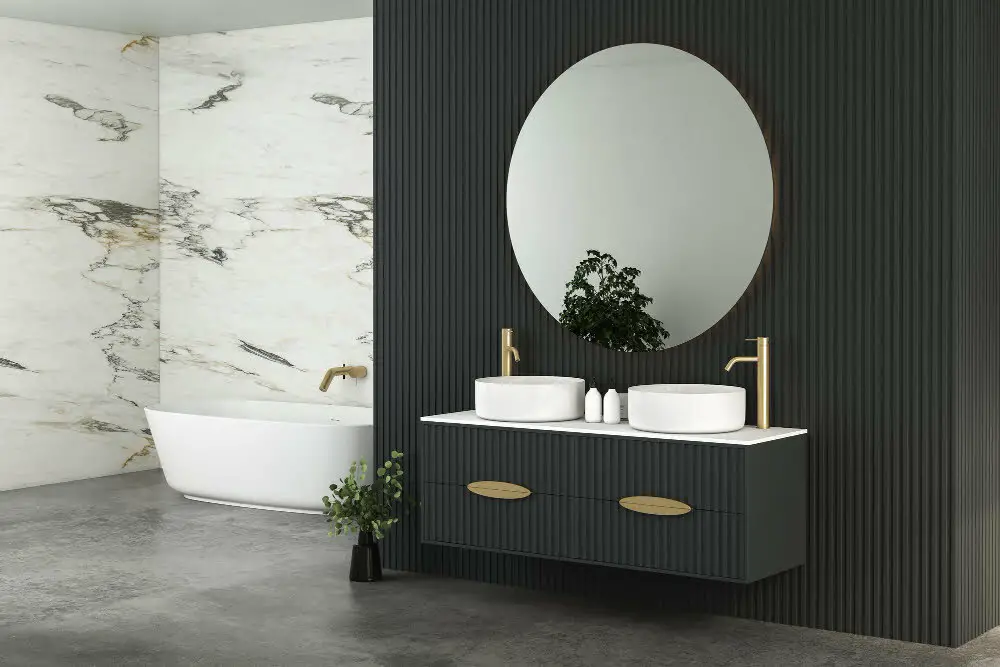 The sleek and shiny finish of the vanity adds a touch of sophistication and elegance to the space. This type of vanity is perfect for larger bathrooms where two people need their own space while getting ready in the morning or before bed.
The double sinks provide ample room for each person's toiletries, making it easy to keep everything organized and tidy. Pairing this type of vanity with white walls, light-colored tiles, or natural wood accents can create an eye-catching contrast that will make your bathroom stand out from others you've seen before!
Industrial Black Pipe Vanity
This type of vanity features pipes as the base, giving it an industrial feel that pairs well with modern or minimalist décor. The pipes can be left in their natural state or painted black for a sleeker look.
To complete the design, pair the vanity with a simple countertop and vessel sink in white or another neutral color. This style works particularly well in smaller bathrooms where space is limited but style should not be compromised!
Black Vanity With Open Shelving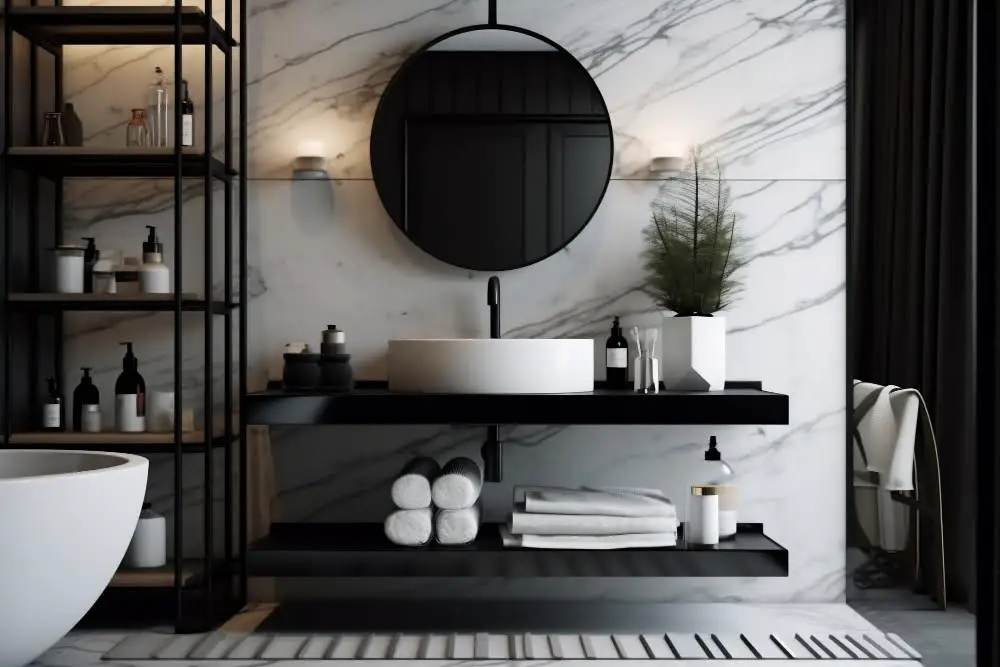 The shelves can be used to store towels, toiletries, or decorative items like plants or candles. This type of vanity works particularly well in smaller bathrooms where every inch of space counts.
To keep the look cohesive, consider using matching black baskets or containers on the shelves to corral loose items and create a streamlined appearance. You can use this opportunity to display your favorite bath products in an aesthetically pleasing way by arranging them neatly on the shelves for easy access when needed.
Black Vanity With Vessel Sinks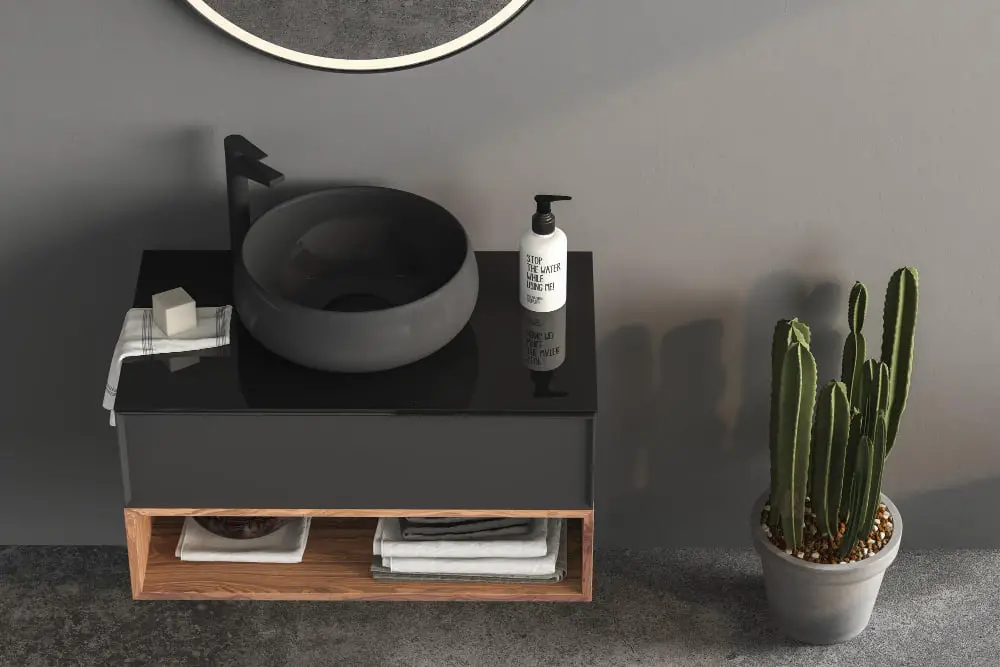 Vessel sinks sit on top of the countertop, creating a unique and eye-catching look. When paired with a sleek black vanity, this design creates an elegant statement piece in your bathroom.
To complete the look, consider adding metallic accents such as gold or silver faucets or drawer pulls for added glamour. This style works well in both large and small bathrooms alike, making it versatile for any space you may have available to work with!
Wall-mounted Black Corner Vanity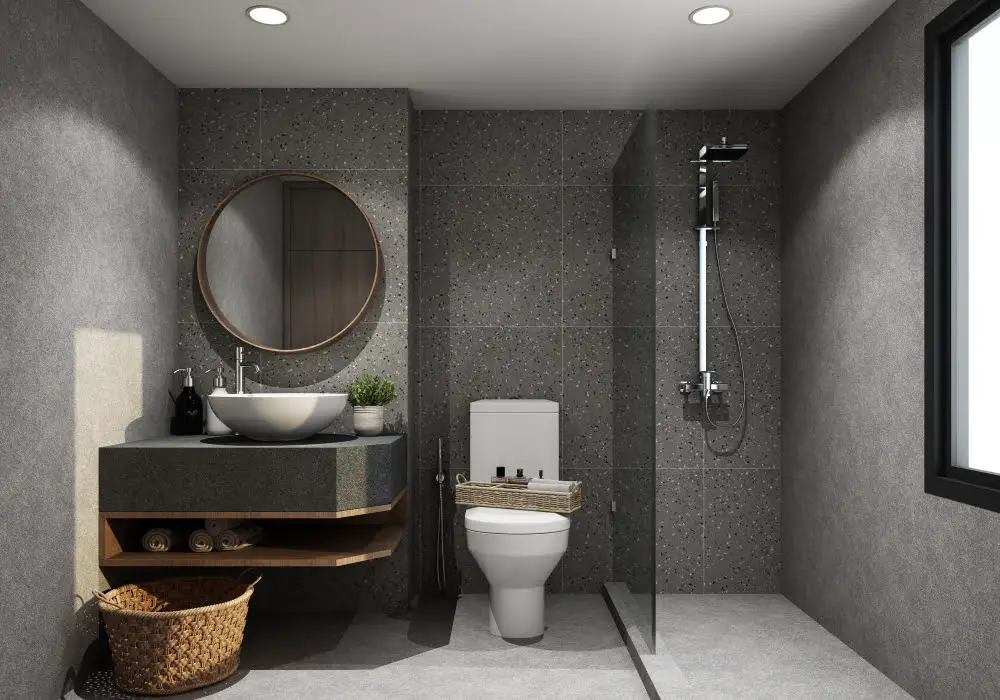 This type of vanity can be installed in the corner of the room, freeing up valuable floor space and creating a more open feel. The sleek black finish adds a modern touch to any bathroom design, while also providing ample storage for toiletries and other essentials.
To make the most out of this type of vanity, consider pairing it with an oversized mirror that reflects light and creates the illusion of more space. You can add some decorative elements such as plants or artwork to personalize your bathroom's style even further!
Black Vanity With Patterned Tile Backsplash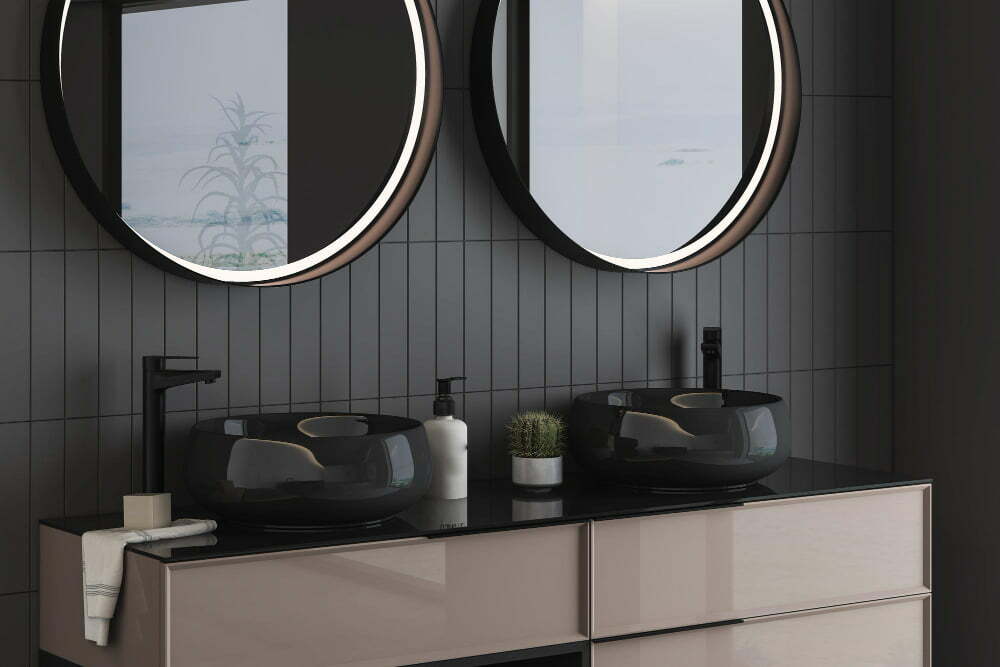 The contrast between the dark vanity and colorful tiles creates a striking visual effect that is both modern and timeless. You can choose from various patterns, such as geometric shapes, floral motifs or abstract designs to match your personal style.
To balance out the boldness of the backsplash, you may opt for simple accessories like white towels or minimalist wall art. A black vanity with a patterned tile backsplash is perfect for those who want to make their bathroom stand out without going overboard on decor elements.
Eclectic Black Vanity With Colorful Artwork
This design combines the sleekness of a black vanity with the vibrancy of bold and bright artwork. The key is to choose pieces that complement each other in terms of color scheme and style, while also making sure they stand out against the dark background.
Consider hanging abstract paintings or graphic prints above your vanity, or even adding some colorful tiles as an accent wall behind it. This look works particularly well in bathrooms that have neutral walls and floors, allowing for maximum impact from the art pieces on display.
Farmhouse Black Vanity With Rustic Hardware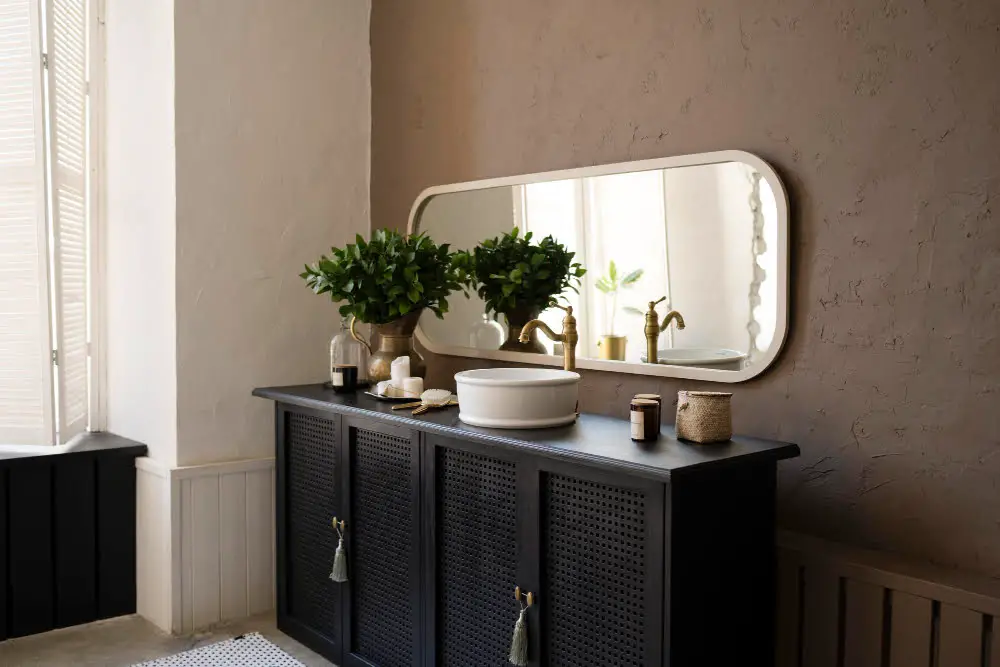 The combination of the sleek black finish and the rough texture of the hardware creates an interesting contrast that adds character to your space. This type of vanity usually features open shelving, which allows you to display your favorite towels or decorative items while keeping them within reach.
Pair it with a wooden mirror frame and some vintage-inspired light fixtures for an authentic farmhouse look. You can also add some greenery in wicker baskets or galvanized metal planters for a fresh touch that complements this style perfectly.
Modular Black Vanity System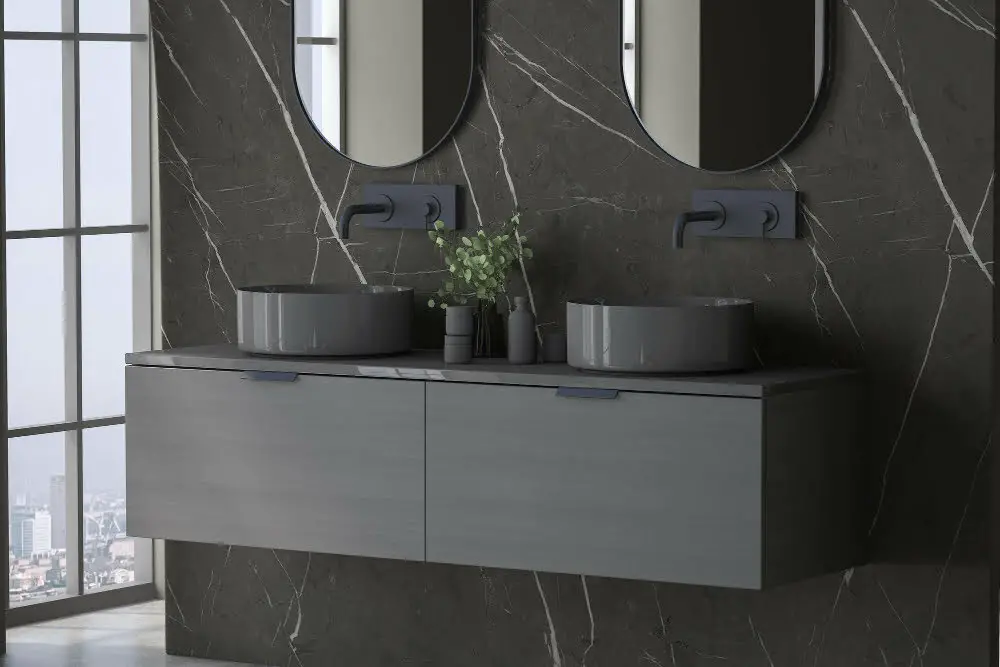 This type of vanity allows you to mix and match different components, such as drawers, cabinets, and shelves, to create a unique storage solution that fits your needs. The beauty of this system is that it can be easily expanded or reconfigured if you decide to change the layout of your bathroom in the future.
Modular vanities often come with sleek hardware and finishes that give them a modern look while still providing ample storage space for all your toiletries. If you're looking for versatility in design and functionality when it comes to black vanities then consider investing in a modular system!
Black Vanity With Integrated Sink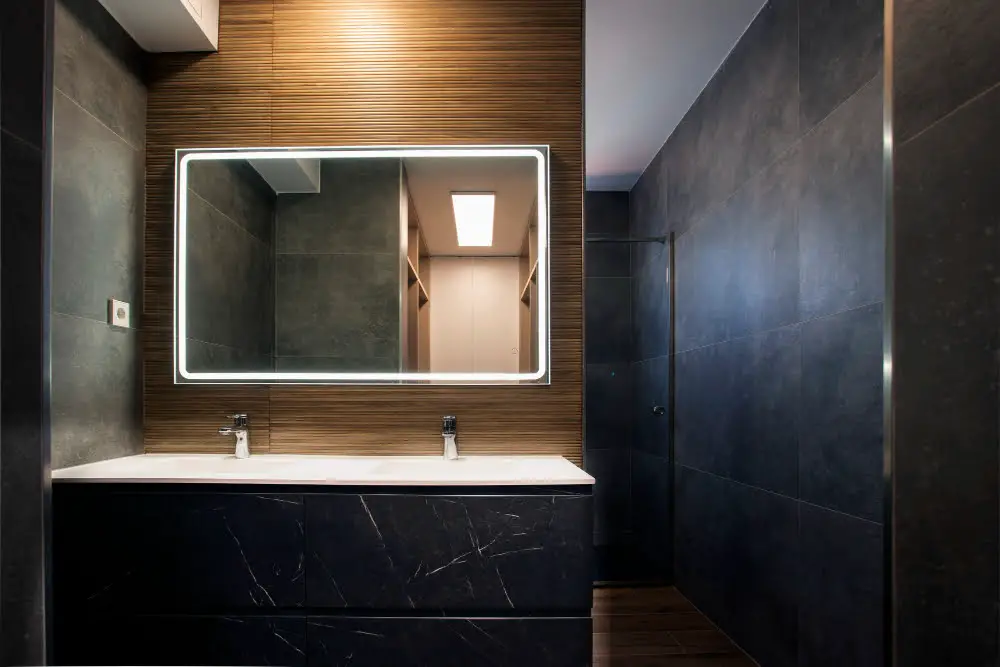 This design seamlessly combines the sink basin into the countertop, creating a smooth and uninterrupted surface. The result is not only visually appealing but also practical as it makes cleaning easier by eliminating crevices where dirt can accumulate.
An integrated sink in black adds depth to your bathroom's color scheme while maintaining its minimalist aesthetic. It's perfect for those who want to achieve a contemporary look without sacrificing functionality or style.
Minimalist Black and White Vanity Design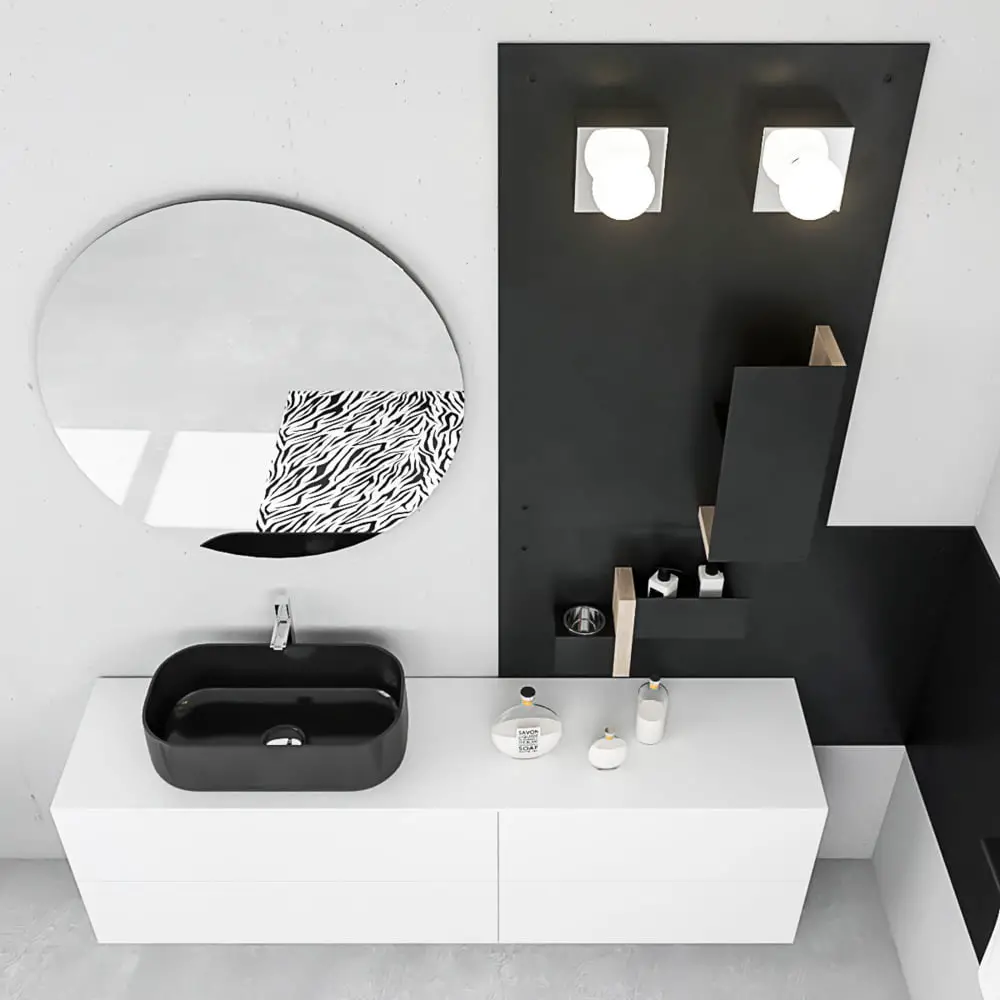 This type of vanity usually features clean lines, sleek surfaces, and minimal hardware. The contrast between the black base and the white countertop creates a striking visual effect that adds depth to your bathroom decor.
To enhance this look further, you can add some greenery or other natural elements to bring life into space without disrupting its monochromatic scheme. A minimalist black and white vanity design is also easy to maintain as it doesn't require much cleaning or upkeep compared to more intricate designs with lots of details that can accumulate dust over time.
Black Vanity With Bold Wallpaper
The key is to choose a wallpaper that complements the black vanity without overwhelming it. Consider patterns with pops of color or metallic accents for an eye-catching look, or opt for a subtle texture in shades of gray or white for a more understated effect.
Keep in mind that the wallpaper should be moisture-resistant and durable enough to withstand daily use in the bathroom. When paired with sleek hardware and accessories, this design choice can create an elegant yet edgy vibe that will make your bathroom stand out from the rest!
Compact Black Vanity for Small Bathrooms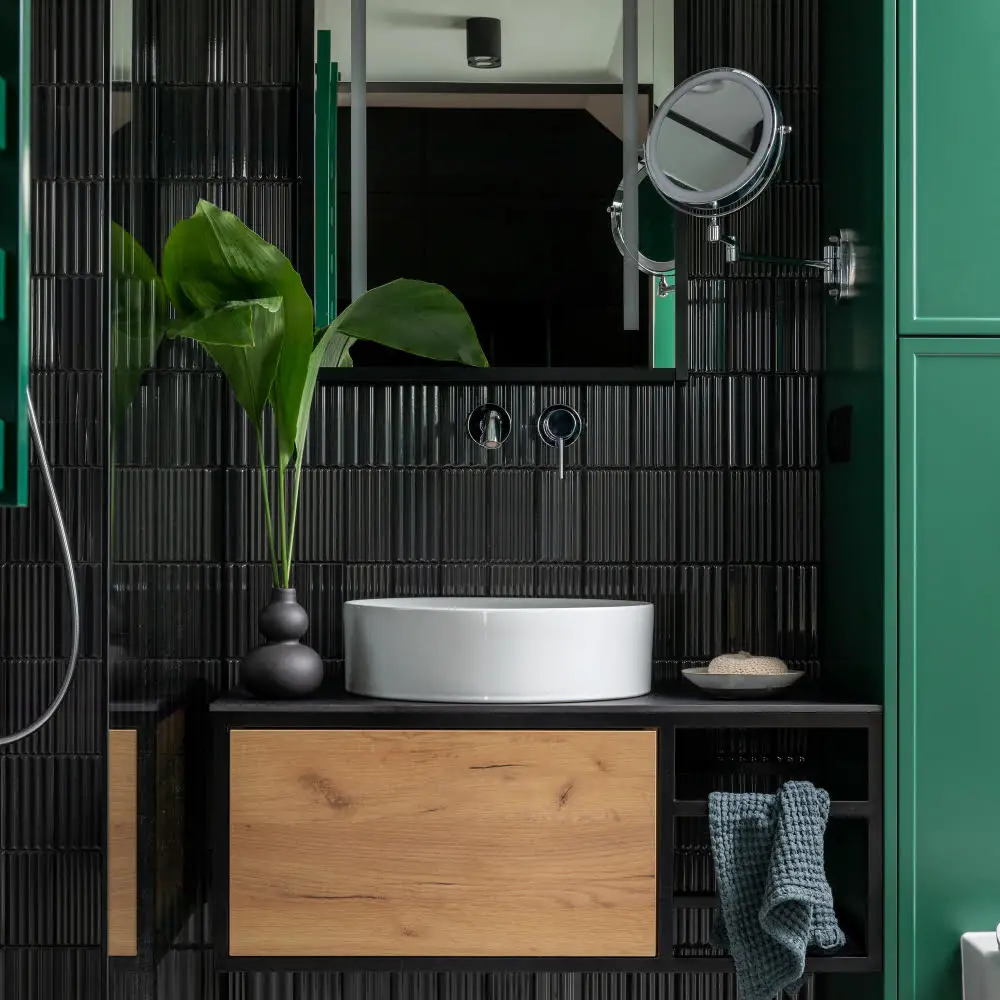 Look for vanities with slim profiles and minimalistic designs that won't overwhelm the room. Wall-mounted options are great for creating an illusion of more floor space, while also providing storage underneath.
Consider pairing your compact black vanity with a round mirror or light-colored walls to create contrast and make the room feel larger than it actually is. With some careful planning and smart design choices, even the smallest bathroom can have a stylish black vanity that fits perfectly into its layout.
Backlit Black Mirrored Vanity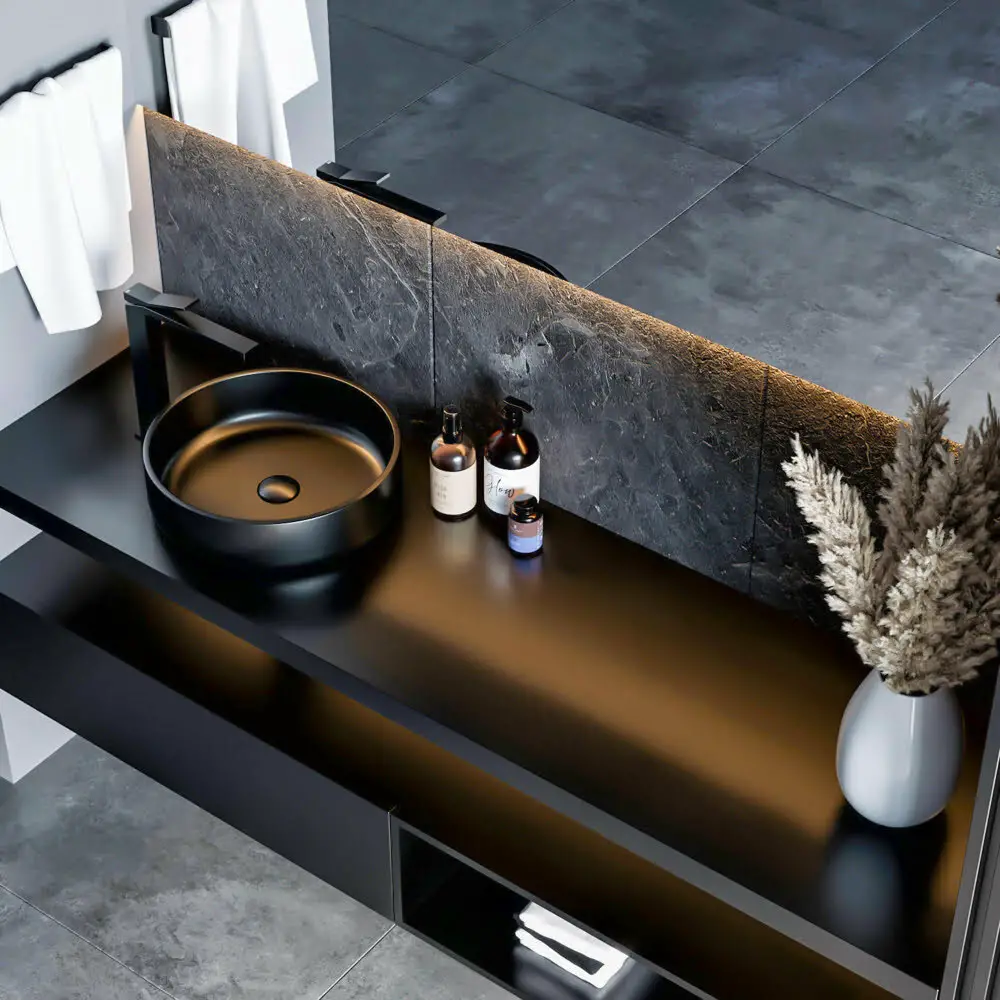 The combination of the sleek black finish and the soft glow from behind the mirror creates an elegant and modern look. This type of vanity is perfect for those who want to add a touch of luxury to their space without going overboard.
It's also great for applying makeup or doing your hair, as it provides ample lighting that won't cast harsh shadows on your face. To complete this look, consider adding some metallic accents like gold or silver hardware, which will complement the dark color scheme while adding some shine and sparkle to your bathroom décor.
Black Vanity With Nature-inspired Décor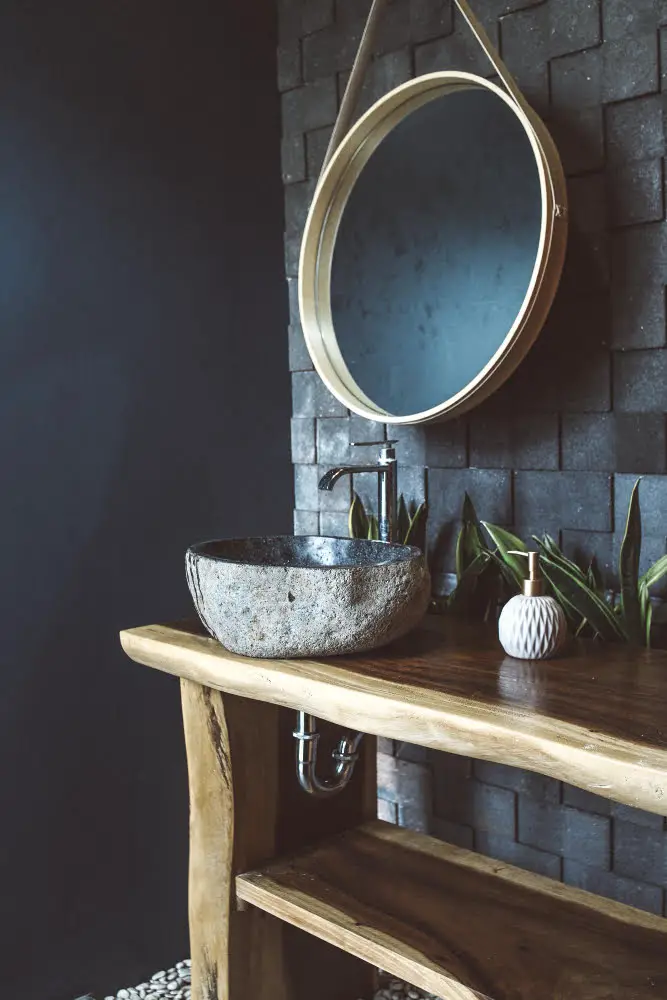 Consider adding natural elements such as plants, stones, or wood accents to create a calming and serene atmosphere. A wooden stool or bench paired with a black vanity can add warmth and texture to the space while also providing additional seating.
You could also incorporate greenery by placing potted plants on top of the vanity or hanging them from above using macrame plant hangers. To complete this look, consider adding earthy accessories like woven baskets for storage or textured bath mats in neutral tones that complement your black vanity's sleek design.
Mixed Materials Black Vanity With Wood Accents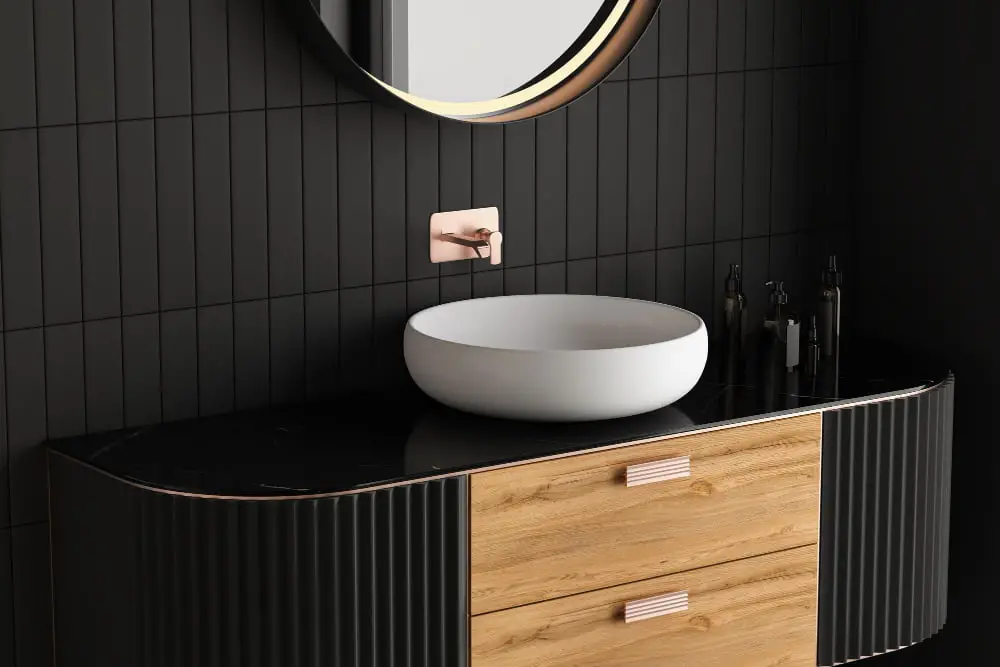 The combination of sleek black surfaces and natural wood elements creates a modern yet cozy atmosphere. You can opt for a wooden countertop, drawer fronts, or even just small details like handles or legs in warm-toned woods such as oak or walnut.
This type of vanity pairs well with other natural materials like stone tiles, woven baskets, and green plants that bring the outdoors inside your bathroom space. A mixed-materials black vanity with wood accents is an excellent way to create an inviting ambiance while still maintaining the chicness of contemporary design trends.
Continue reading: