Last updated on September 4, 2023
Discover a stunning collection of blue and gray bathroom ideas that will transform your space into a serene oasis, as we dive into twenty design inspirations perfect for any home.
Looking to transform your bathroom into a stylish and serene space? Look no further than the classic color combination of blue and gray. This timeless duo brings a sense of calm and sophistication to any bathroom, whether you're going for a coastal vibe or modern chic.
In this article, we'll explore 20 ideas for incorporating blue and gray into your bathroom design, from bold accent walls to subtle accessories. So grab a cup of coffee (or tea!) and get ready to be inspired by these stunning blue and gray bathroom ideas.
Table of Contents
Blue-gray Mosaic Tiles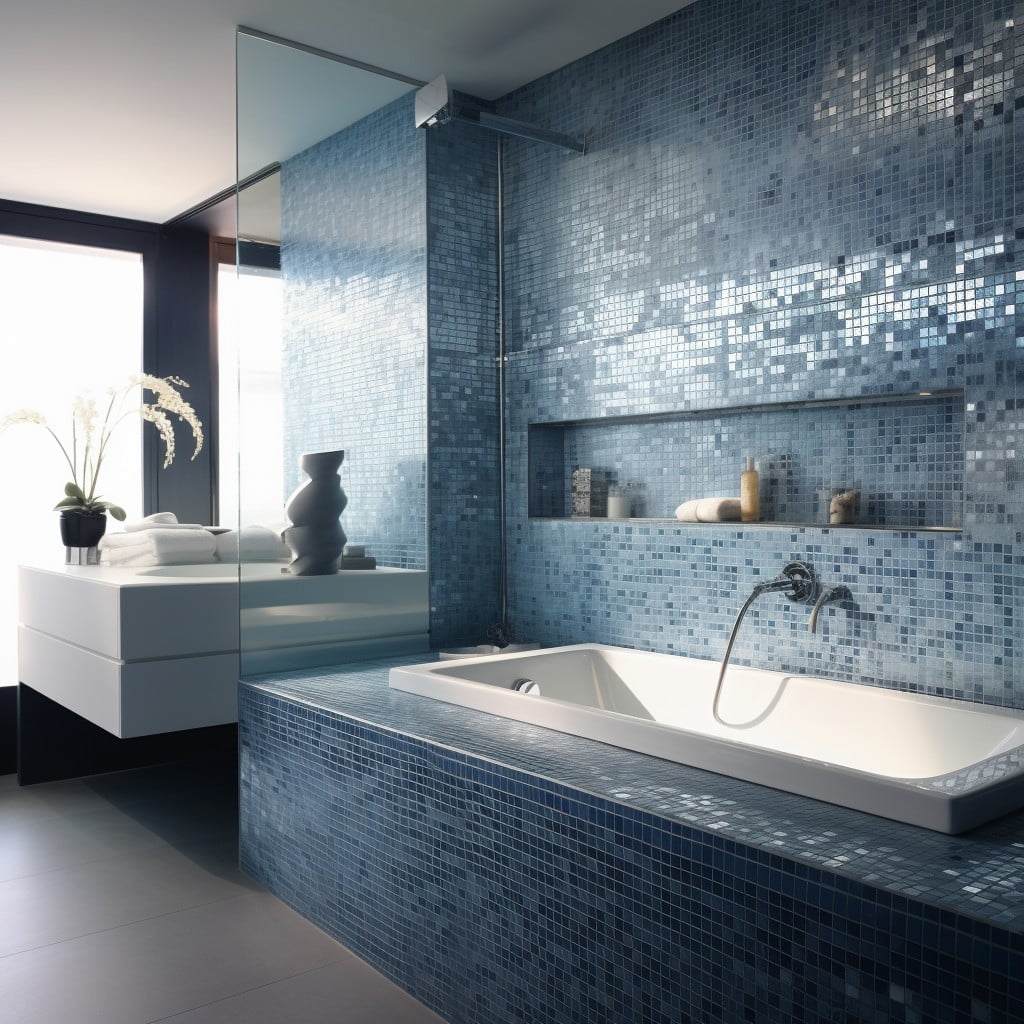 Blue-gray mosaic tiles are a popular choice for bathroom walls and floors. These small, intricately designed tiles come in various shades of blue and gray, creating a beautiful blend of colors that can add depth to any bathroom design.
Mosaic tiles are also versatile as they can be arranged in different patterns or shapes to create unique designs that suit your style preference. Whether you opt for an all-blue or all-gray mosaic tile look or mix the two colors together, this option is sure to give your bathroom a stylish upgrade while maintaining its functionality.
Blue Vanity With Gray Accents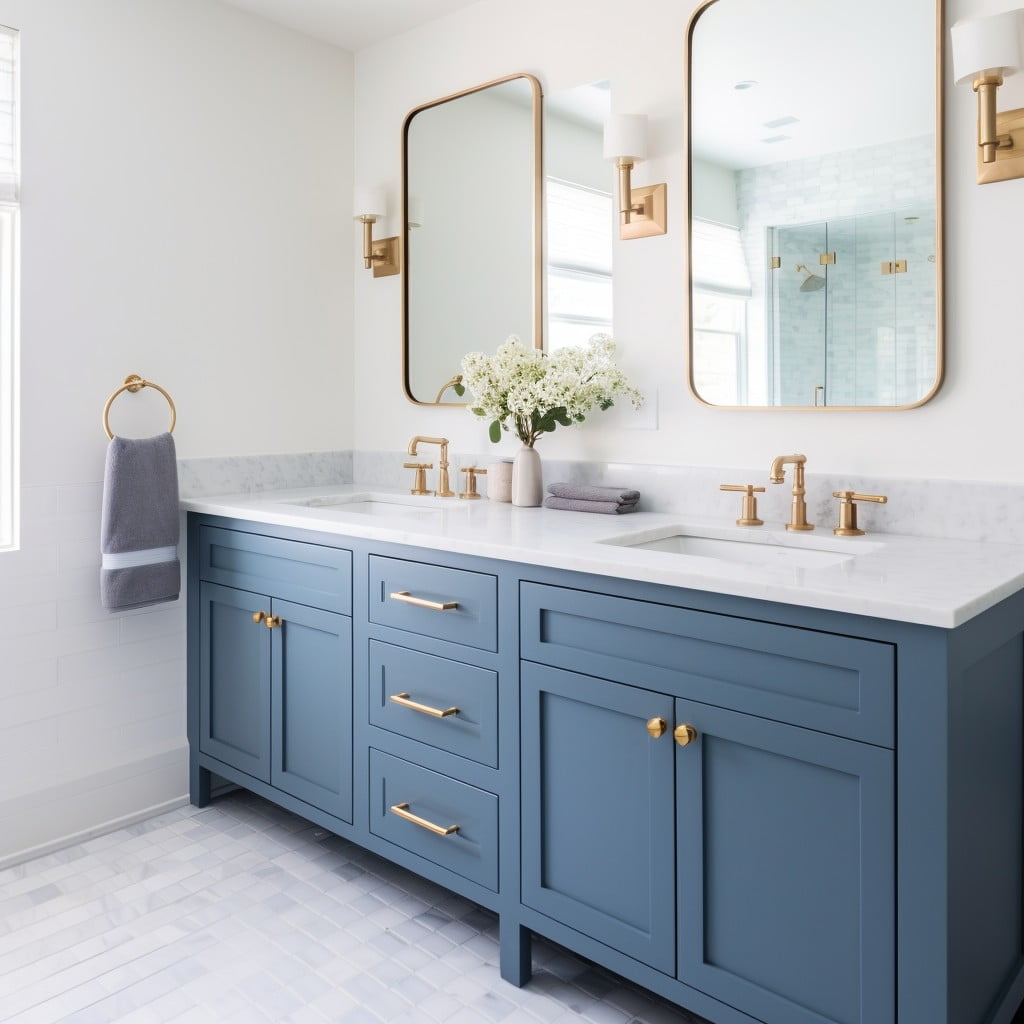 The combination of blue and gray creates a calming atmosphere that can help you relax after a long day. You can choose from different shades of blue, such as navy or baby blue, depending on the style you want to achieve.
Gray accents in the form of hardware or countertop will complement the vanity perfectly while adding depth and texture to space. A white sink basin will contrast beautifully against this color scheme, making it stand out even more!
Gray Marble Countertops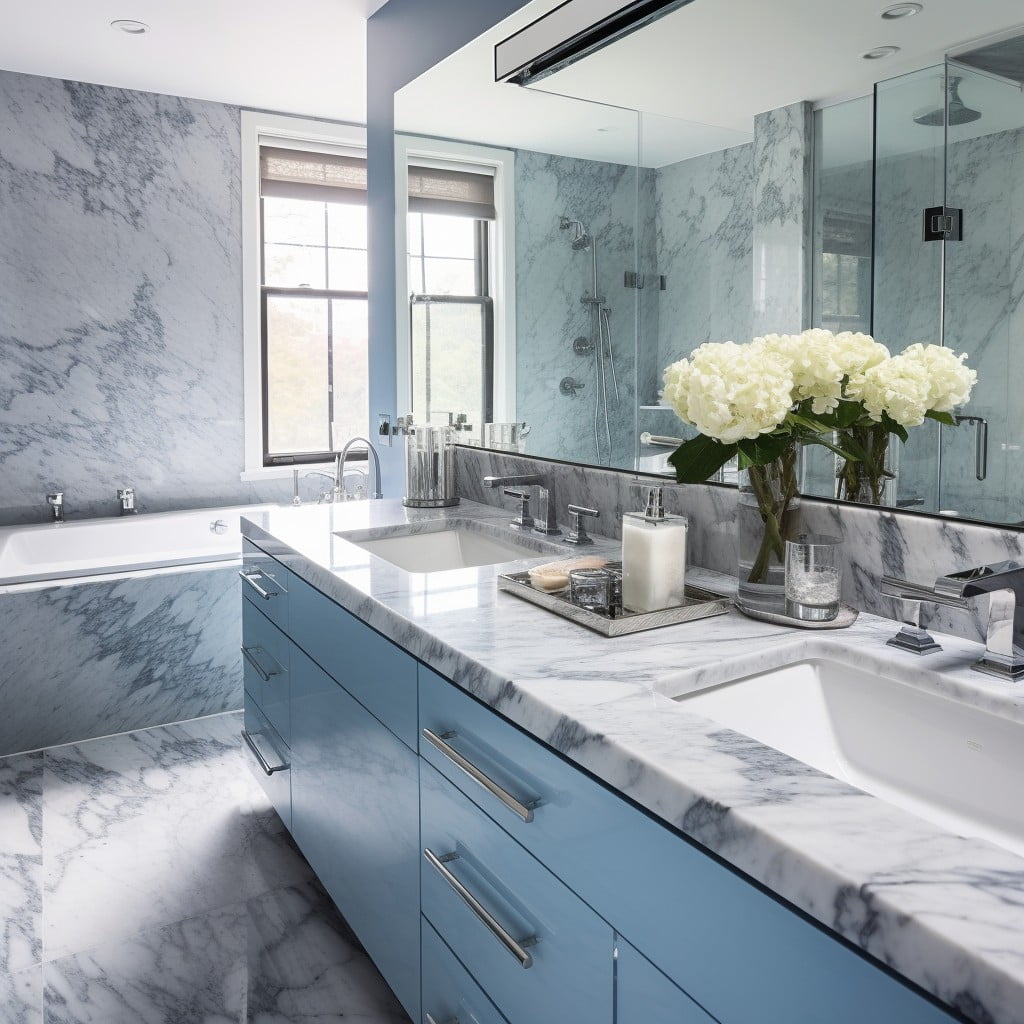 The natural veining in the stone adds depth and texture, while the gray color provides a neutral base for other design elements. Marble is also durable and easy to clean, making it an ideal choice for high-traffic areas like bathrooms.
Pairing gray marble countertops with blue accents creates a serene and sophisticated atmosphere that will make your bathroom feel like a spa retreat. To keep your marble looking its best, be sure to seal it regularly and avoid using harsh chemicals or abrasive cleaners that can damage the surface over time.
Nautical Theme With Blue-gray Colors
This style can be achieved by incorporating elements such as navy blue and light gray stripes, anchor motifs, and rope accents. A white or light gray backdrop will make the blues pop while keeping the overall look fresh and clean.
Adding natural materials like wood or wicker baskets can also enhance this beachy vibe. Consider adding a few seashells or starfish to complete the look!
Gray and Blue Ombre Shower Curtain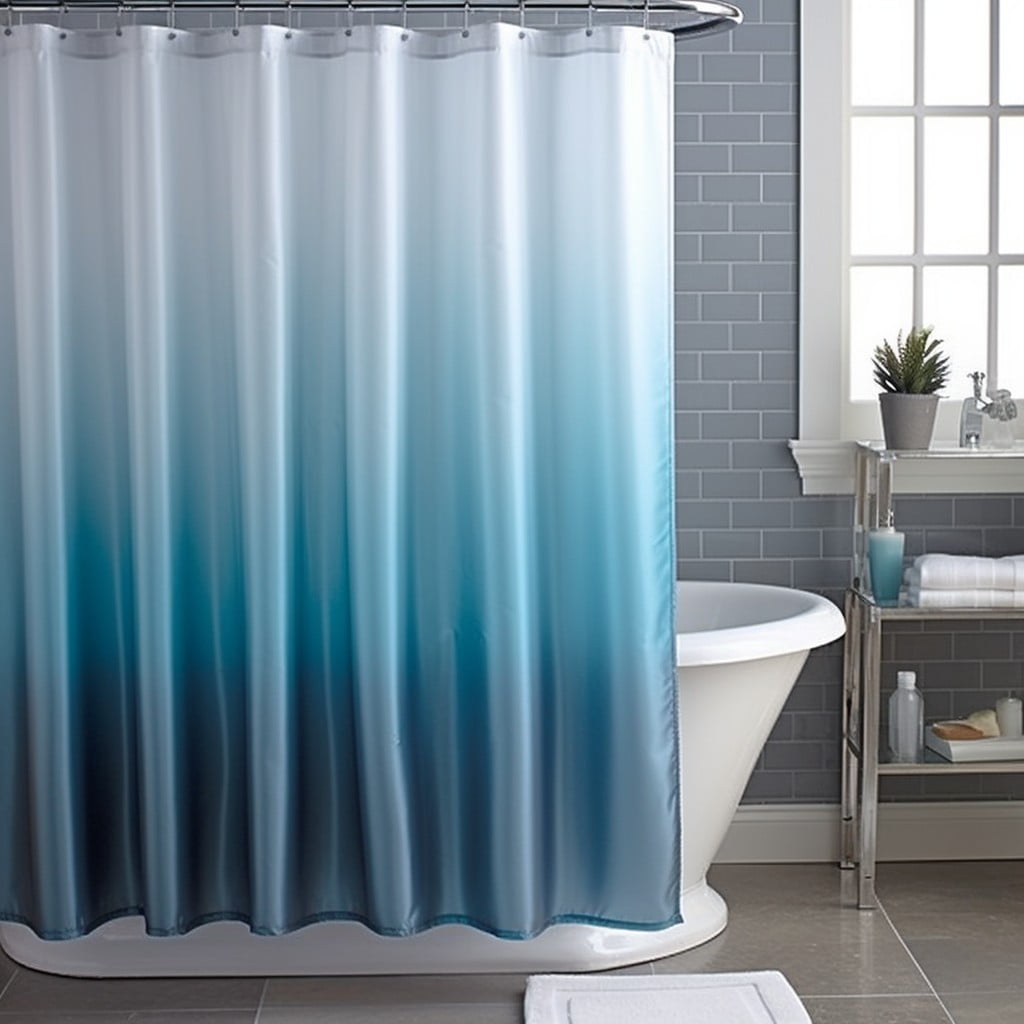 The gradual fade from one color to the other creates a calming effect that can help you relax while taking a shower. This type of curtain pairs well with white or light gray walls, as it allows the colors in the curtain to stand out without overwhelming the space.
You can also incorporate other blue and gray accents throughout your bathroom, such as towels or soap dispensers, for a cohesive look that ties everything together nicely. If you're looking for an easy way to update your bathroom decor while keeping things simple yet stylish, consider adding a beautiful ombre shower curtain in shades of blue and gray!
Blue-gray Bathroom Mat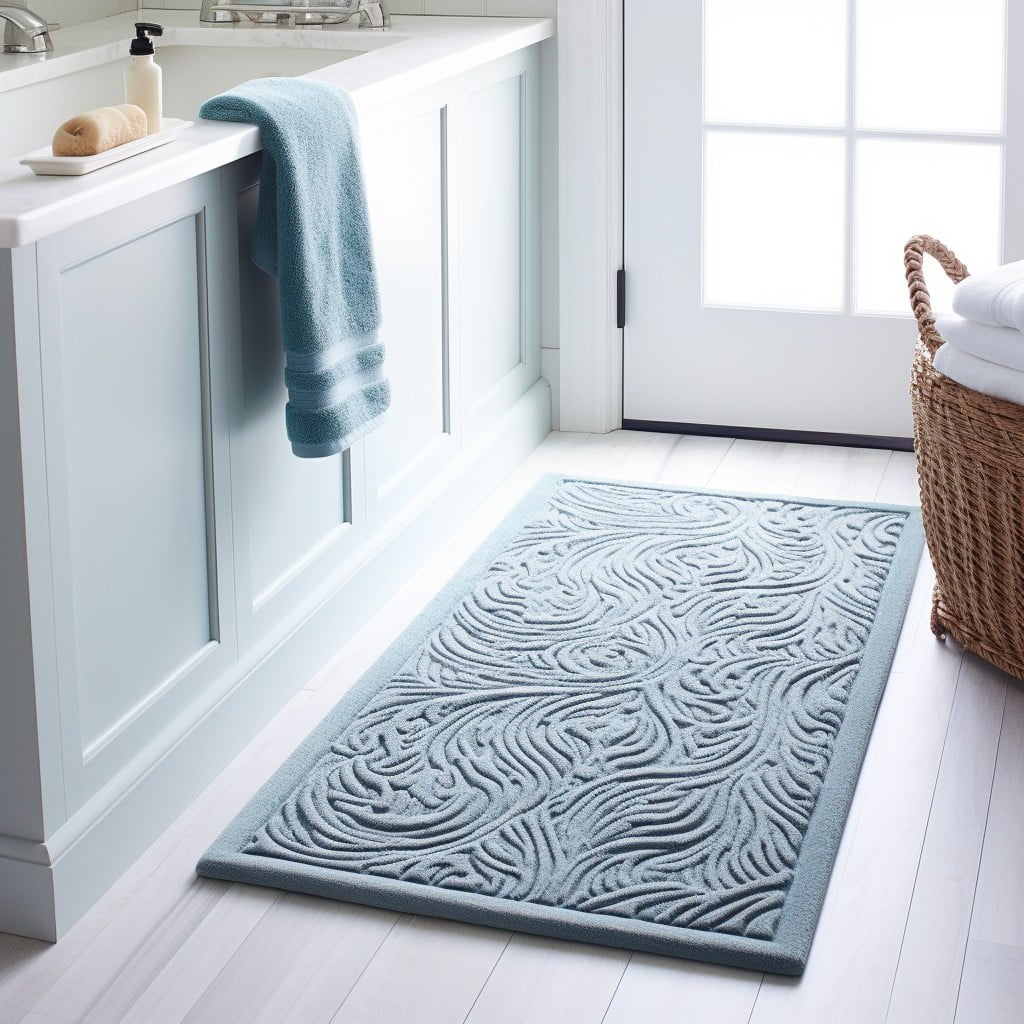 It can be used as a statement piece or as part of an overall color scheme. A plush, soft mat in shades of blue and gray will not only look great but also feel comfortable underfoot.
You can choose from various materials such as cotton, microfiber or memory foam depending on your preference for comfort and durability. You may want to consider the size of the mat based on the layout of your bathroom floor space so that it fits perfectly without looking too small or large in comparison with other elements in the room.
Gray & Blue Striped Wallpaper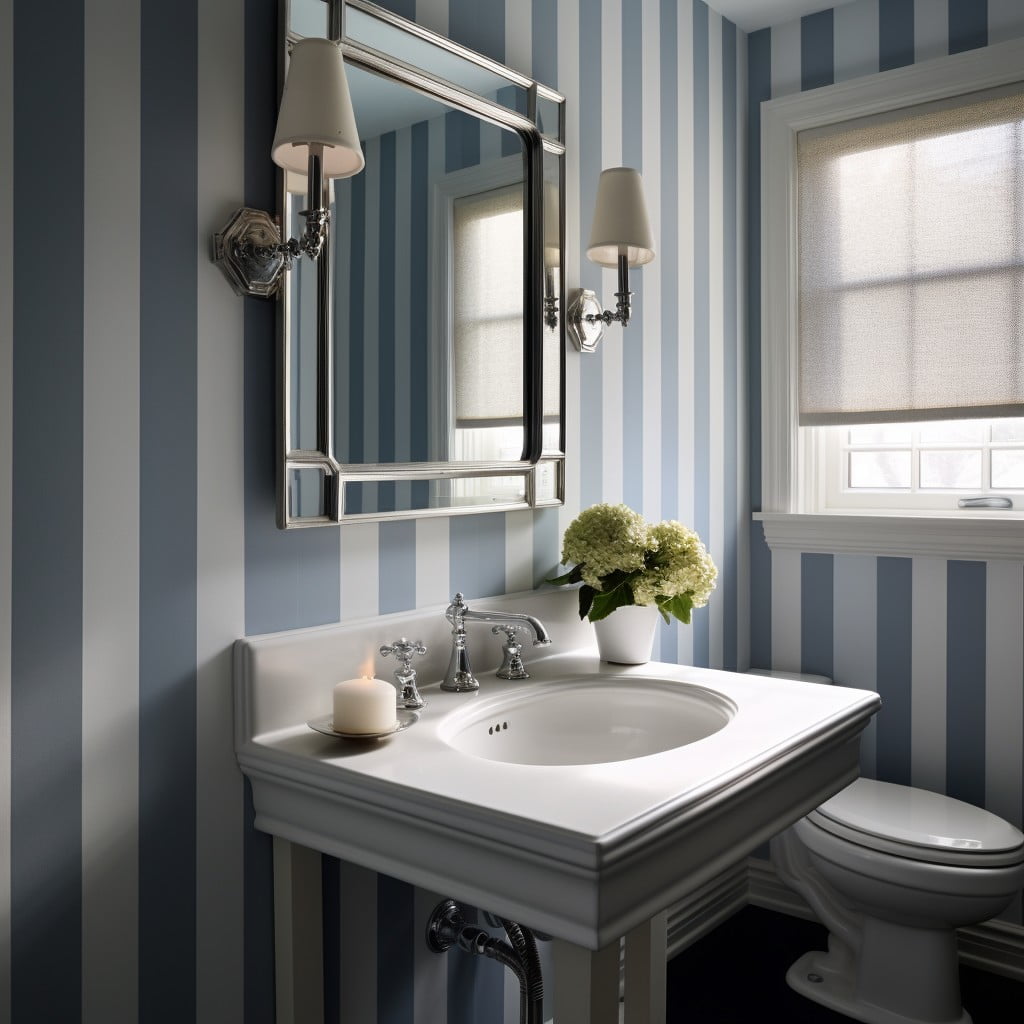 The stripes can be vertical or horizontal, depending on the effect you want to achieve. Vertical stripes can make the ceiling appear higher, while horizontal stripes can make the room feel wider.
This type of wallpaper works well with white fixtures and accessories for a clean look, or with pops of color in towels and décor for a more playful vibe. When choosing this type of wallpaper, it's important to consider the scale of the pattern – larger patterns work best in bigger bathrooms while smaller patterns are better suited for smaller spaces.
Blue Subway Tiles With Gray Grout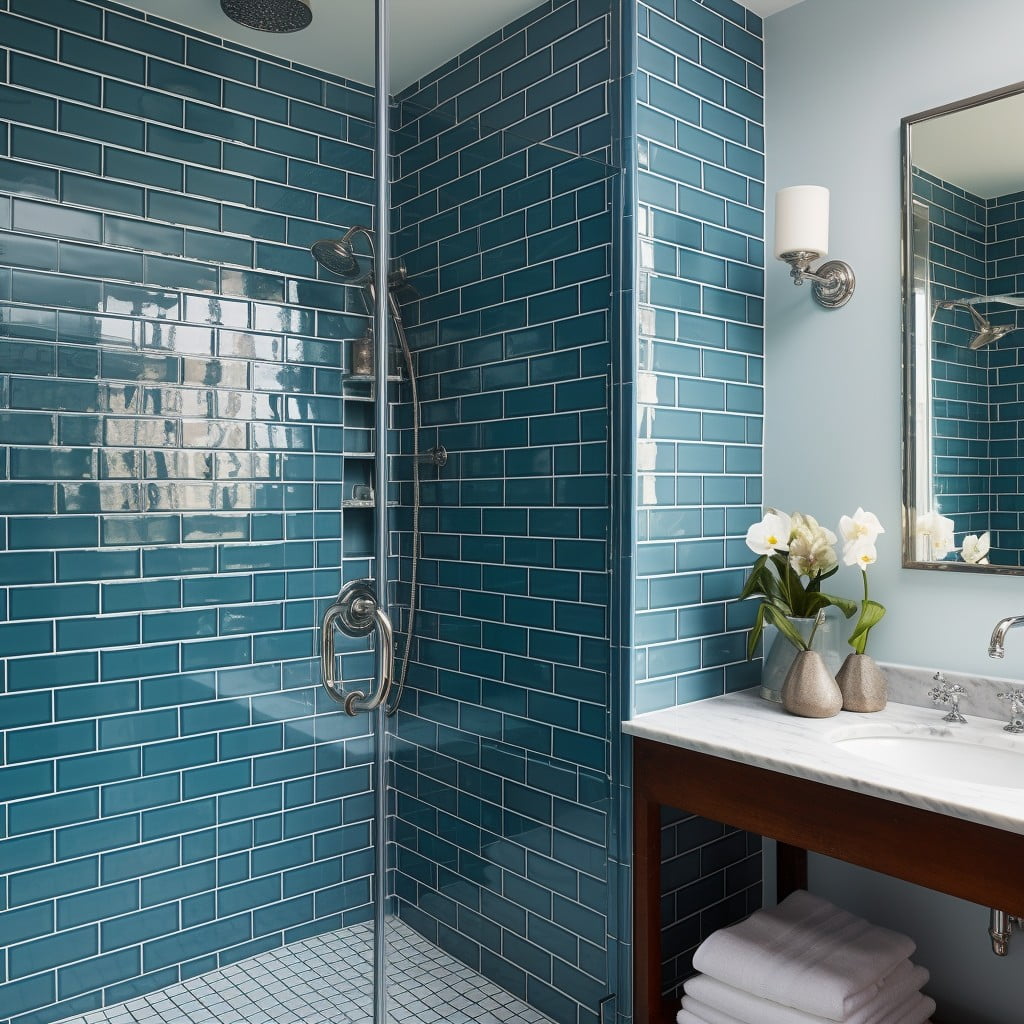 The contrast between the blue tiles and gray grout creates a striking visual effect that will make your bathroom stand out. This combination is perfect for those who want to create an industrial or contemporary style in their home.
Using subway tiles as opposed to larger ones can help make smaller bathrooms appear more spacious due to the way they reflect light. When choosing this design option, it's important to ensure that both colors complement each other well so that you achieve the desired effect without clashing hues or patterns in your space.
Gray Cabinets With Blue Accents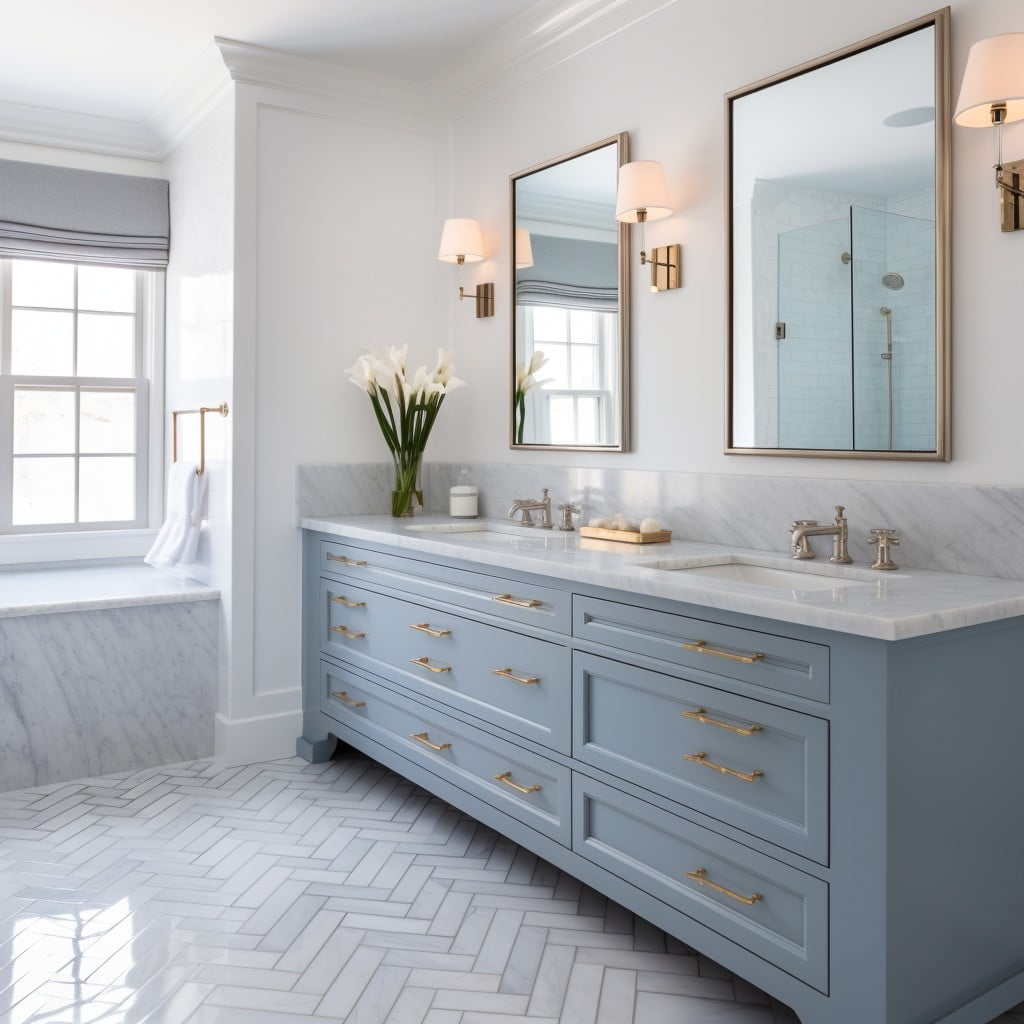 The gray color provides a neutral base that allows the blue accents to pop, creating an eye-catching contrast. You can choose from various shades of blue, such as navy or turquoise, for the accent pieces like knobs and handles on the cabinets.
Alternatively, you could paint just one cabinet door in blue while keeping all others gray for a subtle yet stylish look. This combination works well with white walls and countertops or even wood finishes if you want to create a rustic feel in your bathroom décor scheme.
Blue-gray Towel Set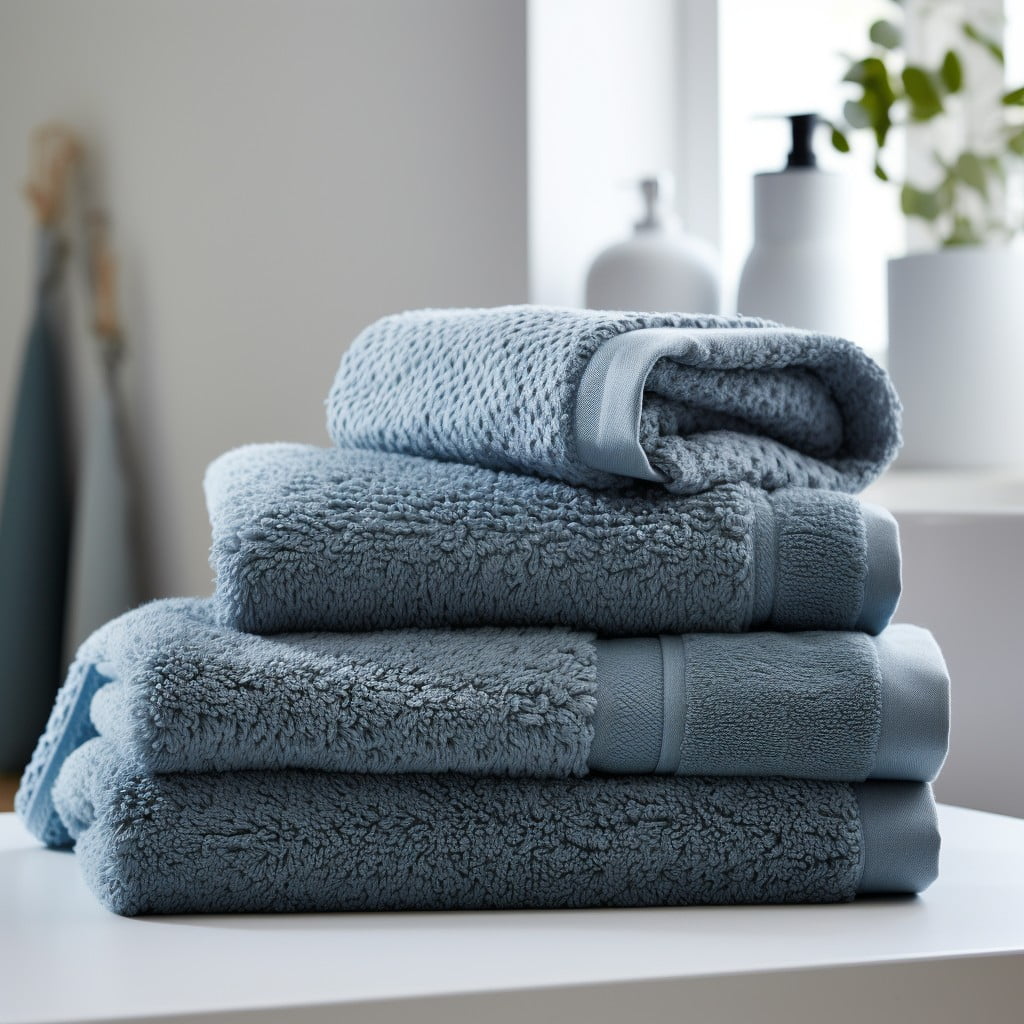 The towels can be used as an accent against neutral walls or paired with other blue and gray accessories for a cohesive look. Opt for plush, high-quality towels that will not only look great but also feel luxurious on the skin.
A set of matching hand towels, bath towels, and washcloths in shades of blue-gray can instantly elevate the overall aesthetic of your bathroom while providing practical use at the same time.
Blue & Gray Patterned Curtains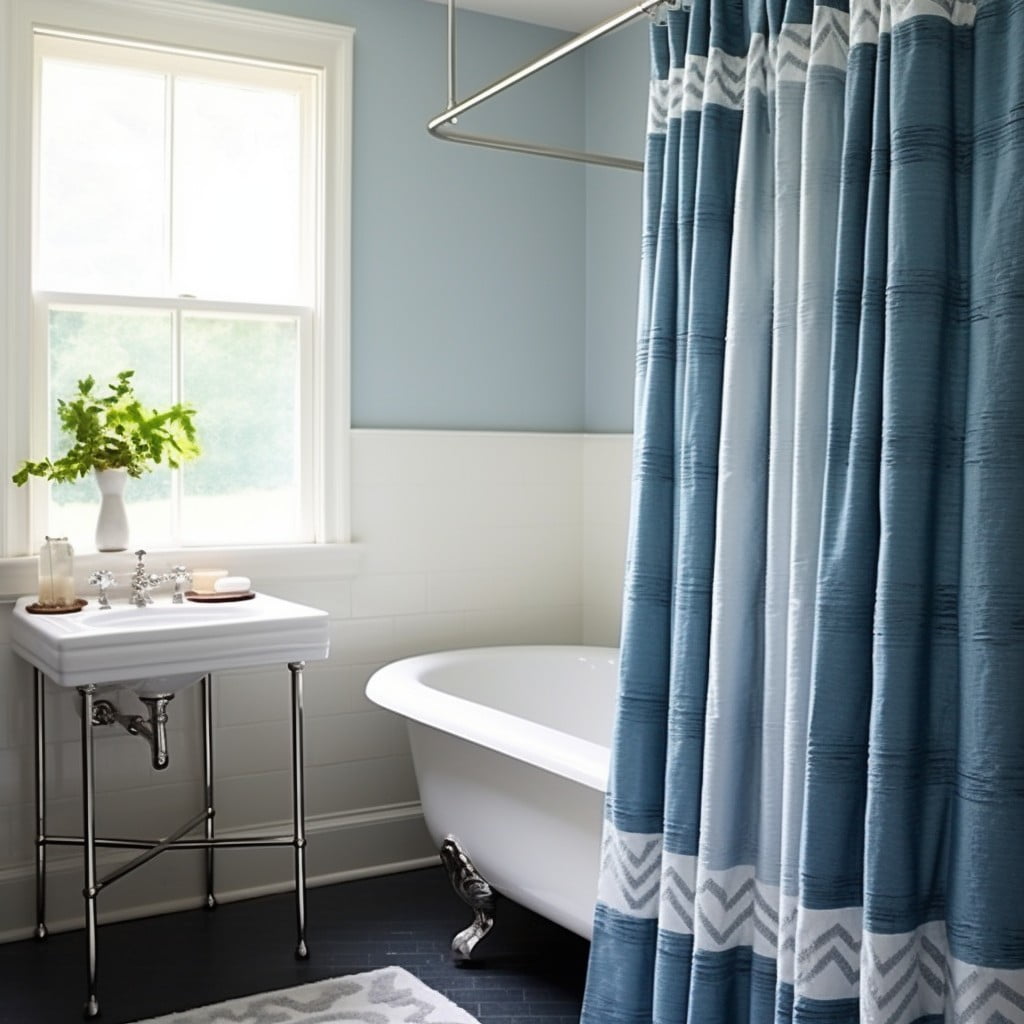 These curtains come in various patterns, from stripes to floral designs, and can be found in different shades of blue and gray. They are perfect for adding color to an otherwise neutral bathroom or complementing existing blue or gray accents.
Patterned curtains also provide privacy while allowing natural light into the space. When choosing patterned curtains for your bathroom, consider the size of your windows as well as the overall style you want to achieve.
A bold print may work well in a larger space with minimal décor while a subtle design could enhance a smaller room with more intricate details already present.
Floating Gray Shelves With Blue Décor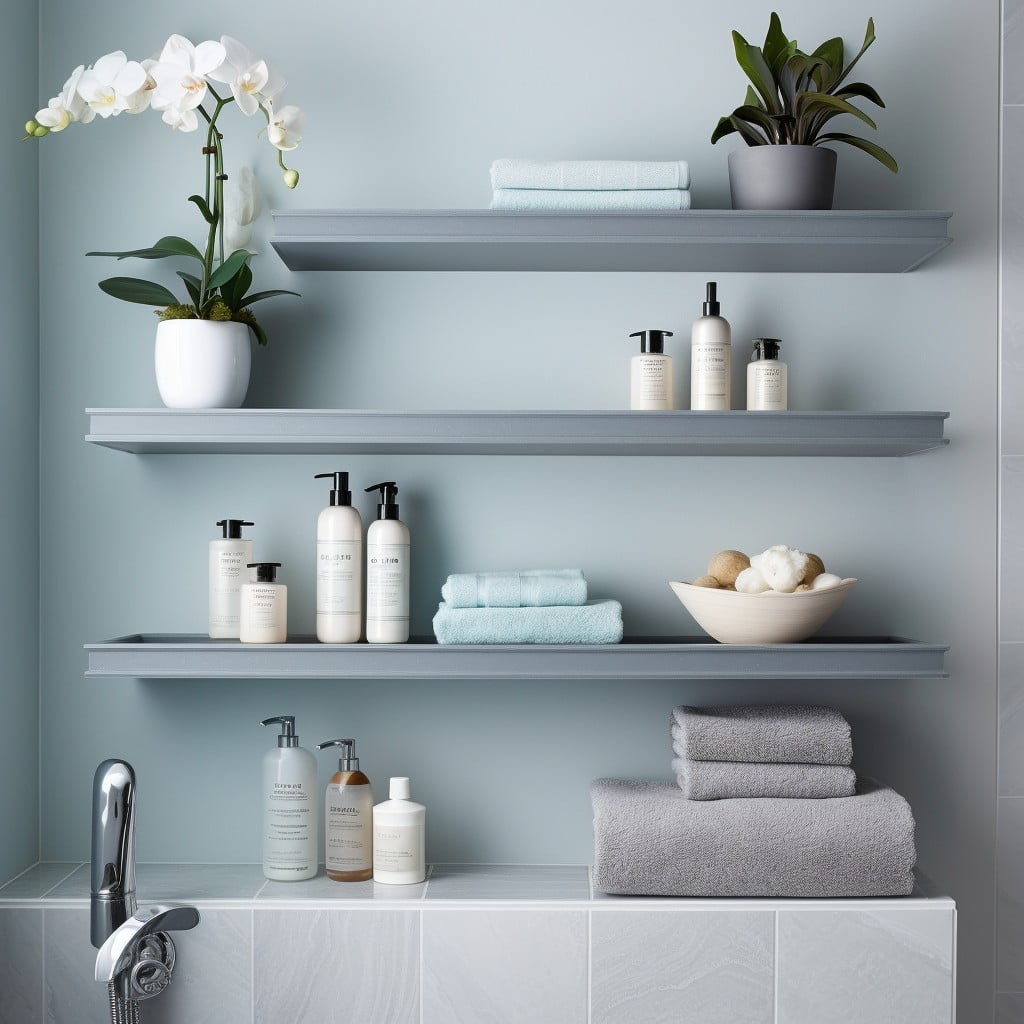 These shelves are perfect for displaying decorative items such as candles, vases, and small plants. You can also use them to store towels or toiletries in stylish baskets or containers.
To create a cohesive look, choose blue décor that complements the other elements in your bathroom such as shower curtains or wall art. The floating design of these shelves creates an illusion of more space while providing additional storage options for smaller bathrooms where floor space is limited.
Blue-gray Paint Color Scheme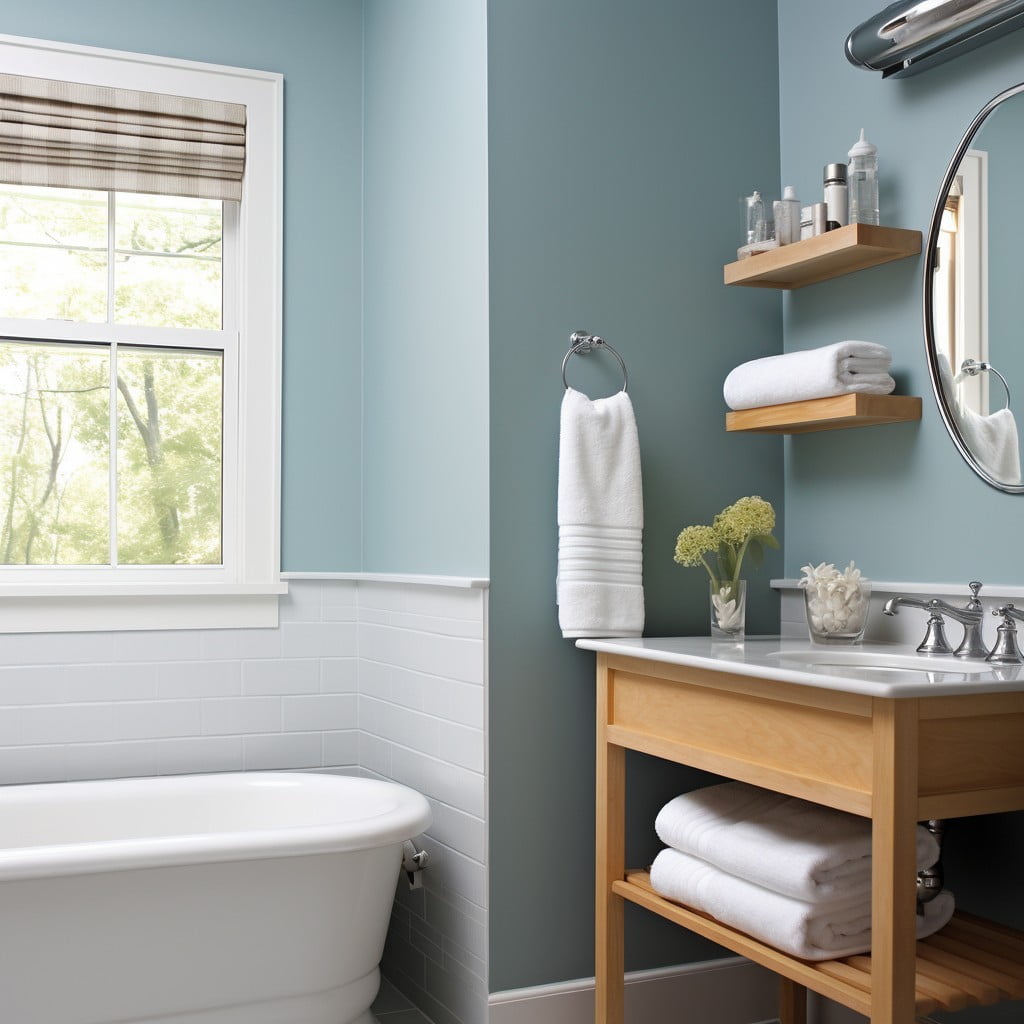 The combination of cool blues and warm grays can make the space feel more spacious, airy, and tranquil. When choosing the right shade of blue-gray paint for your bathroom walls, consider natural light sources in the room to ensure that you select a hue that complements them well.
For example, if your bathroom has little natural light or faces northward where there's less sunlight exposure throughout the day, opt for lighter shades like pale gray-blue or powder blue to brighten up space. On the other hand, if your bathroom receives plenty of sunshine during daylight hours or has large windows with southern exposure where direct sunlight streams in all day long – darker hues such as navy-blue may work better since they won't appear too dark under these conditions but will still provide depth and richness to space when paired with lighter accents like white towels or silver fixtures.
Gray and Blue Patterned Tiles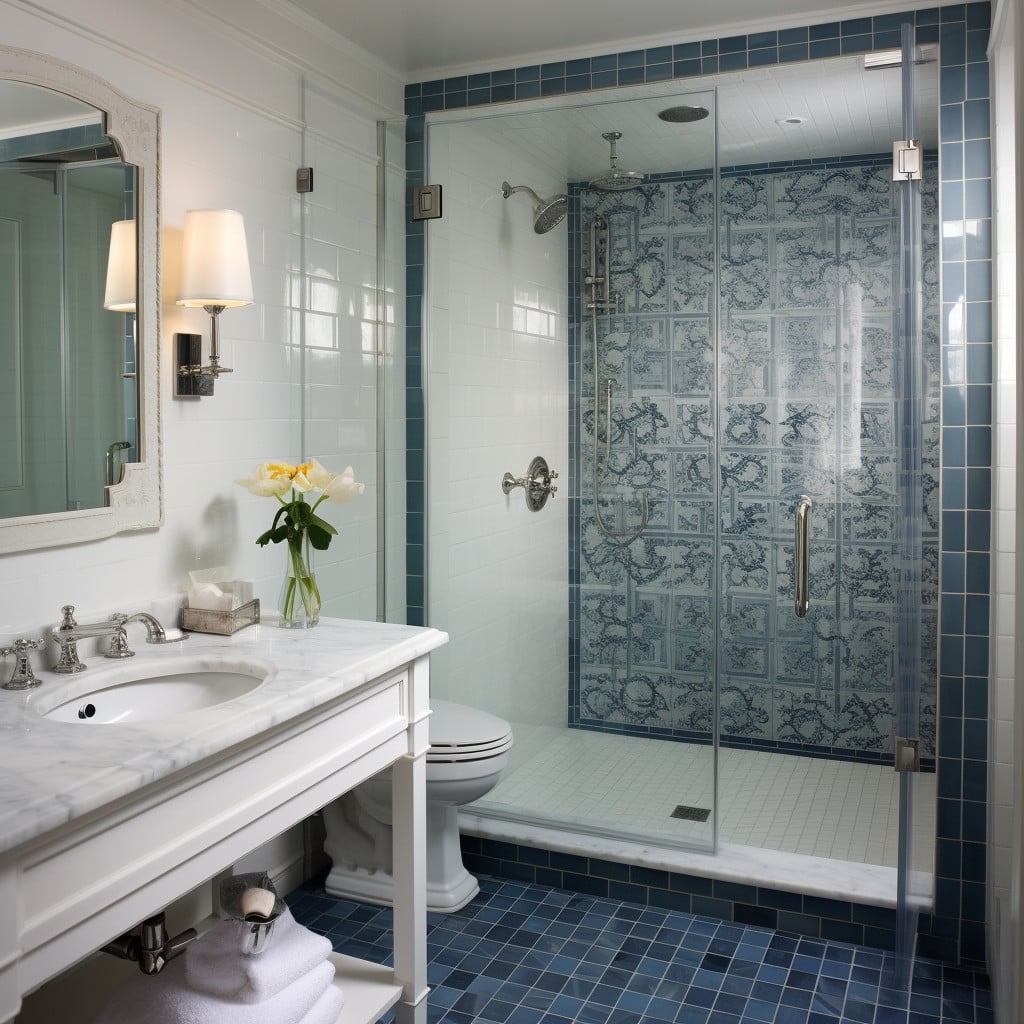 These tiles come in various shapes, sizes, and patterns that can be used on the floor or walls. You can choose from geometric designs, floral motifs, or even abstract patterns depending on your personal style preference.
The combination of gray and blue creates a calming atmosphere while the intricate design adds texture to the space. To make these tiles stand out even more, pair them with simple white fixtures such as a bathtub or sink for contrast.
Gray and blue patterned tiles are an excellent choice if you want to create a unique look in your bathroom without going overboard with color choices!
Blue Framed Mirror With Gray Walls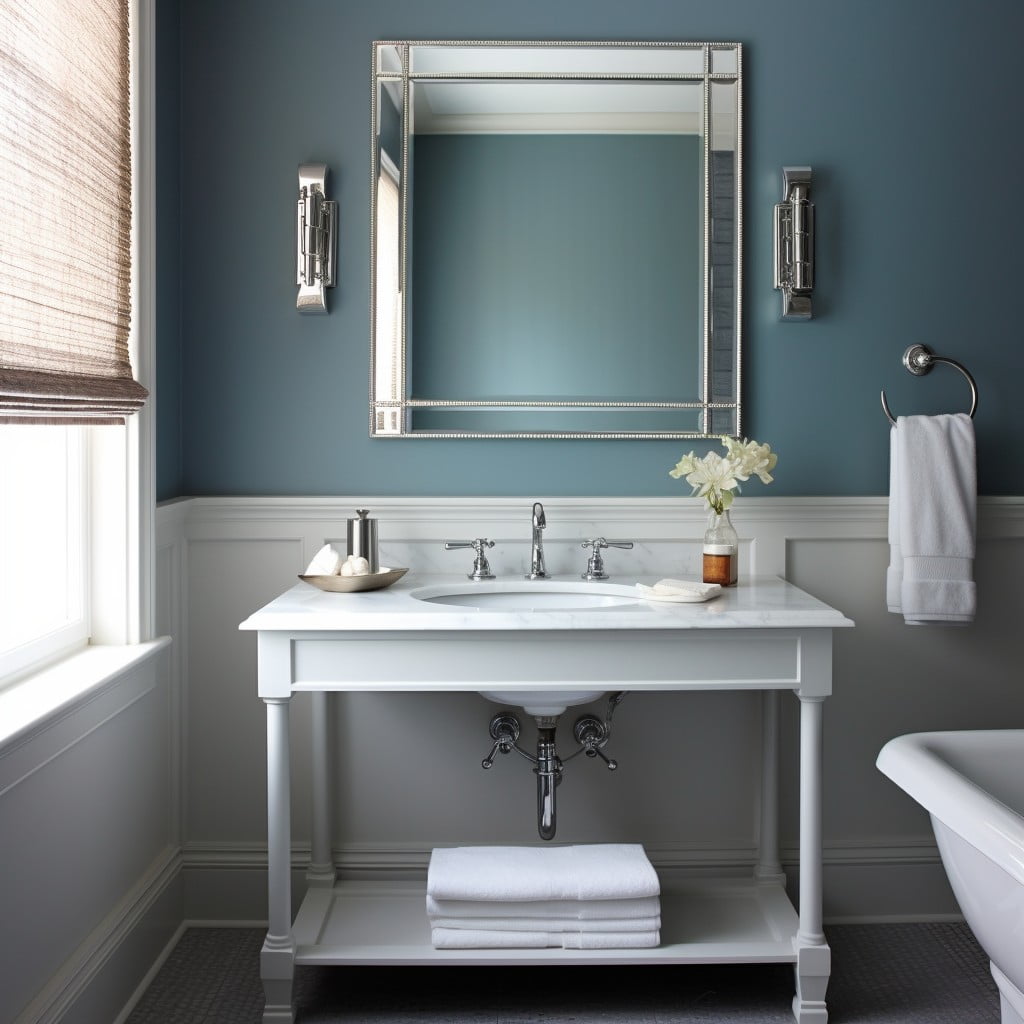 The contrast between the two colors creates an interesting visual effect that adds depth and character to the space. A large blue-framed mirror can also serve as a focal point in the room, drawing attention and making it feel more spacious.
When choosing your mirror, consider different shades of blue that complement your gray walls – from light aqua tones to deep navy hues – and select one that fits both your personal style and bathroom decor theme.
Gray and Blue Coastal Artwork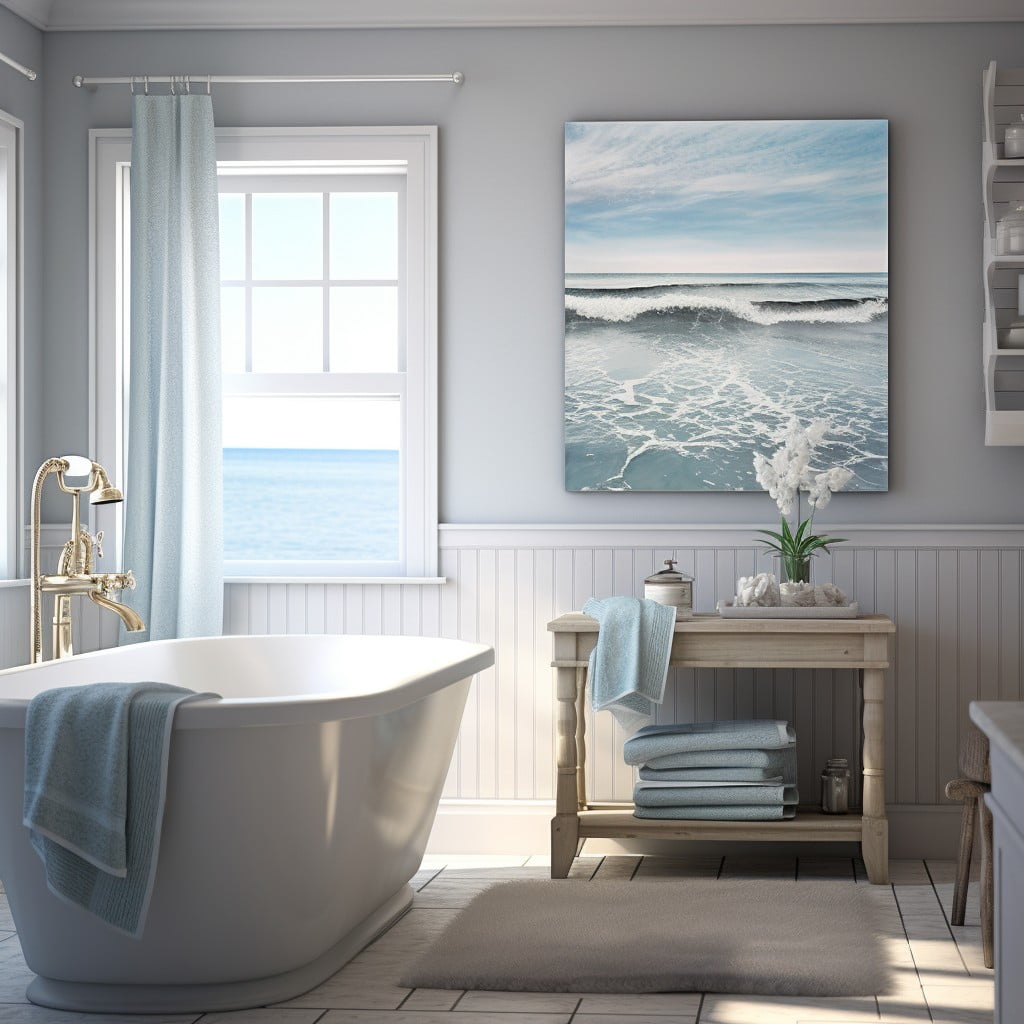 Coastal-themed art pieces featuring shades of gray and blue are perfect for creating a relaxing atmosphere in your bathroom. You can choose from various types of artwork, such as paintings, photographs or prints that depict the ocean waves, seashells or marine life.
A large canvas painting with shades of gray and blue can be an excellent focal point for the room while smaller framed prints could be used to complement other decor elements like towels or shower curtains. The best part about using coastal-inspired art is that it's versatile enough to work with any shade of blue-gray you choose for your walls or tiles!
Blue Towels With Gray Embroidery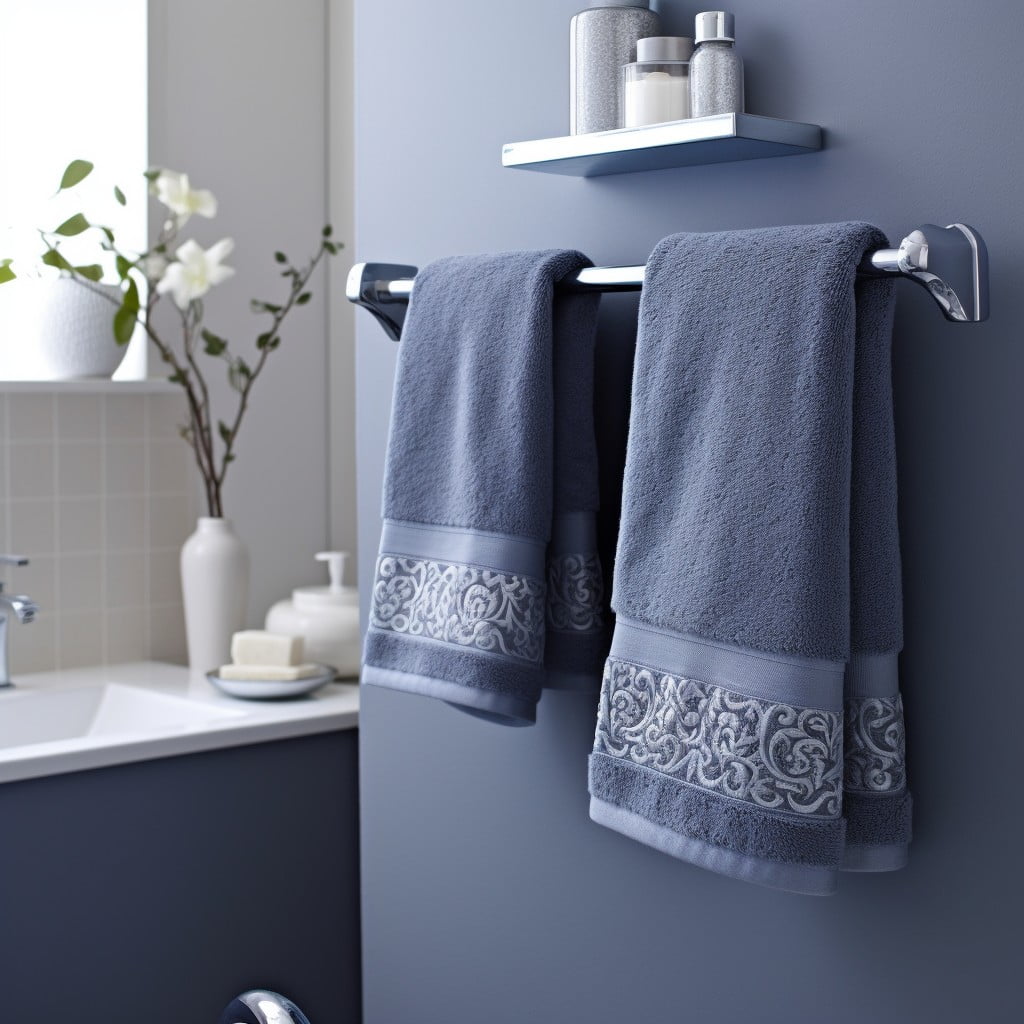 The combination of blue and gray creates a calming atmosphere, perfect for unwinding after a long day. Embroidery adds texture and depth to the towels, making them stand out from plain ones.
You can choose from various designs such as geometric patterns or floral motifs that match your bathroom's theme. Blue towels with gray embroidery are not only functional but also decorative items that enhance the overall look of your space while providing comfort and style at the same time.
Gray Tiling With Blue Grout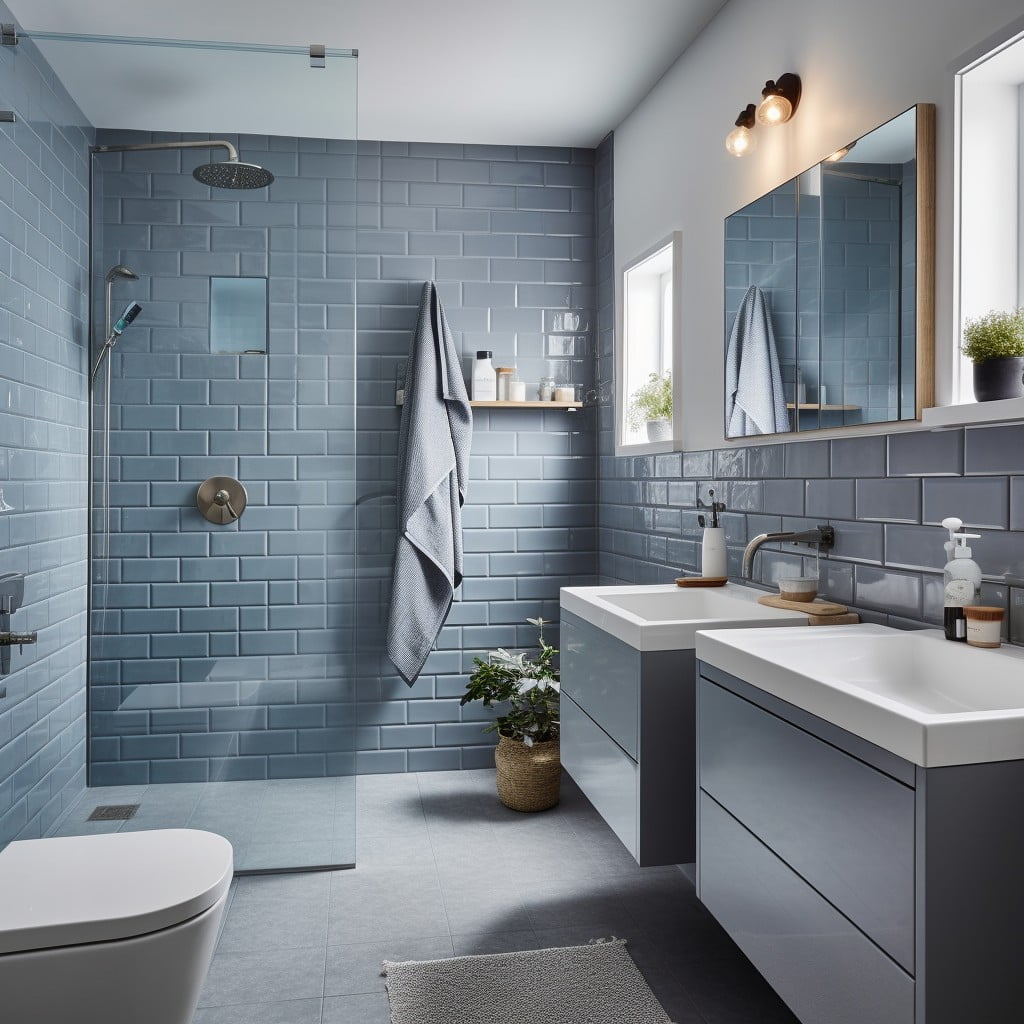 The gray tiles provide a neutral backdrop, while the blue grout adds an unexpected pop of color. This combination works particularly well in modern or minimalist bathrooms where you want to keep things simple but still interesting.
You can choose from different shades of gray and blue depending on your preference, but make sure they complement each other well for the best effect. Using colored grout requires more attention during installation as it may stain easily if not cleaned properly after application.
This idea is perfect for those who want something subtle yet eye-catching in their bathroom design scheme!
Blue and Gray Soap Dispenser Set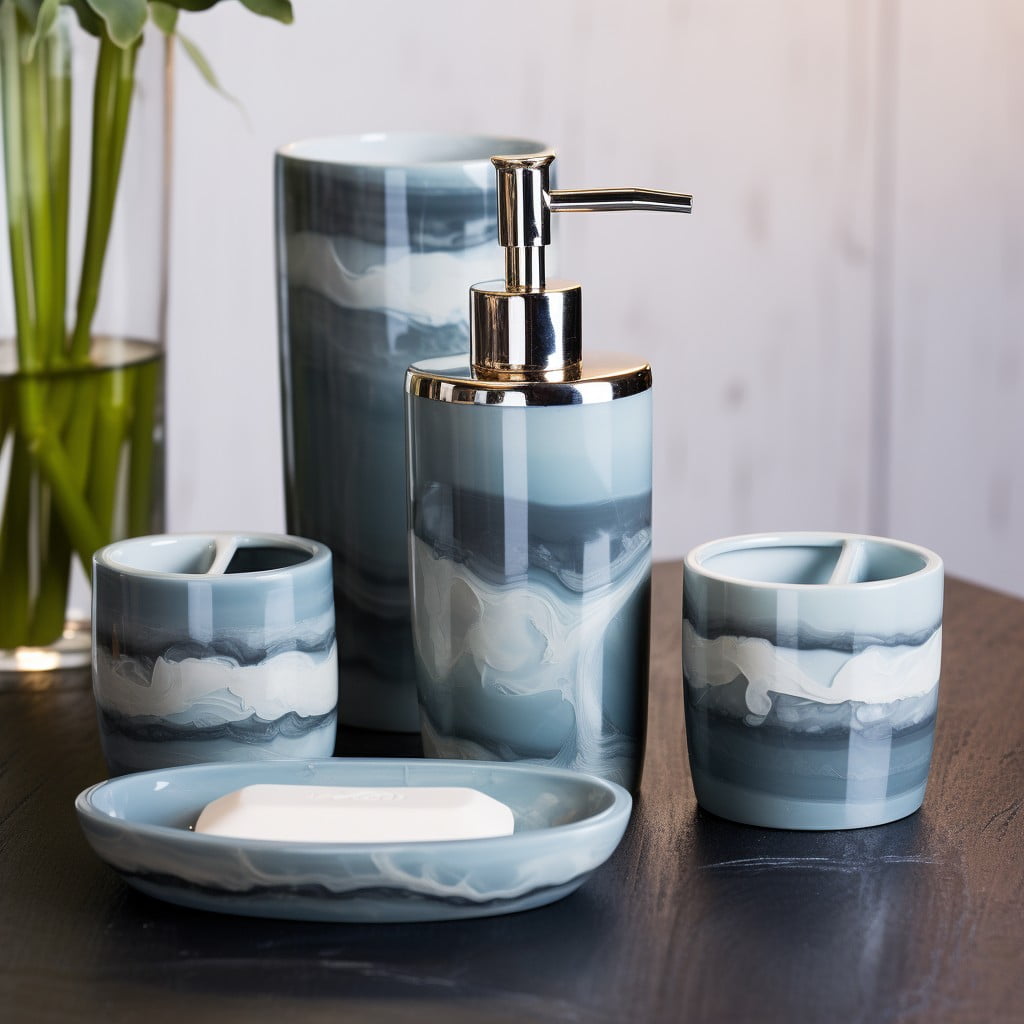 A blue and gray soap dispenser set is an excellent choice for those who want to add some color to their bathroom without going overboard. The combination of blue and gray creates a calming atmosphere, perfect for relaxation during bath time.
You can find sets with different shades of blue, from light sky-blue to deep navy, combined with various shades of gray such as charcoal or silver. These sets are available in different materials like ceramic or glass which adds texture and depth to the overall look of the space while keeping it functional at the same time.
Adding this simple yet stylish accessory will give your bathroom an instant upgrade!
Gray Bathtub With Blue Accents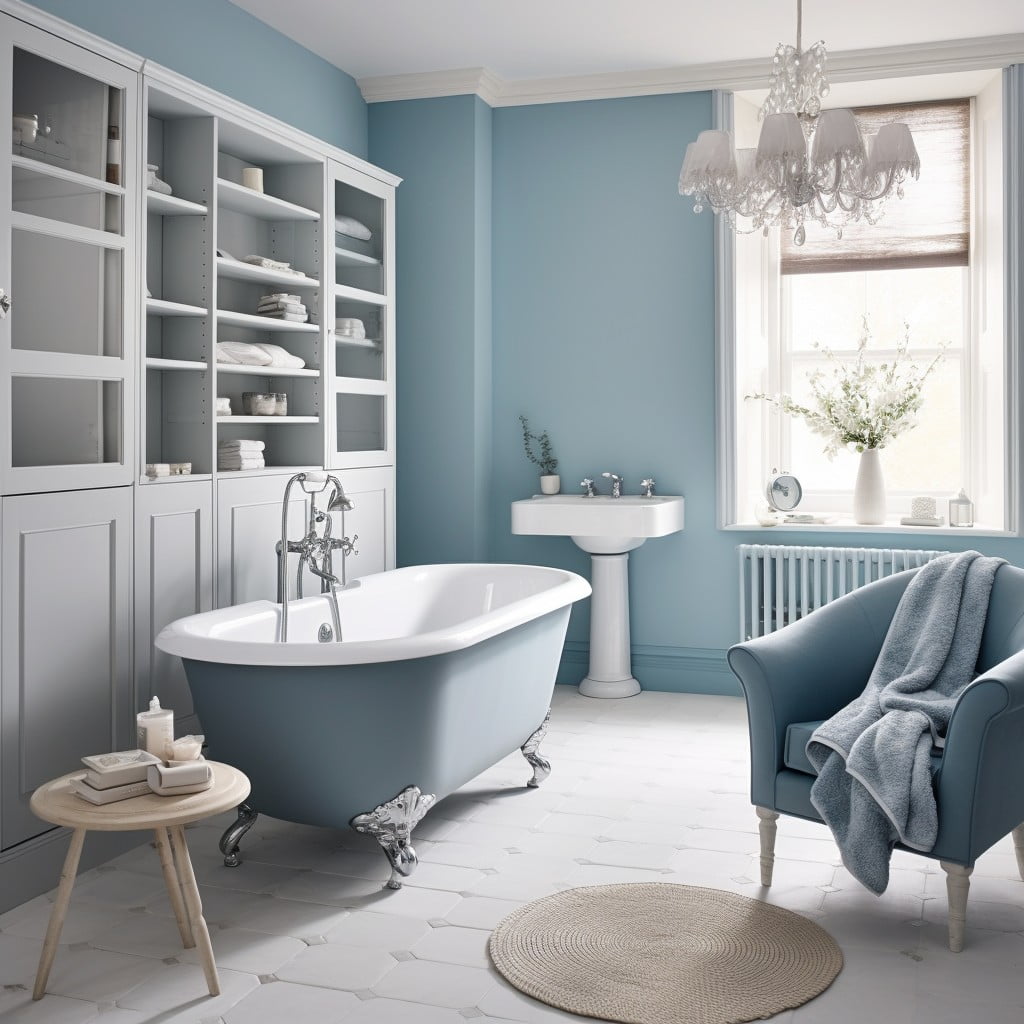 The combination of these two colors creates a calming and relaxing atmosphere, perfect for unwinding after a long day. You can choose to have the entire bathtub in gray with subtle blue accents or vice versa, depending on your preference.
Adding blue tiles around the tub or using blue fixtures such as faucets and showerheads will create an eye-catching contrast against the gray background. To complete this look, consider adding other elements in shades of white or cream for balance and harmony within your bathroom design scheme.
Continue reading: