Last updated on October 26, 2023
Revamp your bathroom by incorporating brushed nickel lighting because it adds a subtle chic finish that effortlessly enhances aesthetics.
In creating this comprehensive guide on 20 Modern Brushed Nickel Bathroom Lighting Ideas, I'm proud of the unique designs I've crafted and sincerely hope you, the reader, will find it as inspiring and fun to explore as I did making it.
Brushed nickel bathroom lighting can effortlessly add elegance and a contemporary touch to your bathroom. This article dives into a variety of brushed nickel lighting ideas, from pendant lights to vanity fixtures, that could illuminate your bathroom in a stylish yet functional way.
Stay tuned to discover how the subtle charm of brushed nickel can transform your bathroom into a sophisticated sanctuary, with detailed descriptions and practical tips to guide your choice.
Over-mirror Brushed Nickel Light Bars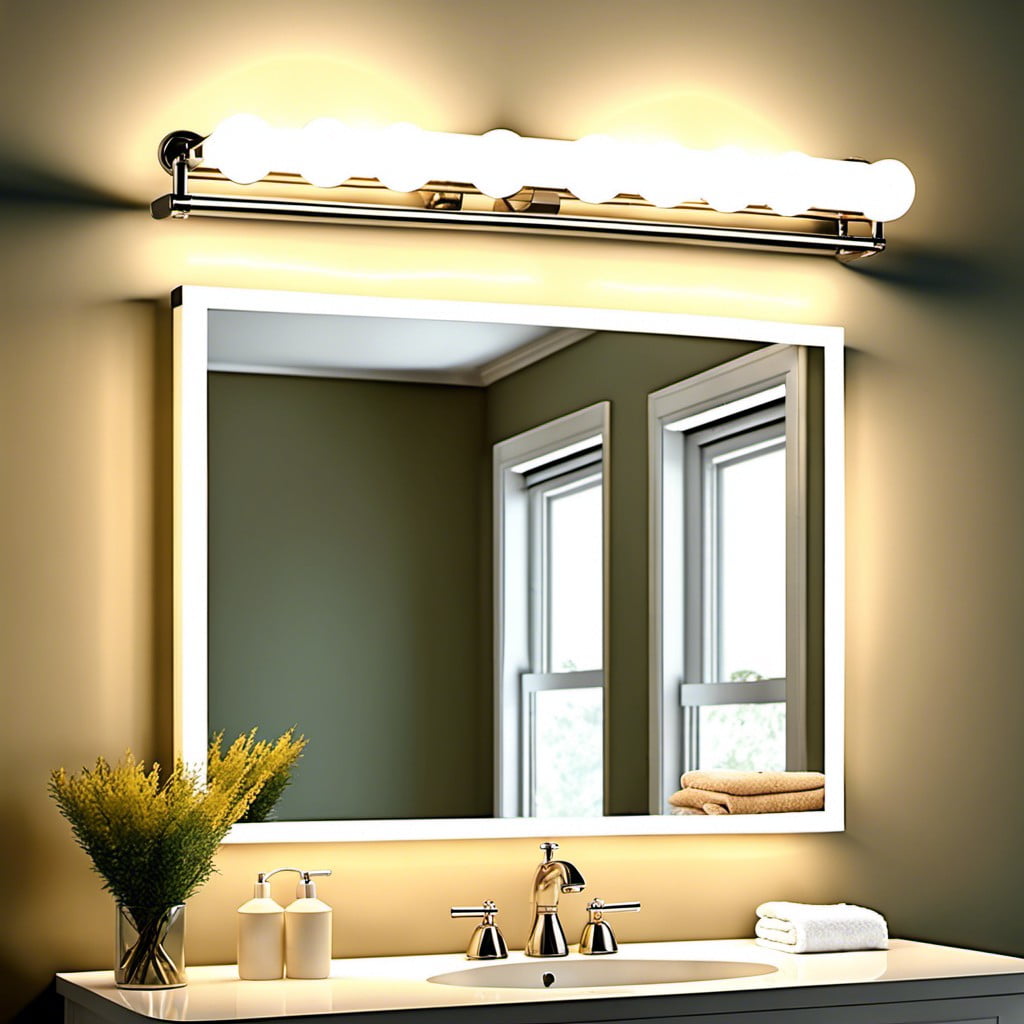 Over-mirror light bars are a popular, practical choice for most bathrooms. They provide broad, even lighting, which is perfect for tasks such as applying makeup or shaving. The brushed nickel finish adds an air of sophistication and works well with a multitude of color schemes.
1. Size Appropriately: The length of the light bar should generally be about three-quarters the length of the mirror. This ensures even lighting.
2. Opt for LED Bulbs: LEDs provide excellent color accuracy, and more importantly, they consume less energy and have a longer lifespan than traditional bulbs.
3. Installation: Ensure these are installed at an optimal height (roughly 80 inches from the floor). Too high or low might create unwanted shadows.
4. Style Variety: Brushed nickel light bars come in a myriad of shapes – linear, wave, or rectangular. Choose one that compliments your bathroom's aesthetic.
Exploring one's options with these light bars can greatly enhance the builder-standard mirror, without straying too much out of the comfort zone.
Brushed Nickel Sconces for Ambient Lighting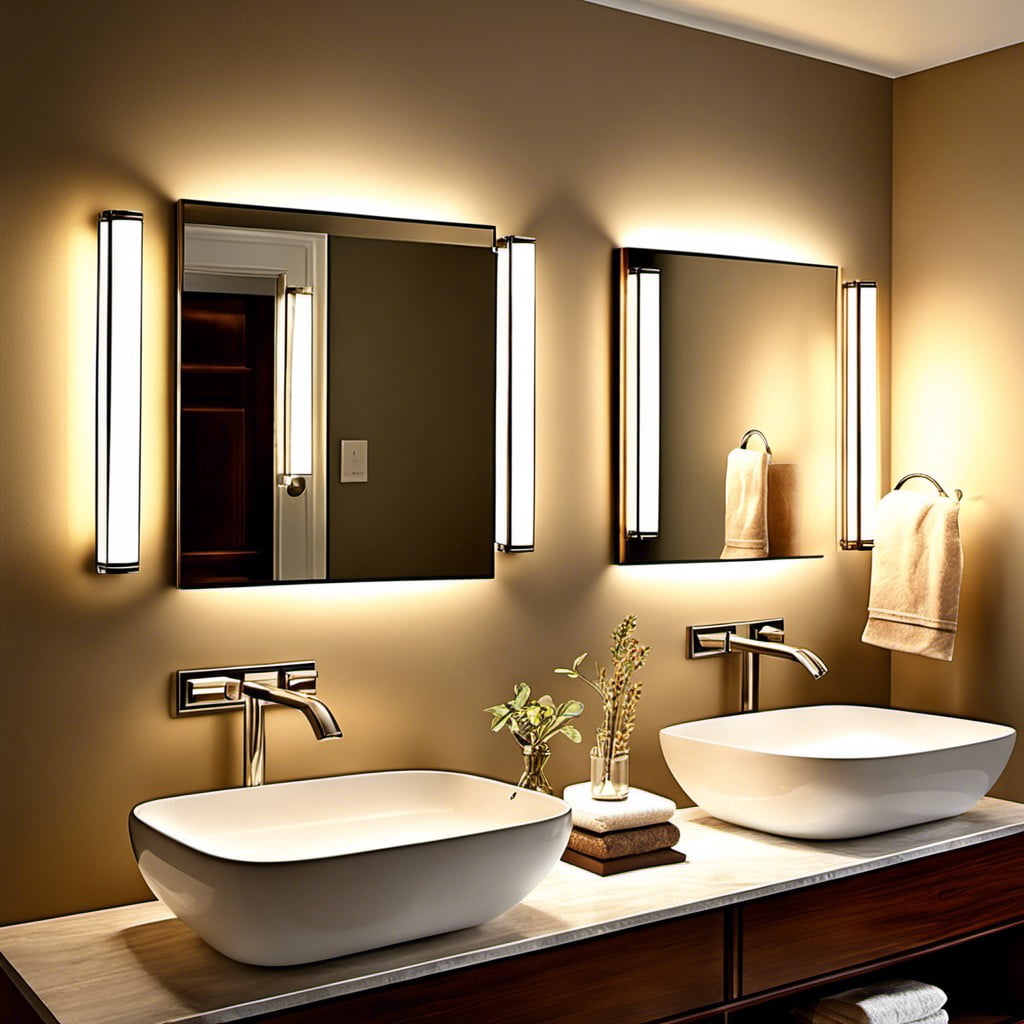 Achieving a warm ambiance needs more than the standard overhead lights. Bringing in sconces introduces layering, which, when done correctly, creates an inviting environment. With their warm radiance and soft shadows, these fixtures truly make a difference, infusing your bathroom with a cafe-like feel.
Adding to their appeal, the brushed nickel finish of sconces adds an elegant touch. It subtly diffuses light to brighten up the space without overwhelming the eye. Plus, it goes well with a wide range of color palettes, making it easy to complement your existing decor.
Ideally, place them at eye level on either side of the mirror. This eliminates harsh shadows on the face and provides ideal lighting for grooming tasks. For larger bathrooms, consider additional sconces around the tub or over artwork.
Remember, match the size of the sconce to the scale of its placement area. Do opt for fixtures with dimming abilities to adjust the intensity as desired. Now jazz up your bathroom light scene with these versatile, brushed nickel beauties.
Brushed Nickel Downlights for Shower Area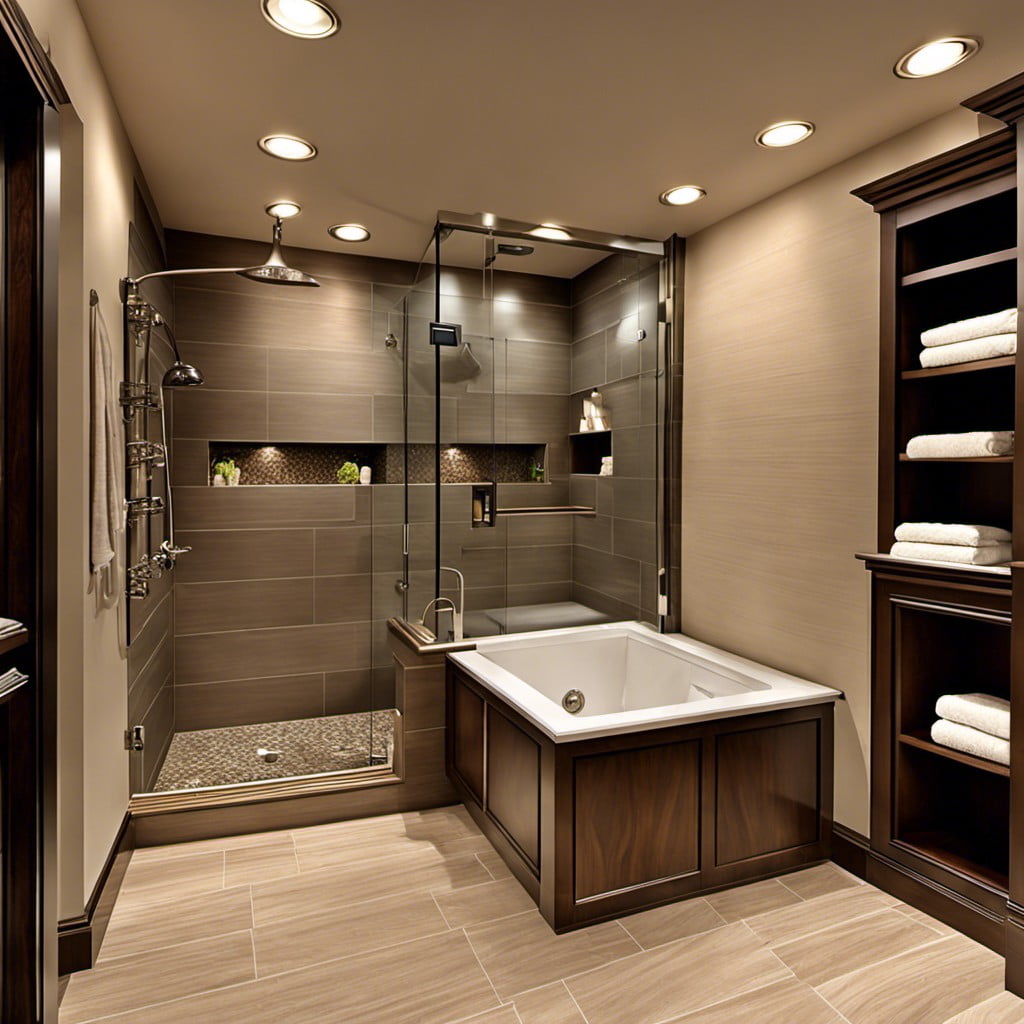 Perfectly positioned downlights can enhance the functionality as well as the aesthetics of your bathroom. Opt for units that showcase a brushed nickel finish to deliver an ideal balance of style and subtlety.
Emphasize functionality with placement – target high utility areas such as near the shower handrail or alongside shower niches. This improves visibility, adding an extra layer of safety to your shower space. Remember to always prioritize waterproof, IP-rated lights for wet areas.
Remember, these lights aren't just practical, they're also a design element. Choose models that spotlight the natural gleam of your wet area tiles, enhancing the inherent beauty of your bathroom. Adjustable downlights can even offer the flexibility to direct the light for specific needs or moods.
Experiment with beam angles: Narrow beams provide a focused light ideal for highlighting specific areas, while wider beams offer softer, more ambient illumination. A mix can help provide layered lighting.
Lastly, consider lights with a dimmable function. Being able to soften the lighting can transform the shower from a quick daily rinse to a soothing escape after a long day.
Recessed Brushed Nickel Lighting for a Minimalist Approach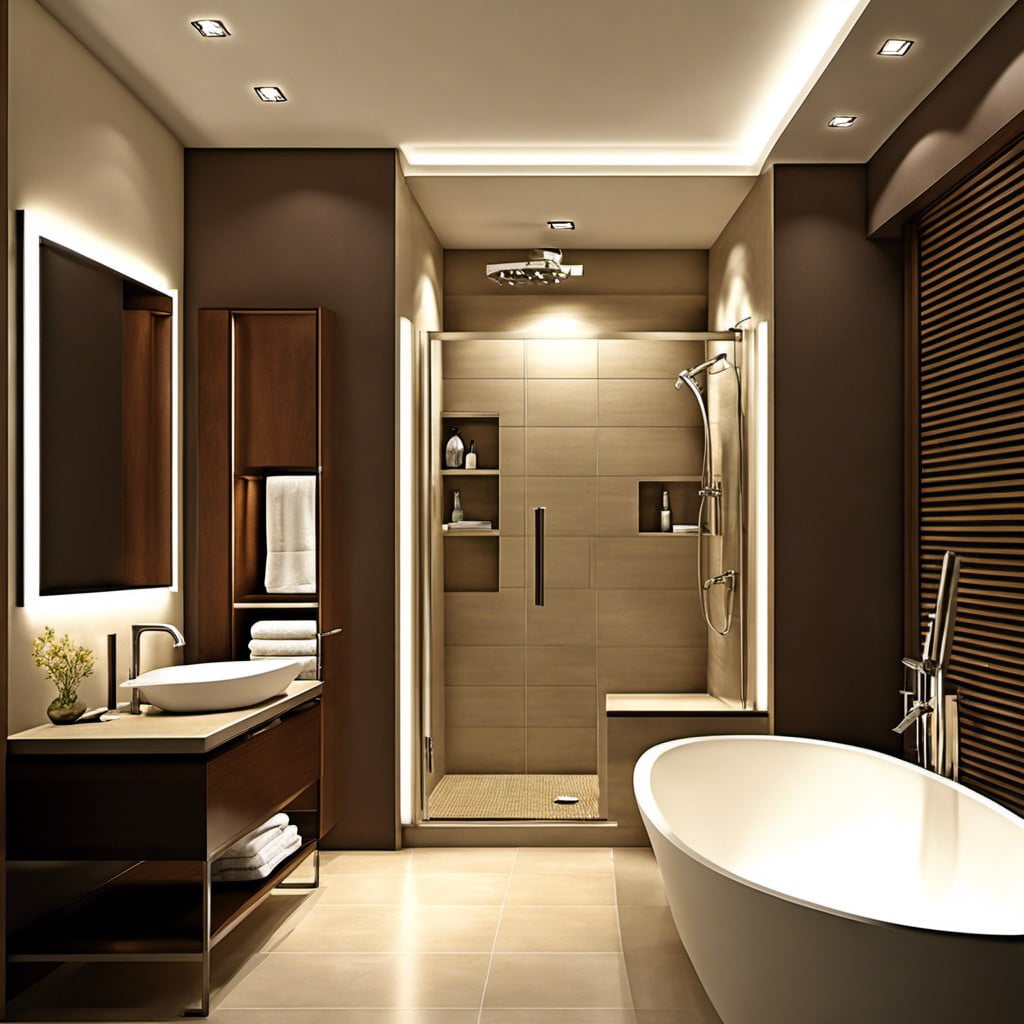 For those who enjoy clean lines and uncluttered designs, these are a go-to option. The flush design provides a subtle yet effective light source, ideal for spaces where you need general illumination without dramatic effects. Incorporate these fixtures in the bathroom by placing them strategically around the main mirror. This prevents shadows and assists you in grooming tasks.
To add a touch of sophistication, try zoning. Separate the showering area and the vanity with different recessed lights. The beauty of this fixture is that it acts as a brilliant backdrop, allowing other features of the bathroom to take the center stage.
Remember, it's all in the details. Small changes like switching to a dimmer can drastically alter the mood of the room. With modern technology, you can set the ambiance based on your needs and time of day. This is particularly beneficial in bathrooms, where requirements change from energizing morning duties to relaxing evening baths.
Remember to hire a professional installer to embed these fixtures into the ceiling. An incorrect installation could lead to functional and safety issues down the line.
Brushed Nickel Pendant Lights for Elegance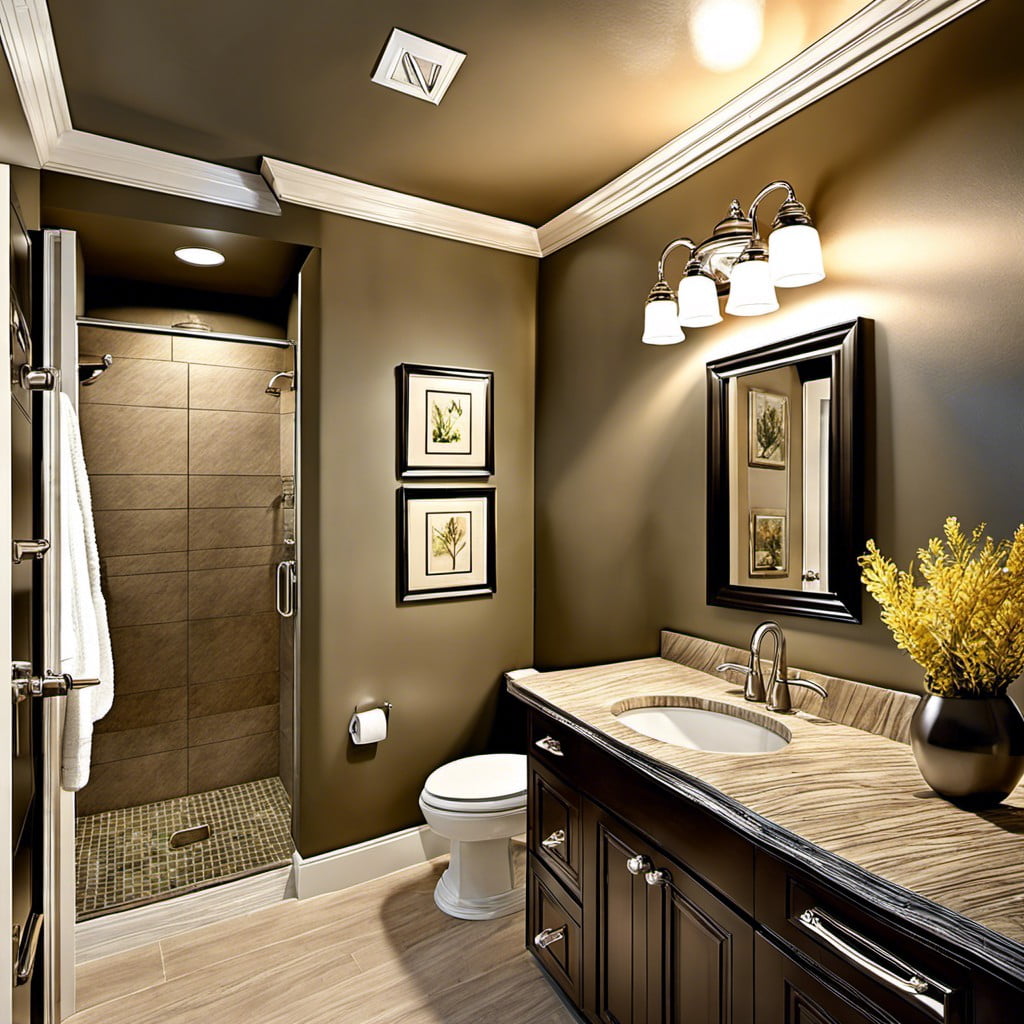 Adding an undeniable flare to any bathroom, these lighting fixtures elegantly hang from the ceiling, spotlighting key areas. They come in a variety of designs, from minimalist modern globes to elaborate vintage-inspired shapes. When selecting, keep the bathroom's overall style in mind. For an opulent look, go with ornate, crystal-decorated pendants. Prefer low-key sophistication? Choose simpler designs with geometric or clean curved shapes.
Though traditionally pendants are hung above a bathroom sink, they also work wonders over a freestanding bathtub or the center of the room for a stunning light display. Ensure they're installed at an appropriate height, too low and they may obstruct views, too high, they might not effectively illuminate the required area.
Brushed nickel pendant lights not only serve a practical purpose but also become a striking feature in any bathroom, infusing elegance into your morning and evening routine. Your chosen brushed nickel finish harmonizes with virtually all color schemes and materials, from bold black and pristine white to natural wood and coastal hues. This ensures your bathroom décor remains cohesive regardless of changes in trends or personal taste.
Remember to select LED bulbs for your pendants. They offer brighter light, consume less power and last longer – an effective way to enhance the style and functionality of your bathroom.
Please keep in mind that advanced electrical knowledge is required to safely install pendant lights. Hiring a professional electrician is recommended. Never attempt to do it yourself without proper training.
Vanity Lights in Brushed Nickel for Makeup Area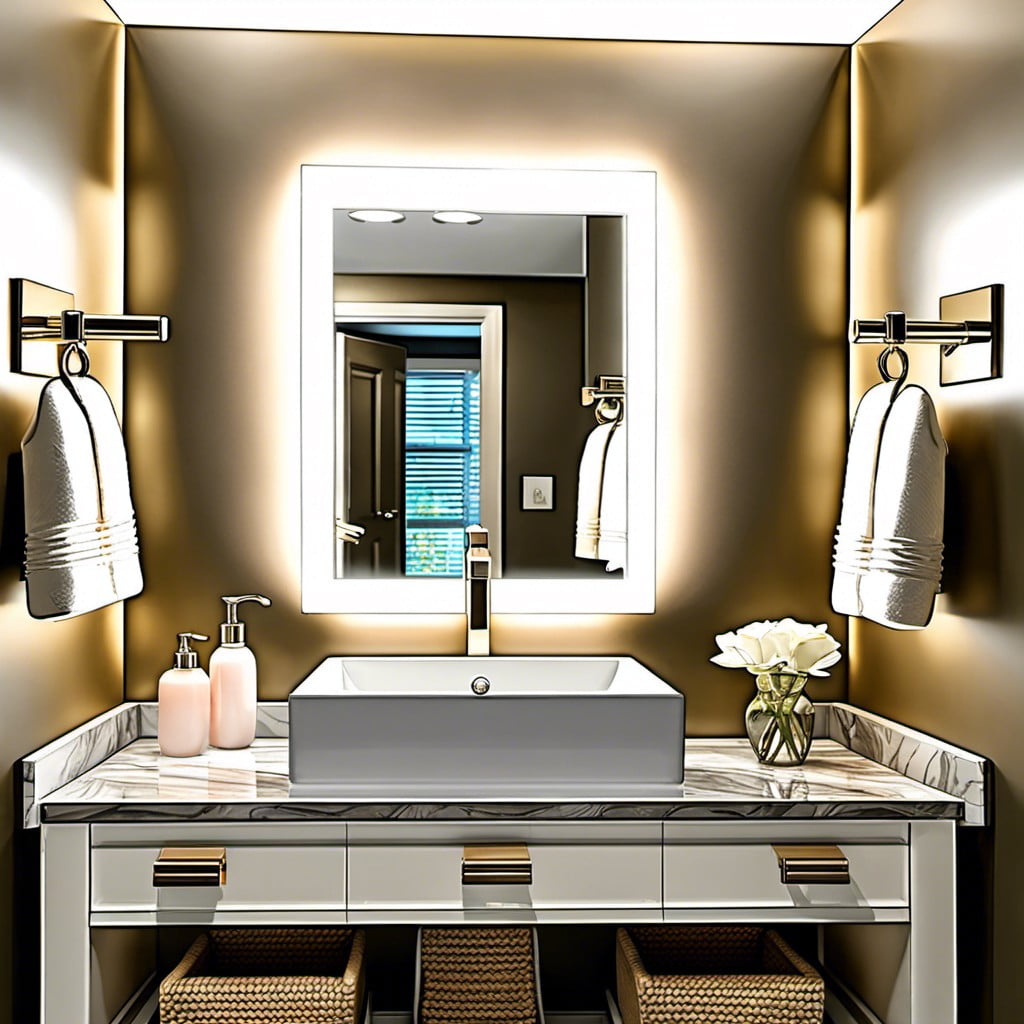 Choosing the right light fixture for your makeup area can significantly streamline your routine. Brushed nickel vanity lights, with their sleek finish and modern appeal, are perfect for this. Consider installing them around the vanity mirror to diffuse light evenly, reducing shadows and glare.
Keep in mind:
Position them at eye level to cast an even light.
Opt for frosted bulbs to mitigate harsh, direct illumination.
Consider multiple light sources to cover all angles.
Adjustable dimming lets you control brightness according to your needs.
LED lights are energy-efficient and provide excellent colour accuracy.
With these key pointers in mind, flawless makeup application is just a flick of a switch away!
Brushed Nickel Wall Lights Around Mirror for an Enhanced View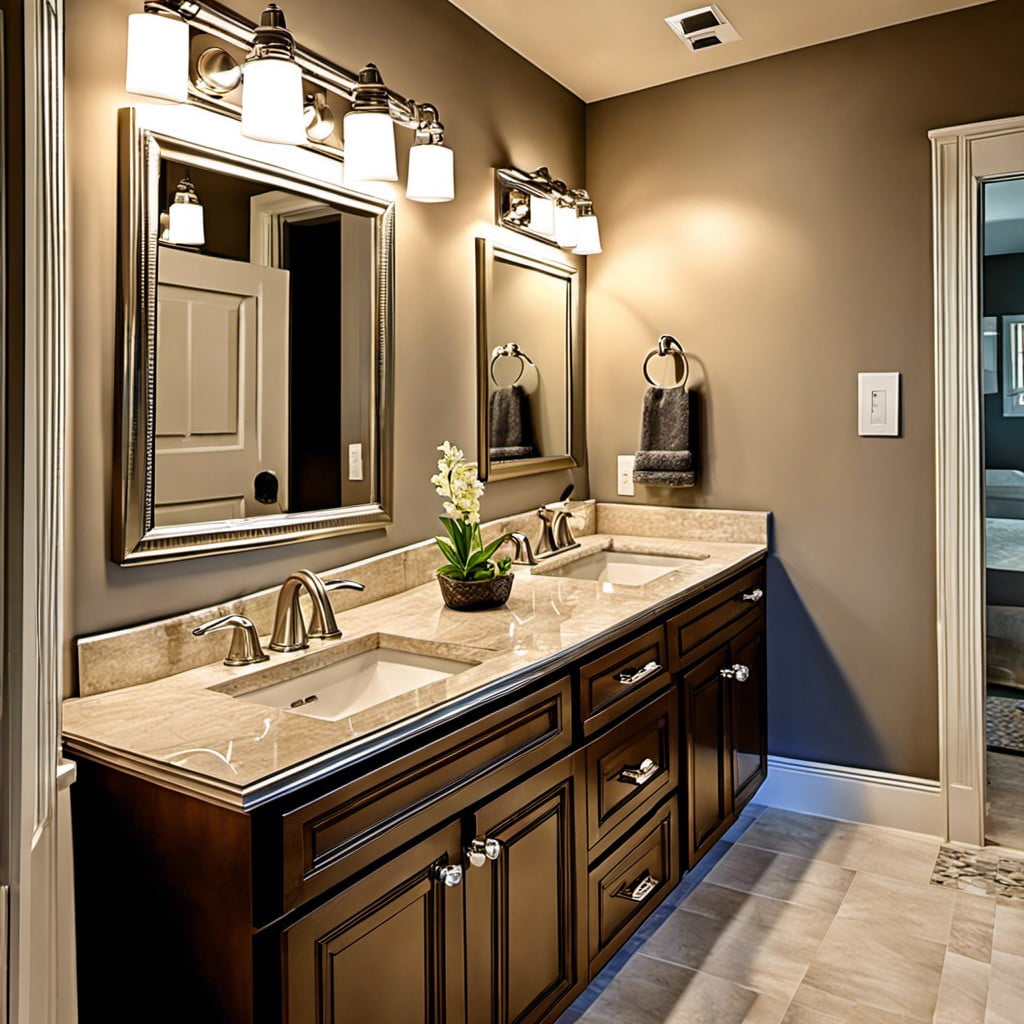 Using wall lights on either side of your mirror not only eliminates shadows but also offers perfect illumination for activities like shaving or applying makeup. They should be mounted at eye level, approximately 66 inches from the floor up to the center of the fixture for optimal results.
Ensure you choose soft, energy-efficient LED bulbs to get the desired, natural daylight effect. Also, consider adding separate switches for these lights to have more control over the overall bathroom lighting.
It's worth noting that the brushed nickel finish adds visual interest by combining both modern and traditional design elements.
Brushed Nickel Ceiling Spotlights for a Dramatic Touch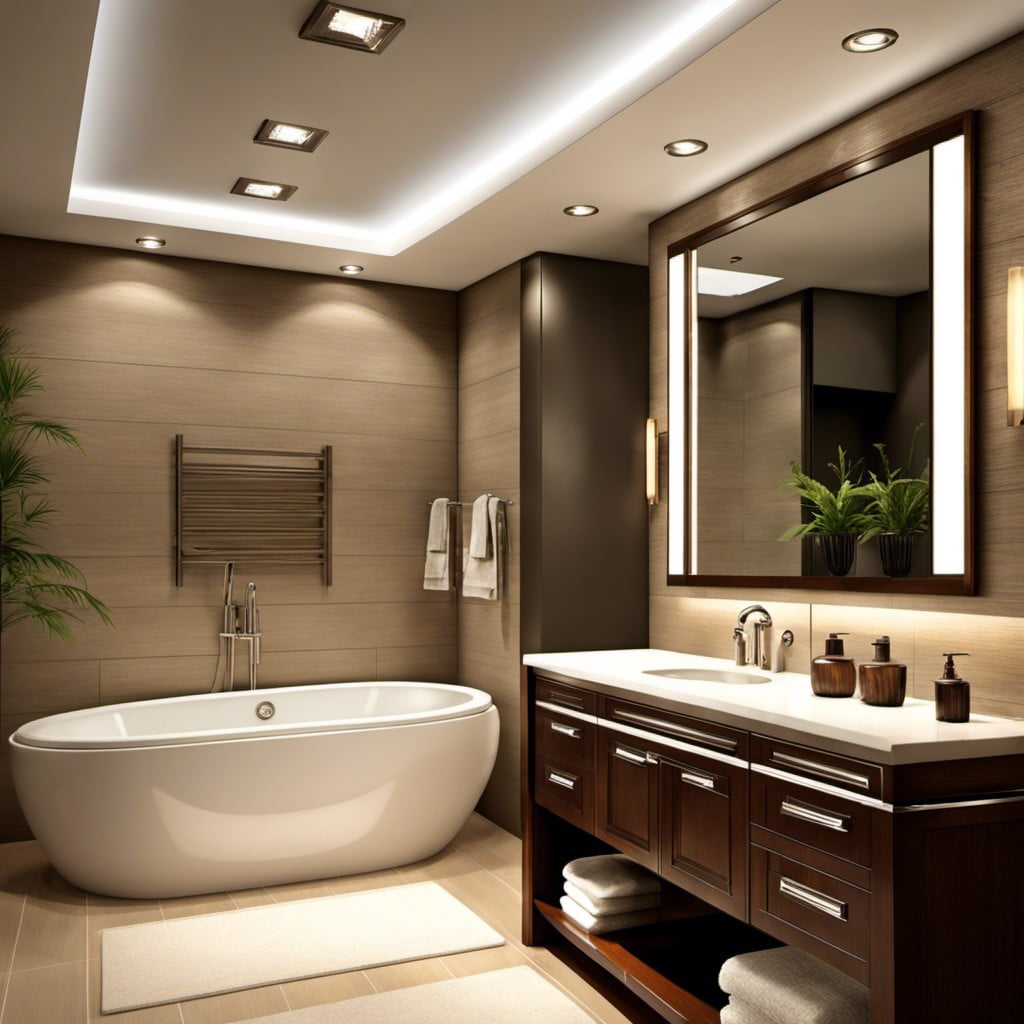 These innovatively designed spotlights, with their stunningly crafted brushed nickel finish, not only offer a vigorous illumination but also contribute to the overall aesthetic appeal of your bathroom.
Consider the following points:
Placement: Typically installed in the ceiling, these lights serve as the main source of brightness in the bathroom, delivering strong, concentrated light in spaces where you need it most like over the sink or bathtub.
Brightness Control: Thanks to modern technology, many come with dimmers which allow you to control the level of lighting perfect for creating a relaxing atmosphere or instant brightness.
Design Variation: They are available in various designs – from single to multiple light fixtures which can be angled differently for focused lighting.
Long-Lasting: Being embedded in the ceiling cuts down the chances of accidental damage, while LED ones are energy-saving and have a significantly longer lifespan than traditional bulbs.
Style Upgradation: The brushed nickel finish adds an air of sophistication, lending a modern, sleek look to your bathroom. It complement richly hued walls beautifully, like navy blue or charcoal grey, while also standing out against lighter shades.
Remember, the bathroom lighting's functionality is as prominent as its design, so let these ceiling spotlights balance the two expertly.
Adjustable Brushed Nickel Track Lighting for Focused Light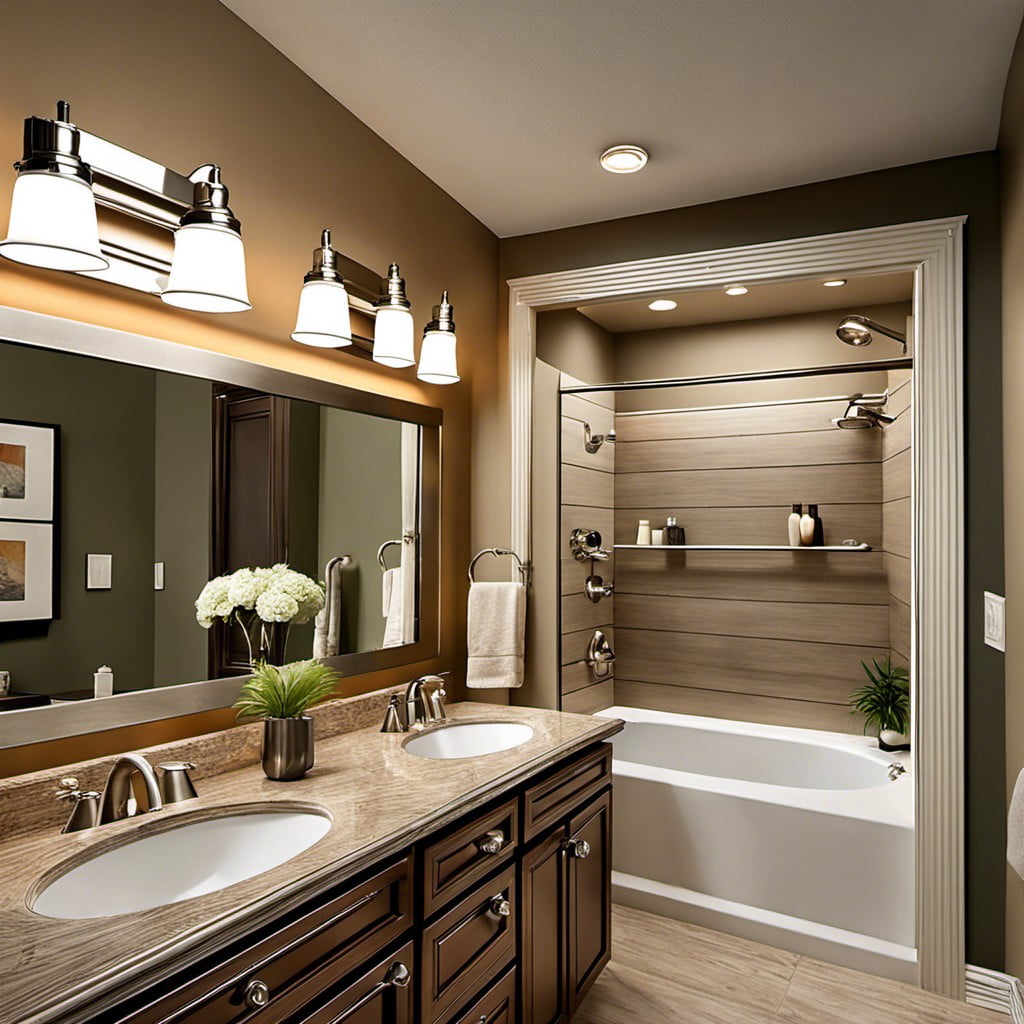 Utilizing adjustable light fixtures can make a significant impact in your bathroom's ambience. The directional feature of track lighting is perfect for accentuating focal points.
Brushed nickel as a material, lends durability while exuding a warm, sophisticated appeal. Moreover, this type of lighting fixture offers versatility, making it an effective solution for those seeking to spotlight specific areas – be it a beautiful piece of artwork or a striking architectural feature of your bathroom.
Remember, the bulbs installed should complement the overall design, opt for LEDs or halogens to enhance efficiency. Ultimately, personalizing the direction of each spotlight will help create your desired lighting effect, illuminating your bathroom just the way you like it.
Brushed Nickel Chandelier for a Vintage Feel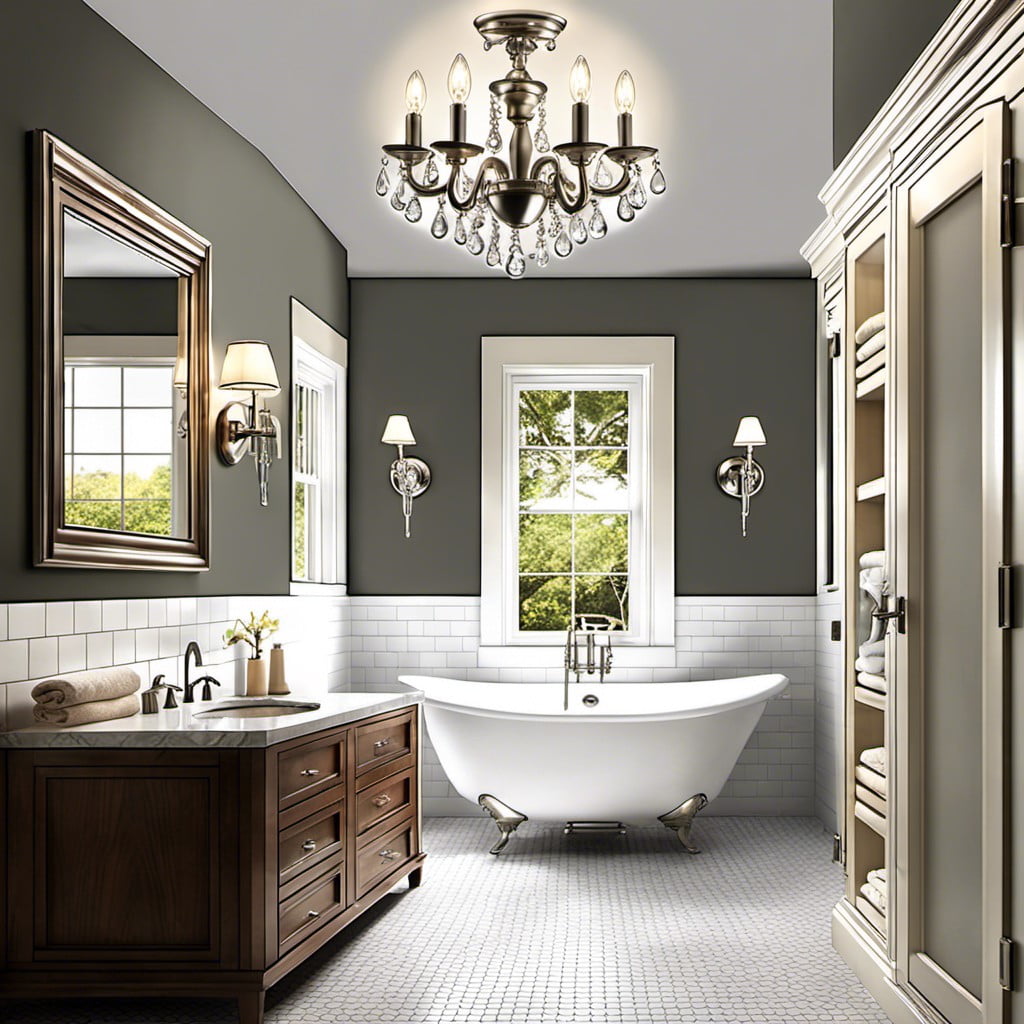 Adopting this elegant option brings a sense of classic charm to your bathroom, offering a wonderful blend of style and function. With a broad array of designs to choose from, there's something for every taste.
For an authentic vintage look, seek out models with candelabra-style bulbs and ornate detailing. Alternatively, bubble or glass drop designs give a slightly modern twist, without losing that nostalgic appeal.
Remember, sizing is important; your chandelier should enhance your space, not overpower it. Lastly, always ensure that any lighting used in a bathroom setting is properly rated for moisture resistance to avoid any potential safety hazards.
This touch of glamour will truly elevate your bathroom ambiance.
Layered Brushed Nickel Lighting for Depth and Drama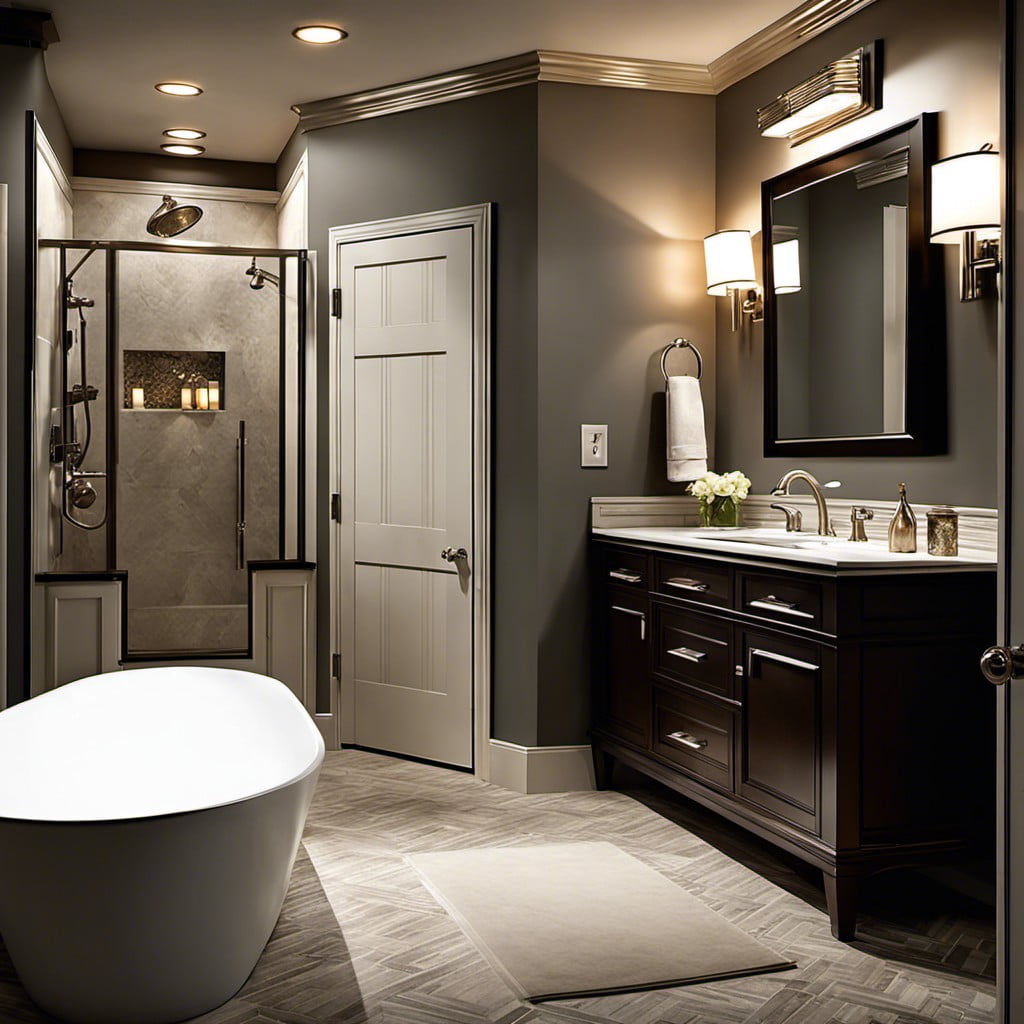 With a strategy in place, layered lighting can elevate your bathroom aesthetics while offering functional benefits. Here are a few tips to help achieve a balanced look.
Primarily, identify key areas needing illumination; vanity, faucets or the bath area could be focal points. Opt for overhead brushed nickel lights to serve as general lighting. This layer ensures your bathroom is well-lit for tasks and covers the entire area evenly.
Next, install brushed nickel task lights near the mirror or vanity area. This can counter glare and shadows cast by overhead lights, especially crucial for personal grooming.
Lastly, consider brushed nickel accent lights for contributing towards a dramatic and inviting atmosphere. Ideal spots for these lights could be wall art displays or architectural features. This third layer brings depth, elevating the aesthetics while highlighting unique details.
Ultimately, layered lighting involves balancing different levels of illumination from various heights and angles to ensure visibility, functionality, and ambience. With brushed nickel fixtures, you'll maintain a sleek, cohesive, and stylish look throughout.
Brushed Nickel LED Light Strips Tucked Beneath Cabinets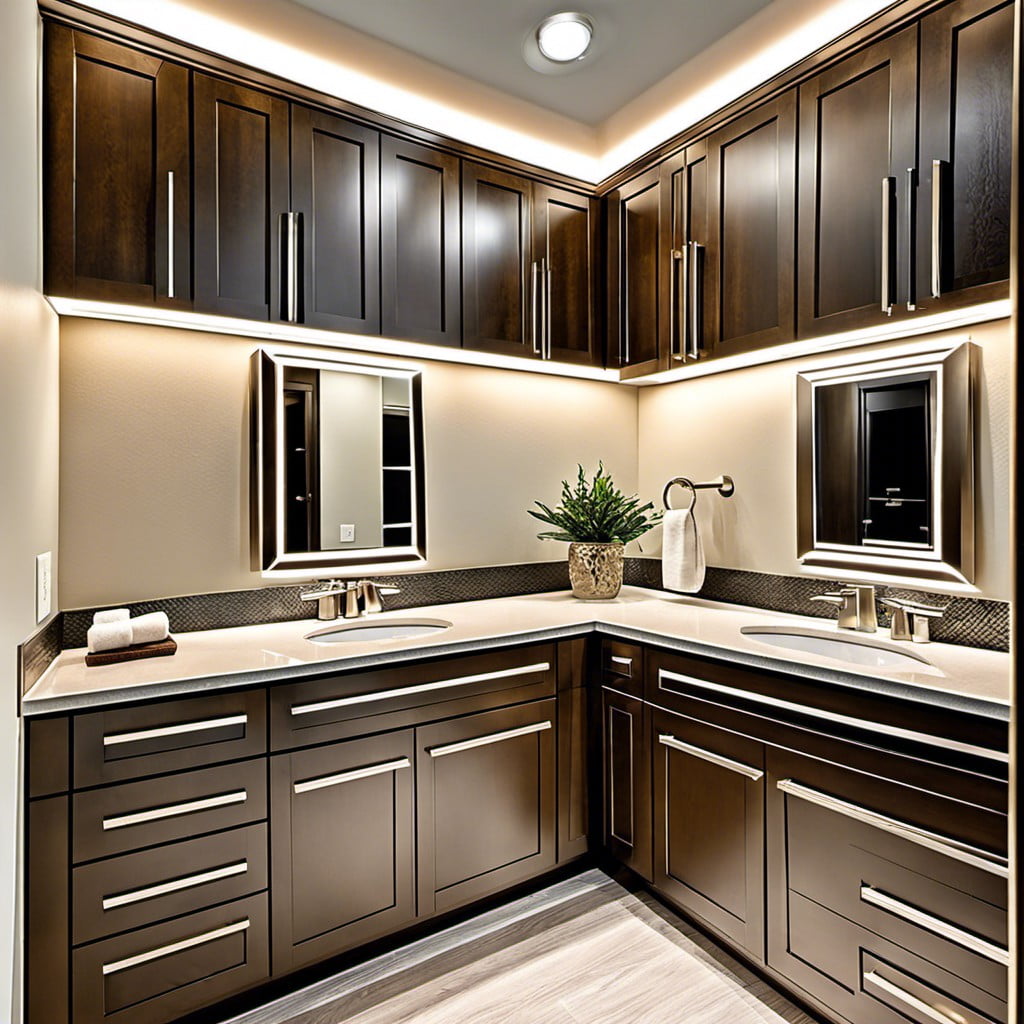 These LED strips infuse a brilliant luminosity into your space, highlighting every detail. Tucked beneath your bathroom cabinets, they add an inconspicuous yet attractive lighting option.
– In terms of practicality, LED strips result in a well-lit counter, beneficial for activities like makeup application or shaving.
– For aesthetic appeal, the subdued glow can augment the reflective surfaces around the bathroom, which results in a heightened ambiance.
– They also ensure safety by eliminating any shadows that could cause accidents.
– Energy-wise, LEDs consume less power than traditional lighting, benefiting your electricity bill immensely.
– Plus, they come with a longevity which is worth investing in. A single LED strip could last you years without needing a replacement.
The seamless blend of utility and elegance with such lighting indeed transforms your bathroom from ordinary to extraordinary.
Brushed Nickel Floor Lamp for an Unconventional Approach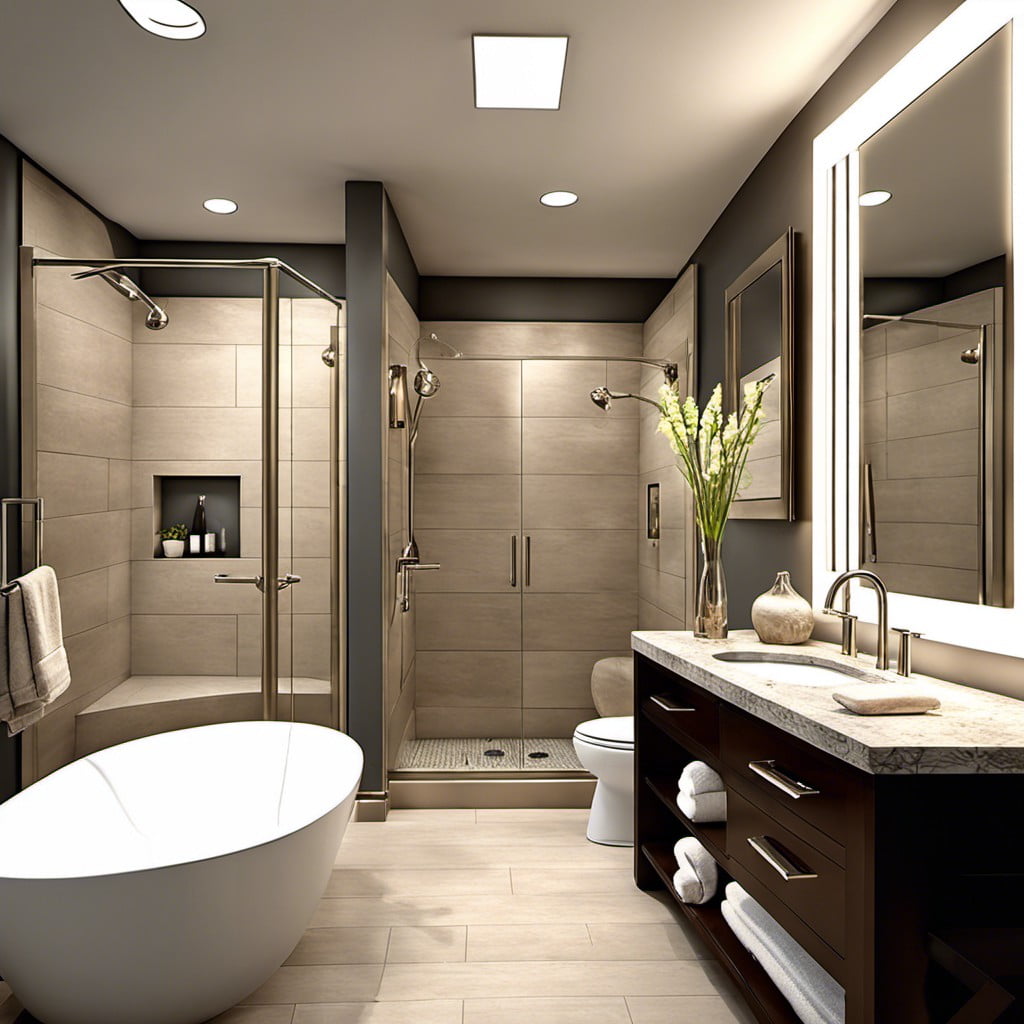 Stepping off the beaten track, a brushed nickel floor lamp can create a whimsical style statement in the bathroom. This unusual lighting choice adds functional illumination with a dash of unexpected charm.
The floor lamp's height plays a crucial role in the creation of a light mood. For instance, taller lamps produce a more considerable amount of light, helping expand the feeling of space. In contrast, shorter lamps help to create a more intimate atmosphere, ideal for a relaxing bath after a long day.
Of course, safety is essential, so ensure that your floor lamp is placed away from water sources. Additionally, using an energy-efficient bulb, like an LED or a CFL, can provide the necessary light without overheating.
Explore various floor lamp designs – a tripod for a modern look, an arc lamp for broader light distribution, or a torchiere for soft, ambient lighting. Remember, choosing a brushed nickel finish guarantees a sleek yet durable lamp that requires minimal maintenance and resists corrosion and tarnishing – a perfect choice for a humid space such as a bathroom.
Finally, team up your floor lamp with a couple of other light sources to balance the illumination throughout the room. The result is a well-lit bathroom with an unconventional twist.
Brushed Nickel Candle-style Wall Lights for a Romantic Feel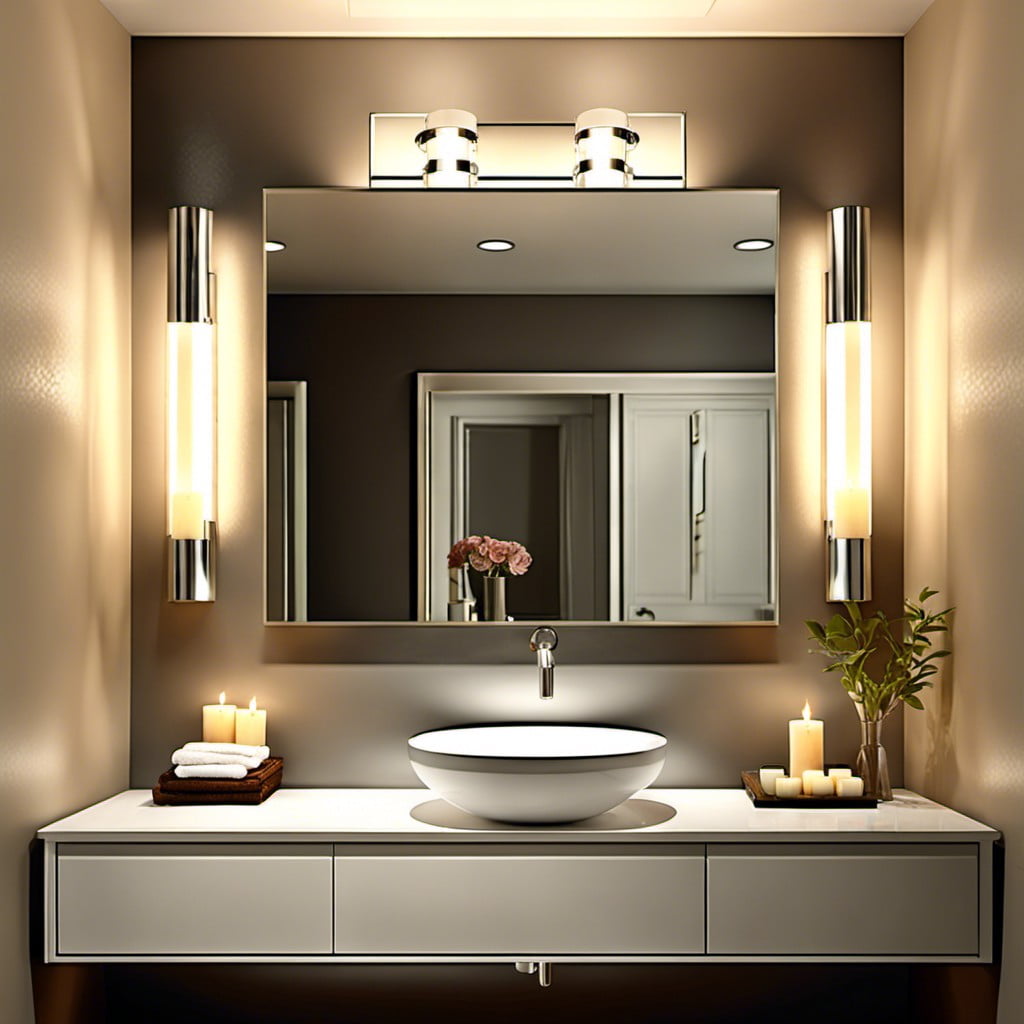 Creating a soft and serene atmosphere in the bathroom can be achieved with candle-style wall lights. The unique charm of these fixtures lies in their vintage-inspired designs and gentle glow. In brushed nickel, they bring a touch of traditional elegance while still maintaining a contemporary feel.
Key points to remember:
Candle-style wall lights mimic the flicker of candles, adding a romantic touch.
Brushed nickel gives these fixtures a sophisticated twist, making them work well in both classic and modern bathroom settings.
Placement is crucial. Install these fixtures on either side of a mirror or bathtub for maximum effect.
Dimmable options allow you to regulate the brightness to fit the mood and time of day.
Pair these lights with warm-colored bulbs for a gentle, inviting glow.
When choosing a design, opt for simplicity to maintain a tranquil, clutter-free space.
Brushed Nickel Lighting With Frosted Glass Shades for a Soft Glow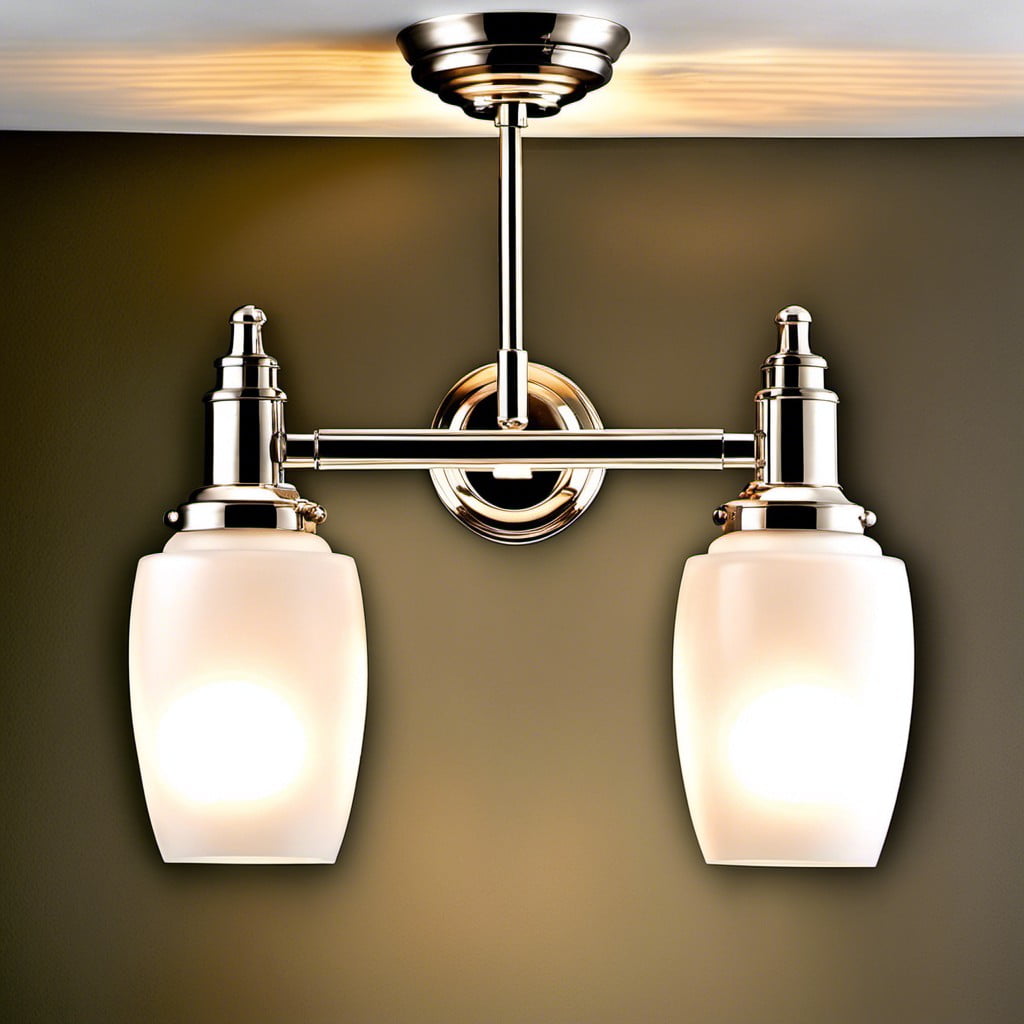 Crafting an inviting atmosphere is achievable with frosted glass shades. These charming additions to your brushed nickel lighting can diffuse harsh glares, casting a gentle and welcoming glow across your bathroom. It's an ideal choice for those who enjoy long, relaxing baths or a calming ambiance during late-night visits.
Frosted glass shades also offer an aesthetic advancement. It pairs beautifully with the understated elegance of brushed nickel fixtures to create an aesthetic balance. Remember to consider the size and shape of your chosen shades to compliment your overall bathroom design. From dome-shaped shades for a more classic appeal to cylindrical ones for a contemporary touch, the choices abound.
Finally, frosted glass requires minimal maintenance. Dirt and dust are much less visible compared to clear glass. A periodic wipe-down keeps them looking as good as new.
There you have it. A soft glow, aesthetic balance, and minimal upkeep make these frosted glass shades an enticing option. Arguably as important as the fixtures themselves, selecting the right shades could make a world of difference to your bathroom lighting.
Pair of Brushed Nickel Table Lamps for Symmetry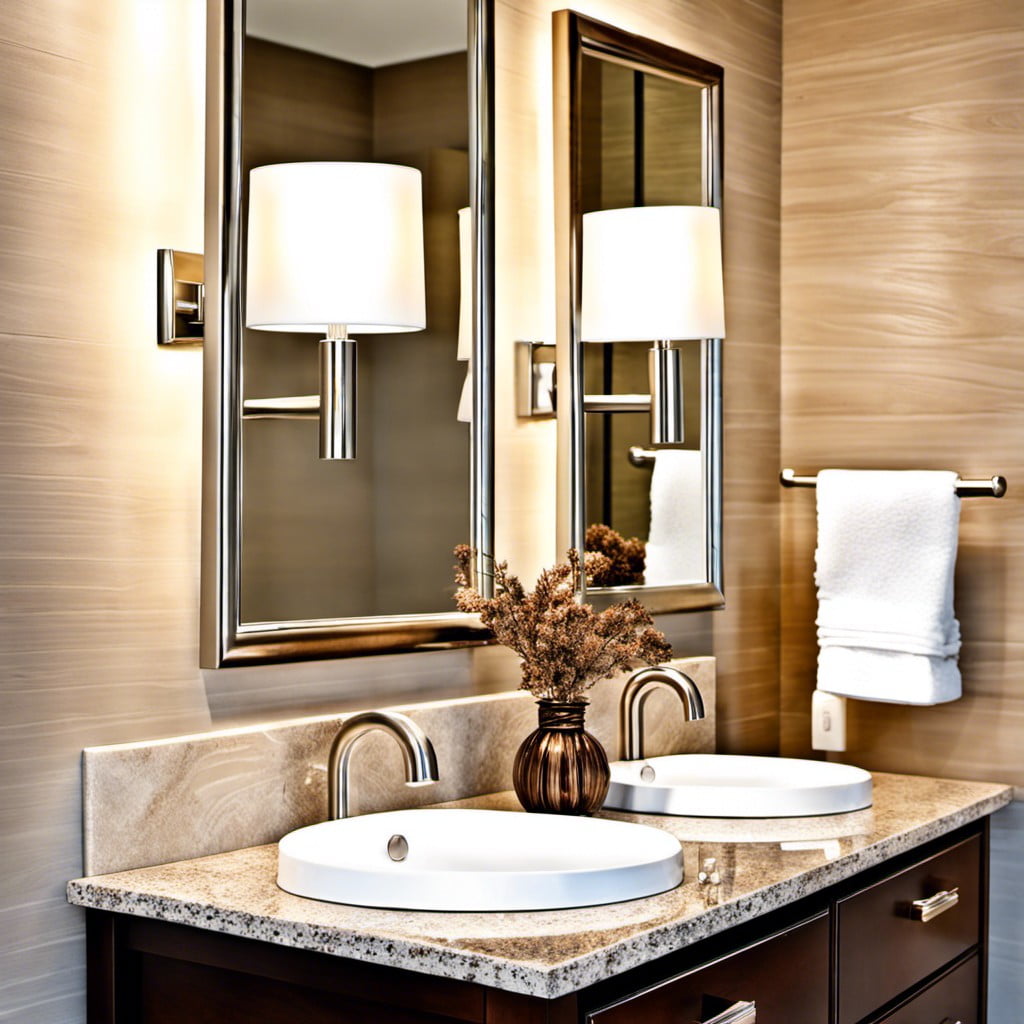 To achieve perfect balance and harmony, a pair of table lamps can work wonders. Strategically placed on either side of a mirror or a vanity, they provide even illumination – invaluable when completing grooming rituals or applying makeup. Aesthetically, the symmetry of twin lamps provides a visually pleasing effect that naturally draws the eye.
Opt for ones with brushed nickel bases or accents. This material adds a subtle metallic touch without overpowering the senses. Its understated elegance complements various bathroom styles, from minimalist modern to sophisticated vintage.
Ensure to choose lamps of suitable size for your space. Too large and they'll dominate; too small and they'll get lost. Select shades that allow ample light dispersal. This contributes to a serene bathroom ambiance while serving a functional purpose. Finally, regulated dimmer switches provide precious control over the intensity of light, allowing you to set the mood as desired.
Brushed Nickel Light Fixtures With Crystal for a Sparkly Touch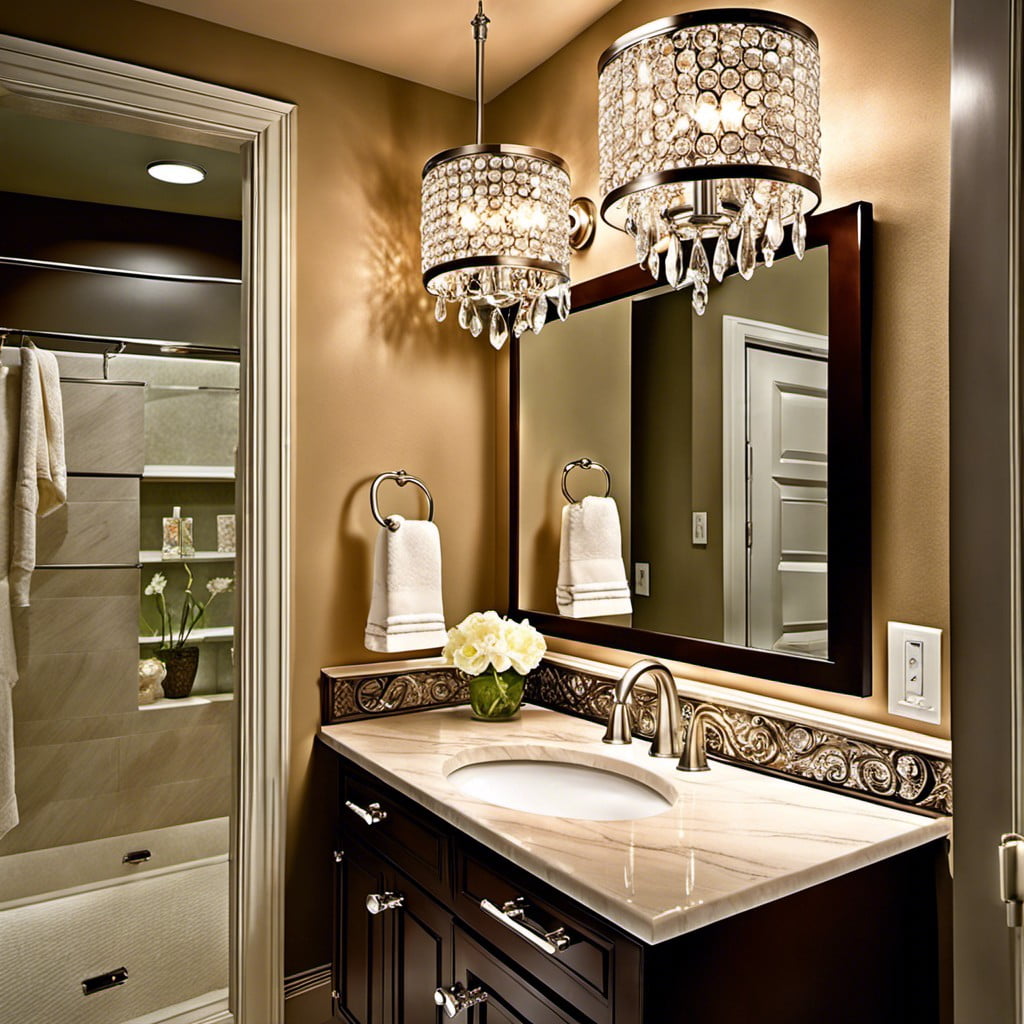 Adding crystals to your brushed nickel fixtures pairs modernity with traditional elegance. The smooth matte finish of the metal beautifully contrasts the sparkly crystals.
Here are a few things to consider:
Setting: Ideal mostly for luxurious set-ups. They can provide a focal point in your bathroom.
Aesthetic Appeal: The crystals refract light into beautiful prisms on your walls.
Versatility: Available in various designs ranging from teardrop crystals on a chandelier to tiny crystal inlays on minimalist fixtures.
Maintenance: Require regular cleaning to keep the crystals sparkling.
Light Effect: They produce dynamic lighting effects but consider additional lighting for functional areas.
These points should guide you in making an informed decision about integrating these fixtures into your bathroom design.
Industrial-style Brushed Nickel Cage Pendant Lights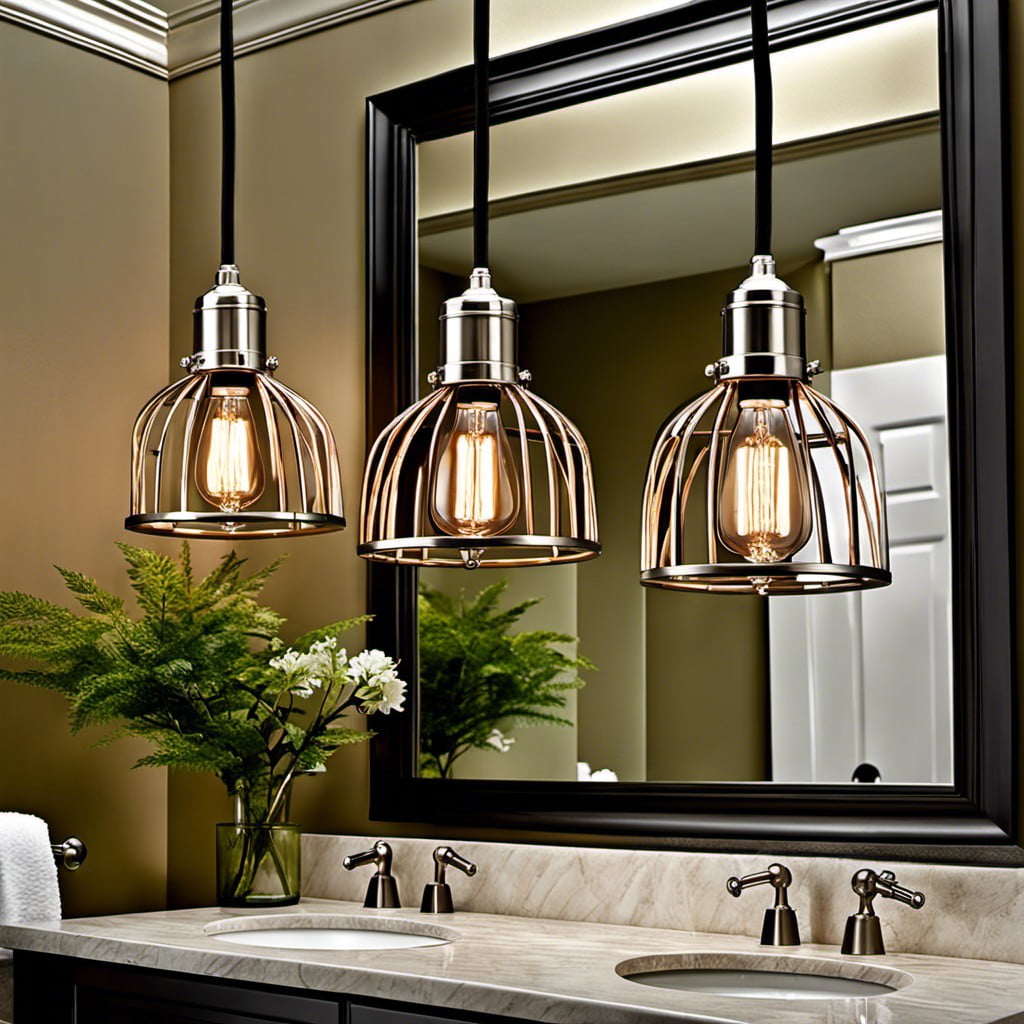 These eye-catching pieces not only provide good illumination but also add a visual punch to the bathroom decor. Exhibiting the bare-bones aesthetics of old factories and warehouses, they give a nod to a gritty, rough-hewn setting.
The wireframe design, combined with brushed nickel's sensory perspective of warm, becomes the ultimate statement of modern antiquity.
Opt for Edison filament light bulbs to elevate the vintage vibe or LED bulbs for energy efficiency without sacrificing style.
Their strategic hanging height will be a game-changer: place them above the sink zone, near the window or right in the center of the bathroom.
This lighting option offers a fresh look that's handy for everything from quick face-washing in the morning to relaxing soak in the tub at night.
Compact Brushed Nickel Spotlights for Small Bathrooms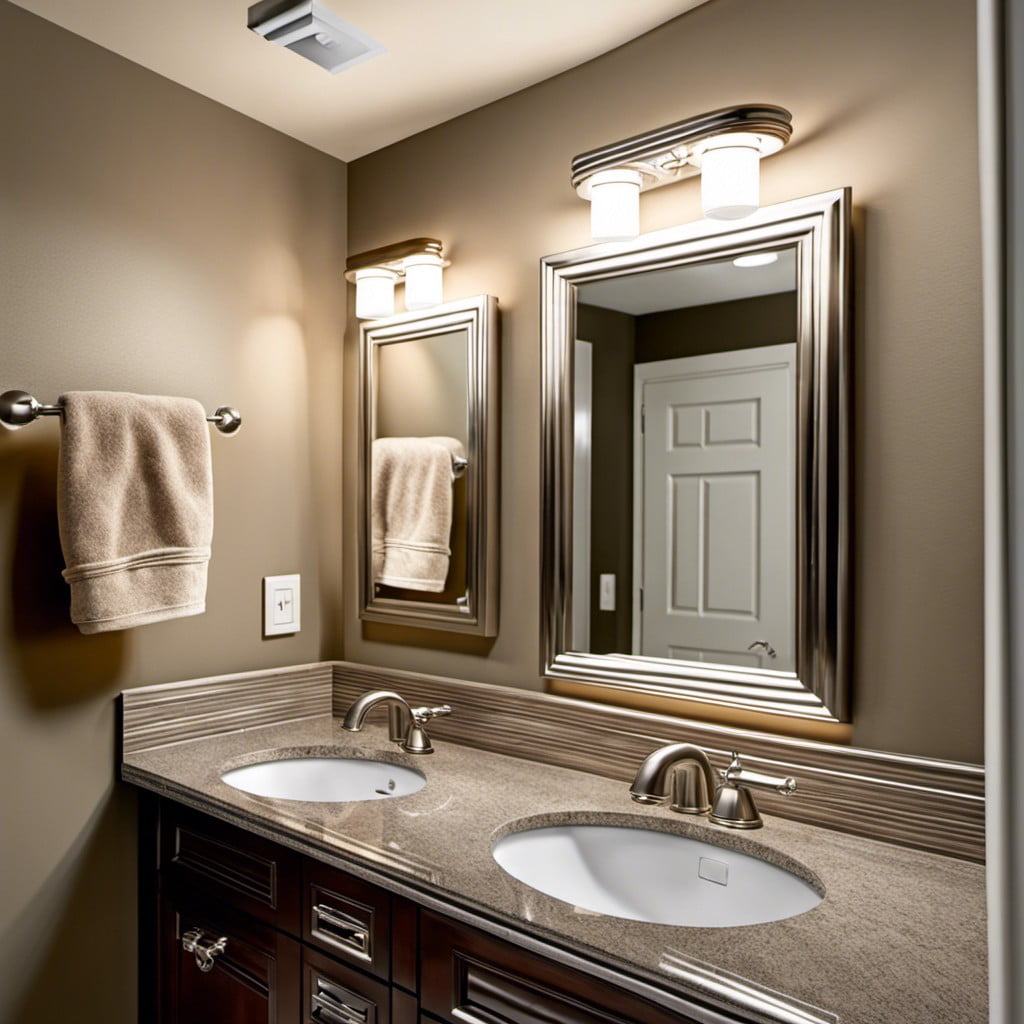 In more petite spaces, their unobtrusive design makes compact spotlights an ideal choice. They focus light effectively in key areas without overwhelming the space.
1. Space-Smart: Small in size, these lighting fixtures don't demand much room, making them perfect for minimalistic, clutter-free aesthetics.
2. Adjustable: Many of these spotlights offer the flexibility of direction. Whether it's the sink, shower, or a piece of wall art, simply adjust the light as needed.
3. Style-Neutral: With their sleek profiles and brushed nickel finishes, these spotlights suit almost any bathroom aesthetic, from modern minimalistic to rustic farmhouse.
4. Energy-efficient: Many compact spotlights are compatible with LED bulbs, making them a perfect choice for the environment and your electricity bill.
5. Simple Installation: Most spotlights can be surface-mounted and don't require extensive remodeling, making them an easy update to your bathroom lighting scheme.
Brushed Nickel Wall Lanterns for a Unique Look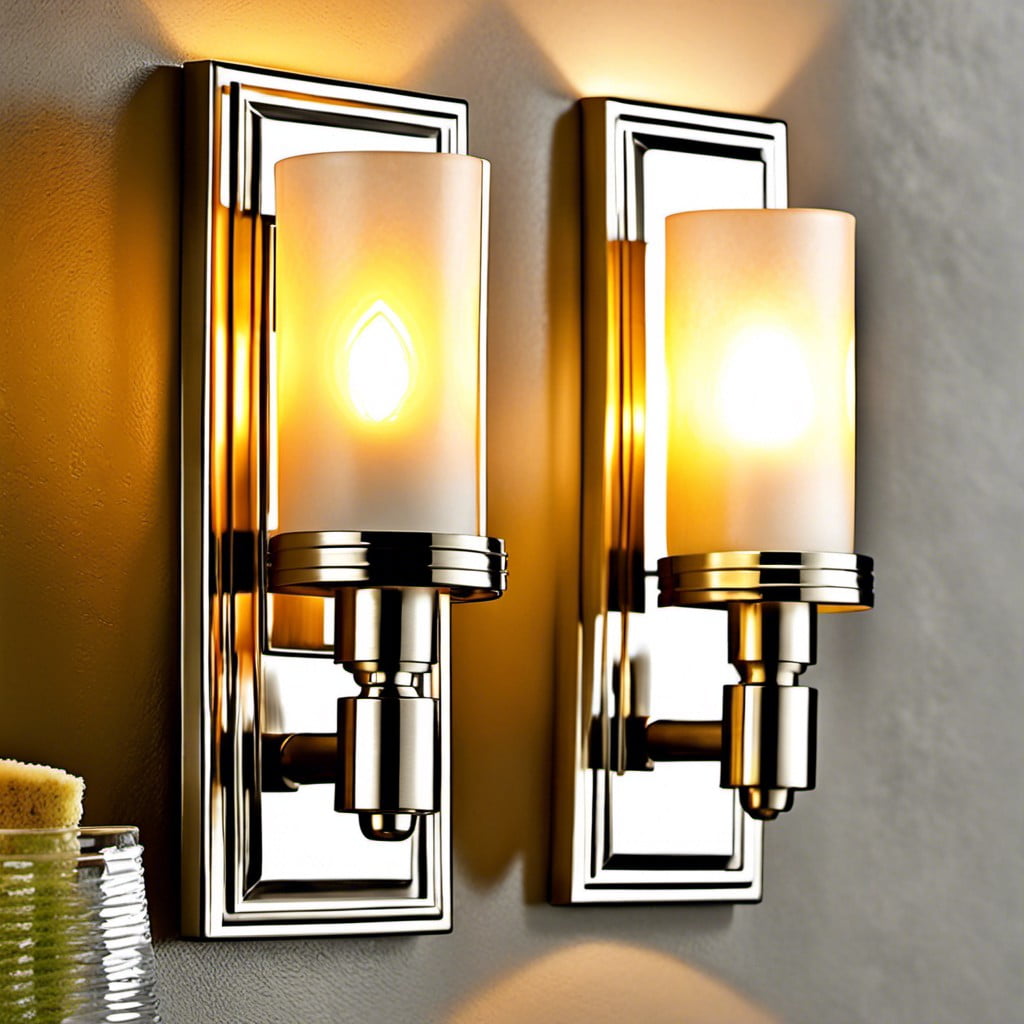 Maintaining both practicality and aesthetic appeal, wall lanterns provide a distinctive edge to bathroom lighting. Creating an old-world charm, these fixtures in brushed nickel finish extend a rustic yet modern appeal.
They can be utilized to flank a mirror or washbasin – delivering an ample amount of light and amplifying the overall ambiance. For a consistently stylish look, choose lanterns with frosted or tinted glass that mutually complements the brushed nickel.
Play around with placements; higher positioning emits a wider spread of light, whereas lower mounting ensures more concentrated illumination. Larger lanterns offer a grand impression, but small to medium versions are equally fetching if the space is confined.
Remember to deal with harmony – balance the scale and proportion with other elements in the room. Match with other nickel accessories in your bathroom for a cohesive look.
Moreover, lanterns with energy-efficient bulbs serve dual purposes – enhancing visual comfort and practicability while keeping the electricity bills in check.
Always ensure professional installation to uphold safety standards, especially in damp areas. Last tip, quick periodic polishes keep the brushed nickel looking fresh and maximally reflective, contributing to the best possible lighting.
Continue reading:
Recap