Last updated on November 15, 2023
Dive into the realm of grape-themed centerpieces because these intriguing designs add a touch of refinement and whimsy to your home decor.
Dive into the world of grape-themed centerpieces, where creativity meets elegance. This article will guide you through an array of unique and eye-catching ideas that will transform your table into a vineyard-inspired masterpiece. From simple grape clusters to intricate grapevine designs, the possibilities are endless.
Each idea is accompanied by detailed instructions, ensuring you can easily recreate these centerpieces at home. So whether you're planning a wine tasting party or just looking for a fresh dining table decor, these grape-themed centerpieces are the perfect addition to any home.
Real Grape Bunch Table Scatter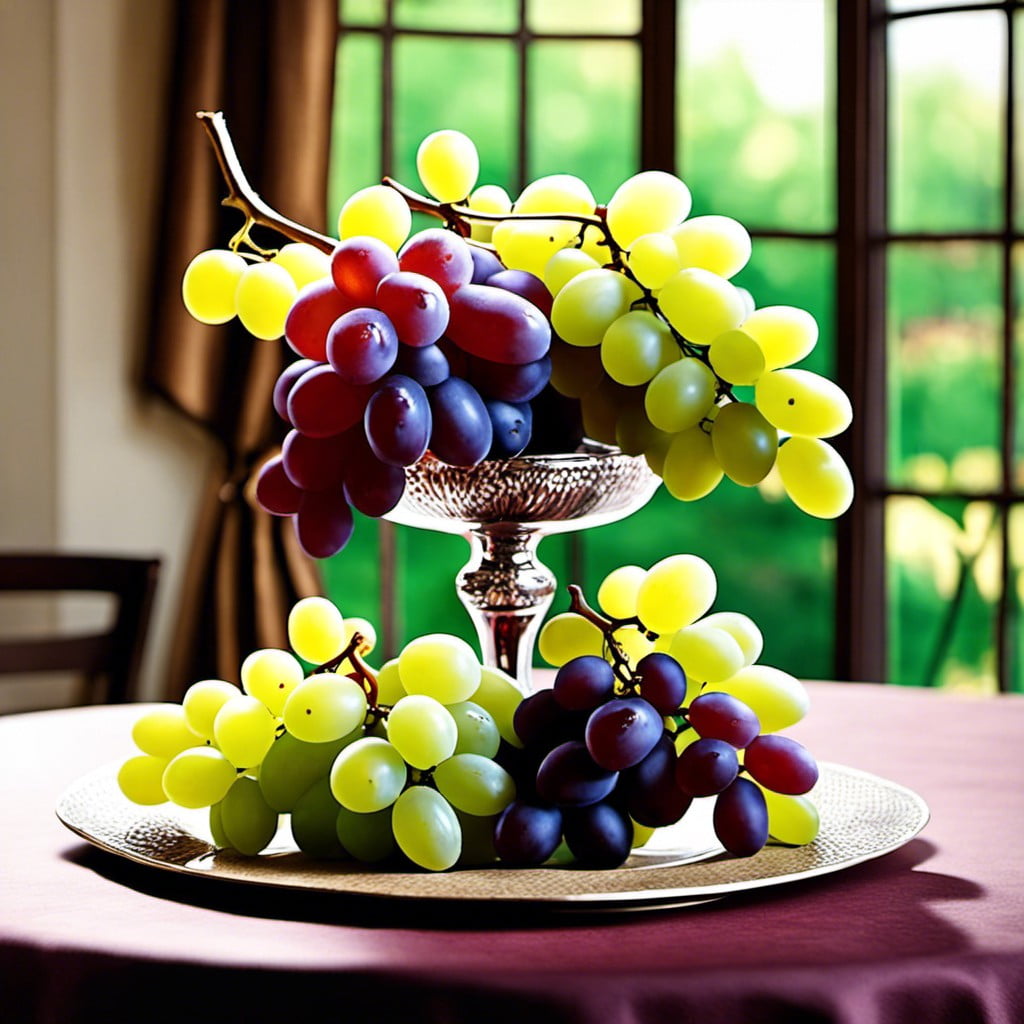 For a simple, natural look, consider using a grape bunch as table scatter. It's a swift and efficient method of establishing your theme without making it seem overly complicated.
Choose differently sized bunches of red, green, or black grapes for visual interest. Fresh grapes can add a delightful authenticity, but if you foresee the decor remaining undisturbed for a while, high-quality faux grapes are an excellent alternative.
Not only does this concept involve minimal effort, but it also allows for easy customization. To add a more luxurious touch, lightly spray paint some bunches with gold or silver color. You may also consider interspersing the grape bunches with grape leaves or wine corks for added texture.
All the while, remember to scatter sparingly and not overdo it to keep tables from appearing cluttered.
Glass Bowl Filled With Artificial Grapes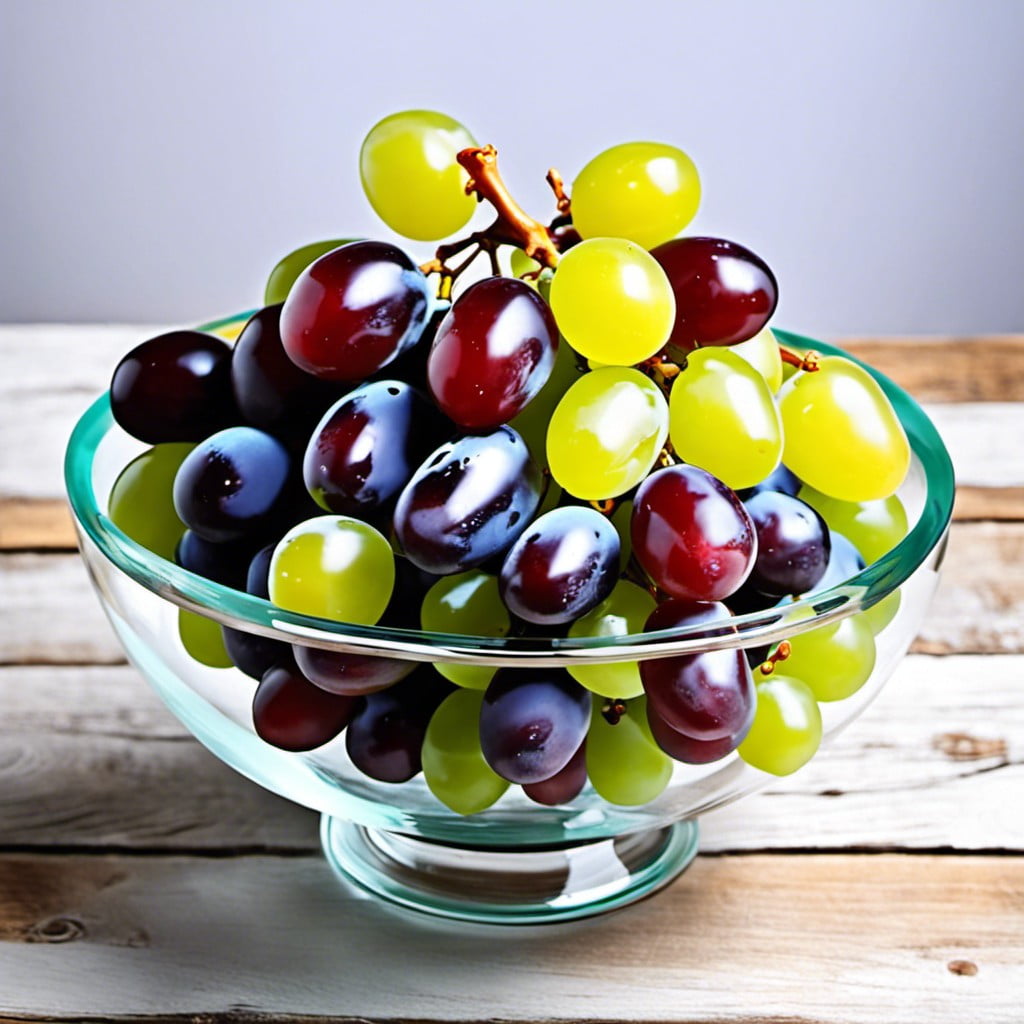 An exquisite option to introduce some sophistication to your home is to employ a vessel of faux grapes. Firstly, select a glass bowl that aligns with your home décor style—this could range from minimalist clear glass to an antique-styled, ornately embellished bowl. Then, neatly arrange a variety of artificial grapes within it.
Consider the multitude of hues available–from deep purplish-blue to light green and opt for colours that blend seamlessly with your existing color palette.
Incorporating different grape varieties helps add depth and texture. Consider mixing larger, globular 'Concord' type grapes with more elongated 'Pinot Noir' replicas. Varying the grape sizes can further enhance the dimension and interest of this centerpiece.
For a touch of realism, you could also tuck in snippets of faux grape leaves—vivid green ones for a summery look or perhaps some crimson ones for a fall-themed setting. The leaves do more than just add a pop of color; they somewhat conceal the inanimate nature of your grape models, convincing guests they might be real at fleeting glances.
Lastly, always ensure your arrangement does not overflow above the bowl's edges, as the goal is to achieve a neat, professional look.
Grapevine Wreath Centerpiece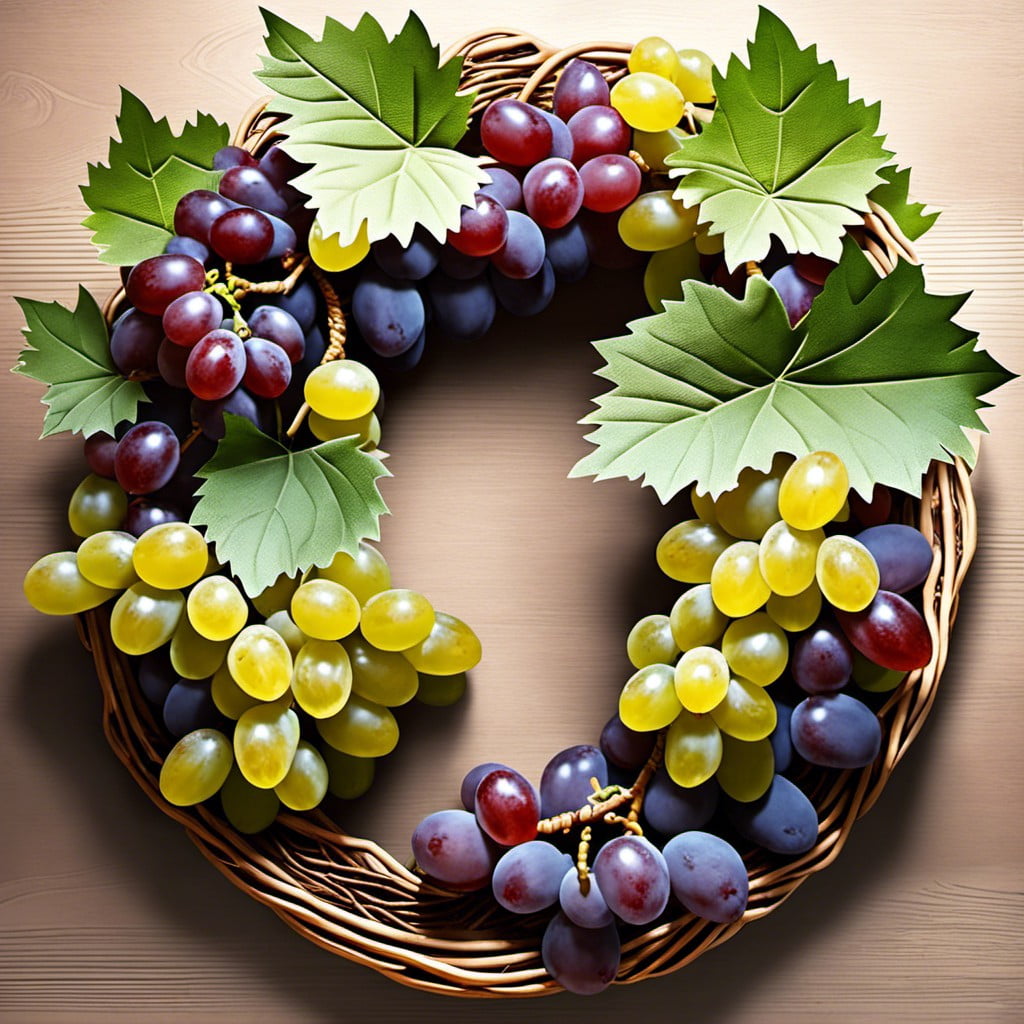 Effortlessly chic, this centerpiece brings together natural elegance and casual rustic charm. Start by sourcing a pre-made grapevine wreath from your local craft store. The size can vary based on the dimensions of your table, but a medium to large wreath typically works best.
One of the beauties of this centerpiece is its versatility. For a year-round decoration, simply add a large hurricane glass in the middle of the wreath. Then, place a block candle inside and voilà – a cozy, inviting centerpiece is yours.
Seasonal accents make this centerpiece easily adaptable, too. In spring, wrap the wreath with fresh, vibrant ivy or incorporate cherry blossom twigs. Summer can introduce a sea of color with fresh roses or sunflowers. Autumn calls for a dash of fall leaves, pine cones, or even miniature pumpkins. Finally, in winter, holly branches or a dusting of faux snow create a festive, warm feature.
Remember, there's vast room for creativity here. Display your flair by adding personal touches: perhaps some elegant pearl garlands, or a few hanging crystals for a touch of sparkle.
The grapevine wreath centerpiece is all about blending the charm of the countryside with your own signature style. Echoing the grape theme in a grand manner, it'll surely be a conversation starter at your next gathering.
Wine Bottle With Grapes and Vine Decoration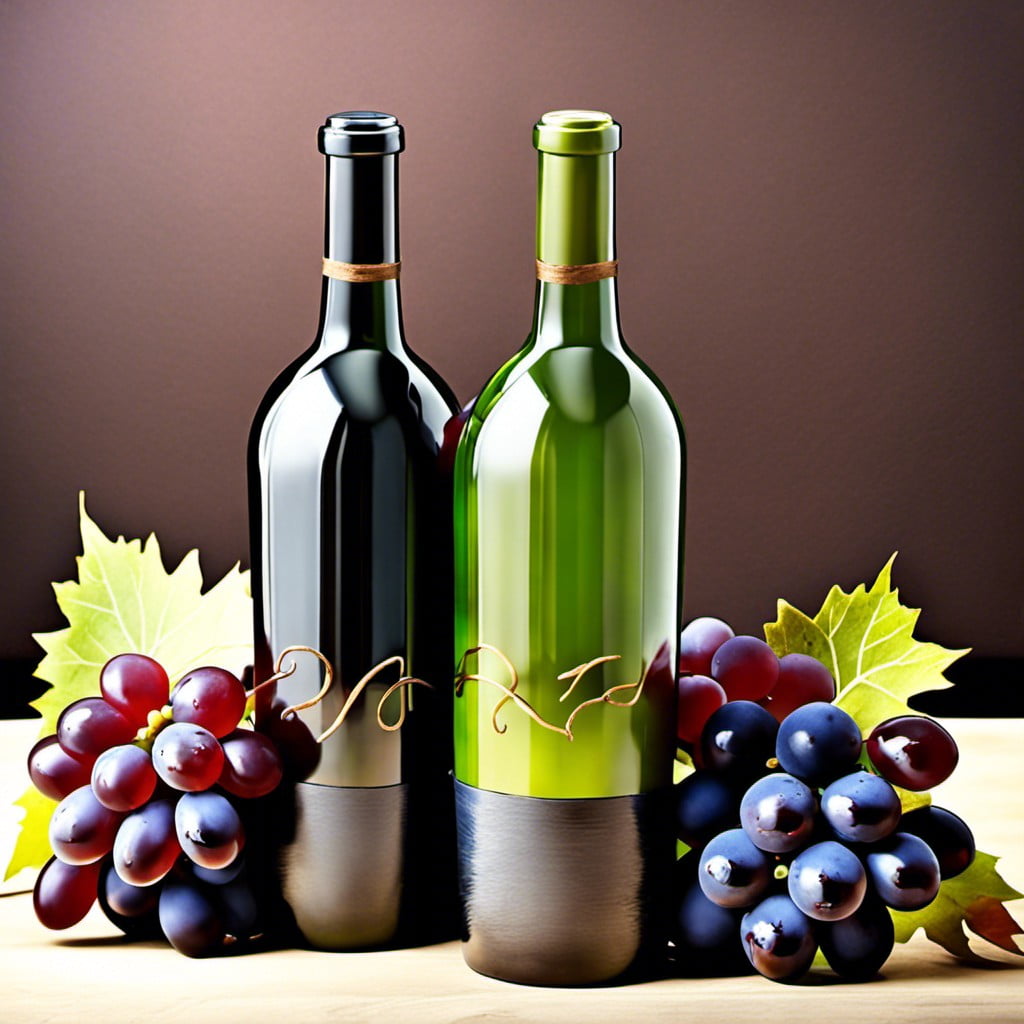 To start creating this work of art, opt for an empty wine bottle of your choice. Paint the bottle in a hue of grape purple or keep it transparent for a chic look. If you wish for a shimmering impact, consider spray paint or glitter glue.
Next, focus on adorning the bottle with artificial grapes and vines. A string of faux grapevine with tiny grape bunches would work perfectly. Wind it around the wine bottle starting from the bottom up, securing with hot glue at intervals.
For further decor, consider attaching additional grape clusters, with the aid of hot glue, at visually pleasing intervals. Do remember, achieving a balanced look is key here. Go for realistic looking grape clusters, available in craft stores, to keep the theme elegant and believable.
Finally, a twine bow around the bottle neck would be a dashing addition to your grape-themed centerpiece. It will be a spectacular display, loaded with rustic charm and winery elegance, instantly adding a fancy touch to your home.
Grape and Wine Glass Candle Holder Centerpiece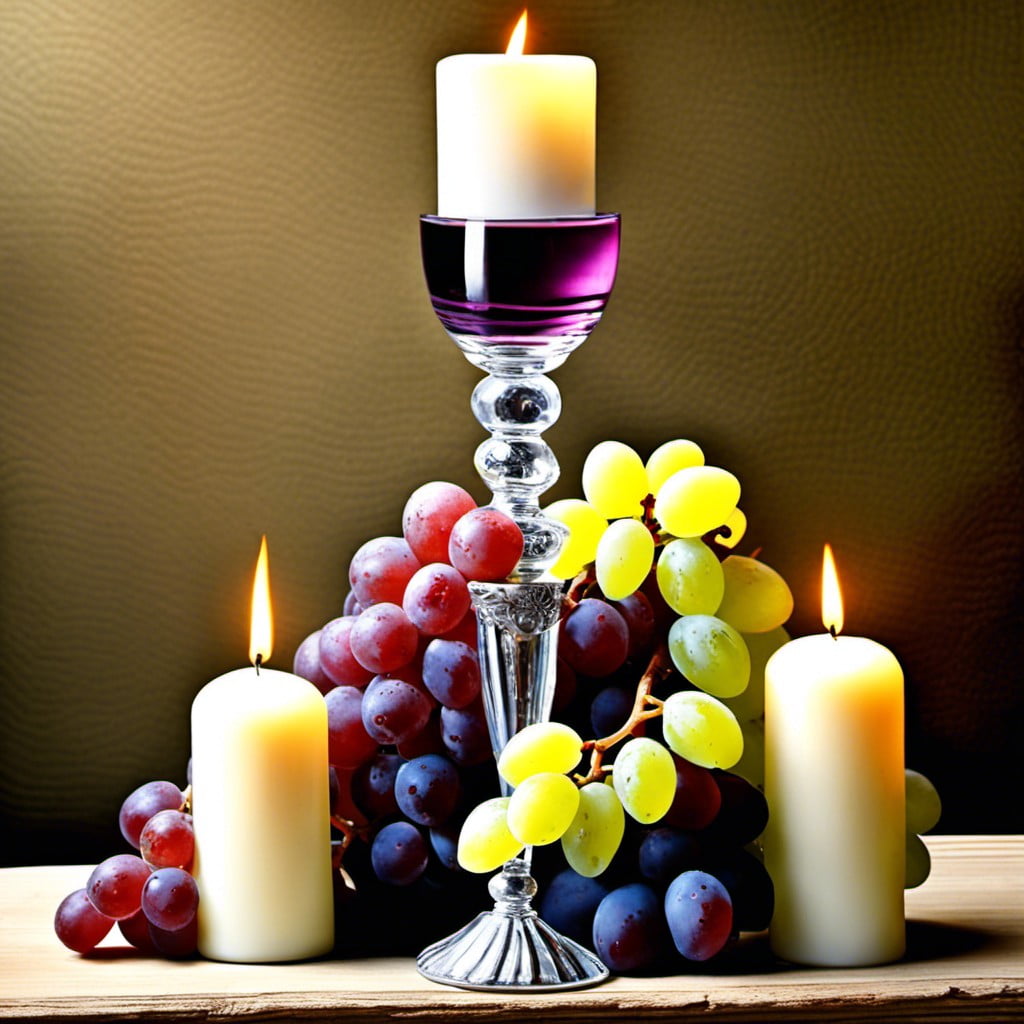 Begin with a clear, large wine glass — the bigger the better, as it will allow you to fit more elements inside and create a more detailed scene. Consider that a bigger wine glass will give you more room to play with your creative ideas.
Layer the glass with a combination of small, artificial grape bunches and candle wax or battery-operated LED candles. Not only is this safer but also prevents the wax from melting all over your grape bunches. It's important to ensure your grapes are visible through the glass.
Play up the theme by considering purple or green LED candles. If you prefer, you could use white candles and accent them with glitzy purple or green ribbon around the stem of your glass.
The base of your centerpiece would be a small grapevine wreath, adding a modern rustic feel, on top of which you would place your filled wine glass. For a complete look, sprinkle either real or artificial grape clusters and leaves around the wreath base.
Remember, the concept behind this centerpiece is not just about candles and grapes. It's about creating an elegant, warm, and inviting atmosphere synonymous with a candle's glow and the richness of grapes. This centerpiece is an embodiment of the elegance and charm of the grape theme, exuding the welcoming spirit of shared meals, relaxation, and conversations.
Grapevine Lantern With LED Lights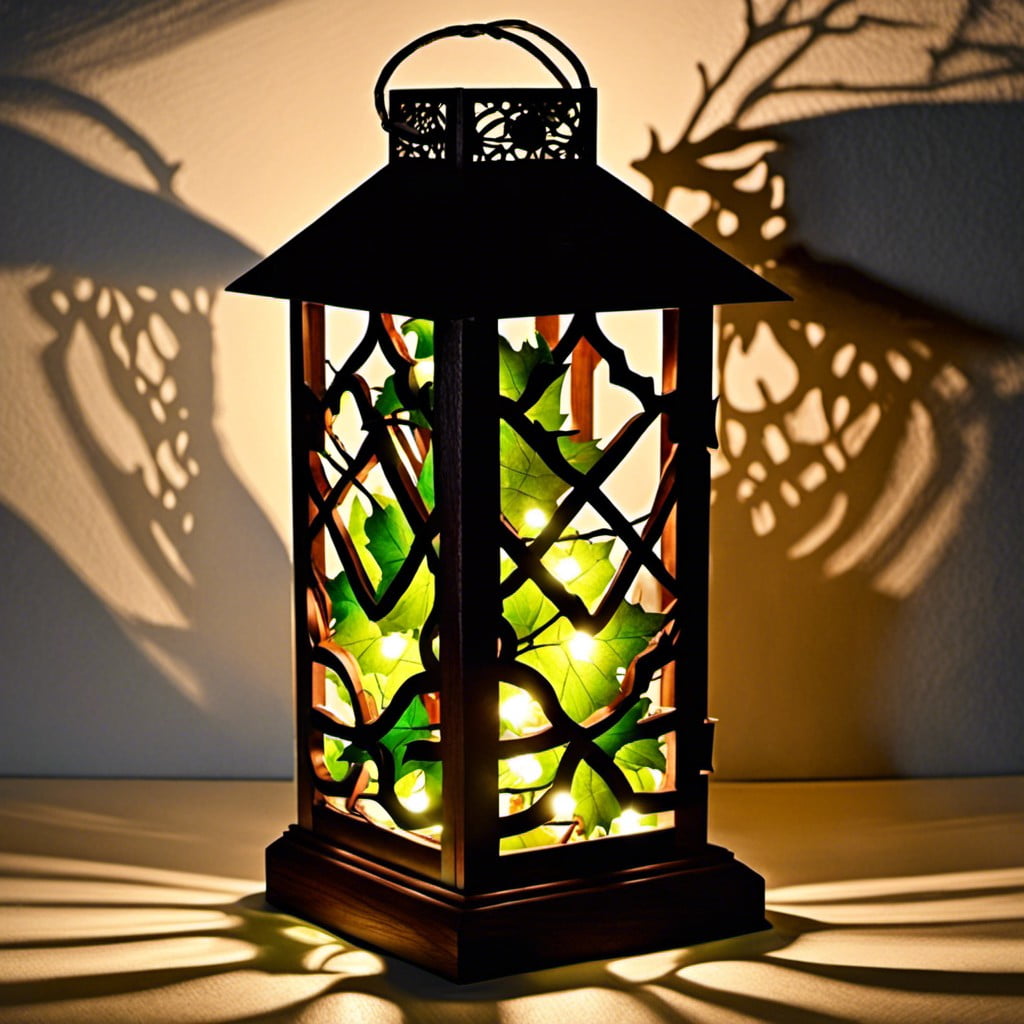 Crafting this luminary centerpiece is simple. Begin by purchasing a grapevine lantern – available in most craft stores. Be sure to select a lantern with ample room inside for LED lights. Once you've got the lantern, purchase a string of battery-operated LED lights, ideally with a warm yellow hue to mimic candlelight.
Next, unwind the LED lights and gently place them inside the lantern. The trick is to distribute them evenly to create a balanced glow. Choose throughout if you want the lights to be white for a clear glow or colored for a festive atmosphere.
Remember, safety first! Always opt for LED lights as they don't heat up. This ensures the lantern won't catch fire, making it a safe and attractive centerpiece. This lantern radiates an inviting warmth, making it perfect for evening gatherings.
Ceramic Grape Decorated Bowl Centerpiece
An attractive ceramic bowl adorned with grape motifs makes for an eye-catching centerpiece. To further enhance its appeal, consider these tips:
1. Fill the bowl with small, decorative items. Marbles, glass beads, or faux pearls that resemble grapes in color bring an effective visual component.
2. Pair the bowl with complimentary, grape-themed items. Place it on vintage grapevine placemats or alongside grapevine candle holders.
3. Use it functionally. When hosting, this bowl becomes an elegant holder for dips, olives, or other hors d'oeuvres, sticking with the grape theme.
4. Keep it versatile but cohesive. Change the bowl contents per season to stay on-theme all year. For example, use green-colored fillers for spring, and switch to purple for autumn.
Just remember, subtlety is key when executing these ideas, as you want your grape-decorated centerpiece to shine, not be overshadowed.
Purple-tinted Water in a Vase With Floating Candles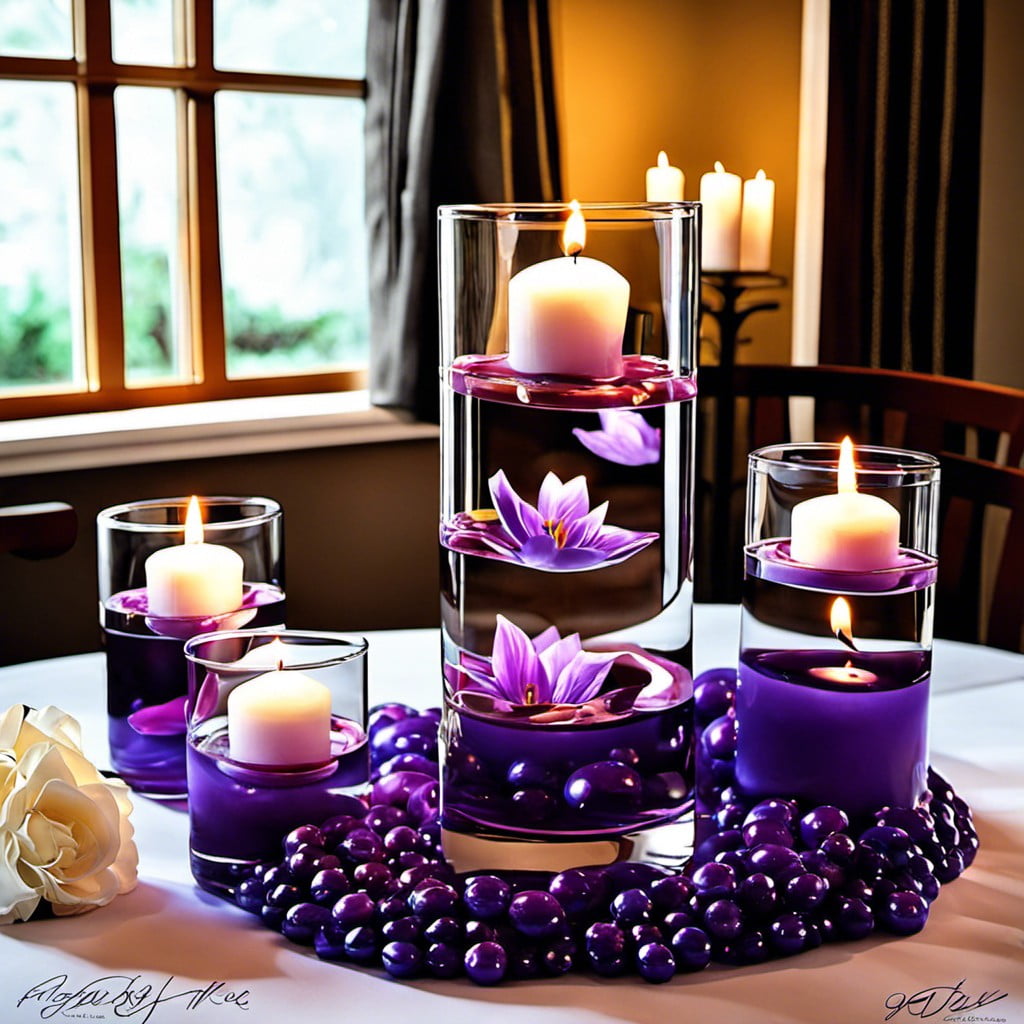 Creating this eye-catching centerpiece begins with a clear, glass vase of your choice. Fill it up with water, dropping a few drops of purple food coloring and stir gently until you achieve your desired hue. The color should be enough to mimic the grape theme, yet allow sufficient clarity.
Next, concisely place your floating candles on top. These could be classic white or a mix of purple and green to further carry the grape theme. Always ensure that they're smaller in diameter than the vase to keep them floating neatly.
Light the candles just before your guests arrive to set a serene and inviting atmosphere. The faint flame flickering atop the purple-tinted water will not only radiate an aesthetic appeal but also provide a soft illumination, transforming your space into a more stylish, grape-themed dwelling.
Remember, safety comes first. Keep the vase in a draft-free area to prevent the flame from flickering too much and ensure the water level doesn't rise above candle height.
Grape Decorated Picture Frame As Table Number Display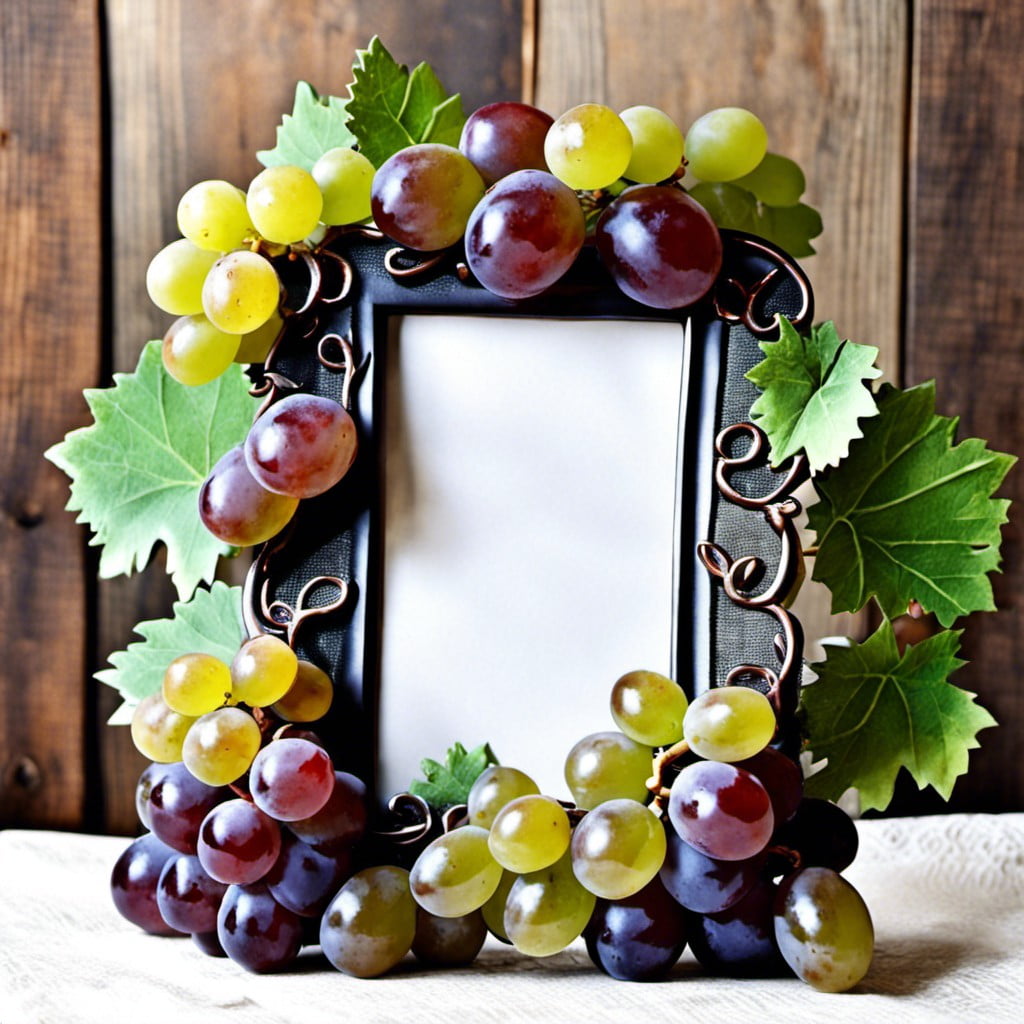 Jump into a novel way to label your tables and provide a charming visual. Utilize a picture frame, and channel your creativity with an array of small, artificial grape clusters to ornament the edges.
Choice of the Frame: Opt for a rustic wooden frame for a more natural look or a metallic gold or silver frame for an added touch of elegance.
Grape Decoration: Stick the artificial grape clusters around the frame. You can use wine-colored red, deep purple, or fresh green grapes based on your color palette.
Numerals: For the table numbers, use beautifully written calligraphy that matches the elegance of your centerpiece. You can paint it directly on the frame's glass or use an easy-to-apply decal.
Placement: Make sure the frame is in a prominent position so that your guests can easily spot their seating arrangements. You can even use small easels to elevate them, incorporating height into your table's landscape.
Lighting: Amplify the charm by placing tealights around the frame. Their soft light will add a warm glow, highlighting the grape decorations.
Just like that, a simple picture frame is transformed into a unique, grape-themed table number display. It will be an eye-catching element of your table setting, creating a feeling of vineyard elegance directly at your dining table.
Grape and Ivy Leaf Table Runner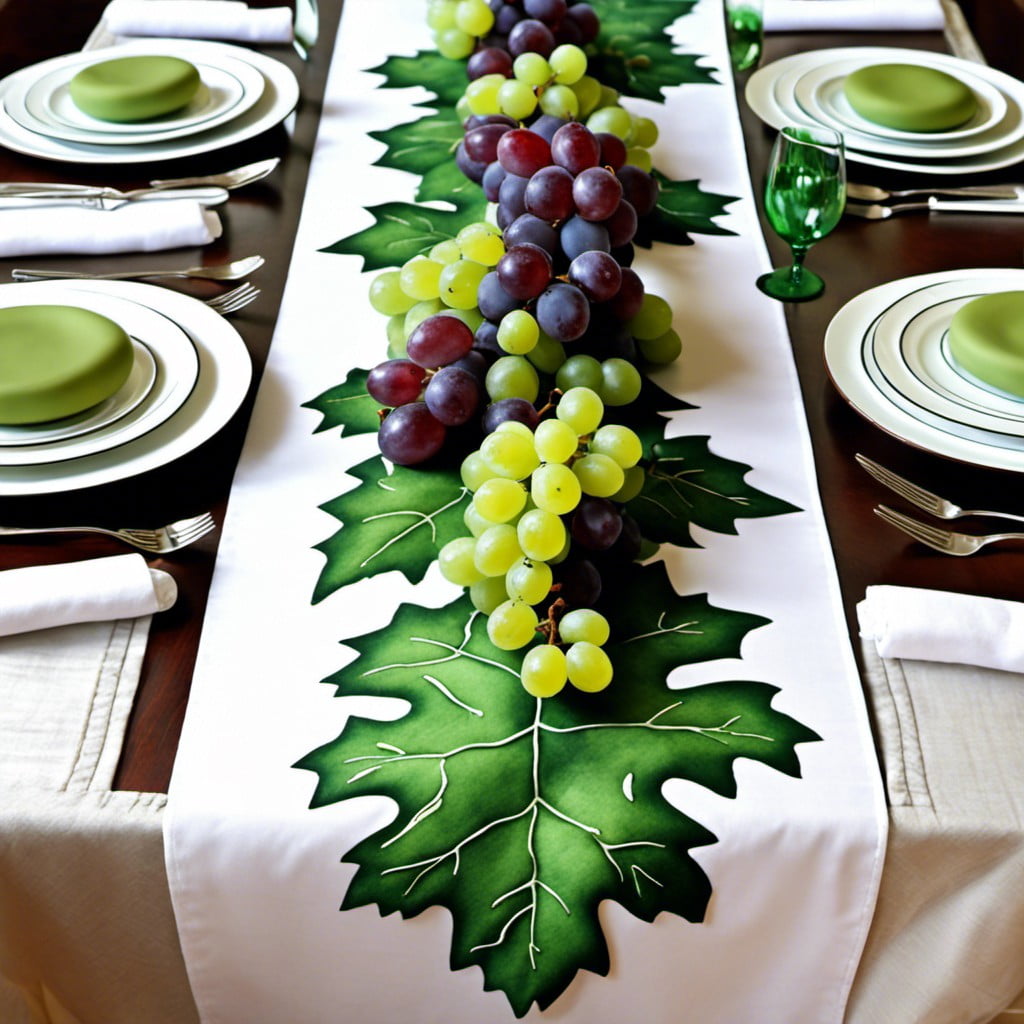 Start by choosing a table runner that complements your overall décor. Ideal colors are lush purple or vibrant green, matches well with grape and ivy theme.
Next, assemble your artificial grape bunches and ivy leaves, preferred to real ones as they are durable and don't wilt, keeping the allure intact for longer.
Align the grape clusters along the runner, intermittently placing ivy leaves for depth and interest. Be creative with this arrangement, try running grape and ivy strands down the runner's center or letting them dangle off the table's edge for a lush effect.
For a more polished look, incorporate ribbons or lace along the edges of the runner.
Remember, the key is to achieve a natural, abundant look reflective of a vineyard. Add tiny LED lights for a sparkly touch if desired, making the runner a glamorous table feature, captivating your guests.
For a final touch, place other grape-themed décor items like wine bottles or ceramic grape bowls along the table runner.
Gold Painted Grape Cluster Ornament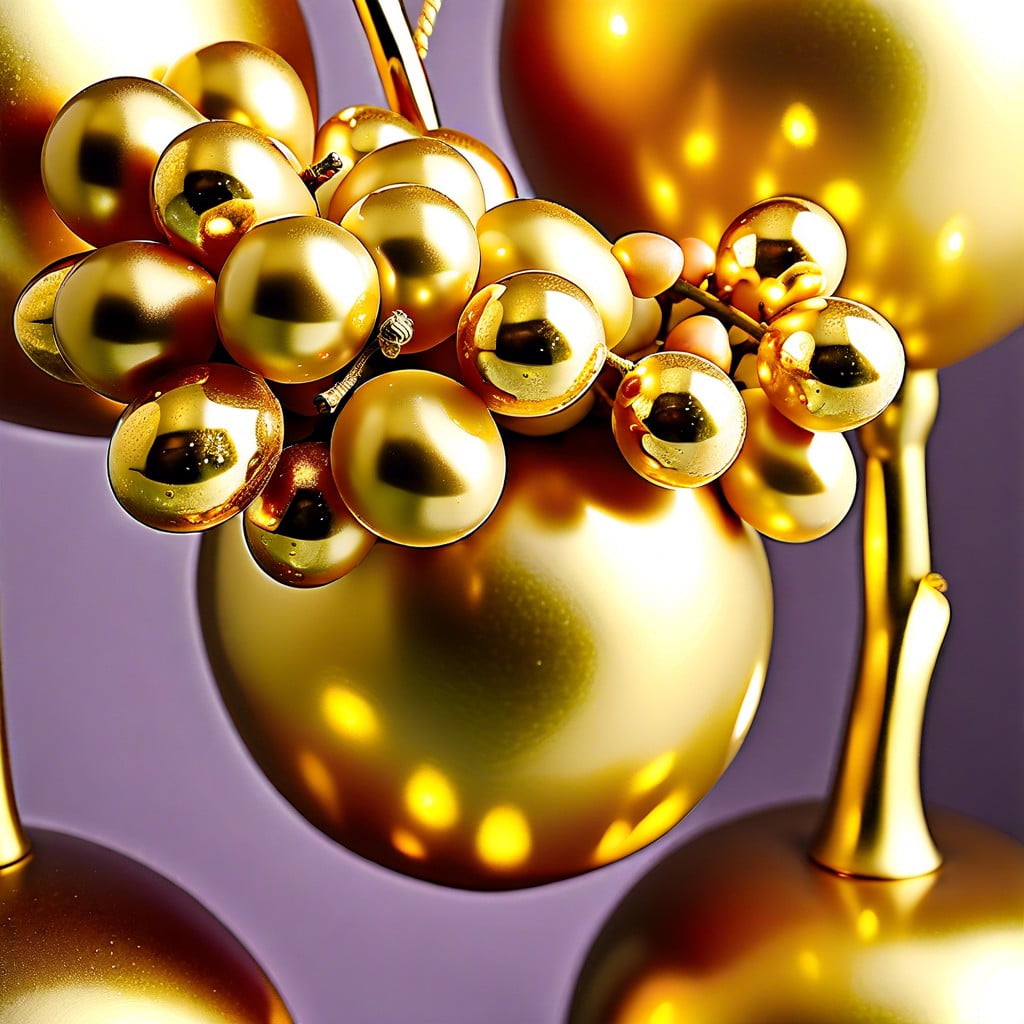 Adding a touch of shiny elegance, this ornament helps achieve a balance of minimalist and luxurious ambience.
Start by collecting real grape bunches and letting them dry.
Once they're dry, use a high-quality spray paint – gold is perfect for an opulent touch.
Allow them to dry completely before displaying.
If you're looking for a smoother finish, consider using gold leaf instead, following the same drying process.
Display these gold grape clusters in a beautiful glass bowl or hang them at different levels over your dining table for a mesmerizing visual effect.
It strikes as both vintage and modern, and works well for any special occasion.
Grape-themed Fairy Lights Wrapped Around a Centerpiece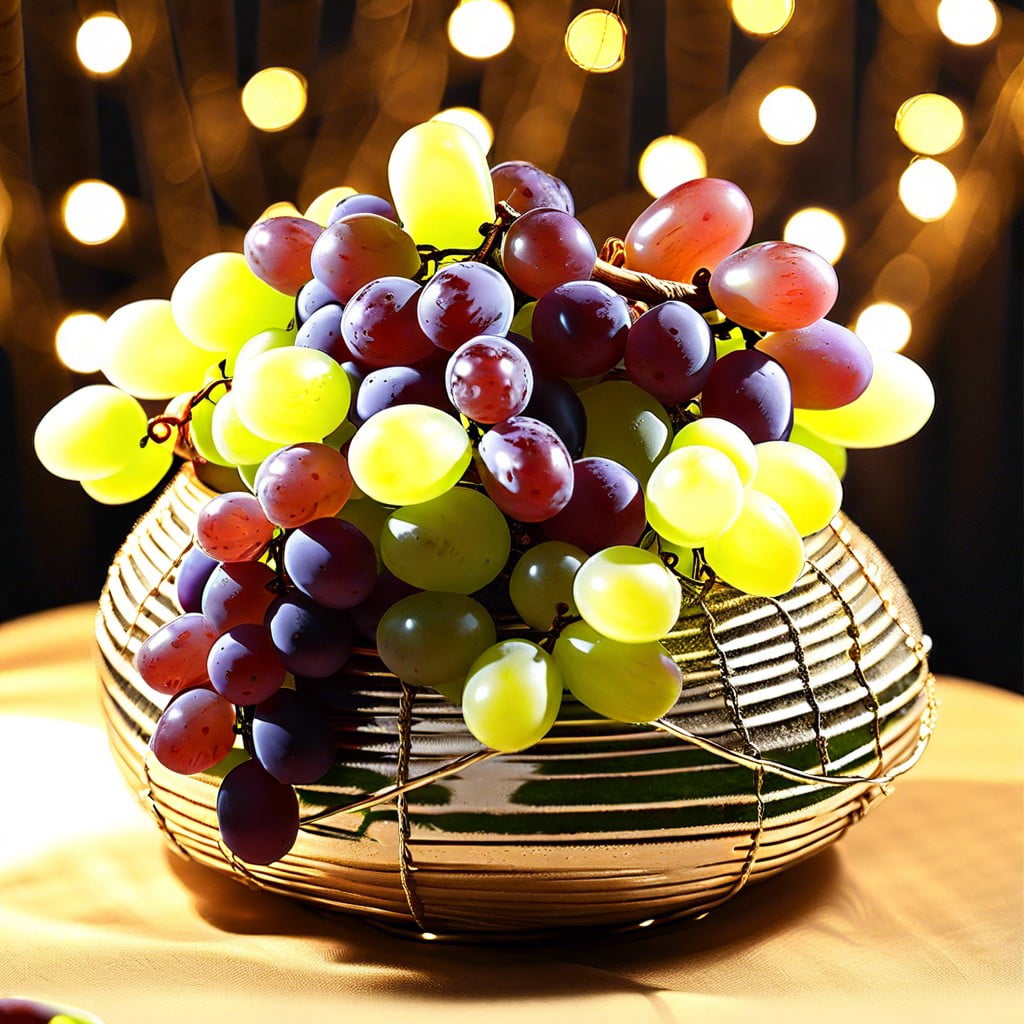 Lighting plays a pivotal role in setting the ambiance for any occasion, and a grape-themed decor is no exception. Fairy lights are a great way to add warmth and magic to your centerpiece.
Choose fairy lights with a purple and green hue to maintain the grape theme. Battery-operated versions will give you more flexibility with placement. Wrap these twinkling lights around your centerpiece, be it a grapevine wreath, a wooden bowl filled with artificial grapes, or even a wine bottle decorated with grape clusters.
Keep in mind, the intention is to highlight the centerpiece and not overpower it. Arranging the lights strategically within and around the centerpiece can create depth and accentuate its details.
You can try out different configurations to see what works best, tweaking the arrangement if necessary. Remember to stick to the grape color theme, and consider the overall lighting of the room to ensure harmony. Perfectly positioned, these fairy lights will charmingly accentuate the grape theme and create a welcoming atmosphere.
Grapes-filled Tall Glass Cylinder With a Floral Topper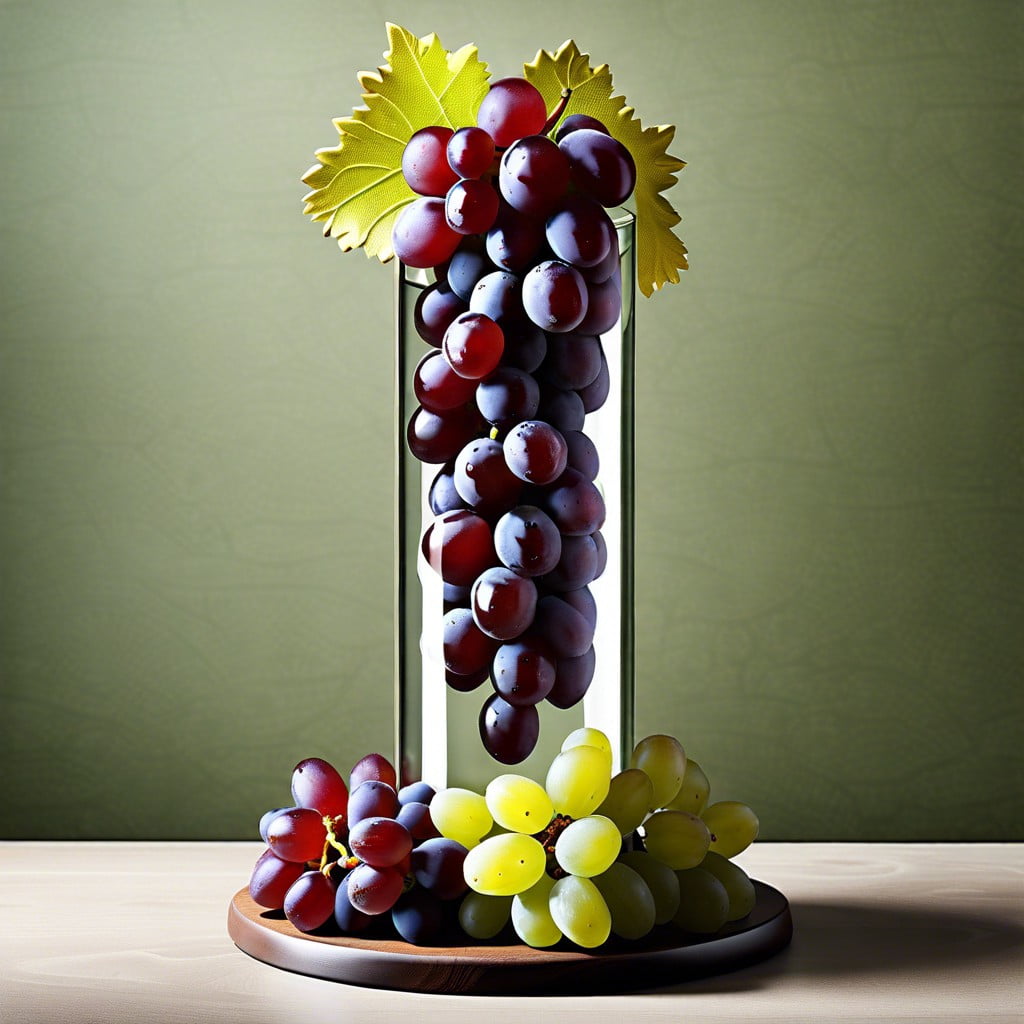 To assemble this elegant centerpiece, begin by selecting a tall, preferably cylindrical, glass vase. Fill it approximately two-thirds full with a variety of fresh or faux grapes, preferably in varying colors for added visual interest.
Next, place a floral foam topper, thoroughly soaked in water if you're using fresh flowers, on top of the glass vase. Arrange an array of complementing flowers such as hydrangeas, lilacs, or roses into the foam to create a lush floral display.
The contrasting combination of the earthbound grapes and the blooming flowers presents a remarkable spectacle, perfect for a dining table centerpiece. Opt for flowers in shades of mild purples or lush greens to adhere to the grape theme whilst adding a touch of natural beauty to the centerpiece.
Easy to create, this centerpiece emits sophistication and a touch of organic elegance.
Grapevine Balls Centerpiece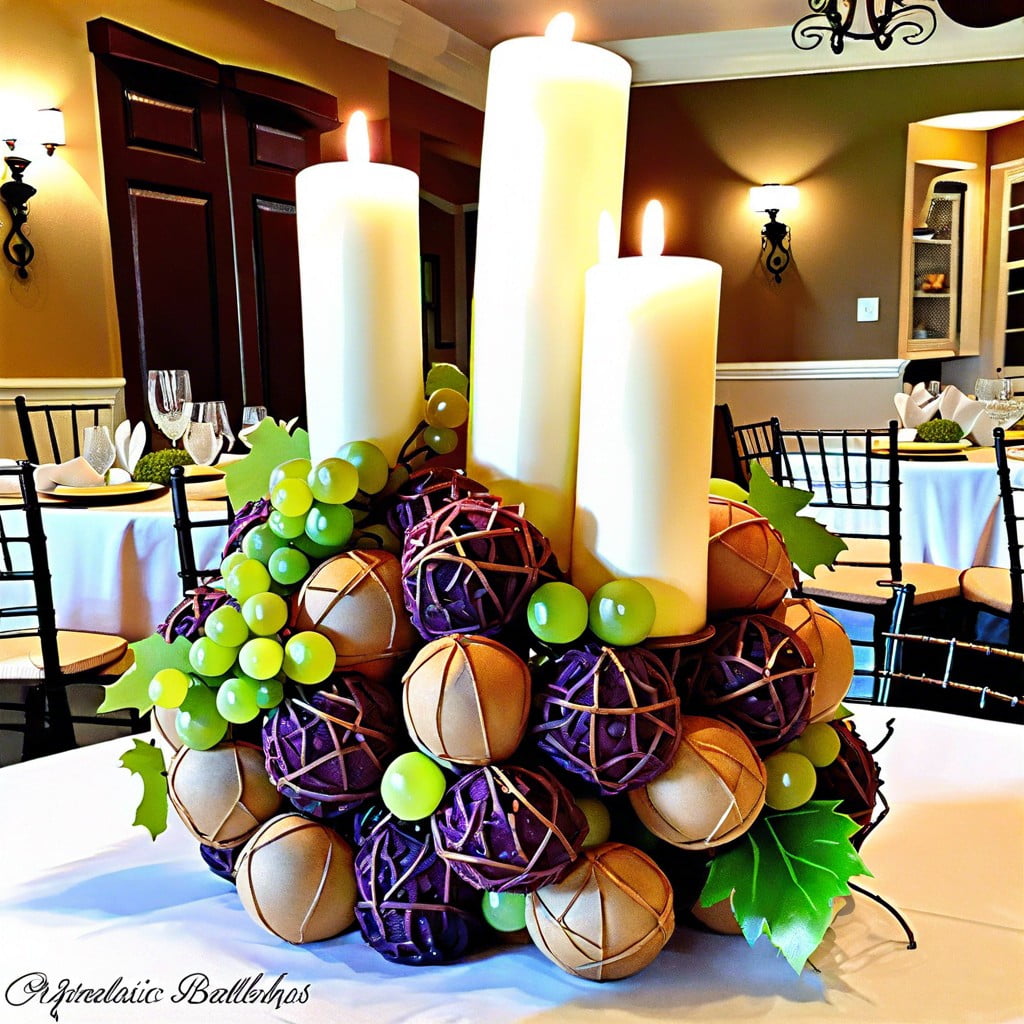 To execute this classy home design, start by selecting grapevine balls of various sizes. You can find these readily available at craft stores or online.
For a unique touch, opt for those which are nestled with faux mini grapes.
Arrange these balls artfully on a large flat plate or tray.
To add some sparkle, scatter clear crystal beads or pebbles around the balls.
For a delightful glow, place battery-powered LED lights within the balls.
This creates a warm, inviting look, especially in the evening.
Such a centerpiece easily transitions from daytime elegance to nighttime sophistication, enhancing the grape theme of your space.
Grape & Cheese Platter Centerpiece for a Wine Tasting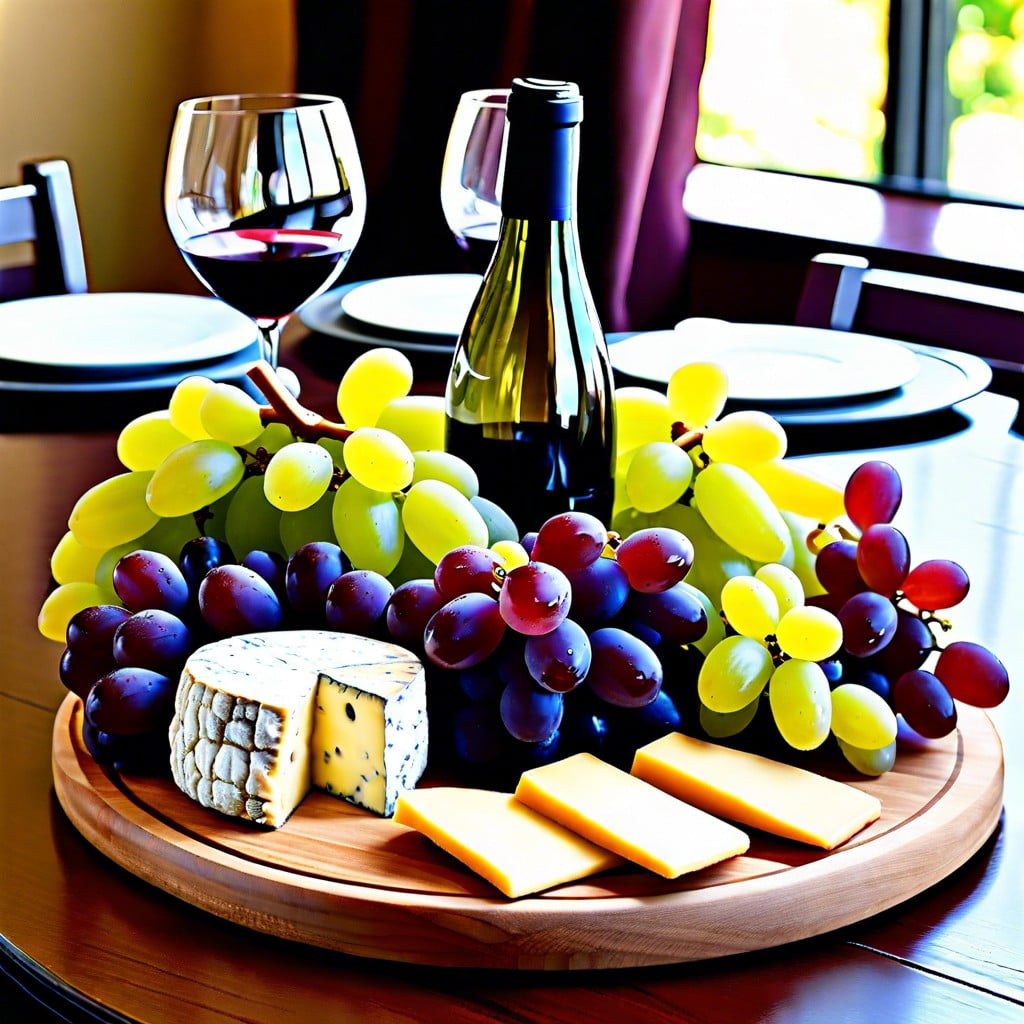 Creating an edible centerpiece, like a grape and cheese platter, can be a delightful surprise for guests at a wine tasting event.
1. Use an oversized wooden chopping board or a stone platter as your base to add a rustic touch.
2. Lay down a variety of cheeses, from hard like cheddar and gouda to soft like camembert and brie.
3. Now, arrange bunches of both red and green grapes in between the cheeses. The color contrast will enhance aesthetic appeal.
4. Consider adding a few sprigs of fresh rosemary or mint for an aromatic accent.
5. Garnish with specialty items like honey, nuts, or quince paste for an additional layer of flavor.
6. Focus on symmetry when arranging elements for visual balance.
7. Finally, place cheese knives and markers next to each cheese type for utility and elegance.
Remember, the element of freshness is key. Therefore, arrange the platter closer to guest arrival time. This idea is a fitting combination of form and function that adds a savory edge to your centerpiece mix.
Purple and Green Balloon Table Centerpiece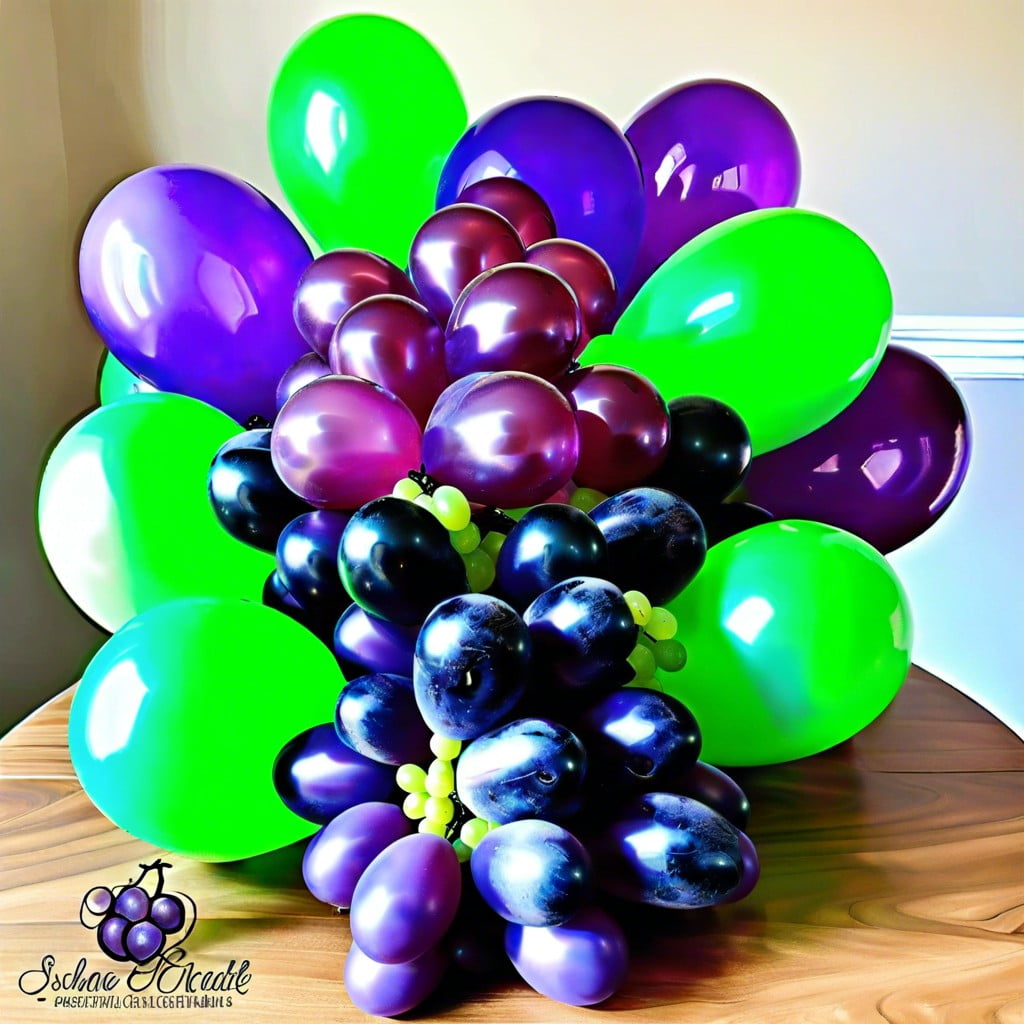 Creating a visually appealing tablescape is as easy as blowing up some latex balloons! Choose a pleasing mix in shades of royal purple and fresh green, and work wonders with a few extra touches.
Firstly, estimate how many balloons you'll need to create a bountiful, bubbly centerpiece. Then, select varying sizes to add depth and texture; go for miniature ones up to larger, statement balloons.
Once inflated, group them together randomly, balancing the colors evenly. Intertwine the balloons using decorative ribbons in complementing colors, securing with knots at strategic points to maintain the arrangement.
Extra tip: Sprinkle some confetti or glitter onto the balloons pre-inflation for an enchanting internal sparkle.
And not to forget, always secure the arrangement to the table to prevent any flying away disasters!
Fruit Bowl With Mixture of Grapes and Florals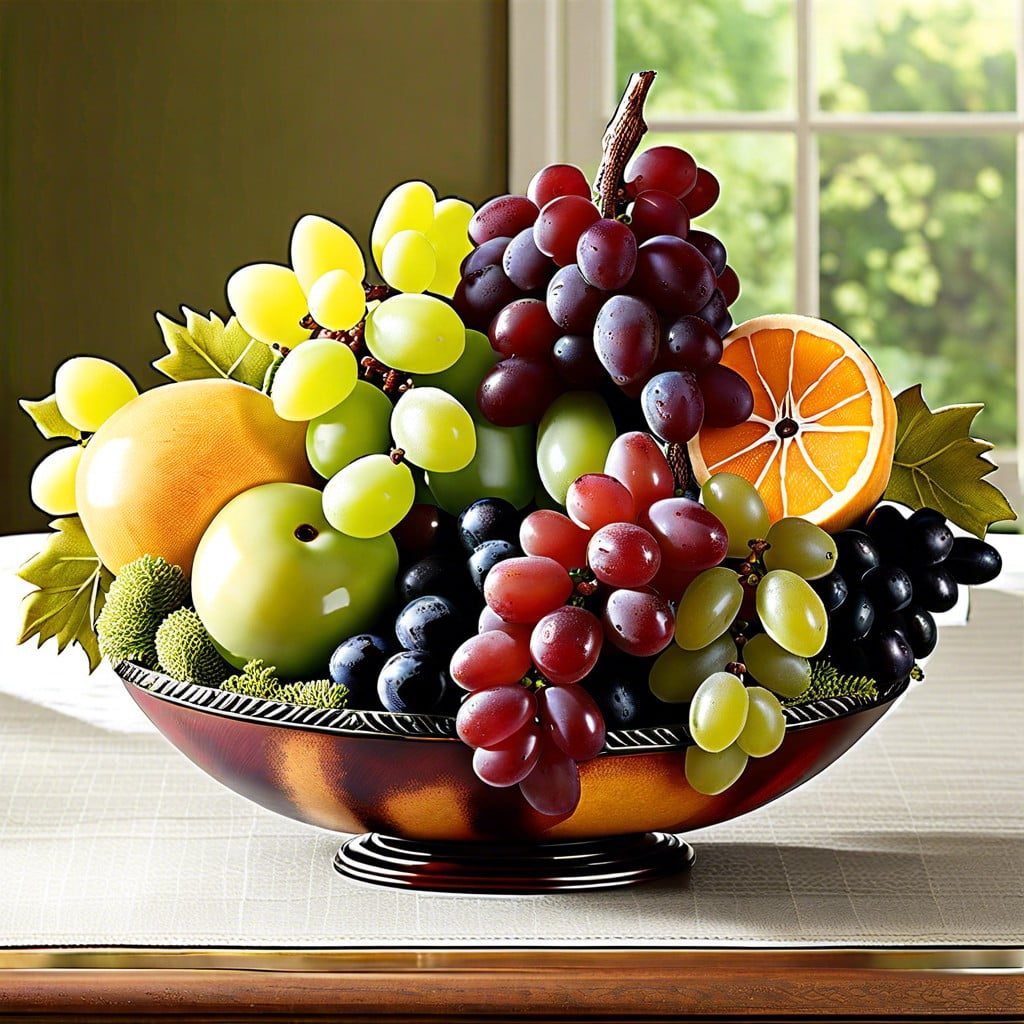 Start with a sizable, clear bowl of your liking and generously fill it with fresh grapes, choosing different shades of purple and green for contrast. Then, add in flowers – white hydrangeas, purple lisianthus or lavenders would blend perfectly.
1. Embrace the raw natural beauty, let the grapes and florals shine, no need for extra embellishment.
2. Balance is key. Ensure your florals don't overpower the grapes and vice versa.
3. Florals and grapes combination not only adds beauty but also a lovely aromatic touch to your setting.
4. Experiment with different grape varieties and floral arrangements for varied looks. Try mixing in some grape leaves for added texture.
5. The centerpiece isn't only visually appealing, but also functional, doubling as a fruit bowl. Guests can pluck from during or post meal.
6. Ensure your centerpiece is symmetric, evenly distribute elements across the bowl for a pleasing look.
Remember, your masterpiece is going to be the star of the table, so play around, let your creativity shine, but most importantly, have fun in the process.
Draped Grapevine Across the Dining Table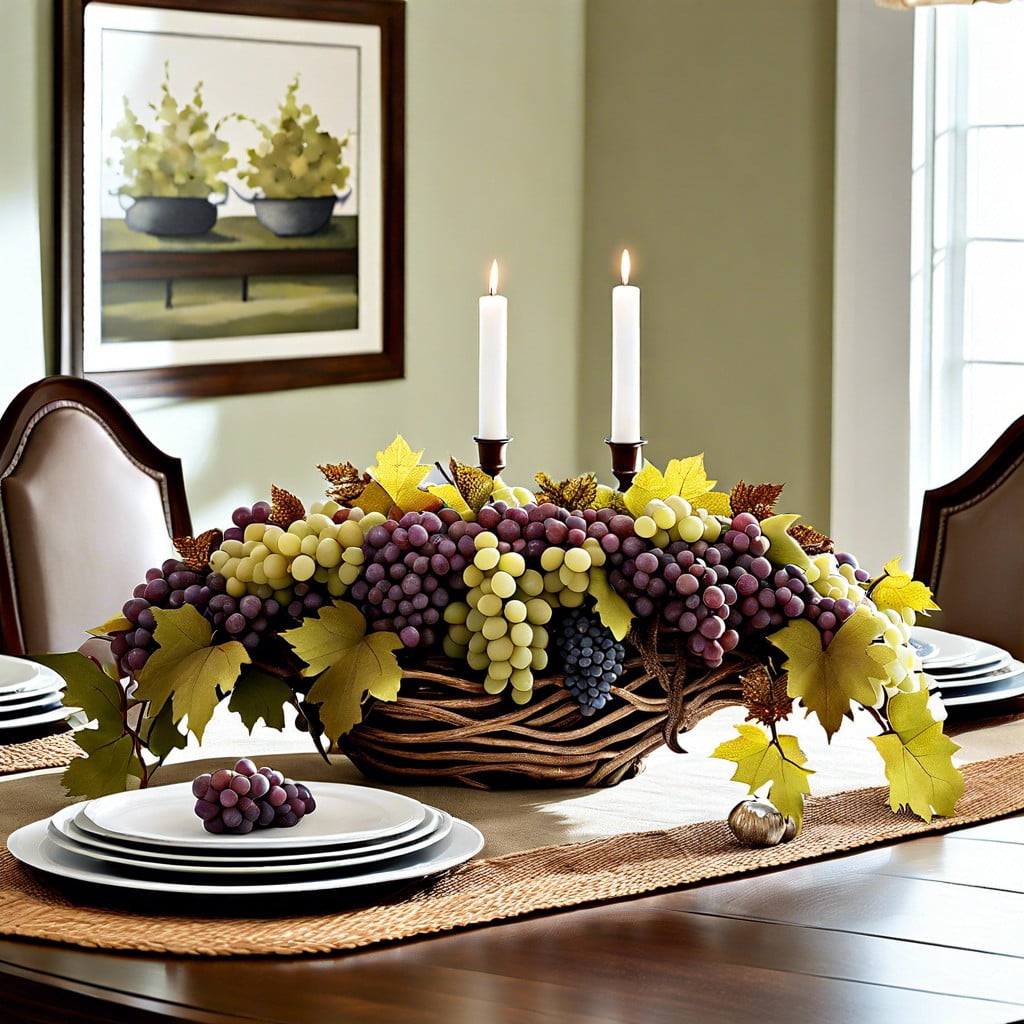 To begin creating an exquisite table display with the help of nature, procure a long grapevine from your local craft or garden store. Stretch it out over your dining surface, allowing some parts to drape down the sides for an organic feel. The twisting, intricate pattern adds a rustic yet refined touch.
To enhance its natural beauty, consider intertwining fairy lights or interspersing candles along the vine. This will not only illuminate your dining area but also cast enchanting shadows that highlight the grapevine's unique texture. Furthermore, adding artificial or fresh grapes at regular intervals gives it a more authentic vineyard-inspired look.
Incorporate seasonal flowers between the twists and turns of the grapevine for a little colour and freshness. Opt for deep purples and rich greens to stay within the grape colour scheme. If you wish for a more festive touch, mini pumpkins or baubles can be an excellent addition, depending on the season.
Just remember, the beauty of this theme is in its flexibility and the fluidity of the grapevine. Hence, there's no need to aim for perfectly symmetrical arrangements. Create, play, adjust until it looks just right.
Hanging Grapes From a Chandelier Centerpiece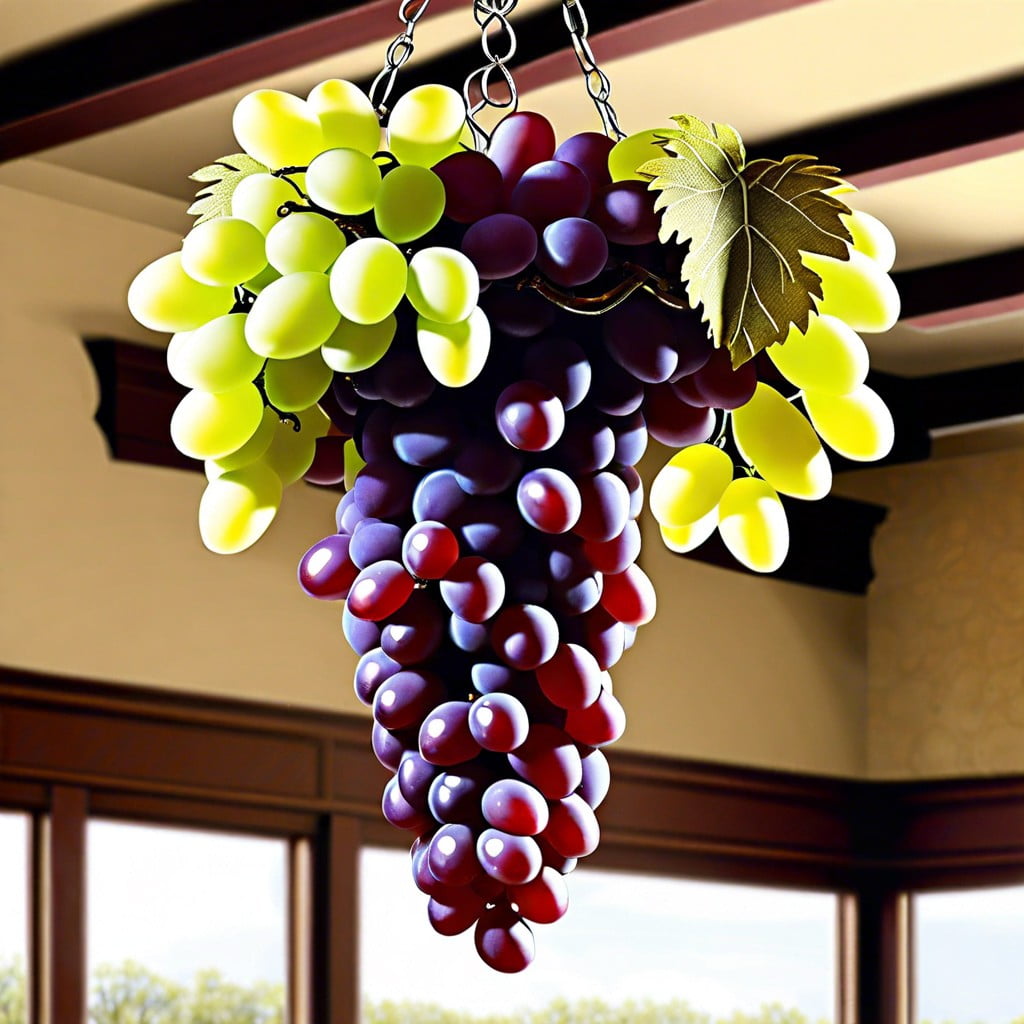 This decoration can serve as a delightful hanging centerpiece above your dining table. Intertwine faux grapevines with the existing elements of your chandelier, draping them for a more natural-looking effect.
Add a bunch of artificial grapes in different sizes and shades of purple and green to amp up the volume. Make sure to distribute them evenly for balance, both visually and physically.
Consider adding some faux leaves for extra color and texture. This adds an unexpected, 3D element to your table setting.
An integral part of the process is ensuring safe and secure attachment. Aim for clean, subtlety in execution which maintains the integrity of your chandelier while achieving aesthetic cabernet appeal.
Grape-themed Wine Cork Centerpiece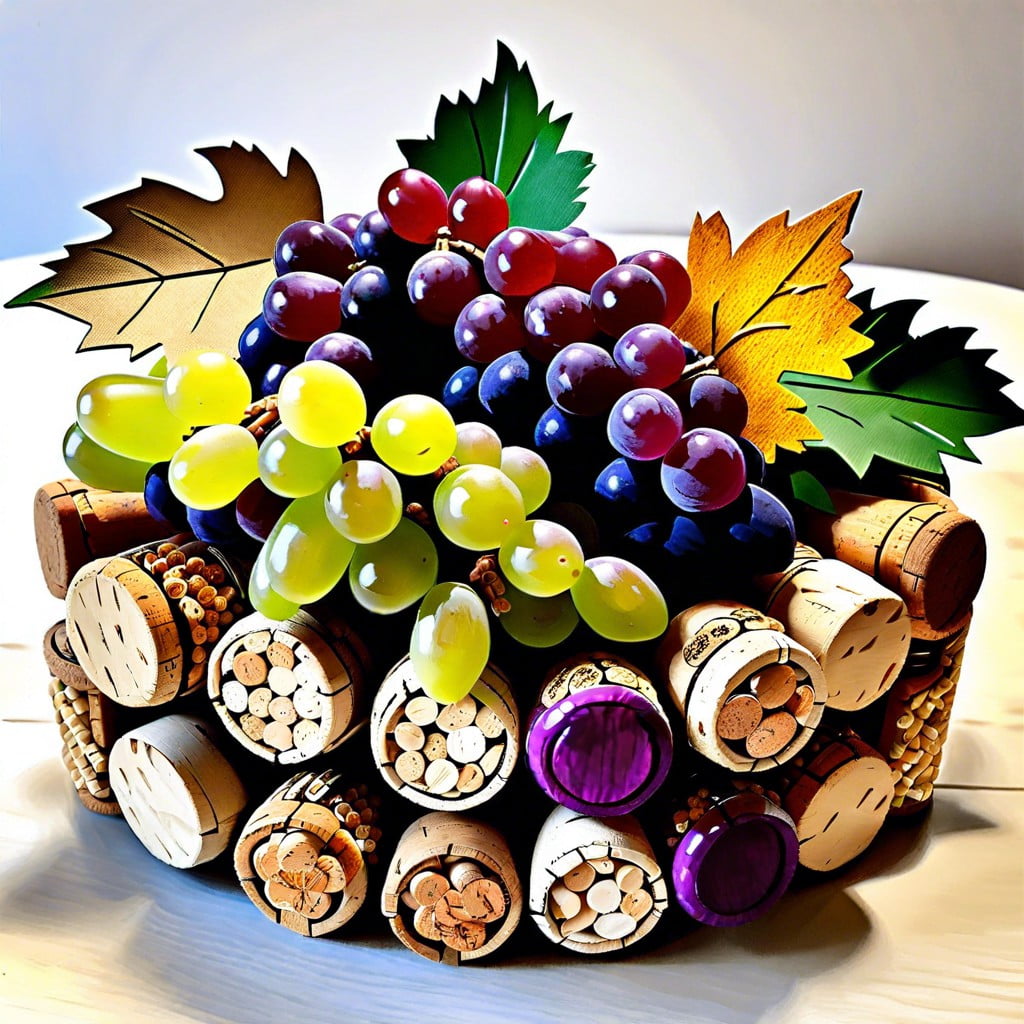 Start by collecting wine corks. You'll need a substantial number, so don't hesitate to ask friends or local restaurants to save some for you.
Next, arrange them into a round or rectangular shape, with a hot glue gun securing them together. Experiment with different patterns – alternate the corks based on their end stain to create a varied look.
Now, for the grape flair, intertwine artificial grapevines through the corks. These can be sourced from local craft stores or ordered online. If you want a little more sparkle, add small fairy lights. Nestle them between the corks and grapevines, creating a warm glow that brings your centerpiece to life.
Finally, as a centerpiece on your dining table or sideboard, this wine cork foundation is easily versatile. It can host a bowl of fresh grapes, support a candle, or even become a platform for a flower arrangement. Remember, there's no rigid rule. The best part about this DIY project is the flexibility to cater it to your own aesthetic. Enjoy crafting!
Continue reading:
Recap