Last updated on November 17, 2023
Transform your coin collection into an artful display because their history and value deserve more than a mere corner in your drawer.
Displaying coins in a frame is a fantastic way to showcase your collection while adding a unique touch to your home decor. This article will guide you through the process step-by-step, from selecting the right frame to arranging the coins artfully.
Whether your collection is large or small, this guide will ensure your coins are displayed in a way that highlights their unique beauty and significance. With details on the best materials to use and tips on layout design, you'll have everything you need to create a stunning coin display.
Key takeaways:
Select the right frame for your coin collection
Choose coins with historical value for framing
Safely mount coins in a frame without damaging them
Explore different techniques and styles for coin display
Preserve the value of framed coins with proper care and maintenance
Selecting the Right Frame for Coin Display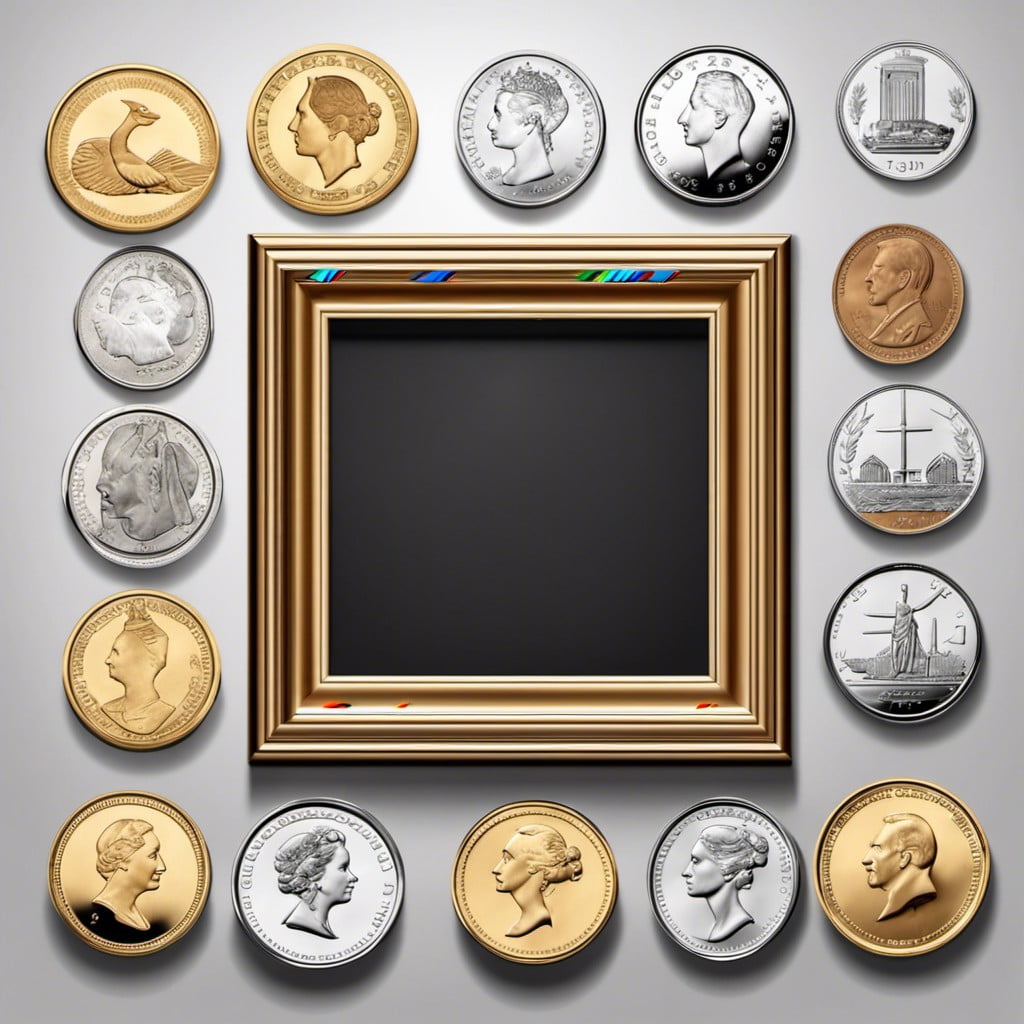 A well-chosen frame sets the stage for showcasing coins. When deciding, consider the coin's dimensions. Larger coins might require thicker or deeper frames. Divided shadow boxes with individual compartments for each coin keep the collection organized and easy to view.
Material matters too. Opt for durable materials like hardwood or metal that can stand the test of time. If opting for something more decorative, ensure it doesn't detract from the coins themselves.
Lastly, the presence of a glass or plexiglass front is essential. It offers a clear view while providing necessary protection from dust and potential damage. Keep in mind, non-glare glass is a plus: it prevents reflections that might interfere with viewing your precious collection.
Types of Coins Suitable for Framing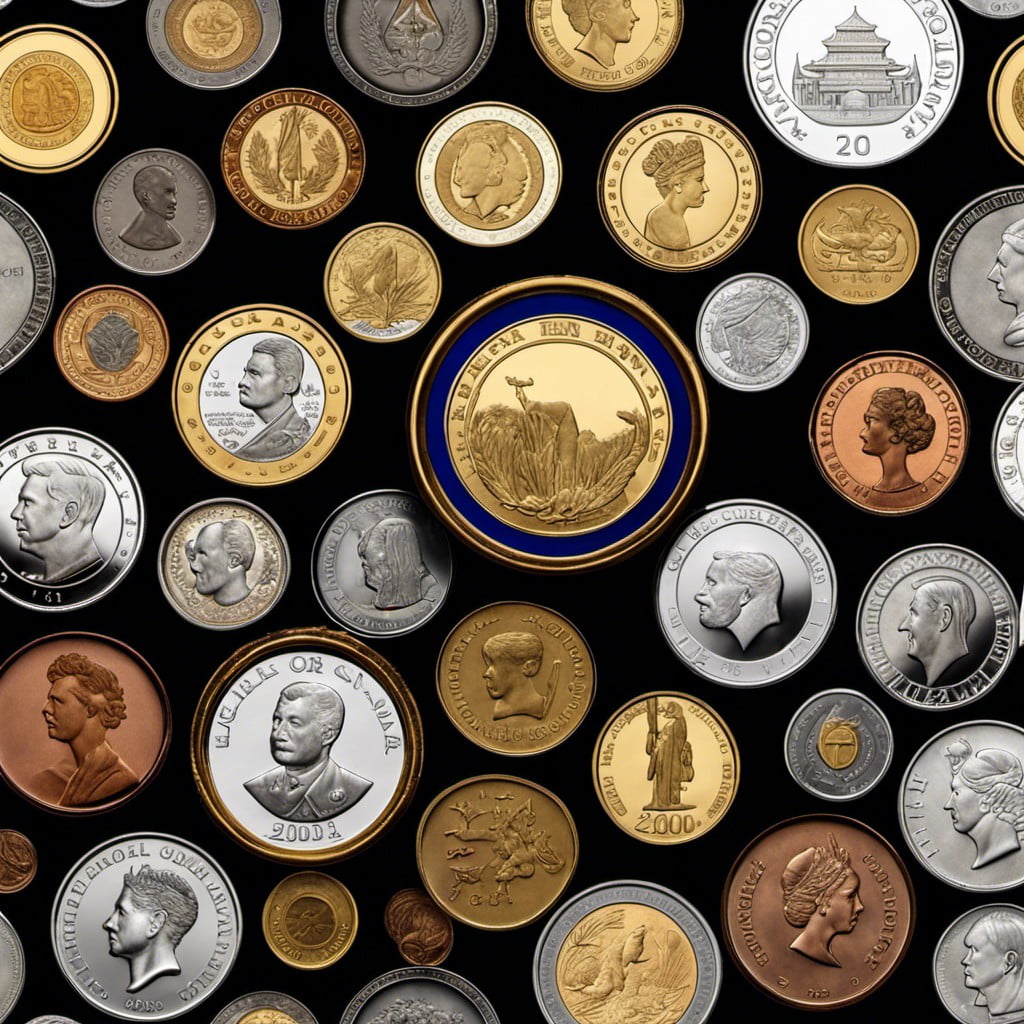 When considering a collection for display, bear in mind that not all coins are created equal. Ancient coins, such as Roman or Greek, often feature intricate designs and historical value, making them an exciting choice for display.
Modern commemorative coins are also excellent candidates due to their unique designs and limited mint runs. Similarly, proof coins, known for their exceptional shine and crisp detail, add a dazzling element.
However, rare and extraordinarily valuable pieces may be better stored in a safe or safety deposit box.
Safely Mounting Coins in a Frame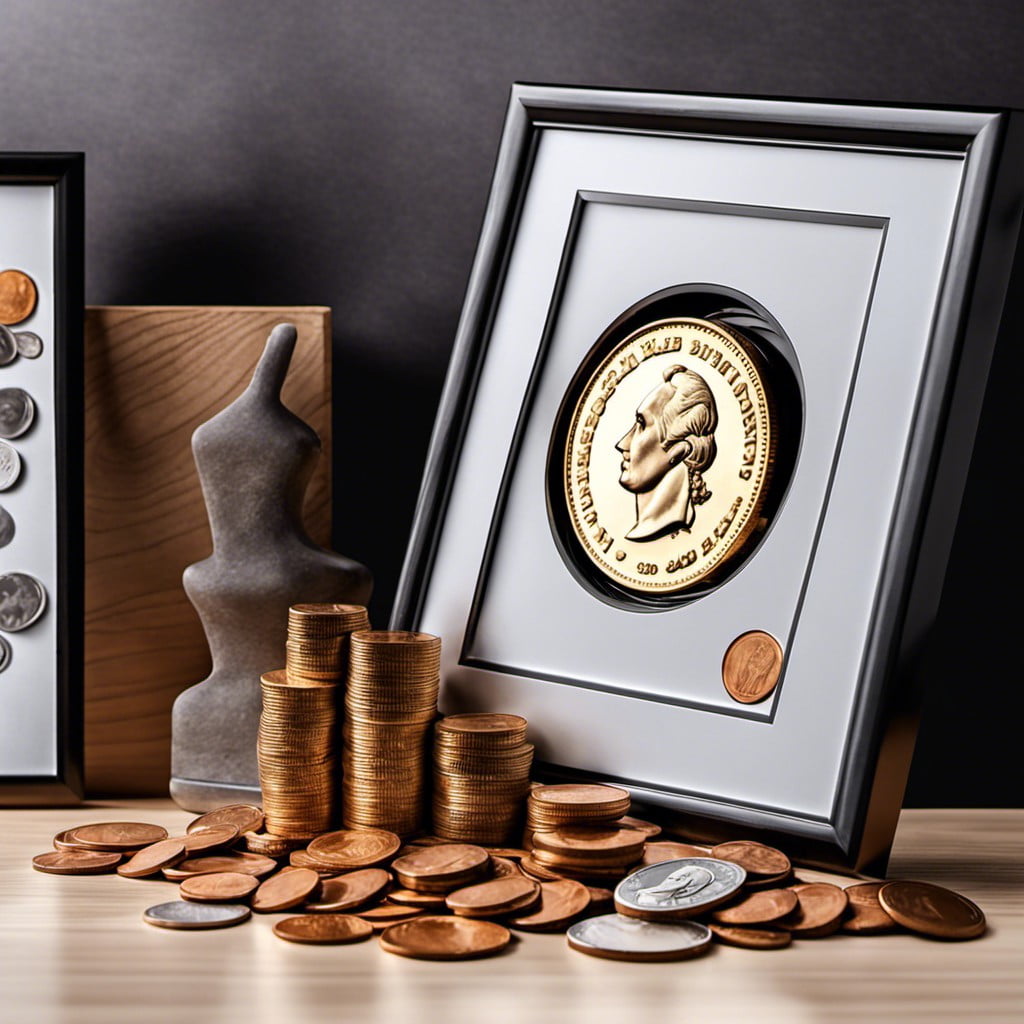 Certainly, utmost care must be taken to ensure the integrity of your coins as they are mounted. Here are a few key points:
1. Always Handle Coins with Gloves: Oils from hands can damage coins. Nitrile or cotton gloves allow for safe handling and can prevent inadvertent damage.
2. Use Coin Holders: Clear plastic coin holders, also known as coin flips or caps, are ideal for providing protection without interfering with visibility.
3. No Adhesives: Glue, tape or sticky substances could harm the coin's surface. In lieu of adhesives, opt for non-damaging methods like air-tite holders or custom-fit recesses in the frame.
4. Consider Display Angle: When mounting, it's important to remember that coins should be displayed at an angle which reduces direct light exposure, thus limiting potential for discoloration.
5. Avoid Overcrowding: Give each coin enough space to shine. Overcrowding can lead to scratches or unnecessary friction between coins.
Remember, it's all about showcasing your coins while preserving their condition. Ever so slightly more labor intensive, but undeniably worth it for the continued preservation and appreciation of your prized collection.
Popular Coin Display Techniques and Styles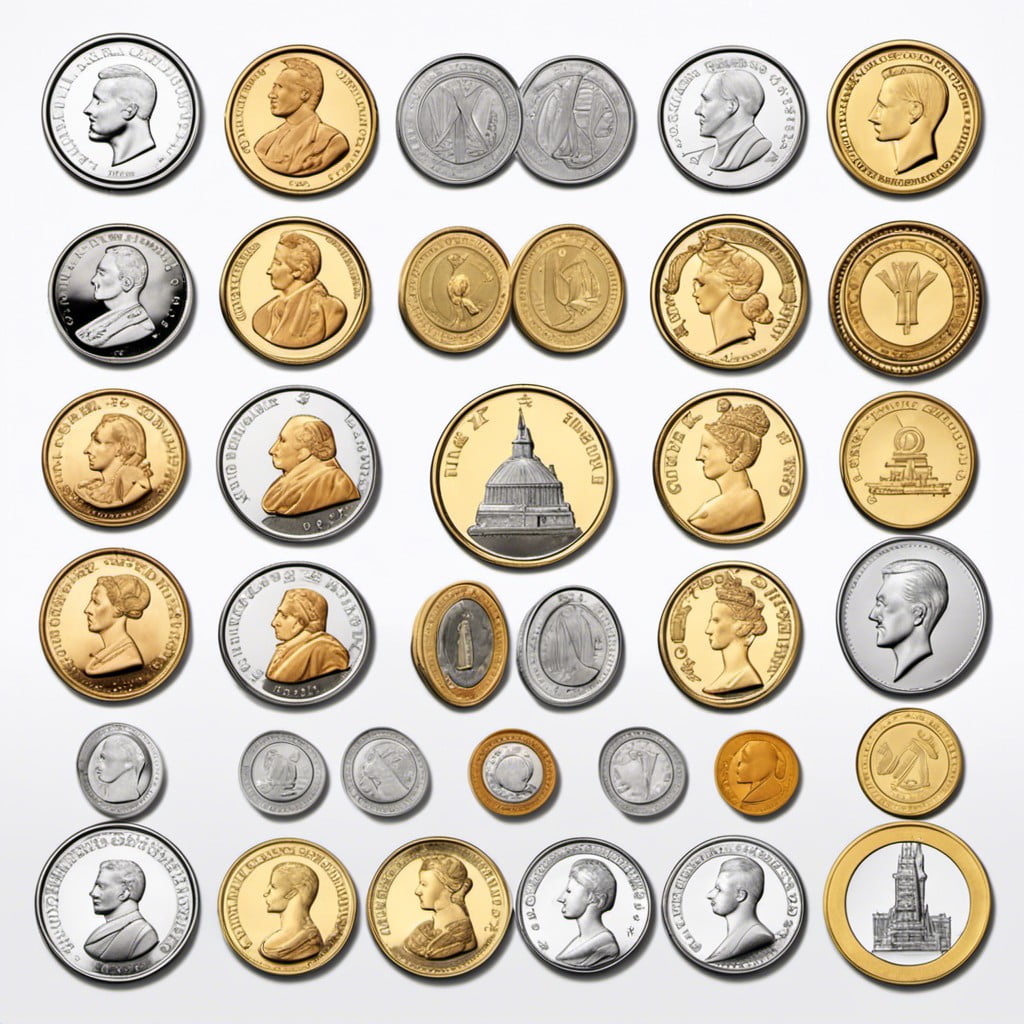 There are several chic ways to present your coin collection. Display techniques often correlate with the coin's characteristics or the collector's personality.
Two popular styles include float mounting and shadow boxes. Float mounting uses a clear adhesive to make the coins appear as if they are floating in the frame, creating a visually arresting look. In contrast, shadow boxes offer depth and drama, accentuating the raised surfaces and intricate details of each coin.
Grid layouts are a favorite among the numerically inclined, ensuring each coin has its special place in an orderly fashion. Yet, for more artistic-minded people, abstract, uneven distributions may work best.
Dual-sided frames allow showcasing both sides of the coin, a useful technique for coins with unique designs on both faces.
Just remember, whatever technique or style you choose, the key factor is to keep the coins secure, immovable, and in pristine condition. A well-crafted display increases aesthetics while preserving the value of your precious collection.
Preserving the Value of Framed Coins
When it comes to maintaining worth, consider coin framing as more than just a stylish display; it's also an effective preservation tool. Here are a few key components to keep in mind:
1. Acid-Free Materials: Use materials that are acid-free to prevent chemical reactions that can degrade the coins over time.
2. UV-Resistant Glass: This glass type helps protect coins from harmful sunlight which can cause discoloration or fading.
3. Low Humidity: Coins should be kept in a low humidity environment to avoid tarnishing. Including silica gel packets inside the frame can help to keep the humidity level low.
4. Secure Mounting: Avoid damaging the coins by securely mounting them without using any adhesive directly on the coins. Opt for coin holders designed specifically for preservation.
Remember that proper coin framing doesn't just display your collection. It also plays a critical role in preserving your coins' value.
Cleaning and Maintenance of Framed Coins
Consider regular dusting as an initial step; doing so every week can help keep the frame and coin in pristine condition. When using cleaning solutions, avoid spraying directly on the frame, rather dampen a cloth with your chosen solution and gently wipe the frame. Never use abrasive cleaners or paper-based products to avoid scratching the frame.
Avoid cleaning the coins while they are in the frame, especially with not-approved chemical solutions; these can cause unwanted reactions resulting in damage to coins. Instead, maintain coins according to specific coin cleaning instructions, preferably before the mounting process.
Keep framed coins out of direct sunlight as heat and ultraviolet rays can have a detrimental effect on both the condition of the coins and the frame's material. If the minerals in the metal react, this may lead to fading or discoloration over time.
To protect your coin collection further, consider having the coins' frames hung in rooms with controlled temperatures; this will help maintain coin quality over time.
Lastly, consider rotating the display periodically. Storing some coins away from light sources or other potential environmental dangers can also ensure that each piece stays in top shape for a longer time.
Understanding the Impact of Proper Coin Display On Value
Indeed, the method and quality of display significantly affect a coin's value. Highlighting the inherent beauty of the coin enhances its aesthetic appeal, which may trigger increased interest and subsequently, higher valuation.
Here are key ideas to consider:
1. secured, damage-free mounting maintains the coin's condition, preserving or potentially increasing its value.
2. visually pleasing displays attract more attention and appreciation, potentially resulting in improved evaluation by potential buyers or evaluators.
3. using non-reactive materials in frames prevents tarnishing, ensuring long-term preservation of the coin's value.
4. high-quality display equipment can underscore the coin's value in the eyes of viewers.
5. well-crafted displays may highlight the unique features of the coins, revealing hidden aspects that could increase its worth.
Thus, committing to a proper coin display opens a broader avenue for the significance and value of your precious collections.
FAQ
What is the best way to display a coin collection?
The ideal way to display a coin collection is by using blue-cardboard Whitman folders that provide dedicated slots with labels for each coin's specific mint, date, and series.
How do you display coins?
Display coins by purchasing a shadow box or a display box, setting it up to highlight your favorite coins or your entire coin collection based on your preference.
How do you store and display coins?
To store and display coins, use hard plastic holders or acid-free cardboard and plastic holders free from polyvinyl chloride (PVC), and for high-value coins consider professional coin grading services' sealed holders called slabs.
What types of frames are best for showcasing your coin collection?
Shadow box frames with transparent glass fronts are ideal for showcasing your coin collection.
How can you creatively arrange a coin collection in a display?
Creatively arrange a coin collection by mounting them on framed velvet-covered boards, grouping them by country, era, or theme, and adding small printed labels for each item to provide informative context.
What precautions should be taken to preserve coins while displaying them?
To preserve coins while displaying them, ensure they are housed in acid-free, archival-quality storage materials to prevent exposure to dust, moisture, and harmful chemicals.
Continue reading:
Recap