Last updated on January 5, 2023
Making a DIY terrarium is very easy. Just follows these tried and tested steps and you'll do just as good as I did!
Thanks to designer Shane Powers and his Hanging Glass Bubble Collection at West Elm for the inspiration behind this DIY project.  At first, I tried using the glass ornaments from Michaels but found the glass to be too fragile. They kept breaking which I decided is too dangerous especially if you want to use around children or outside near a swimming pool. Also, they lacked a lip around the edge of the opening which if you want to make your planter into a hanging one rather than a tabletop one, is vital to prevent slippage of the twine.
You will need:
Plastic craft ornament ($2.99 at Michael's)
Décor sand (also found at Michael's)
Small rocks, driftwood, shells, moss, etc.
Tillandsias (air plants, found at most nurseries)
Twine, raffia, wire, etc.
Funnel
Chopsticks or long tweezers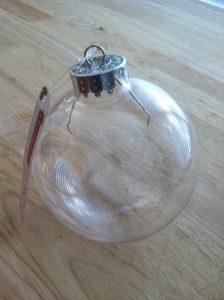 How to assemble:
  Remove the cap from ornament by gently tugging.
  Using a funnel, pour a small amount of sand into the bottom of the ornament, approx. ¼ cup.
  Add your embellishments (rocks, shells, etc.) If you plan on hanging it, don't make it too heavy.
  Lastly, carefully add your Tillandsia using chopsticks or tweezers.
  Leave the ornament unsealed. The Tillandsia need air circulation.
Tillandsia's care:
 Tillandsias absorb water through their leaves not roots. To water your plant, dip a straw into the water to collect a VERY small amount of water. Place your finger at the top of the straw to suction the water into the straw. Drop the water directly onto the plant once a week. It is important that you use a small amount of water otherwise the sand will get soggy and stick to the globe.
 Monthly, during spring and summer, you can fertilize with orchid food diluted to half strength.
  They prefer bright, filtered light, not direct sunlight.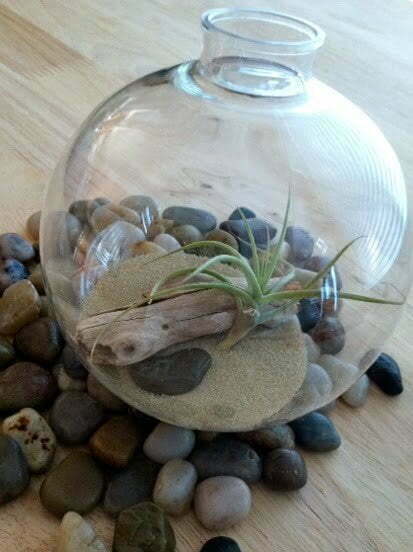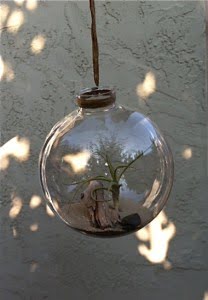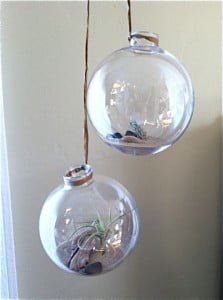 Continue reading: