Last updated on January 5, 2023
I owe this genius idea to my sis­ter. She puts her dish soap in a small spray bot­tle next to her kitchen sink. I had the oppor­tu­nity to try it out one night when I so nicely vol­un­teered to clean the din­ner dishes. I was amazed how such a sim­ple change like the soap dis­penser could make clean­ing dishes that much eas­ier. That's when I decided I had to share this with everyone!
PROS

:
You have con­trol over the amount of soap that is dis­pensed and where it goes exactly (assuming you can aim 2 inches from something).
No soap is wasted which is what hap­pens so often with the com­mon soap bottle.
It's eas­ier than a pump.
You can mul­ti­task eas­ily hold­ing the squirt soap bot­tle, sponge and pot all at the same time.
It's easy to store away under the sink, in the sink or on the counter.
Save money buy­ing your dish soap in bulk and refill­ing as needed.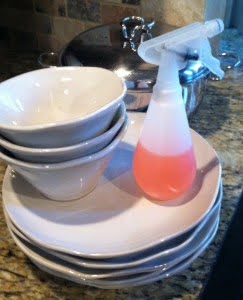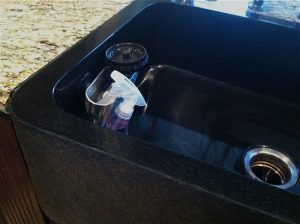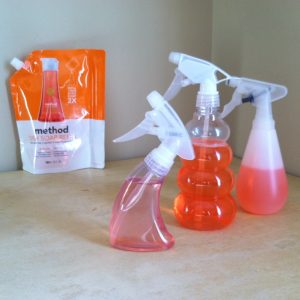 EXTRA

:
Buy dec­o­ra­tive spray bot­tles to match your kitchen if you want to leave it out. I think a stain­less steel one would be uni­ver­sal. You can find those at stores like Con­tain­ers and Things.
This makes a great host­ess gift. Get a nice spray bot­tle, large dish soap refill, (I love Method, by Tar­get) new sponges/brushes and those ever adorable funky dish gloves. Wrap it all up in a styl­ish reusable gro­cery bag or wire bas­ket lines with raf­fia. Attach a thank you gift tag and maybe include a lit­tle print out of the above 

PROS

.
Continue reading:
Recap