Last updated on November 15, 2023
Explore these innovative ideas for privacy bathroom doors because they could just be the ultimate solution for boosting your bathroom's aesthetic appeal and maintaining your privacy.
Looking to add a touch of privacy to your bathroom without compromising on style? You're in the right place.
This article will guide you through an array of innovative and aesthetically pleasing privacy bathroom door ideas.
From frosted glass doors to barn doors, we'll explore every option in detail.
Whether you value a minimalist design or prefer a more traditional approach, there's a solution to suit every taste and budget.
So, let's delve into these creative solutions that promise to transform your bathroom into a private sanctuary.
Frosted Glass Door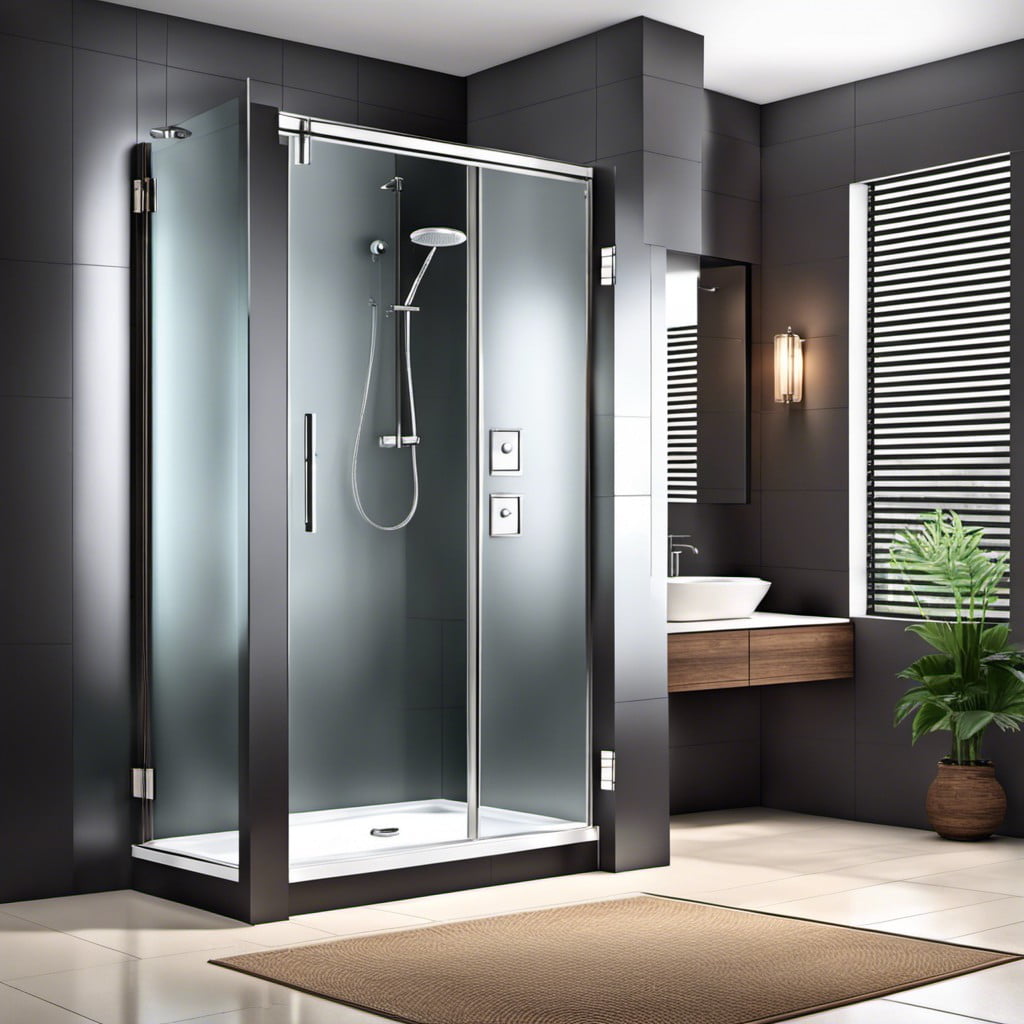 Offering the perfect blend of privacy and elegance, a frosted glass door is a great option. This door type allows natural light to filter through while obstructing the view, ensuring your privacy is maintained. Additionally, it's highly versatile, fitting into both modern and traditional bathroom styles with ease.
Not only is it a practical choice, but it also enhances bathroom aesthetics, acting as a subtle yet impactful design element. When cared for properly, it can resist wear and tear, guaranteeing longevity. With countless patterns and designs available, you can find one that fits your decor preference.
Wooden Barn Door
Offering both rustic charm and purposeful function, these doors warrant a portion of wall space to slide along but they make up for it with their tremendous distinctiveness.
Their extensive design versatility can incorporate materials like distressed wood or a trendy chevron pattern with pieces recycled from old fences.
Because they need ample room to operate, you may need to relocate light switches, electrical outlets, and wall hangings.
Install a barn door stay roller guide at the bottom to stabilize the door.
The quiet rolling wheels and sturdy track system ensure smooth daily operation.
Keep in mind, barn doors are typically not conducive to complete privacy as there could be gaps on the sides depending on the fixture.
Always be sure to measure twice before you buy and choose a size that appropriately fits your space.
They pair well with hardware such as unique handles and locks to further compliment your home's aesthetic.
Louver Door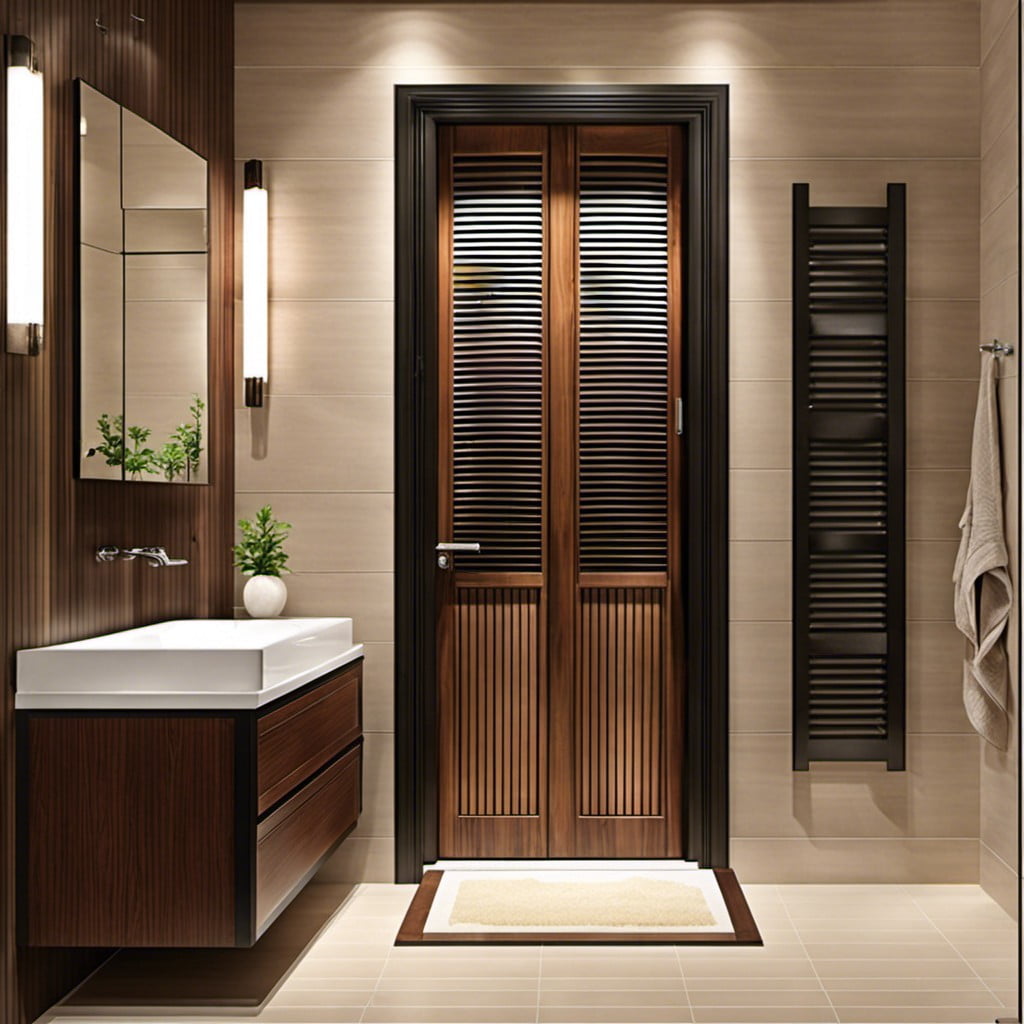 Crafted with horizontal slats that typically run across the length, a louver door promotes ventilation while maintaining privacy. The slats are angled in a way that allows air to flow freely without compromising on discretion. This design is particularly beneficial for a bathroom setting, given the importance of air circulation to prevent moisture build-up.
Louver doors can be customized to suit any aesthetic. They are available in various materials such as wood, metal, and vinyl. Each offers unique styles, from rustic and traditional to modern and sleek.
This type of door contributes an incredible level of functionality in terms of quick room drying. Plus, they may also add a unique design feature, reminiscent of resort-style bathrooms or a tropical atmosphere, which may enhance your home's overall appeal.
Regarding installation, ensure that slats are facing downward on the inside to prevent any accident that could result in peeping, thus maintaining your bathroom's privacy.
Two-panel Door
Distinguished by its simplicity and versatility, this option is characterized by two horizontal panels, typically with a larger one on top and a smaller at the bottom. Its rugged composition means it can withstand daily usage while still maintaining its visual appeal.
Here are some points that outline the concept:
Traditional Aesthetic: The two-panel design is simple yet stylish, making it a popular choice for homeowners seeking a traditional aesthetic. It pairs effortlessly with any bathroom decor, be it modern minimalist or vintage-inspired.
Durability: These doors are built to last. Often crafted from solid wood, they can weather regular use without sacrificing look or functionality.
Enhanced Privacy: The two panels offer an added layer of privacy, which is beneficial in shared living spaces.
Easy to Customize: You can paint or finish the panels in different colors or stains, which allows for personality and flair to be added according to your own style and preference.
Cost-Effective: Two-panel doors are generally more affordable compared to other types of doors, making them a practical choice for those on a budget or undergoing a bathroom renovation.
Overall, the two-panel door is a stylish and functional option that adds a classically charming touch to your home's bathroom spaces.
Sliding Pocket Door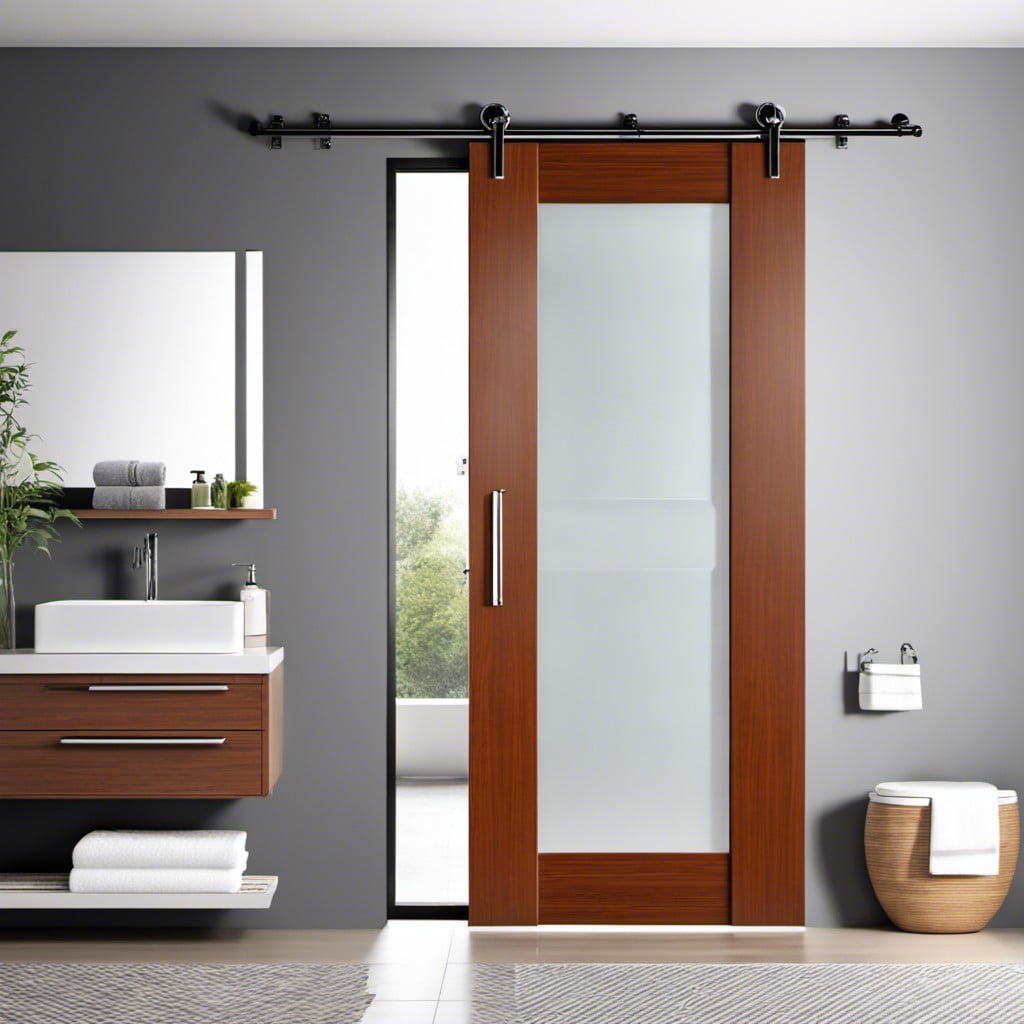 With their space-saving design, these ingenious solutions are ideal for small bathrooms. Easy to install, they slide quietly and smoothly into the recess of the wall, becoming practically invisible when fully open.
For added flair, consider adding a touch of modern aesthetics with minimalistic door handles. They also allow for flexibility in design, as they can be customized or painted to match any bathroom theme or style.
Don't forget to choose a self-priming door, as they are more resistant to moisture and will stand the test of time better in a bathroom environment.
Door With Built-in Blinds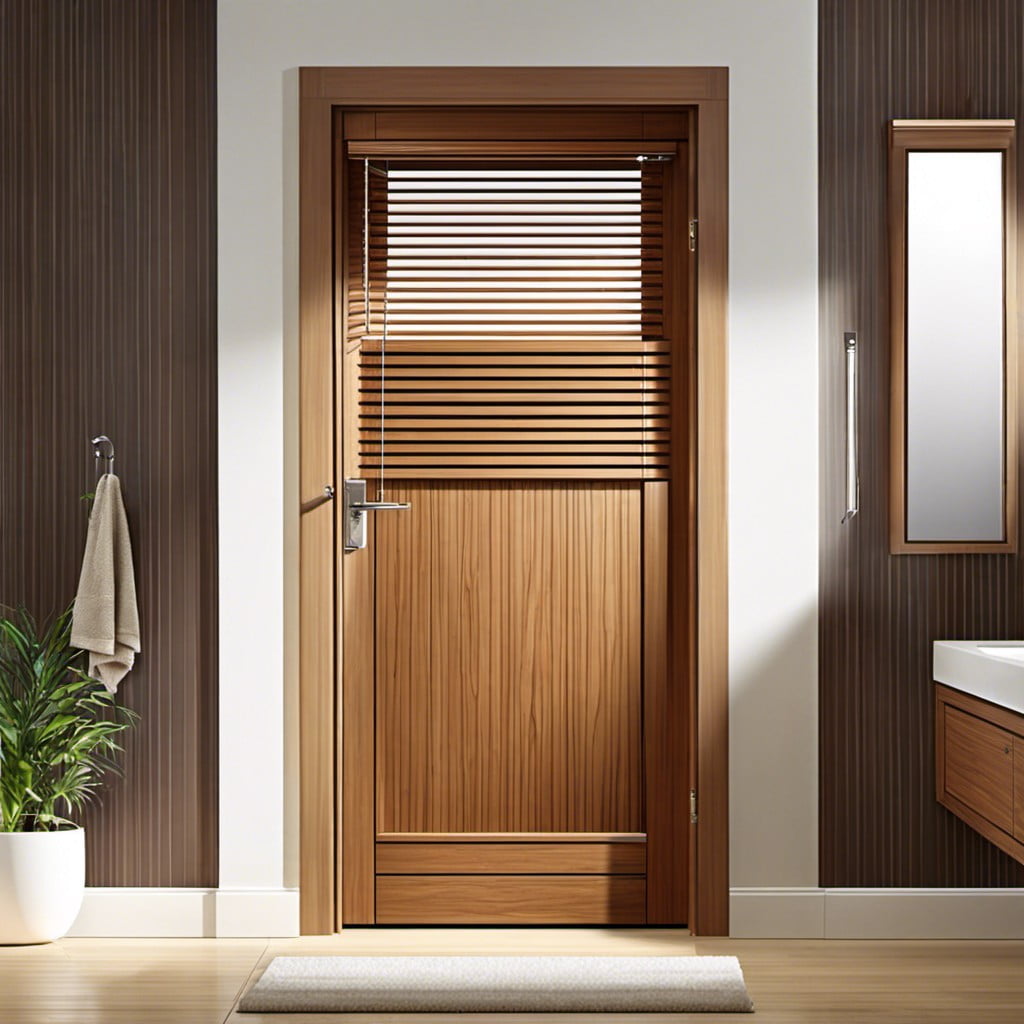 Taking this idea a step further, consider the functionality. Built-in blinds provide an option to easily control the level of privacy required in the bathroom, avoiding direct visibility while letting the light filter through. They are easy to clean, dust-resistant, and provide a contemporary look.
The blinds are encased within the glass panels, ensuring they remain damage-free.
Choosing this type of door eliminates the need for additional window coverings or curtains, simplifying bathroom decor. The door itself becomes an element of design while maintaining an essential role in bathroom privacy. As an added bonus, these doors are often energy efficient, helping to maintain the room's temperature. Accessibility is never an issue with the easy-to-operate mechanism of the blind's opening and closing.
With an array of bold colors and designs available in the market, this option ticks not only the privacy box but also the style box, making it a remarkable choice.
Vintage Stained Glass Door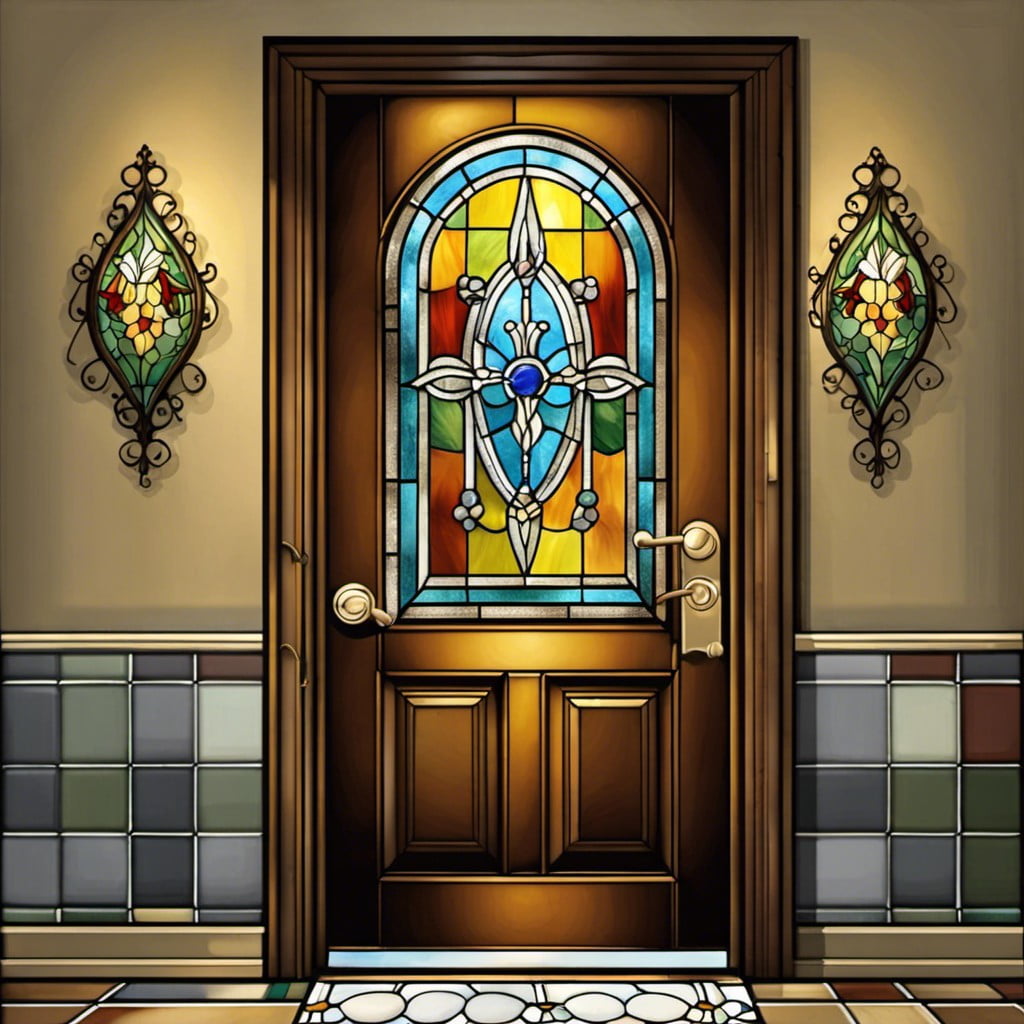 With a nod to time-honored craftsmanship, these eye-catching entrances encapsulate history and charm in every intricate detail. Their luminous colors playfully dance with light creating a warm, inviting space.
Here's a quick rundown of why they sparkle in bathroom design:
Artistry: Evoking a sense of antique majesty, each element contributes to a striking aesthetic appeal.
Privacy: Its very design blurs and distorts the view, maintaining your seclusion in style.
Ambient Lighting: When daybreak or twilight hits, vivid hues radiate making your bathroom glow.
Customizable: Choose from various patterns and colors to mirror your personal taste.
Remember, they may demand extra care due to their delicate nature. But with such elegance and functionality, it's a small price gladly paid.
Dutch Door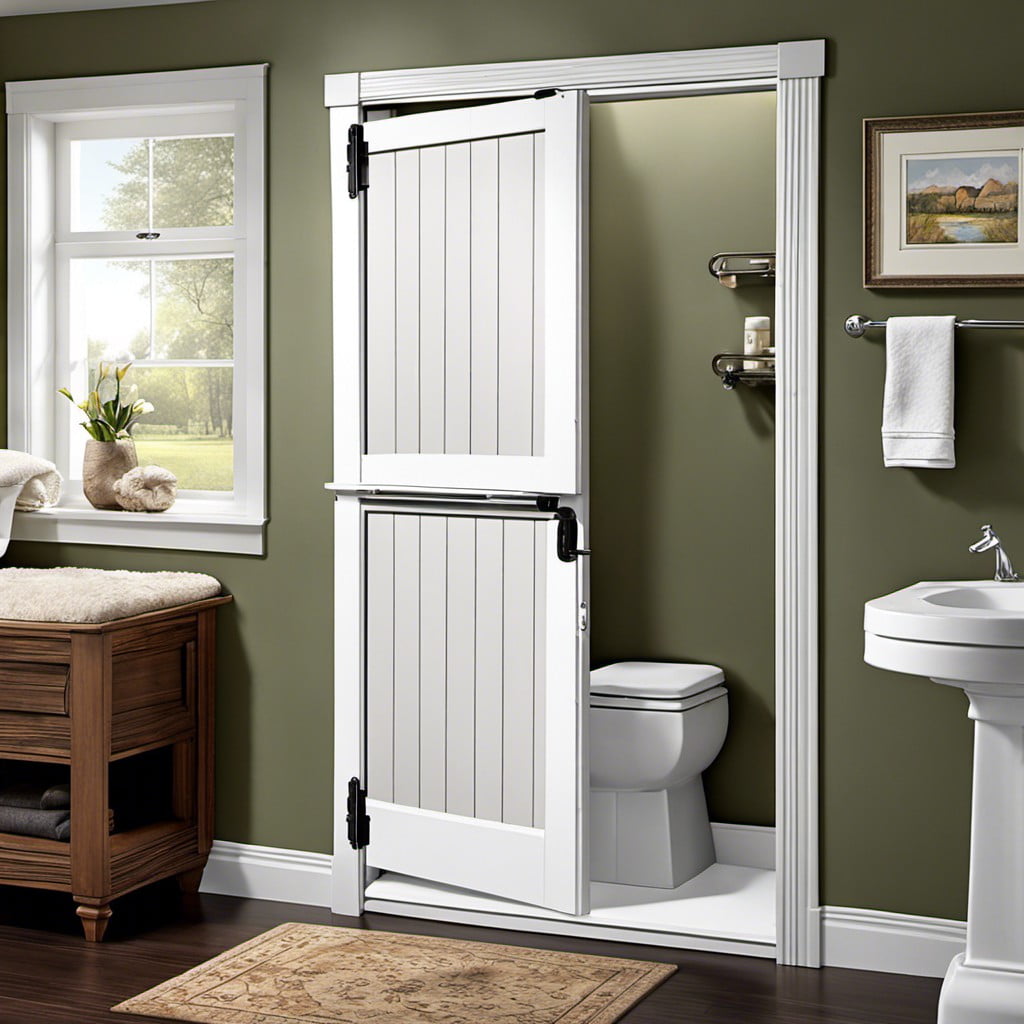 Dutch doors offer a unique blend of aesthetics and functionality. Originally designed for farmhouses, they incorporate a split design, allowing the top and bottom halves to operate independently. This not only enhances ventilation but also provides an added layer of privacy, critical for a bathroom setting.
A few reasons to consider this option:
Privacy and Connection: Keeps the bottom closed for privacy, while the top half can remain open, maintaining a sense of connection with the rest of the house.
Versatility: Offers range from traditional, rustic designs to contemporary and sleek ones – pick what suits your decor style.
Ventilation: The upper half lets in the air and light without compromising privacy, a benefit in tight, windowless bathroom spaces.
Child and Pet Friendly: Keep the lower half shut prevents kids or pets from wandering in or out while ensuring the space doesn't feel closed off.
Unique Element: Adds a distinctive design element, transforming your bathroom from functional to stylish.
Remember to put thought into the type of material and finish you choose to ensure it's both appealing and durable, particularly suited to withstand the humid bathroom environment.
Steel Lattice Door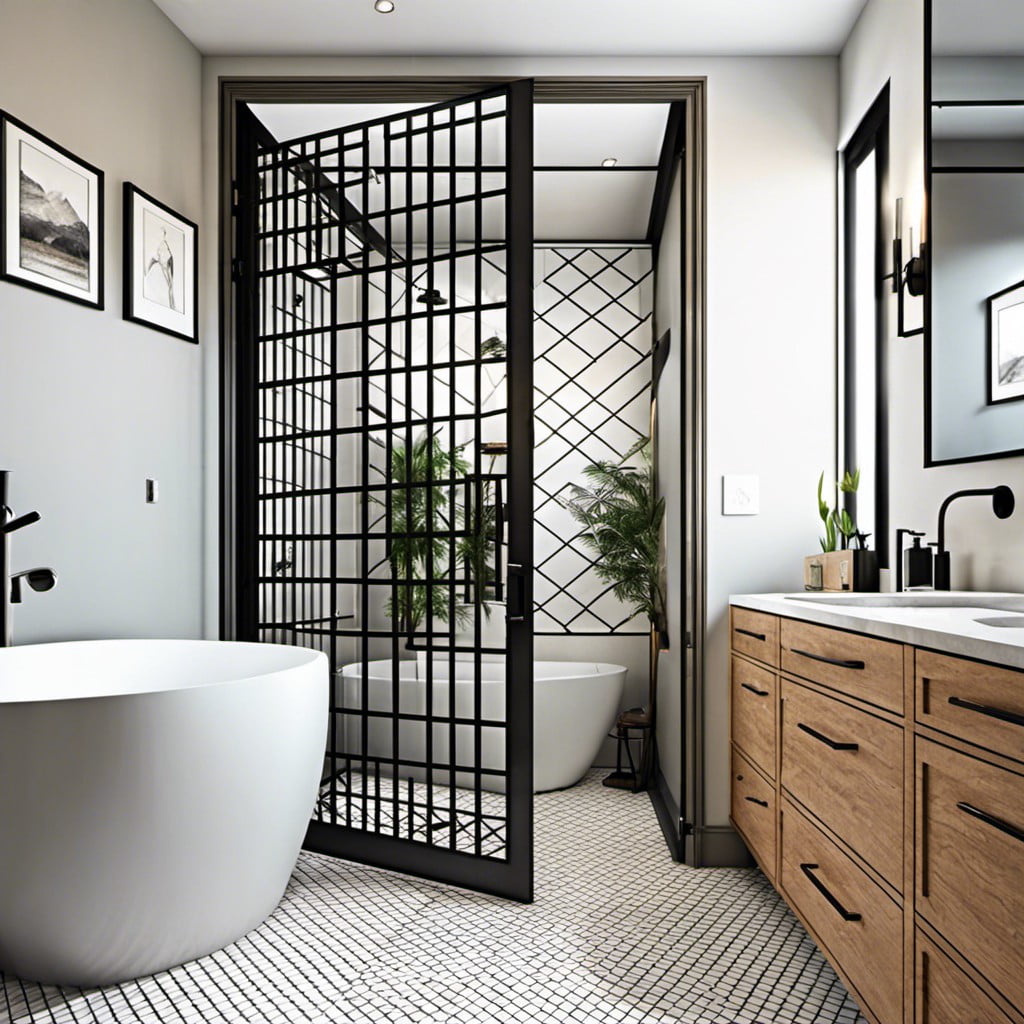 Visually striking and boasting a distinct industrial aesthetic, this model combines form and function. Steel lattice offers a blend of privacy and light passage, making it a balanced option for your bathroom.
1. The unique framework adds a sophisticated touch, aligning well with loft-style or contemporary interiors.
2. Durable steel construction ensures longevity; it can withstand humidity and water splashes.
3. Its web-like pattern creates a sense of semi-privacy while still letting in plenty of natural light.
These elements make it an enticing choice, especially for those aiming to create a chic yet practical bathroom environment.
Bamboo Curtain Door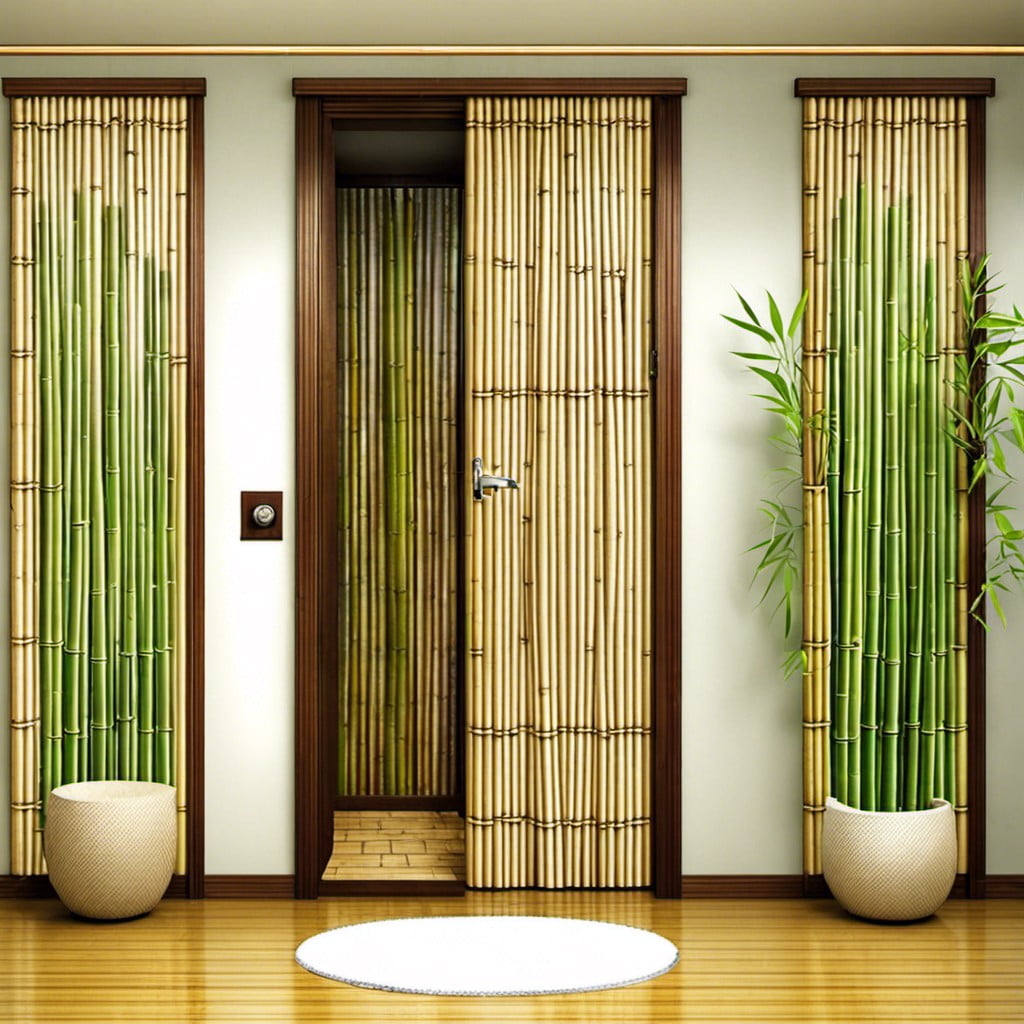 Harnessing natural aesthetics and simplicity, bamboo curtains provide a unique option. They are easy to install, and serve as an environmentally friendly choice. Bamboo's natural grain variations imprint a cohesive look to enhance the bathroom's overall design.
There's also the benefit of customization. You can paint, stain, or leave the bamboo in its natural state to tie in with your decor. Remember, natural light can filter through the slats creating an impressive light pattern while still maintaining necessary privacy.
Shogi Japanese Sliding Door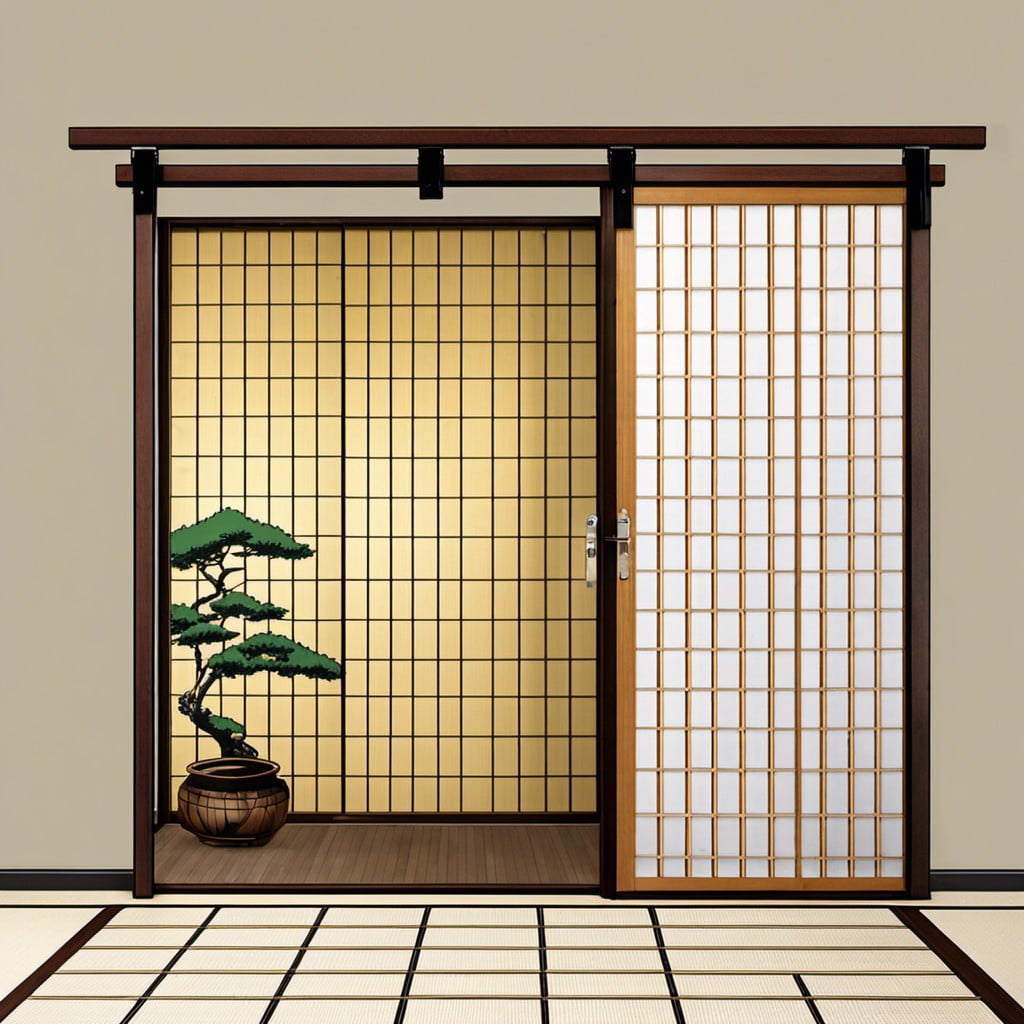 Traditionally used in Japanese architecture, Shogi doors are an excellent way of adding some Zen ambiance while adding privacy to your bathroom.
Built primarily of translucent washi paper held together by wooden laths, these sliding doors are designed to diffuse light into the room, creating calming lighting effects.
Although seemingly delicate, these doors are highly durable but may require special handling to preserve their aesthetics.
Their major perks include the saving of space, thanks to their sliding design, and their ability to blend seamlessly into minimalistic or contemporary décor.
Whether you are aiming for an oriental look or a modern practical design, these doors can be a unique change to conventional bathroom doors.
Furthermore, they are easy to install and can be customized with various types of wood or paper, offering a wide palette for the aesthetics of your bathroom.
In terms of privacy, the translucency can be adjusted according to your needs – the denser the washi paper, the more private it becomes.
This yields a balance between chic style and functionality.
Shoji doors are not just a fixture; they play a role in creating an atmosphere, taking the bathroom space beyond a daily requirement to an experience of tranquility and relaxation.
Full-metal Door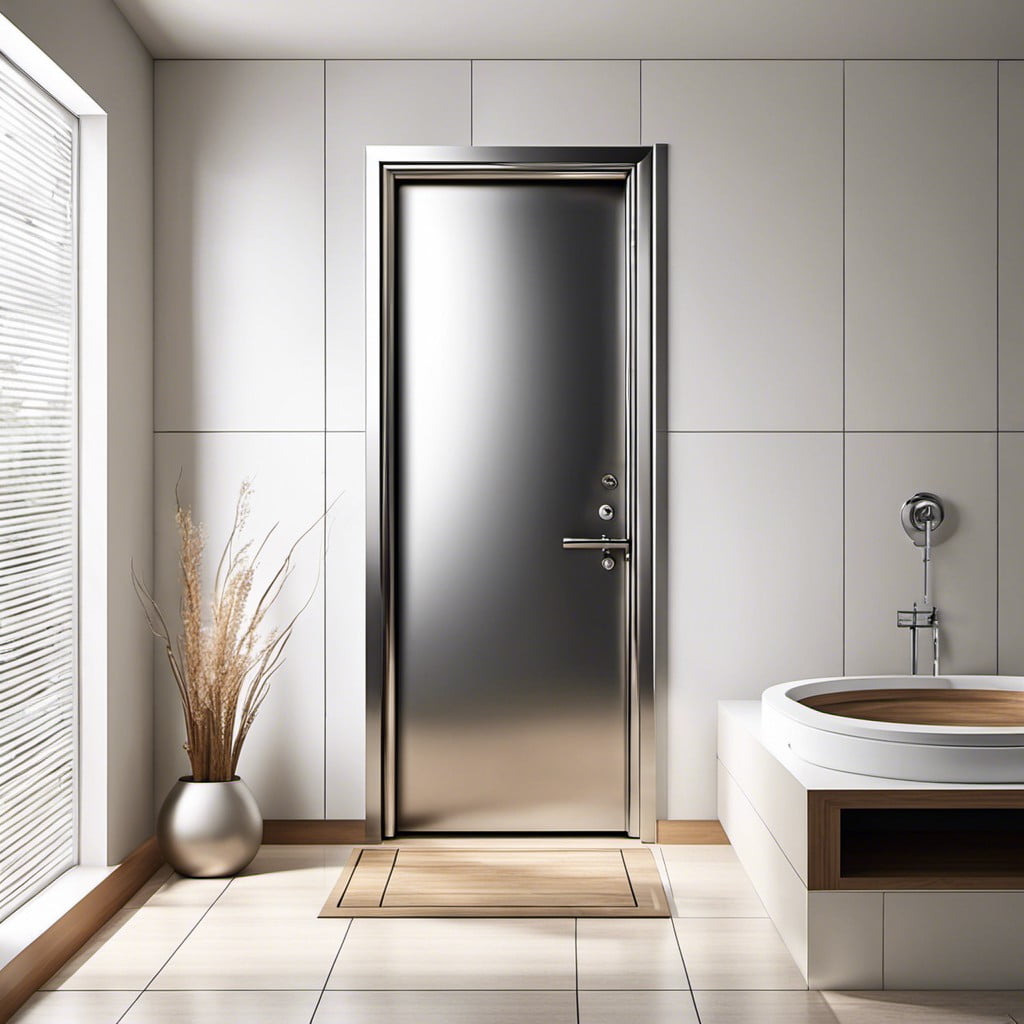 Choose full-metal doors if you're after a contemporary approach! They offer exceptional durability, making them a good fit for bathrooms that see a lot of usage.
They are also available in a variety of designs, enabling homeowners to find an option that complements their home's aesthetic. A variety of finishes, from matte to glossy, ensures that these doors can easily blend with any color palette.
For those worried about privacy, a non-transparent metal door completely eliminates any potential peek-through, unlike some glass or wooden options. While they might feel a bit industrial, careful selection of hardware and accessories can help them seamlessly blend with any interior style.
Upkeep is also an advantage; their robust nature handles moisture well, and they wipe clean in a flash. Something to remember, though, they do tend to be heavier than other types, so ensure your wall and hinges can handle the weight.
Colorful Bead Curtain Door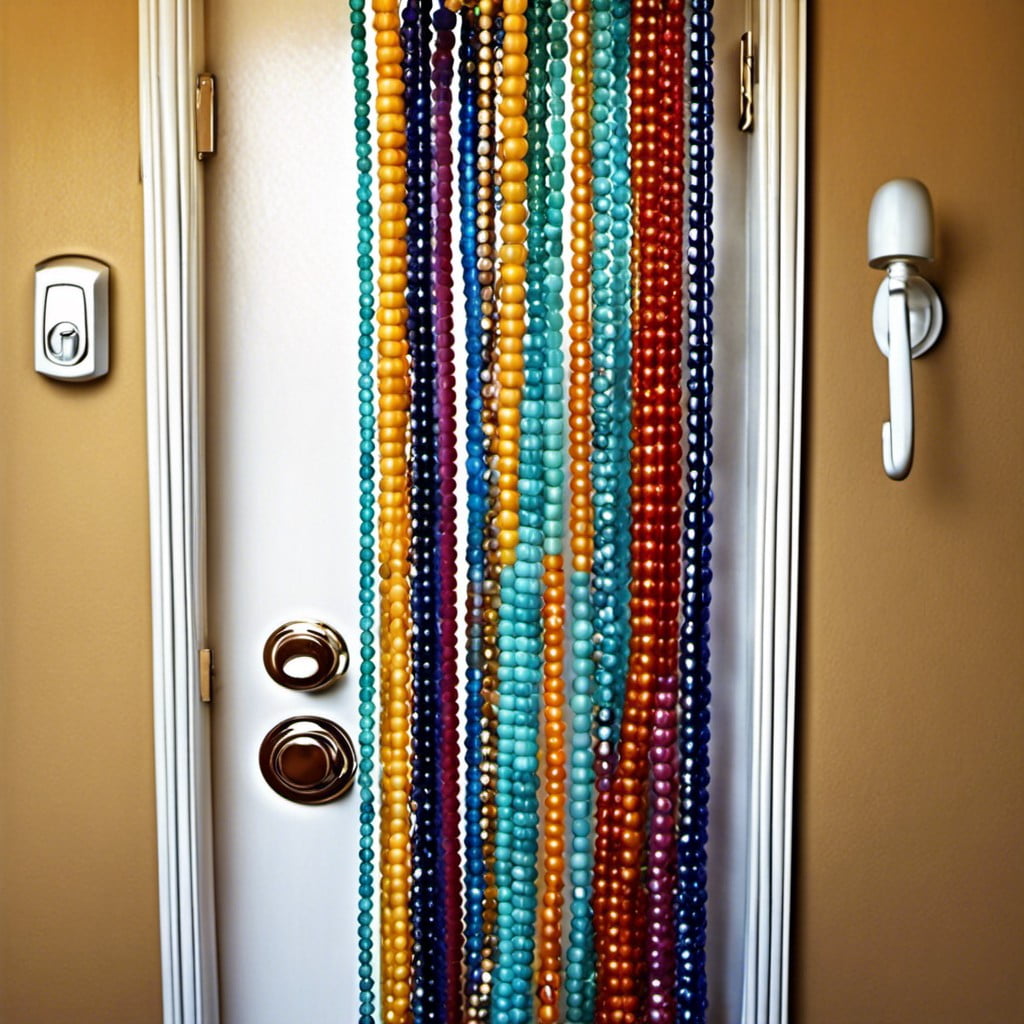 Bead curtain doors bring an infusion of color and charm to any bathroom setting. Primarily, they provide a lighter design aesthetic as compared to traditional doors, creating a sense of openness and free-flowing space.
Secondly, this design can be customized by selecting beads in different colors and patterns, enabling homeowners to reflect their unique style and taste. It also enhances natural lighting inside the bathroom, as the beads twinkle when sunlight hits them.
Lastly, it's crucial to note that while bead curtain doors sparkle with appeal, they might not offer as much privacy as an opaque door would. Therefore, consider adding a sheer curtain liner or an alternate fabric panel behind the bead curtain if additional privacy is desired. This concept will essentially maintain the liveliness of the bead door while catering to the privacy needs of a bathroom.
Always remember, balance is key in securing the blend of aesthetics, privacy, and functionality in any bathroom design.
Door With Key Lock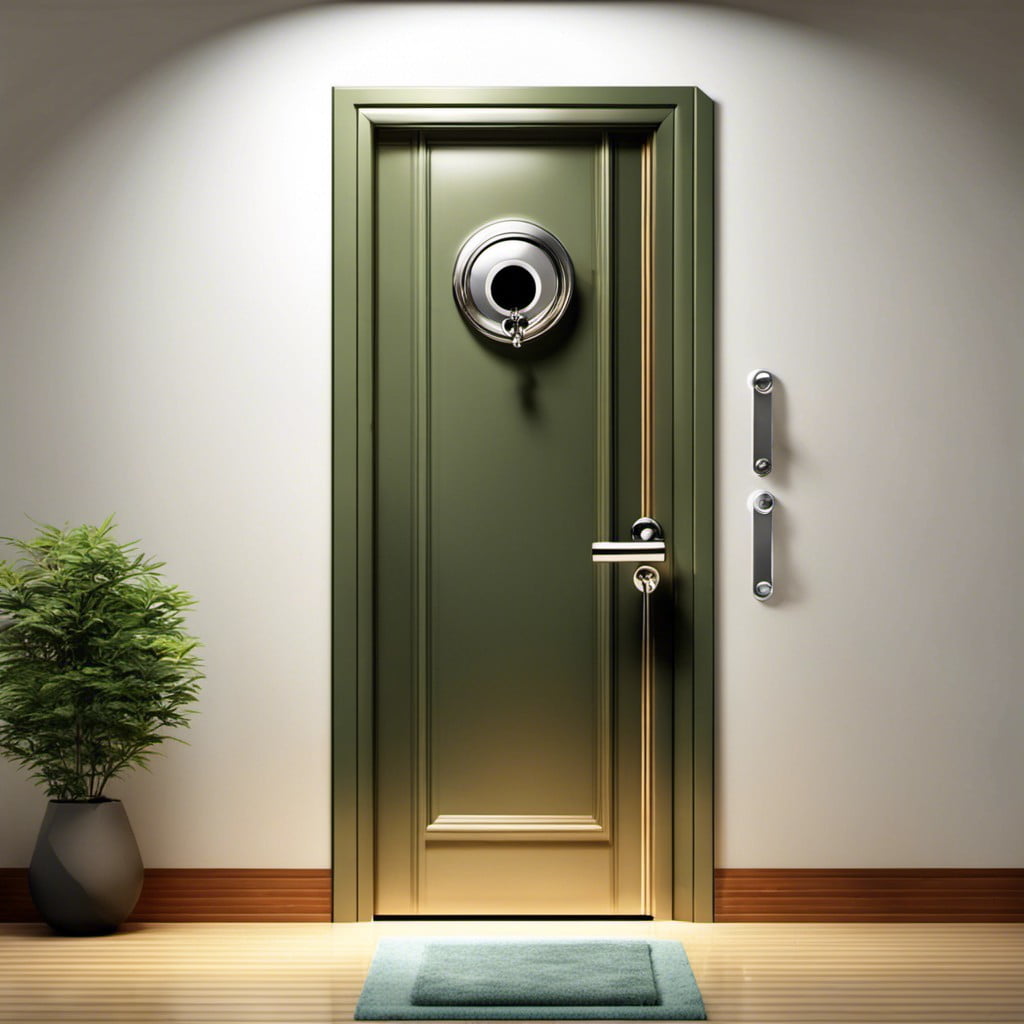 Already a traditional choice, key lock doors offer a prime level of security and privacy for your bathroom space. Their defining feature – the lock – provides exclusive access control, ensuring that privacy is fully protected at all times.
Here are some crucial points to mull over:
Variety: Comes in assorted materials and designs, allowing for customization to fit your home decor.
Installation: Relatively easy to install as most professional locksmiths are familiar with this traditional concept.
Cost: Generally, an affordable option depending on the complexity of the lock system chosen.
Maintenance: Easy to repair or replace as spare parts are widely available.
Security: Provides a high level of security, especially when paired with deadbolt locks.
Privacy: Simply lock the door and you'll enjoy full privacy. Ideal for households with kids or roommates.
Standard Fitting: Works with most door types and rarely requires additional hardware or intricate installation.
Remember to always keep a spare key stored safely to avoid any inconvenient lockouts!
Saloon Style Swing Door
Enhancing privacy while bidding farewell to a conventional sense of enclosure, the Saloon style swing door lends an open yet personal atmosphere to bathrooms. Its trademark dual-door bounce-back feature allows light to peek in without compromising on privacy.
Mindfully crafted from light-weight, durable materials, this substitute amplifies aesthetics alongside functionality. Besides adding a vintage appeal, it balances out the natural moisture build-up, ensuring longevity.
Designs range from simplistic to ornate, with finishes that can be tailored to echo the overall theme of your home. Pair it with complementing hardware to solidify its architectural contribution, a testament to your unique style choice.
Installation is refreshingly straightforward and adjusting the swing force to your preference can be accomplished with ease. A brilliant choice for smaller spaces where door swing might be a challenge, it embraces both charm and practicality with open arms.
Maintenance-wise, regular cleaning to avoid dust buildup keeps these doors functioning soundly, making them a fashionable, efficient choice that cares for your privacy and space alike.
Paper Screen Folding Door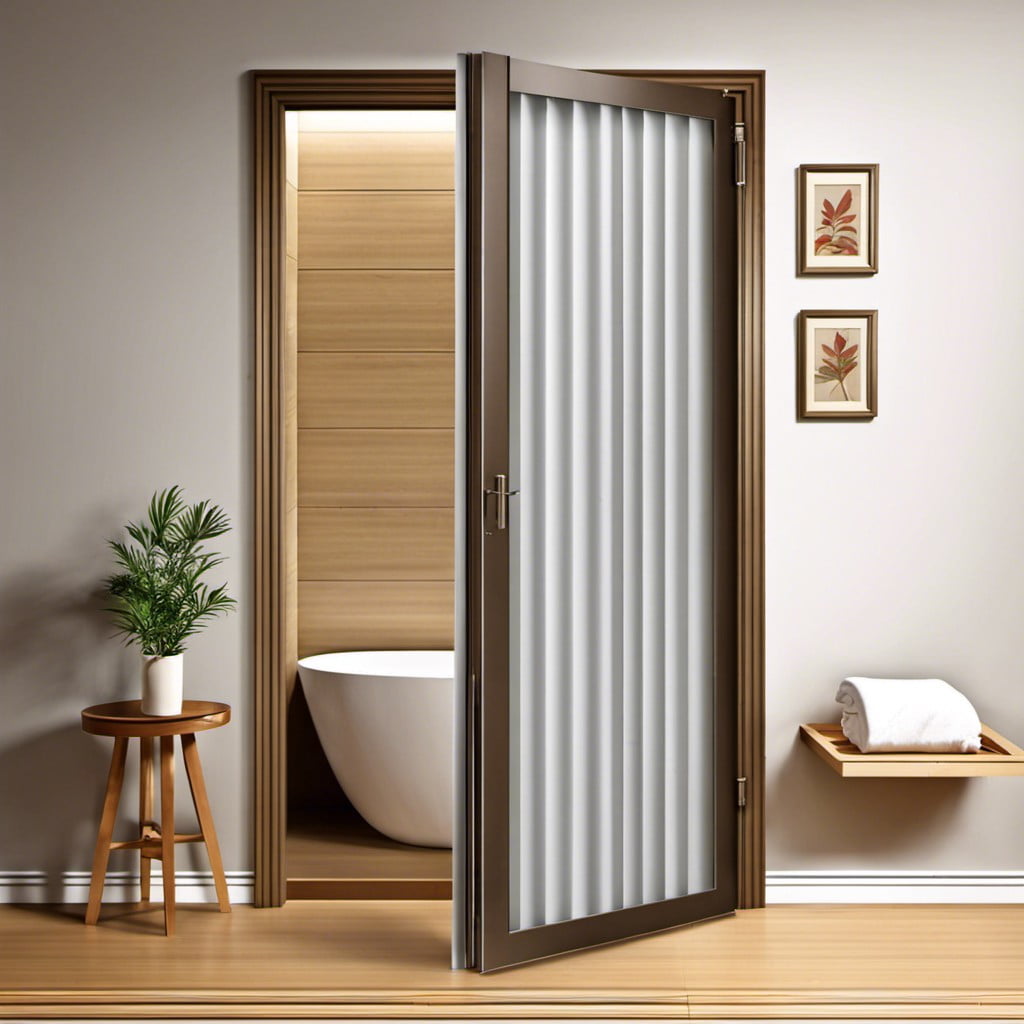 Aesthetically pleasing and easy to install, this door type adds a unique and minimalist touch to your bathroom decor. As a plus, it can be replaced with ease whenever you feel the urge for a change.
1. Functionality: In a sense of making the most out of limited space, these are a remarkable choice. They fold back neatly, does not intrude into your room space and allows you to move freely.
2. Aesthetics: They bring in an air of soothing simplicity, instantly lending your room a Zen-like aura. Their light, airy appeal aids in creating an illusion of a more expansive space.
3. Affordability: Paper screen doors are quite budget-friendly. Their easy availability and less complex installation process further add to their appeal for homeowners on a tight budget.
4. Easy Replacement: Given the materials used, these doors can be replaced without much difficulty whenever you desire a look change.
5. Lighting: These doors allow soft natural light to filter through, enhancing the brightness of your bathroom in a subtle and soothing manner.
6. Customizability: With diverse choices in terms of design, dimensions, and color, you have endless scope to reflect your personal style and taste.
Remember though, given they are made of paper, mitigating water exposure is crucial to ensure the longevity of these doors. It's advisable to have proper ventilation and dry out any accidental splash to keep the paper from warping or weakening.
Rustic French Door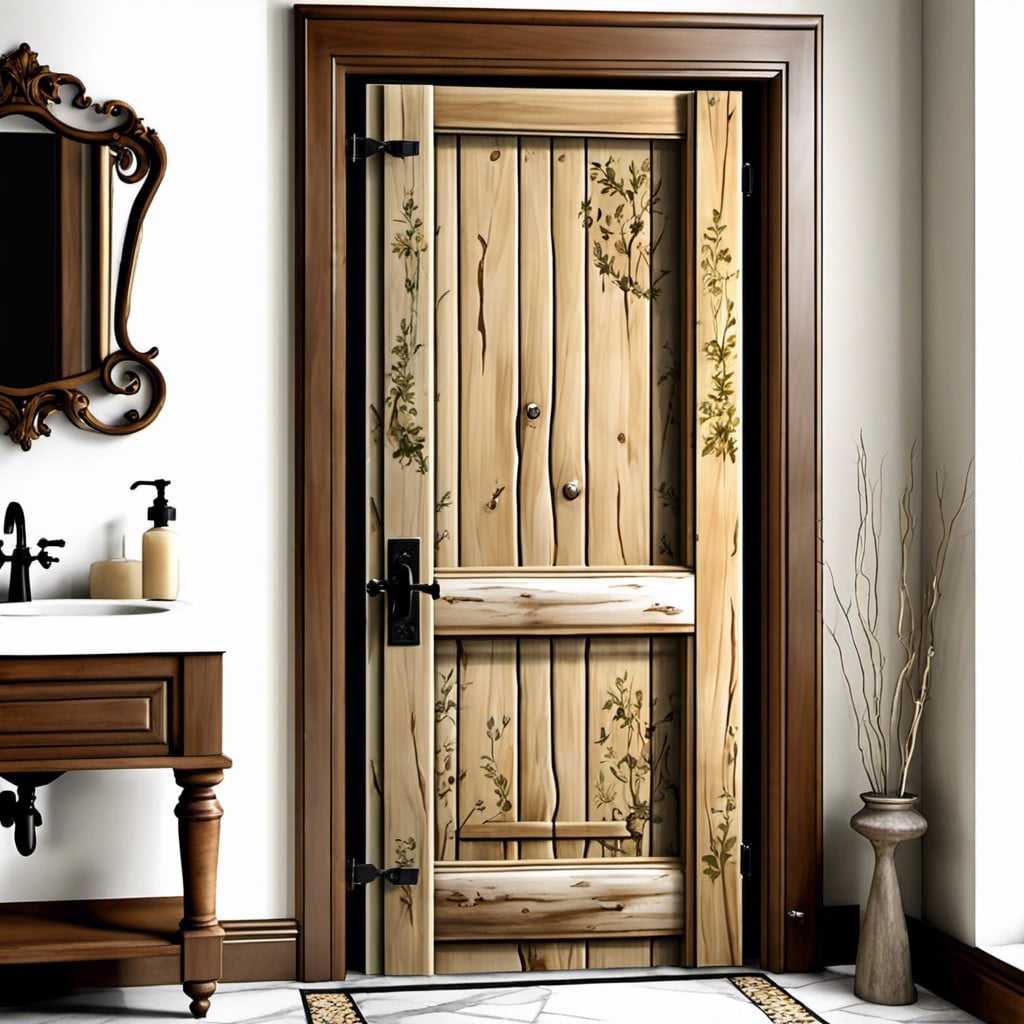 Rustic French doors beautifully combine classic elegance with a touch of countryside charm. They're usually characterized by their multiple windows, allowing a substantial amount of light to enter the room. Yet, the glass may be textured or frosted, offering necessary privacy in a bathroom setting.
1. Aesthetic Appeal: With their vintage look, these doors can enhance the overall décor, adding a touch of style and sophistication.
2. Light and Privacy Balance: The multiple glass panes are perfect for allowing light in while maintaining privacy.
3. Flexibility in Design: The range of designs from intricate decorative patterns to simple frosted textures, ensures there is an option to match every home's décor.
4. Versatility: These doors are suitable for almost any size bathroom, from compact to spacious ones.
Remember, the rustic outlay of these doors does not compromise their functionality making them a perfect addition to your bathroom. Complement with vintage hardware to maintain the overall rustic aura.
Decorated PVC Door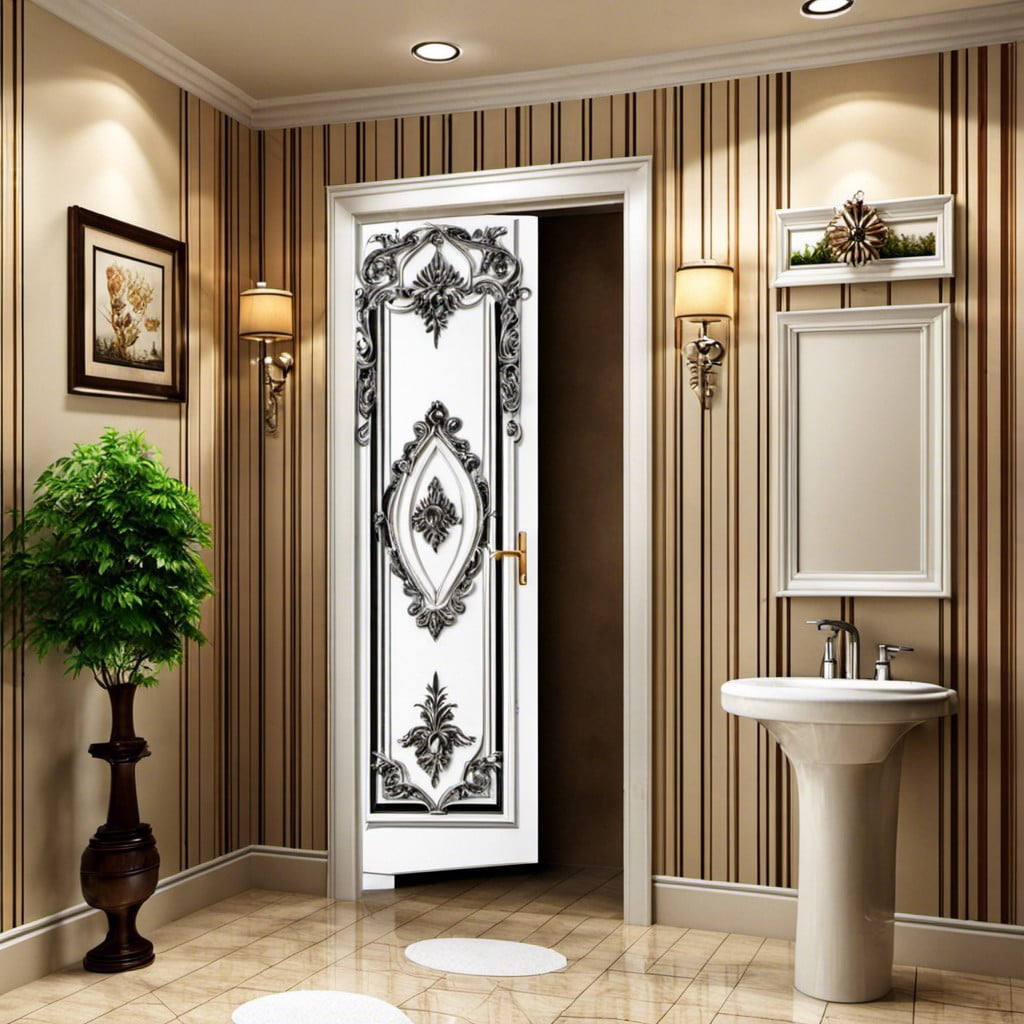 Harnessing the properties of PVC to its fullest, this option boasts an unbeatable combination of durability and design flexibility. Being water-resistant and economical, it notably withstands the humid bathroom environment.
Here is where the fun starts! There's a wide range of designs and colors available, from the understated elegance of monochrome to the vibrant, eclectic patterns. You can even opt for a bespoke design, having it match perfectly with your existing decor.
Sound insulating properties of PVC add to its attractiveness. Easy to clean and maintain, it's a truly utilitarian yet stylish choice.
Industrial Style Metal Mesh Door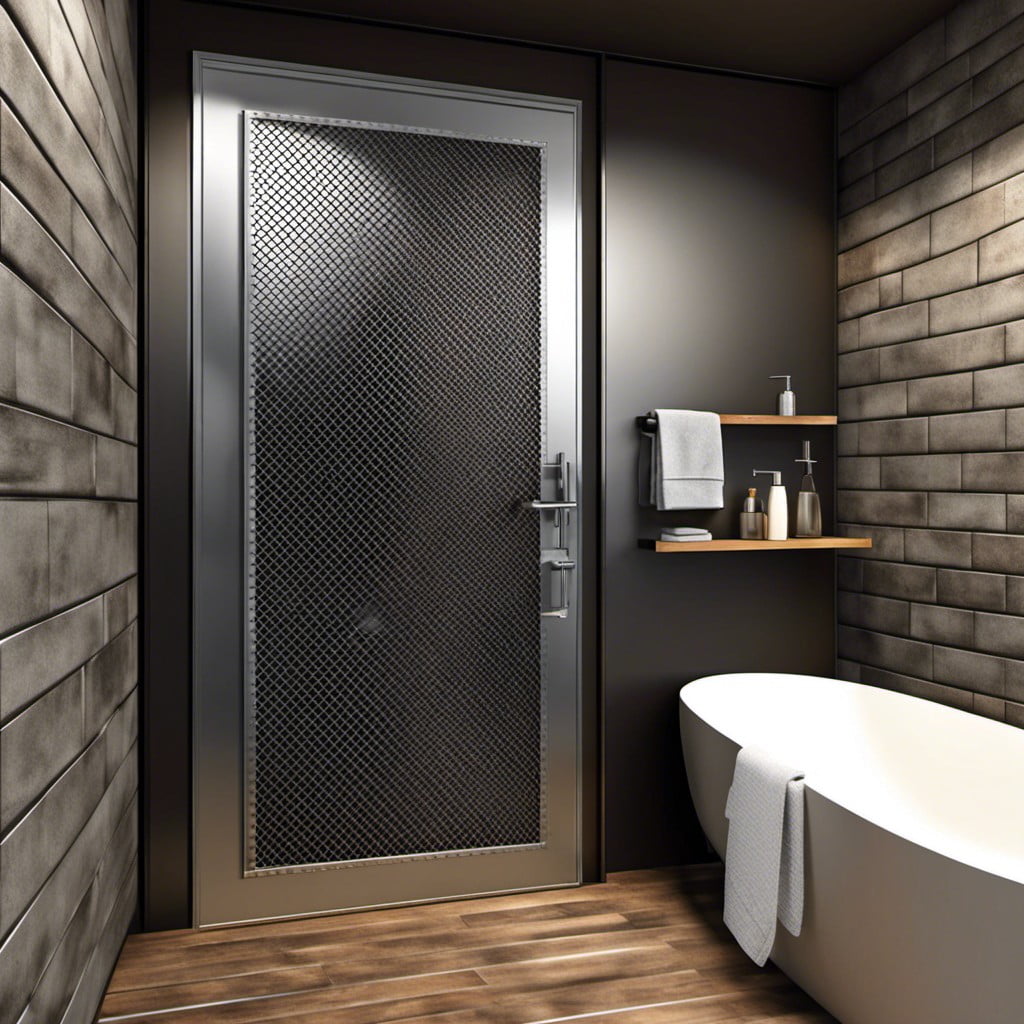 Offering a unique option, this door choice takes its design cues from the raw, functional aesthetic of warehouses and factories. They are built with heavy-duty metal mesh, providing a practical and fashion-forward solution simultaneously. Despite its metallic construction, it allows a controlled amount of visibility while maintaining privacy. It's especially well-suited to modern bathrooms due to its sleek, minimalist look.
The ease of maintenance is another major draw, requiring only occasional dusting or wiping down to keep it looking new. Further, the element of durability is paramount here, as it resists damage from moisture and rust. Plus, you have the flexibility to customize – consider a bold, black frame for a striking statement or brushed silver for a subtler touch.
Bear in mind, it's crucial to balance the industrial aesthetic with softer, warmer elements in your bathroom decor. You can offset its starkness by incorporating wood finishes, plush textiles, or pops of color elsewhere in the room. For lighting, think warm, diffused lights that cast a mellow, relaxed atmosphere. Such combinations can ensure your bathroom is not just about function, but also a space of rest and rejuvenation.
Door With Digital Lock System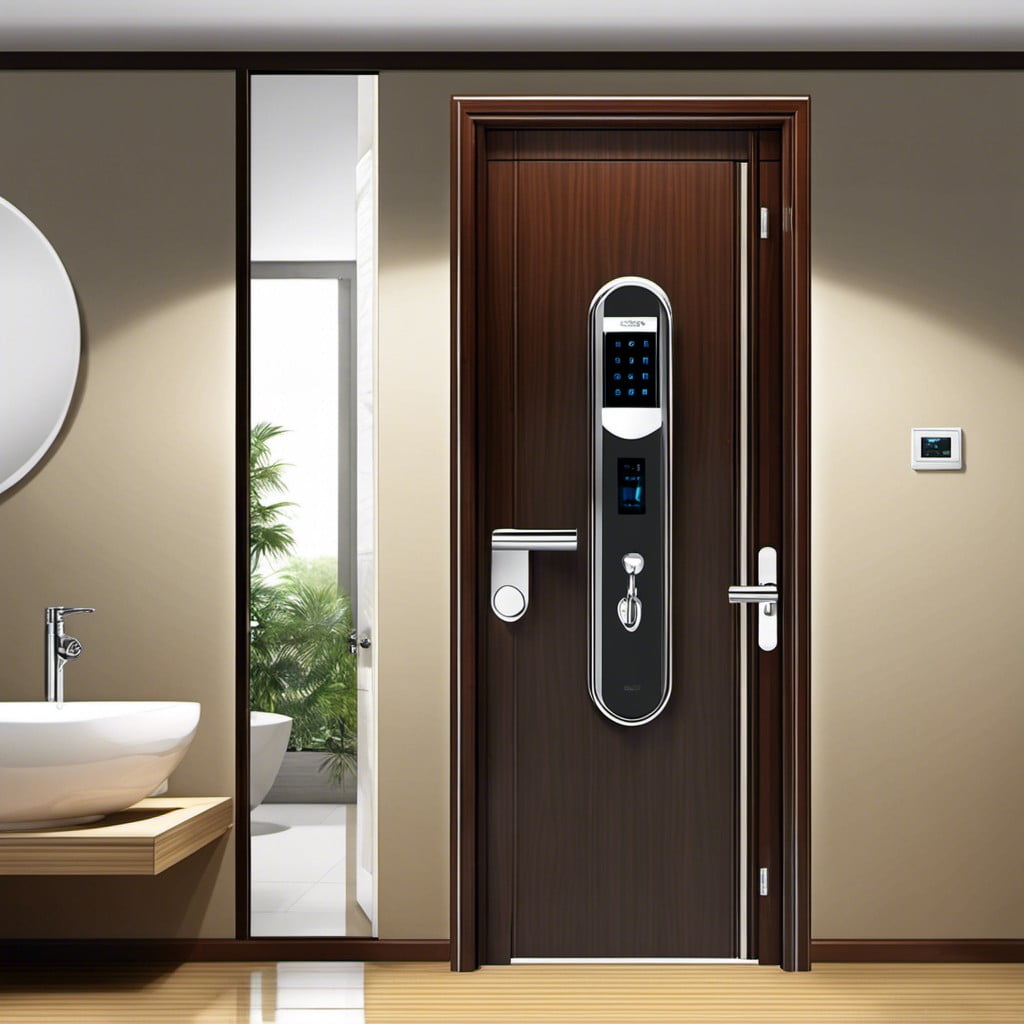 Going modern enhances both aesthetic appeal and security. Digital lock systems offer keyless entry, requiring a code to gain access, perfect for families with children who might lose keys.
In case of a power outage, they typically include manual key operation. There's a wide array of designs from sleek and minimalist to more intricate ones, catering to various tastes. Some advanced models even have smartphone capabilities for remote control and monitoring.
Easy to install and use, a digital lock system can provide an added layer of sophistication and safety to a bathroom door.
Continue reading:
Recap