Last updated on January 5, 2023
I'm not super "crafty" but I couldn't resist these fruit bags. Be hip and styl­ish next time you're shop­ping at the farm­ers mar­ket. They're made from old shirts or the ones you acci­den­tally shrunk. They're so cool look­ing, prac­ti­cal and envi­ron­men­tally respon­si­ble. You can make them in all dif­fer­ent shapes and sizes. The sewing required is very begin­ner basic. Then you just snip, snip away… Here is the link for the step by step instruc­tions: Delia Cre­ates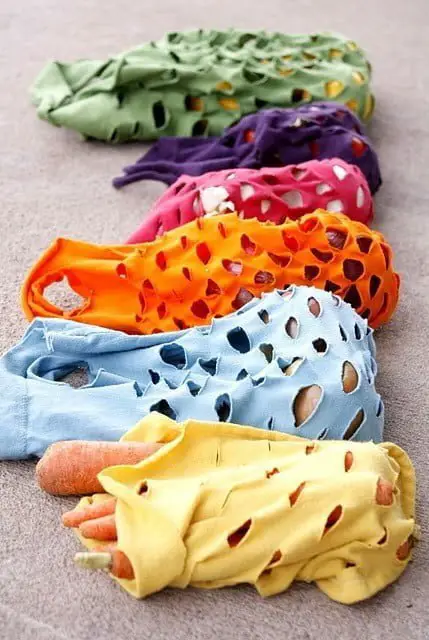 Other Uses:
– store unused dia­pers by hang­ing the bag off a chang­ing table
–if you have an old x-large t-shirt, a laun­dry bag
–gym shoes
–beach san­dals and toys (big­ger toys that won't fall through the holes!)
–host­ess gift (fill the bag with fresh pro­duce from the farm­ers mar­ket or your garden)
p.s. (guys) If this is all for­eign to you, share it with your wife or mom, they'll like it!
Continue reading: