Last updated on November 19, 2023
Find inspiration in the heart of Italy because these Tuscan wine kitchen decor ideas will effortlessly breathe life and sophistication into your home.
Transforming your kitchen into a Tuscan wine-inspired haven is a delightful way to bring the charm of Italy right into your home.
This article will guide you through a series of ingenious decor ideas, from warm color palettes to rustic furniture and wine-themed accessories.
Whether you're looking to make minor updates or a complete overhaul, these tips will help you achieve a kitchen with a distinct Tuscan winery appeal.
So, prepare to immerse yourself in the world of Tuscan wine kitchen decor, where every detail counts.
Wine-themed Wall Art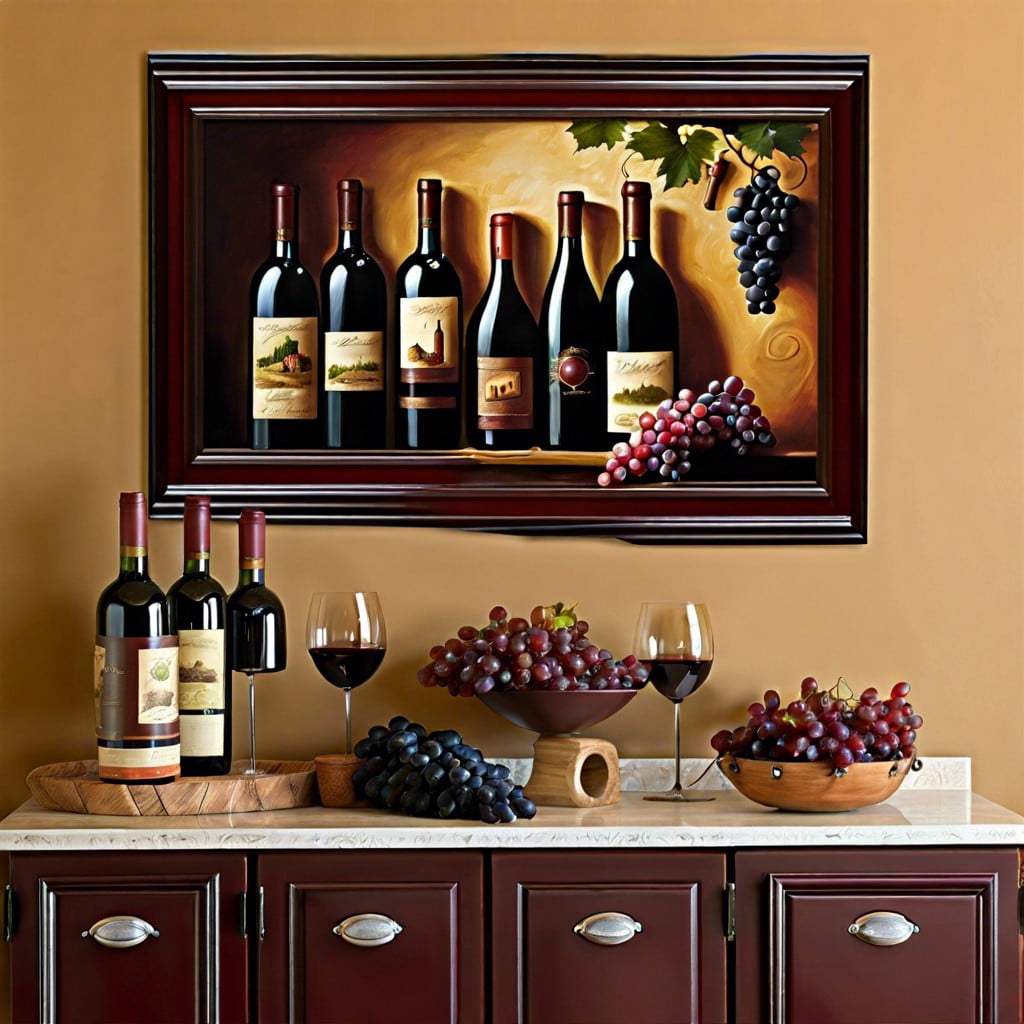 Bold, vibrant, and beautiful – these quintessential characteristics of Tuscan landscapes become a focal point when incorporated into wall art.
Choose pieces that showcase lush vineyards, historical wineries, or an array of dazzling wine bottles.
Consider materials like distressed wood or metallic frames that highlight the rustic charm of Tuscany.
Large murals or clusters of smaller pieces can establish visual appeal.
Remember to balance colour, size, and layout to ensure a delightful flow.
Consider the use of depth and perspective in artwork to add interest and stimulate conversation.
The ultimate goal is to create a sentimental, inviting space that speaks volumes about your love for Tuscan wine and the rich culture it represents.
Rustic Tuscan Wine Rack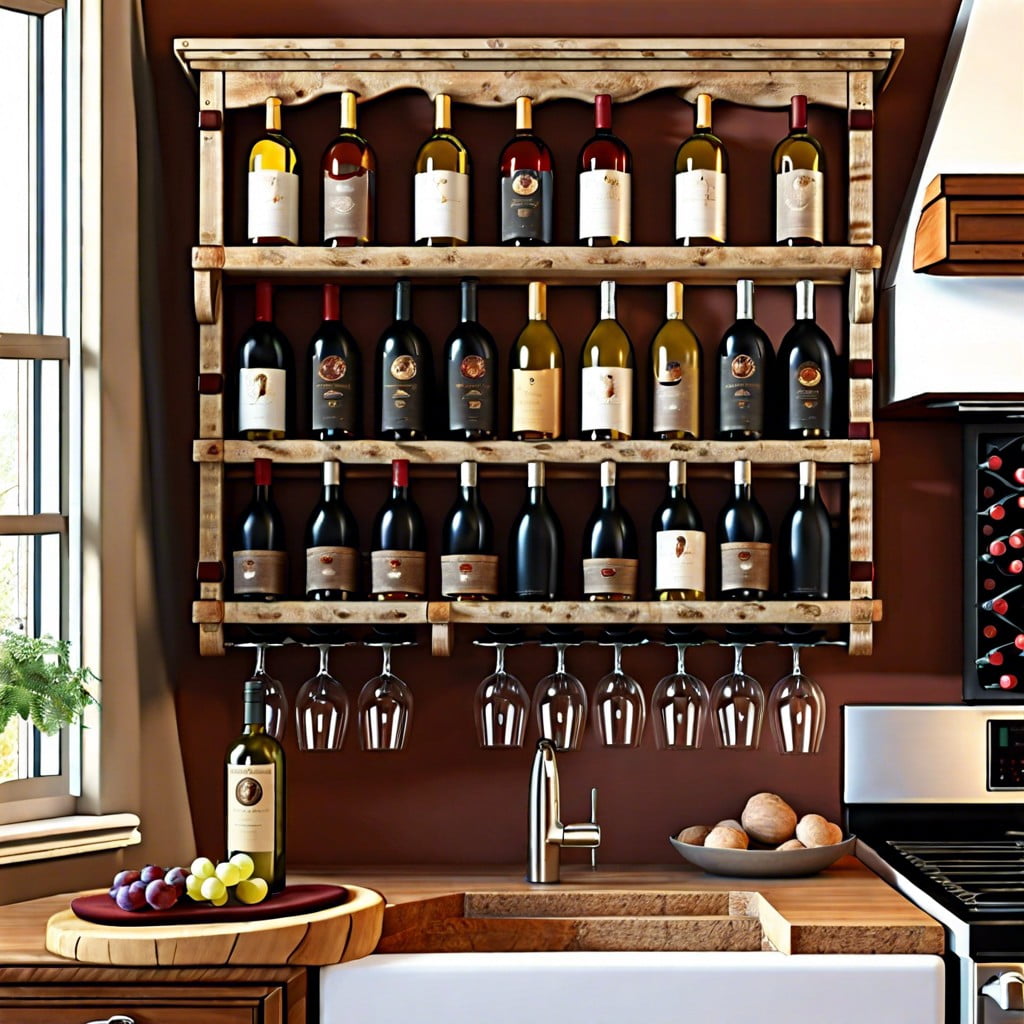 Traditionally used in Tuscan wine storage, employing a rustic wine rack brings an old-world elegance to your kitchen. Its worn wooden finish adds depth to your decor, while carving out a practical storage solution.
Here are a few key points to consider about incorporating this distinct piece in Tuscan wine kitchen decor:
Place it in a dominating position as its aesthetic value doubles as a focal point.
Choose a model that allows horizontal storage, best for maintaining the quality of the wine.
A tabletop design can embrace small spaces while a standing rack can fill an open corner.
Complement the piece with terracotta or earthenware pots to maximize the rustic Tuscan feel.
Pair it with a wine-themed painting or tapestry for a harmonious vignette.
Personalize with unique wine bottle labels, adding a touch of charm.
While the visual appeal is undeniable, rustic wine racks carry functional advantages as well. Charming and practical, this piece embodies the essence of Tuscan wine decor by blending style with substance.
Vineyard-inspired Dinnerware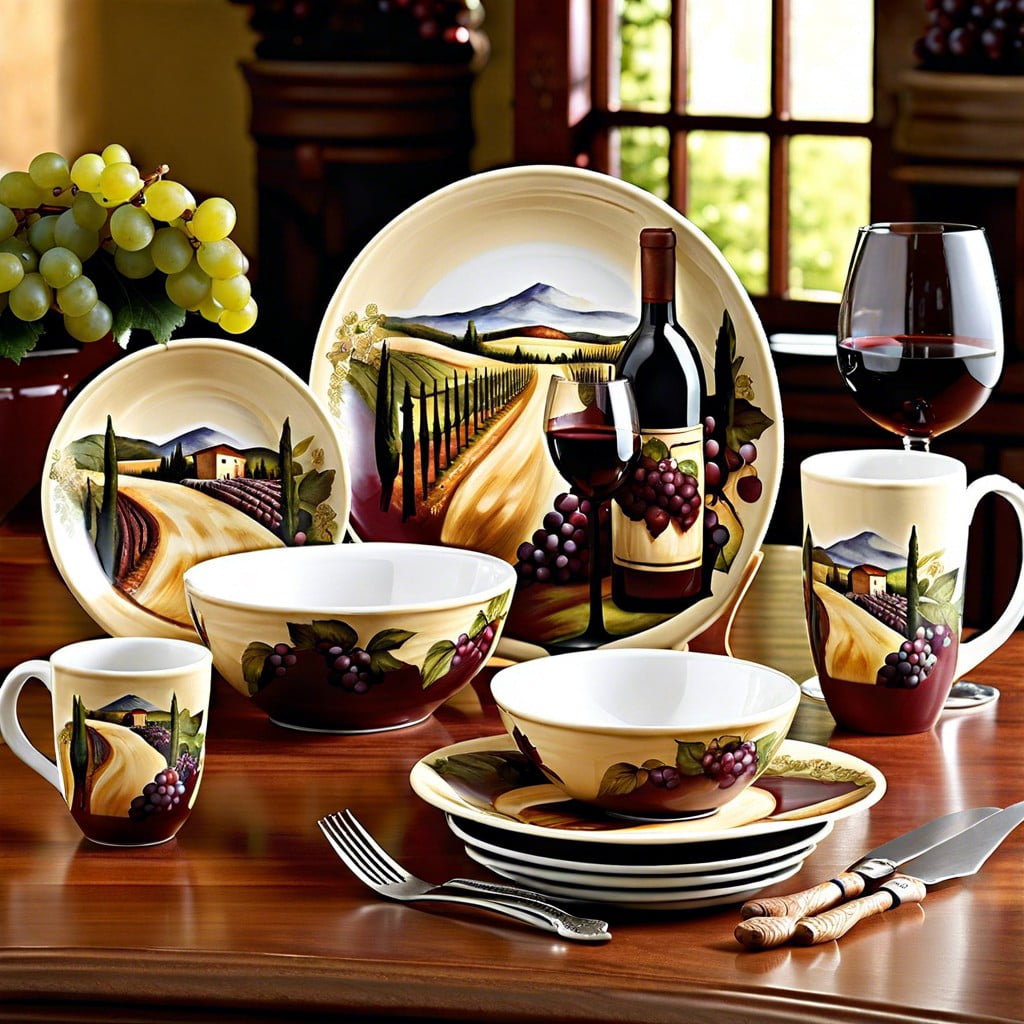 Incorporating this design element into your kitchen adds a touch of nature and Italian countryside at every mealtime. Choose dinnerware that showcases classic Tuscan motifs such as grape vines, olive branches, sunflowers, or classic Italian inscriptions.
Stoneware or earth-toned ceramics are perfect to invoke that rustic feel. Consider a complete set including dinner plates, salad plates, soup bowls, and perhaps even a serving platter or wine pitcher. This lends a cohesive aesthetic and allows you to fully immerse in the Tuscan vineyard ambiance while enjoying your meals.
Mismatched pieces are equally enchanting, allowing the charm of the countryside to bless your tabletop. Remember to keep the palette consistent with the Tuscan theme, leaning towards warm earthy colors, deep greens, or vibrant yellows.
Wine Bottle Chandelier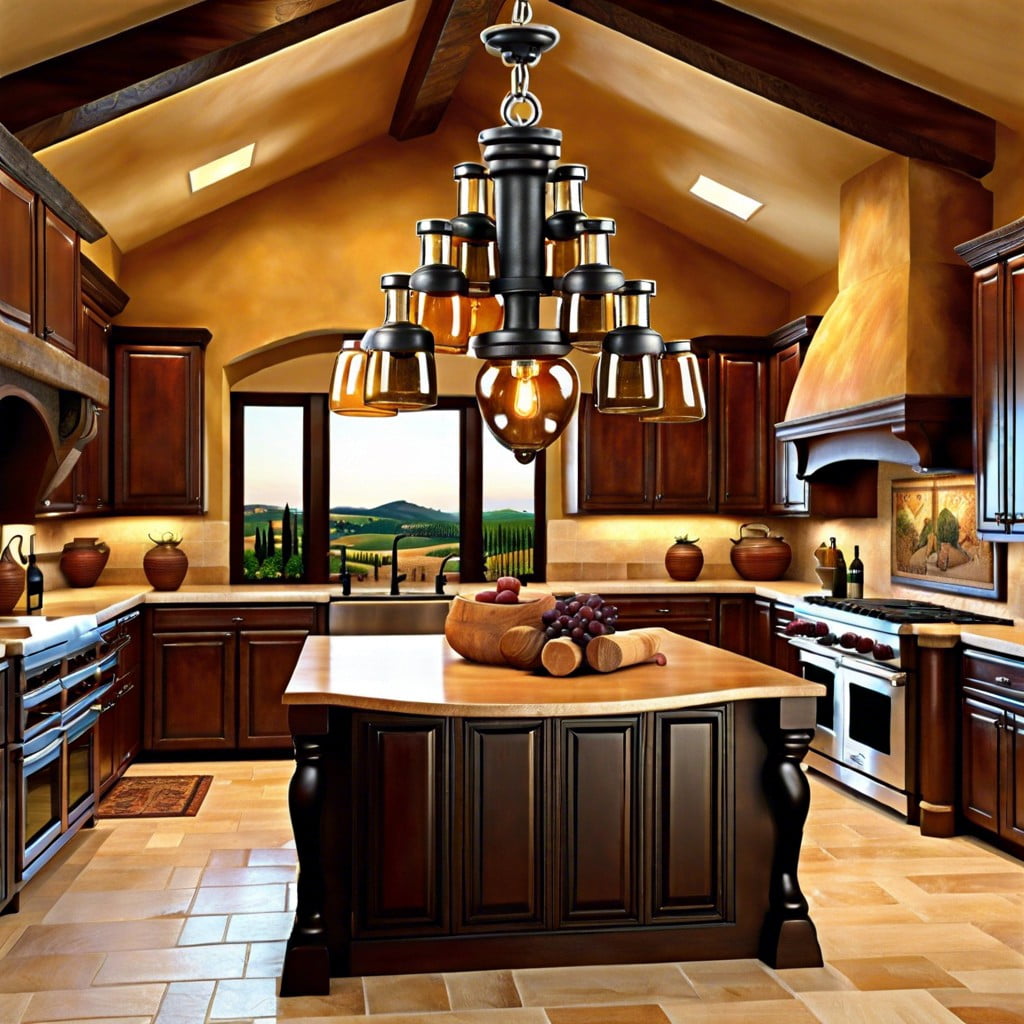 In creating your wine bottle chandelier, the first step is to gather empty wine bottles. Ensure they are properly cleaned and dried. A variety of colors will give a charming look. Consider using a sturdy wood plank as the base – it complements the Tuscan theme well. Drill holes in it for the bottle necks and hang it using durable chains.
Think about unique lighting. LED lights dropped into each bottle can create a warm, inviting glow. Also, the arrangement of the bottles matters. You might want a circular or rectangular act where varying bottle heights could add an appealing asymmetry.
Remember, this is both a task in decorating and in crafting. While functionality is essential, the aesthetic appeal should not be compromised. Simplicity, though, often works best for such an elegant centerpiece. It's a statement piece, and it enhances the Tuscan wine aura in your kitchen.
Tuscan Color Themed Towels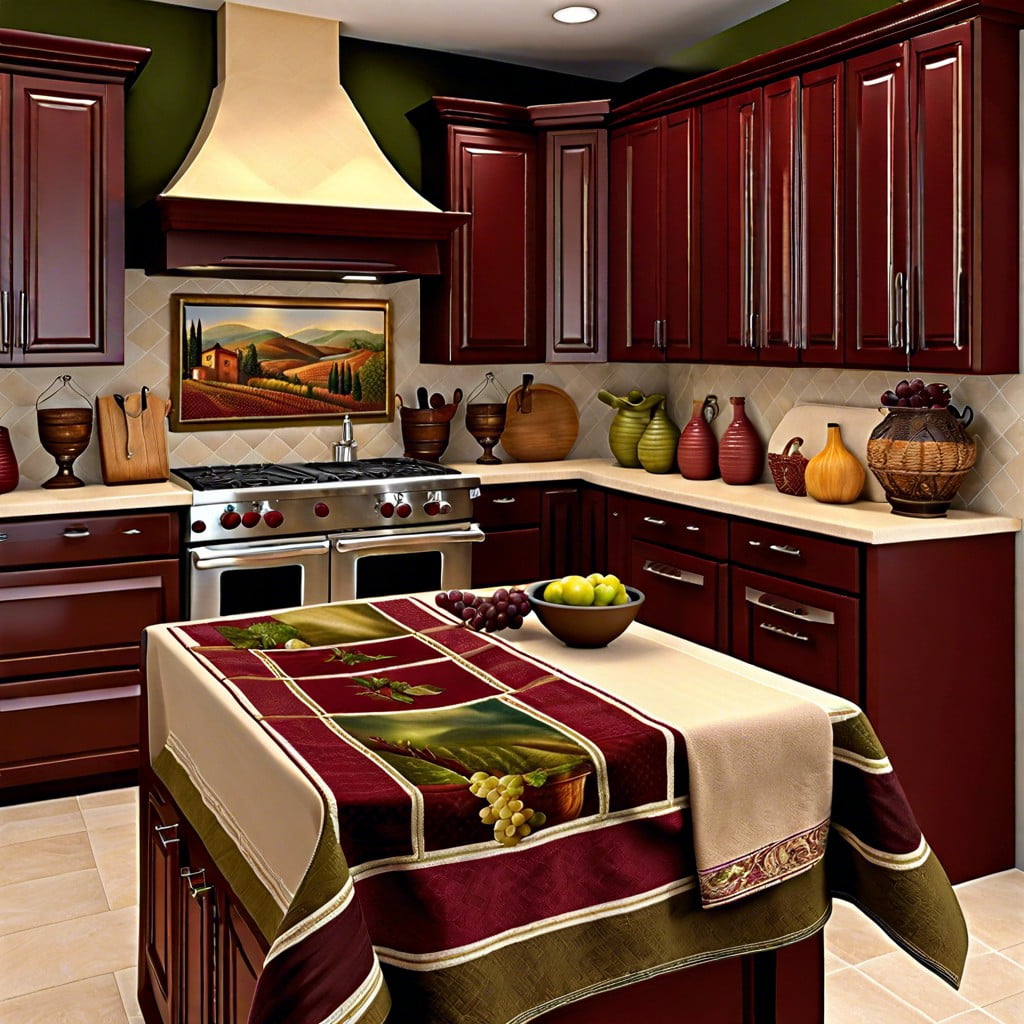 Using rich, vibrant colors found in Italian landscapes is key to creating authentic Tuscan decor. Opt for towels with hues such as olive green, golden yellow, burgundy, or earthy brown to inject that classic warmth associated with this style.
By incorporating these shades, you can subtly evoke the charm of Tuscan vineyards right in your kitchen.
For added texture, consider towels with simple embroidery or lace details that celebrate the artisan culture of Tuscany.
Remember, the goal is understated elegance; let the colors imbue your kitchen with a touch of Italian countryside, no passport required.
Barrels As Corner Tables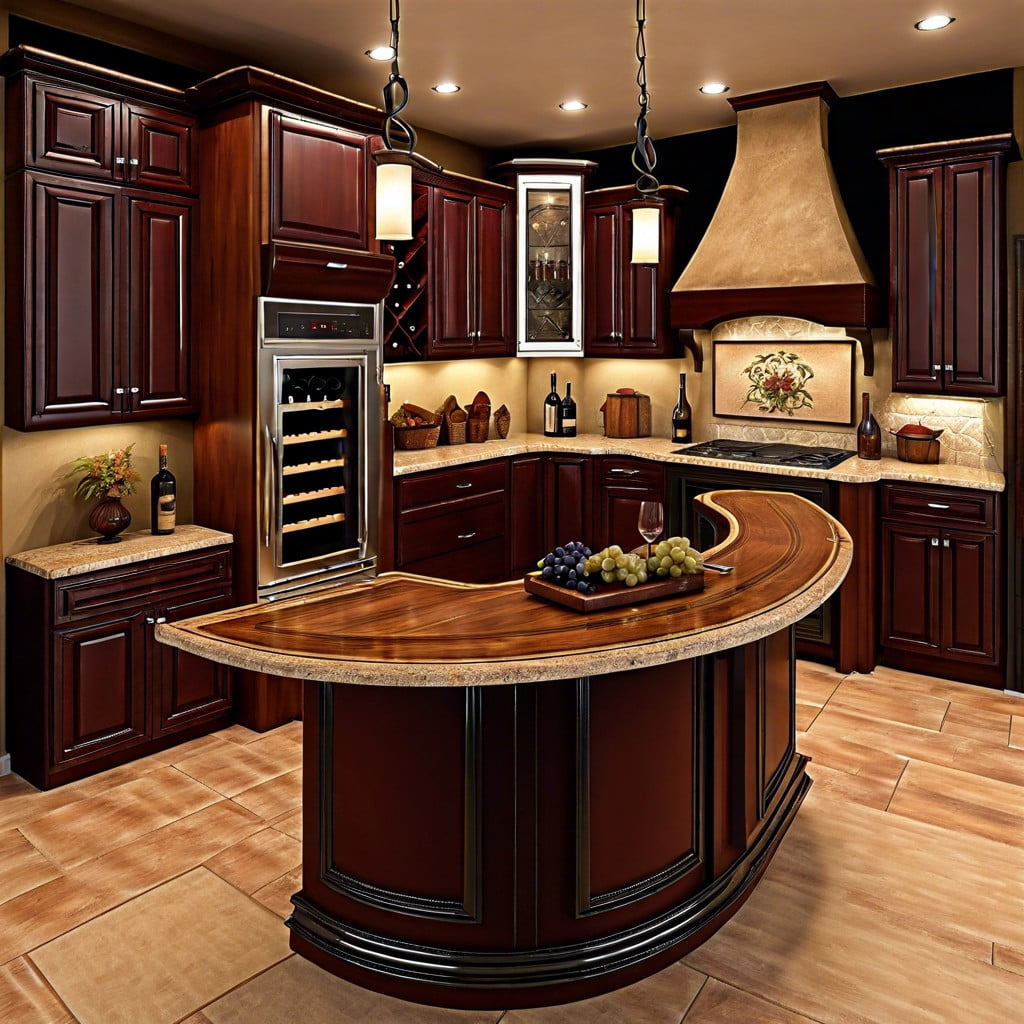 Repurposing a wine barrel into a corner table not only adds a unique element to your kitchen, but also provides a practical storage solution. Here are some points to consider when adopting this idea:
Size accommodation: Ensure it fits the space. The average wine barrel has a size perfect for the corner.
Style matching: Opt for a finish that compliments your existing kitchen décor – whether it's varnished, painted or left in its natural, rustic state.
Tabletop decision: You may want to add a glass top for a sleek look, or a wooden one for a more rustic appearance. This can also provide a convenient spot for appliances or décor.
Functional upgrade: Consider hollowing out the interior of the barrel for extra hidden storage.
The versatility of this option is limitless and can significantly enhance your kitchen's aesthetic appeal.
Decorative Wine Stoppers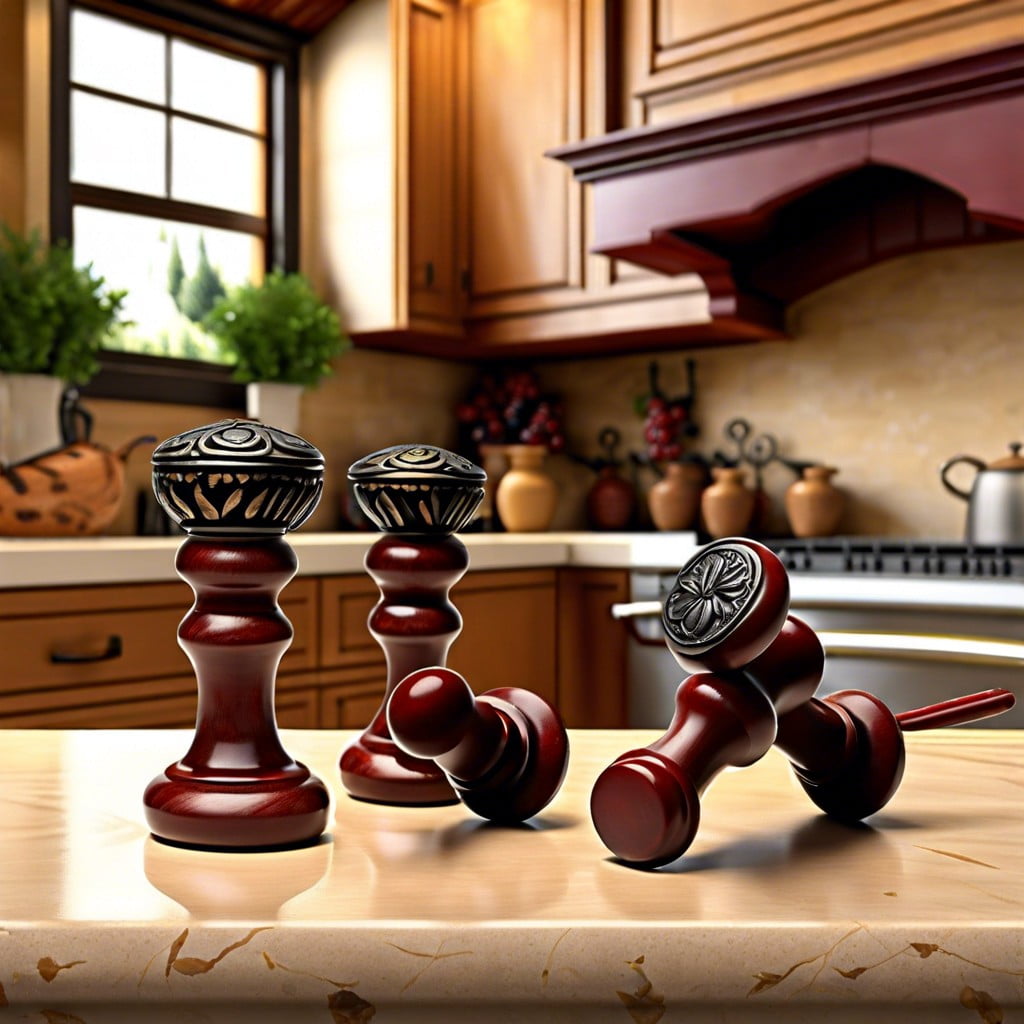 Decorative wine stoppers are not just practical items meant for keeping your wine fresh. These delightful accessories also provide a fabulous way to express personal style.
Main principles for choosing these include:
Material: Most wine stoppers are made from metal, crystal, glass, or rubber. Opt for a design that matches the overall look of your kitchen.
Design: From complex miniature sculptures to simple monograms, there's a range of motifs available. Select an embellishment that resonates with the Tuscan wine theme.
Functionality: Make sure the stopper is not only decorative but also able to securely seal the wine.
Craftsmanship: Some wine stoppers are handcrafted, providing that quintessential Tuscan artisan touch to your kitchen. So while choosing, give precedence to quality and craftsmanship.
Remember, these stoppers can turn everyday items into unique designer accents, uplifting the decor and adding a sprinkle of your personality. It is a statement piece, that's beautiful while also adding practical value to your kitchen.
Hanging Wine Glasses Rack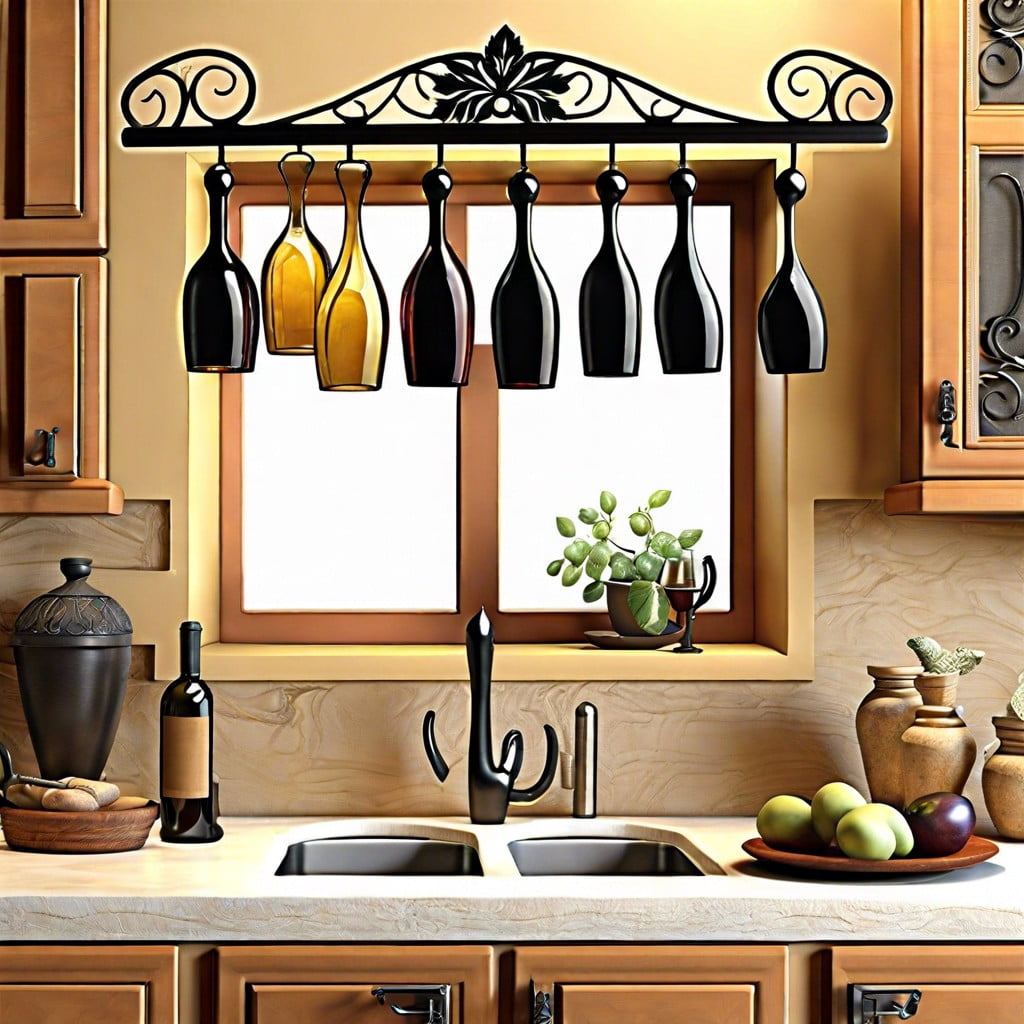 Having a well-placed hanging rack adds both aesthetics and practicality to your kitchen. Just imagine, your sparkling clean wine glasses glistening in the light, suspended stylishly over the countertop or bar.
1. Space-efficient: Being suspended, these racks free up cabinet space and ensure your glasses are always within reach.
2. More than Storage: Apart from being a storage solution, they bring a touch of elegance to your kitchen decor.
3. Easy Installation: Many of them are wall-mounted and simple to install.
4. Diverse Designs: They come in a variety of designs— from metal to rustic wood— you're bound to find one that complements your Tuscan wine kitchen theme.
5. Gentler on Glasses: These racks reduce the risk of breakage compared to shoving glasses in overcrowded cabinets.
Remember, location is key. Having your rack in an easily accessible place would make it that much more useful when you need to pour a hurried glass of Chianti.
Wine Grapes Wallpaper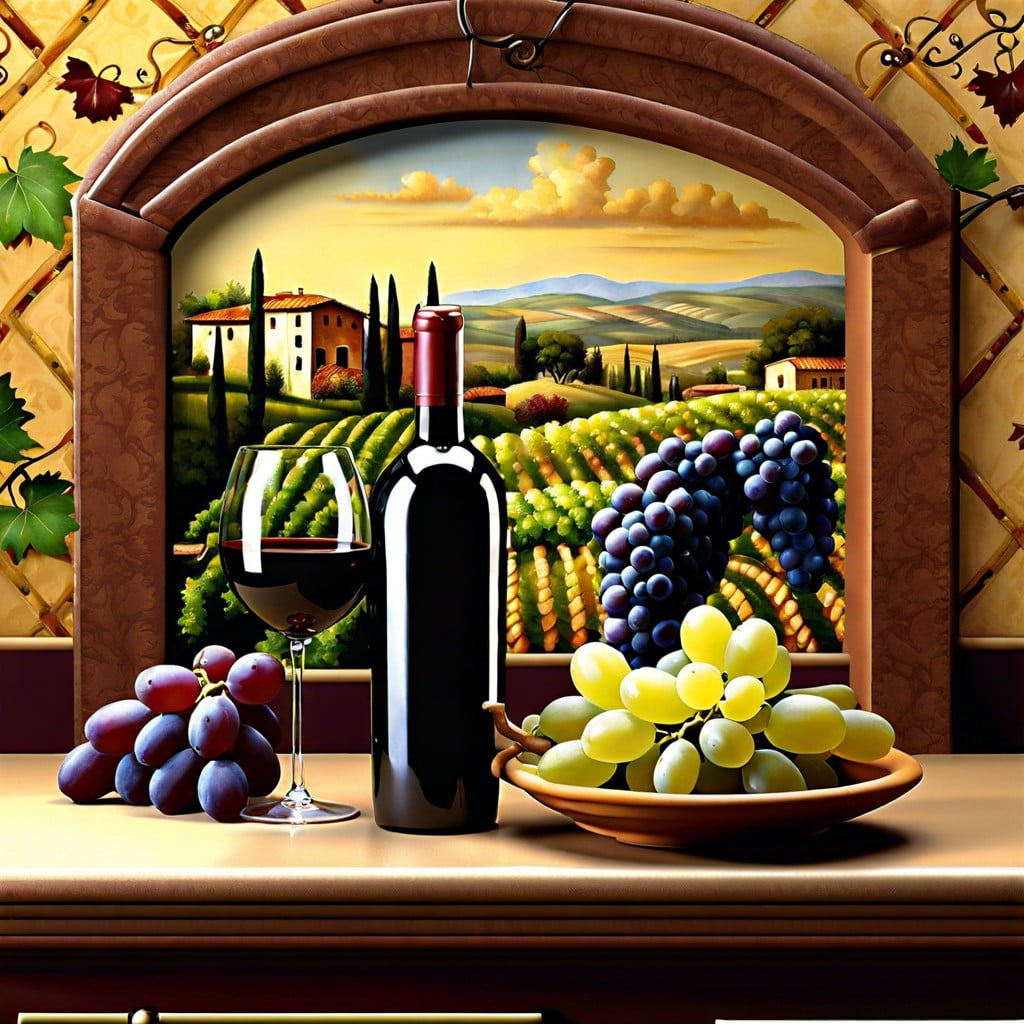 Taking cues from the vineyards themselves, incorporate a vibrant touch to your walls while staying true to your Tuscan wine theme. Grapes wallpaper brings robust, earthy tones. Design options often include lush grapevine patterns and rows of vineyard scenes, embracing countryside tranquility right in your kitchen.
Make note of these points!
Choosing the Right Tone: Ensure the wallpaper's color scheme complements your existing decor. Earthy shades like olive green, burgundy, and deep purple perfectly embody the wine grapes aesthetic.
The Balance of Pattern: A busy pattern needs a counterbalance. Match your vivacious wallpaper with more subdued, solid color elements in the kitchen.
Easy Maintenance: Kitchen walls are grease and spill-prone. Opt for easy-to-clean, water-resistant wallpapers.
Scale and Dimension: Large-scale patterns can make a small space feel bigger, while small patterns add texture.
The Magic of Wallpaper: Apart from walls, think cabinets and shelves. A punches of grapevine pattern might just be what your kitchen needs.
Remember, embracing the grape isn't only about taste but texture and visual appeal too. Done right and a wallpapered wall or feature cabinet will surely leave your guests vine-ing for more!
Wine Barrel Table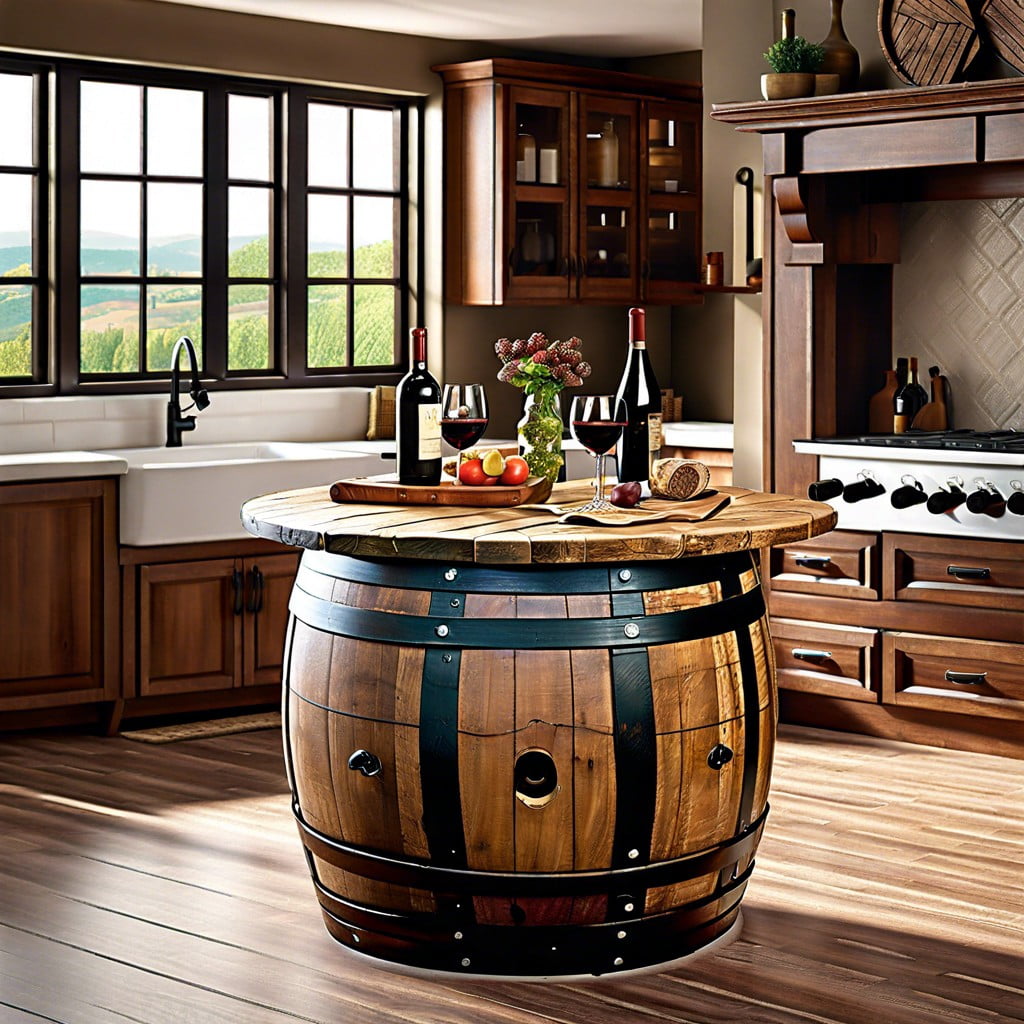 An inventive way to bring the Tuscan vineyard to your kitchen is through implementing a wine barrel table. This essential piece of furniture offers a rustic charm and a practical surface.
Let's not forget the possible hidden storage space within the barrel! You can either keep the upper part open to store things like wine glasses and bottle openers, or you can seal it shut to form a solid tabletop.
The wood texture and curved detailing of the barrel fit perfectly with the Tuscan decor motif. Depending on your preference, you can mix it up with a glass tabletop to add a modern spin to this vintage concept. Infuse your kitchen with Italian rusticity by complementing it with an old-style vineyard picture or a tuscan-colors tablecloth.
If you want to go a step further, consider using multiple barrels to form a unique kitchen island. An ensemble of these tables also makes a lovely conversation area in the kitchen, where a pot of Tuscany's finest is only an arm's length away!
Grapevine Decorated Shelves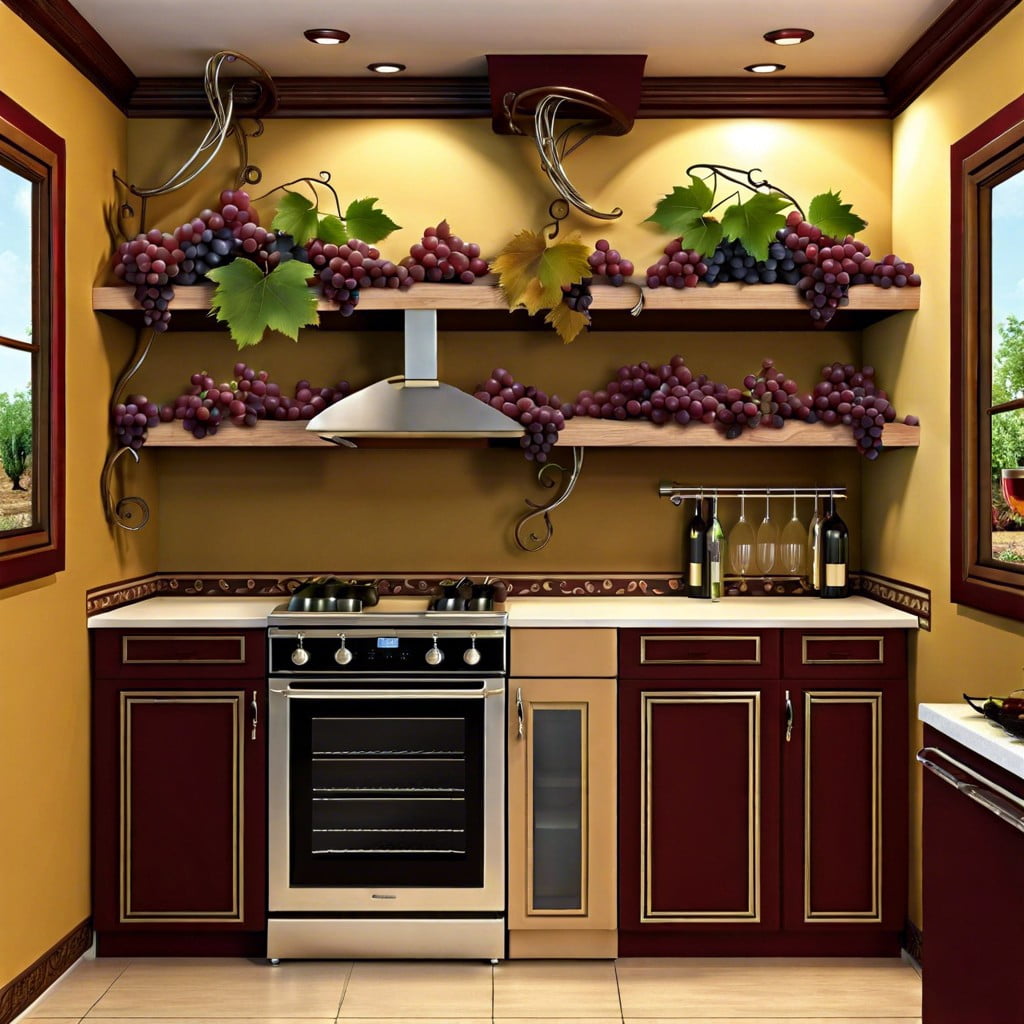 Incorporating grapevine into shelving design not only adds a touch of Tuscan authenticity but also elevates ordinary shelving into a focal point. For a DIY project, all you need is some faux grapevine garlands, readily available at craft stores.
1. Measure the length and breadth of your shelves to determine the quantity of the garland needed.
2. Carefully wind the grapevine garland along the outline of the shelf; ensure that it is firmly attached.
3. Introduce creativity by winding the garlands around the shelf brackets.
4. Don't limit yourself to the shelves; extend the grapevine decor to surrounding walls for a more harmonious look.
5. Add a clear finish to protect the grapevine from damage or dust build-up.
Incorporating this Tuscan touch brings warmth and charm to the kitchen. Remember, the goal is to create a subtle, stylish statement without overwhelming the space.
Wine Cork DIY Crafts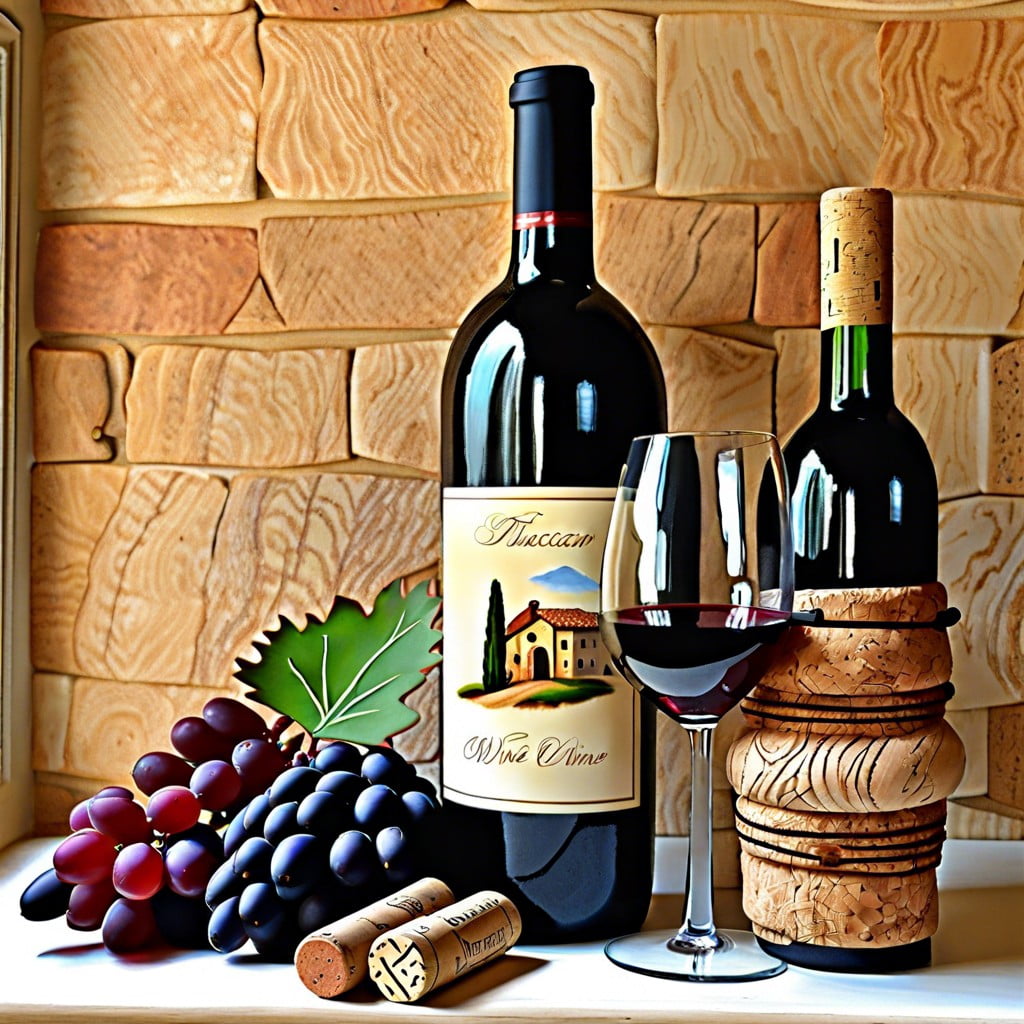 Corks can be much more than just sealed memories of your favorite wines. They can transform into lovely pieces of décor! You're only limited by your creativity, as corks are remarkable versatile.
A simple craft is arranging corks on a picture frame, either in a herringbone pattern or a unique shape like a heart or a wine bottle. You could also create a cork trivet for hot dishes, or a stunning centerpiece by placing corks in a clear glass vase with fairy lights.
If you're feeling adventurous, try a bigger project like a cork-tiled bulletin board or even a small wall. A more complex but rewarding idea is a wine cork lamp—hole-punch the corks, string them onto a wire frame, and fit it with a light kit. Be sure to employ your artistic eye to maximize the effect! Remember, each craft will contribute to your kitchen's Tuscan ambiance by giving it a distinct, personal touch.
Tuscan Vineyard Canvas Prints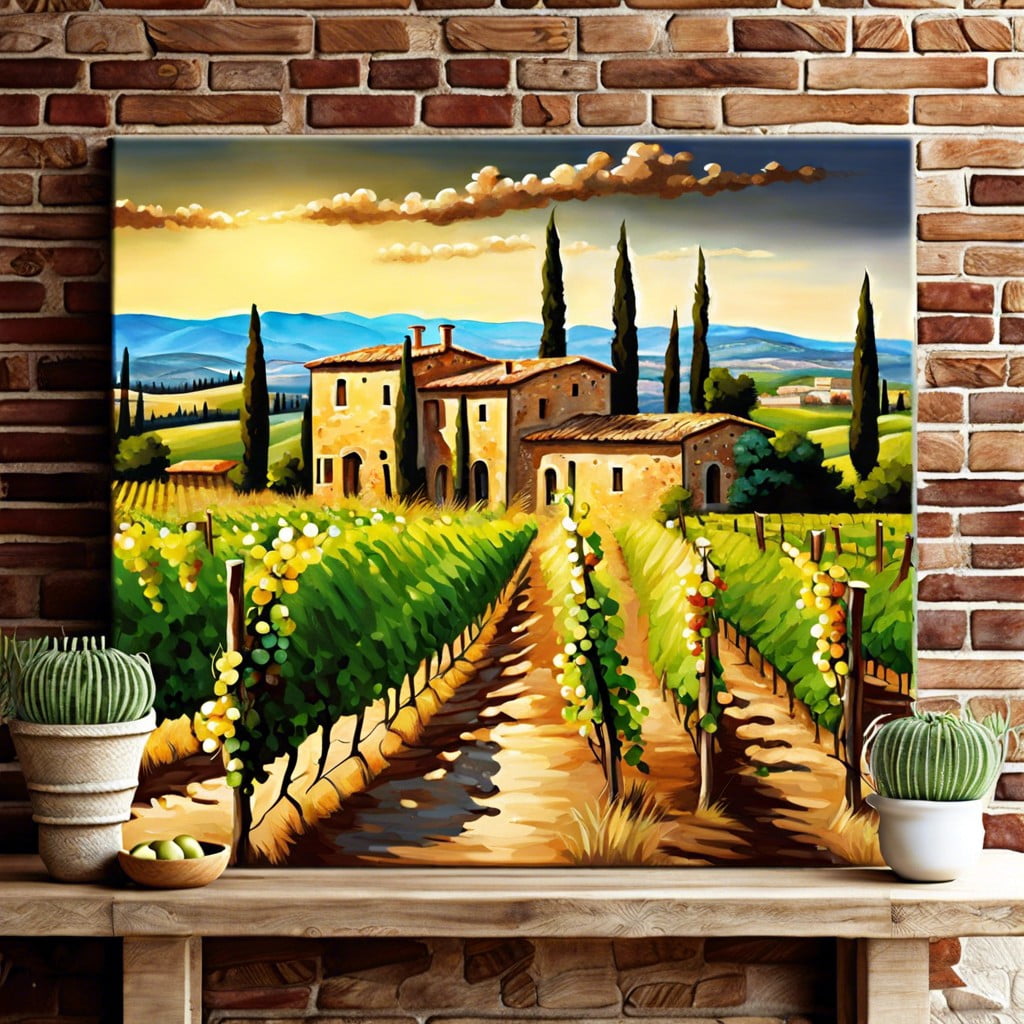 To depict the heart of Tuscany, opt for prints projecting vineyards at dawn or dusk – they bring out the beautiful contrast between the purple vineyards and the golden sky.
Display the canvases above the dining table or kitchen counter to tie the room together. Smaller prints could also be placed on open wall spaces between cabinets or above the serving area.
Opt for vintage frames to enhance the rustic ambiance. Various print sizes are available to suit different wall spaces. You can choose to group the prints together or scatter them around the kitchen for a visual journey through a Tuscan vineyard.
Vintage Tuscan Wine Posters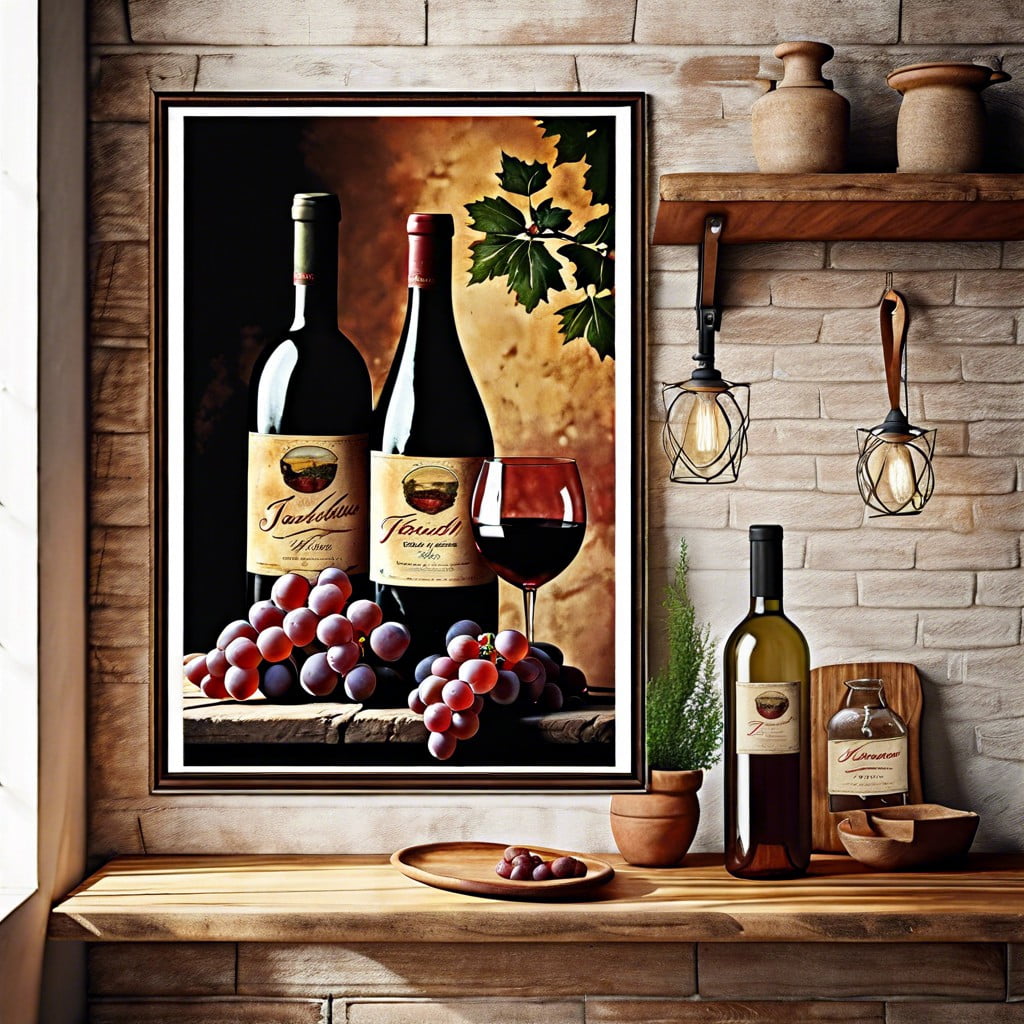 These treasures bring an old-world charm to your kitchen. Characterized by rich colors and classical themes of the Tuscan countryside, they depict scenic vineyards, quaint Italian villas, and overflowing wine glasses.
Opt for faded, weathered posters for an authentic, aged look, or choose prints with deep, vivid colors to make a bold statement.
Position them strategically for maximum visual impact. Try grouping several smaller ones as a gallery wall, or hang a larger poster as a focal point.
Frame them in rustic wood to emphasize the Tuscan aesthetic, or use a metal frame for a cleaner, more contemporary look.
Do remember the art of balance in decor. If you opt for an intense, saturated poster, keep the surrounding decor subdued. Let the poster be the star of the show!
A pro tip: You can display a vintage Italian wine label as a poster. Those often feature intricate, beautiful illustrations, rich in wine history and perfect for setting your Tuscan theme! Almost like transporting your kitchen to an Italian vineyard!
This is not just wall art, it is a style statement that inspires conversation and encapsulates the warm, romantic spirit of Tuscany!
Ceramic Floor Vases for Wine Corks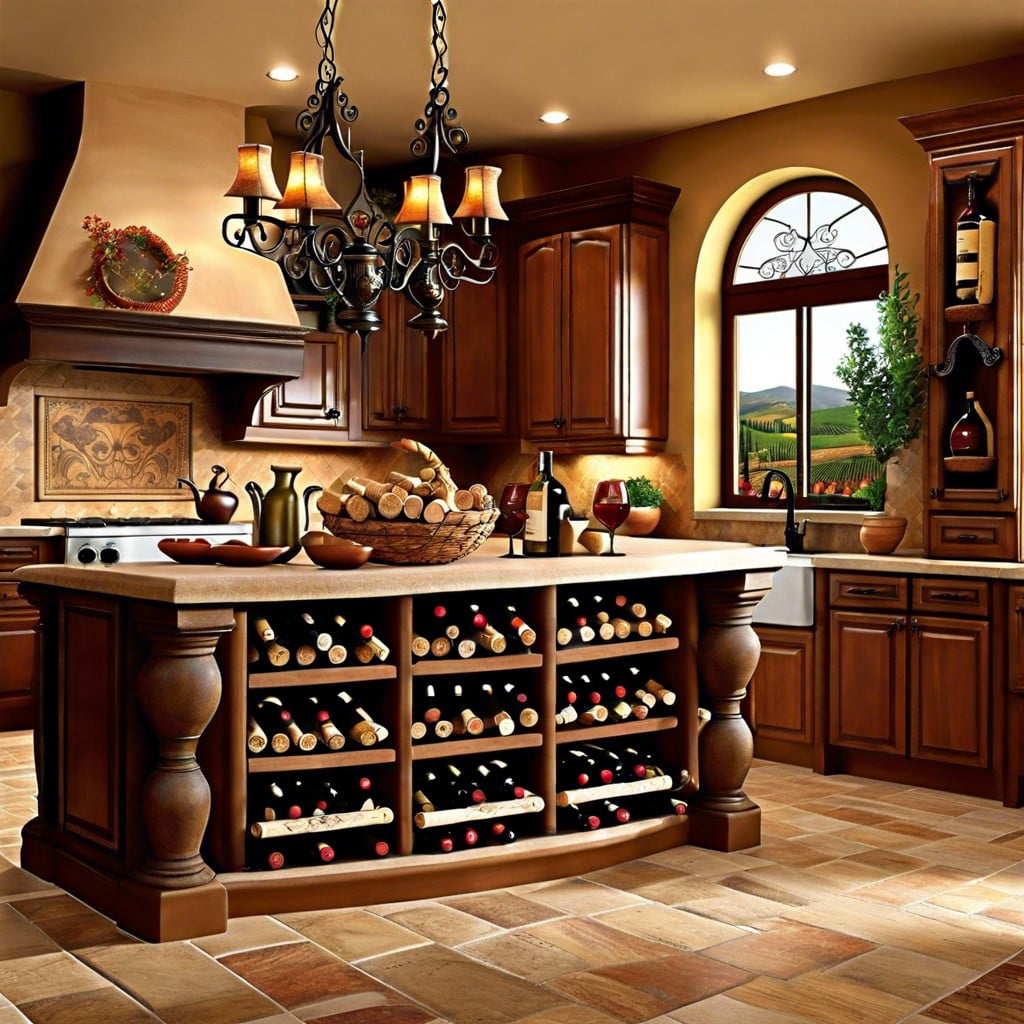 Investing in an attractive ceramic floor vase can provide a unique and artistic way to store and showcase your collection of wine corks. It brings a touch of the Tuscan countryside right into your home, emphasizing the vineyard-inspired theme.
Here's the how and why:
Visual Appeal: Unlike a simple jar or glass container, an ornate ceramic vase adds an element of artistry to your display, elevating its aesthetic value.
Stylish Storage: They marry form and function to create an interesting conversation piece while keeping your corks tidy and organized.
Versatile: Vases come in a variety of shapes, designs, and sizes, allowing you to choose the one that harmonize best with your decor.
Dual Purpose: Besides corks, vases can hold artificial grapes or vines to sway attention and provide variation.
Remember to place the vase in a part of your kitchen or dining room where it's visible but not in the way to prevent accidental tip-overs. Remember that the vase should match your Tuscan wine kitchen aesthetics, so choose earthy, muted tones.
Grape and Wine Kitchen Curtains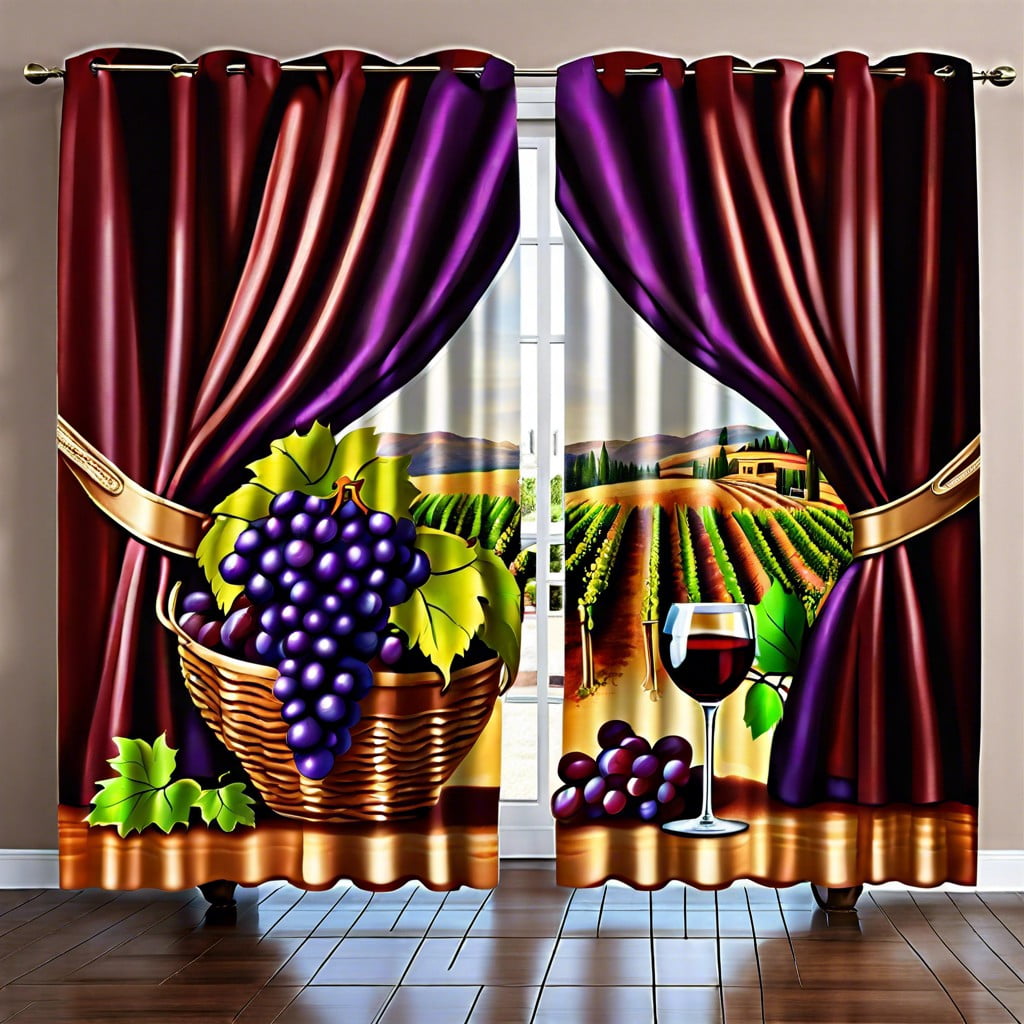 Incorporating this decorative aspect allows for a remarkable blend of function and aesthetic in your kitchen space. These curtains often come in a variety of patterns highlighting vineyard elements – from lush grape bunches to vintage wine bottles.
A sheer curtain can create a delightful play of light, while heavier materials provide privacy and block sunlight. Opt for colors that complement Tuscan décor like warm yellows, earthy oranges, and sunset reds for an authentic look.
Boost the elegance further by selecting curtains with intricate embroidery of grapevines or wine-themed motifs. This simple yet significant upgrade seamlessly infuses a wine enthusiast's passion into everyday home décor.
Italian Wine-themed Tablecloth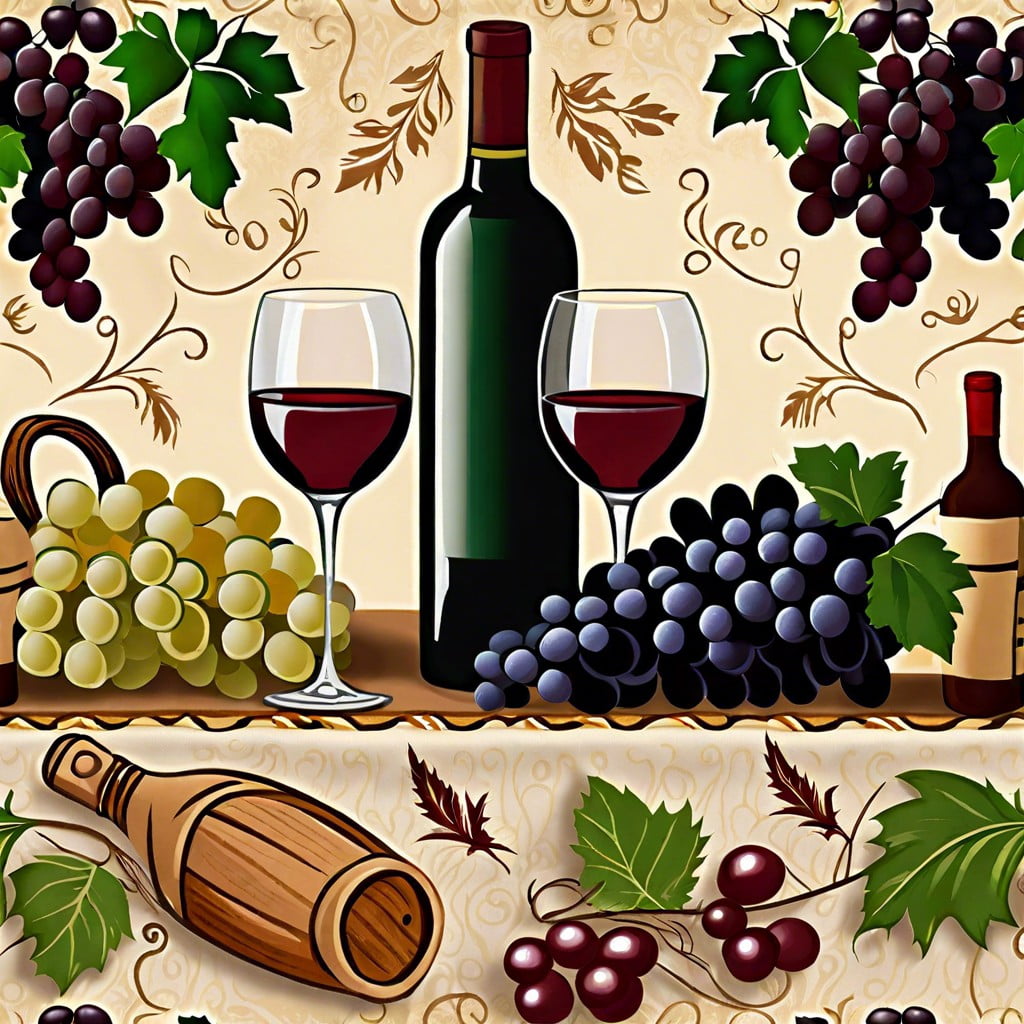 Capitalizing on the alluring charm of Italian vineyards, you can opt for an aesthetically pleasing tablecloth adorned with rustic vine, leaf or grape prints. With the right choice, not only will it protect your table, but it will also serve as a beautiful centerpiece.
Look for a design that includes warm tones such as sun-kissed oranges, rich reds, and earthy browns to mimic the picturesque landscapes of Tuscany. These colors work perfectly with the wine theme and will feel welcoming to your guests.
Moreover, consider the material. A linen tablecloth, for instance, exudes a rustic feel and will add to the authenticity of your wine-themed decor. Ensure that the tablecloth is easy to clean, as wine spills can be inevitable.
Lastly, depending on the shape and size of your table, select a tablecloth that drapes beautifully and offers full coverage. By incorporating such elements, your Italian wine-themed tablecloth will set the stage for a fantastic Tuscan inspired dining experience.
Wine Bottle Shaped Pepper and Salt Shakers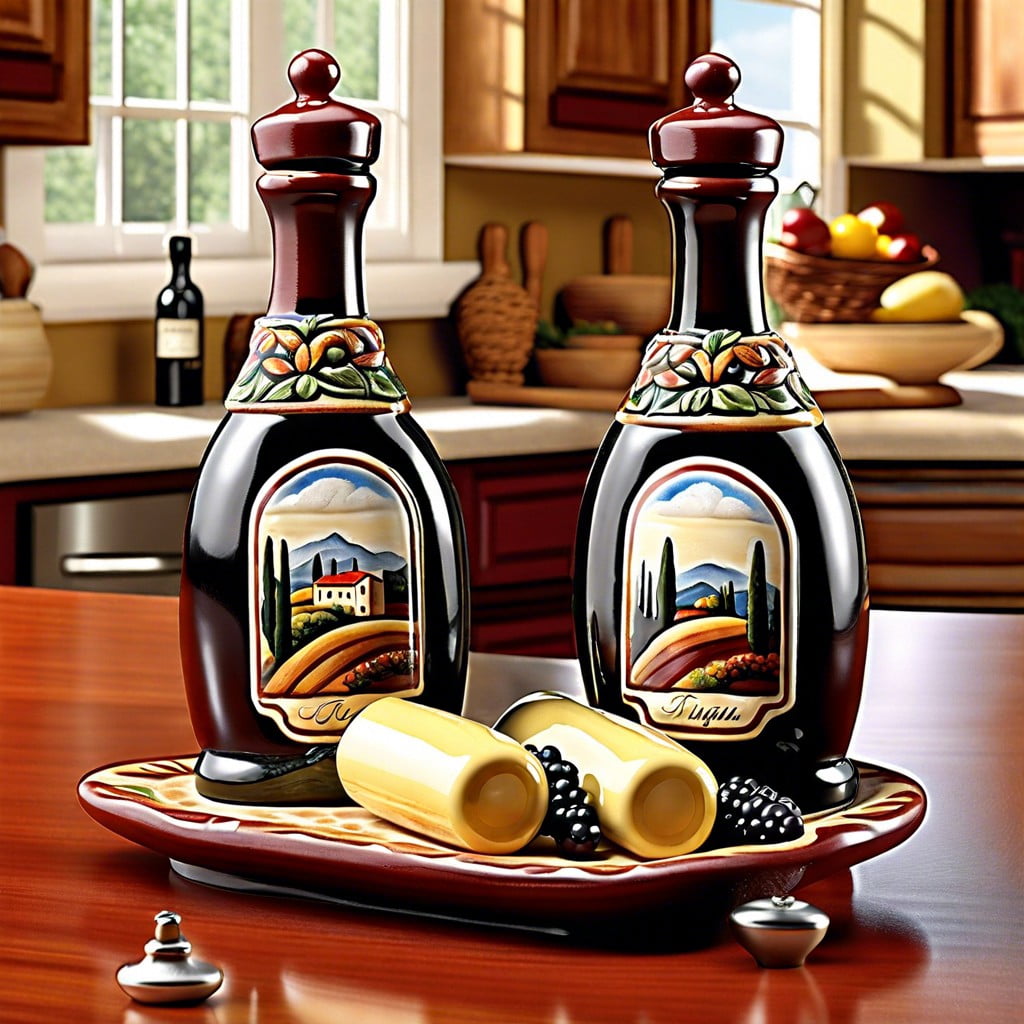 These unique kitchen essentials, despite being small, are certainly not short of charm. Ditch the traditional designs and add a distinct Tuscan flavor with wine bottle-shaped versions. Imagine richly-colored glass bottles, etched with intricate patterns, topped with a vintage bronze cap, tastefully designed, reminding you of an Italian countryside vineyard. They're not only functional; as the mechanism is straightforward – filled with salt and pepper, they dispense easily when you want to season your meals.
Being a conversation starter, they can make for an adorable decorative addition, accentuating your centralized Tuscan wine theme. You can place them alongside your vineyard-inspired dinnerware, further enhancing the visual appeal on your dining table. Moreover, they can double as perfect housewarming gifts for wine aficionados.
Also, there's no need for overt traditional markings to signify which is salt and which is pepper. The shaker's color and pattern can communicate that, further infusing creativity into your kitchen decor. Having this unique mixture of functionality, charm, and variety is sure to infuse a delightful Tuscan wine essence into your table settings.
Wine Barrel Clock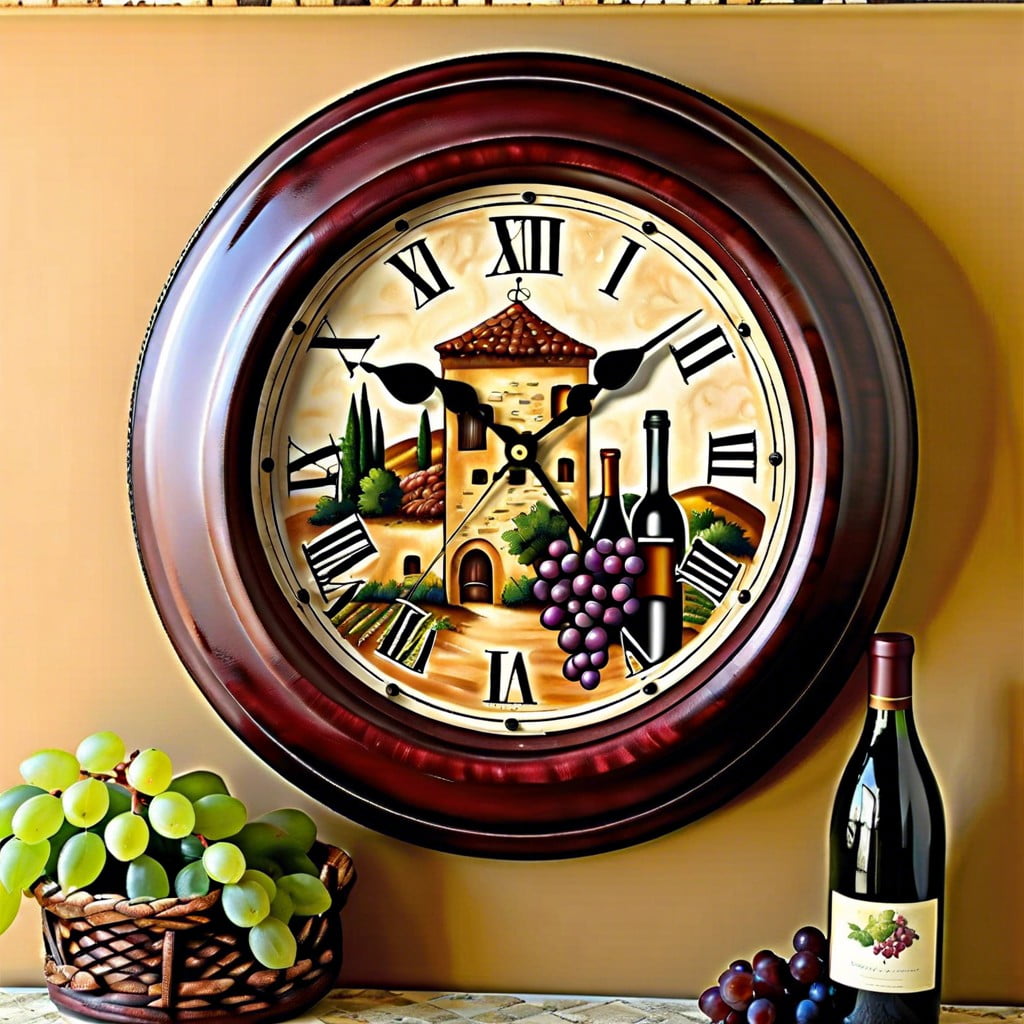 Adding a note of authenticity to your kitchen decor, a wine barrel clock can serve as a visually appealing focal point. Crafted from a repurposed wine barrel, this timepiece carries with it the rustic charm intrinsic to the Tuscan theme.
To ensure a perfect blend with your style, these clocks often come in different finishes, from natural to dark stained wood.
Place it in a noticeable area, like above the kitchen island or in the dining area to allow the intricate wood grain patterns, unique barrel markings, and vintage-inspired clock faces to shine.
To further amplify Tuscany's rich winemaking tradition, consider models that display the name of a renowned Italian vineyard.
It's not only beautiful but functional – aiding in timekeeping while you cook a delicious Italian pasta or pour a glass of Tuscan wine.
To care for it, utilize a feather duster or a damp cloth for cleaning.
Keep it away from direct sunlight to maintain the vibrant hue of the barrel.
This timeless decor item encapsulates the spirit of Tuscan wineries, seamlessly blending elegance with practicality.
Tuscan-style Wine Fridge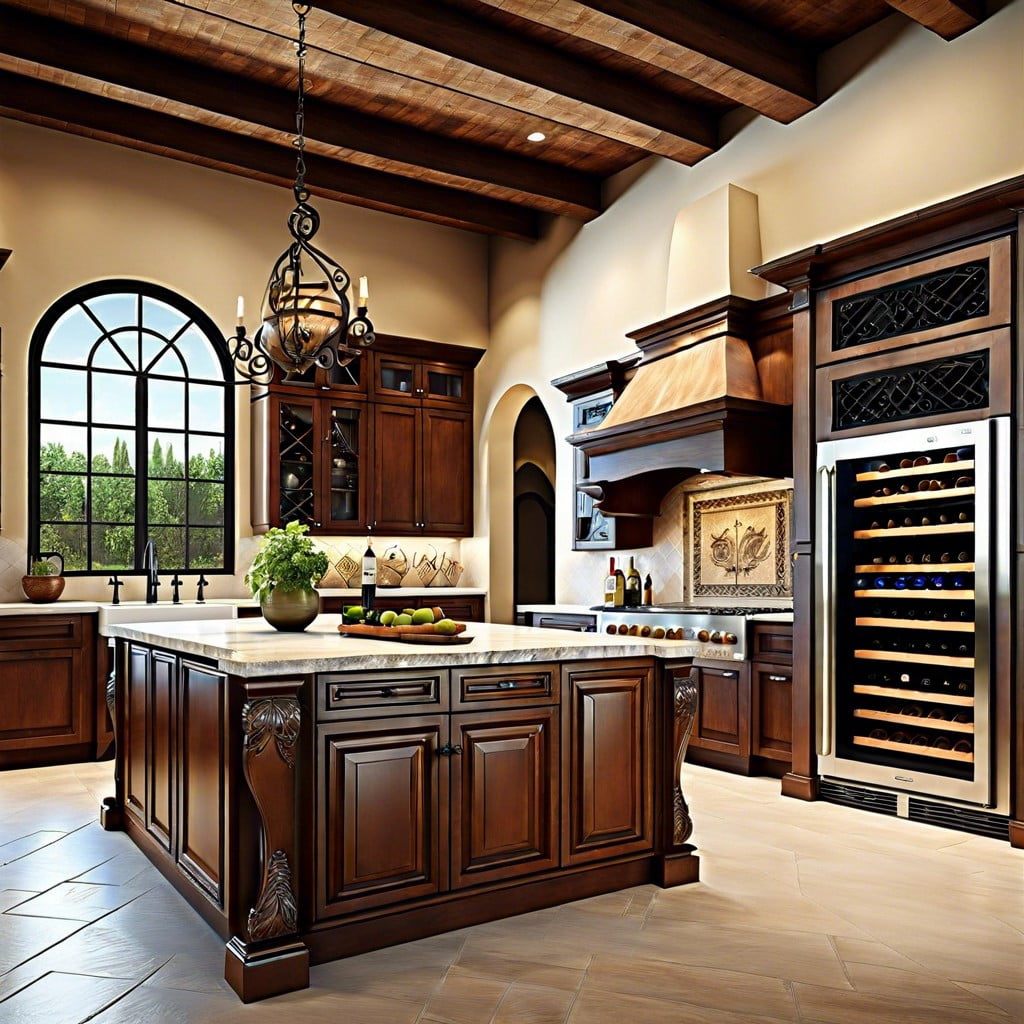 Considering the unique charm and warmth the Tuscan style brings, opting for a wine fridge that fits this aesthetic is essential.
Explore fridges embodying a rustic design, adorned with wood and iron elements.
Eye-catching features such as intricate designs or stone highlights also amplify the Tuscan feel.
Prioritise models offering the perfect temperature control to keep your wines impeccable.
Aim for a design that complements other Tuscan decor elements in your kitchen, creating a cohesive and inviting atmosphere.
To achieve a more authentic look, consider a unit with wooden wine crates or one resembling a miniature wine cellar.
Remember, function does not need to compromise style.
Continue reading:
Recap