Last updated on July 9, 2023
Home renovations focusing on kitchen areas are one of the most popular projects in 2022. Not only do they make your space look gorgeous, but they can significantly raise your property's value.
Renovation trends for kitchens show many changes, but specific interior designs have remained popular over the years, with one of the most common colors in kitchen renovations being black. 
Planning a black kitchen might seem easy since black shades complement almost any interior. However, it pulls the color out of the room, making your space feel smaller.
Therefore, when considering your next kitchen renovation project, you must incorporate multiple aspects into your design to make it look elegant yet visually big.
This post will guide you through six popular ideas on how you can design a stunning black kitchen.
Table of Contents
Windows with a Huge Glass Area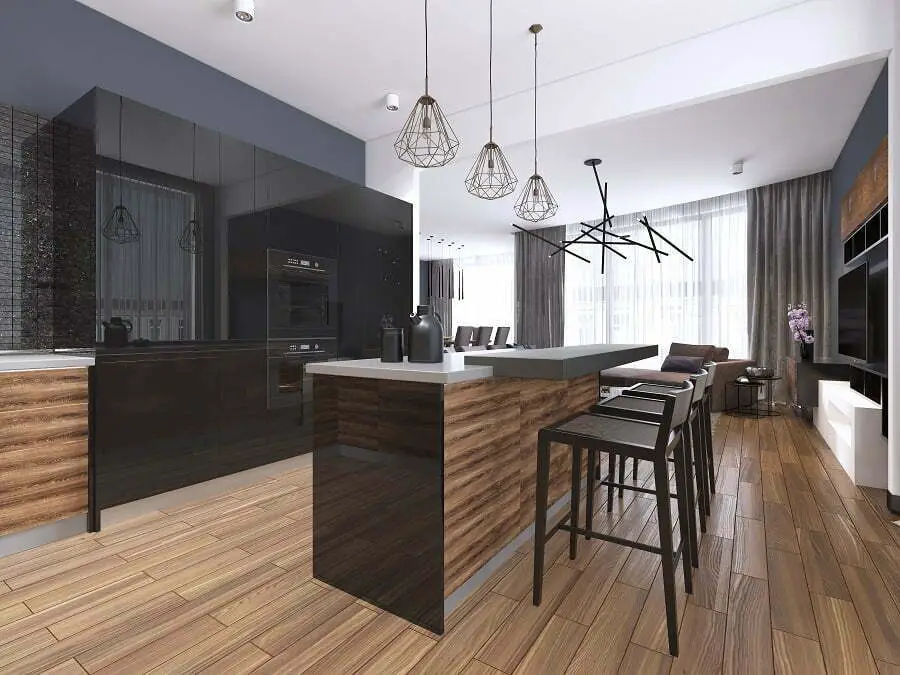 If you want to go with a full black kitchen design, installing huge windows is a must to provide your room with maximum natural light since it makes your space seem bigger visually.
Many experts agree with Ecoline Windows & Doors that sliding or casement window styles work best for such renovations since they offer a huge glass area, excellent ventilation and unobstructed views outside.
Moreover, when choosing your new windows, the experts recommend opting for painted units, not laminated ones, because of the following:
Colour scheme flexibility. These windows can be painted differently on the inside and outside. Moreover, you can even go further and choose a different shade of black for your windows. Just bring the sample, and your contractor can mix it for you, ideally blending your windows with the overall kitchen design;
Incredible UV-resistance. Modern paint is water-based, which provides high elasticity and easily adapts to extreme temperature variations.
Easy upkeep. To maintain the painted windows' original appearance, homeowners need only a quick touch-up to water wash them.
Installing black-painted windows is a great idea, especially if these products go with a huge glass area, but make sure to equip them with white or bronze hardware to provide an eye-catching detail, avoiding your windows looking too plain.
Make Use of Black Appliances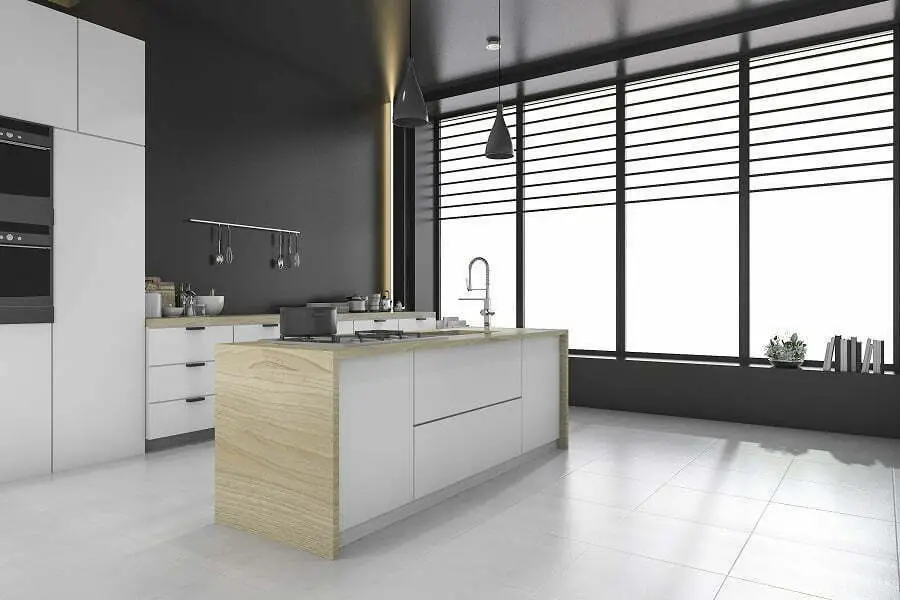 You can always add black appliances to enhance the kitchen's design if you don't have a budget for significant renovations like window installation. Go with a black composite sink or install a slick black combi oven to make some contrast to the room. Homeowners should also try an oak finish for all the working surfaces so that the contrast isn't too much.
Matte or Gloss Black Shades?
As stated earlier, black can draw color out of a room. To counter this, homeowners can go with two options choosing matte black or gloss. Each of these shades has pros and cons, but as a rule of thumb, it is better to start incorporating gloss black solutions to create a mirror-like shine that can add light to your space. On the other hand, matte black would be perfect in the later stages of your renovation project since it perfectly adds contrast.
Total Black Kitchen Design
If you want to implement an all-black kitchen design, your kitchen should be huge and have plenty of natural light coming in. Even though the concept of floor-to-ceiling black might seem unreasonable to many homeowners, this idea can work exceptionally well if designed correctly.
If you've got a smaller space to renovate, you can still utilize the complete black appearance, but you need to install contrasting accessories to create a warm feeling in the room. Natural wood looks fabulous on chopping boards, knife blocks, and other accessories in an all-black kitchen if you're looking for inspiration.
Mix Black and White Shades
Integrating only black surfaces in your kitchen may be too much for inexperienced homeowners. That is why mixing your black concepts with other colour schemes is necessary. Contrasting black with classic white always remains traditional for many people. Go with either black base cabinets or blacktop cabinets. Then balance it by adding some white either to the bases or countertop to perfectly break the black block up.
Mix Black and Gold Shades
Just like black & white, black and gold shades have worked well together for many popular kitchen renovation projects.
If you've decided to integrate black floor-to-ceiling cabinets into your space, choosing to install gold faucets and door handles will help considerably to break up the boldness;
You can also install a gold or bronze light fixture to add the proper central accent to your kitchen and make it look more elegant and grand;
Going with bronze hardware for your windows or interior doors is also a trend to complement the black kitchen design in 2022.
The Takeaway
Kitchen renovations are one of the best projects to add significant value to your home. The average ROI of such home improvement is 75%, which makes it worth the investment.
Even though many homeowners do not fancy the black kitchen concept since it draws color from the room and makes it look smaller, a bold black kitchen can add a winning edge to any home, especially when complemented with other classic shades, the right furniture, modern windows, and terrific hardware.
If you go through all this work to renovate and create your new black kitchen, you might want to make sure your gutters do not clog, overflow, and cause damage. To see the coolest, fastest and easiest gutter guard, check out Gutterbrush.com.
Continue reading: