Last updated on September 15, 2023
Discover a variety of bathroom chandelier ideas that can transform your space from ordinary to extraordinary, providing elegance and style in unexpected corners.
Chandeliers are not just for grand hallways and dining rooms – they can be a stunning focal point in a bathroom too. This article will explore a variety of bathroom chandelier ideas, from chic mini-chandeliers to extravagant crystal designs.
Whether your bathroom is small and cozy, or large and luxurious, there's a chandelier to enhance its appeal. With detailed insights into different styles, installation tips, and safety considerations, you'll discover how to illuminate your bathroom with elegance and charm.
So, let's dive into the world of bathroom chandeliers and transform your space into a stylish sanctuary.
Table of Contents
Crystal Chandelier Over Freestanding Tub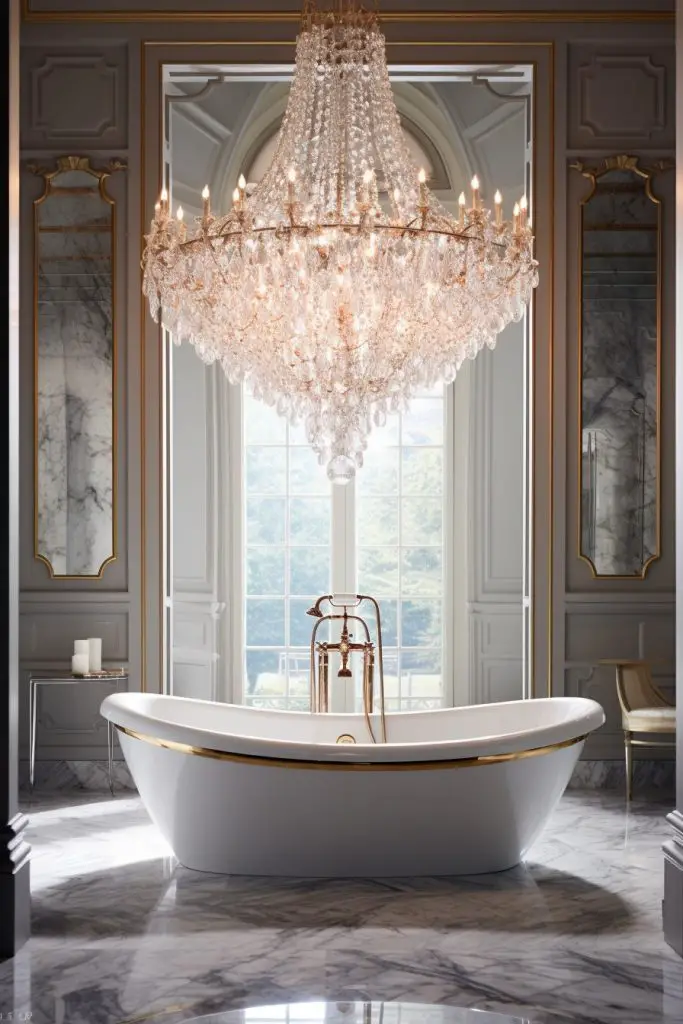 An iconic style statement, crystal chandeliers install sophistication right above your comforting soak. Be it a mid-century modern design or a fine Venetian style, they amplify elegance and serve as visual anchors.
Size matters, avoid occupying excess overhead space.
Consider dimmable lights for flexibility in ambience.
Ensure IP rated for wet locations.
Complement the design of your tub and hardware.
For safety, minimum height should be 8 feet above tub's rim.
The dramatic effect of natural light refracting through the crystals during daytime is pure serenity, turning your regular bathroom into a spa-like retreat. With well-positioned artificial lighting, nighttime turns your bathroom into a theatrical setting with glistening crystals.
Mini Bronze Chandelier for Small Bathrooms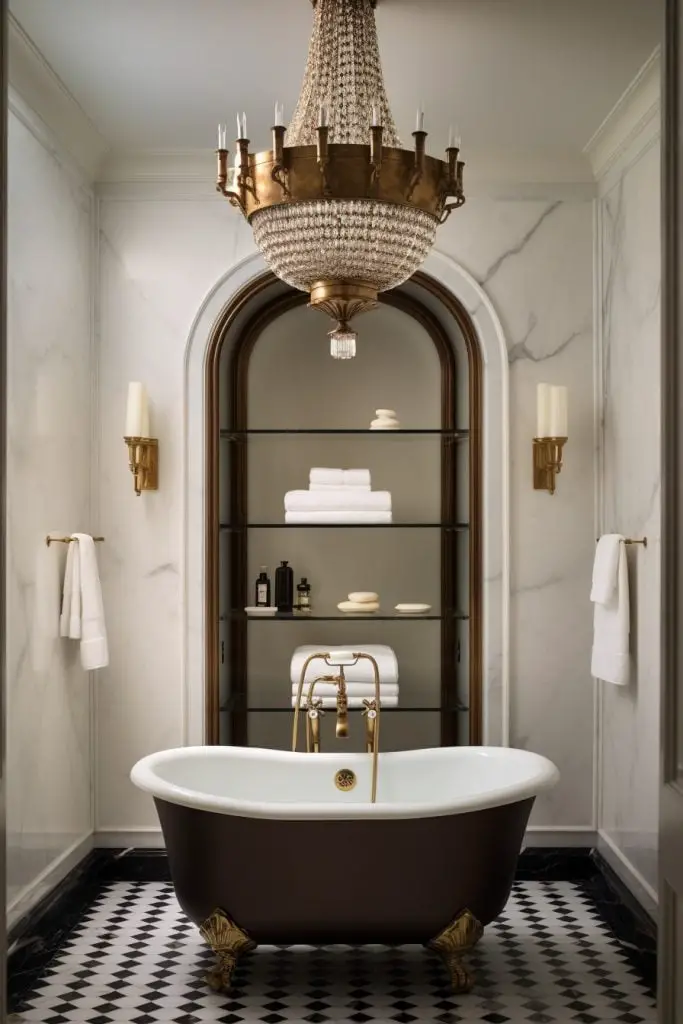 When dealing with small bathrooms, size and proportion are key factors. A mini-bronze chandelier immaculately aligns with these requirements. Its compact size won't overwhelm the space, while the bronze finish adds a warm and inviting aesthetic. This style puppets as both a functional source of light and as an elegant centerpiece, creating a sense of luxury even in restricted spaces.
Compact size harmonizes with small spaces.
Bronze finish offers warm aesthetics.
Multifunctional as a light source and a decorative element.
Creates a sense of luxury.
Suitable for various design styles, from modern to rustic.
Suspended Candle-style Chandelier for Vintage Appeal
Ideal for traditional architectural styles, hinting at the charm of past eras.
Creates soft, subtle lighting and adds an intimate ambiance.
Sought-after materials: aged brass, wrought iron, distressed wood.
Styles differ: from single-candle sconces to multiple-candle chandeliers.
Placement options: above the bathtub or in the center of the room for a focal point.
Complemented by classic bathroom fixtures like claw-footed tubs, pedestal sinks, and wainscoting.
Consider dimmer switch installation for adjustable light intensity.
Ensure professional installation to balance weight and secure attachment.
Can accommodate real candles for an authentic experience or LED light bulbs for practicality and safety.
Perfect match with mirrors framed in antique brass or vintage décor pieces.
Drum Pendant Chandelier for Modern Bathrooms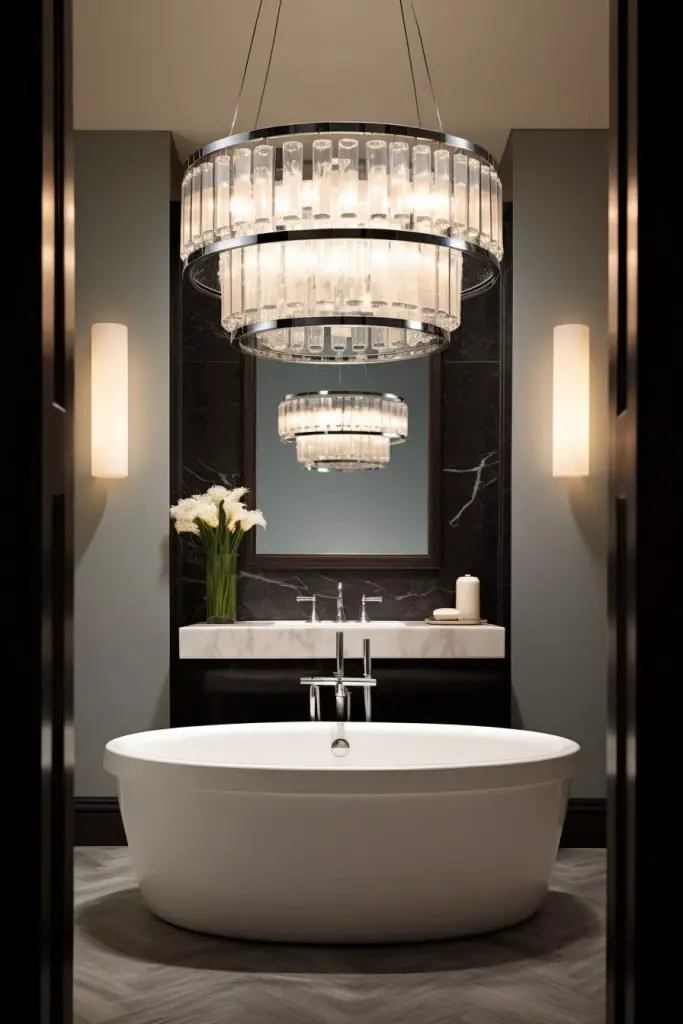 These unique light fixtures not only provide illumination but also add an artistic element to the room.
Incorporation of clean lines and minimalistic design favors a sleek, modern aesthetic.
Can be hung at various heights to accommodate different ceiling heights or personal preferences.
Often comes with a diffuser at the bottom to provide a more harmonious light.
Available in a multitude of materials like glass, metal, or fabric for diverse style options.
They can be single pendant for smaller bathrooms or clustered for larger spaces.
Allows for dimming options providing the flexibility to adjust light based on time and mood.
Consider opting for LED bulbs for energy efficiency and longevity.
Remember to factor in the size of the bathroom when choosing the diameter of the drum pendant.
While installing, ensure it is positioned in a way that light evenly disperses throughout the bathroom.
Combining with other light sources like natural daylight or recessed lights can create a balanced look.
Nautical Theme Chandelier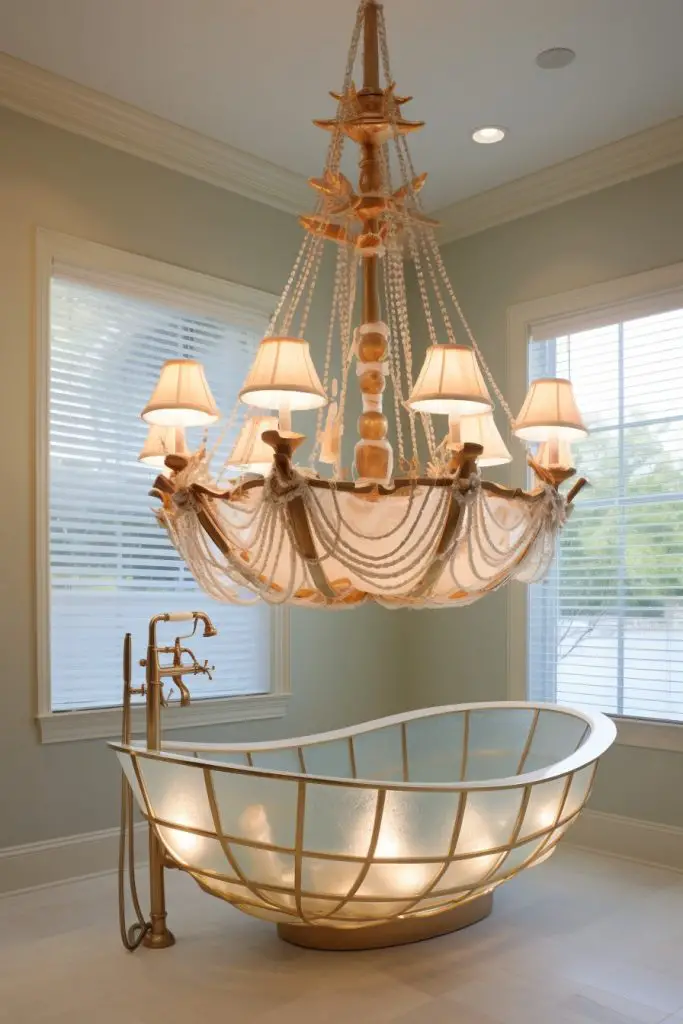 A nautical theme chandelier, when thoughtfully selected and strategically placed, can beautify the bathroom by adding charm and ambient lighting.
Design: A nautical-themed chandelier often bears elements synonymous with the sea, like anchors, sailor ropes, compass points, or forms that evoke marine life.
Materials: Commonly, these chandeliers are made of materials like metal or wood, capturing that rugged, sea-washed look typical of coastal living.
Colors: It features cool tones like navy, white, or sea-green, reflecting the shades of the ocean.
Lighting: Offering a soft light, a nautical chandelier can instill a relaxed and refreshing vibe, much like a seaside retreat.
Styling: It complements maritime decors like shells, driftwood, or maritime paintings.
Placement: Ideally placed over a freestanding tub or in the center of the bathroom for a focal point.
Choosing a nautical chandelier translates your love for the sea and its soothing aura into your bathroom decor.
Moroccan-inspired Chandelier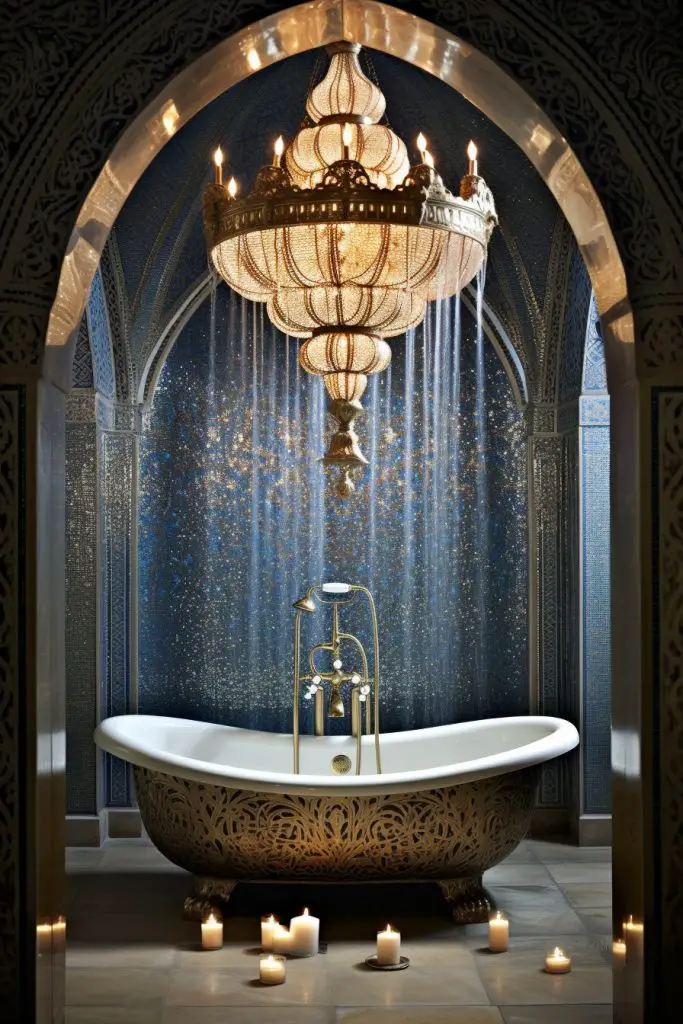 With its intricate patterns and warm color palette, the Moroccan-inspired chandelier becomes the centerpiece of any bathroom.
Intricate Metalwork: Detailed shapes and exotic designs typically from brass or wrought-iron.
Warm Lighting: Usually consists of warm tinted glass or crystal to cast a subtle, romantic glow.
Geometric Shapes: Often features unique, symmetrical designs inspired by Moroccan architecture.
Versatility: Suits both modern and classical interiors, providing an instant upgrade to the bathroom décor.
Consider Scale: Ensure it matches the size of the bathroom to avoid overwhelming the space.
Installation: Hang it centrally or strategically over the tub or vanity for an optimal visual impact.
Capiz Shell Chandelier for Beach Vibe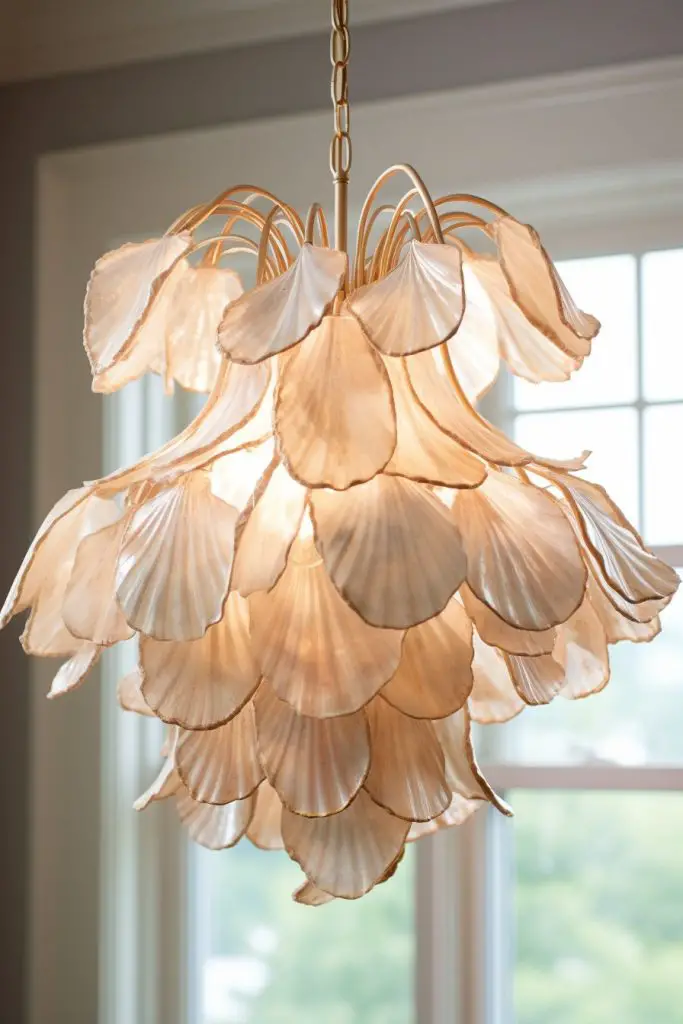 A stunning selection for anyone desiring a coastal atmosphere, the Capiz shell chandelier captures the essence of the seashore with its unique design.
Effortlessly infuses a beach atmosphere into your bathroom.
Handcrafted from natural Capiz shells.
Beautifully reflects light for a soothing illumination.
Works well with neutral color schemes.
Perfect for creating a focal point in spacious bathrooms.
Pairs well with other nautical themes or beach-inspired decor.
Offers a sustainable lighting option, showcasing nature's bounty.
Ideal for casual, laid-back design styles.
The magic of the sea can be fully embraced with this one-of-a-kind lighting feature. Its naturally iridescent shells beautifully refract and scatter light across the bathroom, evoking the tranquility of oceanside living.
Waterfall Style Chandelier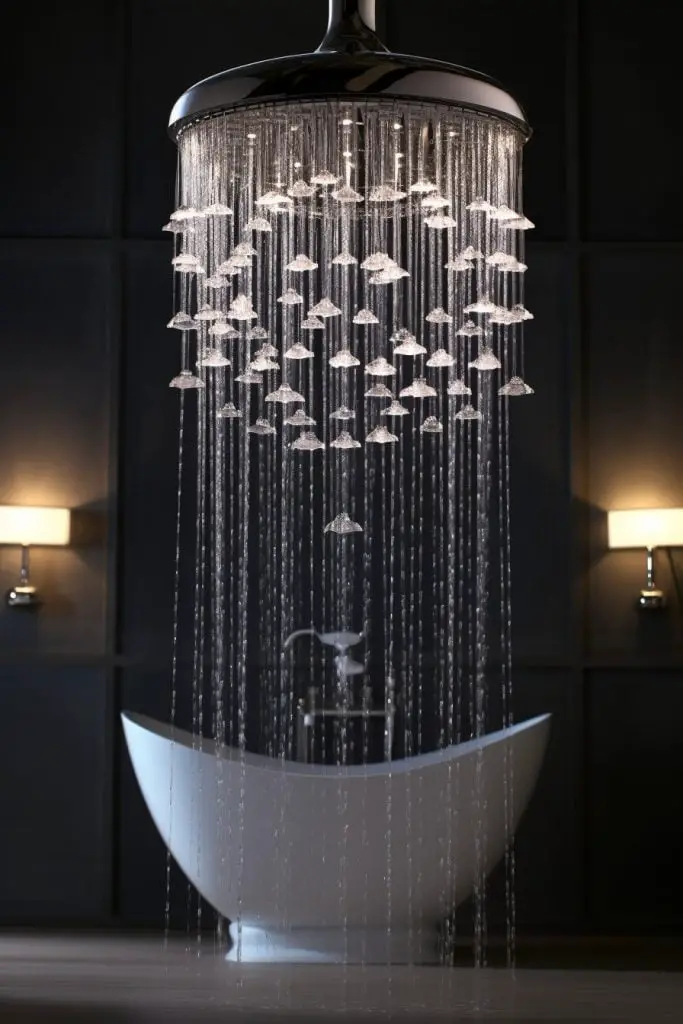 Imbued with a sense of cascading elegance, the Waterfall style chandelier is bound to elevate the aesthetic appeal of your bathroom. Reflecting a subtle sophistication, this type of fixture radiates a gentle light, casting a relaxing, soothing ambiance that's perfect for a bathroom setting.
Concept borrowed from natural cascading waterfalls.
Multiple layers of dangling crystals create light work.
Mimics the flow of water, adding dynamism to the design.
Diverse designs range from contemporary to vintage.
Suited for higher ceilings due to vertical design.
Offers a central source of bright, soft lighting.
Remember, a Waterfall chandelier can add visual interest and act as a centerpiece without overpowering the overall bathroom design.
Gold-plated Chandelier for a Luxurious Feel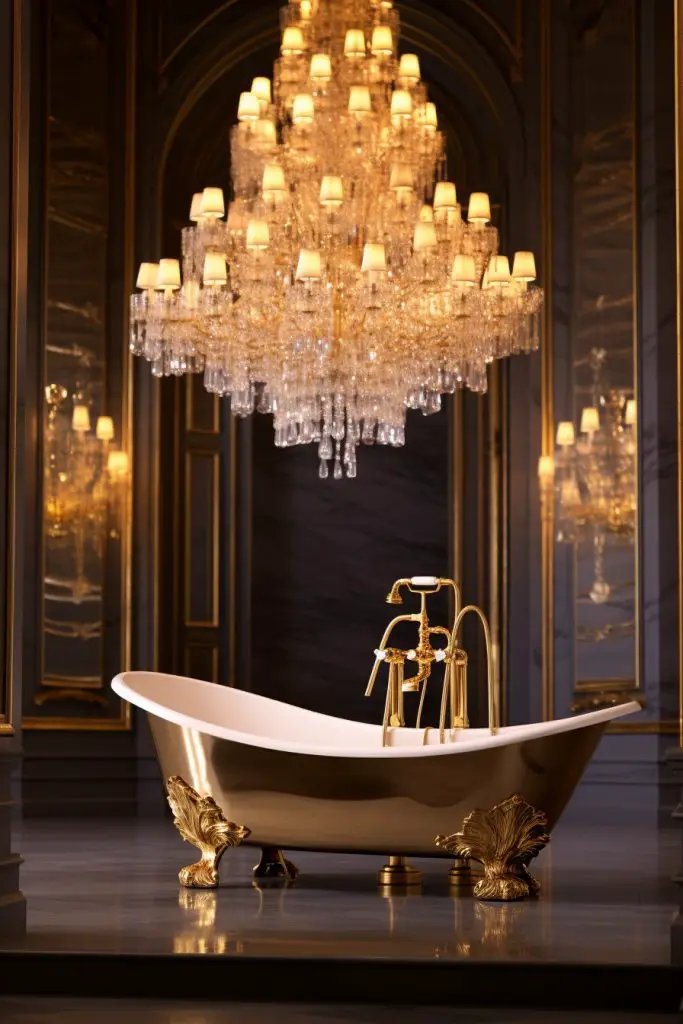 Installing a gold-plated chandelier instantly elevates the aesthetics of your bathroom. This choice is not just about illustrious lighting, but also about imparting an aura of opulence. Being reflective, gold complements various color schemes quite effectively, making this type of chandelier versatile.
Extravagant yet elegant design
Reflective quality enhances lighting effect
Gold's compatibility with numerous color schemes
Luxurious aspect adding to the overall decor
Variety in designs, from traditional to modern
Requires professional installation for safety and optimal positioning
Black Wrought Iron Chandelier for a Rustic Look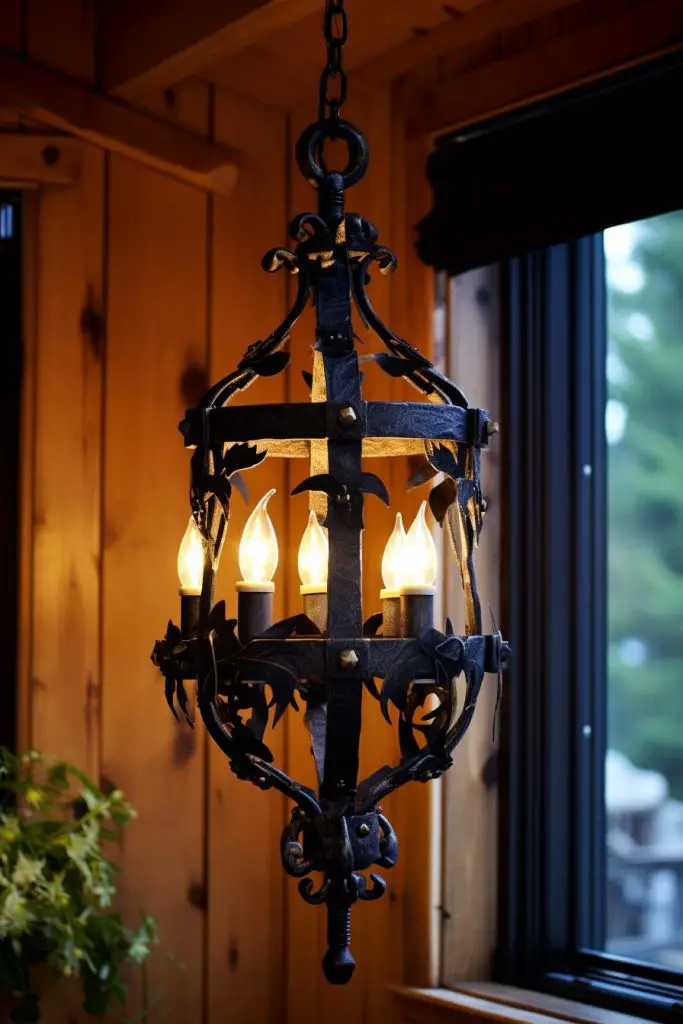 A black wrought iron chandelier infuses an unrefined charm into your bathroom. Here are the key points to consider:
1. Unpolished finish or antiqued iron generates a distinct pastoral character.
2. Choice of shapes, from circular or square to elaborate swirls, enhances individual personality.
3. Style of bulbs, such as Edison bulbs, could intensify the old-world feel.
4. Enmeshed with climbing vines or flowers, it can blend effortlessly with nature-inspired decor.
5. Size selection is key – too oversized may overpower, too small may get lost.
6. Should compliment other wrought iron elements in the room.
7. A suitable option for those seeking to create a country or colonial-style ambiance.
LED Illuminated Chandelier for Energy Efficiency
This type of chandelier exhibits both charm and efficiency in bathroom decor:
Combines form and function
Utilizes less energy, yet offers high light output.
Reduces the need for frequent bulb replacements.
Projects clear, strong light that adds depth to your space.
Offers a contemporary aesthetic.
Available in a variety of designs to suit any bathroom style.
Pairs well with smart home systems for added convenience.
Environmentally friendly.
Assures reduced electricity bills.
LED lights are safe and free from toxic compounds.
Durable, sustaining a longer lifespan.
Glass Bubble Chandelier for a Contemporary Feel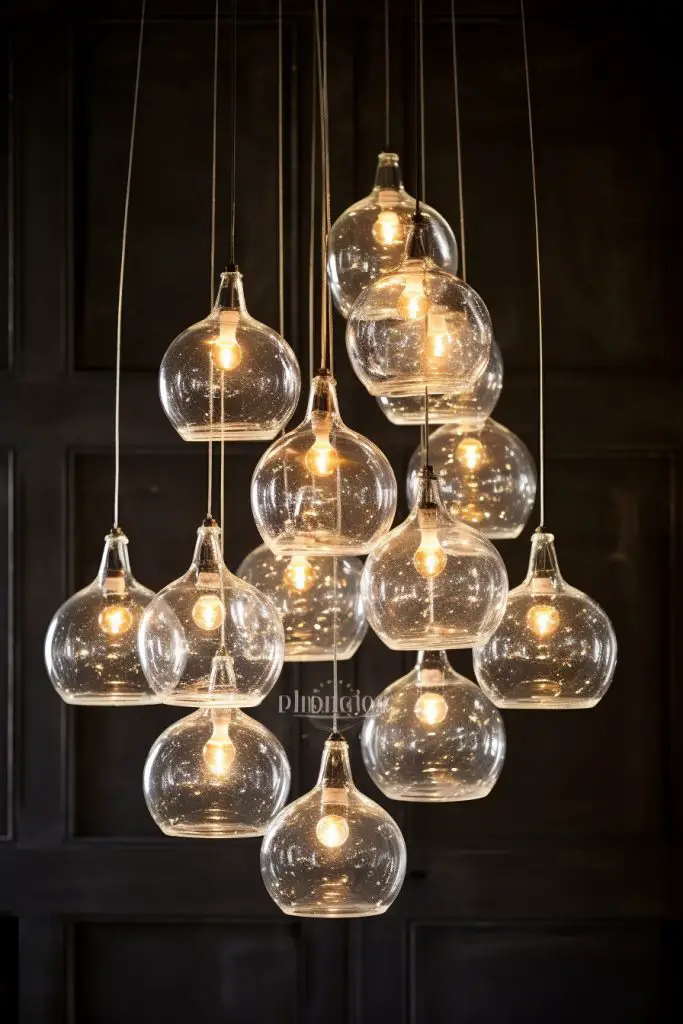 – Conveys a strikingly modern look, making a statement in your bathroom space.
– Constructed from small to medium glass spheres or 'bubbles', creating a whimsical visual effect.
– Easily complements various bathroom styles, including industrial, minimalistic, or Scandinavian.
– Offers varying forms, from tightly packed spherical groupings to loose, rain-like arrangements.
– Softly diffuses light, creating a warm, welcoming ambient illumination.
– Pair with LED bulbs for energy efficiency and longevity.
– Installation requires professional electrician due to weight and delicate nature of the glass.
– Clean with a duster or soft cloth to maintain shine.
– Choose dimmable models to control the intensity of light according to mood or requirement.
– Selecting the right size is crucial – too small may seem insignificant, too large may overpower the bathroom aesthetics.
– Pricing varies, affordable options available, but designer pieces can lead to larger investments.
– In high-humidity environments, opt for a chandelier with sealed bubbles to prevent condensation build-up.
Mini-tiered Chandelier for Low-ceiling Bathrooms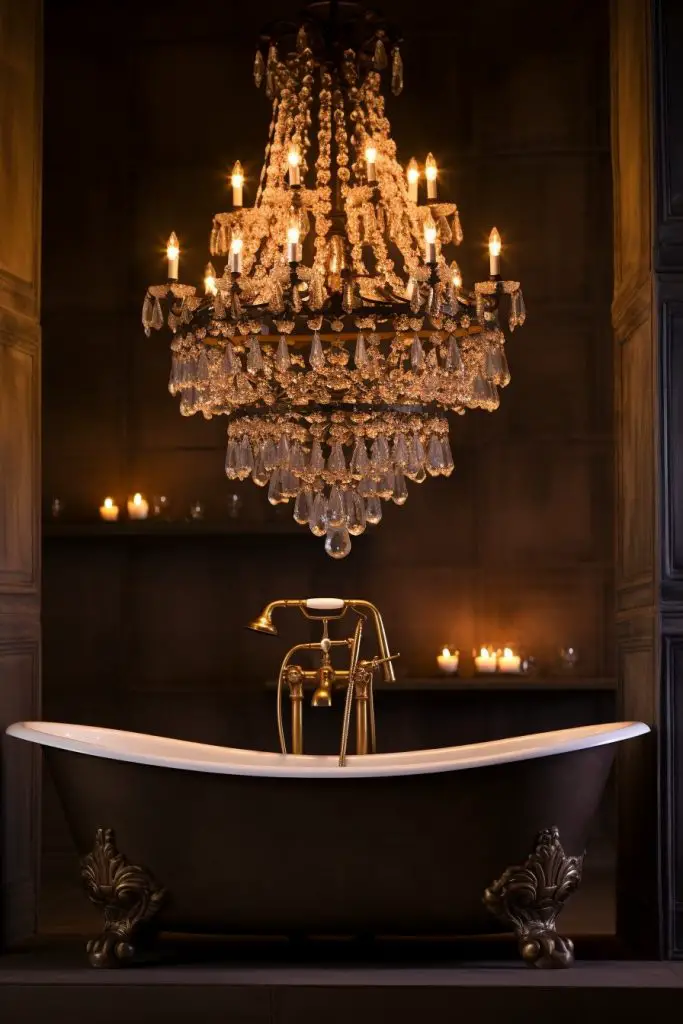 Mini-tiered designs work wonders in bathrooms with limited height. For spaces where a sweeping chandelier isn't feasible, these options offer an ideal solution – maintaining elegance without dominating the room.
Key points to consider with mini-tiered chandeliers are:
Size: Ensure the chandelier is appropriately sized to the room and the height of the ceiling. Too large could disrupt the balance while too small might go unnoticed.
Style: Minimalist designs generally work best in small spaces. Consider a neutral color palette for enhancing the room's spacious feel.
Material: Crystal and glass enhance the illusion of space with their light-reflecting qualities.
Lighting: Choose bulbs of low to moderate brightness to create a relaxing atmosphere without overpowering the room. Dimmer light switches are useful for adjusting to suit mood or time of day.
Position: Place centrally over a key feature, like the sink or tub, for balanced aesthetics.
Floral-inspired Chandelier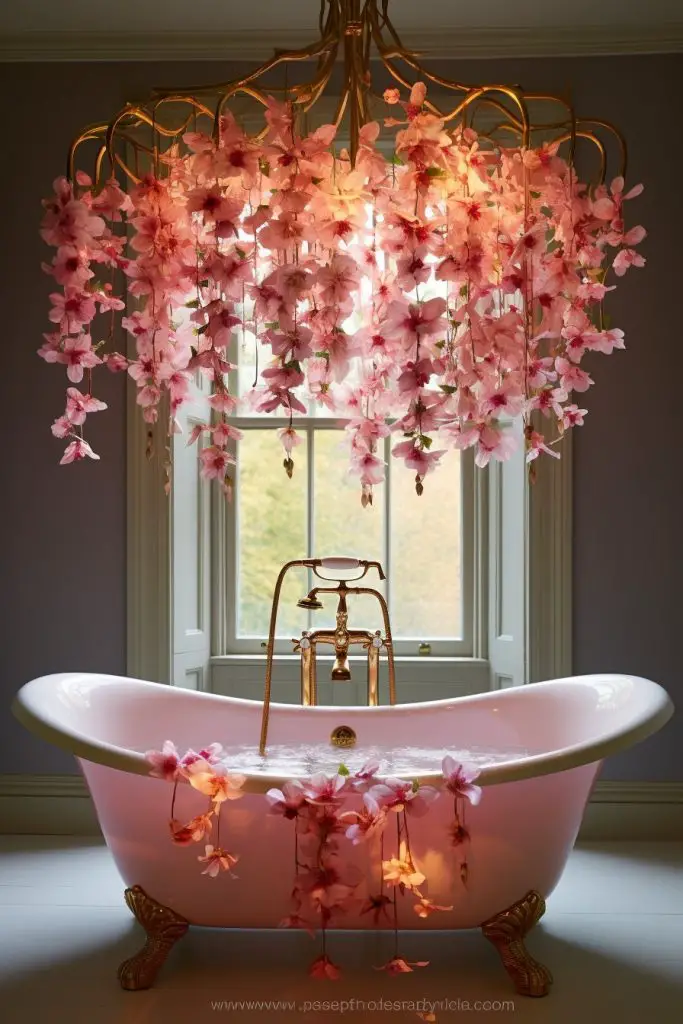 Exploring the innate charm of nature in your bathroom decor, floral-inspired chandeliers offer an enchanting choice. Besides being aesthetically pleasing, they carry a unique sense of freshness and vitality.
From intricate rose designs to the more abstract leaf motifs, these chandeliers can be tailored to suit any interior style.
Creates a refreshing and calming ambiance, perfect for unwinding after a long day.
Offers a plethora of designs based on different flora such as roses, lilies, and daisies.
Complements well with natural materials like wood or stone, thereby enhancing the overall aesthetic of the bathroom.
Can be paired with pastel or earthy hues for a harmonious look.
Great choice for individuals looking to introduce an element of nature into their bathrooms.
Antique Chandelier for Retro-themed Bathrooms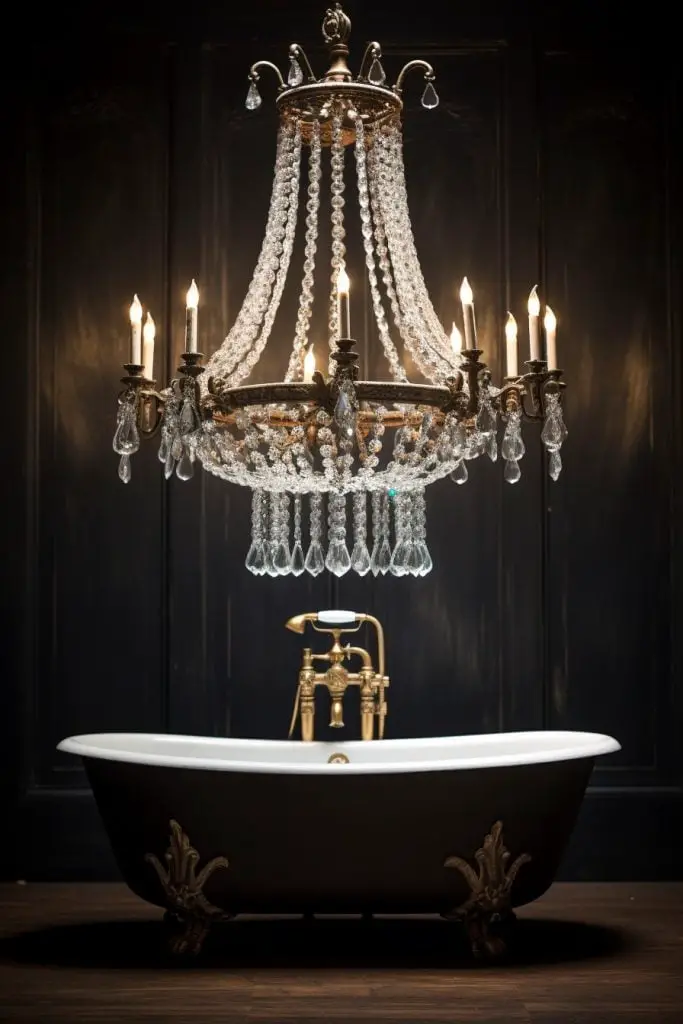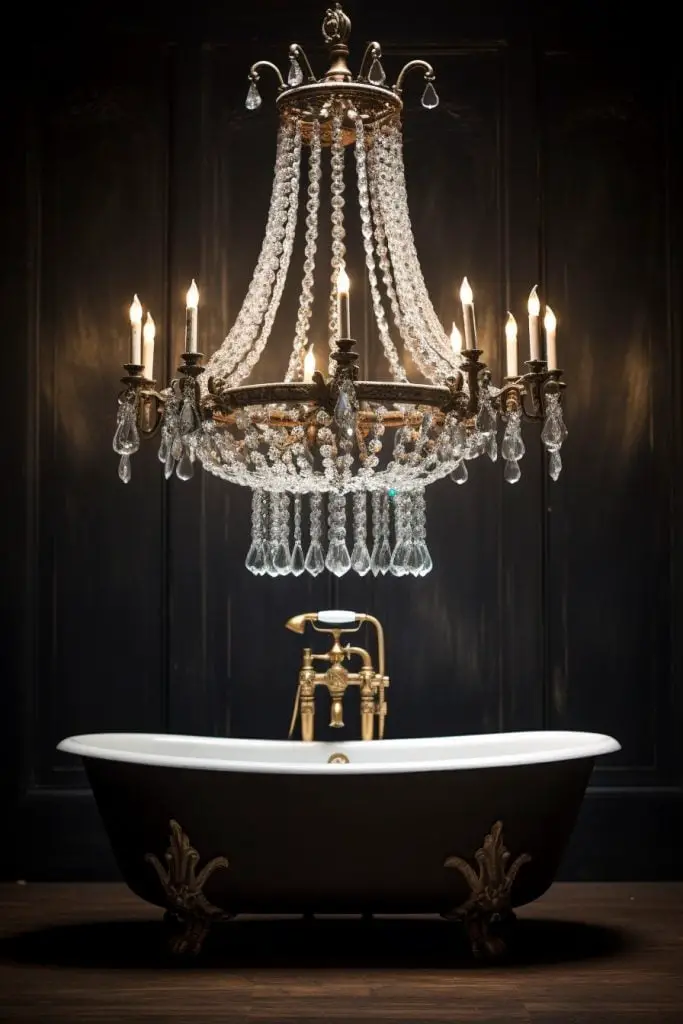 An antique chandelier speaks for itself, singing an ode to a time bygone, effortlessly becoming the focal point in any retro-themed bathroom. Its charm accentuates an old-world feel, bathing the surroundings in a warm, inviting glow.
Here are the key points:
Choose designs from specific eras, such as Victorian or Rococo, to create authenticity.
Material matters: Bronze, brass, and iron typically feature in antique pieces.
Opt for crystal and glass pendants. They exude luxury while staying true to the vintage aesthetic.
Placement is key: Position the chandelier over a vintage clawfoot tub or a distressed vanity.
Consider chandeliers with ornate detailing such as scrollwork, draped beads, or intricate patterns.
Use dimmable bulbs to control intensity and create an ambiance reminiscent of the past.
Look for aged or distressed finishes which, paired with antique-style light bulbs, can really help to invoke a feeling of nostalgia.
Ensure to match other fixtures and fittings – an antique chandelier will stand out in a modern-focused room.
Complement the color palette: opt for warm and earthy tones to round off the look.
Remember to maintain a balance between the chandelier's size and the bathroom space.
Chandelier With Frosted Glass Shades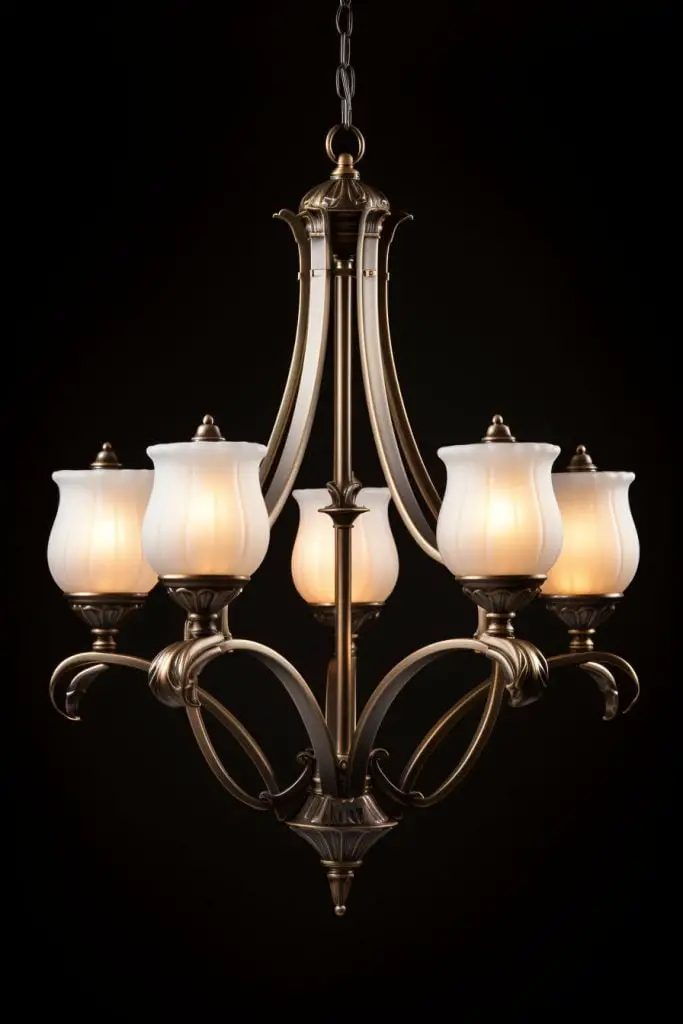 With frosted glass shades, this chandelier type exudes a soft, warm glow, suitable for creating a serene and soothing atmosphere in the bathroom. Its distinct features include:
Balanced illumination: Without the harsh glare often associated with bare bulbs.
Style versatility: Perfectly complements minimalistic, modern, industrial, or Scandinavian themes.
Durability: Less prone to collecting visible dust and easy to clean.
Concealed Light Source: Grants a more sophisticated and subtly diffused light effect.
Various designs: Available in a number of shapes, sizes, and designs, ranging from artistic abstract forms to classic dome shapes.
Opting for a chandelier with frosted glass shades can provide both aesthetics and functionality, enhancing overall bathroom design while ensuring a practical light source.
Eco-friendly Bamboo Chandelier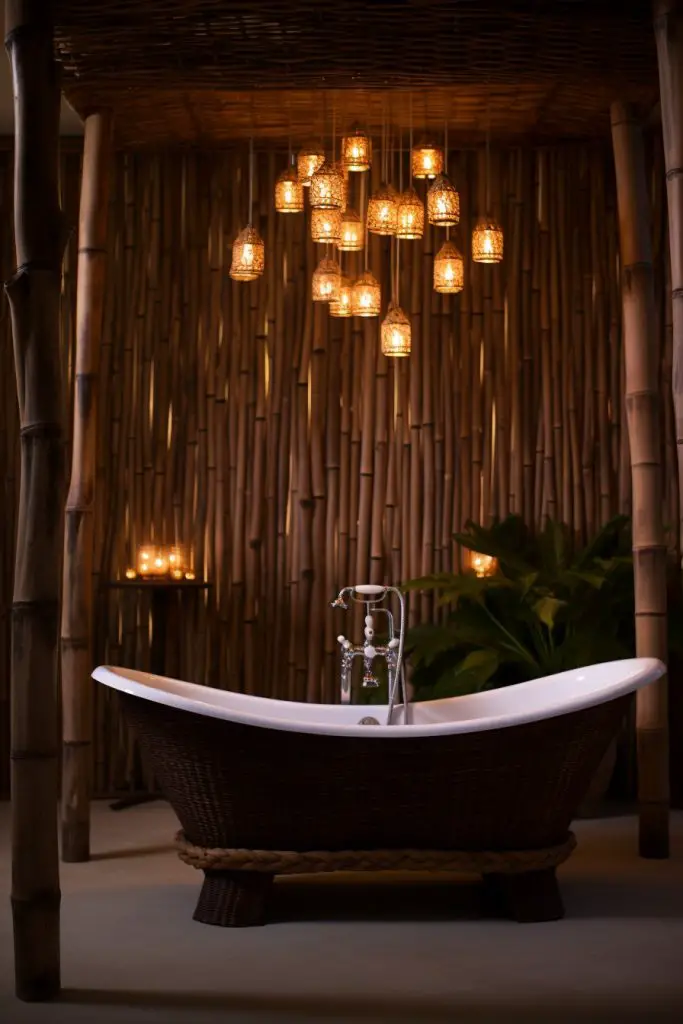 Bamboo, a sustainable and highly versatile material, not only brings a natural touch to the bathroom but also leaves a light ecological footprint. With bamboo chandeliers coming in a variety of styles and sizes, there's an option to suit any bathroom layout and decor.
Here are some key considerations when integrating this unique piece:
Sustainability and Eco-friendliness: Bamboo is renewable, grows quickly, and requires no pesticides, making it a green choice for lighting fixtures.
Warm Aesthetic: Bamboo chandeliers emanate a soft, warm light, creating a cozy, relaxing ambiance perfect for a bathroom setting.
Versatile Design: Whether you prefer a minimalist geometric design or an intricate lantern-style, bamboo chandeliers can cater to diverse aesthetic preferences.
Size and Placement: Choose the size according to your bathroom's dimensions; place it above the bathtub or sink for optimal effect.
Maintenance: Bamboo is fairly resistant to humidity, but regular dusting will keep your chandelier looking its best.
Pairing with Other Elements: Complement your chandelier with other bamboo elements, such as mirrors or towel racks, for a unified look.
Light Quality: Bamboo chandeliers often pair with warm-toned bulbs to enhance the calming effect.
Oval-shaped Chandelier for a Unique Touch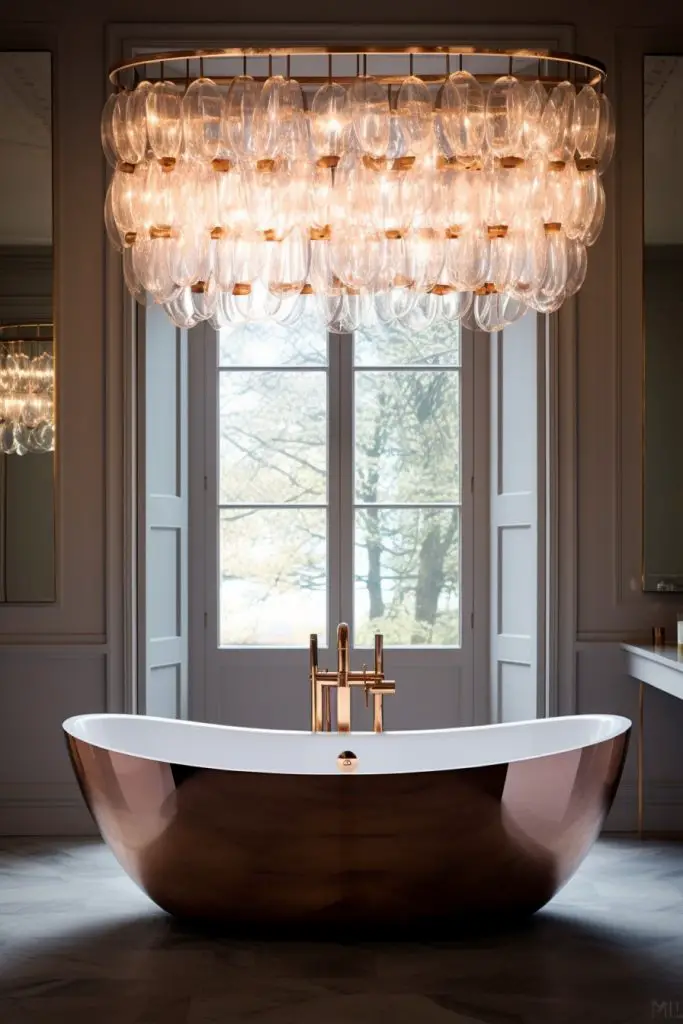 Selecting an oval-shape for your bathroom chandelier engenders a sophisticated aesthetic that stands apart from conventional designs. Oval chandeliers pattern a play of shadow and light in a unique way, enhancing both the decor and atmosphere.
1. Choice of Material: Opt for crystal, glass, or metal, depending on your bathroom style and personal preference.
2. Size Consideration: Ensure the oval chandelier's dimensions are proportional to the room size for optimal impact.
3. Lighting Output: Multi-bulb oval chandeliers can cast more light; vital for larger bathrooms.
4. Positioning: Ideal above the tub or in the center of the bathroom; avoid placing directly above a vanity mirror to prevent unwanted glare.
5. Energy Efficiency: Choose LED bulbs to manage energy consumption while delivering high-quality light.
6. Safety: Ensure professional installation, safeguarding against moisture and electrical hazards.
Multi-colored Chandelier for a Pop of Color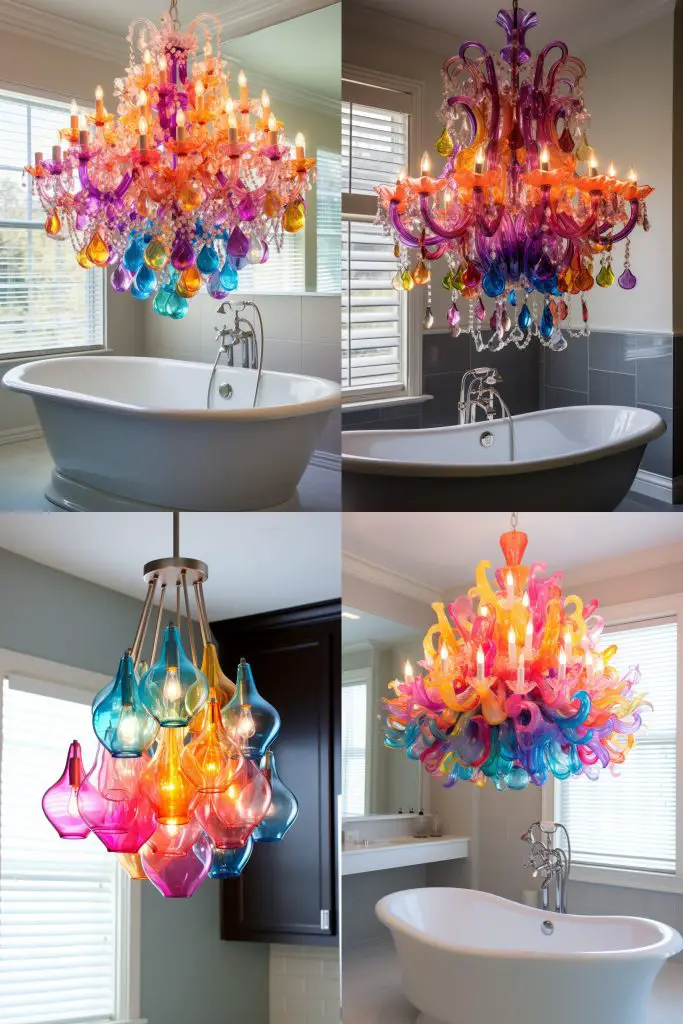 Adding a sense of fun and vibrancy to a bathroom, a multi-colored chandelier can instantly liven up the space.
1. Choice of colors: Choose tones that complement the existing color scheme of the room. Bold, contrasting colors can add an upbeat mood.
2. Material and shape: Opt for colored crystals, acrylics or beads. Geometric designs add a touch of modernity.
3. Light temperature: Ensure the chandelier emits a soft light to offset the colorful components, creating an ideal ambiance.
4. Size and placement: Proportion balance is important. The fixture could be a focal point but should not overwhelm the space.
5. Installation: Ensure proper wiring and fixture strength for safety, especially in damp bathroom environments.
Teardrop Chandelier for an Elegant Appeal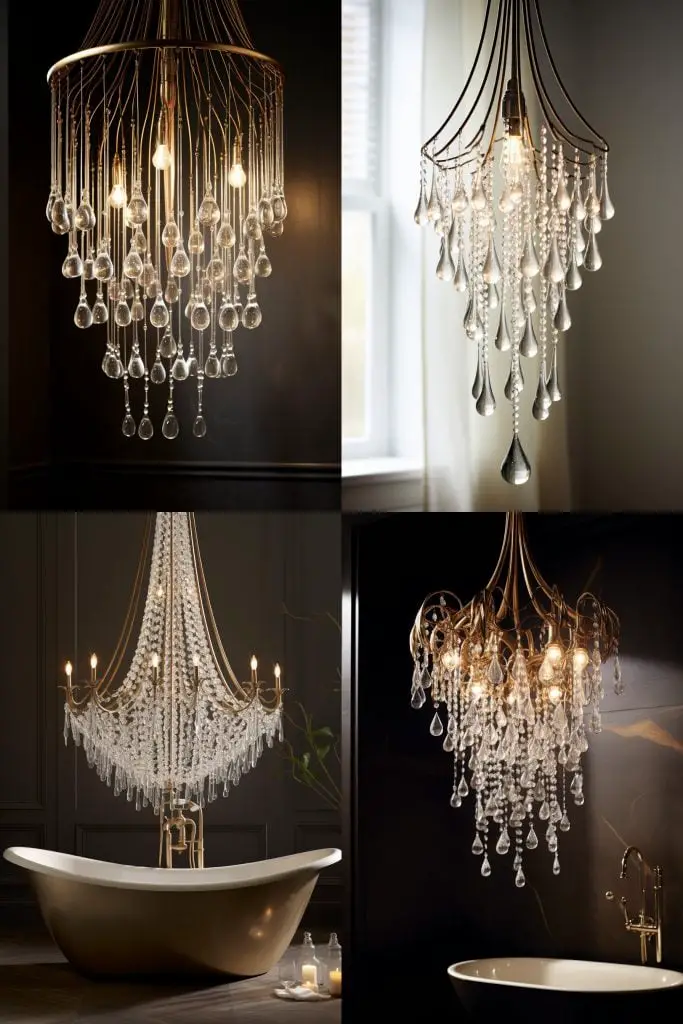 Unmistakable sophistication, uniqueness, and an almost ethereal beauty are inherent to the teardrop chandelier's design. Being both a functional light source and art piece, its methodology in offering a touch of elegance is two-fold.
Notice the descending orbs, they mimic natural water droplets, lending an organic feel to your bathroom. These chandeliers are often fitted with energy-efficient LED bulbs, subtly hidden within each pendant to maintain the illusion of floating light sources.
Key Points:
Blends functionality and artistry
Unique, organic design imitating water droplets
Often equipped with efficient LED bulbs
Creates floating light illusion
Continue reading: