Last updated on September 24, 2023
Embark on a journey to transform your ordinary bathroom into a romantic oasis with these creative ideas.
Transforming your bathroom into a romantic retreat can be a delightful endeavor. This article will guide you through a variety of innovative concepts to create a serene, intimate space.
From soft, ambient lighting to luxurious bathtubs, and from aromatic candles to elegant decor, we've got you covered. Dive in to discover how to effortlessly infuse romance into your bathroom, making it a place where love blossoms.
The following sections will provide you with all the necessary details to turn your bathroom into a personal love nest.
Table of Contents
Candlelight Ambiance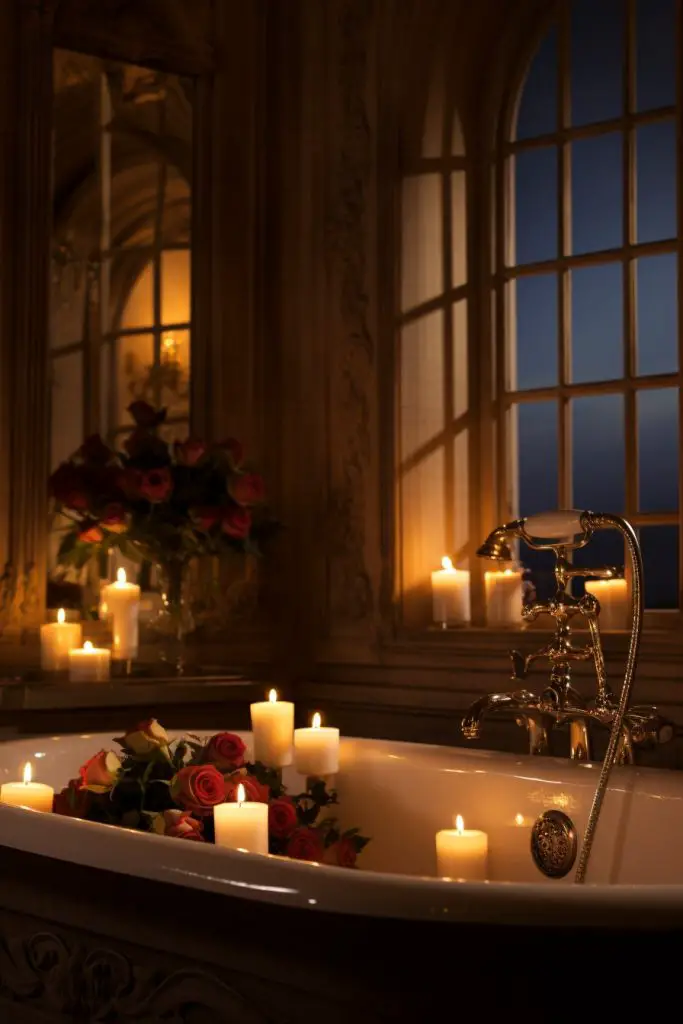 A candlelit room sets a soothing atmosphere instantly. However, achieving the perfect ambiance hinges on the proper placement and selection of candles.
Choose a variety of candles in different sizes, shapes, and colors to create a visually appealing ensemble.
Spread them strategically throughout the space – on the rim of the bathtub, windowsill, vanity, and even safely on the floor.
Opt for flameless battery-operated candles for a fire-safe alternative.
Remember, scented candles can lift the ambiance further, mingling in the air with enticing fragrances of lavender, vanilla, or sandalwood.
Always prioritize safety, make sure towels, curtains, and other flammable items are at a safe distance.
With just the right mix of candlelight, your bathroom can transform into a romantic getaway within a matter of minutes.
Rose Petal Bath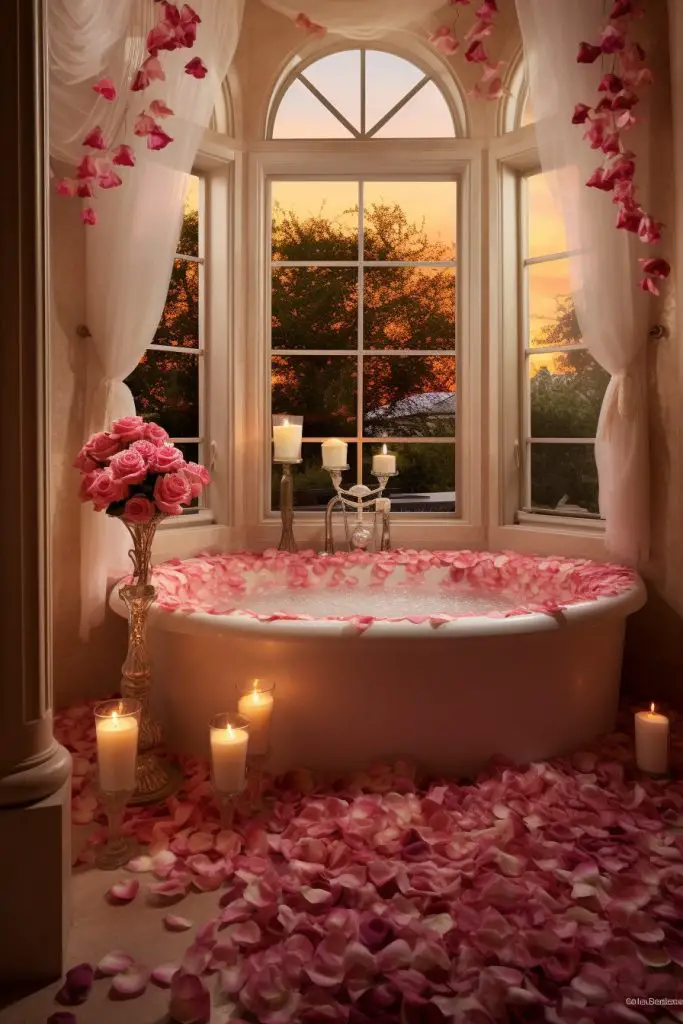 Enchanting, amorous, and super easy to bring to life, there's no mistaking the allure of a rose petal bath. Begin by choosing fresh petals from your choice of roses. Remember, quality matters – the healthier the flower, the more vibrant your bath.
1. Freshness: Choose fresh roses for the most vibrant color and a stronger scent. Also, avoid roses sprayed with pesticides – remember, you'll be immersing yourself in these.
2. Quantity: Depending on the size of your bath and personal preference, you might need between 1-2 dozen roses.
3. Preparation: Once you've collected your petals, rinse them gently under cold water to remove any dirt or bugs.
4. Adding to Bath: Scatter the petals into a tub filled with warm water. You can pour some petals immediately into the running water to help release the oils while others can be just floated on top for visual effect.
5. Extras: For an extra luxurious touch, consider adding a few drops of rose oil or even rose water to intensify the scent and keep your skin feeling soft and hydrated.
Sprinkle a handful of petals onto the bathroom floor for a 'spa' feel or arrange them on towels and surfaces. Your perfectly romantic oasis awaits.
Remember, the petals may leave a stain, particularly on white porcelain, so you might want to clean the bathtub soon after your rose petal bath.
Scented Bath Oils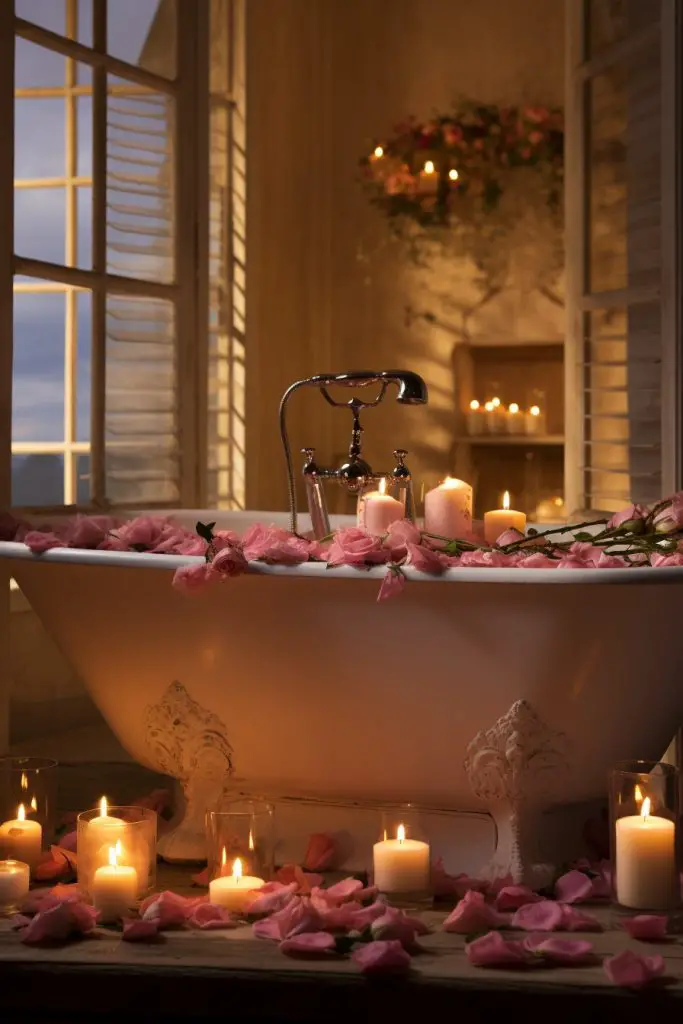 Immersing into a soothing bath filled with aromatic oils offers not just a sensory delight but also therapeutic benefits. Consider these key details:
Essential oils like lavender or chamomile bring tranquillity, promoting sleep and reducing anxiety.
Eucalyptus and mint invigorate the senses, perfect for revitalizing after a long day.
Ylang-Ylang or Jasmine have luxurious touches, contributing to a romantic atmosphere.
Adding oils to a warm bath helps absorption into the skin, ensuring deep moisturization.
Oils can pair with interior decor, building a color theme. Peppermint for greens, citrus for yellows, roses for reds.
Heightening the bathing experience through dispensers stylishly displayed on reclaimed wooden shelves or sleek glass holders.
Remember to enjoy the process of finding your own unique blend that not only enhances the ambiance but also provides a personal relaxation experience.
Dimmed Lighting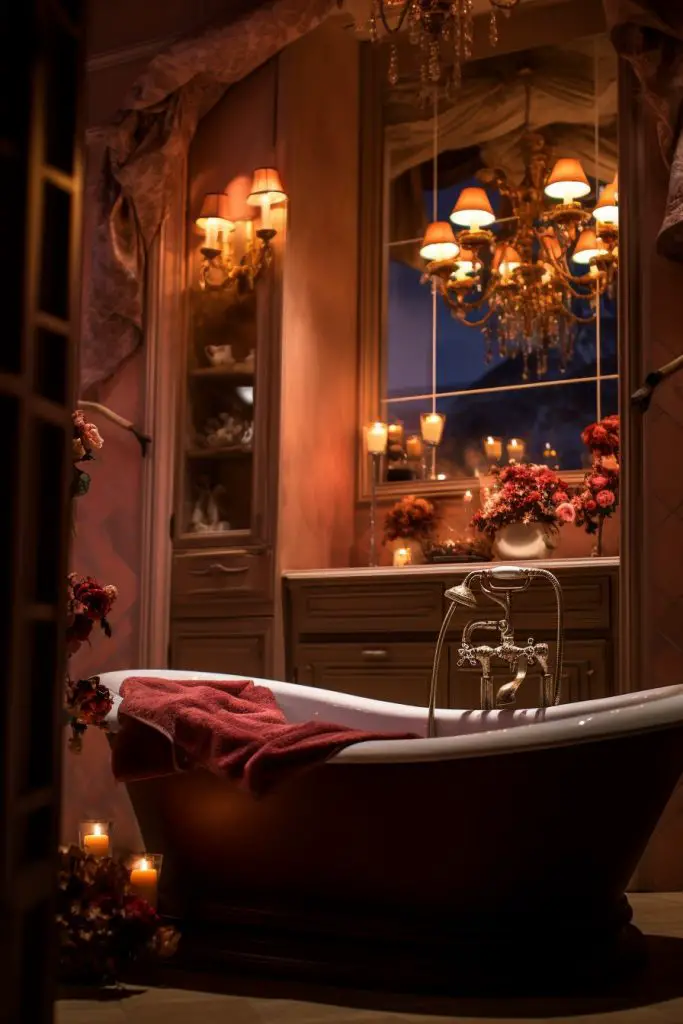 The effortless solution of installing dimmer switches gives you full control over the intensity of your lighting. This single change can dramatically alter the atmosphere. Bright light for makeup and shaving, softer light for a relaxing soak.
Key points:
Variety of dimmer designs: rotary, slide, touch, smart.
Easy installation process.
Energy efficiency, cost-effective.
Health benefits: reduced eye strain, improved sleep quality.
Increased lamp lifespan.
Full control over mood setting.
Warming Towel Rack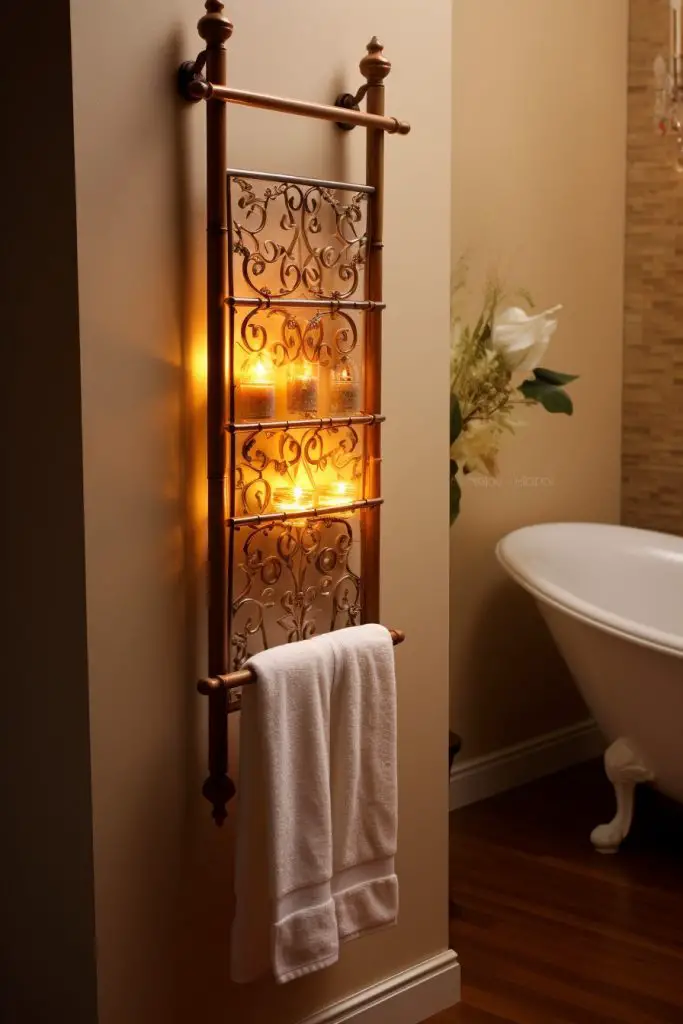 Infusing luxury into your bathroom can be as simple as integrating a state-of-the-art warming towel rack. This gadget is a game-changer for a couple striving to create a romantic atmosphere. Upon exiting your bath or shower, envelop yourself in the cozy embrace of a pre-warmed towel, echoing the ambiance achieved by high-end spas. Certainly, it's a touch of affordable luxury, right in your home.
1. Consistent warmth: Ensures towels are toasty year-round.
2. Easy installation: Can be wall-mounted or free-standing.
3. Saves space: Replace bulky linen cabinets.
4. Safety: Most models are safe to leave on continuously.
5. Variety: Wide range of styles to fit any décor.
6. Energy-efficient: Utilizes minimal electricity.
7. Hygienic: Warmth deters bacterial growth on damp towels.
8. Added luxury: Ups the spa-like feel in a home bathroom.
9. Aesthetics: Delivers a sophisticated, clean look.
10. Dual-purpose: Warms the room – an added perk in colder months.
Soft, Fluffy Bathrobes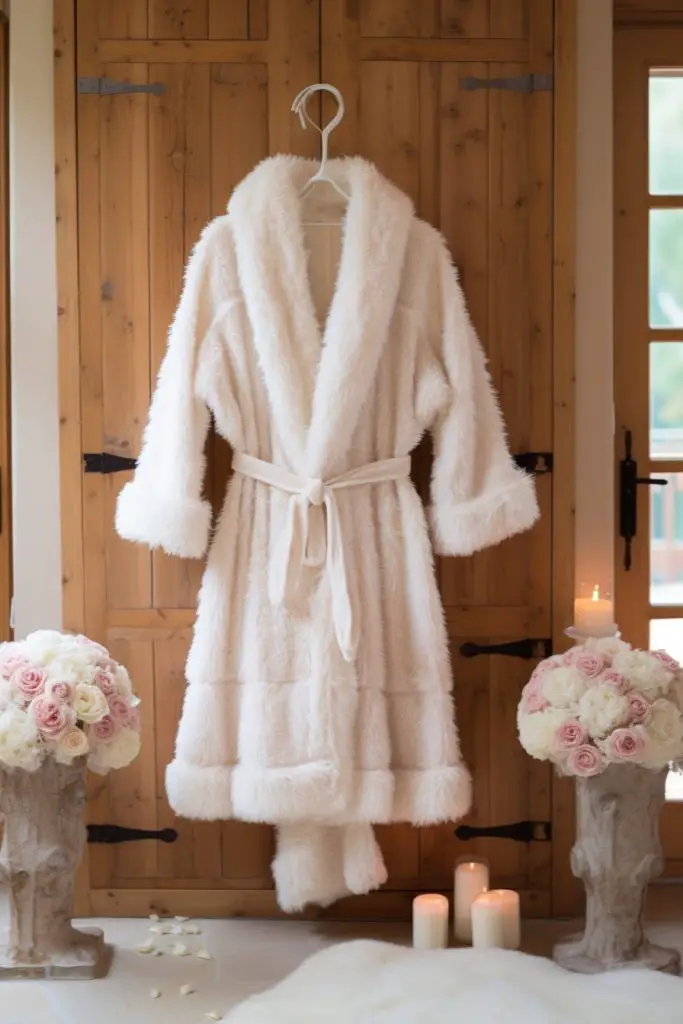 Selecting a pair of exclusive, high-end bathrobes can be the height of luxury, transforming an ordinary bathroom experience into something akin to a spa retreat. These garments, often made from optimum materials like Egyptian cotton or Turkish terry, offer absorbency and unparalleled softness that's gentle on skin.
Egyptian Cotton – Highly durable, soft, and absorbent.
Turkish Terry – Known for its plush texture and remarkable absorbency.
Microfiber – Lightweight, quick-drying, yet luxuriously soft.
Cashmere – For an ultimate touch of opulence, though not as absorbent.
Bearing the element of personalization in mind can enhance the romantic aura. Matching embroidered initials, for instance, add a charming personal touch.
Additionally, warm hues like soft pink, cream, or cocoa radiate a soothing aesthetic, transforming the ambiance.
Remember, storage is key. Having a dedicated, aesthetically pleasing place such as a chic basket or a heated rack to store the robes fosters a neat, organized look, and serves a dual purpose, keeping the robes warm until usage.
Fashion a romantic escape within the home, heighten bathroom comfort, and amplify the end-of-day wind-down with a set of plush, decadently soft bathrobes.
Bath Bomb Set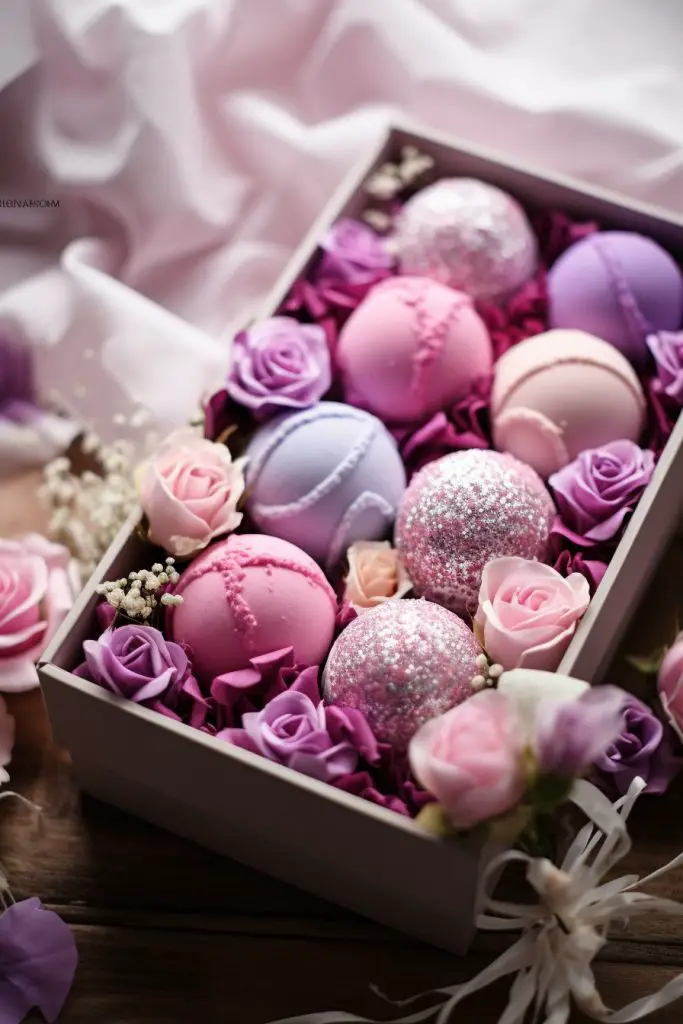 Attractive and effervescent, bath bombs infuse both color and fragrance into bath water.
They are available in a myriad of scents, from vanilla and lavender to eucalyptus and jasmine.
Bath bombs can include rejuvenating sea salts and soothing oils which moisturize and nourish skin.
For a romantic twist, choose bombs with rose petals or heart-shaped glitter that surprise when the bomb dissolves.
Some bath bombs offer additional fun elements like a surprise charm or toy inside.
A set of bath bombs allows for various experiences, perfect for keeping the romantic vibe fresh each time.
When choosing a bath bomb set, consider the quality of ingredients, it should contain naturally derived and skin-friendly components.
Check if the bath bomb uses natural dyes or colorants that won't stain your bathtub.
Bath bombs in beautiful boxes make for a pretty addition to bathroom décor when not in use.
Wine Rack or Holder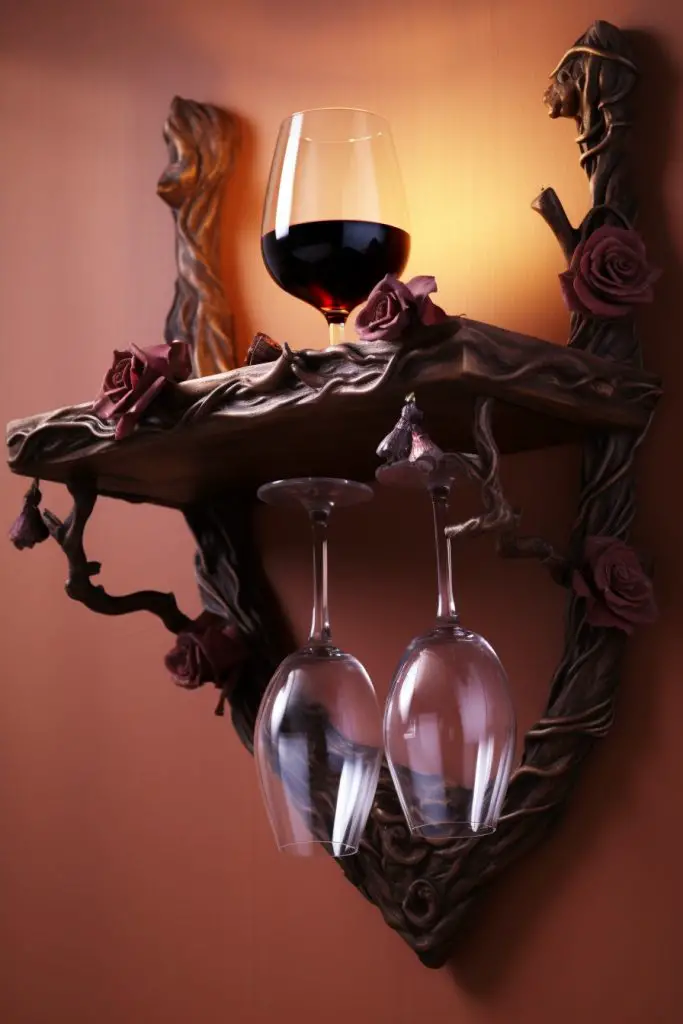 For a touch of sophistication and delightful convenience, placing a stylish wine rack or holder in the bathroom is a must. Not only does it perk up the ambiance, it ensures a glass of favorite wine is always at hand.
Key points:
Opt for a wall-mounted design to save space and make a visual statement.
Materials matter: a wooden holder for a rustic feel, a metal one for a sleek, modern look.
Ensure it's in a spot that's easily accessible, yet doesn't interfere with mobility.
Keep the rack stocked with a few bottles of choice wines for variety.
If space allows, consider a small cooler for maintaining perfect serving temperature.
Mood-setting Music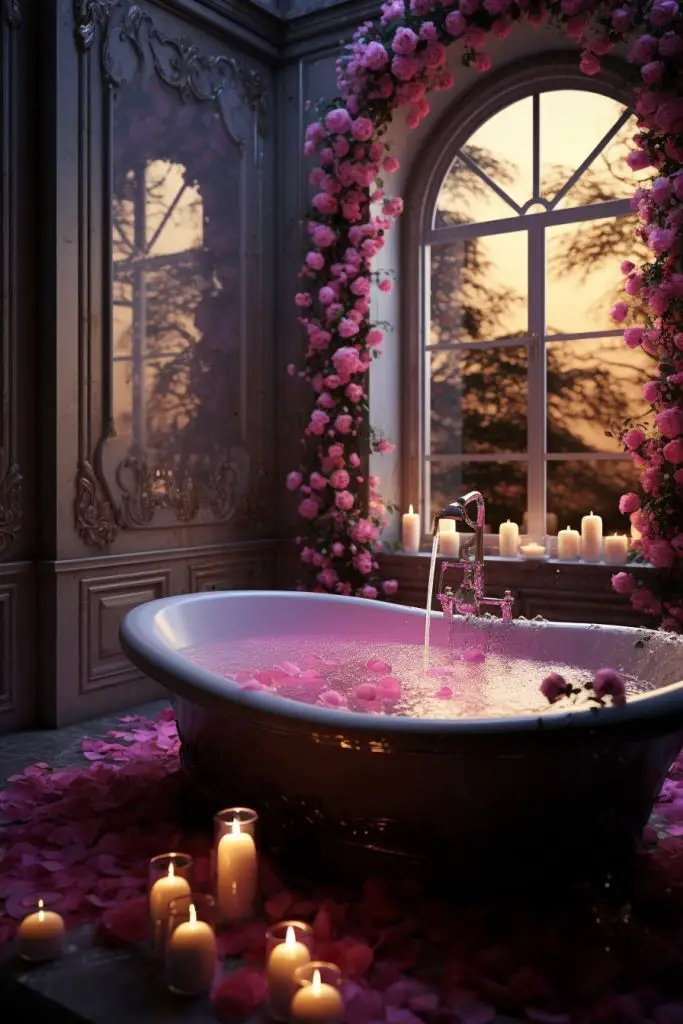 Capsulizing the power of tunes, consider the genre that gets you both in the relaxation zone. Be it the soothing sibilance of smooth jazz, the natural ambiance of rainforest sounds, or the sultry rhythm of a bossa nova beat, identify your shared preference.
Smooth Jazz
Rainforest Sounds
Bossa Nova
Ensure your audio equipment is of quality grade, providing crisp sounds without the harsh interference of static. Remember, the goal here is to de-stress and unwind.
Quality Audio Equipment
No Harsh Interference
De-stress and Unwind
Consider investing in a water-resistant speaker. This way, you can place the speaker in your bathroom without worrying about any potential water damage. Bluetooth capability is a plus for easy pairing with your device.
Water-resistant Speaker
Bluetooth Capability
Last but not least, keep the volume at a soothing level. It should be an accessory to the ambiance, not the focal point overtaking it.
Volume Control
Accessory to ambiance.
Floating Waterproof Candles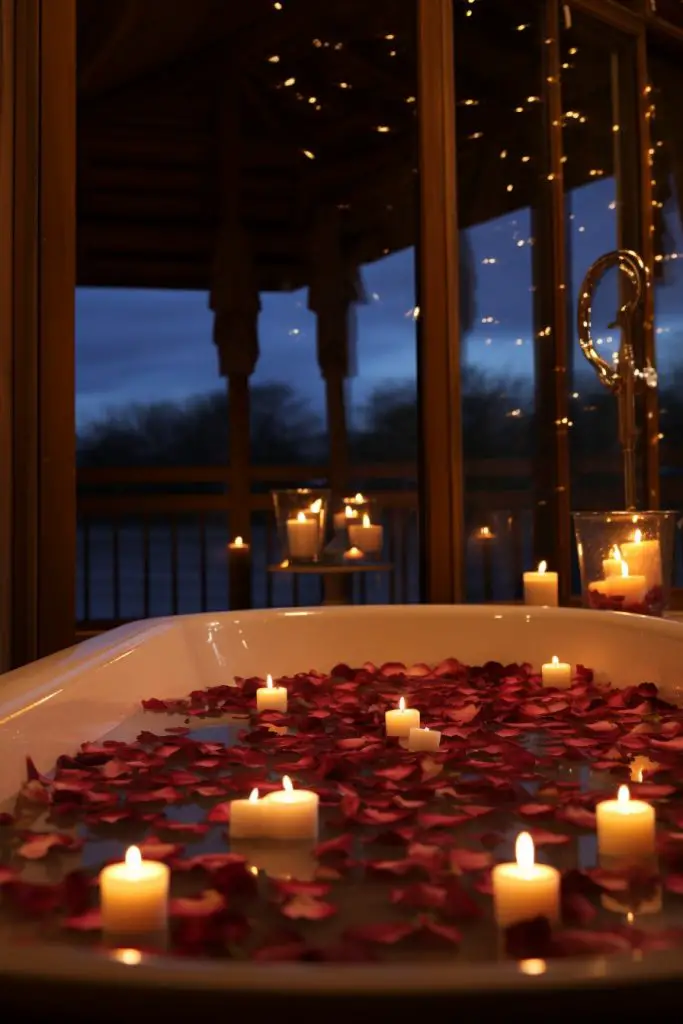 Moving on from the usual candle placements, these ingenious inventions add an extra level of delight. Submerging them in your bathwater not only amplifies their light but also contributes greatly to a unique and romantic atmosphere.
Few points to consider:
Choose candles that are specifically designed for water use. They should not only be waterproof but should have a solid bottom to maintain floatation.
Safety should always be paramount. Opt for LED candles if you have concerns about open flames.
Use candles with longer battery life or burn time to ensure they last throughout your bath.
Consider scented variations for an added layer of sensory pleasure.
Place them thoughtfully across the bathtub for a romantic glow.
Match with the overall bathroom decor.
Please remember: Never leave burning or LED candles unattended.
Standing Bathtub
With its timeless appeal and elegant silhouette, a standing bathtub serves as a stunning focal point in the bathroom. This freestanding feature offers a true spa experience, enhancing the area with undeniable luxury.
Key points:
Adds instant elegance to the bathroom.
Provides a deep soak for total relaxation.
Allows for a centered or corner positioning, depending on the space available.
Easy to clean due to the access all around.
Comes in various styles and finishes, suitable for different interior décors.
Requires more space compared to traditional tubs, to consider during the planning process.
Can be paired with a free-standing faucet for an extravagant touch.
Potential to increase property value due to its high-end appeal.
Aroma Diffuser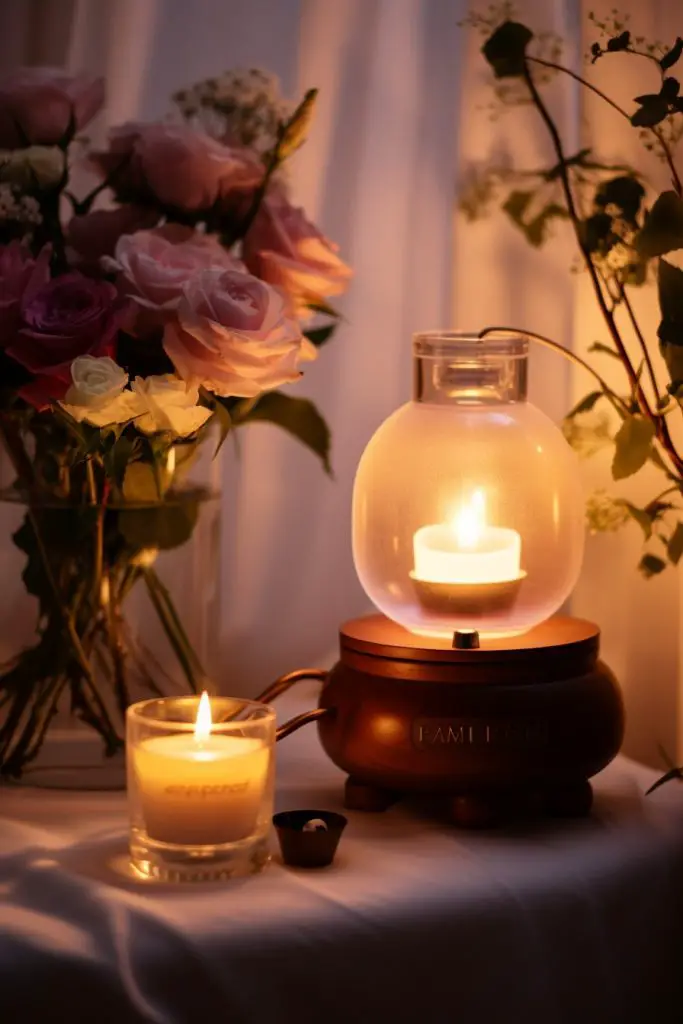 An aroma diffuser enhances the romantic ambiance by diffusing essential oils that stimulate the senses. Essential oils such as rose, jasmine, and ylang-ylang are especially beneficial as they hold aphrodisiac properties. Flowing throughout the room, these scents can stimulate relaxation, romance, and emotional well-being.
1. Choose a diffuser that matches your bathroom decor.
2. Use high-quality essential oils for best aroma.
3. Rose, Jasmine, Ylang Ylang are popular scents.
4. Run diffuser during bath time for maximum effect.
5. Cleaning the diffuser regularly ensures optimal performance.
Heart-shaped Soaps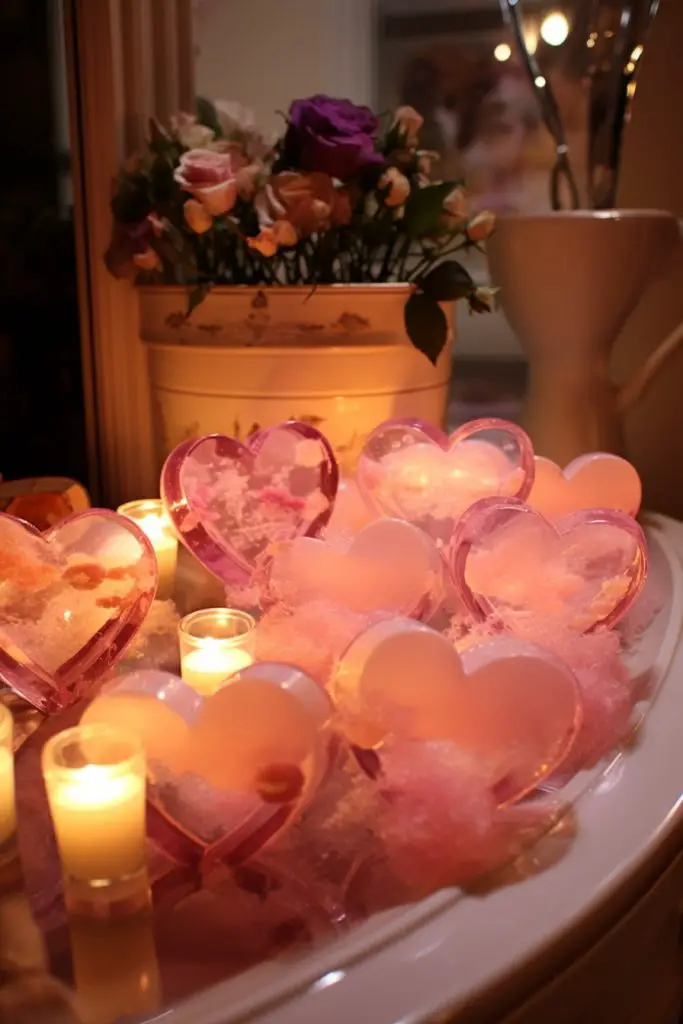 Adding elegance to your bathroom routine, these novel soap designs ooze charm and sophistication. Individually crafted, they add a touch of luxury and are bound to impress any guest:
Unique design, leaving no question about your attention to detail.
Aromatic scents, adding an extra layer of sensory delight.
Could be homemade or crafted by artisans, depending on your preference.
Adds a whimsical touch to the most mundane activities.
Doubling as decor, they refresh the space with a pop of color.
Available in various colors and scents, offering choices to match your aesthetic.
Special editions for holidays or romantic occasions.
Perfect conversation starters when hosting guests.
With these jewels, every hand wash or bath experience becomes a romantic treat, feeling like an escape from reality right at home.
Crystal Chandelier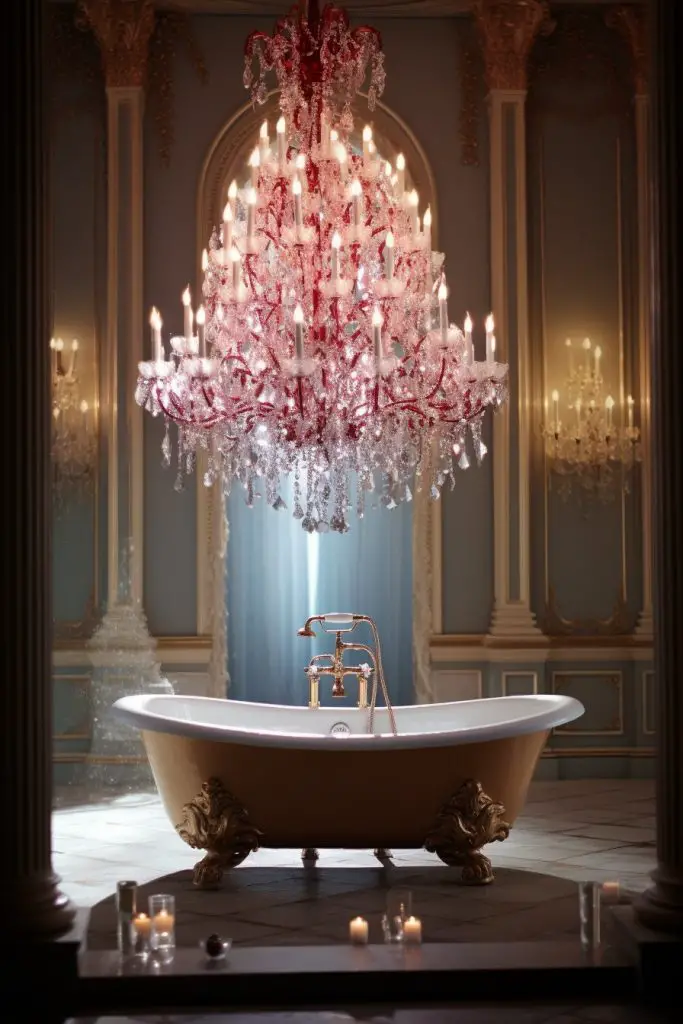 Nothing emanates elegance more than a glistening chandelier twinkling gently overhead as you enjoy your bath.
Here's what you need to remember:
Proper installation: A professional electrician should be hired for safety and precision. Always consider the height at which you will hang the chandelier to ensure it does not disrupt the functionality of your bathroom.
Make a statement: Opt for a design that matches your bathroom interior, from modern minimalist to vintage ornate, but ensure it grabs attention and serves as a centerpiece.
Brightness and Color: Ensure you choose a crystal chandelier that emits just enough light – not too harsh, but enough to create a romantic and relaxing ambiance.
Maintenance: Crystal chandeliers need regular cleaning to maintain their sparkle and shine. Plan your maintenance schedule in advance to keep it looking its best.
Size: Consider the size of your bathroom before purchasing. Remember, a too-large chandelier might overcrowd the space, while a too-small one might disappear into the bathroom decor. Seek a balance.
His and Hers Sinks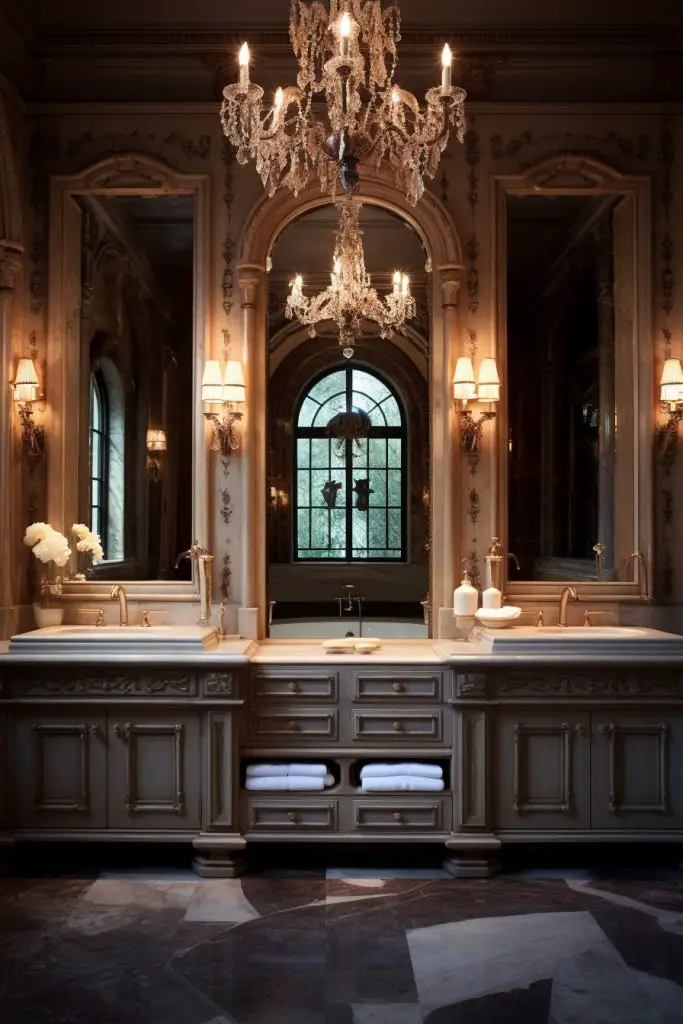 Given the dual nature of the bathroom vanity, it provides an opportunity for both personal space and a shared moment. It eliminates the morning scramble and gives a clear definition of space.
A few crucial considerations for implementing this feature would be:
Space allocation: Ensure enough room for two separate sinks, storage, and mirrors.
Mirror selection: Choose individual mirrors or one large one divided in two.
Storage setup: Consider separate cabinets below each sink.
Sink style: Decide whether the sinks should be identical or unique.
Faucet style: Select faucets that supplement the overall aesthetics.
Each element contributes to the overall functionality and appeal of your romantic bathroom design.
Handshower With Different Spray Options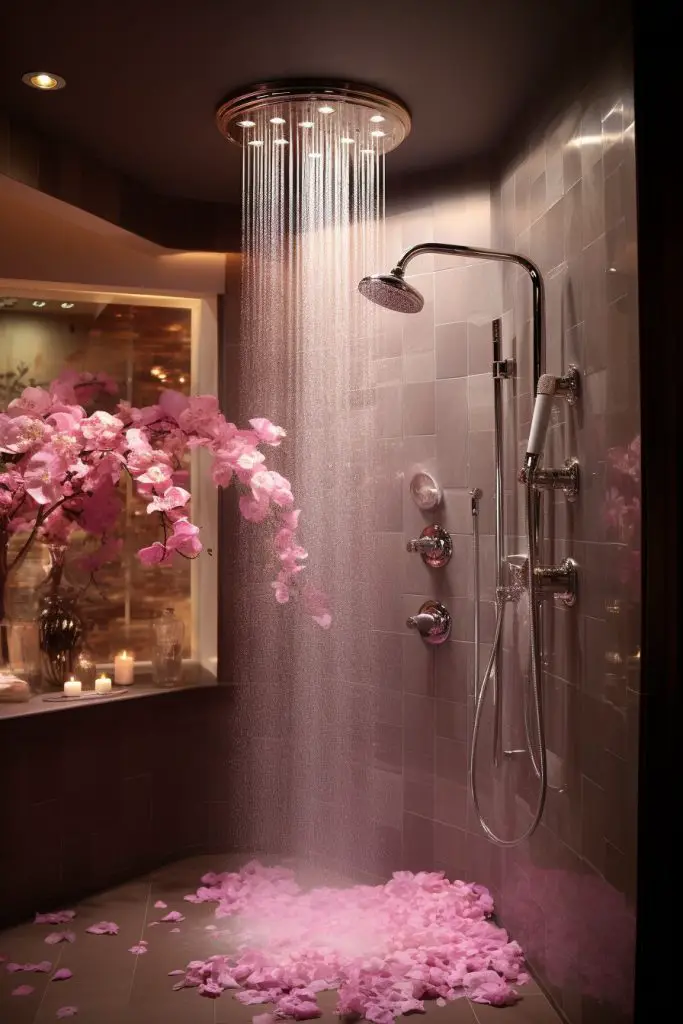 Offering a spa-like experience right at home, a multipurpose handshower is a remarkable addition. Keep these critical aspects in mind:
1. Jet Types: Pulsating massages for relaxation, gentle mist for a calming bath, or powerful jet for a quick cleanse.
2. Material: Opt for stainless steel or chrome-finished handshowers for durability and a sleek finish.
3. Water Efficiency: Choose water-saving options to contribute towards a more sustainable lifestyle.
4. Easy-to-switch Controls: Ensure the interface is simple and allows you to change spray patterns effortlessly.
As comfort and personalization are paramount, a handshower with different spray options perfectly complements a romantic bathroom, catering to diverse preferences and moods.
Wine Glass Holder for Bathtub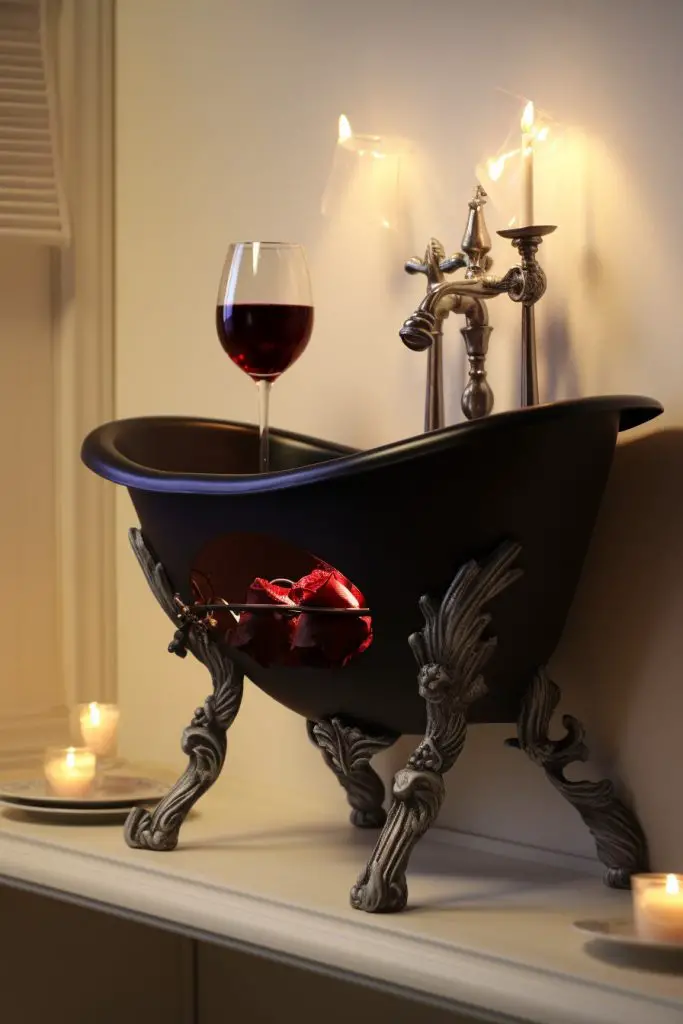 Having a designated space for a wine glass can indeed elevate the romantic atmosphere. It ensures your favorite vino is nearby as you and your partner wind down.
1. Convenient: Provides a secure spot for your wine glass, preventing spills.
2. Accommodating: Most are adjustable, allowing different types of glasses.
3. Installation: Typically requiring no tools, they simply suction onto the tub side, quick to install and easy to remove.
4. Material: Often made of silicone, offering durability and water resistance.
5. Cost-effective: An affordable accessory that adds significant comfort and romance to the bathroom.
6. Variety: Available in different designs to complement your décor.
By incorporating a wine glass holder, you're not just adding a functional component but enhancing the lavishness of the experience.
Cozy Bath Pillows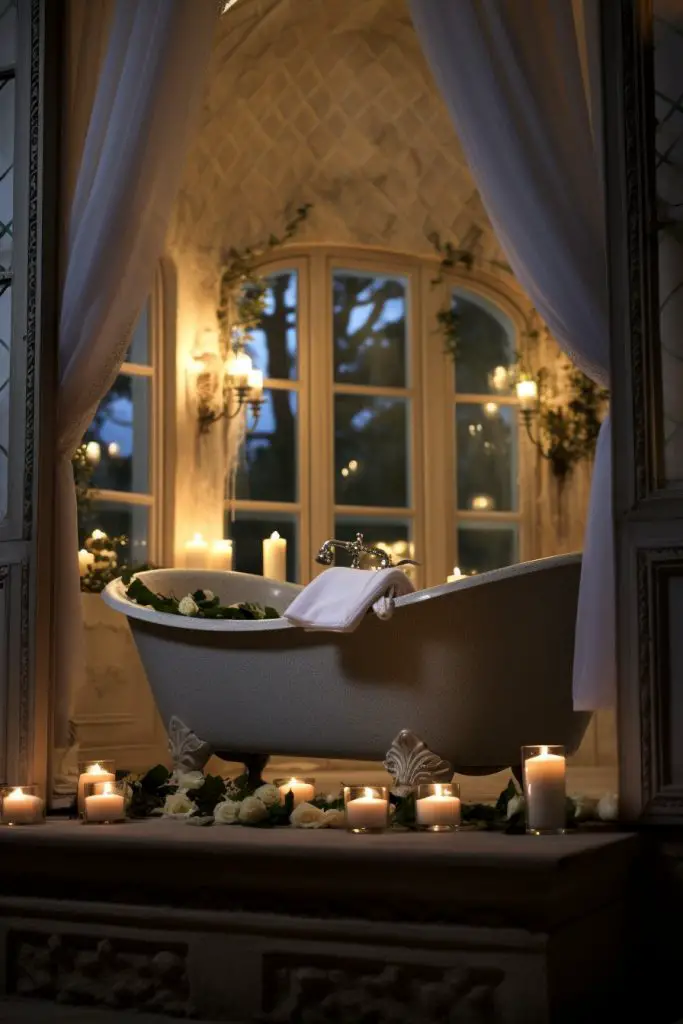 Unwind in your bath with the plush comfort they provide. Placed at the back, they support the neck and head, easing any unwanted tension. Why not indulge in memory foam options? They mold perfectly to contours, providing an extra layer of pampering. Easy to clean and mildew resistant, practicality needs not be compromised. Some designs even come with suction cups, ensuring no slippage while you bathe.
Relieves neck and head tension
Memory foam molds to body contours
Easy to clean and mildew resistant
Designs include suction cups for stability
Rain Shower Head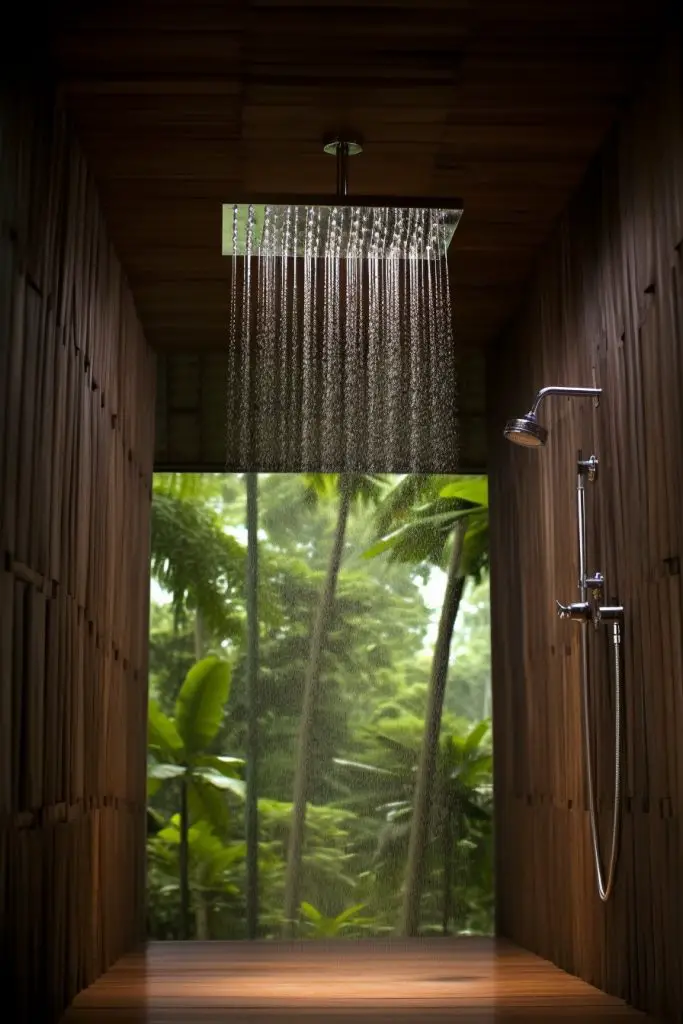 Incorporating this premium fixture into your bathroom offers a unique sensation similar to standing in a soft summer rain. The full and steady stream provides an all-encompassing rinse, perfect for a romantic setup.
A few points worth noting include:
Water coverage: More efficient rinse compared to traditional showers due to larger shower head diameter.
Pressure: Even though it covers large areas, the water intensity remains adequately soothing.
Variety: Comes in both wall-mounted and ceiling-mounted variants to suit your taste and comfort.
Therapeutic benefits: Eases tension and stress, enhancing your bathing experience.
Clawfoot Bathtub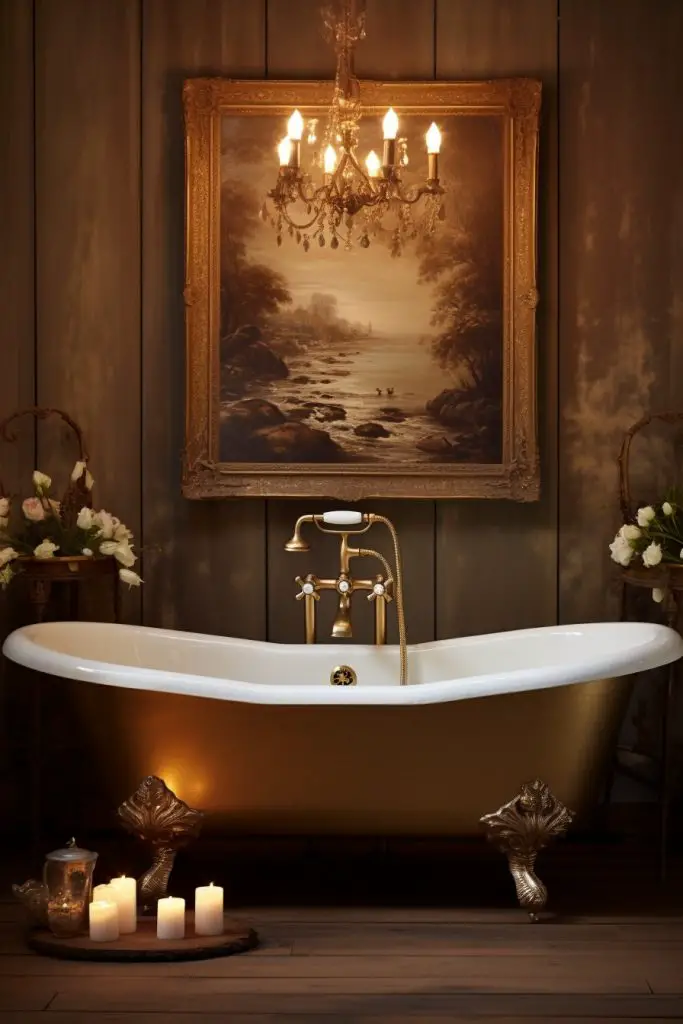 Retro yet chic, a Clawfoot bathtub exudes an elegance that instantly ramps up the romance factor. It beckons for you to slow up, unwind and bask in a luxurious soak. Transform it into a love nest by arranging scented candles around, a plush bath pillow and a bath caddy with a spot for two glasses of wine.
Key points:
Vintage appeal
Luxurious soak experience
Perfect for candle arrangement
Space for bath accessories like bath caddy, pillow
Double as a centerpiece for bathroom decor
Continue reading: