Last updated on November 17, 2023
For bathrooms with windows the curtains don't just add privacy or block lights, it's a statement of style for the interior. So I've compiled a list of the best bathroom curtain ideas you can think of. Read on!
Depending on the color, style, and material, bathroom curtains can increase your privacy for more relaxing bath time. At the same time, you can use it to make your bathroom look brighter or darker, classier, and more elegant. If you have windows in your bathroom, you better make the most of it.
The choice of curtains and their styling enhances the interior design itself making it more elegant, classic, rustic, or vintage. It adds overall satisfaction to anyone who uses the bathroom.
So without further ado here are the most creative bathroom curtain ideas. Check these out!
Bathroom Window Curtains
When installing bathroom window curtains, the first thing to think about is the balance of lighting and privacy. Conventional curtains are good but there are other options to liven up your private time. Light, washable curtains are recommended because they're easy to care for.
Small Curtains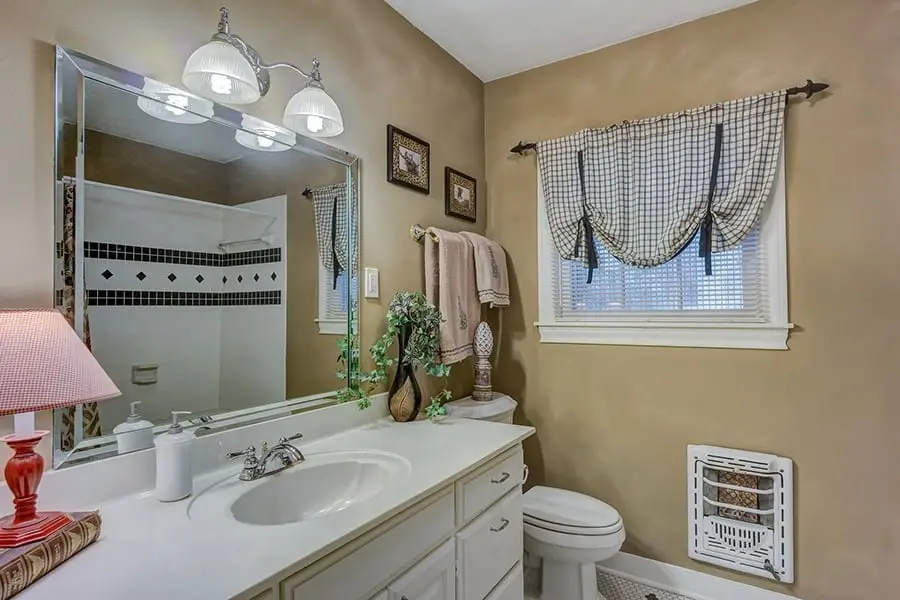 Small bathroom windows aren't that stylish anymore and it is difficult to leverage natural light. But with the right curtain, it can be disguised to look bigger and make your bathroom more bright and beautiful.
Things to remember:
Avoid dark curtains.
Create a floor-to-ceiling effect using long drapes.
Use mirrors to your advantage.
Bathroom Window Treatment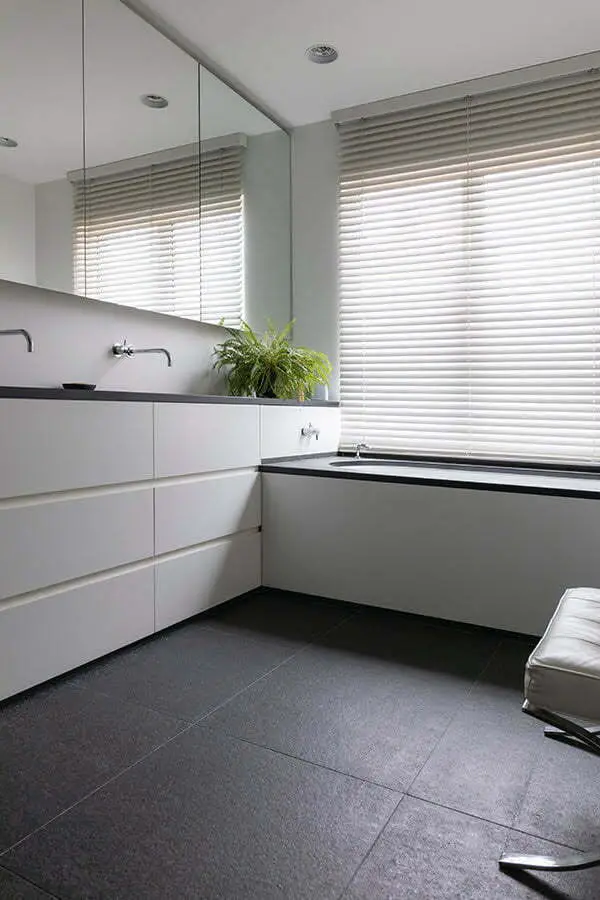 The perfect window treatment for your bathroom is something that can both give functionality for your space and make it more beautiful. There are many types of shades, coverings, or curtains that can do this to your bathroom.
Some examples are:
Frosting window
Shutter style
Classic shade
Curtains Over Blinds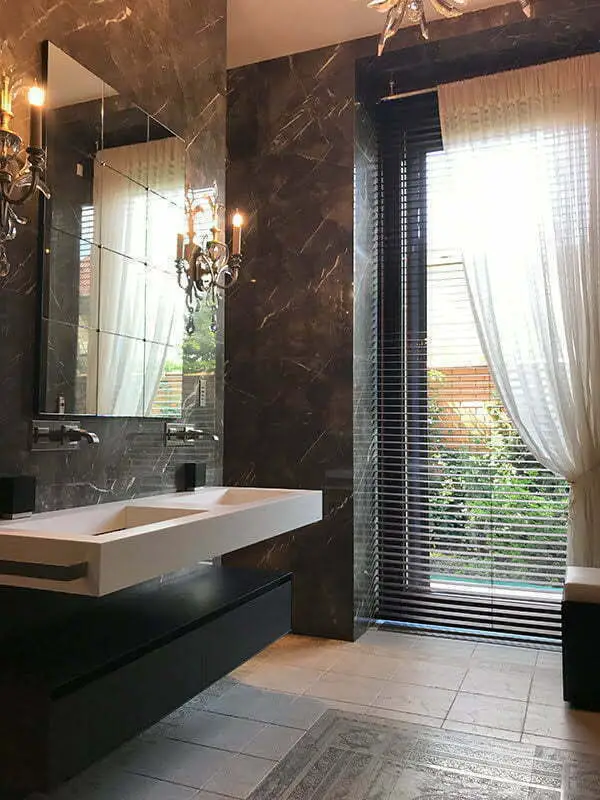 Blinds alone can look dull and boring but by putting curtains over it in the bathroom, it adds extra privacy, elegance, and light control. It's actually easier than you might think and it can help you get the style and functionality you want.
Sheer Curtains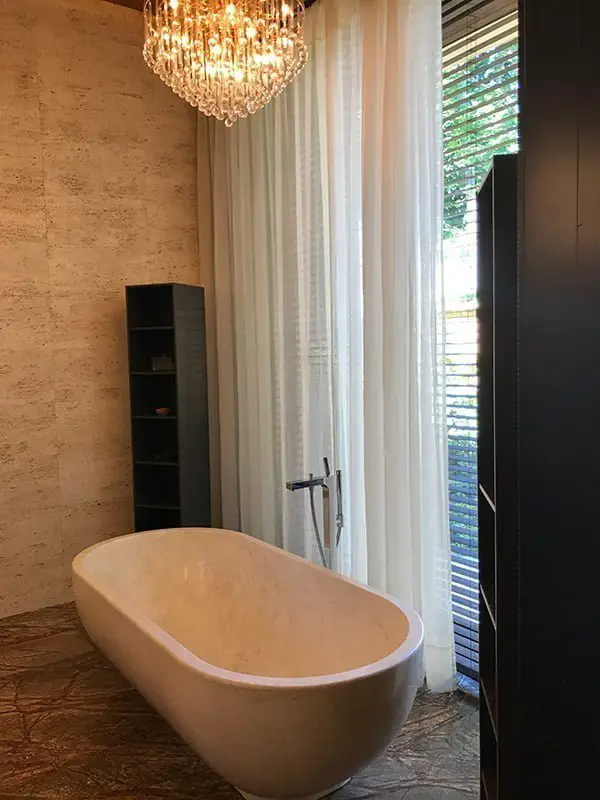 Sheer curtains are usually thin and let the most light go through but it also offers less privacy compared to others. That's why it's advisable to choose a darker color for more privacy but still retains the formal, classic look.
Bathroom Blinds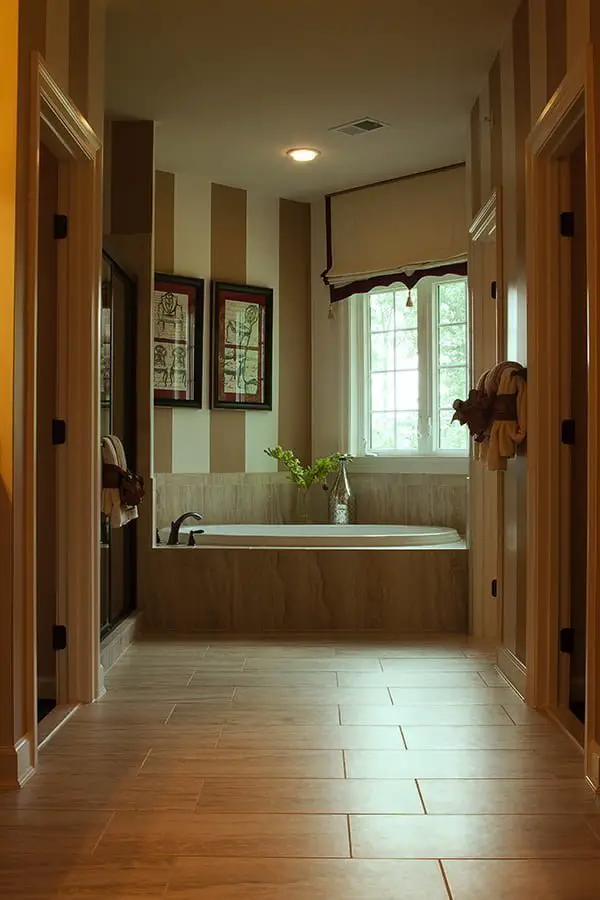 When installing bathroom blinds, the first thing to consider is the humid and mist on a regular basis. Vinyl or waterproof roller blinds are the perfect choices for this for a nice, clean look or vertical waterproof for more light control.
Here are other blind options to choose from:
Aluminum blinds
Faux wood
Fabrics (for none humid)
If you have longer windows, allusion blinds can be a perfect way to have complete privacy in your bathroom, as well as with a soft amount of shade.
Shower Window Curtain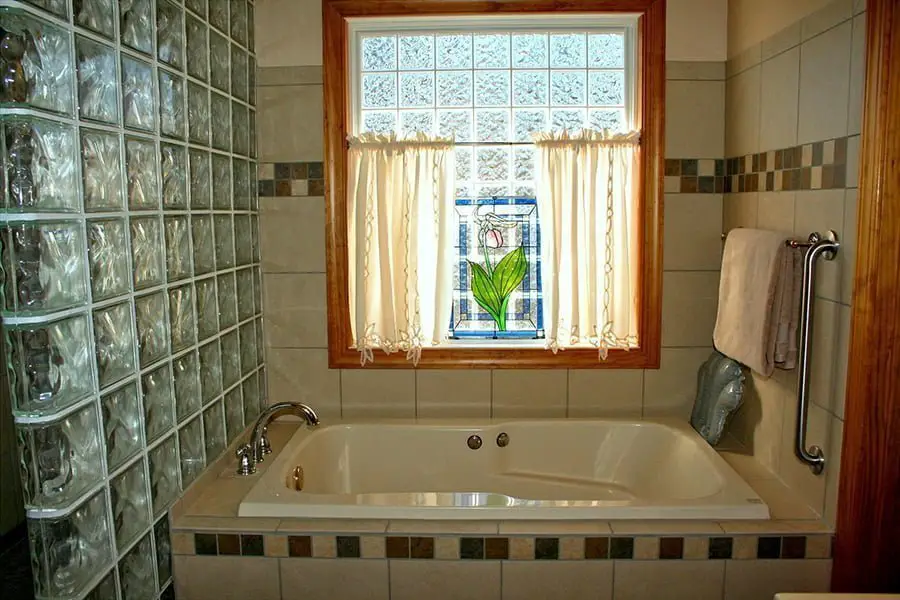 Ordinary curtains aren't suited for a shower window as this part of the bathroom cause humidity and moisture can go deep into the fibers. That's why a waterproof shower window curtain that can dry easily is the go-to like vinyl.
Shower Curtain with Matching Window Curtain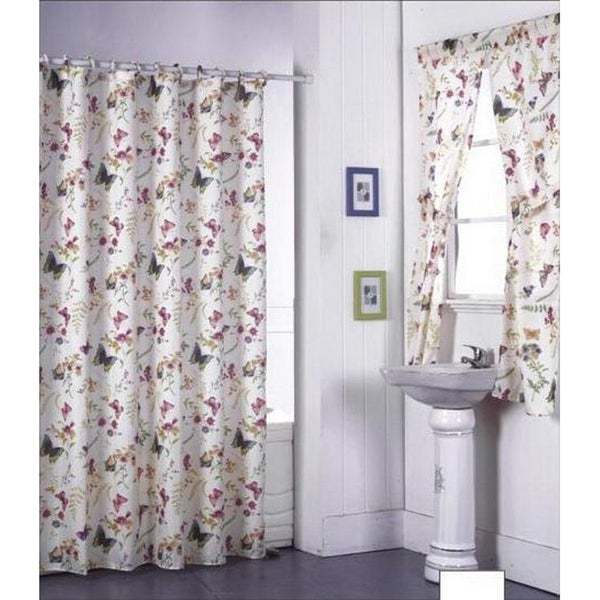 Matching your shower curtain and bathroom window curtain is a unique approach and will take your bathroom interior to the next level. It shows artistry and comes with different shapes, sizes and colors to choose from.
Bathroom Window Privacy
Every bathroom needs privacy, that's a given and knowing different ways to increase your privacy would be a big help. They come in different features and prices but some of these tools will help you increase your bathroom privacy.
Frosted spray paint
Frosted contact paper
Vinyl cling film
Waterproof Window Curtain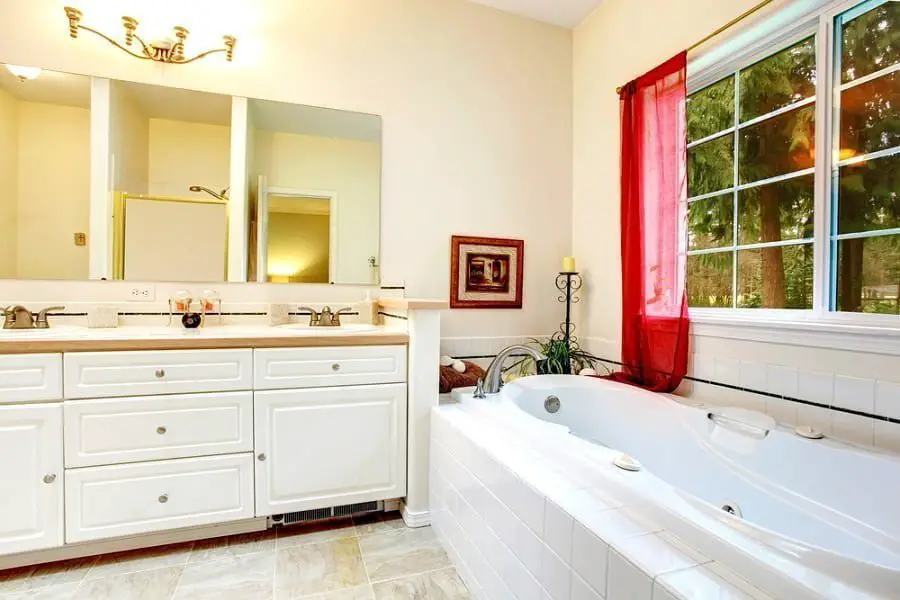 Vinyl window curtain is a convenient option if you want a waterproof window curtain in your bathroom because they easily dry after getting wet without rot or mold. It's affordable and easy to install as well and cleaning it is a breeze.
Cafe Curtains
Cafe curtains may be a jargon to some but it's what you call it when you hang a curtain partway on the window to create a natural dividing line. Its main use is adding control to the light and privacy without blocking all the light. In bathrooms it's all the more important.
Elegant Window Treatments
An elegant window can completely change the look and feel of your bathroom that's why using the right window treatments can enhance it even more and make your bathroom look more special. Some of the best options out there are:
Honeycomb Shades
Vinyl Shutters
Soft Roman Shades
Window Valances
Window valance is used to add texture, colors, and patterns on top of your window as well as a cover window shade or curtain rods. High-quality valances can go out of style immediately so the secret to make it stay beautiful in the long run is to choose a valance that only has 1 to 2 features.
Bath Window Curtains
Using the bathtub should be relaxing as it can be and adding a curtain that adds to the ambiance and elegance is a must for a more, better relaxing experience. White-colored cafe curtains that are waterproof are a great choice here as it lets you control the light and privacy yet adds beauty to the room.
Modern Bathroom Curtains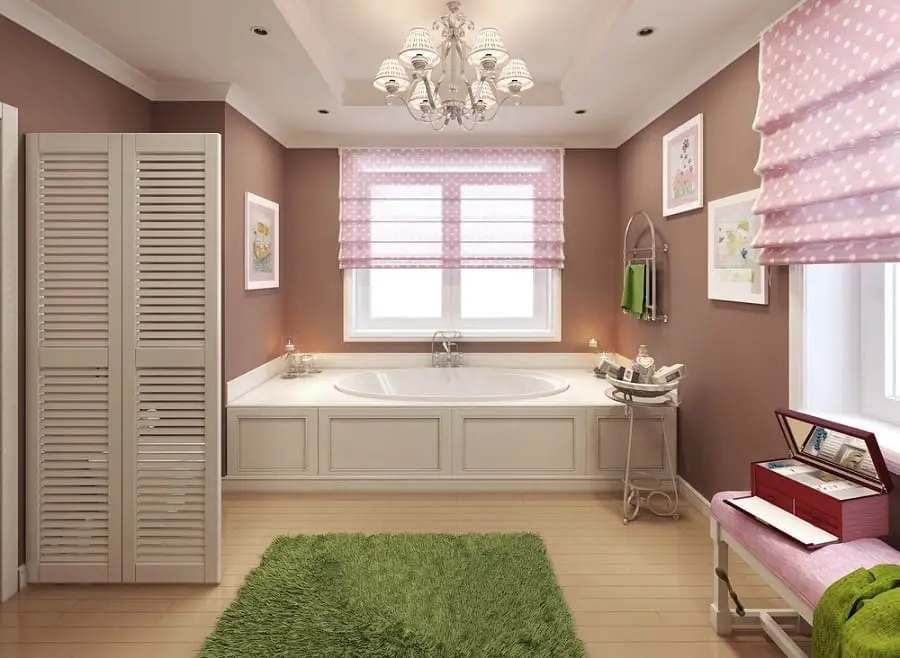 Modern curtains tend to be heavy on black and white as both colors can blend with almost any type of design plus it has the minimalist and classic look and feel. White curtains have different patterns that can be searched easily, while black curtains can block outdoor light for a more relaxing ambiance.
If you are having a problem getting the best bathroom modeling, ideas, and fitting that will get along with what the curtain should be, talk to a plumber or bathroom fitters. They can give you the best options for your home.
Floral Print Curtains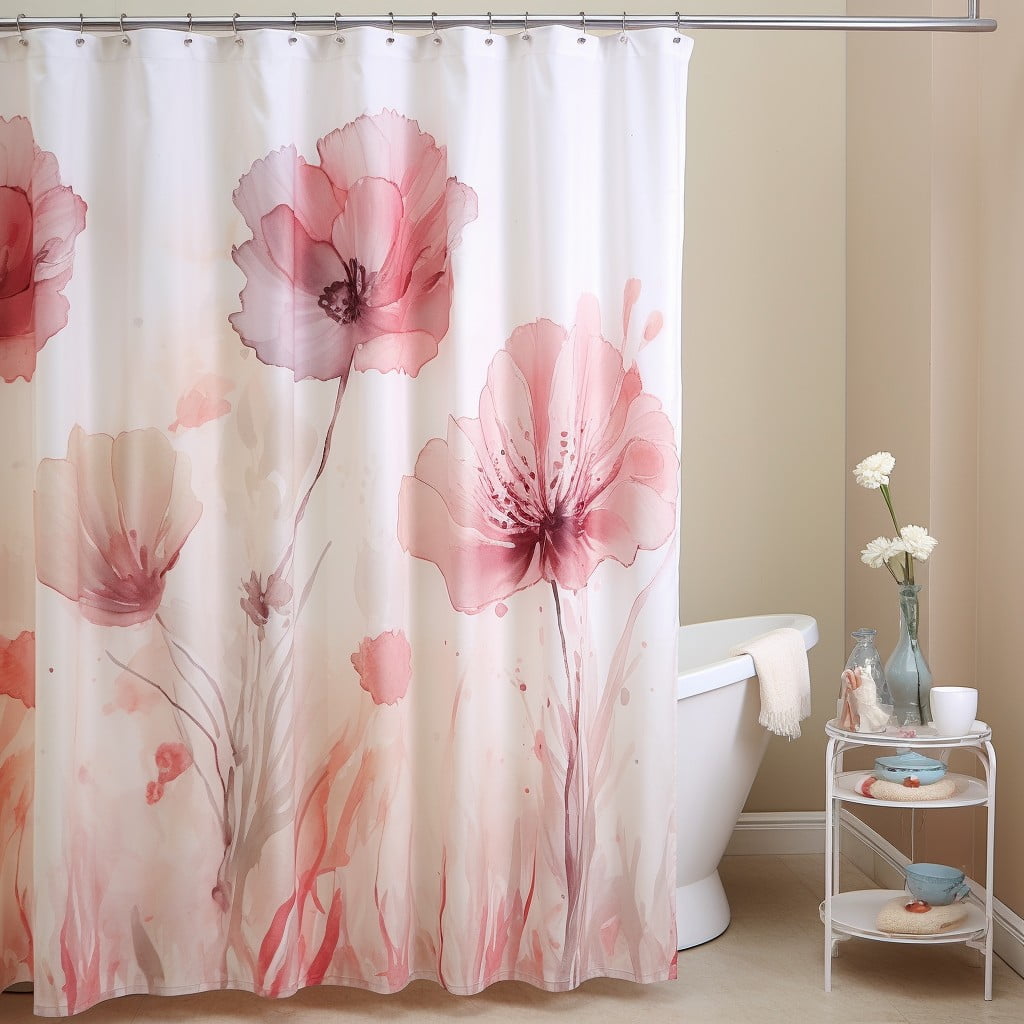 Embodying a classic elegance, floral prints can add a warm, welcoming aura to your bathroom. These curtains tactfully combine bursts of color with intricate designs, bridging the gap between beauty and functionality. Appealing equally to traditional and contemporary aesthetics, they offer a spectrum of options, from dainty, pastel patterns to bold, dramatic blossoms.
Seashell Patterned Curtains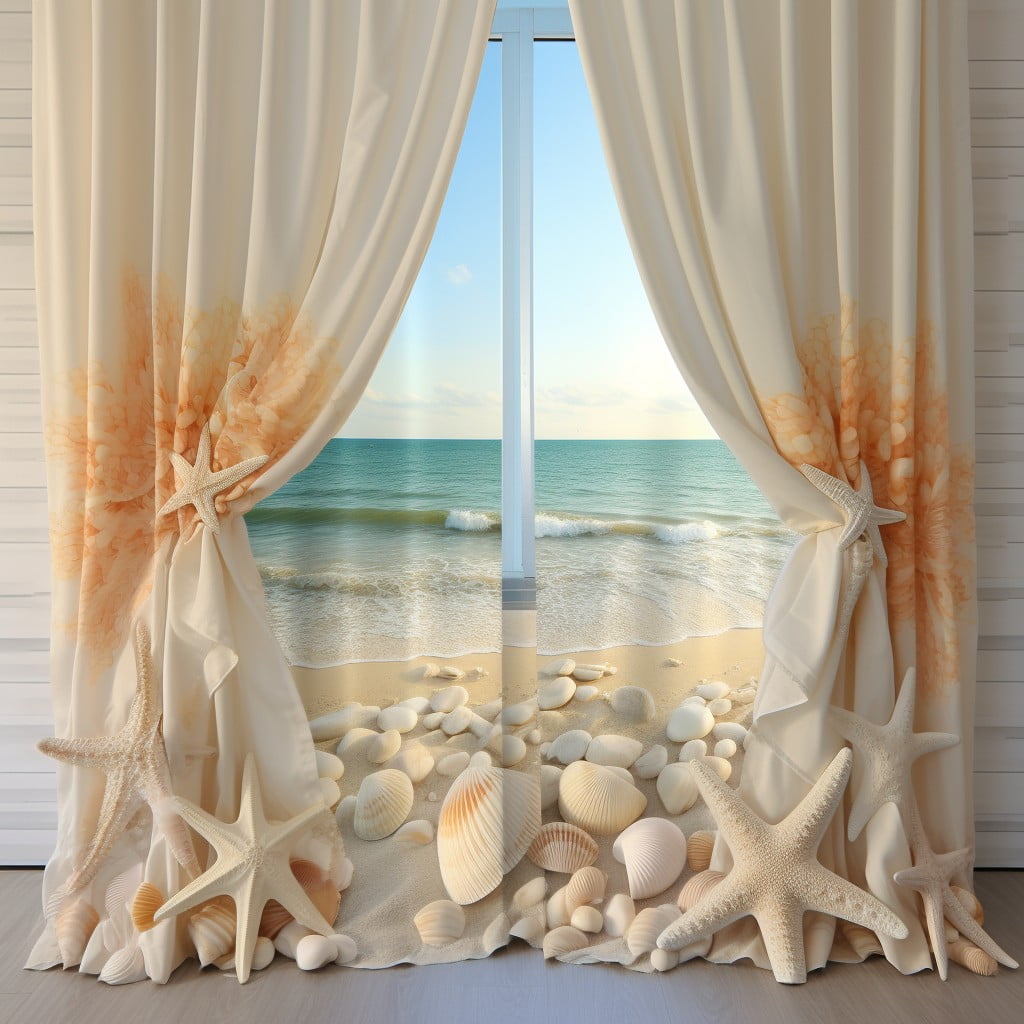 Seashell patterned curtains give your bathroom that cherished beach house vibe. They provide the space with a hint of coastal charm by embodying elements of the sea.
With careful selection, your bathroom can don a refreshing, oceanic theme that's calming and immersive, making each shower feel like a dip in the sea.
Themed Kids' Curtains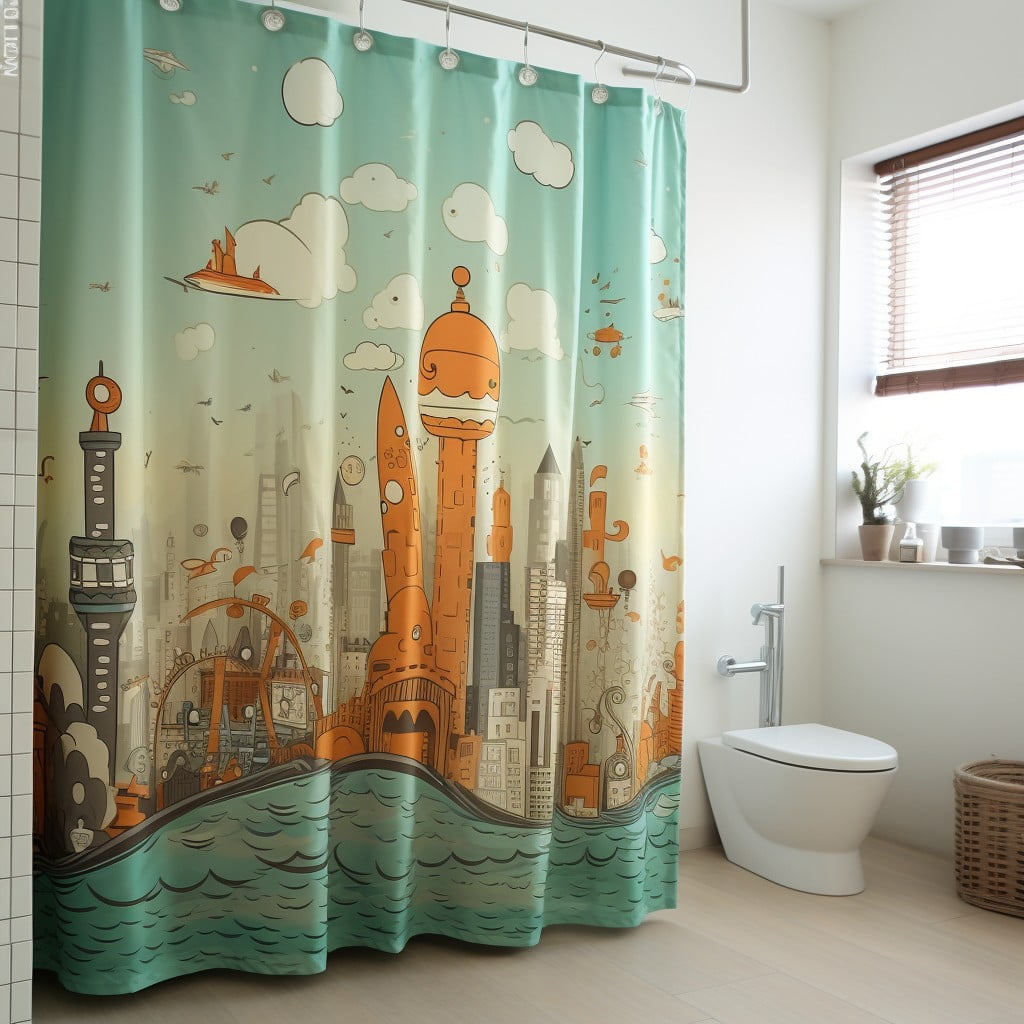 Bringing playful elements into a child's bathroom can enhance their comfort and satisfaction. When selecting these versatile designs, consider their favorite characters or hobbies.
Transparent Curtains With Colorful Borders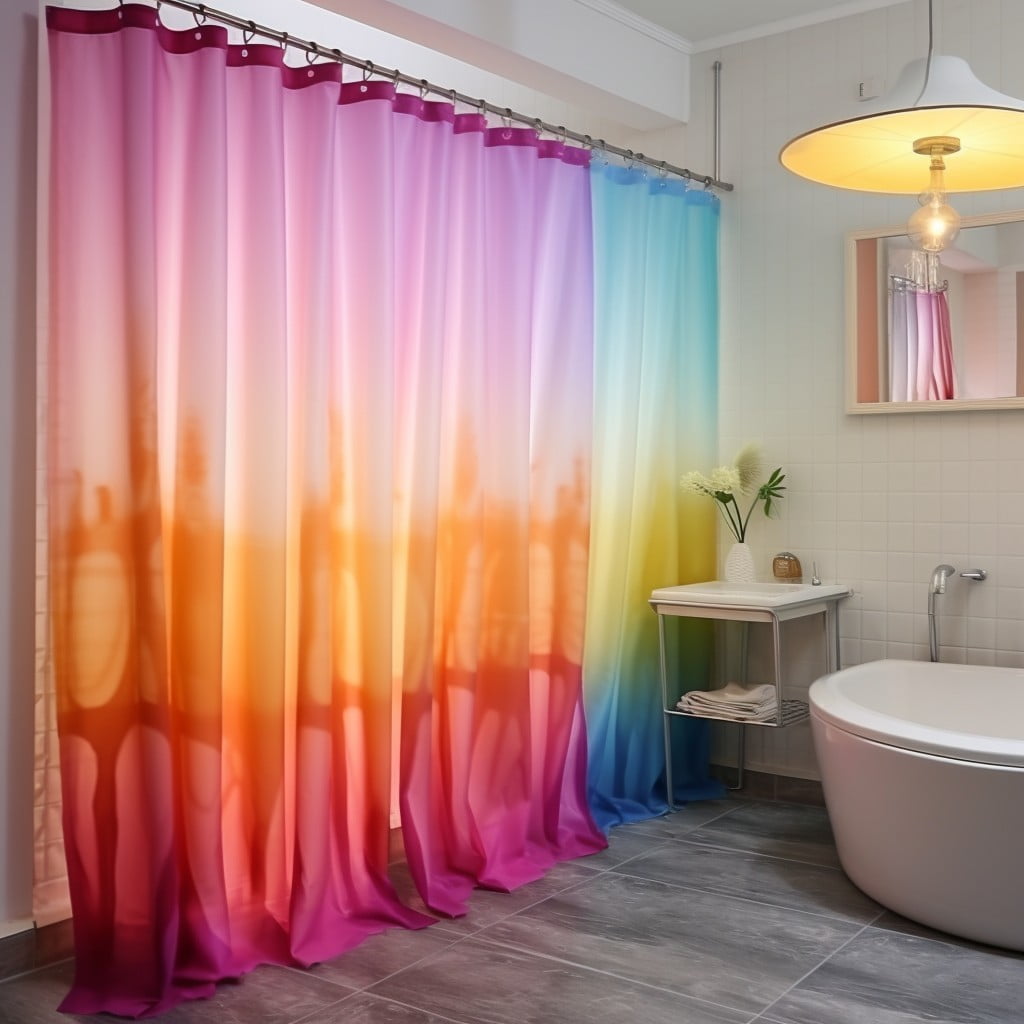 Adding a punch of color without overpowering your bathroom, these curtains provide an illusion of space. They incorporate the charm of multicolored borders to uplift the ambiance with subtleness.
Striped Curtains for a Modern Look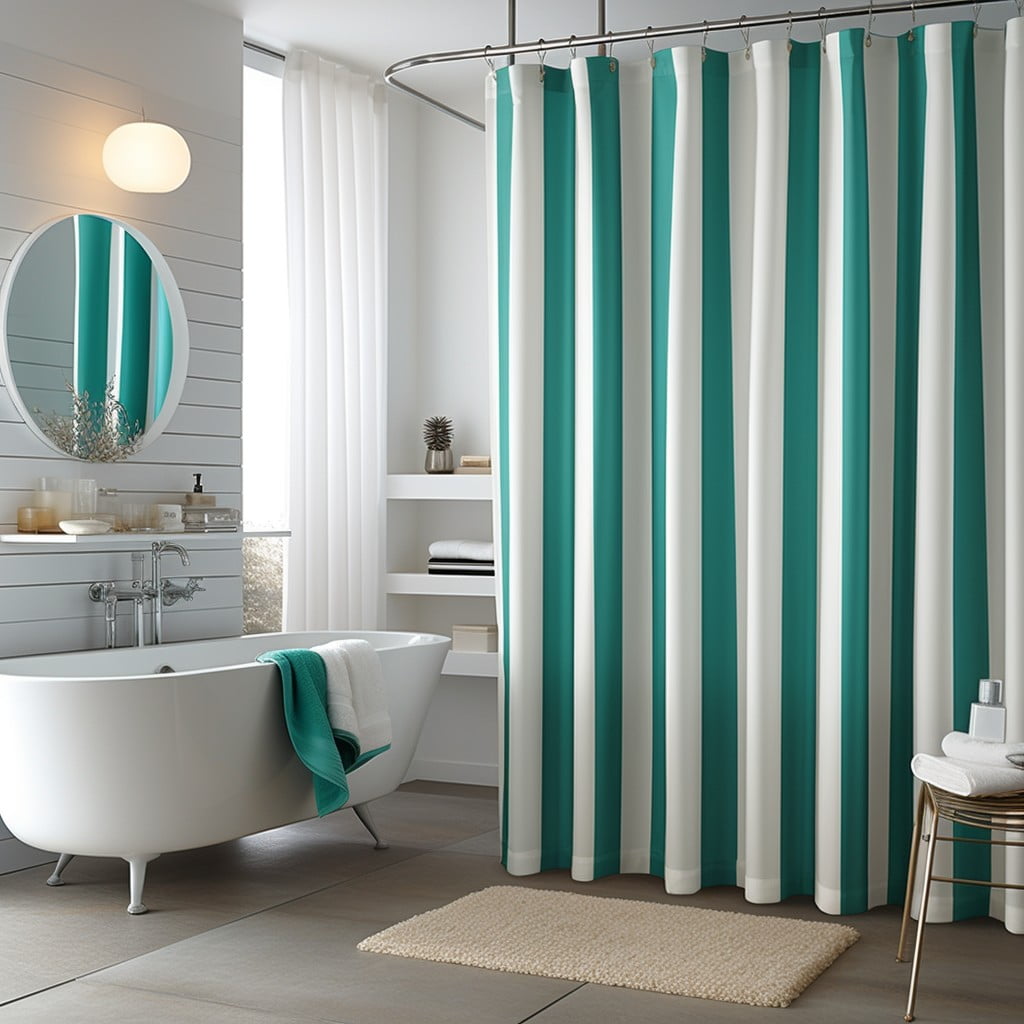 Incorporating vertical stripes can make a small space appear larger, while horizontal stripes add width. When selecting colors, consider ones that match or complement your existing decor.
Polka Dot Curtain for a Retro Feel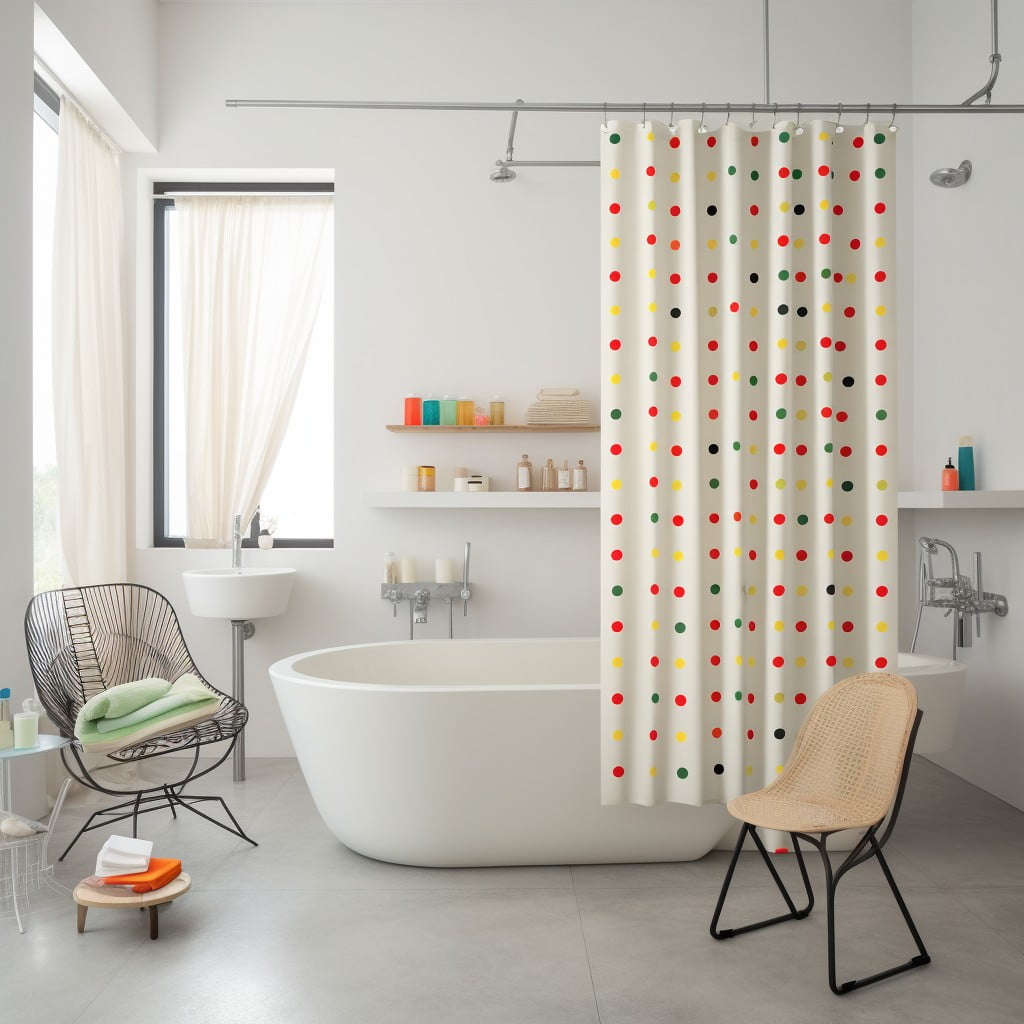 Pair your white bathroom tiles and fixtures with a vibrant polka dot curtain to emanate a retro feel. Opt for large, bold dots in contrasting colors, like red, black, or navy blue. These larger prints pop against any solid-colored background and create an inviting visual interest.
Single Color Thick Fabric for Privacy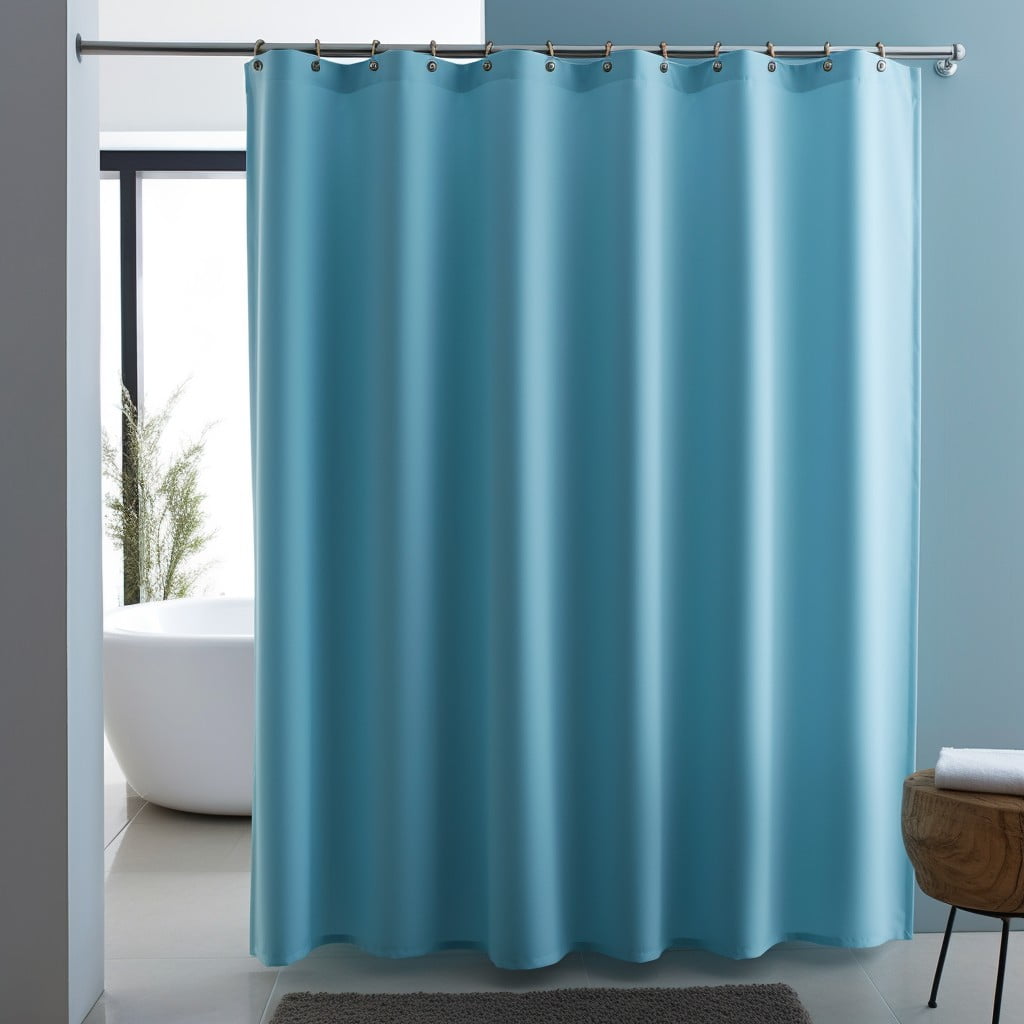 Opting for monochromatic shades allows you to play around with a minimalist aesthetic. Heavier fabrics, like velvet or suede, not only provide a plush tactile sensation but also a high degree of privacy. This style isn't limited to solid colors alone; subtle patterns or textures woven in the fabric can add a dash of interest without overpowering the space.
Acrylic Bead Curtain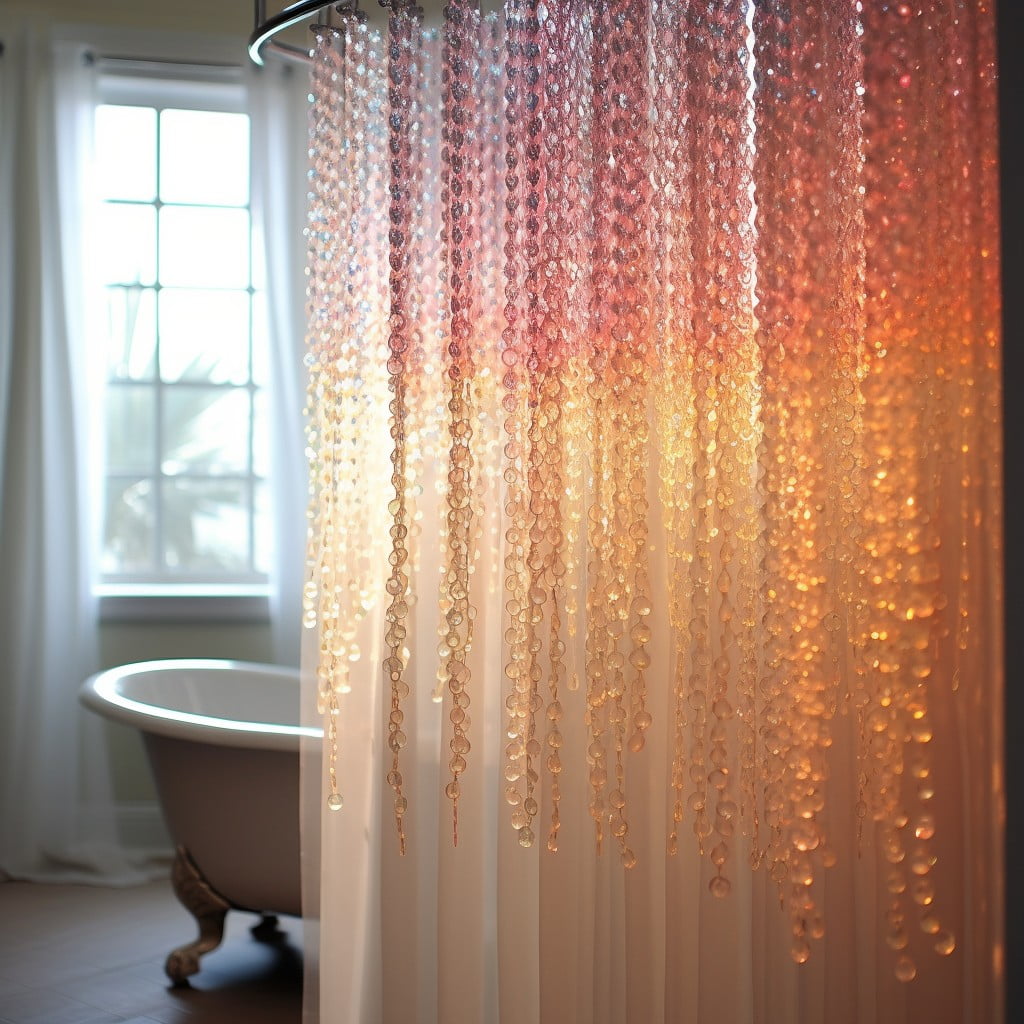 Dazzling and distinctive, these curtains present a unique touch to your bathroom decor. They strike a balance between function and flair, adding both style and privacy.
Vinyl Shower Liner Curtain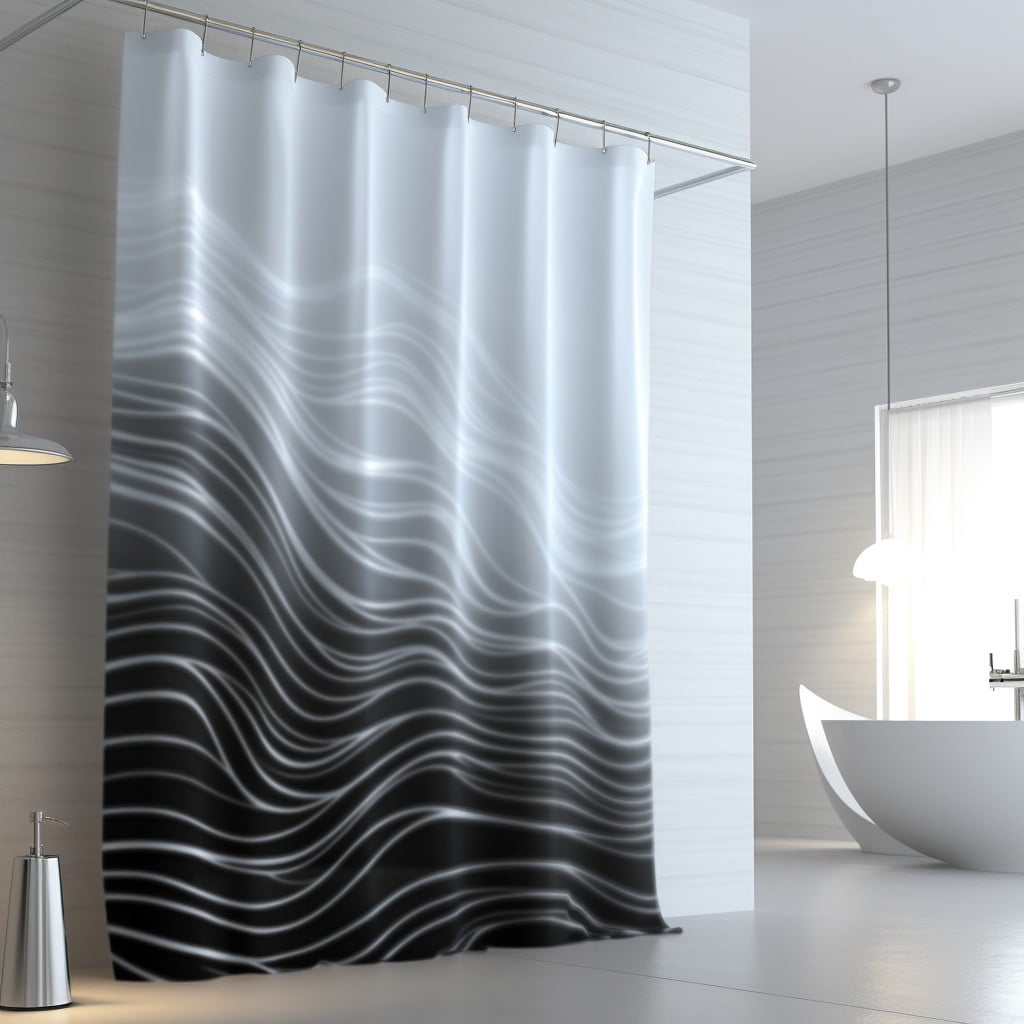 Often overlooked, Vinyl shower liner curtains are a pragmatic and stylish choice. These are a waterproof solution, ensuring no water spill-outs onto your bathroom floor. Their primary use being practical, they also serve an aesthetic purpose.
Tropical Rainforest Themed Curtain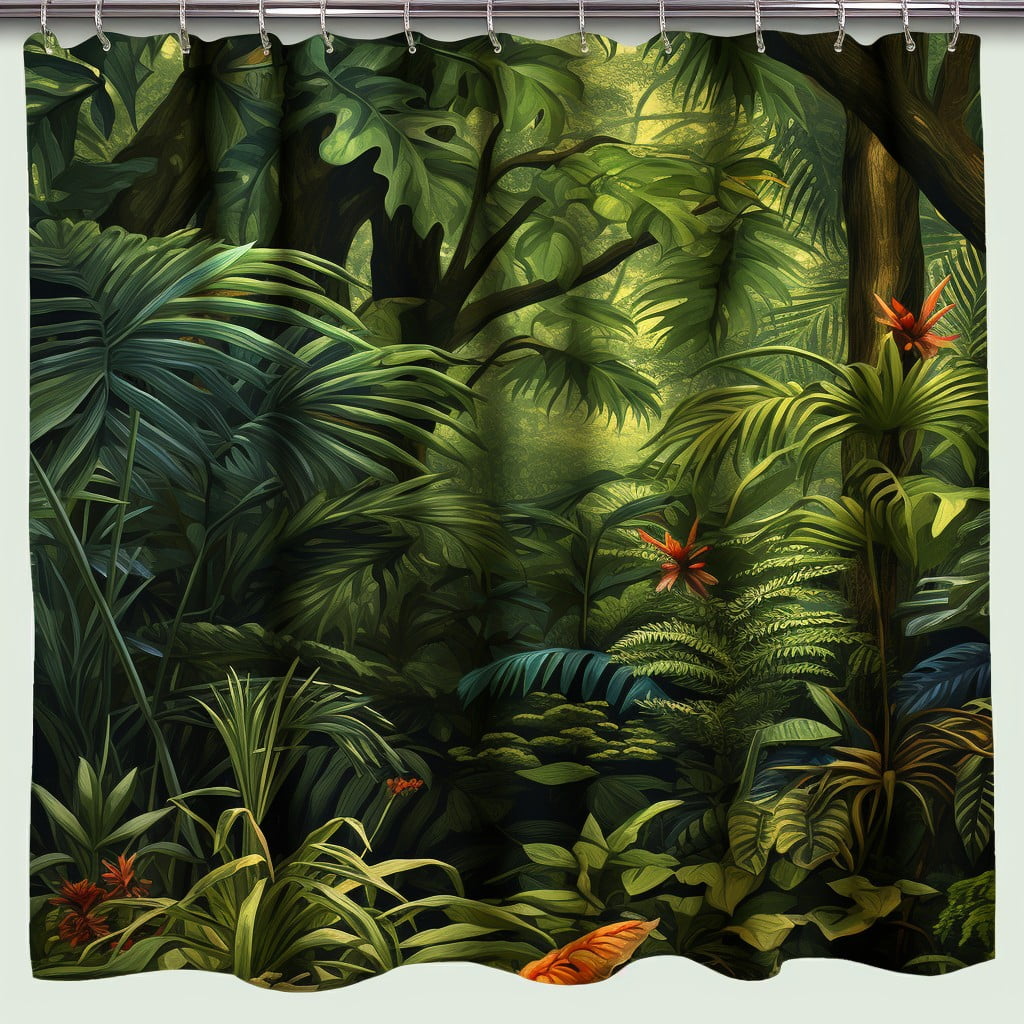 Tropical rainforest curtains can bring an essence of raw nature into your bathroom. They can vary from lush green foliage prints to a vibrant mix of fauna and flora.
Black and White Geometric Print Curtains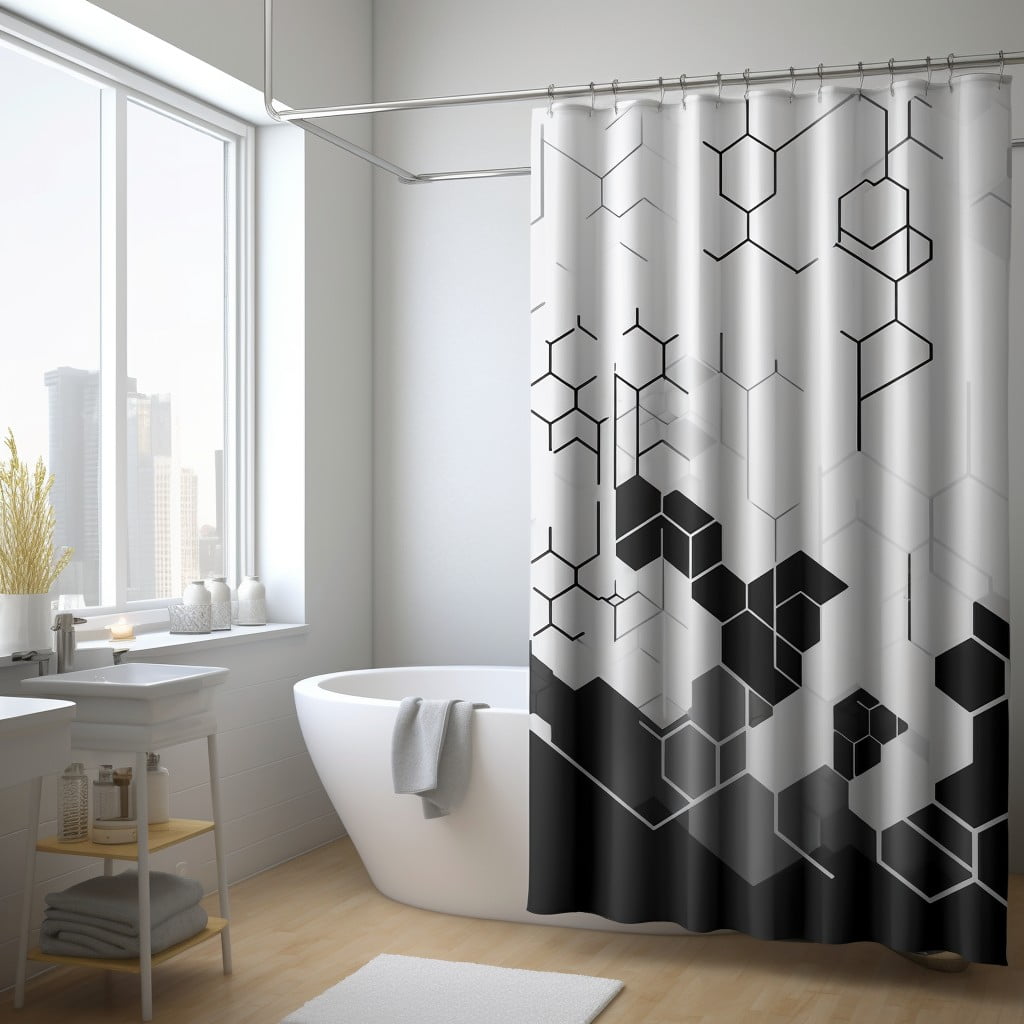 These curtains are a striking addition, making a bold aesthetic statement. They blend seamlessly with any interior style, from minimalist to contemporary.
Nautical Themed Curtains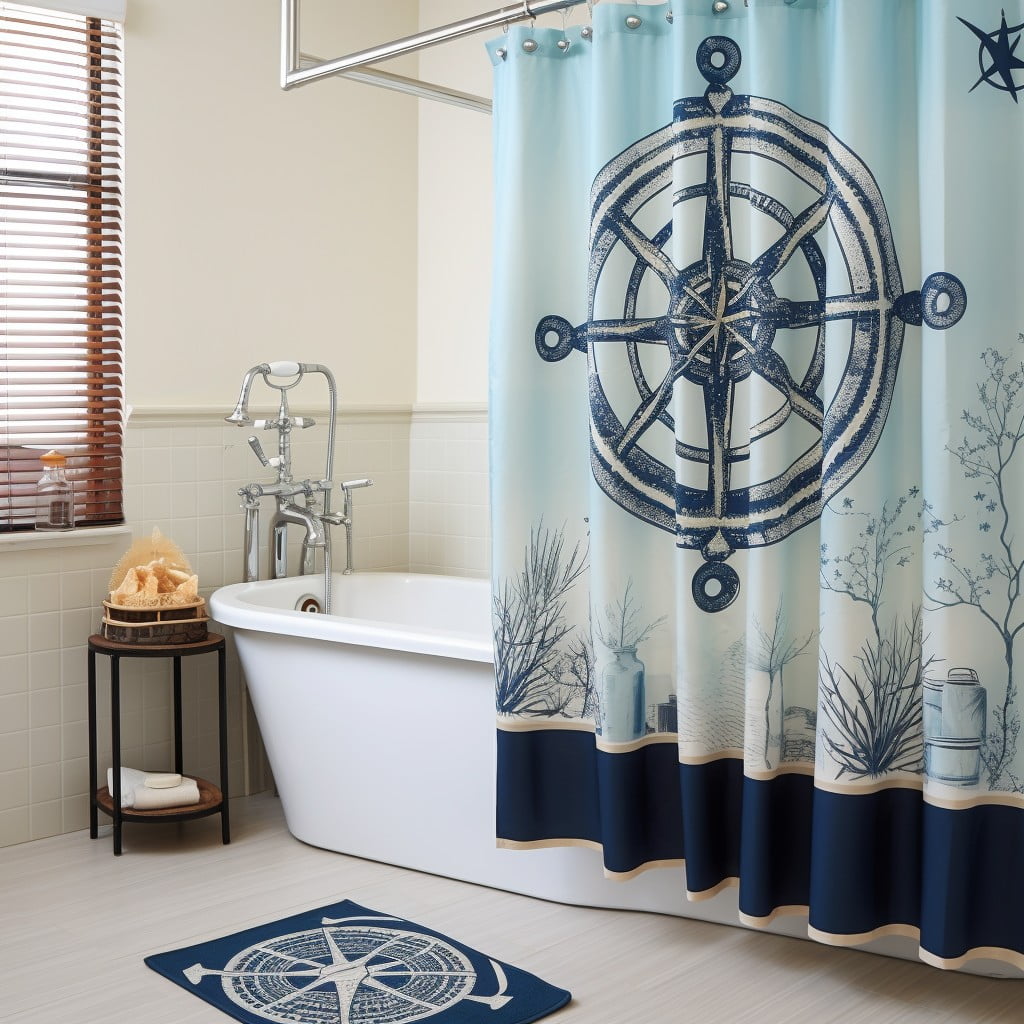 Infusing an oceanic allure into your bathroom space becomes an effortless task with a carefully chosen nautical themed curtain. A symphony of maritime elements such as anchors, ships, lighthouses, or compasses stitched on navy blue, aquatic green, or stark white fabric, can significantly elevate your bathroom's aesthetics.
Inspirational Quote Printed Curtains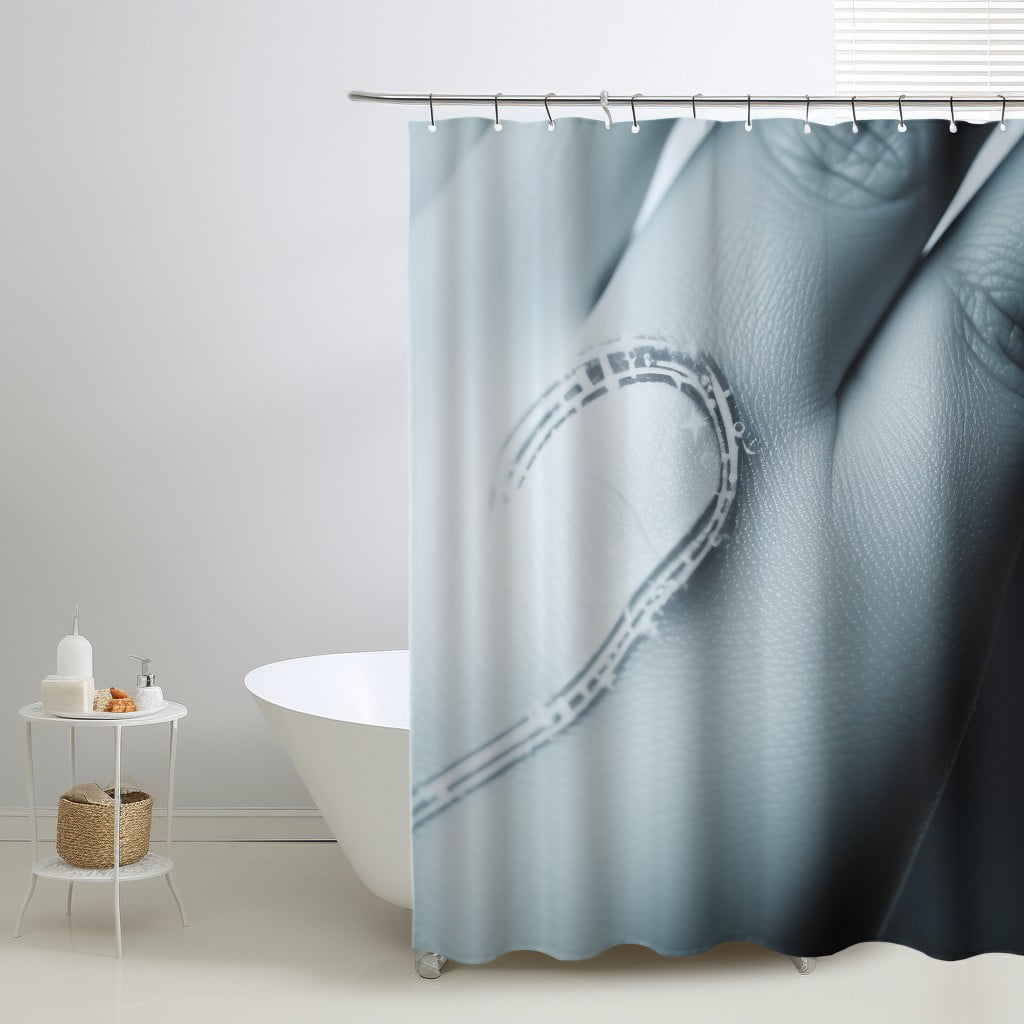 Inspirational quote printed curtains serve a purpose beyond their functional role of maintaining privacy. They infuse a sense of motivation into the morning routine, setting a positive tone for the day.
Glass Bead Curtain for Window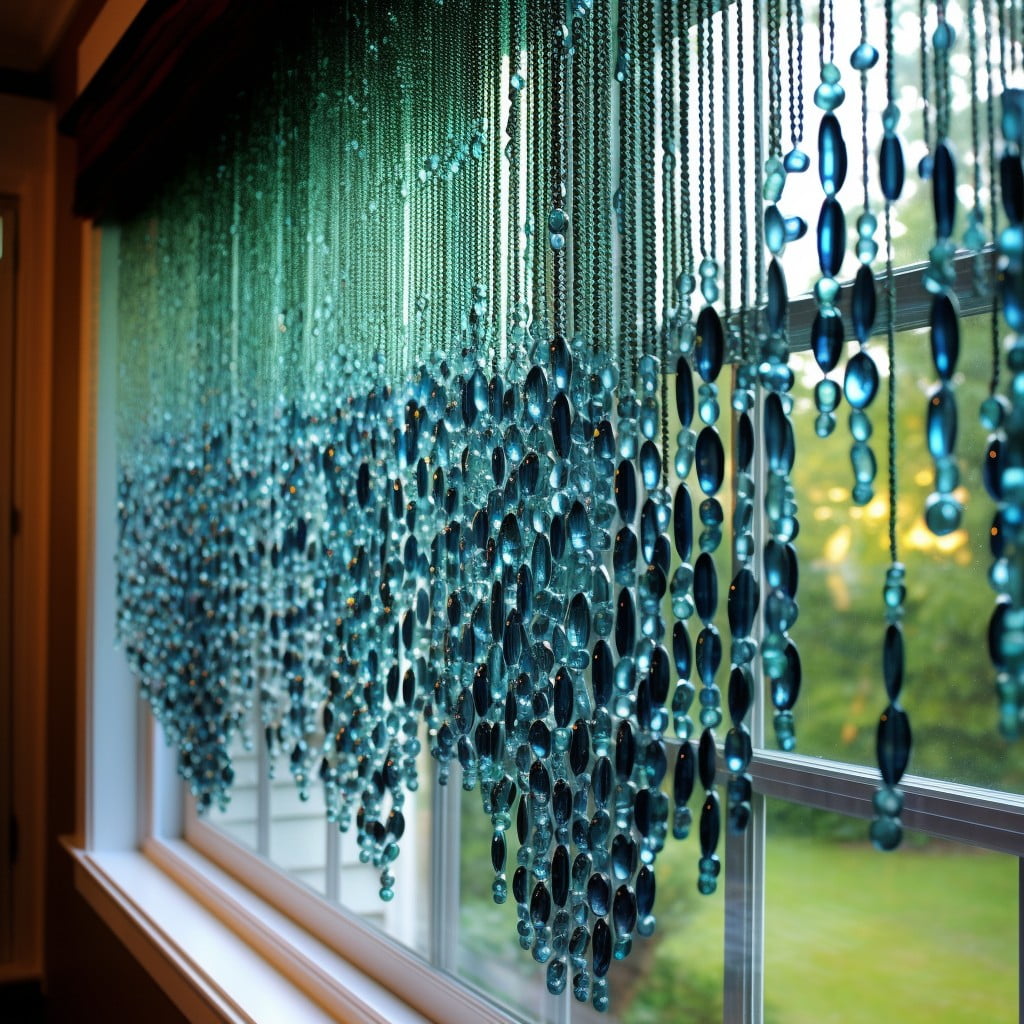 Gracefully adorning bathroom windows, glass bead curtains serve both decorative and functional roles. Designed with distinct vibrancy, they add a touch of refined elegance while ensuring ample privacy.
Linen Shower Curtain With Ruffle Trims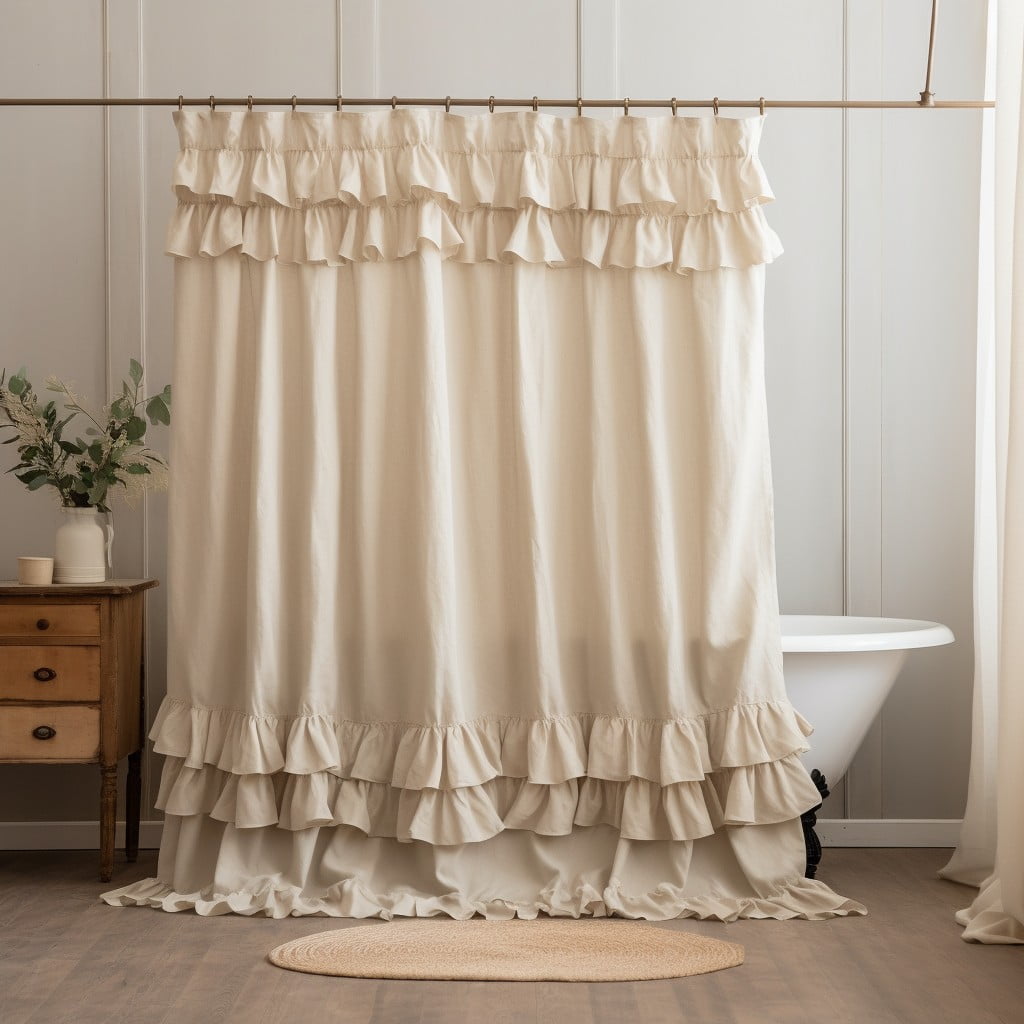 Giving your linen curtains a touch of sophistication and vintage feel, ruffle trims can be a game-changer. This dainty detail brings about a shabby-chic aesthetic, appealing to those who appreciate a romantic ambiance.
Chevron Striped Shower Curtains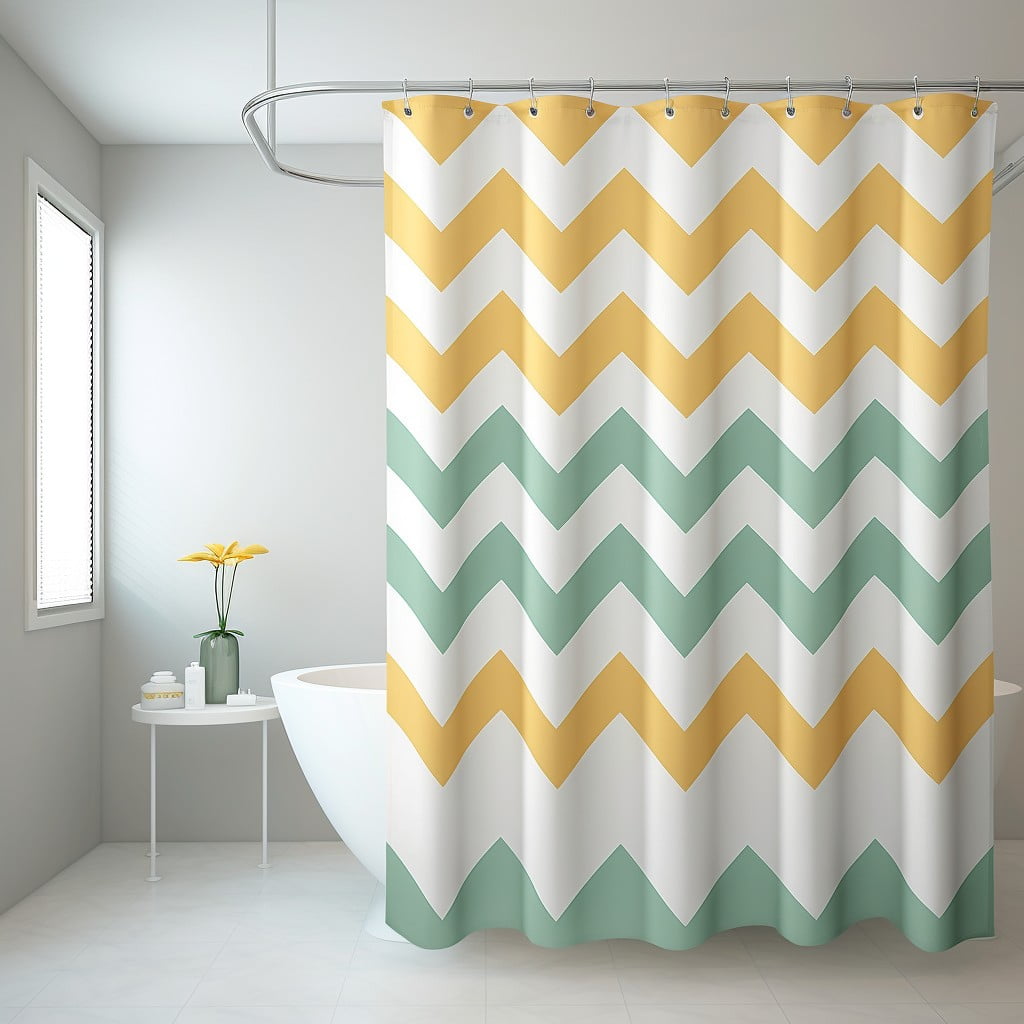 Chevron stripes can provide a contemporary edge to your bathroom. This geometrical pattern, often in contrasting colors, adds visual interest without overwhelming the space. Primarily, they function well with any decor style – be it modern, rustic, or traditional.
Transparent Curtains With Abstract Prints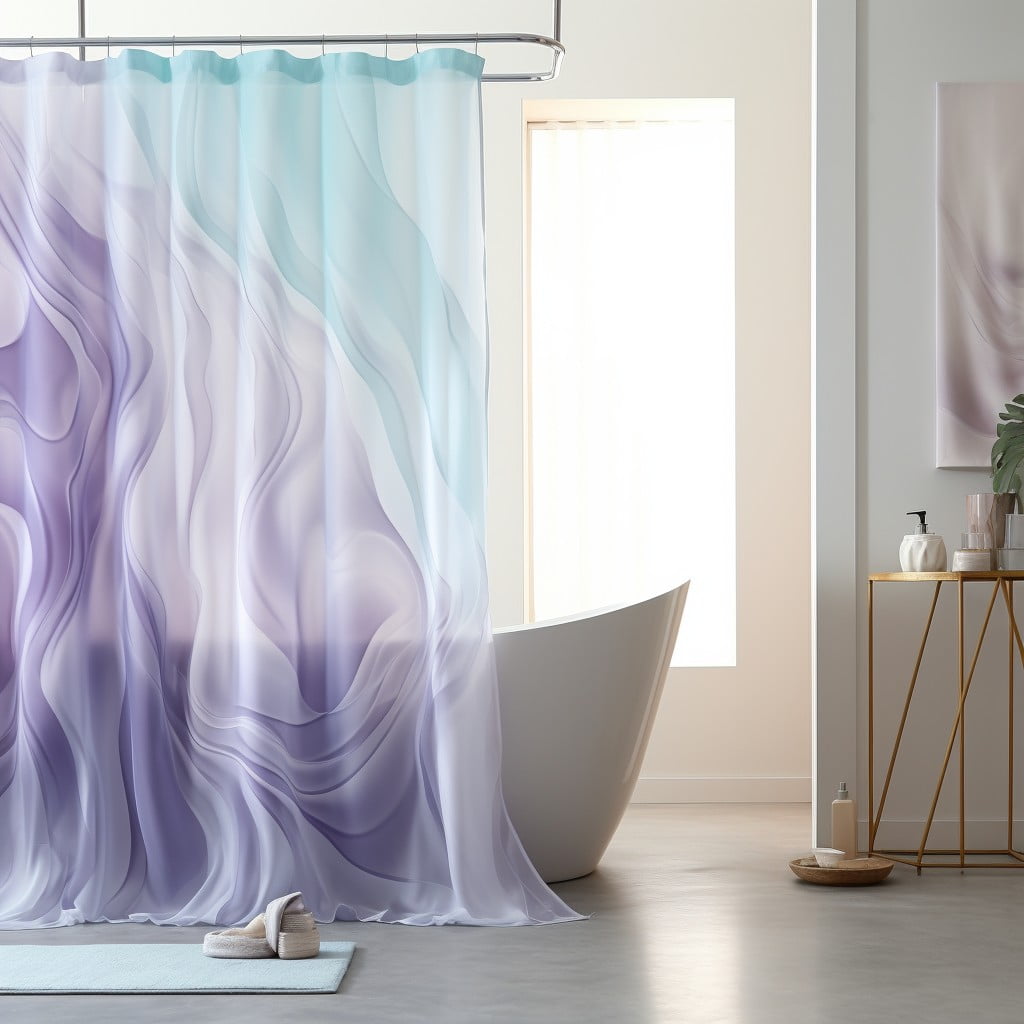 As an unparalleled blend of style and practicality, these curtains not only shield you during your private moments but add a fascinating touch to your bathroom. Their charm lies in their imaginative blend of color and shape, which meld to form ever-changing patterns.
Lace Bathroom Curtains for a Vintage Look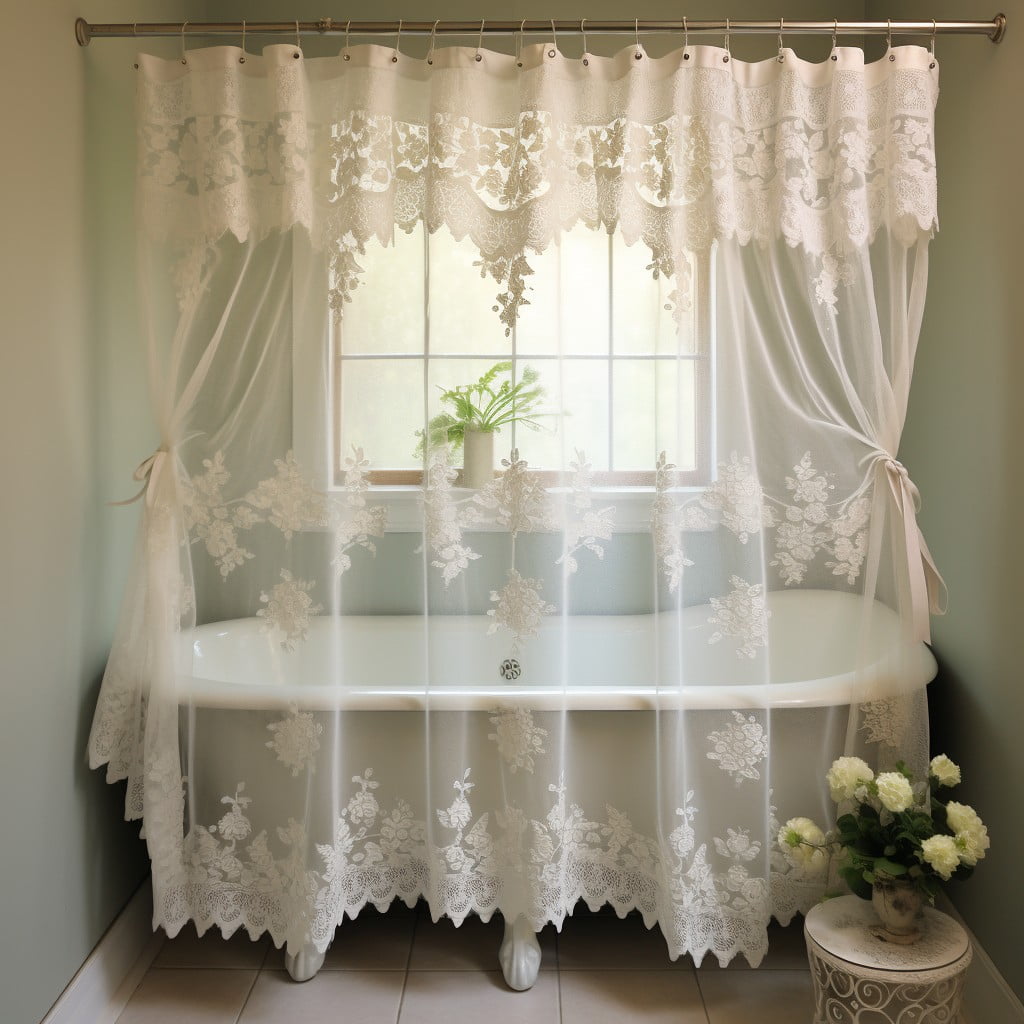 Delicate and intricate, lace imparts an ethereal charm to your bathroom. The elegance of these curtains brings a feeling of timeless sophistication, perfect for creating that vintage aura.
Metallic Fabric Curtains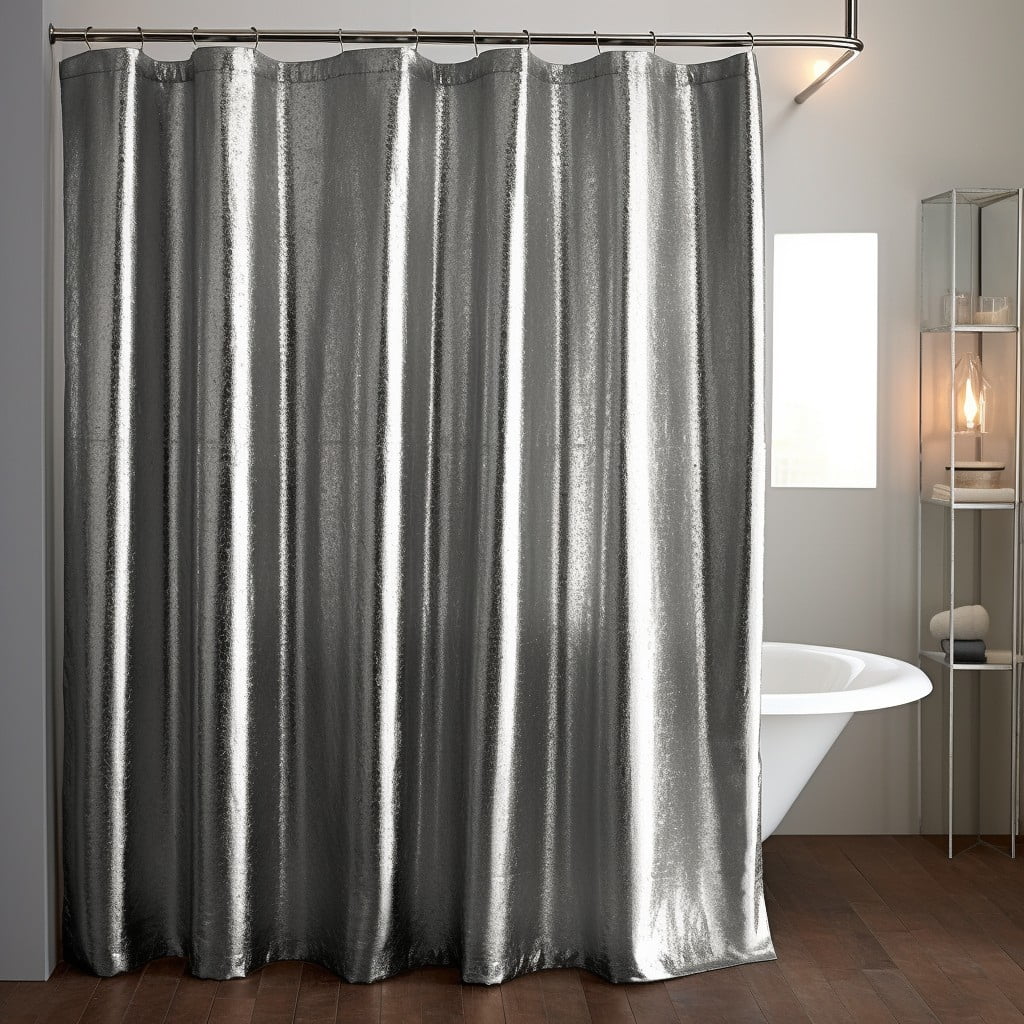 Bringing a unique and opulent flair, this alternative helps create a visually stunning and eye-catching ambiance in your bathroom. Its high sheen and lustrous texture give an ultra-luxe feel, with several desirable features.
Waterproof Curtain With Colorful Fishes for Kids' Bathroom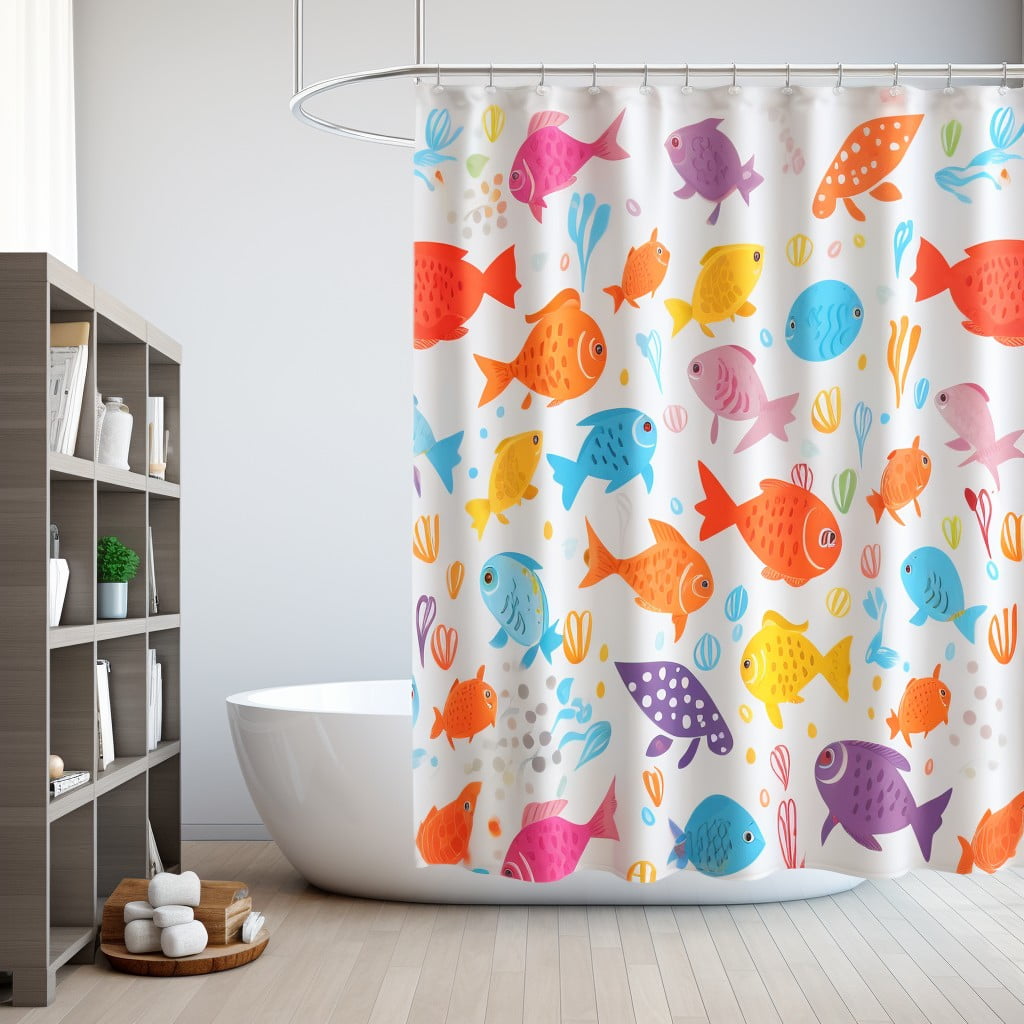 This option proves not only fun but functional too. The vibrant colors and playful fish design certainly appeal to children but the waterproof quality provides essential practicality.
Continue reading:
Recap