Last updated on December 3, 2023
Craft a refreshing bathroom aesthetic with valances because they can impart a chic, understated elegance to your personal oasis.
Valances can transform your bathroom from ordinary to extraordinary, adding a touch of elegance and style. Whether you're aiming for a modern, classic, or vintage look, there's a valance design to match your taste.
This article will guide you through an array of valance ideas for your bathroom, from simple and minimalist designs to more elaborate and ornate ones. You'll find tips on choosing the right fabric, color, and style, as well as instructions on how to install your valance.
By the end of this article, you'll have all the information you need to select and install the perfect valance for your bathroom. So, let's dive into the world of bathroom valances and explore some fantastic design ideas.
Ruffled Lace Valance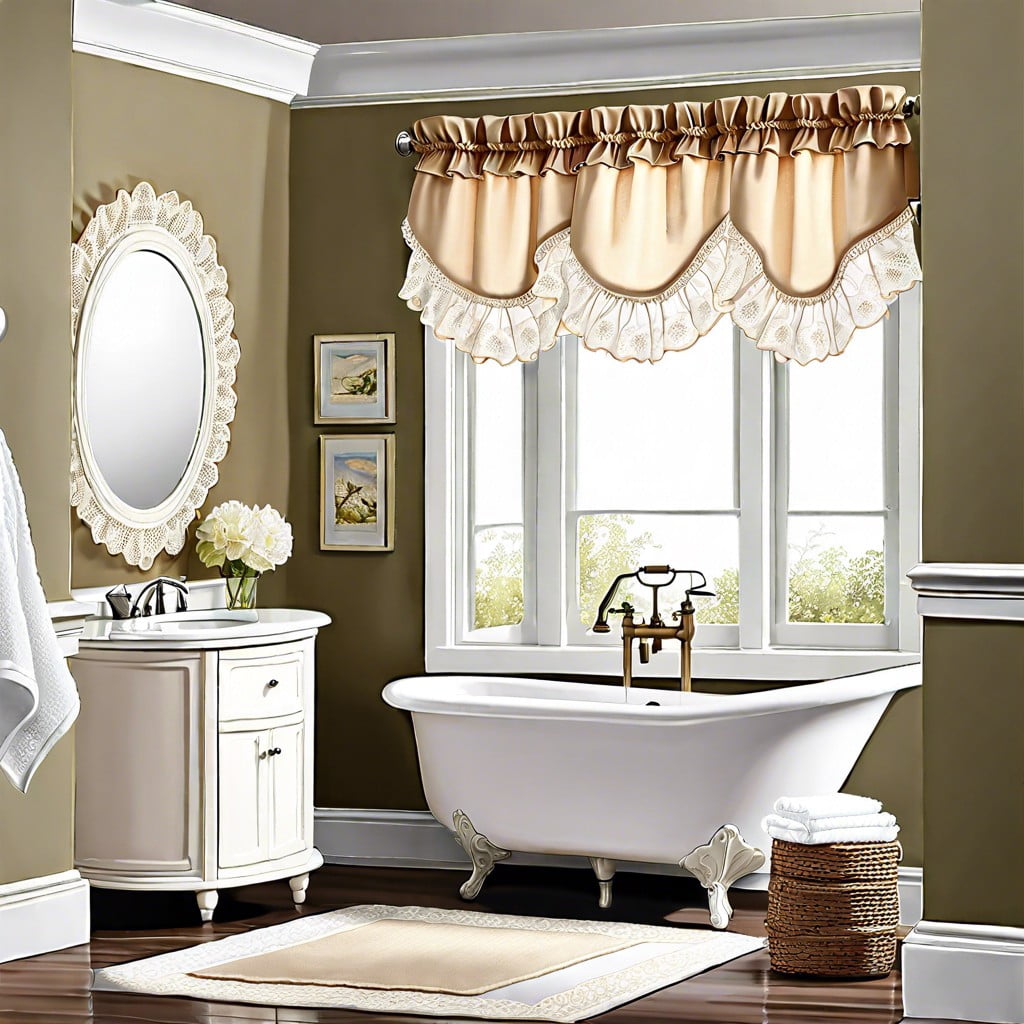 Stunning in its simplicity, this choice adds a touch of romance to your bathroom without overwhelming the space. Pleasing to the eyes, the soft material gently diffuses natural light to create a warm, inviting ambiance.
Pay attention to the color you pick – light hues can make the room feel larger, while darker tones can create an intimate setting.
To keep it clean, simply shake off the dust periodically and machine wash as necessary. This valance is a perfect blend of practicality and elegance that complements most interior styles.
Floral Printed Valance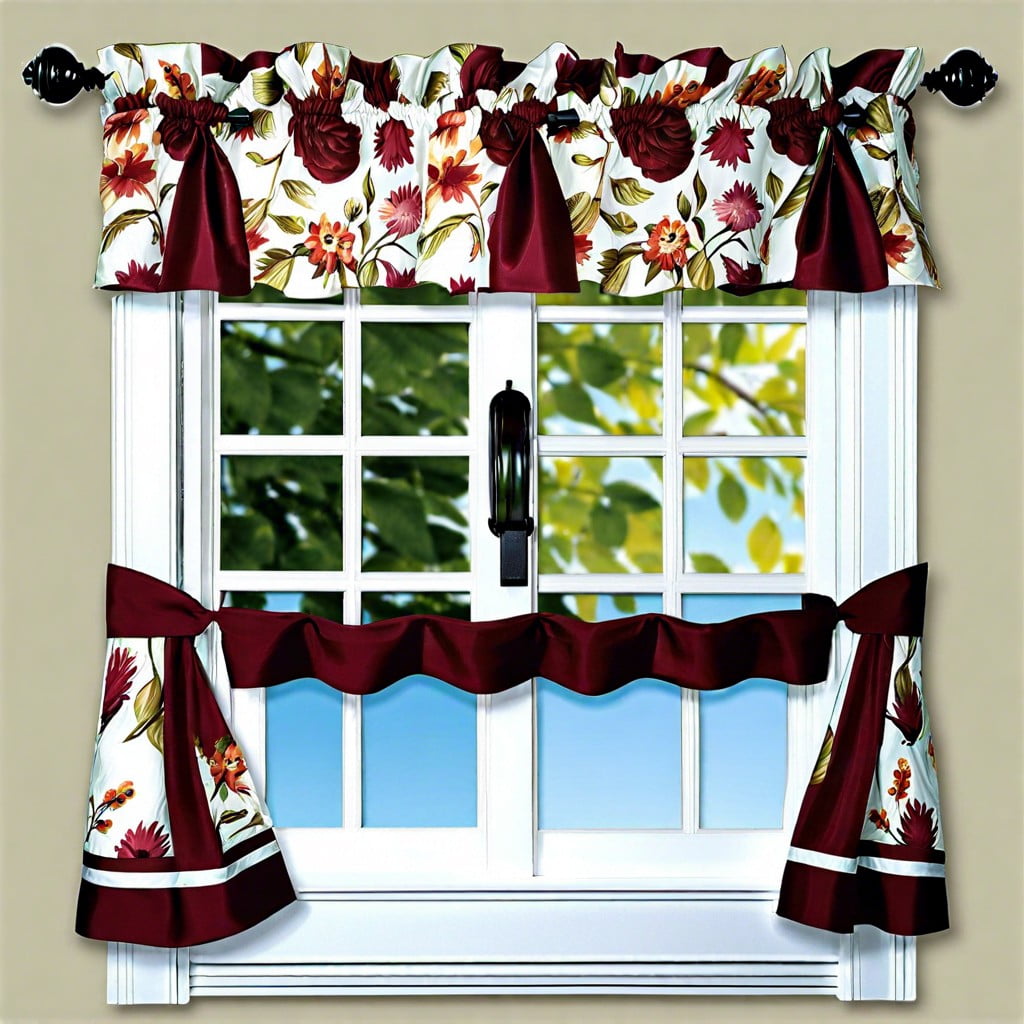 Floral prints can infuse a touch of elegance and freshness into your bathroom decor. With countless patterns and color options, they cater to varied tastes – from subtlety to flamboyance.
For an understated look, go for delicate blooms in soft hues. Adventurous souls might find larger, vibrant prints more appealing.
As to material choice, cotton or polyester can work well with their good humidity handling capabilities. Also, consider the washability for maintenance ease.
Finally, make sure that your chosen valance complements other bathroom elements for a harmonious look.
Color-block Valance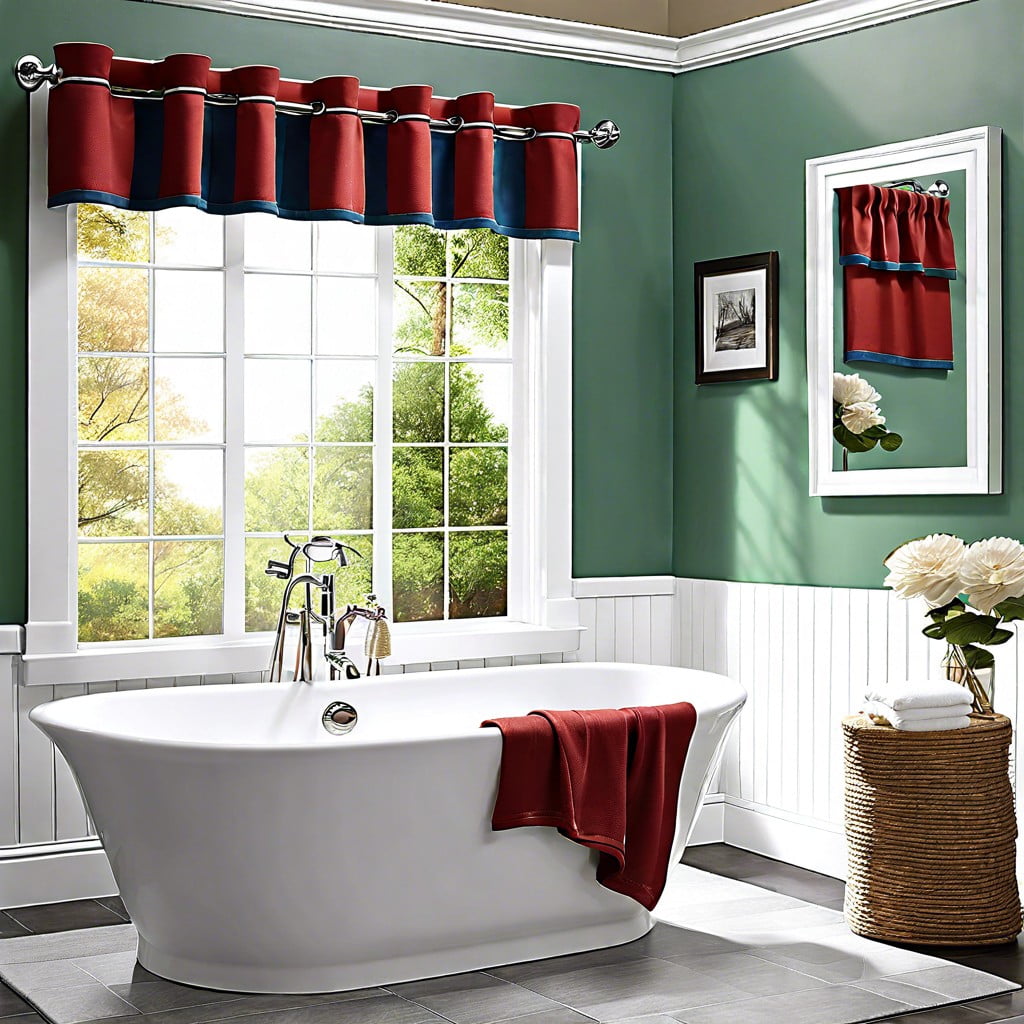 Employing a color-block valance can bring a contemporary flair to your bathroom. Consider using contrasting colors in solid blocks to create a striking look, or tone-on-tone blocks for a more subtle appeal.
Combining neutrals with bold, vibrant colors can shake up the dimension of your space. Remember to choose shades that complement your bathroom decor.
Furthermore, high-quality, machine-washable fabric should be your go-to choice to ensure durability and easy cleaning. Opt for heavy fabrics to ensure the valance maintains its structure over time.
Experimenting with different block sizes and fabric textures could add an additional visual appeal. This fun and modern window treatment helps regulate natural light and adds a punchy style element to your bathroom.
Natural Linen Valance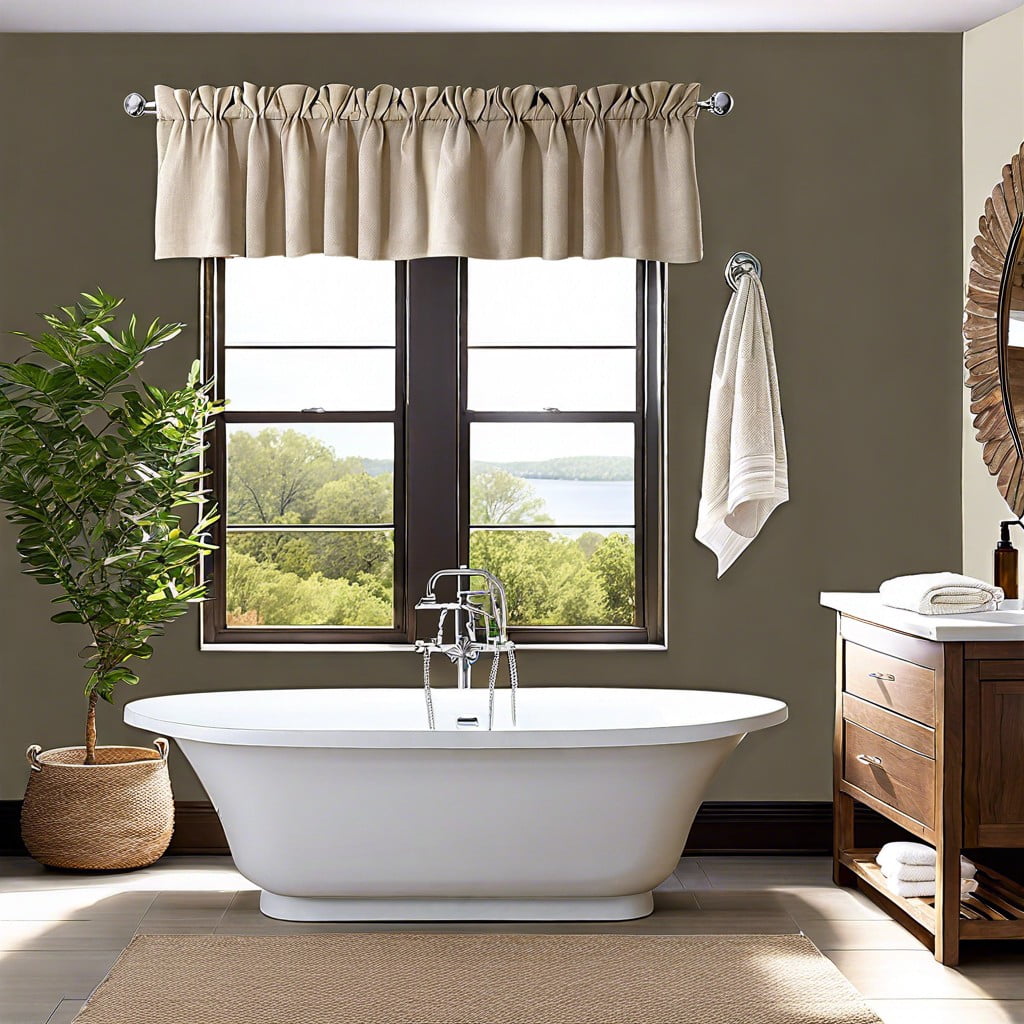 Opting for a natural linen for your bathroom valance presents a blend of simplicity and elegance. Its neutral tones integrate well with any decor, providing the room with a clean, airy feel.
1. Its natural fibers contribute to a relaxing, spa-like environment and are an excellent choice for those seeking an eco-friendly option.
2. The lightly textured fabric adds a rich layer of depth to the overall design.
3. Their unmatched versatility allows them to fit seamlessly into both modern and traditional aesthetics.
4. The sturdiness of linen ensures longevity, holding up against the heat and humidity of bathrooms.
5. They can be enhanced with lace borders or pleated patterns for added design flair.
6. In the matter of maintenance, they are easy to clean, often machine washable, without the fear of color fading.
7. They provide a great balance of privacy while still allowing natural light to permeate the room.
Bamboo Woven Valance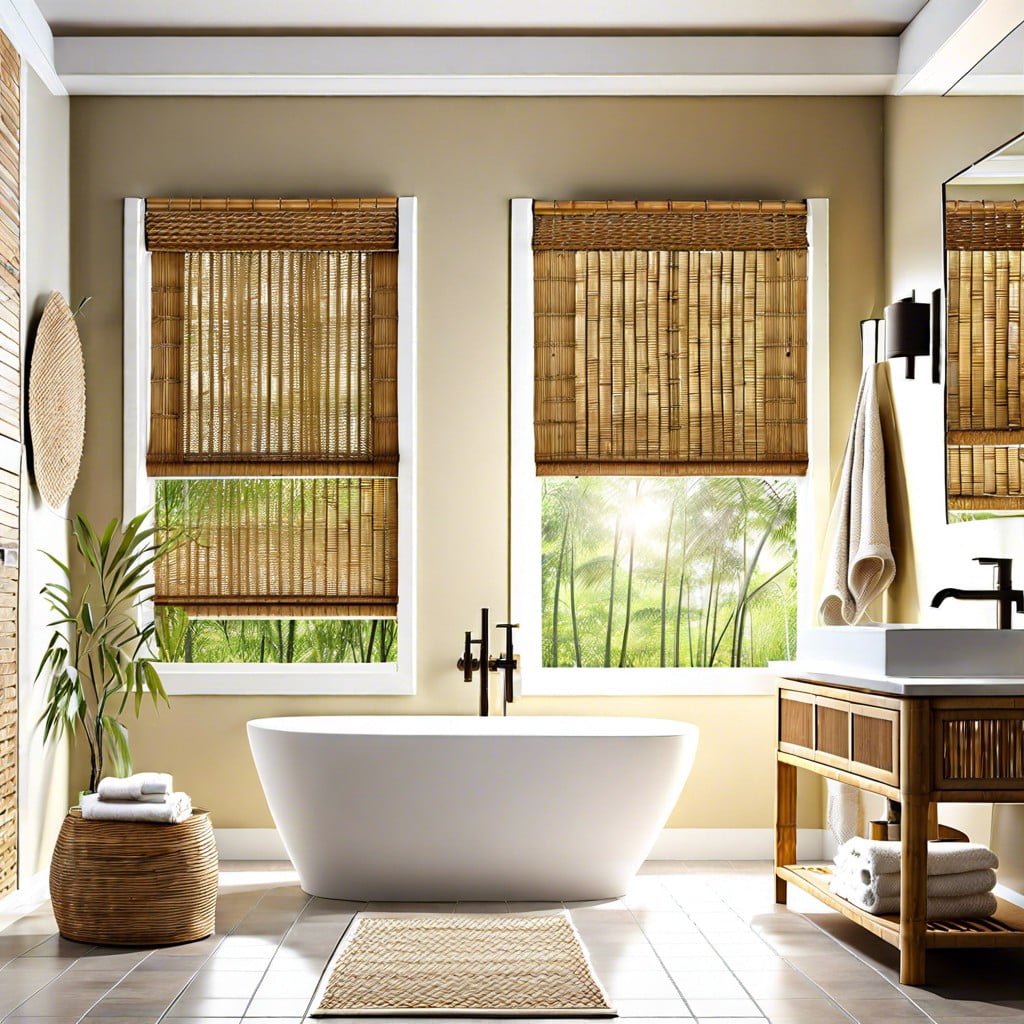 Crafted from natural materials, these valances boast the indisputable charm of understated elegance. They allow soft light to seep in while maintaining privacy, which adds to the calming atmosphere of your bathroom.
Here's what to note:
They blend well with other natural elements. Plants, wooden furniture, or stone surfaces are perfect companions for a bamboo woven valance.
Versatility is a key strength in terms of their compatibility with diverse color schemes. Their neutral tones harmonize equally well with cool pastels or warm earthy hues.
Maintenance needs to be considered. Regular dusting and periodic gentle cleaning will keep them in top condition.
Sizes and lengths are customizable, making them a great fit for any window shape and size. You can choose wider panels for more privacy or narrower ones for more light.
They add texture, creating visual interest in the bathroom, making it distinct from a sea of towels and tiles!
Nautical-themed Valance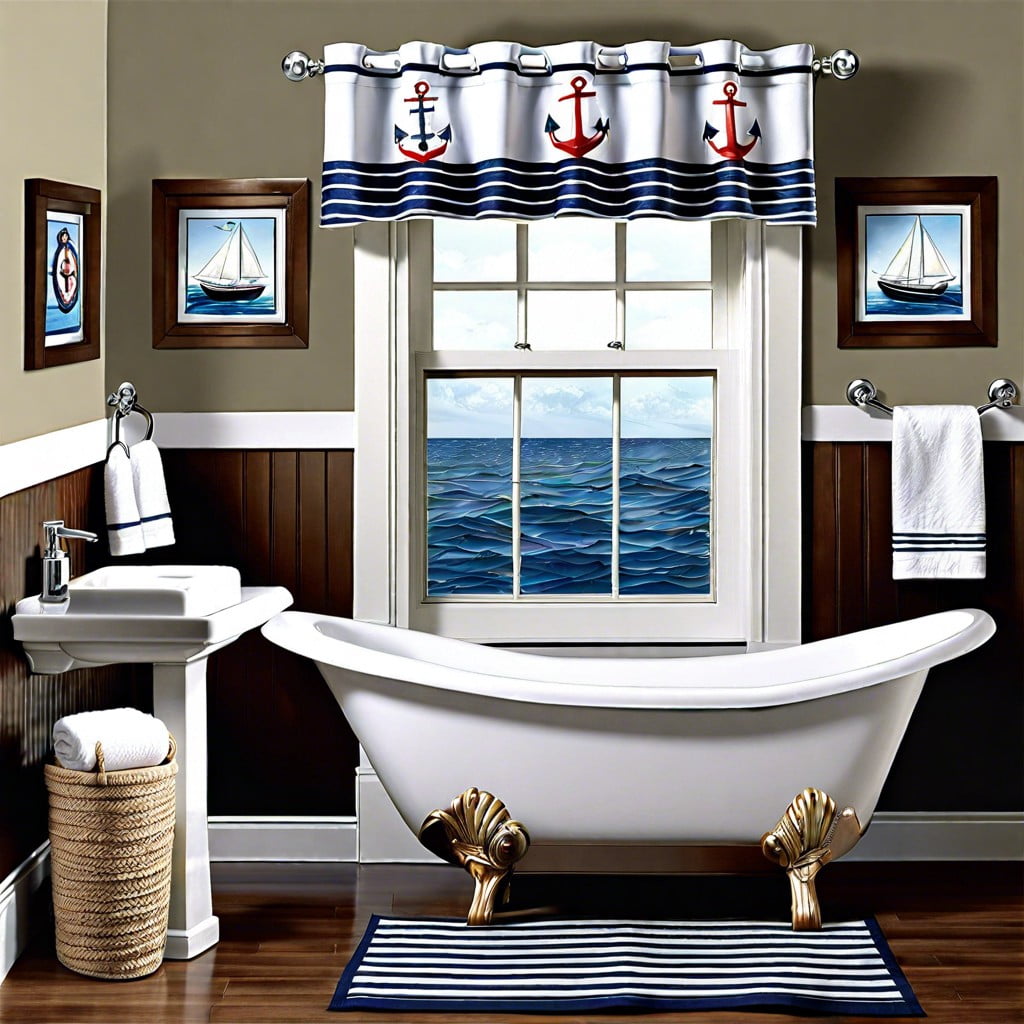 Determined by their rich navy blue tones and crisp white backgrounds, these valances truly embody the breezy feeling of the sea.
Incorporating elements like anchors, ship wheels, seashells, or even lighthouses can enhance their maritime allure.
A dominant stripe pattern is often a safe bet as it resonates with the charm of sailor uniforms.
Choosing fabric that emulates the texture of sailcloth adds authenticity to the setting.
These valances can be paired with matching shower curtains or bath mats to coordinate the aesthetic throughout the bathroom.
Aim for a balance, too much detail can overpower the relaxing vibe of the nautical theme.
Plaid Fabric Valance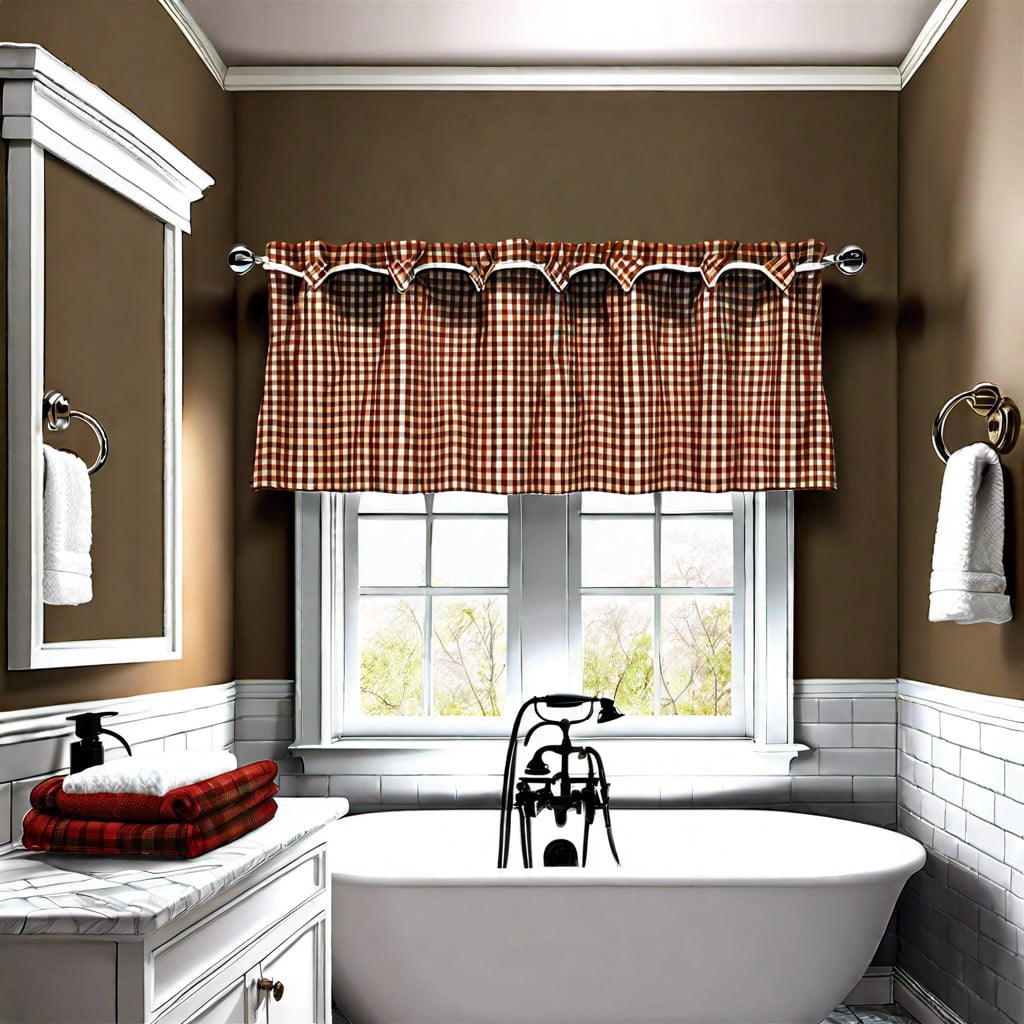 Incorporating this choice enhances your bathroom with a traditional yet versatile design element. For a cohesive appearance, consider choosing a plaid pattern that ties in with the color scheme of your room.
It's essential to keep scale in mind; a smaller bathroom may benefit from a more subtle, fine plaid, whereas a more extensive space could handle a bold, large-scale pattern.
Using a lined plaid fabric will help maintain the structure of the valance and can provide added light-blocking capabilities.
Care is usually simple, requiring just a periodic machine wash.
Beaded Crystal Valance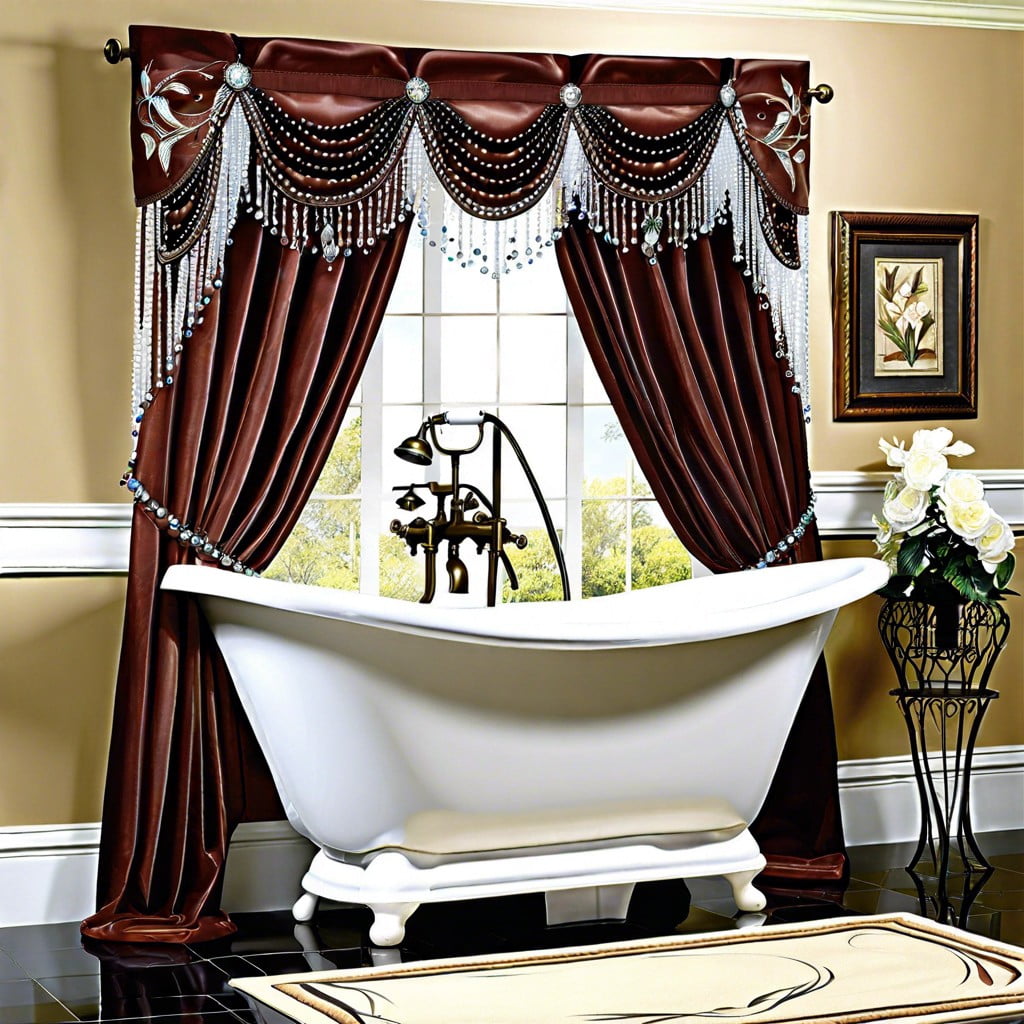 Beaded crystal valances bring a touch of elegance to any bathroom. Often associated with luxury, they make for an eye-catching feature and enhance the overall aesthetics.
Design flexibility: With numerous style options available, from clear to colored crystals, and array of shapes, creating a custom look becomes effortless.
Light Appropriation: The translucent nature of crystals allows light to dazzle through them, creating a mirrored effect that can make your bathroom appear larger and more radiant.
Varieties of attachment: They can either be strung together on a rod or individually hung, providing more room for creativity.
Though beaded crystal valances require minor maintenance to keep them sparkling, they are the perfect choice if a glamorous bathroom is on your wish list.
Striped Cotton Valance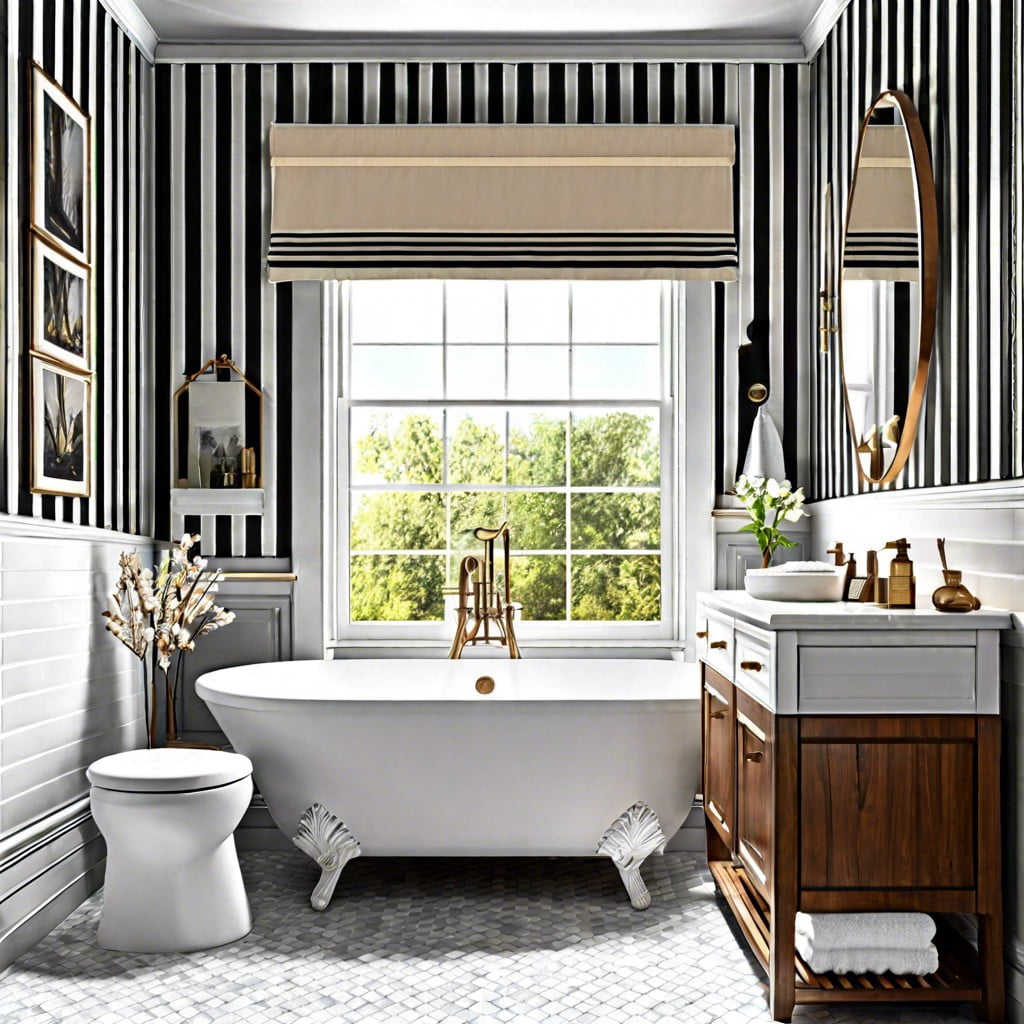 Sporting a timeless design, this style can infuse your bathroom with a cheerful, nautical vibe, or grant it a relaxed country-house aura, depending mostly on the chosen color scheme. There are a few essential aspects to consider:
1. Color Choices: Opt for classic navy blue and white for a nautical feel, or soft pastels for a country cottage look. Don't shy away from experimenting with bolder hues for a modern edge.
2. Fabric Type: A lightweight cotton or cotton blend proffers an air of casual elegance and is easy to maintain, thus perfect for rooms frequented by children.
3. Stripe Orientation: Vertical stripes can visually heighten your bathroom while horizontal ones might expand it visually.
4. Layering: Get creative by layering it with a solid-colored shade or blinds for a tailored, structured look.
Remember, these figures can be adjusted to fit any window size and style, they are versatile and can easily morph to any design scheme you may have in your bathroom.
Neon Polyester Valance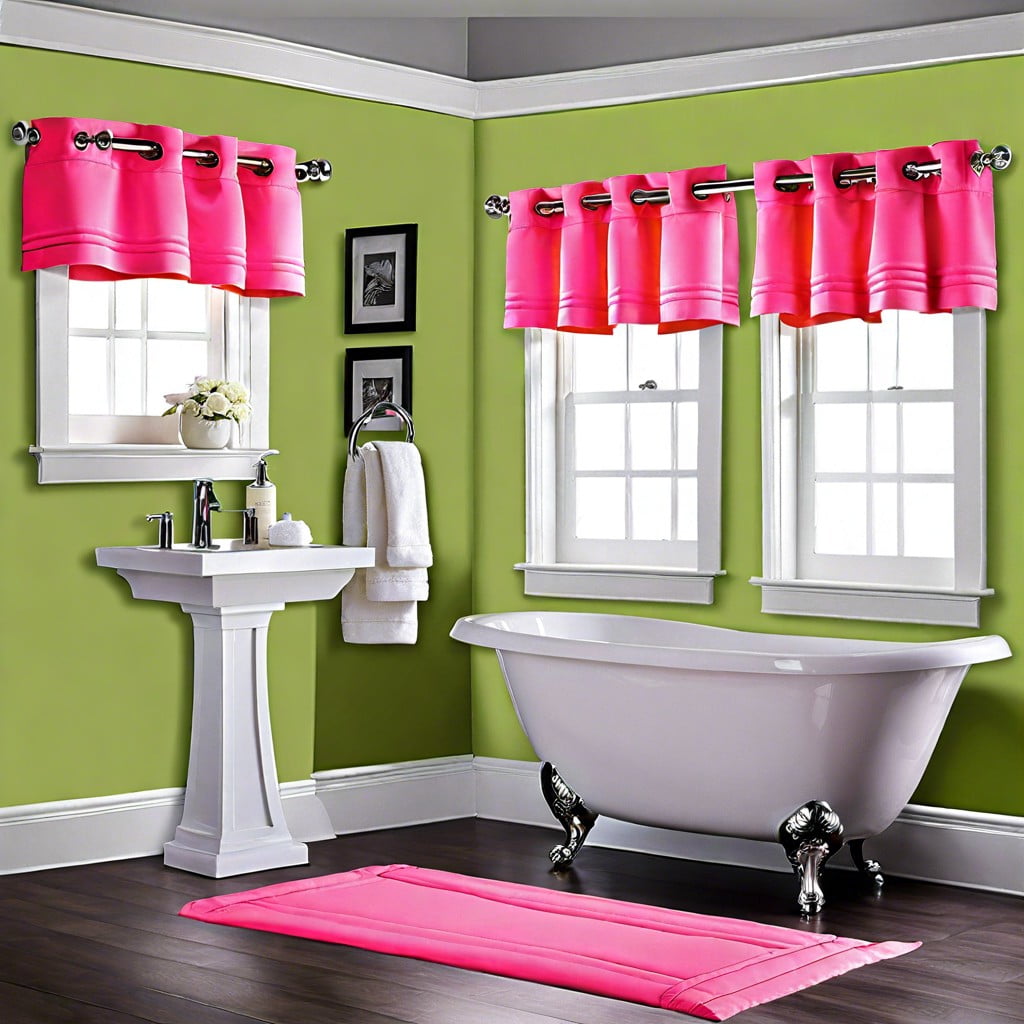 Renowned for their vibrant shades, these bold options make a statement in any bathroom. The material is resistant to mold and mildew, making it an excellent choice for rooms with high humidity. Neon polyester can catch and reflect light in a unique way, brightening up dark spaces significantly.
Easy to clean, the material stands up to regular washing without losing its color or shape. Due to its artificial nature, it is also less prone to fading, compared to natural fabrics. Plus, it falls into a lower cost category than many other choices, such as silk or linen, making it an ideal choice for budget-conscious decorators.
Further, there's no shortage of color options. Whether you're into hot pink, lime green or electric blue, you'll find a shade to match your existing bathroom decor. If you're not afraid to experiment with bold colors and want to add an instant spark to your bathroom, neon polyester valances should be on your shortlist.
Scalloped Edge Valance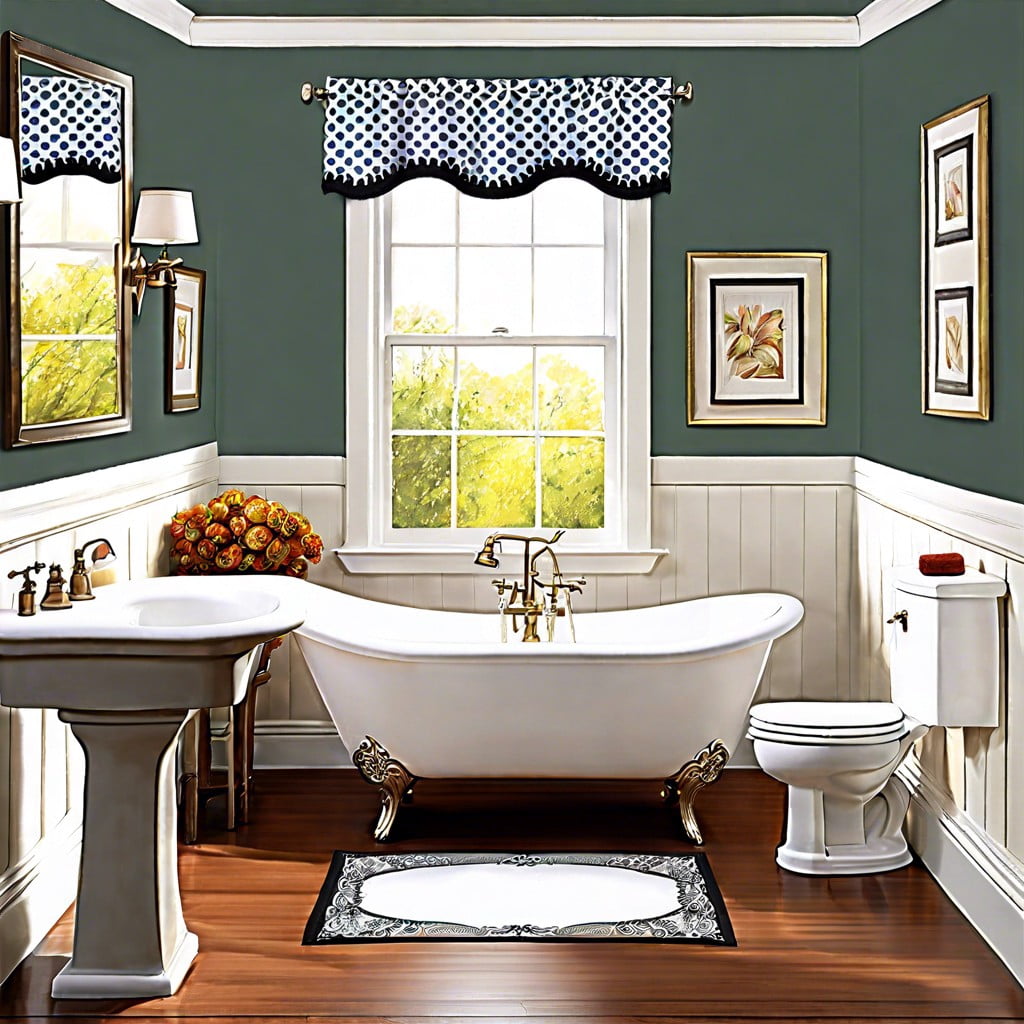 They add an element of sophistication, elevating a simple window into a statement piece of the bathroom. Ideal for both minimalist and lavish interior, the charm lies in the intricate curvy design.
While white, beige and light blue are popular choices for the color scheme, don't shy away from bolder hues. Consider using matching or contrasting fabric for the lining for an extra pop of color.
Stitch the scallops tightly for a refined look and a loose stitch for an effortless, boho vibe. Customise the length according to the window size or preference, but never let it cover more than one-third of the window.
Opt for semi-sheer fabric to allow subtle light filtration while keeping your privacy intact. Add embellishments like beads or lace at the edge, but be cautious not to overdo it.
Lastly, use an appropriate rod that complements the overall aesthetic.
Rustic Burlap Valance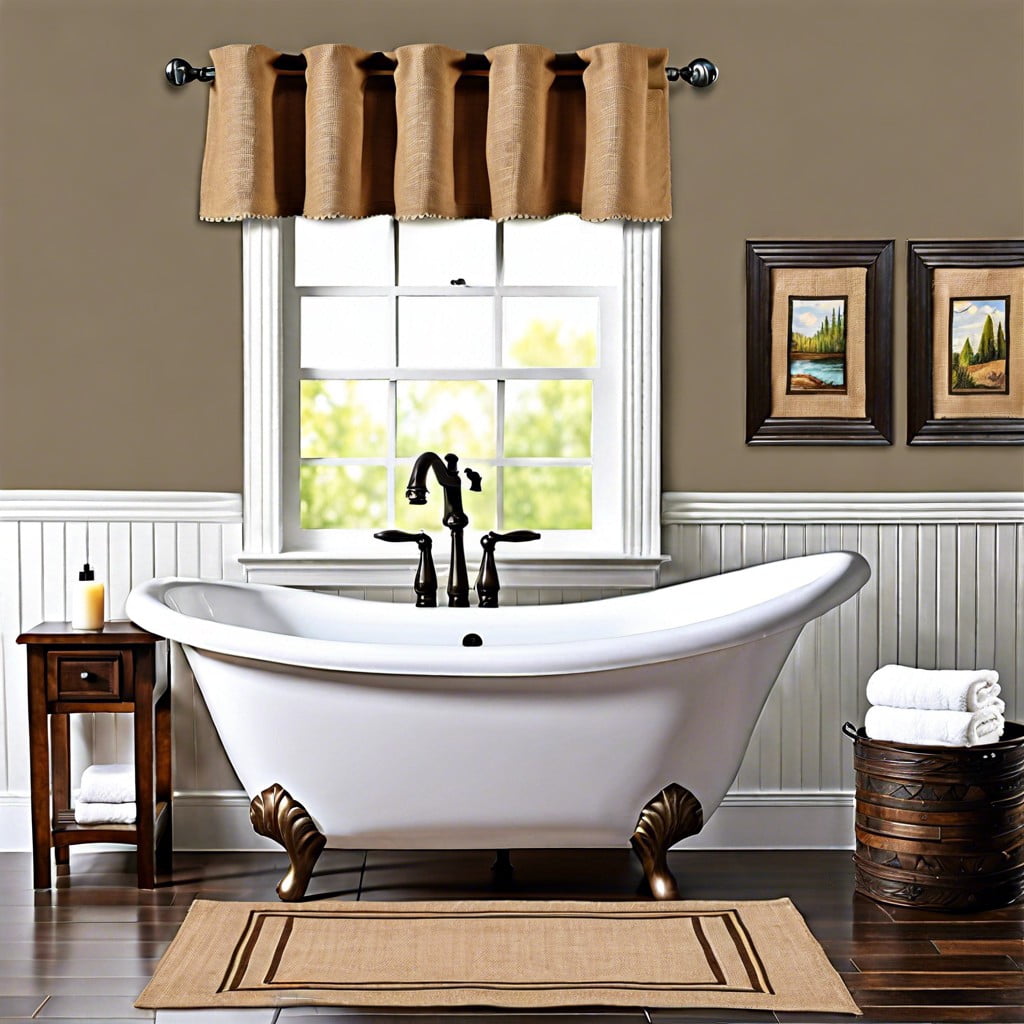 Rustic burlap is undeniably a versatile material that lends an inviting, cozy ambiance to any space. Its naturally coarse texture and earthy tone can effortlessly enhance the bathroom aesthetic with a warm, country feel.
Here are some factors on how to maximize its potential:
Length: Shorter valances allow more natural light, making the bathroom appear larger. A longer valance provides a sense of comfort and privacy.
Color: Burlap in its natural form adds a vintage charm. For a more personalized touch, burlap can be dyed to match the existing color scheme.
Layering: Layering burlap with softer fabrics can strike a balance between rustic and refined.
Embellishments: Incorporating touches like lace edges, embroidered initials, or fabric flowers can take a simple burlap valance to the next level of sophistication.
Making a valance is a relatively simple DIY project. With a good quality piece of burlap, a rod, and some sewing essentials, one can create a stylish window treatment in a few hours. The end result? A bathroom filled with the warmth of earthy rustic charm.
Mini Blind Valance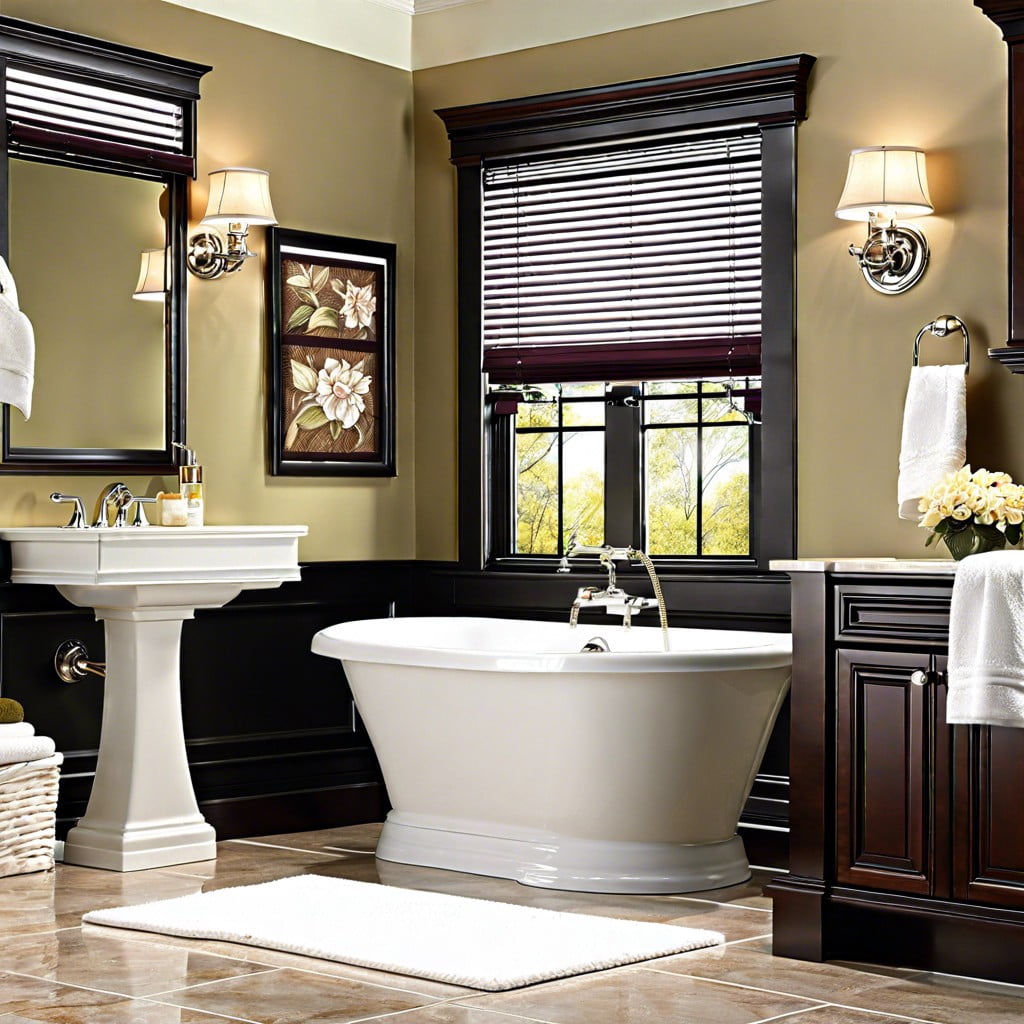 Moving away from the standard fabric styles, mini blind valances present a modern, sleek look with tremendous practicality.
Ideal for rooms with humidity, these hard-wearing valances resist warping and discoloration common to damper environments. They offer excellent control over the amount of light entering the room, a feature absent in other styles.
From pure whites to warm wood tones, they are available in a myriad of colors and finishes to easily blend with any décor style.
Despite their substantial looks, they're surprisingly easy to clean; often, all you need is a light dusting or a swift wipe with a damp cloth. Mini blind valances are an enchanting addition that seamlessly binds style with functionality.
Embroidered Silk Valance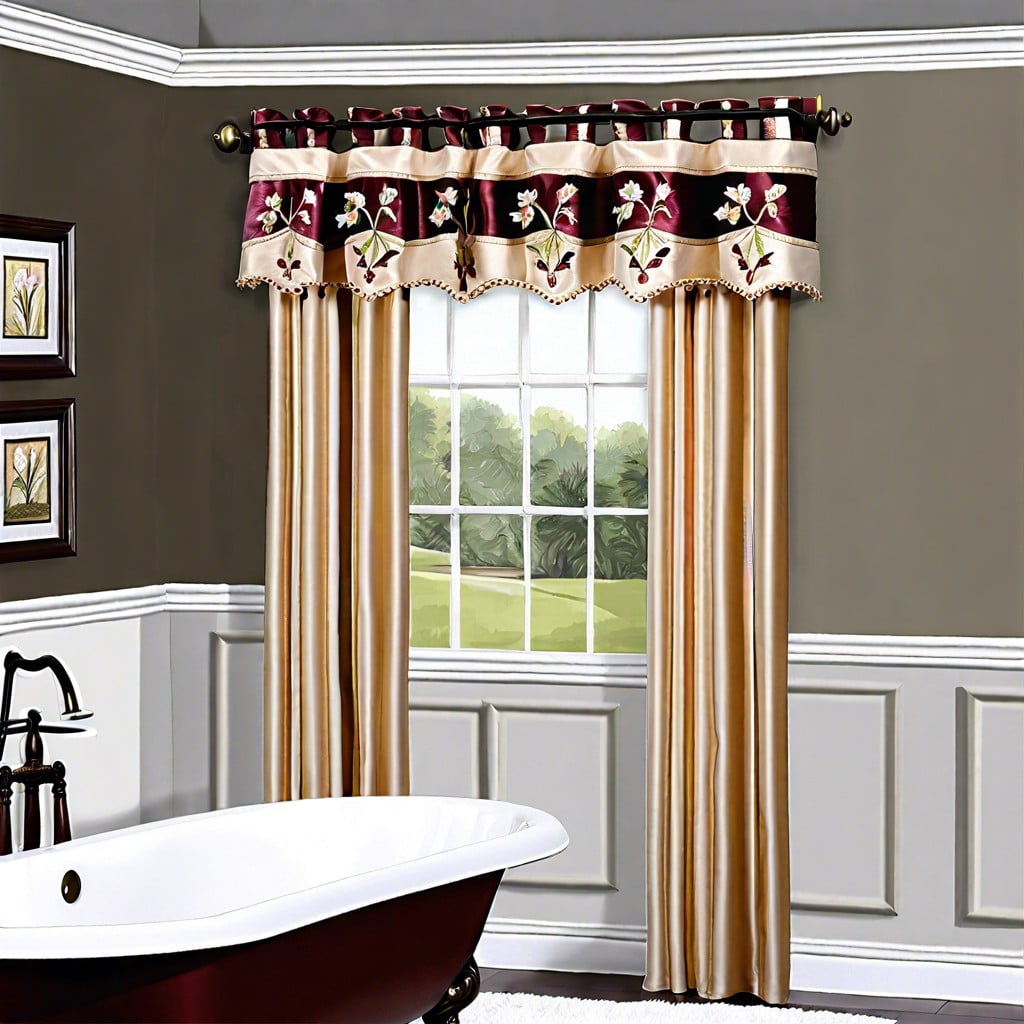 Embroidering silk is a time-honoured craft skill that infuses elegance and luxury into your bathroom decor. The intricate needlework adds a textural dimension, enhancing the sumptuous feel of the silk.
1. Aesthetic Appeal: The intricate embroidery details against silk fabric's sheen step up the glam factor, becoming a focal point in the bathroom.
2. Customization: Choose patterns and colors that coordinate with your bathroom theme, enabling a personalized touch to your space.
3. Versatility: Despite their luxurious appeal, these valances can mesh well with various styles, from vintage to contemporary.
4. Easy Maintenance: While providing a sophisticated look, silk valances are quite easy to care for. A gentle hand wash or a quick sweep with a soft cloth should be enough to maintain your valance's luster.
Keep in mind, proper fitting is crucial for any valance. A well-fitted embroidered silk valance can seamlessly blend into your interior, becoming a splendid addition that enhances your bathroom's overall aesthetic.
Tassel Fringe Valance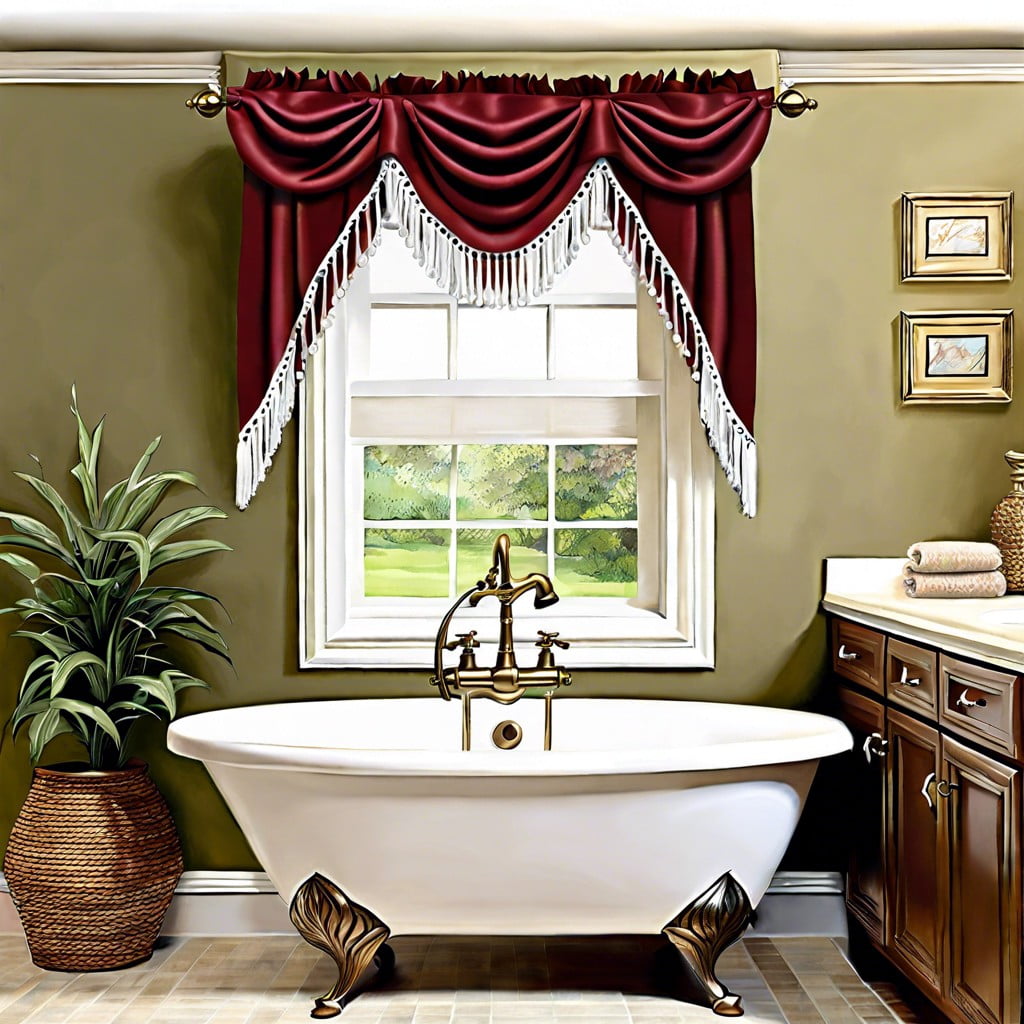 Adding a tassel fringe creates a delightful sense of whimsy. Choose from a variety of colors and materials to match your bathroom décor. For a chic look, opt for a neutral tone such as white or beige. To create a focal point, go for a vibrant hue like red or blue.
If you're drawn to a more eclectic style, consider mixing different types of tassels. It's all about personalizing your space to reflect your aesthetic. This design can work well in both traditional and modern interiors, thanks to its versatile nature.
Ensuring the tassels are of adequate length is crucial. Too short, and they might not make the visual impact you planned for. Too long, they may become a practical nightmare, especially in a high-moisture space like a bathroom.
Remember, quality matters. Opt for high-grade materials that can withstand the test of time and frequent usage. This way, you're not just installing a stylish addition to your bathroom, but one that's durable too.
Decorative and charming, a tassel fringe valance has the power to inject personality into your bathroom design. And who doesn't love a space that's truly their own?
Pastel Gingham Valance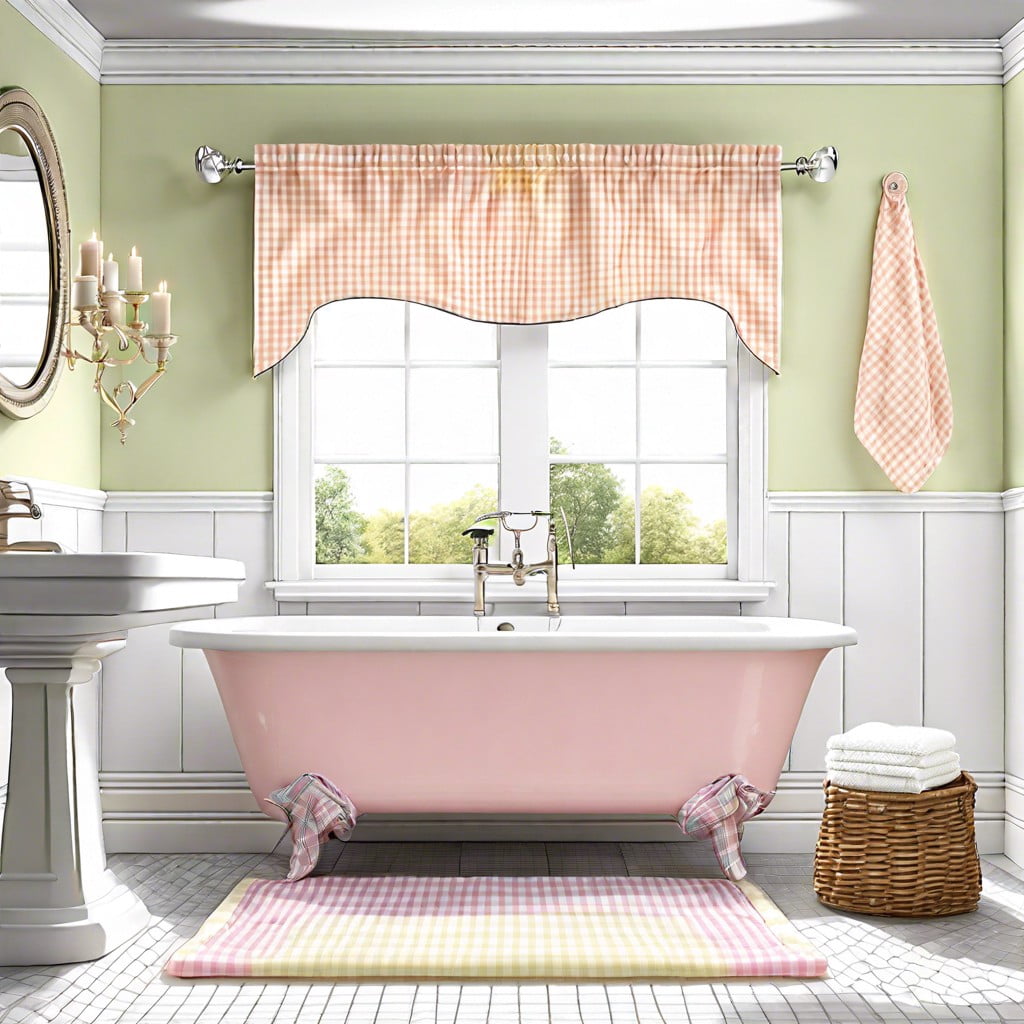 Evoking images of sunny picnics and soft, country cottages, gingham pattern has long been a favorite for those seeking a playful yet classic look. When combined with gentle pastels, the appeal further amplifies; there's truly a warm, homey magic enclosed.
To create a soothing environment in your bathroom, choose light-toned pastel colors like baby pink, mint green or lavender. Ensure the squares of gingham are subtle; not too large to avoid overpowering the space. Pair this with white or cream bathroom fixtures for a soft contrast.
The beauty of pastel gingham valances is that they can blend seamlessly with many designs. Whether it's a retro setup or a modern minimalist room, a valance in such style brings an unexpected twist of charming old-world aesthetics. Plus, maintaining these valances is generally easy; they're often machine-washable and fade-resistant.
Remember, the valance shouldn't be the room's centerpiece. Instead, it should complement the overall design, tying the bathroom's theme together.
Always get the measurements right before purchase or custom orders. It must correctly cover the top of your bathroom window. Also, check on quality. Even in humid conditions, the valance should remain crisp and vibrant. Select materials that are mold-resistant and quick to dry.
Animal Print Valance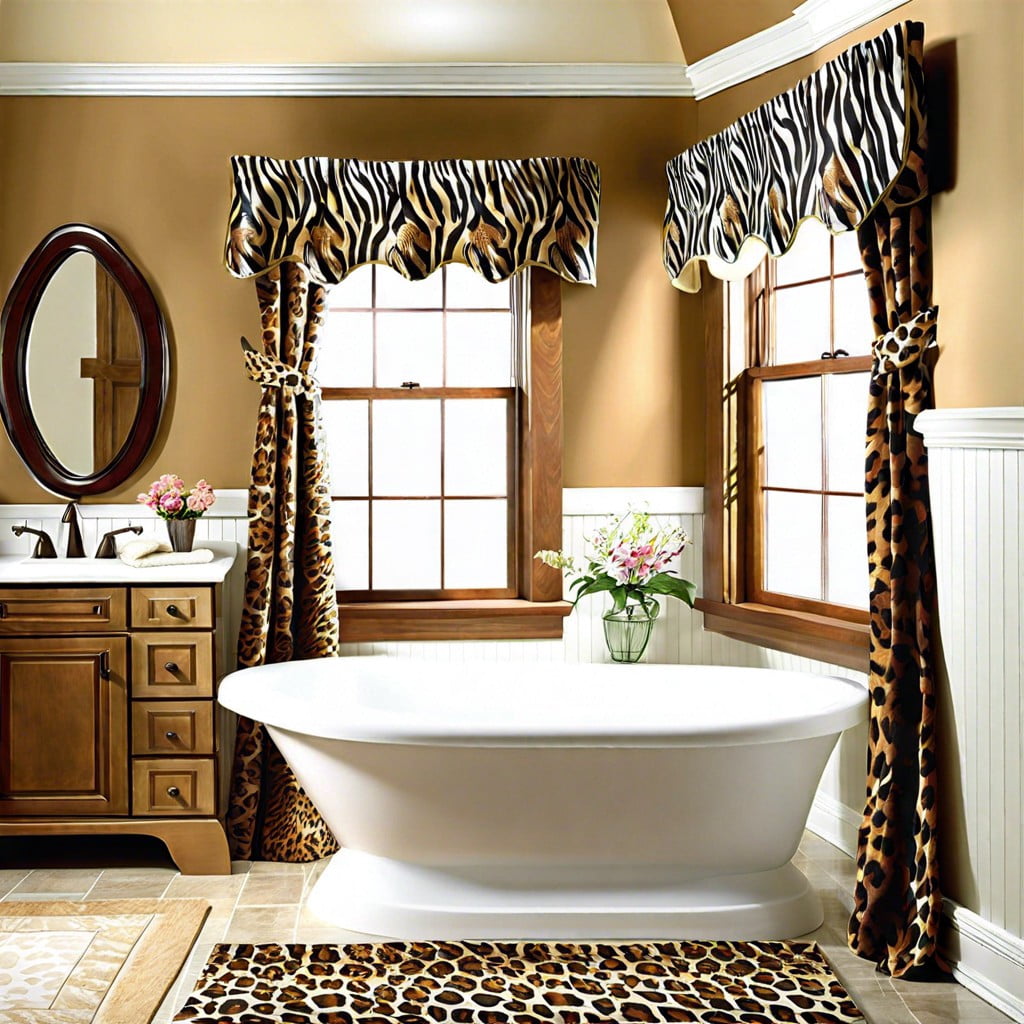 Daring and exciting, the animal print valance is a great way to add a bit of exotic allure to any bathroom. While many might prefer it in neutral shades, such as cheetah or zebra, throwing in a leopard-print valance can serve as an unexpected pop. Embrace the wild side!
Adds a lively touch: With its roaring patterns, an animal print valance can effortlessly counterbalance a plain bathroom design.
Demonstrates personality: Whether of a jaguar, tiger, or snake, the choice of print reveals personal style and taste.
Grants a luxe vibe: Often associated with luxury, animal prints can quickly elevate the overall aesthetic.
Easy mixing and matching: These prints work well with many color schemes, providing the opportunity to update bathroom decor without wholesale changes.
Year-round suitability: While other prints may be more associated with a certain season, animal print is suitable year-round.
Instills safari essence: For those who dream of a safari adventure, this choice of valance can bring a small piece of that dream into daily life.
Provides Kid-friendly options: If you're hoping to add a fun element to a child's bathroom, consider an animal print featuring their favorite creature.
Faux Wood Valance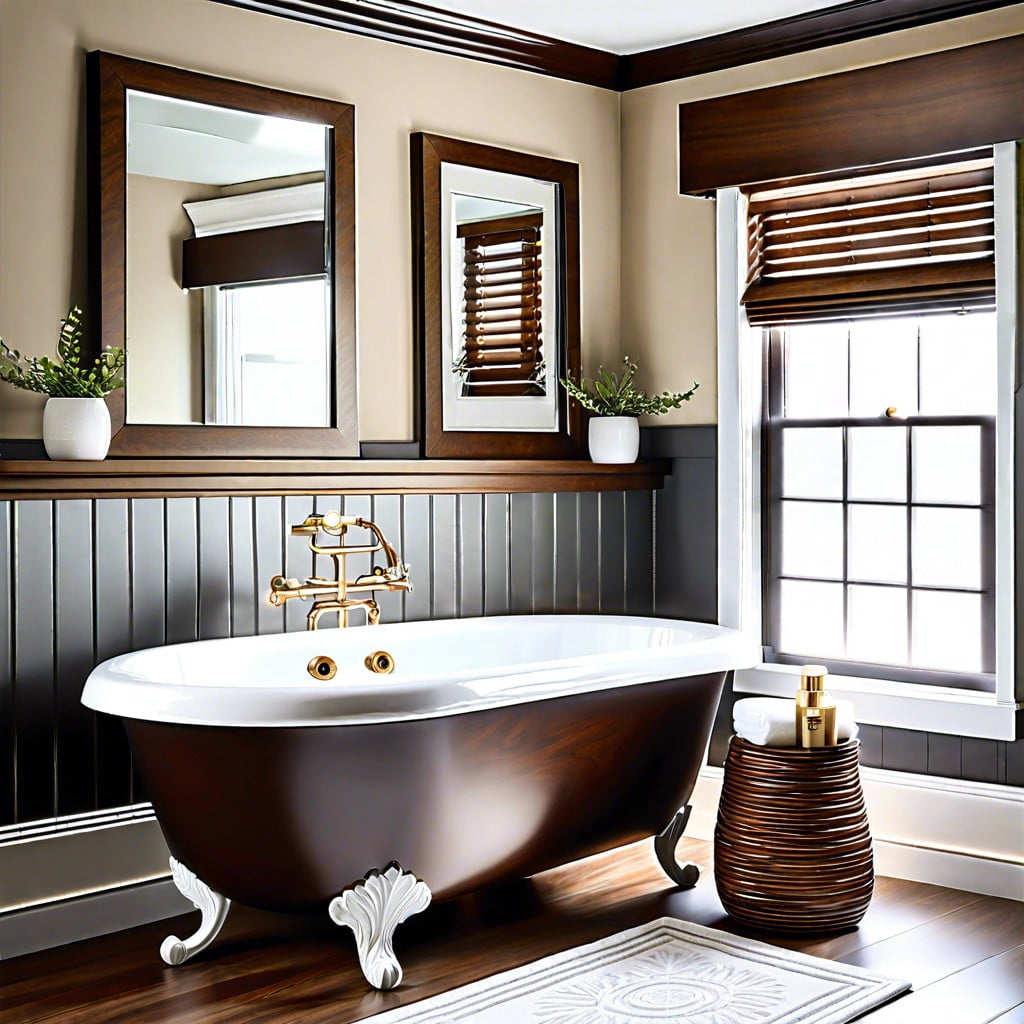 Designed to mimic the cozy charm of real wood, faux wood valances bring a touch of nature to your bathroom without the worry of water damage. Created from durable materials like PVC or vinyl, these valances are resistant to moisture, making them ideal for a humid space like the bathroom.
Additionally, their realistic wood texture adds warmth and character to your space. Whether you prefer the dark tones of walnut or the lighter hues of pine, you can effortlessly find a design that complements your interior. A striking benefit of faux wood valances is their easy maintenance – a simple wipe with a damp cloth keeps them looking brand new.
Whether you want a rustic country aesthetic or a sleek modern touch, a faux wood valance could be your perfect match.
Velvet Luxury Valance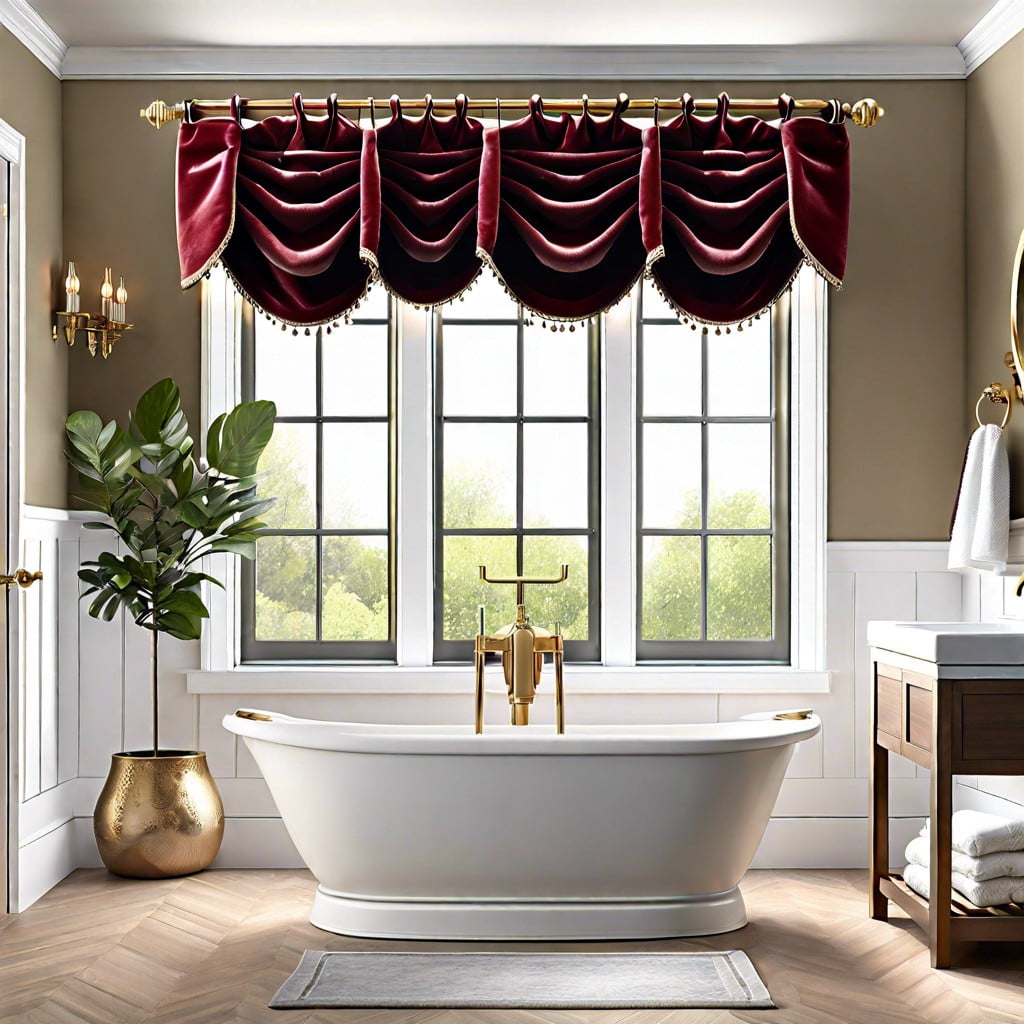 Colored in deep tones and boasting a silky smooth texture, velvet valances bring a hint of luxury and sophistication. With their rich fabric, they drape beautifully, adding depth to the window. They're perfect for those seeking an opulent aura in their bathrooms.
Transformative Impact: The use of velvet can dramatically alter the look of your bathroom, shifting it from mundane to extravagant.
Heat and Light Control: Velvet fabric naturally insulates and decreases light penetration, a beneficial factor in bathroom settings.
Color Options: These valances are available in diverse hues, from royal blue to burgundy, allowing a choice that complements your overall theme.
Maintenance: Despite their luxurious look, they are relatively sturdy and resist shrinking, ensuring they maintain their elegance over time.
Size Variety: They come in various sizes catering to different window dimensions, ensuring a perfect fit for your bathroom.
Metallic Gold Valance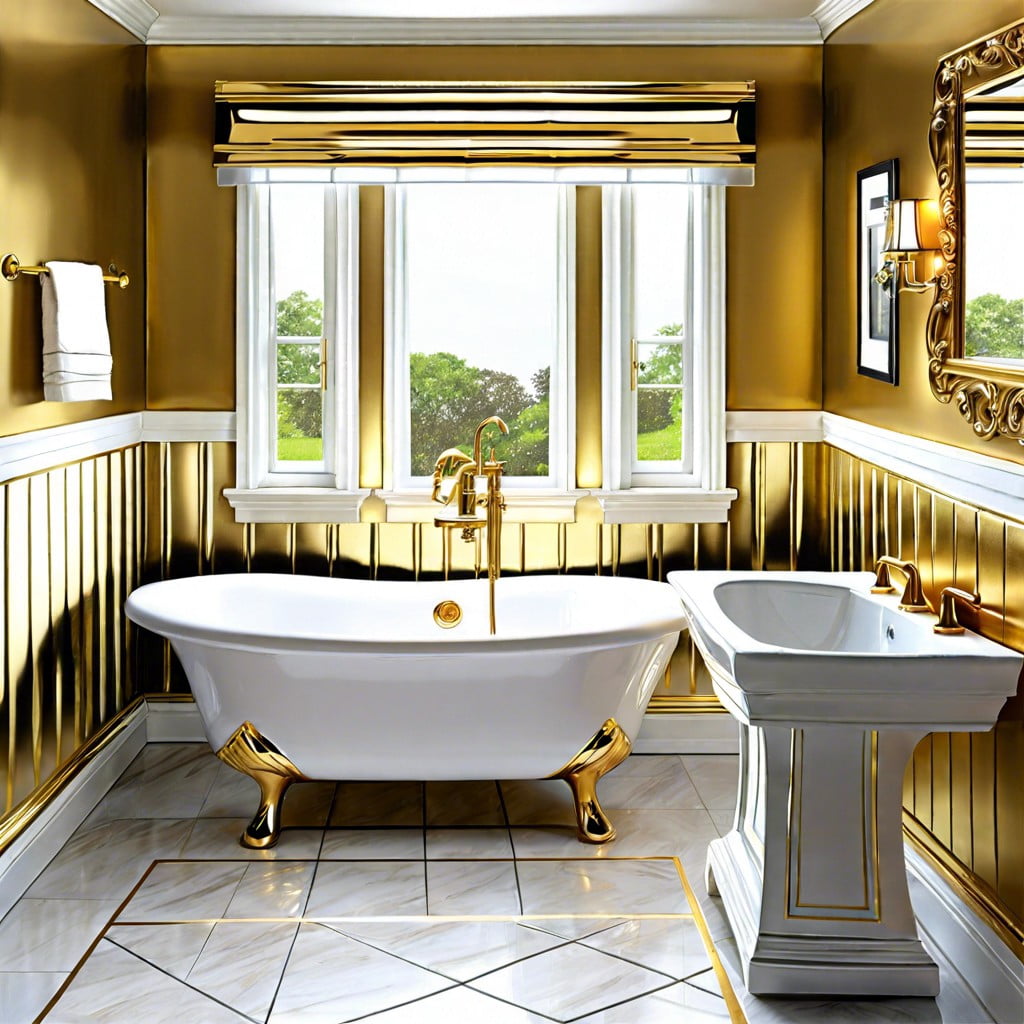 Gold, often associated with luxury and warmth, is a unique color choice for a metallic bathroom valance, adding an unexpected yet elegant touch.
1. It adds a dash of luxury: Gold inherently exudes opulence. When this color is incorporated sophisticatedly, it amplifies the aesthetic aura of the space tremendously.
2. Versatility: Despite its opulence, a metallic gold valance pairs well with a variety of color schemes. It complements dark tones like navy and black, balances bold colors like red and purple, and harmonizes with soft neutrals.
3. Light reflector: Gold is also a great reflector of light. Therefore, a metallic gold valance can contribute to the overall lighting of the bathroom, making the space seem larger and more inviting.
4. Easy cleaning: Since it's often made from faux gold materials, these valances are generally easy to clean. A soft, damp cloth is enough to keep them dazzling.
5. Customizable: With numerous styles and shades available, a metallic gold valance can be as bold or as understated as desired. Choices range from a glossy, bright gold to a muted, antiqued finish, catering to a multitude of personal tastes.
Continue reading:
Recap