Last updated on November 27, 2023
Dive into the world of pink and gold bathroom design because the unique pairing offers a luxuriously striking twist on standard bathroom aesthetics.
Dive into the world of pink and gold bathroom ideas, where we explore the fusion of these two colors to create a chic and luxurious bathroom space.
This article will guide you through a variety of design ideas, from gold fixtures against a pink backdrop, to a more subtle use of gold accents on pink bathroom accessories.
Whether you're aiming for a bold statement or a soft touch of elegance, we've got you covered.
Stay tuned for a detailed breakdown of each idea, including tips on how to incorporate these colors into your bathroom in a harmonious and stylish way.
Pink Marble Countertops With Gold Fixtures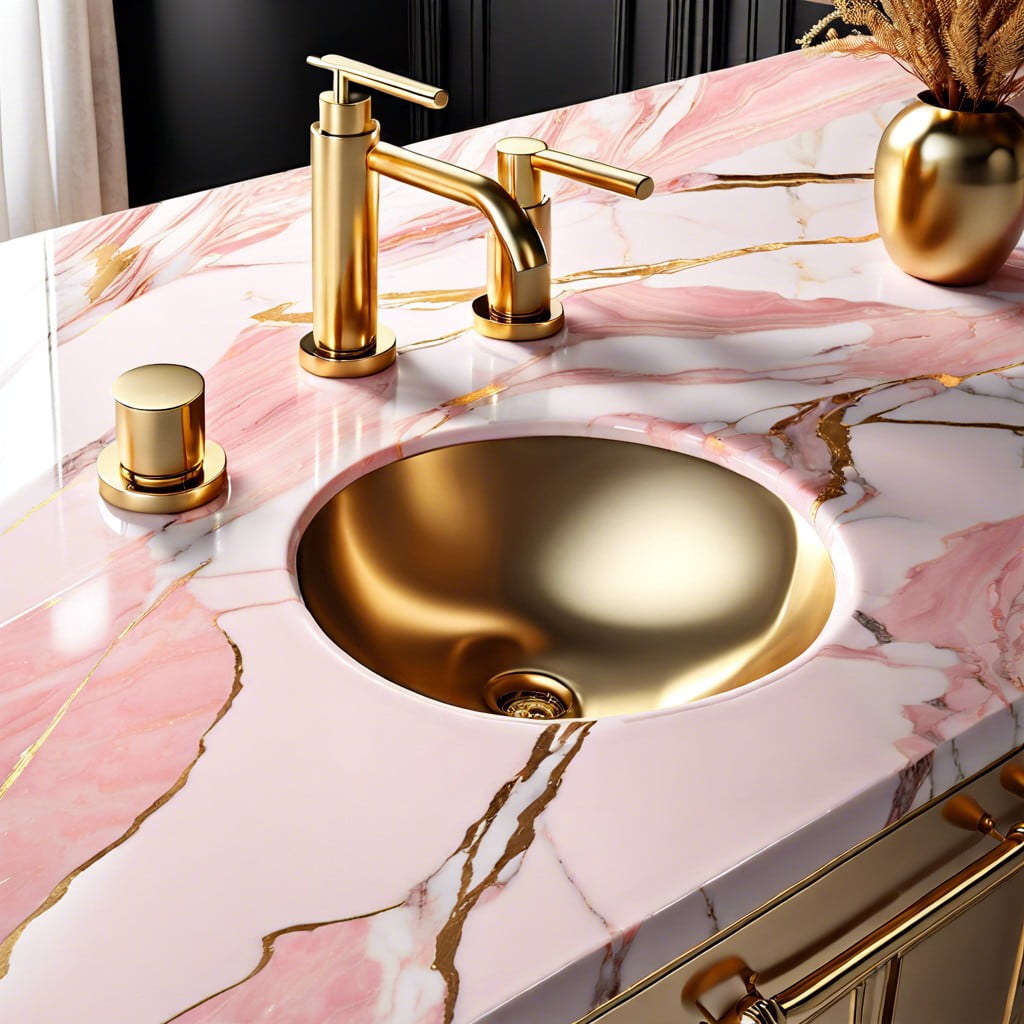 Naturally striking, pink marble delivers a splash of color and charm. Choosing this exquisite material for your bathroom countertop can instantly elevate the space.
Now, imagine pairing it with gold fixtures. The juxtaposition of the warm tones of gold against the softer blush of pink creates an elegant and upscale vibe.
Gold Fixtures: Opt for a satin or brushed finish to keep the look sophisticated yet understated.
Accentuate the Veins: The undulating patterns and veins of marble become a visual treat when contrasted against gold fixtures.
Balance with Neutrals: Make sure the rest of the bathroom scheme is neutral to prevent overwhelming the eye.
Lighting: Use warm lighting to accentuate the intrinsic shimmer of the gold and the soft pink marble.
Implementing these tips, you'll not only have a functional space but a glamorous one at that. Just remember to balance all elements to keep the space elegant rather than extravagant.
Pink and Gold Mosaic Tiles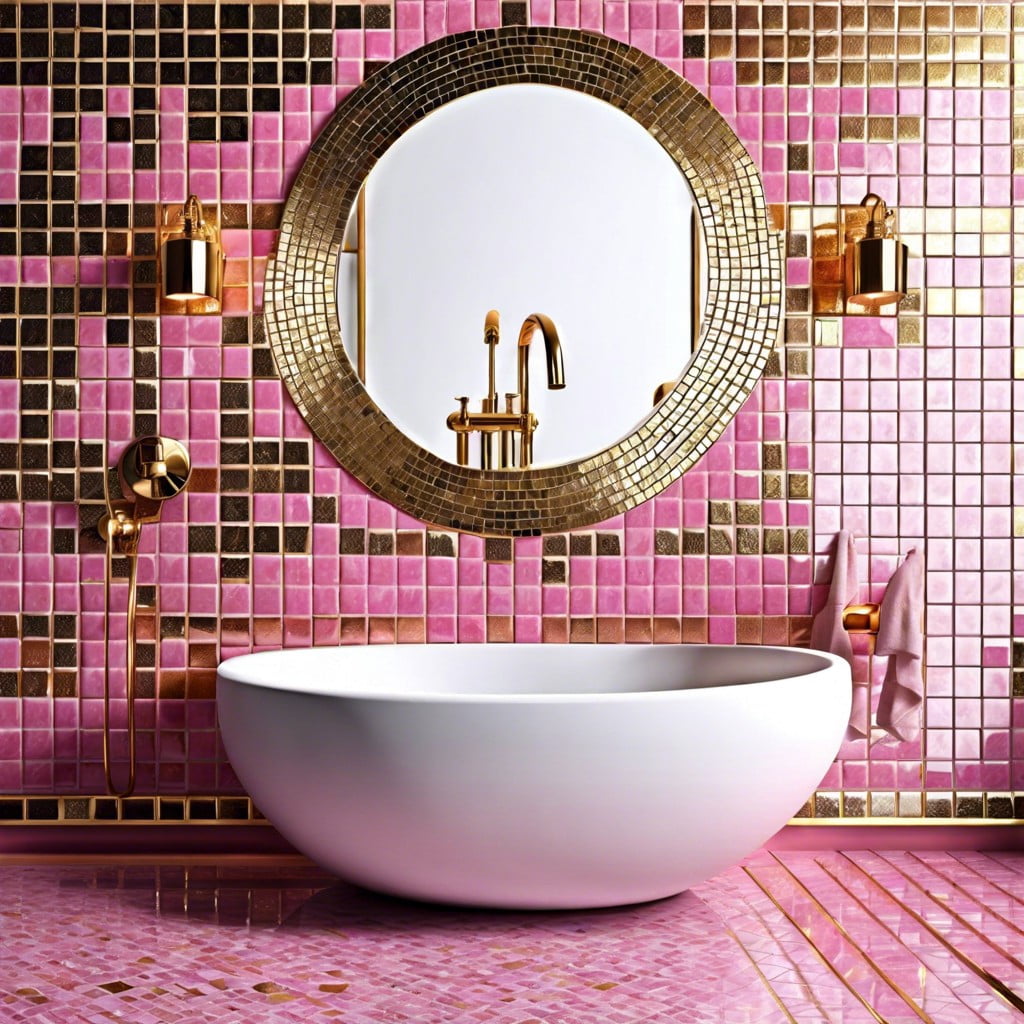 Integrating these two colors a refined elegance into any bathroom space is achievable through the subtle choice of mosaic tiles. Incorporating mother of pearl for a hint of soft pink glamor against the striking pop of metallic gold tiles can serve as an impressive backdrop.
Here are some tips to get started:
1. Combine various shapes: A blend of rectangular and square tiles can create a visually intriguing pattern.
2. Play with Light: Choose glossy tiles that add depth and reflect light to make the room appear larger.
3. Contrast Grout: A contrasting grout color can emphasize the tile layout and create a more dramatic effect.
4. Mesh-backed tiles: For easier installation, opt for mesh-backed mosaic tiles.
5. Maintain balance: Too much sparkle might be overpowering. Keep a fine balance by limiting the glittery tiles to one area like the shower wall or backsplash.
Remember, with the right combination, your bathroom will radiate a distinctive charm that is both warm and regal.
Gold Framed Pink Wall Art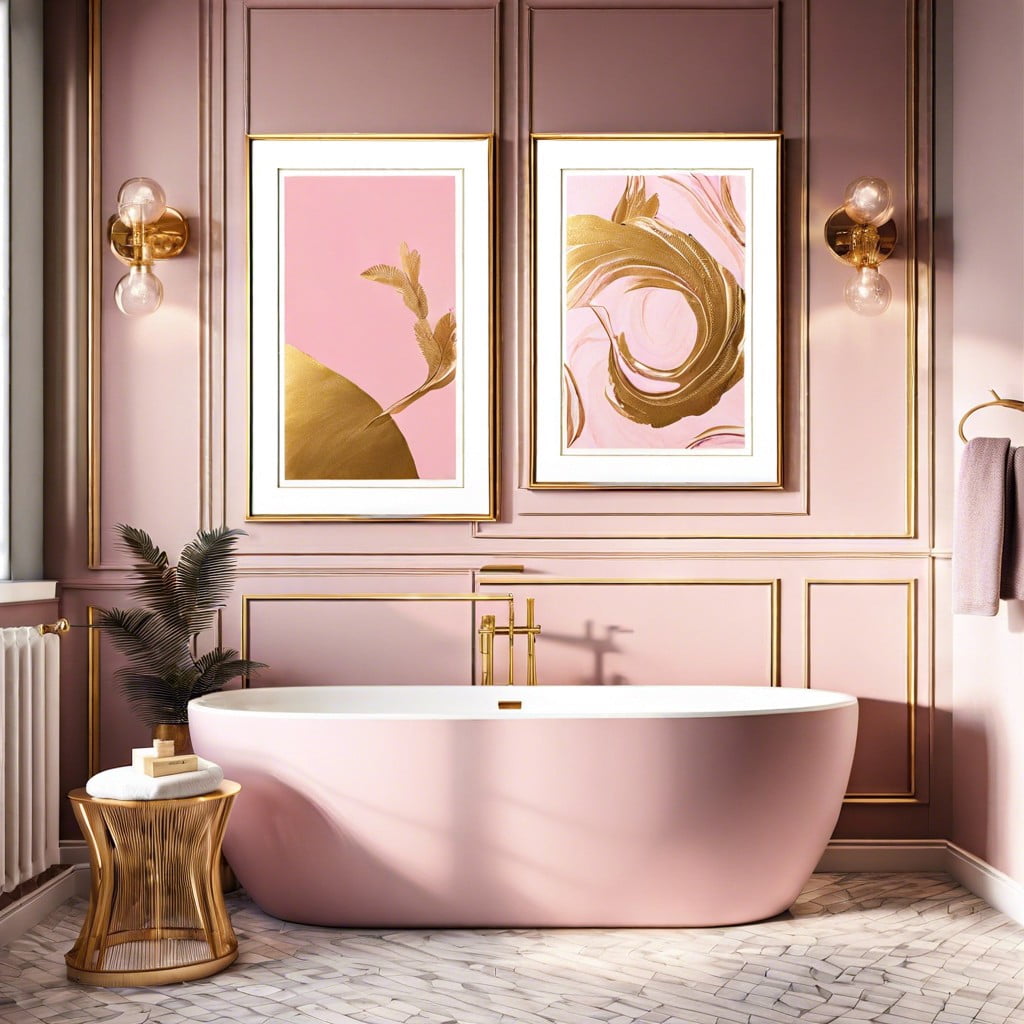 Always a classy choice, these art pieces work perfectly to incorporate both gold and pink into your bathroom design.
When selecting, consider abstract prints or botanical paintings to add a touch of femininity.
Ideal locations for these include above the toilet or over the sink to create a focal point.
The gold in the frames brightens the space, while the pink in the artwork adds warmth.
To ensure harmony, make sure the shade of pink matches or complements other pink elements in the room.
Don't shy away from different gold shades for your frames, from a soft champagne to a shiny brass, depending on the rest of your decor.
Pink Velvet Vanity Bench With Gold Legs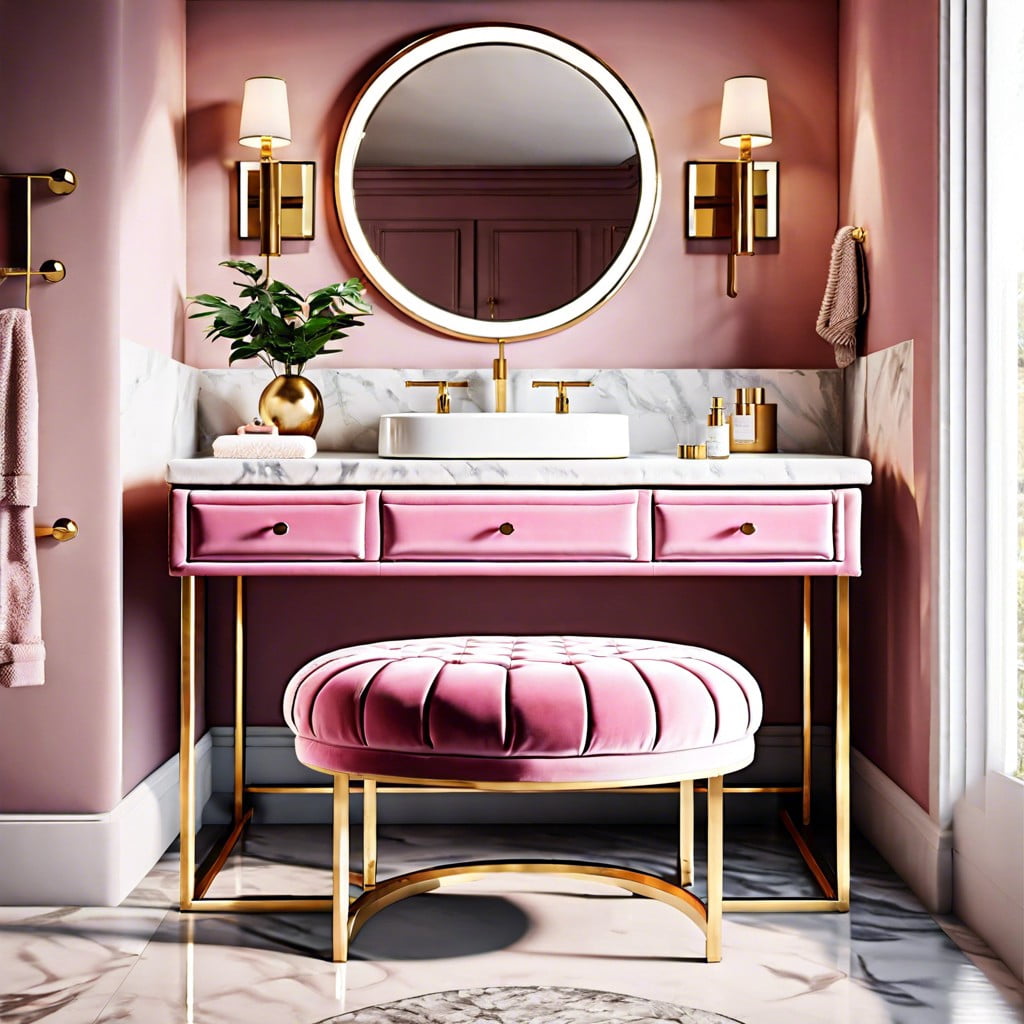 Opting for this luxurious piece is bound to make a statement in your bathroom. Not only does it serve a practical purpose for perching during your morning routine, but it also adds a pop of color and class to the space.
A piece with soft, plush upholstery adds a unique textural dimension that contrasts beautifully with more typical bathroom materials like ceramic and glass.
The gold legs, preferably in a sleek, polished finish, contribute a distinct air of elegance. The reflective metal can mirror other gold elements in the room, creating a cohesive aesthetic.
Lastly, this item's luxe appeal makes it a fantastic choice for individuals looking to inject a bit of glamour into their bathroom. Yet, it requires careful thought in positioning – placement near a vanity unit or dressing table is ideal. Keeping it out of direct splash zones will ensure this radiant seat retains its charm longer.
Gold Shower Curtain Rods With Pink Curtains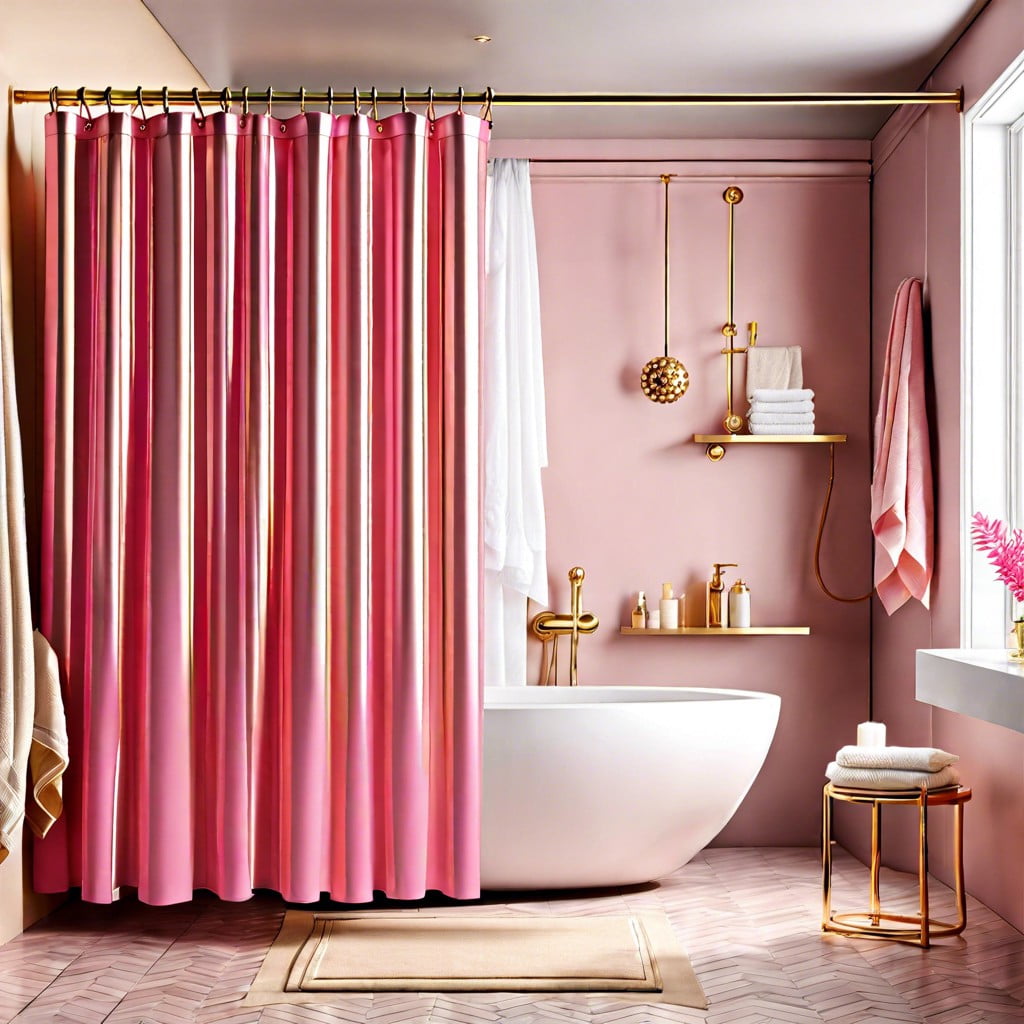 Creating a striking balance between the feminine grace of pink and the opulent charm of gold can create a truly stunning visual focus in your bathroom.
Position vibrant, blush curtains against a shiny golden rod which delivers a stylish contrast and elevates the overall aesthetics.
The shimmering gold provides a rich backdrop, letting the pink curtain standout and simultaneously, become a unique, eye-catching feature.
Here are some quick tips to remember:
Opt for a high-shine gold rod to emphasize the contrast.
Choose a shade of pink that complements the overall color scheme of your bathroom.
Utilize textured or patterned curtains for an added dose of personality.
Consider the lighting in your bathroom; a high-shine gold rod can catch and reflect light beautifully.
Ensure the curtains are easy to remove and wash, as this area can quickly accumulate moisture and soap residue.
If desired, match the curtain's shade or pattern to other elements in the room, creating harmony in your design.
Position the rod at an appropriate height. As a rule of thumb, the curtain should just brush the floor.
Soft Pink Rug With a Gold Trim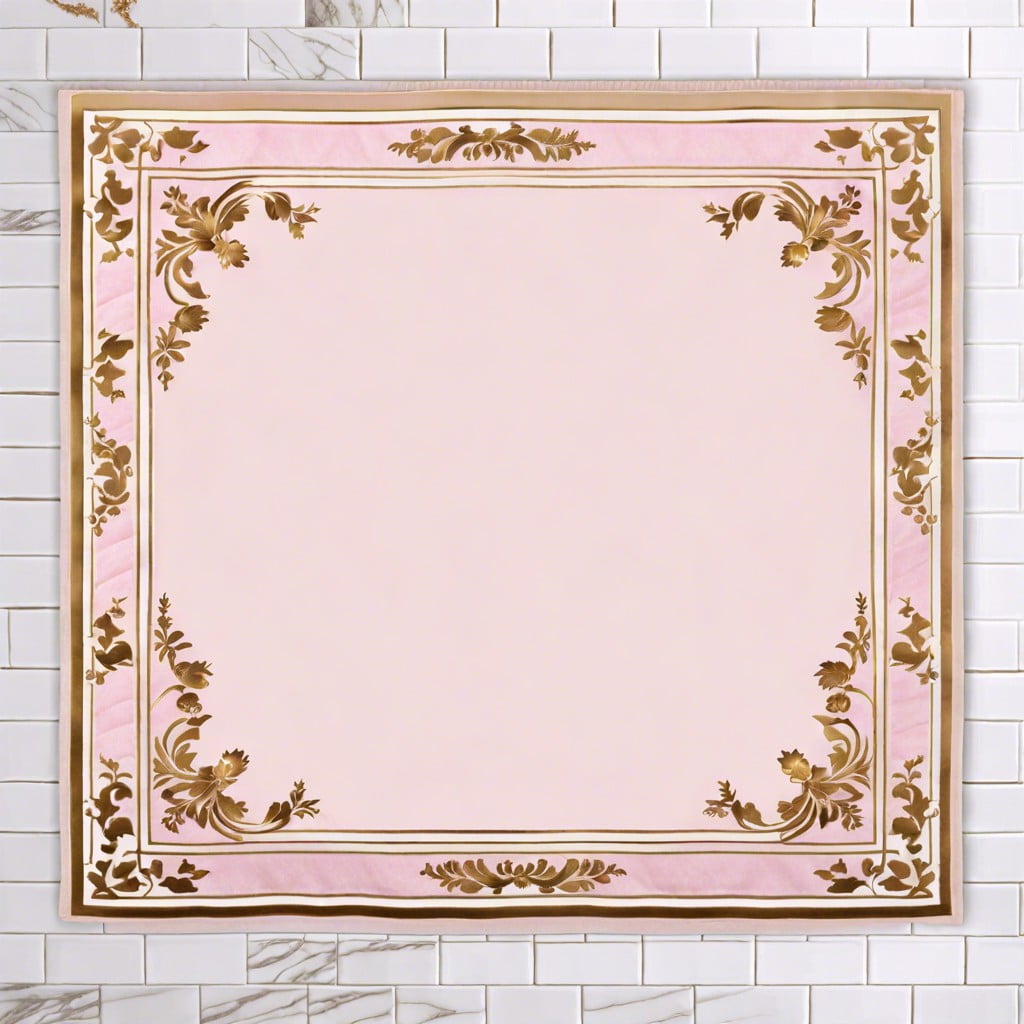 A soft pink rug with a gold trim instantly elevates the aesthetic of any bathroom. Its gentle hue imparts a soothing ambience while the scant border adds an element of luxury. Ideal for maintaining warmth underfoot, these rugs also enhance comfort significantly.
When selecting the right rug, weigh factors such as size, shape, and material. A large rug can anchor the room elegantly whereas a small size could serve as a charming accent piece. Round or rectangular – the shape choice is yours to make.
For material, go for something plush like a high-pile rug to absorb water efficiently while providing a soft landing spot. Synthetic materials like nylon resist mildew and are easy to clean, while natural options like cotton can bring added softness.
Placement is key with rugs. They work excellently in front of the sink or bathtub. Whichever location chosen, ensure the rug can drain effectively and air dry to forestall mildew growth.
Ensure to coordinate the rug with other bathroom elements for a unified look. Complement it with gold fixtures or accents to amplify the plushness. Remember, balance is vital to sidestep an overpowering or washed-out look.
By simple additions like a soft pink rug with a gold trim, any bathroom can embody an appeal that blends comfort with sophistication.
Gold-rimmed Mirror On a Pink Wall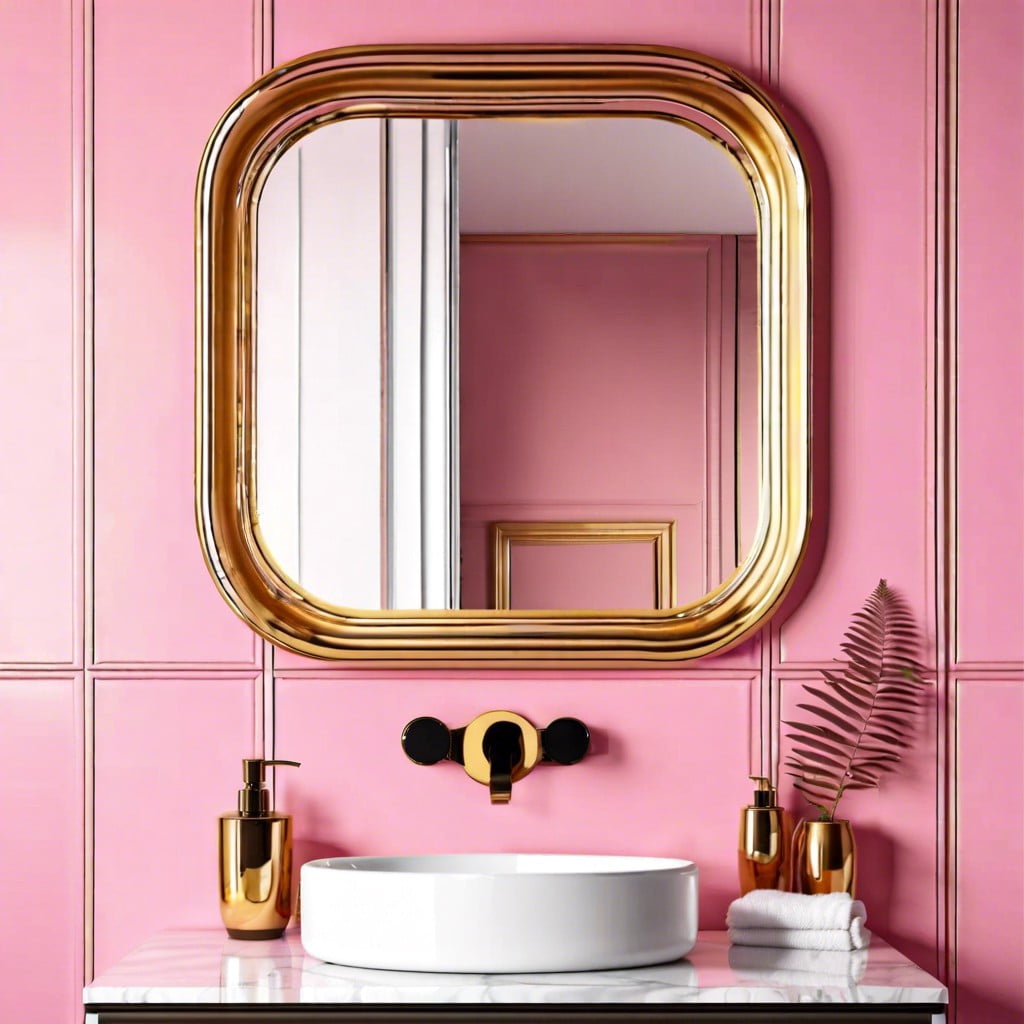 A gold-rimmed mirror serves dual purposes – functional and decorative. It adds an immediate touch of luxury. Its reflective properties brighten the room by bouncing off light, making it appear more spacious.
Additionally, it complements the pink wall, adding a warm, inviting hue.
When opting for this setup, the shape of the mirror can redefine the space. Try geometrical forms for a modern touch or intricate, antique designs for a vintage ambiance.
Ensure the gold tone matches the other gold elements in the bathroom to create a cohesive look. Last but not least, place it at a suitable height, considering all bathroom users.
Mix and match these elements to suit your personal taste and the overall bathroom theme.
Pink Towels With Gold Monograms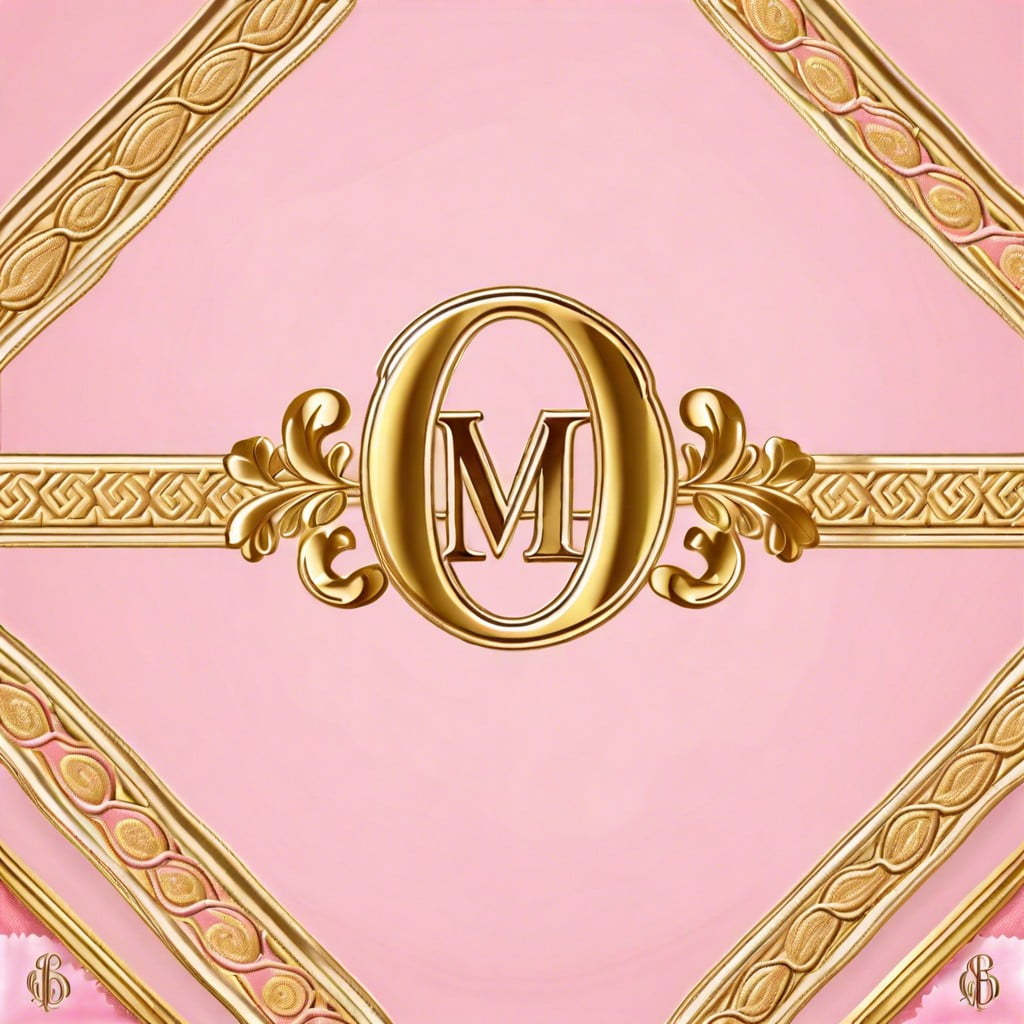 Continuing on our transformative journey, let's focus on a simple yet effective accent: monogrammed towels. These essentials can be the subtle highlight of your restroom.
Start with plush, high-quality towels in distinctive shades of pink. Choose whether you want a rosy hue for an elegant feel or perhaps a blush tone for a gentle, soothing atmosphere.
Now, here comes the twist. Add personalized touches with gold monograms. These could be your initials, a special date, or even a simple geometric shape, whatever resonates with your style.
Go for an embroidery style that's classy and chic, maybe in a font that reflects your unique aesthetic. This gold-on-pink combo is not only luxurious but also adds a sense of personal charm to your bathroom.
For those interested in customizing their own towels, numerous online platforms offer such services, making it an easy task to achieve. Alternatively, local embroidery shops can also do an excellent job and potentially give you more control over the final product.
In the end, these personalized items will not only serve as functional pieces but also as conversation starters, giving a glimpse of your style and adding a sophisticated touch to your new pink and gold bathroom decor.
Blush Pink Wallpaper With Subtle Gold Accents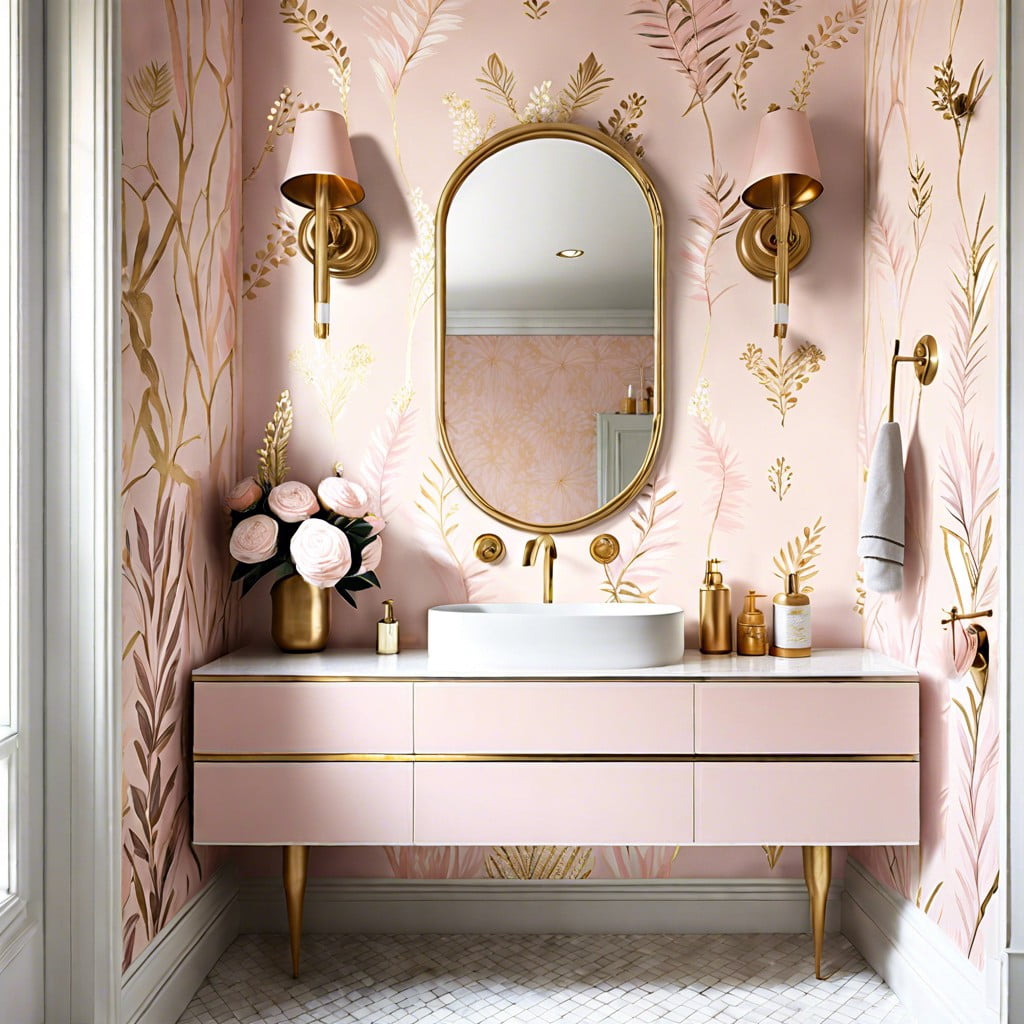 Subtle gold accents in blush pink wallpaper can add a luxurious touch to your bathroom. Choosing a design with a soft, swirling pattern can provide an opulent atmosphere. The shimmering gold details contrast beautifully against the soft pink, creating a warm and inviting aesthetic.
1. Wallpaper Quality: Opt for vinyl wallpaper, which resists moisture and is more durable.
2. Installation: Ensure professional installation for a seamless look.
3. Cleaning: Use a soft cloth to clean your wallpaper. Harsh chemicals can fade the gold accents.
4. Style Match: Ensure other bathroom accessories complement the wallpaper.
5. Light Effect: Notice how different types of light interact with the wallpaper.
6. Pattern Choice: Less is more. Opt for subtle gold accents over complex patterns.
7. Accent Wall: Consider using this wallpaper on one wall as a statement piece.
Harnessing this design tip can be key to achieving a chic and stylish pink and gold bathroom.
Gold Freestanding Tub With Pink Bath Mat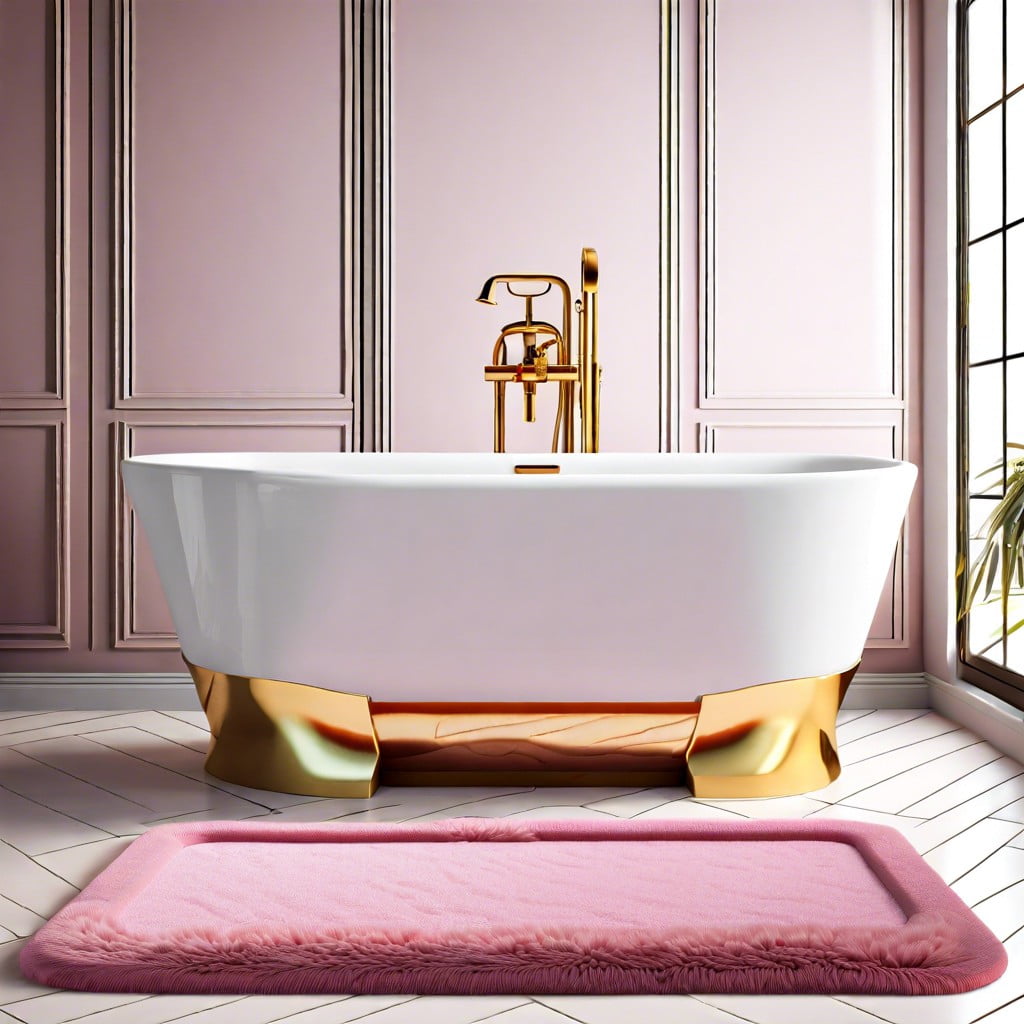 A freestanding tub in gold can act as the centerpiece of your bathroom, radiating an aura of luxury and opulence. Opt for a metallic gold finish to amplify the sense of extravagance. For contrast, place a soft, inviting bath mat in a muted blush pink at its base.
This juxtaposition will create a visual balance, ensuring the gold doesn't overwhelm the eye while keeping things chic.
1. Style: A freestanding tub in gold gives an art deco feel that recalls old-world charm.
2. Material: Ensure the tub is of premium quality and the gold finish doesn't fade over time.
3. Size: Choose the size according to the scale of your bathroom to maintain the proportions.
4. Placement: Position the tub in a spot where it can be the focal point of the bathroom.
5. Contrast: Complement the tub with a blush pink bath mat to ground the look and add coziness.
6. Texture: Opt for a fluffier bath mat texture to contrast with the hard surface of the tub.
7. Care: Regular care of both elements is important for long-term usage and to maintain the aesthetics.
Remember, it's not just about turning heads; it's about creating a bathroom that feels supremely personal and inviting. This combination is a sure-fire way to mix chic with comfort.
Pink Painted Cabinets With Gold Handles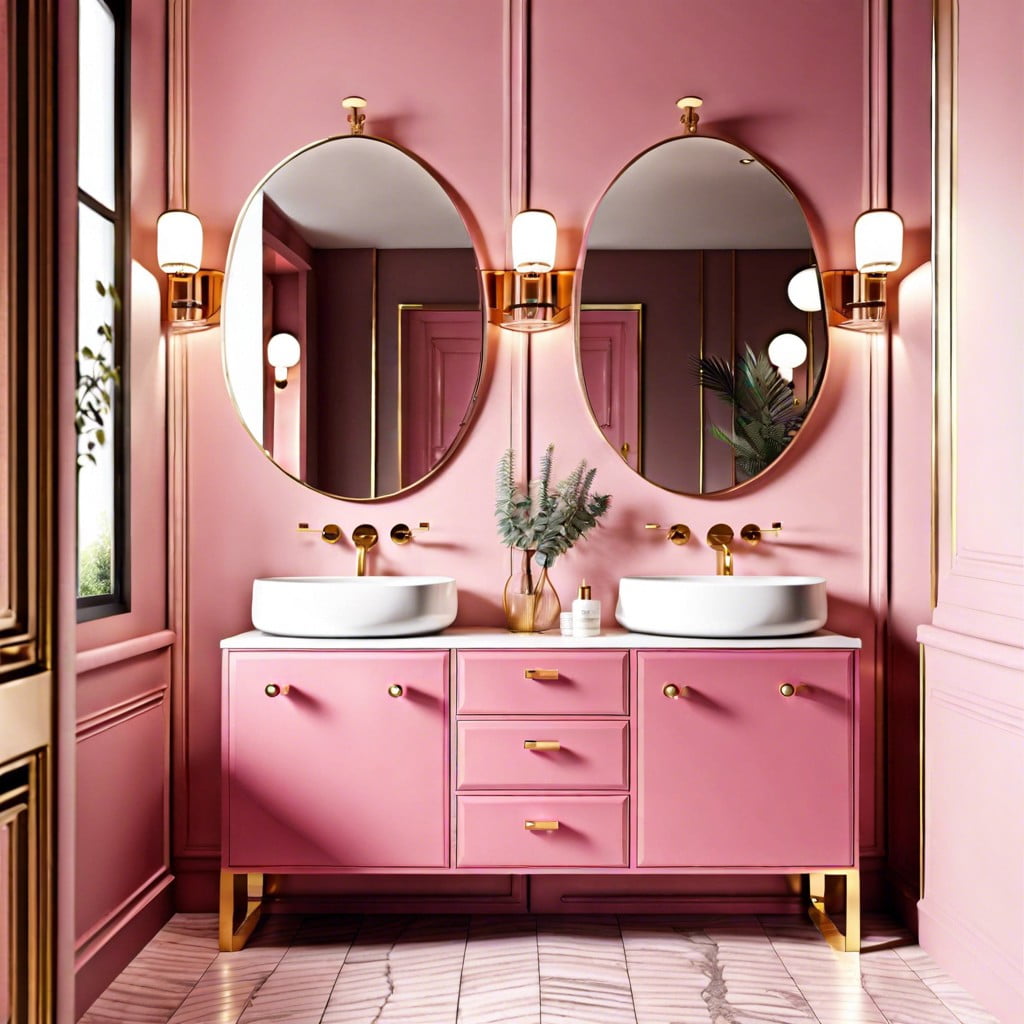 The trick to flawless cabinets lies in the paint's quality, hue, and finishing. A deep blush or subtle pink hue can induce an instant uplift to the bathroom ambience.
Accentuate this transformation with stylish gold handles. Luxurious yet demure, these metallic beauties will add an aesthetic dimension, creating a striking contrast against the pink. They reflect light, lending a warm glow to their surroundings.
Choose from a wide variety of handle styles, such as vintage, modern, or minimalist, that best compliments your bathroom's overall decor. The ease of swapping them also allows for frequent style updates. Prioritize quality to maintain the rich gold luster over time. Install them either horizontally or vertically, depending on your preference.
The harmony of pink and gold truly enhances the visual aspect, lending a regal touch to your bathroom cabinets.
Gold Light Fixtures On a Pink Ceiling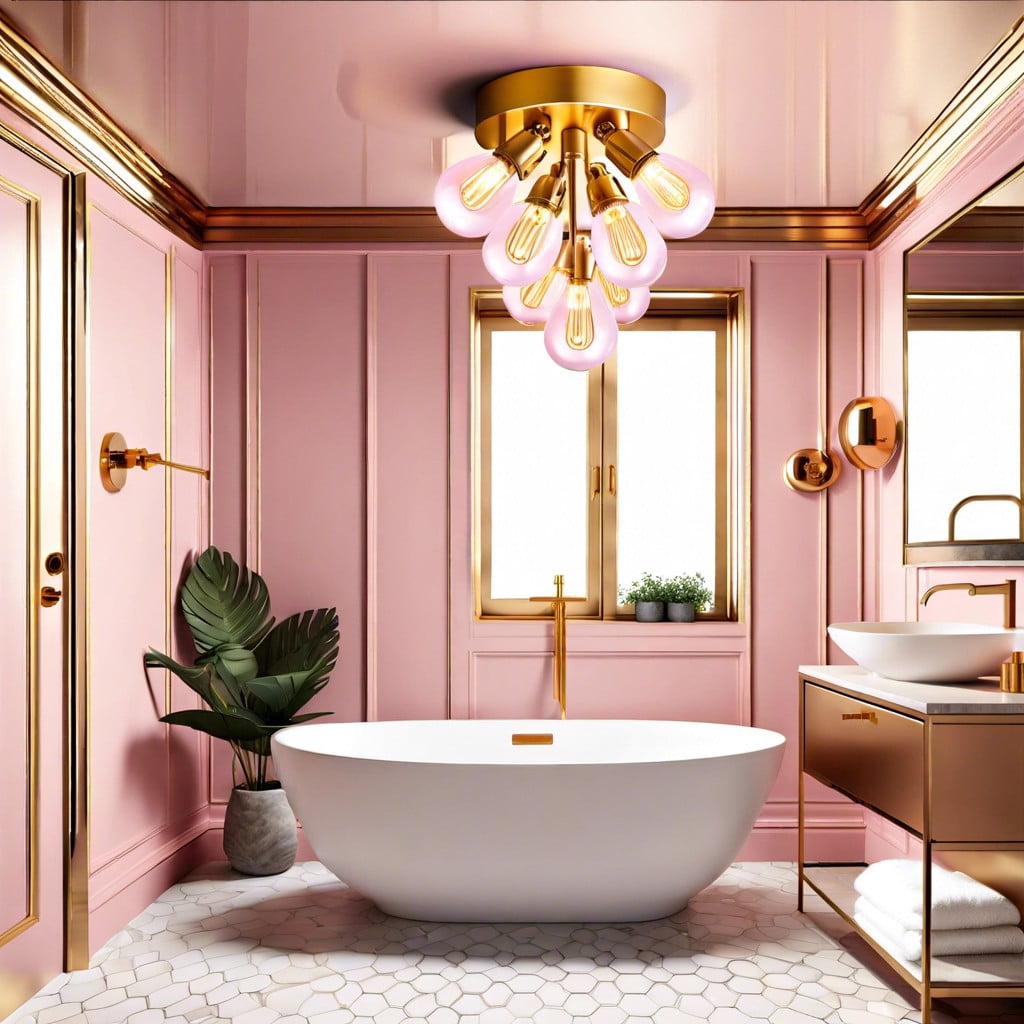 Taking inspiration from classic French design, ornate chandeliers or geometric pendant lights can instantly elevate the space. The interplay between the radiant gold and soft pink paint creates a harmonious aesthetic that's both classical and chic.
Here are some pointers to guide your choices.
1. Ensure the light fixture style is in sync with the overall bathroom stylistic theme.
2. If the ceiling is high, pick a slightly larger fixture to make a statement.
3. Opt for various lighting types, like pendant, recessed, spotlight, for practicality and visual interest.
4. Try LED lights in warm white for a energy-efficient, flattering glow.
5. Match the gold finish with other fixtures in the room for a cohesive look.
6. Considering dimmer switches for adjustable mood lighting.
Remember, the perfect light fixture is the one that fits well with the entire room while enhancing the pink ceiling's calming effect.
Pink and Gold Flower Arrangements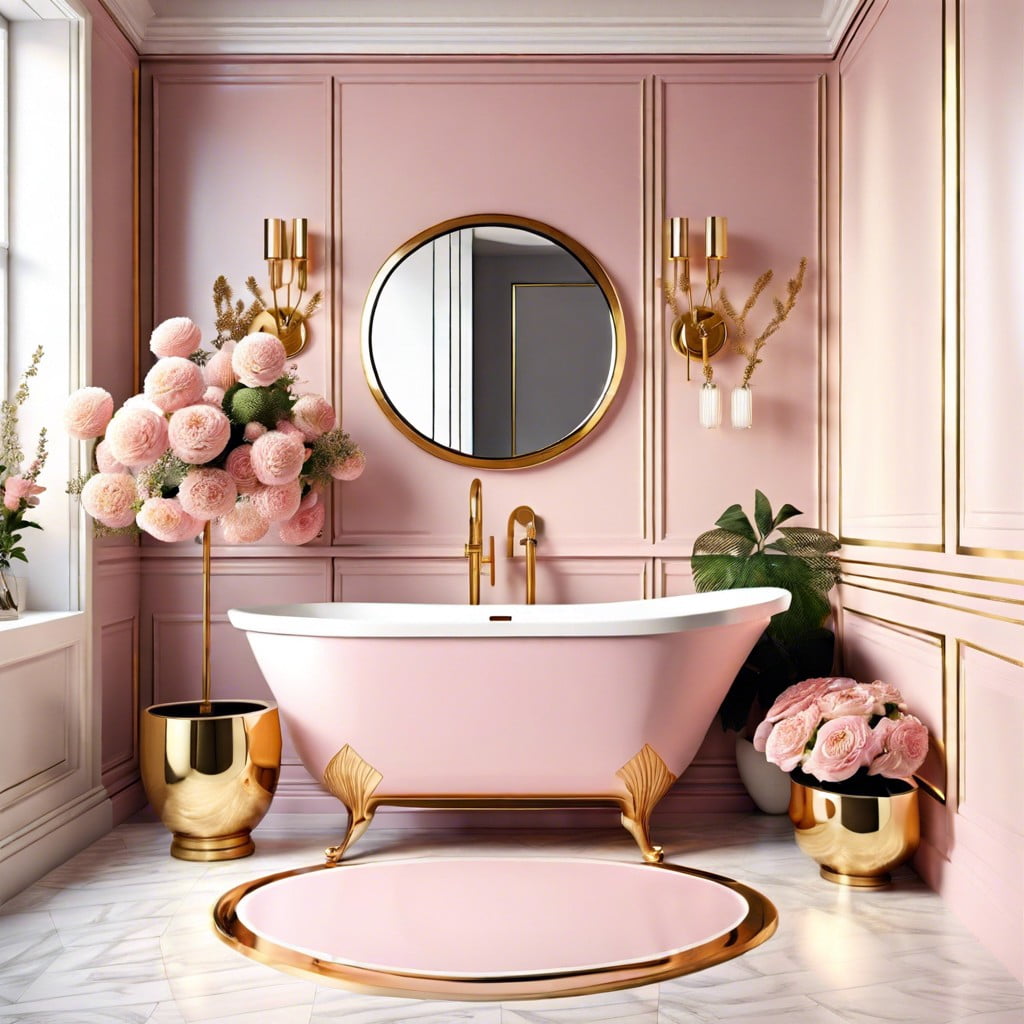 Incorporating floral arrangements in the bathroom can certainly amp up its aesthetic appeal. Opt for flowers in varying shades of pink – from soft blush to rich fuchsia. Roses, tulips, or peonies, for instance, work perfectly. Go for vases in shiny gold, whether it's glossy or brushed. The sheen will pop against the bright floral colors.
A single large arrangement can be a statement piece, but equally, a few small bouquets scattered around the room work wonders too. Gold vase accents are particularly eye-catching when placed on darker surfaces, such as black granite countertops or oak shelves. It lends a touch of elegance and warmth to the often overlooked bathroom area.
The refreshing and relaxing aura of natural flowers combined with glimmering gold also serves as a luxurious experience.
Gold-soap Dispenser On a Pink Sink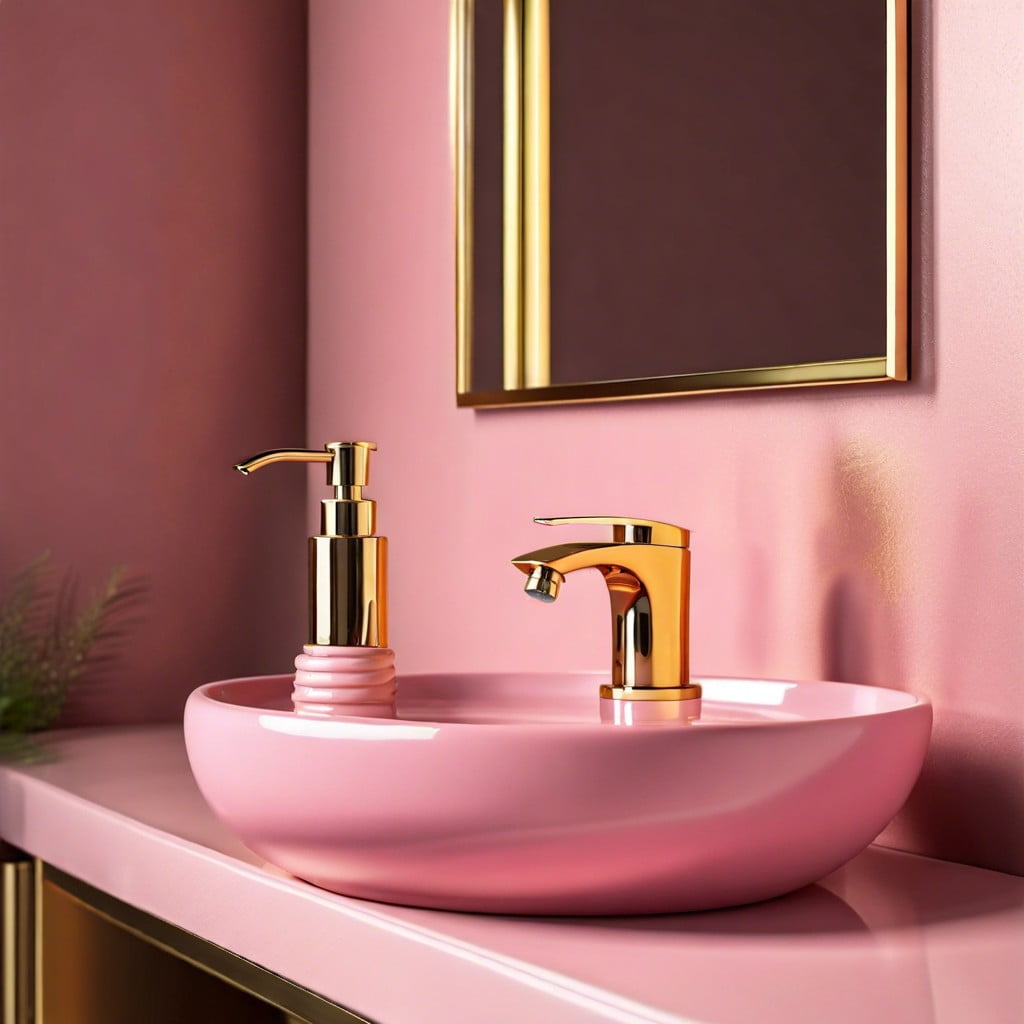 A strategically placed soap dispenser doesn't have to only be functional, it can significantly contribute to the aesthetics of the bathroom. Go for a glossy gold dispenser. The metal finish will introduce a luxurious touch and create a stunning contrast with the pink sink.
Choose a style that complements other elements in the room. If you've opted for a modern, minimalist approach for other fixtures, then go for a sleek, clean-lined dispenser. Or, for a more classical feel, a dispenser with ornate detailing may be more fitting.
Having a visually appealing soap dispenser is one thing, but also consider incorporating a delightful smell to further enhance the bathroom experience. Consider rose, berry, or other pink-themed fragrances to resonate with the colour scheme.
Don't forget to clean the dispenser regularly to maintain its shiny appearance. It's best to use non-abrasive cleaners designed for metal surfaces. Avoid acidic or harsh chemicals that could damage the gold finish.
Pink-tinted Glass Shower With Gold Hardware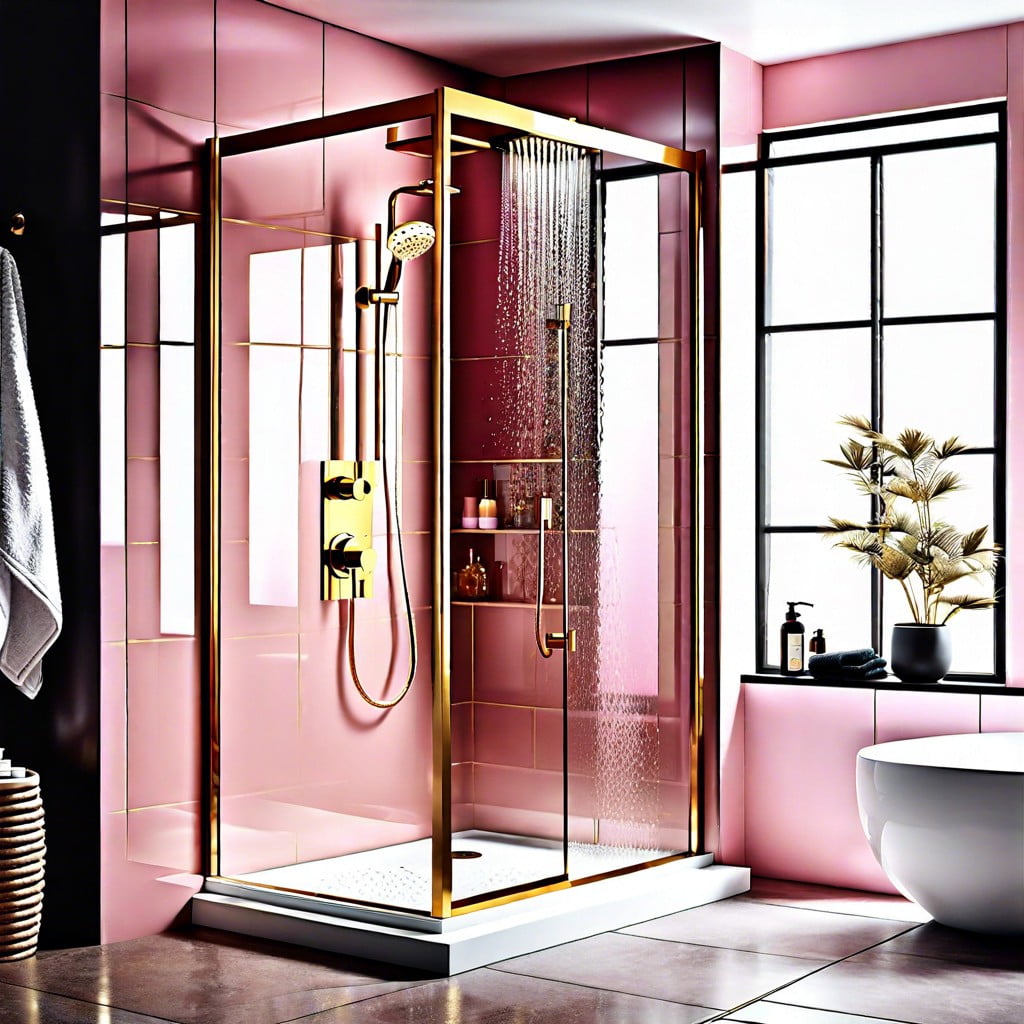 Opting for pink-tinted glass to encase the shower transforms the bathing area into a warm, inviting sanctuary. It emits a soft hue that envelops the space in a gentle glow, enhancing the relaxation experience.
Gold hardware brings an extra dash of sophistication. A shimmering gold shower head, door handles, and hinges introduce an opulent touch, flawlessly complementing the rosy glass. These elements combined deliver an impression of luxurious elegance.
Into this design, you could infuse some versatility. Consider matte or polished finishes for your gold hardware or experiment with different shades of pink tint for the glass. These subtle modifications can allow you to tailor the design to your liking, ensuring both visual appeal and personal satisfaction.
Propel this concept further by pairing this shower design with a gold-hued shower caddy or soap holder to amplify the golden highlights. A theme-coherent bath mat just outside the shower area could also be a visually compelling touch.
Keep in mind, though, the balance. Let the pink glass and gold hardware remain the focal points, with the additional accessories and elements serving only to subtly accentuate the central theme.
Gold Toilet Paper Holder On Pink Wall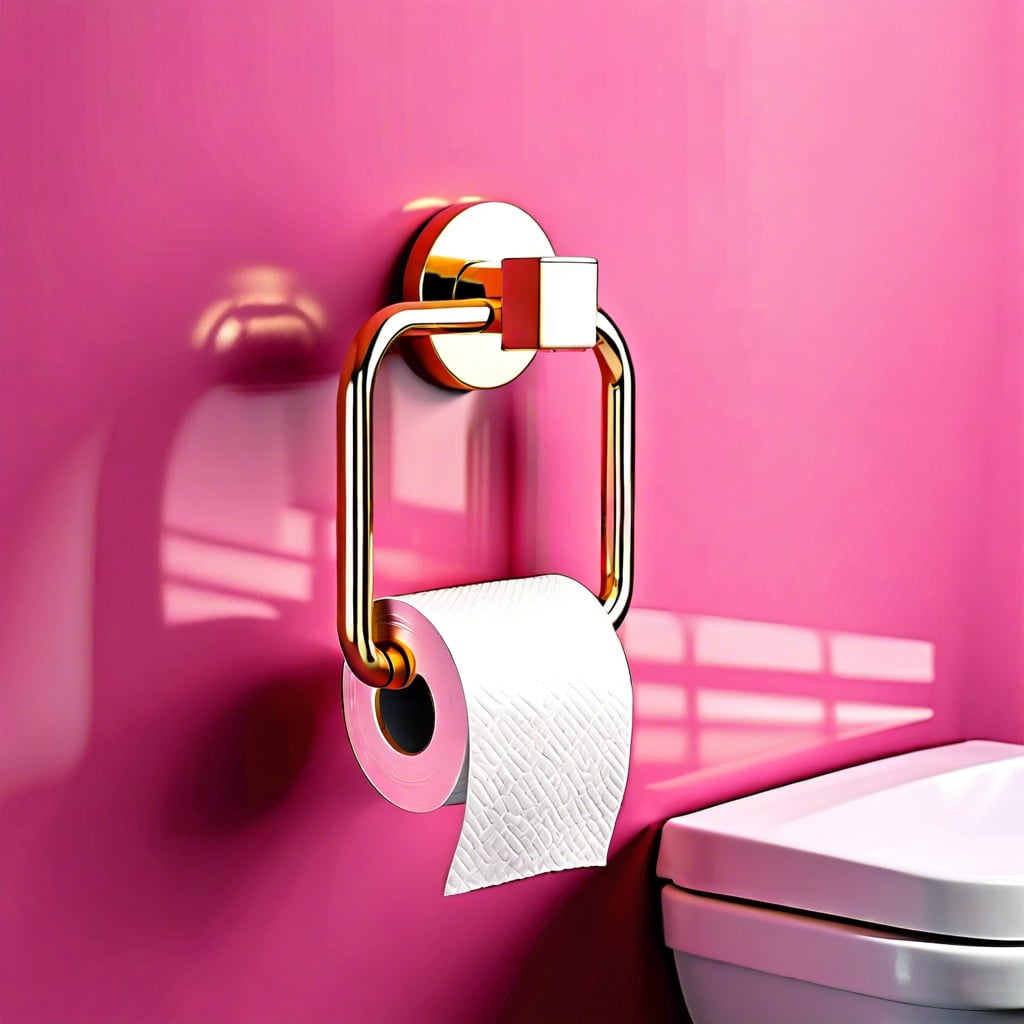 Starting from the functionality, a golden toilet paper holder introduces an element of understated luxury. It immediately elevates the overall vibe of the bathroom. This accessory doesn't take up much wall space, making it an easy addition even in compact areas.
In comparison, a pink wall creates a beautiful contrast. It acts as an excellent backdrop, helping the gold stand out. This eye-catching color scheme brings a chic and playful look. Just make sure to choose a shade of pink that complements the gold.
Positioning is crucial too. It should be within easy reach – close to the toilet, but not in an obstructing place.
For installation, follow manufacturer instructions carefully to ensure the holder is sturdy and well-aligned. If you're not confident about DIY, call in a professional.
Ultimately, this simple upgrade can bring a touch of class to your daily routine while integrating seamlessly into your pink and gold bathroom theme.
Blush Pink and Gold Geometric Patterned Wallpaper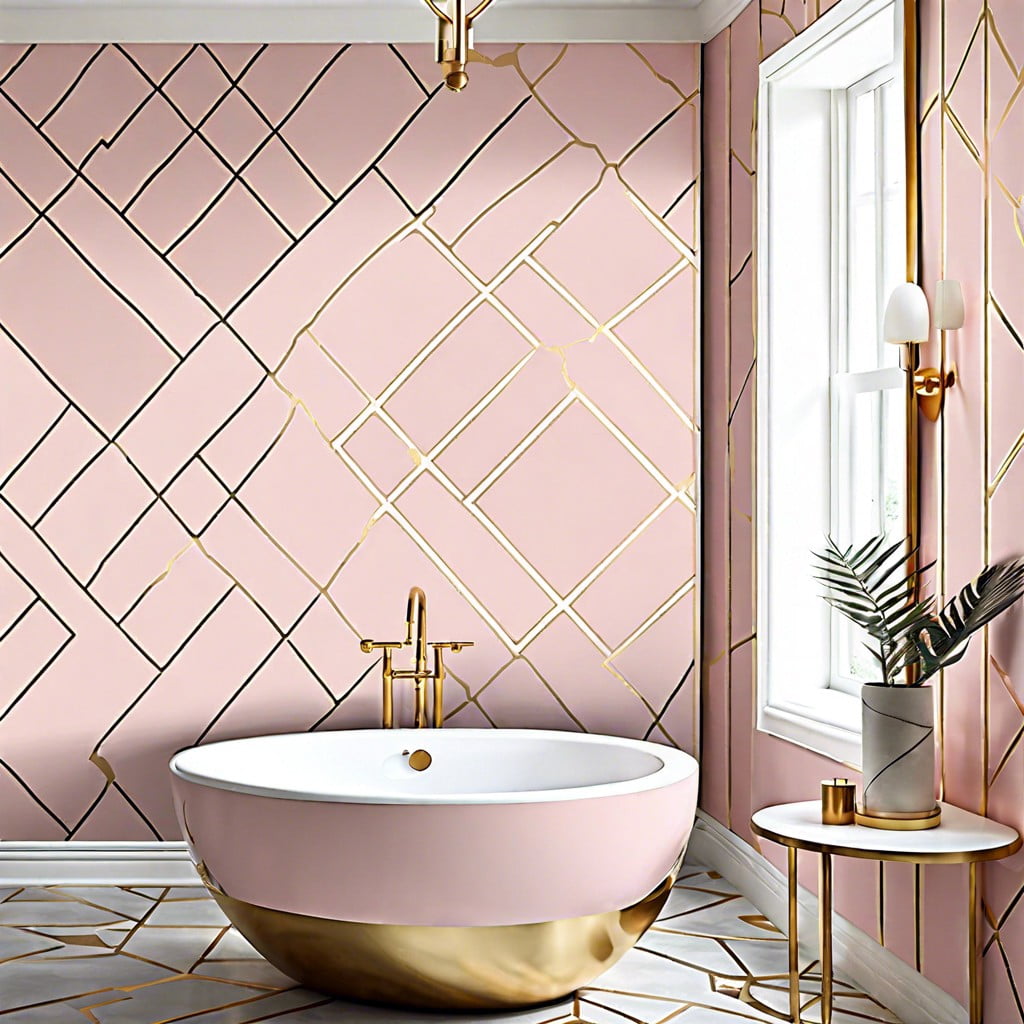 Starting with the walls, a simple yet impactful styling trick is to play with patterns. A wallpaper boasting a geometric pattern can add a modern twist that contrasts nicely with the vintage feel of pink and gold. Imagine an accent wall adorned in blush and gold triangles, diamonds, or hexagons – it instantly adds dimension and is visually compelling.
Choosing the right pattern is essential. A large-size pattern can make the bathroom look spacious, while a smaller pattern gives a detailed aesthetic. Wallpapering just the upper or lower half of the wall, divided with a gold molding, can also create an intriguing look.
Lastly, the durability of the wallpaper should be considered. Vinyl wallpapers are ideal for bathrooms as they are resistant to humidity and easier to clean. There's no better way to introduce personality and charm into your bathroom than with this combination of color, pattern, and texture!
Vintage Gold Faucet With Pink Porcelain Sink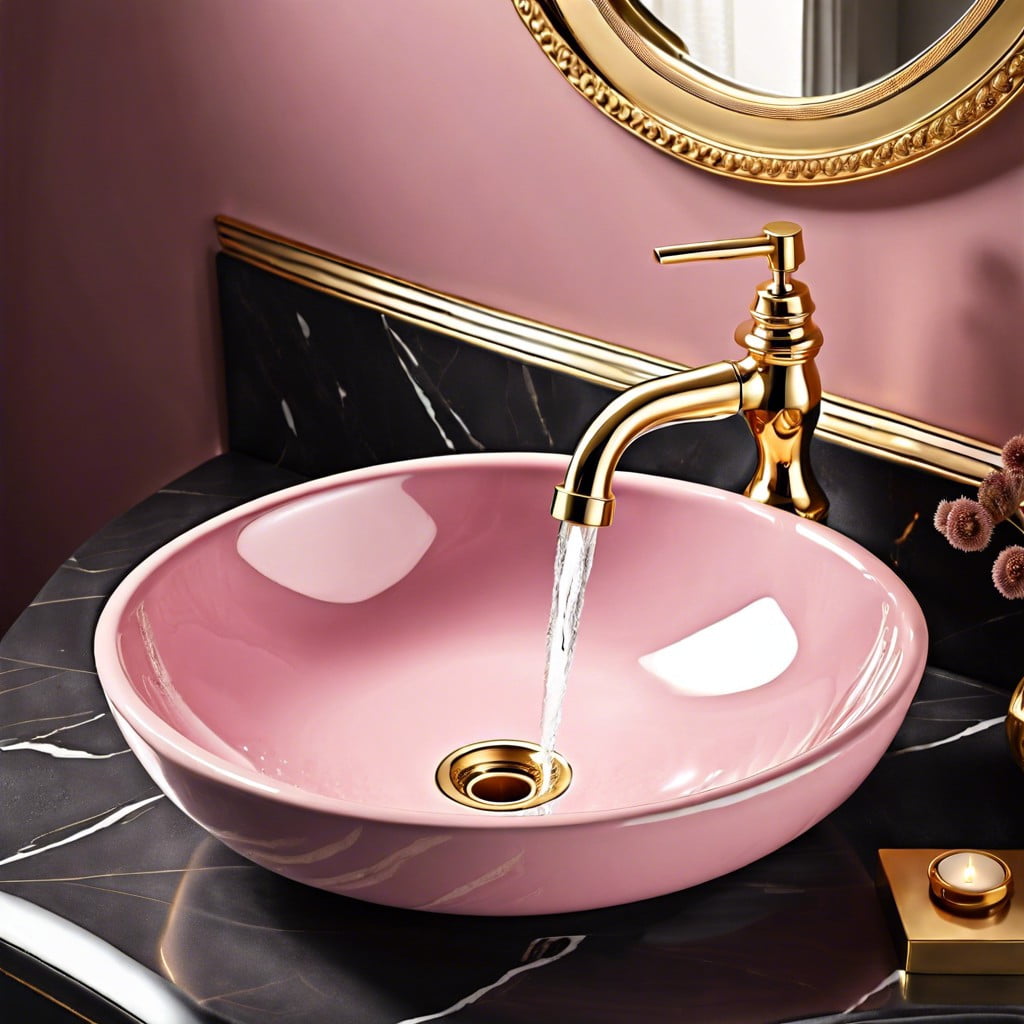 A captivating blend of old-world charm and contemporary elegance, this combination instantly uplifts the aesthetic appeal of your bathroom.
1. The gold faucet: With its intricate design and rustic appeal, it stands as a focal point against the soft backdrop of the pink sink. Choose a design that mirrors the beauty of a bygone era for that vintage feel.
2. The pink porcelain sink: The blend of delicate pink with the durability of porcelain offers functionality while maintaining the soft tone of the bathroom.
3. Pairing Vintage and Contemporary: Integrate modern elements like sleek cabinetry or a modern mirror to create a contrast against the vintage gold faucet. This harmonious blend assures a chic yet inviting space.
4. Sink and Faucet Coordination: Ensure your faucet and sink designs blend well together, maintaining a balance between the intricate and the simple.
5. Maintaining Aesthetic: A matching soap dispenser in gold and other coordinated fixtures can solidify the overall aesthetic of the bathroom.
Remember, the purpose here is to use contrasting epochs and tones to create an intriguing and aesthetically pleasing bathroom environment.
Rose Pink Shower Tiles With Gold Grout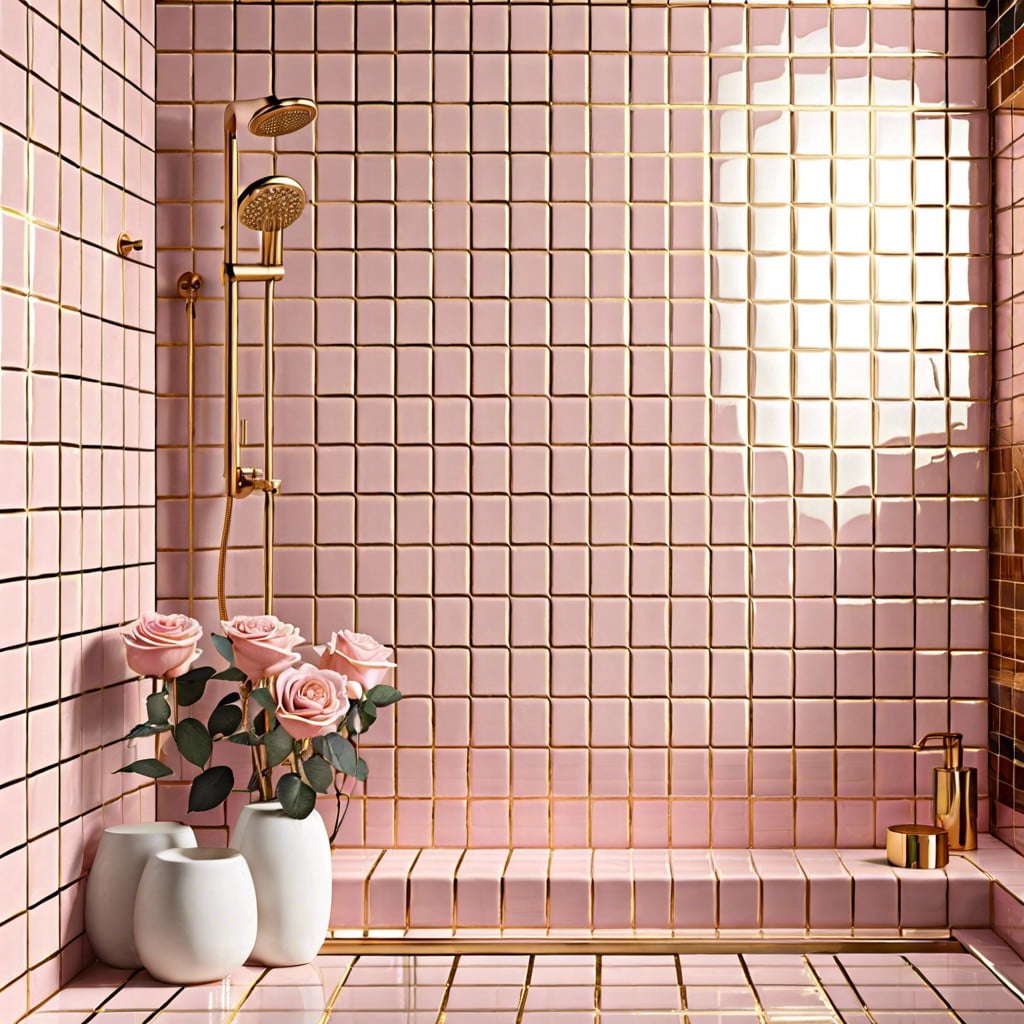 Perfect for adding an elegant and luxurious vibe, this design is all about attention to detail. The rose pink tiles create a warm, welcoming atmosphere, while the hint of golden grout adds a touch of opulence. To achieve the best results, opt for small rectangular or square tiles. This will allow the golden grout lines to become a key part of the design rather than serving as a mere distraction. Natural stone tiles or ceramic tiles would be a great choice.
A friendly tip for care: always use non-abrasive, gentle cleaning supplies to maintain the shine of your gold grout and the soft hue of your rose pink tiles.
Planning wisely is crucial in this particular design. Prior to installing, consult with professional tilers to get an idea of how the end product will look. Always order extra tiles and grout to account for any mistakes or damages during the process.
It's a sapient decision to use bathroom accessories that complement this design. Think gentle rose gold fixtures or a sleek, minimalist gold shower head. An additional layer of detail can be added with golden-framed glass shower doors to really make that bathroom dazzle!
Blush Pink Curtains With Gold Curtain Rods
Thoughtfully chosen curtains make a significant impact on the aesthetics of the room. Blush ones infuse a warm and inviting vibe into your bathroom.
A sheer blush pink lets natural light gently filter in, creating a soft glow that enhances the overall ambience. If you prefer thicker curtains for privacy, aim for a satin or velvet material; they also add a hint of luxury.
Pairing the blush curtains with gold curtain rods is an effective way to maintain the color scheme while adding elegance. The gold rod acts as a stylish accent piece, instantly levelling up the aesthetic quotient. It complements the blush pink perfectly, creating a rich, sophisticated touch to your bathroom. The metallic finish of the rod also pays homage to the timeless allure of classical decor themes.
Remember to match the finials on the rod with the bathroom fittings to maintain cohesion in your room's aesthetics. With the right choice of curtains and rods, you can create a fascinating interplay of color, opulence and light, setting the stage for your chic, stylish bathroom.
Continue reading:
Recap