Last updated on November 21, 2023
Matching shower and window curtains can transform a bathroom into a cohesive haven of relaxation and style, because harmony in décor elevates the ambience.
Dressing up your bathroom with matching shower and window curtains can create a harmonious and stylish space. This article will guide you through various ideas to perfectly coordinate these two elements, from color schemes to patterns, fabric choices, and even how to mix and match for a unique look.
Stay tuned to discover how to transform your bathroom into a chic and inviting retreat, with all the details you need to make the right choices.
Tropical Palm Leaf Pattern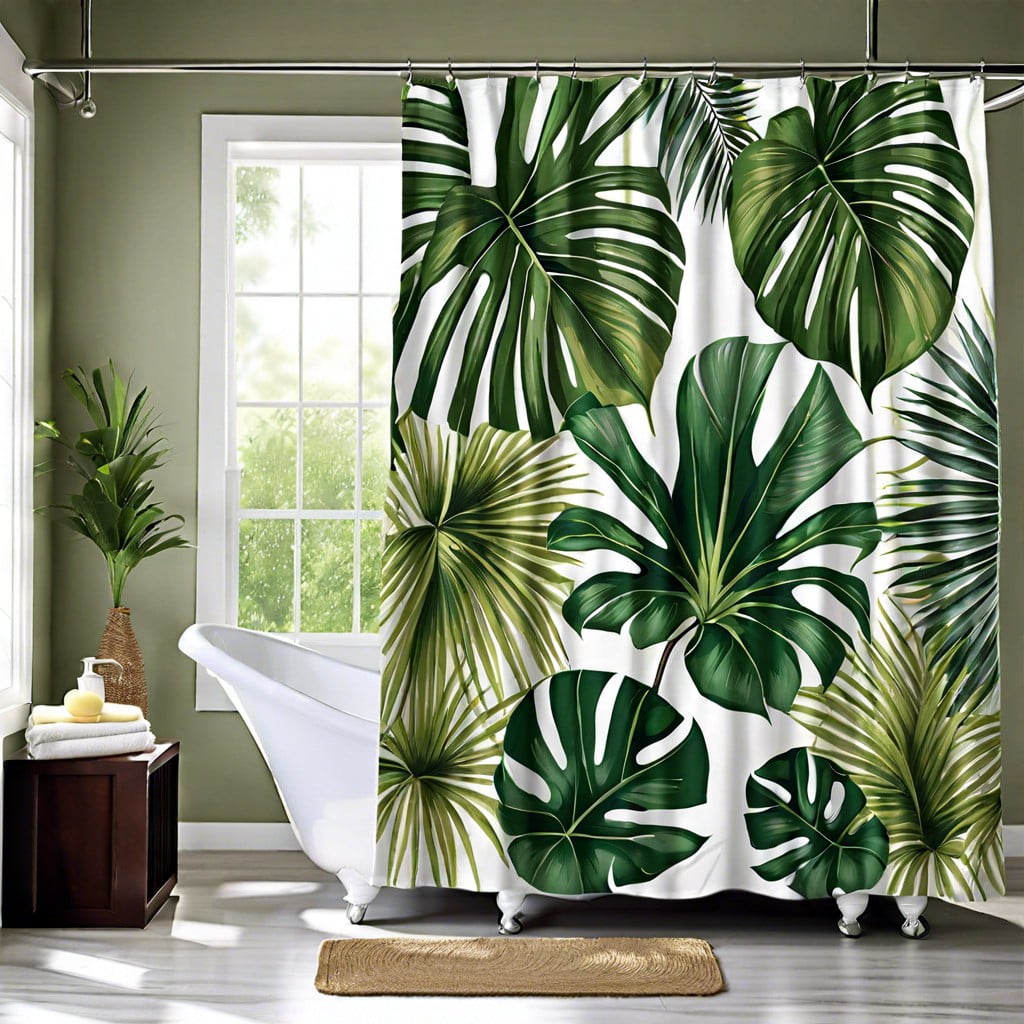 Embracing a vibrant feel, this pattern injects a touch of nature. Its effervescent beauty pulls the charm of playfulness that we associate with summers at the beach into your bathroom decor.
Specific points to note about the Tropical palm leaf pattern include:
Fresh and lively: The print oozes freshness and can instantly brighten up your day. The natural green, interspersed with the leaf pattern, pulsates with life.
Versatile: The pattern's versatility is commendable. It can seamlessly blend with different color schemes, be it a stark white or a bold, dark hue.
Therapeutic: The leaf pattern is therapeutic. Soaked in green, it helps create a relaxing atmosphere, perfect for long baths.
Statement-making: This print is not for the faint-hearted. Its vivaciousness makes a bold statement and ensures your bathroom stands out.
Easy Maintenance: This pattern is generally printed on polyester, which means it's water-repellent and quick to dry.
Pat yourself on the back for choosing this striking design as it is going to make your bathroom the envy of many.
Nautical Stripes Design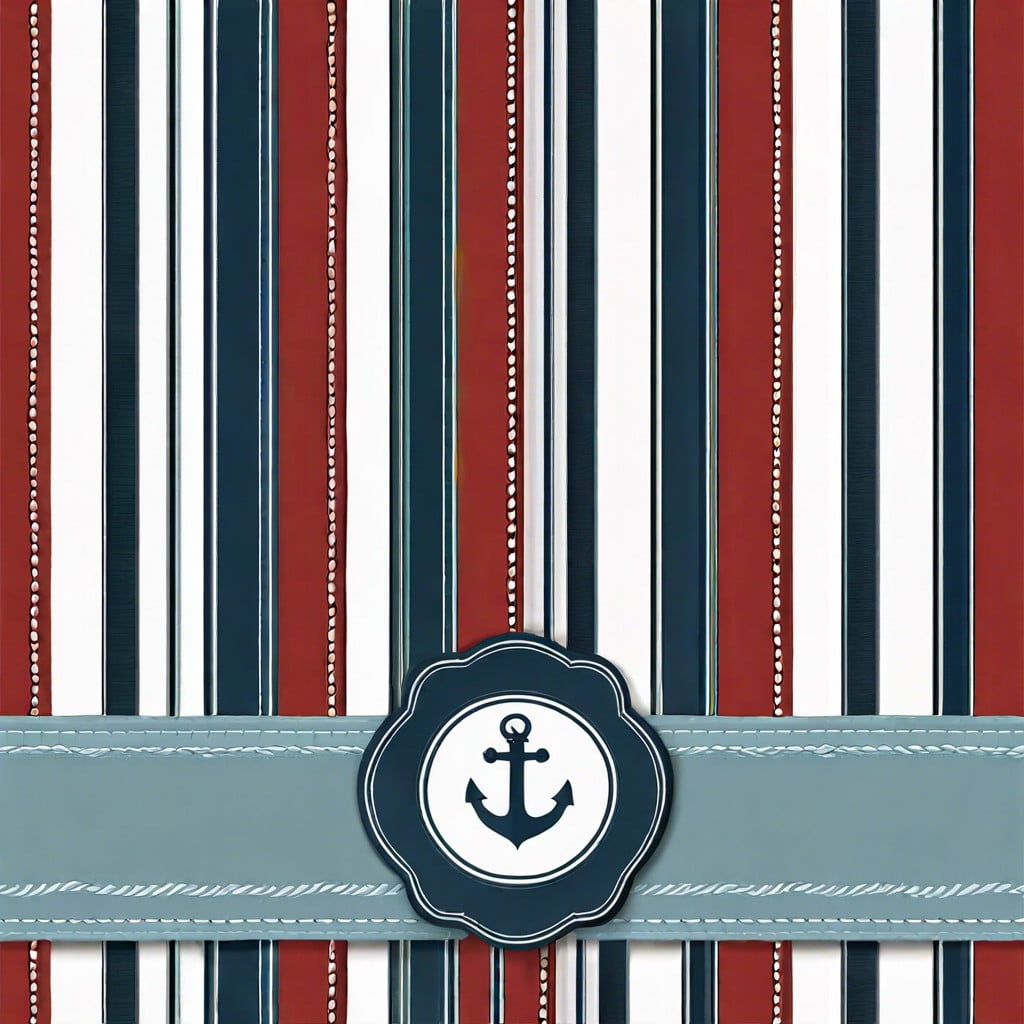 Drawing from the timeless appeal of seafaring influences, nautical stripe designs evoke a sense of ease and adventure. Typically seen in a palette of navy and white, these designs create a soothing, beachy atmosphere.
You might consider a shower curtain with wide, horizontal stripes for a bold, contemporary look. Alternatively, vertical stripes or even a smaller, seersucker pattern can add a bit of traditional charm to your bathroom.
For window treatments, think about using the same broad stripe pattern but in a sheer fabric. This can add a lighthearted touch that is charming during the day and elegant at night. If versatility is your aim, consider adding a second, solid curtain that can be drawn for privacy and added texture.
To harmonize this design scheme, incorporate accent pieces that borrow from the nautical theme; rustic lantern-style lighting or mirrored wall art in ship wheel frames can create a cohesive theme. Consider hues of sandy beige and ocean blue for your towels and bathmat to further highlight your nautical stripe. Adorn your window ledge or bathroom shelves with seashells and driftwood to cultivate a beach house atmosphere, whether you're near the sea or not.
Classic White Lace Curtains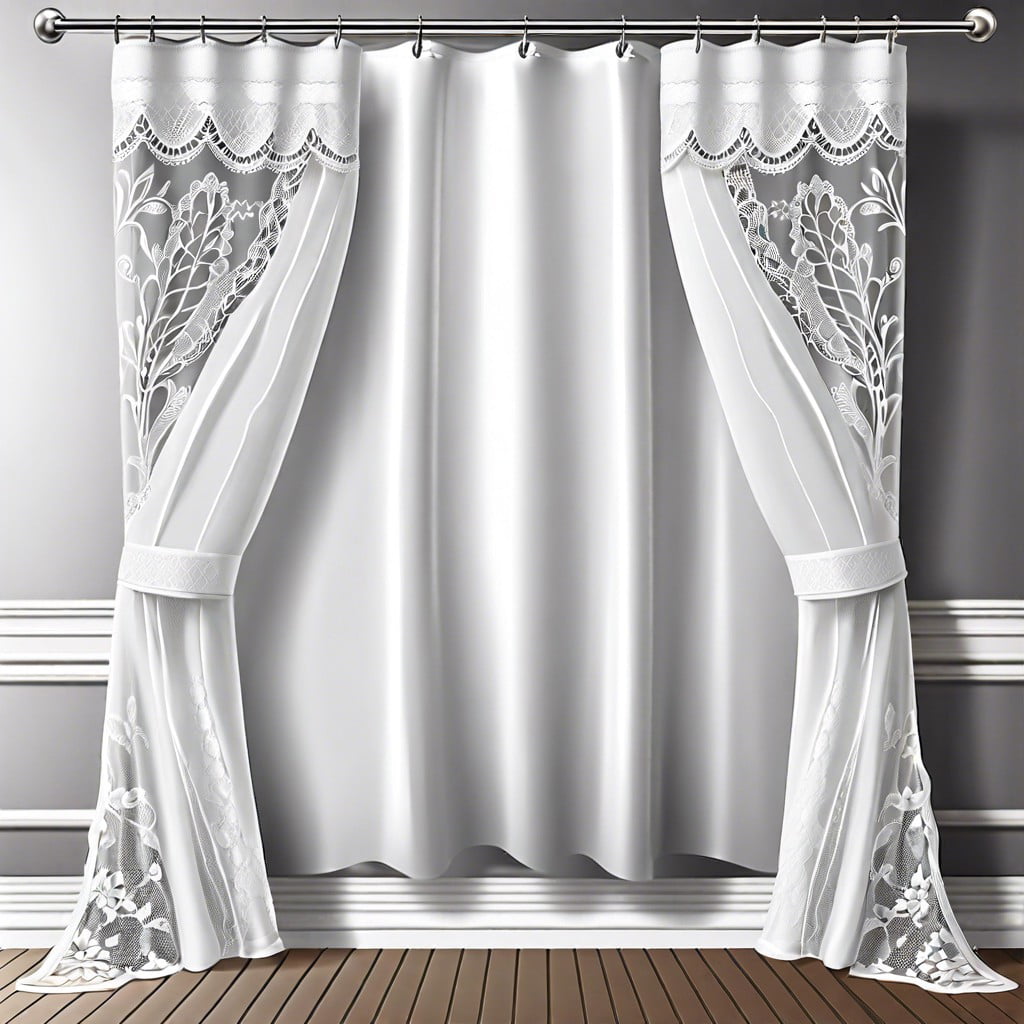 Delicate and timeless, this trend presents an airy aesthetic that emits a sense of cleanliness, pureness, and calmness – all of which should symbolize your shower and window curtains.
To achieve this look:
1. Choose all-over lace pattern: This plays up the classic element of the design and ensures the pattern doesn't overwhelm your space.
2. Stick to lighter tones: Lace designs tend to blend seamlessly with light-colored bathroom decor, thereby enhancing the classic vibe.
3. Consider matching accessories: Using smaller accents such as soap dispensers and towel holders in white or ivory tones can help tie the look together.
4. Don't forget about natural light: These curtains are perfect for spaces that receive a lot of sunlight as they create an enchanting light diffusion effect.
Remember, the charm of white lace lies in the intricate detailing – appreciate the elegance!
Chic Black and White Geometric Pattern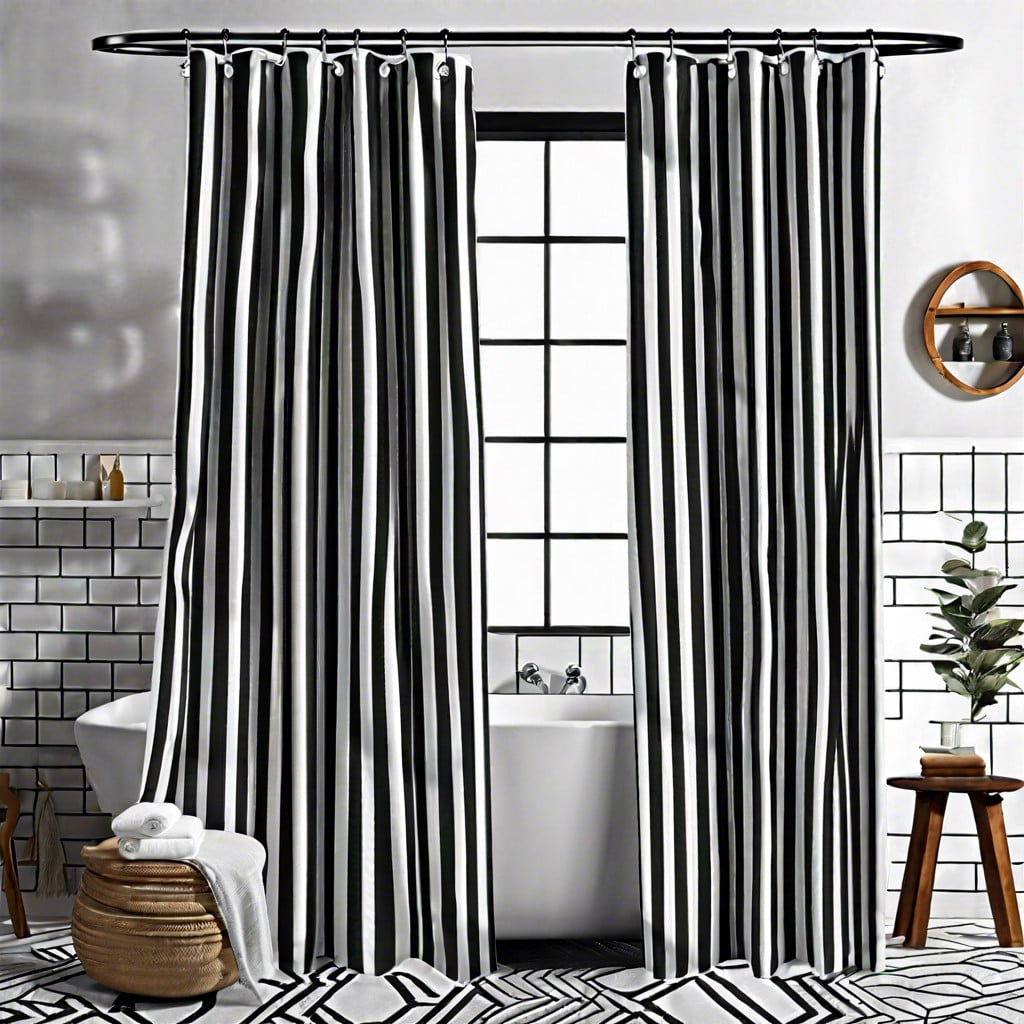 Bold contrasting colors and sharp lines give this curtain set a sophisticated aesthetic. Simplicity is key here, but the result- undeniably eye-catching. The geometric patterns create a mesmerizing visual effect, injecting a dose of dramatic flair. Perfect for a modern bathroom, it adds an edge while remaining tasteful.
Here are some pointers for working with a chic black and white geometric pattern:
Light Control: The heavy pattern can absorb more light, making it suitable for overly bright bathrooms.
Statement Piece: It can act as the focal point due to its captivating design, reducing the need for additional décor.
Versatility: The neutral black and white scheme pairs well with all color palettes, for hassle-free matching.
Size and Shape: Choose your pattern size wisely. Bigger patterns can make an area seem smaller and vice versa.
Accessories: Complement with minimalist bathroom accessories to enhance the contemporary vibe.
Reversibility: To keep things fresh, opt for reversible designs – one side patterned, the other solid color.
This style offers an effortless route to an updated, stylish interior. Go ahead, give your home a taste of the chic geometric trend.
Pastel Floral Print for a Romantic Vibe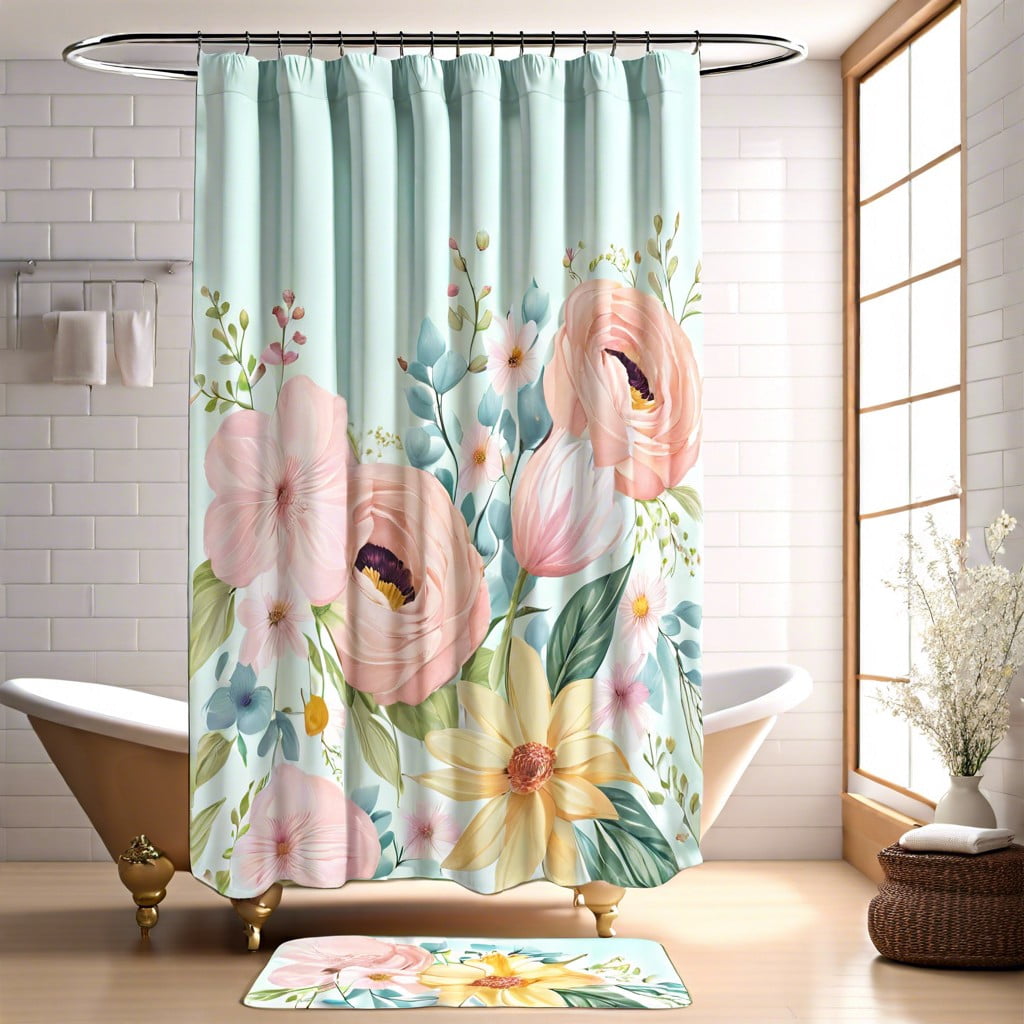 Warm colors in pastel shades of pink, plum, and peach with hints of grass green can create an alluring ambiance. Such light, muted hues cloak the bathroom in tranquility, giving it a soft, welcoming aura.
A shower curtain with prints of roses, peonies, or daisies, when complemented by a window curtain embodying a similar design, help to induce a sense of romantic nostalgia.
Here are some points to enrich this theme:
Undertone consistency: Keep the color palette consistent not just on curtains but also on bathroom accessories.
Material selection: Opt for soft, flowing fabrics for the window curtain to mirror the romantic theme.
Light considerations: If possible, invite more natural light into the bathroom to accentuate the floral design. Use translucent curtain fabrics to achieve this effect.
Accessories alignment: Coordinate the curtain hooks, rods, and shower rings with the pastel theme. Metallic rose gold or brass fittings can subtly enhance the romantic vibe.
Boho Chic With Tassels Design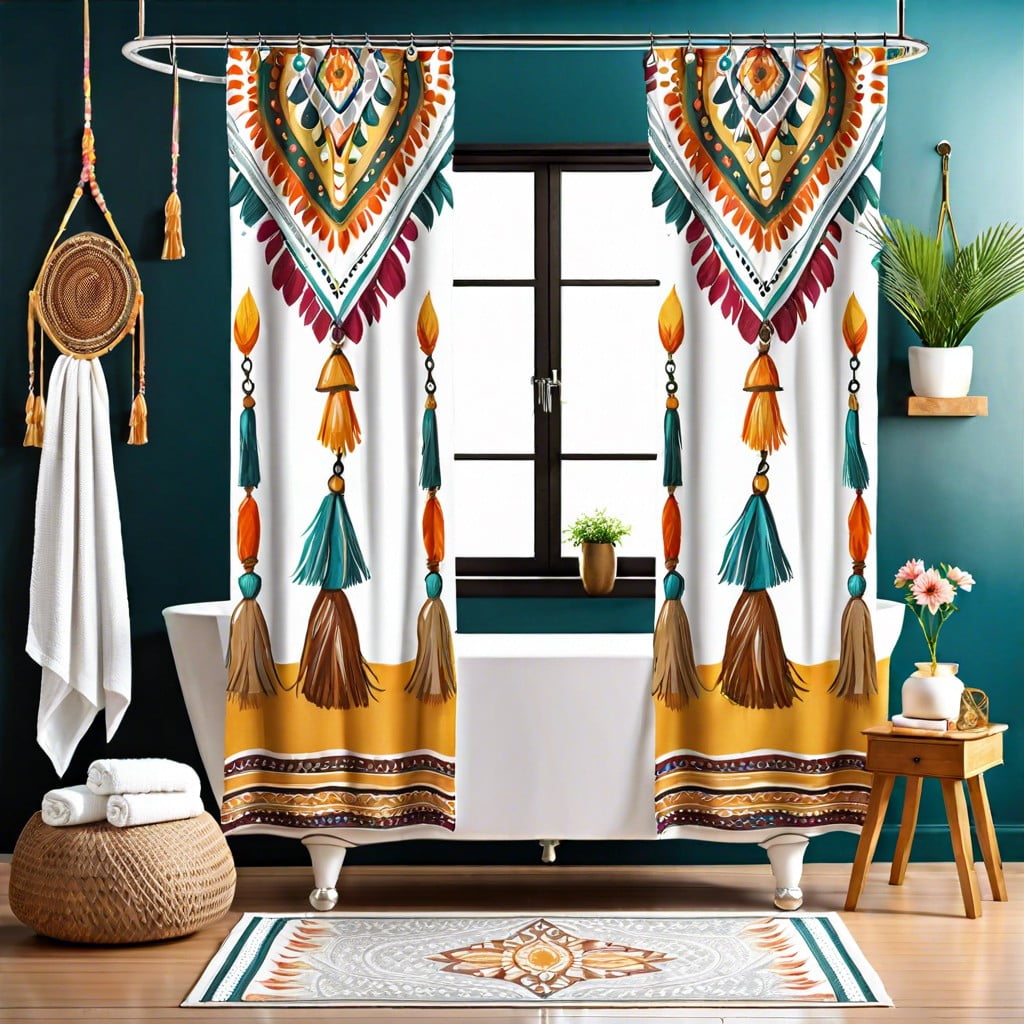 Unleash your home's funky side by adopting a boho chic design. Think vibrant hues and mix of patterns that virtually transport you to an exotic locale. A curtain featuring vivacious artwork and dazzling color palette is a stellar way to start.
Focus on tassels; they lend an added texture simultaneously enhancing the curtain's edge. It's an excellent way to bring a bohemian vibe to your bathroom, shower, and window while keeping the environment bright and energetic. Don't shy away from tassels with different colors or added sparkle for that extra splash of personality.
For the fabric material, cotton or linen works perfectly in achieving that laid-back, free-spirited allure. Ensure the pattern and colors coordinate, but don't obsess over perfect matching.
Hardware should have an antiqued, rustic finish to complement the bohemian theme. Wooden or brass rods work wonderfully. Choose curtain hooks and rings that mirror the curtain's bohemian vibe.
Striking Navy and Silver Design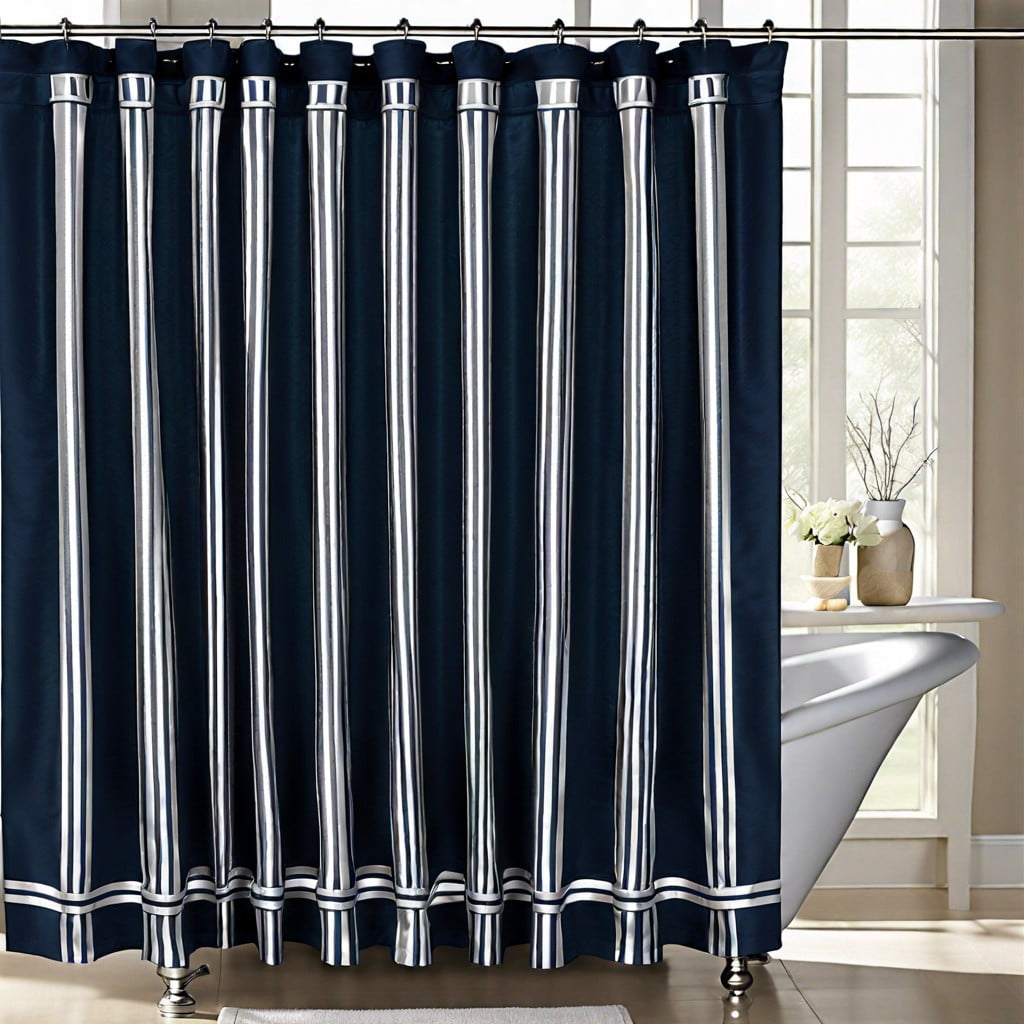 Consider the opulence of the shade navy paired with shiny silver accents; it's a scheme bound to elevate your bathroom's aesthetic. Keep your background navy to layer depth and a touch of sophistication.
1. Silver Details: Use silver grommets or hooks to connect the fabrics, polishing the overall design.
2. Variations in Print: Opt for a variety of patterns like stripes, polka dots, or geometric shapes in silver. This creates an exciting visual element against the navy canvas.
3. Reflective Accents: Incorporate silver reflective accents on both curtains, drawing in similarities without mirroring the pattern.
4. Trust in Textures: Employ different materials like silk or silver-coated cotton, for a multi-dimensional effect.
Remember, this design conveys elegance and class with a modern twist, making it perfect for those who aim for a tasteful bathroom look.
Country Charm Gingham Print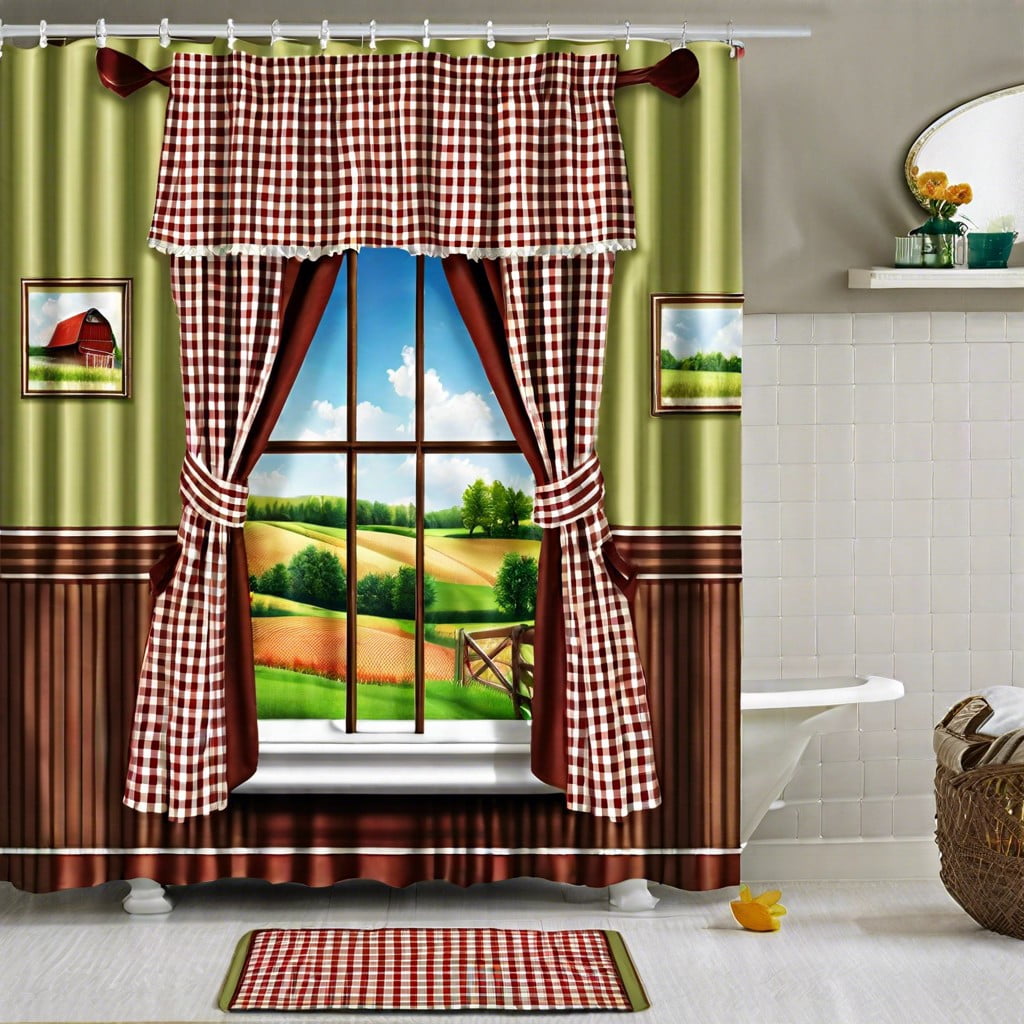 Breathing rural charm into any space, gingham print is a longstanding favorite for many homeowners. Its simplicity lies in the small, check pattern that typically features white and a bold color, making this design versatile and timeless.
Here are some unique aspects of incorporating gingham print into your bathroom setting:
Easy Coordination: Aligning your shower curtain with your window curtain is straightforward with gingham as it pairs well with a variety of other prints and colors.
Sweet Simplicity: The uncomplicated design proves less is more, providing a soothing aesthetic leaving the room feeling uncluttered.
Customizable: Plenty of gingham colors available so you can match it with the existing color palette in your bathroom.
Versatility: It radiates a homely feeling yet is classy enough to be suitable for a more formal bathroom decor.
Remember, too, that small touches like matching hand towels or bath mats with the gingham pattern can further enhance the country charm, bringing a cohesive aesthetic to your bathroom.
Parisian Elegance Toile Design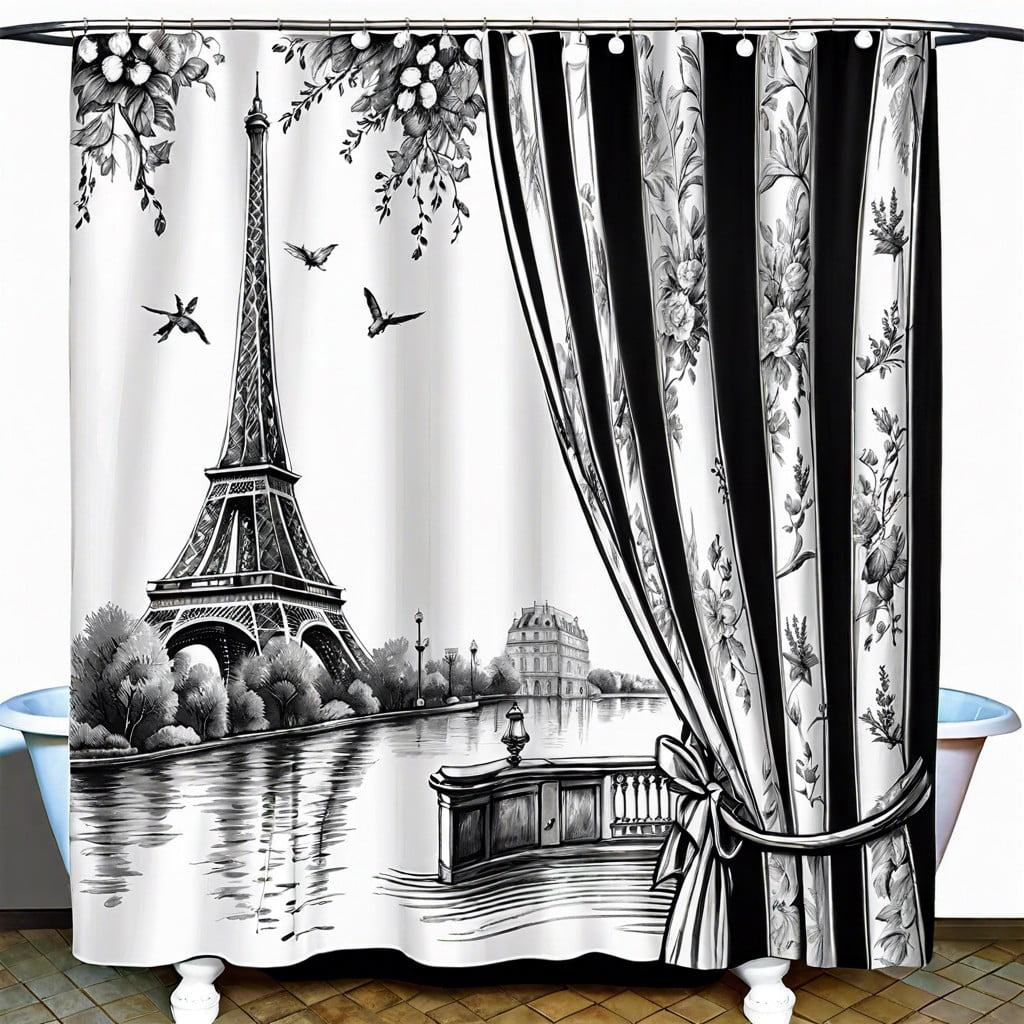 Soon adopted by French designers, Toile de Jouy fabric took center stage in the world of interior décor, and it's still a timeless yet elegant choice today. The intricate pastoral scenes hand-painted on linen or cotton infuse charm and sophistication to any room. This pattern, juxtaposed on window and shower curtain, projects an antique, plush setting instantly, giving your bathroom a prestigious yet warm outlook.
Here's how to make it work:
Stay Color Conscious: Toiles generally come in one color against a white or off-white backdrop. Ensure they match your existing color scheme.
Mix with Plain Textures: Pair your toile curtains with plain-colored towels or bath mats. It allows the toile design to stand out.
Keep It Light: Toile patterns can feel heavy if overused, stick to the curtains and keep other décor minimalist.
Opt for Quality: Invest in good-quality fabric. Toile de Jouy's elegance truly shines when the fabric is luxurious.
Accessorize Efficiently: Add bronze or antique-styled fixtures. They complement the classic sophistication of toile.
Remember, this French classic can transform your bathroom into a chic, relaxing space while evoking the charm of an earlier era.
Modern Minimalist Grey Abstract Pattern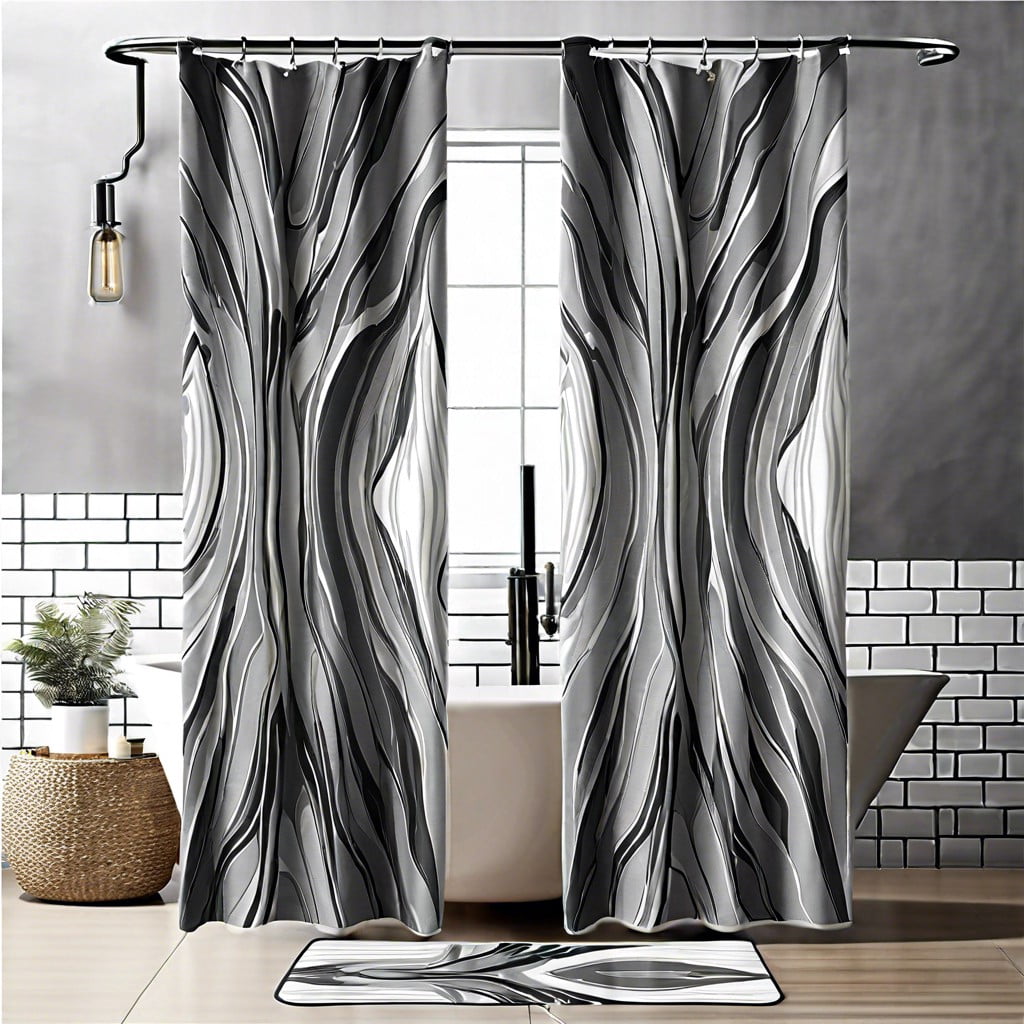 A minimalist grey abstract pattern signifies sophistication and subtlety. It draws from modern design principles that are known for their simplicity and functionality.
Below are key features of this theme:
Neutral Palette: The grey provides a neutral and cool-toned base, allowing for the integration with various bathroom decor styles.
Subtle Artistry: The abstract pattern adds interest without overwhelming the space. It ensures the design remains engaging but not overly busy.
Versatility: This pattern enhances both small and large bathrooms, adapting to different spaces.
Tranquil Ambience: It's perfect for those who crave a serene, spa-like ambience in their bathroom.
Easy Maintenance: Due to the pattern and color, stains and watermarks are less noticeable, making it a practical option as well.
In essence, it's clean, straightforward, and not overly complicated – embodying the best qualities of a modern minimalist approach.
Animal Print for a Wild Touch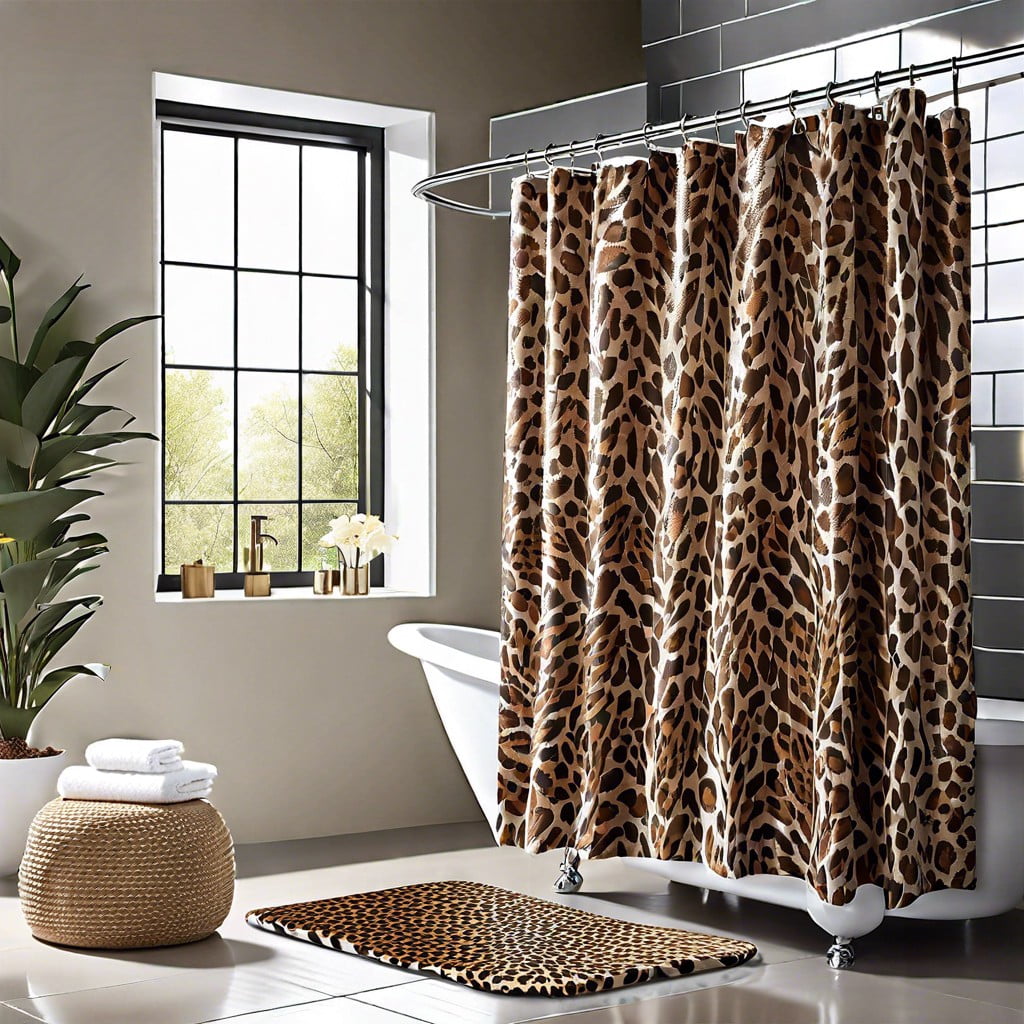 Animal prints can add a statement to any decor. Imagine leopard, zebra, or tiger stripes adorning your shower space, without the need for actual fur or feathers. When utlilized thoughtfully, these patterns can serve as intriguing focal points.
1. Find balance: Too wild can be overwhelming. Use these prints alongside more neutral decor to create balance.
2. Mix it up: Complement your print of choice with simple geometric patterns on towels or bath mats. This keeps your bathroom vibrant without being overbearing.
3. Keep the palette focused: Trick to not overwhelming your space is sticking to a color story. If your animal print is black and white, add metallics or one strong color.
4. Use accessories: You can add animal print elements like soap dispensers or decorative jars.
5. Understand scale: Bigger prints can help make a small bathroom seem larger. Smaller prints add sophisticated detail without overpowering the space.
6. Embrace texture: The use of velvet or faux fur elements can amp up the wild aesthetic while keeping it classy.
Remember, subtlety is key when incorporating bold elements like animal prints into your decor.
Abstract Watercolor Splash Pattern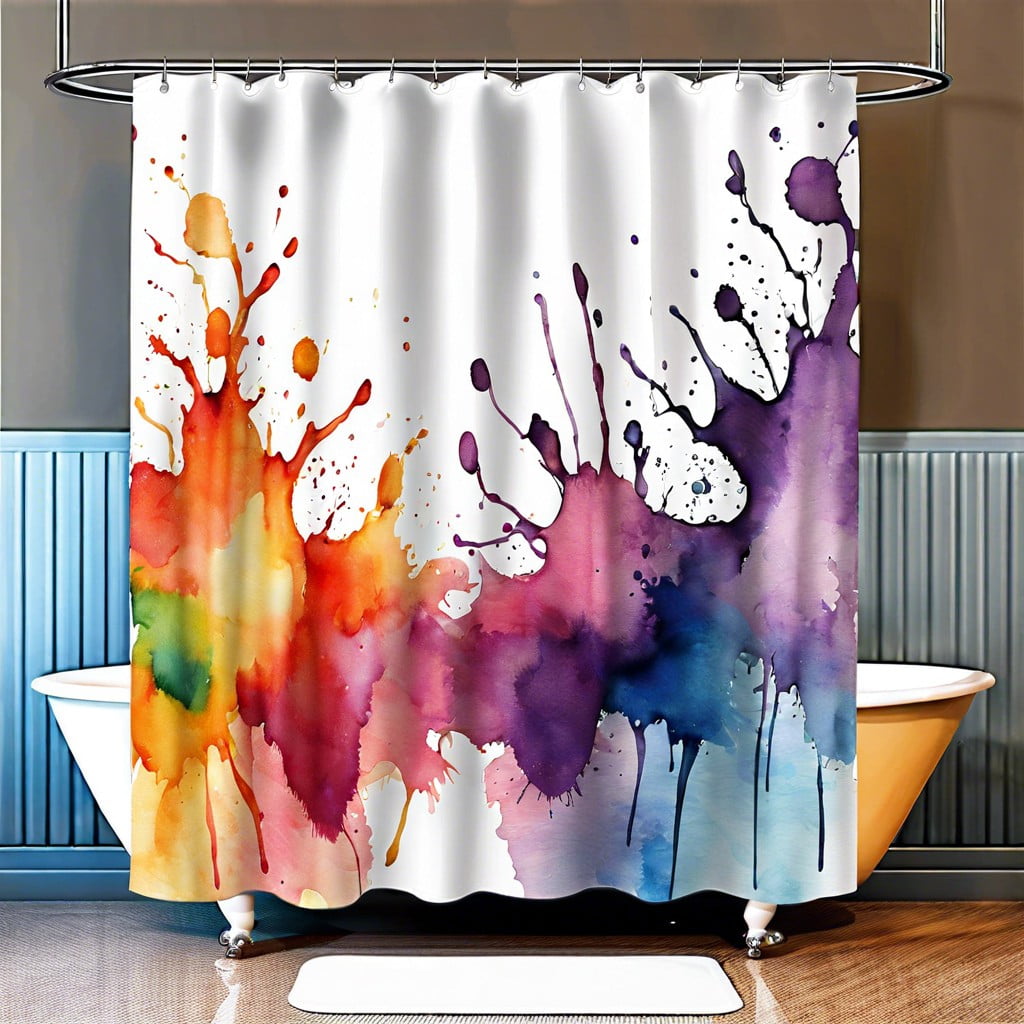 Embracing a break from the traditional, this design injects a vibrant, yet sophisticated appeal to your bathroom space. The creative play of colors adds depth, often appearing different from various angles and light conditions. Being spontaneous in nature, no two watercolor splash patterns are alike, ensuring a unique touch to your decor.
What's more, the array of hues makes it a breeze to match with your existing color scheme or even diverse bathroom accessories. It's vibrant, versatile, and offers a wonderful visual treat!
Asian Inspired Cherry Blossom Design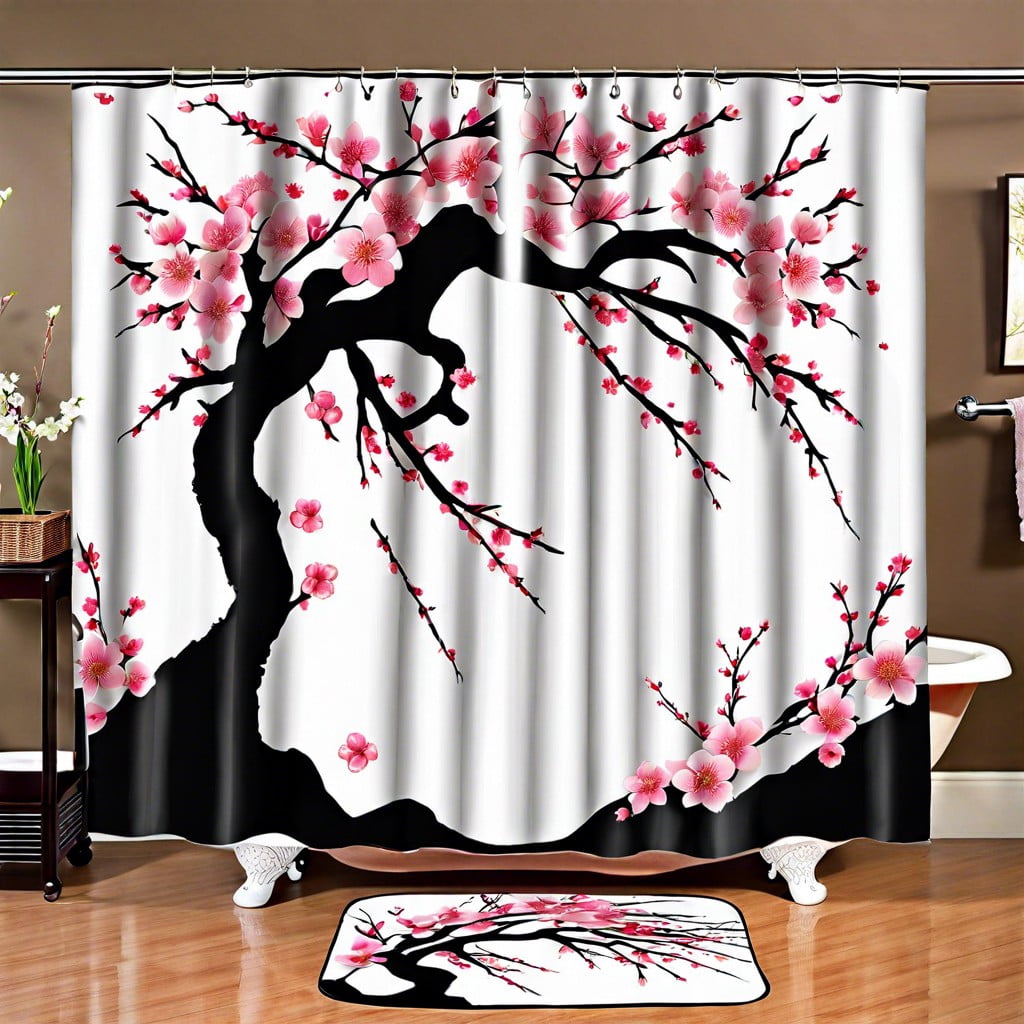 Incorporating elements of Japanese aesthetics can deliver a serene ambiance to your bathroom. The cherry blossom, a national symbol of Japan, is an embodiment of transience and graceful acceptance of destiny and karma. Given its deep significance and undeniable beauty, it's perfect for your shower and window curtains.
Choosing a shower curtain with cherry blossom print brings the essence of spring indoors, offering a soft color palette mixed with peaceful visuals.
Complement this with a matching window curtain; it will enhance natural light in your space and align it with the peaceful vibe.
For a coherent appearance, look for curtains with similar color schemes. A pink and white bloom against a sky blue background can achieve this beautifully.
To further enhance the Asian theme, consider adding bamboo bathroom accessories.
Integrating diffusers with cherry blossom scent will finish the sensory experience.
Remember, the goal is to bathe in the serene aura of a cherry blossom tree in full bloom, right in the comfort of your own home.
Seaside Inspired Shells and Starfish Print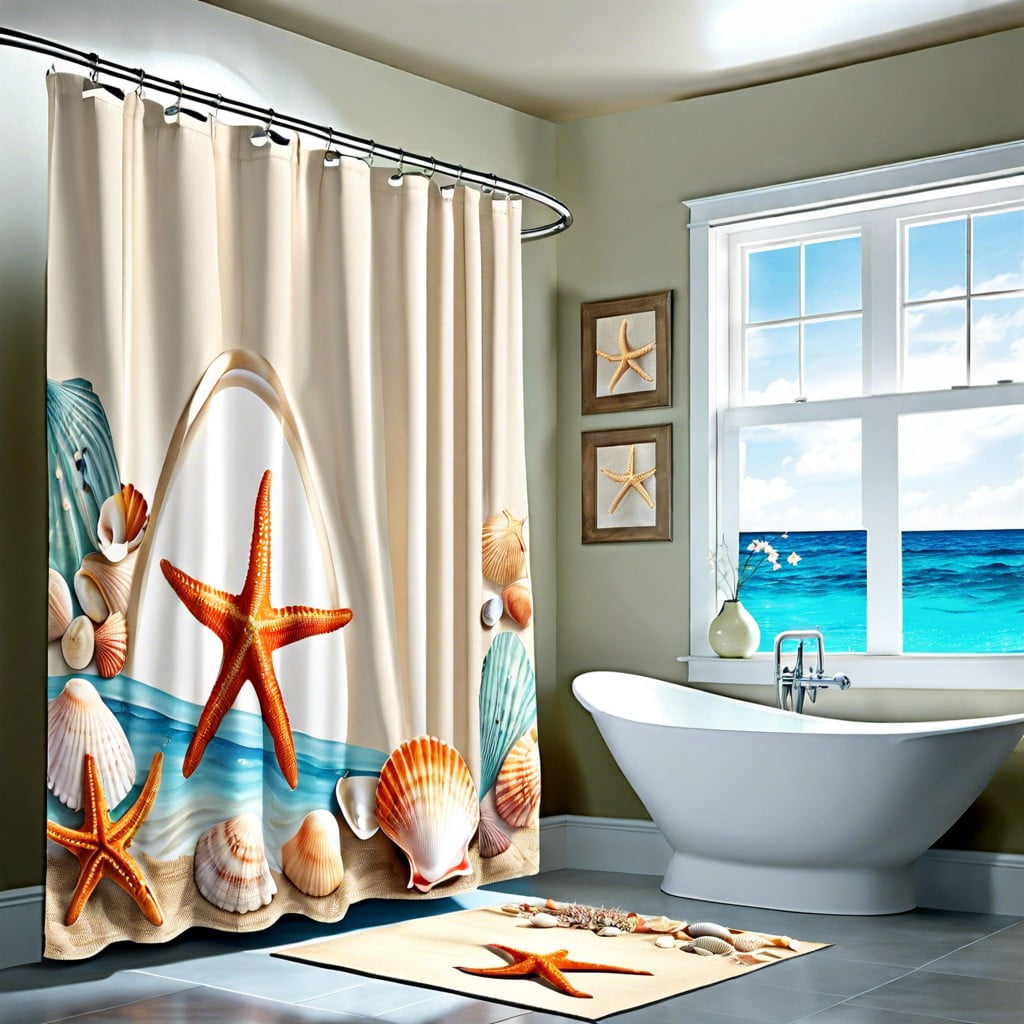 To establish a distinctive marine atmosphere, the choice of shells and starfish prints is a popular option. Here are a few essential points to consider:
1. Color Selection: Opt for soothing tones that represent the seaside – various shades of blue, sandy beige, creamy white or subtle gray.
2. Patterns: The shell and starfish patterns should be intricate but not overwhelming. The essence is in the details – having a delicate balance between the shells and starfish and the background color.
3. Fabric Material: Due to the nature of the pattern, a material that drapes well, such as cotton or linen, aids in showcasing the print to its full potential.
4. Adding Accessories: Intricately patterned towels, bath mats, or wall decorations can enhance the seaside theme without overpowering the curtains' intricate design.
By selecting a shell and starfish pattern, you're on your way to creating a calming seaside sanctuary in your own home.
Art Deco Gold and Black Pattern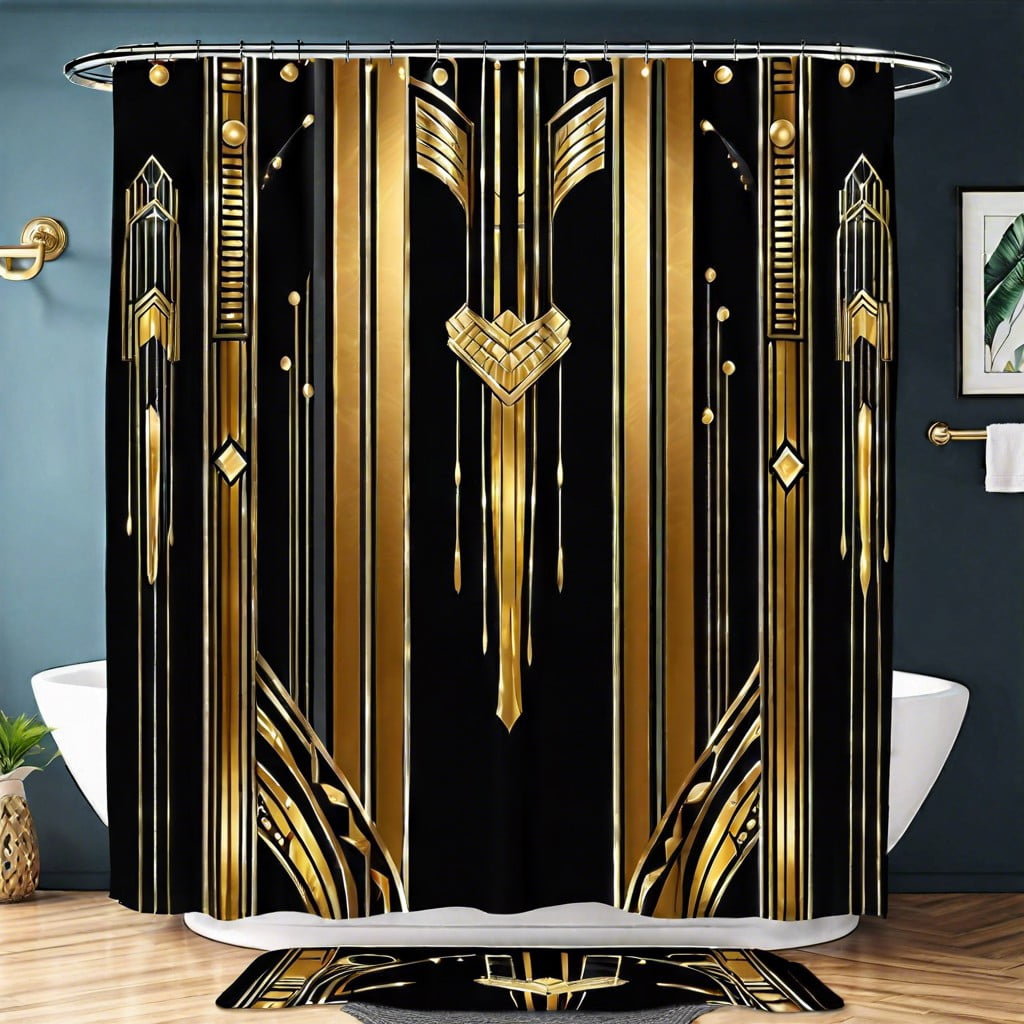 For an air of opulence, consider golden accents combined with dark undertones in your bathroom décor.
With geometric shapes to form an art deco pattern, the sharp lines and symmetry convey a sense of order and the exotic nature of the Roaring Twenties.
Picture black, luxurious curtains in the shower area, enveloping the space with an unmatched elegance while a complementary window curtain offsets with striking gold elements against the canvas.
This duo not only provides a visual interest but also instils a sense of high-end luxury into your private retreat.
Pay attention to the scale of the patterns to avoid overwhelming the space.
One helpful hint is to choose a pattern that suits the size of your curtains.
Larger, more prominent designs for spacious bathrooms can make a dramatic statement, while smaller, intricate patterns may be preferable in more compact spaces.
Just remember, consistency is key when creating this uniform look.
Moroccan Spice Jewel-toned Design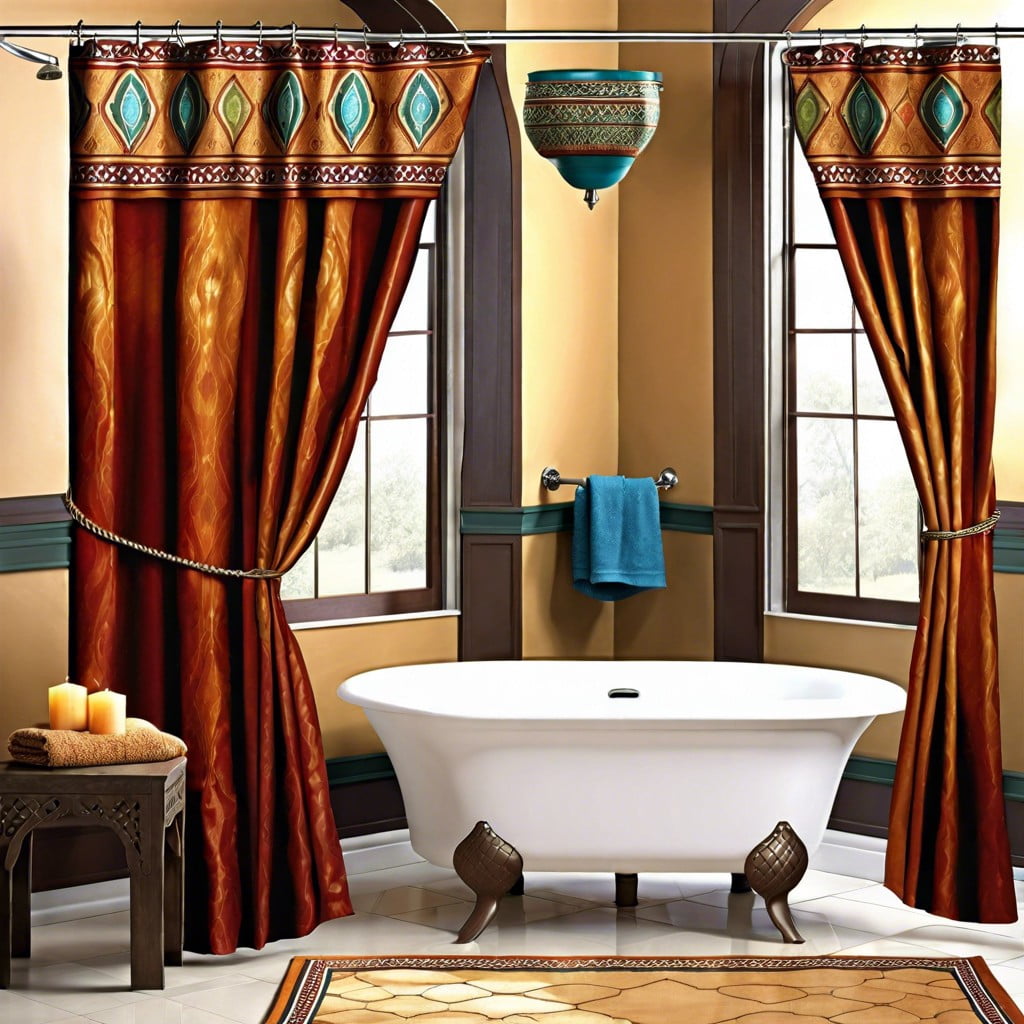 To successfully execute this design, focus on bold jewel tones, such as ruby red, emerald green, and sapphire blue. Keep the shower and window curtains in identical or closely complementary colors, which not only improves the visual flow of the bathroom but also emphasizes the design's vibrant palette.
A Moroccan spice design often incorporates intricate details. For this, consider curtains with ethnic, geometric, or scroll patterns. The richness of the color and complexity of the pattern will create a striking focal point in the room.
Lastly, to enhance this lavish look, pair these curtains with brass or gold bathroom accessories. These metallic accents will catch the light and add a sensual glow, reminiscent of a lavish Moroccan bazaar. Metallic curtain rods or tie backs would work wonders here.
Remember, the main idea is to embrace the saturation, not shy away from it. The Moroccan spice design aims to create a warm, inviting, and exotic atmosphere in your bathroom. Stick to these guidelines and the result will be a beautiful balance between opulence and comfort.
Farmhouse Style Buffalo Check Pattern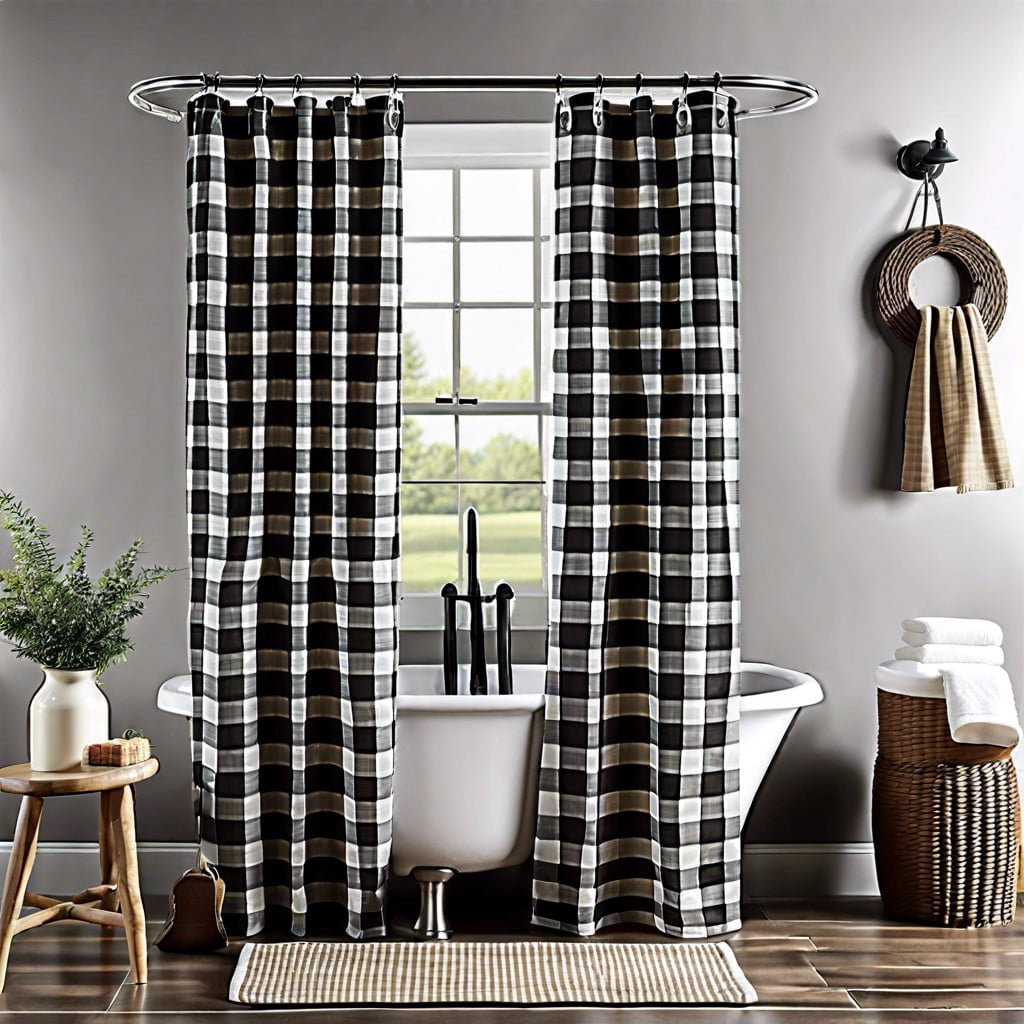 Farmhouse style is known for its warmth and simplicity. Implementing a buffalo check pattern ties in well with this aesthetic and remains highly versatile. This style is exemplified by larger squares, often in tones of black and white or red and white, providing a charming, rustic touch.
1. Texture: The buffalo check pattern, with its distinct crisscross design, exudes texture and depth. This can contrast well with simplistic bathroom decor, adding an unexpected element of charm.
2. Versatility: Despite its boldness, buffalo check is unusually adaptable. Pair with wood, tin, or any rustic decor for an authentic farmhouse feel, or mix pointedly with modern fixtures to create a contemporary blend.
3. Color: The traditional black and white or red and white buffalo check can reinforce a color theme in the bathroom, or make a statement all on its own.
4. Size: While the pattern itself is larger, it can be found on curtains of all sizes, making it ideal whether your shower and window are large, small, or somewhere in-between.
5. Tips: For a coordinated look, match the pattern on both your shower and window curtains. Alternatively, use the same color, but invert the pattern for a dynamic twist. Remember, a little playfulness never hurts!
Bold Color Blocking Design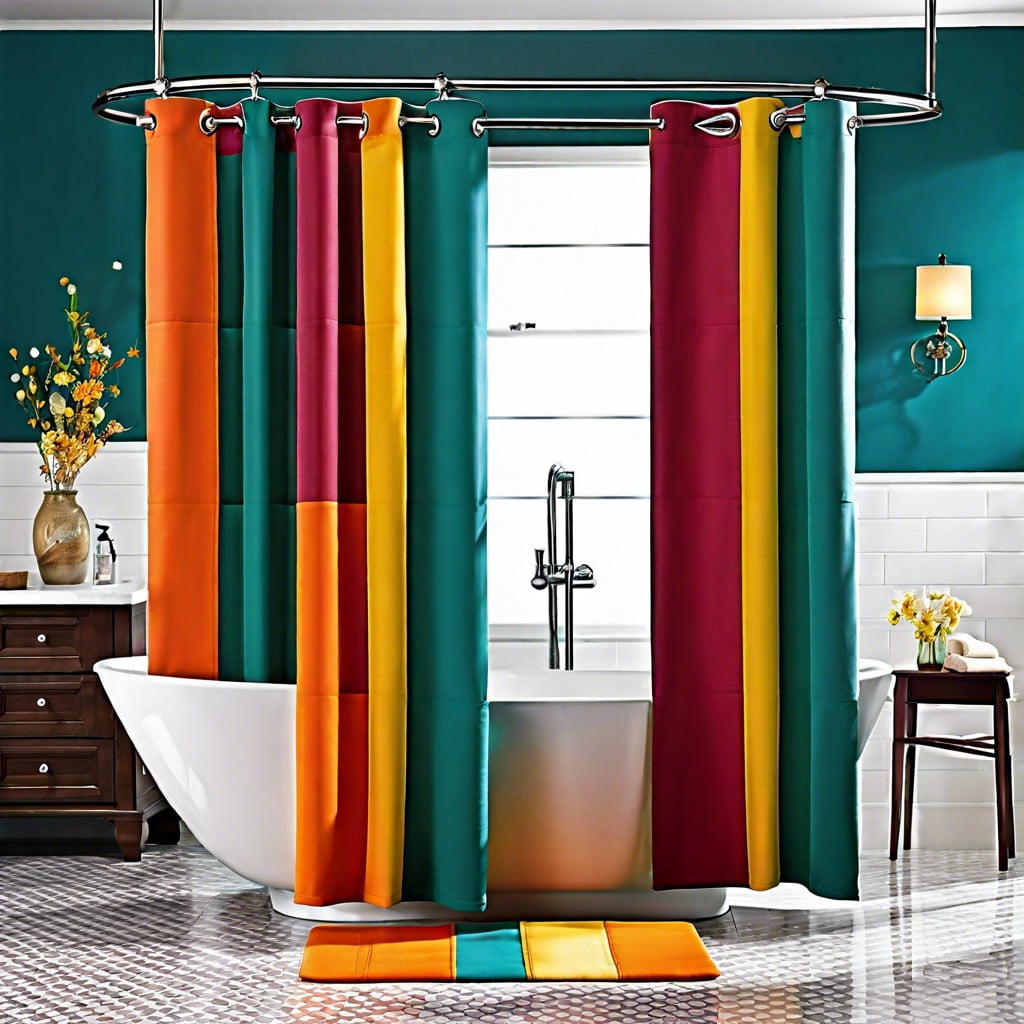 Emphasizing high contrast and visually striking elements, this style truly stands out. Think vibrant hues partitioned by crisp lines for your curtains – it's all about distinct squares and rectangles in different colors.
Here's how you make it work:
Choose Complementary Colors: Ensure balance by selecting colors that sit opposite each other on the color wheel – red and green, blue and orange, or yellow and purple.
Mix Patterns and Solids: Combine areas of solid color with areas of pattern within the same color spectrum, to keep the look cohesive while adding interest.
Limit the Number of Colors: Stick to two or three colors to avoid overwhelming your aesthetics. Too many bold colors can make the space feel cluttered.
Consistency is Key: Ensure the color palette is consistent across the shower and window curtains to create a harmonious look.
Use White to Break it Up: Incorporating white can provide breathing space for your eyes and prevent the effect from becoming too overpowering.
Tropical Flamingo Print for Fun Touch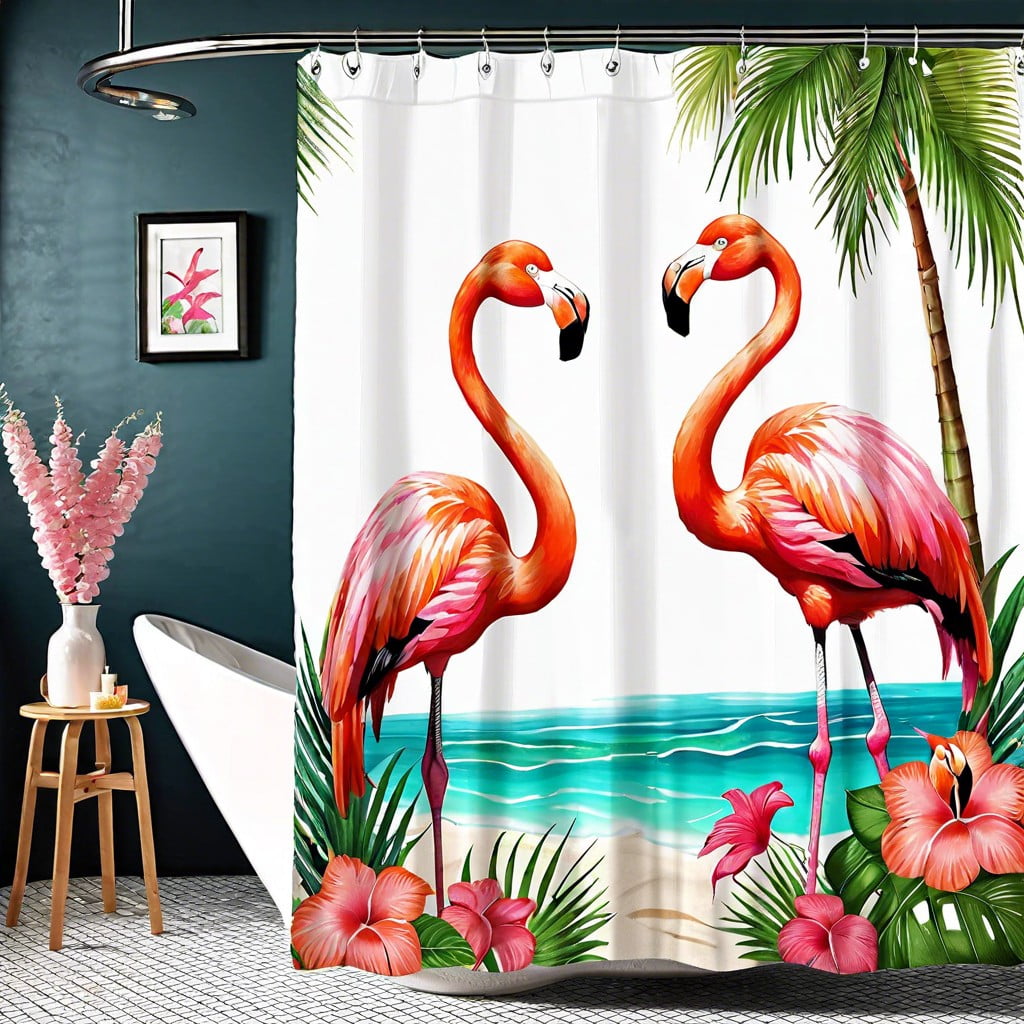 Delighting the room with vivacious pink shades and playful patterns, this concept effortlessly brings in a joyful aesthetic.
Smiling flamingos printed on high-quality fabric can serve as an instant mood-lifter while taking a shower or gazing out the window.
To add to this, consider pairing with a matching rose-colored bath mat or equally vibrant window blinds.
For balance, incorporate white accents like towels or storage baskets.
This design works impeccably in a light-filled space with a simple, minimalist layout, letting the curtains take the central stage.
Turquoise or green accessories also pair well with this print, magnifying the tropical ambiance.
Remember, less is more when implementing this fun touch to your home.
Coastal Vibes With Coral and Wave Pattern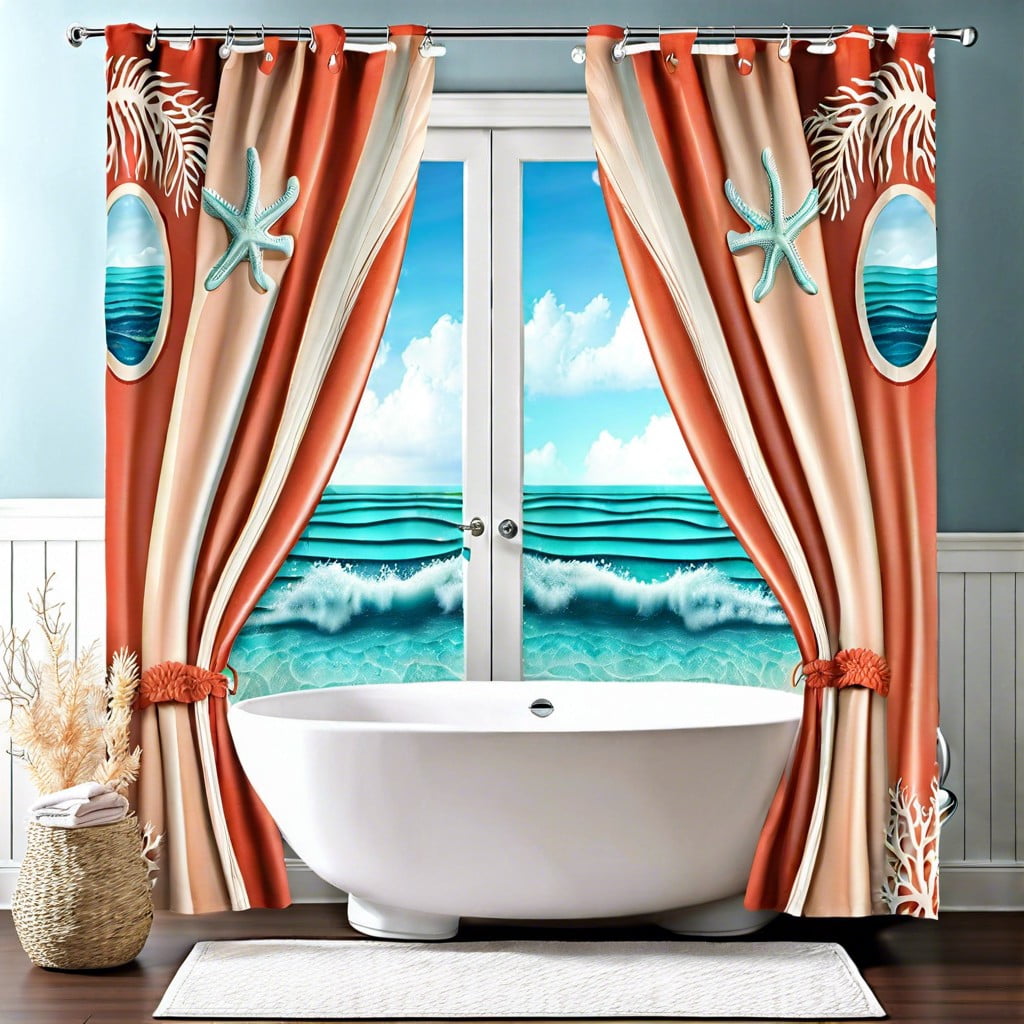 Creating an ocean-like aura, this design carries a calm and soothing atmosphere. In the shower, a large print with coral clusters set against cool water hues adds depth and an immersive tranquility. The window curtain should be chosen to complement the shower curtain but should not be too busy. Consider a simpler ocean wave pattern washed with a soothing aqua palette.
The coral pattern provides a pop of soft color
Wave patterns replicate the serenity of the ocean
Complementary hues of blues and whites promote relaxation
Tilting the balance towards a more minimalist window pattern allows the shower curtain to take center stage
Choose fabrics that have a light, airy feel to them for an essence of beachside breeziness
Silver or chrome finish hardware will subtly enhance the ocean theme
When done right, you'll have a bathroom that feels like a tranquil beachside retreat.
Continue reading:
Recap