Last updated on November 17, 2023
Explore innovative ways to elevate your bathroom's aesthetic with these creative valance ideas.
I take pride in crafting this article and unique designs on 20 Elegant Bathroom Valance Ideas, hoping it inspires you and brings as much joy to you as it did to me while creating them.
Looking to elevate your bathroom's aesthetic with a stylish valance? You're in the right place! This article is a treasure trove of unique and creative bathroom valance ideas that will transform your space from ordinary to extraordinary.
From choosing the right fabric and color to selecting the perfect design and pattern, we've got you covered. So, let's dive into the world of valances and discover how these decorative elements can add a touch of elegance and sophistication to your bathroom.
Stay tuned for a comprehensive guide that will provide you with all the details you need to make an informed decision.
Lace Trim Valance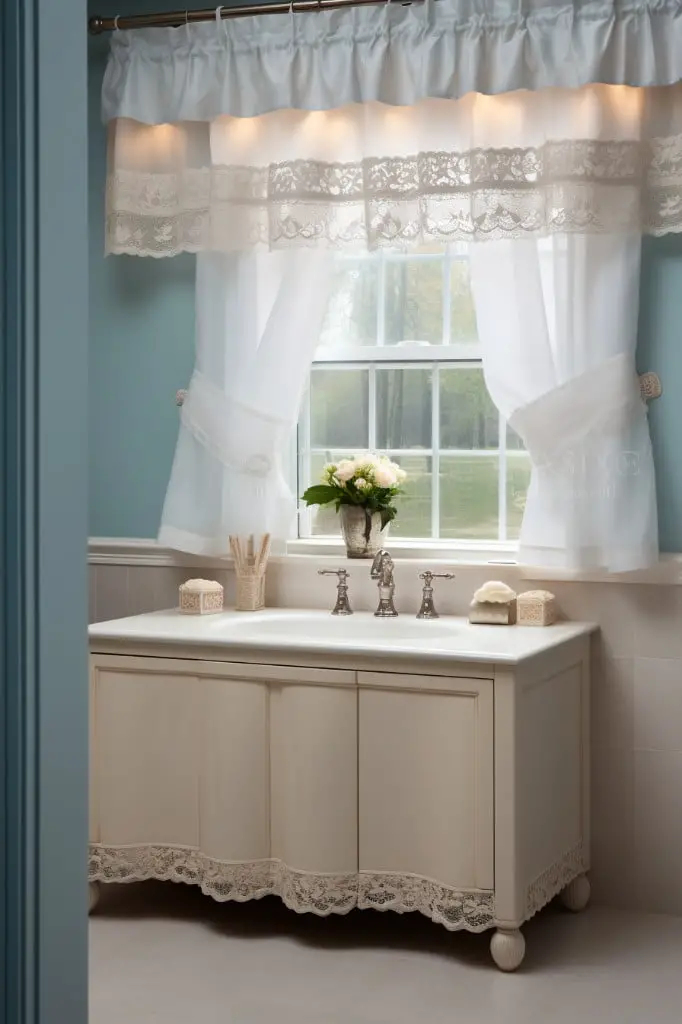 Lace exudes elegance and a classic touch to any décor. The sheer fabric allows natural light to filter through while providing privacy. This makes it a perfect choice for bathroom valance.
1. Dress up a plain window with a detailed lace trim valance.
2. Skill level: Intermediate; DIY enthusiasts will enjoy the challenge.
3. Materials needed: Lace fabric, scissors, sewing machine, thread, curtain rod.
4. Installation: Cut the lace to size, hem the edges, sew a pocket for the rod at the top.
5. Maintenance: Gentle cycle wash, air dry recommended to retain the integrity of the lace.
6. Styling tips: Mix and match with solid color curtains or reinforce the vintage appeal with antique bathroom accessories.
7. Where to buy: Fabric stores, online retailers, home décor outlets.
Ruffled Linen Valance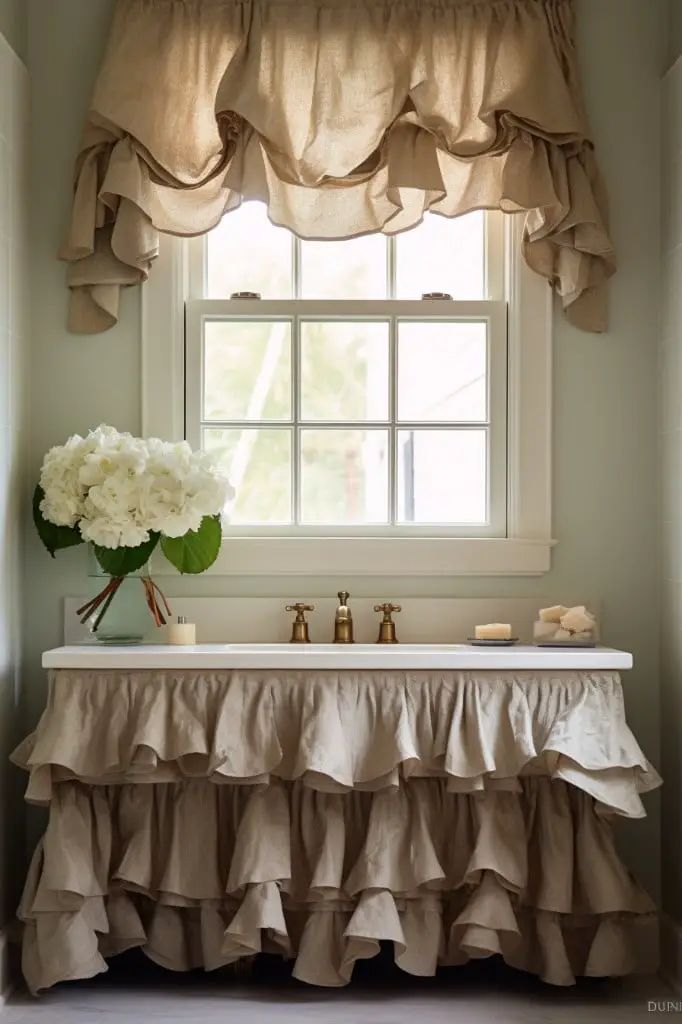 Ideal for adding a touch of softness and romantic aesthetic, the ruffled linen variety is impressive and versatile. It provides the practicality of partially obscuring bathroom windows while still allowing adequate natural light.
1. Breathable Material: Linen is long-lasting, naturally anti-bacterial, resistant to mold and mildew.
2. Versatility: Drapes beautifully and can integrate well with many decor styles – country chic, modern farmhouse, or coastal.
3. Ruffles: Add an extra appealing layer of texture, making any window look larger and more interesting.
4. Easy Maintenance: Linen valances are machine-washable and easy to iron for perfect ruffles.
5. Customizable: Comes in a variety of colors and lengths, allowing personalization to match the bathroom decor.
Remember, ruffled linen can act as a stand-alone window covering or be layered with curtains or blinds for more privacy and a rich, layered look. Ensure the rod and brackets used to hang the valance are sturdy enough to handle the weight of linen.
Bamboo Roll-up Valance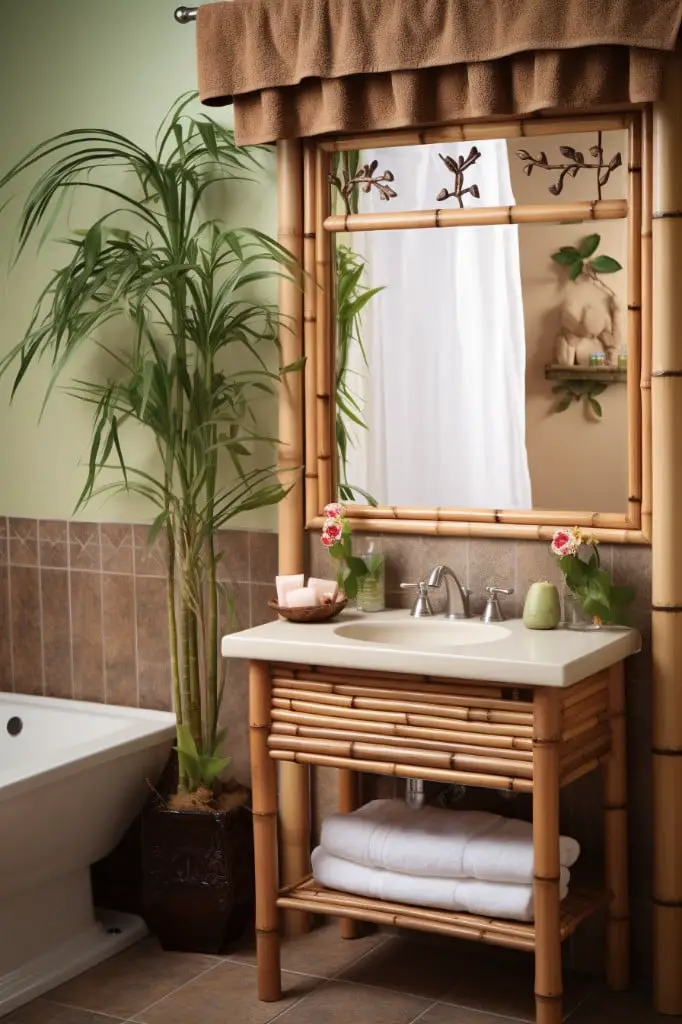 Unrivaled in style and natural charm, this particular window treatment adds an exotic element to your bathroom environment. Fabricated from bamboo, a fast-growing and renewable resource, it infuses a sense of tranquillity and has an ecologically conscious appeal.
Key Points:
Lightweight, easy to install
Different shades to complement any color scheme
Allows filtered natural light in the bathroom
Offers privacy and reduces glare
Durable in damp environments
Cleans easily with a dust brush or vacuum
Affordable, an economical choice for style-conscious homeowners
Nautical-themed Valance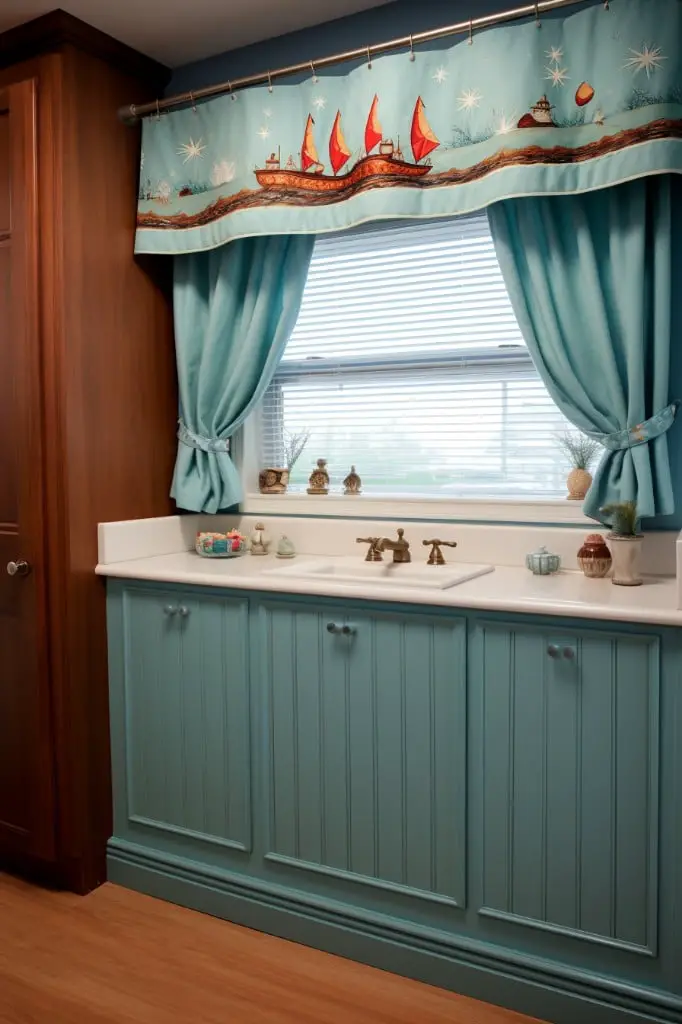 Successfully combining subtle hues and marine accents, this decor approach embraces the adventurous spirit of the high seas. While selecting nautical-themed valances, bear in mind the primary maritime color scheme should consist of whites, blues, and sandy beiges. Design features often include anchors, ships, sea creatures and lighthouses.
Key points:
Color Palette: Focus on maritime hues.
Patterns: Choose designs featuring popular sea elements.
Fabric: Heavier fabric for durability and substance.
Maintenance: Ensure the material can withstand higher humidity levels.
Pairing: Complement with more subtle bathroom accessories to balance out and enhance the theme.
Waterproof Vinyl Valance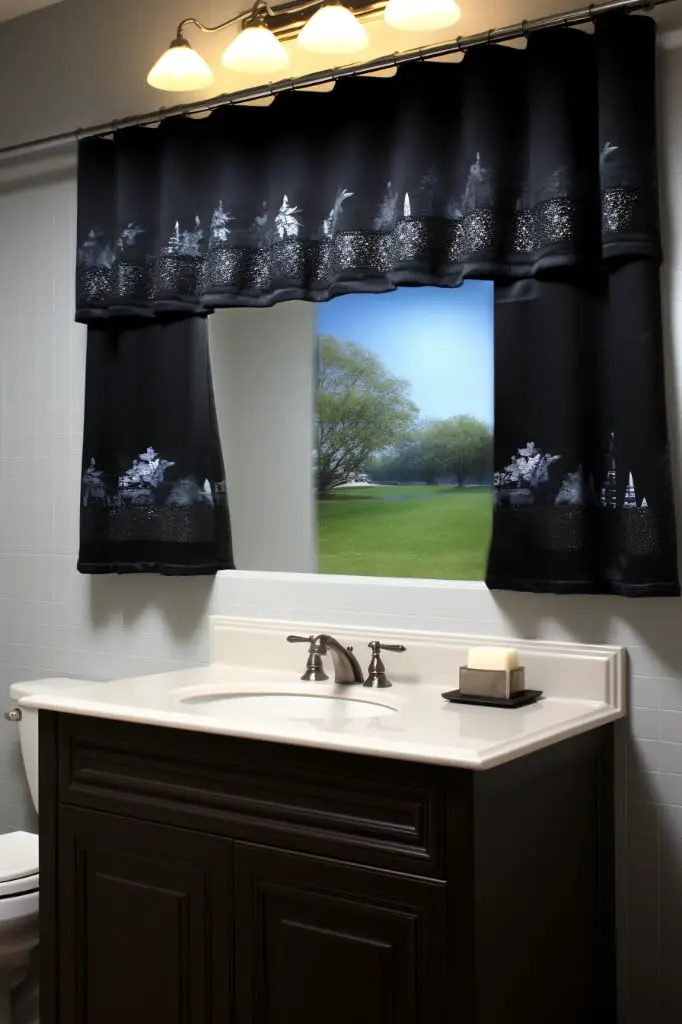 Waterproof vinyl valances are not only practical, but also aesthetically pleasing. Their water-resistant property makes them perfect for bathrooms, where moisture is unavoidable. They can endure high humidity levels without showing signs of wear or damage.
Key Points:
Resistant to moisture and humidity
Requires low maintenance – a simple wipe down will do, no need for deep cleaning or maintenance.
Ranges in design – available in various colors, patterns, and styles to match different bathroom décors.
Affordable – generally less expensive than fabric valances but does not compromise on style.
Easy to install – comes with adjustable brackets, making the installation process quick and hassle-free.
Floral Print Valance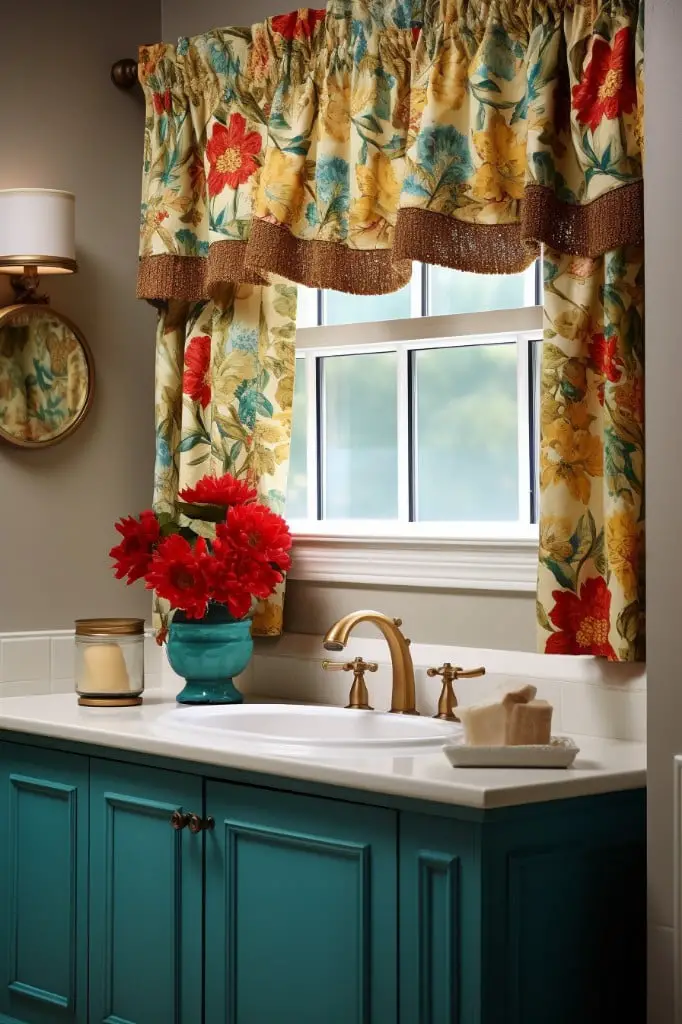 – Choice of bold or delicate prints to mirror overall bathroom aesthetic.
– Complementing existing colors for a unified look.
– Cotton or polyester material for ease of maintenance.
– Large florals to create a traditional ambiance, smaller prints for a modern touch.
– Double-layer or lined options for privacy.
– Easy-install rod pocket design, or clip rings for a professional drapery look.
– Pairing with solid color curtains or shower curtains for balance.
– Choosing washable fabrics for cleanliness in a humid environment.
Faux Wood Blind Valance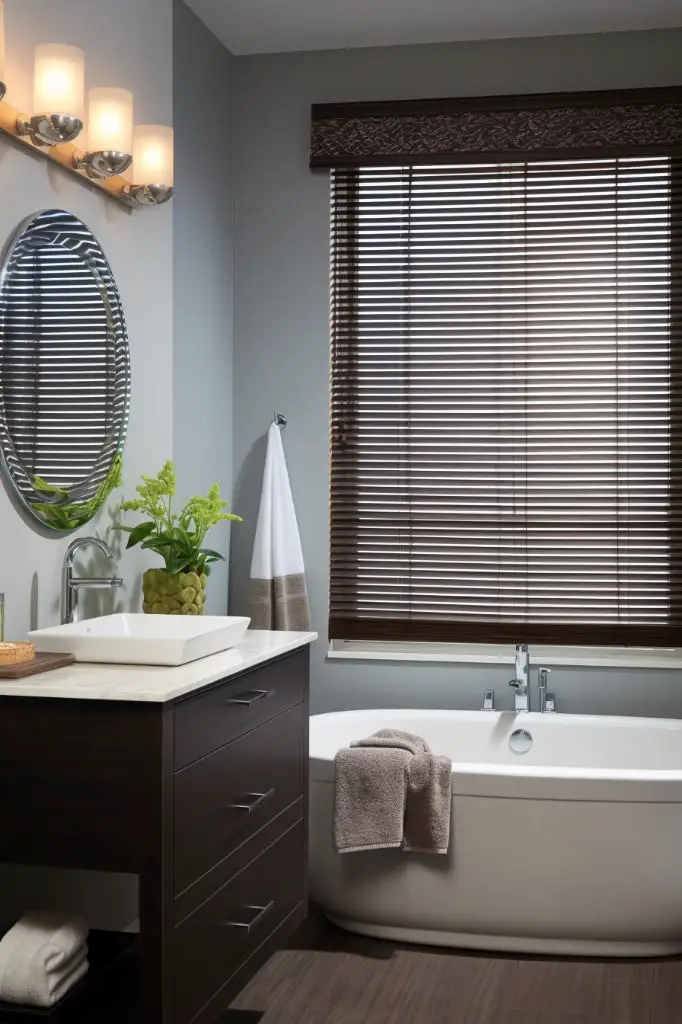 Perfect for those seeking durability and minimal upkeep, faux wood blind valances impart a warm, cozy texture to your bathroom atmosphere. They expertly mimic the richness of real wood while offering superior resistance to humidity and moisture—critical attributes in a bathroom setting.
Here are some key concepts:
Appearance: Authentic, wood-like look adds rustic charm.
Function: Provides both privacy and light filtration.
Durability: Weather-resistant material ensures longevity.
Maintenance: Easy to clean, unaffected by moisture or steam.
Installation: Simple, hassle-free setup.
Cost-effectiveness: Offers luxurious appearance minus the steep price tag.
Customization: Available in a variety of colors and finishes.
Elegant Embroidered Valance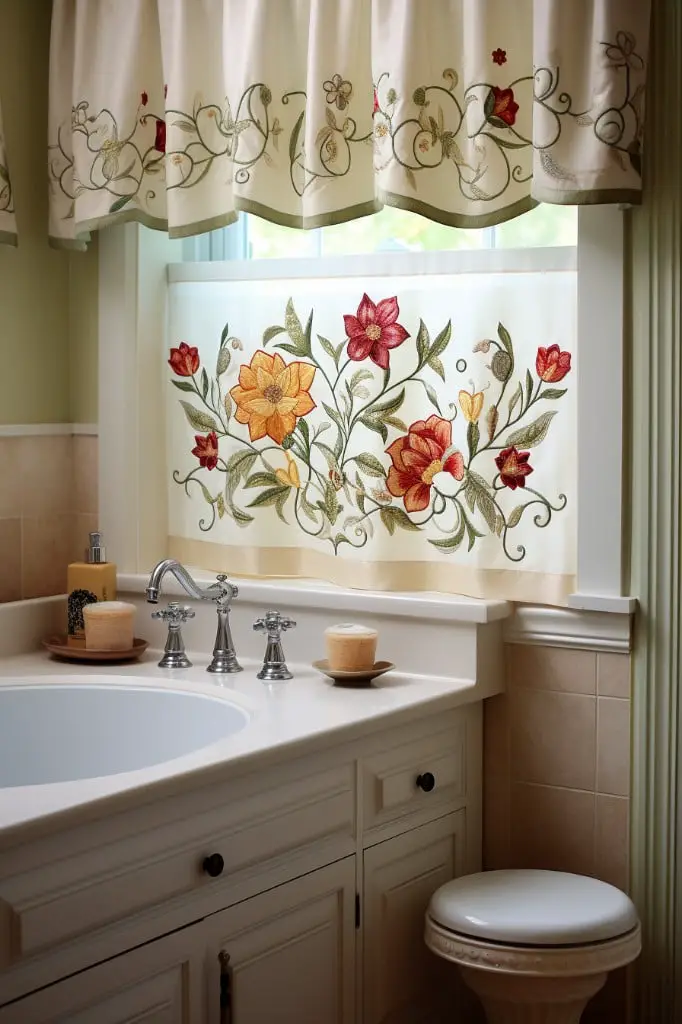 Embroidery provides an element of luxury and adds richness to bathroom decor. Here are some insights into this style:
Typically done on a sheer fabric, allowing natural light to filter through.
Intricate floral or geometric patterns weave a tale of elegance.
Best suited for traditional or vintage-inspired bathroom styles.
Easy maintenance – most embroidered valances are machine washable.
Pair with matching or contrast embroidered bath linens for a harmonized look.
Available in a spectrum of colours, accommodating any palette.
Custom designs offer a unique personalized touch.
Crafted with careful attention to detail, ensuring long durability.
Color-blocked Fabric Valance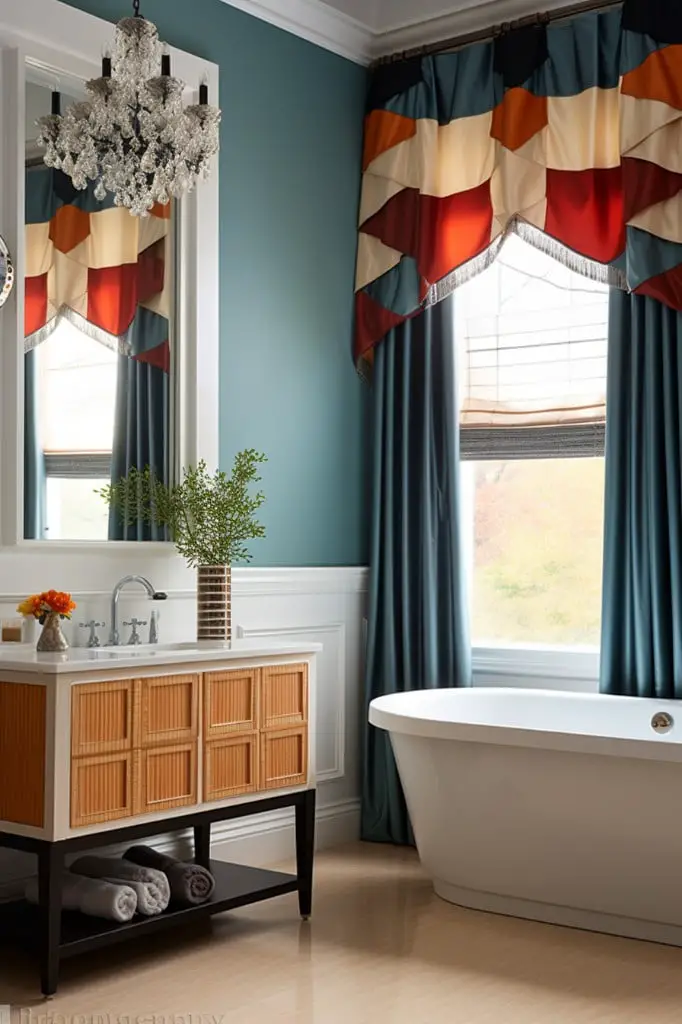 Featuring bold hues and geometric patterns, this valance style is a powerful statement piece. It channels an artistic ambiance that can accentuate and enliven any bathroom decor.
1. Contrasting Colors: Use strikingly different shades for a dramatic visual impact. The key is to strike balance- pair brights with neutrals, cool tones with warm.
2. Geometric Designs: Squares, rectangles, and stripes add sophistication and break monotony. Use of visuals aids in the overall symmetry of the bathroom.
3. Fabric Choices: Choose fabric that is durable and moisture-resistant, like polyester. Consider the bathroom's humidity levels when making a selection.
4. Hanging Techniques: Mounting bars, rods, and rings can be used to secure the valance. It should be hung high enough to cover the top of the window but still allow natural light in.
5. Tailored Look: Ensure precise measurements to achieve a neat, professional finish. A well-fitted, streamlined design delivers the right effect.
Roman Shade Valance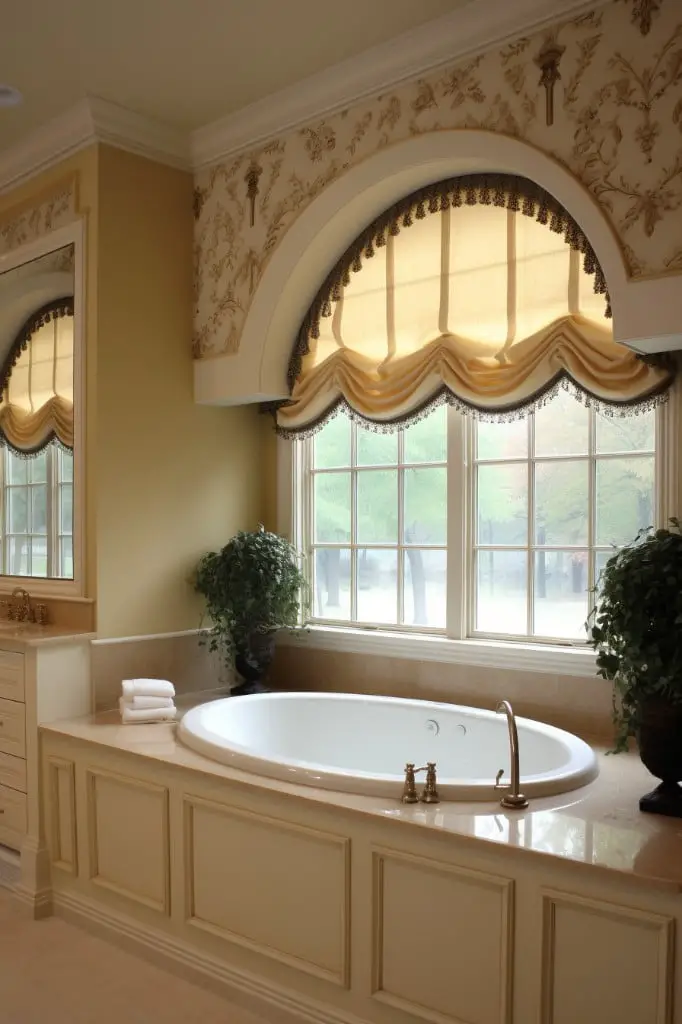 Creating a sense of elegance instantly, Roman shade valances offer both aesthetics and functionality. To unpack their significance:
Effortless sophistication: The elegant folds are reminiscent of a Roman theatre, therefore injecting a classical touch.
Functionality: Besides its aesthetic appeal, these shades offer practical utility like sun protection and maintaining privacy.
Customization: Available in a spectrum of colors, patterns, and fabrics (from silk to linen), these valances seamlessly blend with varying bathroom decors.
Space illusion: The cascading layers create an illusion of heightened space, making them an excellent choice for smaller bathrooms.
DIY options: For those with a knack for crafts, they can be a fun DIY project, customized to individual aesthetic preferences.
Cost-effective: A budget-friendly option that does not compromise on style or features, especially when compared to typical window treatments.
Beaded Fringe Valance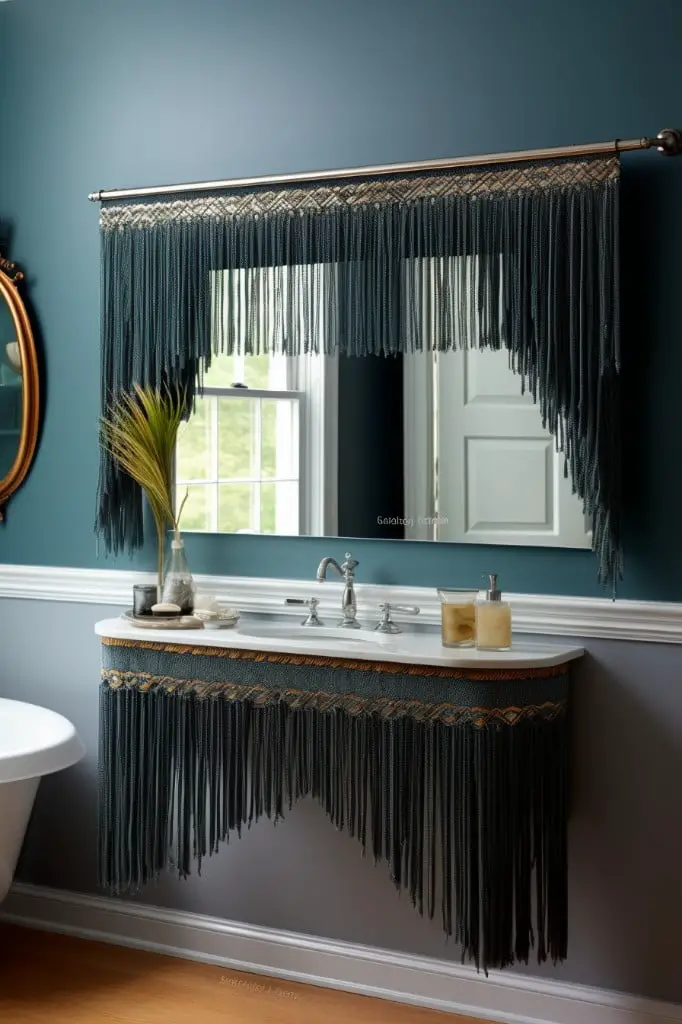 Creating an exotic ambiance, the beaded fringe valance complements any bathroom vanity with its intricate detail and sense of movement. Its shimmering beads catch the light, adding a touch of glamour.
1. Selection of bead types – glass, crystal, or acrylic.
2. Stringing the beads creating beaded strings.
3. Attachment of beaded strings to a suitable fabric or directly to a valance rod.
4. Customization options through colors and patterns.
5. Maintenance – dusting and occasional bead replacement.
6. Interaction with light to provide visual interest.
7. Addition of elegance and exotic charm to the bathroom ambiance.
8. Suitable for variety of bathroom styles – from bohemian to classic.
Crocheted Macramé Valance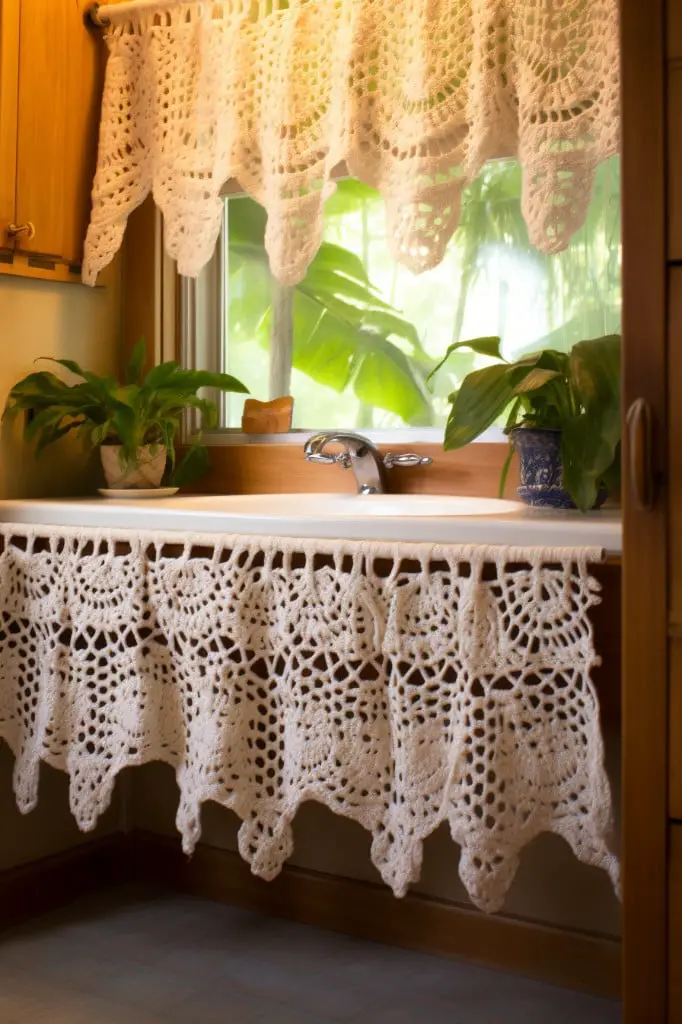 A touch of uniqueness is added with a crocheted macramé valance. It makes a statement while bringing cozy warmth to your bathroom.
Whichever pattern strikes your fancy, this valance style is sure to resonate with those seeking to add a touch of bohemian or folk charm to their bathrooms.
Here are the key points to note:
Ensures ample natural light while providing privacy.
Adds texture and visual interest to spaces with muted color schemes.
Complements bohemian, rustic, or beachy bathroom styles well.
Handmade versions available for a unique flair.
Easy to clean – simply vacuum to remove dust, spot-clean stains.
Seashell Embellished Valance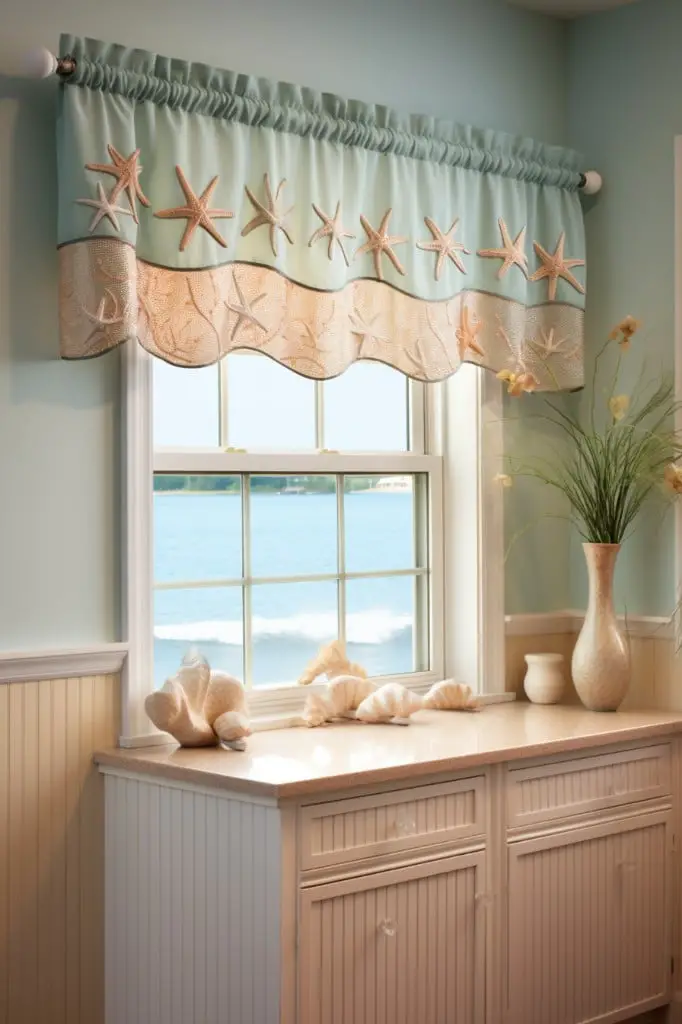 – Selecting strong, durable seashells to withstand moist environment.
– Variety in colour and shape to create visual interest.
– Craft glue or hot glue application for secure adhesion.
– Combining with sheer or translucent fabric for an airy, beachy feel.
– Creating patterns or random arrangements for a personalized effect.
– Pairing seashells with complementary beach-themed bathroom accessories.
– Attention towards regular cleaning to avoid dust build-up on shells.
– Checking regularly for any loose shells and reattaching if needed.
– Taking care to not overload the valance with shells to maintain balance.
– Adding faux pearls or small beads for an elevated elegant touch.
Modern Geometric Print Valance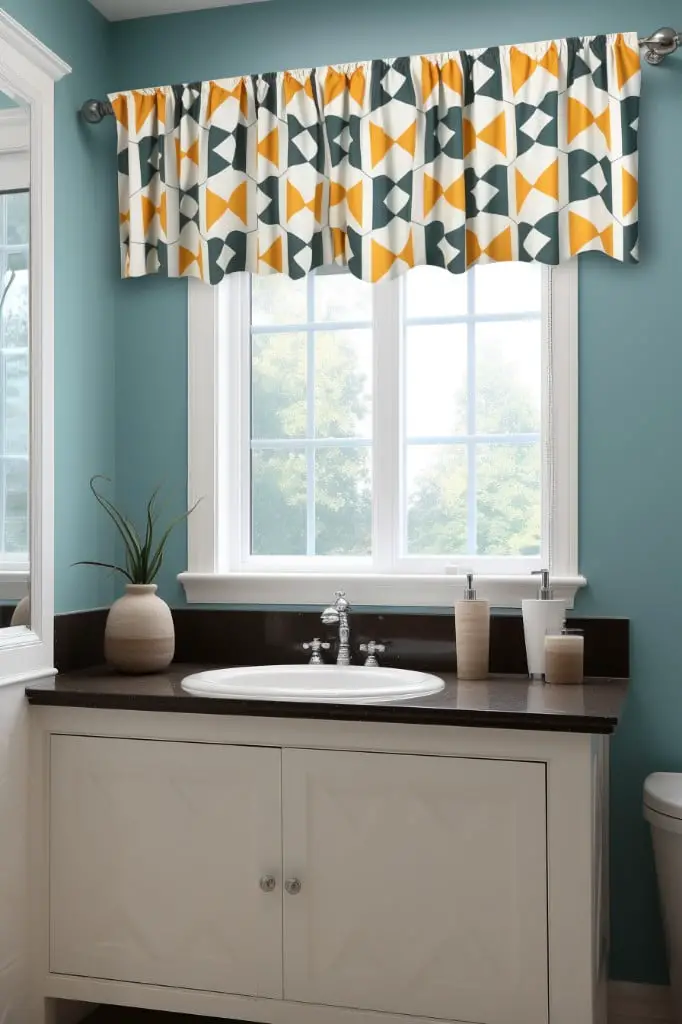 This quirky and eye-catching design creates a lively focal point, immediately drawing attention to the bathroom window. The vivacious patterns, typically defined by an array of geometric shapes, offer a chic and bold vibe.
Whether you prefer an intricate labyrinth of triangles or a sleek assortment of circles, there's a pattern to suit your aesthetic preference.
Key points:
Contrast: Use bold colors, striking patterns to establish contrast with the wall or window frame.
Style: Matches perfectly with minimalist or Scandinavian interior design.
DIY: Easily customizable, allowing for creativity in pattern and color choices.
Material: Durable fabrics like polyester or cotton are best for ensuring longevity.
Maintenance: Easy to clean, as most geometric print fabrics can be machine washed.
Rustic Burlap Valance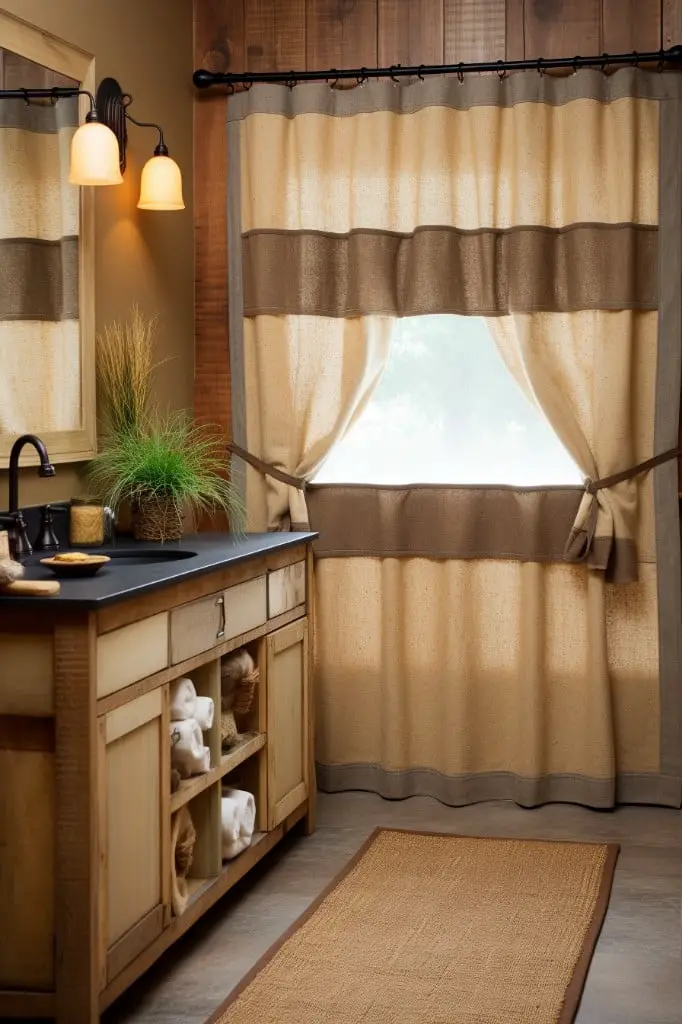 Burlap adds a rich, textural element that embodies the charm and simplicity of rustic design. Here's how to blend it harmoniously into your bathroom décor:
Durability: Burlap is an extremely robust material, again aligning well with the rugged aesthetic of rustic style. Additionally, it's highly resistant to bathroom moisture.
Color & Texture: The natural brown hues and coarse texture of burlap enhance the earthy, organic theme inherent in rustic design.
Style Variation: Different levels of fraying can modify its style. A neatly hemmed edge gives it a sleeker look. A slightly frayed edge gives it a raw, homey appeal.
Mix and Match: Pairing a burlap valance with a sheer curtain underlayer can induce a softer, more romantic feel.
Toggle Buttons: Adorn your burlap valance with wooden toggle buttons for an extra touch of authenticity.
Cleaning: Burlap requires minimal maintenance. Most debris can be simply vacuumed off.
DIY: Creating a burlap valance at home is quite accessible, requiring only burlap material, a sewing machine, and your chosen embellishments.
Recall, creating a rustic theme with a burlap valance is about embracing simplicity, raw elements, and natural beauty. Crafting such a design can foster a warm and welcoming atmosphere in your bathroom.
Tropical Palm Leaf Valance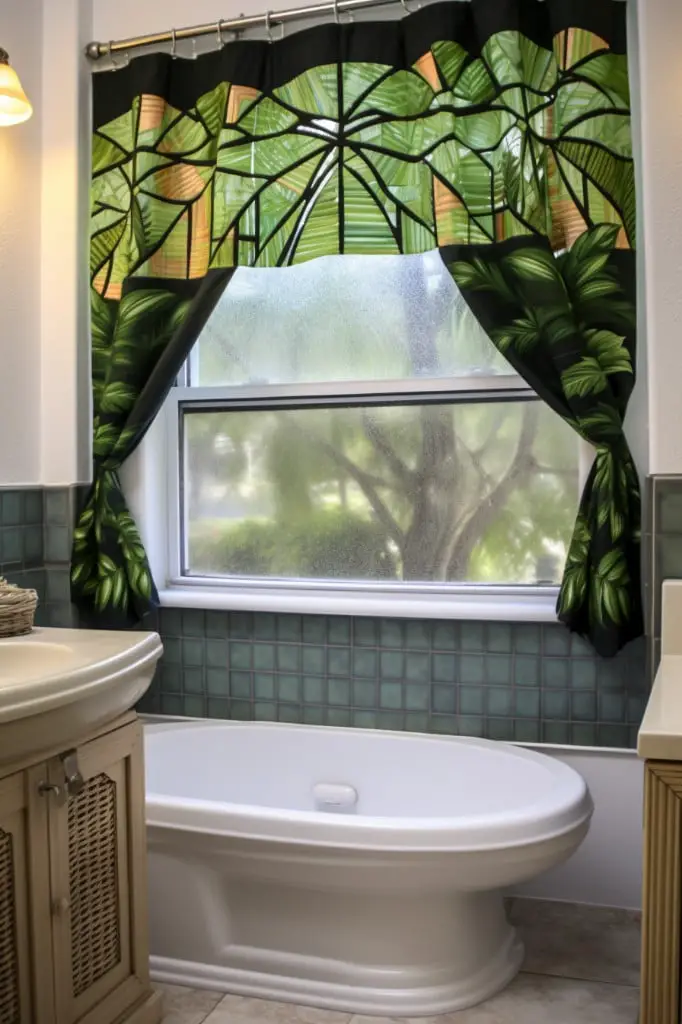 Harnessing the essence of a tropical paradise, a palm leaf valance introduces an exotic yet chic vibe to your bathroom space. Here, key considerations help shape the look and feel:
1. Material Selection: Generally made of fabric, durability and ease of cleaning are essential. Consider moisture-resistant materials for longevity.
2. Design Pattern: Opt for life-sized palm prints for a bold statement or mini prints for a subtle tropical hint.
3. Color Scheme: Dark green on lighter shades is a classic choice. Alternatively, try monochromatic schemes or even brightly colored palms for a playful touch.
4. Hanging Style: Whether a flat style for modern aesthetics or a pleated one for traditional appeal, the display method alters overall visual impact.
5. Supporting Elements: Coordinate with other decor pieces like bath mats, shower curtains, or towels featuring similar tropical themes to fully capture the ambiance.
6. Light Control: A semi-transparent fabric allows soft light filtering in, maintaining privacy without leaving the room in total darkness.
Implementing a Palm Leaf Valance following these factors ensures an effective infusion of the tropical vibe in your bathroom.
Charming Gingham Check Valance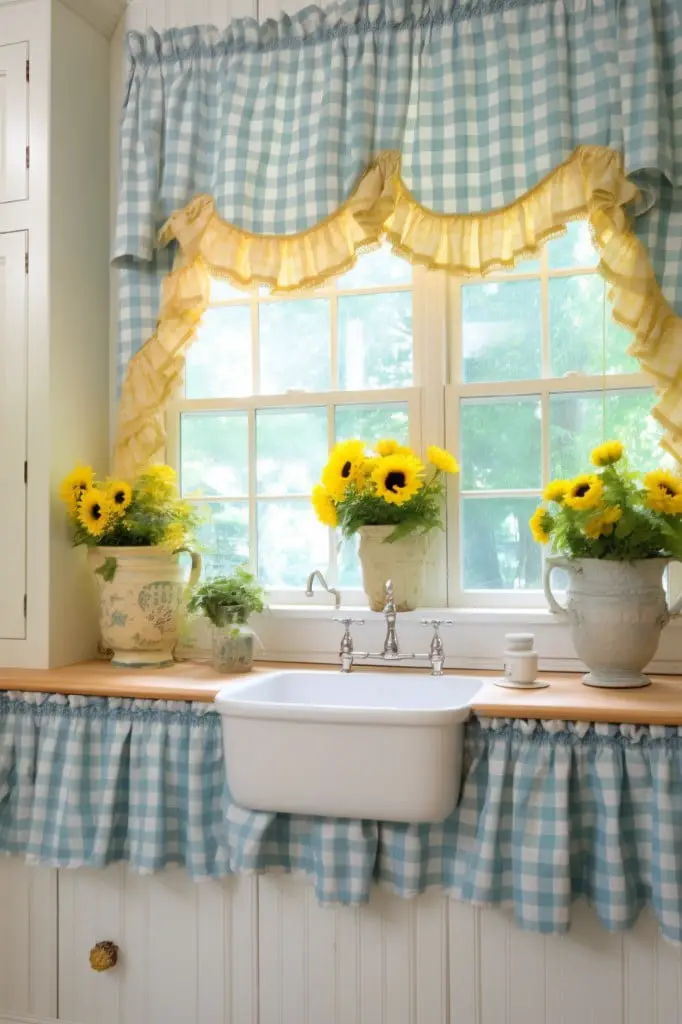 The timeless design of gingham brings a cheerful, country-chic ambiance to any bathroom.
To execute this style:
Choose a check pattern in a color that complements your existing décor.
Opt for cotton or linen materials for a natural, relaxed look.
Ensure a perfect fit by measuring your window before purchasing or sewing.
Consider adding a matching gingham trim to your towels or bath mat for a cohesive look.
Carefully consider the size of the checks, smaller ones make a subtle statement, while larger checks have more visual impact.
Parisian Cafe Style Valance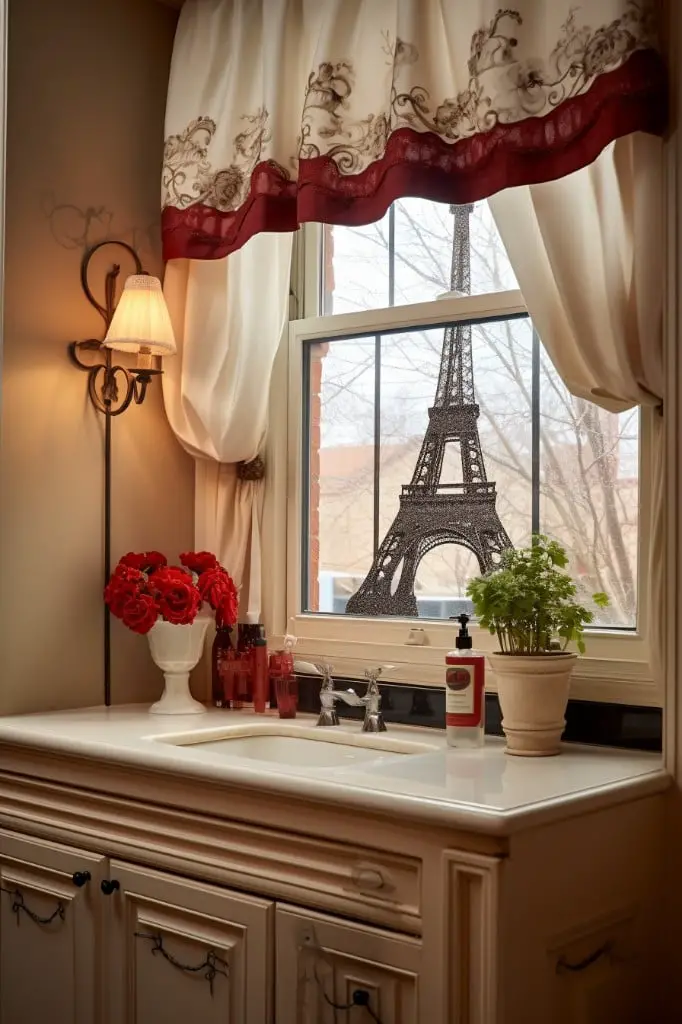 Offering a chic aesthetic that vibrantly fractures the monotony of everyday decor, Parisian cafe style valances embody a simple elegance.
1. Celebrates the romantic, versatile nature of French decor, enhancing the charm of the bathroom space.
2. Primarily made with sheer or semi-sheer materials, allowing for graceful, soft light diffusion.
3. Lace or bead embellishments often add to its visual appeal.
4. Predominantly features neutral tones that effortlessly blend with various color schemes.
5. Striped patterns are common to mimic the classic French bistro awning.
6. Versatile and easily complements a vintage, rustic, or modern bathroom.
7. Functions as a decorative accent, while offering an illusion of heightened windows.
Blackout Fabric Valance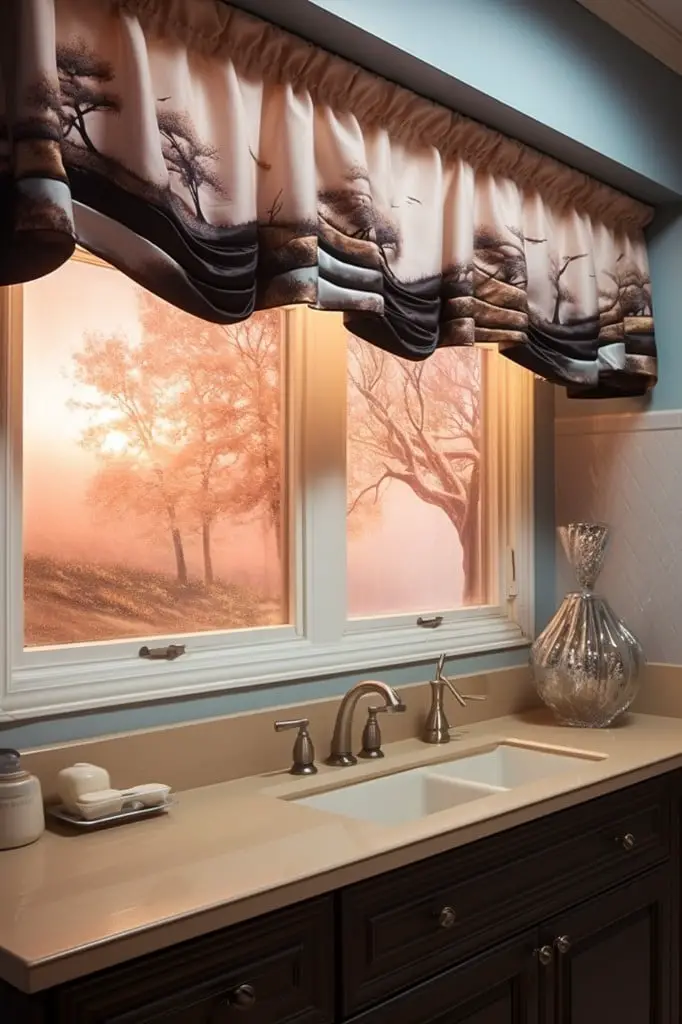 A blackout fabric valance, which can be a prime solution to obstruct unwanted light, brings about a change in your bathroom by adding a functional and aesthetic object.
Here are some essential points to consider:
Absorbs light: Thanks to the dense material, these valances prove excellent in absorbing light, promoting a dark, comfortable environment for baths or showers at any time of the day.
Varied colors and designs: Ranging from simple solid colors to complex, vibrant patterns, options abound to compliment any décor.
Multi-functional: It not only acts as a light blocker but also provides privacy, a relevant factor in bathroom settings.
Easy maintenance: Typically these fabrics are machine-washable, which simplifies the cleaning process.
Temperature control: This bonus feature can help maintain a consistent bathroom temperature, contributing to overall comfort.
Installation ease: Often, they come with an in-built rod pocket for effortless installation.
Metallic Shimmer Valance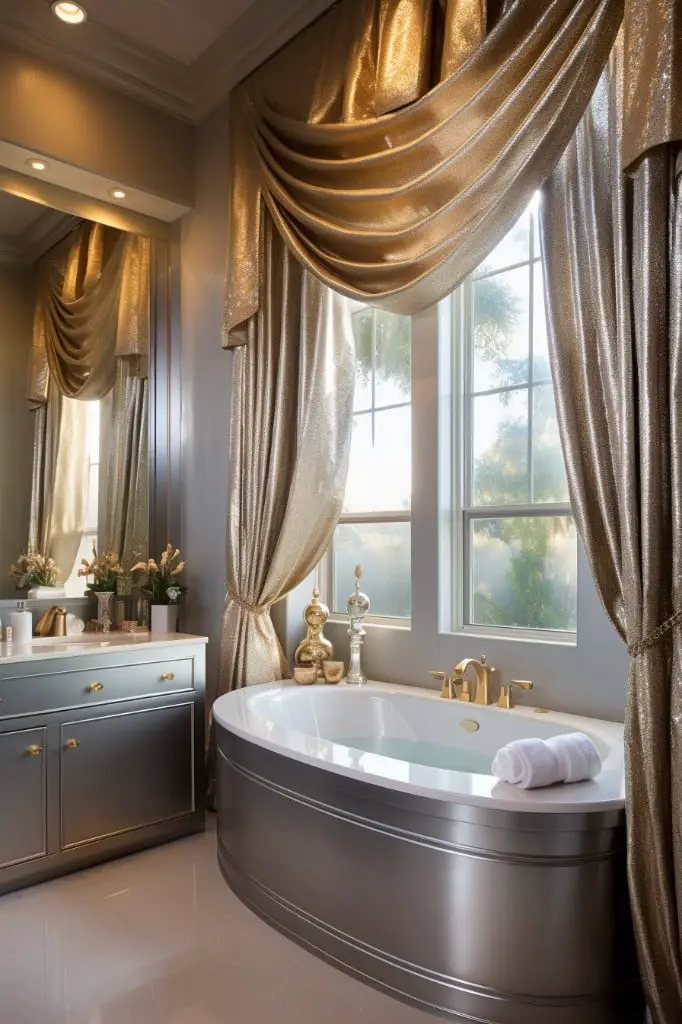 To execute a perfectly shimmering bathroom valance, consider incorporating metallic fabrics. Gold, silver, bronze, or even iridescent hues can instantly infuse a sense of elegance and sophistication.
These valances offer a more decadent feeling compared to other types, mimicking a sort of mini chandelier effect, especially when they catch the light.
Key points:
Variety of metallic shades available
Provides a luxurious appeal
Works exceptionally well in well-lit bathrooms
Straight or scalloped edging can enhance the style
Pairs splendidly with neutral or earthy bathroom tones
Maintenance requires gentle handling, spot cleaning preferred
Perfect for both modern and vintage-themed bathrooms
Continue reading:
Recap