Last updated on July 9, 2023
Discover 20 stunning black and white bathroom ideas that will inspire you to create a timeless, elegant, and functional space in your home.
Welcome to my blog, where I share creative ideas and inspiration for transforming your home into a stylish and comfortable living space. Today, we're diving into one of the most essential rooms in the house – the bathroom.
Specifically, we'll be exploring black and white bathroom ideas that are sure to elevate your space with a classic yet modern touch. From sleek monochrome tiles to bold statement walls, I've gathered 20 unique ideas that will inspire you to create a stunning black and white bathroom of your own.
So sit back, grab a cup of coffee, and let's dive into these stylish designs together!
Table of Contents
Monochrome Mosaic Tiles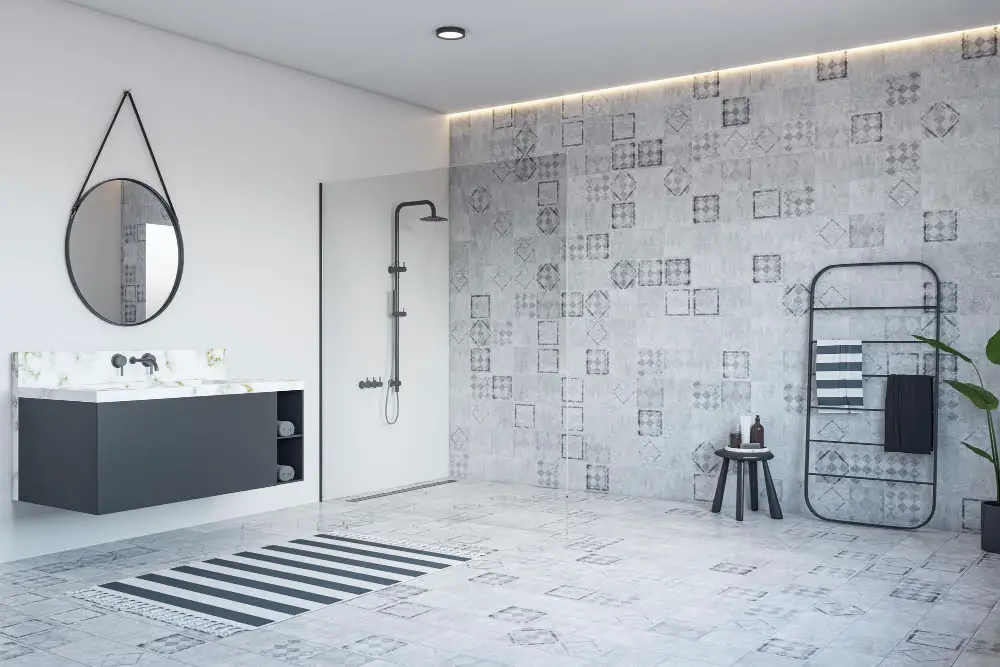 Monochrome mosaic tiles are a great way to add texture and interest to your black and white bathroom. These small tiles come in various shapes, sizes, and patterns that can be arranged in different ways to create unique designs.
You can use them on the floor or walls of your bathroom for a cohesive look. For example, you could opt for black hexagonal mosaic tiles on the floor with white subway tiles on the walls or vice versa.
Alternatively, you could mix things up by using both black and white mosaic tiles together in an intricate pattern like chevron or herringbone for added visual appeal. Whatever design you choose, monochrome mosaic tile is sure to give your bathroom a stylish edge while keeping it classic at the same time!
Black Claw-foot Bathtub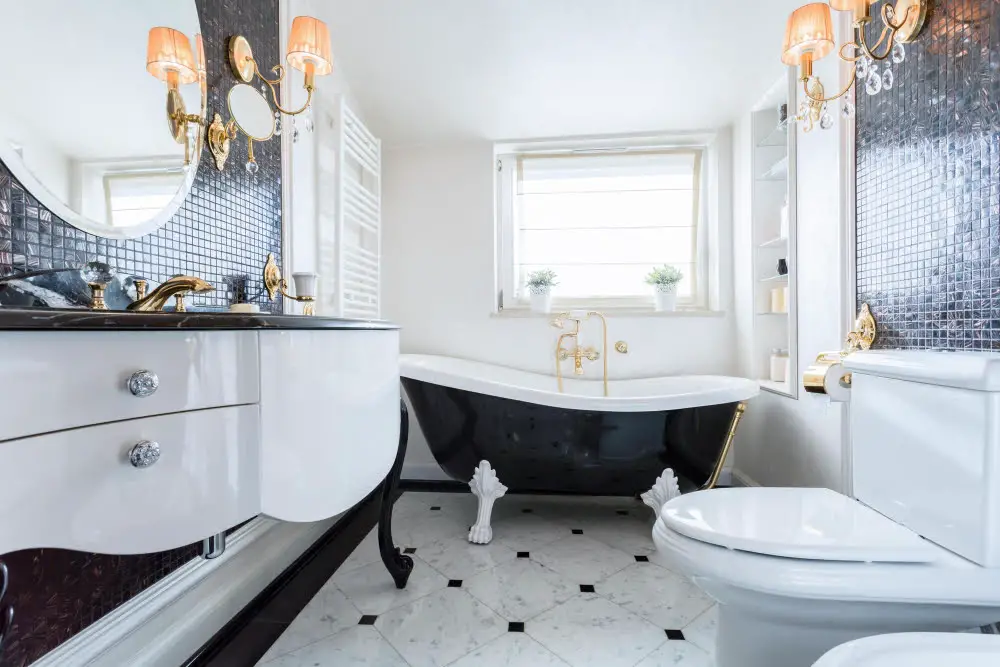 This classic style of tub has been around for centuries and is still popular today. The contrast between the black exterior and white interior creates a striking visual effect that can be enhanced with the right accessories, such as gold or silver fixtures, fluffy white towels, or even a chandelier above the tub.
A black claw-foot bathtub pairs well with other monochrome elements in your bathroom design scheme like patterned flooring or subway tiles on walls. It's also versatile enough to work in both modern and traditional settings depending on how it's styled.
If you're looking for an eye-catching centerpiece for your bathroom renovation project, consider incorporating a beautiful black claw-foot bathtub into your design plan!
White Subway Tiles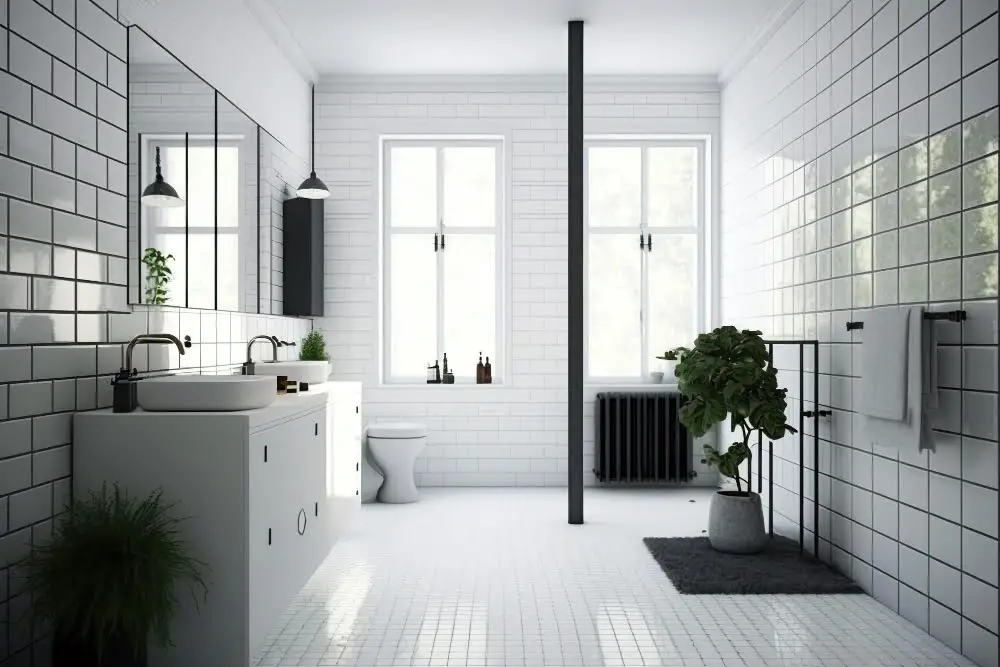 They have been used in homes for over a century and continue to be popular today. These rectangular tiles are versatile, affordable, and easy to clean.
They can be arranged in different patterns such as herringbone or stacked vertically or horizontally.
One of the benefits of white subway tiles is that they reflect light well, making the bathroom appear brighter and more spacious than it actually is. They pair well with almost any other color scheme you may want to incorporate into your bathroom design.
To add some interest to your white subway tile walls, consider using contrasting grout colors like black or gray instead of traditional white grout lines. This will create an eye-catching effect that adds depth and texture without overwhelming the space.
Black Vanity With White Sink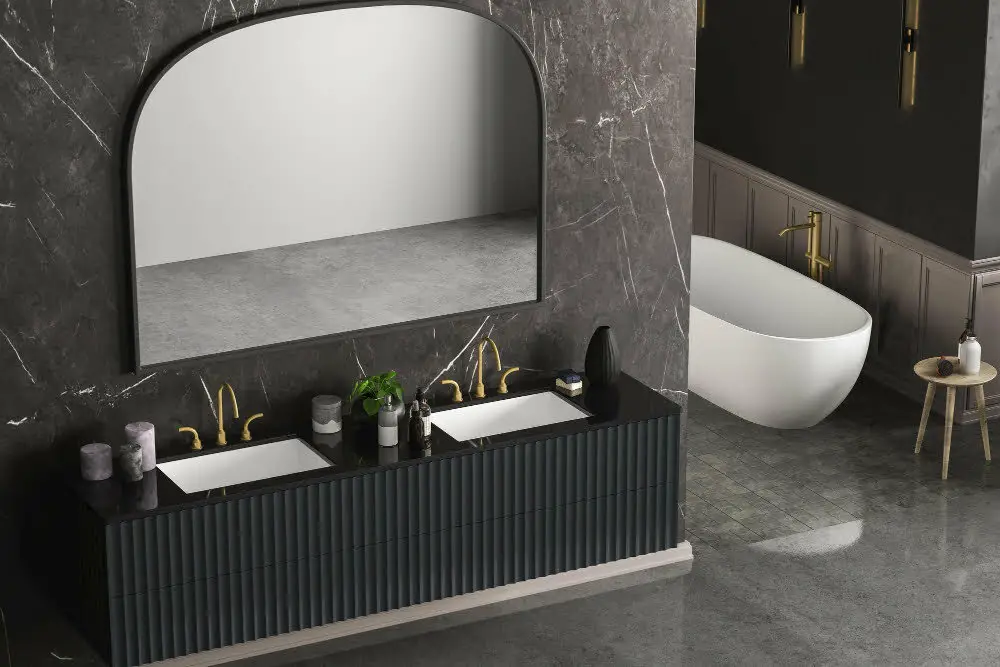 The dark color of the vanity creates a bold statement while the white sink provides balance and lightness. This combination works well in both modern and traditional bathrooms, making it versatile for any style preference.
To complete this look, consider adding gold or silver hardware for an extra touch of elegance. You can pair it with black-framed mirrors or sconces to create a cohesive design scheme that will make your bathroom feel like a luxurious retreat every time you step inside!
Herringbone Tile Pattern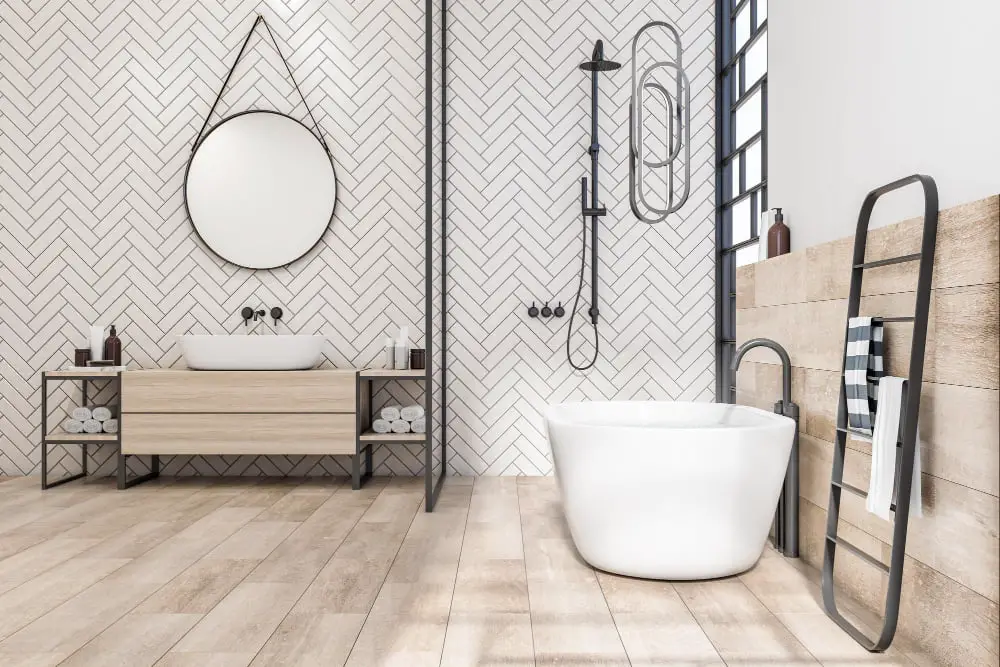 This pattern involves laying rectangular tiles at a 45-degree angle, creating a zigzag effect. The black and white herringbone tile pattern can be used on the floor or walls of your bathroom for an elegant look.
You can also mix up the colors by using different shades of gray or adding metallic accents for added texture and depth. Herringbone tiles are versatile and work well with both modern and traditional decor styles, making them an excellent choice for any home renovation project.
White Marble Countertops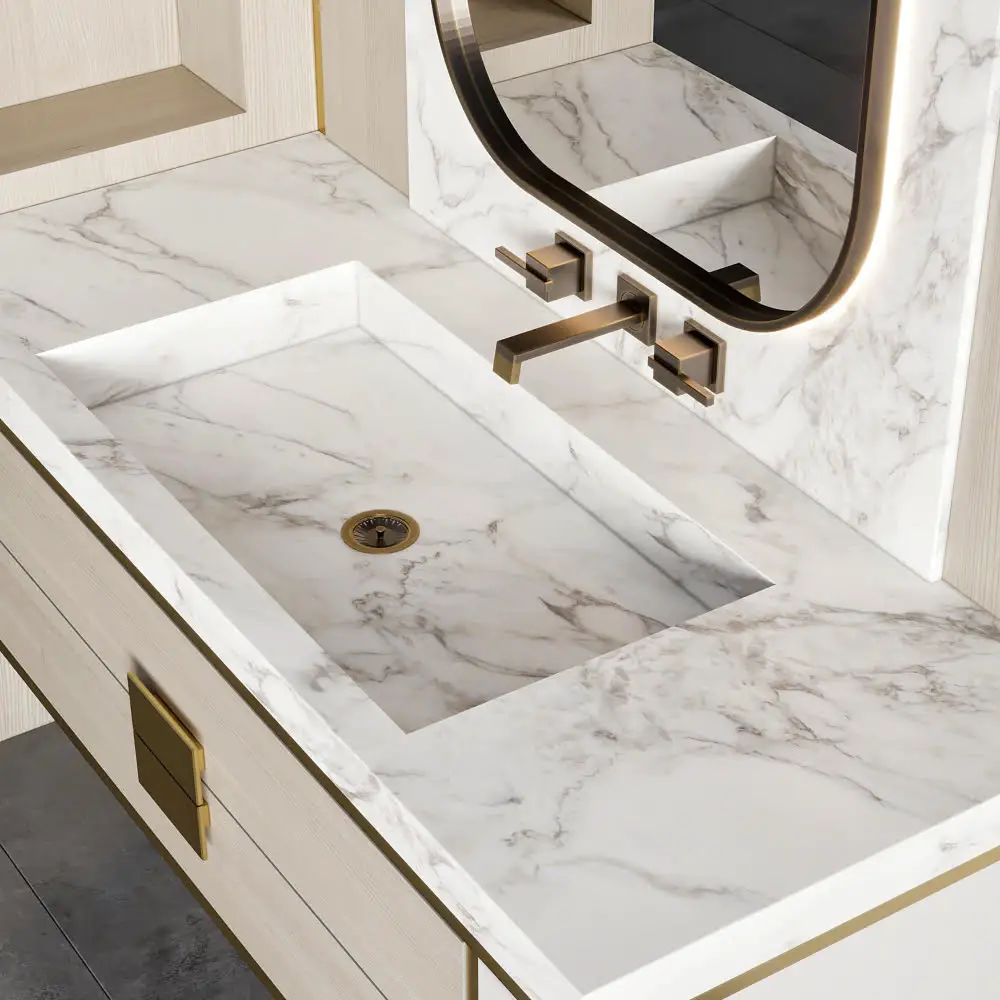 They add elegance and sophistication to the space, while also being durable and easy to clean. Marble is a natural stone that comes in various shades of white with unique veining patterns, making each countertop one-of-a-kind.
To keep your marble looking its best, it's important to seal it regularly and avoid using harsh chemicals or abrasive materials when cleaning it. Pairing white marble countertops with black fixtures or accents creates a timeless black-and-white color scheme that will never go out of style.
Black Framed Mirrors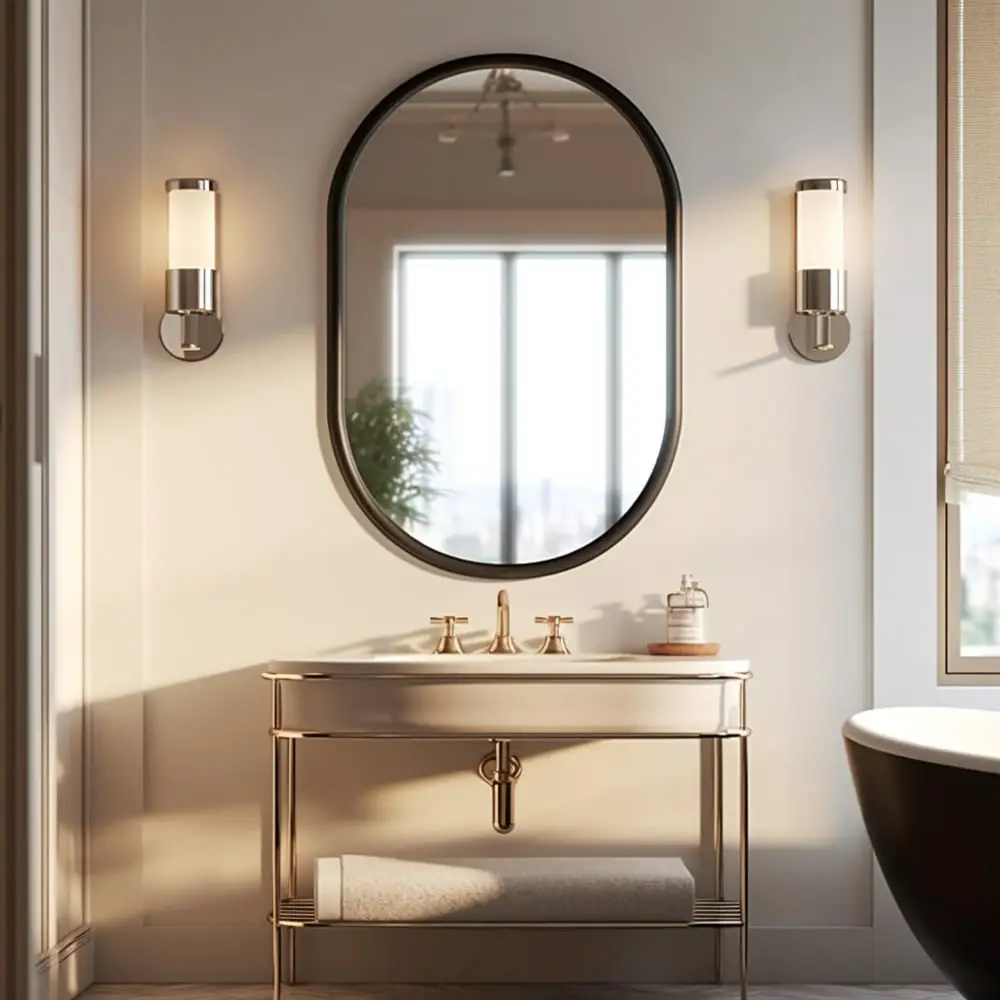 They add depth and dimension to the space while also providing functionality. A large black-framed mirror can make a small bathroom appear larger by reflecting light around the room, creating an illusion of more space.
They provide a sleek and modern look that complements other black fixtures in the room such as faucets or towel racks. Black framed mirrors come in various shapes and sizes, from rectangular to circular or even asymmetrical designs that can be used as statement pieces on their own.
Whether you choose one large mirror or multiple smaller ones arranged together, incorporating black frames into your bathroom design is sure to elevate its style quotient instantly!
Black and White Patterned Flooring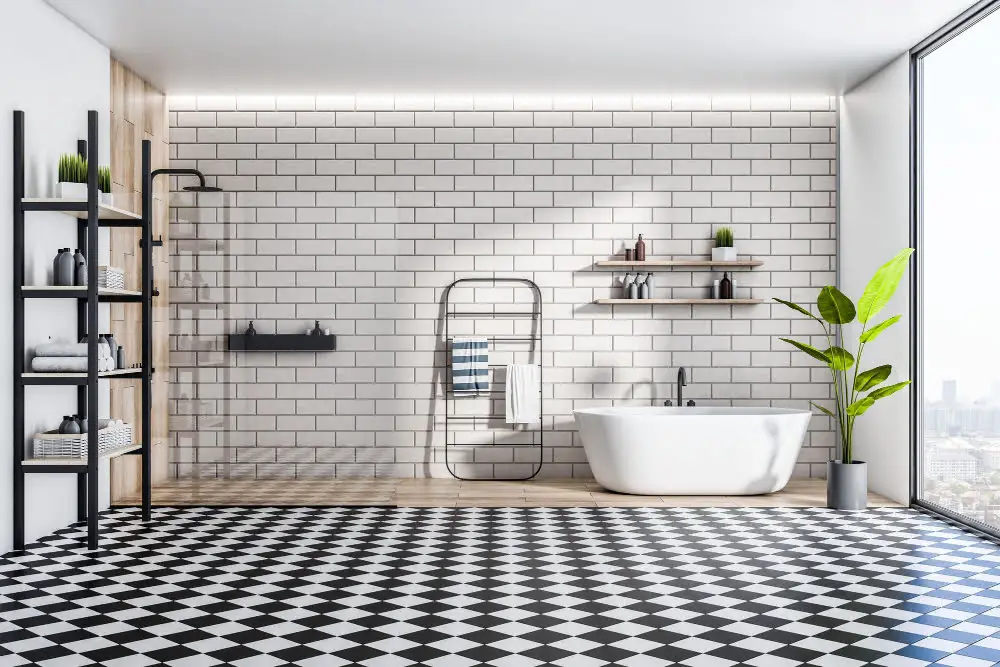 It adds visual interest to the space while still maintaining a timeless look. There are many options when it comes to black and white patterned flooring, from intricate mosaic designs to bold geometric shapes.
One popular option is black and white hexagonal tiles, which can be arranged in various patterns such as honeycomb or flower-like shapes. Another option is checkerboard tiles that alternate between black and white squares for a more traditional look.
No matter what type of pattern you choose, black and white flooring will add depth to your bathroom design while keeping it chic and sophisticated at the same time!
White Freestanding Bathtub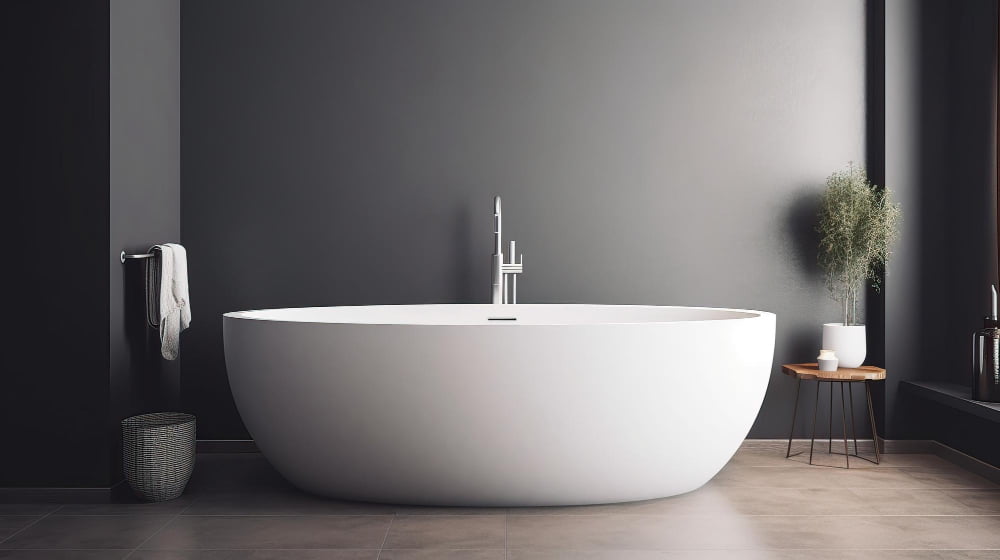 It creates a focal point in the room while also providing a relaxing space for soaking after a long day. The simplicity of the white color allows it to blend seamlessly with other elements in the bathroom, such as black fixtures or patterned tiles.
To enhance its beauty, consider placing it near natural light sources like windows or skylights that can highlight its curves and lines during daytime use. A freestanding tub also offers flexibility when designing your layout since you don't have to worry about fitting it into an alcove or corner like traditional built-in bathtubs do.
Black and White Wallpaper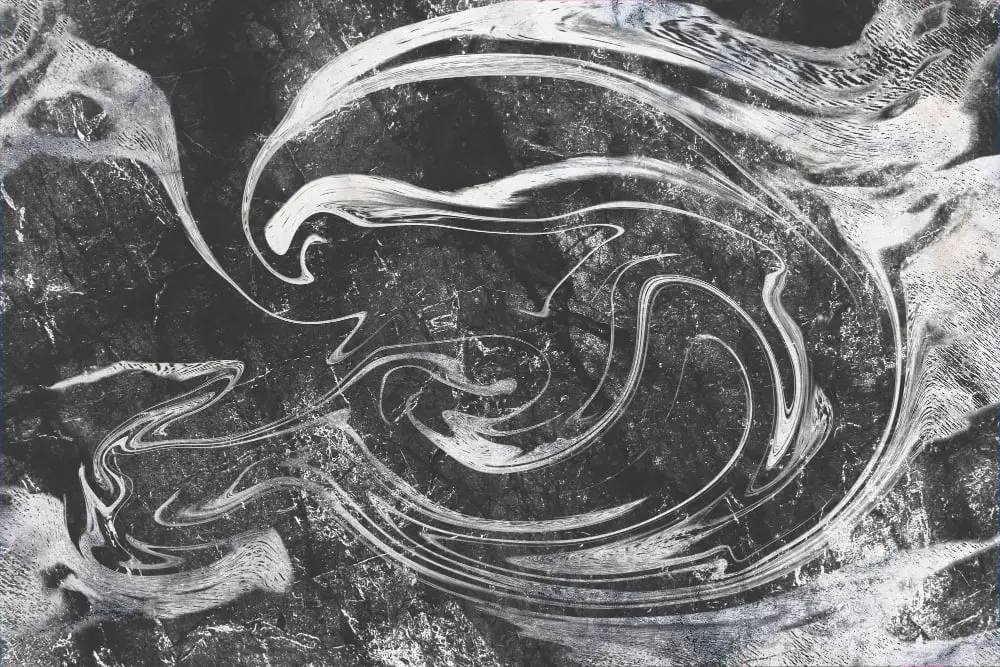 Whether you choose a bold geometric print or a delicate floral design, black and white wallpaper can create an eye-catching feature wall that sets the tone for the entire space. To keep things from feeling too busy, consider pairing your wallpaper with simple black or white fixtures, such as matte black faucets or sleek white sinks.
Alternatively, if you want to go all out with pattern play in your bathroom design scheme, mix-and-match different patterns by layering stripes on top of polka dots or florals for an eclectic look that's sure to impress guests!
Black and White Shower Curtains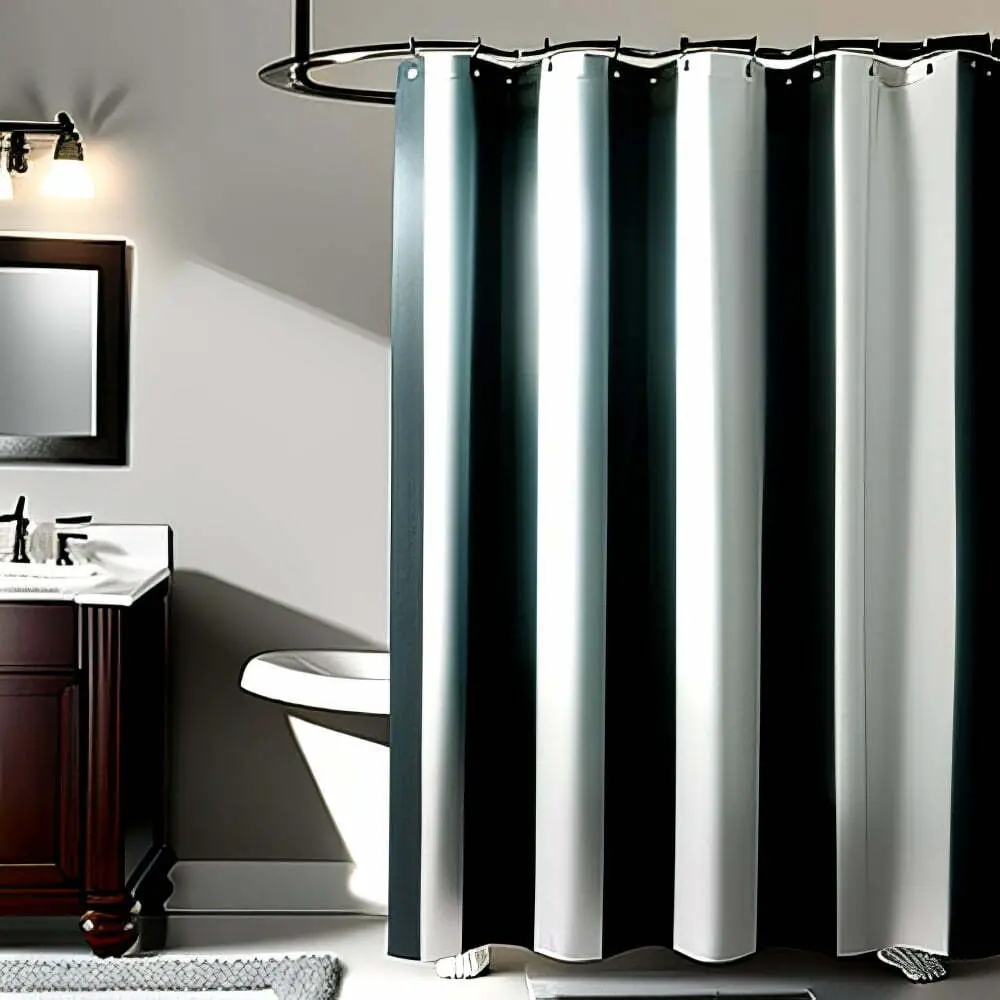 They come in various patterns, from classic stripes or polka dots to more intricate designs like damask or floral prints. A black and white shower curtain can create a bold statement against neutral walls, while also complementing other black and white elements in the room such as towels or accessories.
For those who prefer a minimalist look, solid black or solid white shower curtains can provide an elegant touch without overwhelming the space. When choosing a black and white shower curtain, consider the overall aesthetic of your bathroom as well as practical factors such as material quality and ease of cleaning.
Minimalist Black Fixtures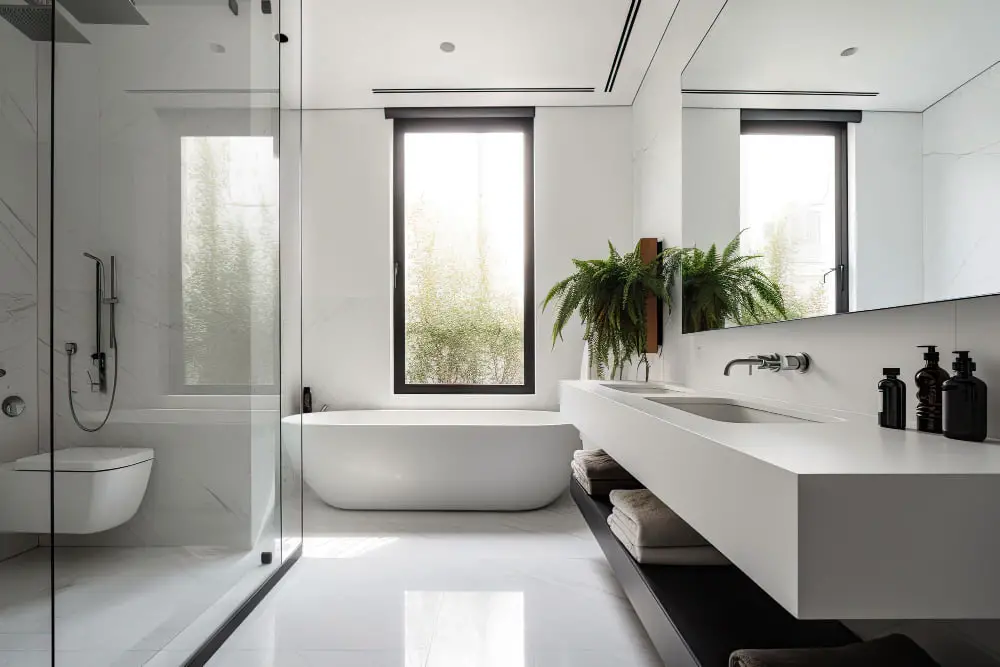 These sleek, modern fixtures can be found in various shapes and sizes, from simple towel bars to minimalist faucets. They work well with any style of decor, whether you prefer a contemporary or traditional look.
One popular option is the matte black finish on showerheads, faucets, and other hardware. This finish adds depth without being too flashy or distracting from the overall design scheme.
Another idea is using minimalistic lighting fixtures that blend seamlessly into the background while still providing ample light for grooming tasks such as shaving or applying makeup.
White Beadboard Paneling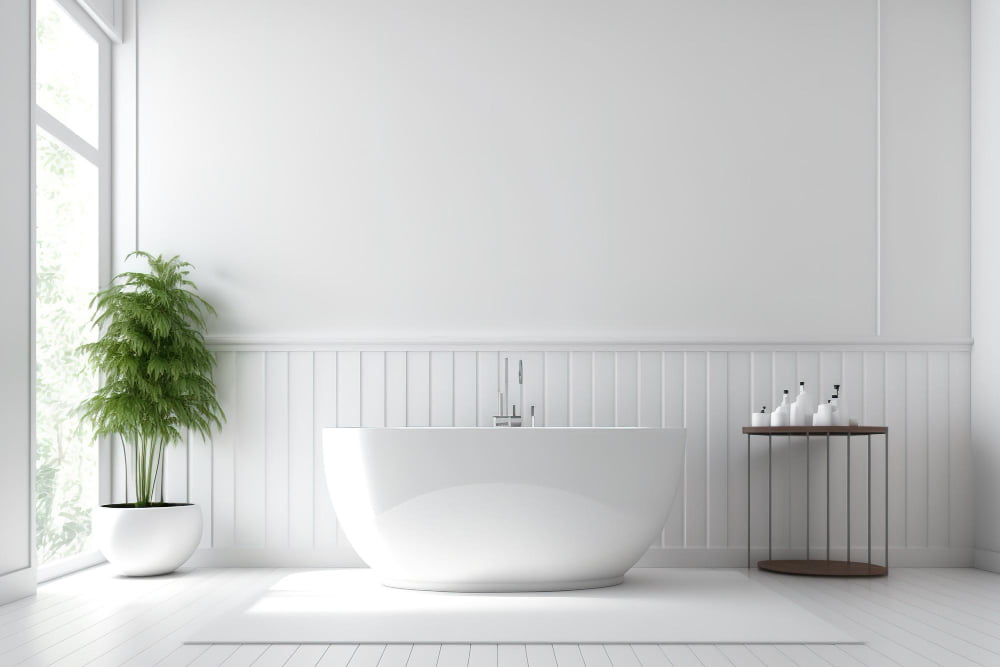 It adds texture and depth to the walls while keeping the space bright and airy. Beadboard can be installed vertically or horizontally, depending on your preference, and it comes in different widths to create various looks.
You can pair white beadboard with black accents for a timeless black-and-white theme or add pops of color through accessories like towels or plants. Beadboard is easy to clean and maintain, making it an ideal option for high-moisture areas like bathrooms.
Black and White Pedestal Sink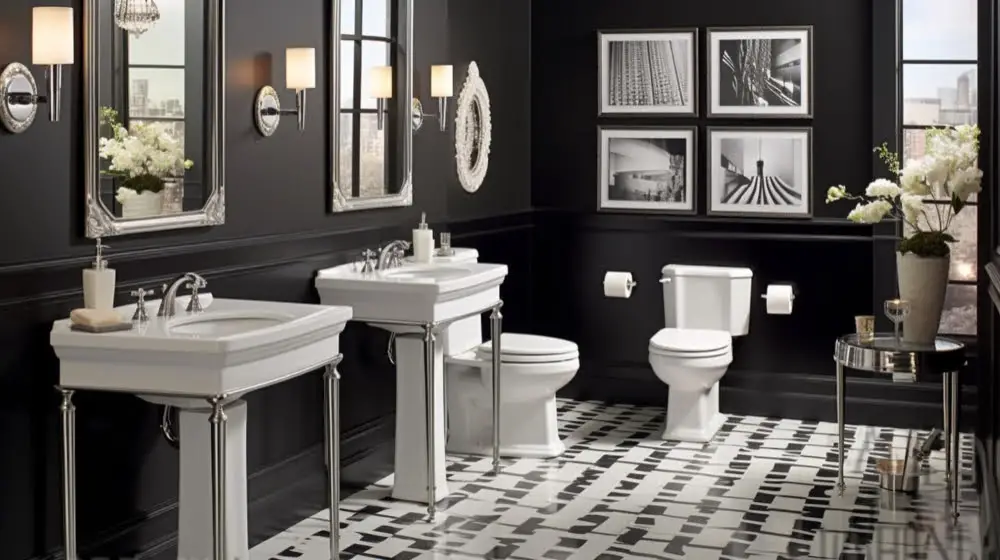 The sleek lines of the pedestal base create an elegant look, while the contrasting colors add visual interest to the space. This type of sink is perfect for smaller bathrooms as it takes up less floor space than a traditional vanity.
Pairing it with black or white fixtures will complete the monochromatic look, but adding pops of color through accessories like towels and rugs can also make this style work in any home decor scheme.
Two-tone Wall Design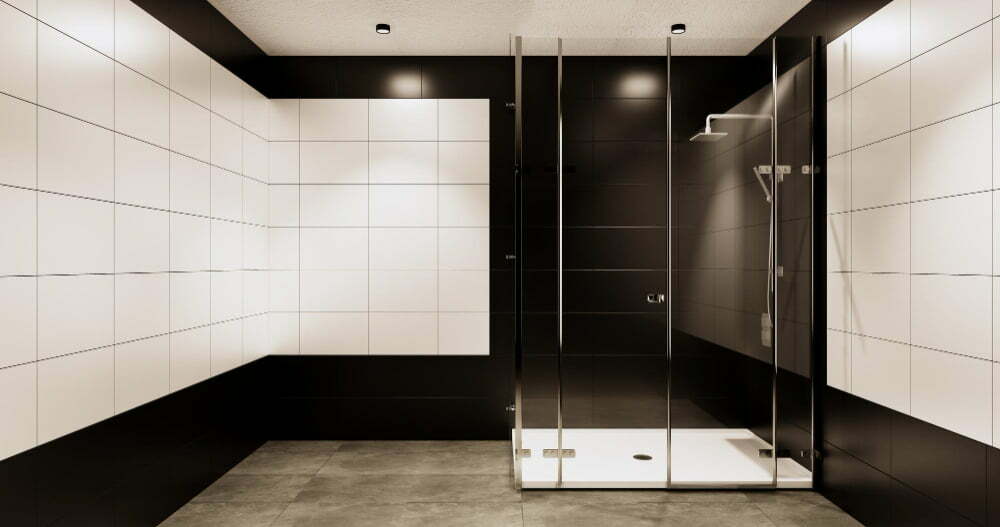 This technique involves painting the upper half of the walls in one color, while the lower half is painted in another. For example, you could paint the top half of your walls black and leave the bottom half white or vice versa.
Alternatively, you could use wallpaper or tile to create a two-tone effect on your walls.
This design idea works particularly well if you have high ceilings as it can help bring them down visually by creating a more intimate space. It's also an excellent option for those who want to incorporate both colors into their bathroom without overwhelming it with too much black or white.
To make this look work best, consider using contrasting colors that complement each other well such as navy blue and crisp white or charcoal gray with bright white accents.
Black and White Artwork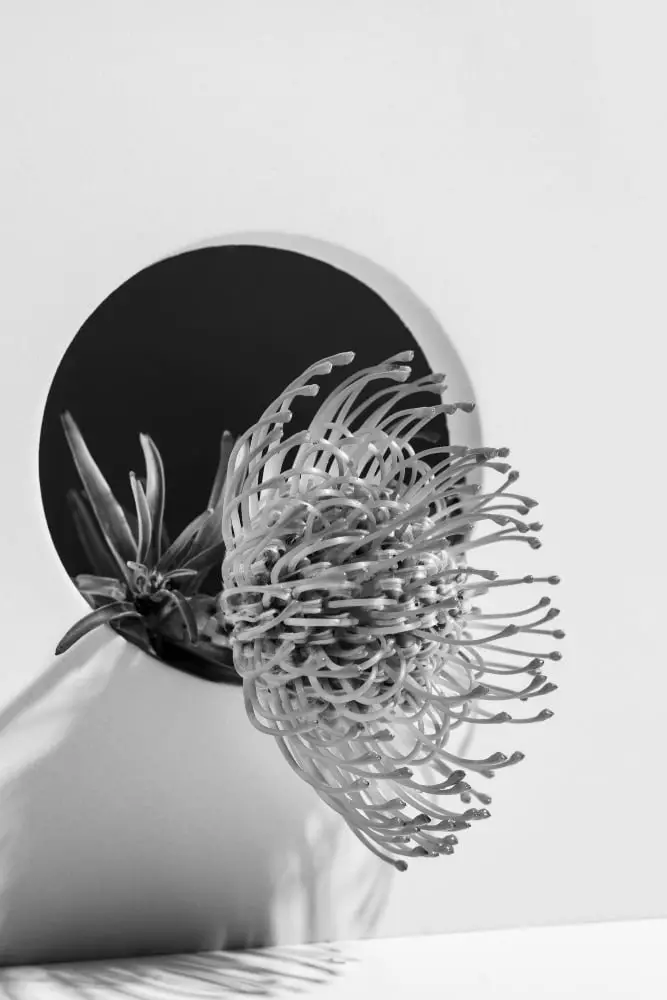 It can be anything from photographs, sketches, or paintings that feature black and white tones. A large-scale piece of art can make a bold statement in an otherwise neutral space.
Alternatively, you could create a gallery wall with smaller pieces of black and white art for added texture and depth. Consider framing the artwork in simple black frames for a cohesive look that ties everything together nicely.
Black and white photography featuring nature scenes or architecture are particularly popular choices for bathrooms as they bring an element of sophistication while still being calming to look at during bath time!
White Shiplap Walls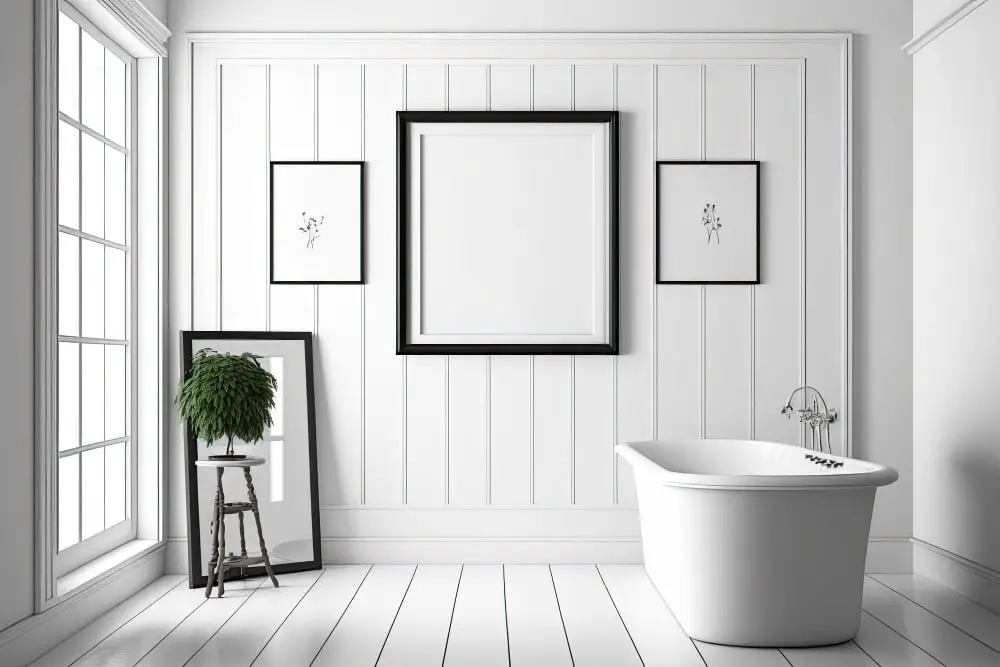 This type of wall paneling is made up of long, horizontal boards with a small gap between each one. The result is a clean and simple look that adds texture and interest to the space without overwhelming it.
Shiplap can be painted in any color, but white is particularly popular because it creates an airy and bright atmosphere that makes the room feel larger than it actually is. White shiplap walls work well with both modern and traditional styles, making them versatile enough to suit almost any taste or preference.
To add some extra visual interest, consider pairing your white shiplap walls with black fixtures or accessories for a striking contrast that will make your bathroom stand out from the rest!
Black Painted Ceiling
It works particularly well in bathrooms with high ceilings or lots of natural light, as the dark color adds depth and contrast to the space. To balance out the darkness of the ceiling, consider using lighter colors on walls and floors or adding plenty of white accents such as towels or shower curtains.
Another way to incorporate black into your bathroom design is by painting just one wall black while keeping everything else white – this will create a focal point without overwhelming the space with too much darkness.
Black and White Hexagonal Tiles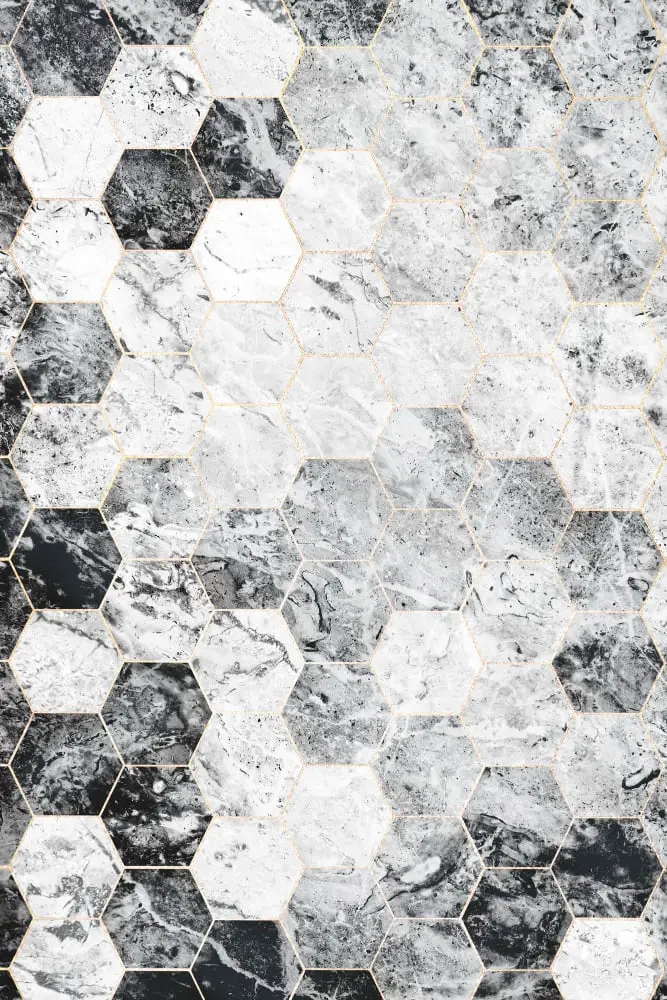 These tiles can be arranged in various patterns, such as honeycomb or diamond shapes, to create a unique look. The contrast between the black and white colors adds depth to the space while maintaining a clean and sleek appearance.
Hexagonal tiles also come in different finishes like matte or glossy which can add texture to your bathroom walls or floors. To make this design stand out even more, consider pairing it with minimalist fixtures like black faucets or towel racks that will complement the geometric pattern of these stylish hexagonal tiles!
Black Towel Rack and Hooks
They can be easily installed on the wall or behind the door, providing ample space for hanging towels, robes, and other accessories. Black metal finishes offer durability while complementing the monochrome color scheme of your bathroom.
You can choose from various styles such as modern sleek designs or vintage-inspired pieces with intricate details that will enhance the overall look of your space. A black towel rack or hook is an affordable addition that will make a big impact in transforming your bathroom into a stylish sanctuary.
Continue reading: