Last updated on September 25, 2023
Discover 20 minimalist bathroom ideas that will transform your space into a sleek and functional sanctuary, perfect for relaxation and rejuvenation.
Welcome to my latest blog post, where we explore the world of minimalist bathroom ideas. As we all know, the bathroom is one of the most important rooms in any home.
It's a place where you start and end your day, and it should be a space that promotes relaxation and tranquility. But what if your bathroom is cluttered with unnecessary items? What if it feels cramped and chaotic? Fear not! In this post, I'll be sharing 20 minimalist bathroom ideas that will help transform your space into a stylish and serene oasis.
From simple storage solutions to clever design tricks, these ideas are sure to inspire you to create the perfect minimalist bathroom for your home. So sit back, relax, and let's dive into the world of minimalism!
Table of Contents
Floating Shelves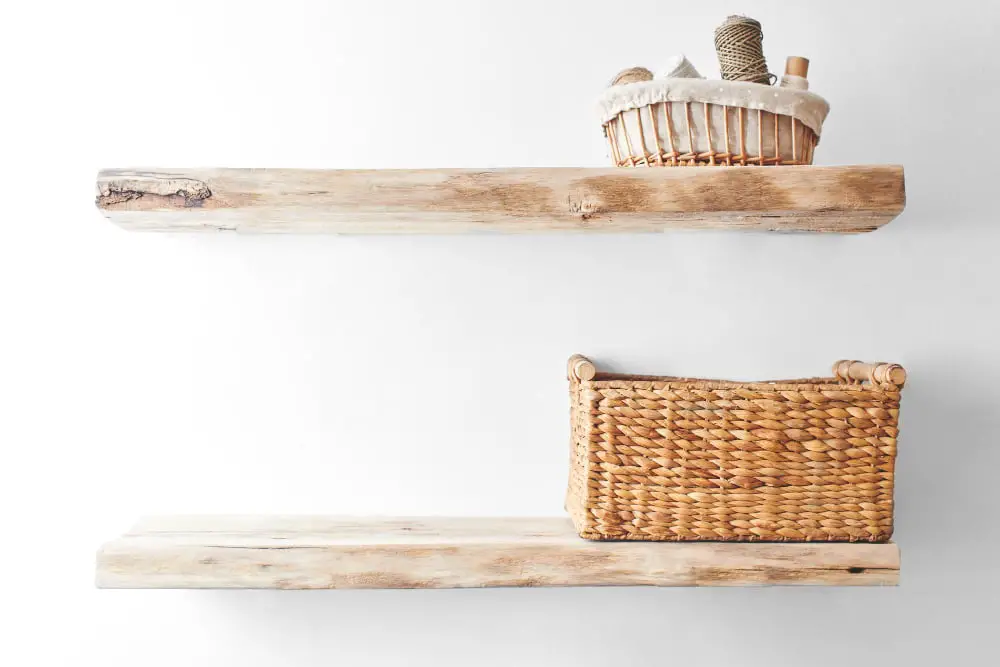 Floating shelves are a great way to add storage and display space in a minimalist bathroom. These shelves appear to be floating on the wall, which creates an illusion of more space.
They can be used for storing towels, toiletries, or decorative items such as candles or plants. Floating shelves come in various materials such as wood, metal or glass and can be customized according to your bathroom's color scheme and style.
To achieve a clean look with floating shelves it is important not to overcrowd them with too many items but rather keep it simple by displaying only essential pieces that complement the overall design of your bathroom.
Wall-mounted Sink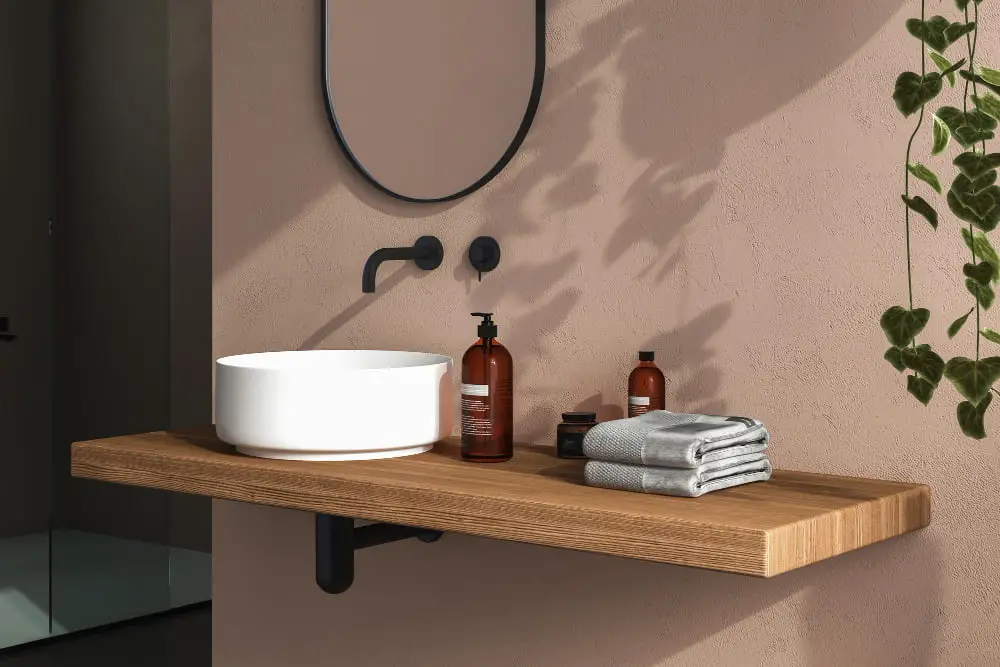 It takes up less space than traditional pedestal or vanity sinks, and its sleek design adds to the overall aesthetic of the room. Wall-mounted sinks come in various shapes and sizes, so you can choose one that fits your specific needs.
They also allow for more floor space which can make your bathroom feel larger and more open. They are easier to clean as there are no hard-to-reach areas around the base of the sink where dirt and grime tend to accumulate over time.
A wall-mounted sink is an excellent choice if you want to create a modern minimalist look in your bathroom while maximizing functionality at the same time!
Frameless Mirror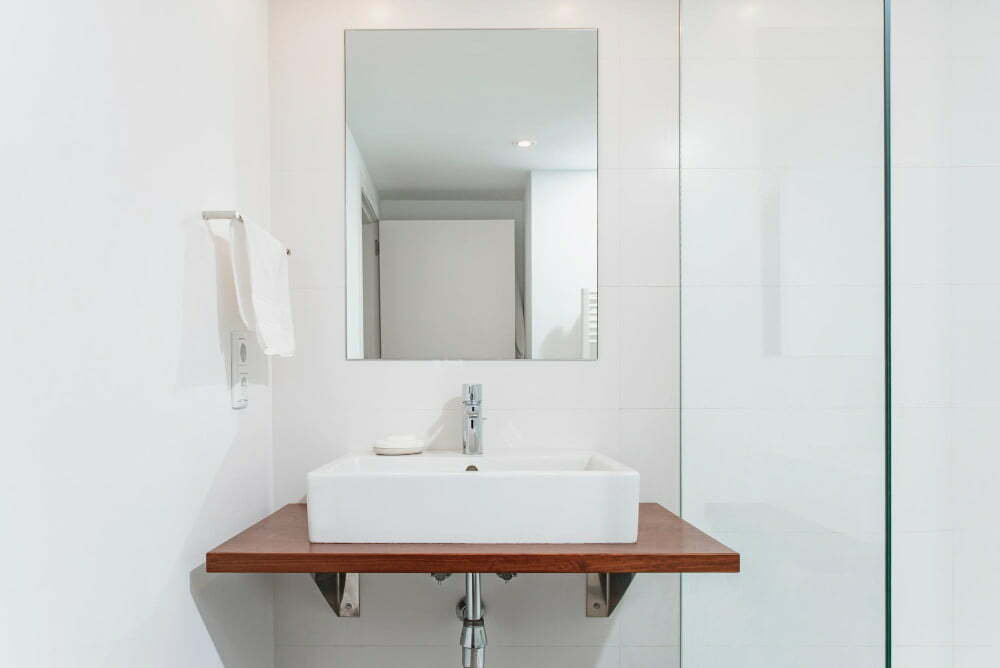 They also allow natural light to bounce around the bathroom, making it feel brighter and airier. A frameless mirror can be hung on the wall or installed directly onto tiles for a seamless look.
It's important to choose one that is large enough for your needs but doesn't overwhelm the space, so consider its placement carefully before installation. You may want to opt for an anti-fog coating if you live in a humid climate or have frequent hot showers – this will prevent condensation from forming on your mirror and keep it looking pristine year-round!
Glass Shower Enclosure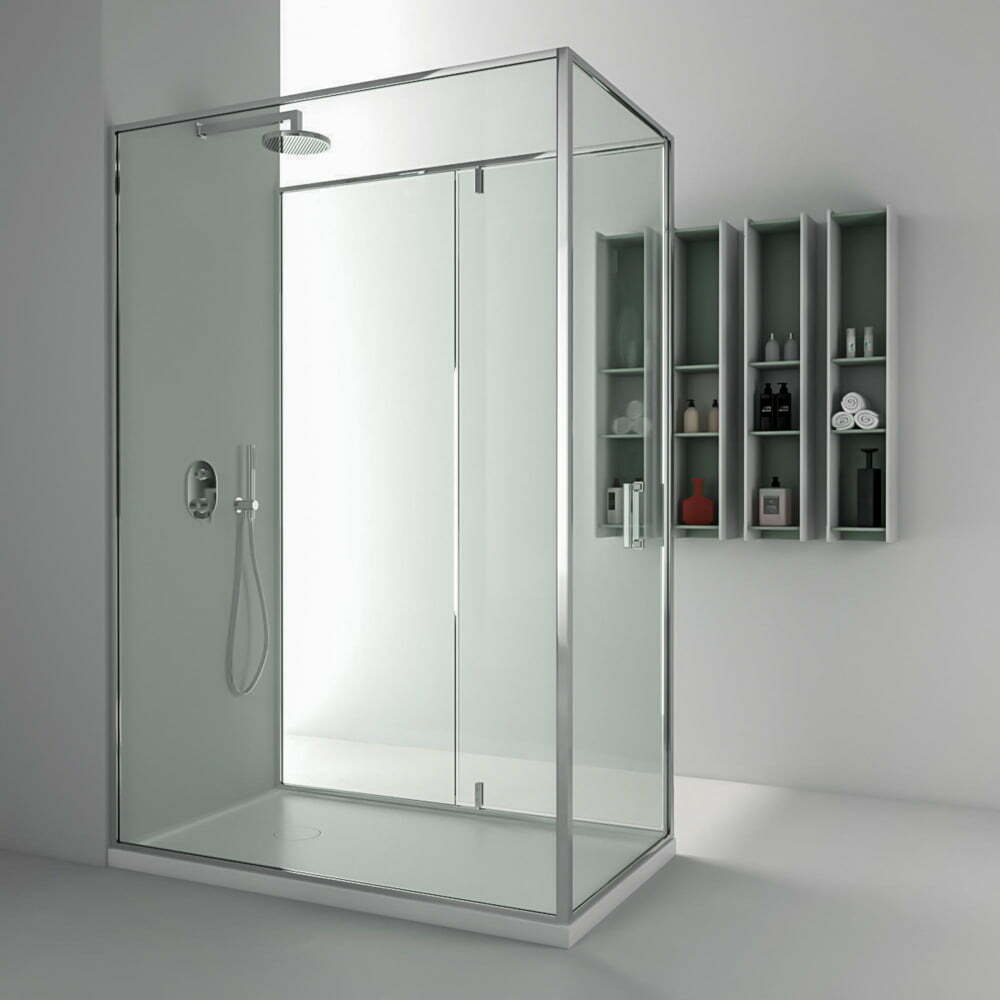 They also allow natural light to flow through the space, making it appear larger and brighter. A frameless glass enclosure is particularly sleek and modern, as it eliminates any bulky metal frames or hardware that can detract from the minimalist aesthetic.
For added privacy, frosted or textured glass can be used instead of clear glass. Opting for a walk-in shower with no door at all further enhances the minimalistic look while providing easy access in and out of the shower area.
Freestanding Tub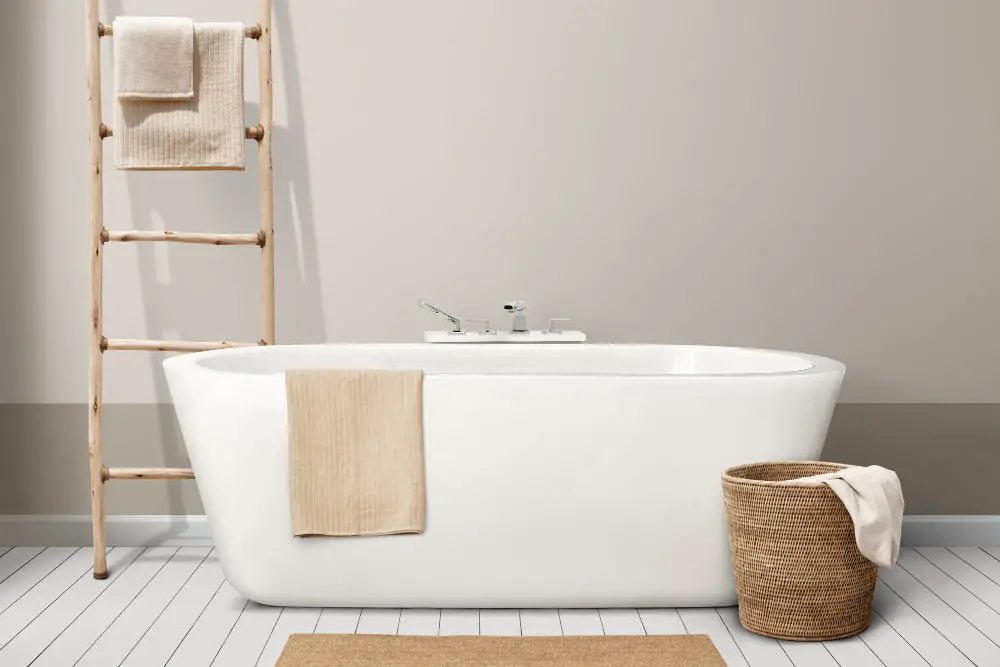 They offer a sleek and modern look while also providing the ultimate relaxation experience. These tubs come in various shapes, sizes, and materials such as acrylic or stone resin.
A freestanding tub can be placed anywhere in the bathroom to create an eye-catching focal point that complements other design elements like wall tiles or lighting fixtures. To keep it simple, opt for a monochromatic color scheme with neutral tones that will enhance the beauty of your freestanding bathtub without overwhelming it with too many colors or patterns.
Recessed Lighting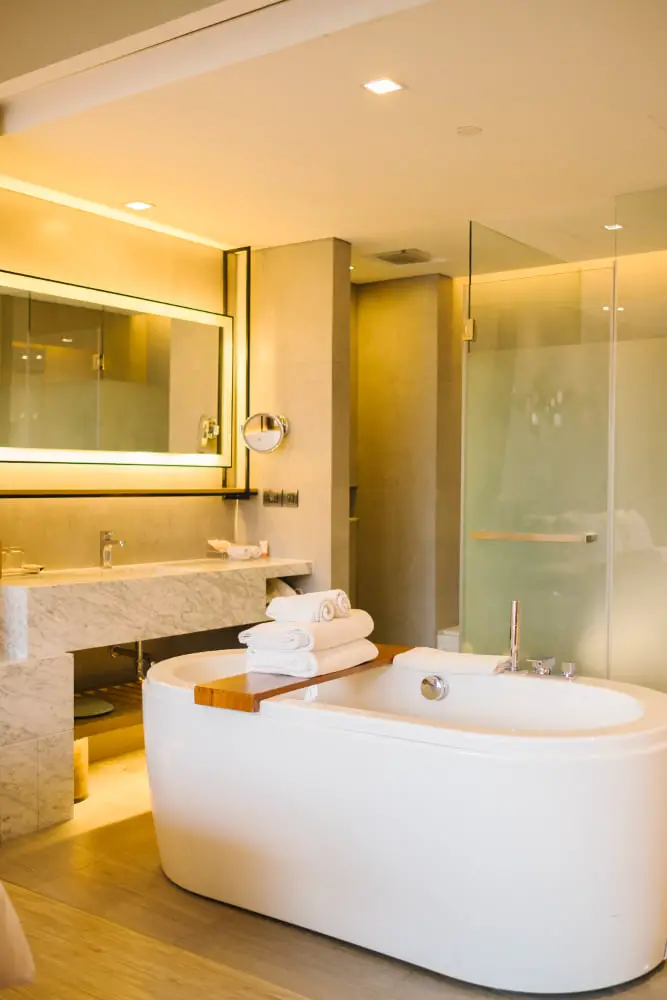 These lights are installed into the ceiling, creating an unobtrusive and streamlined look. They also provide ample illumination without taking up valuable space in the room.
When choosing recessed lighting for your bathroom, consider using LED bulbs for their energy efficiency and long lifespan. You can also install dimmer switches to adjust the brightness of the lights according to your needs.
To create a cohesive look, position recessed lights strategically throughout the room rather than clustering them in one area. For example, you could place them above or beside mirrors or near shower enclosures.
Monochromatic Color Scheme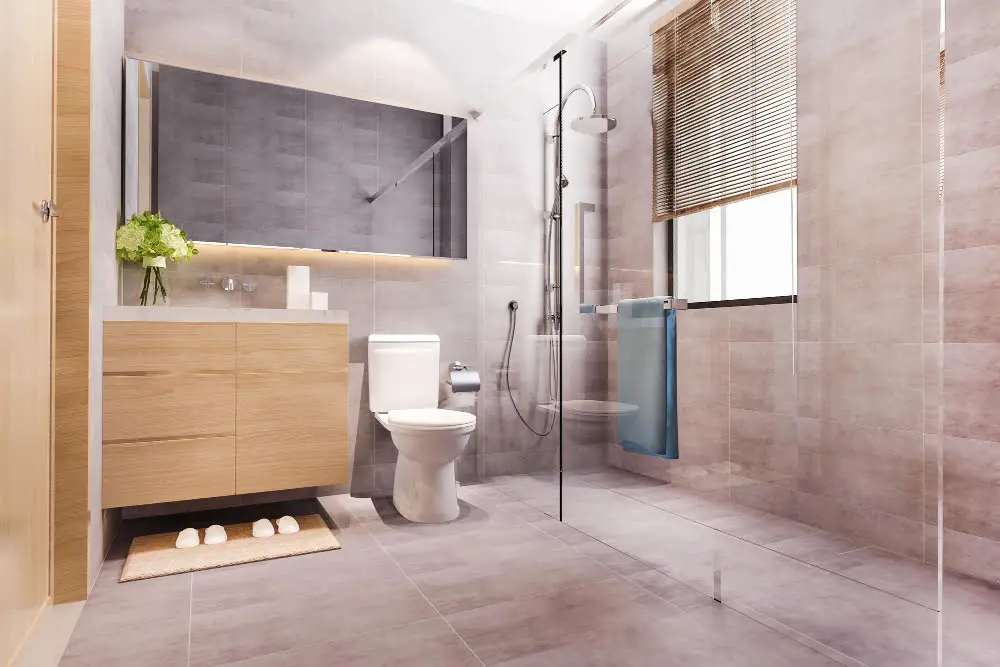 This design approach involves using different shades of the same color throughout the space, creating a subtle yet impactful look. For example, you could use various shades of white or gray to achieve this effect.
To make sure your monochromatic bathroom doesn't feel too sterile or boring, consider incorporating texture through materials like natural stone tiles or wood accents. You can also add interest with patterned textiles like towels and shower curtains in similar tones.
Space-saving Vanity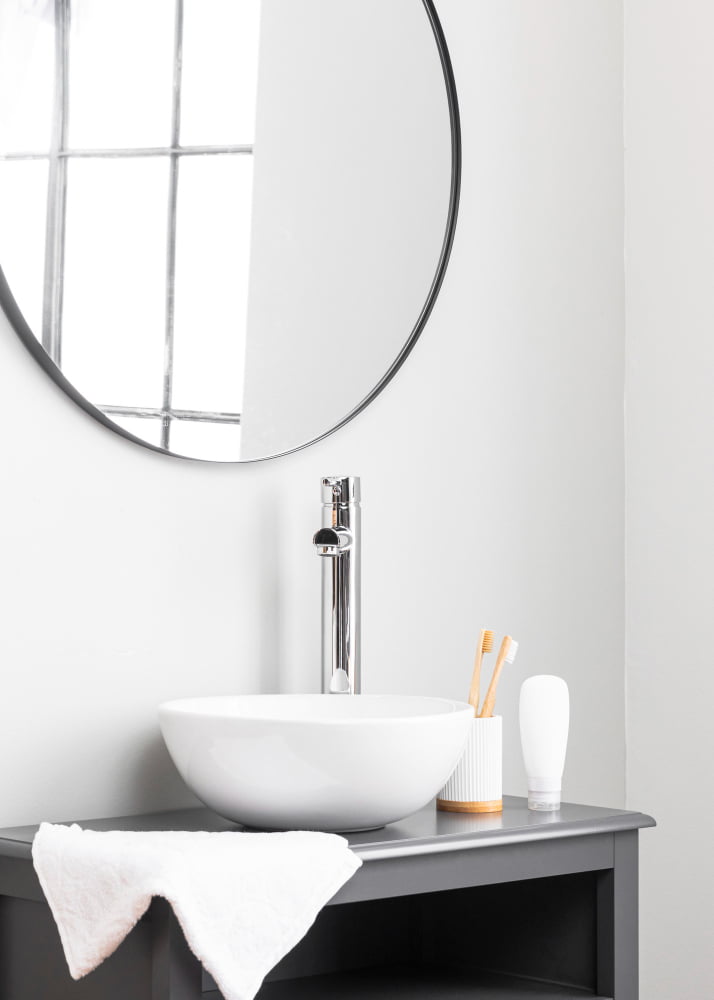 It not only provides storage for your toiletries but also helps keep the room clutter-free. A wall-mounted or floating vanity can create an illusion of more space in the bathroom, while a compact design can fit into even the smallest of bathrooms.
Opting for a single sink instead of double sinks will also save valuable counter space and make cleaning easier. Choosing vanities with built-in drawers or shelves will provide ample storage without taking up too much floor area in your bathroom.
Wall-mounted Toilet
These toilets are mounted directly onto the wall, which means that the tank is hidden behind it. This not only saves space but also makes cleaning easier since there are no hard-to-reach areas around the base of the toilet.
Wall-mounted toilets can be adjusted to different heights to accommodate people of all sizes and abilities. While installation may require some extra work due to plumbing adjustments and reinforcement in the wall, this investment will pay off with an elegant bathroom design that maximizes floor space while providing optimal functionality.
Minimalist Towel Bars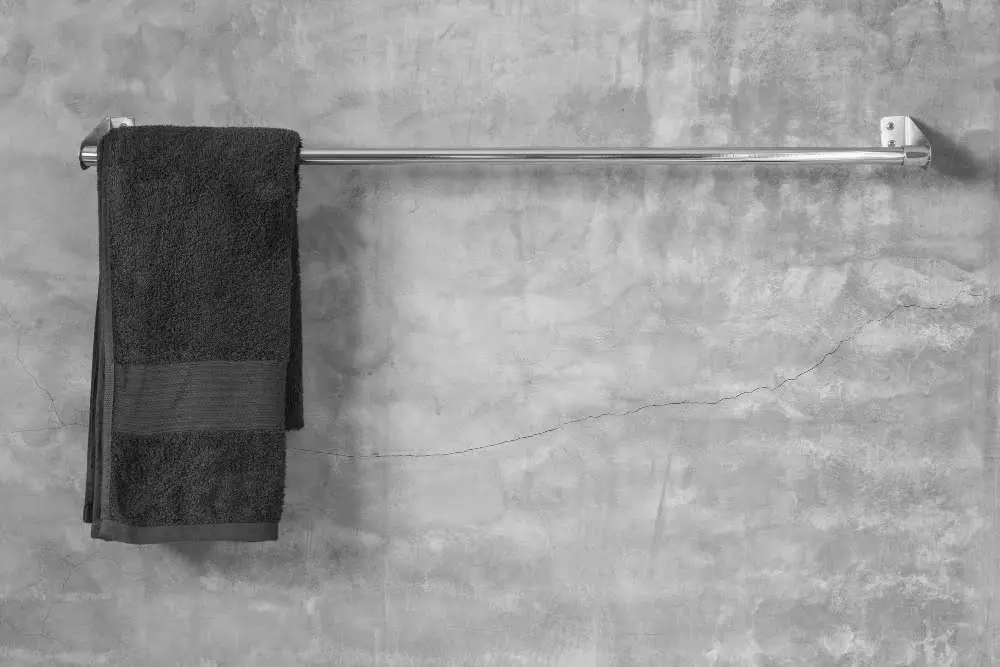 They come in various shapes and sizes, but the key is to keep them simple and unobtrusive. A sleek metal bar or a wooden dowel mounted on the wall can serve as an elegant towel holder without taking up too much space or drawing attention away from other design elements in the room.
Another option is to install hooks instead of bars for an even more streamlined look. Minimalist towel bars not only add functionality but also contribute to the overall aesthetic of a well-designed bathroom with their understated elegance.
Clear Storage Containers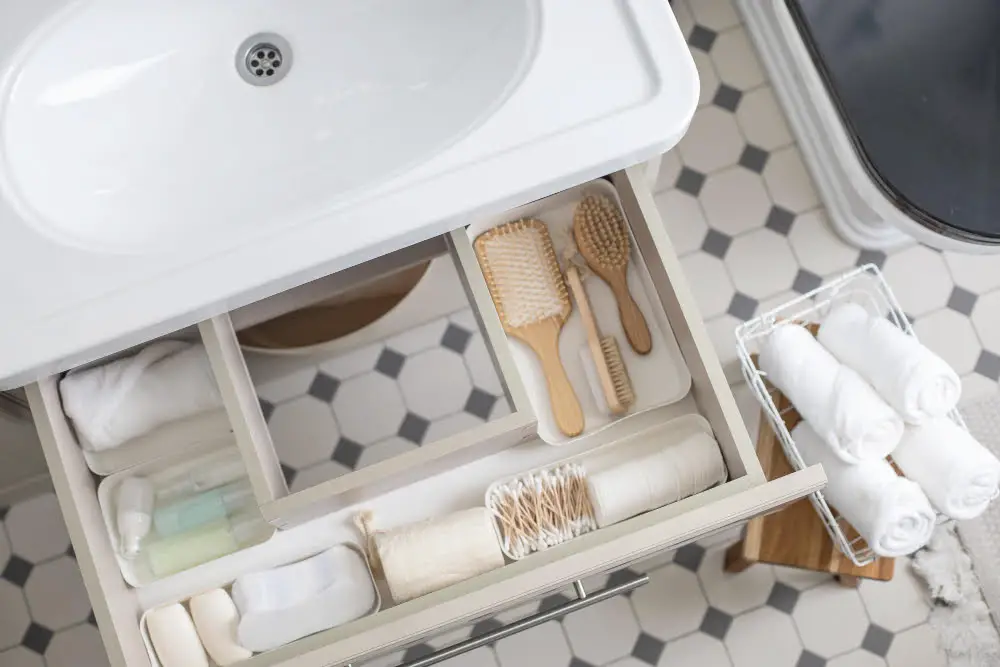 Not only do they allow you to easily see what's inside, but they also create the illusion of more space by keeping clutter off of countertops and shelves. Use them for storing cotton balls, Q-tips, makeup brushes or any other small items that tend to accumulate in the bathroom.
You can even use larger clear containers for towels or toilet paper rolls if you have limited closet space in your bathroom. Opting for clear storage containers will not only make it easier to find what you need when getting ready in the morning but will also add an element of visual interest without adding unnecessary clutter.
Multi-functional Furniture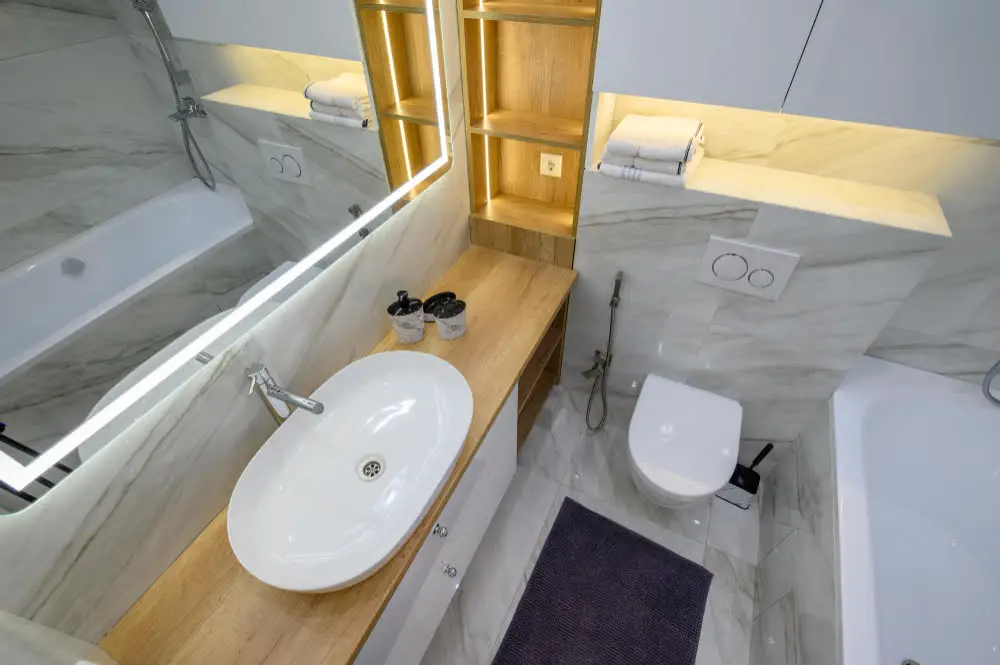 Look for pieces that can serve multiple purposes, such as a vanity with built-in storage or an ottoman that doubles as towel storage. A bench with hidden compartments can also be used to store toiletries or extra towels.
Another option is to use a ladder shelf as both decor and storage for towels and other bathroom essentials. By incorporating multi-functional furniture into your minimalist bathroom design, you'll not only save space but also add functionality and style to the room.
Small Potted Plants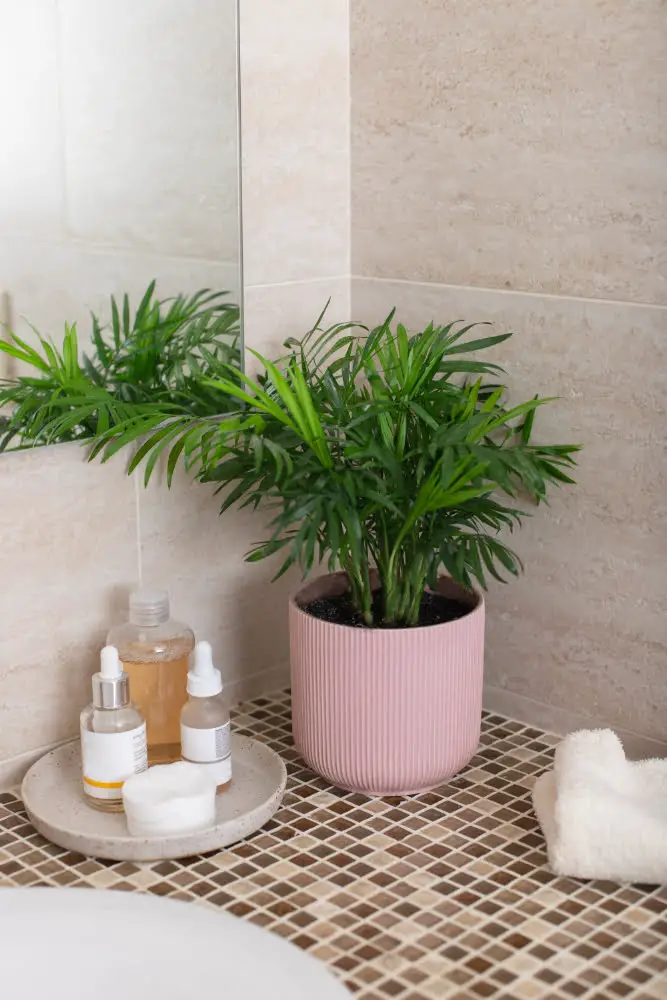 They can be placed on shelves, windowsills, or even hung from the ceiling. Some good options for small plants include succulents, air plants, and ferns.
These types of plants require minimal maintenance and can thrive in low-light environments.
When choosing pots for your small potted plants, opt for simple designs that complement the overall aesthetic of your bathroom. White ceramic pots or wooden planters work well with a minimalist style.
Adding greenery to your bathroom not only enhances its visual appeal but also has health benefits such as improving air quality by reducing toxins in the environment.
Ladder Towel Rack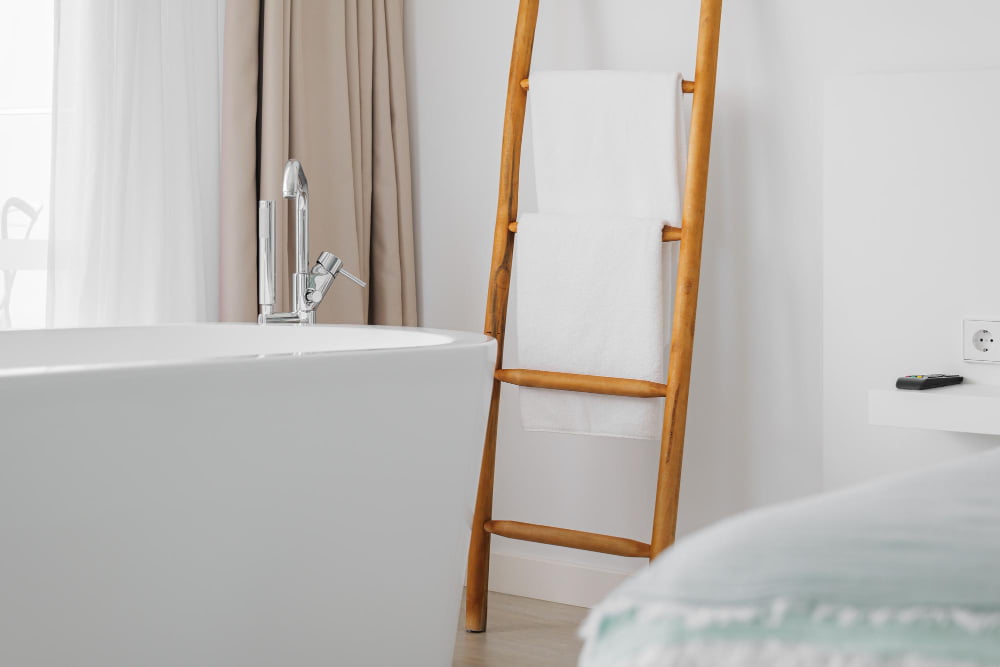 These simple yet stylish racks can be made from wood or metal and come in various sizes, making them perfect for any bathroom size. They can be leaned against the wall or mounted securely, depending on your preference.
Ladder towel racks not only provide an easy way to store towels but also add visual interest and texture to the space without overwhelming it with cluttered accessories. Plus, they're versatile enough that you could use them in other rooms of your home as well!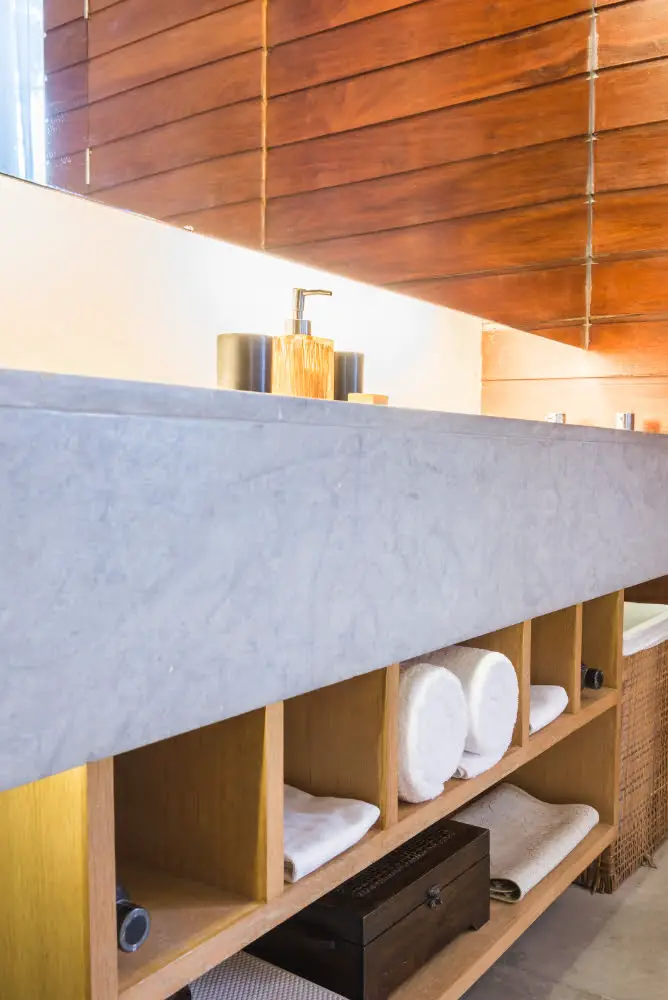 Consider installing cabinets or shelves that blend seamlessly into the walls, making them almost invisible. You can also opt for furniture with built-in storage compartments, such as a vanity with drawers or a bench with hidden cubbies underneath.
Another idea is to use baskets or bins that fit neatly under the sink or in other unused spaces. By incorporating hidden storage solutions into your bathroom design, you'll be able to keep all of your essentials organized and out of sight while maintaining an elegant aesthetic.
Vertical Wall Tiles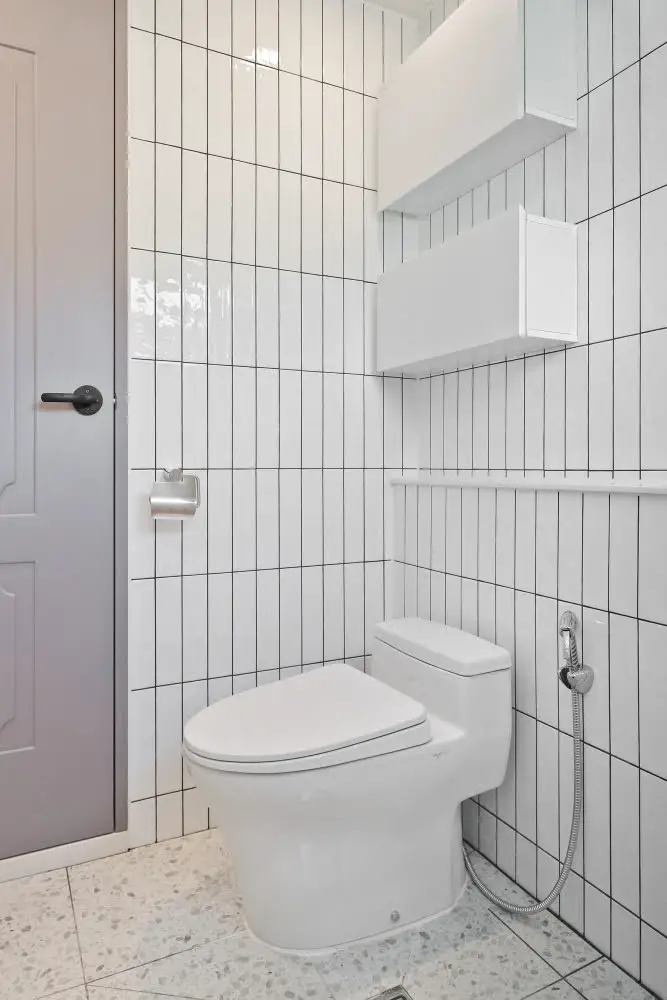 Instead of the traditional horizontal layout, vertical tiles can create an elongated look that makes the space feel taller. This is especially useful in smaller bathrooms where every inch counts.
You can choose from a variety of materials such as ceramic, porcelain or natural stone for your vertical tile installation depending on your preference and budget. You could opt for monochromatic colors or patterns that complement other elements in the bathroom like flooring or fixtures while still maintaining a clean and simple aesthetic overall.
Pocket Door
It slides into the wall, saving space and creating a seamless look. Pocket doors are perfect for small bathrooms where every inch counts.
They also provide privacy without taking up valuable floor space like traditional hinged doors do when they swing open and closed. Pocket doors can be customized with frosted or textured glass panels to add an extra layer of style while still maintaining the minimalist aesthetic of your bathroom design.
Simplified Toiletries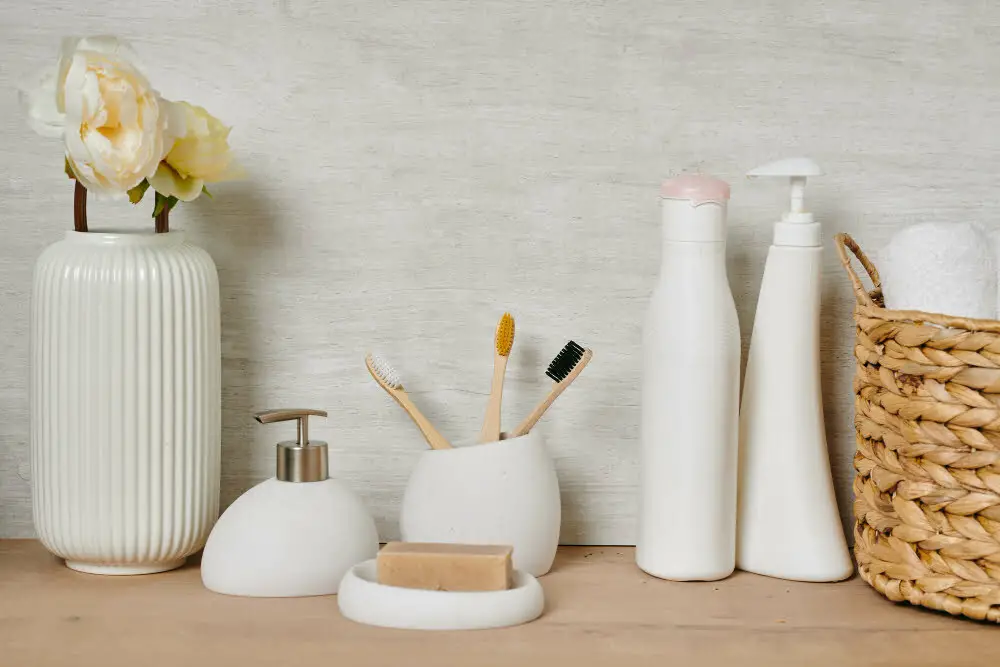 Instead of having multiple products cluttering up your countertop, try to stick with just the essentials. Invest in multi-purpose products like a shampoo and conditioner combo or an all-in-one body wash that can be used for both hair and body.
Consider using refillable containers for items like hand soap or lotion instead of buying new bottles every time you run out. This not only reduces waste but also adds a sleek look to your bathroom.
Another tip is to store extra toiletry items out of sight in drawers or cabinets rather than leaving them on display. This helps keep surfaces clear and gives the illusion of more space in smaller bathrooms.
Neutral Textiles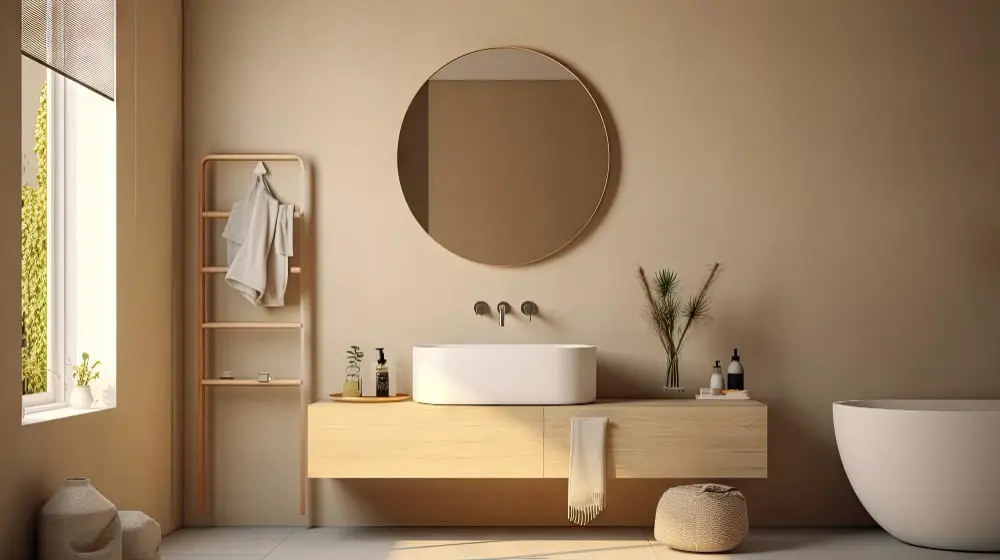 Opt for towels, bath mats, and shower curtains in shades of white, beige or gray. These colors will create a calming atmosphere while still maintaining the simplicity of your overall design scheme.
You can also experiment with different textures such as cotton, linen or bamboo fabrics to add depth and interest to your bathroom decor. Remember that less is more when it comes to minimalism so choose only a few key pieces that complement each other well rather than overloading the space with too many accessories.
Minimalist Artwork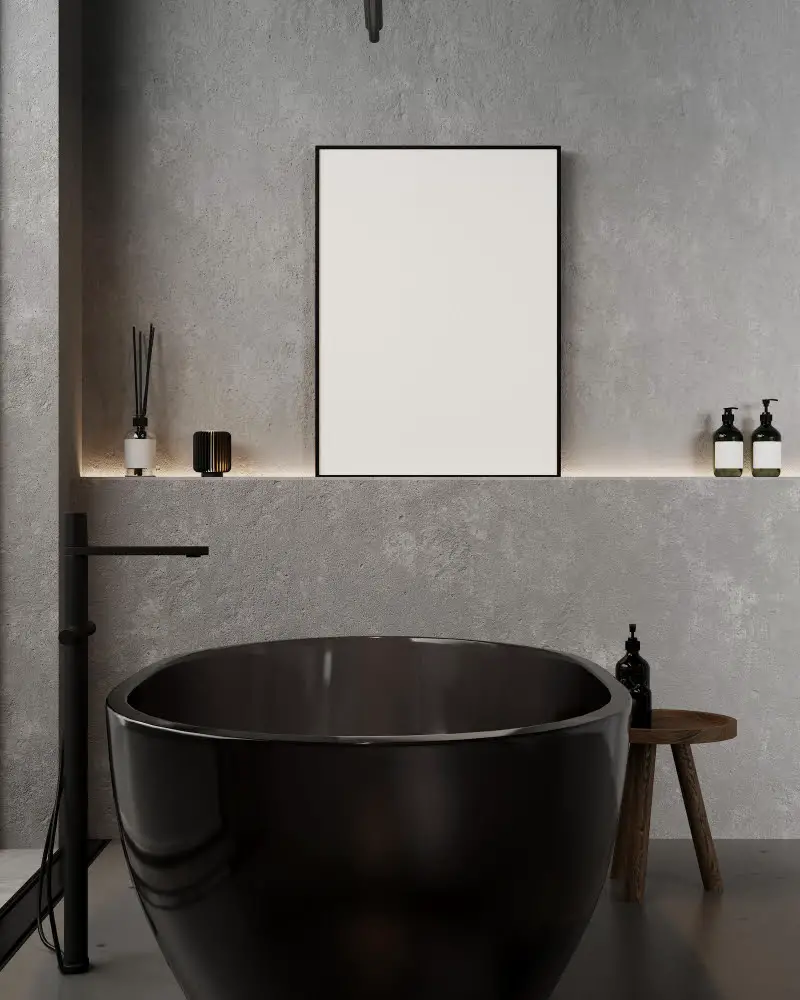 Simple, yet striking pieces can make a big impact in the overall design scheme. Consider using black and white photographs or abstract paintings with clean lines and minimal color palettes.
You could also opt for typography prints with inspirational quotes or phrases that resonate with you personally. When selecting minimalist artwork, keep in mind that less is more – choose one or two statement pieces rather than cluttering up the walls with too many smaller ones.
Continue reading: