Last updated on July 3, 2023
Discover a world of elegance and warmth with these twenty fantastic beige bathroom ideas that will transform your personal space into a tranquil haven.
Are you tired of your boring beige bathroom? Do you want to transform it into a stylish and chic space? Well, you've come to the right place! In this article, we'll be sharing 20 amazing ideas on how to spruce up your beige bathroom and turn it into a luxurious oasis. From bold accent walls to trendy accessories, we've got you covered.
So grab a cup of coffee and let's dive in!
Table of Contents
Beige Tile Flooring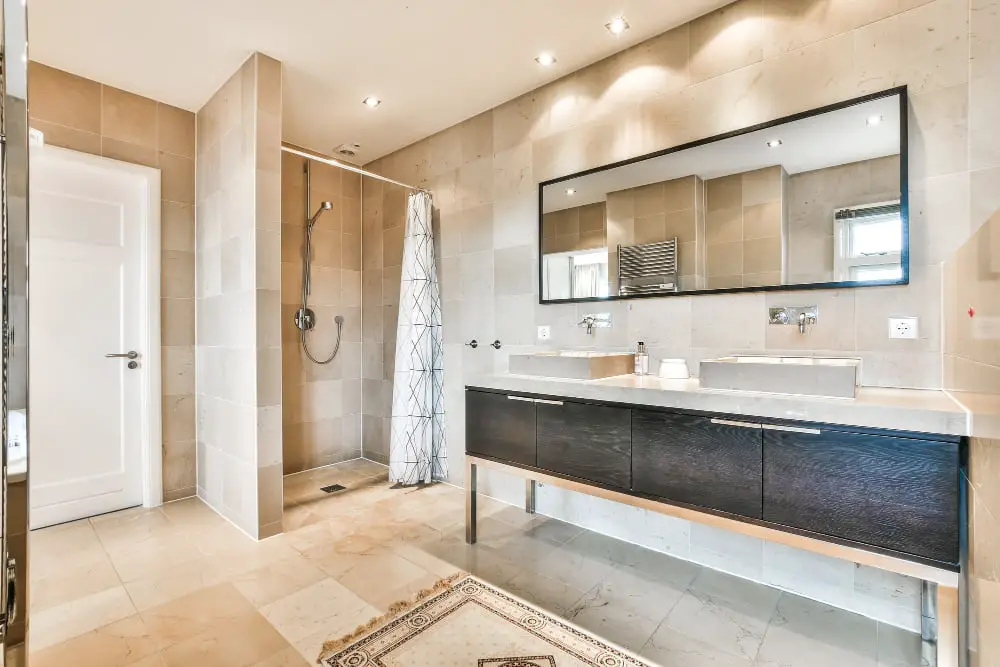 Beige tile flooring is a classic choice for any bathroom. It's neutral, versatile and easy to maintain.
Beige tiles come in various sizes, shapes and textures that can add depth and interest to your bathroom design. Large format beige tiles can make the space look bigger while smaller mosaic ones create intricate patterns on the floor.
You can also mix different shades of beige or combine them with other colors like white or gray for a more modern look. When choosing beige tile flooring, consider its slip resistance rating as well as its durability against water damage since bathrooms are high-moisture areas that require waterproof materials.
Beige Wall Paint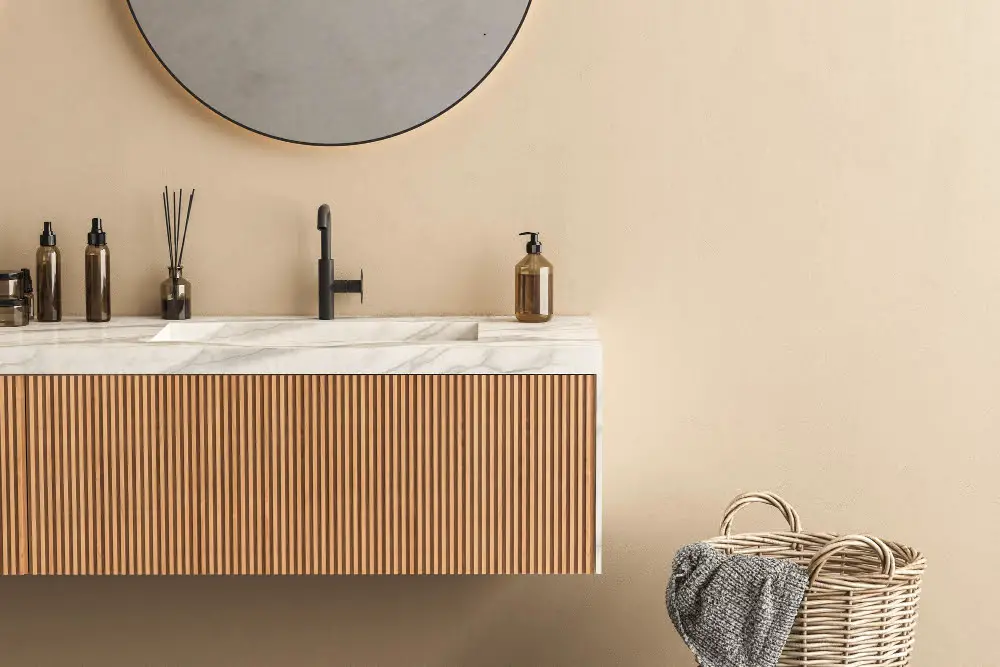 It creates a warm and inviting atmosphere, making it the perfect color to wake up to in the morning or unwind after a long day. Beige also pairs well with other colors, allowing you to add pops of color through accessories or artwork without overwhelming the space.
When choosing beige wall paint, consider your lighting situation as different shades of beige can appear differently depending on natural light versus artificial light sources. A matte finish will give your walls an elegant look while satin finishes are easier to clean and maintain in high moisture areas like bathrooms.
Beige Shower Curtains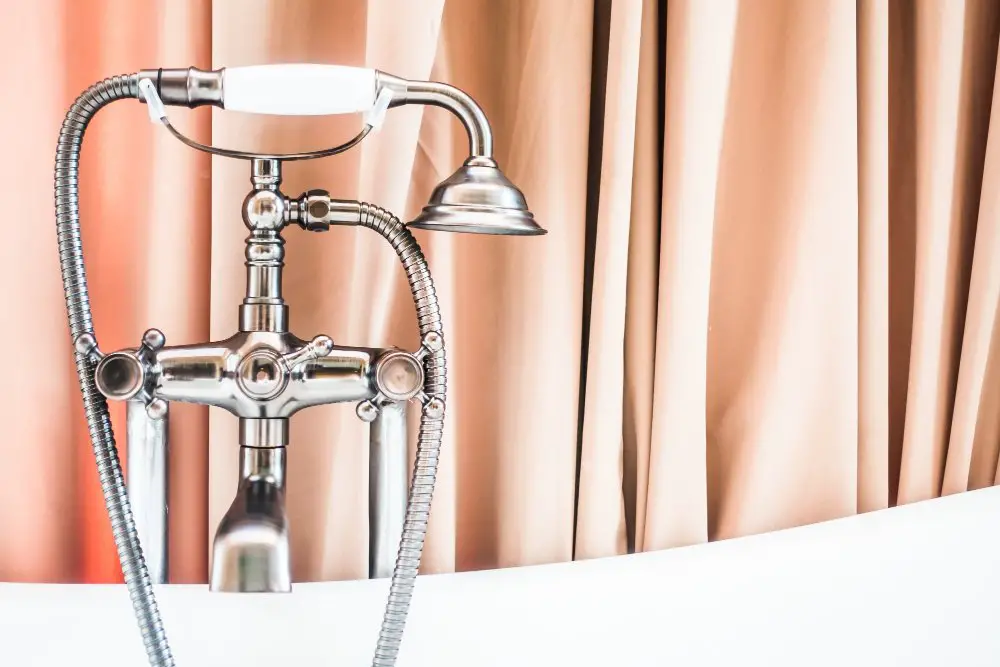 They come in various shades of beige, from light cream to dark taupe, so you can choose the one that best matches your bathroom decor. Beige shower curtains also pair well with other neutral colors like white or gray, as well as with pops of color like blue or green.
For a more luxurious look, opt for a beige shower curtain made from high-quality materials such as cotton or linen. You can also find options with interesting patterns and textures that will elevate the overall design of your bathroom while still keeping it simple and elegant.
Beige Vanity Unit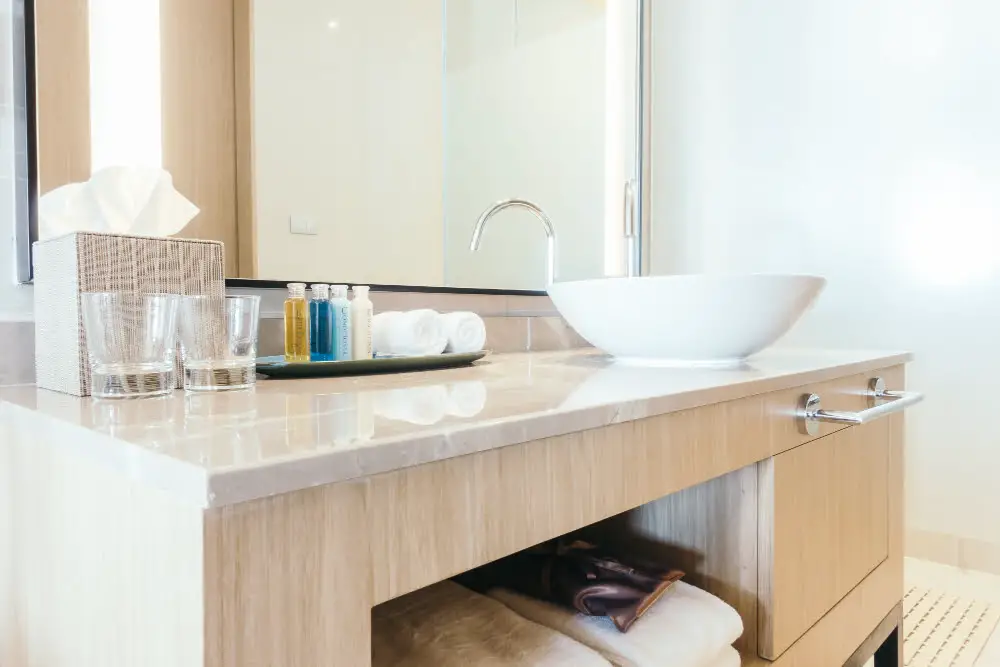 It not only provides storage space for your toiletries but also adds a touch of elegance to the overall look of the room. You can choose from various shades and textures of beige, such as matte or glossy finishes, depending on your preference and style.
A wooden vanity with a beige finish gives off an earthy vibe while a sleek modern design in beige exudes sophistication. Pair it with matching accessories like soap dispensers or toothbrush holders in complementary colors to complete the look.
With its versatility and timeless appeal, you won't regret investing in this classic piece for your bathroom renovation project!
Beige Towels & Bath Mats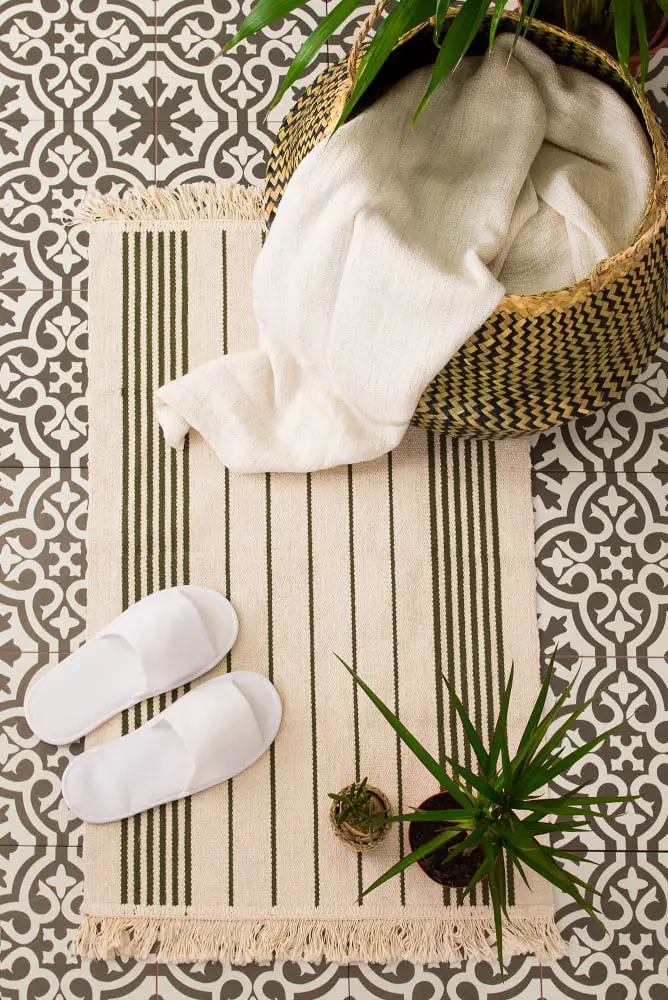 They complement the neutral color scheme while providing practicality. Opt for plush, high-quality towels that will feel soft against your skin after a relaxing bath or shower.
A matching set of beige bath mats can also help tie the room together, creating a cohesive look that is both stylish and functional. Don't be afraid to mix different shades of beige for added depth and interest in your bathroom decor!
Beige Marble Countertops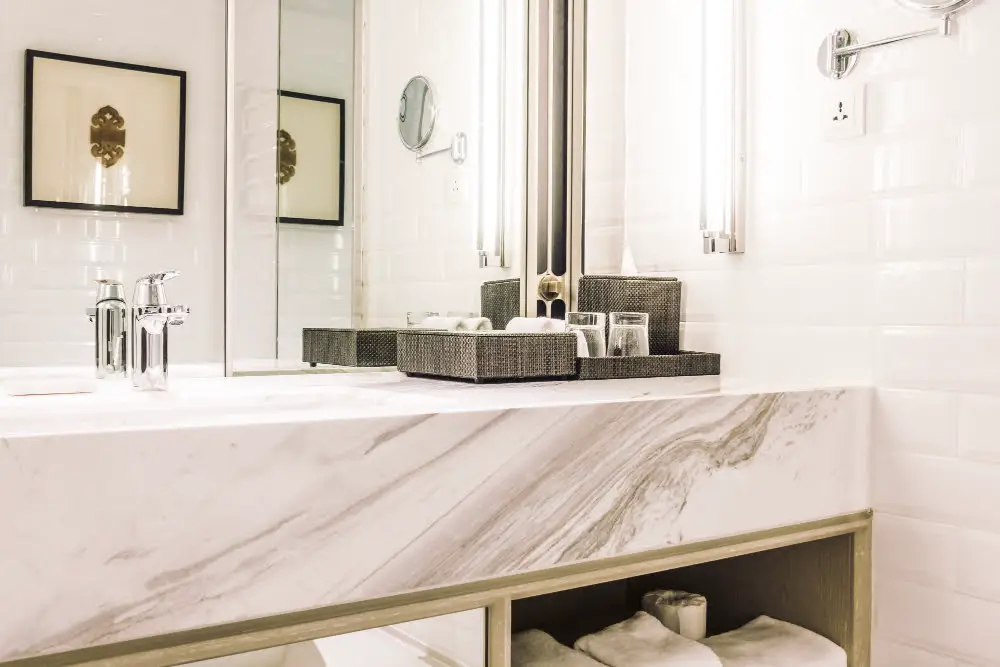 They add elegance and sophistication while also being durable and easy to clean. Marble is a natural stone that comes in various shades of beige, from light cream to dark tan, making it easy to find the perfect match for your bathroom's color scheme.
Beige marble countertops can be paired with white or beige sinks for a seamless look or contrasted with darker fixtures for added drama. When properly sealed, they resist stains and scratches, ensuring their longevity in your home's design scheme.
Beige Bathtub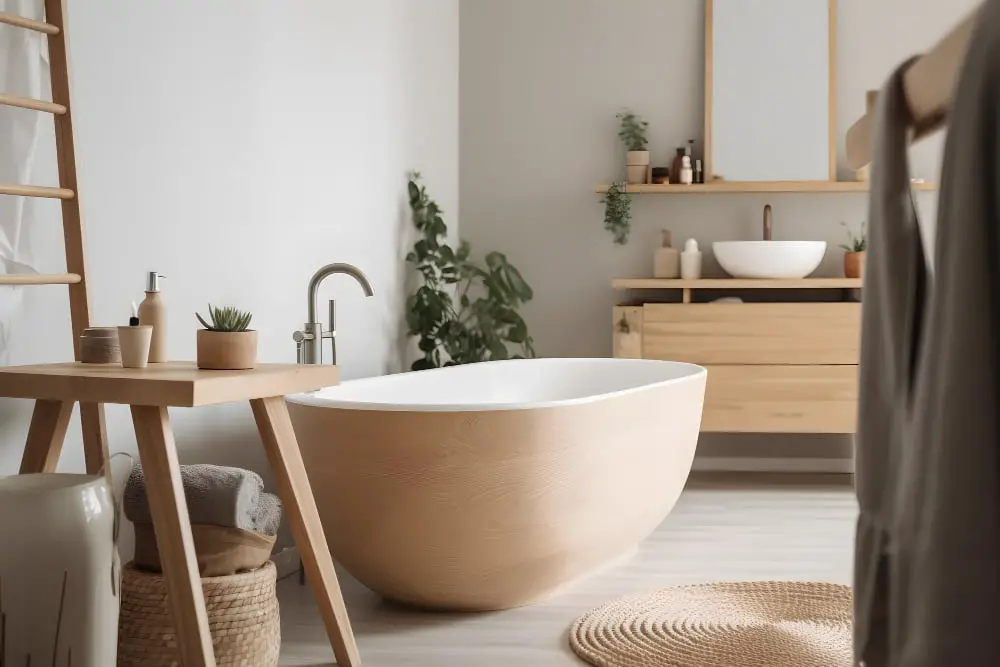 Beige bathtubs come in different materials such as acrylic, porcelain, or stone. They can also have various shapes and sizes that fit any bathroom style.
If you're looking for a classic look, consider an oval-shaped beige bathtub with claw feet. For modern bathrooms, freestanding rectangular tubs in matte finish are perfect choices.
To complement the beige color of the tub, add some green plants or colorful towels around it. You could also install pendant lighting above the tub for added ambiance during bath time.
Beige Accent Wall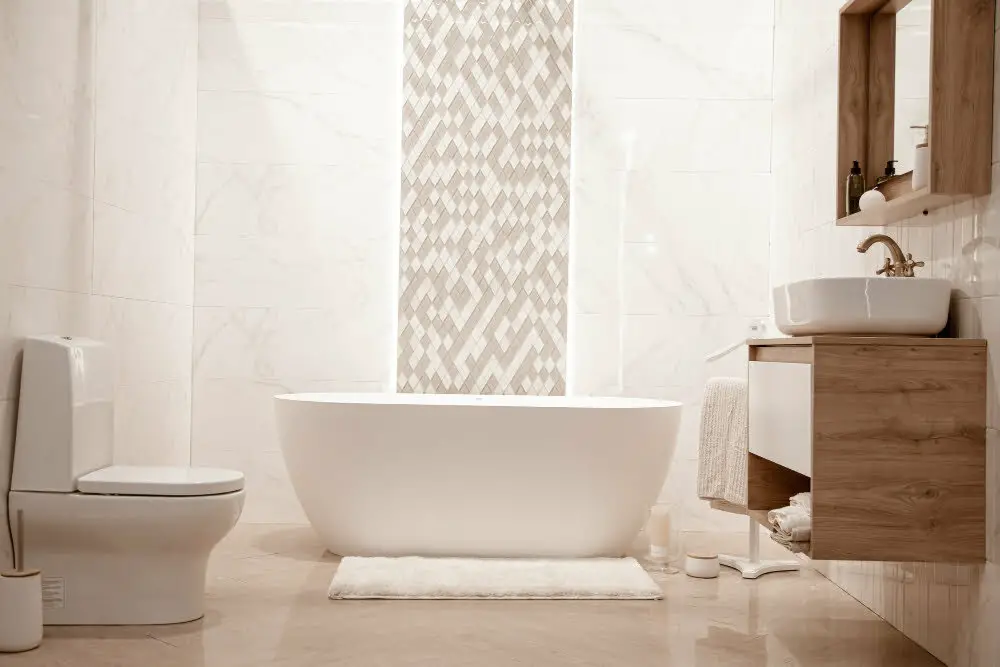 A beige accent wall can be achieved by painting one of the walls in a darker shade of beige or adding wallpaper with a subtle pattern. This will create an eye-catching focal point that draws attention to the area, making it feel more dynamic and visually appealing.
Be sure not to overdo it though, as too many patterns or colors can make the space feel cluttered and overwhelming. Keep other elements in the room simple and neutral so that your accent wall remains the star of the show!
Beige Wallpaper
Whether you opt for a subtle pattern or something more bold, beige wallpaper can create an elegant and sophisticated look in your space. Consider pairing it with white fixtures and accessories for a clean, classic feel or mix it up with pops of color in towels or artwork.
Just be sure to choose moisture-resistant options that are suitable for use in bathrooms so they hold up well over time.
Beige Storage Baskets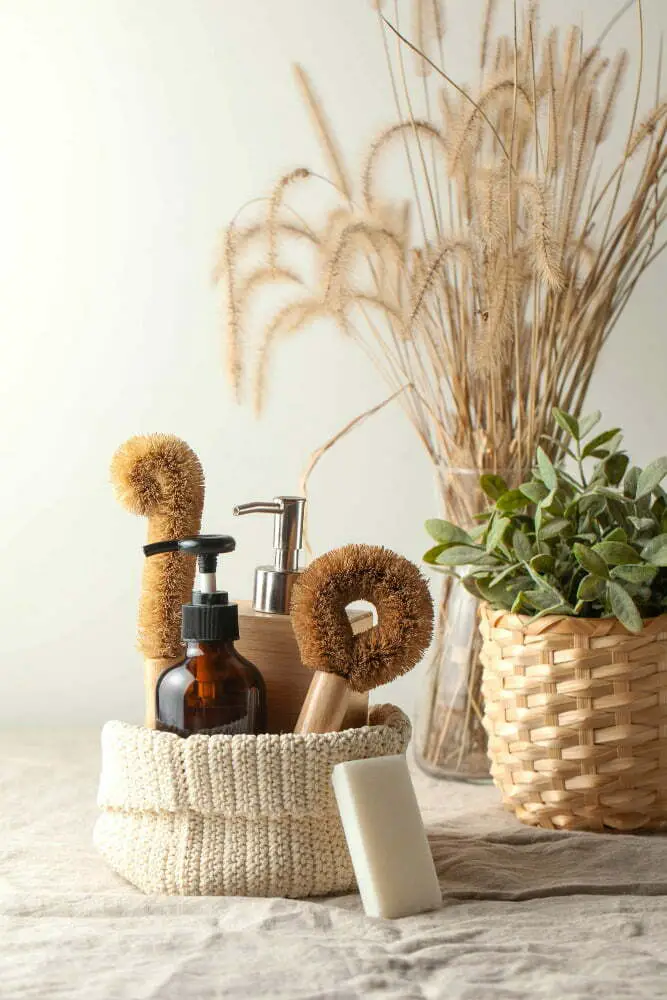 They not only provide extra storage space but also add texture and warmth to the room. You can use them to store towels, toilet paper, or even toiletries.
Woven baskets in natural shades of beige give a rustic feel while fabric ones with patterns or prints can add some visual interest. Place them on shelves, under the sink or next to the bathtub for easy access and organization of your bathroom essentials.
Beige storage baskets are both practical and stylish!
Beige Framed Mirror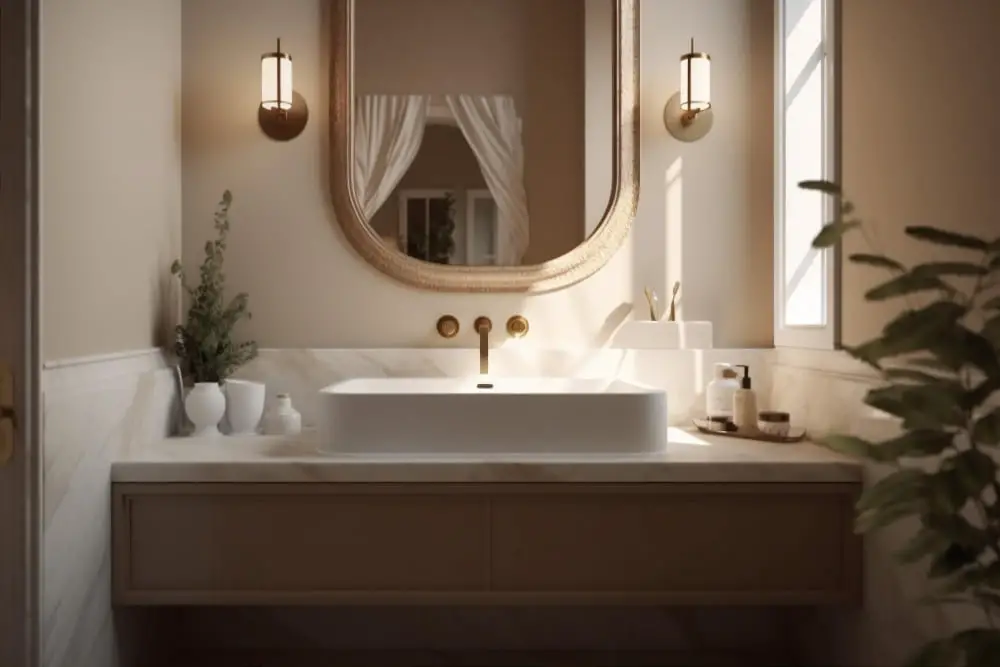 It adds warmth and texture to the space while also serving a practical purpose. A large, rectangular mirror with a simple beige frame can make your bathroom feel more spacious and brighten up the room by reflecting light.
Alternatively, you could opt for an ornate or vintage-style frame in shades of beige for added character and charm. Whatever style you choose, be sure to hang it at eye level so that it's functional as well as decorative.
Beige Floating Shelves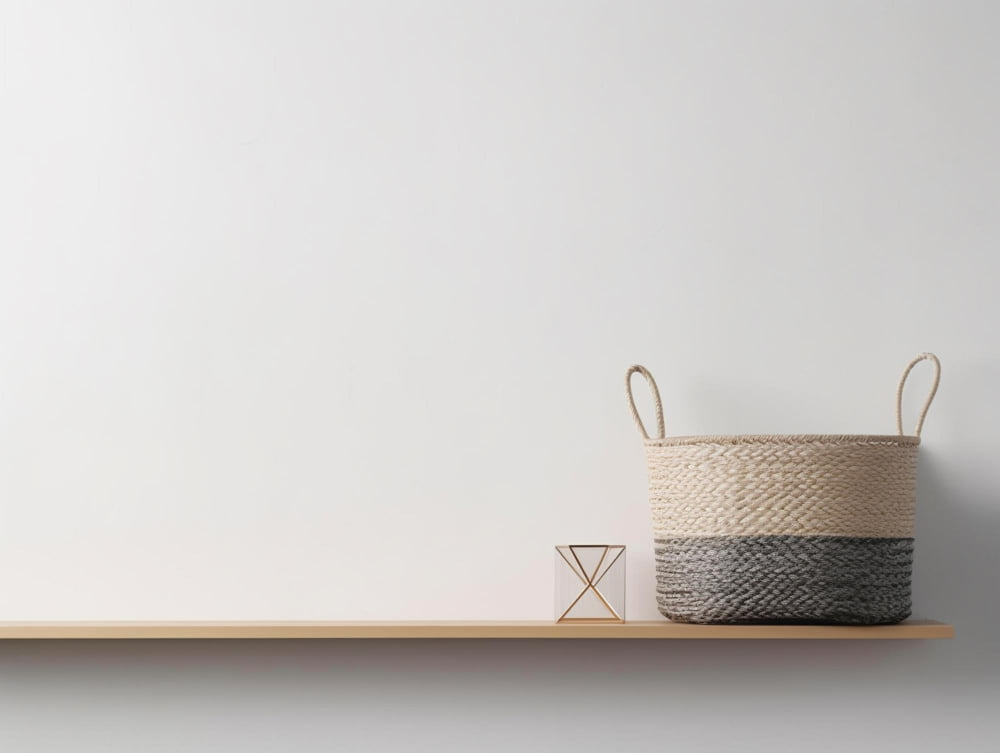 They provide extra storage space for towels, toiletries, and decorative items without taking up valuable floor space. These shelves can be easily installed on the wall and come in various sizes and shapes to fit your specific needs.
Beige floating shelves also add a touch of elegance to the bathroom decor while keeping everything organized and within reach. You can use them as an opportunity to display some of your favorite pieces or keep things simple with just a few essentials on display.
Whatever you choose, beige floating shelves are sure to enhance the overall look of your bathroom while providing practicality at the same time!
Beige Pendant Lighting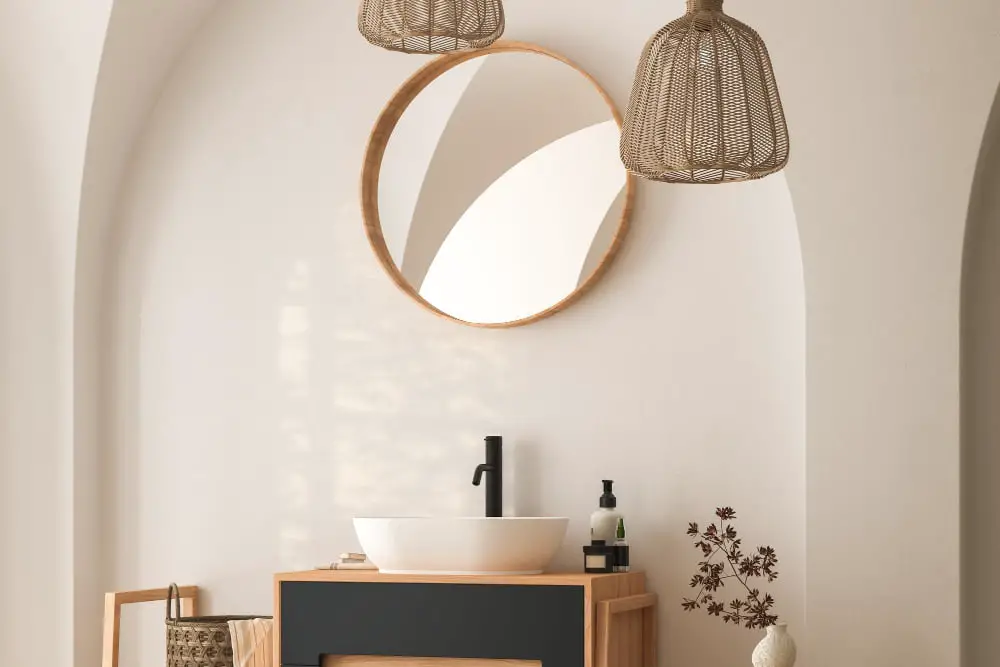 Pendant lights come in various shapes, sizes, and styles that can complement any bathroom decor. You could opt for a simple yet stylish glass pendant light or go for something more intricate like a beaded chandelier-style pendant light.
Beige-colored shades will help create an ambient glow while adding warmth to the space. Hang them above the bathtub or vanity unit to create focal points in your beige bathroom design scheme.
Beige Plants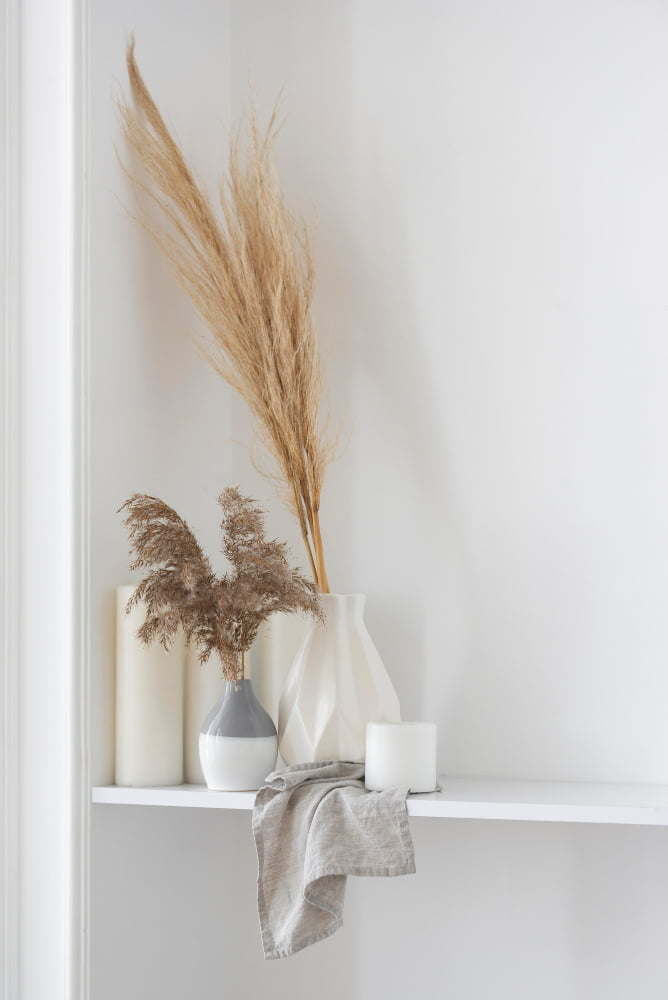 Plants like succulents, snake plants, and bamboo can thrive in the humid environment of a bathroom. You can place them on floating shelves or hang them from the ceiling using macrame plant hangers for an added touch of bohemian style.
Be sure to choose pots that complement your beige color scheme – terracotta or white ceramic pots work well with this earthy tone. Not only do these plants look beautiful but they also help purify the air by removing toxins and adding oxygen into space – making it both stylish and healthy!
Beige Mosaic Backsplash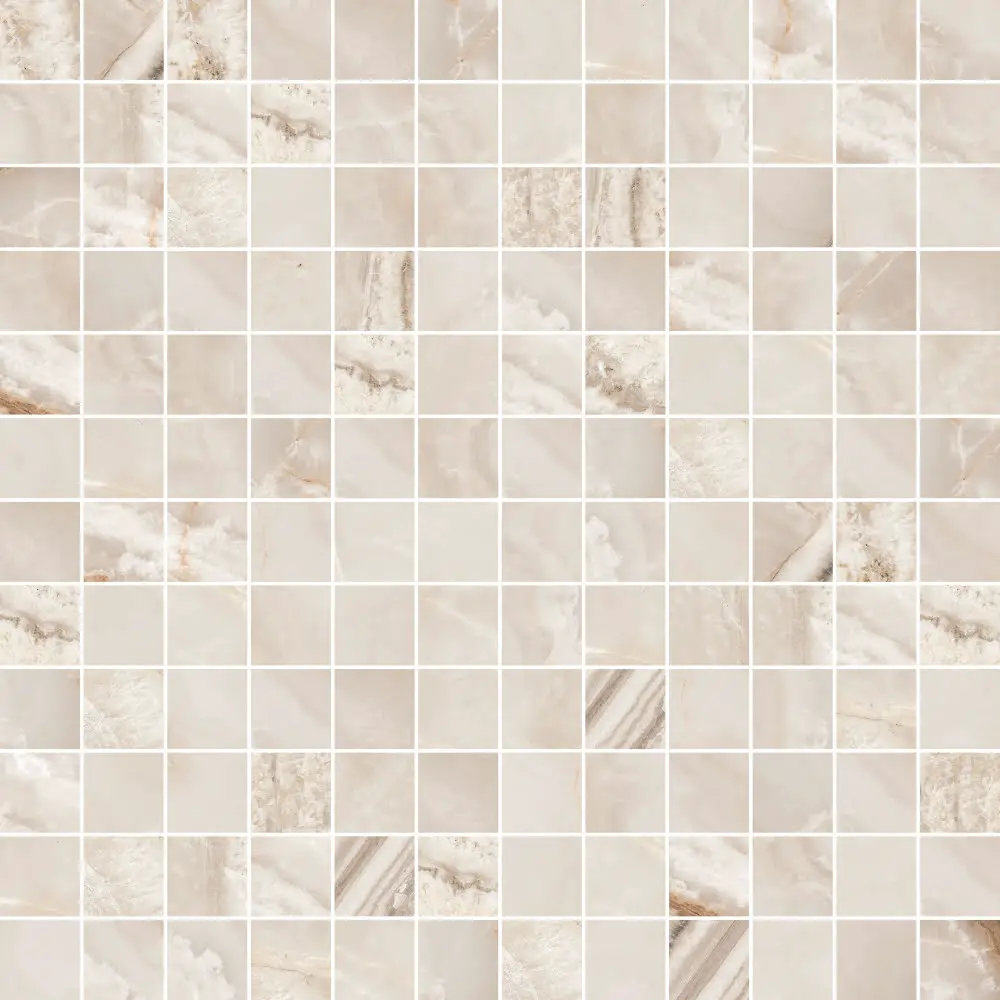 It is an excellent way to break up the monotony of solid-colored walls while still maintaining a cohesive look. Mosaic tiles come in various shapes, sizes, and materials such as glass or stone.
You can choose from different shades of beige or mix it with other neutral colors for added interest. A mosaic backsplash behind the sink or bathtub creates a focal point that draws attention to these areas while protecting your walls from water damage at the same time.
Beige Window Treatment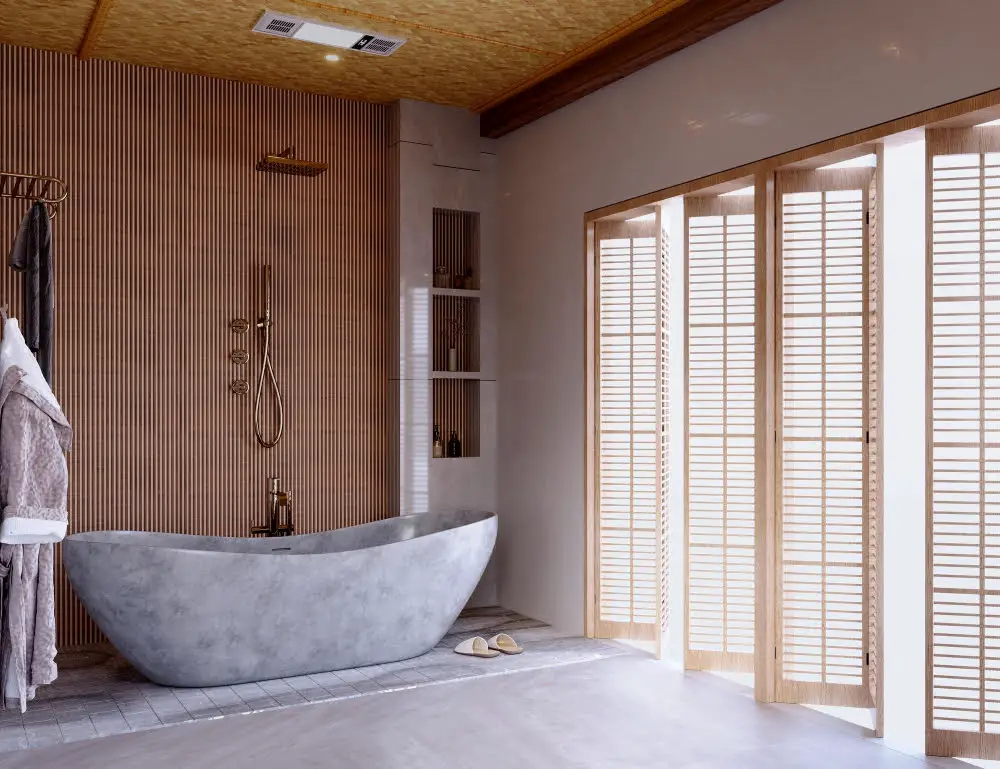 Whether you choose beige curtains, blinds or shades, they will complement the neutral color scheme and create a cohesive look. For a more traditional feel, opt for beige drapes with ornate details such as tassels or fringe.
If you prefer something more modern and minimalistic, consider installing beige roller shades or bamboo blinds that allow natural light to filter through while maintaining privacy. Whatever your style preference may be, incorporating beige window treatments into your bathroom design is an easy way to elevate its overall aesthetic appeal.
Beige Soap Dispenser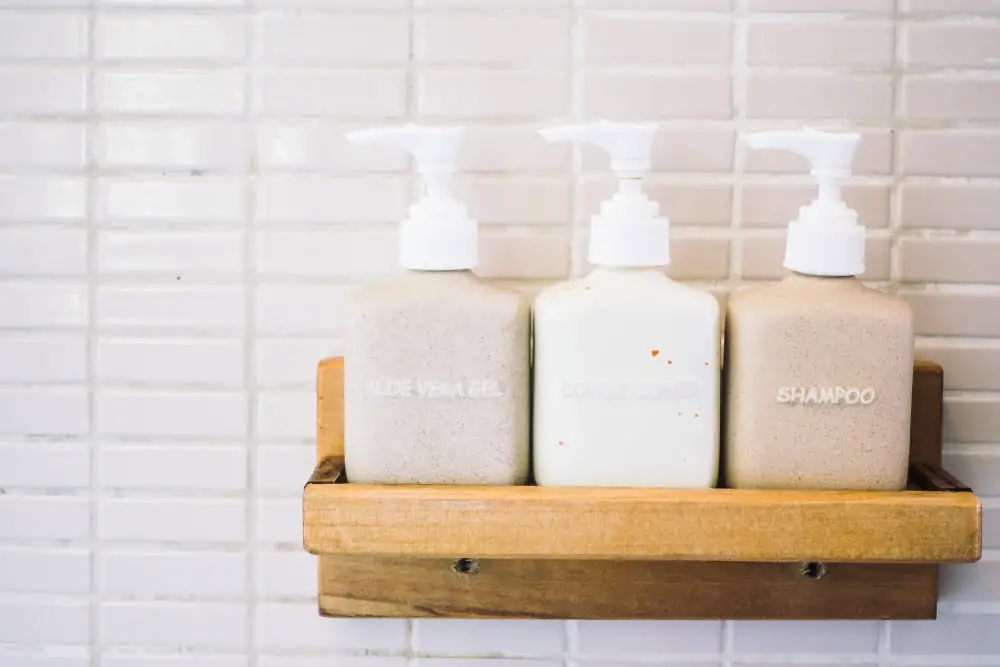 It can be placed on the sink or countertop, and its neutral color will complement any other decor elements you have in the room. You can choose from different materials such as ceramic, glass or plastic depending on your preference and budget.
A clear glass dispenser with beige liquid soap inside creates an attractive visual effect that adds interest to the space while keeping it functional at the same time. Having a designated spot for hand soap encourages good hygiene habits among family members and guests alike.
Beige Toothbrush Holder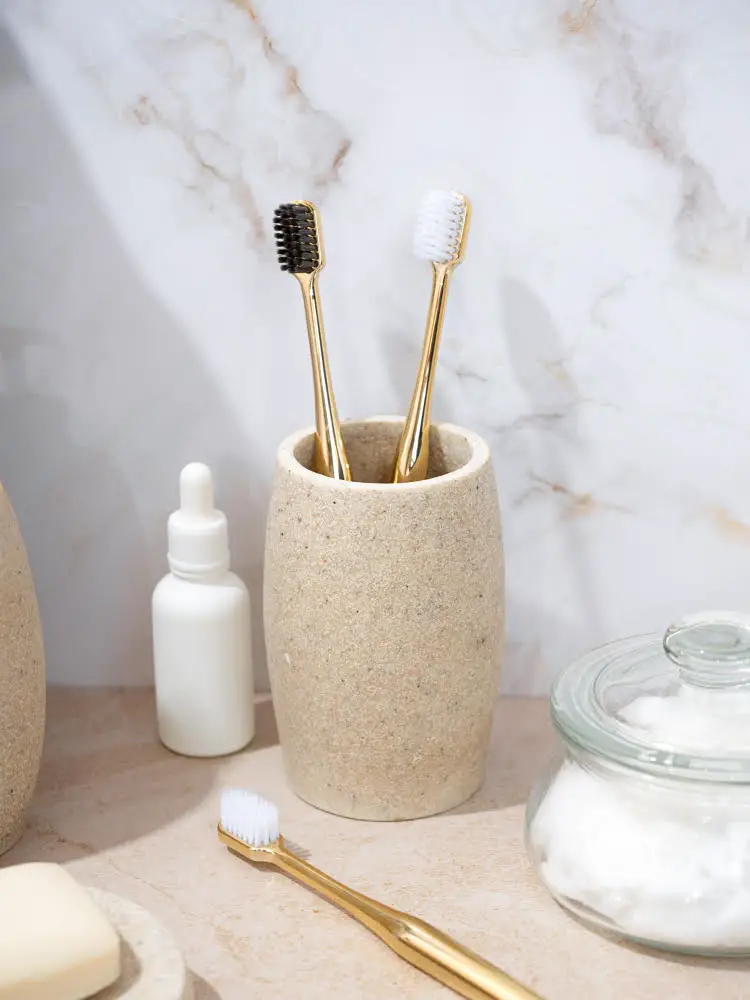 It's a functional item that keeps your toothbrushes organized and within reach, while also contributing to the color scheme of your space. A ceramic or porcelain beige toothbrush holder with a glossy finish can give off an elegant vibe, while one made from natural materials like bamboo or wood can create a more rustic feel.
Consider pairing it with other beige accessories such as soap dispensers and towels for a cohesive look in your bathroom design.
Beige Candles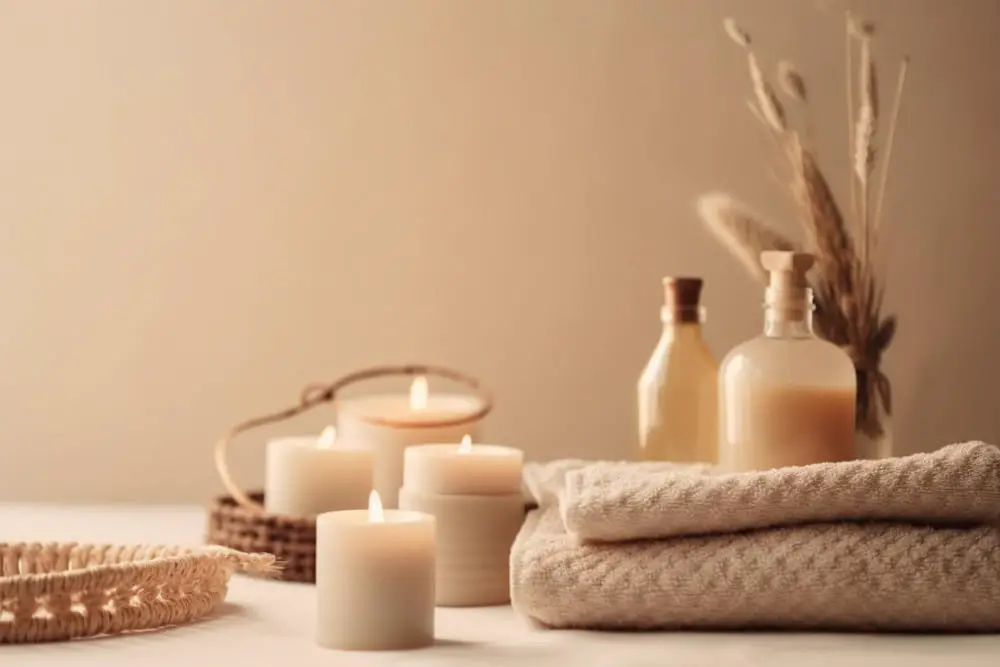 They come in different shapes, sizes, and scents that can complement the overall look of your space. You can place them on floating shelves or on top of the vanity unit for an added touch of elegance.
Be sure to choose high-quality candles made from natural ingredients for a longer burn time and better scent throw. Some popular scents that go well with beige bathrooms include vanilla, sandalwood, lavender, and citrus blends.
Light up some beige candles during bath time or when you're getting ready in the morning for a relaxing ambiance that will help you start or end your day right!
Beige Artwork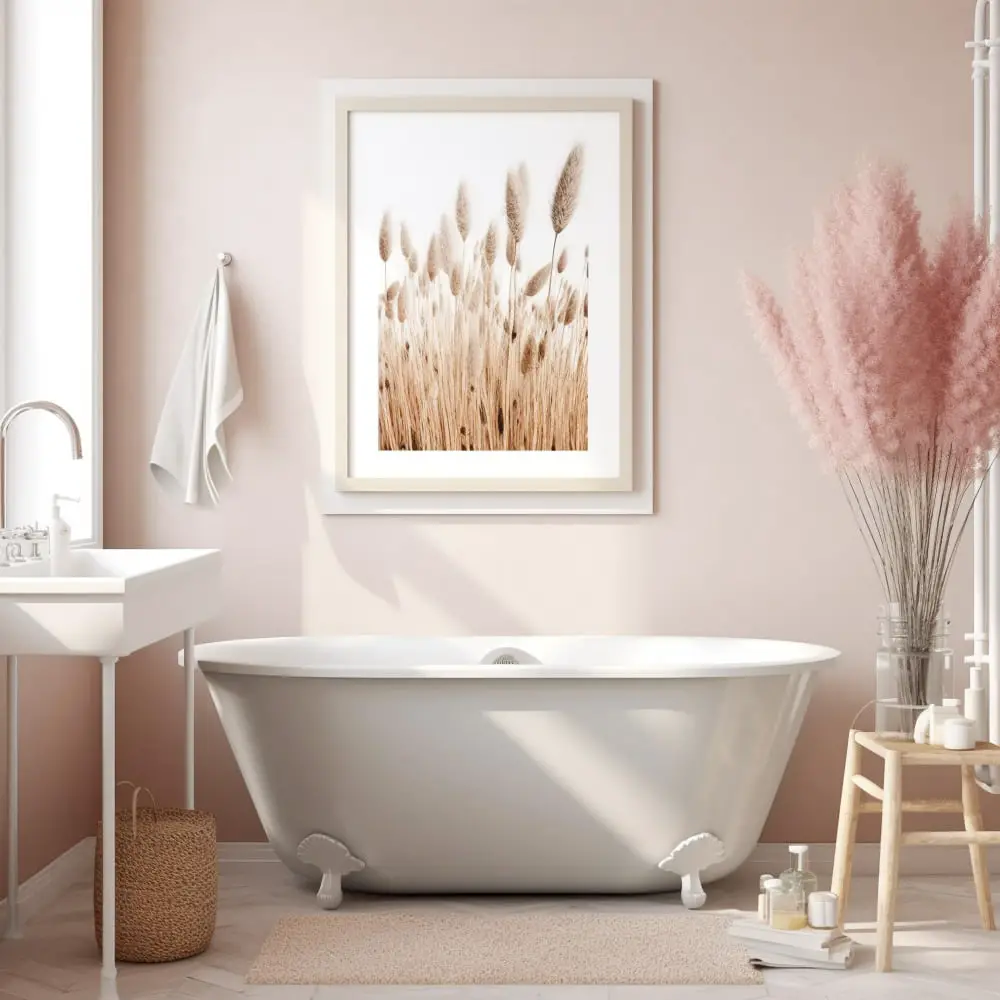 Consider hanging a large canvas painting with neutral tones or framing black and white photographs in beige frames. You could also opt for abstract art with hints of beige, or even create your own DIY artwork using shades of beige paint on canvas.
Whatever you choose, make sure it complements the overall color scheme and style of your bathroom.
Continue reading: