Last updated on October 20, 2023
Transform your bathroom into a charming farmhouse retreat with these creative and easy-to-implement ideas that will leave your guests in awe.
Whether you're looking to create a relaxing spa-like retreat or simply want to add some rustic charm to your space, these ideas will inspire you and help you achieve the perfect farmhouse look.
From vintage fixtures and distressed wood accents to shiplap walls and cozy textiles, there's no shortage of ways to infuse this timeless style into your bathroom.
So please grab a cup of coffee, sit back, and get ready for some serious inspiration as we explore the world of farmhouse bathrooms!
Rustic Wood Vanity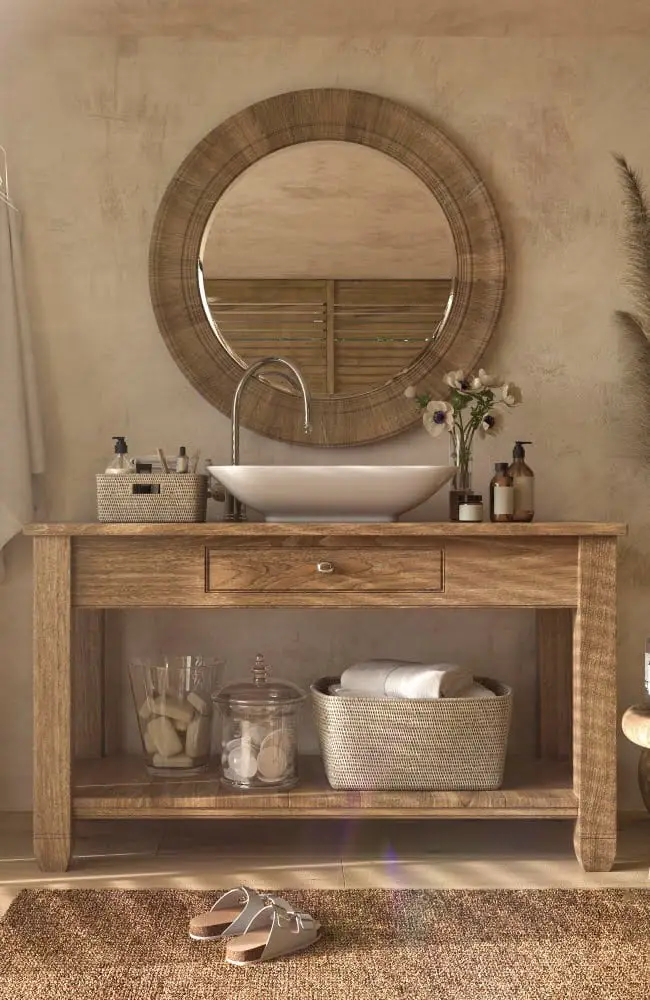 A rustic wood vanity is a perfect addition to any farmhouse bathroom. It adds warmth and texture to the space while also providing ample storage for all your toiletries.
The natural imperfections in the wood give it character and charm, making it a unique piece that will stand out in your bathroom. You can choose from various types of wood such as reclaimed barnwood or distressed pine, depending on the style you want to achieve.
Pairing this vanity with vintage sink fixtures and an antique mirror will complete the look of your rustic farmhouse bathroom perfectly!
Clawfoot Bathtub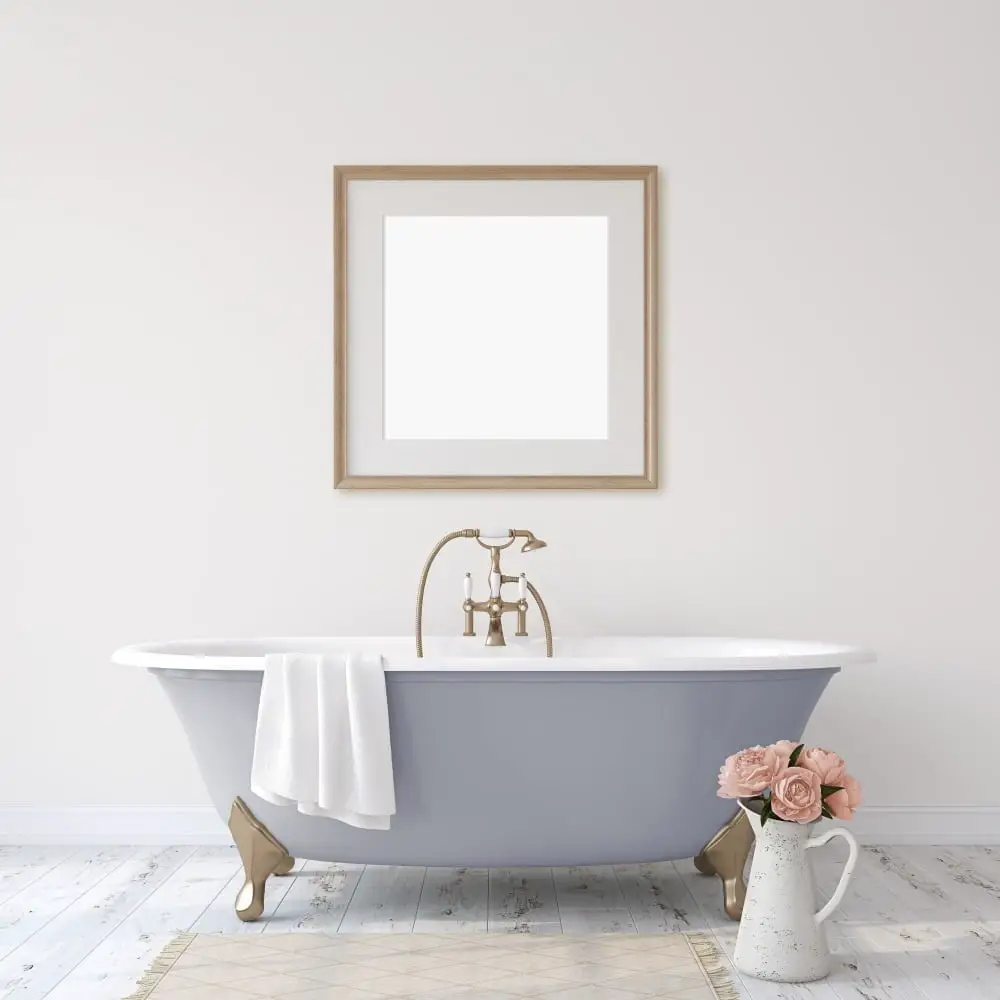 The clawfoot bathtub is a classic feature of farmhouse-style bathrooms. It adds a touch of vintage charm and elegance to the space.
These freestanding tubs come in various sizes, shapes, and materials such as cast iron or acrylic. They can be painted in different colors to match the bathroom's color scheme or left bare for an industrial look.
Clawfoot bathtubs are perfect for long relaxing soaks after a hard day's work on the farm or just as an eye-catching centerpiece in your bathroom design. Pair it with some vintage sink fixtures and shiplap walls for that authentic farmhouse feel!
Vintage Sink Fixtures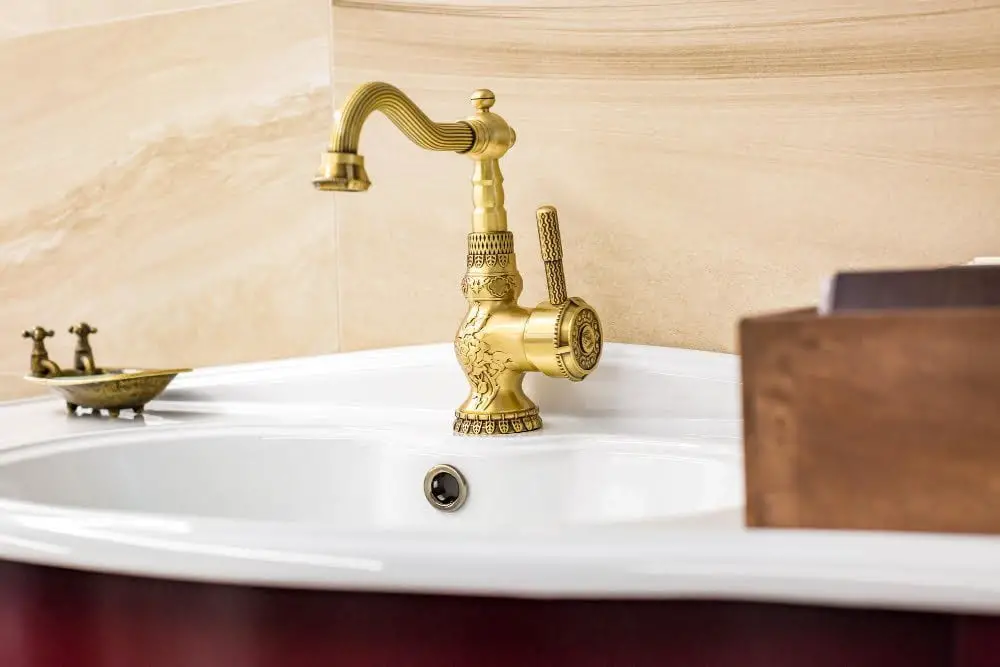 Vintage sink fixtures are a great way to add character and charm to your farmhouse bathroom. Look for antique or reproduction faucets with intricate details, such as cross handles or porcelain accents.
Pair them with an old-fashioned pedestal sink or a vintage-inspired vanity for an authentic look. You can also mix and match different styles of fixtures, such as combining a classic bridge faucet with modern vessel sinks, for a unique twist on the traditional farmhouse aesthetic.
Don't be afraid to scour flea markets and salvage yards for one-of-a-kind finds that will make your bathroom stand out from the rest!
Shiplap Walls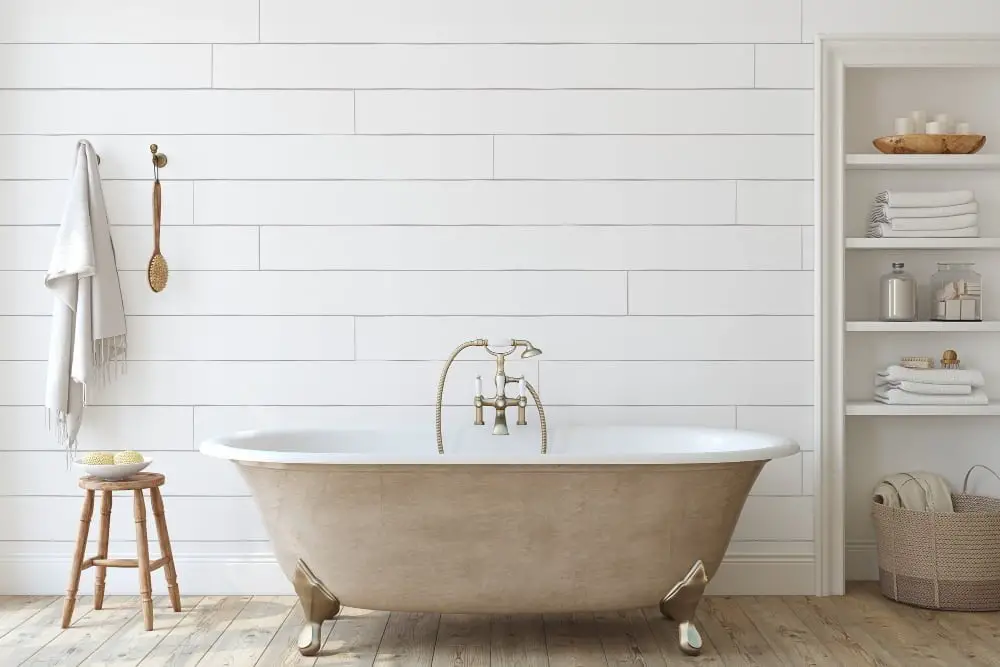 Shiplap walls are a staple in farmhouse-style bathrooms. This type of wall paneling is made up of long, horizontal boards with a small gap between each one.
The result is a clean and classic look that adds texture and warmth to any space. Shiplap can be painted or left natural for an even more rustic feel.
It's also versatile enough to work as an accent wall or cover the entire bathroom from floor to ceiling. If you're looking for an easy way to add character and charm to your bathroom, shiplap walls are definitely worth considering!
Barn Door Entrance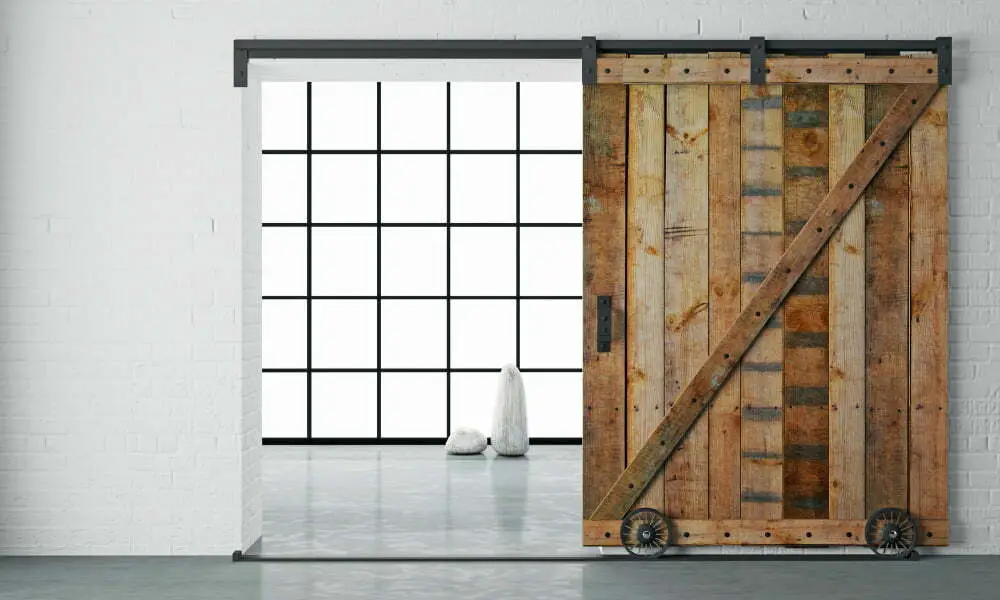 One of the most popular features in a farmhouse bathroom is a barn door entrance. This type of door adds rustic charm and character to any space, while also being functional and practical.
Barn doors come in various styles, from traditional wooden ones to modern metal designs. They can be used as sliding or swinging doors depending on your preference and available space.
A barn door can be an excellent solution for small bathrooms where there isn't enough room for a standard hinged door that swings open into the room. It's also perfect if you want to create separation between different areas within your bathroom, such as separating the toilet area from the rest of the space.
When choosing a barn-style entryway for your farmhouse bathroom, consider its size and style carefully so that it complements other elements in your decor scheme seamlessly. You may opt for reclaimed wood or distressed finishes if you're going with more traditional design aesthetics; alternatively, sleeker metal options could work well with modern interiors too!
Exposed Beams Ceiling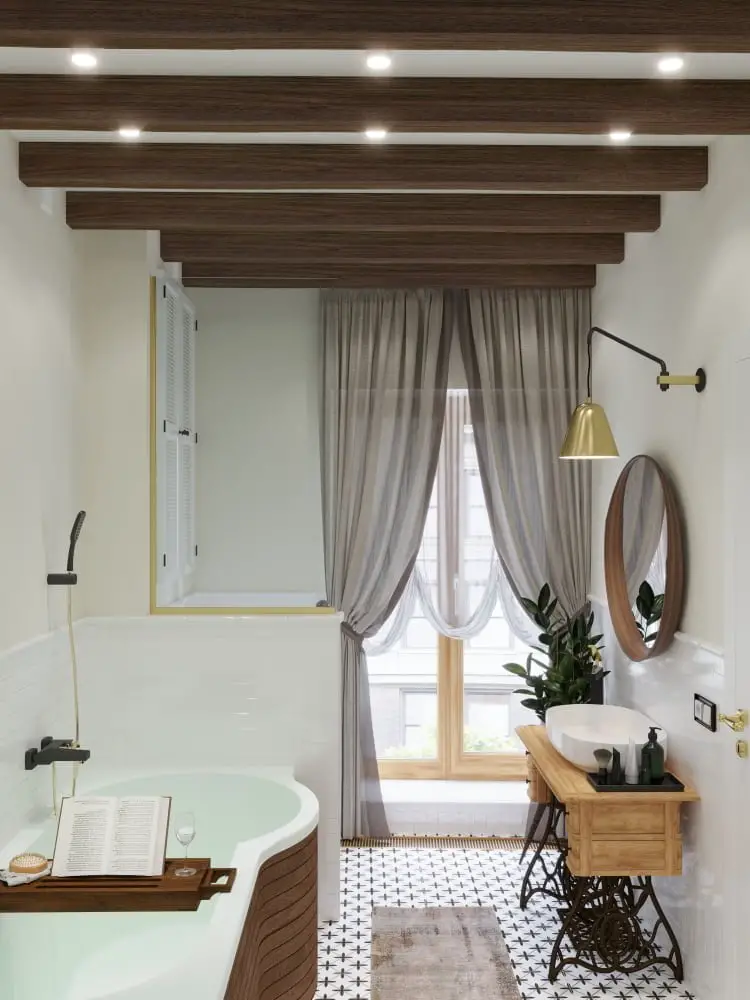 This design element adds warmth and character to the space, creating a cozy and inviting atmosphere.
Exposed wood beams can be left in their natural state or painted white for a more modern look. They also pair well with other rustic elements such as shiplap walls, vintage fixtures, and reclaimed wood accents.
If your bathroom doesn't have existing ceiling beams, consider adding faux wooden ones for an easy DIY project that will instantly transform your space into a charming farmhouse retreat.
Wicker Storage Baskets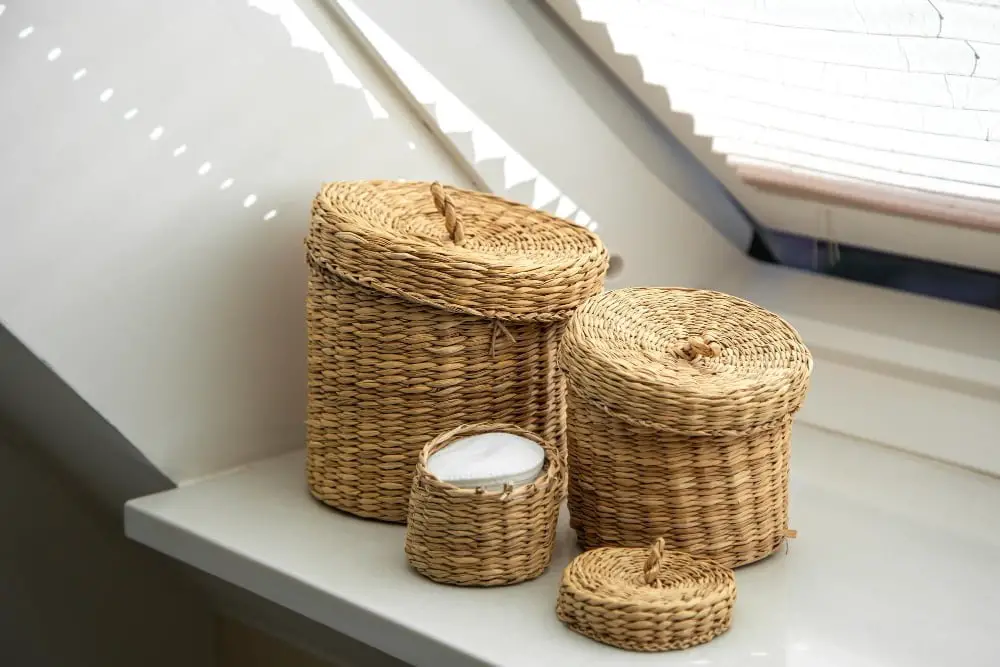 Wicker storage baskets are a great addition to any farmhouse bathroom. They add texture and warmth while providing practical storage solutions for towels, toiletries, and other bathroom essentials.
Woven from natural materials like rattan or bamboo, wicker baskets come in various shapes and sizes that can fit into any corner of the room. You can use them to organize your vanity countertop or place them on open shelves for a rustic touch.
For an extra dose of charm, consider labeling each basket with handwritten tags made from kraft paper or chalkboard labels so you know exactly what's inside each one!
Mason Jar Soap Dispenser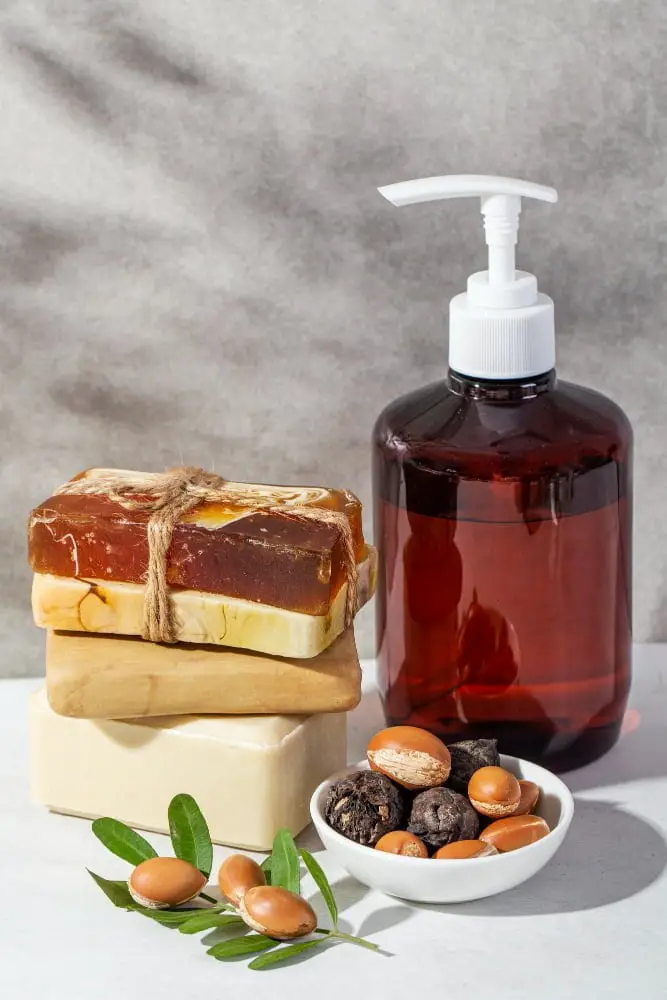 Mason jar soap dispensers are a charming addition to any farmhouse bathroom. They add a touch of vintage flair while also being practical and functional.
To make your own, simply purchase a pump top that fits the size of your mason jar lid and drill or punch a hole in the center of the lid. Fill up your mason jar with liquid soap, screw on the lid with pump top attached, and you're ready to go! You can even customize it further by adding labels or painting designs onto the jars themselves for an extra personal touch.
Ladder Towel Rack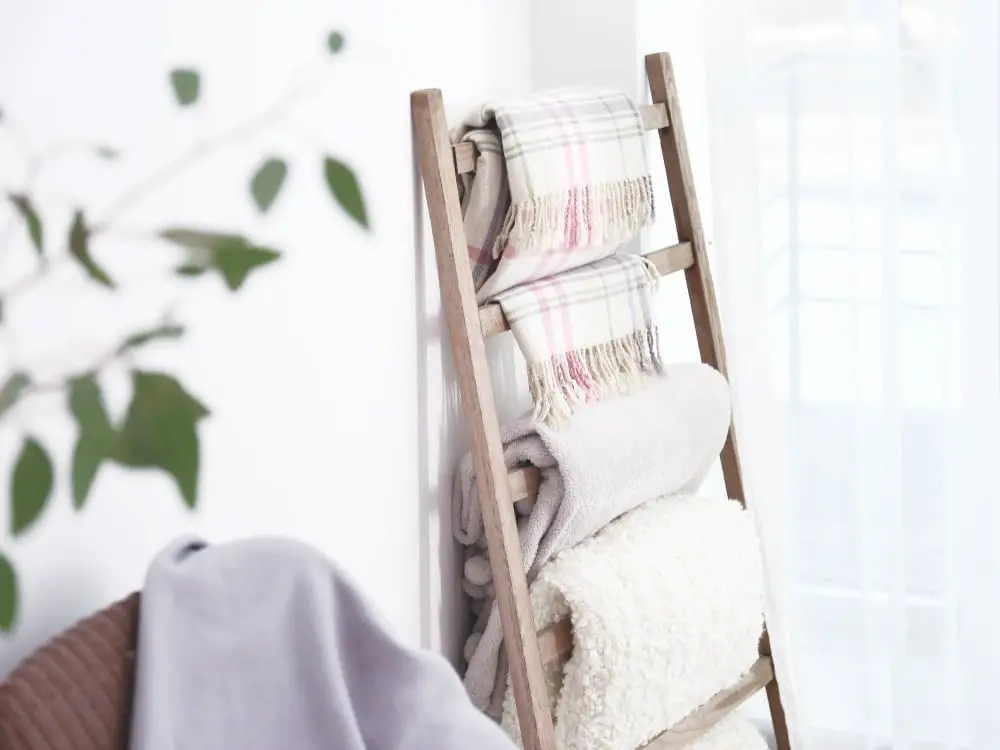 Ladder towel racks add a touch of rustic charm while also providing practical storage for towels and other linens.
You can easily make your own ladder towel rack using reclaimed wood or an old wooden ladder that you no longer use. Simply sand it down, paint or stain it in the color of your choice, and lean it against the wall in your bathroom.
Alternatively, you can purchase pre-made ladder towel racks from home decor stores or online retailers if DIY is not your thing!
Galvanized Metal Accents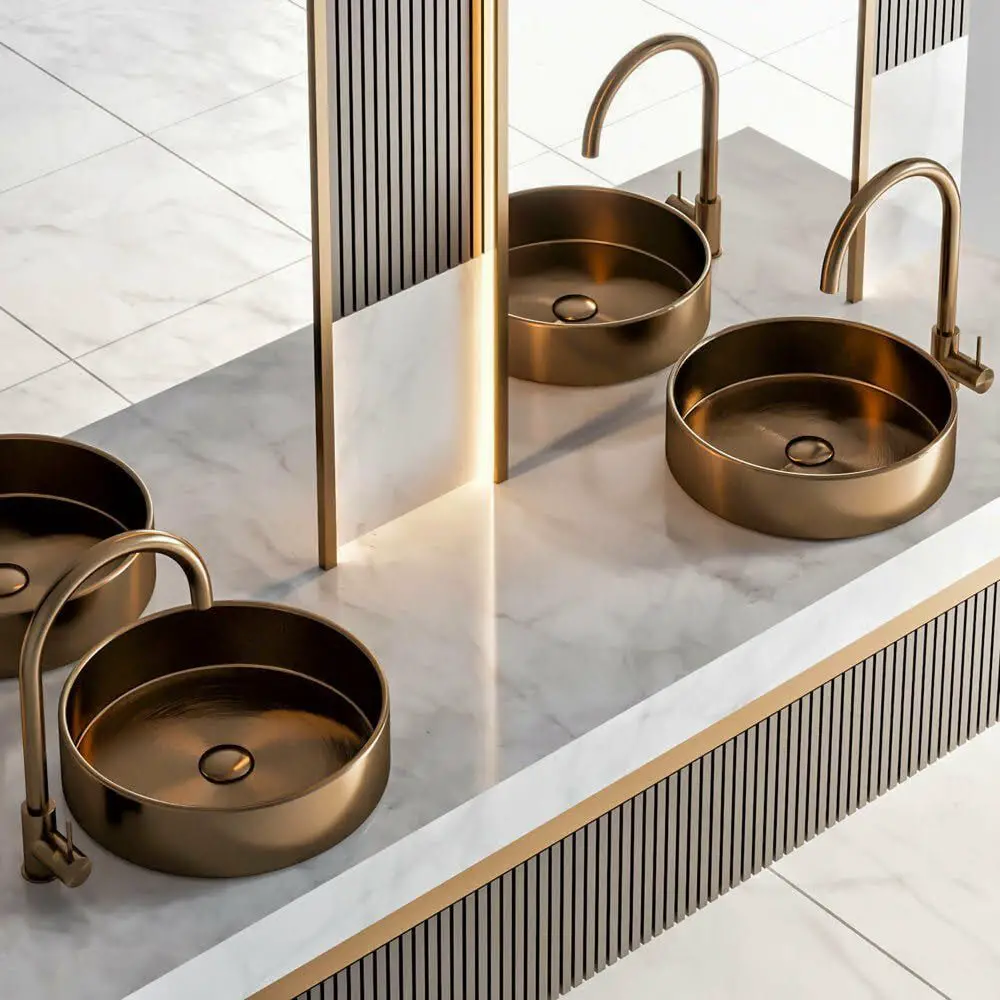 Galvanized metal accents are a great way to add some industrial charm to your farmhouse bathroom. You can incorporate this material in various ways, such as using galvanized metal buckets for storing toiletries or hanging them on the wall as shelves.
Another idea is to use galvanized metal frames for mirrors or artwork, which will give your space an edgy and modern touch. You can opt for galvanized light fixtures that complement the overall aesthetic of your bathroom while providing ample lighting.
The best part about using these accents is that they are durable and easy to clean, making them perfect for high-moisture areas like bathrooms!
Farmhouse-style Mirror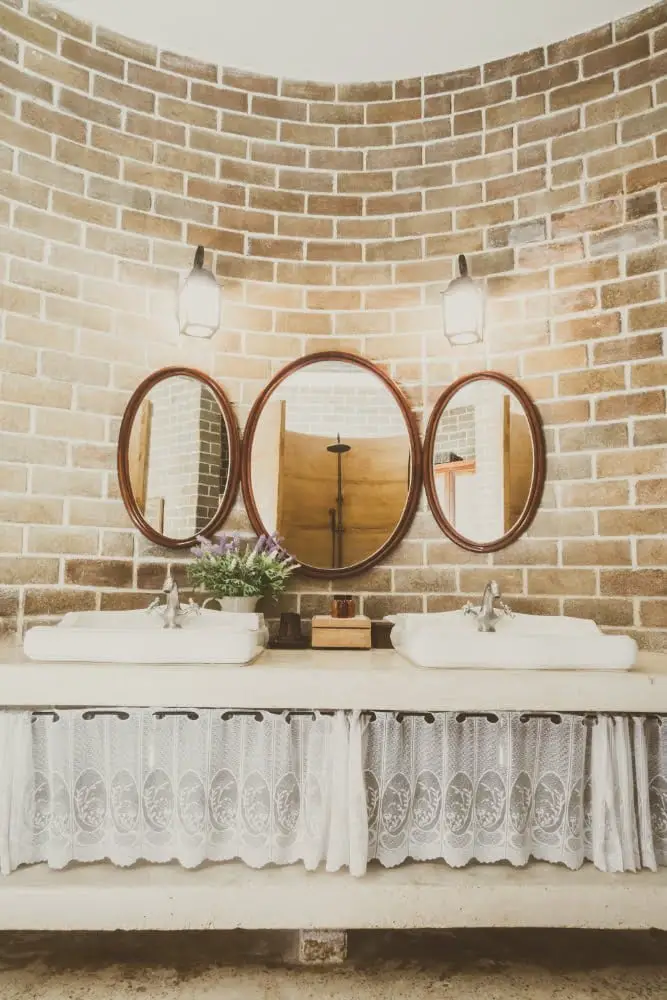 A farmhouse-style mirror can be hung above the sink or vanity, adding depth and character to the space.
The frame of the mirror should have a rustic feel, with distressed wood or metal finishes that complement other elements in your bathroom decor. A large rectangular shape works well for most bathrooms, but you could also consider an oval-shaped mirror for a more unique look.
You can find farmhouse-style mirrors at home decor stores or online retailers like Etsy and Wayfair. Alternatively, you could even make your own DIY version using reclaimed wood or repurposed materials!
Antique Wall Sconces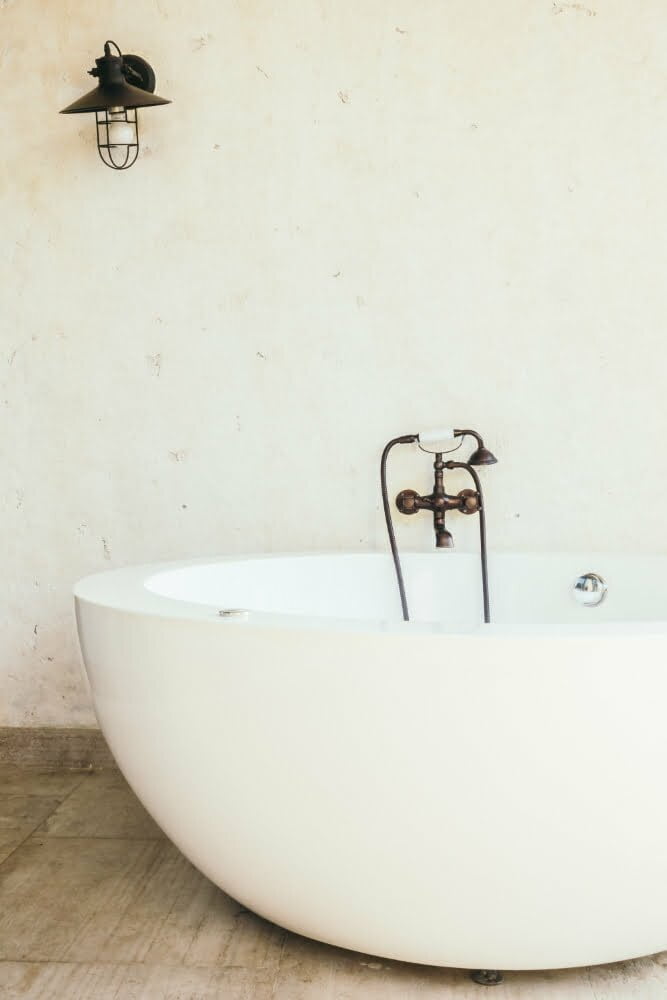 Antique wall sconces are a great way to add character and charm to your farmhouse bathroom. These vintage-inspired light fixtures come in a variety of styles, from ornate brass designs to simple wrought iron pieces.
They can be mounted on either side of the mirror or above it for an elegant touch that also provides ample lighting for getting ready in the morning or winding down at night. Antique wall sconces pair well with other rustic elements like shiplap walls and distressed finishes, creating a cohesive look that is both timeless and inviting.
Whether you opt for matching pairs or mix-and-match styles, antique wall sconces are sure to make your farmhouse bathroom feel warm and welcoming.
Distressed Paint Finishes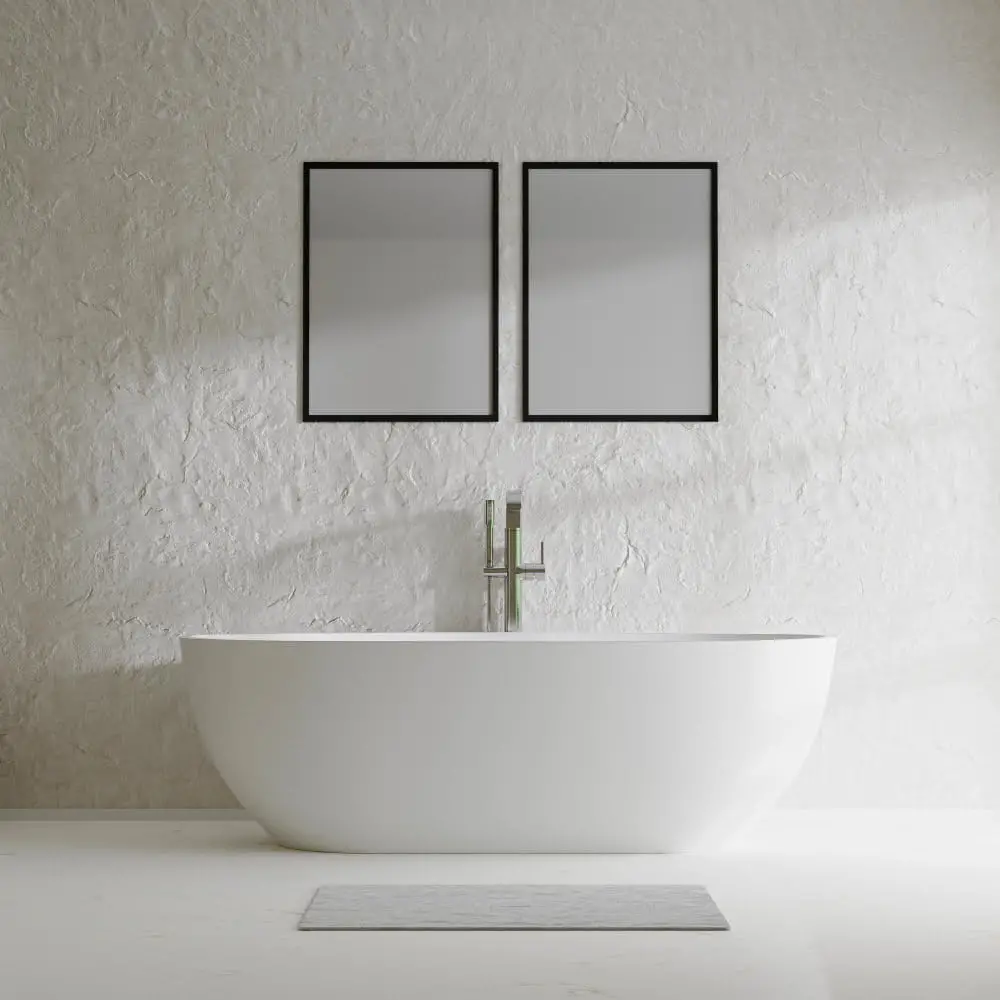 Distressed paint finishes are a popular choice for creating a farmhouse-style bathroom. This technique involves intentionally making the paint look worn and weathered, giving it an aged appearance.
You can achieve this look by using sandpaper to rough up the surface of your painted walls or furniture, or by applying multiple layers of different colored paints and then sanding away some of the top layers to reveal glimpses of the colors underneath. Distressed finishes work particularly well with muted color palettes like whites, grays, blues and greens that evoke feelings of calmness and serenity in your bathroom space.
Whether you choose to distress an entire wall or just add some subtle touches here and there on accessories such as picture frames or mirrors – distressed paint is sure to give your farmhouse-style bathroom that perfect rustic charm!
Wooden Floor Mat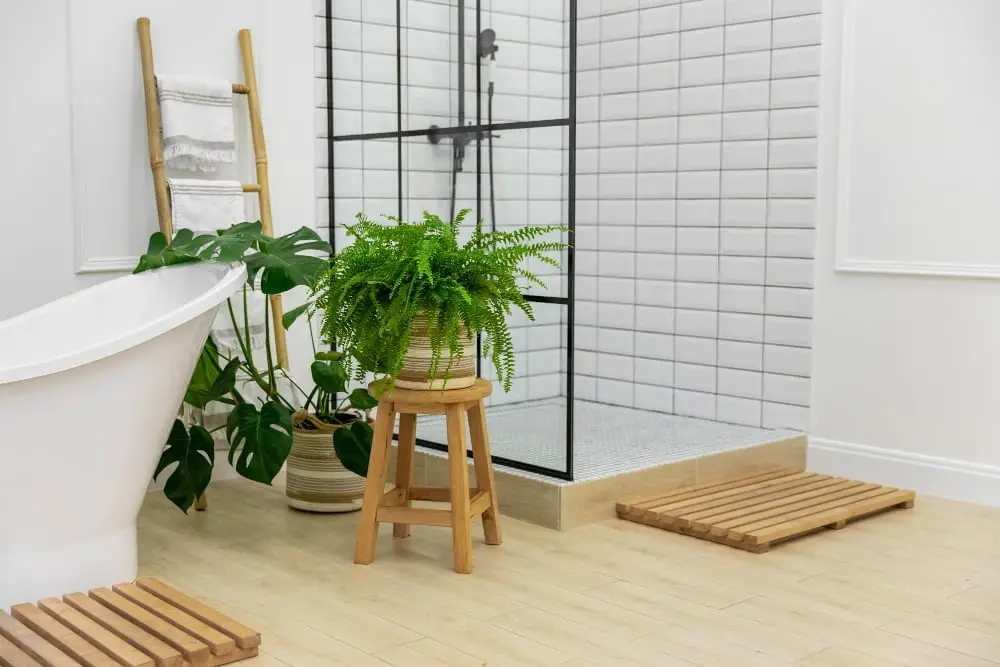 A wooden floor mat adds warmth and texture to the space while also being practical. Wooden mats are easy to clean, durable, and can withstand moisture without warping or cracking. They come in various sizes and shapes, making it easy for you to find one that fits your bathroom's layout perfectly.
Plus, they're eco-friendly as they're made from sustainable materials like bamboo or teak wood! A wooden floor mat will give your farmhouse-style bathroom an authentic touch that will make it feel cozy and inviting every time you step inside!
Cotton or Linen Shower Curtain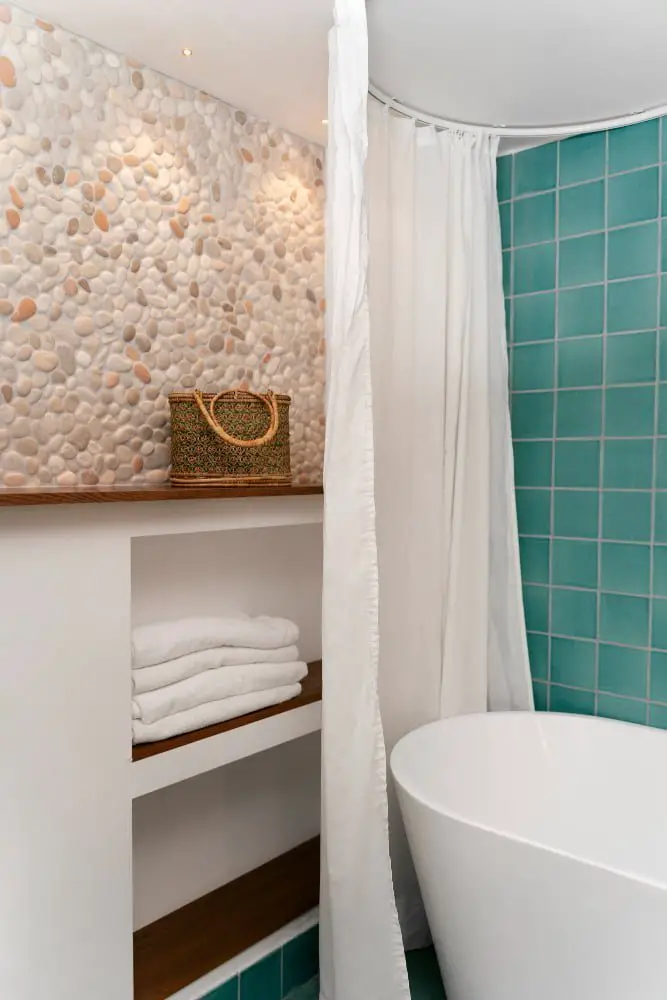 Cotton or linen shower curtains are a perfect addition to any farmhouse-style bathroom. These natural fabrics add texture and warmth to the space, while also being durable and easy to clean.
Opt for a neutral color like white or beige for a classic look, or choose something with subtle stripes or patterns for added interest. To complete the look, pair your cotton or linen shower curtain with rustic accessories like wooden bath mats and wicker storage baskets.
Rustic Floating Shelves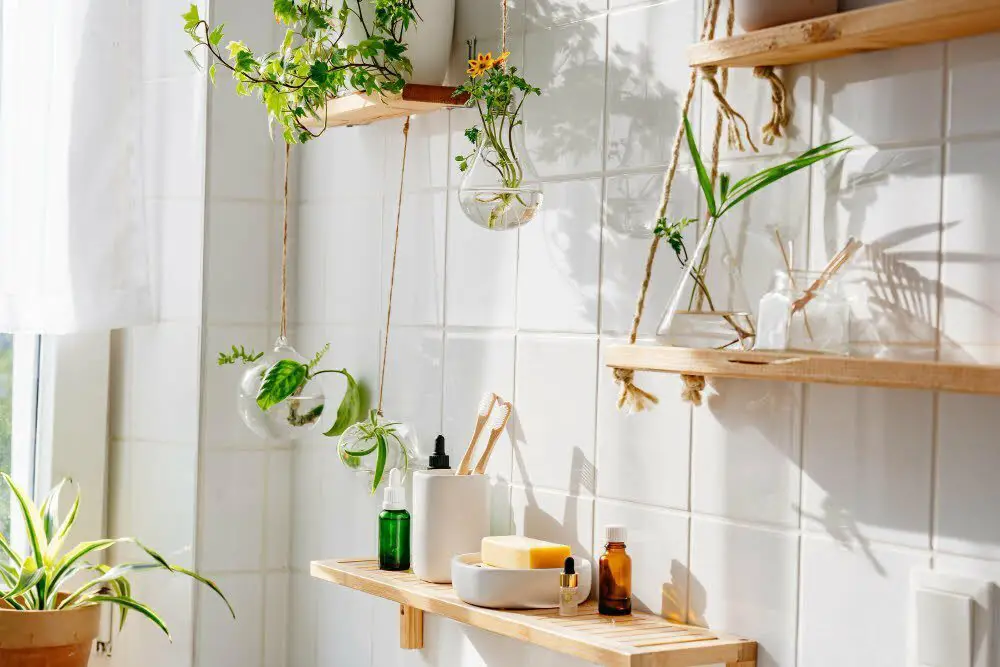 Floating shelves are a great way to add storage and display space in any room, but they're especially fitting for a farmhouse-style bathroom. Rustic floating shelves made from reclaimed wood or distressed materials can give your bathroom an authentic country feel while providing practical storage solutions.
Use them to store towels, toiletries, or decorative items like candles and plants. You can also mix and match different sizes of floating shelves for added visual interest.
Just be sure to properly secure the brackets into wall studs so that your shelving is sturdy enough to hold all of your essentials!
Vintage-inspired Artwork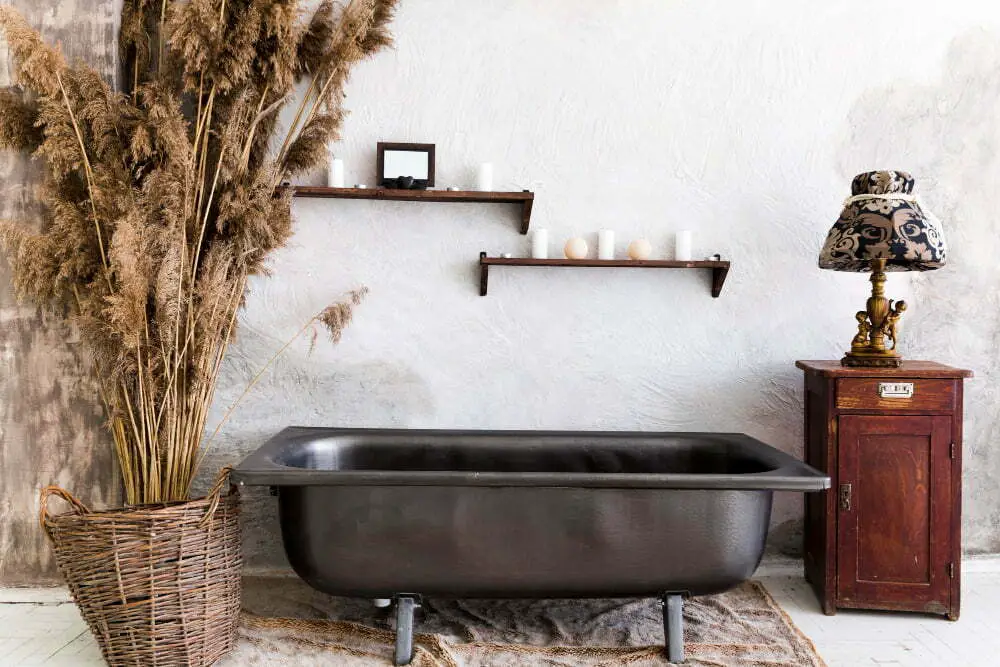 Vintage-inspired artwork is a great way to add character and charm to your farmhouse bathroom. Look for pieces that feature botanical prints, old-fashioned advertisements, or vintage maps.
You can find these types of prints online or at antique stores and flea markets. Another option is to create your own artwork by framing pages from old books or magazines with interesting illustrations.
Hang the art in simple frames with white mats for a clean look that complements the rustic feel of the space.
Reclaimed Wood Accent Wall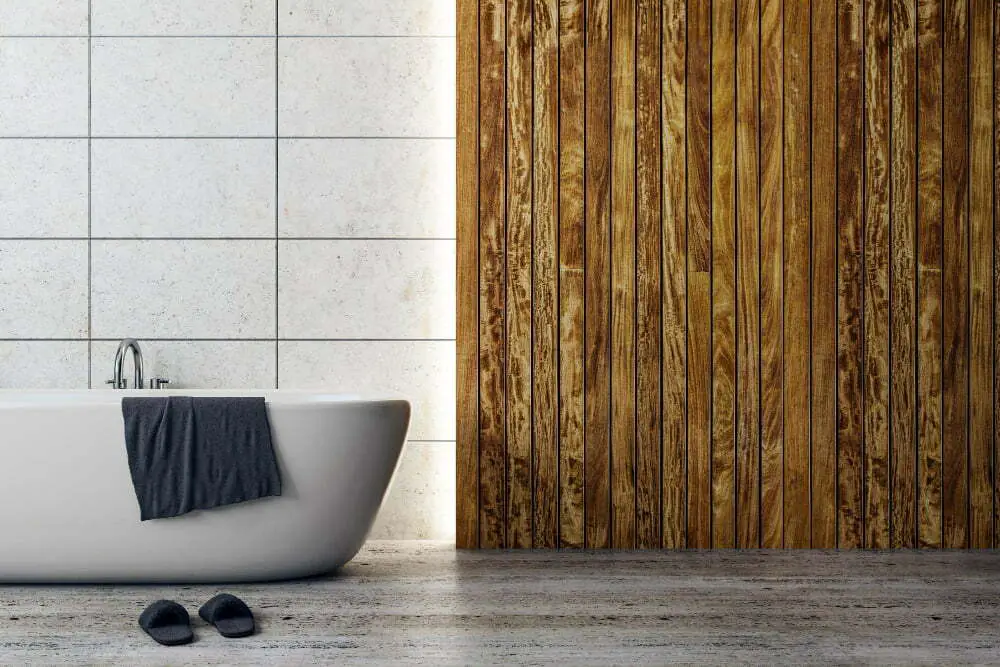 Reclaimed wood accent walls are a popular feature in farmhouse-style bathrooms. They add warmth, texture, and character to the space while also being eco-friendly.
To create an accent wall with reclaimed wood, start by selecting the type of wood you want to use – barnwood or pallets are great options. Then measure your wall and cut the boards accordingly before attaching them using nails or adhesive glue.
You can leave the natural color of the wood for a rustic look or paint it white for a more modern twist on this classic design element. A reclaimed wood accent wall is sure to be a conversation starter in any farmhouse bathroom!
Trough-style Sink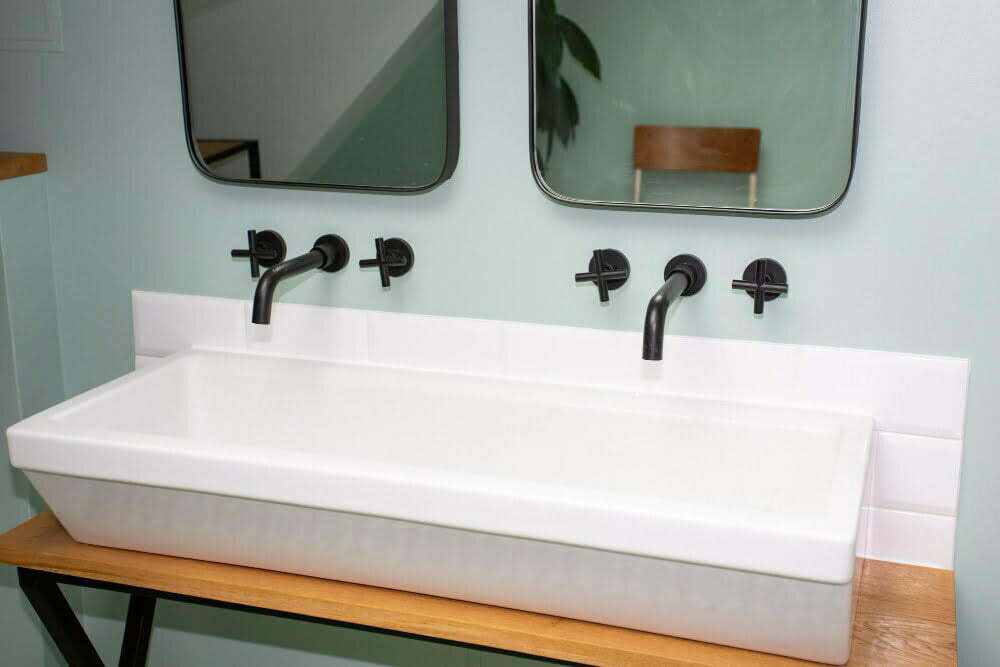 A trough-style sink is a large, rectangular basin that can accommodate multiple users at once and adds an industrial touch to the space.
These sinks are typically made of porcelain or concrete and come in various sizes, so you can choose one that fits your needs perfectly. They're also easy to clean since they don't have any hard-to-reach corners or crevices where dirt and grime can accumulate.
A trough-style sink pairs well with rustic wood vanities, vintage fixtures, and shiplap walls for an authentic farmhouse look in your bathroom renovation project.
Galvanized Bucket for Toiletries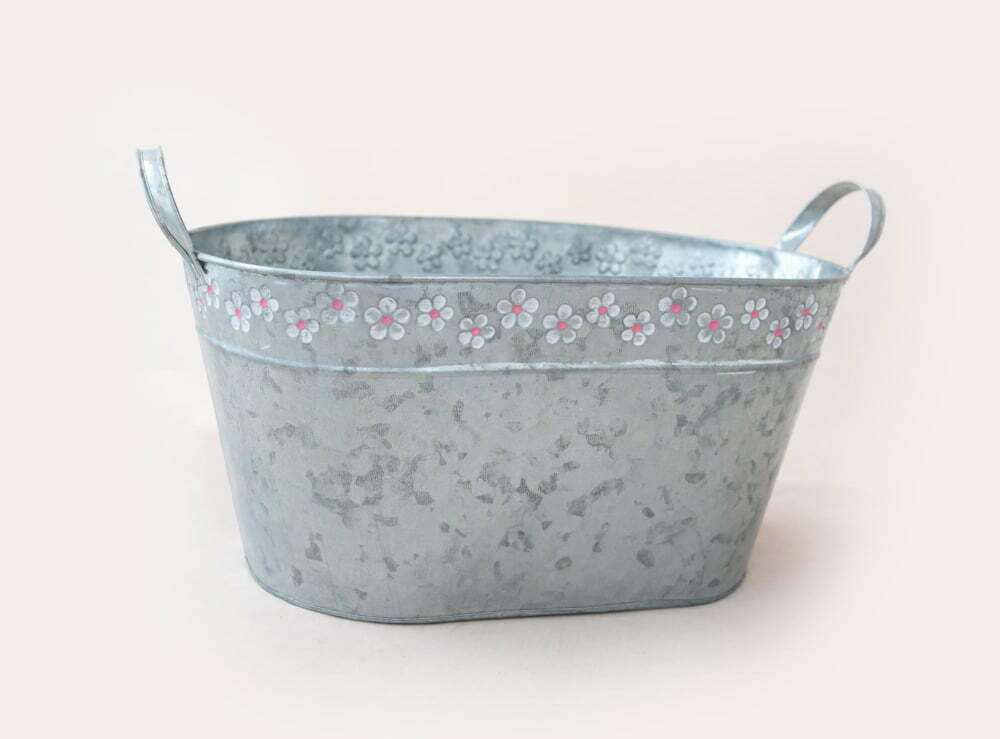 Galvanized buckets can be used in many ways, including as storage for toiletries. Simply place the bucket on your bathroom counter or shelf and fill it with items like cotton balls, Q-tips, and hand towels. You could also use smaller buckets to hold toothbrushes and toothpaste or hair accessories like brushes and combs.
The galvanized metal adds an industrial touch while still fitting into the overall farmhouse aesthetic of your bathroom decor. Plus, using a bucket instead of traditional plastic containers is an eco-friendly option that looks great too!
Continue reading:
Recap