Last updated on September 23, 2023
Discover creative and stylish bathroom towel ideas to enhance your space, making it both functional and aesthetically pleasing.
We all know that towels are an essential part of any bathroom, but who says they have to be boring? With a few simple tweaks and some crafty DIY tricks, you can transform your everyday towels into stunning decor pieces that will elevate your bathroom's style quotient.
From adding tassels and pom-poms to experimenting with bold colors and patterns, there are endless possibilities when it comes to giving your towels a fresh new look.
So whether you're looking for inspiration for a complete bathroom makeover or want to add some fun touches here and there, keep reading for amazing towel ideas that will inspire you to get creative!
Table of Contents
Ladder Towel Rack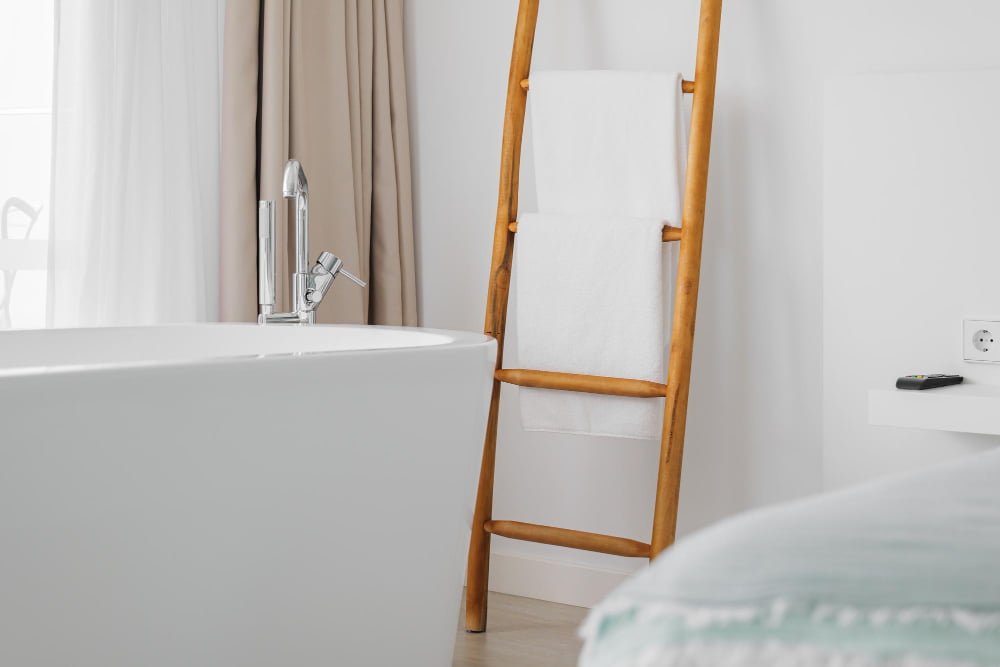 The ladder towel rack is a stylish and functional way to store towels in your bathroom. This type of towel rack can be made from wood or metal, and it leans against the wall for support.
The rungs of the ladder provide ample space for hanging towels, while also adding a decorative touch to your bathroom decor. You can choose from various finishes such as natural wood or painted metal to match your existing color scheme.
You can use this type of towel rack in other rooms like bedrooms or laundry rooms for added storage options that are both practical and visually appealing.
Stylish Towel Rings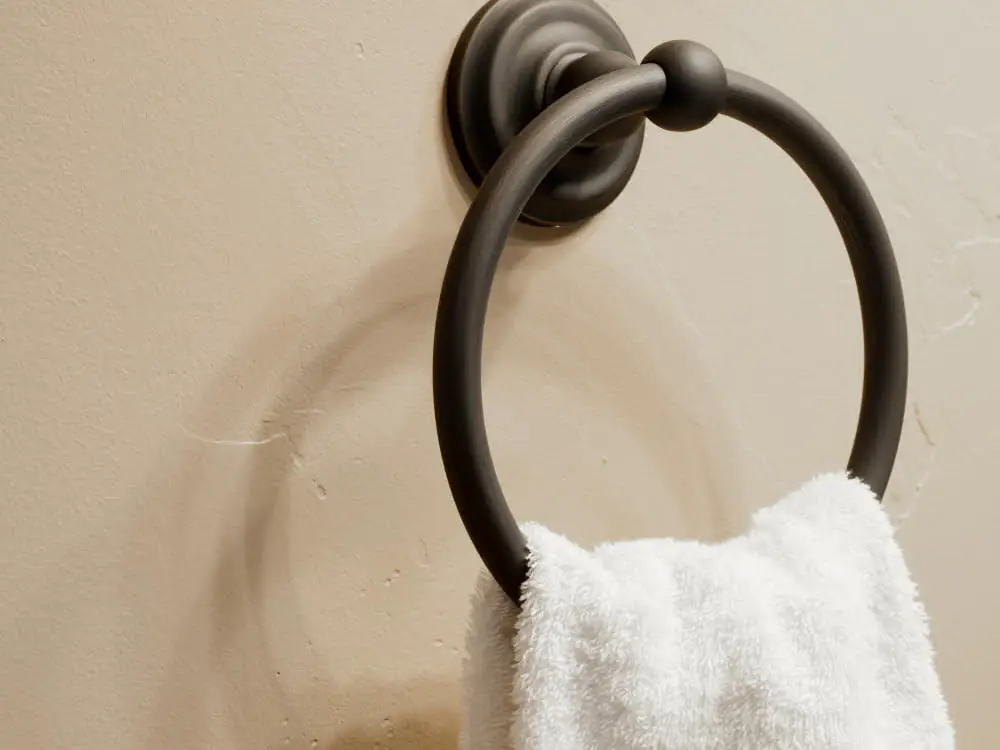 These small but mighty accessories can be found in a variety of styles, from sleek and modern to vintage-inspired. They're also incredibly versatile – you can use them as standalone pieces or mix-and-match with other towel storage solutions.
One popular option is the wall-mounted towel ring, which allows for easy access while keeping towels off the floor. Another option is the freestanding towel ring, which can be placed on countertops or vanities for added convenience.
When choosing a stylish towel ring, consider factors such as material (chrome and brass are popular choices), finish (matte vs shiny), and overall design aesthetic.
Stacked Towel Storage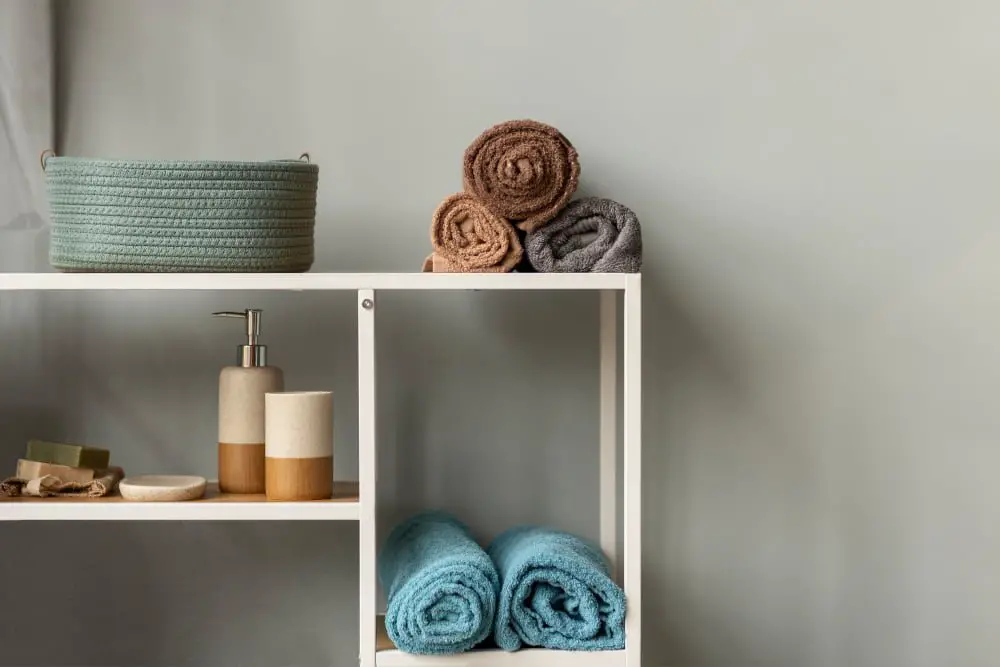 To achieve this look, simply stack folded towels on top of each other on a shelf or in a basket. You can also mix and match different towel sizes and colors for added visual interest.
This method works particularly well if you have limited wall space for hanging towel racks or bars, as it allows you to store more towels vertically rather than horizontally. Plus, stacked towel storage gives off an effortlessly chic vibe that will make any bathroom feel like a spa retreat!
DIY Basket Shelves for Towels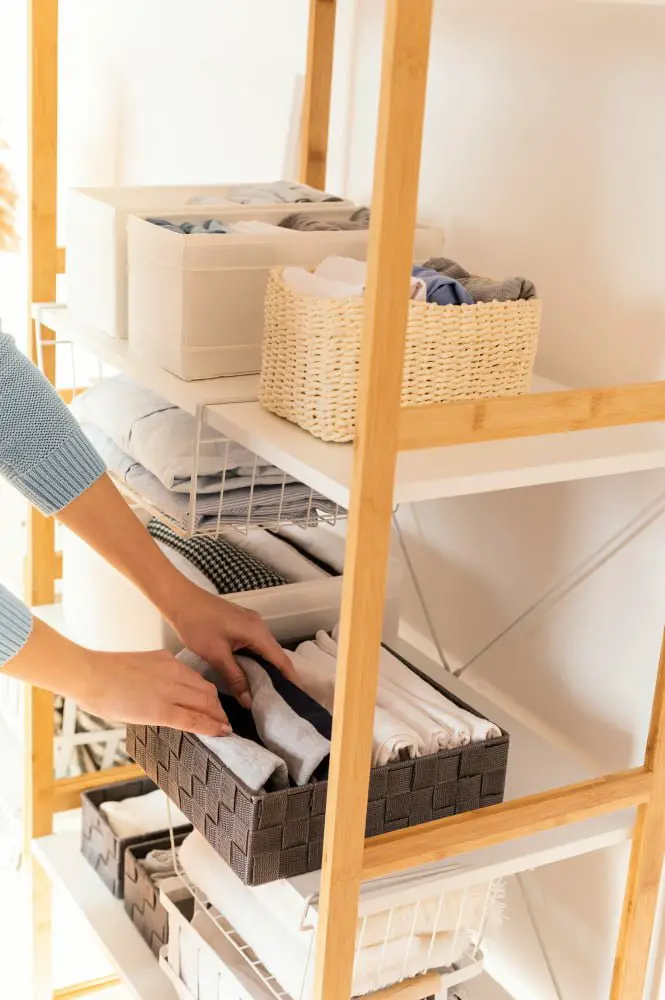 This project is easy to do and can be customized to fit any bathroom decor style. To get started, purchase some wire baskets that are the right size for your towels.
Then, attach them to the wall using brackets or screws.
To make this project even more personalized, consider painting or staining the baskets before hanging them up. You could also add labels or tags so that each family member knows which basket is theirs.
Open Towel Stack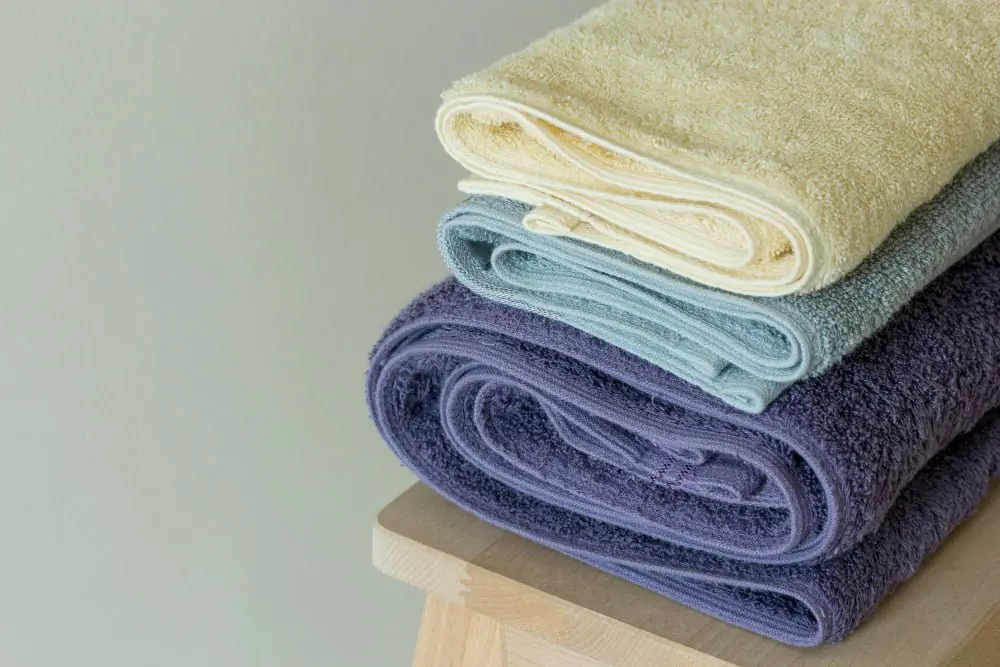 This method involves stacking your towels on top of each other, without any additional storage units or racks. The key to making this look work is to keep the stack neat and tidy, with evenly folded towels that are all roughly the same size.
You can also add some visual interest by playing around with different colors or patterns for your towels – just make sure they complement each other well! An open towel stack works particularly well in smaller bathrooms where space is at a premium, as it takes up very little room while still providing plenty of functionality.
Balanced Towel Display
To achieve this look, start by selecting two identical towels in complementary colors or patterns. Fold each towel in half lengthwise, then fold it again into thirds so that it forms a long rectangle shape.
Next, hang the towels side-by-side on a single towel bar or hook with the folded edges facing outwards. This will create an even and symmetrical display that looks both stylish and functional.
To take this idea one step further, you can also add other elements such as matching washcloths or hand towels arranged in similar fashion nearby for added visual interest.
Basket Storage Solution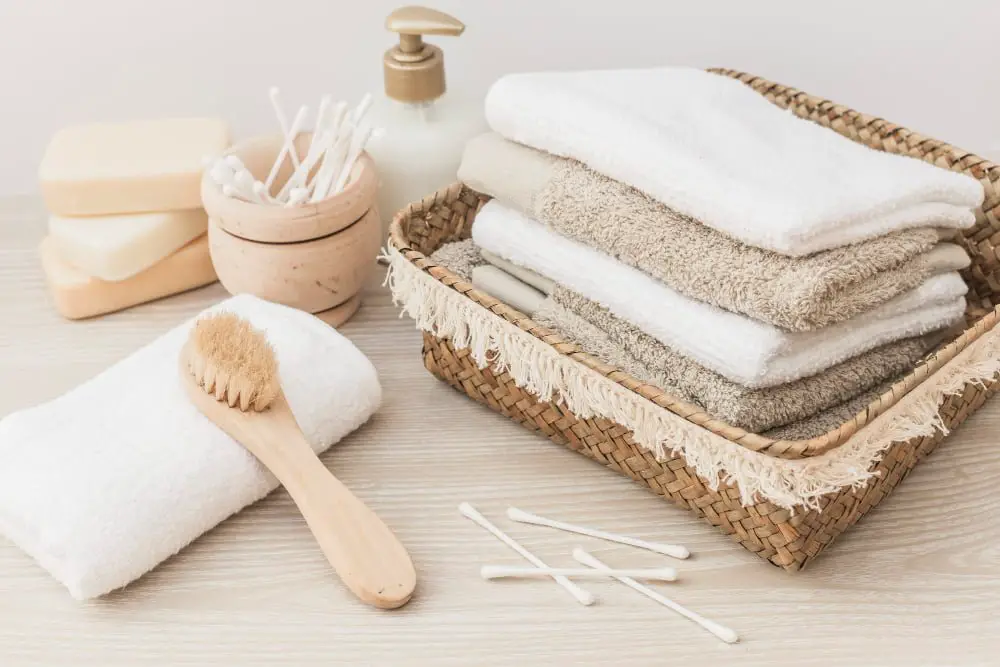 Woven baskets come in various sizes, shapes, and colors that can complement any bathroom decor. You can use them as freestanding units or mount them on the wall for a more streamlined look.
To create an organized system, label each basket with the type of towel it holds (e.g., hand towels, bath towels) so that you always know where everything is located. Baskets are also easy to move around if you need extra space or want to change up your bathroom's layout without investing in new furniture pieces.
Clever Towel Display Ideas
They can also serve as decorative elements that add color and texture to your space. Here are some clever towel display ideas to inspire you:
1. Folded towels on open shelves: Stack folded towels of different sizes and colors on open shelves for a neat, organized look.
2. Rolled towels in baskets: Roll up your towels and place them in wicker or wire baskets for a rustic touch.
3. Hanging towel ladder: Use a wooden ladder as an alternative to traditional towel racks by hanging your bath linens from the rungs.
4. Monogrammed hooks: Personalize plain hooks with monograms or initials for each family member's individualized storage spot.
5.Towel tree stand : A freestanding rack shaped like trees is perfect if you have limited wall space but still want plenty of room to hang multiple bath sheets, handtowels etc.
Industrial-Style Storage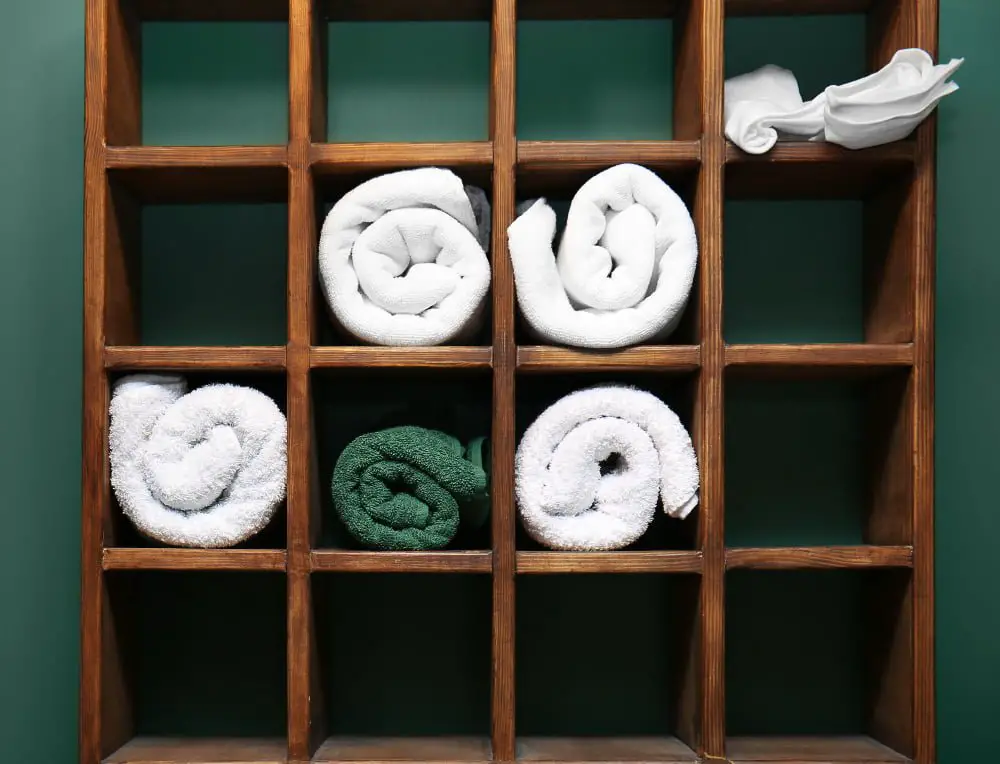 This style typically features metal, wood, and other raw materials that give off an industrial vibe. To incorporate this look into your towel storage, consider using metal pipes or wire baskets as shelves for towels.
You can also use galvanized buckets or bins as a unique way to store rolled towels on the floor or countertop. Another idea is to repurpose an old locker basket by mounting it on the wall for towel storage with hooks attached underneath for hanging additional items like washcloths or robes.
Industrial-style storage not only adds functionality but also brings in some personality and charm into any bathroom space!
Tower Storage for Towels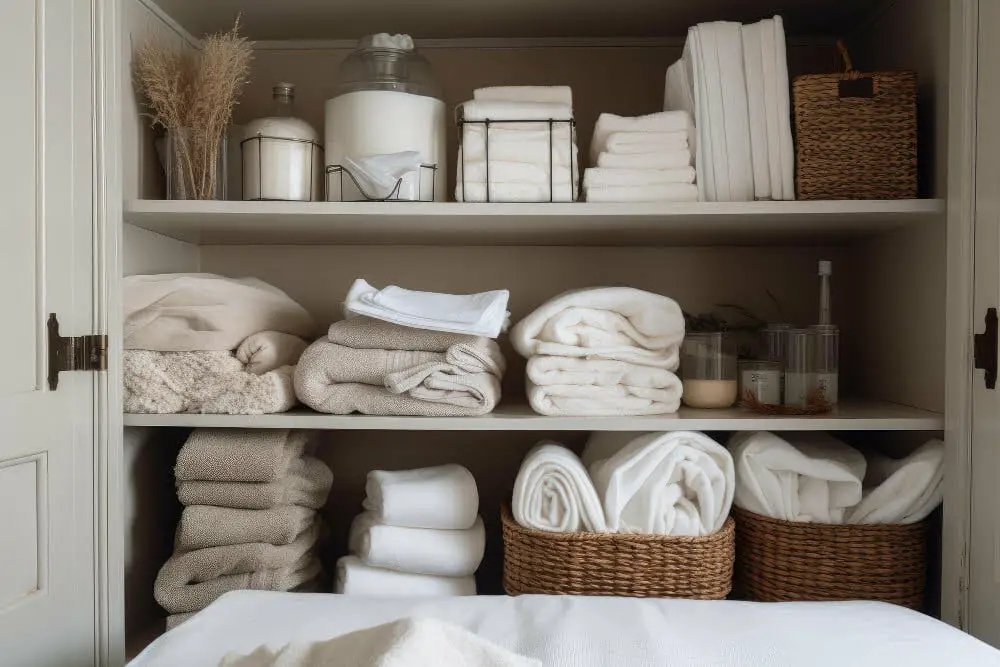 A tower storage unit can be placed in a corner or against the wall, taking up minimal space while providing ample room for towels. You can choose from various materials such as wood, metal or plastic depending on your preference and budget.
Tower towel racks come in different sizes with multiple shelves that allow you to store more than just towels; you can also add decorative items like candles or plants to give it an extra touch of style. With its compact design and practicality, tower storage is perfect for small bathrooms where space is limited but functionality cannot be compromised!
Recessed Towel Shelf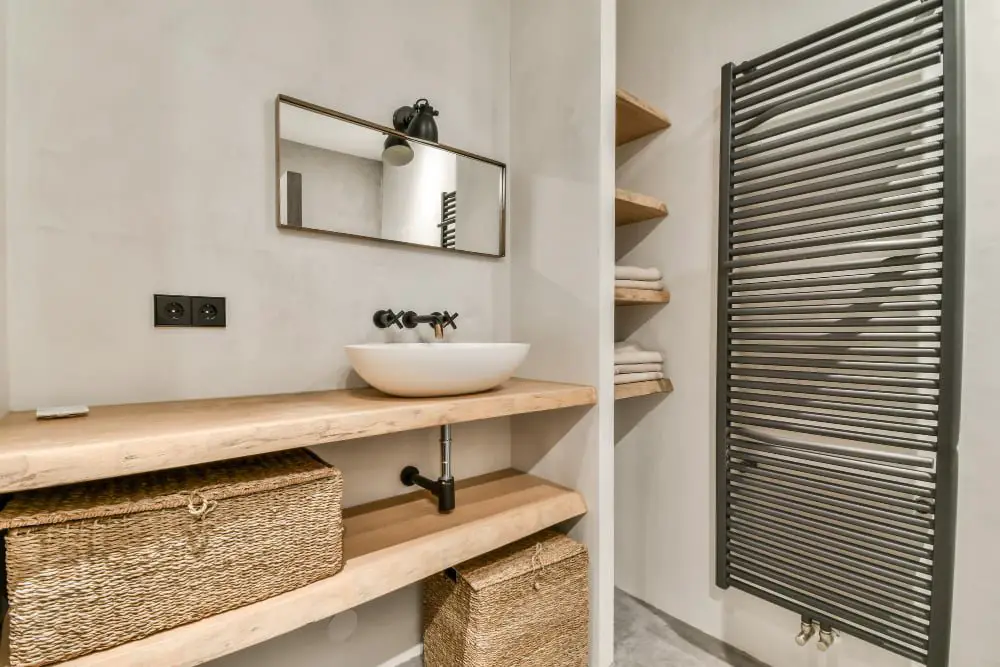 This type of towel shelf is installed directly into the wall, creating a seamless and streamlined look. It's perfect for small bathrooms where every inch counts! You can install multiple shelves at different heights to accommodate towels of various sizes and create an organized display.
Plus, since the shelves are recessed into the wall, they won't get in your way when you're moving around in the bathroom. A recessed towel shelf can be DIY-ed with some basic carpentry skills or installed by a professional for a more polished finish that will last longer over time.
Open Towel Display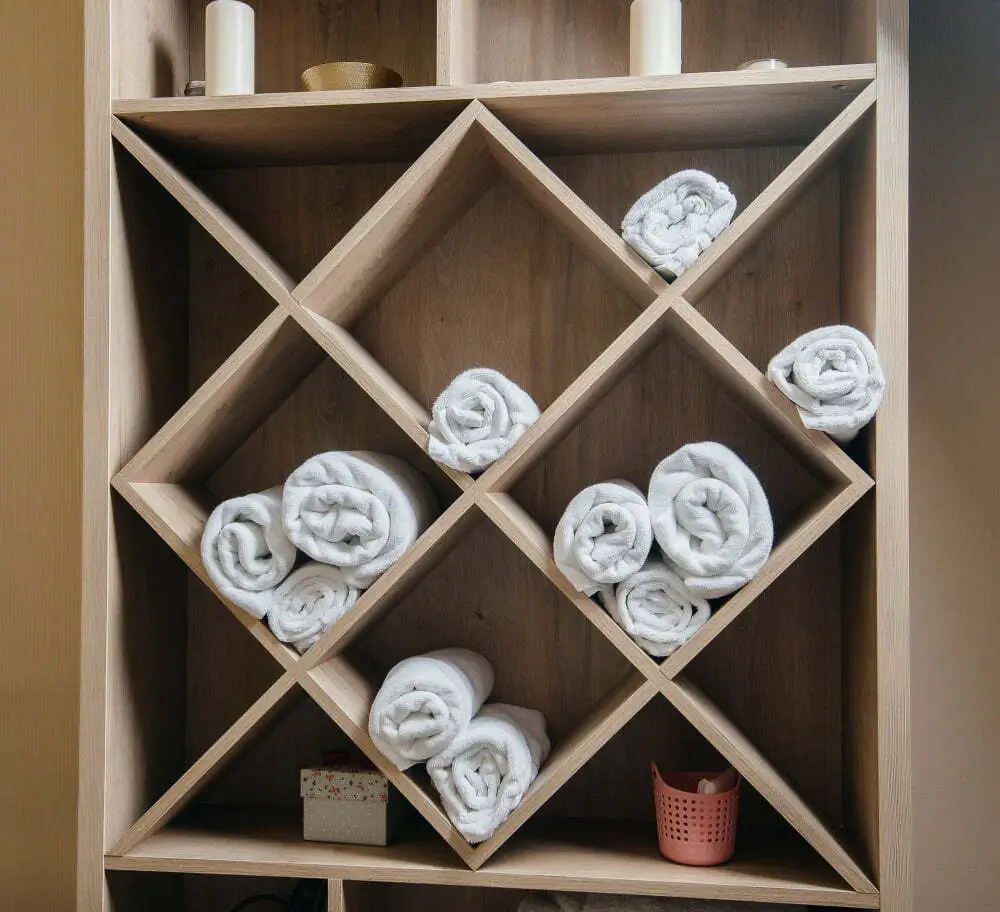 This idea involves displaying your towels in an open space, such as on a shelf or hanging from hooks. Not only does this create an interesting visual element, but it also makes it easy for guests to find the towels they need without having to search through cabinets or drawers.
To make this display even more appealing, consider using colorful or patterned towels that complement the overall design of your bathroom.
Lower Shelf Storage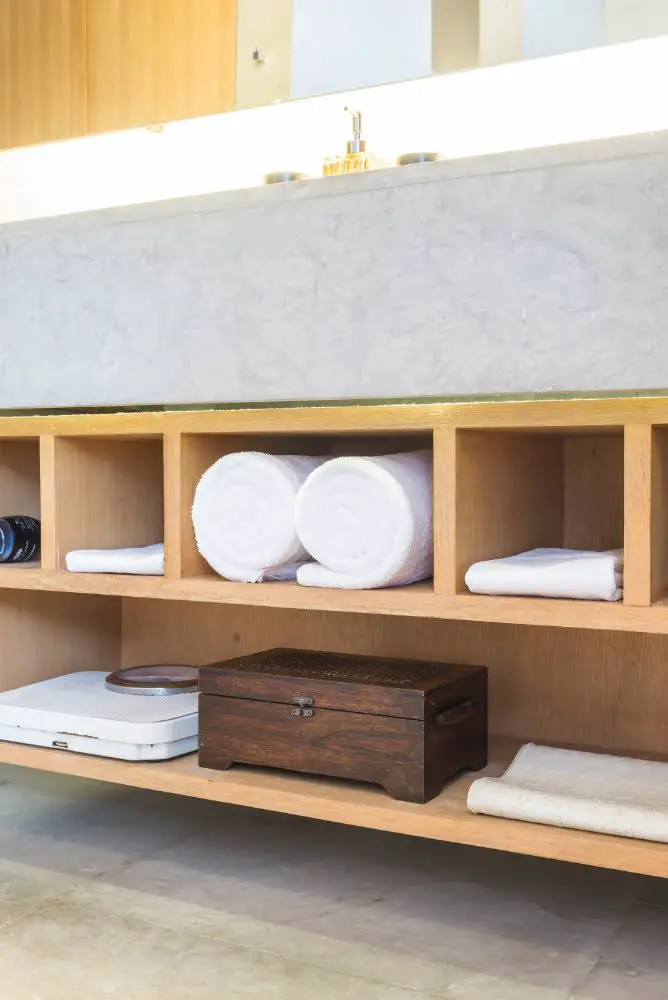 This idea involves installing a shelf below the sink or vanity, which can be used to store folded towels. It's also an excellent way to make use of otherwise wasted space in your bathroom.
You can choose from various materials and finishes that match your bathroom decor, such as wood or metal shelves with brackets that complement the overall style of your room. You could add baskets or bins on the lower shelf for extra storage options and organization purposes.
Lower Shelf Storage is an easy and practical solution for keeping towels close at hand while maximizing available space in smaller bathrooms!
Below-Sink Towel Basket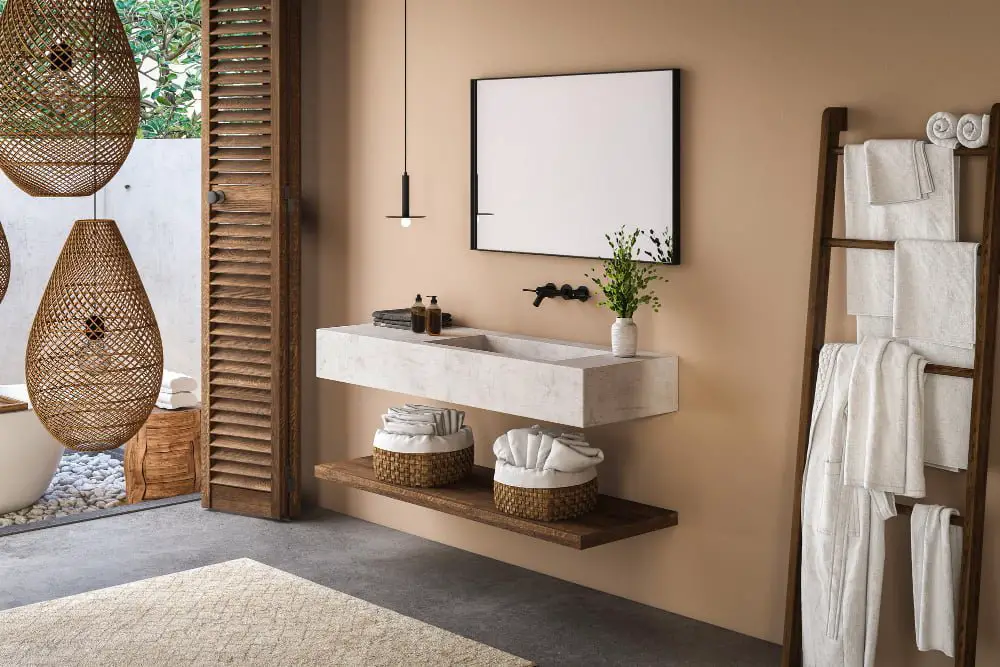 However, this area can be utilized in a creative way by adding a towel basket. A small wicker or wire basket can easily fit under most sinks and provide an easy-to-reach spot for towels.
This solution works especially well if you have limited wall space or prefer not to drill holes into your walls for towel bars or hooks. Plus, the baskets come in various sizes and styles that will complement any bathroom decor style from modern to rustic farmhouse chic!
Shelf Drawers for Towels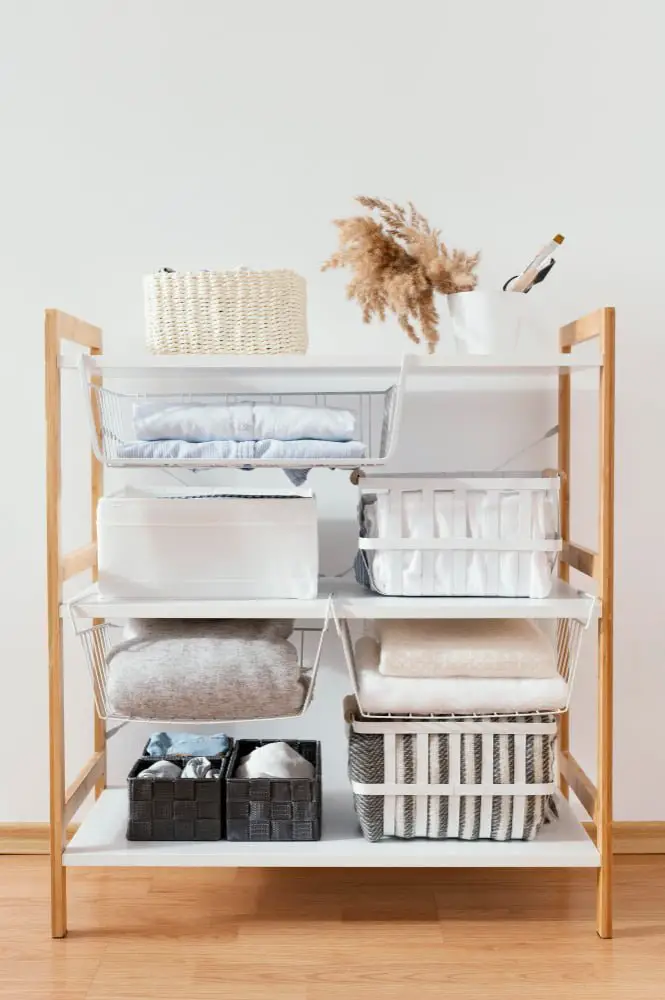 These drawers can be installed under an existing shelf or cabinet, and they provide a discreet place to store extra towels. The best part about shelf drawers is that they are easy to install and can be customized to fit any size towel.
You can even use them for other bathroom essentials like toiletries or cleaning supplies! To make the most of your shelf drawer space, consider using dividers or baskets inside the drawer so you can easily organize your towels by size or color. With this simple addition, you'll have more room for all of your bath linens without sacrificing style!
Repurposed Coatrack for Towels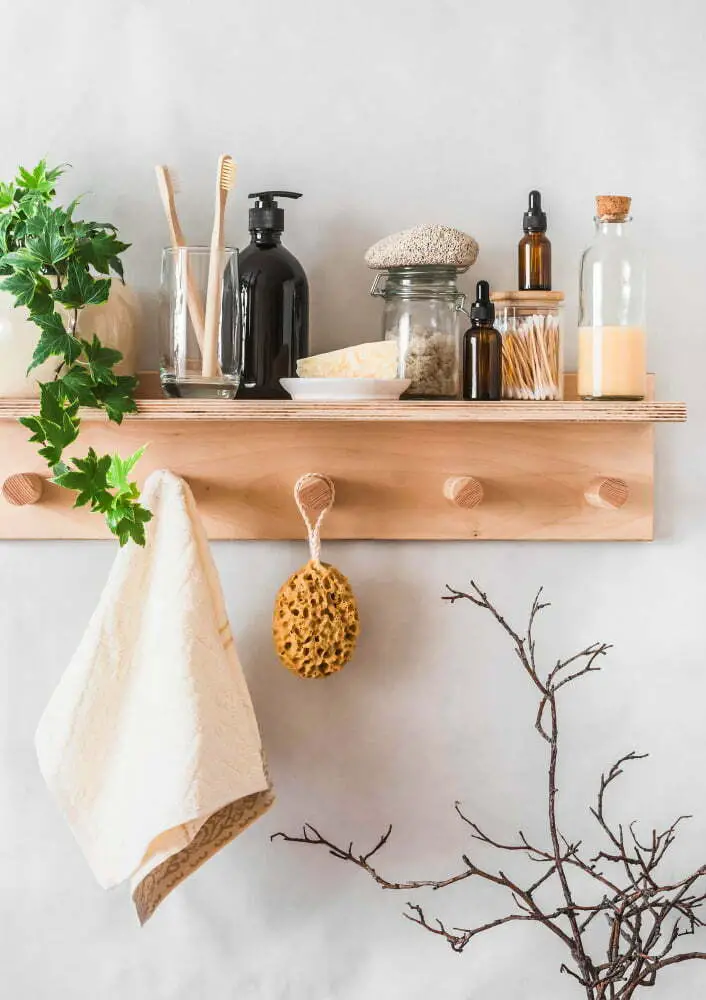 A vintage or rustic coatrack can be easily transformed into a unique towel holder with just a few simple steps. First, remove any hooks that are too small for towels and replace them with larger ones.
Then, sand the surface of the rack lightly and apply paint or stain in your desired color scheme. Once dry, mount it on the wall at an appropriate height for hanging towels.
This repurposed coatrack will not only provide ample space to hang multiple towels but also adds charm and personality to your bathroom decor!
Freestanding Shelves for Towels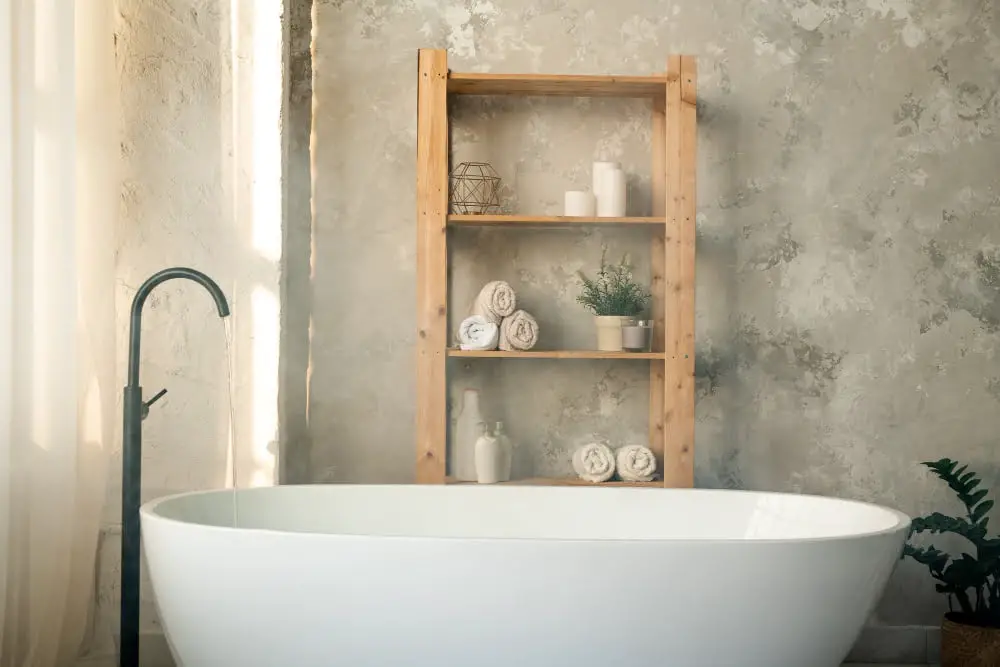 These shelves come in various sizes and styles, making it easy to find one that fits your bathroom's decor. You can use them to store towels, washcloths, and other bath essentials.
One idea is to place a freestanding shelf next to your bathtub or shower area. This way you can easily grab a towel when you step out of the water without having to walk across the room dripping wet.
Another idea is using multiple freestanding shelves as an alternative for traditional cabinets above or below sinks. This will give you more flexibility with how much storage space you need while also adding some visual interest with different heights and shapes of shelving units.
Towel Rolls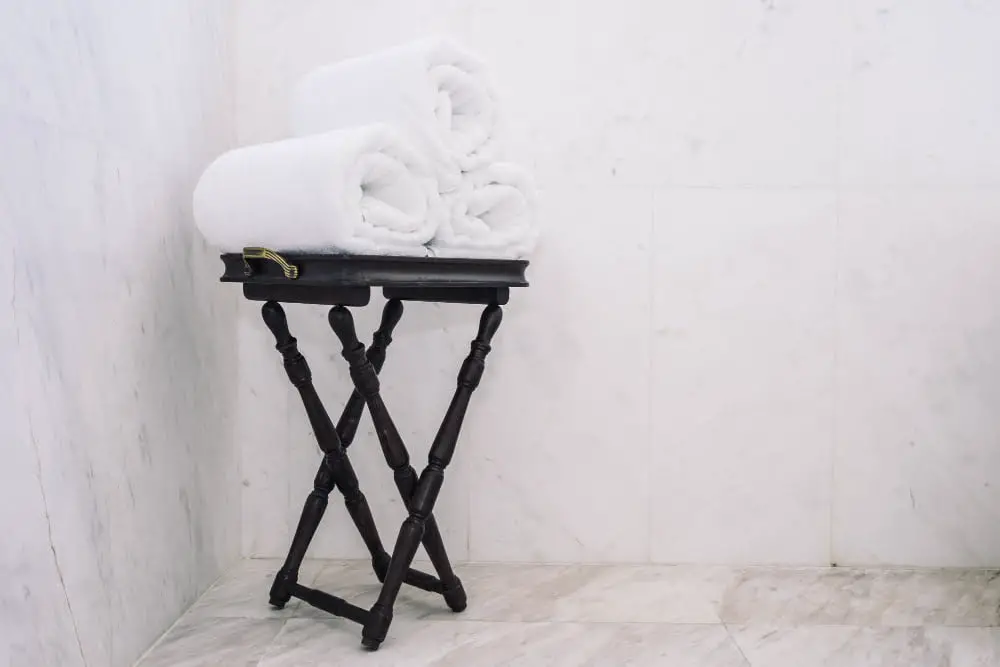 To create towel rolls, simply roll up your towels tightly and secure them with ribbon or twine. You can then place the towel rolls in a basket or on a shelf for an organized and visually appealing display.
Towel rolls work well with both hand towels and bath towels, making them versatile for any bathroom size or style. Plus, they're easy to switch out when you want to change up the look of your bathroom decor!
Basic Towel Bar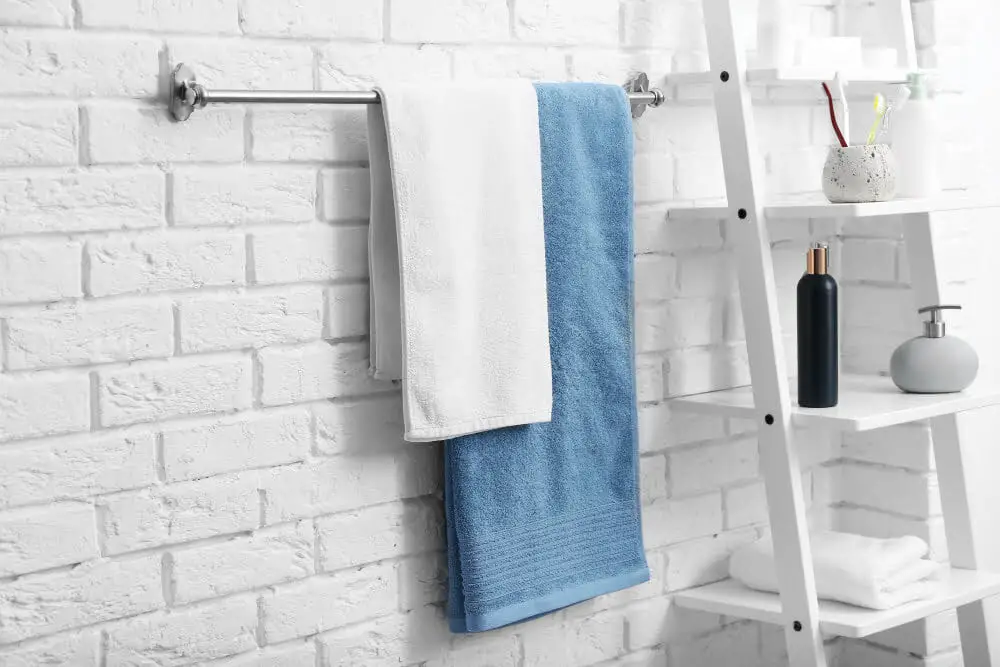 It can be installed in various locations, such as next to the sink or shower, and it comes in different sizes to accommodate multiple towels. A single towel bar can also be used creatively by installing it horizontally instead of vertically, creating a unique look while still serving its purpose.
Basic towel bars are easy to install and maintain, making them an ideal choice for those who prefer simplicity over elaborate designs.
Pullout Towel Holders
These holders can be installed in cabinets or drawers, making them perfect for small bathrooms with limited space. They come in different sizes and styles, so you can choose the one that best fits your needs and decor.
Pullout towel holders are also easy to install, requiring only a few screws or adhesive strips. With this simple addition to your bathroom storage solutions, you'll never have to worry about reaching for a towel again!
Double Towel Racks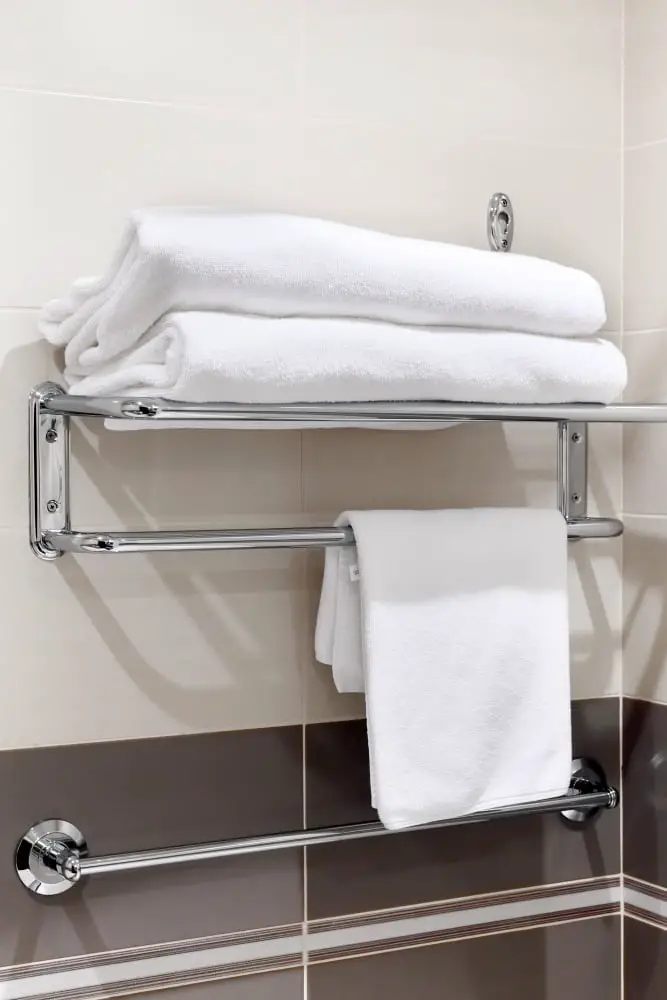 These racks typically feature two bars, allowing you to hang twice as many towels without taking up any additional space. Double towel racks come in a variety of styles and finishes, so you can easily find one that matches your bathroom decor.
Some double towel racks even have adjustable arms or swivel features, making it easy to customize the rack based on your needs. Whether you're looking for a sleek modern design or something more traditional, there's sure to be a double towel rack that fits your style and storage needs perfectly!
Rolled Towel Display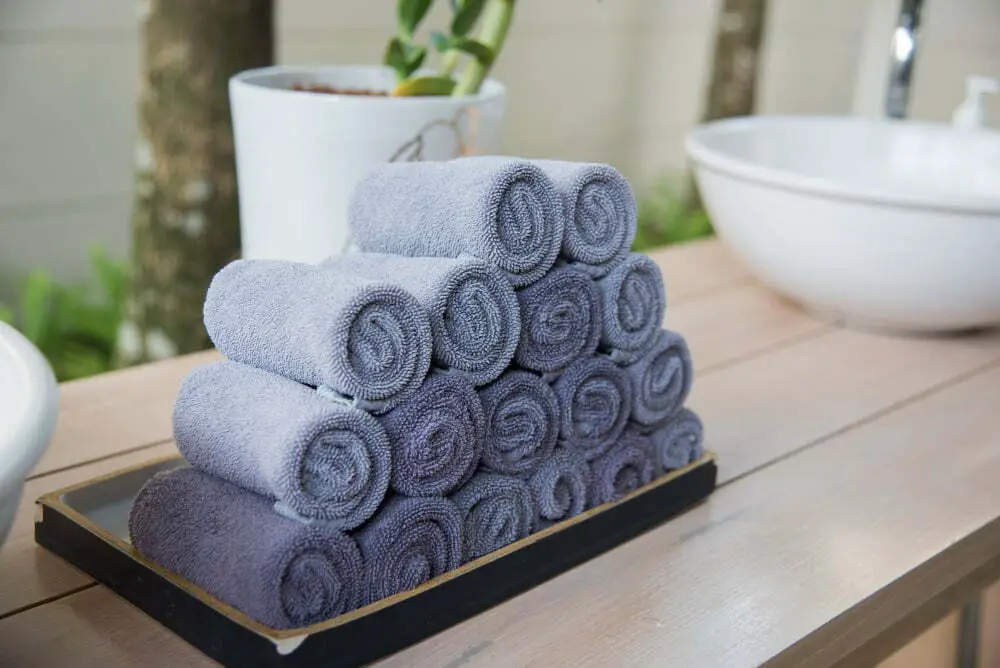 This method involves rolling up your towels neatly and placing them on open shelves or baskets, creating an organized and visually appealing display. Rolled towel displays work particularly well for smaller bathrooms where space is limited, as they take up less room than traditional folded towel stacks or bulky storage units.
To add some extra flair to this idea, try using different colored towels or mixing textures for added visual interest. Rolled towel displays are not only practical but also make a great decorative statement in any bathroom setting!
Budget-Friendly Towel Storage Unit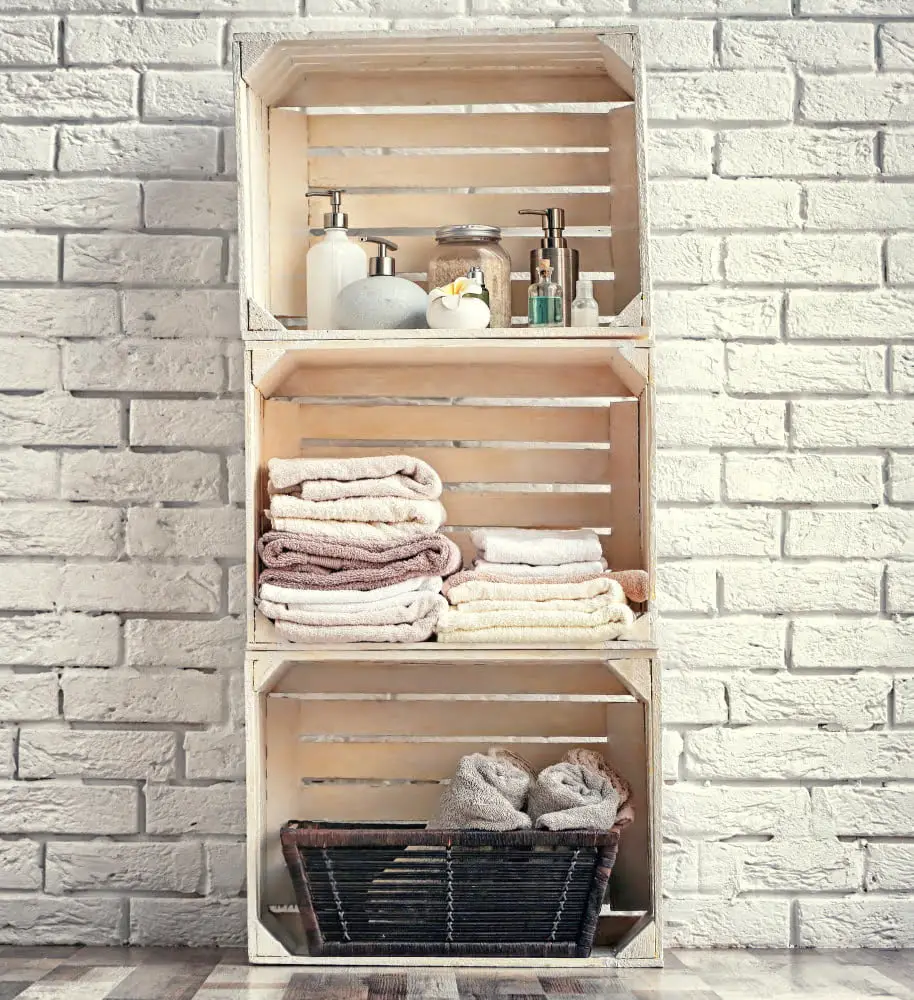 Simply paint it in a color that matches your bathroom decor and add some hooks or baskets to hold the towels. This is not only an affordable option but also adds character and charm to your bathroom space.
Another idea is using PVC pipes as towel holders by cutting them into small pieces, painting them in any color of choice, then gluing them together on a board before mounting it on the wall. With these simple DIY ideas, you can create stylish storage solutions without breaking the bank!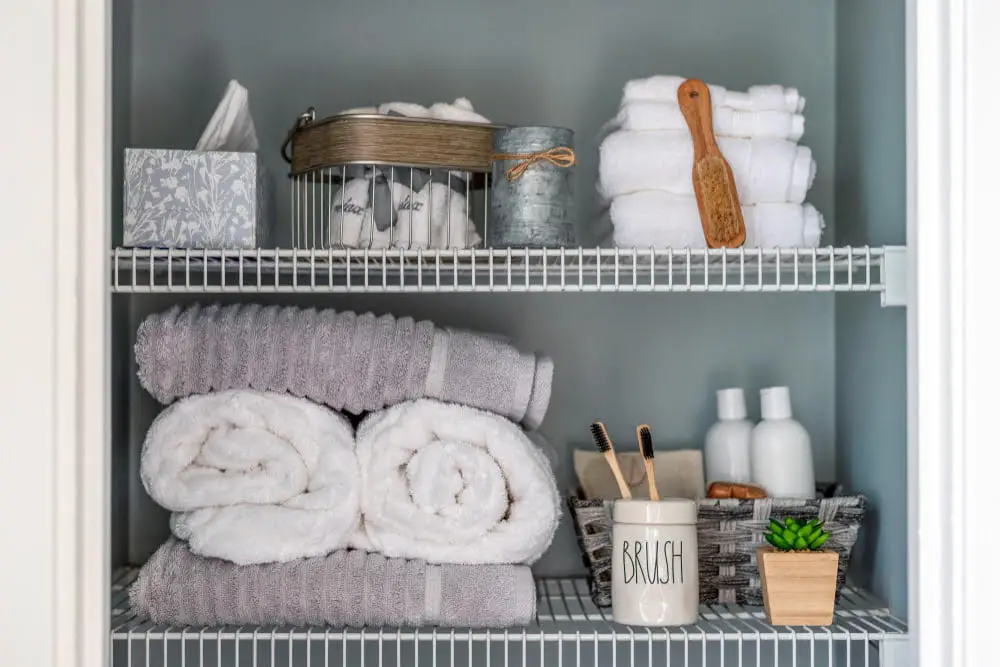 One way to achieve this is by installing hidden shelves or cabinets behind the bathroom mirror. This not only provides ample space for storing towels but also adds an element of surprise and sophistication to your bathroom decor.
Another idea is to use the space under your sink as a hidden storage area for towels, either by adding pull-out drawers or baskets that can be easily accessed when needed. With these clever solutions, you can keep your towels out of sight while still having them within reach whenever you need them!
Towel Storage Within Reach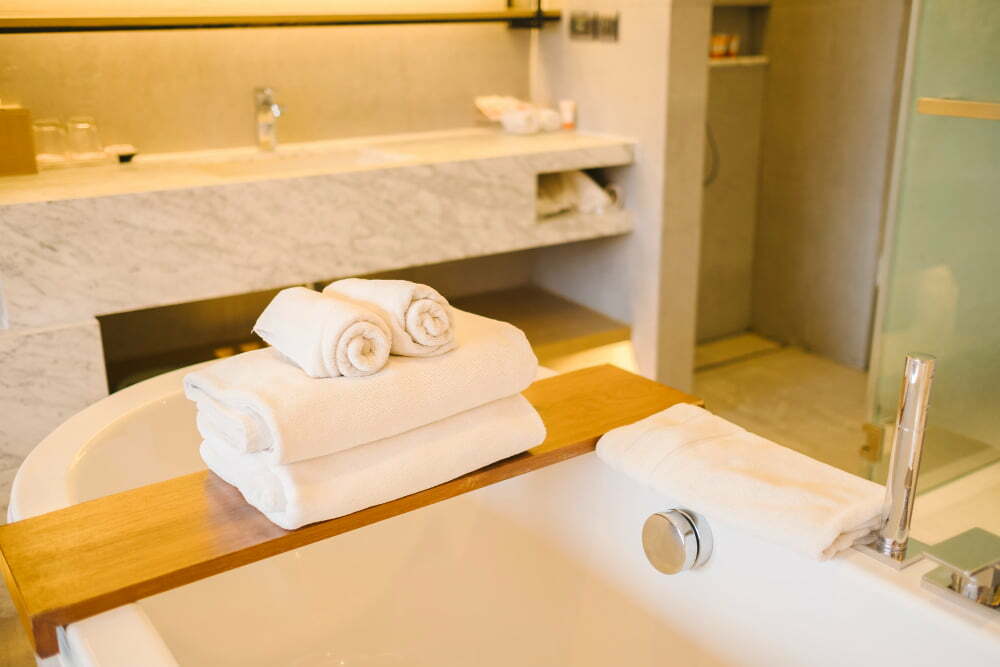 One of the best ways to ensure that your towels are always within reach is by installing a few simple hooks on the back of your bathroom door or on an empty wall space. This option works particularly well for smaller bathrooms where floor space may be limited.
Not only does this solution keep towels off the ground and easily accessible, but it also adds a decorative touch to any blank wall in need of some personality!
Bowl of Towels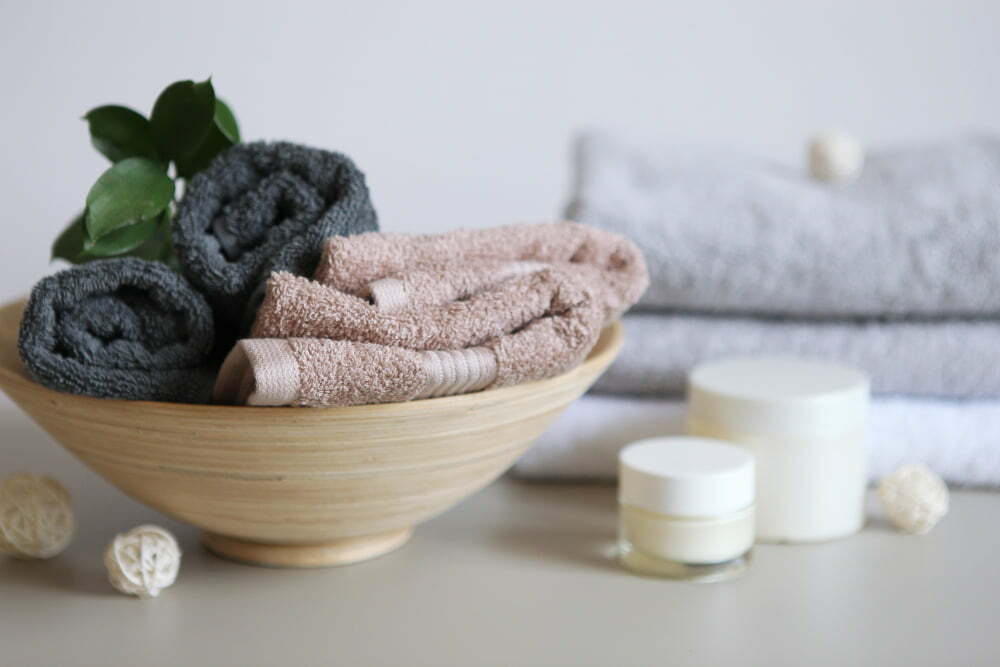 This is an especially great option if you have limited wall space or don't want to drill holes into the walls. Simply choose a beautiful bowl that complements your bathroom decor and stack rolled-up towels inside it.
You can even mix and match different colors or patterns of towels for added visual interest. Plus, having the towels within reach makes them easily accessible when needed!
Simple Towel Hooks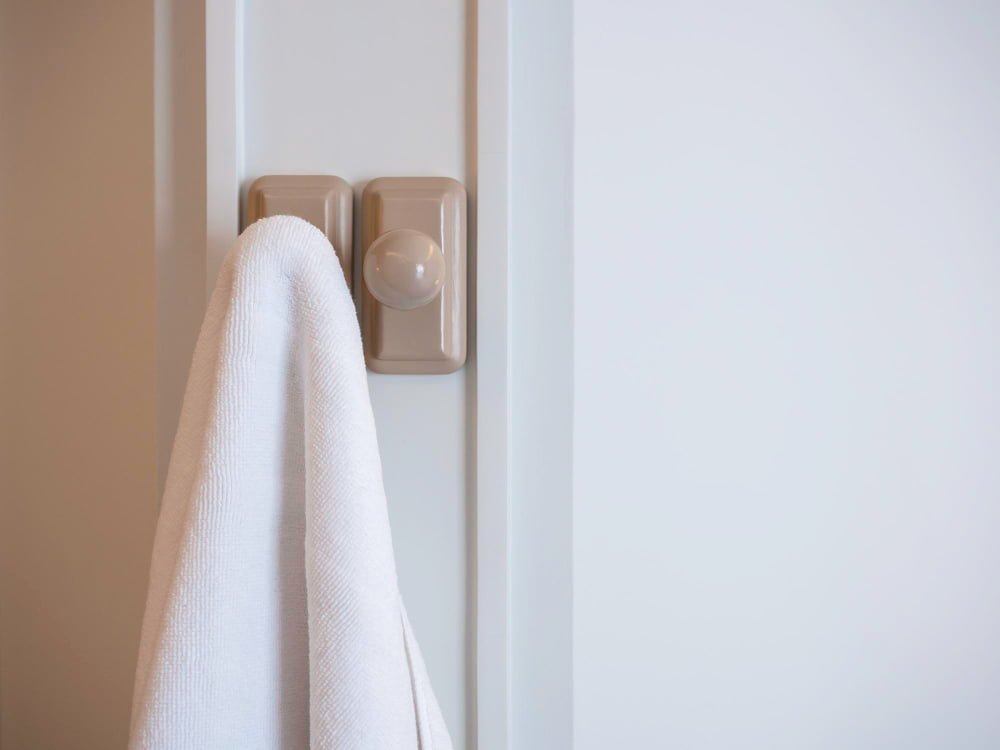 These can be mounted on the wall or even on the back of your bathroom door. They come in a variety of styles and finishes, so you can choose something that matches your decor.
One great thing about using hooks is that they don't take up much space, making them perfect for smaller bathrooms. Plus, they make it easy to grab a towel when you need one without having to dig through stacks or rolls.
To get started with this idea, simply measure out where you want the hooks placed and mark those spots with painter's tape before drilling holes into the wall (if necessary). Then install each hook according to its instructions – usually just by screwing it into place – and voila! You have an instant solution for storing towels in style.
FAQ
What can I use instead of a towel bar?
Instead of a towel bar, you can use hooks above a toilet or on open wall spaces for extra towel storage.
What are some creative ways to display towels in a bathroom without using a towel bar?
Some creative ways to display towels in a bathroom without using a towel bar include utilizing decorative ladders, wall hooks, floating shelves, or repurposing wine racks.
How can I effectively utilize limited bathroom space for towel storage and organization?
To effectively utilize limited bathroom space for towel storage and organization, consider installing floating shelves, over-the-door towel racks, and using a tiered storage stand.
What are some stylish and functional alternatives to traditional towel bars for small bathrooms?
Some stylish and functional alternatives to traditional towel bars for small bathrooms include wall hooks, over-the-door racks, ladder shelves, and magnetic towel holders.
Continue reading: