Last updated on September 24, 2023
Transform your bathroom into a stylish oasis with these unique and creative flooring ideas that will leave you feeling inspired.
Are you tired of your boring bathroom flooring? Do you want to add some style and personality to this often overlooked space in your home? Look no further! I have compiled 14 unique and creative bathroom flooring ideas that will transform your dull bathroom into a stylish oasis.
From bold patterns to unexpected materials, these ideas will inspire you to take the leap and upgrade your bathroom flooring.
Get ready to say goodbye to bland tiles and hello to a stunning new look for your bathroom. Let's dive in!
Table of Contents
Ceramic Tiles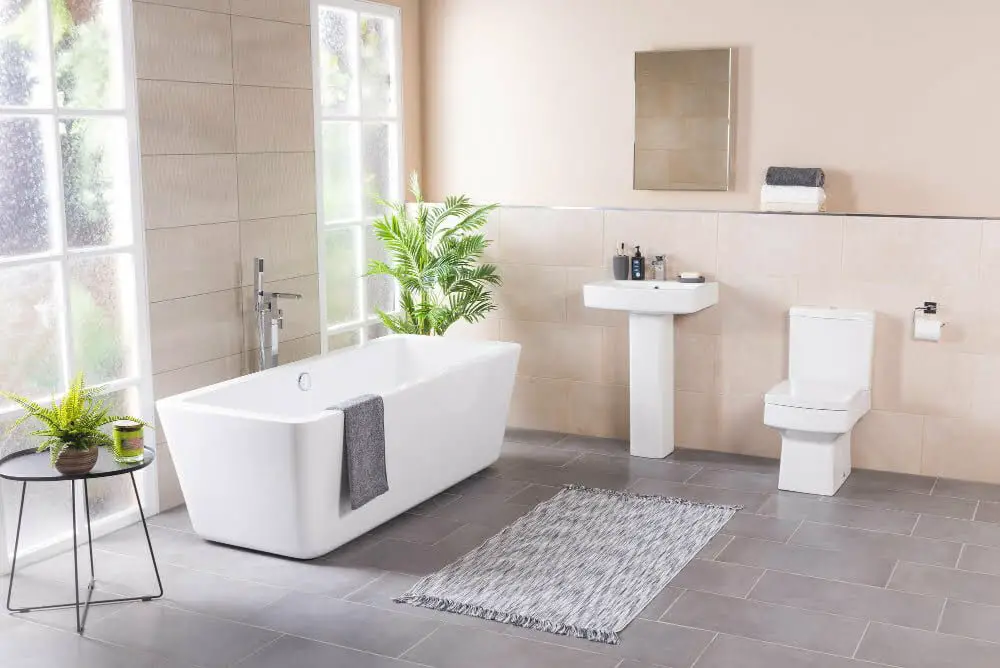 Ceramic tiles are a classic choice for bathroom flooring. They come in a wide range of colors, patterns, and sizes to suit any style preference.
Ceramic tiles are durable and easy to clean, making them ideal for high-traffic areas like bathrooms. They can also be used on walls or as accents to create interesting designs or focal points in the room.
One of the benefits of ceramic tile is that it is water-resistant when properly installed with grout and sealant. This makes it an excellent option for bathrooms where moisture levels can be high.
Ceramic tiles can mimic natural stone or wood looks without the maintenance requirements associated with those materials. They offer slip resistance which adds safety measures especially if you have children or elderly people at home.
Ceramic tile offers versatility in design options while being practical enough to withstand daily wear-and-tear from foot traffic and moisture exposure commonly found within bathroom spaces
Porcelain Tiles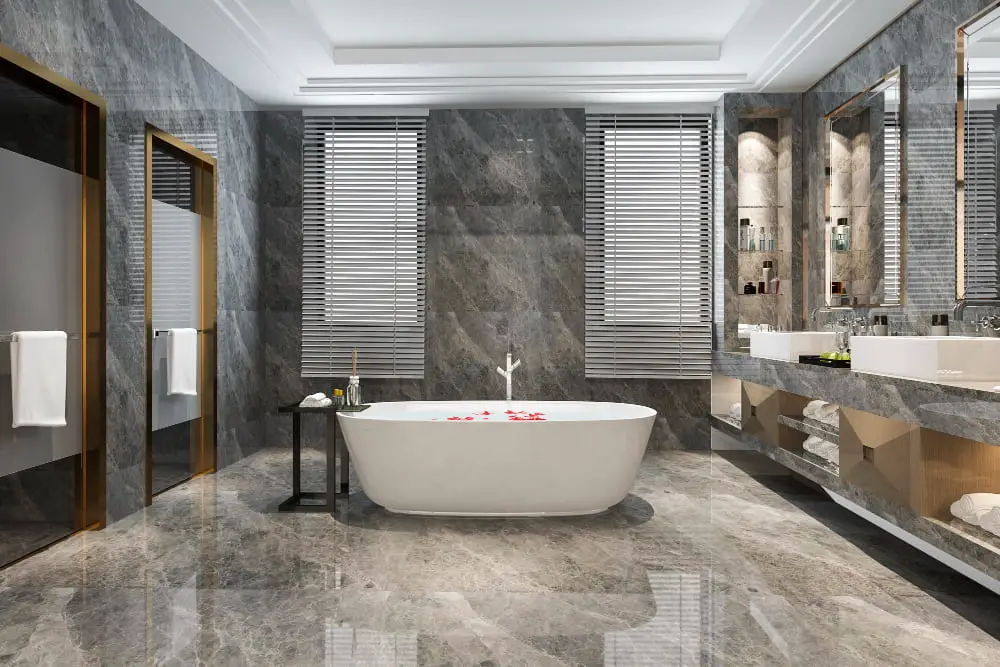 Porcelain tiles are a popular choice for bathroom flooring due to their durability and water resistance. They come in a variety of colors, patterns, and textures that can mimic natural stone or wood.
Porcelain tiles are also easy to clean and maintain, making them ideal for high-traffic areas like bathrooms. They can be installed with minimal grout lines which creates an uninterrupted surface that is visually appealing while being hygienic as well.
With so many options available on the market today, porcelain tile is definitely worth considering when choosing your next bathroom floor covering!
Vinyl Flooring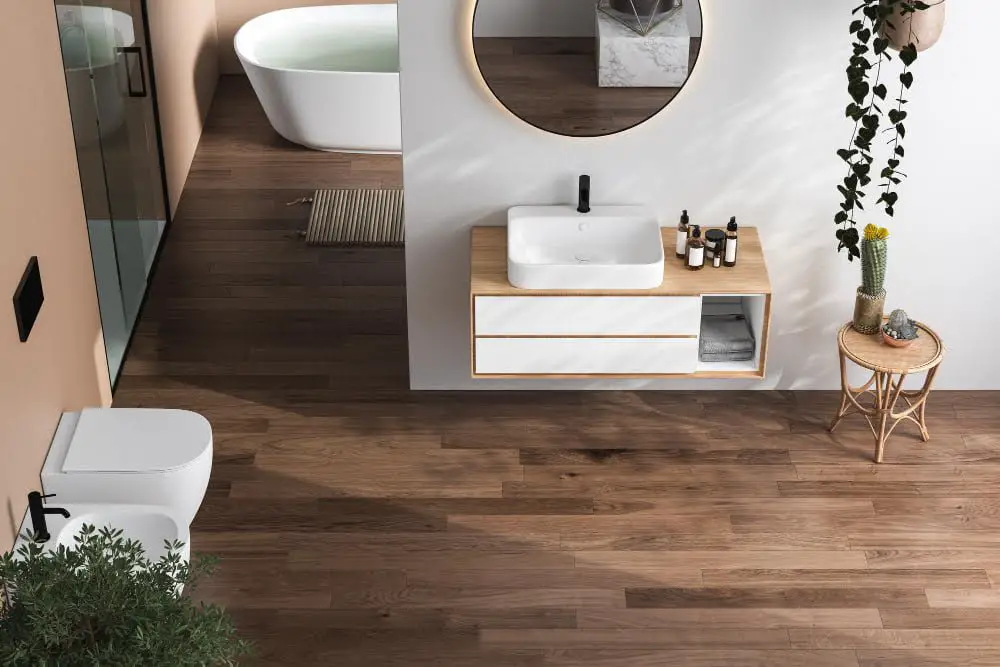 Vinyl flooring is a popular choice for bathroom floors due to its durability, affordability, and water-resistant properties. It comes in a variety of styles and colors that can mimic the look of natural materials like wood or stone.
Vinyl tiles are easy to install with adhesive backing or click-and-lock systems, making it an ideal option for DIY projects. Vinyl flooring is low maintenance and easy to clean with just soap and water.
However, keep in mind that some types of vinyl may emit volatile organic compounds (VOCs), so be sure to choose products labeled as low-VOC or eco-friendly if this is a concern for you.
Natural Stone Tiles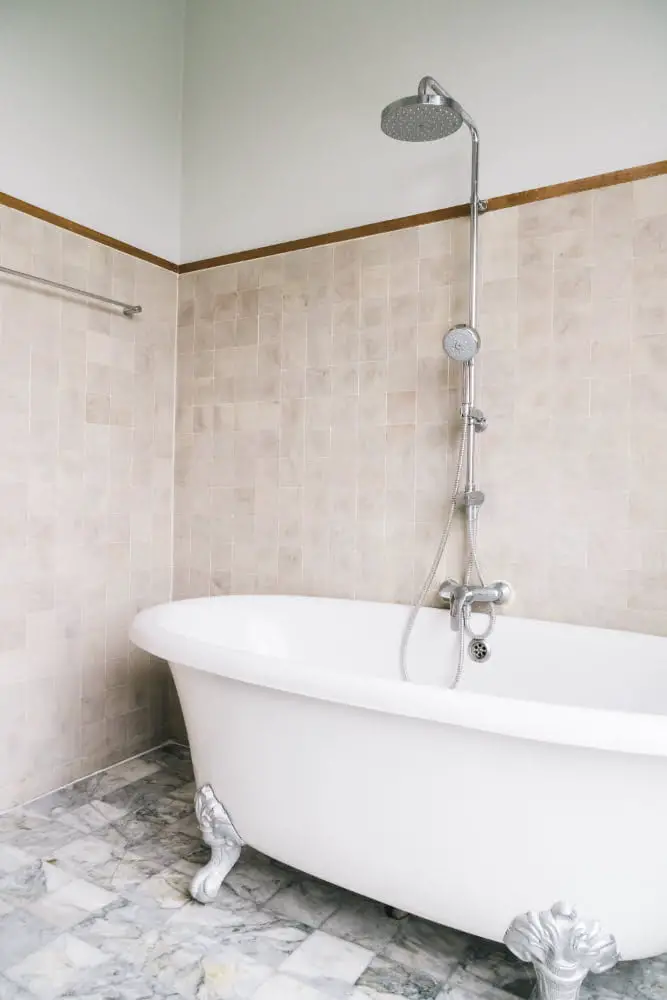 Natural stone tiles are a popular choice for bathroom flooring due to their durability and timeless appeal. They come in various types, including marble, granite, limestone, and slate.
Each type has its unique characteristics that can add texture and depth to your bathroom design.
Marble is known for its luxurious look with veining patterns that create an elegant atmosphere. Granite offers a more natural appearance with speckled patterns in earthy tones.
Limestone has a softer look than other stones but still provides the same durability as the others.
Slate is another option that adds texture to your floor while providing slip-resistant properties making it ideal for bathrooms where water may be present on the floor frequently.
Natural stone tiles require regular maintenance such as sealing every few years or so depending on usage levels; however, they offer long-lasting beauty when cared for properly.
Cork Flooring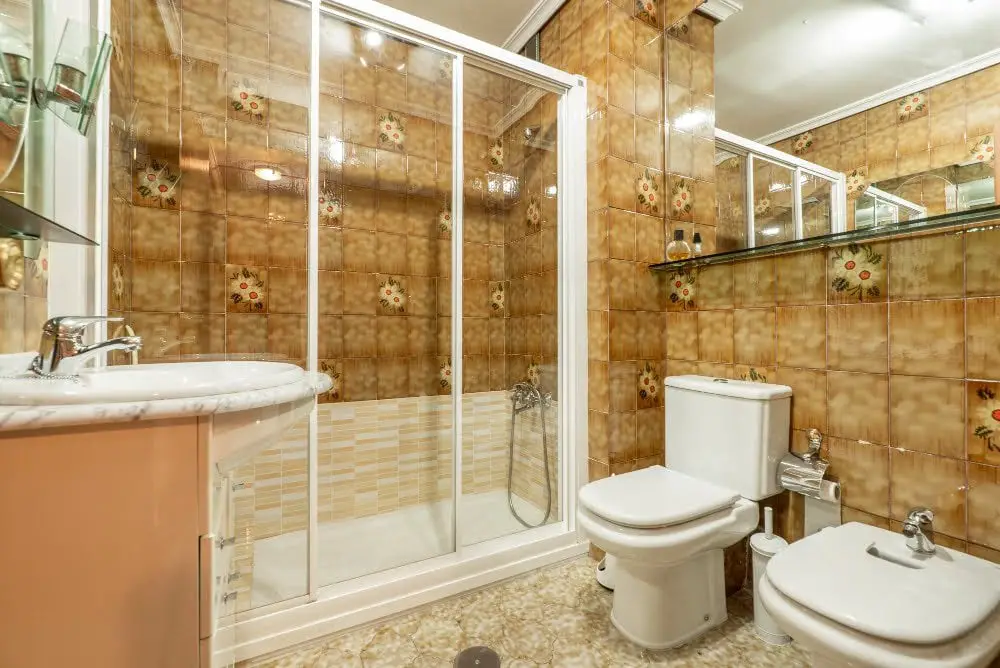 Cork flooring is a great option for those who want an eco-friendly and sustainable bathroom floor. Cork is harvested from the bark of cork oak trees, which grow back after being stripped, making it a renewable resource.
It's also naturally resistant to mold and mildew, making it ideal for bathrooms with high humidity levels. Cork floors are soft underfoot and provide good insulation against cold temperatures.
They come in various colors and patterns that can complement any bathroom style or decor theme. However, cork flooring requires regular maintenance to keep its water-resistant properties intact; sealing every few years will help prevent moisture damage over time.
Bamboo Floors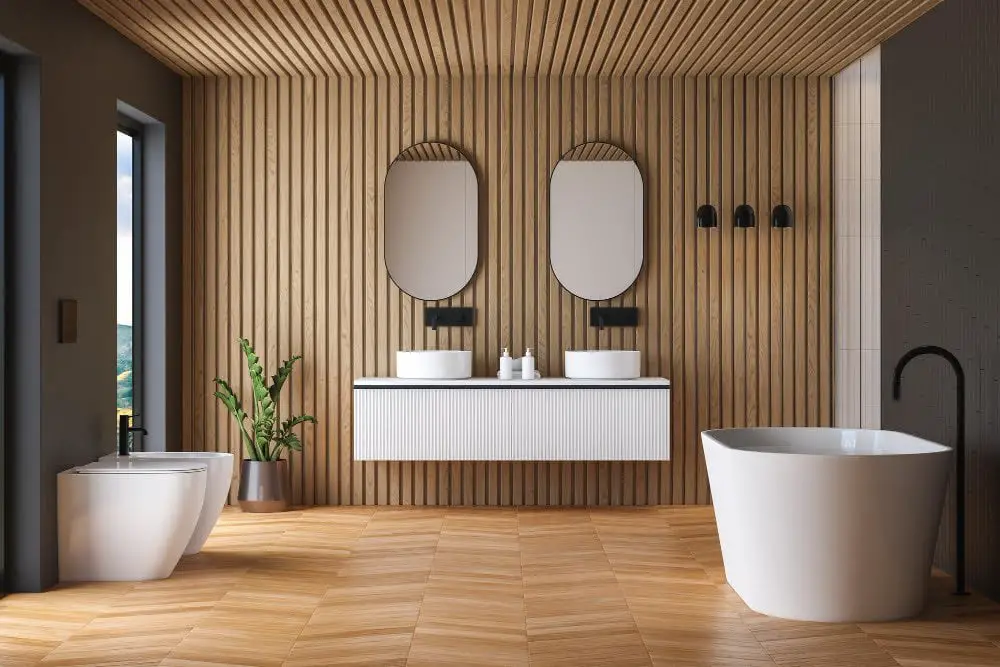 Bamboo floors are a popular choice for homeowners who want an eco-friendly and sustainable option. Bamboo is a fast-growing grass that can be harvested every five to six years, making it an excellent renewable resource.
It's also incredibly durable and resistant to moisture, which makes it ideal for use in bathrooms.
Bamboo flooring comes in various colors and styles, from natural light tones to darker shades that mimic hardwoods like oak or walnut. The planks can be installed using either the click-and-lock method or glued down directly onto the subfloor.
One thing to keep in mind when considering bamboo flooring is its susceptibility to scratches and dents compared with other materials like ceramic tiles or vinyl planks. However, regular maintenance such as sweeping up debris promptly will help prevent damage over time.
Bamboo floors offer a unique look while being environmentally friendly at the same time – perfect for those looking for both style and sustainability!
Heated Floor Systems (electric or Hydronic)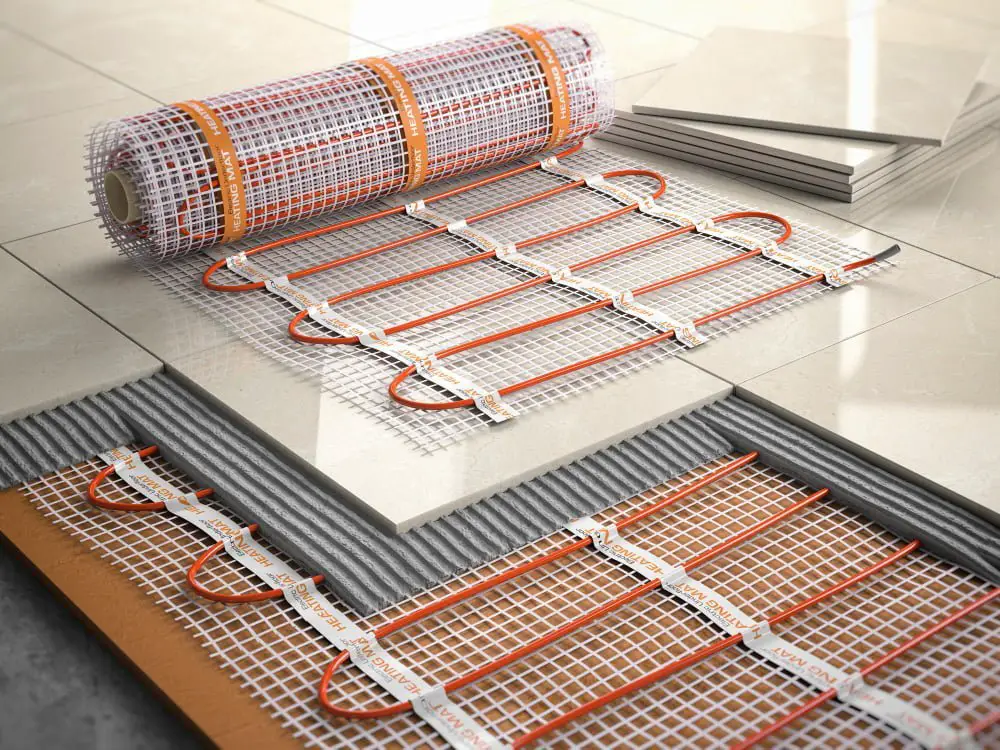 Heated floor systems are a luxurious addition to any bathroom. They provide warmth and comfort underfoot, especially during the colder months.
There are two types of heated floors: electric and hydronic. Electric systems use heating cables or mats installed beneath the flooring material, while hydronic systems circulate hot water through tubing installed in a concrete slab or subfloor.
Electric heated floors are easier to install than their hydronic counterparts since they don't require extensive plumbing work. However, they can be more expensive to operate over time due to higher electricity costs.
Hydronic heated floors offer better energy efficiency but require professional installation by a plumber as well as access underneath the subfloor for installation of pipes and tubes.
Both options come with programmable thermostats that allow you to set your desired temperature levels throughout the day for maximum comfort without wasting energy when not needed.
Waterproof Laminate and Engineered Wood Options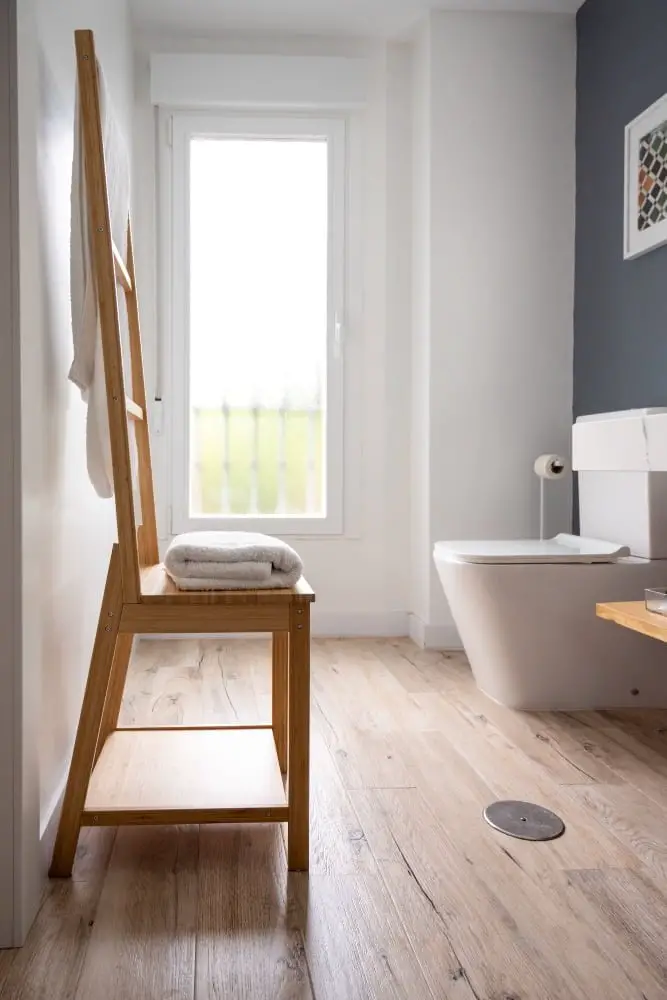 Waterproof laminate and engineered wood options are a great choice for those who want the look of hardwood floors in their bathroom without worrying about water damage. These types of flooring are made with materials that can withstand moisture, making them perfect for high-humidity areas like bathrooms.
They come in a variety of styles and colors, so you can choose one that matches your decor perfectly. Plus, they're easy to install and maintain – just sweep or vacuum regularly and mop up any spills as soon as possible to keep them looking great for years to come!
Concrete Floors With Epoxy Coating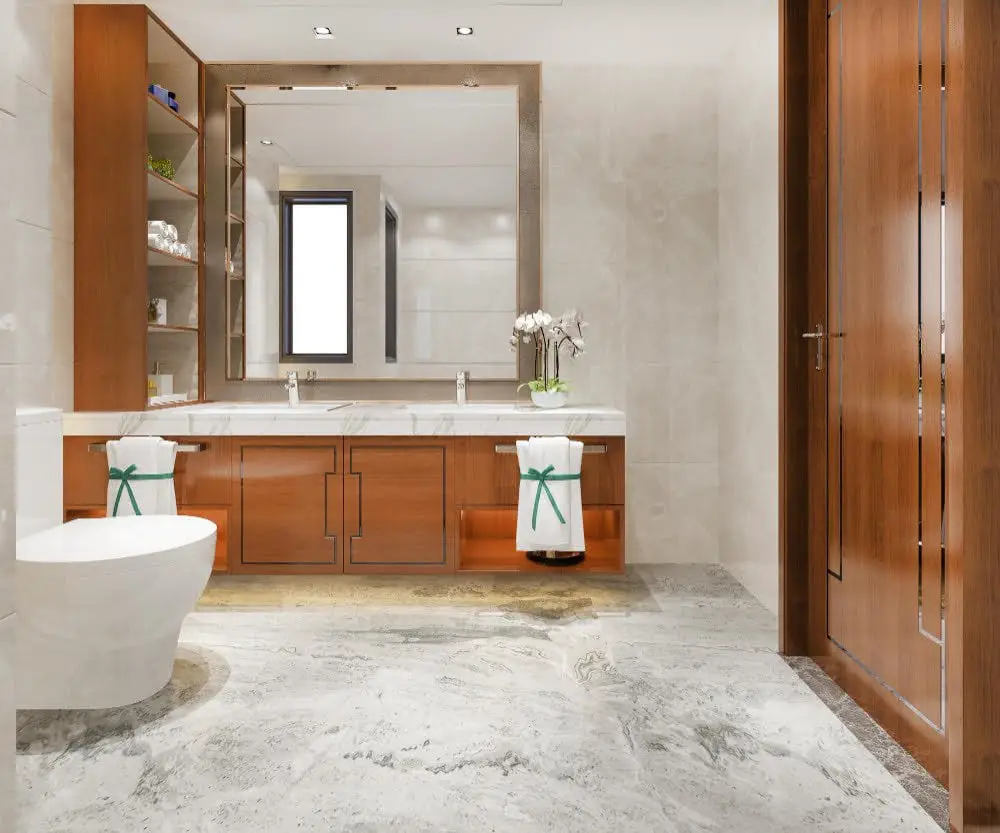 Concrete floors with epoxy coating are a popular choice for modern and industrial-style bathrooms. The epoxy coating provides a durable, waterproof surface that is easy to clean and maintain.
It also adds an attractive shine to the concrete floor, making it look more polished and refined. Epoxy coatings come in various colors, so you can choose one that complements your bathroom's color scheme or creates a bold contrast against it.
This type of flooring is perfect for those who suffer from allergies as it does not trap dust or allergens like carpeting would do. If you're looking for an affordable yet stylish option for your bathroom flooring renovation project, consider concrete floors with epoxy coating!
Terrazzo Tile Design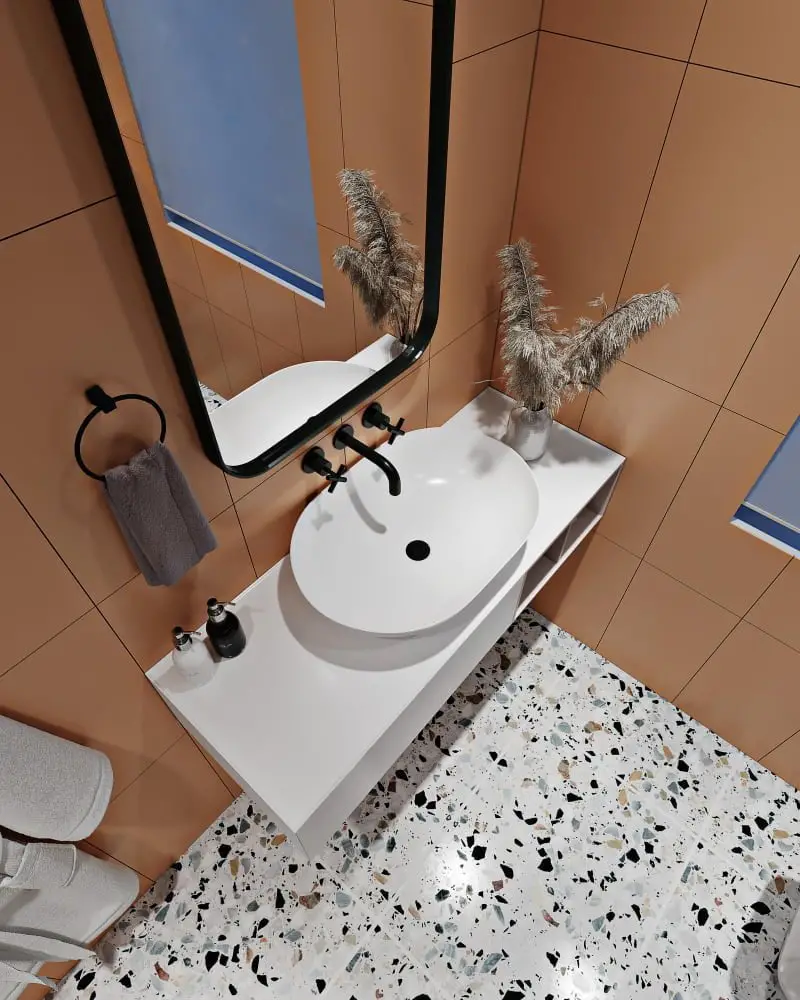 Terrazzo tile design is a popular choice for bathroom flooring due to its durability and unique appearance. Terrazzo tiles are made by mixing chips of marble, quartz, granite or glass with cement or epoxy resin.
The mixture is then poured into molds and polished to create a smooth surface with speckled patterns throughout the tile. This type of flooring can be customized in terms of color combinations and chip sizes to match any bathroom decor style from modern minimalist designs to more traditional ones.
Terrazzo tiles are easy to clean and maintain making them an excellent long-term investment for your home's value while adding character that will last for years!
Herringbone or Chevron Patterned Tiling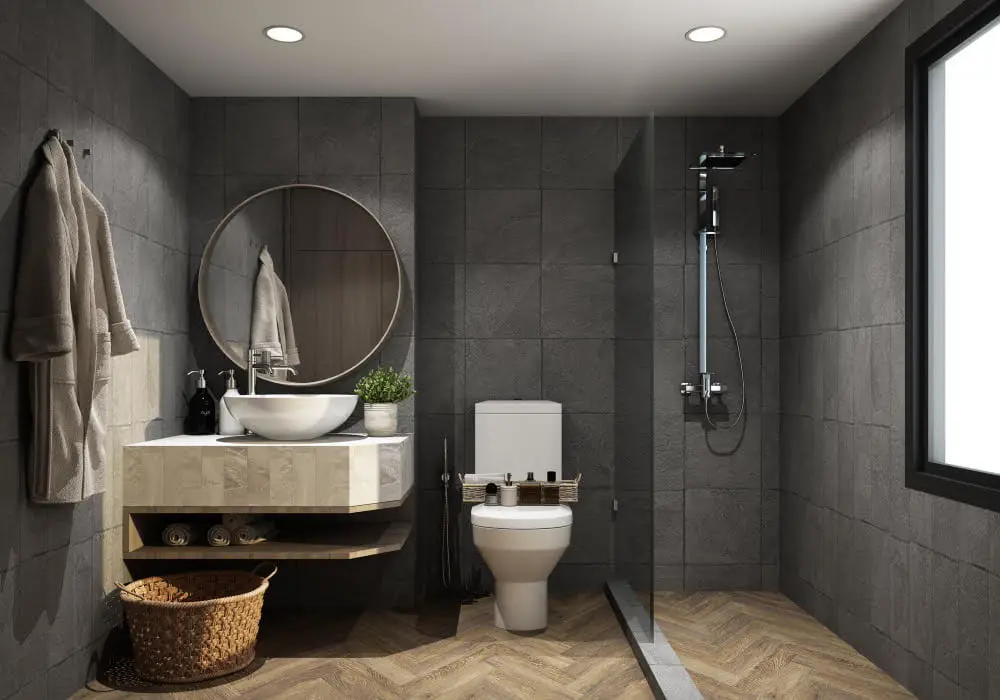 Herringbone and chevron patterns are classic designs that can add a touch of elegance to any bathroom. These patterns involve laying rectangular tiles in a zigzag pattern, with each tile slightly overlapping the one before it.
Herringbone is created by placing the tiles at 90-degree angles, while chevron involves cutting the ends of each tile at an angle so they fit together seamlessly.
These patterns work well with both large and small tiles, making them versatile options for any size bathroom. They also come in various materials such as ceramic or natural stone like marble or travertine.
Herringbone and Chevron tiling can be used on floors or walls to create visual interest without overwhelming other design elements in your space. It's important to note that these intricate designs require precise installation techniques which may increase labor costs compared to simpler layouts but will ultimately result in stunning results worth investing into!
Mosaic Glass or Pebble Accents Inlays for a Unique Touch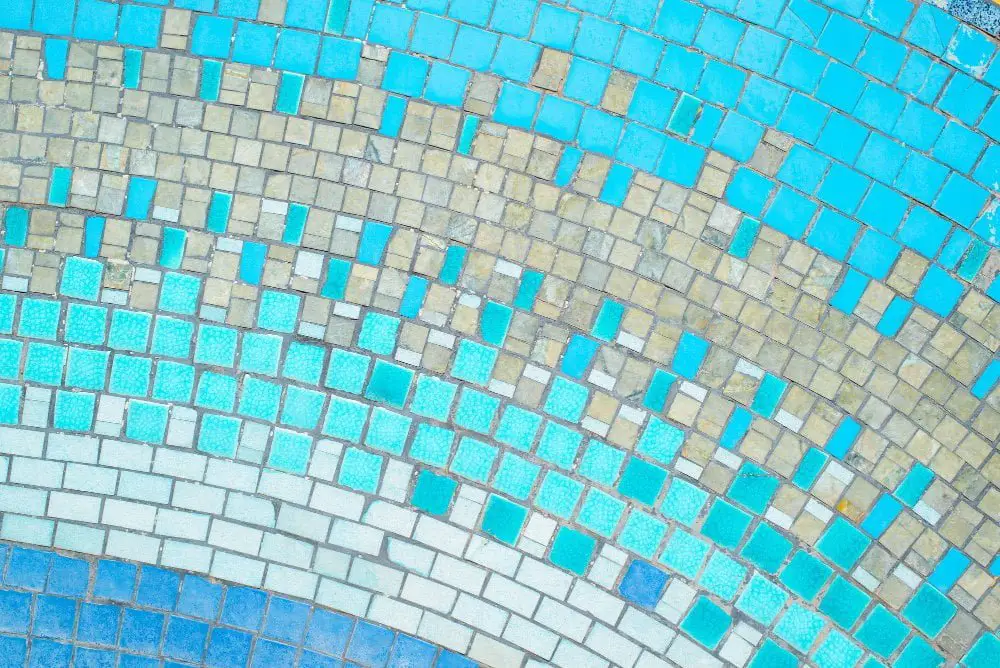 Mosaic glass or pebble accents inlays are a great way to add a unique touch to your bathroom flooring. These small tiles come in various colors and shapes, allowing you to create intricate designs that can be as simple or complex as you like.
Mosaic tiles can be used on their own for an eye-catching feature floor, or they can be combined with larger tiles for added interest. Pebble accents are another option that adds texture and visual appeal underfoot while providing a natural look reminiscent of riverbeds and beaches.
Whether you choose mosaic glass or pebble accents, these options will give your bathroom flooring an artistic flair that is sure to impress guests!
Linoleum Sheeting, Eco-friendly Option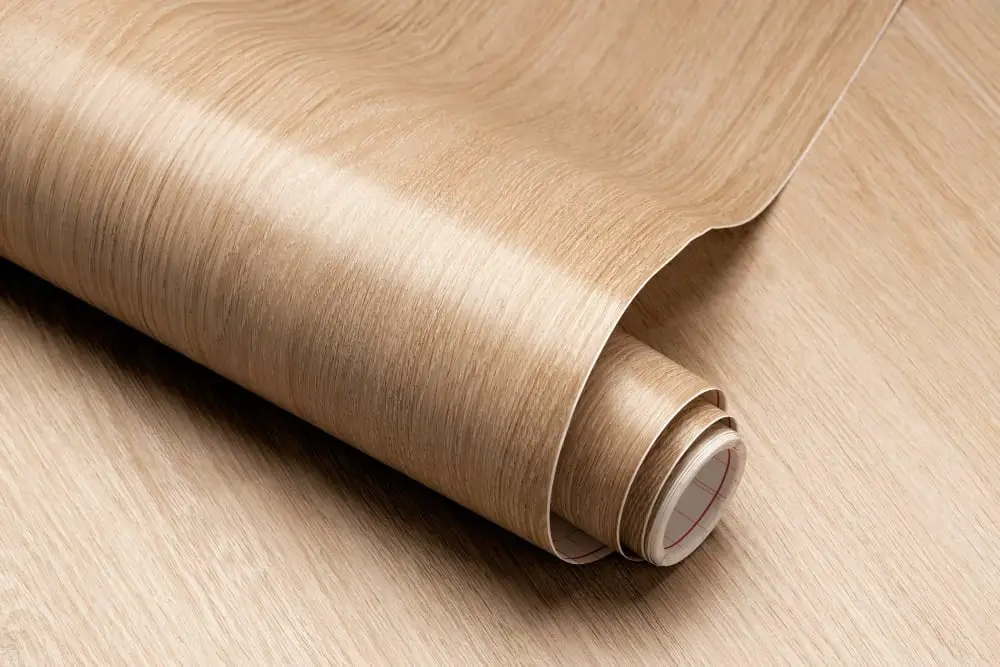 Linoleum sheeting is a great eco-friendly option for bathroom flooring. Made from natural materials such as linseed oil, cork dust, and wood flour, it's biodegradable and recyclable.
It comes in a variety of colors and patterns to suit any style preference. Linoleum is also durable and easy to clean with just soap and water.
Plus, it's naturally antimicrobial which makes it perfect for bathrooms where moisture can lead to mold growth or bacteria buildup on the floor surface. If you're looking for an affordable yet sustainable flooring option that will last you years without harming the environment – consider linoleum sheeting!
Rubber Bathroom Mats for Safety and Comfort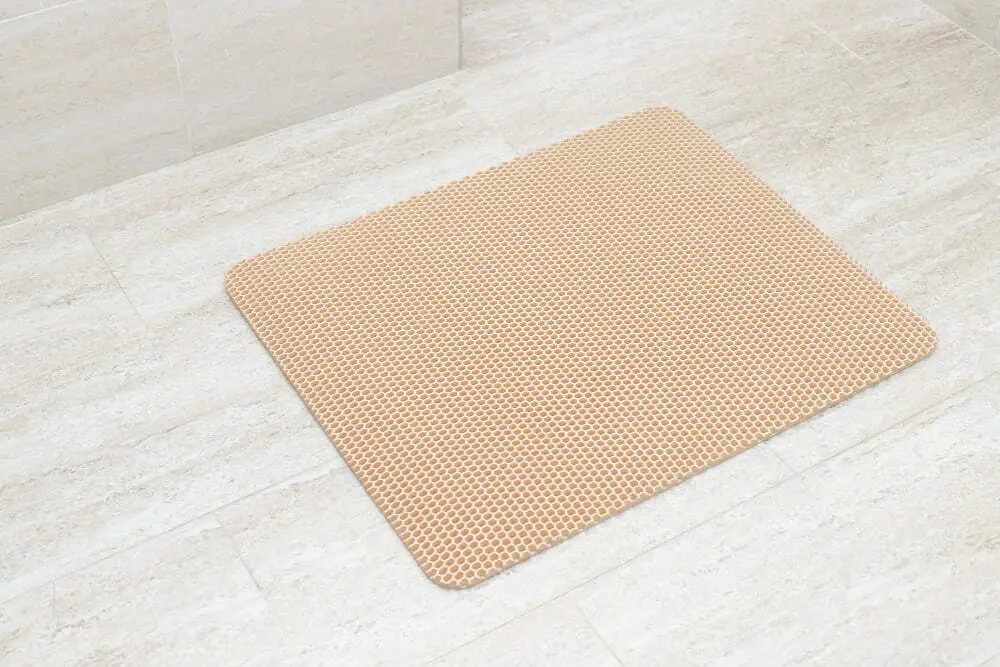 Rubber bathroom mats are a great option for those who prioritize safety and comfort in their bathrooms. These mats provide excellent slip resistance, which is especially important for households with children or elderly individuals.
Rubber mats offer a cushioned surface that can help reduce fatigue while standing at the sink or getting ready in front of the mirror. They come in various colors and designs to match any decor style, making them both practical and stylish additions to your bathroom flooring options.
Continue reading: