Last updated on September 28, 2023
Discover creative bathroom theme ideas that will transform your space into a stunning and relaxing sanctuary, perfect for unwinding after a long day.
Whether you're renovating your existing bathroom or planning to build a new one, choosing the right theme can make all the difference in creating an inviting and relaxing environment.
In this post, I've compiled 20 unique bathroom theme ideas that are sure to inspire you with their creativity and elegance. From rustic farmhouse style to minimalist modern design, there's something for everyone in this list.
So sit back, relax, and get ready to be inspired by these amazing bathroom themes!
Table of Contents
Nautical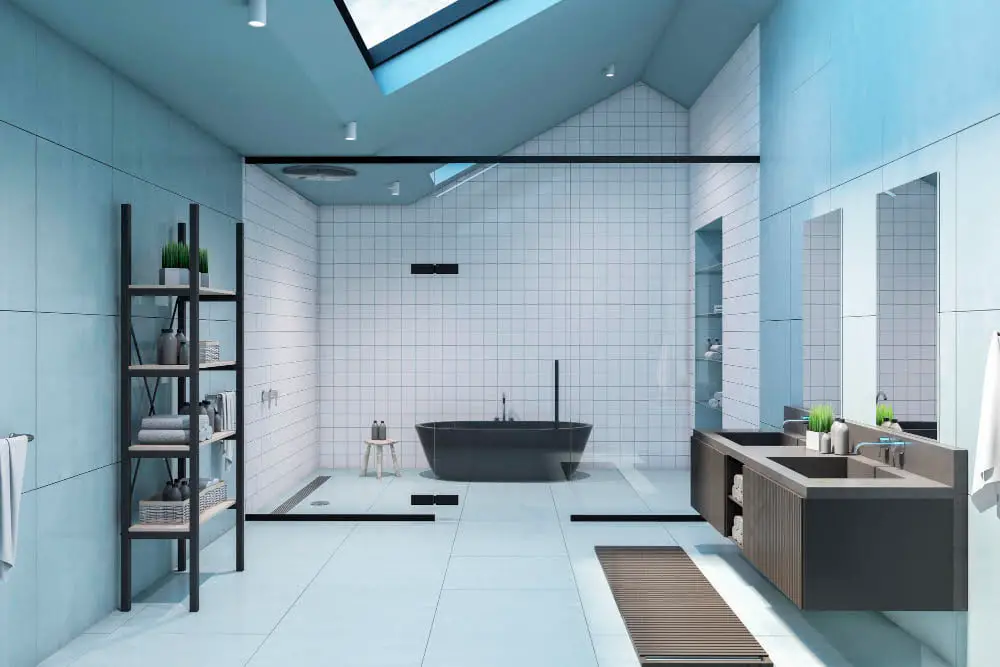 Bring the seaside into your bathroom with a nautical theme. This classic and timeless style is perfect for those who love all things coastal.
Start by incorporating navy blue and white stripes on towels, shower curtains, or even wallpaper. Add some natural elements like rope accents or driftwood decor to complete the look.
Don't forget to include seashell accessories such as soap dishes or toothbrush holders for an extra touch of beachy charm!
Tropical Paradise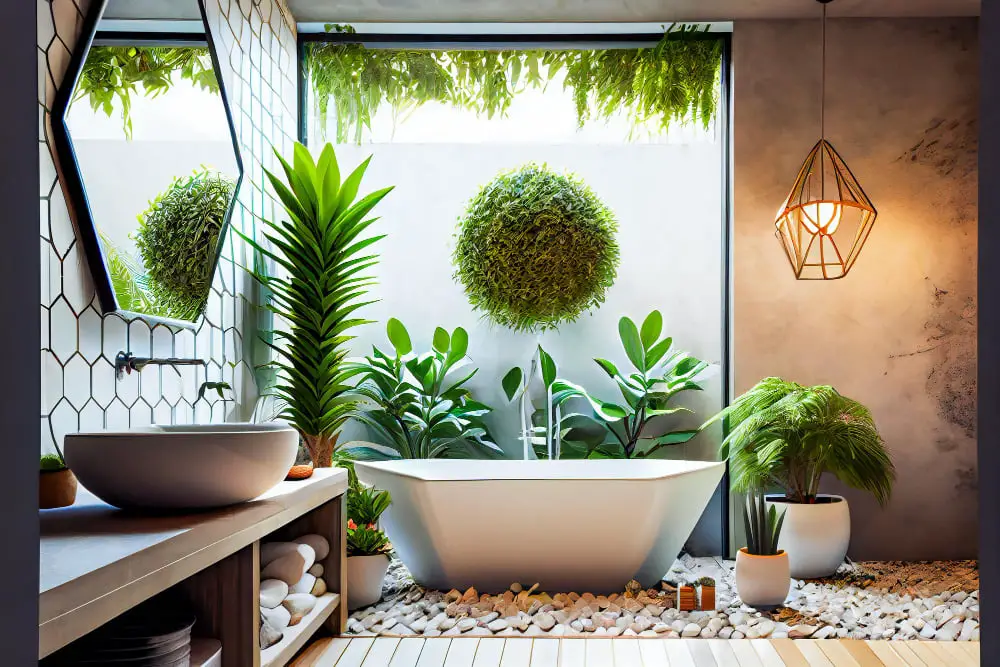 Start by incorporating greenery such as ferns and palm leaves throughout the space. Add pops of color with bright towels and accessories in shades of pink, orange, and yellow.
A bamboo or rattan mirror can add an earthy touch to the room while also reflecting light for a brighter feel. Consider adding natural elements like seashells or driftwood to complete the look.
For an added touch of luxury, invest in some high-quality bath products that feature tropical scents like coconut or mango for a truly immersive experience every time you step into your bathroom oasis!
Zen Oasis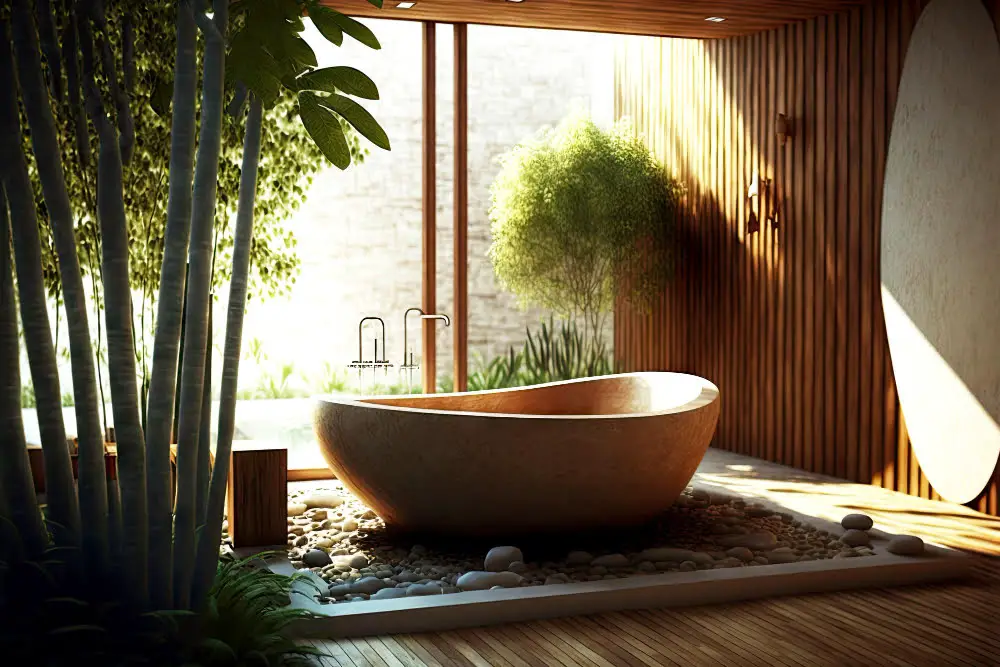 This style is all about creating an atmosphere of calm and relaxation, so choose natural materials like bamboo or stone for your accessories and decor. Keep the color palette neutral with shades of beige, white, and gray to create a serene environment that promotes tranquility.
Add some greenery in the form of potted plants or fresh flowers to bring life into the space while also purifying the air. Incorporate soft lighting fixtures like paper lanterns or dimmer switches to set just the right mood for unwinding after a long day at work.
Consider adding some aromatherapy elements such as candles or essential oils diffusers to enhance your sensory experience in this peaceful oasis you've created within your own home!
Modern Farmhouse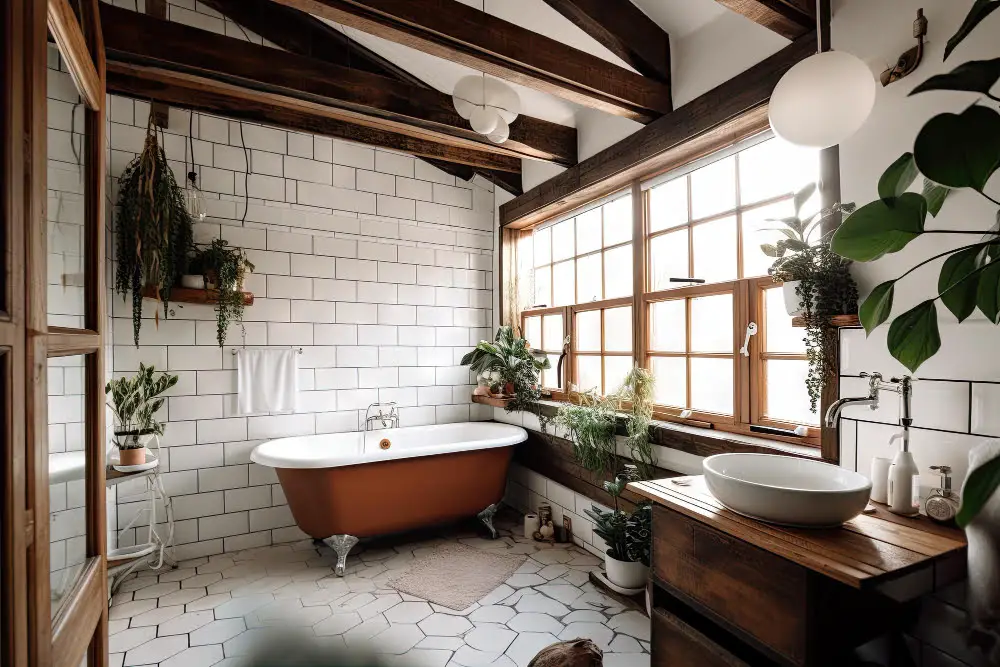 Think shiplap walls, barn doors, and vintage accents mixed with sleek fixtures and clean lines. To achieve this look in your bathroom, consider using natural materials like wood or stone for flooring and countertops.
Add some industrial-style lighting fixtures to give it a contemporary edge while still maintaining that cozy feel. You can also incorporate vintage pieces like an antique clawfoot tub or repurposed farm tools as decor items to complete the look.
Vintage Glam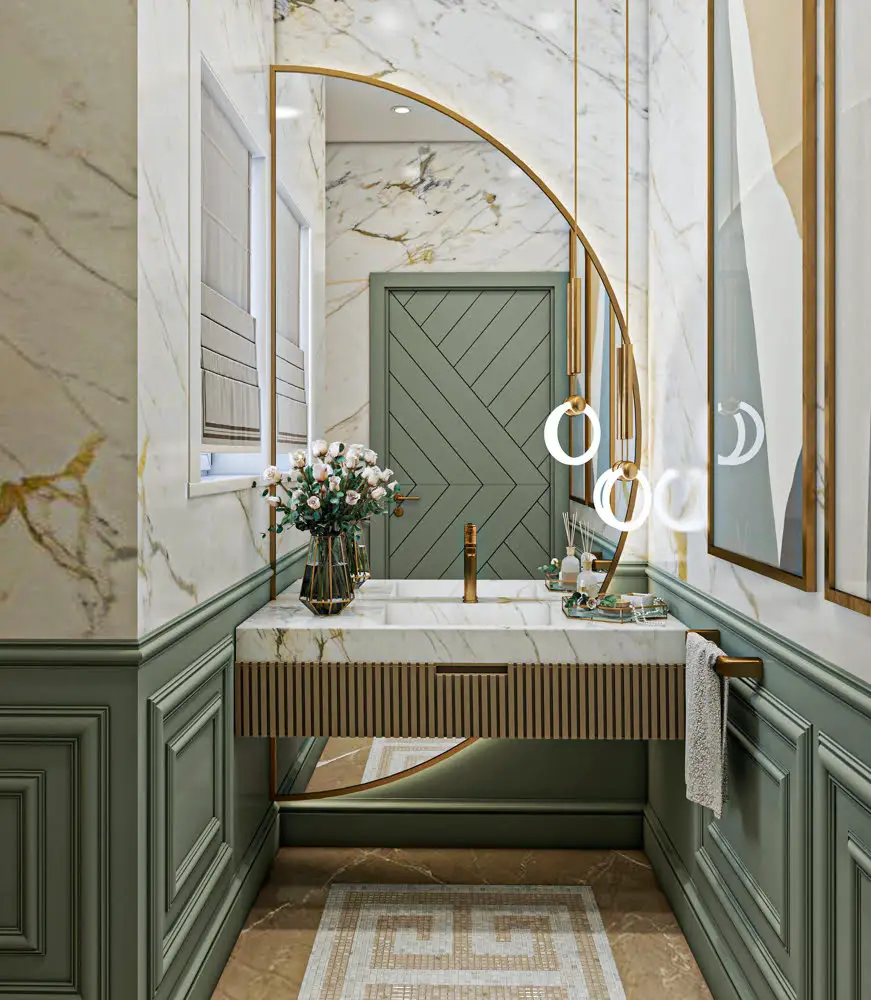 To achieve this look, start by selecting a color scheme that includes metallics like gold or silver and rich jewel tones such as emerald green or sapphire blue. Incorporate vintage-inspired elements such as an ornate mirror, crystal chandelier, and clawfoot bathtub to create a luxurious feel.
Add modern accents like sleek faucets and geometric tiles to balance out the old-world charm with contemporary style. Finish off the look with plush towels in coordinating colors for added comfort and glamour.
Industrial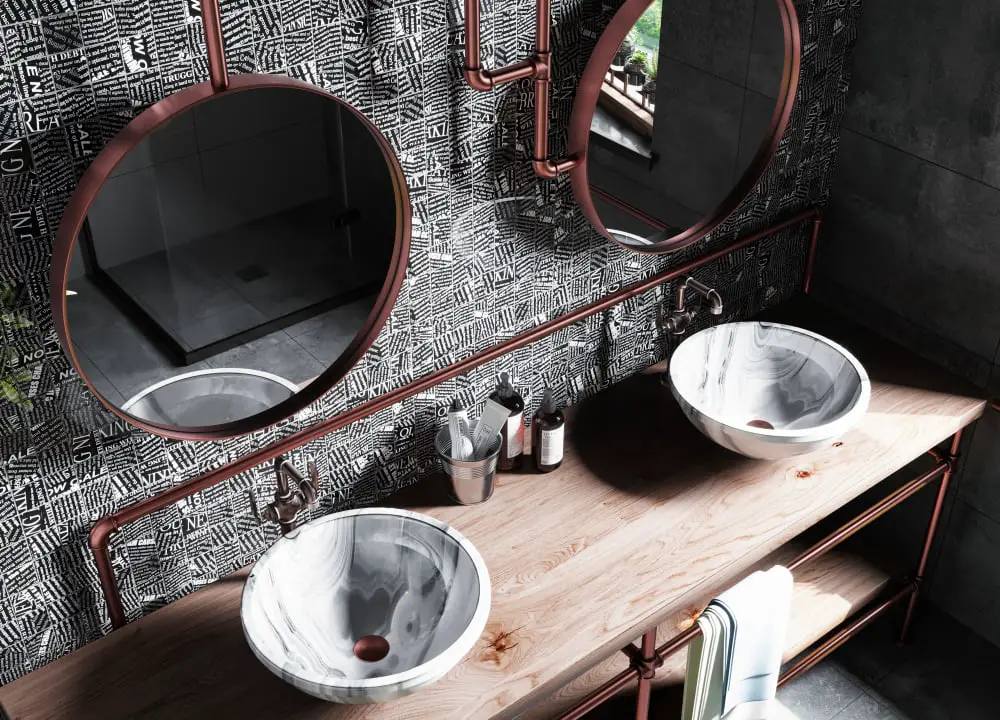 This theme features elements such as exposed pipes, concrete walls or floors, metal accents and vintage lighting fixtures. To achieve an Industrial Chic look in your bathroom, consider incorporating materials like steel or iron into your decor scheme.
You can also add touches of wood to soften up the space and create a more inviting atmosphere. A great way to complete this aesthetic is by using black-and-white color schemes for accessories like towels or shower curtains which will give it that classic industrial feel while still being stylishly chic!
Rustic Retreat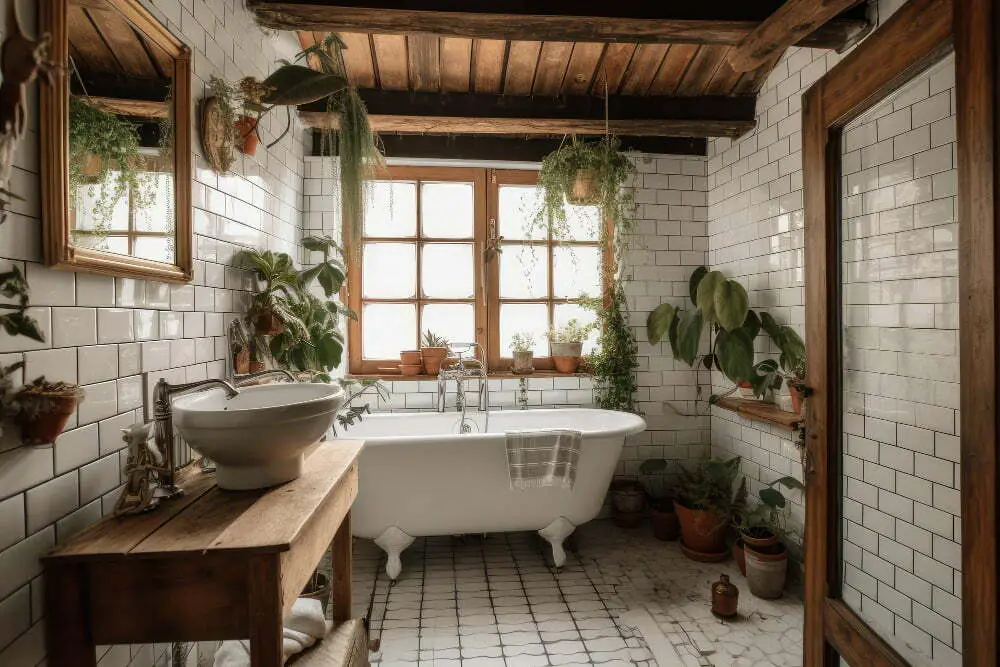 This style is all about bringing the outdoors in with natural materials like wood, stone, and brick. To achieve this look, consider installing wooden beams on your ceiling or using reclaimed wood as an accent wall.
You can also incorporate stone tiles or a river rock backsplash to add texture to your space.
For accessories and decor items, think about adding woven baskets for storage or displaying vintage mason jars filled with wildflowers on open shelves. A rustic vanity made of distressed wood will complete the look perfectly.
Scandinavian Simplicity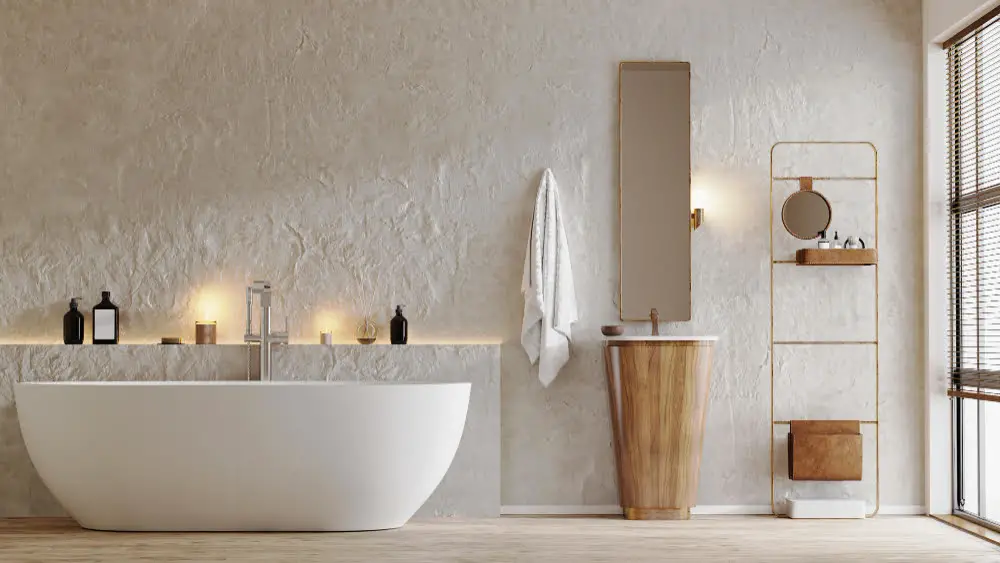 To achieve this look, opt for clean lines and neutral colors such as white or light gray. Use wood accents to add warmth to the space while keeping it simple.
Incorporate storage solutions like floating shelves or cabinets with sleek handles to keep clutter at bay. Add texture with woven baskets or towels in muted tones of beige or pale blue for a cozy touch.
Finish off the look by adding greenery in small pots on windowsills or hanging from the ceiling – this will bring life into your bathroom while still maintaining its simplicity!
Moroccan Magic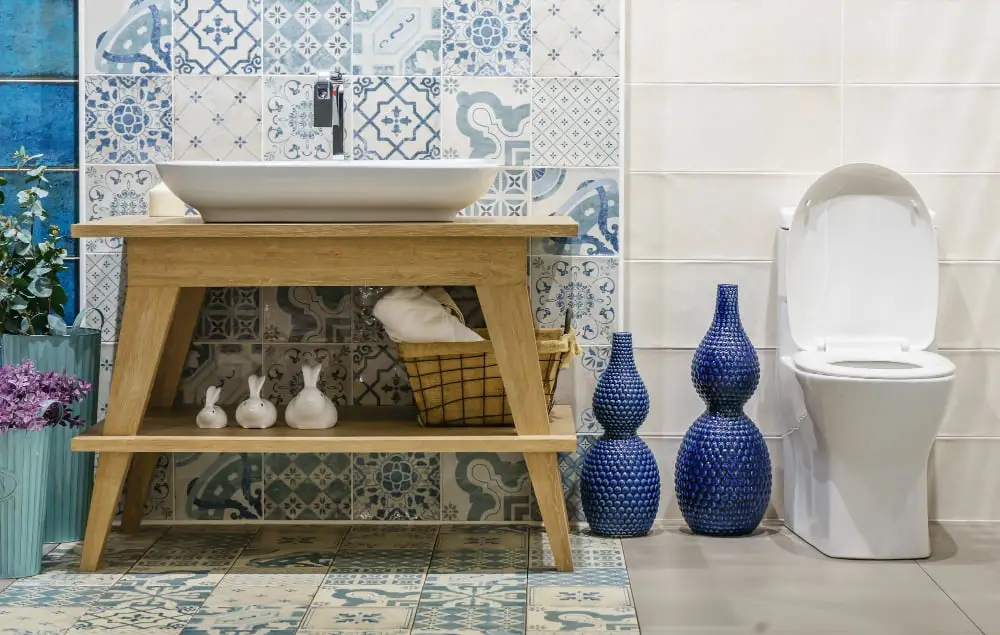 Start by painting the walls in warm, earthy tones such as terracotta or deep reds. Add intricate tile work to create a stunning backsplash behind your sink or shower area.
Look for Moroccan-inspired accessories like lanterns, poufs, and patterned towels to complete the look.
For an added touch of luxury, consider installing a freestanding bathtub with ornate metalwork details reminiscent of traditional Moroccan baths. Finish off the space with some greenery such as potted palms or succulents to bring life into this magical oasis.
Nature-inspired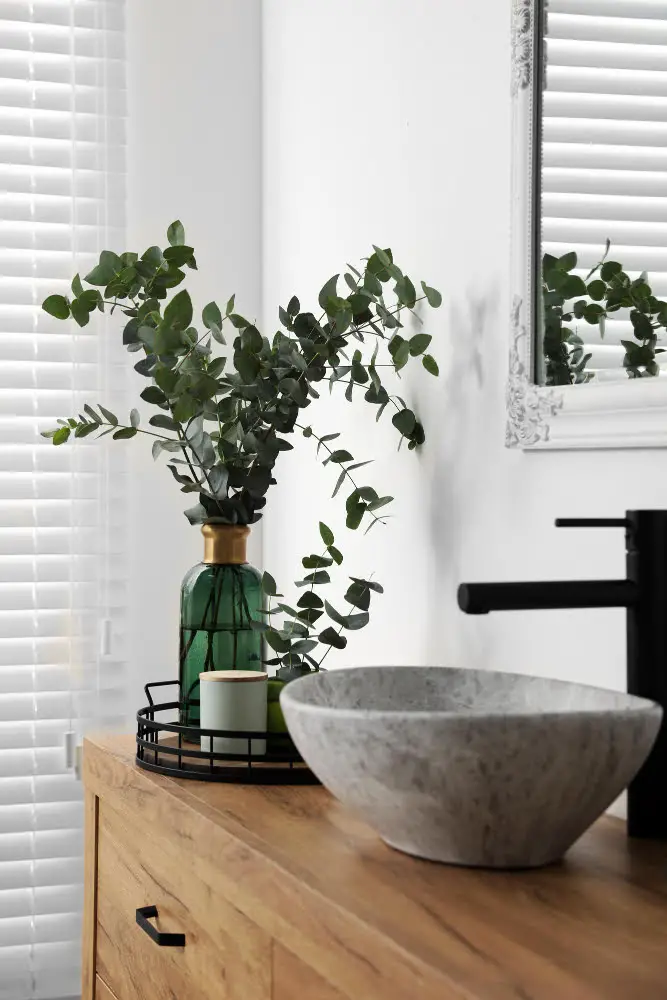 This theme is perfect for those who love natural elements and want to create a calming and relaxing space. To achieve this look, incorporate materials such as wood, stone, and plants into your bathroom design.
Use earthy colors like greens, browns, and blues on walls or tiles to mimic the natural environment. You can also add nature-themed decor such as leaf-shaped soap dishes or floral shower curtains for an extra touch of charm.
A nature-inspired bathroom will make you feel like you're in a spa retreat every time you step inside!
Art Deco Elegance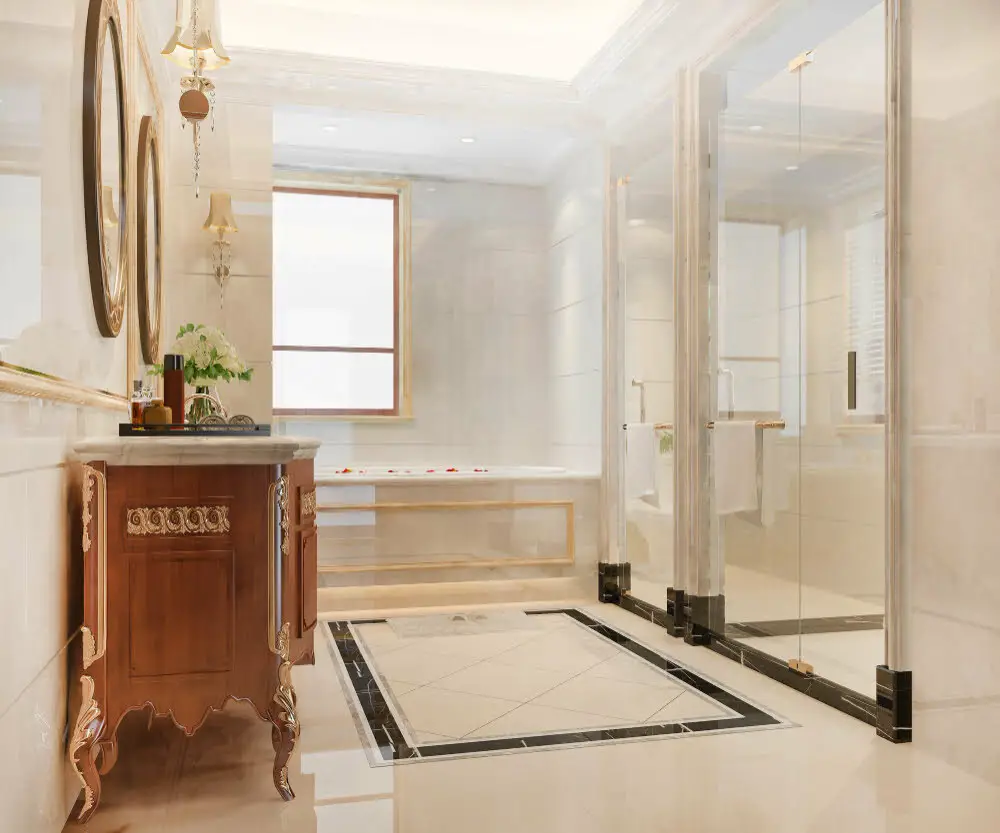 This style is characterized by bold geometric shapes, metallic accents, and luxurious materials such as marble or velvet. Choose a color scheme of black, white, gold or silver to create a sleek look that exudes elegance.
Incorporate mirrored surfaces and crystal accessories to add sparkle and shine to the space. A statement chandelier can also be the perfect finishing touch for an Art Deco-inspired bathroom design.
Beach Getaway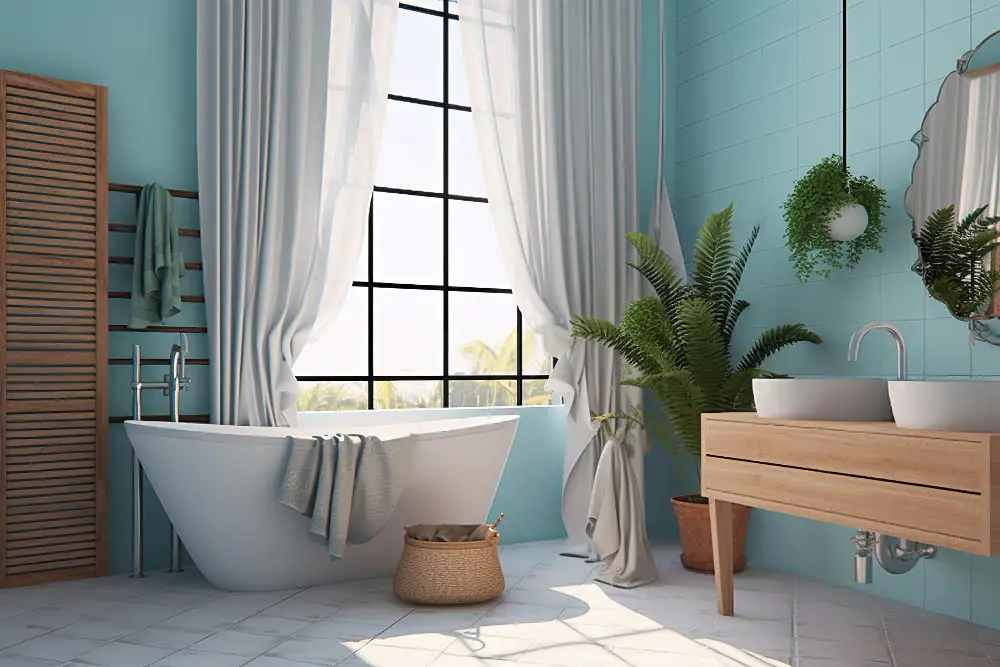 Start by incorporating shades of blue and green reminiscent of the ocean, along with sandy beige tones. Add natural elements like seashells, driftwood, and coral for a touch of authenticity.
Hang up some beach-themed artwork or photographs to complete the look.
To really make it feel like you're at the shore, consider adding some nautical touches such as rope accents or anchor motifs on towels or shower curtains. A wooden ladder can be repurposed as a towel rack while also adding an element of rustic charm.
Monochrome Minimalism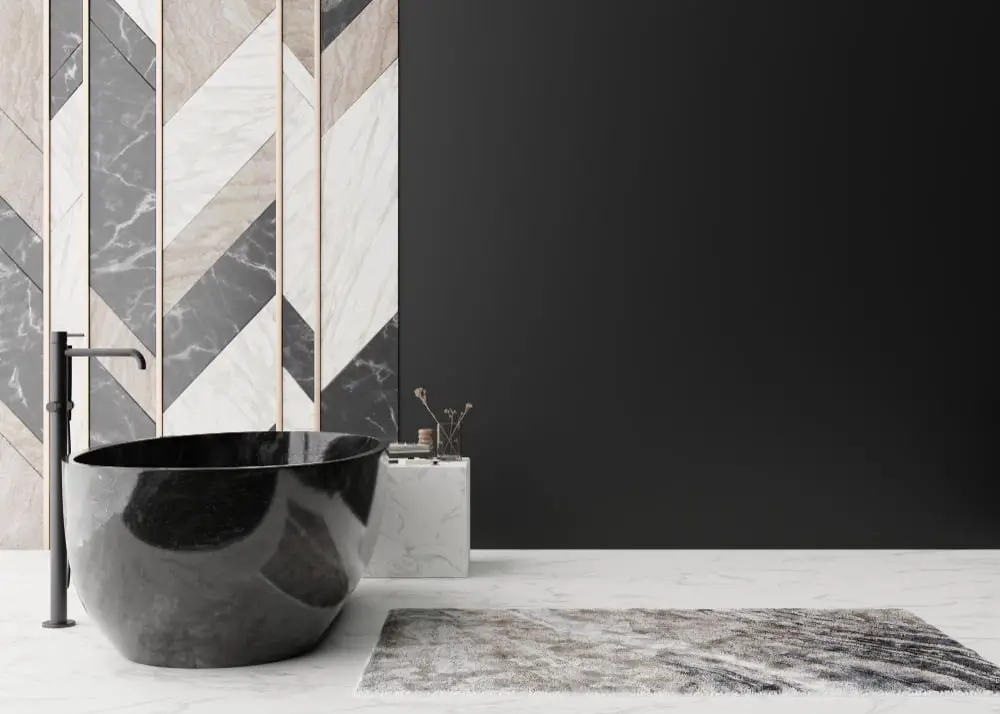 This style uses only black, white, and shades of gray to create a sleek and modern look. To achieve this aesthetic, consider using large format tiles in shades of gray or white for the walls and floors.
Add black accents through fixtures such as faucets or showerheads to create contrast against the light background. Keep clutter at bay by incorporating minimalistic storage solutions like floating shelves or cabinets with simple handles in matte finishes that blend seamlessly into the monochromatic color scheme.
A few well-placed plants can add some natural texture while maintaining the minimalist vibe of your bathroom design scheme.
Classic Cottage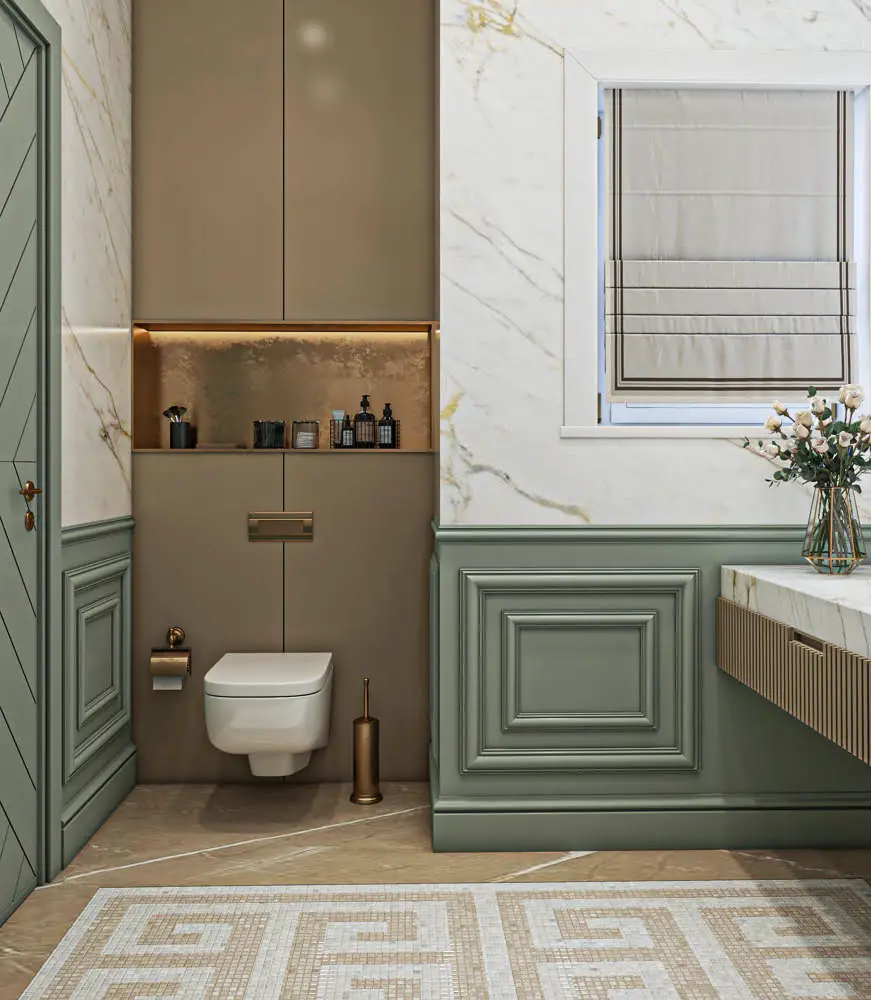 This theme is all about creating a warm and welcoming atmosphere with soft colors, natural materials, and vintage-inspired details. To achieve this look in your bathroom, start by choosing a color palette of muted pastels or earthy tones like sage green or dusty blue.
Then add some rustic elements such as wooden shelves or wicker baskets to store towels and toiletries.
For the walls, consider using beadboard paneling painted in white or light gray to create that charming country feel. You can also incorporate floral patterns on shower curtains or window treatments for an extra touch of whimsy.
To complete the classic cottage look in your bathroom decor, accessorize with antique mirrors framed in distressed wood frames along with vintage-style lighting fixtures such as sconces made from wrought iron metalwork.
Bohemian Bliss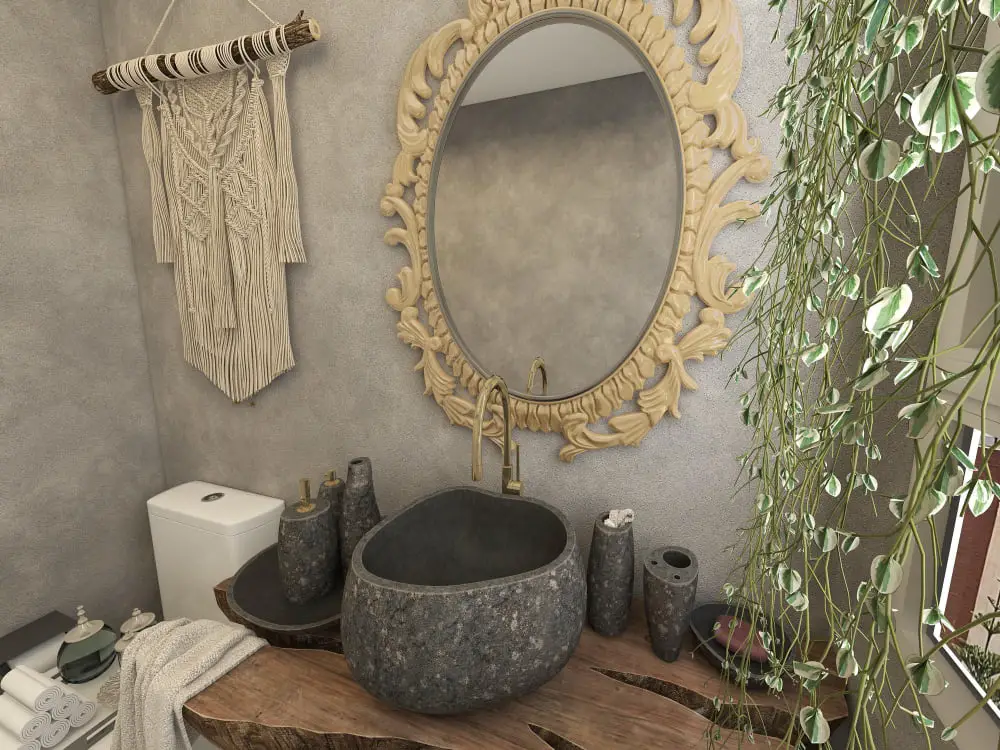 This theme is characterized by bold patterns, vibrant colors, and an eclectic mix of textures. To achieve this look in your bathroom, start with a neutral base color like white or beige on the walls and floors.
Then add pops of color through accessories such as towels or rugs in shades like turquoise or fuchsia.
To really embrace the boho vibe, consider adding some macrame wall hangings or woven baskets to store your toiletries. Plants are also essential to this style – hanging ferns or succulents can bring life into any space! don't be afraid to mix different materials such as wood and metal finishes for added texture.
Tuscan Villa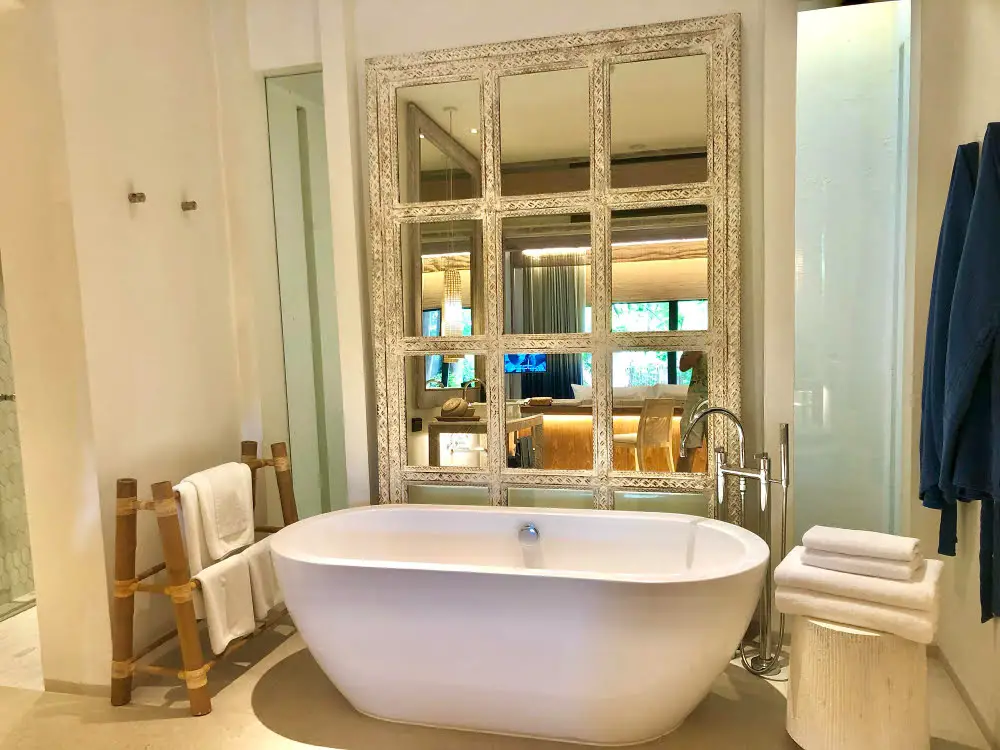 Start by incorporating earthy tones such as terracotta, olive green, and warm beige. Use natural materials like stone or wood for flooring and countertops to create a rustic feel.
Add wrought iron accents in the form of towel racks or light fixtures to complete the look. Finish off with Tuscan-inspired accessories like pottery vases filled with fresh flowers or herbs, vintage mirrors framed in distressed wood, and plush towels in rich colors that evoke images of rolling hillsides dotted with vineyards.
French Country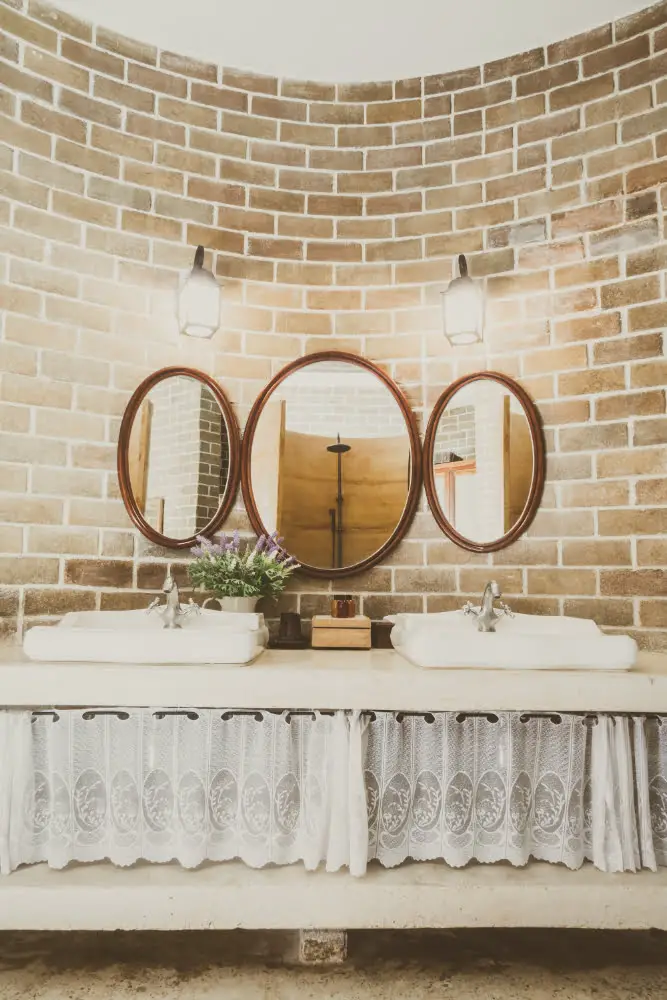 This style is characterized by its rustic yet refined elements, such as distressed wood, wrought iron accents, and soft pastel colors. To achieve this look in your bathroom, consider adding a clawfoot tub with an antique finish or a vintage-inspired vanity with ornate details.
Incorporating natural materials like stone or brick can also add to the French Country aesthetic while providing texture and warmth to the space. Finish off the look with delicate floral patterns on textiles like shower curtains or towels for an added touch of femininity.
Geometric Patterns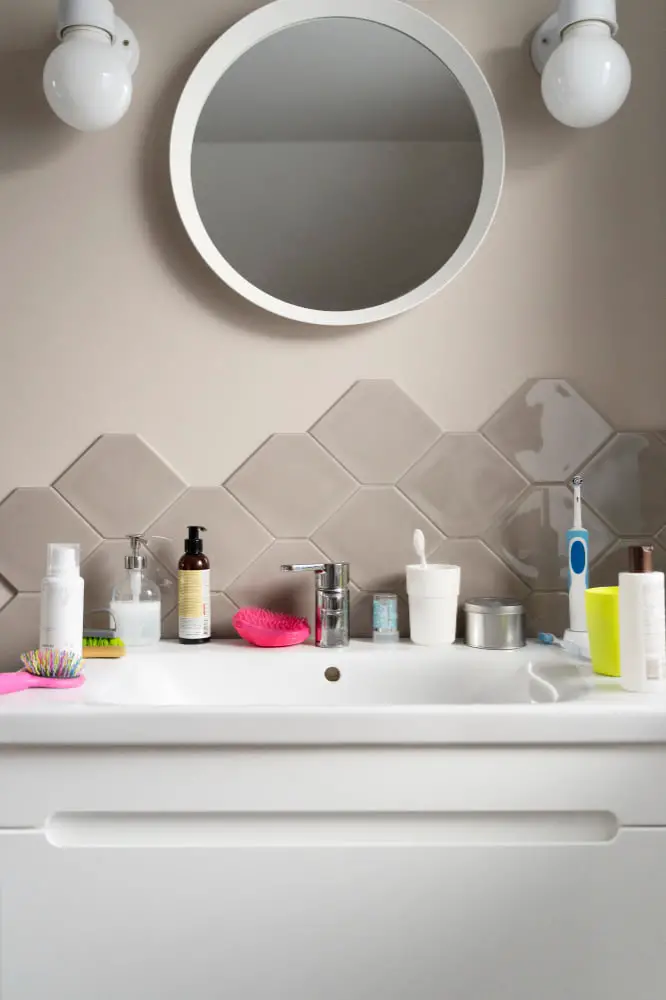 From hexagonal tiles on the floor or walls, to diamond-shaped mirrors or shower curtains with bold stripes, there are endless ways you can incorporate geometric shapes into your bathroom decor.
One popular trend is using black and white geometric patterns for a modern look that never goes out of style. You could also opt for colorful triangles, squares or circles if you want something more playful and fun.
If you're feeling adventurous, consider mixing different types of geometrical shapes together in one space. For example, combine hexagonal tiles with circular mirrors or square shelves for an eclectic yet cohesive look.
Retro Revival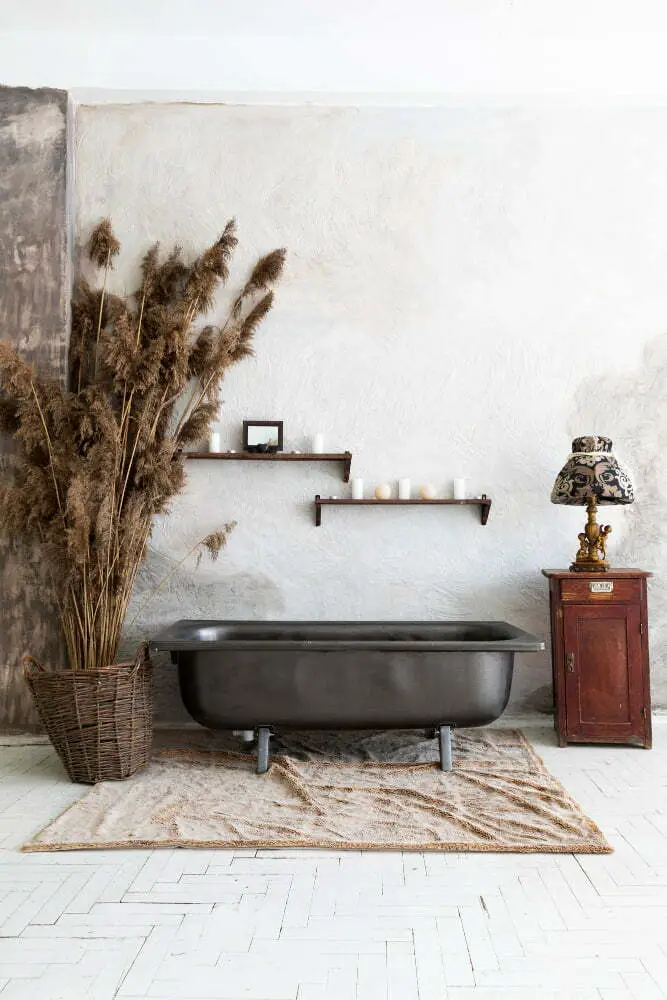 This style takes inspiration from the 1950s and 60s with bold colors, geometric patterns, and funky accessories. To achieve this look in your bathroom, start by choosing a color scheme that includes bright hues like turquoise or pink paired with black and white accents.
Next up is finding retro-inspired fixtures such as clawfoot tubs or pedestal sinks to give your space an authentic feel. Don't forget to add some fun accessories like old-school radios or vintage advertisements on the walls.
For flooring options consider checkerboard tiles which were popular during this era. Finally complete the look by adding chrome finishes on faucets and hardware throughout your space.
Traveller's Hideaway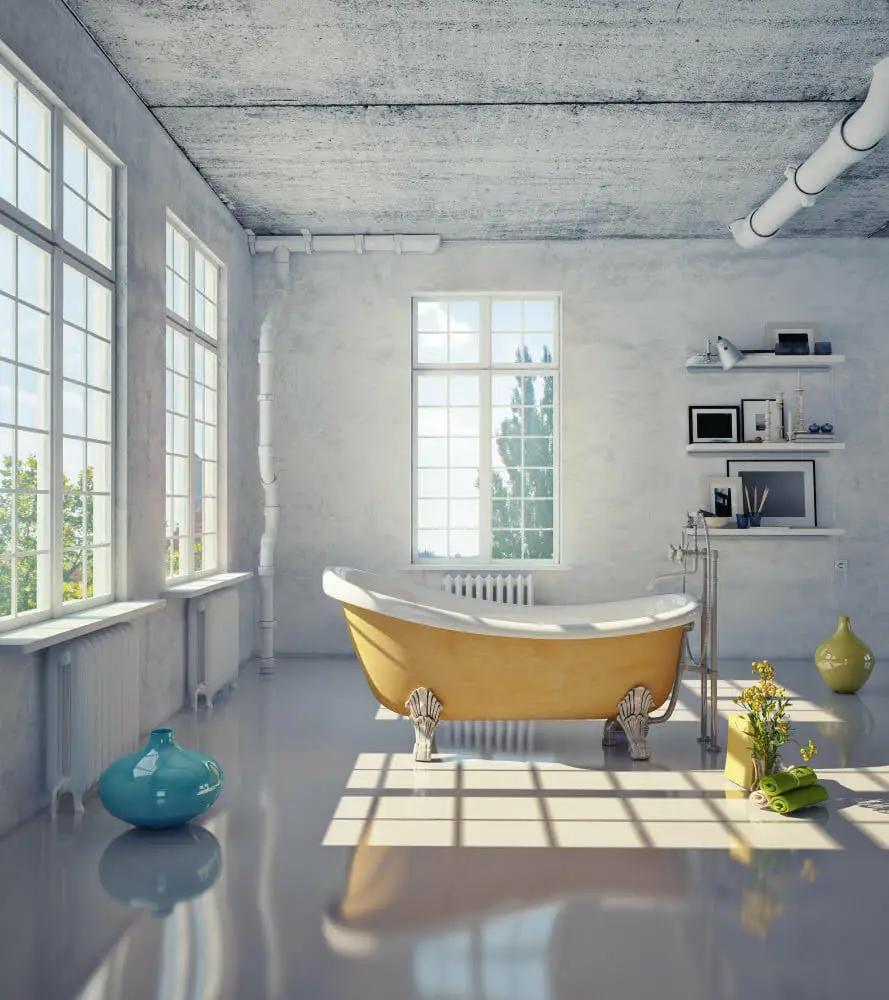 This theme is all about incorporating elements from different cultures and countries into your bathroom decor. Think vintage maps, globes, postcards or souvenirs from places you've visited.
You can also add some exotic touches like Moroccan tiles or Indian textiles for an eclectic look. Use earthy tones such as browns and greens with pops of bright colors like reds and blues to create an adventurous vibe.
To complete the look, consider adding some natural materials such as bamboo or rattan accessories along with plants that remind you of tropical destinations. With this theme in place, every time you step into your bathroom it will feel like stepping out on another adventure!
Tropical Paradise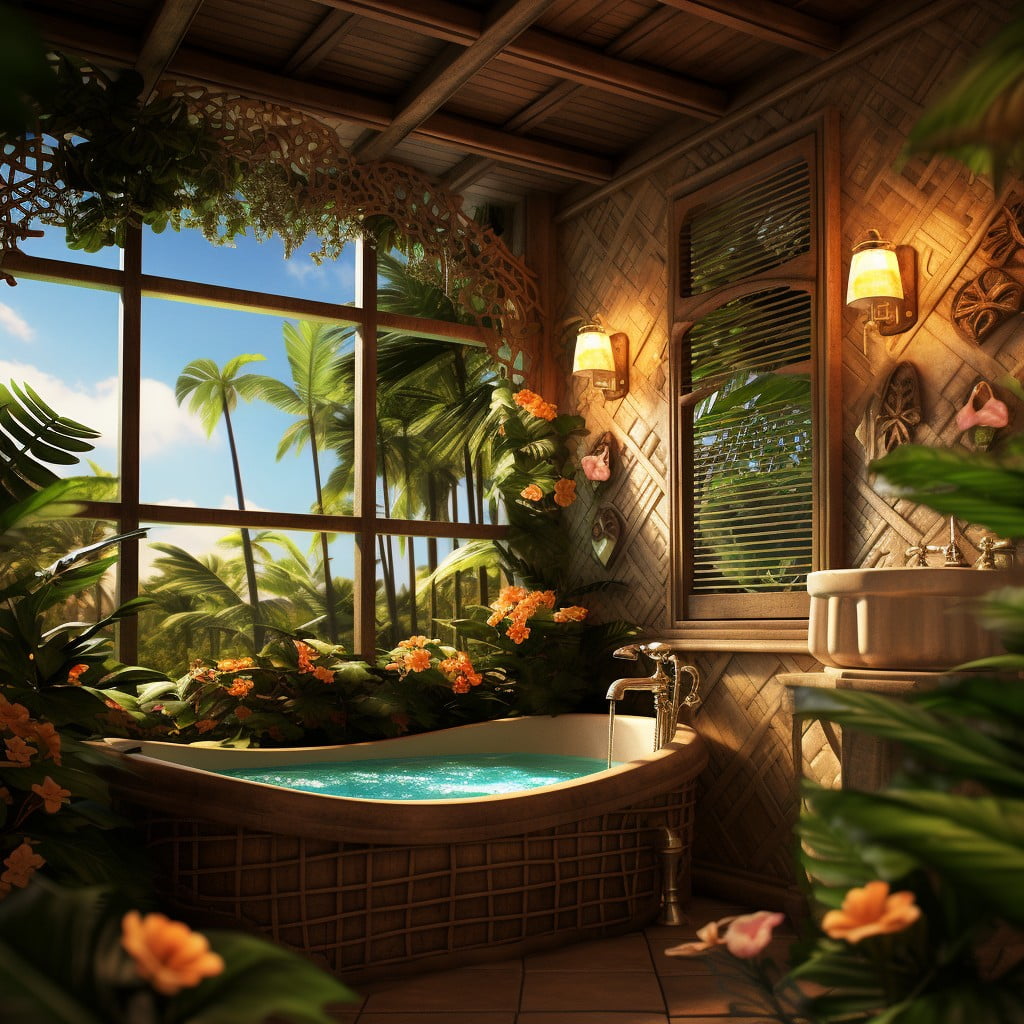 The principles of creating a Tropical paradise setting revolve around infusing a vacation-like ambiance right in your home.
Key points include:
Color Scheme: Opt for warm, tropical hues like aqua blue, coral, and sunshine yellow that mirror the colors of a beach.
Materials: Bamboo and rattan are essential for an island-inspired space. Wicker baskets and woven rugs complement the look.
Lighting: Natural light is key, supplement with soft, warm artificial lighting for the evenings.
Tropical Flora: Add indoor plants like Monstera, palms or orchids.
Accessories: Images of palm leaves, a sea-shell soap dish, or drift-wood mirror frame increase the tropical vibe.
Textures: Textiles like bath mats and towels can be in bold, tropical prints or solid tropical colors.
Fixtures: Bronze or brass faucets and fixtures elevate the tropical mood.
Floral Garden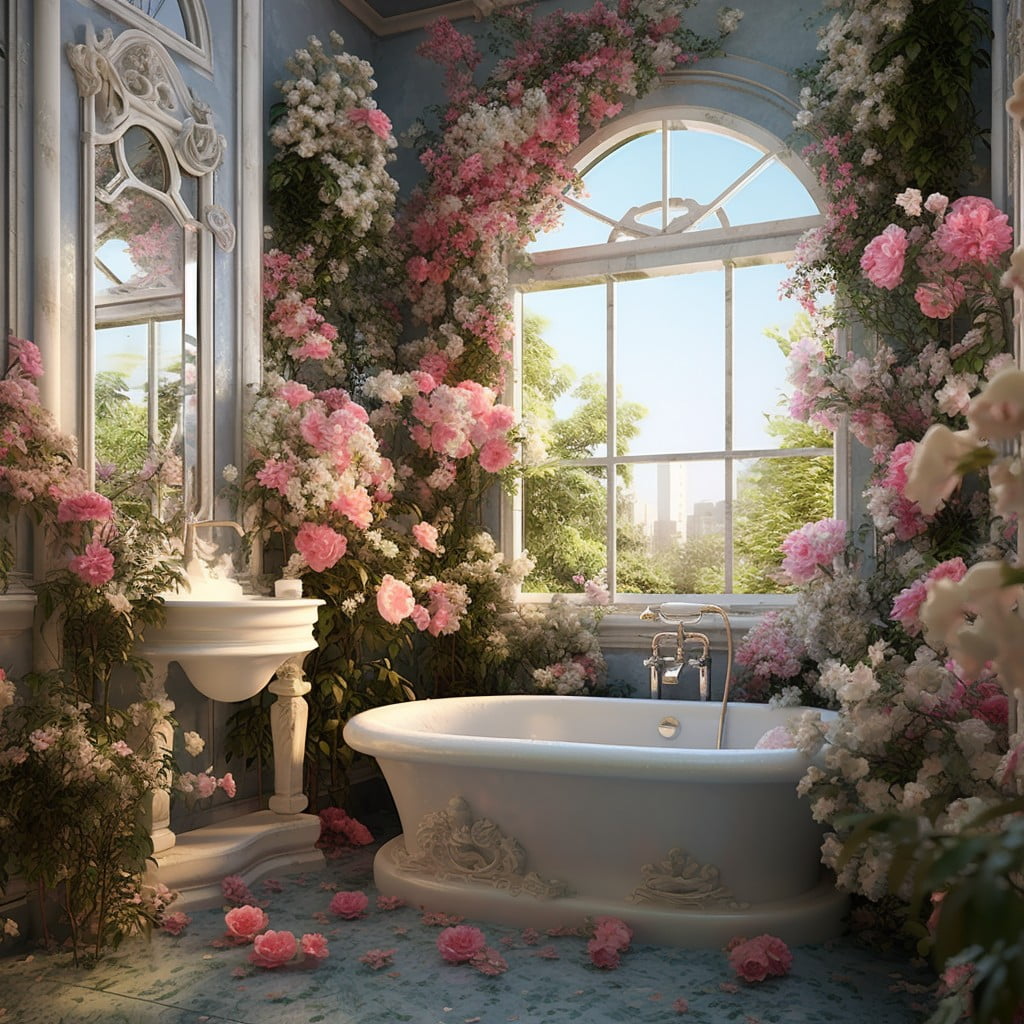 Paving the path to this theme begins by choosing the right wall colors. Light tones such as sage, lavender or soft rose act as the perfect backdrop. Wallpaper with floral patterns offer another feasible choice, but it's important to remember not to overwhelm the space.
Subtlety continues to reign supreme when it comes to fixtures and fittings. Antique bronze or brushed nickel formulate a soothing contrast with the pastel hues. Mirrors adorned with floral engravings or interestingly shaped like flowers can serve as statement centerpieces.
Moving on to textiles – opt for towels, curtains, and bathmats featuring floral embroidery. A shower curtain displaying beautiful blossoms injects yet more nature into the environment.
As always, the power of accessories should not be underestimated. Vases with fresh or artificial flowers, decorative soaps shaped like flowers, and framed botanical prints introduce the final touches. With this theme, the bathroom becomes a refreshing sanctuary brimming with nature's beauty.
Light wall colors, floral wallpaper.
Subtle fixtures – antique bronze, brushed nickel.
Floral elements in textiles.
Use of floral accessories.
Modern Minimalist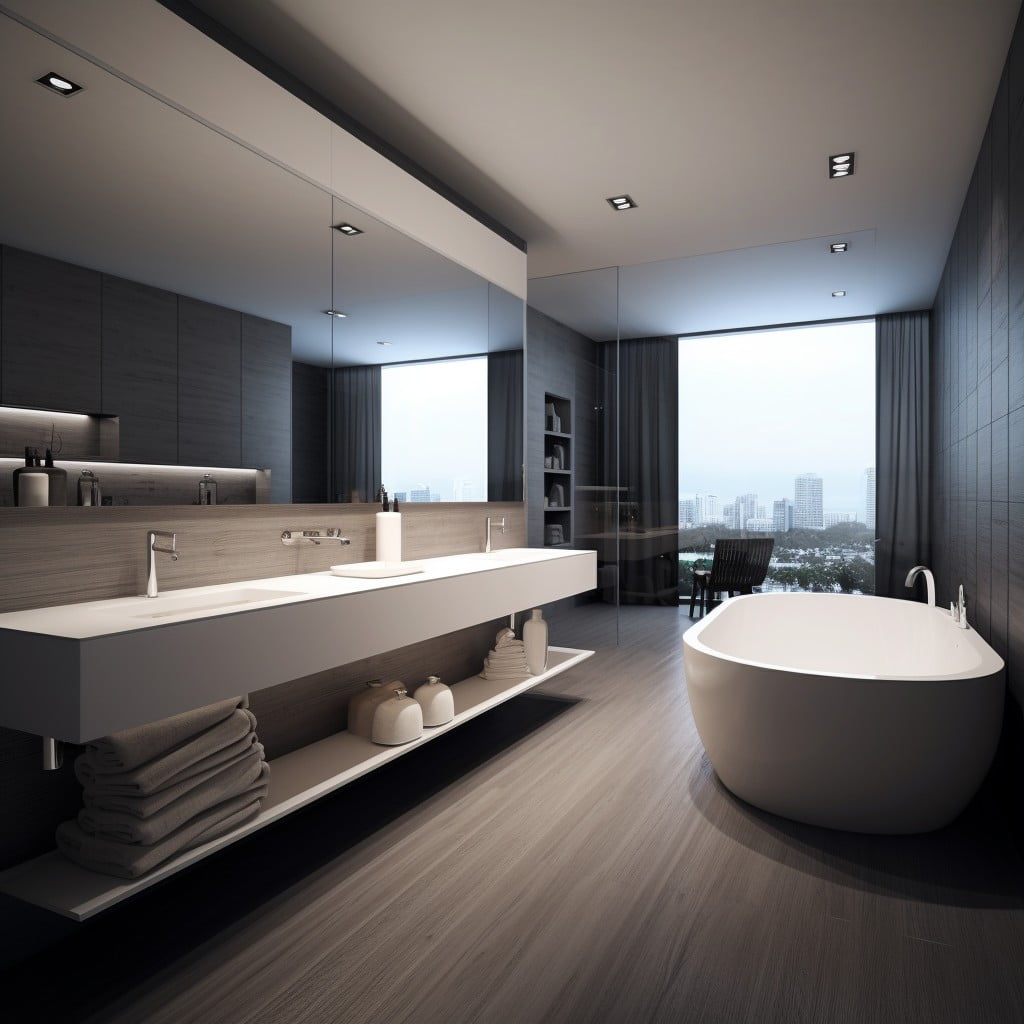 Opting for a Modern minimalist design can breathe new life into any bathroom. First, select a color scheme characterized by neutrals like white, gray, or beige which are at the core of this style. Subtly incorporate occasional flashes of color for a vibrant accent.
Second, remember that form follows function. This design ethic promotes clean lines and geometric shapes reflected in fittings and furniture. Choose simple, sleek chromed faucet, frameless mirror, and a floating vanity.
Third, clear your space of clutter. Built-in storage is essential to maintain an austere environment. Hidden drawers and cabinets should keep your toiletries and necessities out of sight.
Finally, maintain an open space with plenty of natural light to highlight your minimalist bathroom. This style is all about simplicity, functionality, and elegance. In embracing less, you'll find that you get so much more from your modern minimalist bathroom.
Rustic Farmhouse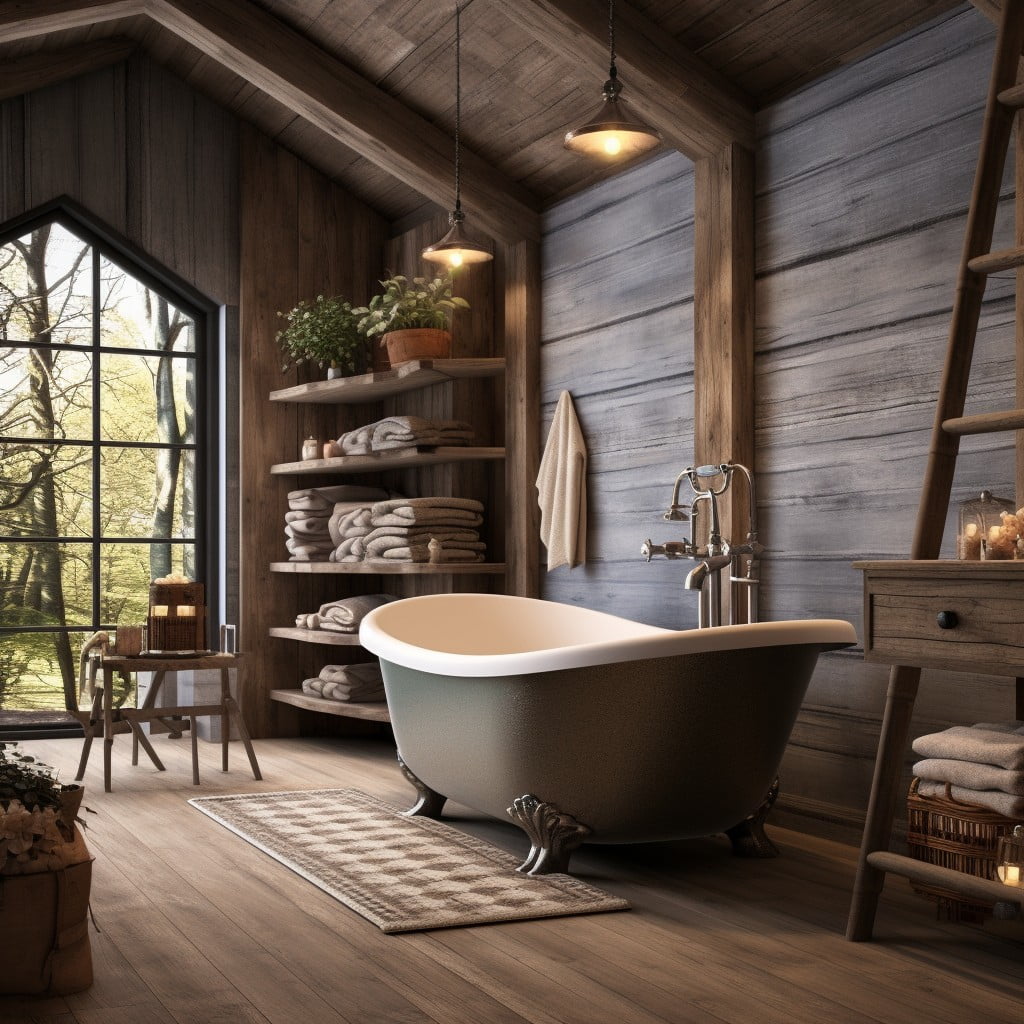 Characterized by natural textures and materials, the essence of this design exudes rural charm.
Key points:
Wood: The prominent material in this theme, running the gamut from salvaged barn wood to polished pine.
Neutral Palette: Predominantly made up of whites, creams and earthy tones to evoke a calming, cozy ambiance.
Vintage Accents: Old-timey elements, such as mason jar lights, antique mirrors, and refurbished furniture, add character.
Functional Accessories: Open shelves stocked with cotton towels and pottery bring in practical elements.
Natural Elements: Incorporate plants, flowers, or even a bowl of pinecones to tie in an organic finishing touch.
Nautical Sea Life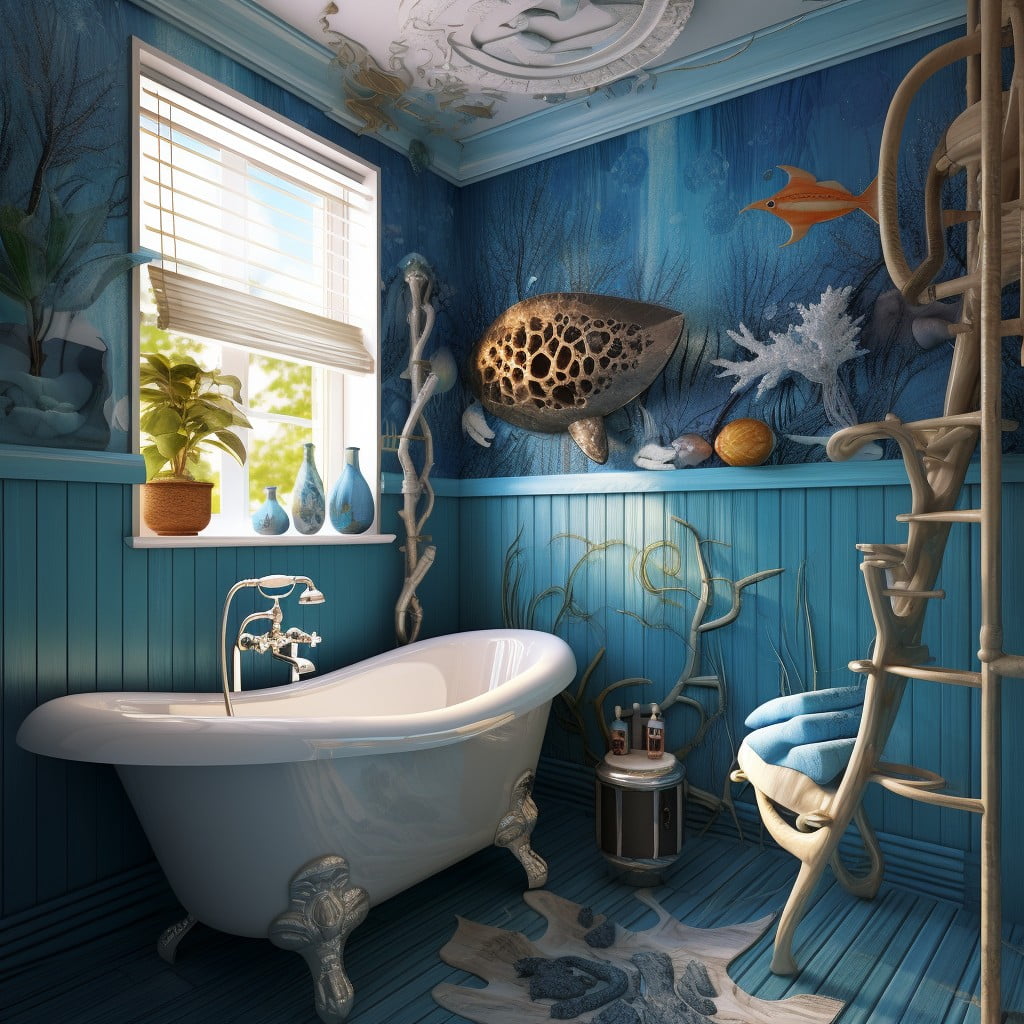 To embody this concept, focus on sourcing decor items which echo the hues and textures of the seaside. Key elements can include:
Color Palette: The tranquil blues of the sea, sandy beige, muted greens, and distressed whites should dominate your color scheme.
Texture: An assortment of materials like weathered wood, rope, chunky knits, and glass offers a dynamic, tactile aspect.
Patterns: Stripes are a classic nautical pattern, but don't be afraid to incorporate fish, shell, and wave patterns too.
Fixtures: Vintage ship lantern-style lighting or brass fixtures tend to exude that seafaring spirit.
Accessories: Anchor motifs, shells, sea glass, boat oars, and antique maps all give that maritime feel without being too overt.
Remember, don't stray too far into cliché sea motifs. Balancing the subtle with the overt paves the way for a cohesive, nautical sea life-themed bathroom.
Classic Black and White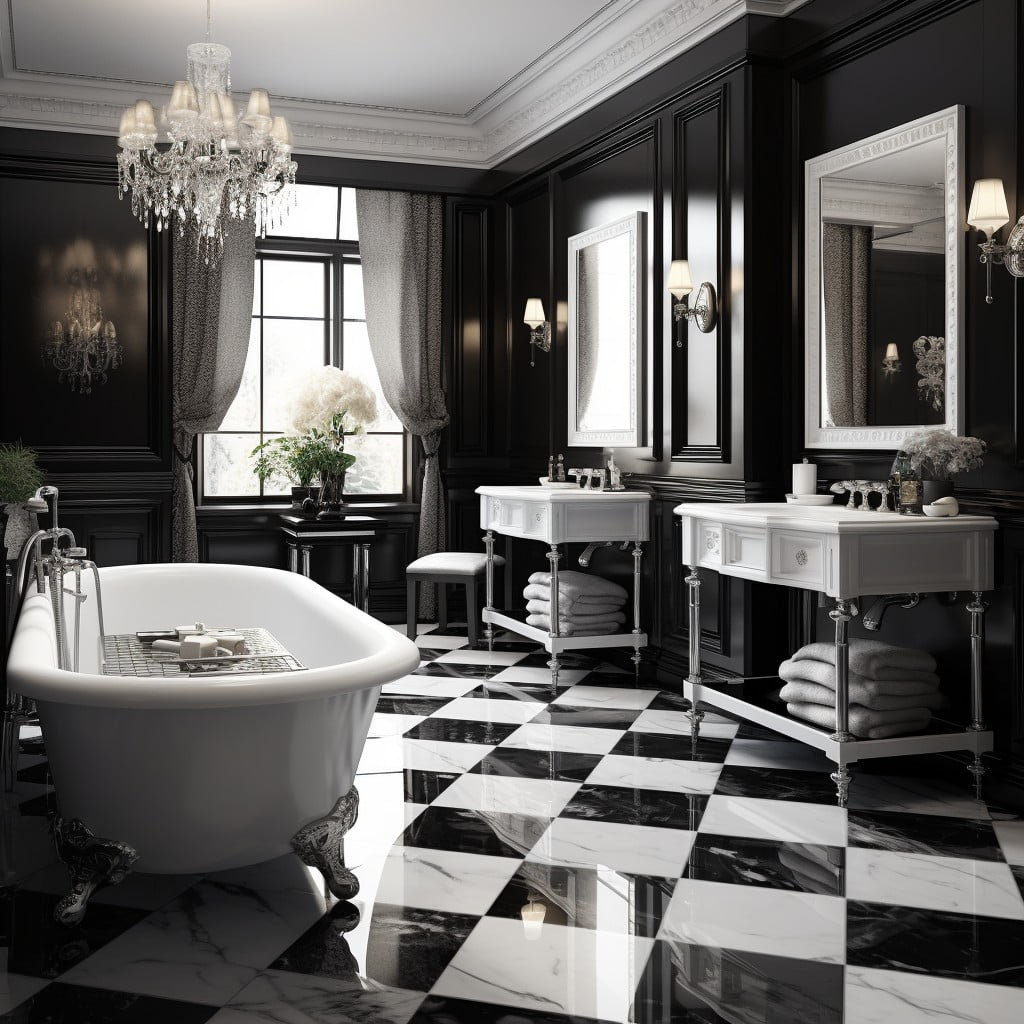 Embracing the timeless appeal of this particular design approach includes employing a minimalist approach to decor. Key elements include:
Colors: Stick to a monochrome scheme – primarily white, punctuated with black as an accent color to create a stark contrast.
Tiles: Opt for black and white subway tiles or geometric patterns for both floor and walls. This will ensure visual interest while maintaining the aesthetics.
Fittings: Choose chrome hardware and fixtures to enhance the sense of sophistication.
Accessories: Incorporate white towels and mats. In addition, choose gloss black or glass items for a touch of luxury.
Lighting: Invest in modern, simple fixtures. Opt for lights that feature straight lines to augment the overall theme.
Consider installing black vanity units or white sinks on them for a perfect classic black and white bathroom indulgence. Remember, the key idea of this particular design is simplicity punctuated by elegance and contrast.
Luxury Spa Retreat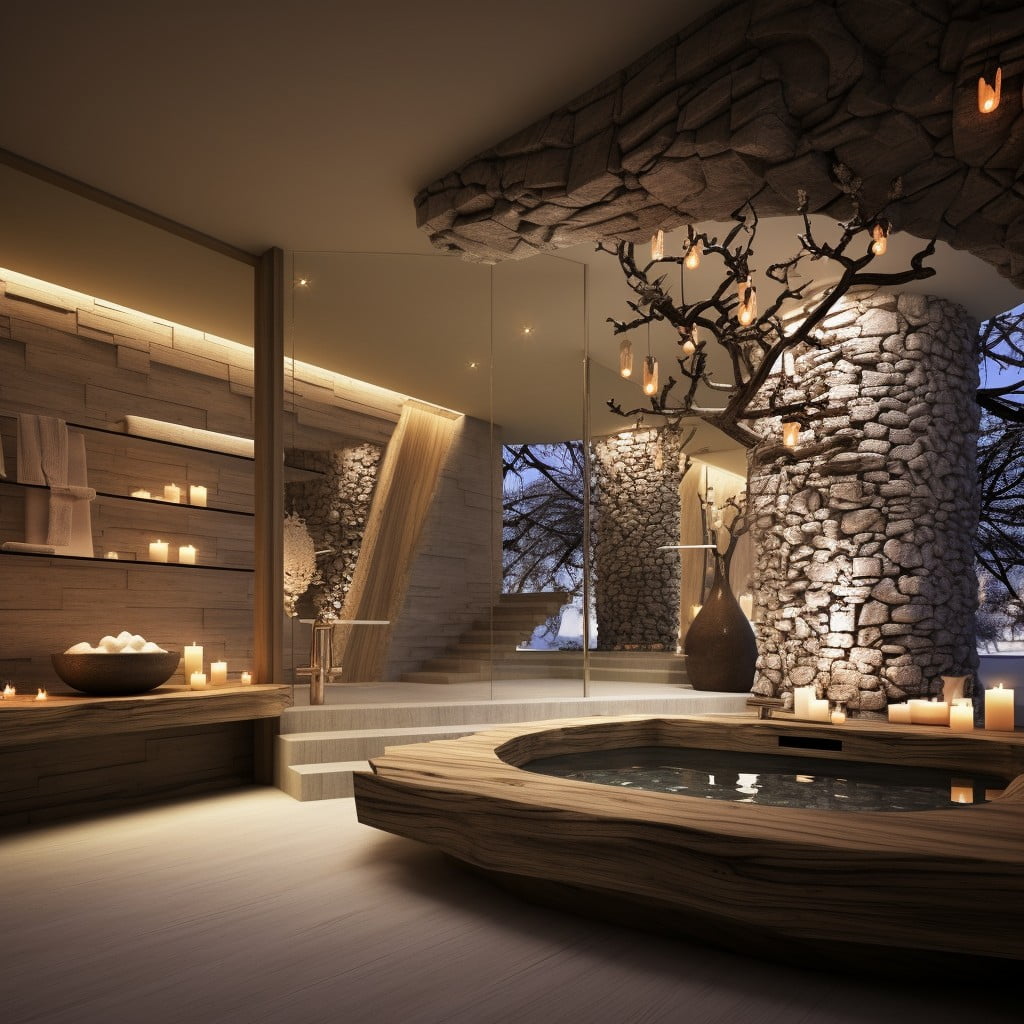 A luxury spa retreat bathroom transforms the necessity of bathing into an indulgent treat. The key concepts behind this theme are relaxation, simplicity, and indulgence.
Key points:
Create a serene atmosphere with neutral or earthy color schemes.
Incorporate natural materials such as stone or wood.
Use plush towels and rugs to recreate a genuine spa experience.
Invest in high-quality fixtures, like a rainfall shower-head or a jacuzzi bathtub.
Ambience-enhancing details: scented candles, potted plants, and a waterproof speaker for soft music.
Keep decor minimal to maintain a clutter-free, relaxing environment.
Ensure good lighting, maybe include a dimmer to adjust according to the mood.
Use compartmentalized storage solutions to keep your spa items neatly tucked away when not in use.
Jungle Explorer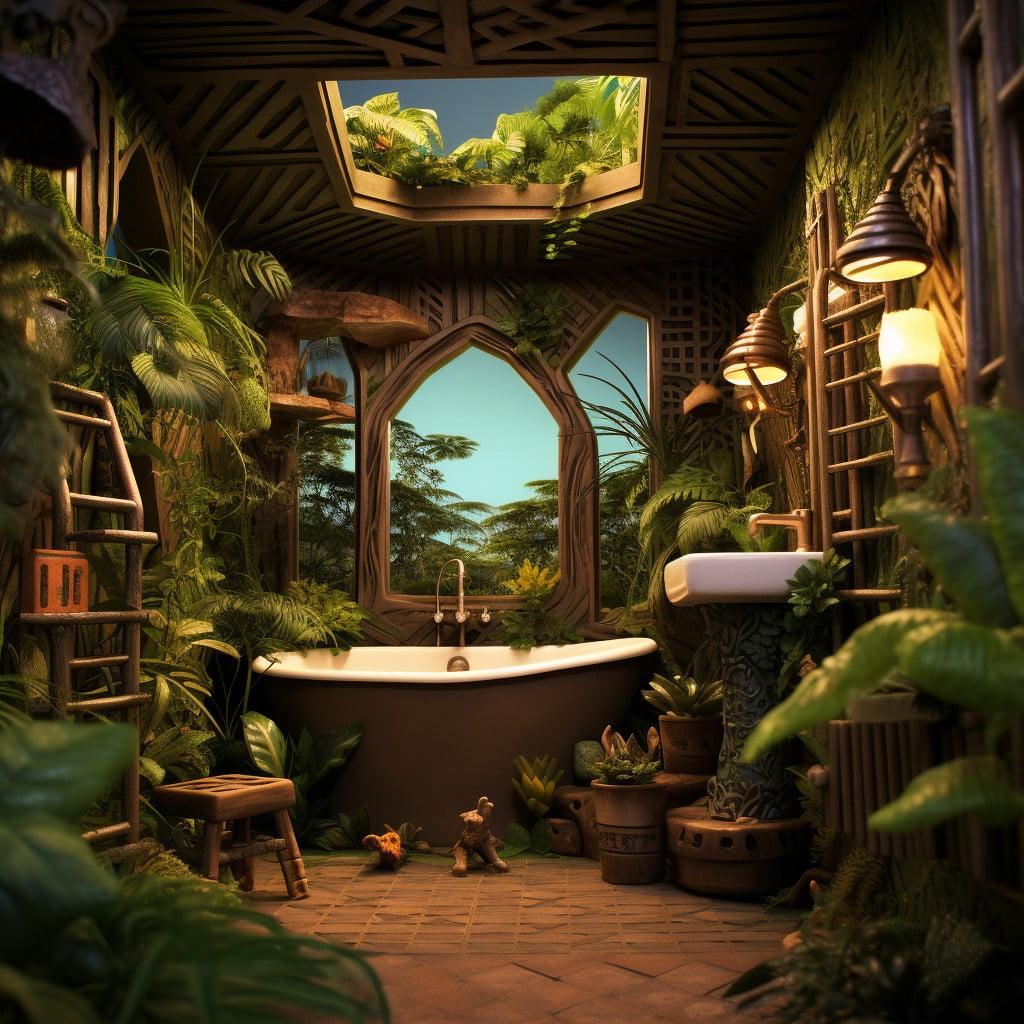 Incorporating the raw, vibrant energy of the jungle into a bathroom design can create a dynamic and refreshing atmosphere. Use leafy, tropical plants, such as Monstera or Fern, to infuse natural vibrancy.
A bold, palm leaf wallpaper can stimulate visual interest while rainforest-inspired art pieces add extra charm.
Use organic textures for accessories – think bamboo bath mats, wooden soap dispensers, or woven baskets for storage.
Tiles in earthy tones or green hues can echo the natural aspect of a jungle. Choose brass or copper fixtures to simulate the look of weathered treasures found on jungle expeditions.
Accentuate with animal print towels or mats to bring in an element of wild, adventurous spirit.
Key Points:
Use vibrant, leafy, tropical plants.
Incorporate palm leaf wallpaper or rainforest-inspired art.
Utilize organic textures for accessories.
Choose earthy-toned or green-hued tiles.
Opt for brass or copper fixtures.
Include animal print towels or mats.
Industrial Chic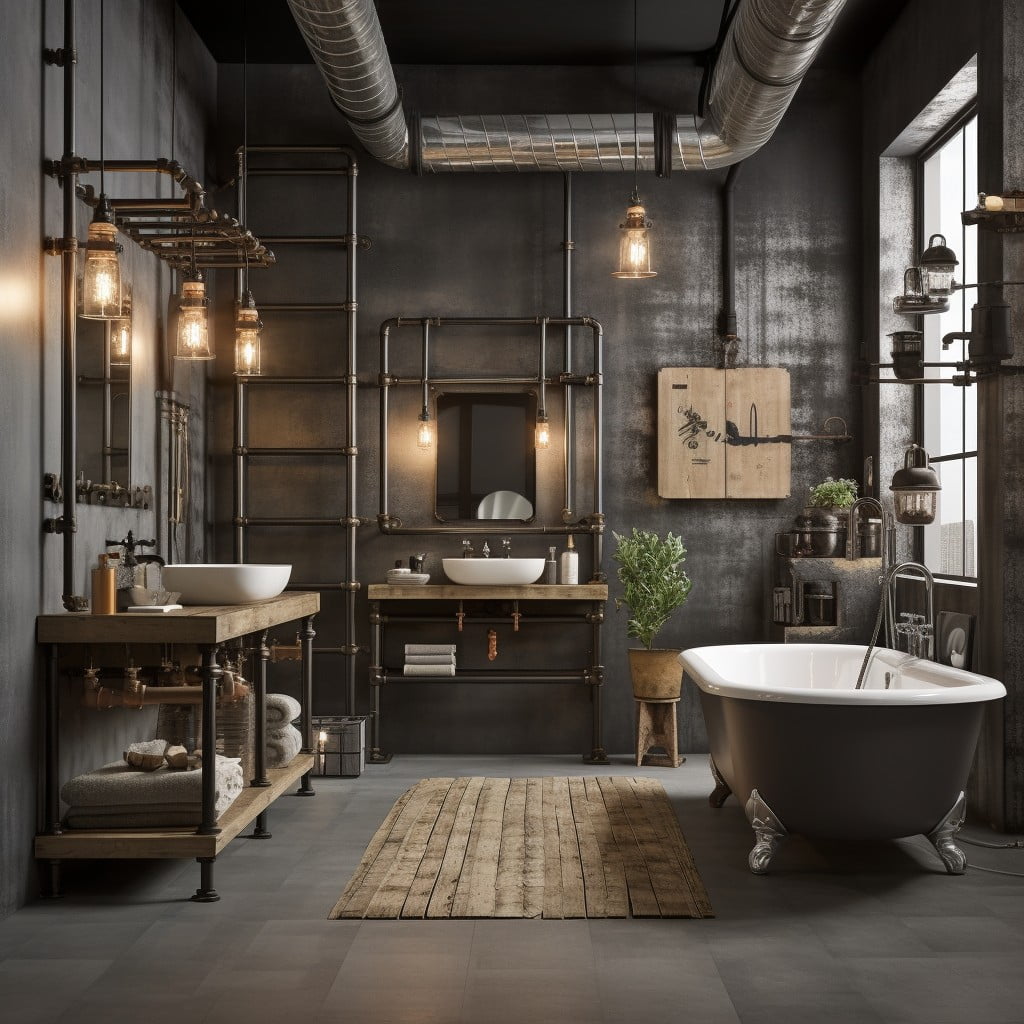 Embodying the charm of weathered textures and a streamlined design, the Industrial Chic bathrooms are designed for the modern homeowner.
Essential elements include exposed brickwork, metal accents, and raw materials like concrete and timber.
For fixtures like lighting and plumbing, aged copper or brushed nickel provide that aged industrial look.
Key points:
Use of raw, weathered materials such as brick and timber.
Metal accents in light fixtures, plumbing, and hardware.
Minimalist aesthetics with functional design features.
Color palette dominated by grays, blacks, and browns.
Features like open-shelving and freestanding tubs complement the style.
Vintage Classic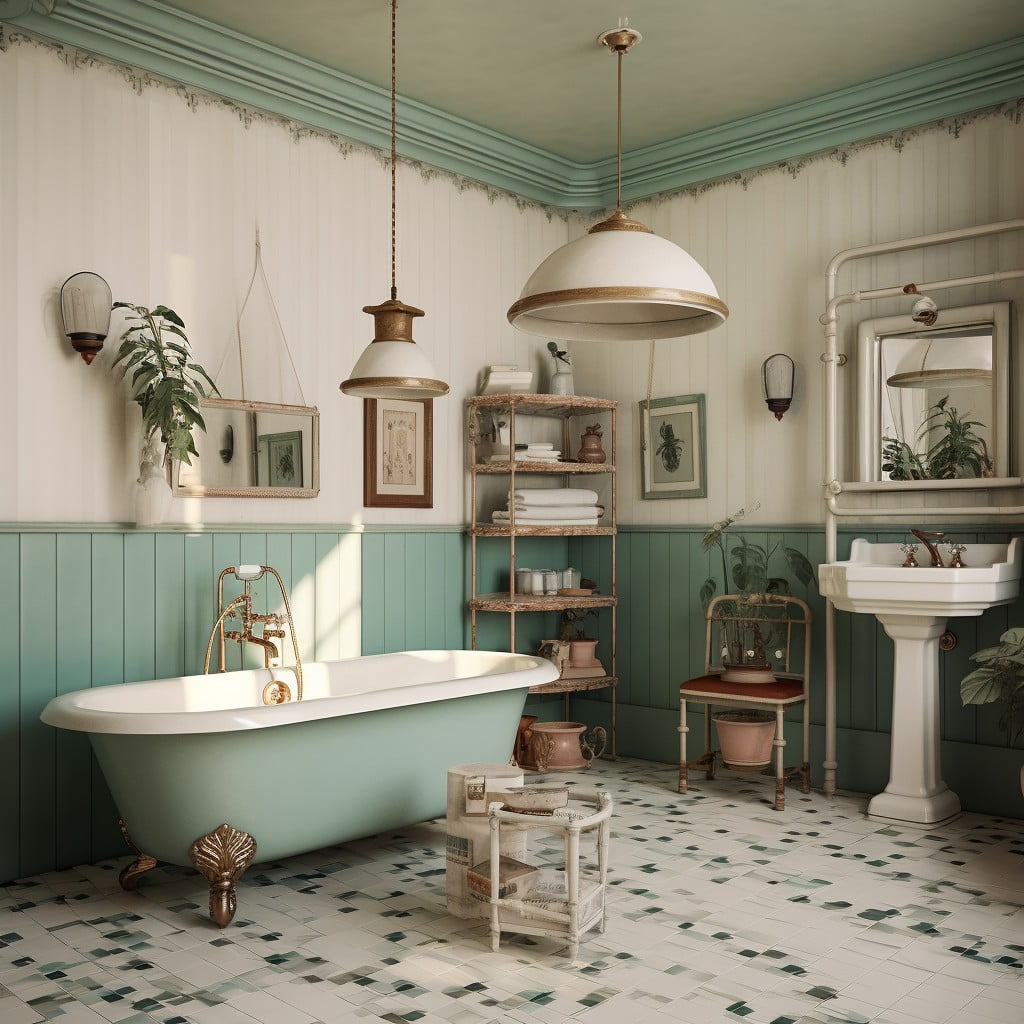 Old-world charm is at the heart of the Vintage Classic theme. To encapsulate this style, focus on specific elements:
Furniture: Select antique, Victorian-era inspired pieces. A claw-foot tub lightens the overall atmosphere with nostalgia.
Colors: Whites, creams, and pastels should be primary. These shades will provide the right basis for your Vintage Classic bathroom.
Decor: Aim for porcelain sink knobs, cast iron hooks, and a gilded mirror. Such details make the Vintage Classic theme authentic.
Accessories: Consider lacy curtains, hand embroidered towels, and candles in ornate holders.
By combining these features, the bathroom breathes an aura of timeless elegance, reminiscing past eras without sacrificing modern comfort.
Japanese Zen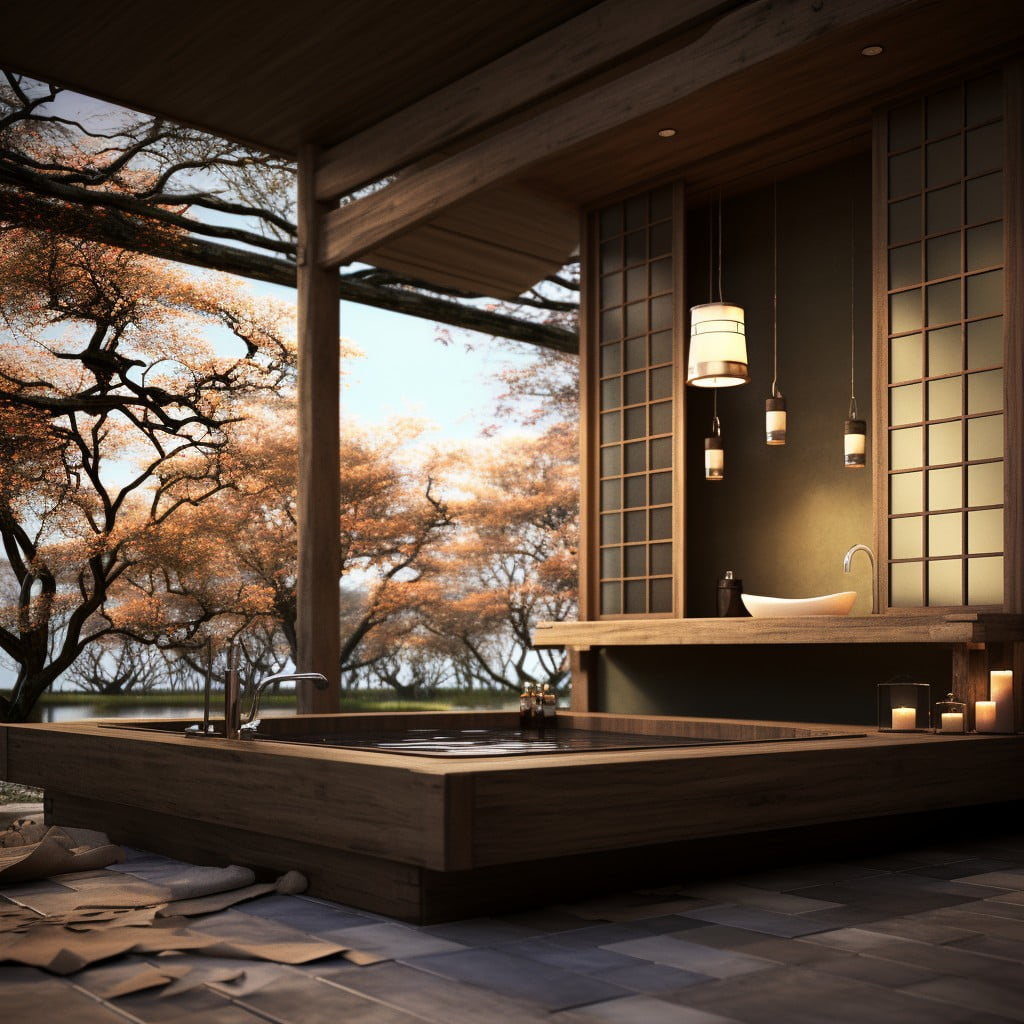 The Japanese Zen theme draws inspiration from traditional tea houses, embodying tranquility and balance through minimalist design. Key elements include:
Natural materials: Bamboo, stone, and wood are staples in this design philosophy. You could use a bamboo mat or a stone basin for a rustic touch.
Neutral color palette: Off-whites, beige, browns, and blacks maintain a calming atmosphere.
Minimal décor: Less is more. Keep clear countertops and use simple wall art or a single large mirror.
Greenery: Incorporate small plants or a bonsai tree. Even a single, well-chosen leaf in a vase captures the spirit of wabi-sabi, the Japanese aesthetic of finding beauty in imperfection.
Flowing water: A small indoor fountain or a shower that mimics rainfall promotes a sense of serenity.
Natural Lighting: Embrace daylight to highlight the simplicity of the space, while subtle night lighting can spotlight the wood grain and the plants.
Consider these elements for a room that embraces peace and simplicity, celebrating the natural world and the quiet it brings.
Whimsical Woodland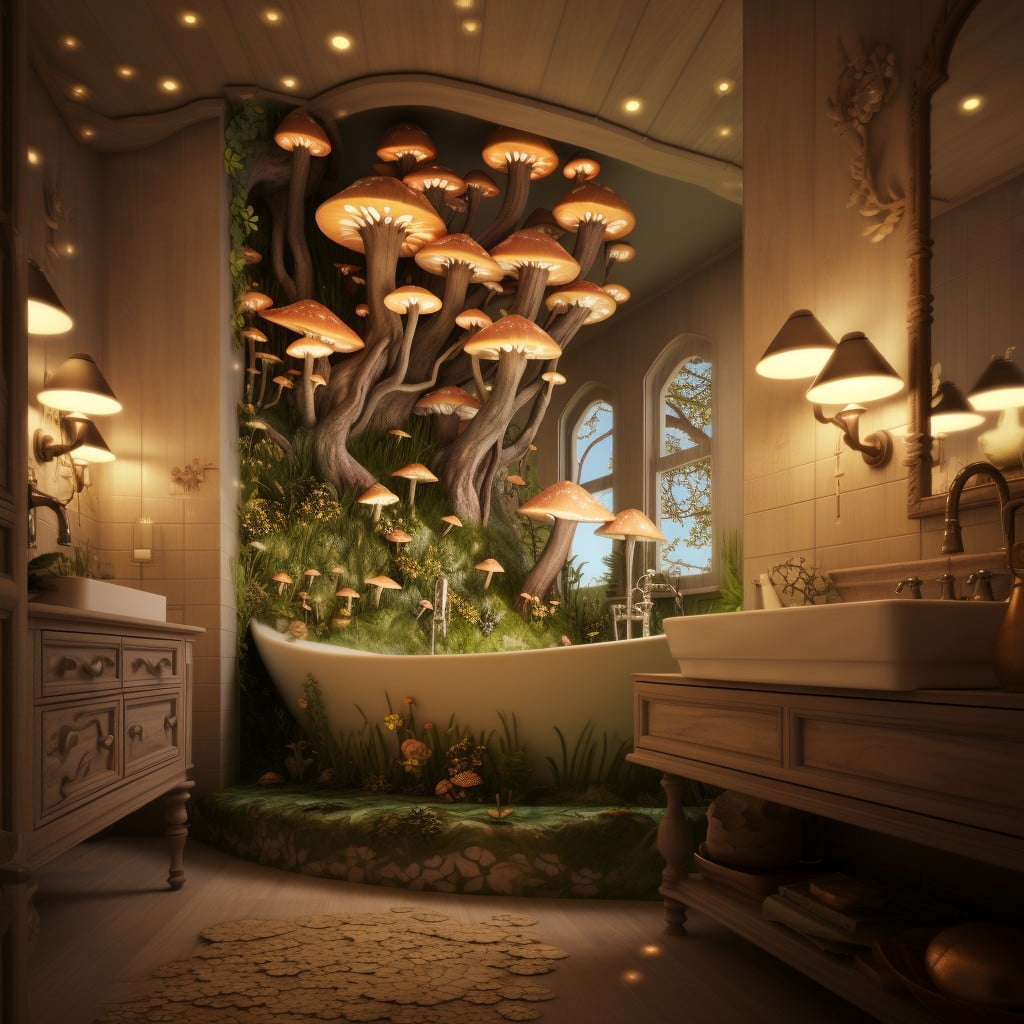 Ensure your bathroom brings the serenity of nature indoors. Begin with forest-inspired wallpapers representing peace and tranquility; fauna, flora, tree bark designs, or forest silhouettes are some great choices.
Opt for organic material like wood for your vanity to mimic the rustic, outdoorsy charm. Consider stone countertops for added texture or botanical tiles for a fun addition.
To consolidate the woodland theme, use accessories and pieces like an antler light fixture, a twig-inspired mirror, or a brass branch towel holder. Finally, integrate live plants for a burst of verdant freshness.
Key points are:
Forest-inspired wallpapers
Wood furniture and stone countertops
Botanical tiles
Fauna or nature-inspired fixtures and accessories
Live plants
Coastal Beach House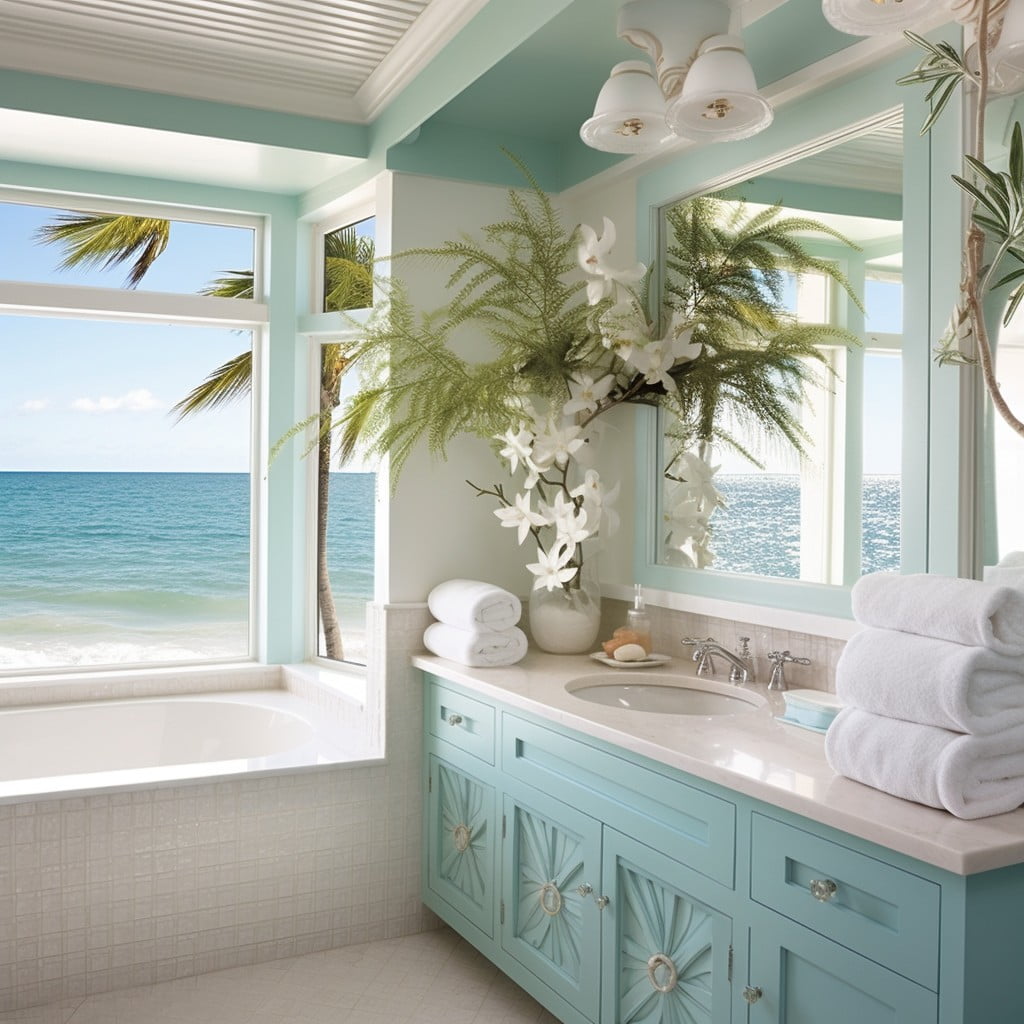 Infusing elements of sand and sea, weathered wood finishes, and hues reminiscent of the ocean are pivotal to breathing life into this theme. Seashells, sea glass, or driftwood can serve as fascinating decorative elements, while a color palette of airy whites, calm blues, and cool grays underpins the serene coastal atmosphere.
Key elements:
Weathered and white-washed wood
Ocean-inspired color scheme
Nautical patterns and prints
Natural fabrics like cotton or linen
Use of beach-inspired accessories
Moroccan Oasis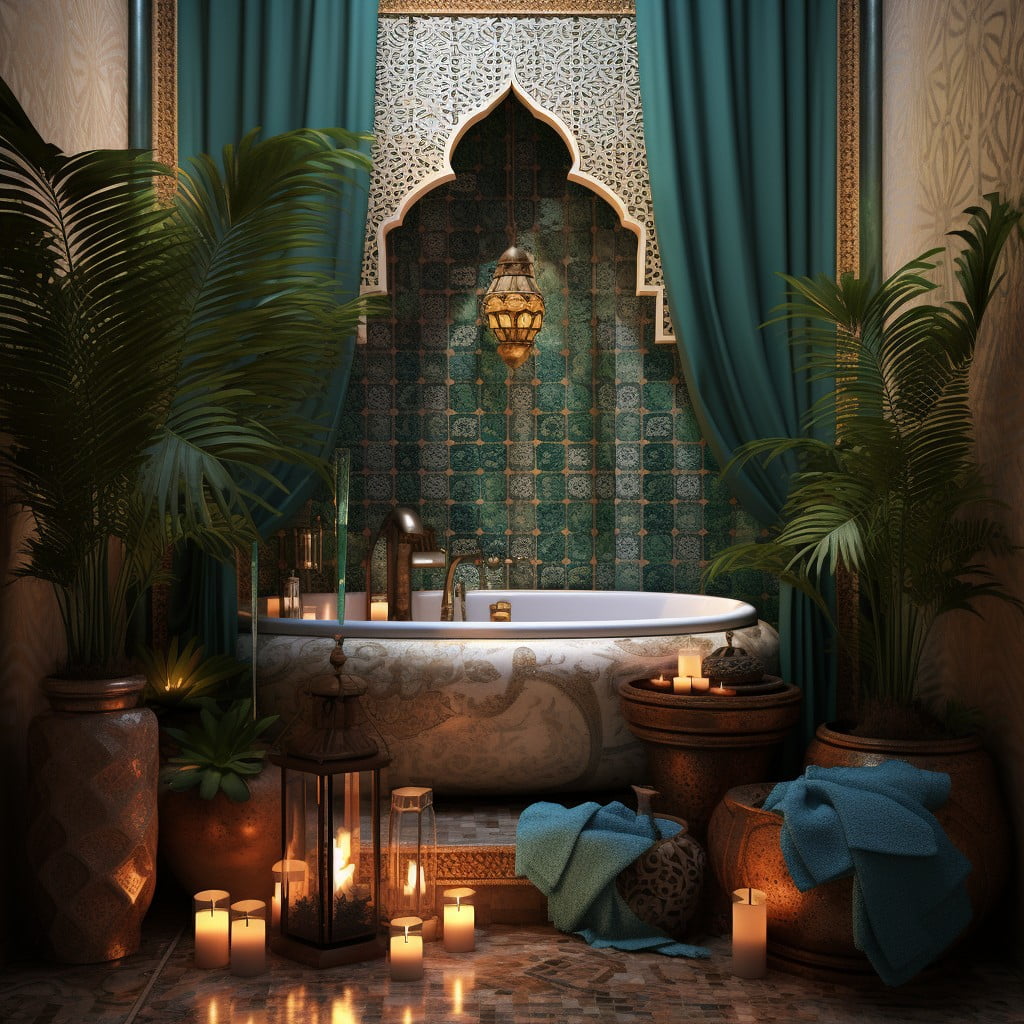 An enticing mix of vibrant colors, intricate patterns, and rich textures characterize this theme. Focal points include:
1. Color Scheme: Use deep hues like ochre, ruby, and emerald amidst a background of sandy beige.
2. Lighting: Opt for pendant lanterns with intricate metalwork to create patterned shadows.
3. Bathtub: A standalone copper tub emanates opulence and blends well with this theme.
4. Wall Décor: Consider beautifully detailed ceramic or tile mosaics.
5. Accessories: Add plush towels, ornate rugs, and hammered silver trays for a touch of luxury.
Parisian Elegance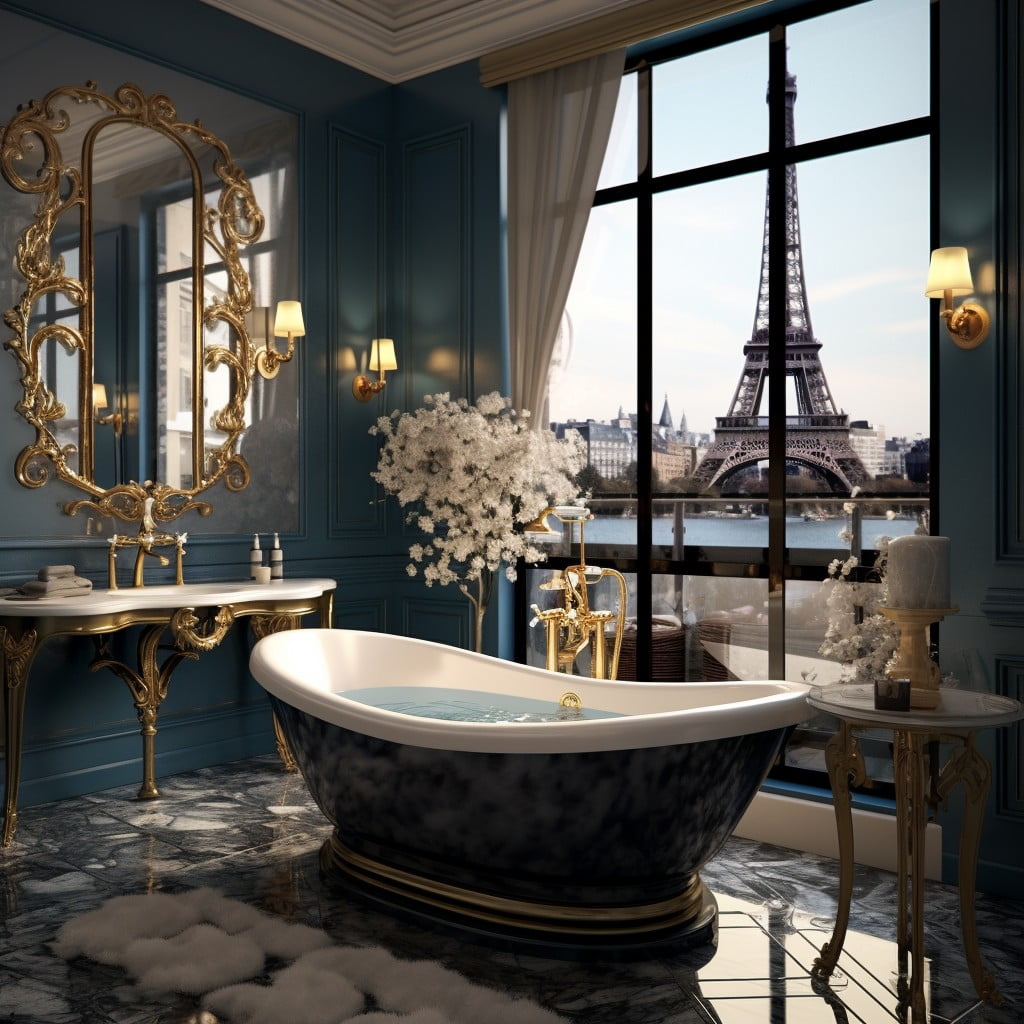 Embodying Parisian elegance in your bathroom design involves a measured mix of classic and contemporary styles. A staple of this aesthetic is a soft color palette, typically involving off-whites, grays and muted pastels. Ornate, gilded mirrors and fixtures add the touch of opulence found in classic French designs.
Key points:
Soft color palette: Use off-whites, grays and muted pastels to paint and accessorize.
Classic and contemporary mix: Combine sleek, modern elements such as a minimalist vanity with antique elements like a vintage claw-foot tub.
Gilded fixtures: Install faucets, handles, and lights in gold or brushed brass.
Ornate mirrors: An overly decorative mirror becomes the focus point of a Parisian-styled bathroom.
French antiques: An old perfume bottle collection, an antique table for linens, or vintage sconces can add a unique touch.
Luxurious textiles: To complement the aesthetic, choose plush towels and a thick, soft bathmat.
Freestanding bathtub: If space allows, a striking freestanding bathtub is a quintessential feature of a French bathroom.
Mediterranean Style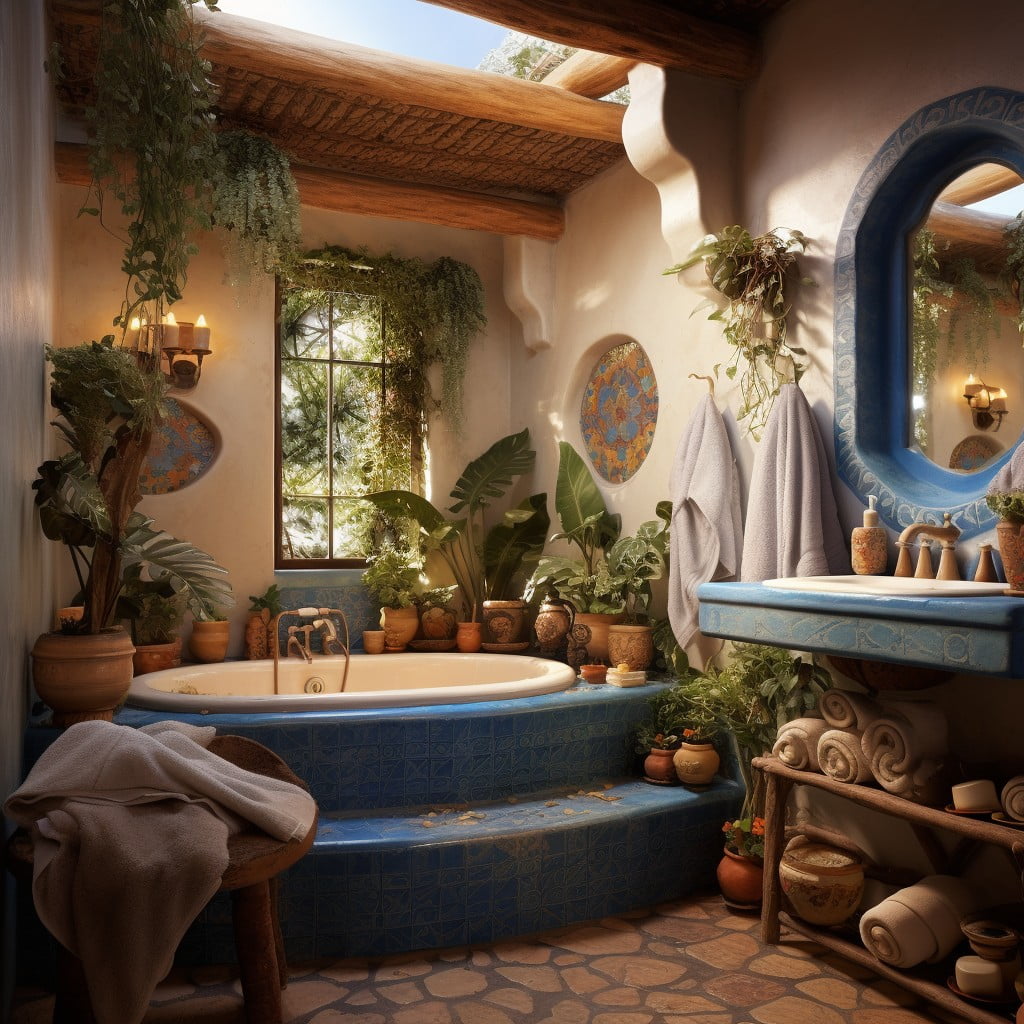 Mediterranean style borrows elements from the various countries bordering the Mediterranean Sea, creating a harmonious blend of casual elegance and natural charm. Here are some primary elements involved:
Earthly materials: Expect to use natural materials like terracotta tiles, limestone walls, and warm wooden accents.
Vibrant colors: A palette of earthy tones and vibrant hues, including burnt orange, olive green, and peacock blues.
Detailed tile work: Incorporate artistically patterned ceramic or terracotta tiles for a striking visual impact.
Open space: Baths are typically spacious and bright, with ample room for soaking tubs or walk-in showers for a touch of luxury.
Texture: Woven baskets, wrought iron fixtures, and handcrafted pottery add depth and character.
Creating a Mediterranean-style bathroom invokes a sense of tranquil seaside living—perfect for achieving a warm, inviting, and restful retreat right at home.
Playful Kid's Harbor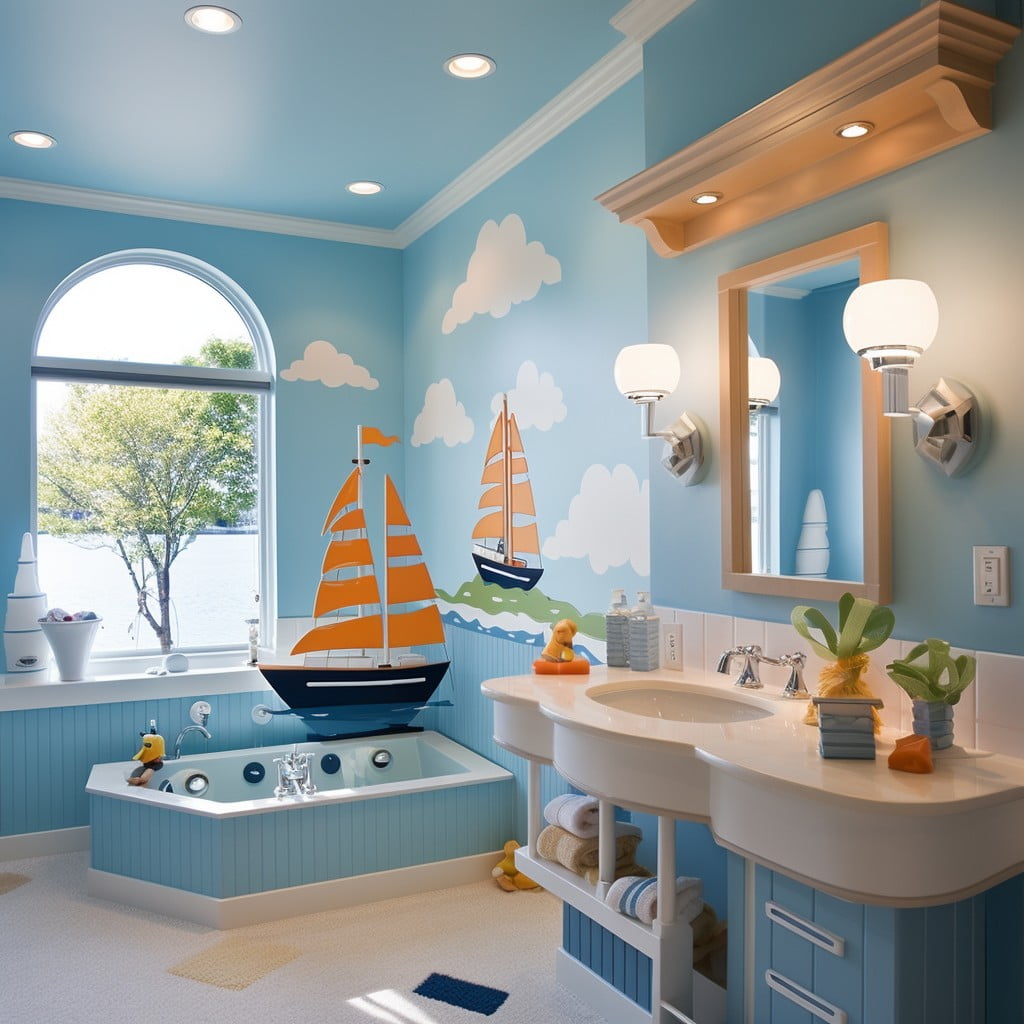 Incorporating this theme, the bathroom becomes a delightful, functional space, especially designed for little ones. Layer primary or pastel colors on walls and opt for playful motifs, like nautical stripes or sea creature decals.
Essentials include:
Safety mats and stool: Add comfort and security with non-slip bath mats and a sturdy step stool.
Character decor: Use accents with popular kids' characters – think shower curtains, towels, and soaps.
Organization: Utilize fun storage solutions like differently colored baskets and shelves to arrange bath toys and supplies.
Interactive elements: Consider installing a wall with chalkboard paint or low-hung child art to brighten the space.
Child-friendly fixtures: Choose lower, reachable towel racks and soft-closure toilet seats.
Every item speaks to the child's imagination, creating an environment that feels like a fun, adventurous place to be. Simultaneously, the layout fosters independence while ensuring functionality for adults.
Art Deco Glam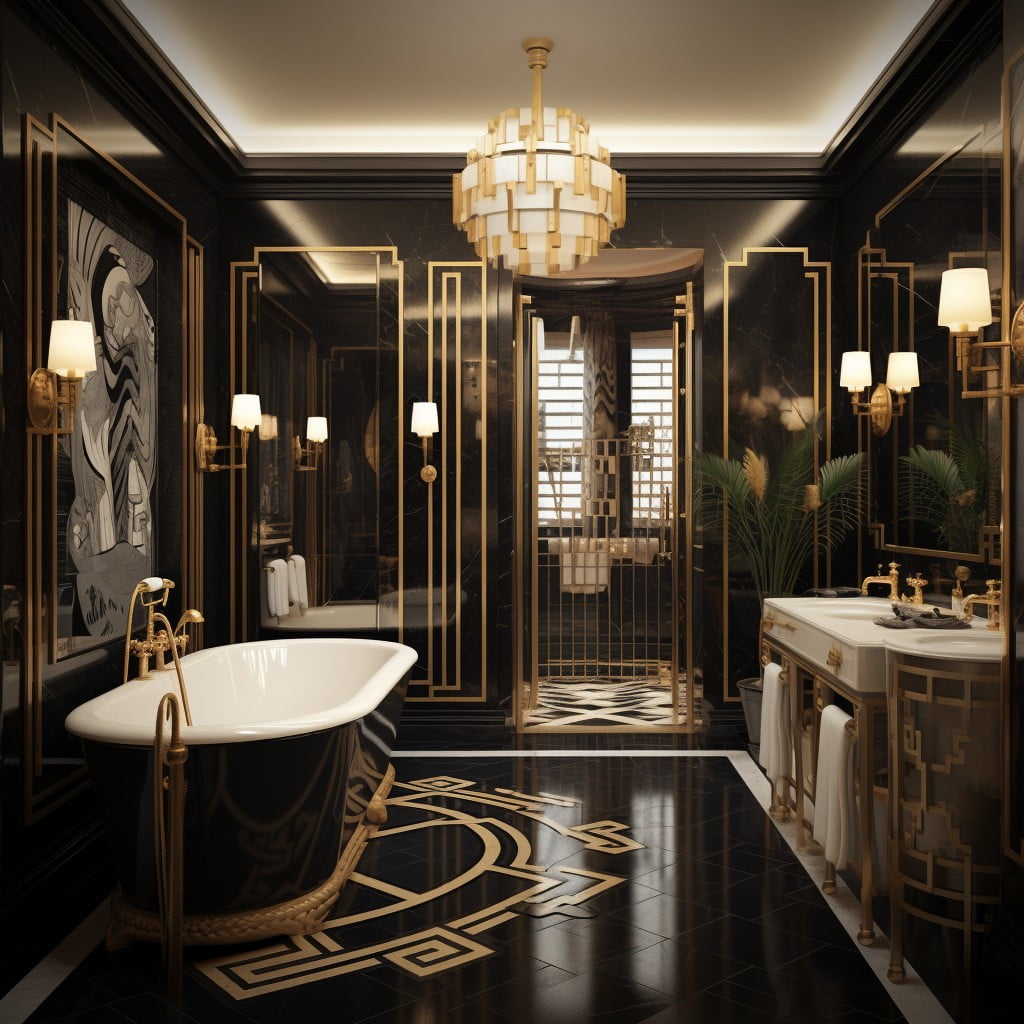 Reflecting sophistication and glamour, this theme embodies the Jazz Age. Bold geometric forms, gleaming chrome, and lavish materials define its aesthetic.
Key principles include:
Geometric Patterns: Integrate shapes like chevrons, zigzags, or fan motifs in accessories or wallpaper.
Bold Colors: Balance neutral shades with bold blues, blacks, or metallics.
Luxurious Materials: Think glossy wood, satin, chrome, or glass inserts.
Streamlined Furniture: Opt for pieces inspired by the 1920s, with a sleek and symmetrical look.
Exotic Influence: Incorporate elements that reference a global perspective, such as Egyptian motifs or animal prints.
Mirrors and Lighting: Use mirror panels and dramatic lighting fixtures to enhance the lavish feel.
Country Shabby Chic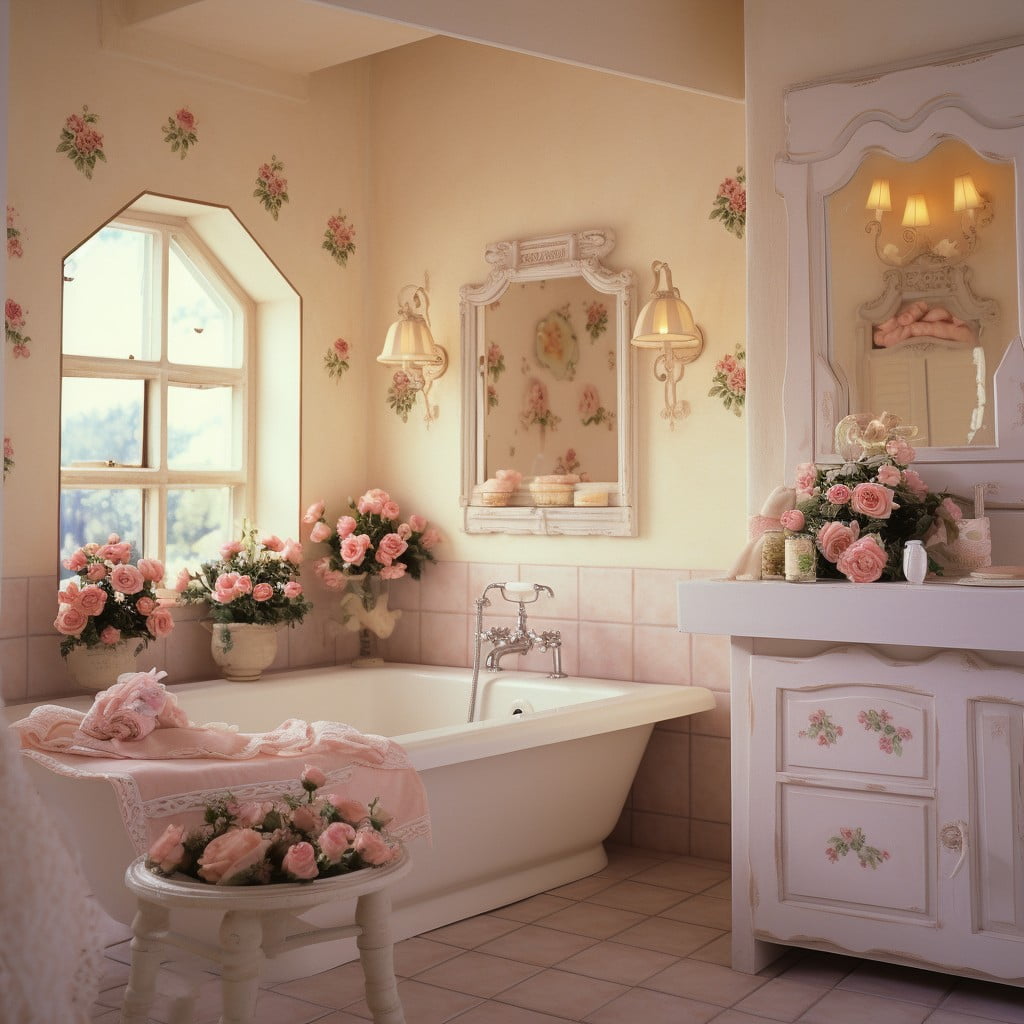 "Country Shabby Chic" infuses an idyllic country lifestyle with the charm of weathered, well-loved furnishings, creating a relaxed and welcoming atmosphere.
Let's break it down:
Furniture: Opt for pastel painted, distressed wood furniture pieces to add character. For a cozy ambiance, include overstuffed chairs layered with vintage textiles.
Color Palette: Use soft, muted colors, primarily whites and pastels, to keep the theme light and airy.
Accessories: Antique objects like old jars, vintage bottles, and tin containers add rustic accents. Lace and floral patterns are also a big part of this style.
Lighting: Vintage chandeliers or light fixtures with a rustic finish contribute to the chic aesthetic. Natural light is essential to create a sunny, cheerful space.
Texture: Embrace the style with worn edges, loose linen slipcovers, distressed paint finishes, and an overall 'lived-in' look.
Walls & Floors: Add beadboard or vintage wallpapers to walls. Weathered hardwood or floral area rugs excellently define this theme on floors.
Fabrics: Incorporate plenty of soft, floaty fabrics in florals or plain muted colors. The more they show their age, the better.
Mid-century Modern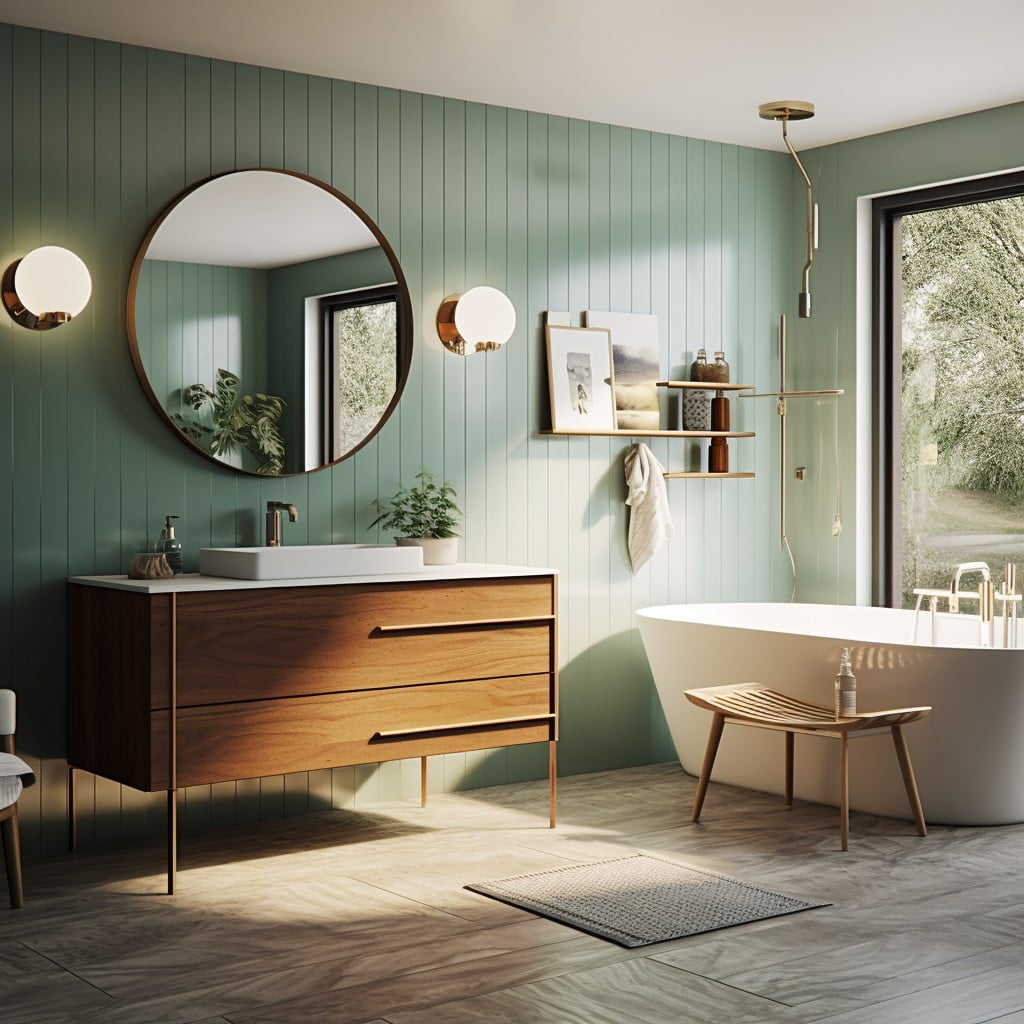 Implementing this style requires crafting a clean, sleek area with an emphasis on functionality and minimal ornamentation. Think of a muted color palette, preferably pastel tones, accented with warmer hues found in wood finishes.
Key elements include:
Functionality: Pieces with dual functionality like wall-mounted vanities.
Furniture: Sparse set with a retro feel, perhaps featuring bold, geometric patterns.
Lighting: Sputnik chandeliers or starburst pendants are iconic representations of this era.
Tile & Fixtures: Subway or hexagonal tiles paired with chrome or brushed brass fixtures.
Accessories: Choose simple yet bold decor items, preferably in geometric shapes or abstract forms.
Wood Finishes: Teak, oak, and walnut are excellent options to incorporate warmth into the space.
By integrating these components, a bathroom can truly represent the mid-century modern style.
Continue reading: