Last updated on September 20, 2023
Discover a world of luxury and elegance as we delve into twenty stunning Mediterranean bathroom ideas that will inspire you to transform your personal sanctuary.
Are you tired of your boring old bathroom? Do you dream of a luxurious, Mediterranean-inspired oasis right in your own home? Look no further! In this article, we've gathered 20 stunning ideas to transform your bathroom into a stylish and relaxing retreat. From intricate tile work to elegant fixtures, these design concepts will transport you straight to the coast of Italy or Greece.
So grab a cup of coffee (or a glass of wine!) and get ready to be inspired by these Mediterranean bathroom ideas.
Table of Contents
Mosaic Tile Accents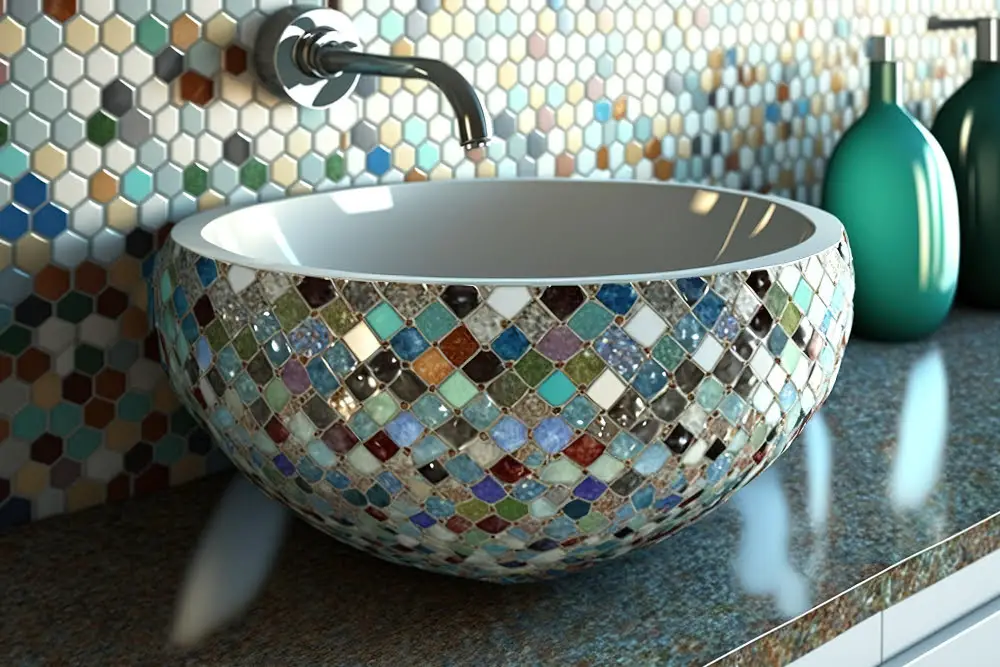 Mosaic tile accents are a hallmark of Mediterranean-style bathrooms. These intricate designs can be used to add visual interest and texture to walls, floors, and even shower stalls.
From small accent tiles in shades of blue or green to larger murals featuring scenes from nature or mythology, there are endless options for incorporating mosaic tiles into your bathroom design. Consider using them as a border around the vanity mirror or as an eye-catching backsplash behind the sink.
For those who want to go all out with this style, consider covering an entire wall with mosaic tiles for a stunning focal point that will transport you straight to the shores of Greece or Italy every time you step inside your bathroom!
Freestanding Bathtub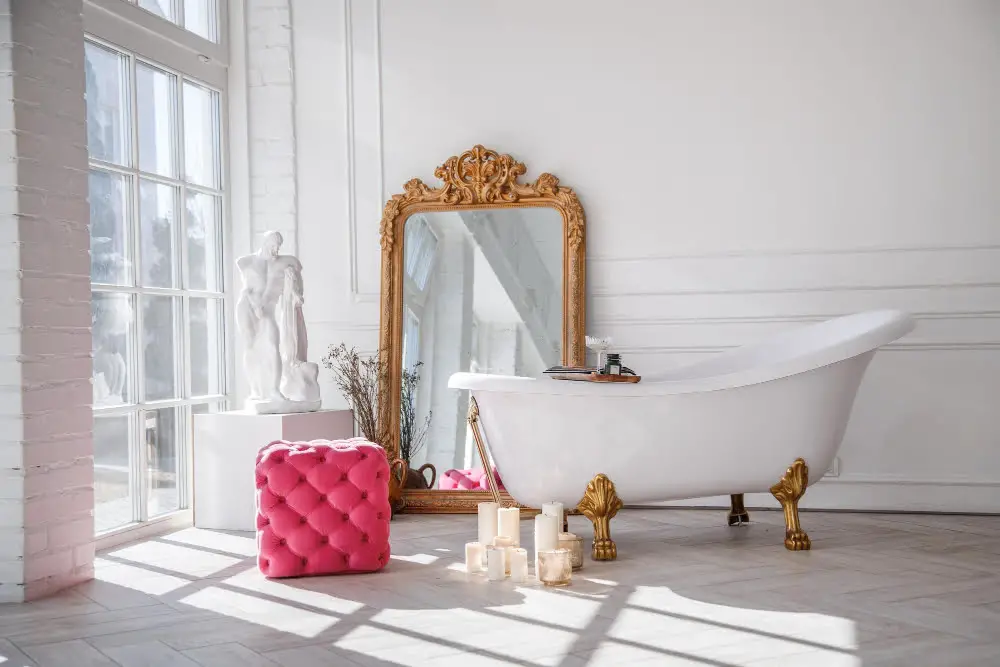 It adds an element of elegance and sophistication that can't be matched by traditional built-in tubs. Freestanding bathtubs come in a variety of shapes, sizes, and materials such as copper or cast iron.
They can be placed anywhere in the room, allowing for more flexibility when designing the layout of your bathroom. A popular choice for Mediterranean bathrooms is a clawfoot tub with ornate feet that add to the overall aesthetic appeal of the space.
Whether you prefer modern or vintage styles, there's sure to be a freestanding bathtub option that will fit perfectly into your dream Mediterranean-inspired bathroom design!
Natural Wood Vanity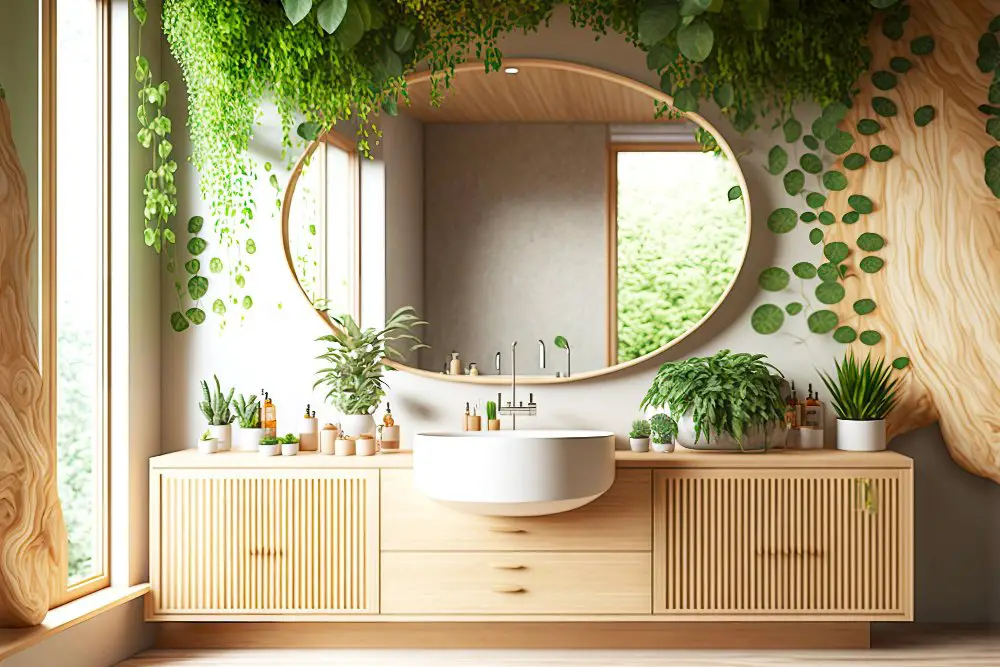 It adds warmth and texture to the space, creating a cozy and inviting atmosphere. The beauty of natural wood lies in its unique grain patterns, which can range from subtle to bold.
A wooden vanity can be left unfinished for a rustic look or stained for a more polished appearance. Pair it with wrought iron fixtures and terracotta tiles for an authentic Mediterranean feel that will transport you straight to the coast of Spain or Italy!
Wrought Iron Fixtures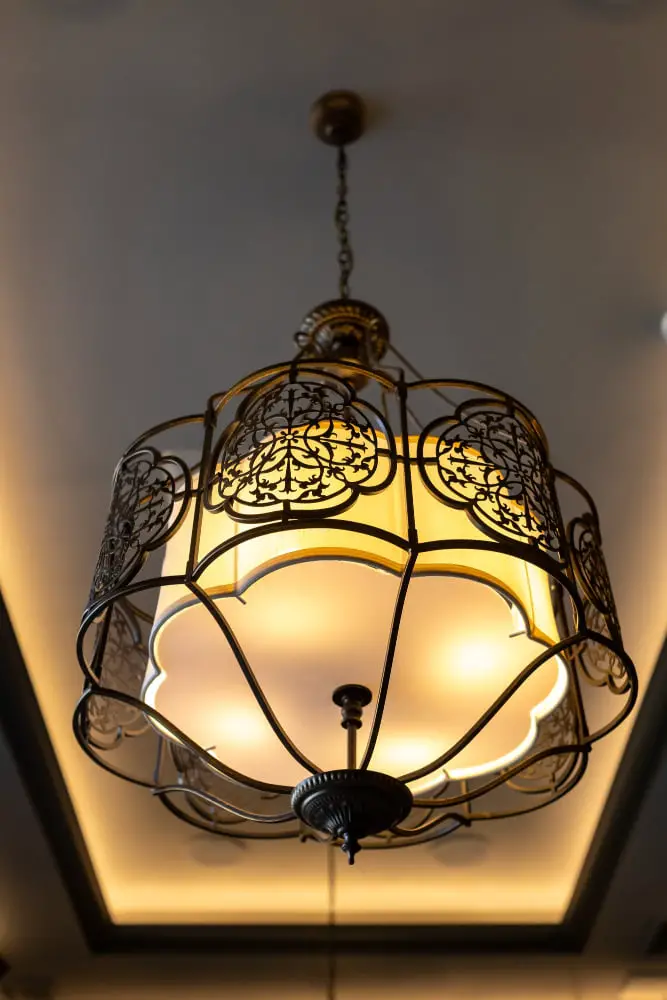 They add an elegant touch to the space and complement other design elements such as natural wood and terracotta tiles. Wrought iron can be used for various bathroom fixtures, including towel racks, toilet paper holders, light fixtures, and even shower enclosures.
The intricate designs of wrought iron also provide an opportunity to incorporate unique patterns into the bathroom decor. When paired with warm lighting or candles, wrought iron creates a cozy ambiance that is perfect for relaxing baths or pampering routines.
Terracotta Floor Tiles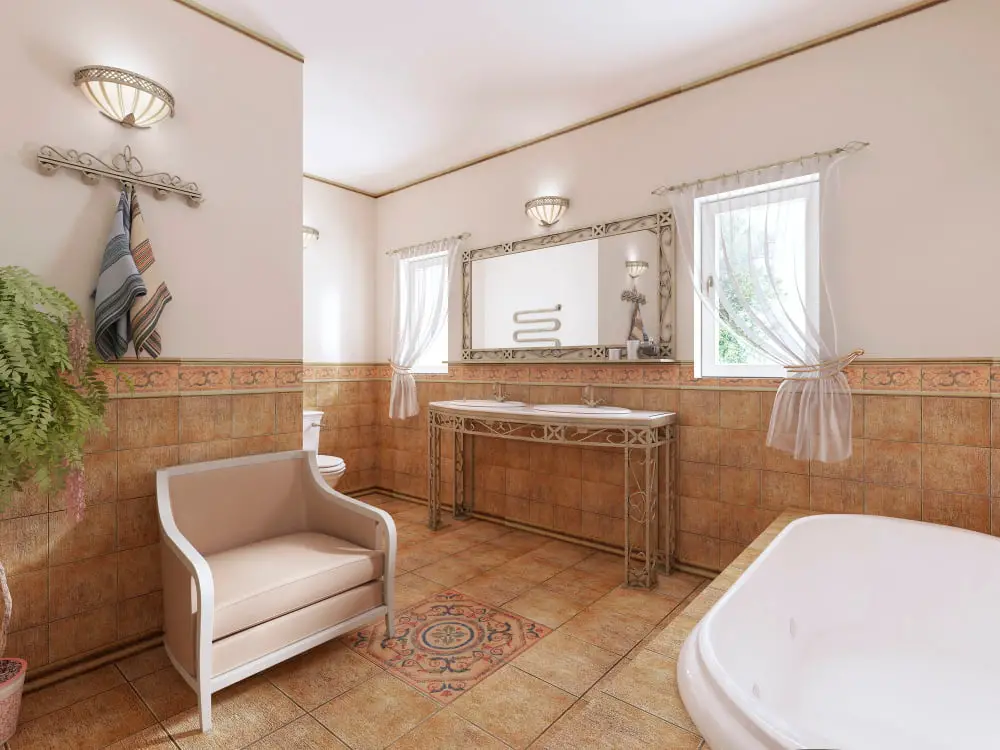 These warm, earthy tiles add texture and depth to the space while also providing durability and easy maintenance. Terracotta is a type of clay that has been used for centuries in construction due to its strength and resistance to wear-and-tear.
Terracotta's natural color variations create an organic feel that complements other elements commonly found in Mediterranean design such as wood accents, wrought iron fixtures, or plastered walls. When paired with white walls or light-colored cabinetry, terracotta floor tiles can make your bathroom feel cozy yet elegant at the same time.
Arched Doorways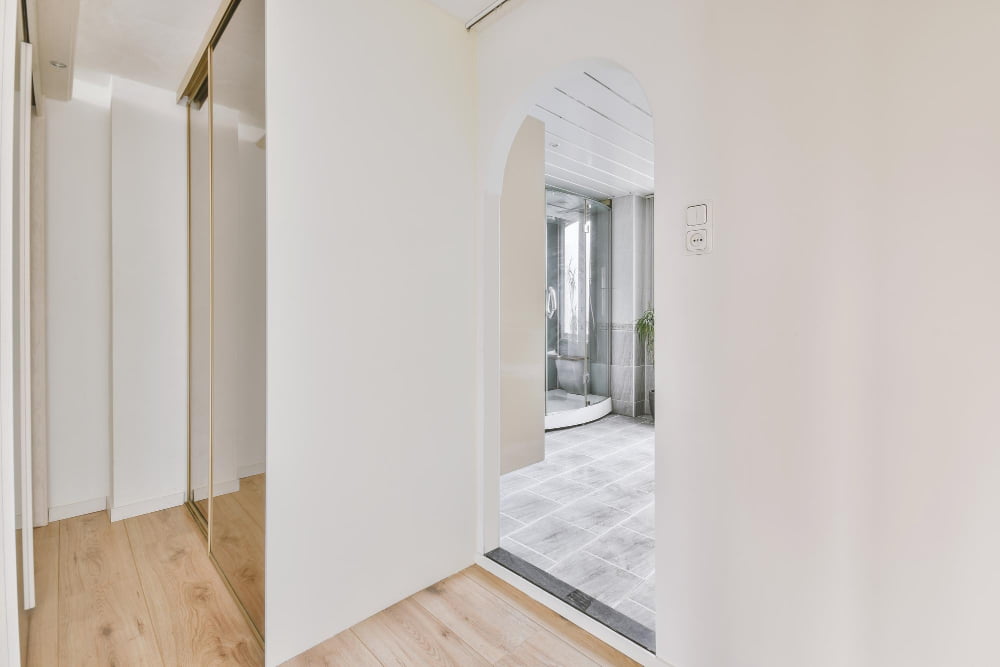 These curved openings create a sense of grandeur and provide visual interest in an otherwise simple space. Arched doorways can be made from various materials, including wood, metal or plaster, depending on the desired look.
They also come in different sizes and shapes to fit any bathroom layout. Whether you choose a single arched doorway or multiple ones throughout your bathroom, this feature is sure to make a statement while adding character and charm to your Mediterranean-inspired oasis.
Open Shelving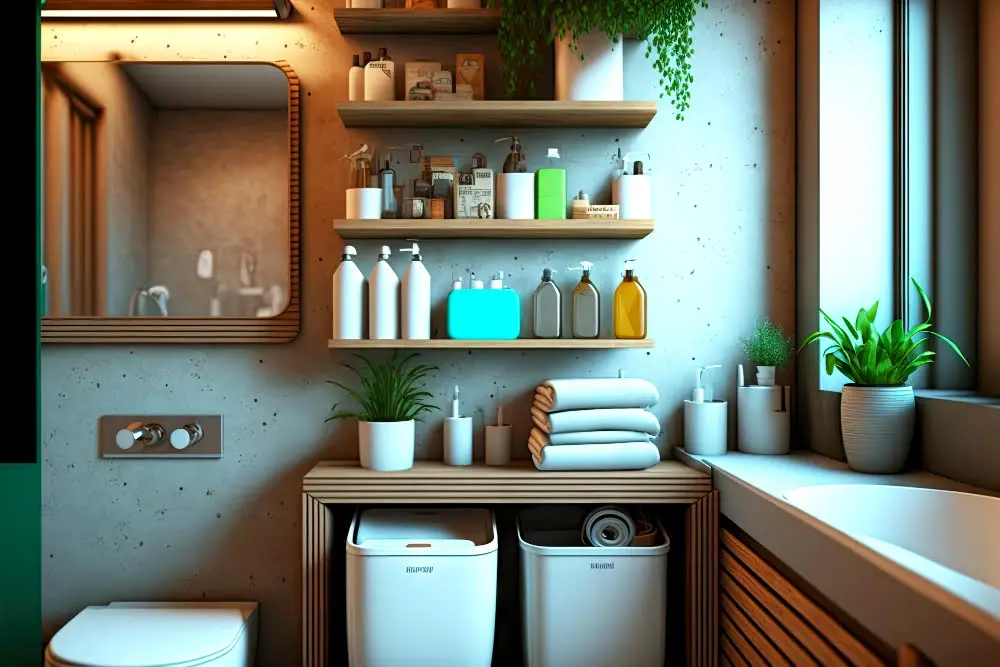 It allows you to display your favorite towels, candles, and other accessories while keeping them within reach. You can also use it to store extra toiletries or cleaning supplies in baskets or bins for easy access.
To achieve the Mediterranean look with open shelving, consider using natural wood shelves with wrought iron brackets or ceramic tiles as the backing material. This will add texture and warmth to your bathroom while still maintaining an airy feel that is characteristic of this style.
Hanging Lanterns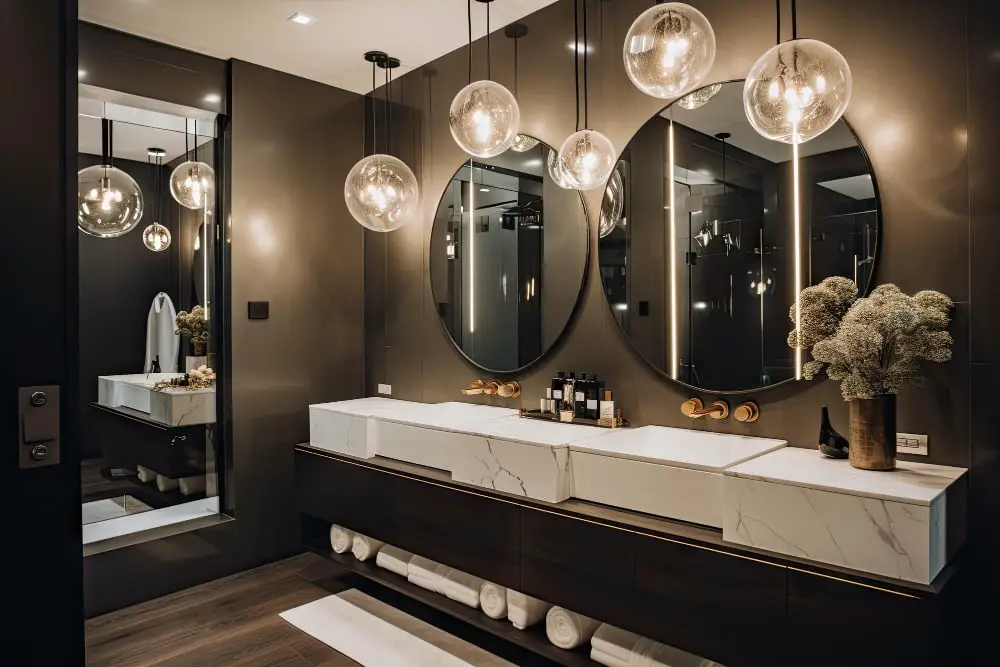 These fixtures come in various shapes and sizes, from small glass globes to large metal pendants. They can be hung over the bathtub or vanity for a warm and inviting glow.
Lanterns with intricate patterns or colored glass can also serve as decorative accents during the day when not in use. For an authentic touch, consider using wrought iron lanterns that feature ornate details like scrolls and curves reminiscent of traditional Mediterranean design elements.
Plastered Walls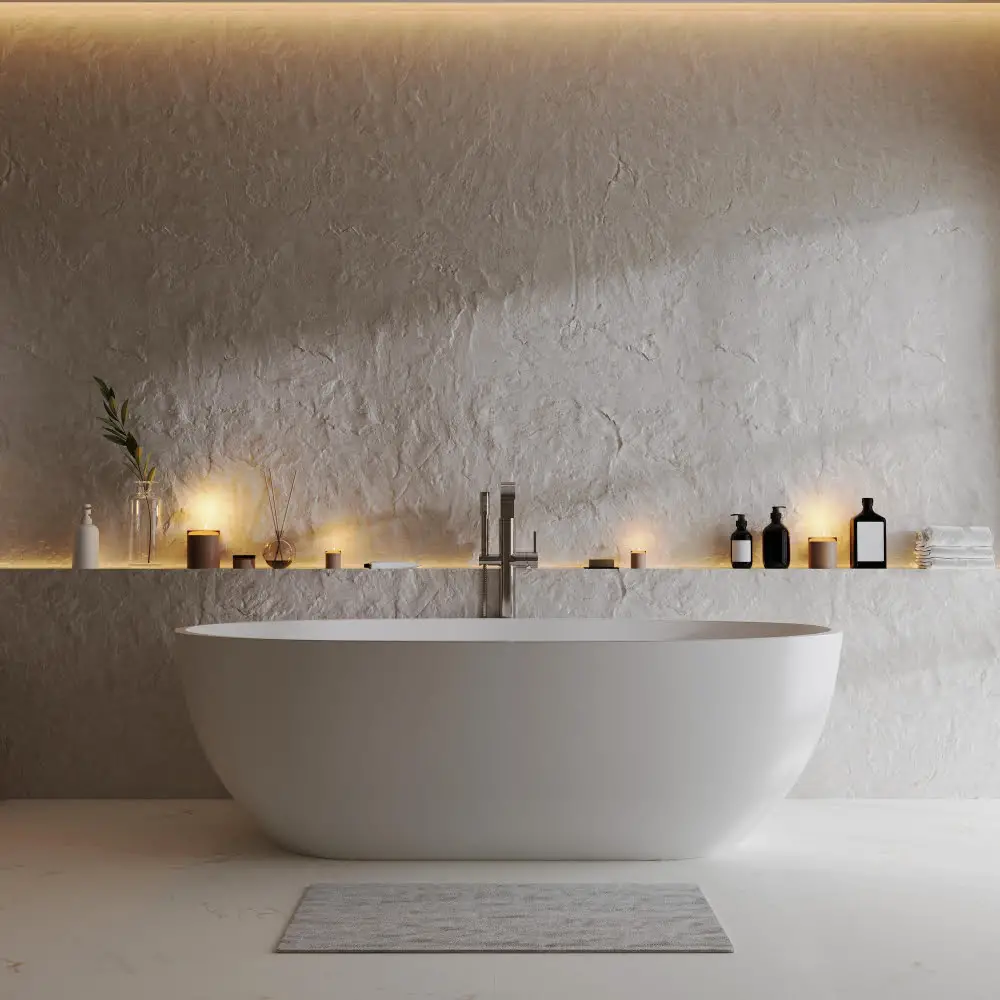 The texture and color variations in the plaster add depth and character to the space, creating an inviting atmosphere. Plaster can be applied in various ways, from smooth finishes to rough textures that mimic natural stone or adobe walls.
It's also a versatile material that can be painted over or left unpainted for a rustic look. When paired with other elements like wrought iron fixtures and terracotta tiles, plastered walls create an authentic Mediterranean feel that transports you to another place entirely.
Potted Plants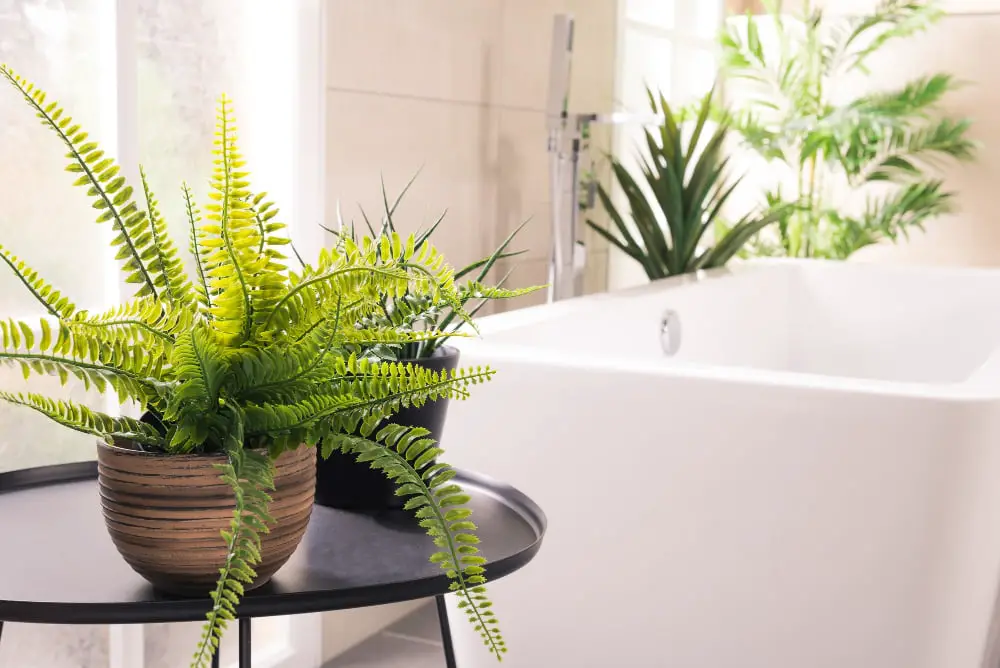 Plants like succulents, ferns, and olive trees thrive in humid environments and can add a touch of greenery to your space. You can place them on open shelving or hang them from the ceiling using macrame hangers for an added bohemian touch.
If you have limited floor space, consider placing small potted plants on windowsills or countertops for a pop of color and texture. Just make sure that they receive enough sunlight and water regularly to keep them healthy!
Pebbled Shower Floor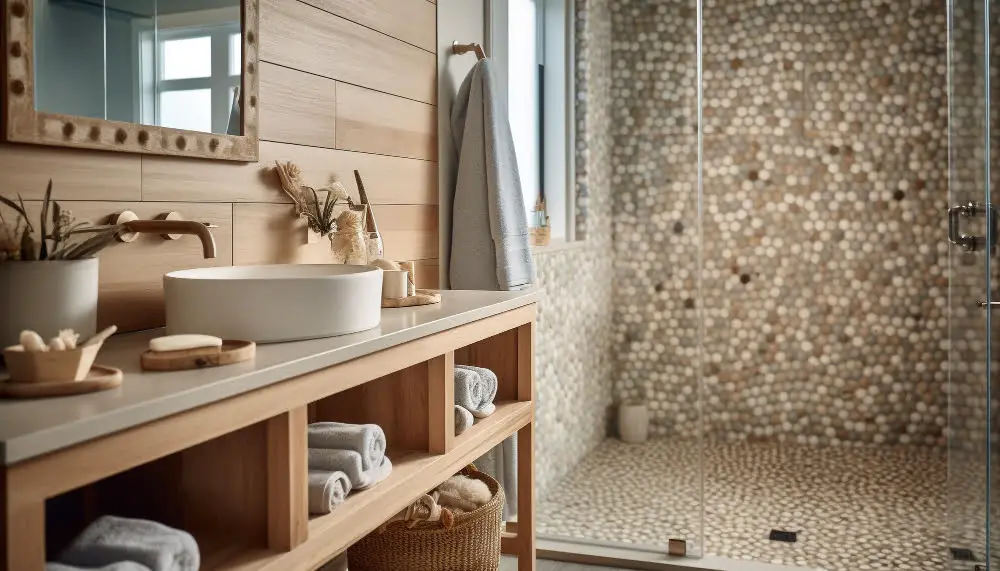 Not only does it look beautiful, but it also provides a non-slip surface for safety. The natural stones used in the pebble flooring can vary in size and color, allowing you to create a unique look that complements the rest of your bathroom design.
Plus, the feeling of walking on smooth stones underfoot is incredibly relaxing and spa-like – perfect for unwinding after a long day!
Blue and White Color Scheme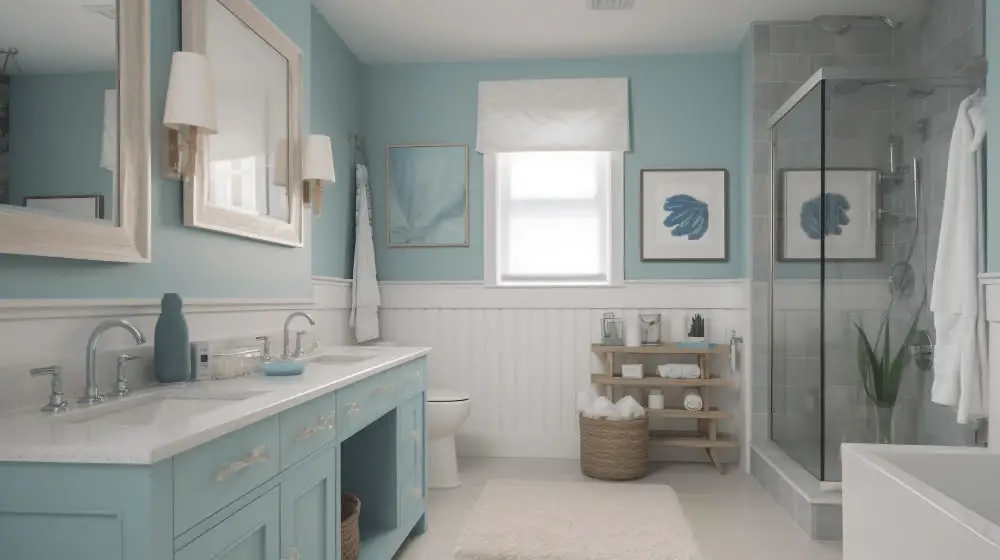 The crisp, clean look of white pairs perfectly with the calming effect of blue to create a serene atmosphere. Consider using blue and white patterned tiles for the shower or backsplash, or add pops of blue through accessories like towels and rugs.
For a more subtle approach, stick to mostly white walls with small touches of blue throughout the space such as on vanity hardware or light fixtures. This timeless color scheme will give your bathroom an elegant yet relaxed feel reminiscent of coastal living in Greece or Italy.
Turkish Towels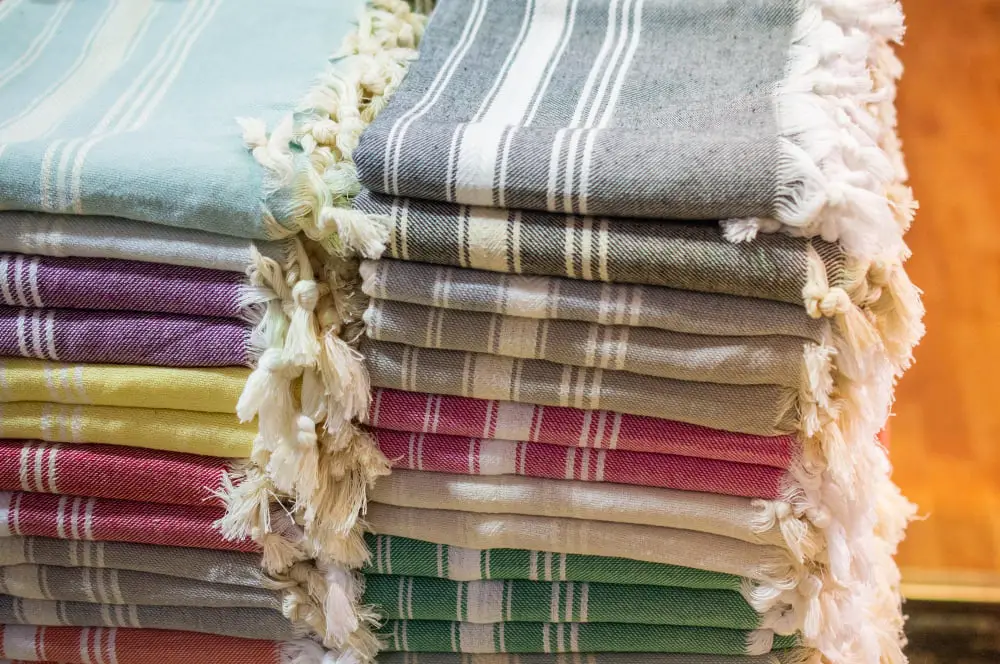 These towels, also known as peshtemals, are made from 100% cotton and have a lightweight yet absorbent texture. They come in various colors and patterns that can add an extra touch of style to your bathroom decor.
Turkish towels can be used not only for drying off after a shower or bath but also as decorative accents when hung on hooks or towel bars. Their versatility makes them perfect for any Mediterranean-inspired bathroom design scheme!
Marble Countertops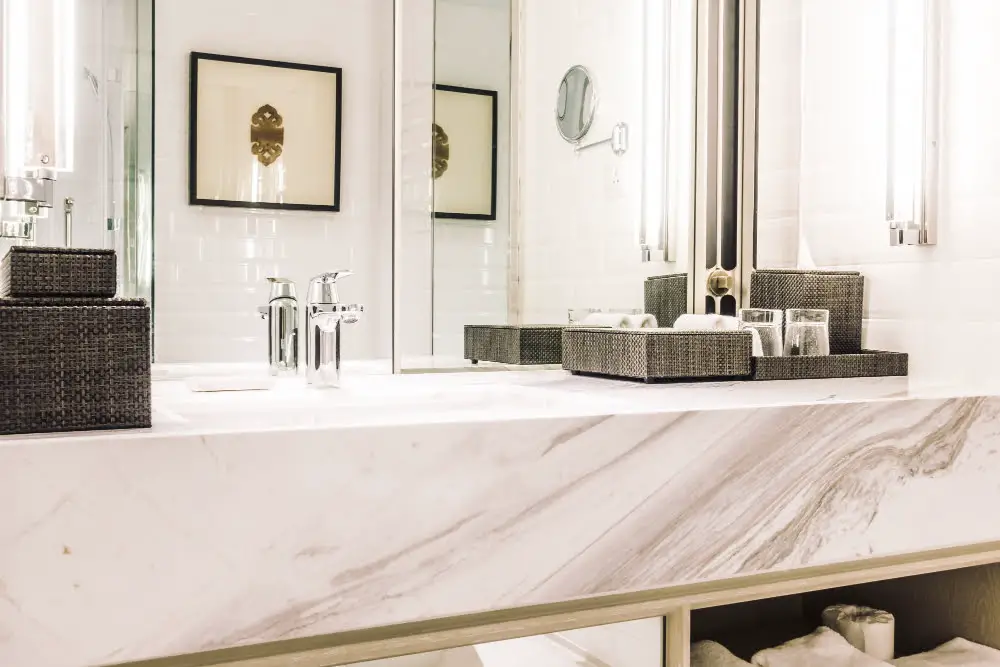 They add elegance and sophistication, while also being durable and easy to clean. Marble comes in a variety of colors, from classic white Carrara marble to more exotic options like Calacatta Gold or Emperador Dark.
The natural veining in the stone adds visual interest and texture, making each countertop unique. To keep your marble looking its best, it's important to seal it regularly and avoid using harsh chemicals that can damage the surface over time.
With proper care, your marble countertops will be a stunning focal point in your Mediterranean bathroom for years to come!
Beamed Ceilings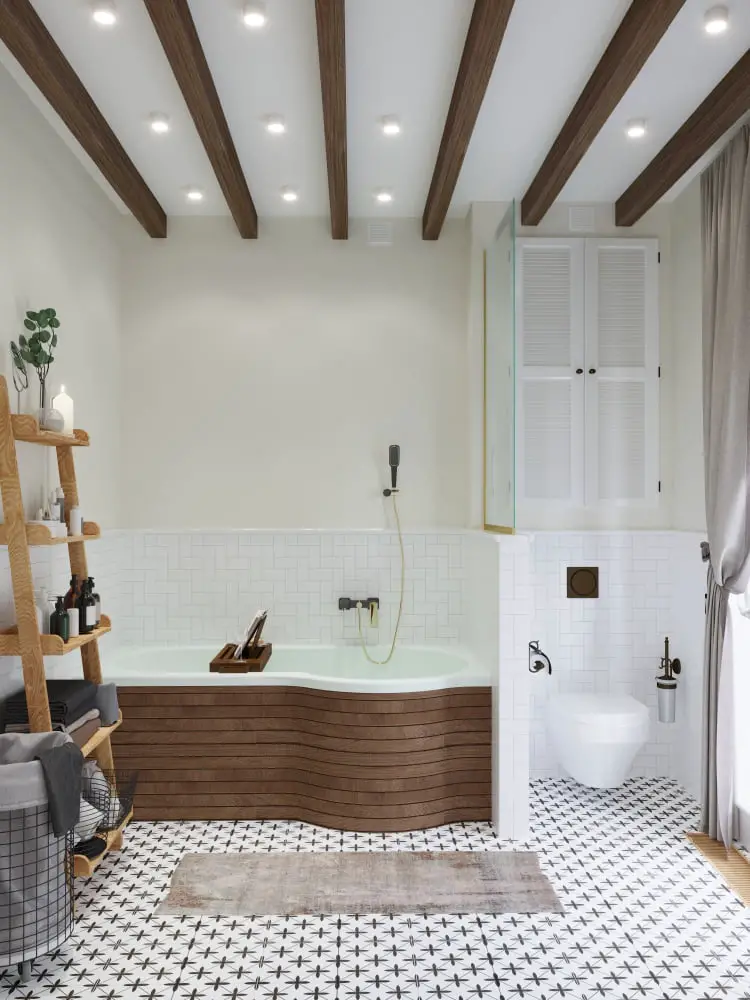 These exposed wooden beams can be left natural or painted in a contrasting color to the ceiling for added visual interest. Beams also provide an opportunity to incorporate lighting fixtures, such as hanging lanterns or recessed lights, which can create a cozy ambiance in the space.
Whether you have high ceilings or low ones, adding beams is an easy way to bring some Mediterranean charm into your bathroom design.
Tiled Mirror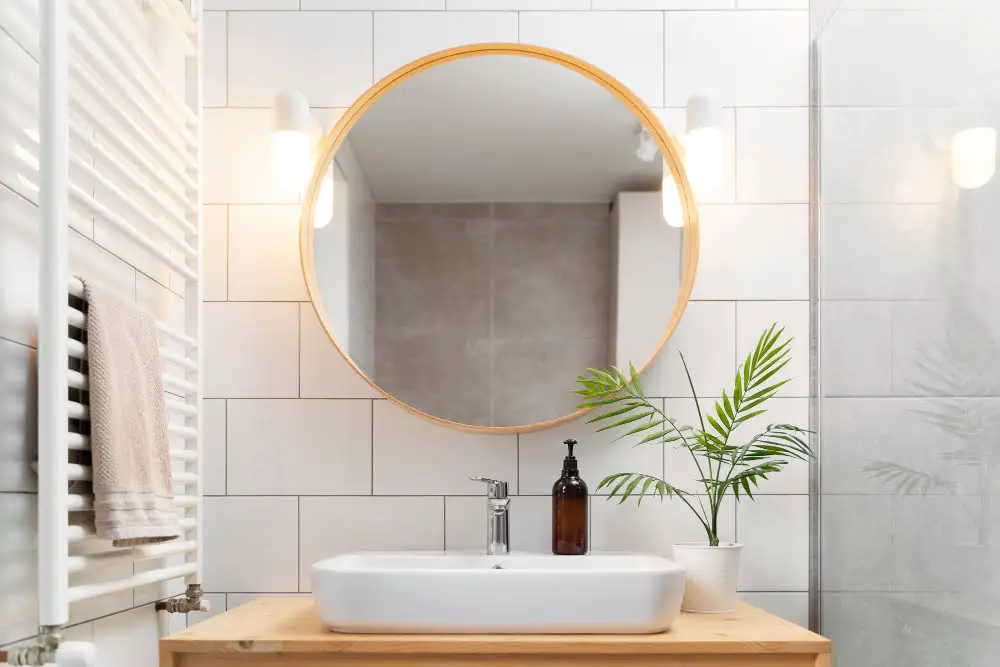 These mirrors are typically framed with colorful, patterned tiles that add texture and visual interest to the space. The tiles can be arranged in a variety of patterns, from simple stripes to intricate mosaics.
Tiled mirrors not only serve as functional bathroom accessories but also as decorative elements that enhance the overall aesthetic of the room. They can be paired with other tile accents throughout the bathroom for a cohesive look or used as standalone statement pieces on an otherwise plain wall.
Mediterranean-patterned Backsplash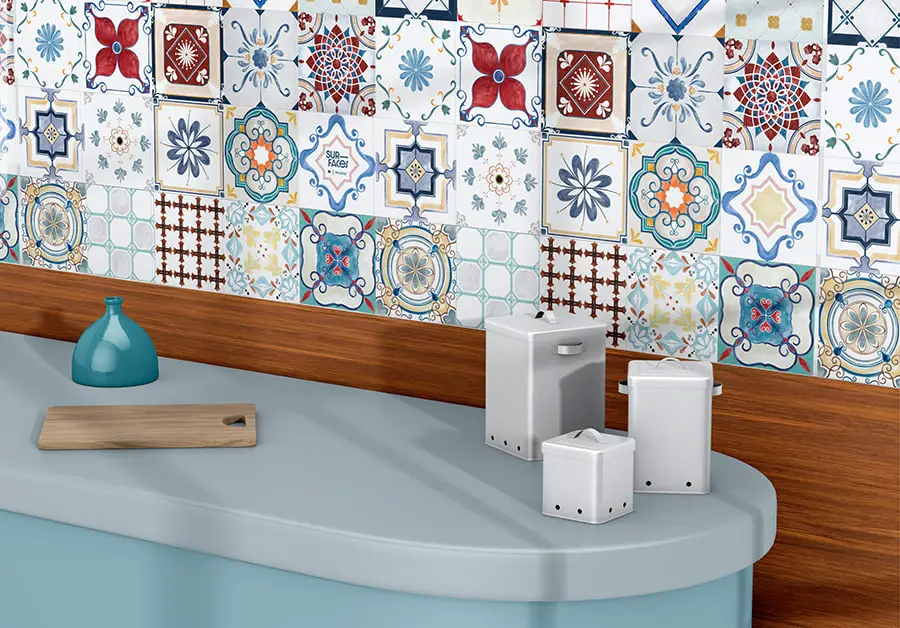 These intricate designs often feature bold colors, geometric shapes, and floral motifs that are reminiscent of the Mediterranean region. Whether you opt for hand-painted tiles or printed ones, a patterned backsplash can instantly transform your space into an exotic retreat.
To keep the look cohesive, consider pairing it with natural wood cabinets or neutral-colored walls. A Mediterranean-patterned backsplash is sure to make a statement in any bathroom!
Gold or Brass Hardware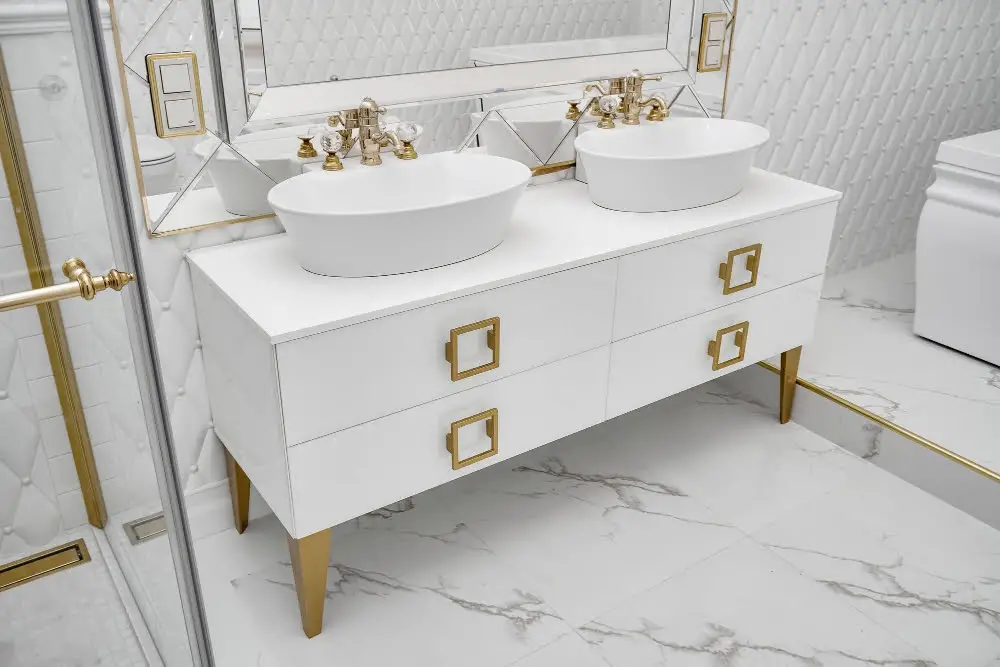 These finishes work particularly well with natural wood vanities, terracotta tiles, and plastered walls. Consider using gold or brass faucets, towel bars, drawer pulls, and light fixtures for a cohesive look throughout the space.
You can also mix metals by pairing gold or brass with wrought iron accents for added interest. Just be sure to choose high-quality hardware that will stand up to moisture over time.
Stucco Walls
Stucco is a type of plaster made from cement, sand, and water that is applied in layers over wire mesh or other support structures. The resulting surface has a textured appearance that can be left as-is or painted for added color.
In the bathroom, stucco walls provide visual interest and texture without overwhelming the space. They also pair well with other Mediterranean-inspired elements like terracotta tiles and wrought iron fixtures.
If you're considering stucco for your bathroom walls, keep in mind that it's not waterproof on its own – you'll need to ensure proper sealing around any areas where water may come into contact with the wall surface (such as near sinks or showers).
Indoor-outdoor Connection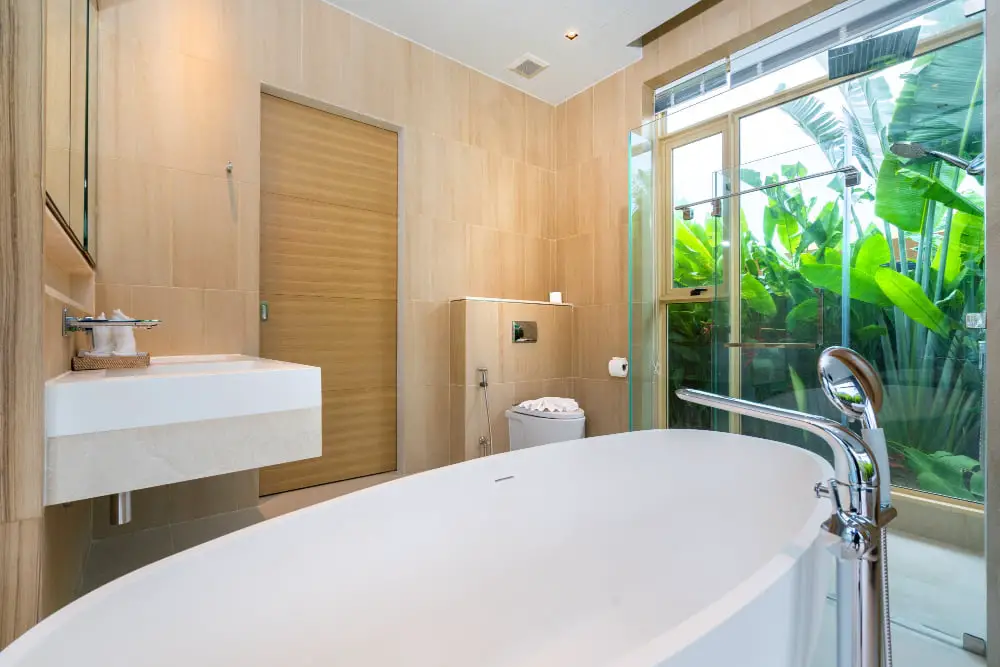 It creates a seamless transition between the interior and exterior spaces, allowing natural light to flood into the room while providing stunning views of the surrounding landscape. To achieve this effect, consider installing large windows or glass doors that open up onto an outdoor patio or garden area.
You can also incorporate plants and greenery inside your bathroom to create a sense of continuity with nature outside. By blurring the boundaries between indoors and outdoors, you'll be able to enjoy all that your surroundings have to offer while relaxing in your own private oasis.
Continue reading: