Last updated on October 20, 2023
Inject a fresh dose of elegance into your bathroom with unique border ideas, because innovative design can transform the ordinary into extraordinary.
I proudly present the unique bathroom borders ideas I've crafted in this article, hoping they inspire you and bring as much joy as I experienced creating them.
Bathroom borders can be a game-changer in your home decor, adding a touch of elegance and style to even the most mundane spaces. From vibrant tiles to elegant wallpaper, there's a wide range of options to explore that can transform your bathroom into a stylish sanctuary.
This article will guide you through a variety of bathroom border ideas, detailing the materials, designs, and installation methods to help you make an informed decision. Whether you're looking for a bold statement or a subtle enhancement, you'll find a wealth of inspiration here to make your bathroom truly stand out.
Ceramic Tile Borders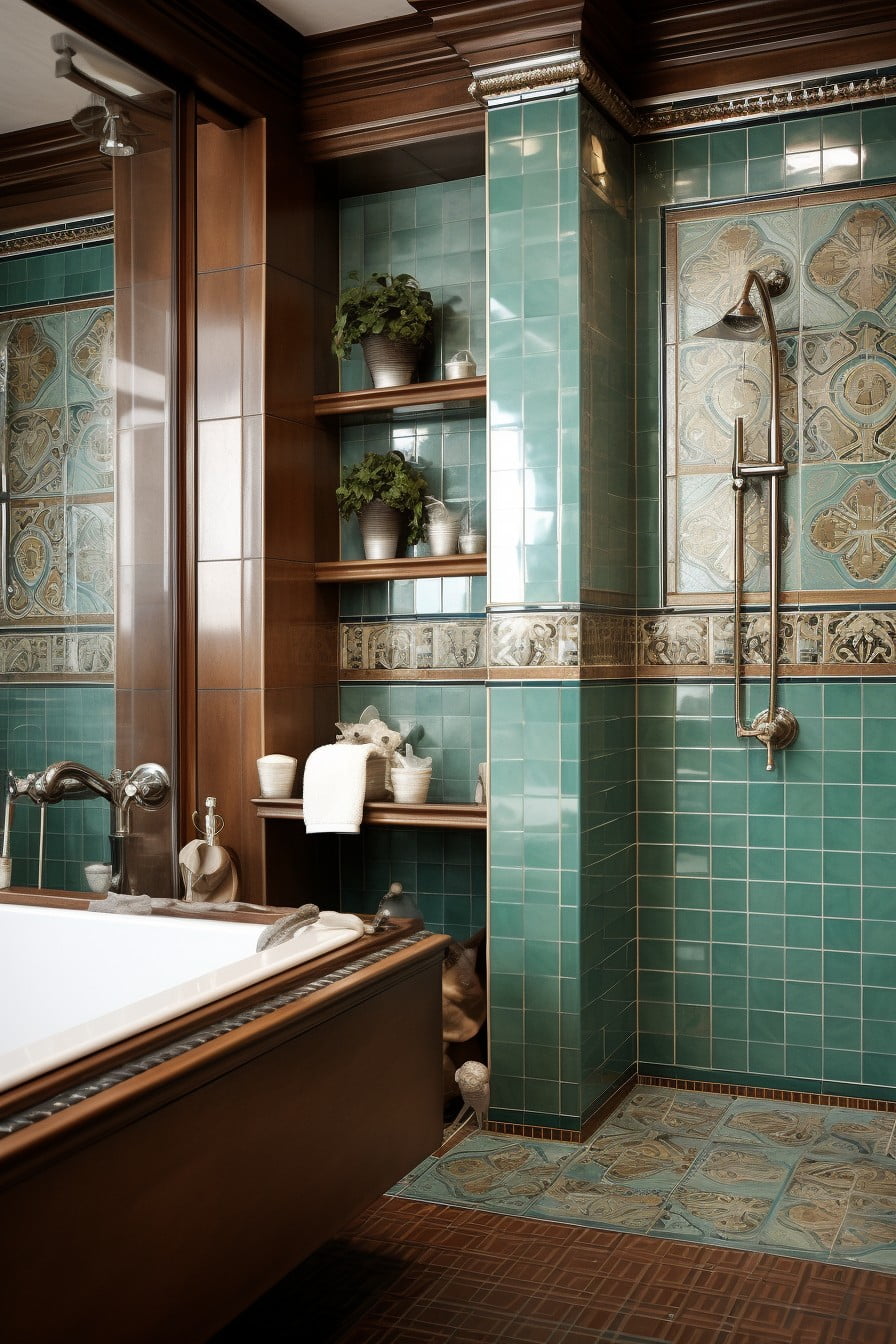 Ceramic tiles lend a classy touch to your bathroom. They are not just durable, but are also available in an assortment of colors, patterns, and textures. You can choose from a variety of styles, be it geometric, floral, or even abstract, depending on your taste.
In addition, you can decide whether you want to continue the same pattern throughout the bathroom or only around specific areas such as the bathtub or sink. For a unique look, don't shy away from experimenting with contrasting color bands or mixed patterns.
Installing a ceramic border tile is a relatively uncomplicated process. Remember to plan your layout carefully, then apply adhesive, place your tiles, and apply grout. A pro tip is to clean the tiles regularly for longevity and to maintain their luster.
You can also add a little sophistication by combining ceramic tiles with solid colors, or even marble or granite. It gives your bathroom an elegant yet contemporary flair. Always remember, creativity is key when it comes to ceramic tile borders!
Mosaic Tile Accents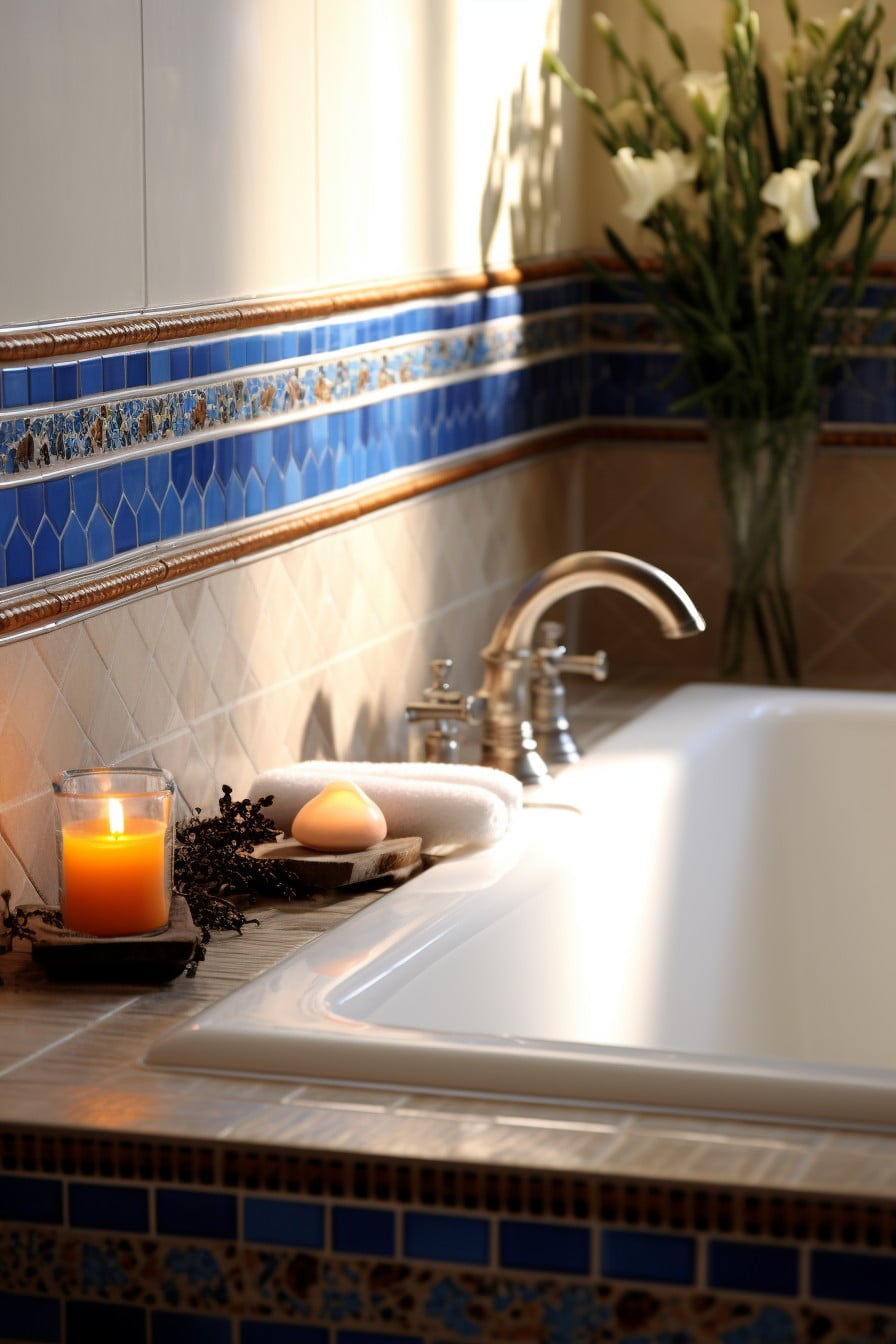 Embracing the charm of mosaic tile accents can undoubtedly inject a creative burst into your bathroom. Renowned for their unique aesthetic and versatility, these small, square pieces of tile can be arranged in nearly limitless patterns and color mixes.
Here are some essential points to enable you to enhance your bathroom through mosaic tile accents:
Mixed Material Mosaics: Consider incorporating various materials such as glass, porcelain, or stone into a single design. It adds texture and variety.
Colorful Creations: Use your imagination to set up a vibrant play of colors, forming either harmonious or contrasting hues.
Focal Points: Utilize mosaics to highlight bathroom features such as the sink, mirror, or bath.
Delicate Dividers: Separate different areas of the bathroom by crafting a mosaic border for visual transition.
Floor-To-Ceiling Showcase: Scale the design upward to create a stunning feature wall.
Thematic Mosaics: Follow a theme, like maritime or floral, reflecting it in shapes and colors of your mosaics.
Remember, experimenting with different patterns and colors can bring out the real beauty of mosaic tile accents.
Framed Mirror Borders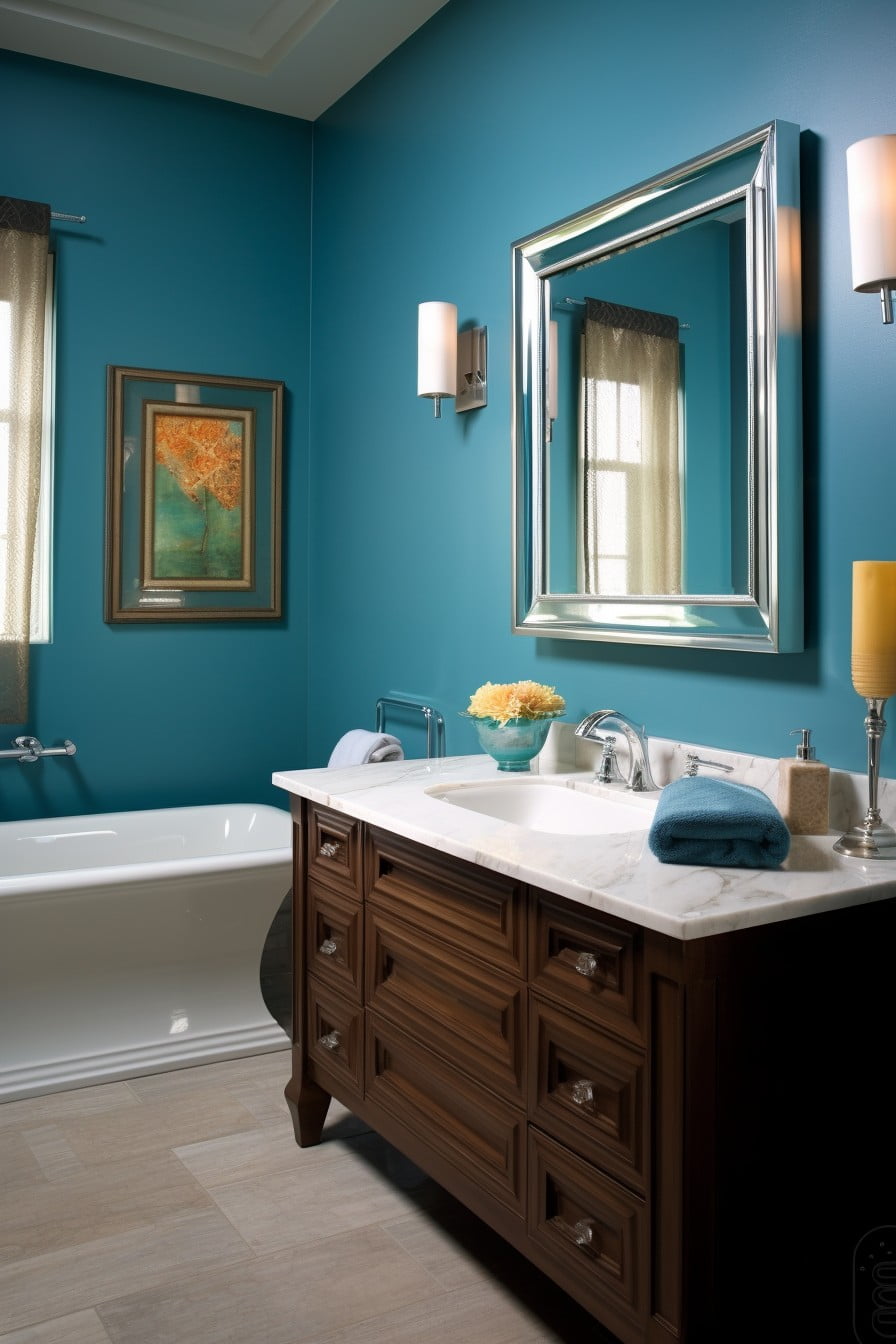 Adding borders to your bathroom mirrors can instantly elevate the aesthetic appeal of your space. Not only does it provide a more finished look, but it also creates a unique focal point. Opt for a sophisticated vintage frame carved in wood for a classic touch or a sleek metal one for a modern twist.
Experimenting with colors can yield eye-catching results. Consider mirrors with in-built LED lights for an elevated and glamorous look. Also, keep in mind the size of the mirror and ensure that it is in proportion to the wall. Choosing the right border for your mirror can harmonize the entire theme of your bathroom, merging practicality with style.
Plan ahead and incorporate a mirror border that matches the overall bathroom decor. For smaller bathrooms, a well-placed mirror with a beautiful frame can create an illusion of space. A framed mirror border is more than an accessory; it's a piece that can tie your bathroom design together.
Wallpaper Edge Trims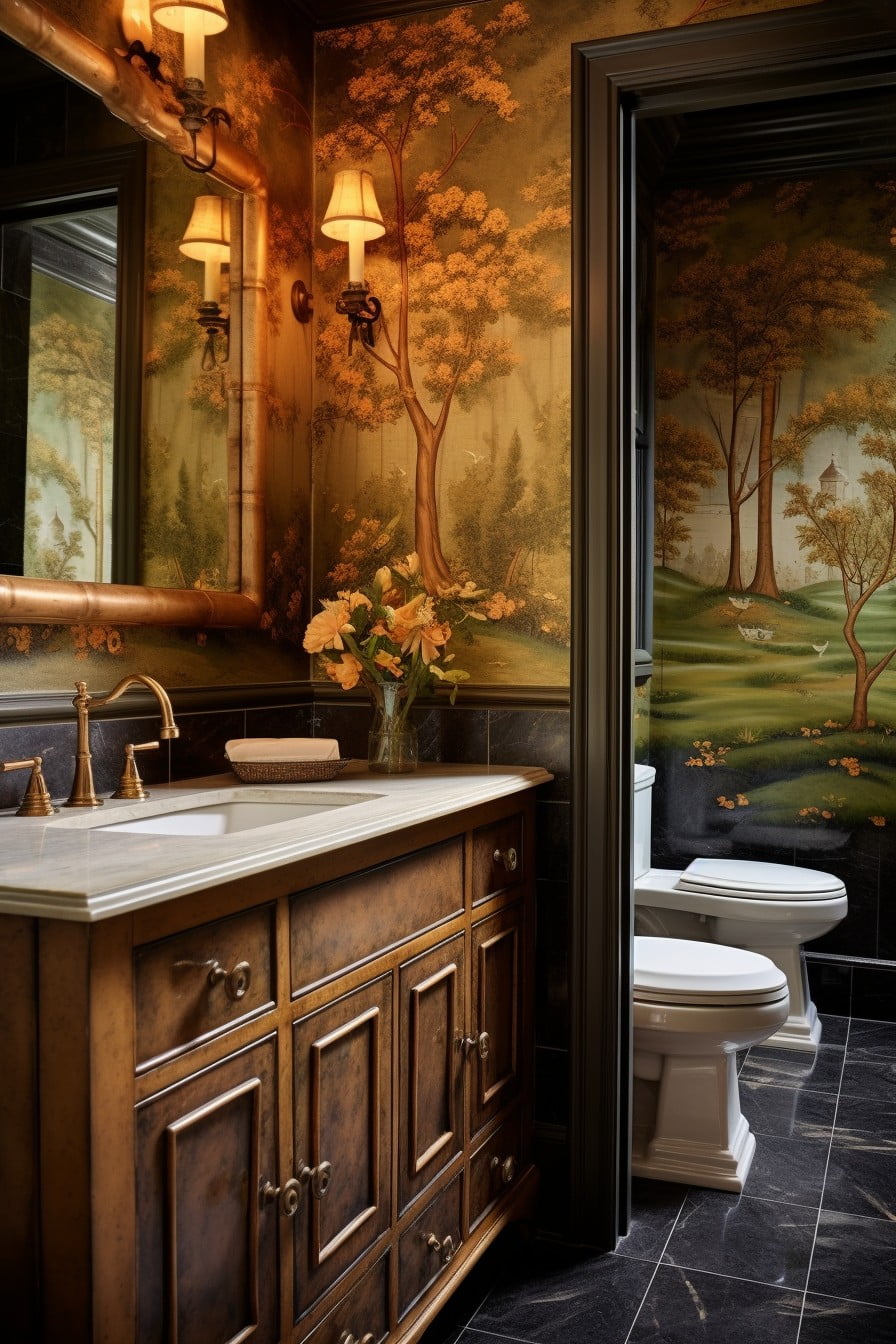 Understood for its potential to offer a quick and effective transformation, Wallpaper edge trims are indeed a homeowner's delight. Imagine using a bold, graphic print as your chosen trim, which immediately delivers an impressive backdrop, or consider a more subtle, delicate floral detailing to add a touch of sophistication.
1. Versatility: Suits any theme from ultra-modern to vintage charm.
2. Creativity: Endless design possibilities including stripes, florals, graphics.
3. Flexibility: Use along the ceiling line, above the sink, or around a window as per preference.
4. Economical: A cost-effective solution to deck up border areas.
5. Easy application: No specialized tools needed, simply unpeel, stick, smooth and trim.
With these pointers, it is clear that wallpaper edge trims can breathe new life into your bathroom décor, creating a stylish statement effortlessly.
Painted Stencil Borders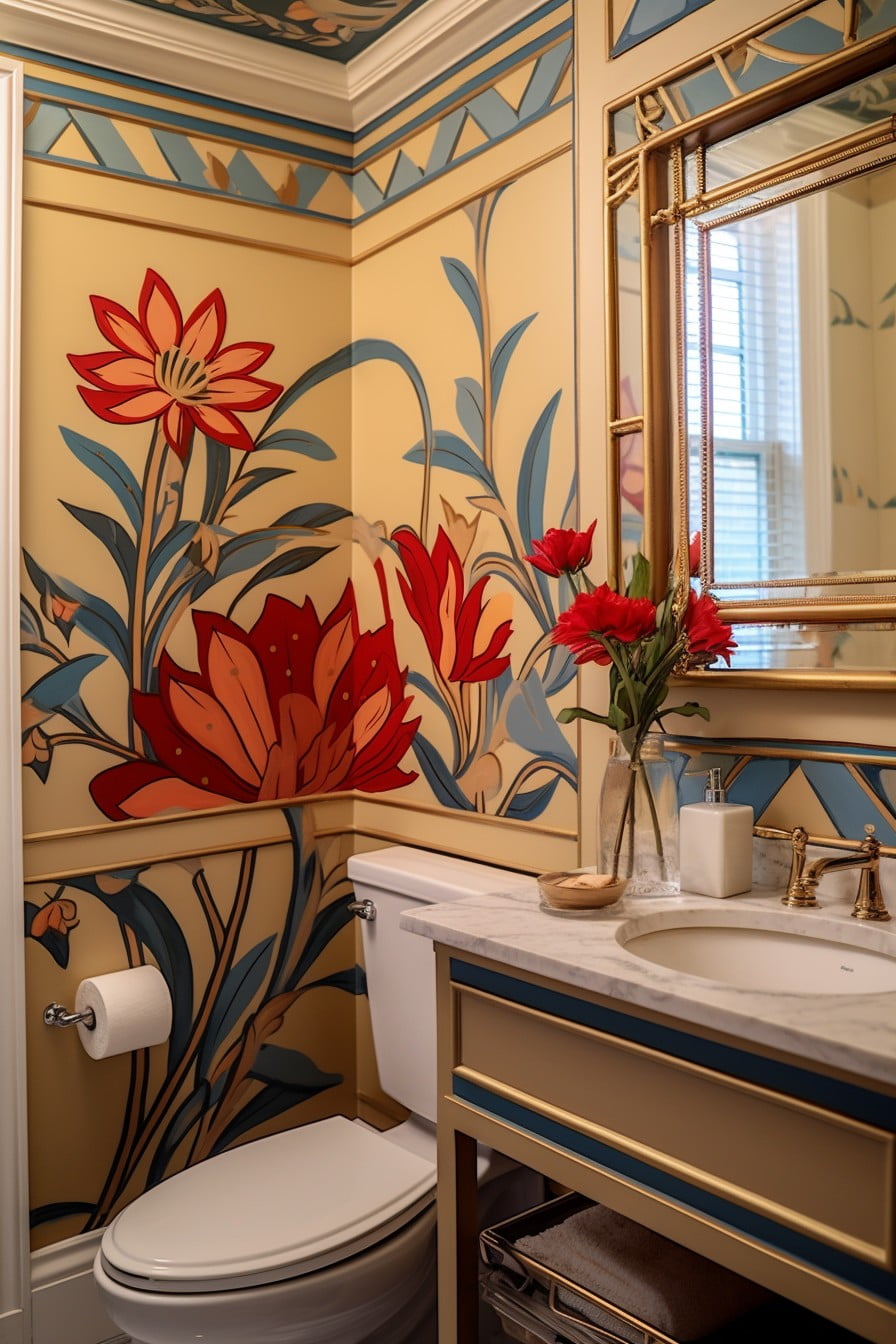 For a creative touch to your bathroom walls, consider applying a painted stencil border. This DIY project allows for personalized color choice, style, and design.
Here are points you might find helpful:
Choose a stencil design: Floral, geometric, or abstract patterns can work well. Do ensure the design aligns with the overall bathroom style.
Select the right paint: Acrylic or latex paints are typically recommended. Depending on the base wall color, you might opt for contrasting or subtle complementary hues.
Position the stencil: Border height can drastically change the room's perception. A higher border gives the illusion of a taller room, while a lower one implies coziness.
Application process: Use a dense foam roller or a stencil brush for application. Remember, less is more to prevent paint seepage underneath the stencil.
Let it dry: For crisp, clean lines, allow each section to thoroughly dry before moving on to the next stencil repeat.
When done correctly, stenciled borders can effectively uplift your bathroom's look, giving it a custom designer feel.
Vertical-striped Borders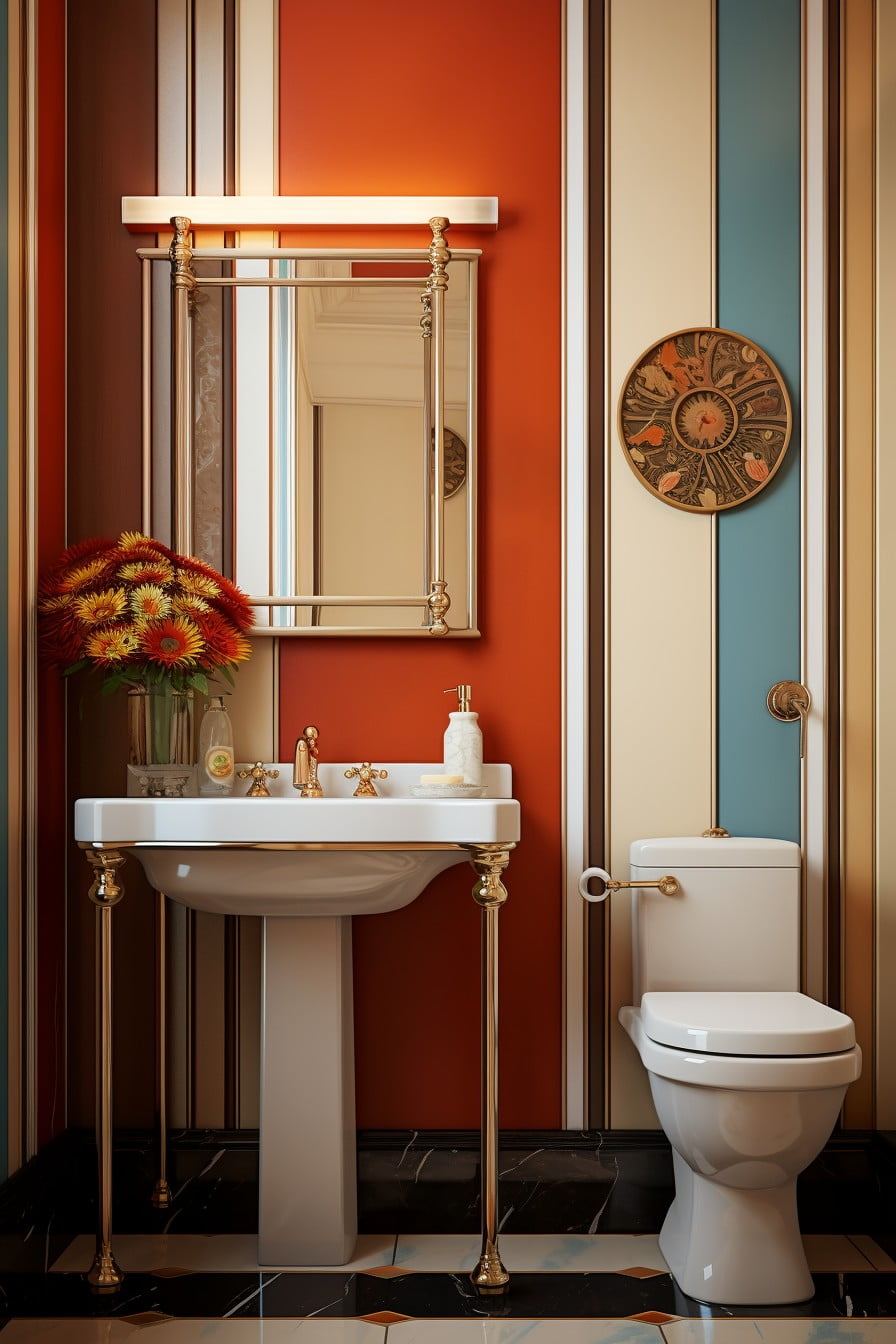 Vertical stripes are a classic addition that instills depth and height. Their versatility is notable, given they suit almost any color scheme, whether bright, pastel, or muted hues.
Wide stripe patterns convey a bold, modern aesthetic, while narrow stripes mimic a traditional vintage vibe. Employ easily removable wallpaper or paint techniques to demonstrate this style.
Consider scale and direction when choosing the pattern. The trick to using this style effectively is balance – avoid an overwhelming look by implementing stripes on one accent wall or strip.
Matching the stripe color to existing fixtures or accessories ties the room together, creating a harmonious environment.
Finally, you might want to embrace striped shower curtains or towels as an option if you plan to incorporate this style subtly.
Pebble Stone Accents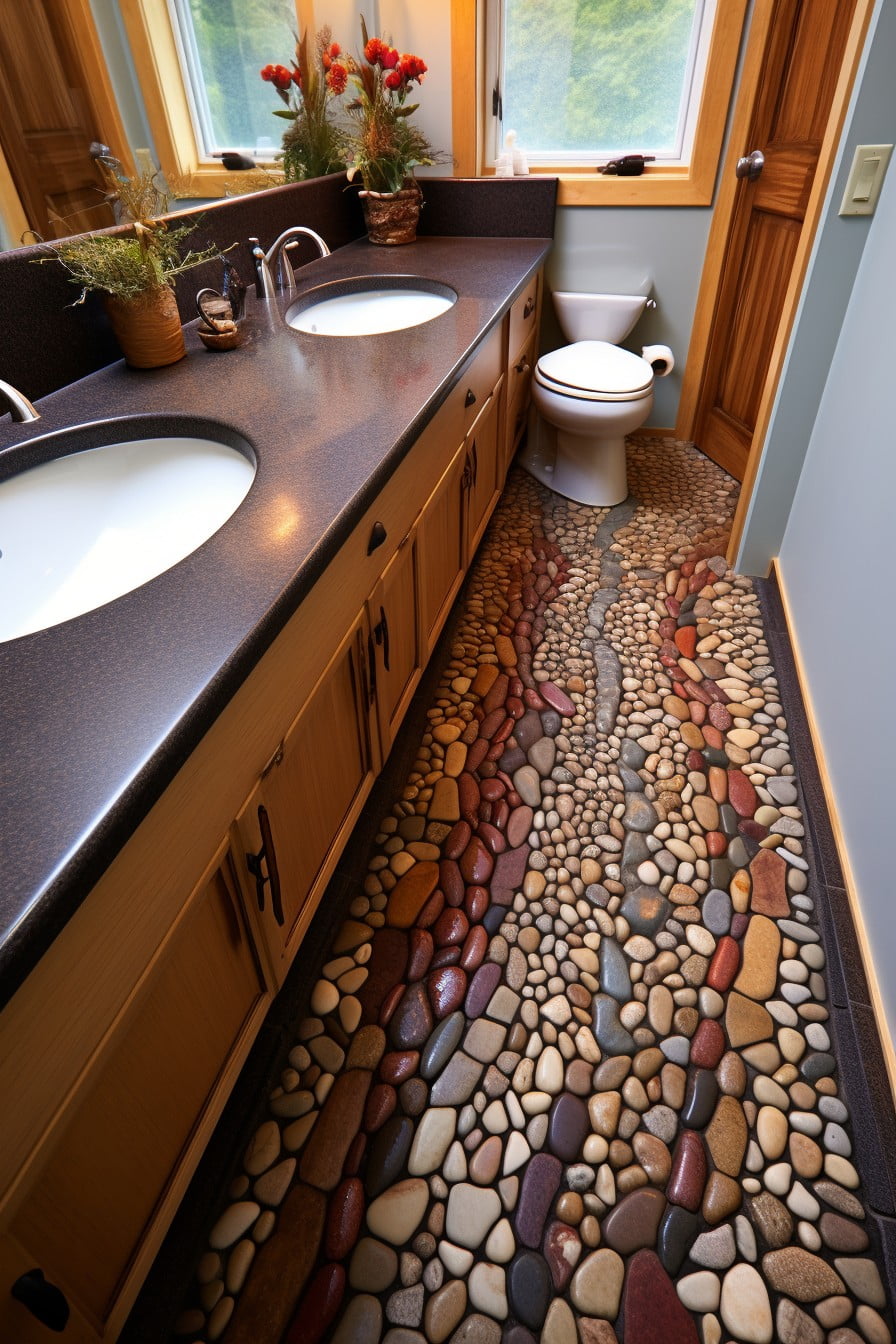 Utilizing pebble stone accents in your bathroom can lend a natural and earthy touch that feels both modern and timeless. Many find this option appealing for its relaxed, spa-inspired vibe.
When embedding these pebbles, consider following the next tips:
Opt for Meshed Pebbles: A mesh backing can greatly ease the installation process, as the pebbles remain in perfect pattern without individual setting.
Seal the Pebbles: To prevent water damage and preserve color, it's advised to apply a layer of sealant.
Experiment with Size: Mixing different pebble sizes can provide dynamic texture and elevate visual interest.
Remember, these pebbles can be used to accentuate shower floors, wall border, or even sink backsplash for maximum impact.
Patterned Glass Tile Borders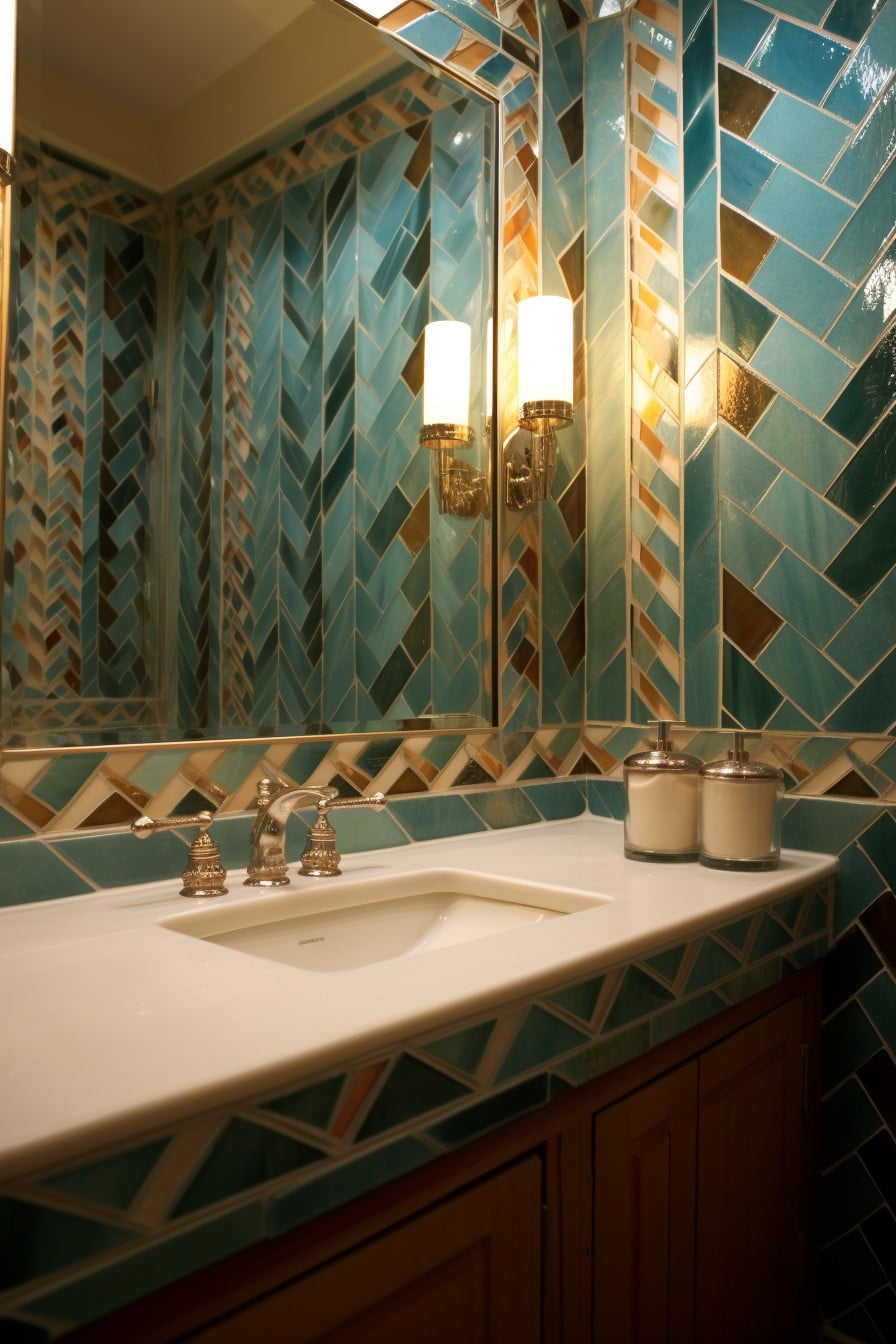 Offering a light-catching sheen and a pop of color, patterned glass tiles are an exciting choice for any modern bathroom. These tiles can provide a certain depth and richness not often found in traditional materials.
Here are a few ways to incorporate this style.
1. Mix and Match: Add visual interest by alternating between two or more contrasting patterns. This technique amplifies the appeal of your bathroom space without overwhelming the senses.
2. Gradient Effect: Use tiles of varying shades of the same color to create a gradient effect. It's a subtle approach that provides a soothing feel.
3. Accent Wall: Highlight a specific area of your bathroom such as the shower or sink. This technique seamlessly ties the bathroom décor together, creating visual harmony.
4. Geometric Harmony: Complement the patterned glass tile with other shapes in your bathroom. This includes towels, shower curtains, or even a bathroom rug. This symphony of shapes adds a new layer of sophistication.
Get creative with these ideas to bring a distinctive style to your bathroom.
Hand-painted Wall Borders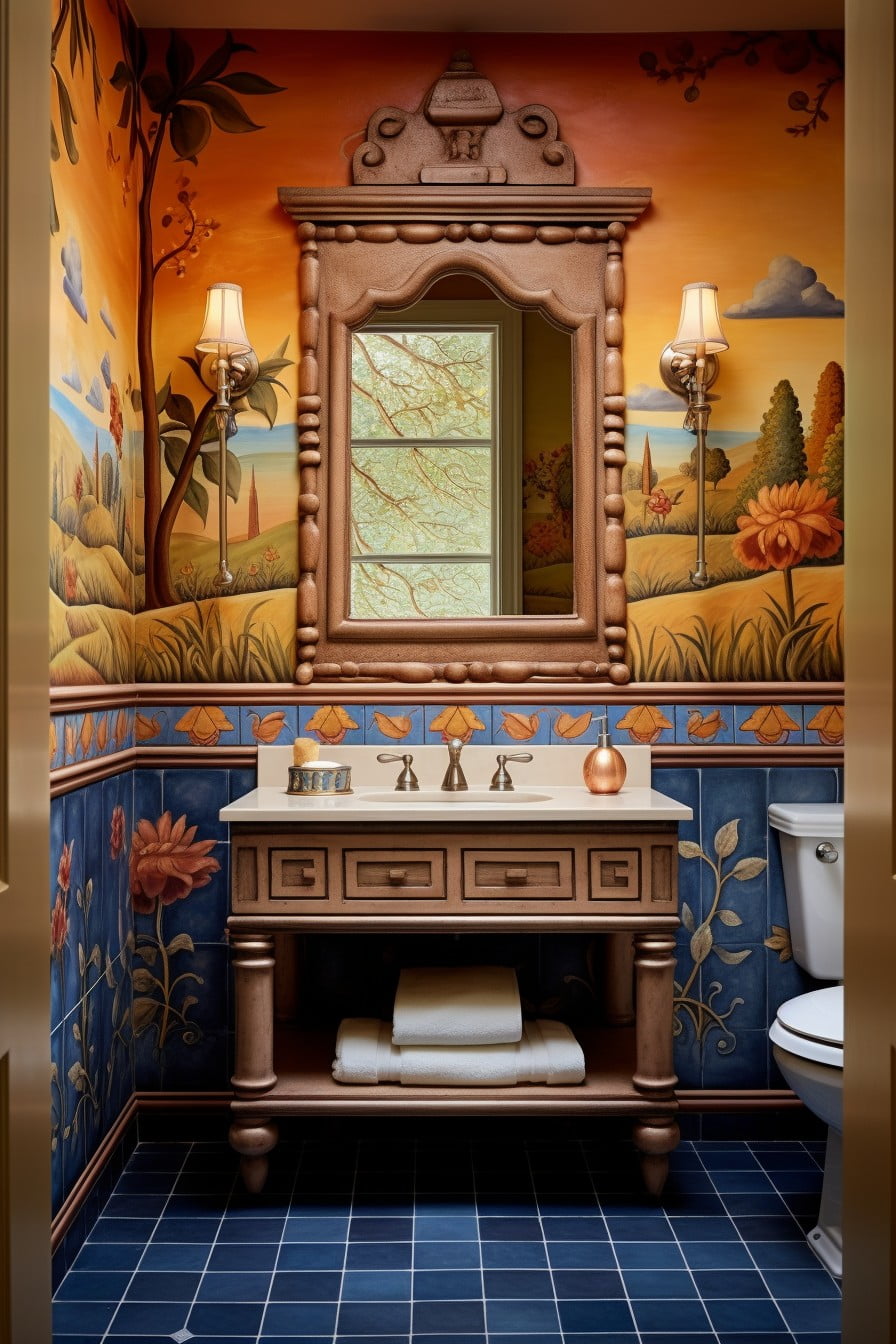 Capitalizing on artistic skills, craft a one-of-a-kind border that reflects your style.
Use acrylic paint with latex top coat for durability.
Feel free to experiment: geometric patterns, brushstroke designs, or a monochromatic gradient add a unique touch.
Opt for reusable stencils for precision.
Whether it's a thin line tracing the ceiling or a wide band enveloping the room, the possibilities are only as limited as your imagination.
Vinyl Wall Decals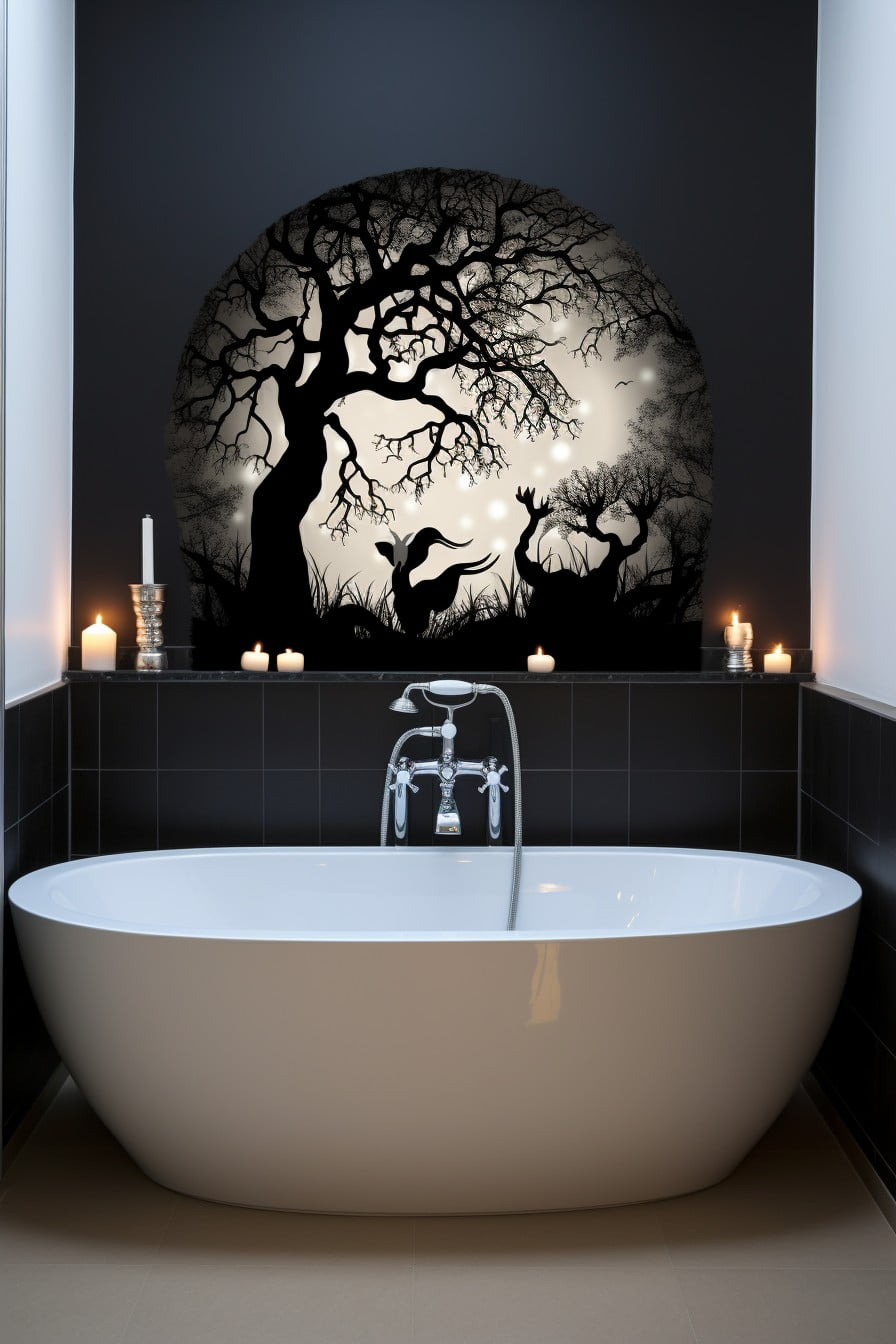 Instantly elevating your bathroom decor, vinyl wall decals offer a world of creativity. They are an affordable option that delivers high visual impact. With a wide variety of designs, from intricate patterns to quotes or images, you have the freedom to select a style that reflects your personal taste.
Installing these decals is a breeze. Simply peel the backing and stick them onto a clean, dry bathroom wall. Their adaptability allows you to position them on flat or curved surfaces, covering any imperfections.
Maintenance is straightforward – wipe them down with a damp cloth. They're water-resistant, ensuring longevity even in this moisture-heavy space. Over time, if you wish for a change, they can be removed without causing damage to the walls, making them ideal for renters or for those who like to regularly revamp their interiors.
Beaded Board Paneling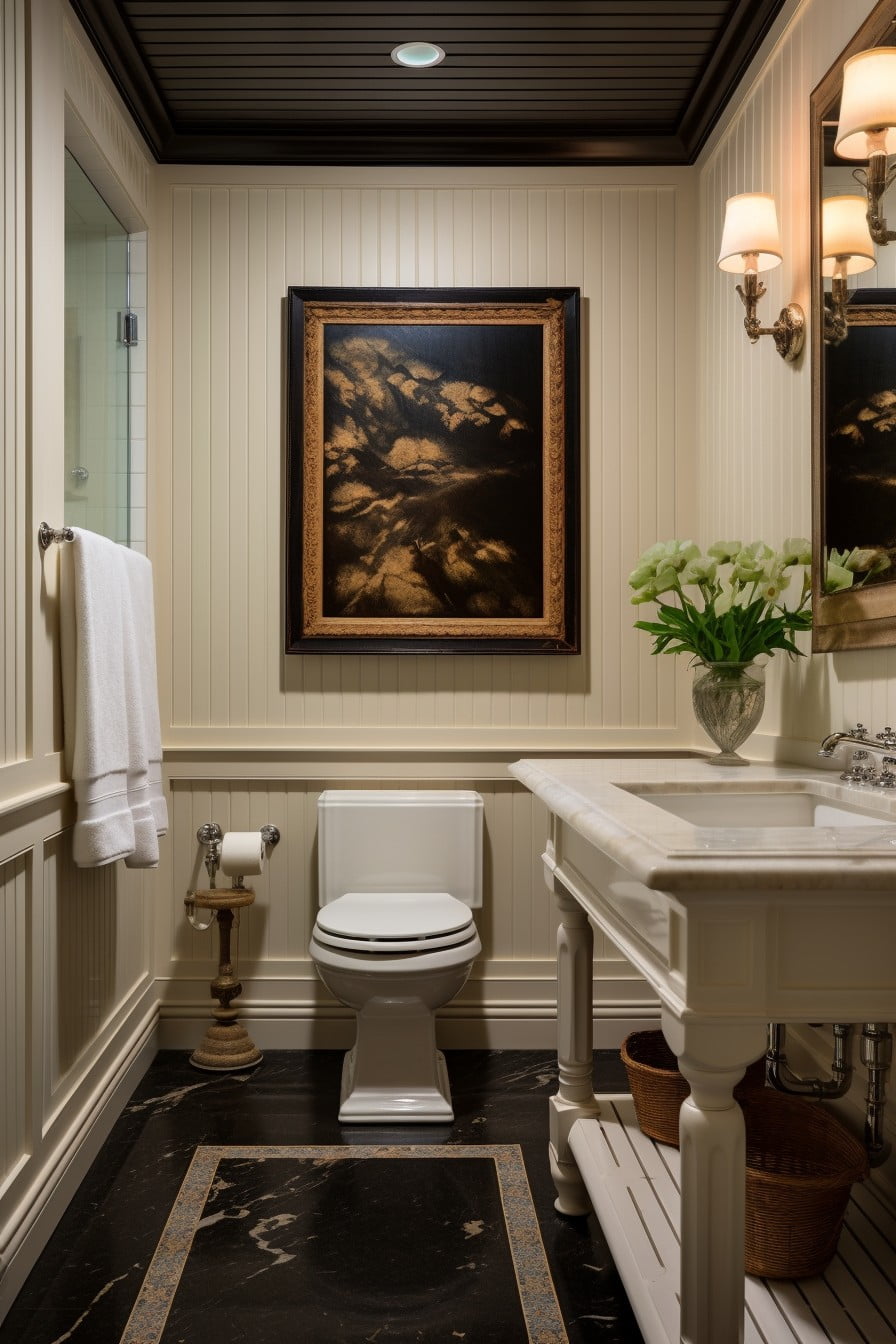 For a quaint and charming touch, consider incorporating beaded board paneling in your bathroom design. This style adds texture and visual interest to your borders, providing a classic yet alluring appeal.
Here are few key points:
Easy Installation: Often sold in large sheets, it can be easily cut to fit around fixtures and mounted onto wall surfaces.
Versatility: Beaded board paneling can be painted or stained to match any color scheme, making it a versatile décor choice.
Durability: Despite its elegant aesthetic, this paneling is quite resilient, standing up to humidity and moisture, common in bathrooms.
Vintage Appeal: Ideal for creating a vintage, coastal or farmhouse feel, perfect for those looking for a touch of nostalgia.
Maintenance: It's easy to clean, requiring just a gentle wipe down with a damp cloth and mild soap.
In essence, this stylish option is a excellent way to enhance your bathroom boundaries with texture and charm.
Decorative Molding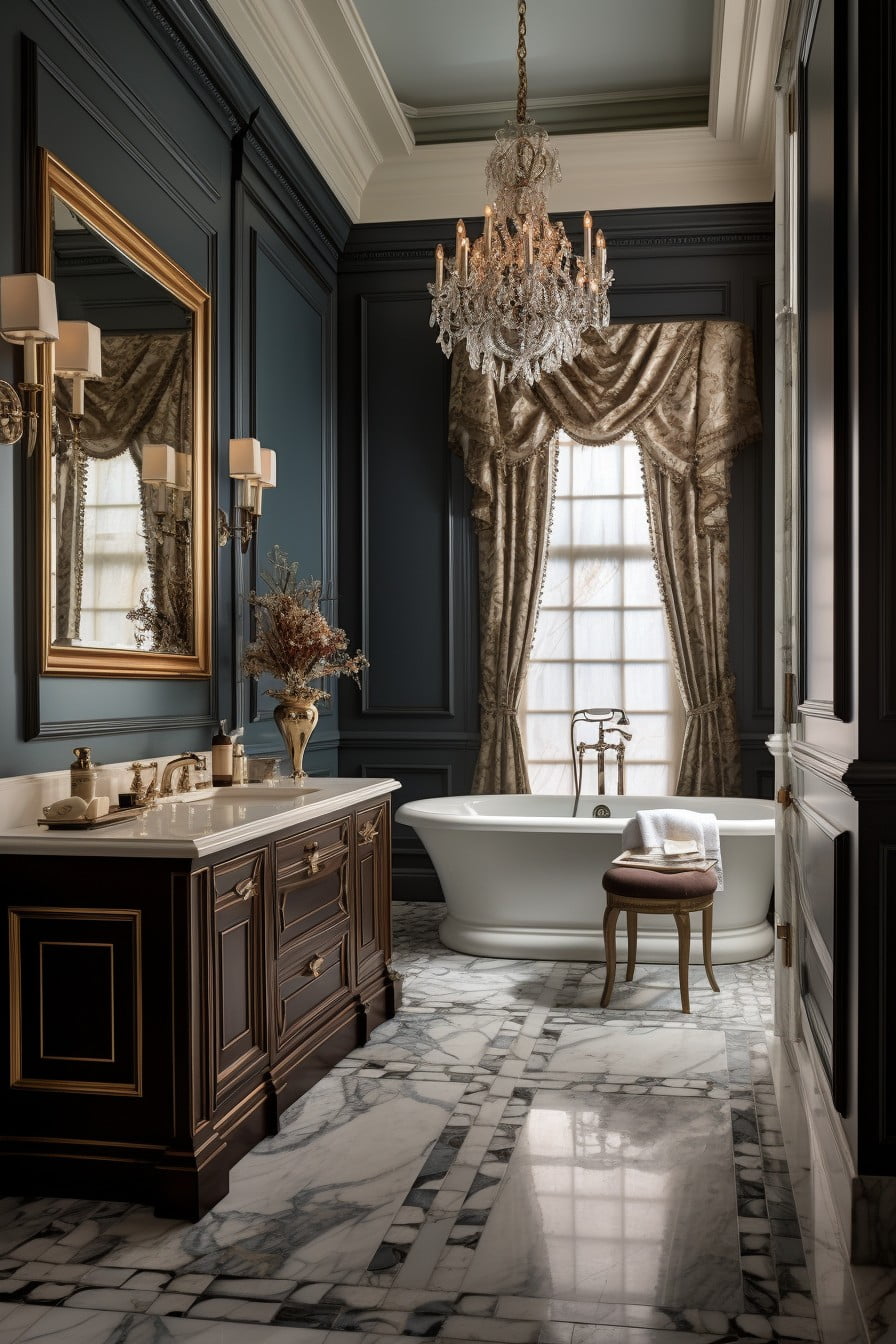 Decorative molding can significantly amplify the overall elegance of your bathroom. It involves the use of crown, baseboard, chair rail, or picture frame molding to add interest and depth to your walls. Applying molding to a border area creates a more defined separation between wall colors or textures, aiding in the design flow and unifying the overall aesthetic.
Consider the following points:
Purpose: Molding not only adds a decorative element but also serves a functional role in protecting walls from water damage, especially near sinks and tubs.
Material: High-density polystyrene and PVC moldings are a popular choice for bathrooms due to their water-resistant nature.
Style: Molding styles can range from simple patterns for a minimalist look to ornate designs for a luxurious touch.
Installation: Ensure proper sealing to prevent warping or rotting due to humidity in the bathroom.
Paint: Molding provides the opportunity to introduce a contrasting color, tying the room together perfectly.
Incorporating decorative molding into your bathroom border design can provide that subtle yet significant detail that distinguishes a plain bathroom from an exemplary one.
Natural Stone Tile Borders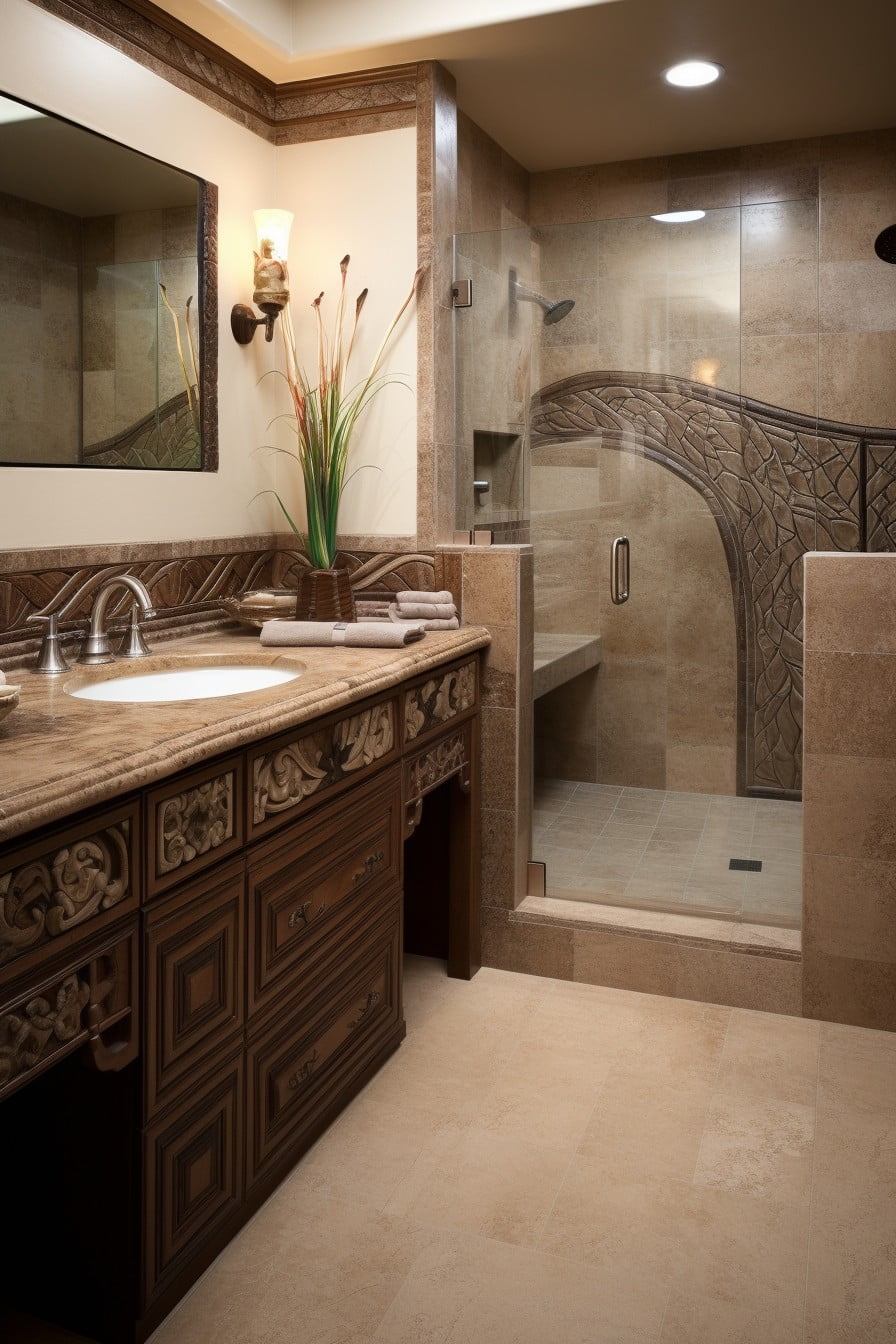 Crafted from materials like granite, limestone, or slate, these tiles offer unequalled durability and a unique aesthetic. As a nod to their organic, earthy appeal, they can flawlessly integrate various design elements of the bathroom together. A border of rough-hewn limestone gives a rustic touch, whereas polished granite could add just the right dash of luxury. The perfect match for underfloor heating, they are warm underfoot too.
To make your bathroom look a class apart, consider the use of contrast. Try a lighter natural stone border against a darker wall tile, or vice versa. For a more visually captivating look, use different shapes and sizes that don't necessarily have to follow a straight line. Remember, arranging the tiles in various designs can create exciting visual interest.
For those leaning more towards a minimalist style, a single uninterrupted line of stone tiles in a coordinating color might just be the right pick. Finally, note that proper sealing is essential for natural stone borders to prevent stains and keep them looking their best.
Rope or Nautical Borders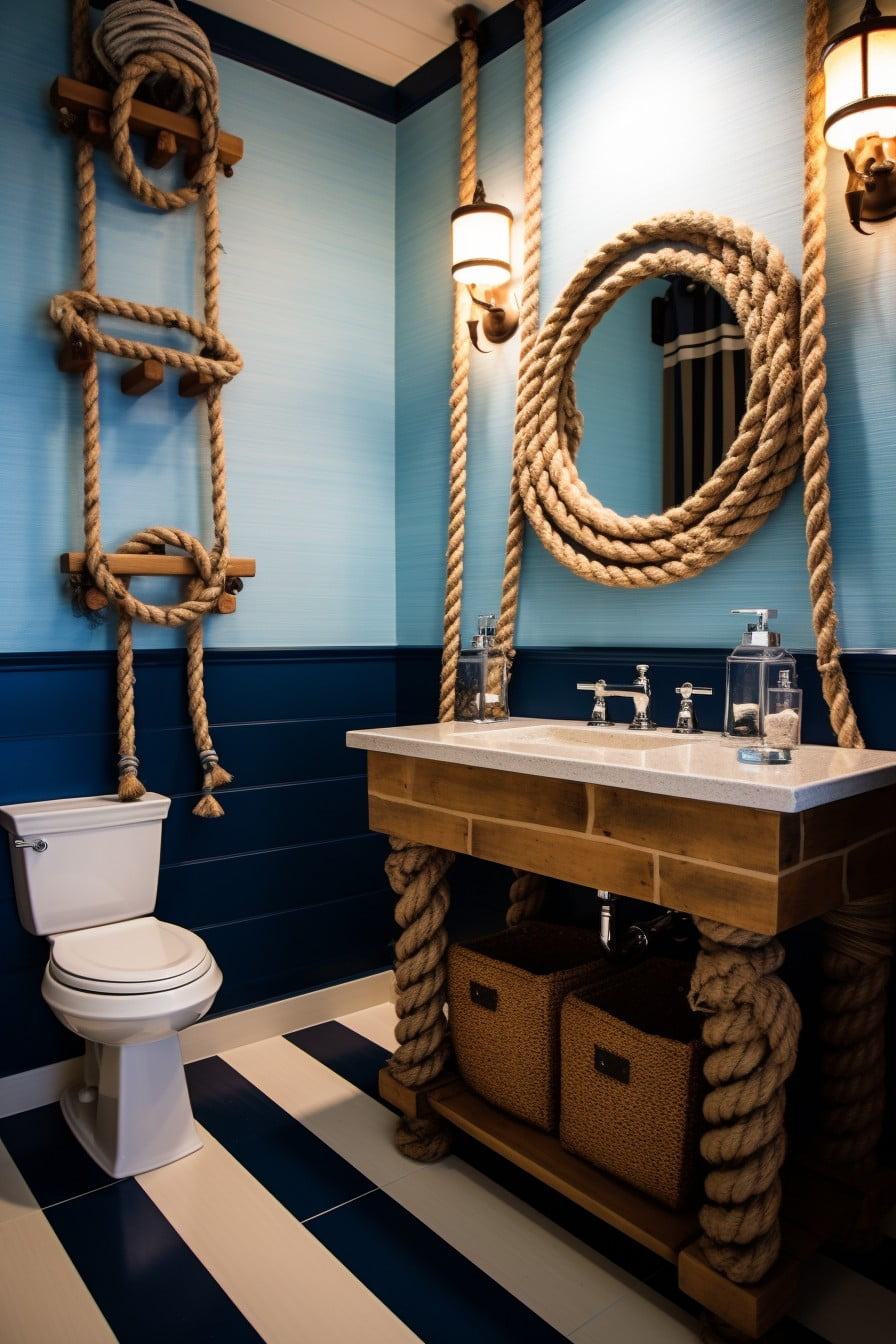 For an immediate coastal vibe, opt for rope borders. It's a simple addition that makes a significant impact, meticulously crafting a nautical atmosphere.
When implemented in the right manner, it harmoniously balances the delicate line between ornamental and practical.
Durable, marine-grade ropes are ideal, offering both aesthetics and longevity. Sisal, manila, or jute are great choices due to their texture, hue, and strength.
For a more polished look, try navy blue nautical ropes. Make sure they are well-fastened to your wall for a neat and sturdy result. This works effectively as a border just above the baseboard, around your mirror, or framing a seaside-themed artwork.
Consider incorporating paddle-shaped hooks or anchors for an extra charm. Bear in mind that less is more; avoid saturating your bathroom with overly thematic elements.
Thus, these rope borders, when used subtly, can create an elegant maritime sanctuary right in your home.
Decorative Plaster Molding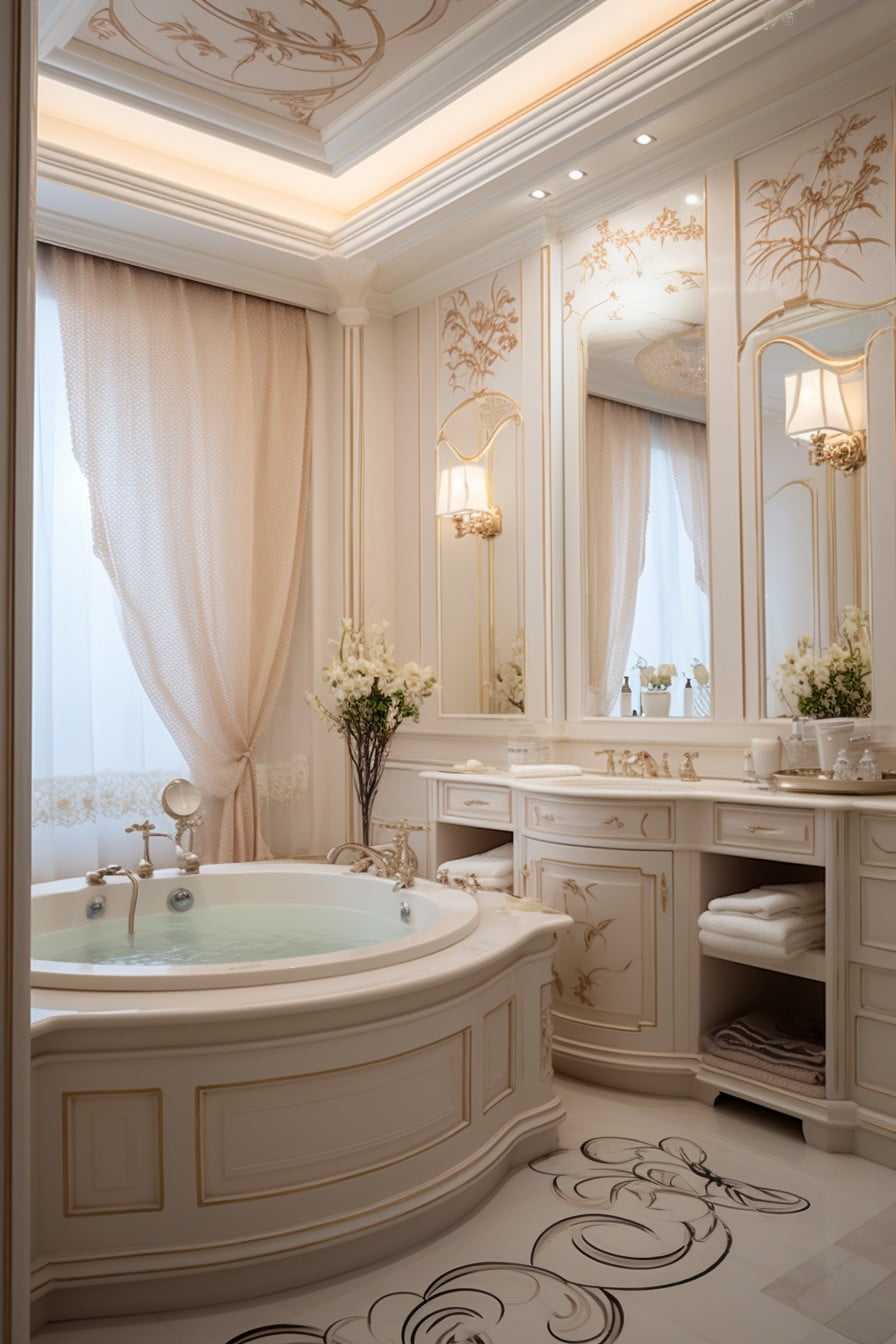 Elegantly sculpted and rich in historical charm, this type of molding instantly elevates a dull bathroom to one filled with character. Best used as a feature wall or ceiling trim, it introduces an air of sophistication.
1. Versatility: From ornate to minimalist, there exists a wide variety of styles to cater to personal aesthetic tastes.
2. Dual-Purpose: It not only enhances visual appeal but also helps hide wall or ceiling flaws.
3. Customizability: It's possible to paint over it, thus retaining room color harmony.
4. Timelessness: It lends a timeless touch, making a stylish impact regardless of the era.
However, bear in mind the room's size and design theme to avoid a cluttered or mismatched look.
Vintage Subway Tile Trim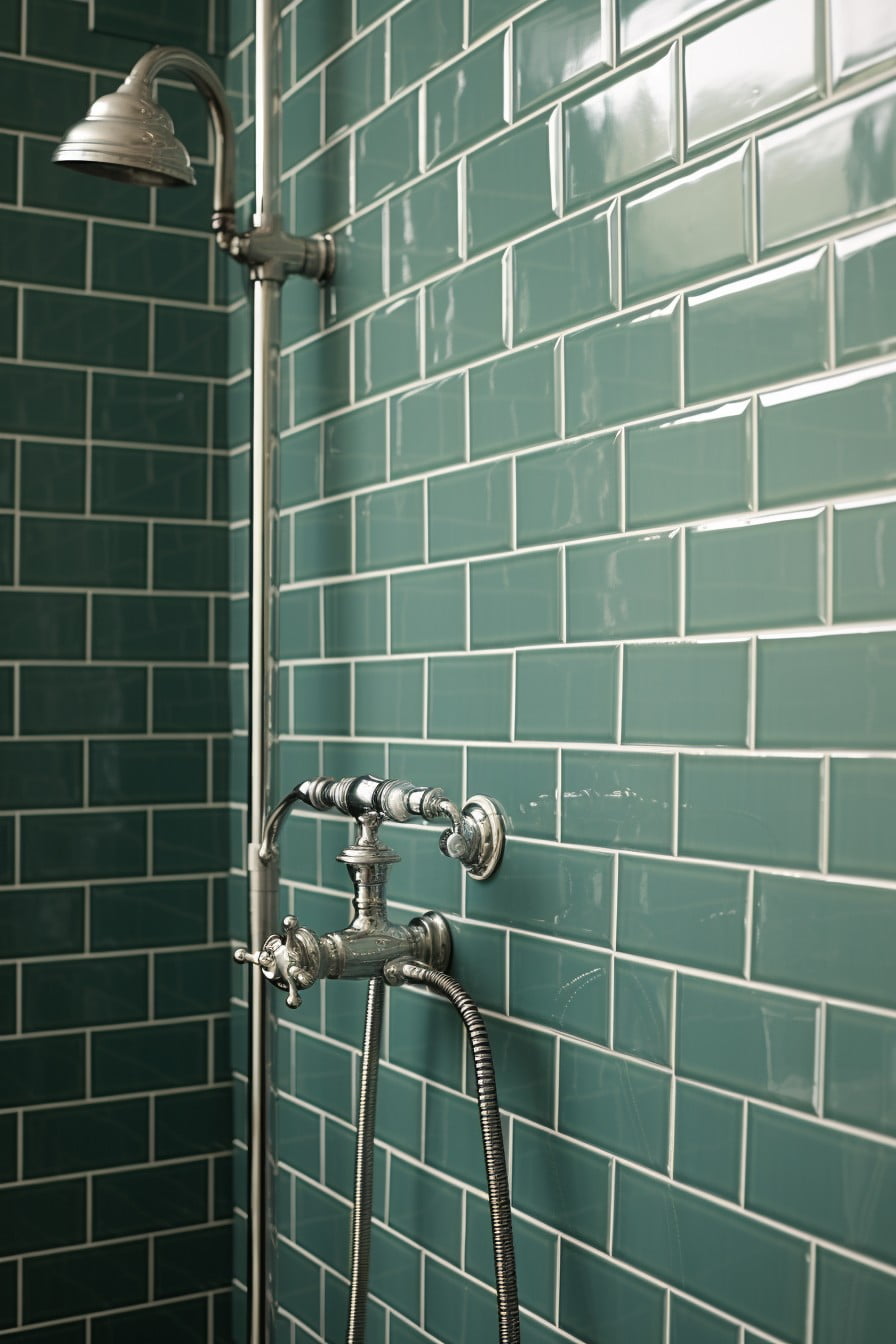 Loved for its classic appeal and durability, this border style continues to charm homeowners across generations. It lends a beautifully balanced look to the room with its uniform, rectangular pieces. More than just a trim, it draws a visual boundary that can help highlight certain areas in your bathroom.
For achieving an optimal effect, consider choosing a contrasting tile color that can make the trim stand out. Equally striking can be a glossy, glazed finish, which adds a subtle spark of modernity to the vintage aesthetic. To elevate the design even more, lay the subway tiles in an interesting pattern like a vertical stack or herringbone.
Remember, this tile trim is highly versatile and pairs well with various styles, whether it's a minimalist, modern interior or a more detailed, traditional setting. It's an effective, visually appealing way to finish your bathroom walls while adding a touch of timeless elegance.
Marble Threshold Borders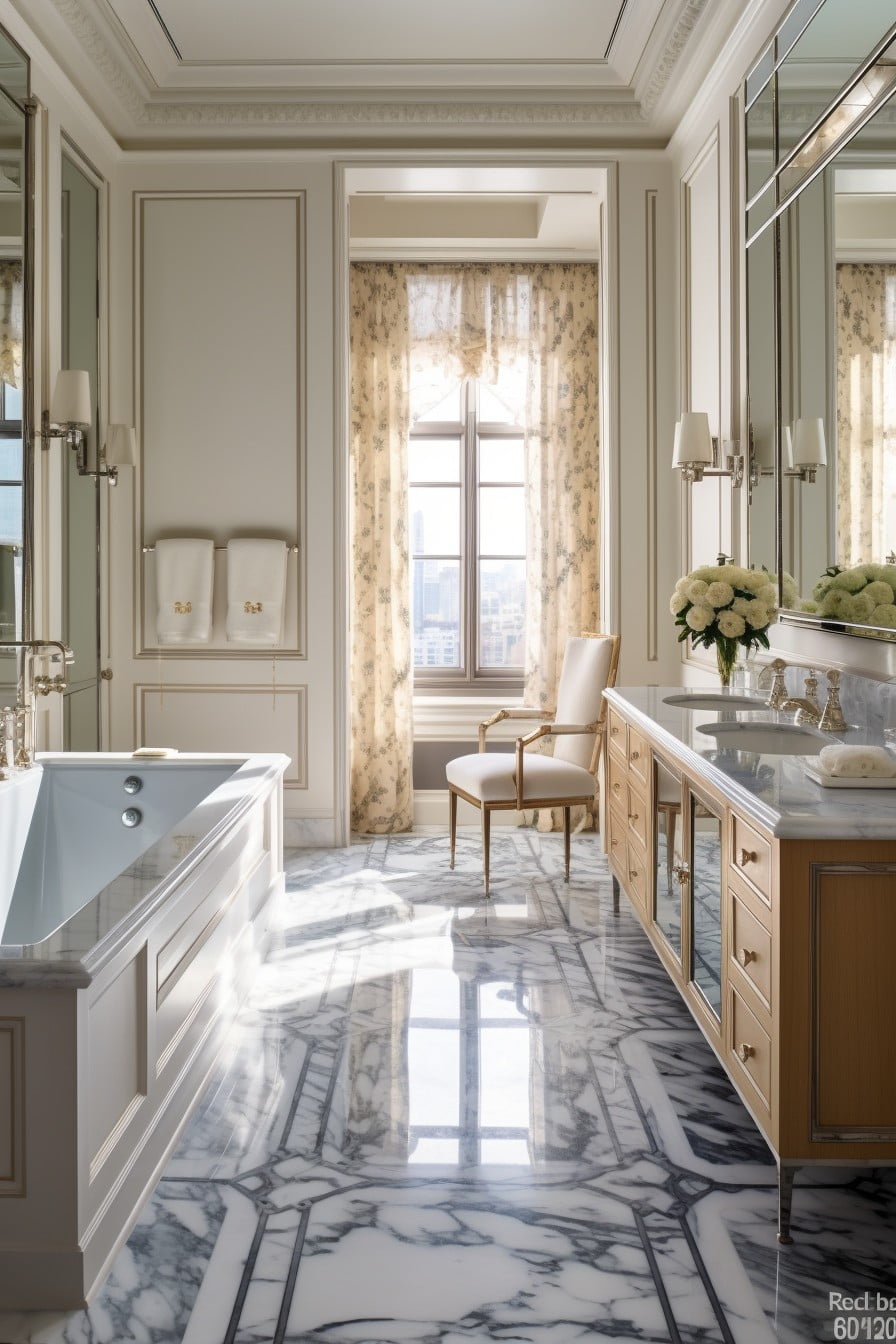 Choosing marble for your bathroom border brings an air of sophistication and timeless elegance. This natural stone is not only aesthetically pleasing but its hardy nature makes it a sensible choice. Threshold borders delineating the bathtub or shower from the rest of the room can create a distinct comfort zone.
Here's how to make the most of this stylish feature:
Coordinate: Match the marble threshold to the existing bathroom tiles for a cohesive look. If you have a contrast in mind, opt for marble colors that complement the room's prominent hues.
Size Matters: Marble thresholds come in various sizes. Use wider pieces for larger bathrooms or slim, sleek borders for compact spaces.
Installation: Despite its appearance, working with marble isn't difficult. With the right tools and care, you can achieve a premium finish.
Maintenance: Marble requires specific upkeep. Seal it regularly to retain its gorgeous gloss and protect against wear and tear.
By thoughtfully selecting and installing a marble threshold, you can elevate an ordinary bathroom to a luxurious relax zone.
Shelf-edge Trims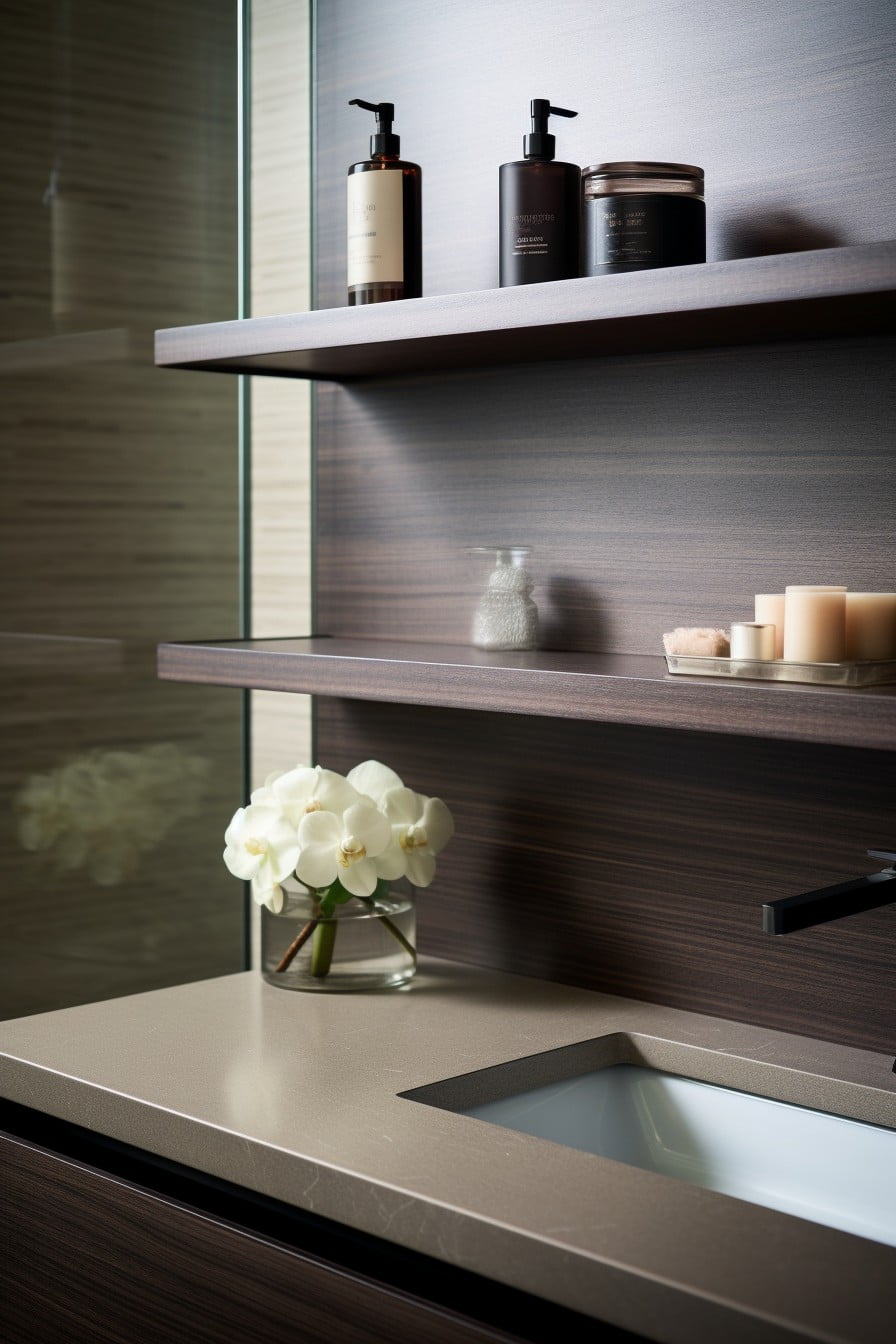 With the right approach, shelf-edge trims can instantly upgrade the overall look of your bathroom. They essentially offer a two-in-one solution – additional storage and a decorative touch.
Hardwood or metal trims are popular choices due to their durability and sleek appeal.
Consider using shelf-edge trims on top of the bathroom vanity or above the toilet for efficient use of space. They also work spectacularly for highlighting a statement wall in your bathroom. For those leaning towards a more minimalist aesthetic, opt for thin, sleek trims.
Don't shy away from playing around with color and pattern – there's a world beyond the default white! Perhaps a brushed nickel trim for a modern vibe, or a rose gold one to add warmth? For those with a penchant for vintage décor, distressed wood could be an excellent choice for a trim!
Keep in mind the need to balance the desire for decorative flair with the practicality of storage when selecting and installing your shelf-edge trims.
Rustic Wood Accents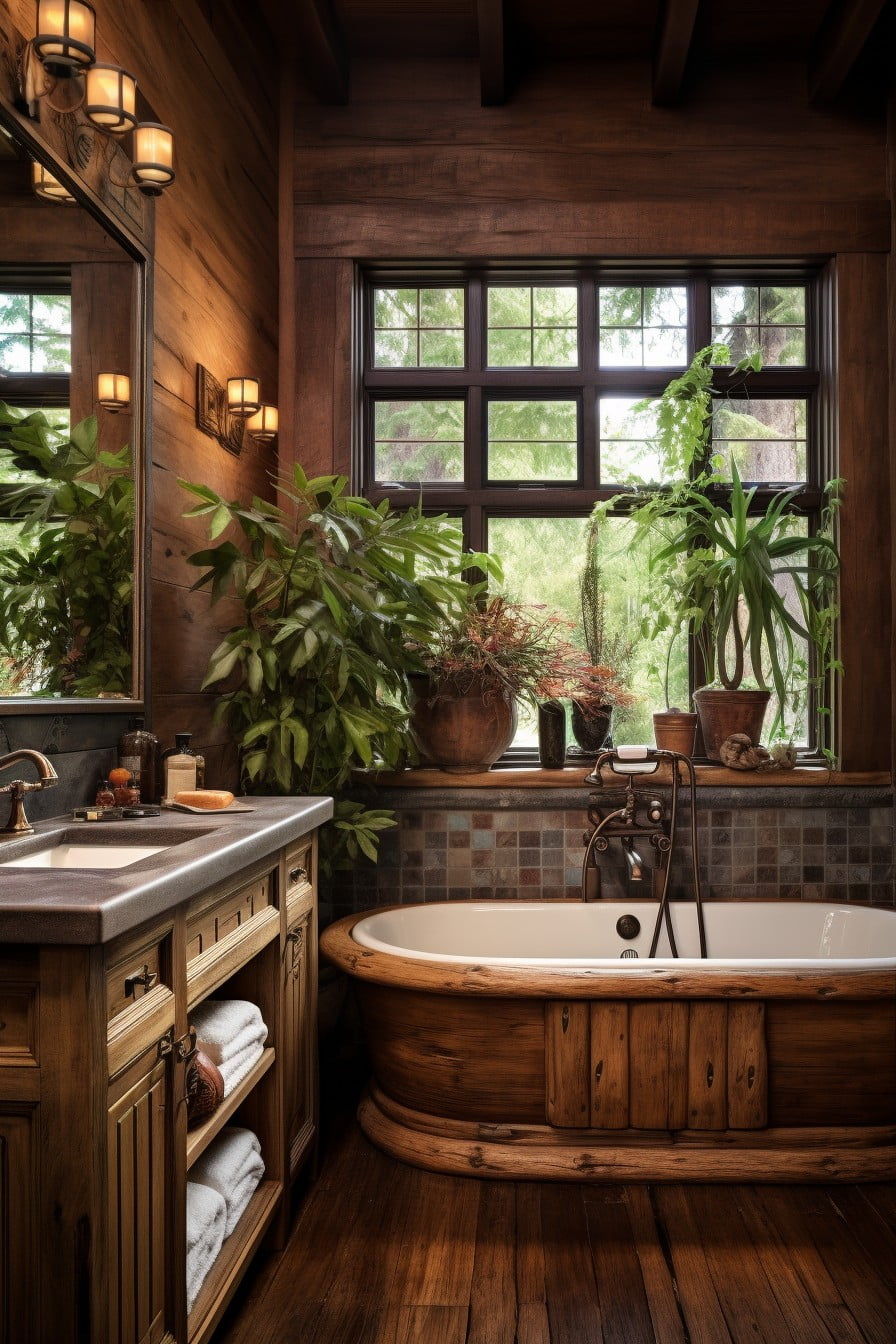 Natural, time-worn beauty is the essence of rustic wood accents. Install these unrefined elements on your bathroom walls for an earthy, organic vibe that brings nature indoors. This style effortlessly demonstrates a relaxed and laid-back trend in bathroom decor.
A few ways to execute this look includes:
Using reclaimed wood planks for an eye-catching border. This not only enhances the rustic feel but also adds texture and depth to your bathroom.
Opting for a weathered, aged finish on the wood can accentuate the rustic theme. A distressed finish, for instance, imparts an antique, lived-in feel.
Incorporating wood-stained panels harmonizes with your color palette, adding a serene, comforting hue to the room.
Drifting toward driftwood or barn wood, which exudes unmatched character and uniqueness, magnifies the rusticity.
Remember, the idea is to create a borderline between zen and antiquity. Keep the finish clean to avoid making your bathroom feel overcrowded or disorganized. The unique, antique appeal of rustic wood transports you straight to a cozy log cabin, creating an oasis of comfort right in your home. Remember, balance is key – rustic doesn't mean cluttered or dilapidated!
Intricate Embossed Borders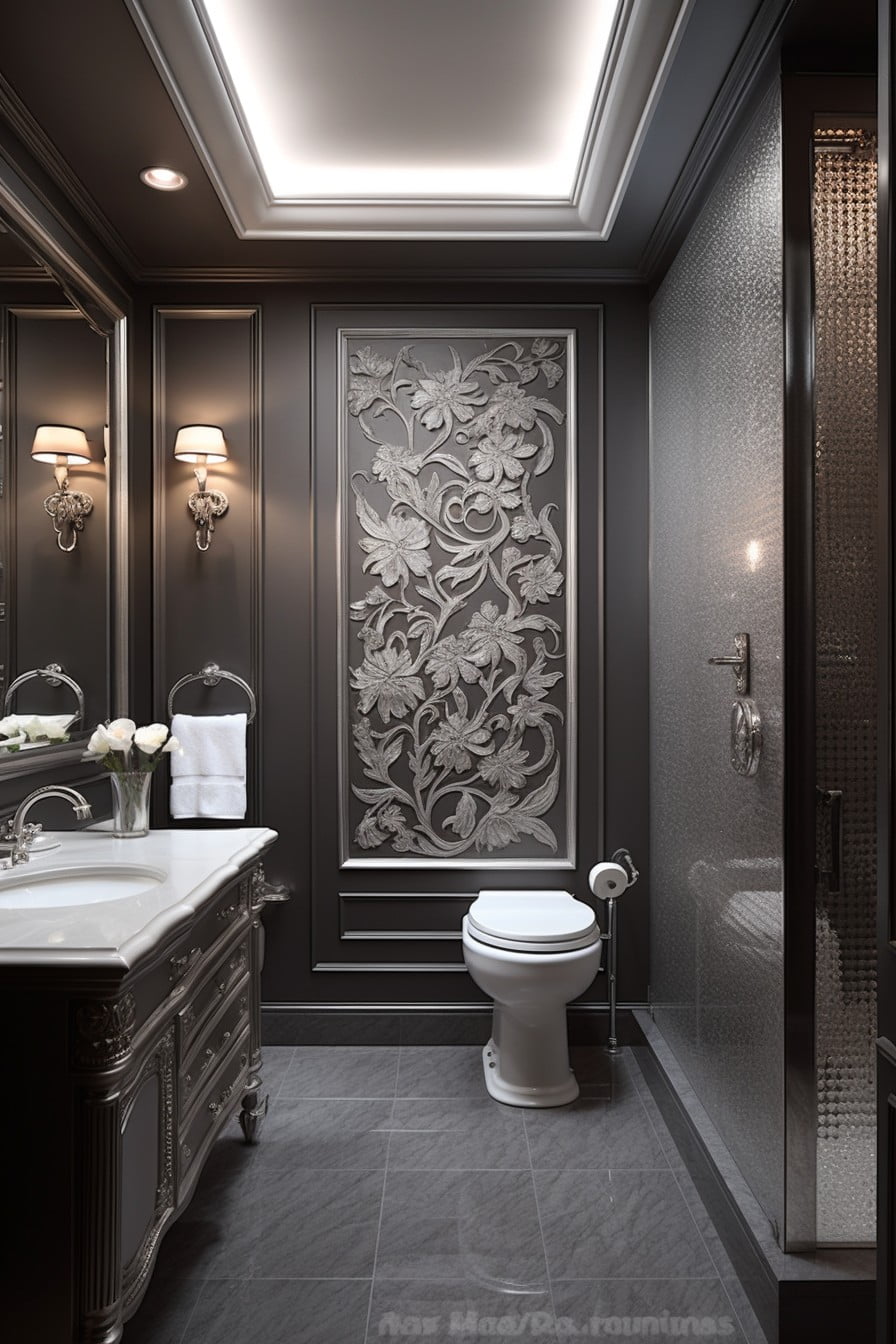 Embossed borders can revamp the aesthetics of your bathroom by adding depth and unique detailing. The goal is to use a standout design that forms appealing patterns on your bathroom walls.
1. Variety: There's a wide selection to choose from – floral patterns, wave motifs, geometric patterns, or classical figures.
2. Material: High-quality vinyl is an excellent choice due to its durability, and ability to simulate the look and feel of traditional embossed plaster.
3. Dimension: It adds a 3D effect, presenting a tactile surface that visually enhances the borders of the bathroom walls.
4. Installation: Most embossed border designs can be self-adhesive or require the aid of wallpaper paste for installation. Professional help isn't necessarily needed.
5. Creativity: Mix and match different styles to personalize your space. You're not strictly confined to the borders. They can also stylishly frame mirrors or windows.
Ultimately, embossed borders offer flexibility, inviting you to play around with different approaches to find the best fit.
Continue reading:
Recap