Last updated on September 24, 2023
Explore an array of innovative bathroom sink ideas that can redefine the aesthetic appeal and functionality of your space.
Dive into the world of bathroom sink ideas, where functionality meets aesthetics. This article will explore a variety of unique sink designs that can elevate your bathroom's look from ordinary to extraordinary.
Whether you're after a minimalist vibe, a vintage charm, or a modern edge, there's a sink design waiting for you.
Stick around to uncover the details of each design, installation tips, and maintenance advice. Your dream bathroom sink is just a few scrolls away.
Table of Contents
Marble Vanity
Marble, being a natural stone, offers an aesthetic of timeless elegance. Coupled with a vanity, it's a superb marriage of functionality and style.
Key points about a marble vanity are:
Durability: Resistant to chipping or denting, a marble vanity can withstand a high-traffic bathroom.
Unique Patterns: Every marble slab has distinct veining and color variations. These unique patterns lend your bathroom an individual look.
Adds Value: Because of its luxurious appeal, marble can boost property value.
Easy to Clean: Regularly wiping with a non-abrasive cleaner keeps the surface shiny and spotless.
Remember, marble can stain or etch if not properly sealed because it's porous. Regular sealing is an absolute must to maintain its beauty and longevity.
Vessel Sink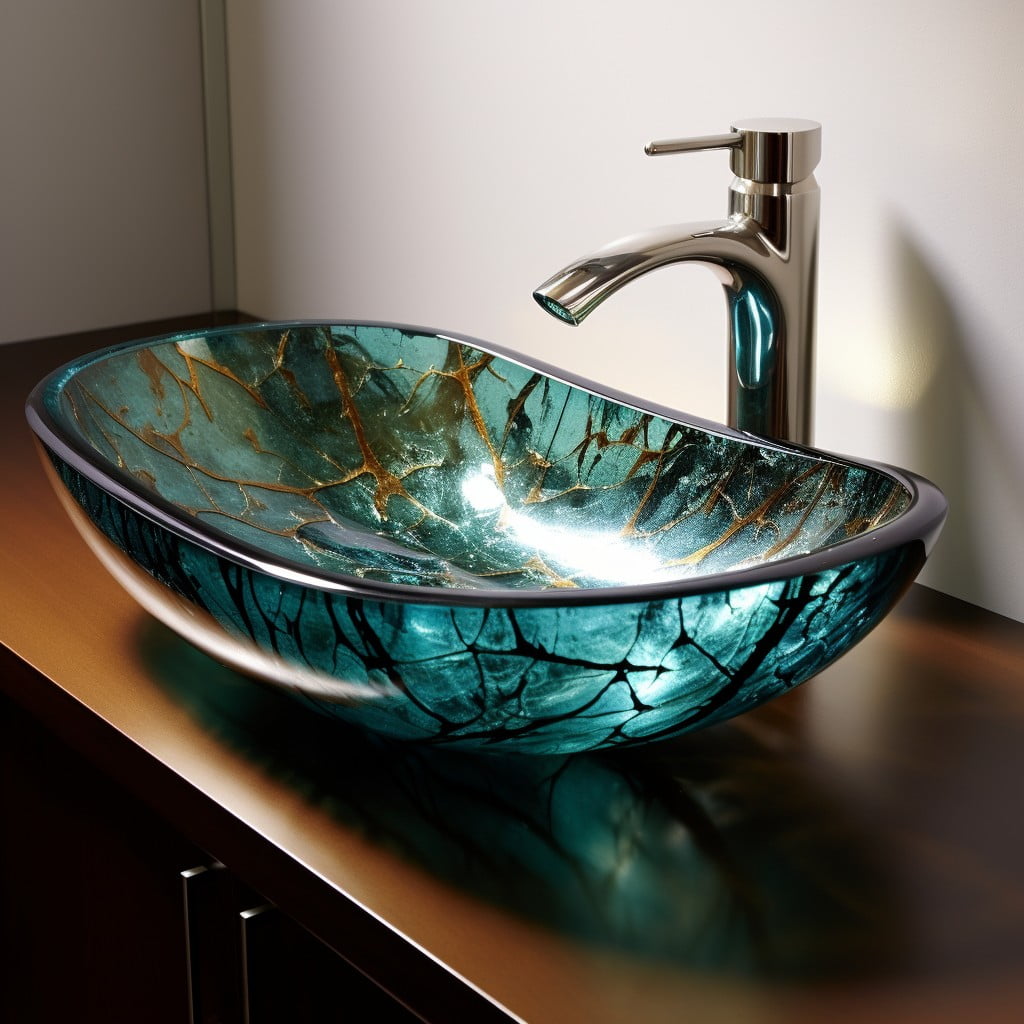 Embodying modern style with an artistic twist, vessel sinks are typically freestanding basins resting atop the countertop. Not restricted by shape or material, they can take on forms from traditional round or oval to eye-catching geometric designs, made from materials such as ceramic, glass, stone, or metal.
Key Points:
Variety: Wide selection in shapes, styles, and materials.
Installation: Requires special countertop and faucet fittings.
Space: Best suited for larger bathrooms due to their dominant presence.
Maintenance: Easy to clean but may require periodic resealing if made from stone or other porous material.
Cost: Generally more expensive due to unique design and installation demands.
Pedestal Sink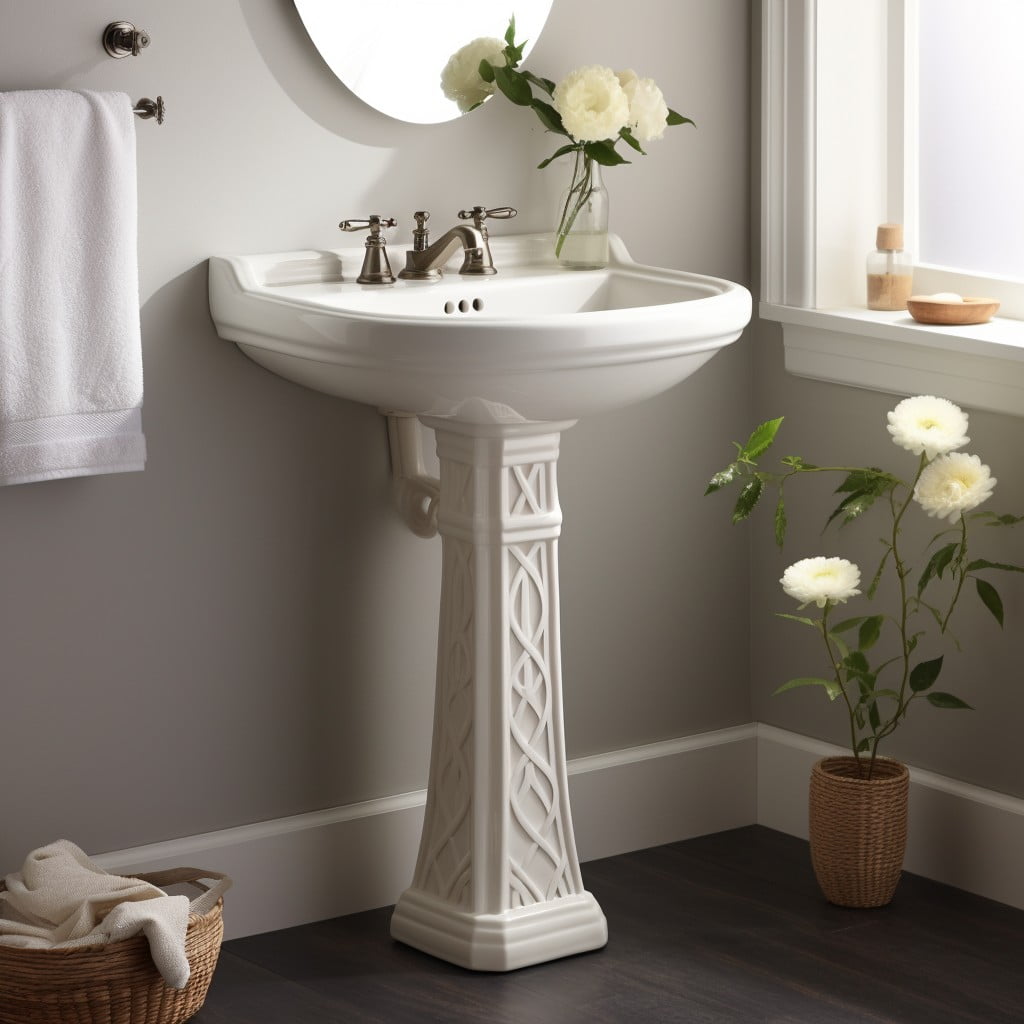 Admired for its elegant, classic appeal and space-saving features, the pedestal sink is a quintessential choice for smaller bathrooms. Not only does it add sophistication to your bathroom space, but its distinct lack of cabinetry also creates the illusion of more room.
Key points:
Compact, ideal for smaller spaces.
Renowned for its timeless beauty, draws design inspiration from vintage trends.
Freestanding design, no need for additional cabinetry.
Easy to clean due to fewer crevices.
Plumbing visible; consider decorative pipes for enhanced look.
Note: Increasingly, ceramic models with intricate patterns and colors are gaining popularity for their ability to act as a subtle yet striking focal point.
Double Sink Vanity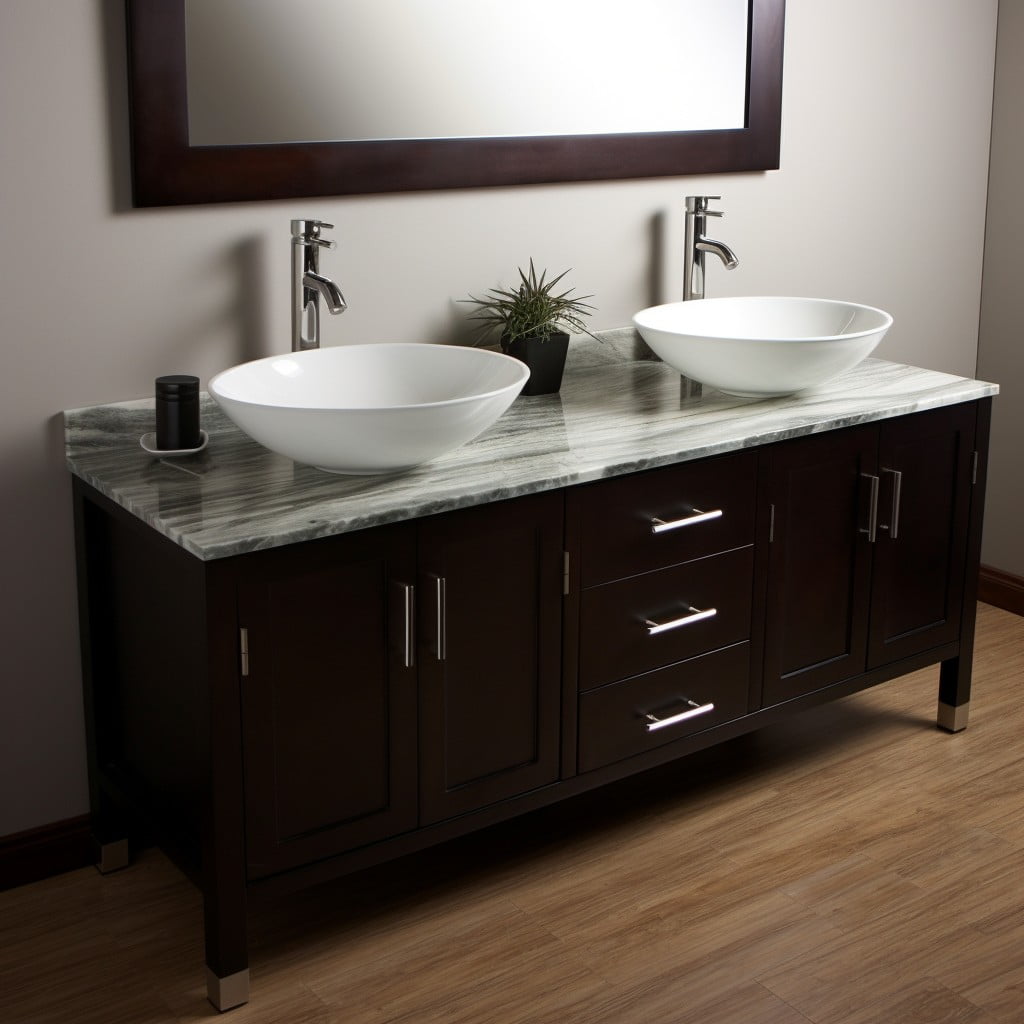 With a Double Sink Vanity, efficient use of space becomes achievable, setting a perfect scene for shared bathrooms. Prioritizing functionality, it also enriches aesthetic value, offering choices to incorporate numerous design trends.
Some key concepts include:
Personal Space: Even in a shared environment, it offers each user their individual area – a significant advantage in busy morning situations.
Varied Designs: Whether it's contemporary, rustic, industrial, or traditional, there's a Double Sink Vanity catering to distinct style preferences.
Ample Storage: With a bigger vanity, comes more storage, allowing easy organization of toiletries and bathroom essentials.
Enhanced Property Value: These installations can boost the resale value of any home due to their attractiveness and functionality.
Flexibility: They can feature either two of the same sinks or incorporate two entirely different styles for a unique touch.
Counter Space: Additional counter space between sinks provides room for bathroom decor or practical items like soap dispensers.
Incorporating a Double Sink Vanity essentially provides an ensemble of functionality, style, and individual space, culminating into an ultimate bathroom enhancement.
Undermount Sink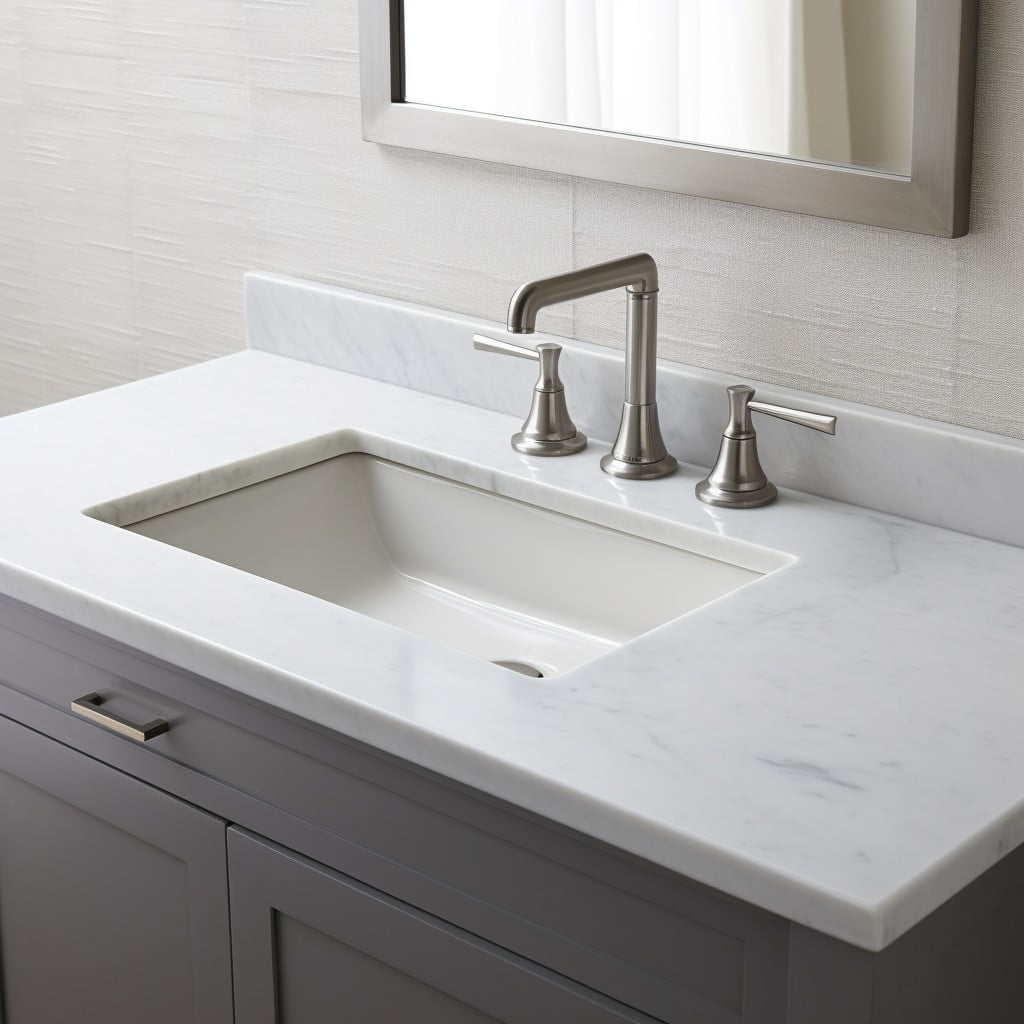 An undermount sink, elegantly tucked under the countertop, lends a sleek, seamless look to your bathroom. It's uniquely designed for solid surface materials such as granite or marble, serving a practical and aesthetic purpose.
Key points:
1. Clean & Flush Appearance: Integrated into the counters, they create a flowing design with no striking edges, accentuating the counter's appearance.
2. Easy Cleaning: Without a rim, sweep debris directly from the countertop into the sink.
3. Variety of Materials: Comes in various materials – stainless steel, composite, fireclay, and copper, each with its charm and longevity.
4. Space-Saving: Its design conserves space, leaving more countertop area for accessories or toiletries.
5. Installation: Requires a precision custom cut-out from the countertop, professional installation advised to prevent leaks.
Wall-mounted Sink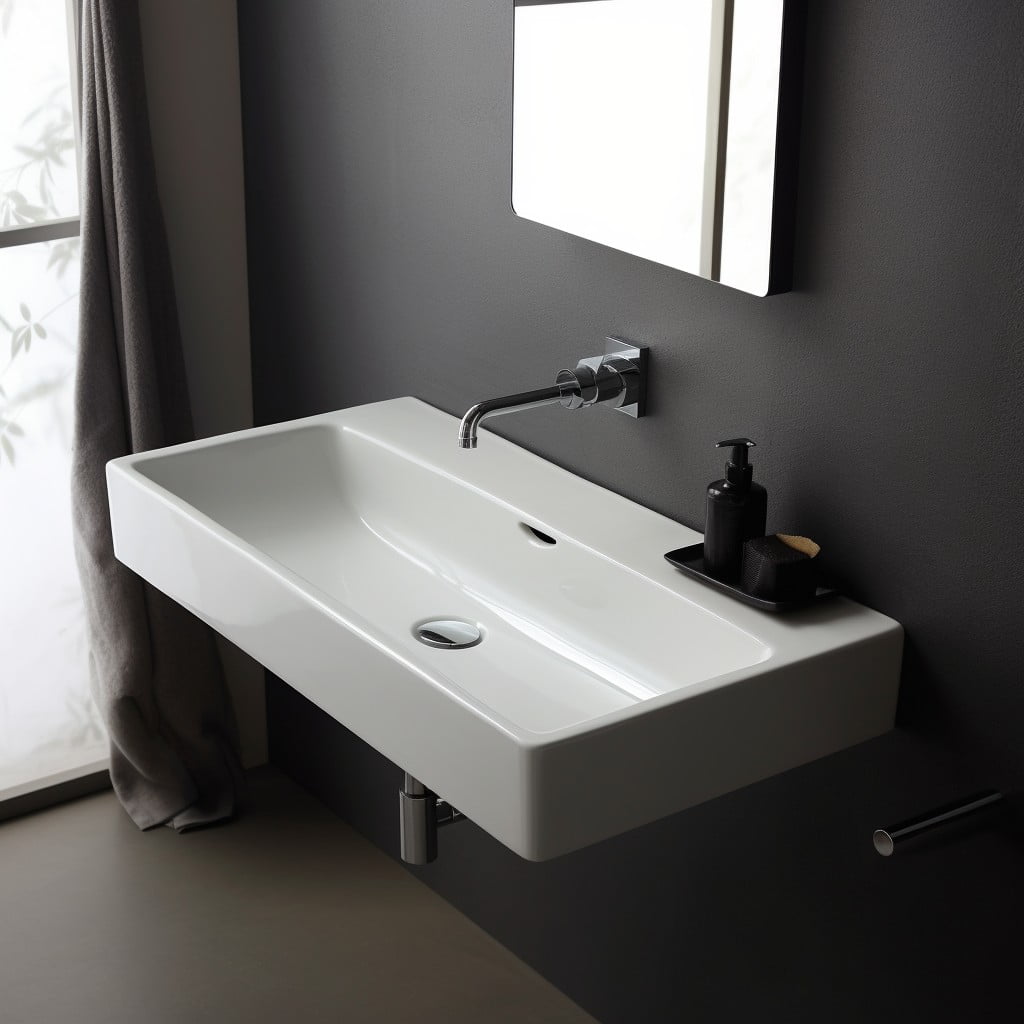 They serve as space savers in smaller bathrooms, with their compact nature making them practical choices without compromising on functionality. Wall-mounted sinks are mounted directly to the wall, and without extra cabinets or stand, they give a minimalist and spacious appeal, enhancing the bathroom's overall aesthetic.
Key Points:
Efficient in utilization of limited space.
Seamless integration with almost any bathroom decor.
Straightforward maintenance, due to less hardware.
Versatility in design options, ranging from vintage to ultra-modern.
Gives the illusion of a larger bathroom area due to absence of vanity box.
Console Sink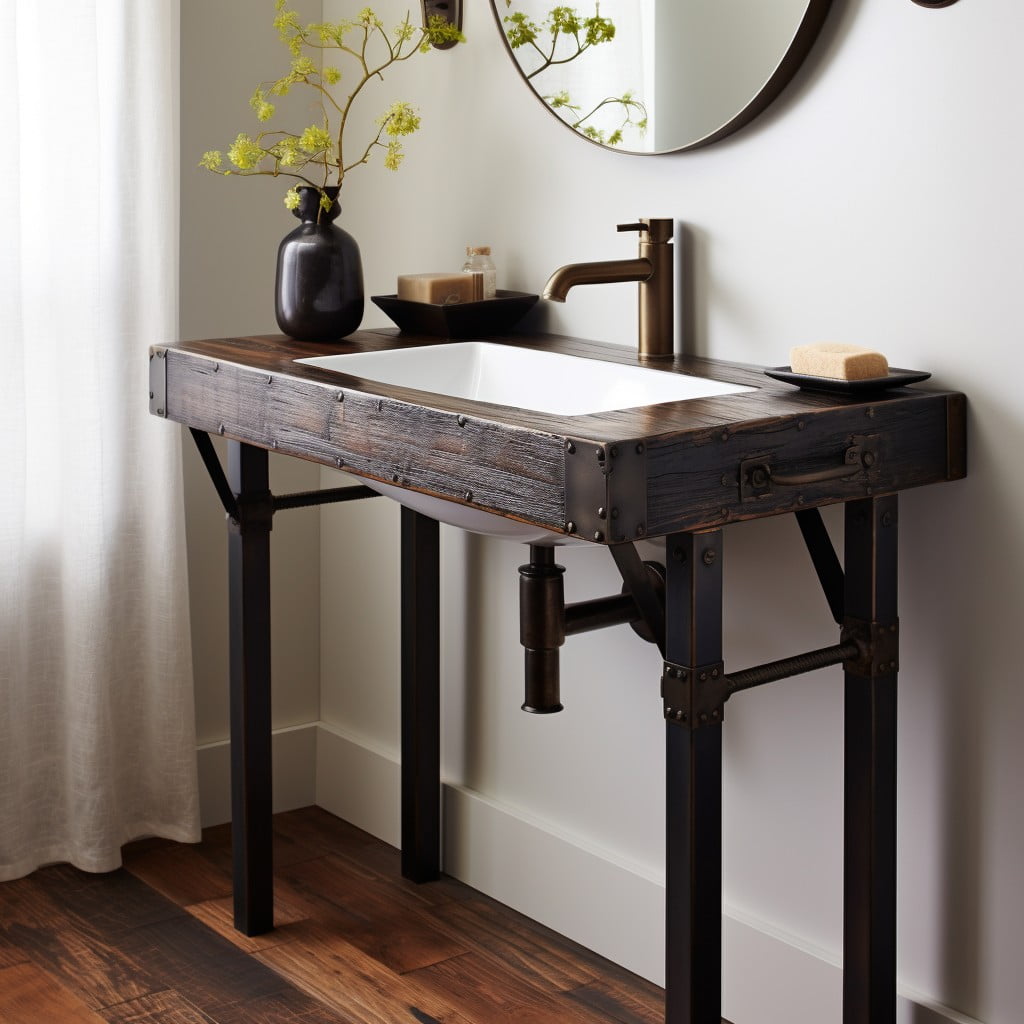 An ideal choice for both small and large bathrooms, console sinks offer a balance between form and function. While providing ample basin space, their open design doesn't occupy much room, and their built-in accessories like towel bars and shelves offer bonus storage.
Key Points:
Versatility: Fits well in both small and spacious bathrooms.
Space-saving: Compact design takes up less room.
Functionality: Built-in towel bars and shelves provide extra storage.
Aesthetics: Provides an elegant and minimalist look.
Installation: Easier and faster to install compared to other sink types.
Variety: Available in different types of materials such as ceramic, porcelain, and stainless steel.
A console sink can instantly impart a beautifully balanced style statement into any bathroom.
Glass Sink Bowls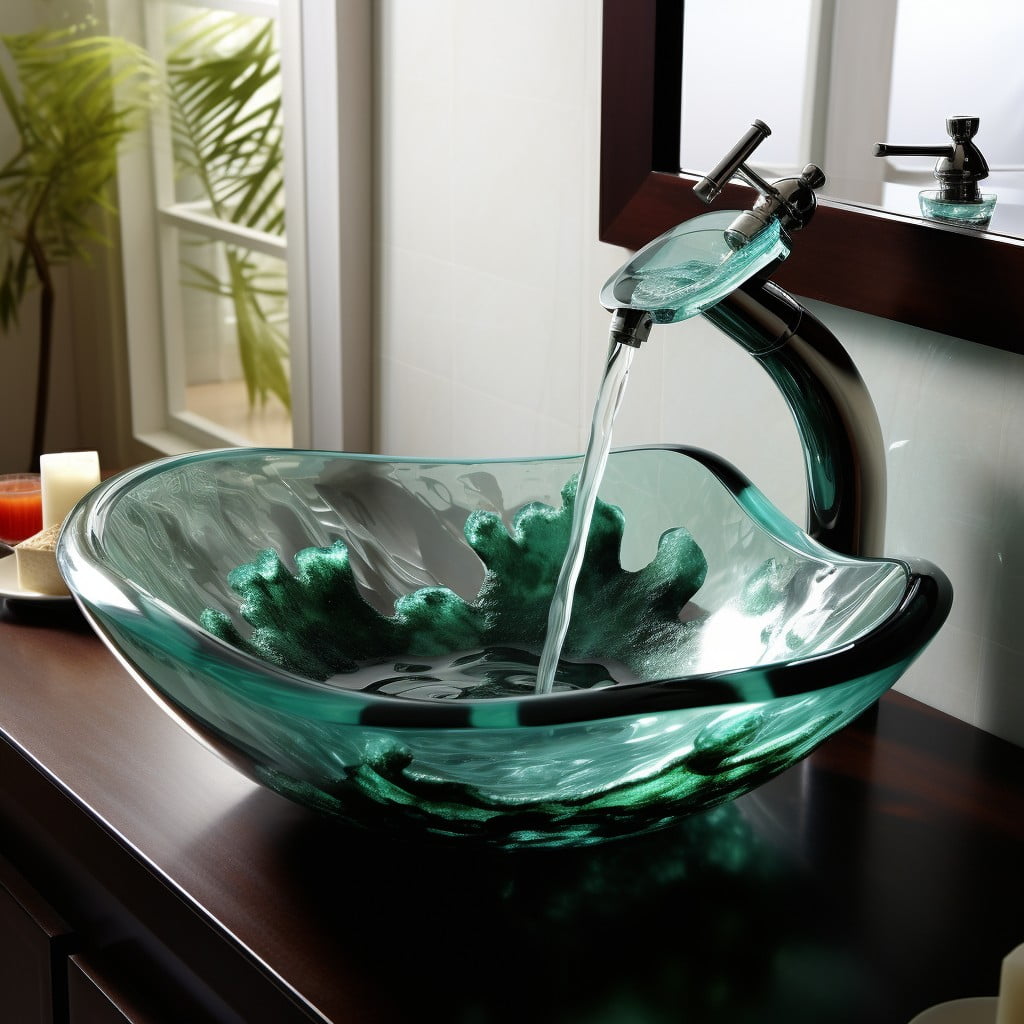 To incorporate a unique element and add a touch of elegance to your bathroom, consider opting for glass bowl sinks. Here's what makes them stand out:
1. Design Versatility: These bowls are available in a wide range of colors, shapes, and designs, ensuring they match diverse decors.
2. Aesthetic Appeal: With their transparent or semi-transparent appearance, these sinks add a chic, luxury touch to the bathroom.
3. Space-efficient: Being placed on top of a vanity or a countertop, they help to maximize open space beneath.
4. Easy Maintenance: Thanks to their smooth surfaces and non-porous material, effortless cleaning is guaranteed.
Remember that despite their charm, these types of sinks might be prone to scratches, so it's crucial to handle with care.
Sink With Open Shelving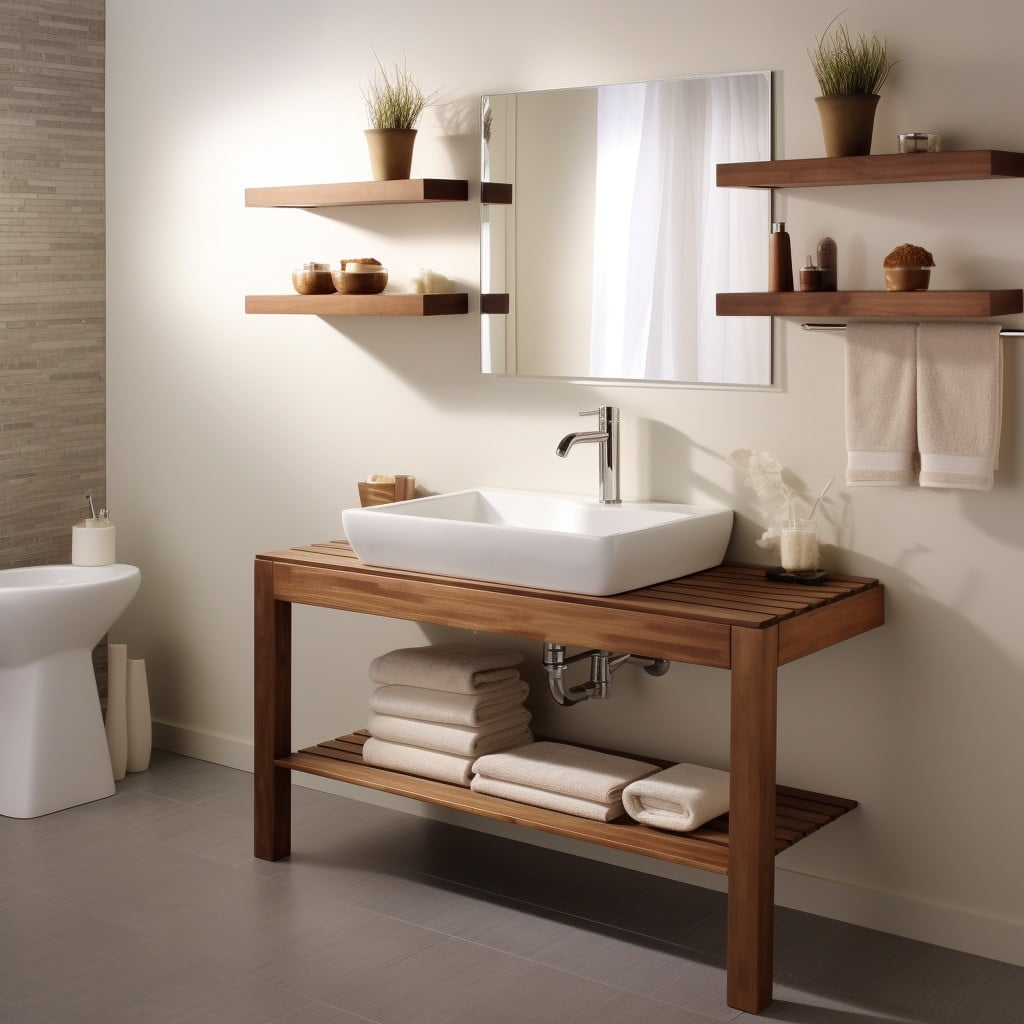 Open shelving under the sink provides a dynamic, fashionable storage solution, especially for smaller bathrooms. Here are some key features and concepts regarding this stylish choice:
Visible storage: The open design allows for effortless access to daily necessities.
Enhances roominess: Without bulky cabinetry, space feels larger, making it ideal for confined areas.
Aesthetics: The open shelf can display decorative items, adding character to the bathroom.
Varying materials and designs: From rustic wooden planks to sleek metal frames, there's a variety to fit any decor style.
Customization: Shelves can be adjusted as per storage needs.
Remember, neatly arranged items and a consistent color palette can bring unity to open shelving aesthetic.
Corner Sink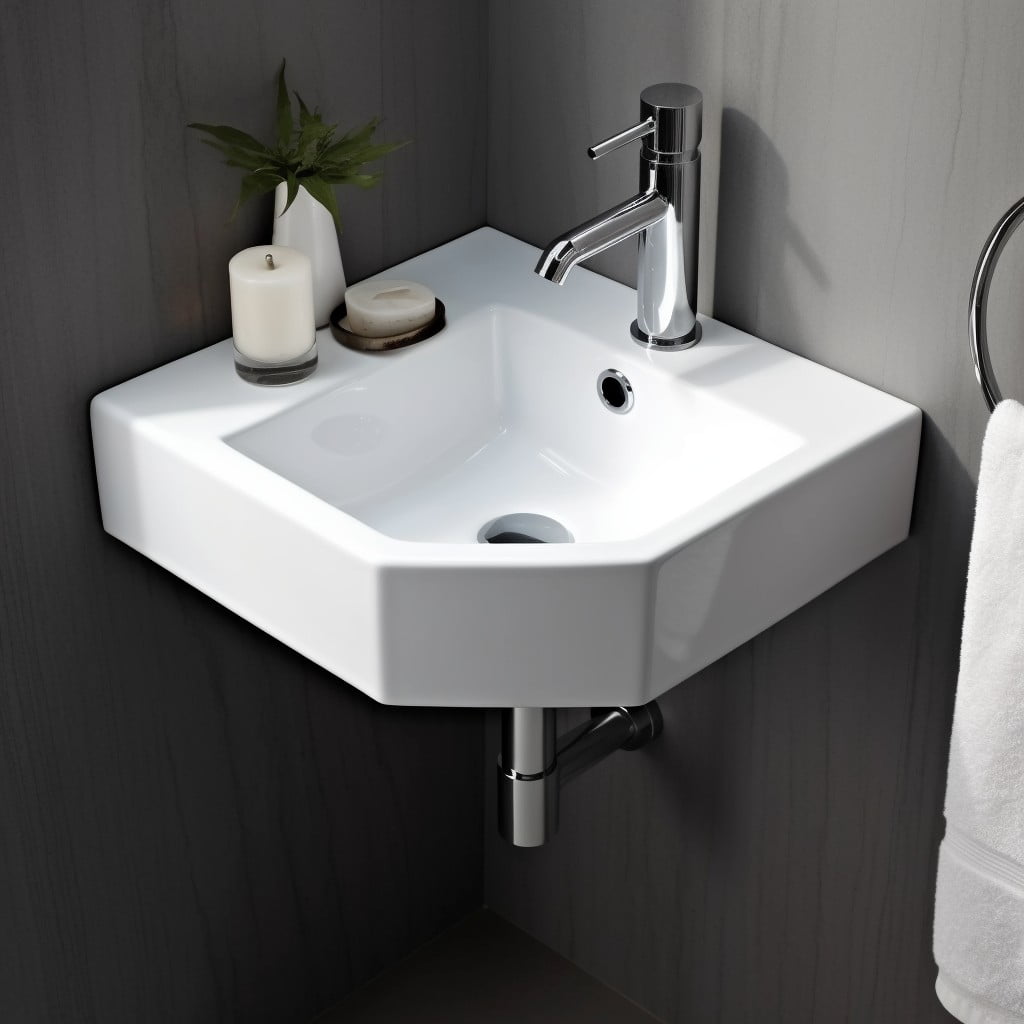 Taking advantage of unused corners, this design maximizes space efficiency in small bathrooms or powder rooms. It offers a compact yet stylish solution without compromising functionality.
Here are some notable aspects:
Space-Saving: Ideal for modest spaces, exploiting the often unused corner areas.
Variety: Available in a range of designs from traditional to modern to fit any decor.
Multipurpose: Some models provide extra storage beneath the basin.
Installation: Can be wall-mounted or pedestal style, depending on preference and space.
Remember, it's not only about saving space but also about adding style and elegance to your bathroom.
Farmhouse Sink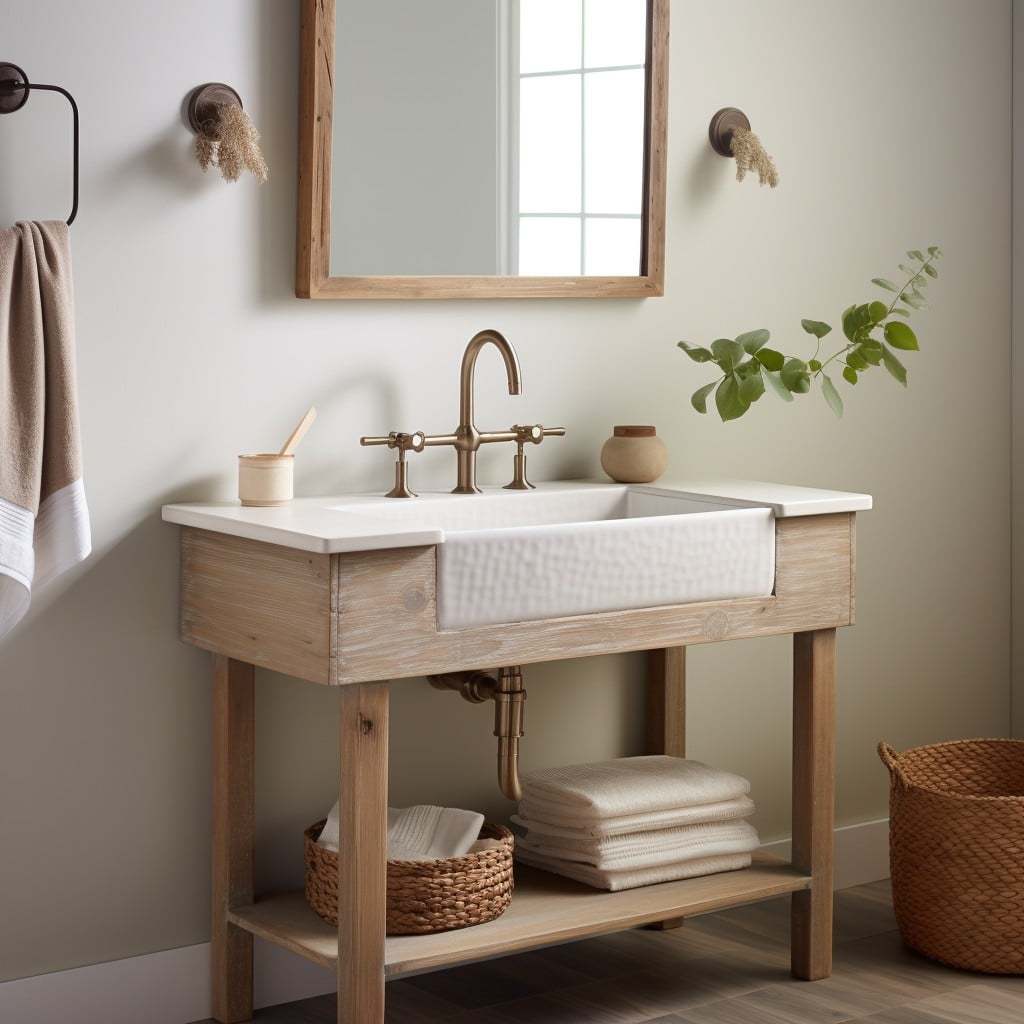 Rooted in practicality and a charming rustic aesthetic, farmhouse sinks, also known as apron-front sinks, are a coveted feature in modern bathrooms.
Key points to understand about farmhouse sinks:
Design: Noted for their deep basins and width, they provide plenty of space for washing, shaving, or even cleaning small items.
Material: Commonly made from white porcelain, they can also be found in stainless steel, stone, and copper.
Style: Although traditionally found in country-style homes, they seamlessly blend into various styles ranging from traditional to contemporary.
Installation: They're often installed under the countertop, with the front side exposed, enhancing presence and character. Please note, they tend to be heavier than standard sinks – ensure your vanity or cabinet is suitably robust.
Functionality: Their wide and deep nature makes them extremely practical, reducing splashes and providing numerous usage possibilities.
A farmhouse sink adds a simple, yet stylish flair that combines functionality with form in a cohesive manner.
Industrial Style Sink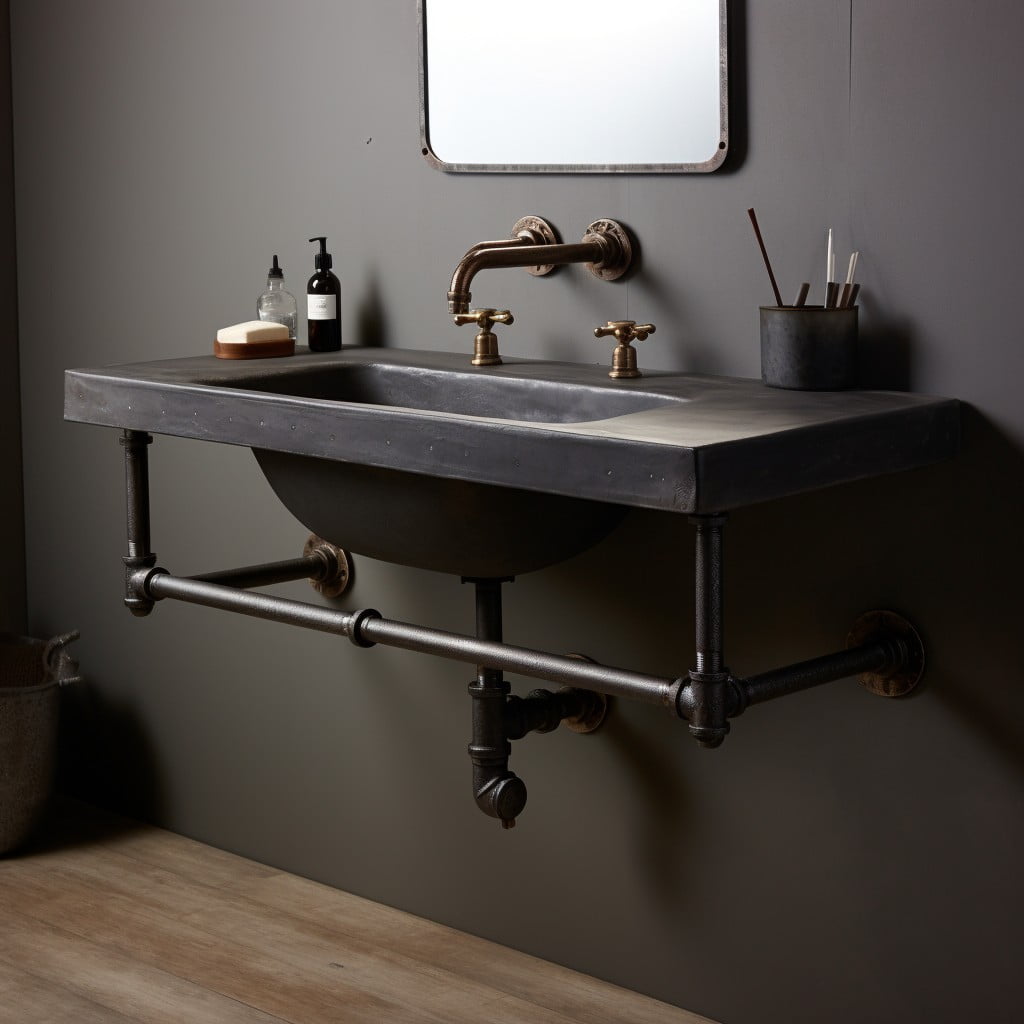 An Industrial Style Sink can bolster any bathroom's aesthetic by adding a raw and authentic touch. Famous for its functionality, durability, and clean lines, this sink style is profoundly influenced by the pared-down aesthetic of factories and warehouses.
Key Concepts:
Material: Popular materials include stainless steel, concrete, and other rough-hewn metals. These materials signify industrial design's distinctive focus on strength and function.
Design: The design should radiate simplicity and minimalism, focusing on bare-bones functionality without much embellishment.
Hardware: Incorporate features with a rusted or metallic finish, like faucets and sink stoppers.
Color: Industrial style typically involves a neutral palette – gray, black, or metallic shades.
Plumbing: Exposed pipes can be a stellar design element, playing into the industrial style's love of raw authenticity.
Accompaniments: To intensify the industrial impact, consider pairing the sink with brick walls, metal cabinets, or a concrete countertop.
Lighting: Choose metal pendant lights or vintage-style filament bulbs to enhance the industrial ambiance around the sink.
Granite Countertop With Built-in Sink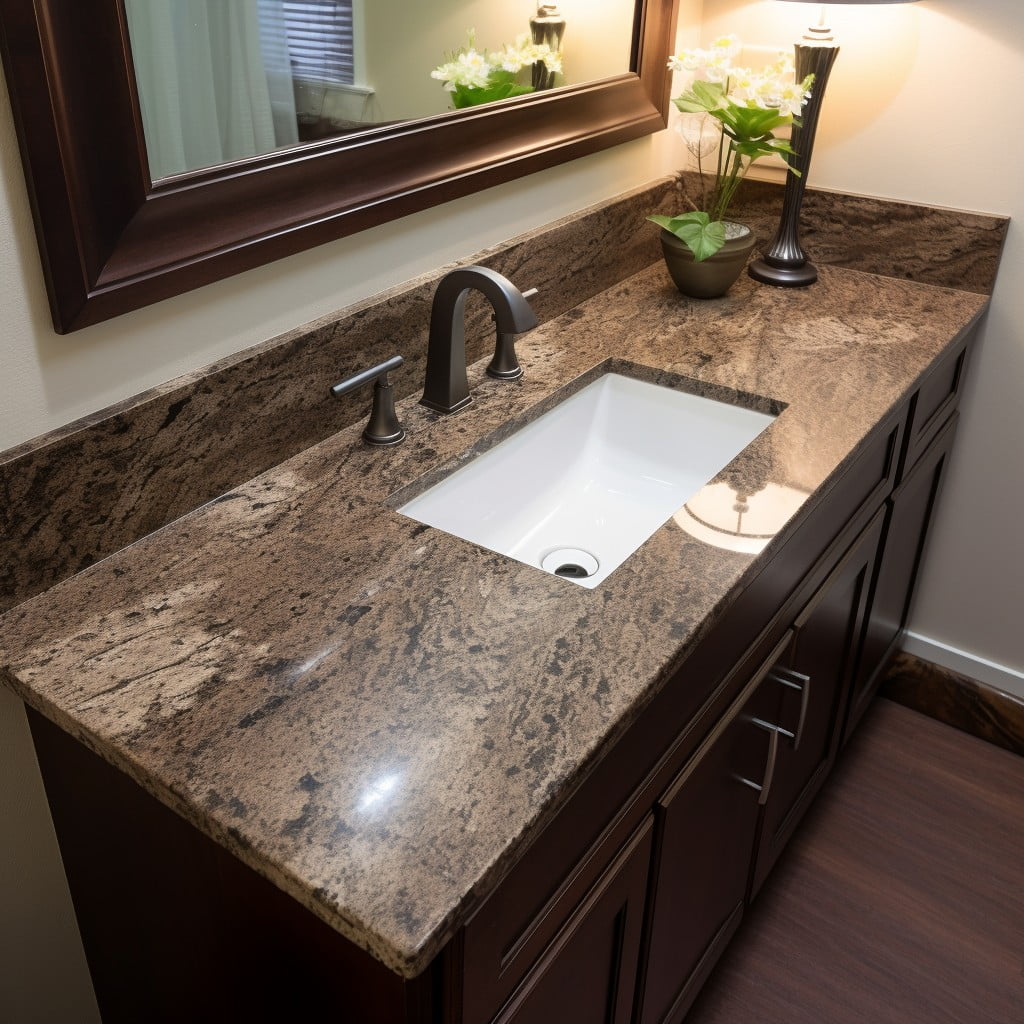 This design offers a seamless transition from countertop to sink with no edges or corners to collect dirt or grime. Carved from a single piece of stone, these granite sinks are easy to clean and maintain.
The sturdiness of granite ensures long-lasting quality. Moreover, the variety of natural patterns and colors makes each piece unique, adding a personal touch to any bathroom.
Key Points:
Seamless, integrated design.
Simplified cleaning and maintenance.
Durable and long-lasting.
Uniquely patterned and colored.
Vintage Style Vanity Sink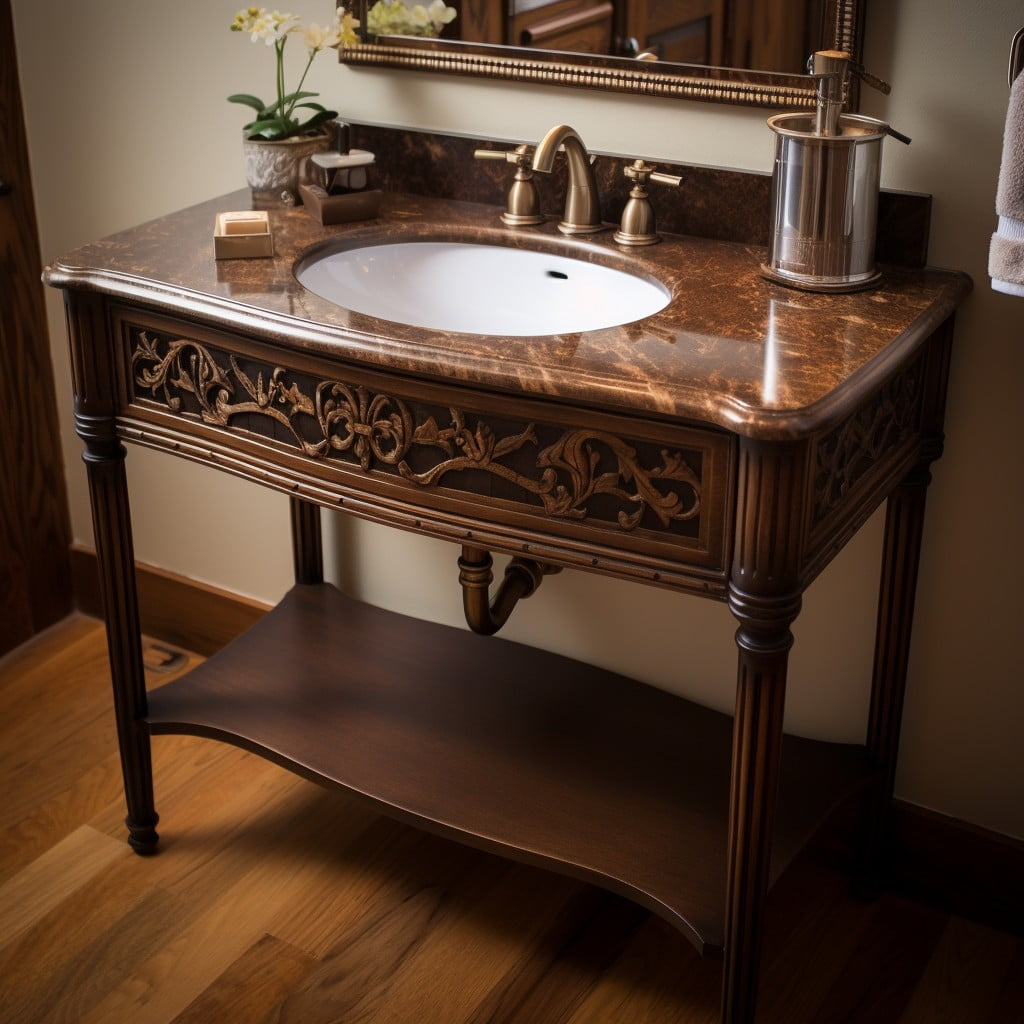 With its timeless appeal and charm, this option adds a touch of elegance to any bathroom. Characterized by intricate details, a vintage vanity sink often incorporates ornate fixtures and finishes. There's a broad selection, from repurposed dressers transformed into functional sinks to carefully crafted reproductions of antique vanities.
Key points:
Unique Details: Antique hardware and crafted woodwork define its aesthetic.
Rich Textures: Weathered wood, wrought iron, or brushed nickel contribute to its nostalgic feel.
Historical Impact: Often inspired by Victorian, Edwardian or art deco styles.
Versatility: Complements a variety of decor, from rustic to contemporary, thanks to the mix of old and new elements.
Customizable Options: Distressed paint or stained wood offer different looks to suit individual preferences.
Practicality: Provides ample storage, despite the artful exterior.
Sustainable Choice: Repurposing old furniture reduces waste and supports environmentally friendly choices.
All-white Ceramic Sink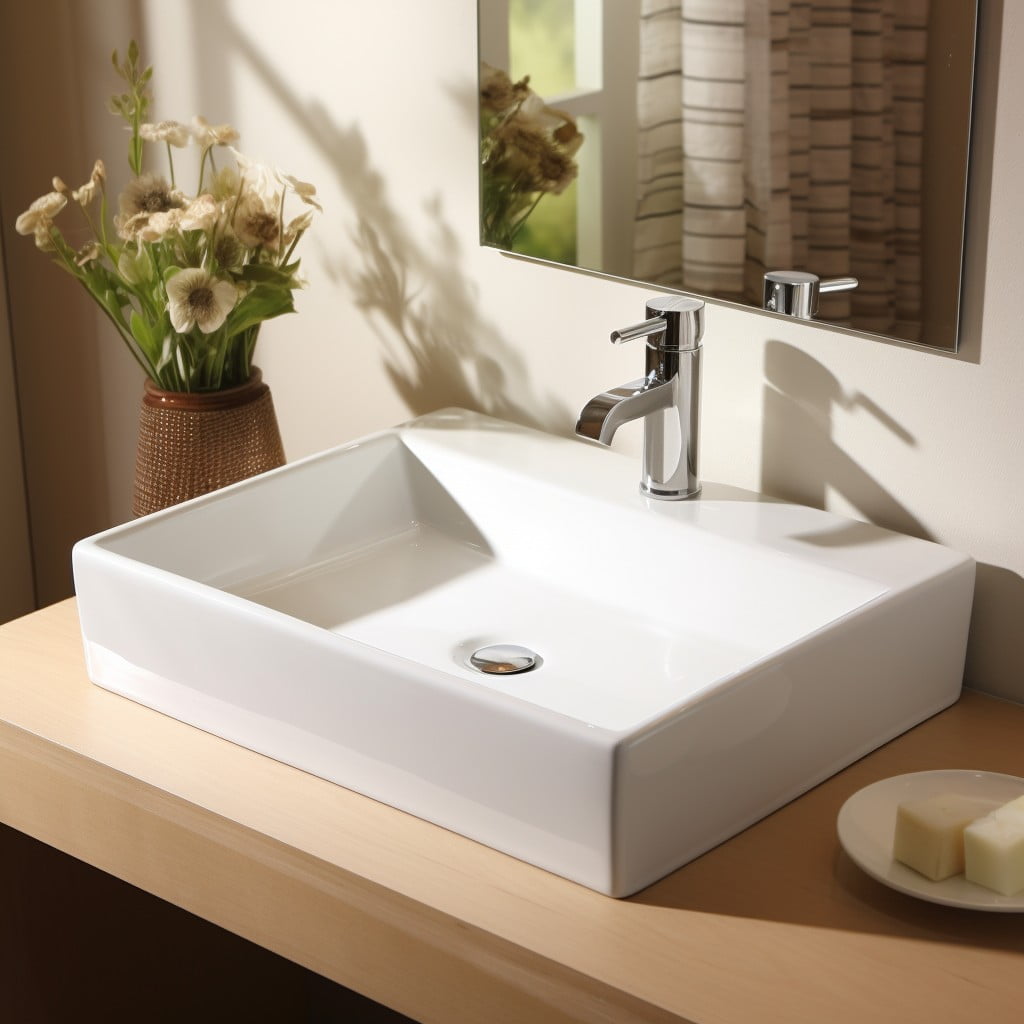 All-white ceramic sinks exude an air of elegance and fresh simplicity. They work seamlessly in both modern and traditional settings due to their flexibility in style and design.
Key points to consider:
Material: Ceramic is known for its durability. Its resistance to chipping, staining, and fading is ideal for high moisture environments like bathrooms.
Maintenance: All-white surfaces may show dirt more readily, but ceramic is easy to clean and requires low maintenance.
Style versatility: An all-white canvas blends easily with different décor styles. Whether it's a minimalist, vintage, or luxurious theme, the ceramic sink fits perfectly.
Space illusion: The white color can make a small bathroom seem more spacious and light-filled.
Thus, an all-white ceramic sink is both a functional and stylish choice for a bathroom remodel.
Copper Basin Sink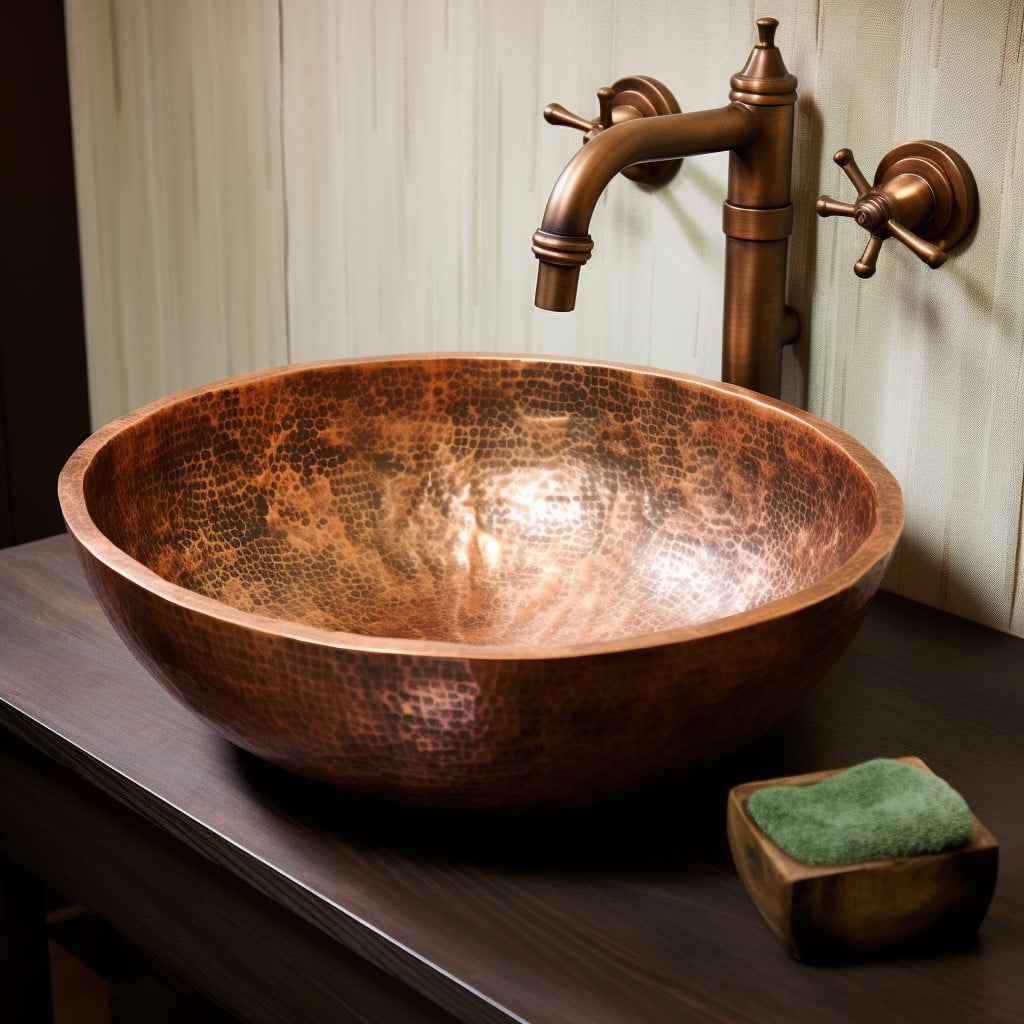 Harnessing the rustic charm and warm glow of copper, the basin sinks create a striking appearance. These sinks take center stage due to their unique patina which deepens over time, adding a lived-in and homey feel. Since copper is naturally antibacterial, these sinks add a level of cleanliness not found in other materials.
Key Points:
Distinctive Patina: Oxidization over time enhances the attractiveness of the basin.
Antibacterial: Copper's natural properties can kill harmful microbes, keeping your sink cleaner.
Warm Aesthetic: Copper brings a welcoming, warm tone to the bathroom, which can complement various decor styles.
Durability: Copper's robust nature ensures long-lasting durability, able to withstand daily use.
Easy Maintenance: Needs standard cleaning techniques and avoids harsh chemicals to extend its lifespan.
Sink With Integrated Tower Rack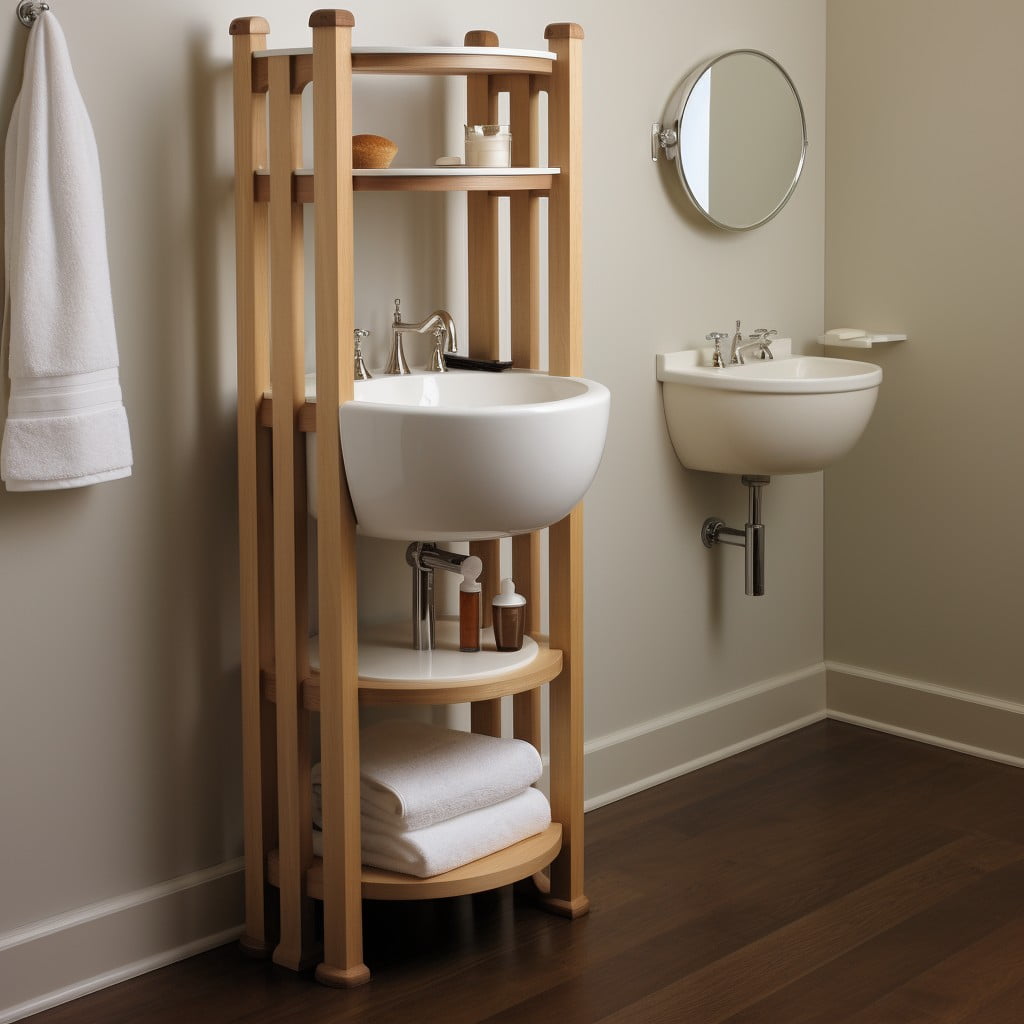 Versatility is the key advantage of this sink style. Here are the central points:
Space Efficiency: Ideal for compact bathroom spaces as it offers both a sink and storage in a single unit.
Convenience: No need to install separate towel bars, the rack is already integrated which provides easy access to towels at all times.
Styles and Materials: Comes in a variety of designs and materials, from stainless steel for a modern look to a wooden rack for a rustic charm.
Installation: Typically requires professional installation due to its complex structure.
Cleaning and Maintenance: Although a bit more demanding in terms of maintenance, it's well worth the effort for its practicality and aesthetics.
Remember, consider your bathroom's overall theme and size before opting for this sink style.
Trough Sink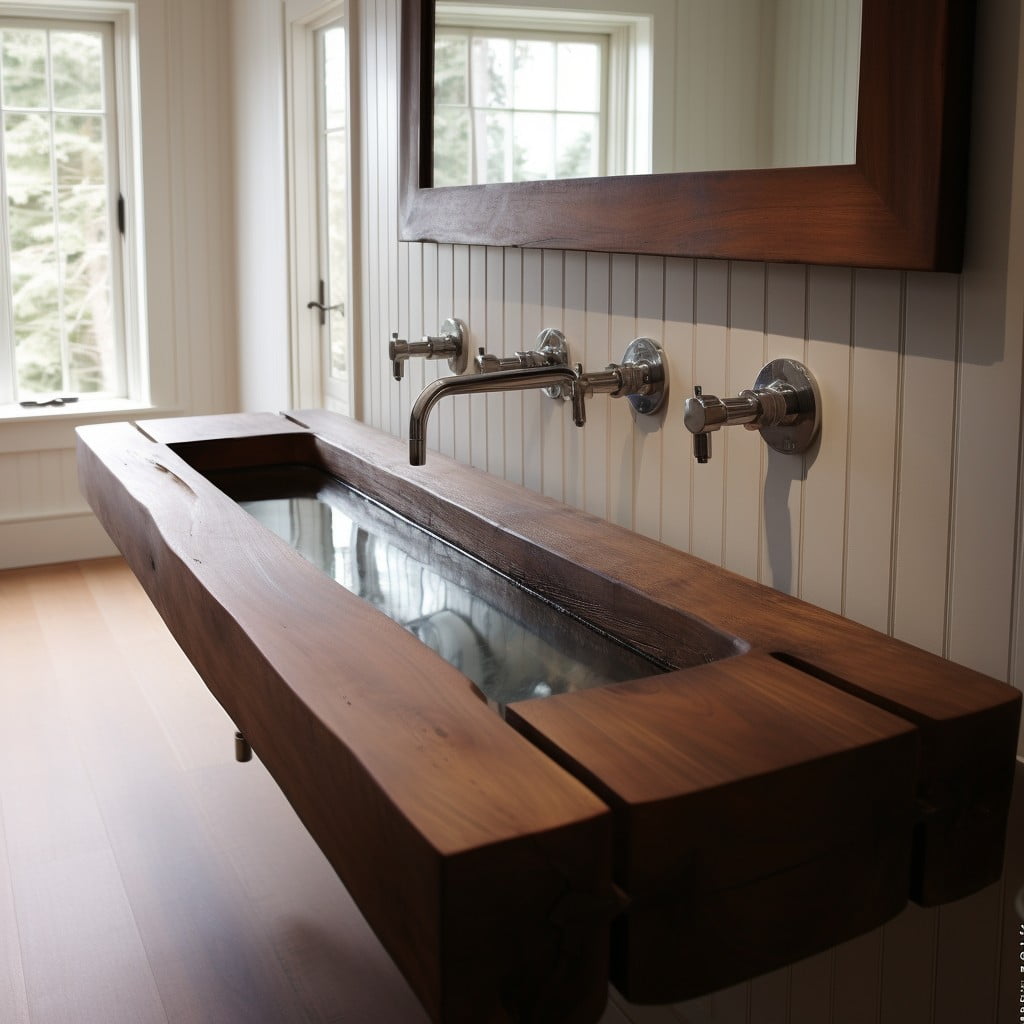 Trough sinks, traditionally found in farmhouses or classrooms, have now made their way into residential bathrooms. These large, rectangular basins can accommodate multiple faucets, making them an excellent choice for shared spaces or family bathrooms. They're often crafted from durable and easy-to-clean materials like porcelain or stainless steel.
Key Points:
1. Accommodates more than one faucet – ideal for multi-use bathrooms.
2. Evokes a rustic charm – thanks to their farmhouse origins.
3. Versatility in material selection – commonly found in porcelain but available in other materials such as stainless steel.
4. Easy maintenance – Trough sinks are known for being easy to clean.
5. Space-efficient – their design allows for optimal use of the available countertop space in the bathroom.
Whether it is adding a touch of rustic charm or simply a practical solution for shared bathrooms, a trough sink could be the perfect addition to your bathroom design.
Round-shaped Sink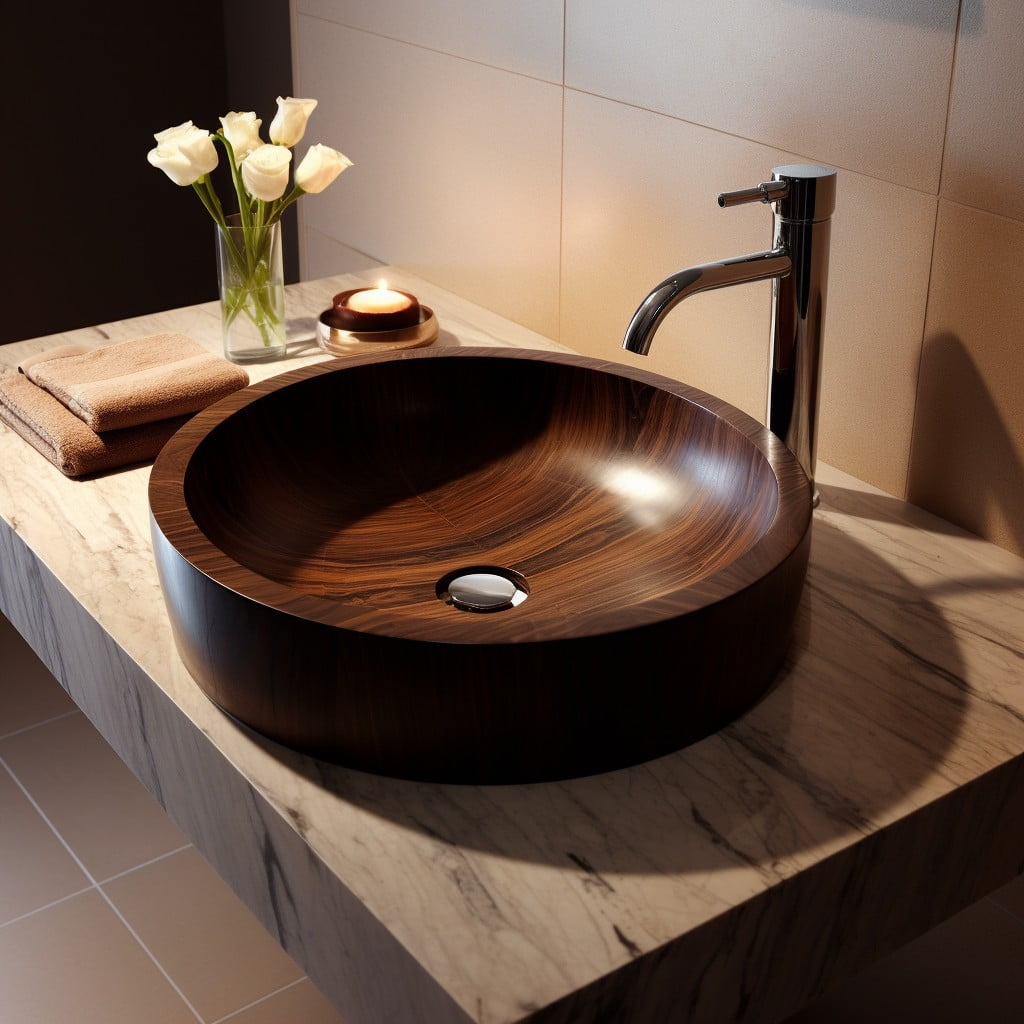 Maintaining a modern aesthetic with a round-shaped sink is effortlessly achievable. Key points to consider are:
Space Economy: Ideal for bathrooms with limited counter space. Its compact design adds usability without compromising valuable surface area.
Versatile Styles: Options range from undermount installations for a seamless finish to above-counter variants, known for their trendy appeal.
Material Variety: Ceramic, stainless steel, or even glass can be made into round sinks, providing a plethora of choices to match the bathroom decor.
Easy Cleaning: With smooth and curved edges, dirt and grime can't hide, making maintenance simple.
Affordability: Depending on the model and material chosen, a round-shaped sink can fit a wide range of budgets.
This sink style offers not only function, but also form, making it a favorite among homeowners.
Sink With Wooden Countertop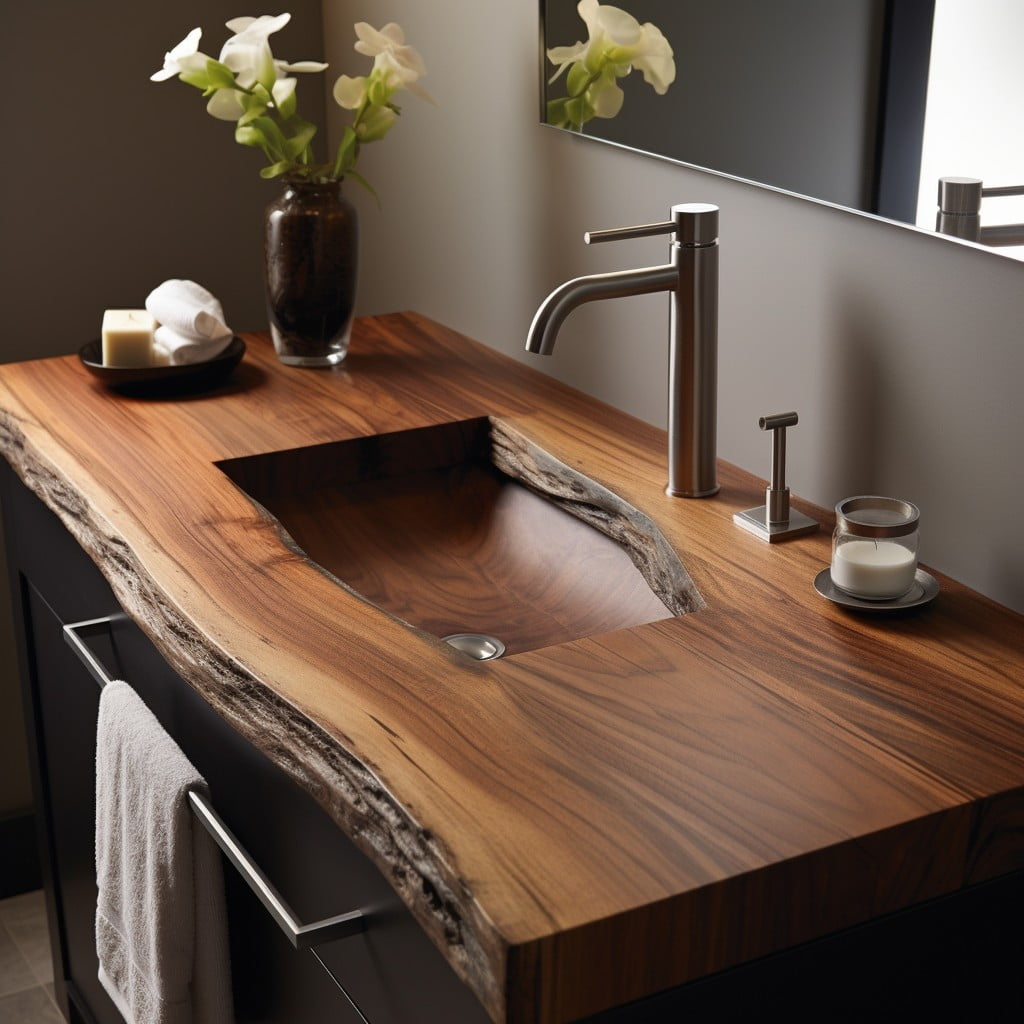 Incorporating wooden countertops to your bathroom sink design can usher in an unmistakable warmth and natural aesthetic. Here are the key concepts essential for understanding this idea:
1. Material: For durability and resistance to water damage, consider using hardwoods such as teak or cedar. Both possess natural oils that resist moisture and prevent warping or cracking.
2. Finish: Oil-based finishes are popular choices as they add an additional layer of protection against water exposure, enhancing the wood's durability. They also help to highlight the unique grain of the wood.
3. Size and Shape: Wooden countertops offer flexibility in terms of dimensions, aligning with the overall layout and size of your bathroom. They can be cut to match round or square sinks.
4. Maintenance: Regular resealing is necessary to maintain the wood's durability and appearance. Avoid prolonged water contact.
5. Style: This design idea suits various style preferences from modern to rustic. Wood adds a touch of earthy warmth if you lean towards nature-inspired interiors, or a distinct contrast in a sleek, modern design.
By prioritizing long-lasting hardwoods and water-resistant finishes, a sink with a wooden countertop effortlessly blends functionality and style, making it a worthy consideration for a bathroom makeover.
Continue reading: