Last updated on July 25, 2023
Discover stunning gray bathroom ideas that will inspire you to transform your space into a stylish and soothing sanctuary.
Are you tired of your boring and outdated bathroom? Do you want to give it a fresh and stylish look without breaking the bank? Look no further than the color gray. Gray is a versatile and timeless color that can transform any bathroom into a chic and modern space.
In this article, we have compiled 20 creative gray bathroom ideas that will inspire you to revamp your own bathroom. From sleek subway tiles to bold accent walls, these ideas will help you create a spa-like oasis in your own home.
So grab a cup of coffee, sit back, and get ready to be inspired by these stunning gray bathroom designs!
Table of Contents
Gray Feature Wall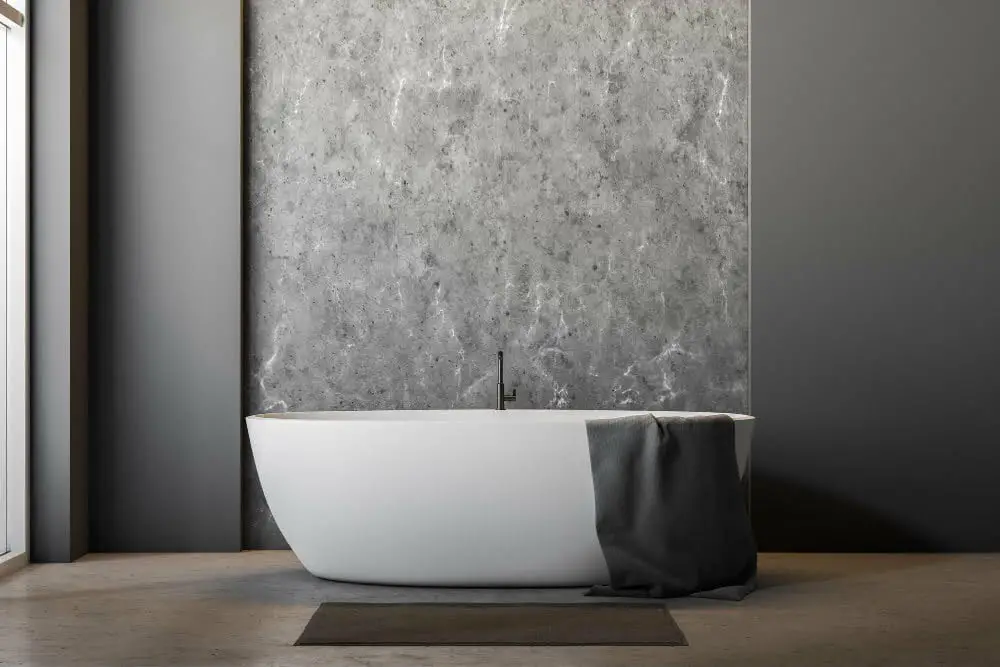 A gray feature wall is a great way to add depth and texture to your bathroom. Whether you choose a light or dark shade of gray, it can create an elegant and sophisticated look that complements any style.
You can use different materials such as tiles, wallpaper, or paint to achieve the desired effect. A tiled feature wall in shades of gray creates a modern and sleek look while adding texture with patterned tiles adds interest without overwhelming the space.
If you prefer something more subtle yet still impactful, consider painting one wall in your bathroom with a soft shade of gray for an understated but stylish statement piece that will make all the difference!
Chalk Paint Accents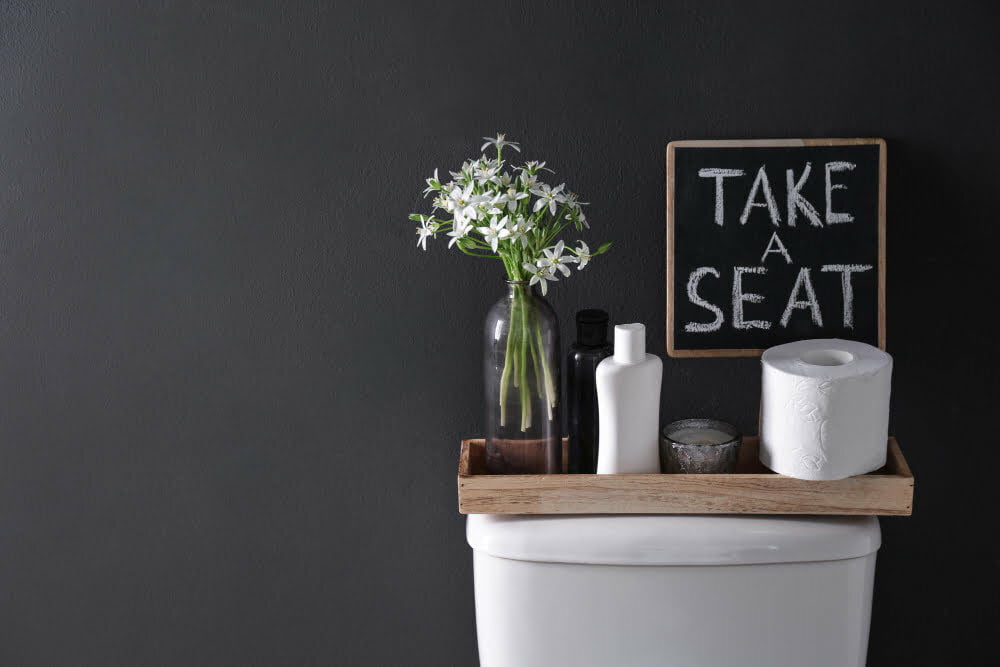 This type of paint has a matte finish and can be easily distressed, giving your bathroom an aged look that is both stylish and unique. You can use chalk paint on various surfaces such as cabinets, mirrors or even the bathtub itself! Consider painting some decorative elements in white or pastel colors for contrast against the gray walls.
Chalk painted furniture pieces like vanities or storage units will also fit perfectly into this design scheme while adding extra storage space for towels and toiletries.
Gray-Washed Brick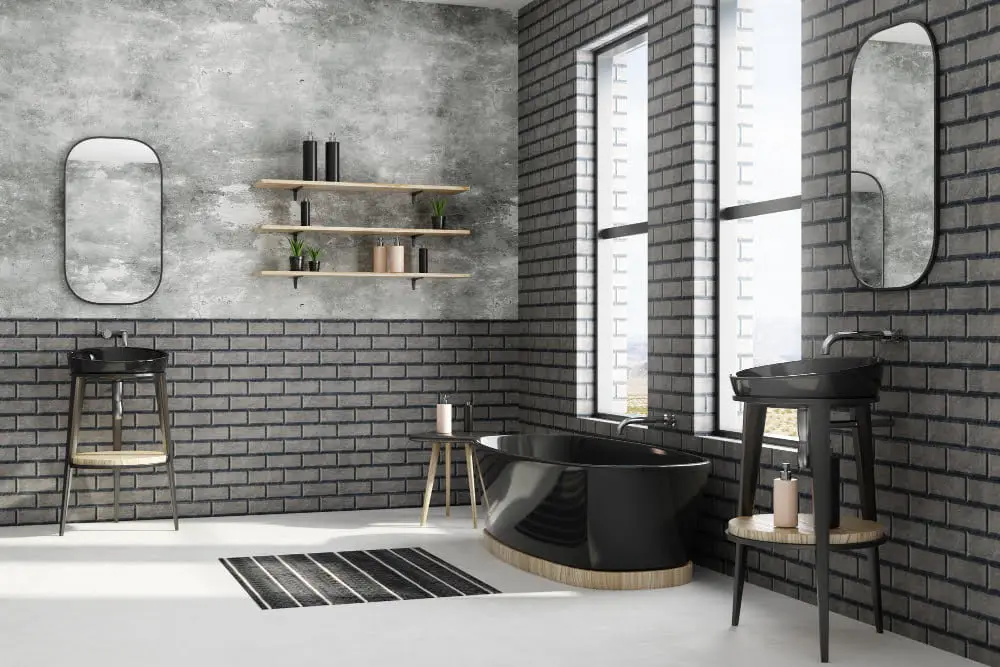 This technique involves applying a thin layer of gray paint over the surface of the brick, allowing some of the natural color and texture to show through. The result is a rustic yet modern look that can be paired with other gray accents in your bathroom design.
Gray-washed brick works particularly well as an accent wall or backsplash behind your sink or bathtub, adding visual interest without overwhelming the space. Consider pairing it with warm metal fixtures for an industrial vibe, or softening it up with plush towels and natural wood accessories for a more organic feel.
Warm Metal Contrasts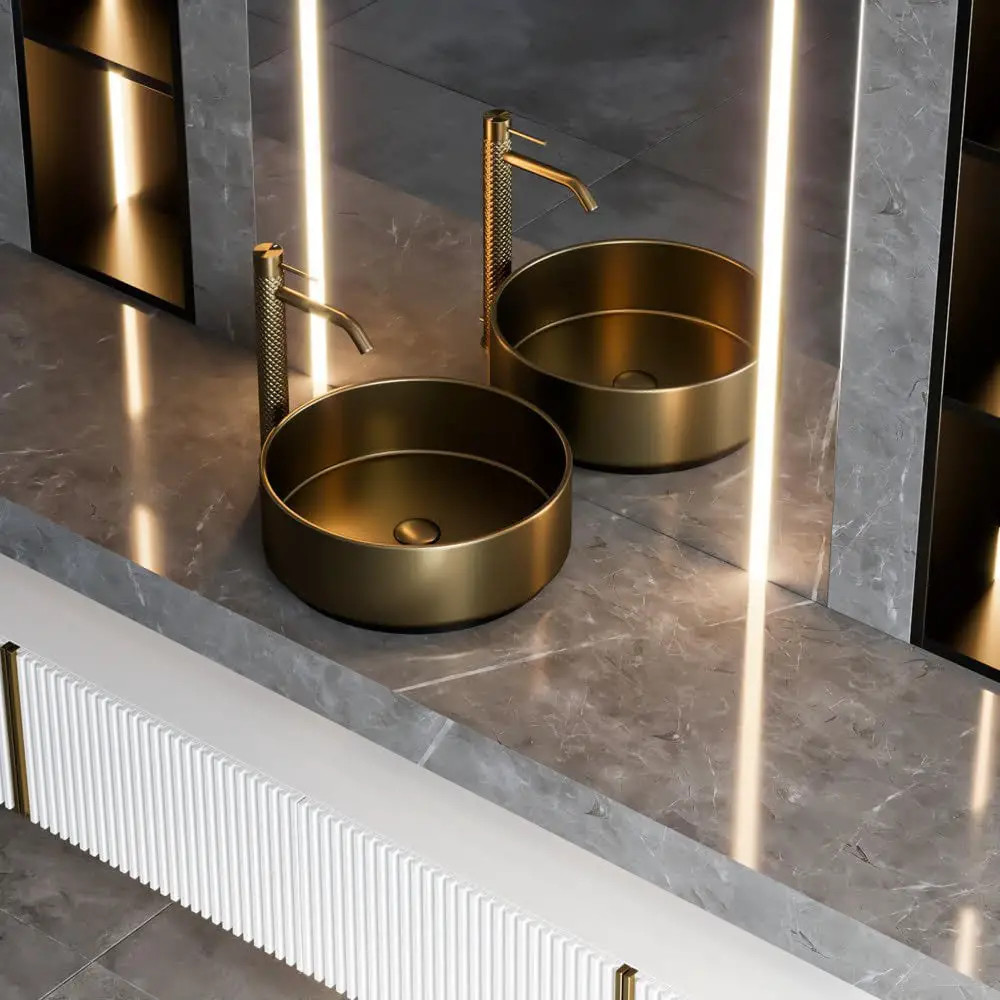 Consider incorporating brass or copper fixtures, such as faucets or towel racks, into your gray bathroom design. These metals will add warmth and depth to the space while also providing a beautiful contrast against the cool tones of gray.
You could also opt for metallic accessories like soap dispensers or toothbrush holders in gold or rose gold finishes for an added touch of luxury. The combination of warm metals with cool grays creates a modern yet timeless look that is sure to impress guests and make you feel right at home in your stylish bathroom retreat.
Luxurious Spa Atmosphere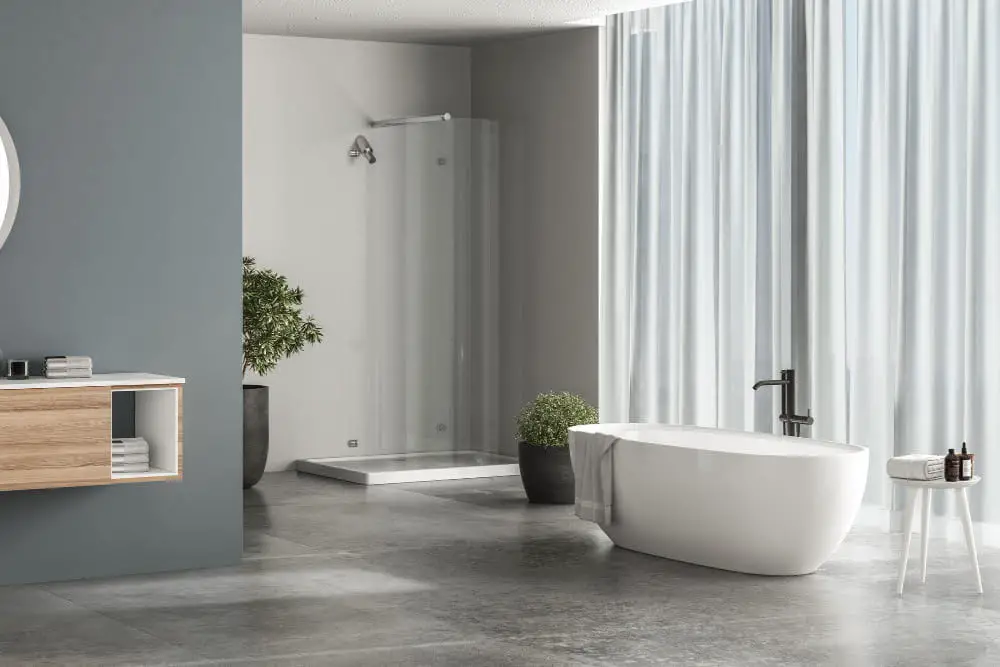 To create this atmosphere, consider adding features such as a freestanding bathtub, plush towels and bathrobes, and scented candles or diffusers. Incorporating natural materials like wood or stone can also add to the overall ambiance of relaxation and tranquility.
Soft lighting fixtures like dimmer switches or wall sconces will help set the mood for ultimate relaxation while soaking in your tub after a long day at work. A neutral color palette with shades of gray will further enhance this calming environment by creating an understated elegance that is both timeless and sophisticated.
Coastal-Inspired Gray Bathroom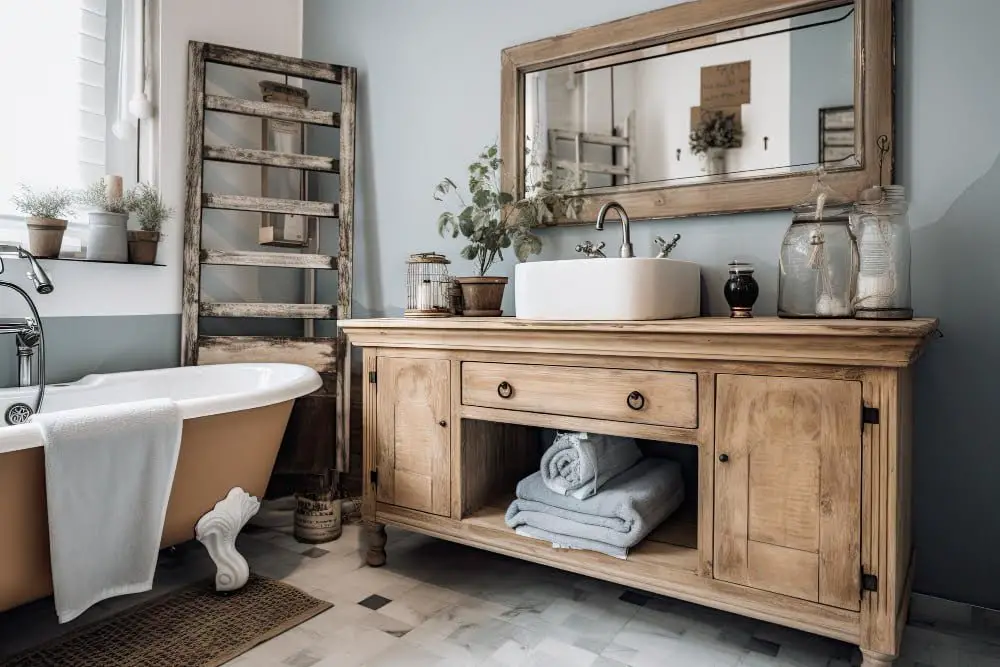 The combination of soft grays and natural textures creates a calming atmosphere that will make you feel like you're on vacation every day. To achieve this look, start with light gray walls and add in some white or beige accents for contrast.
Incorporate natural elements such as seashells, driftwood, or woven baskets to enhance the coastal vibe. A nautical-themed shower curtain or artwork can also tie everything together nicely.
Finish off the space with some greenery to bring life into your bathroom oasis!
Saturated Gray Walls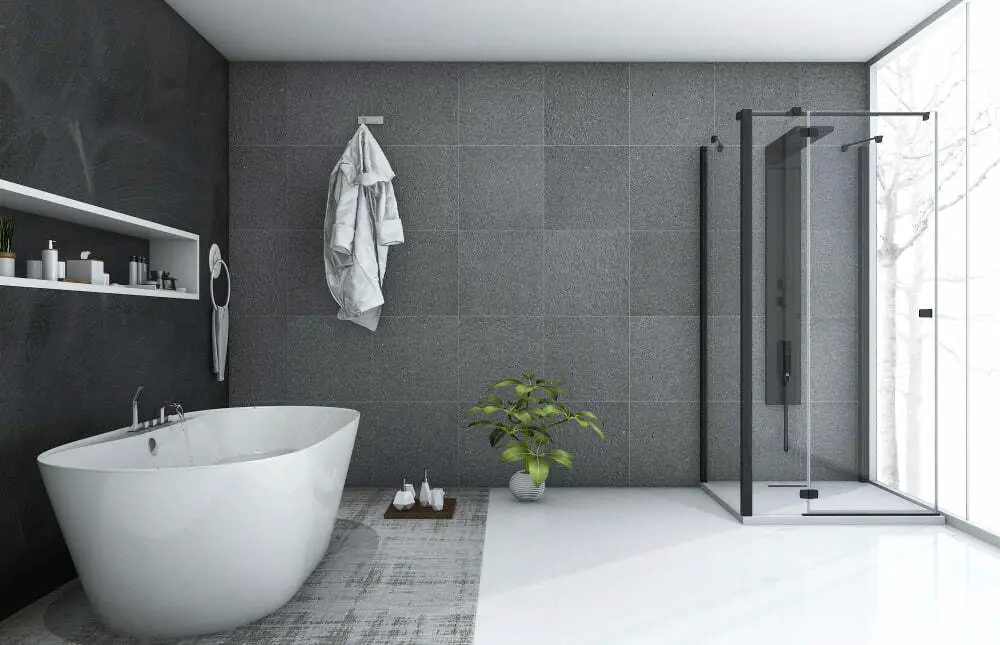 This deep shade of gray creates a moody and dramatic atmosphere that can be balanced with lighter accents such as white or metallics. To avoid making the space feel too dark, consider adding plenty of lighting to brighten up the room.
Saturated gray walls work well in both modern and traditional bathrooms, depending on how they are styled. For example, pairing them with sleek black fixtures will give your bathroom an edgy look while combining them with vintage-inspired pieces will create a more classic vibe.
Saturated gray walls add depth and character to any bathroom design scheme!
Backlit Gray Accents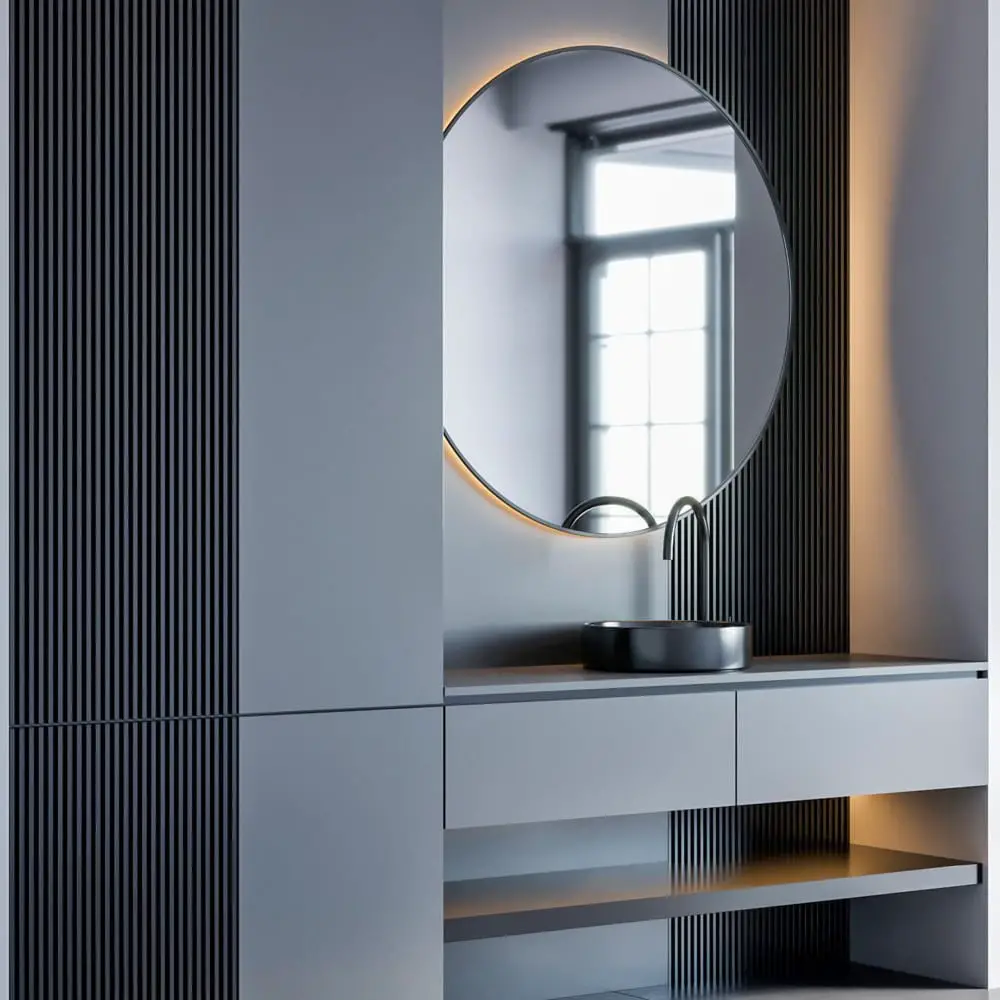 By installing LED lights behind a gray backsplash or feature wall, you can create an eye-catching focal point that adds ambiance and drama. The soft glow of the backlights will also help to highlight any decorative elements in the space, such as plants or artwork.
This technique works particularly well in modern bathrooms with sleek lines and minimalist decor, but it can be adapted for any style by choosing the right shade of gray and incorporating complementary materials like wood or stone. Whether you opt for a full wall installation or just a small accent area, backlit gray features are sure to make your bathroom feel more luxurious and inviting.
Combining Gray Tones & Patterns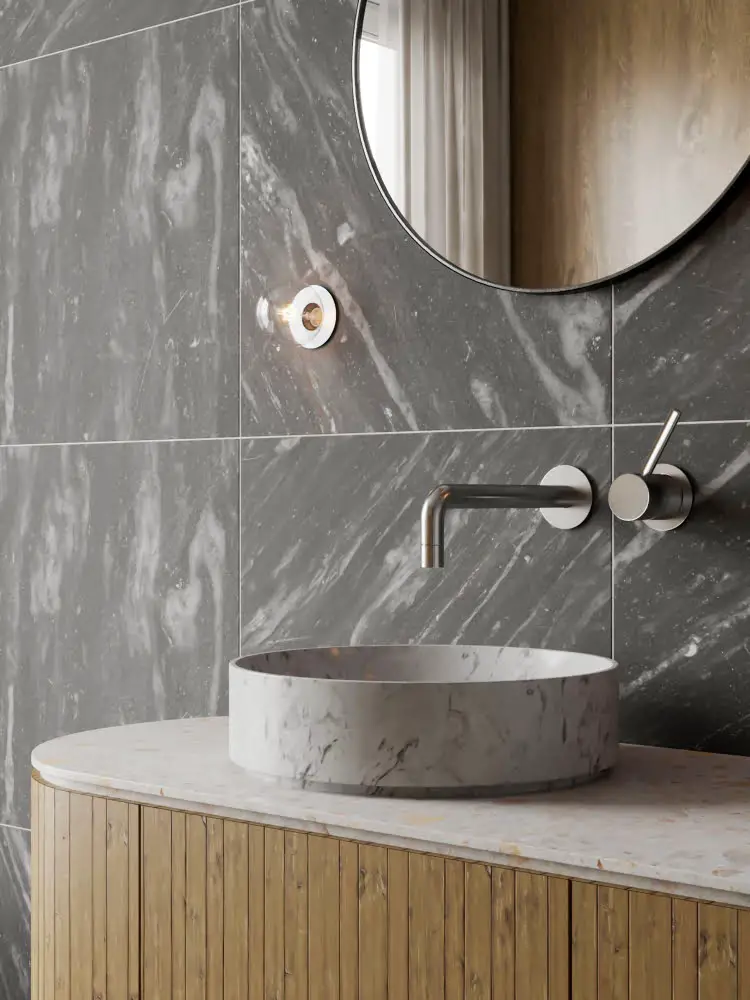 Start by selecting a base color, such as light or dark gray, for the walls and floors. Then add patterned elements like shower curtains or towels in complementary shades of gray to bring depth to the space.
Mixing textures is also key when combining tones and patterns; consider adding woven baskets or fluffy bath mats for added dimensionality. Don't be afraid to experiment with different combinations until you find one that works best for your personal style!
Halfway Gray Bathroom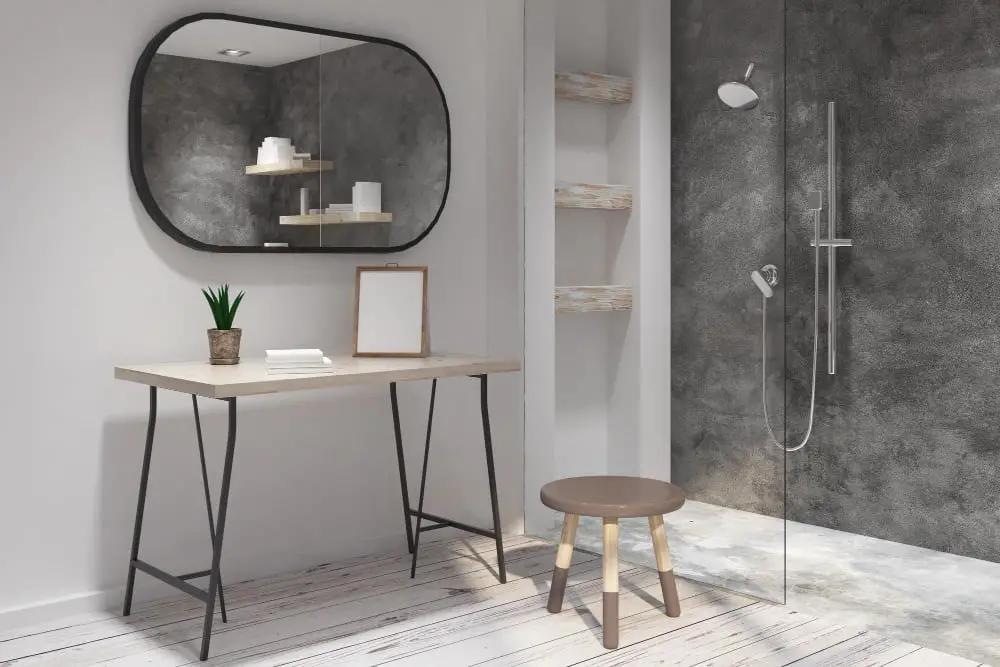 This design involves painting the lower half of the walls in a darker shade of gray, while leaving the upper half white or light-colored. This creates an eye-catching contrast that can make your bathroom feel more spacious and modern.
To complete this look, consider adding some black or dark metal accents throughout the room for added drama and sophistication. You could also incorporate natural wood elements like shelving or flooring to warm up this cool color scheme.
A halfway gray bathroom is an easy way to update your space without committing fully to one color palette!
Painted Gray Shiplap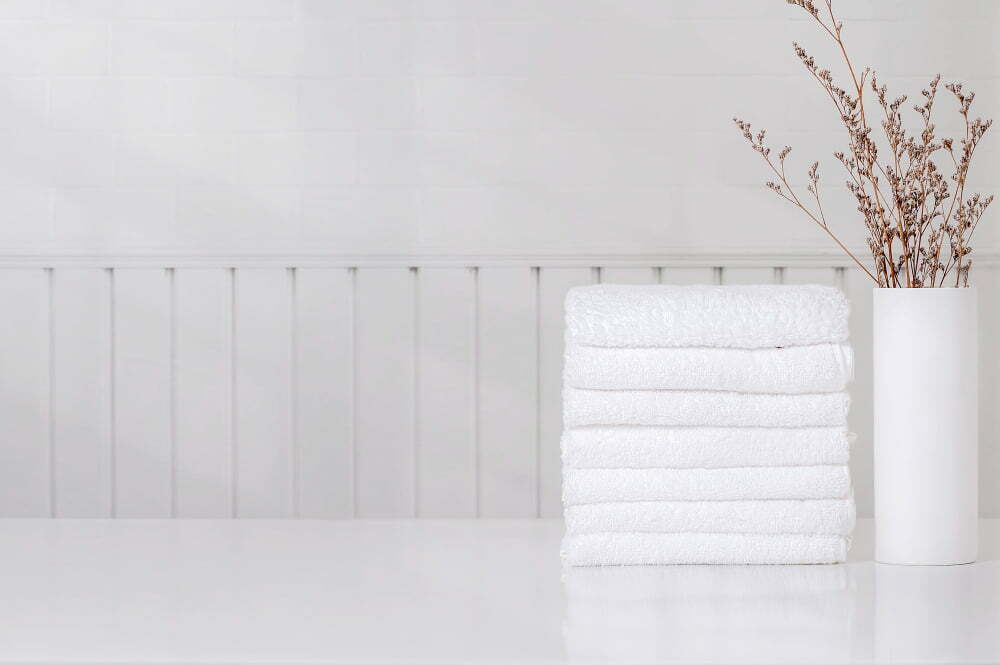 This type of paneling creates a rustic, farmhouse feel that can be modernized with the right decor. To achieve this look, start by painting your shiplap panels in a soft gray color that complements your existing fixtures and finishes.
Then, accessorize with natural wood accents like floating shelves or woven baskets for storage. Add pops of color through towels or artwork on the walls to create contrast against the neutral backdrop of painted gray shiplap.
Whether you're going for an industrial vibe or something more cozy and inviting, painted gray shiplap is sure to make your bathroom stand out from the rest!
Waterproof Gray Plaster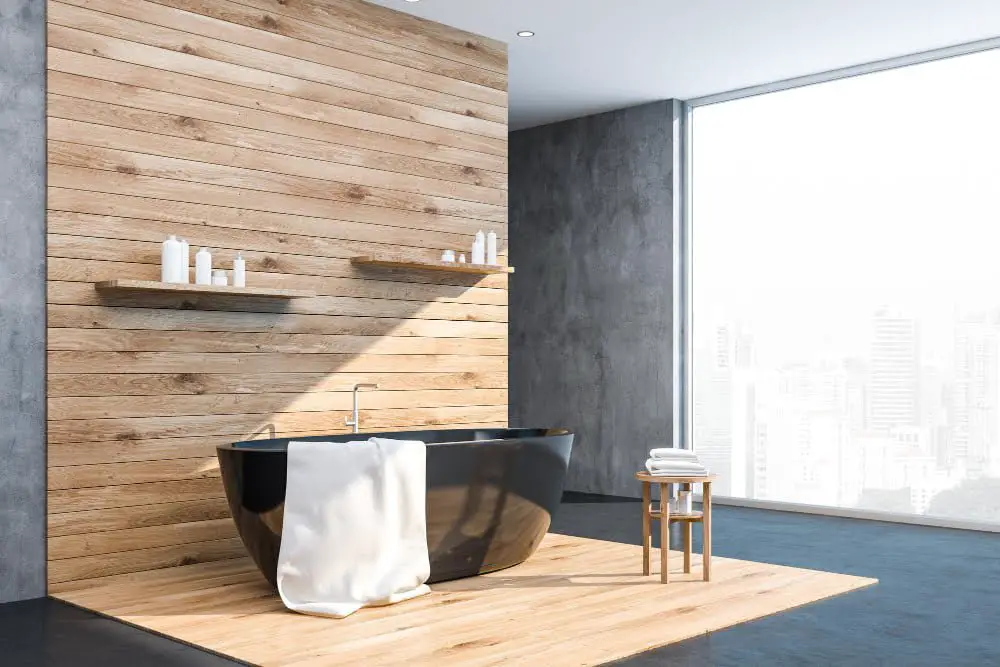 This material can be applied directly onto walls or used as an accent on specific areas of the bathroom. The result is a beautiful, organic look that adds character and charm to any space.
Waterproof gray plaster is also incredibly durable and resistant to moisture, making it perfect for use in bathrooms where humidity levels are high. It's easy to clean with just soap and water, so you won't have to worry about mold or mildew buildup over time.
To create a cohesive look throughout your bathroom design, consider pairing the waterproof gray plaster with other natural materials like wood or stone accents. You could also incorporate pops of color through accessories like towels or artwork.
Gray Patterned Wallpaper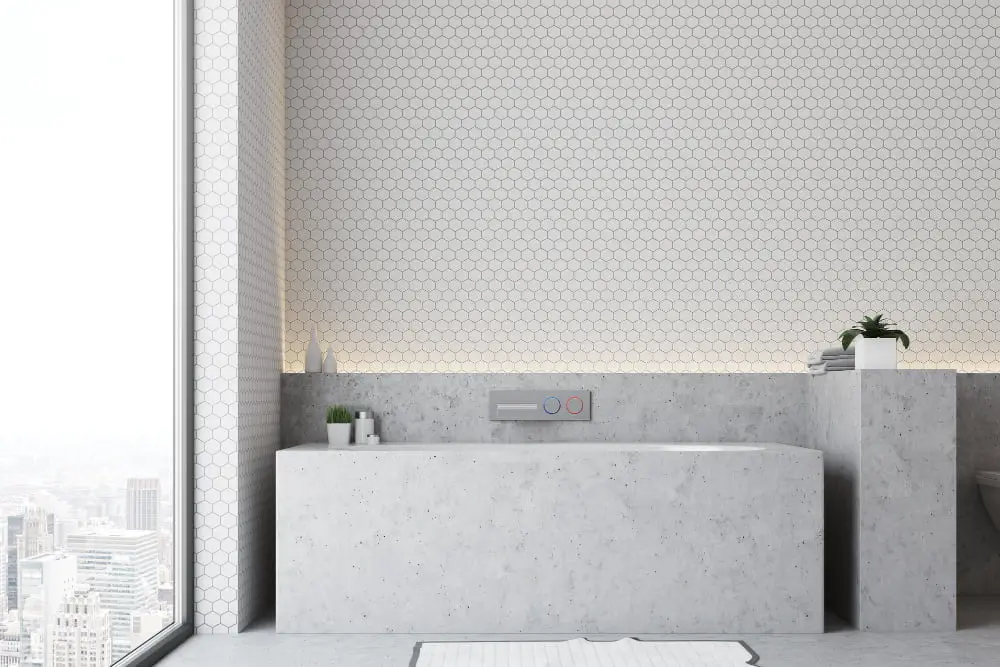 Whether you choose a subtle geometric print or an eye-catching floral design, gray wallpaper can create a sophisticated backdrop for your fixtures and accessories. Consider pairing it with white subway tiles or natural wood accents for added warmth and contrast.
If you're hesitant about committing to full-wall coverage, try using the wallpaper as an accent on one wall or in small sections throughout the room. With so many options available, there's sure to be a gray patterned wallpaper that fits your personal style and elevates your bathroom decor.
Gray Ceiling Paint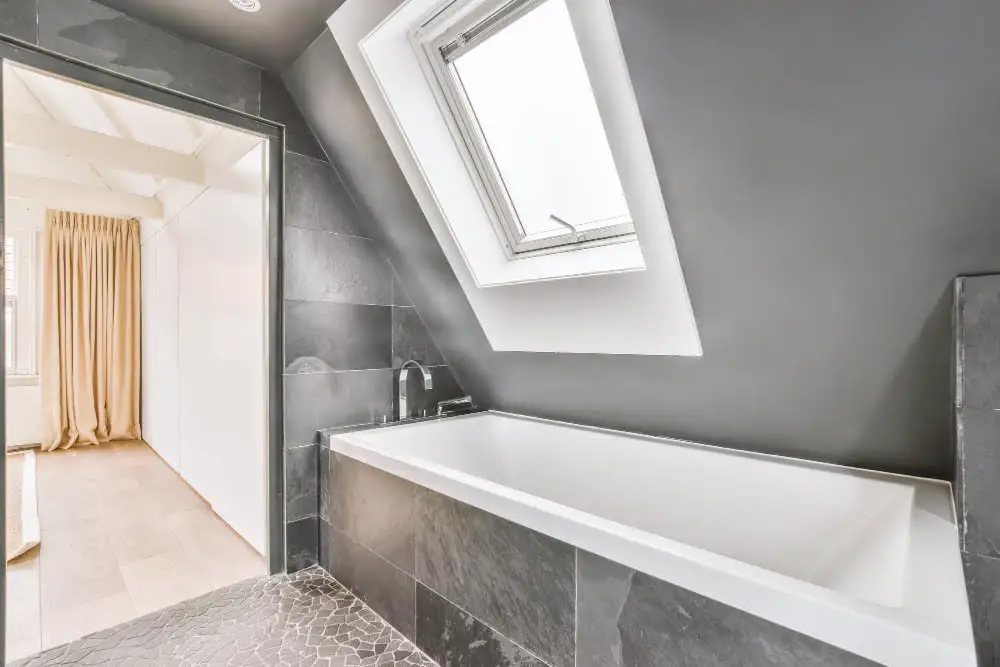 A light gray hue on the ceiling can create a calming atmosphere that complements other elements in your bathroom decor. It also adds depth and dimension to your space, making it feel more spacious than before.
If you're feeling bold, consider using darker shades of gray for a dramatic effect or pairing with contrasting wall colors for added interest. Regardless of how you choose to incorporate this trend into your bathroom design scheme, adding some gray paint on the ceiling is sure to make an impact!
Gray Retro Bathroom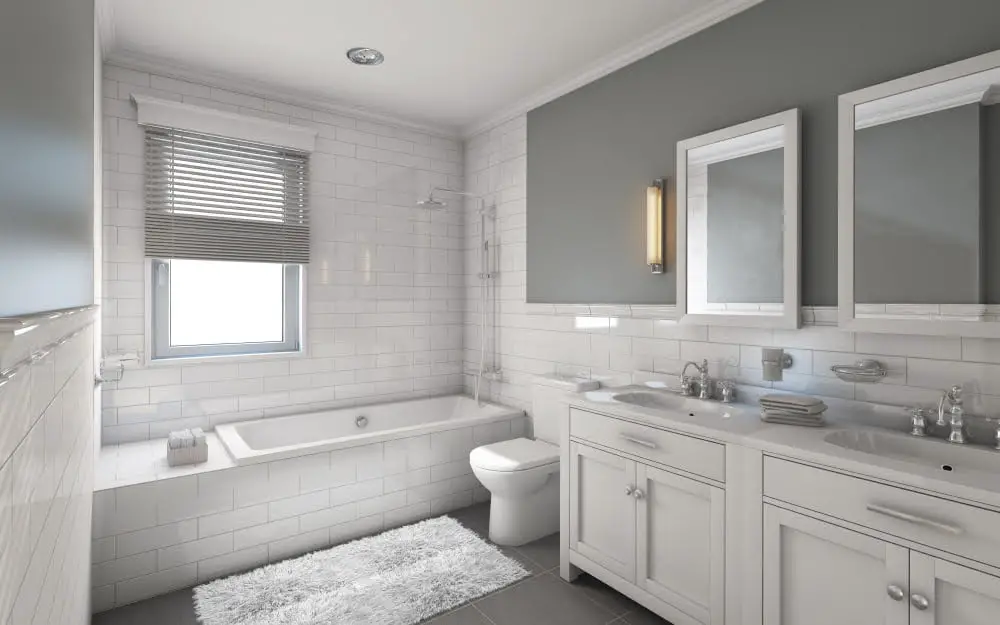 A gray retro bathroom can be achieved by incorporating vintage fixtures and accessories such as an antique clawfoot tub or a pedestal sink. To complete the look, use patterned wallpaper in shades of gray and white or black and white tiles on the floor.
Add some pops of color with bright towels or artwork for contrast against the muted tones of gray. This style is perfect for those who love all things vintage but still want a modern twist in their home decor scheme.
Gray & Taupe Combination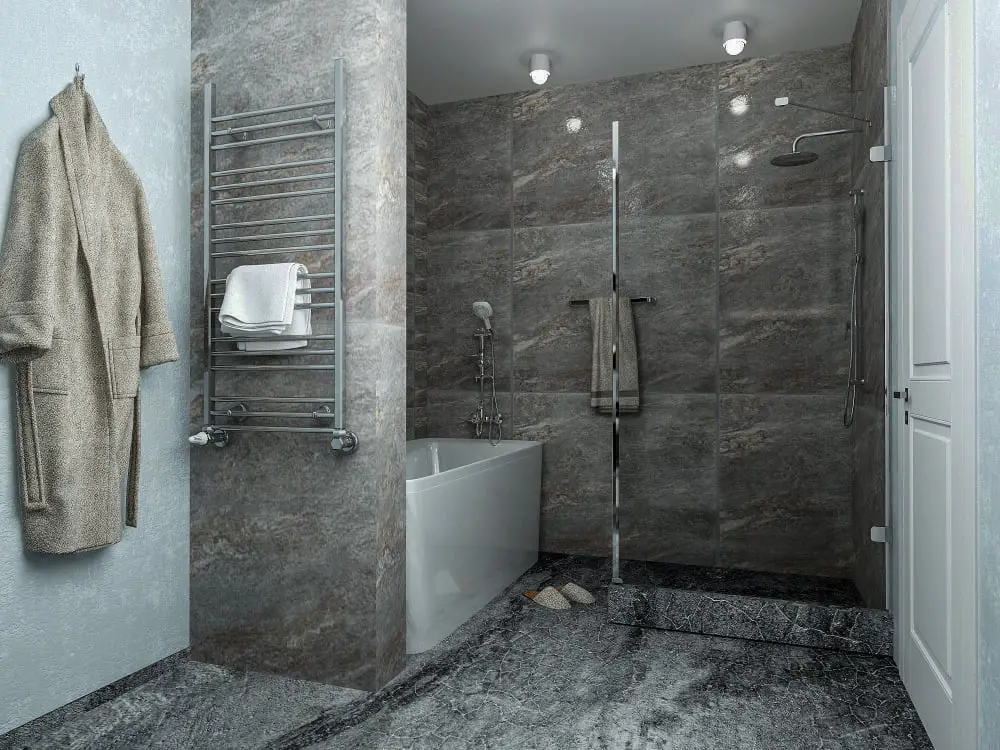 The combination of these two shades creates a calming and sophisticated atmosphere in any bathroom. Taupe is a warm, earthy color that pairs well with the coolness of gray tones.
To achieve this look, consider using taupe tiles on the floor or walls while incorporating gray accents through towels, shower curtains or accessories like soap dispensers and toothbrush holders. Alternatively, you can use gray tiles for your flooring or walls while adding touches of taupe through decorative elements such as artwork or candles to create an elegant yet cozy space perfect for unwinding after a long day at work.
Complementary Gray Tiles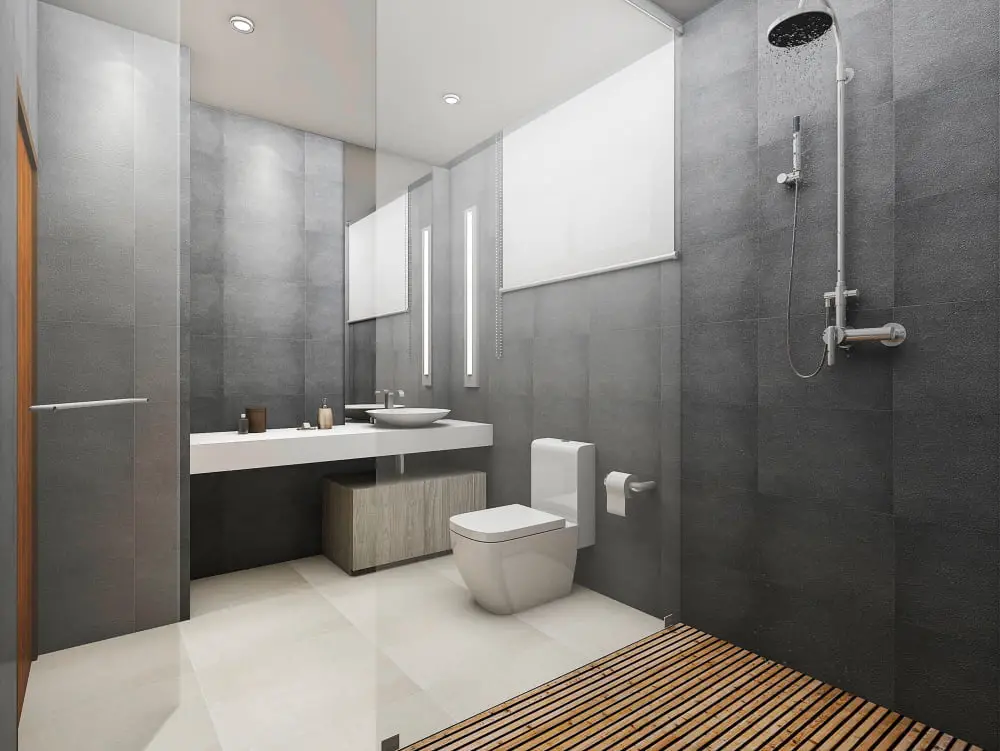 However, using complementary gray tiles can add depth and interest to your bathroom design. Consider pairing light gray floor tiles with darker gray wall tiles or vice versa.
You could also mix different shades of gray in a patterned tile design for added texture and dimensionality.
For example, you might choose large-format dark-gray porcelain floor tile paired with smaller-scale light-gray ceramic wall tile in the shower area to create contrast while maintaining an overall cohesive look throughout the space.
Gray Bathroom With Natural Accents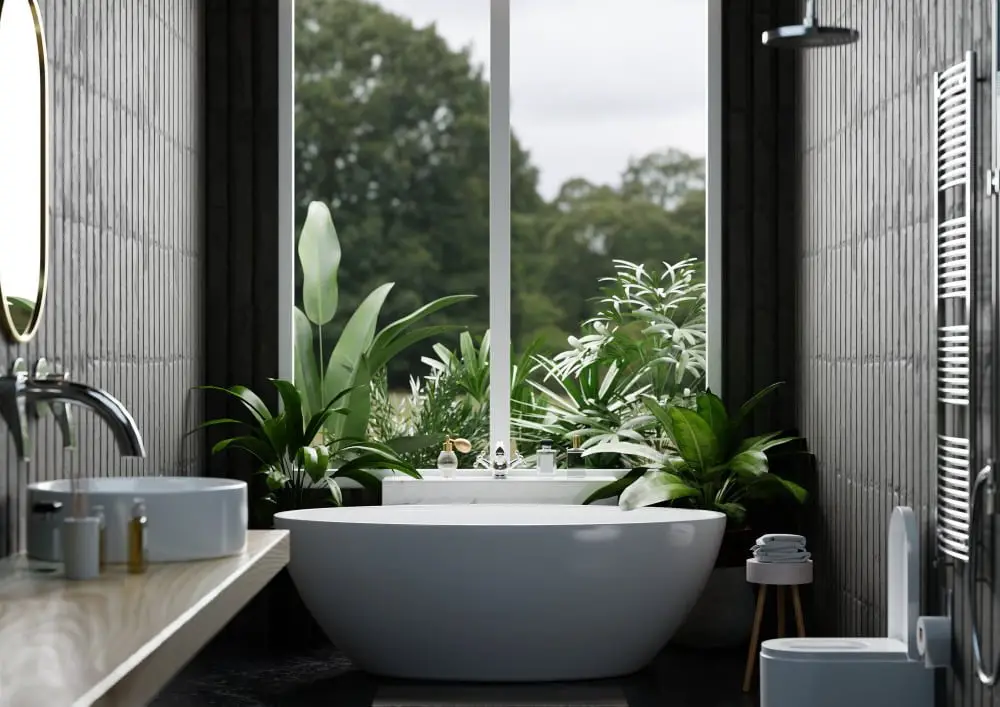 Incorporating wood elements like a wooden vanity or shelving unit adds an organic touch that complements the cool tones of gray. Plants are another great way to add life and color to a gray bathroom – consider hanging ferns or placing potted succulents on shelves or windowsills.
Natural stone tiles in shades of beige, tan, or brown also pair well with gray walls for an earthy vibe. By incorporating these natural accents into your design scheme, you'll create a calming oasis that feels both modern and inviting at the same time.
Tile-Wrapped Gray Walls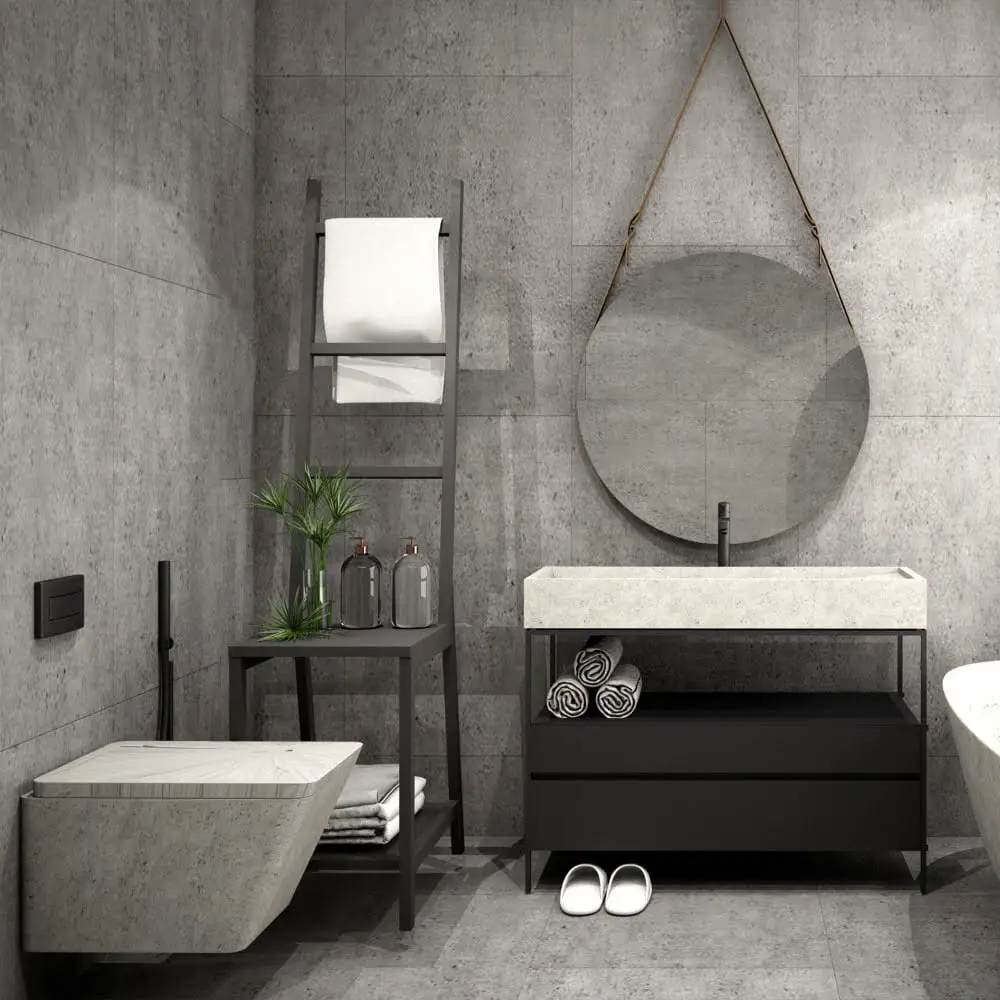 This design involves tiling the entire wall, from floor to ceiling, with small or large tiles in shades of gray. The result is a sleek and modern look that can be customized with different tile patterns and textures.
For example, you could use subway tiles for a classic look or mosaic tiles for something more intricate. Tile-wrapped walls also have practical benefits as they are easy to clean and maintain compared to painted surfaces that may chip or peel over time due to moisture exposure in bathrooms.
Gray Bathroom With Glass Accents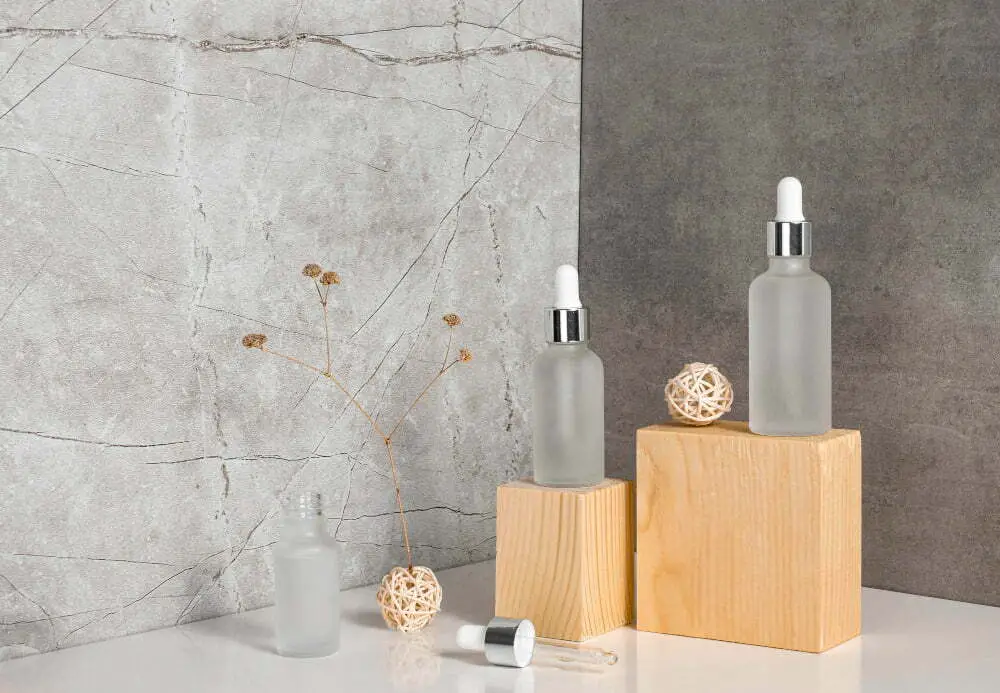 Consider incorporating glass tiles into your shower or as a backsplash behind the sink. You can also use glass knobs on cabinets or drawers, which will reflect light and create an elegant look.
Another option is to install a frameless glass shower door, which will make the space feel larger while allowing you to showcase any beautiful tile work inside the shower. For those who want something more subtle, try adding small touches of clear or frosted glass in accessories like soap dispensers or toothbrush holders for an understated yet sophisticated touch that won't overwhelm your gray color scheme.
FAQ
What colours compliment a grey bathroom?
Answer: Complimentary colors for a grey bathroom include yellow, pink, coral, navy, green, teal, and other neutrals like white.
Is grey a good Colour for a small bathroom?
Answer: Yes, grey is a great colour for a small bathroom, as it is a universally loved color when it comes to wall paint and one of the best choices for such spaces.
Are grey bathrooms still in style?
Answer: Yes, grey bathrooms are still in style, as they are timeless, sophisticated, and allow for personal touches.
How do you soften a grey bathroom?
To soften a grey bathroom, incorporate matte brass elements to avoid creating a cold or clinical ambiance.
What types of materials and textures work best in a grey bathroom?
Answer: In a grey bathroom, materials and textures that work best include natural elements like wood and stone, as well as soft fabrics and metallic accents for a balanced and visually appealing design.
How can lighting choices enhance the overall aesthetic of a grey bathroom?
In a grey bathroom, lighting choices can enhance the overall aesthetic by creating contrasts, accentuating specific areas, and adding warmth and depth to the space.
What design elements can be incorporated to make a grey bathroom feel more inviting and warm?
To make a grey bathroom feel more inviting and warm, incorporate design elements such as warm lighting, plush textiles, pops of color, and natural materials.
Continue reading: