Last updated on June 16, 2023
Discover vibrant and refreshing yellow bathroom ideas that will brighten up your space, infuse it with warmth, and create a cheerful atmosphere for you to enjoy every day.
Whether you're looking for a subtle pop of color or want to go all-out with a bold and vibrant look, yellow is the perfect hue to add some cheerfulness and warmth to your bathroom.
From playful accents like shower curtains and towels to statement pieces like painted walls and tiles, there are so many ways you can incorporate this sunny shade into your bathroom decor.
So, let's dive in and explore these inspiring ideas together!
Table of Contents
Sunflower-themed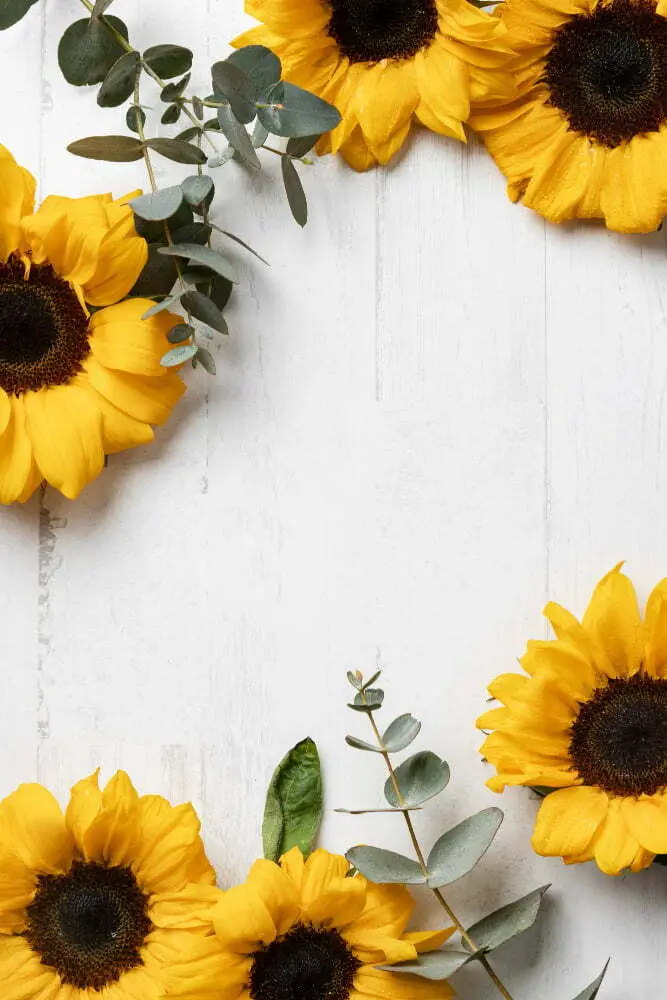 Sunflowers are a cheerful and popular choice for a yellow bathroom theme. Incorporate sunflower accents throughout the space, such as sunflower-shaped soap dispensers or shower curtain hooks.
Hang up some framed prints of sunflowers on the walls to add some color and interest to your bathroom decor. You can also use yellow towels with embroidered or printed sunflowers on them, along with matching bath mats and rugs in shades of green (to represent stems) for an added touch of nature-inspired design.
Consider adding real or artificial potted plants like small succulents in sunny yellow pots to complete the look!
Yellow Mosaic Tiles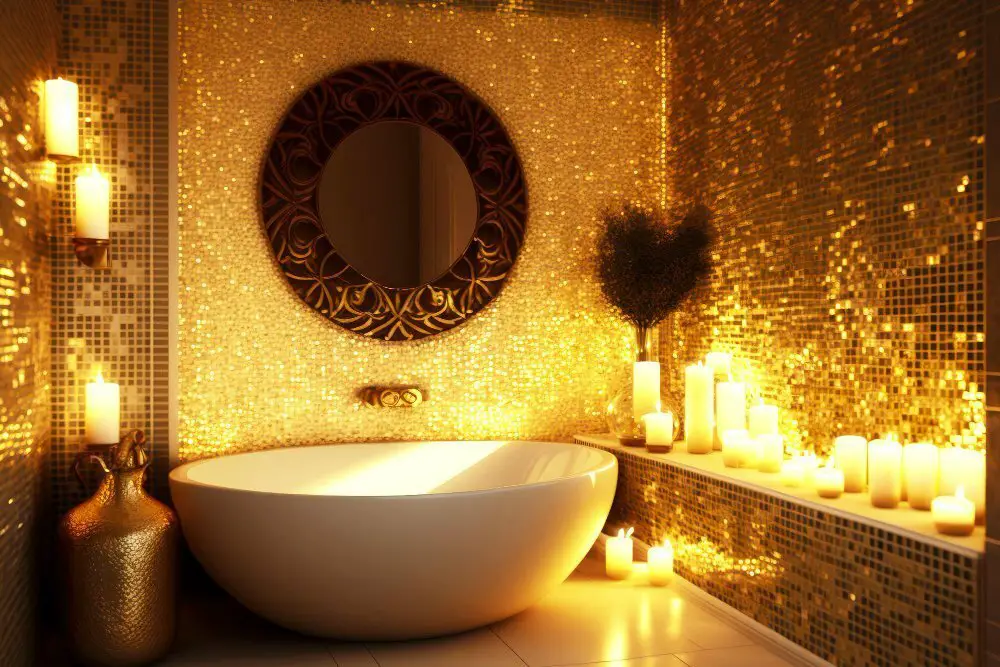 They come in various shades of yellow, from pale lemon to deep mustard, and can be arranged in different patterns for a unique look. You can use them as an accent wall behind the vanity or shower area, or cover the entire bathroom floor with them for a bold statement.
Pairing yellow mosaic tiles with white fixtures creates a fresh and modern feel while combining it with black accents gives off an edgy vibe. If you want something more playful, mix different shades of yellow mosaics together for added interest!
Pastel Yellow Walls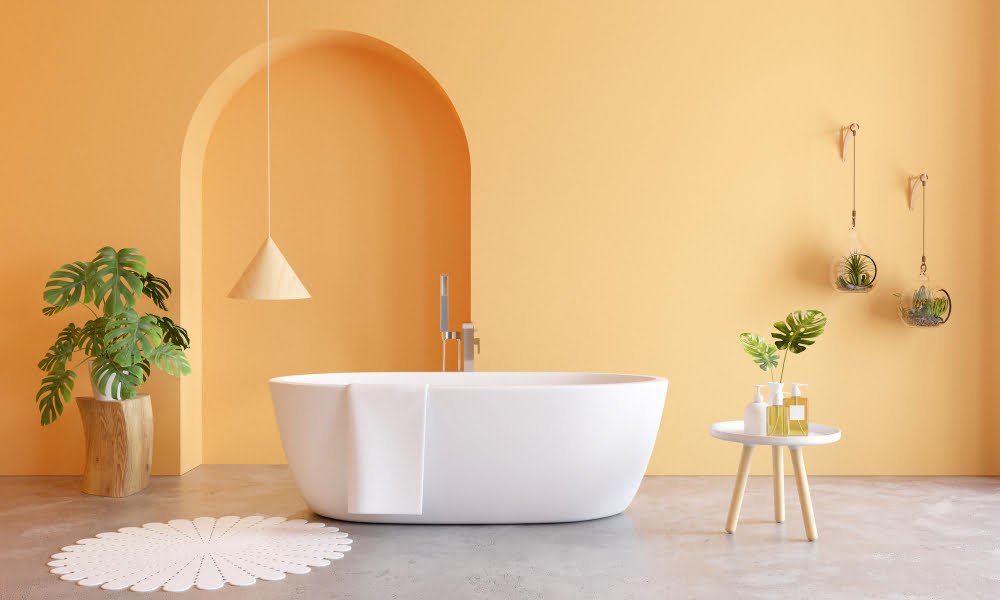 This shade of yellow is perfect for those who want to incorporate color into their space without it being too overwhelming. Pastel yellow pairs well with white or gray accents, creating a serene and sophisticated look.
You can also add some greenery or floral prints to bring in some natural elements that complement the pastel hue. To make the most out of this idea, consider using matte paint finish as it will give your bathroom an elegant feel while still maintaining its subtlety.
Golden Yellow Accents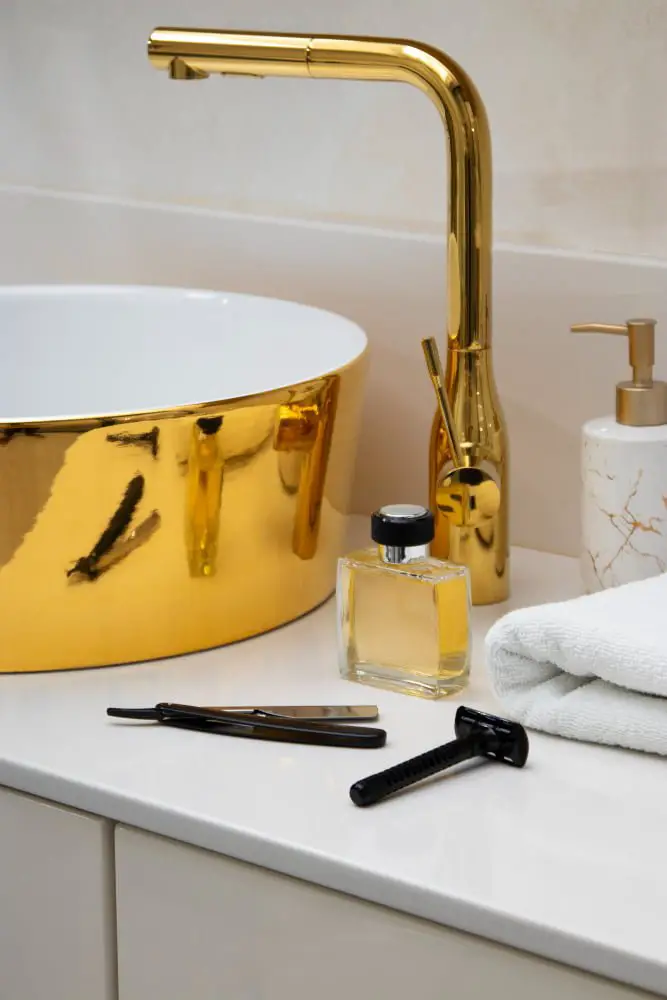 From golden faucets to gold-framed mirrors, these accents can make your space feel more sophisticated and refined. You could also incorporate golden yellow accessories such as soap dispensers, toothbrush holders or even a tissue box cover for an added pop of color.
If you want to go all out with the theme, consider adding some metallic gold tiles in the shower area or on one wall for a bold statement piece that will surely impress your guests!
Yellow Clawfoot Tub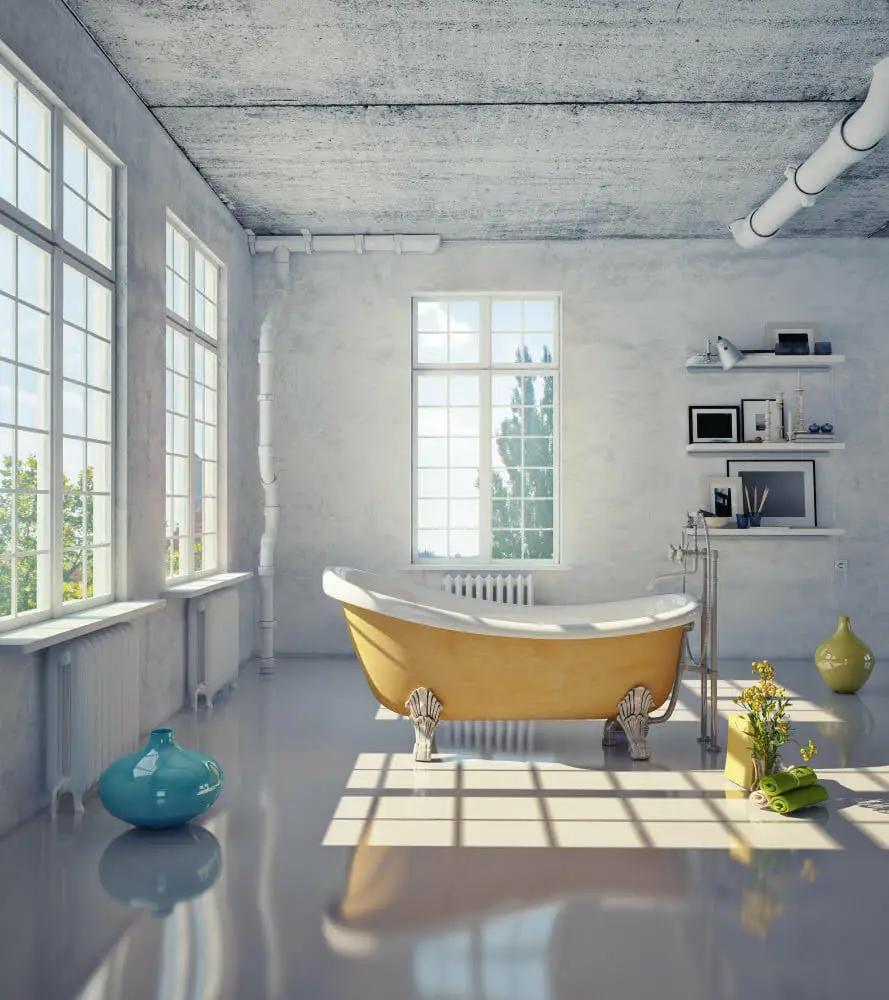 The bright color adds a pop of cheerfulness to the space, while the classic design brings in an element of nostalgia. Pair it with white or neutral walls and flooring to let it stand out even more.
For those who want to take their yellow bathroom theme up a notch, consider adding matching yellow accents such as towels or bath mats around the tub area. A clawfoot tub is not only stylish but also functional – its raised height makes getting in and out easier than traditional built-in bathtubs, making it ideal for people with mobility issues or elderly family members living at home.
Daffodil-embroidered Towels
These towels feature delicate daffodil embroidery in shades of yellow and green, adding a touch of elegance to your bathroom decor. They can be paired with other yellow accents such as soap dispensers or toothbrush holders for a cohesive look.
Daffodil-embroidered towels also make great gifts for friends and family who appreciate the beauty of nature-inspired designs.
Lemon-scented Candles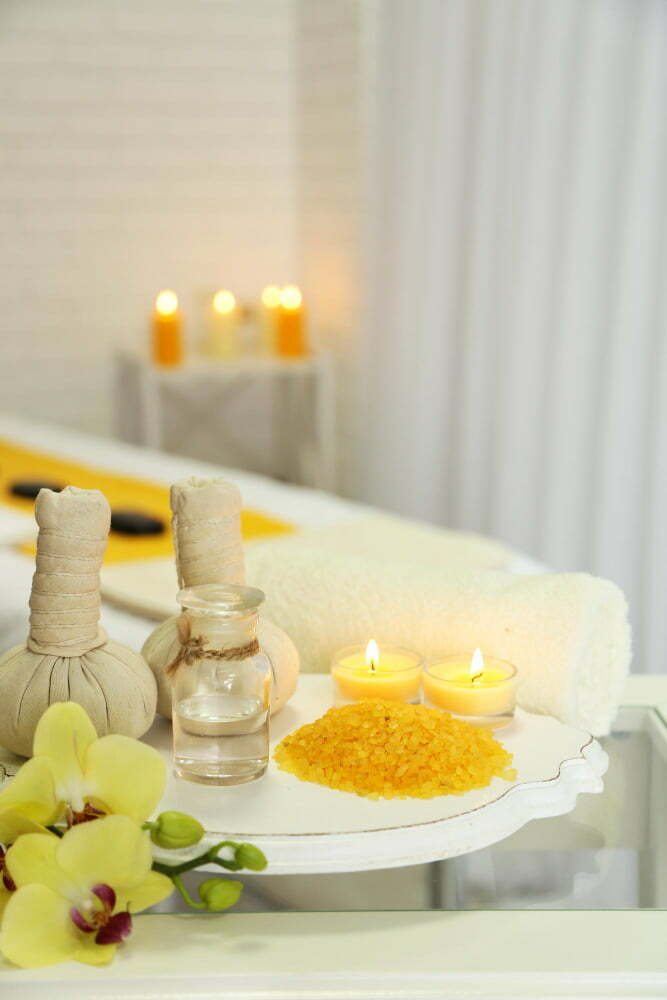 They not only add a pop of color but also provide an invigorating and refreshing scent that can help you relax after a long day. Lemon is known for its mood-boosting properties, making it the perfect aroma to have in your bathroom as you start or end your day.
You can place them on floating shelves, near the bathtub or sink, or even light one up during bath time for an extra relaxing experience. Just be sure to choose high-quality candles made with natural ingredients and avoid leaving them unattended while lit for safety reasons.
Yellow-striped Shower Curtain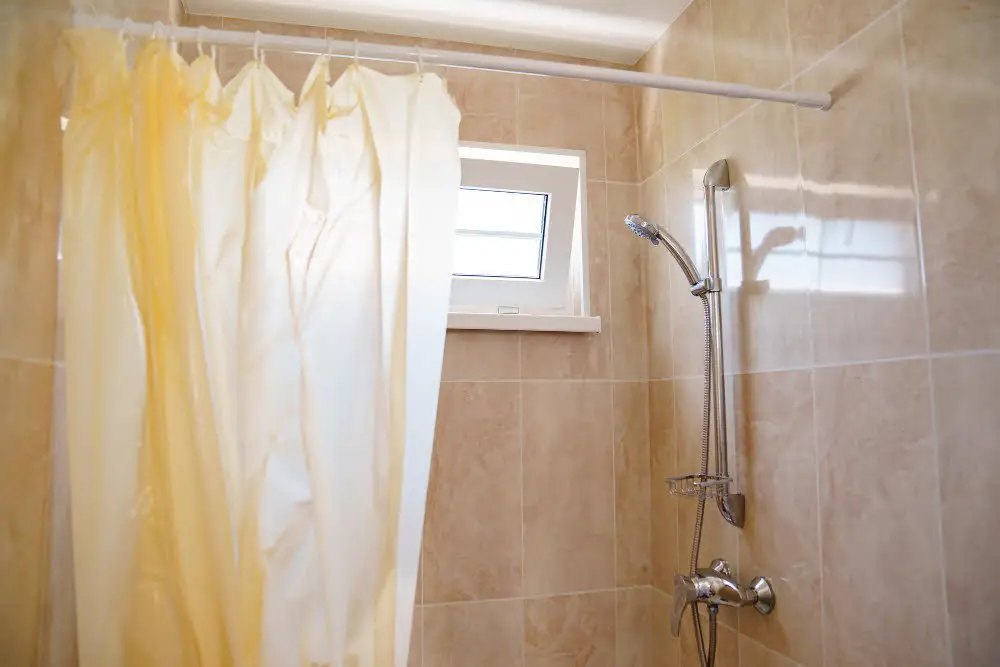 The stripes can be thick or thin, horizontal or vertical, and can vary in shades of yellow from pale lemon to deep mustard. This type of shower curtain pairs well with white walls and fixtures for a clean look, but it also works with other colors such as gray or navy blue for a more dramatic effect.
To complete the look, consider adding some matching yellow accessories like soap dispensers or toothbrush holders.
Buttercup Yellow Vanity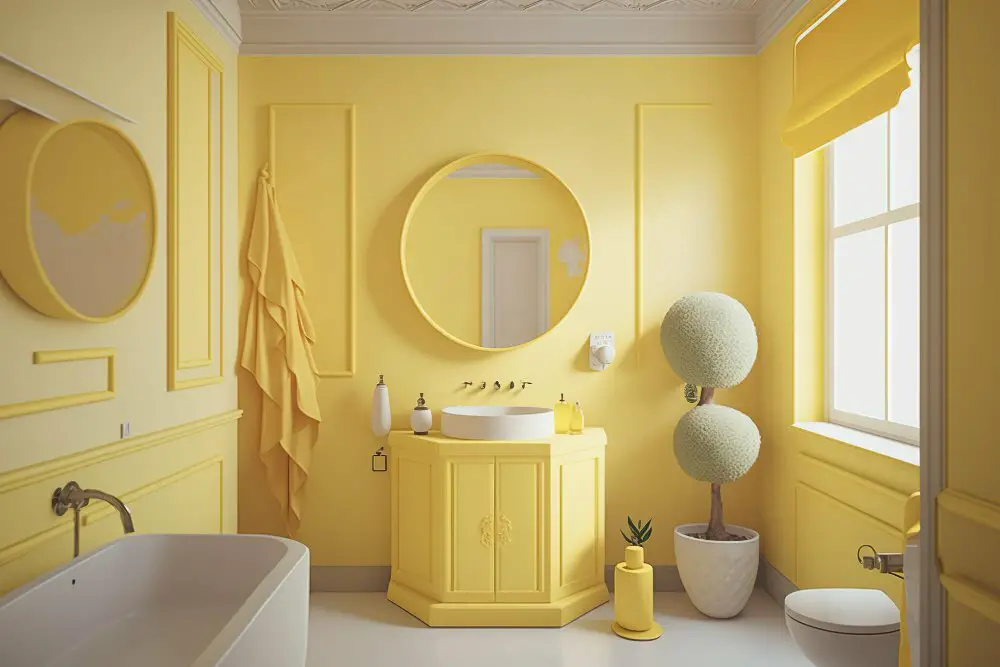 It's perfect for those who want to incorporate yellow into their space without going overboard. Pair it with white walls and black accents for a classic look, or mix it up with other bright colors like turquoise or coral.
You can also accessorize the vanity with gold hardware and fresh flowers in shades of pink or purple for an elegant touch. A buttercup yellow vanity is versatile enough to work in any style bathroom, from modern to traditional, making it a great investment piece that will stand the test of time while adding personality and charm to your space.
Yellow and White Patterned Flooring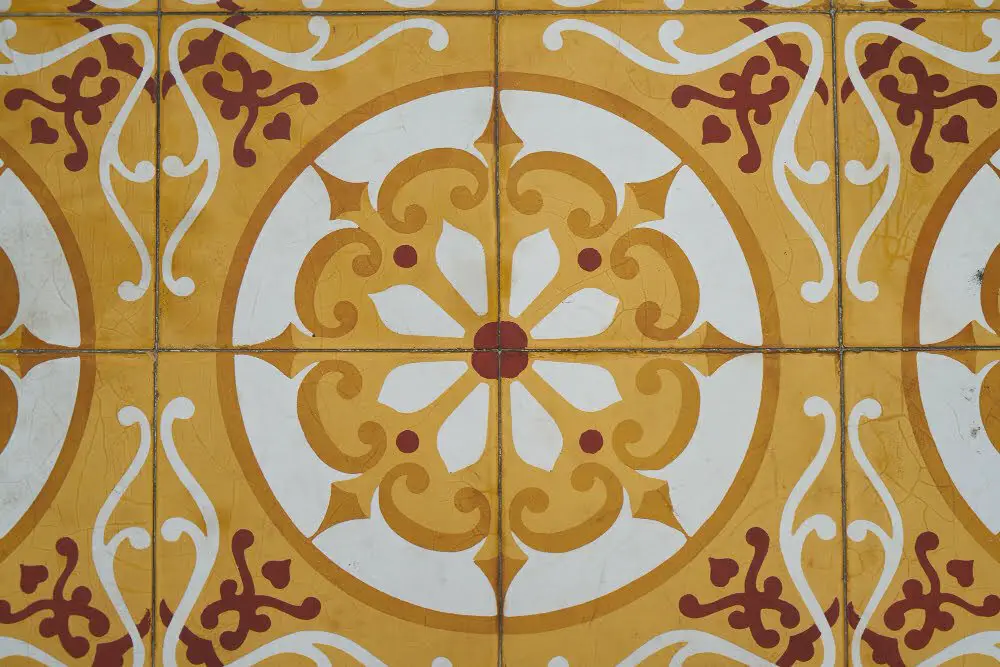 This type of flooring can come in various designs, such as stripes or geometric shapes, and it pairs well with both modern and traditional styles. The yellow color adds warmth while the white keeps the space feeling fresh and clean.
To make this look work, keep other elements in the room simple so that the floor remains the focal point. A neutral wall color will allow for maximum impact from your statement-making floors!
Geometric Yellow Wallpaper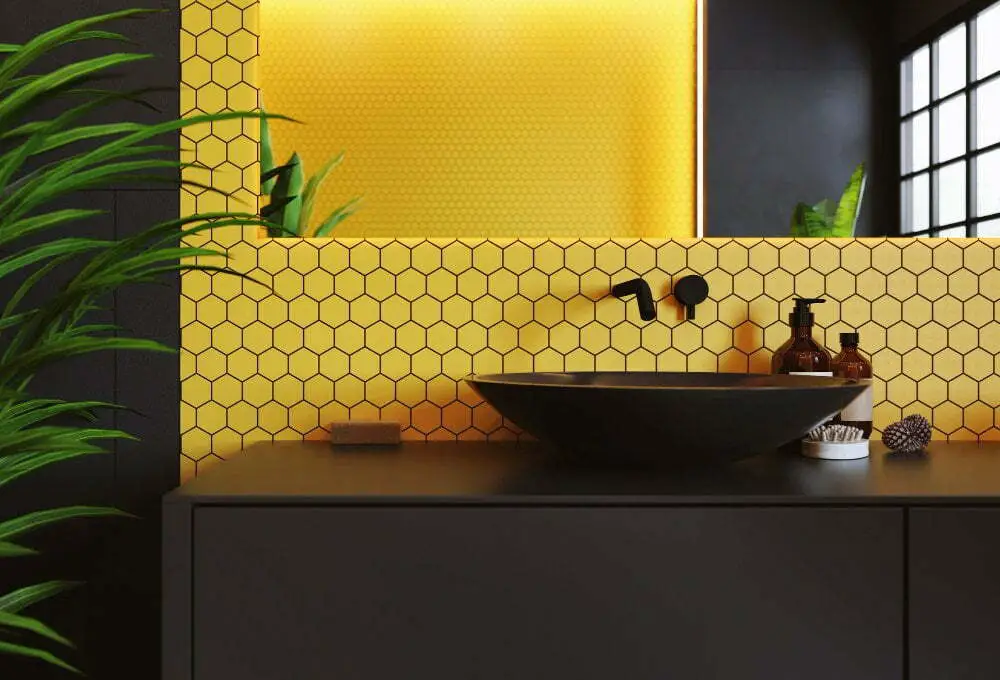 The bold patterns can range from simple stripes or chevrons, to more intricate designs like honeycomb or Moroccan tiles. A geometric yellow wallpaper can be paired with white fixtures for a clean and modern look, or combined with other bright colors for an eclectic vibe.
When choosing this type of wallpaper, it's important to consider the size of your bathroom – larger prints may overwhelm smaller spaces while smaller prints may not have enough impact in larger bathrooms. Geometric yellow wallpaper is a fun and creative way to incorporate color into your bathroom design scheme!
Yellow Floating Shelves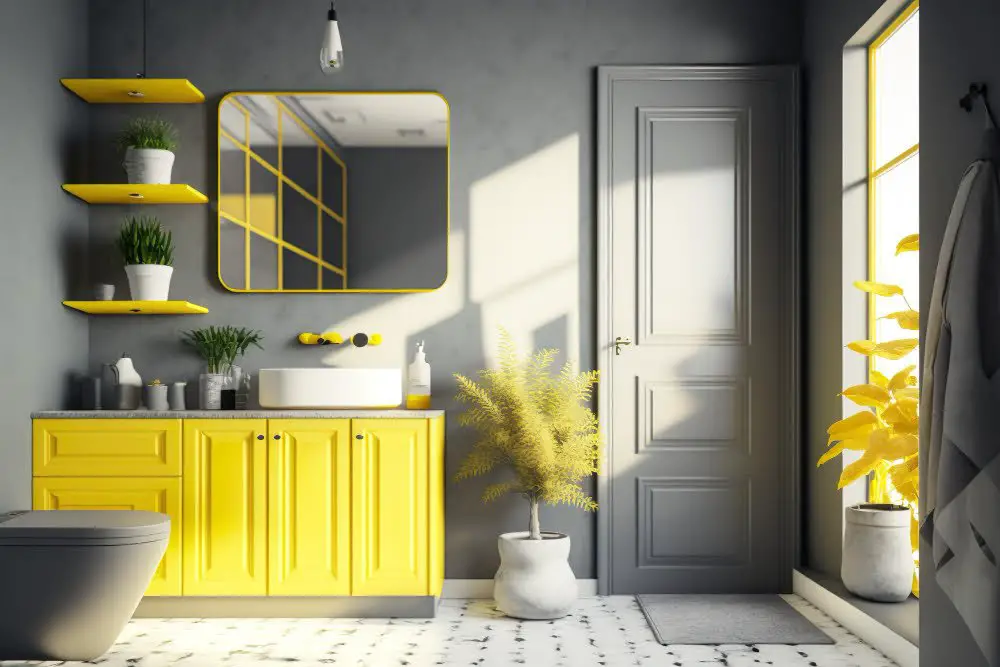 These shelves can be used for storing towels, toiletries, or decorative items such as plants or candles. They come in various sizes and shapes, so you can choose the ones that fit your space best.
Yellow floating shelves also create a focal point in the room and add a pop of color to an otherwise neutral space. To make them stand out even more, consider painting the wall behind them with a contrasting color such as navy blue or charcoal gray.
Yellow Bath Mat and Rug Set
Choose a plush, absorbent material for the bath mat that will keep your feet warm and dry after stepping out of the shower or tub. A coordinating rug can be placed in front of the sink or toilet to tie together the overall look of your bathroom decor.
Consider adding other yellow accents throughout the space, such as towels or accessories, to create a cohesive design scheme.
Mustard Yellow Towels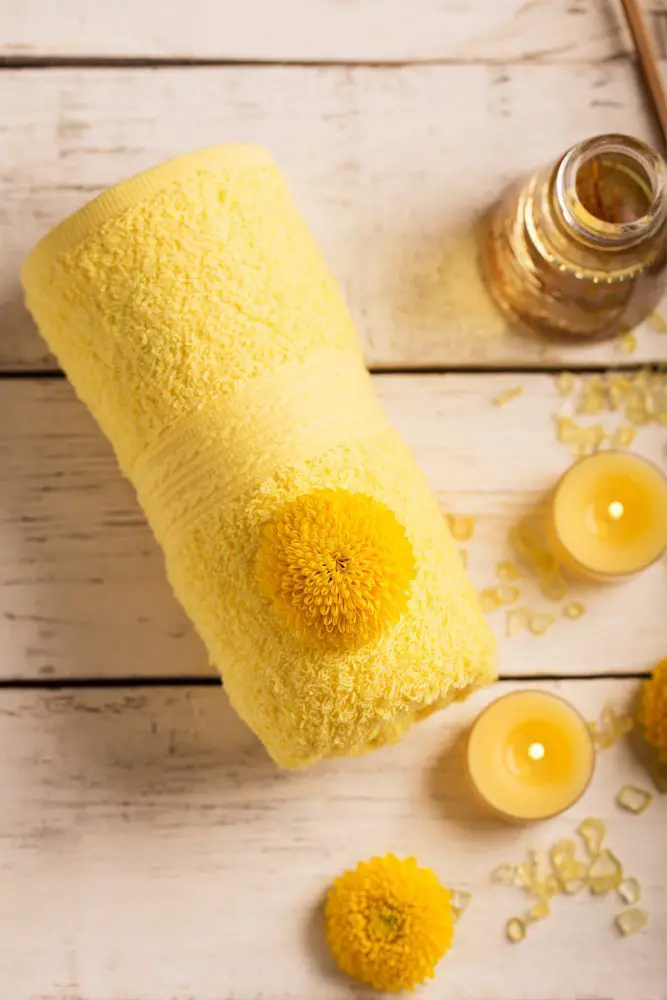 They work well with neutral colors like white, gray, or beige. You can use them as an accent against a plain wall or pair them with patterned tiles for a bold look.
Mustard yellow towels also complement wooden elements in the bathroom such as cabinets or shelves. To complete the look, you can add other mustard-colored accessories like soap dispensers or toothbrush holders.
With their rich hue and soft texture, mustard yellow towels will make your bathroom feel cozy and inviting all year round!
Yellow and Gray Color Scheme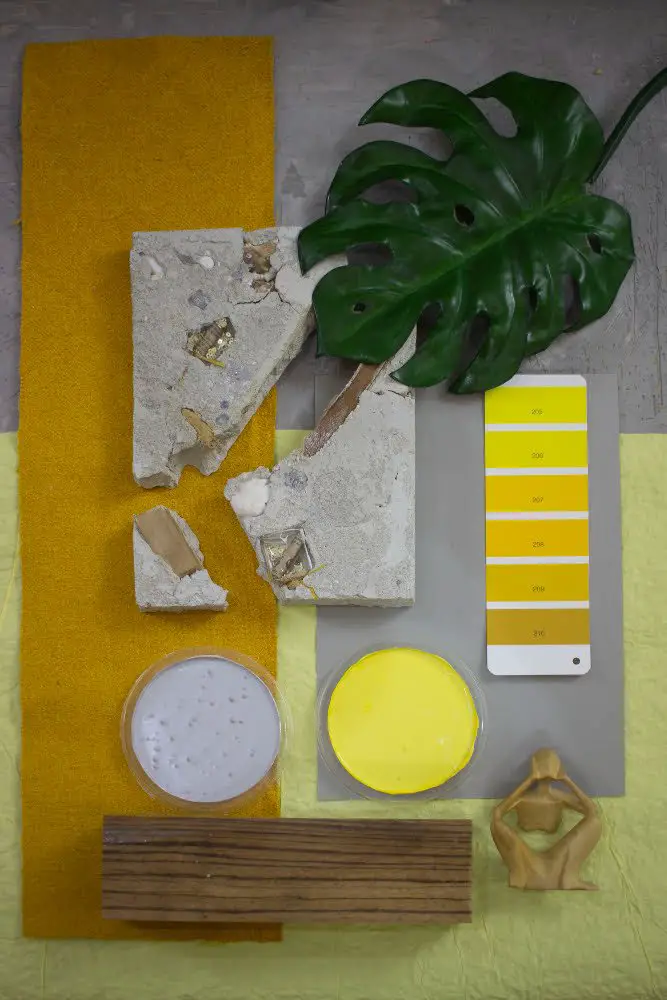 The softness of gray tones down the brightness of yellow, creating a calming yet cheerful atmosphere. You can use yellow as an accent color by adding towels, shower curtains or bath mats with yellow patterns to your gray bathroom decor.
Alternatively, you can paint one wall in bright sunny yellow and leave the rest of the walls light grey for a bold statement look. For those who prefer subtlety over drama but still want to incorporate this trendy duo into their space – try using different shades of both colors throughout your design scheme for added depth and interest!
Yellow Nautical Décor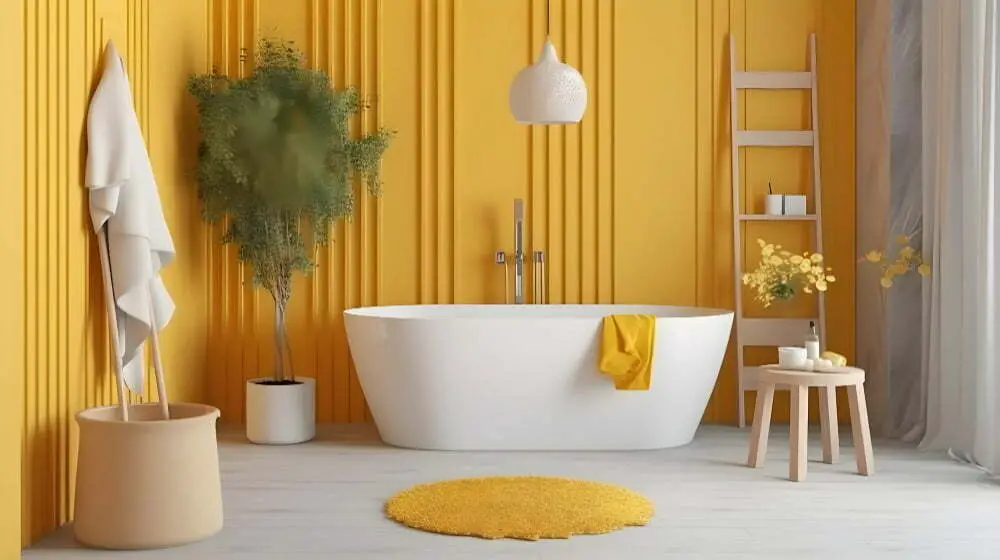 You can start by painting the walls in a soft shade of yellow and adding some navy blue accents, such as towels or shower curtains. To complete the look, add some nautical-themed accessories like seashell-shaped soap dishes or anchor-shaped hooks for hanging towels.
A wooden ship wheel on the wall can also be an excellent addition to this theme. Don't forget to add some greenery with potted plants that remind you of sea grasses!
Yellow Framed Mirror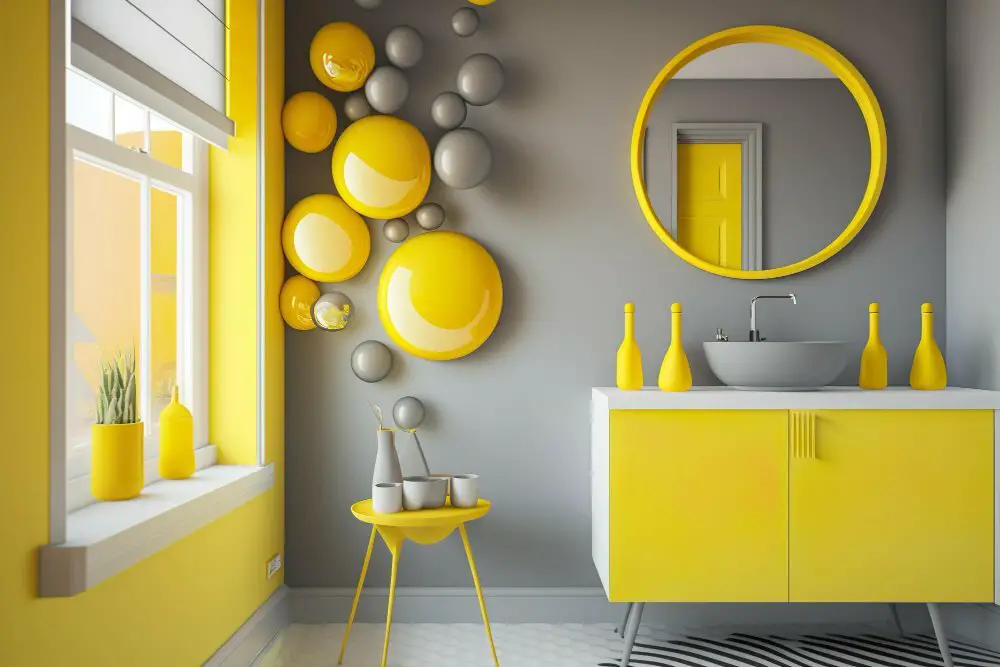 It can be hung above the sink or on an empty wall, creating a focal point in the room. A bright yellow frame will make the mirror stand out and draw attention to it, while a more muted shade of yellow will blend in with other décor elements for a cohesive look.
You can also choose from different styles of frames such as vintage-inspired or modern minimalist depending on your taste and overall bathroom design theme. A simple yet effective way to incorporate this idea into your space is by painting an existing mirror frame with some cheerful shades of yellow paint that match well with other accessories like towels, shower curtains, etc., giving you endless possibilities for customization!
Children's Rubber Duck Theme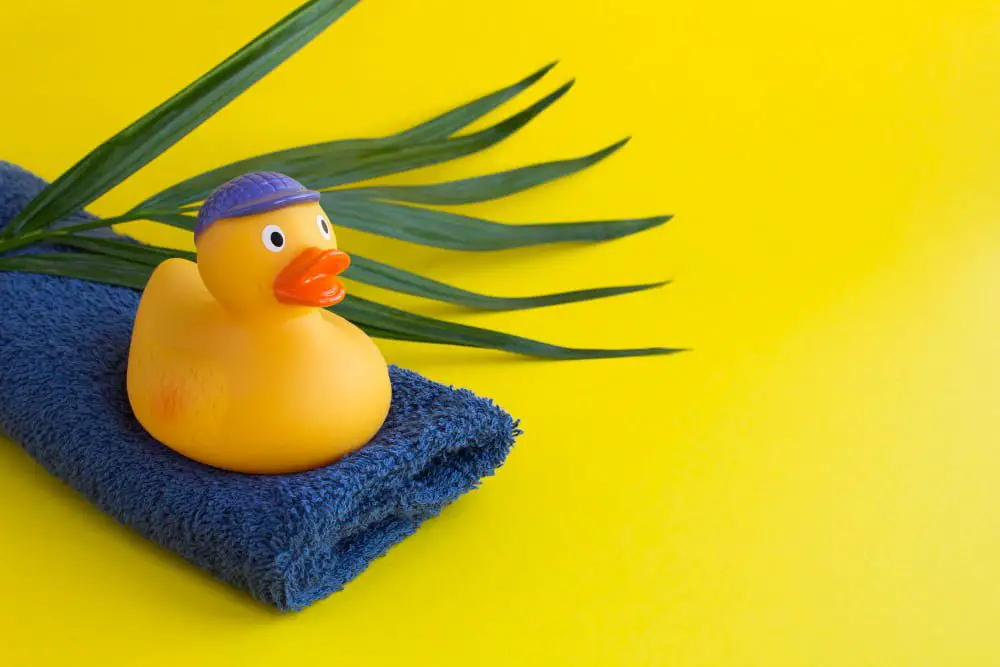 This is especially fitting for families with young children who will enjoy the fun and cheerful atmosphere. Start by adding rubber duck decals to the walls or investing in a shower curtain featuring these beloved bath toys.
You can also find matching soap dispensers, toothbrush holders, and other accessories to complete the look. For an added touch of creativity, paint your bathroom door yellow and add black dots to resemble a giant rubber duck!
Yellow and White Subway Tile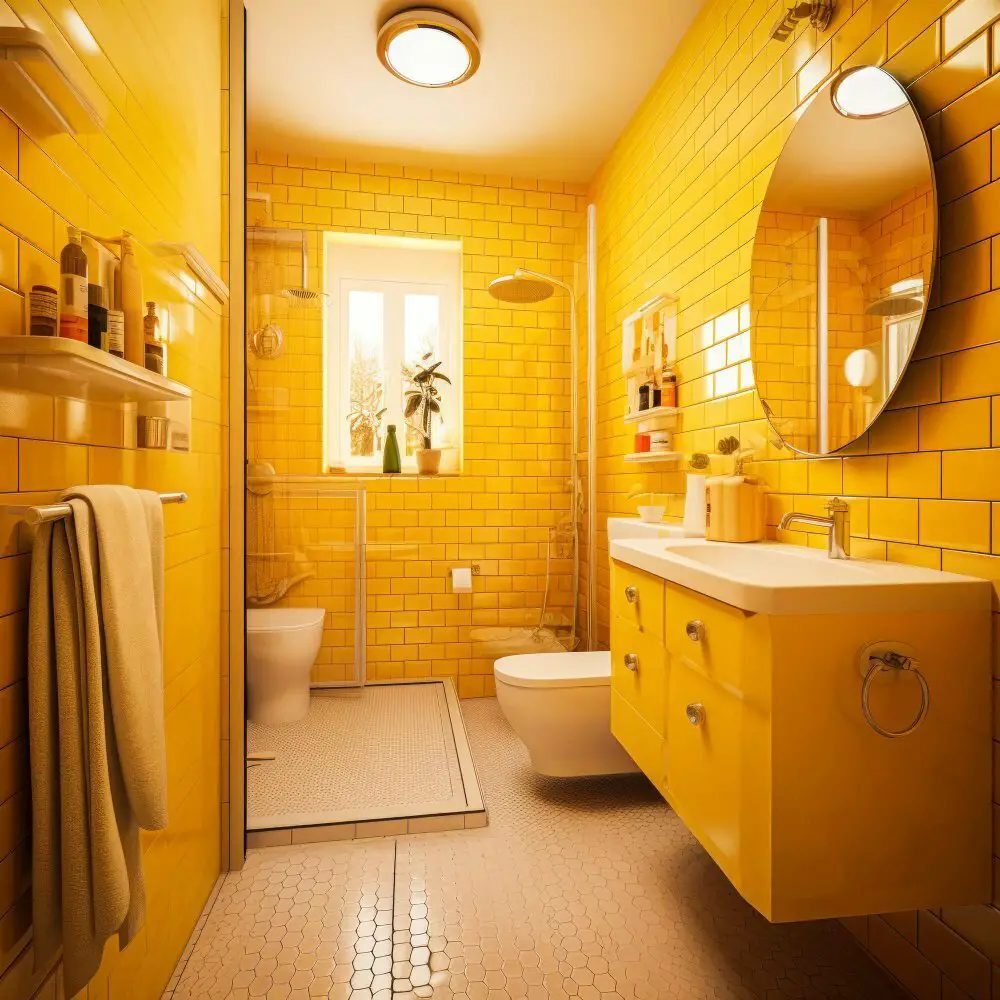 The combination of these two colors creates a clean, fresh look that can be easily paired with other decor elements. White subway tiles are timeless and versatile, while yellow adds warmth and personality to the space.
You can use yellow as an accent color by adding it in small doses through accessories or fixtures, or you can go bold with a full wall of yellow tiles paired with white grout for contrast. Either way, this pairing is sure to brighten up your bathroom!
Bold Yellow Statement Wall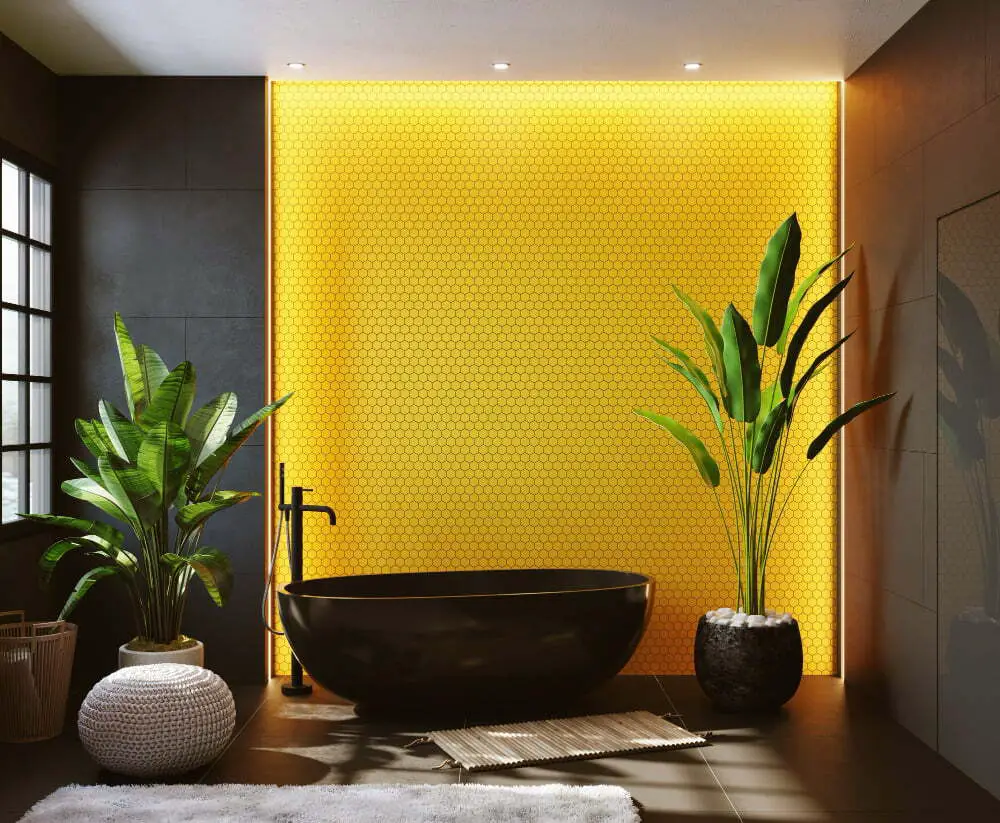 This idea works best in smaller bathrooms where the bright hue won't overwhelm the space. Consider painting just one wall or even half of a wall with a vibrant shade of yellow, while keeping the rest of the walls neutral.
Pairing this look with white fixtures and accessories will create an eye-catching contrast that is sure to impress guests. For those who are hesitant about committing to such a bold color choice, removable wallpaper is also available in various shades of yellow for an easy-to-install option that can be changed out whenever desired.
Continue reading: