Last updated on June 16, 2023
Discover stunning pink bathroom ideas to inspire and transform your personal sanctuary into a chic, elegant, and stylish space.
Are you tired of your boring and dull bathroom? Do you want to add a pop of color and personality to your space? Look no further than the color pink! Pink is a versatile hue that can range from soft and subtle to bold and vibrant. In this article, we've compiled 20 inspiring pink bathroom ideas that will help you transform your space into a stylish haven.
From blush-toned tiles to hot pink accents, there's something for every taste and style. So grab your paintbrushes, tape measures, and let's dive into the world of pink bathrooms!
Table of Contents
Pink Tile Walls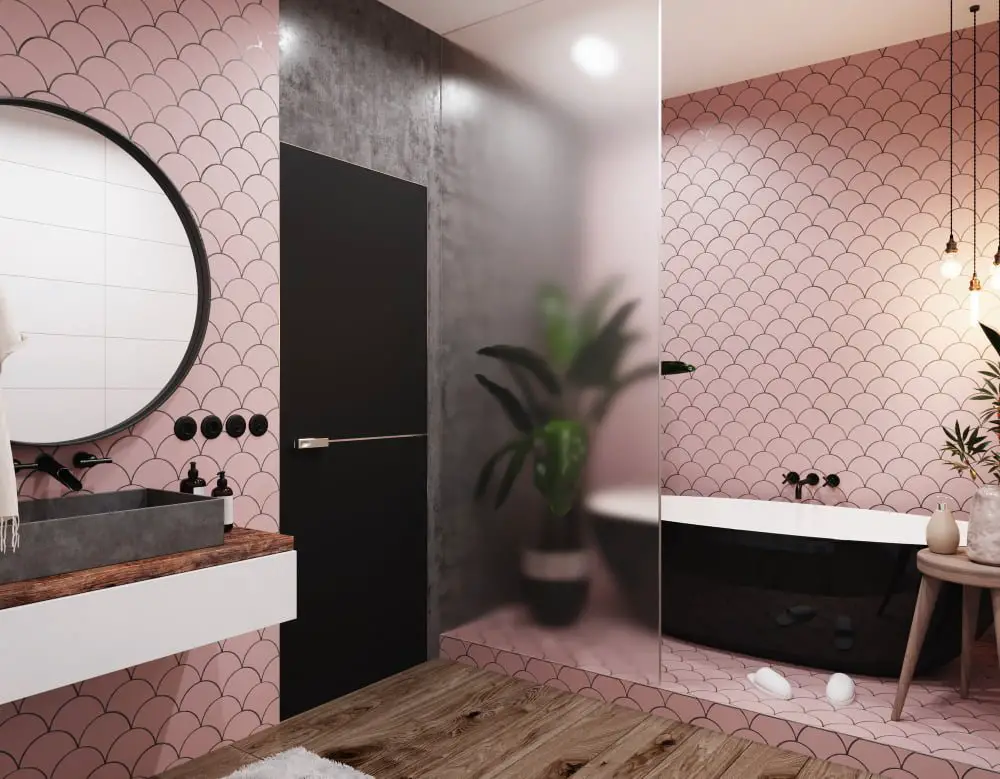 Pink tile walls are a bold and stylish choice for any bathroom. Whether you opt for a soft pastel shade or a bright fuchsia, pink tiles can add personality and charm to your space.
To create an eye-catching feature wall, consider using large-format tiles in shades of pink. Alternatively, you could use smaller mosaic tiles to create intricate patterns or designs on your walls.
Pairing pink tile walls with white fixtures and accessories can help balance the look of the room while still allowing the color to shine through. For those who want to take their love of all things pink even further, consider pairing your tiled walls with other elements such as rose gold accents or blush-colored towels for a cohesive look that is sure to impress!
Pink Floral Wallpaper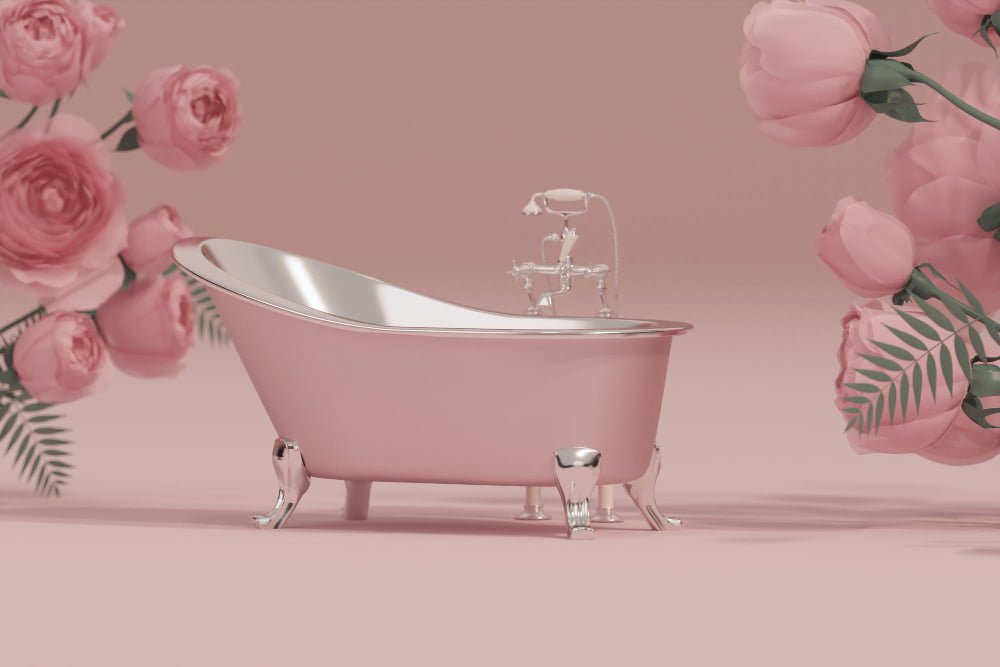 Whether you opt for large, bold blooms or dainty, delicate patterns, pink floral wallpaper can create an eye-catching feature wall that will transform the look of your space. To keep the overall design cohesive, pair it with simple white fixtures and accessories in complementary shades of pink.
Alternatively, mix and match different patterns for a more eclectic vibe that still feels put-together. With so many options available on the market today, there's sure to be a perfect pink floral wallpaper out there waiting for you!
Rose Gold Fixtures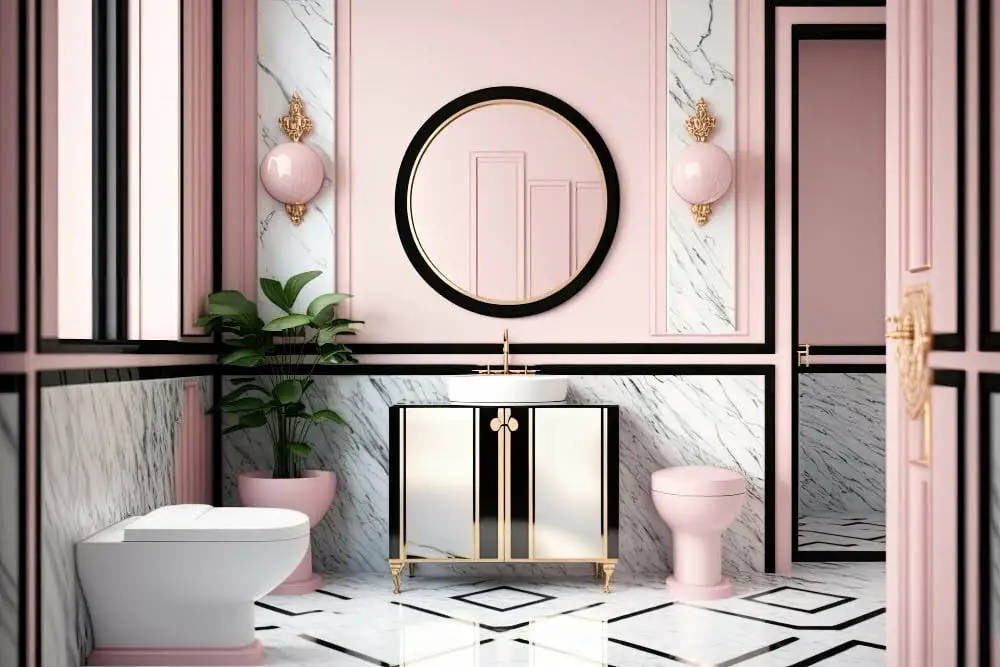 These fixtures come in various shapes and sizes, including faucets, showerheads, towel bars, and toilet paper holders. They can be paired with different shades of pink for an eye-catching contrast or blended with other metallic finishes like brass or chrome for a more eclectic look.
Rose gold fixtures also work well with marble countertops or white tiles as they create a soft yet sophisticated ambiance that complements the overall design scheme of the bathroom. Whether you opt for sleek modern designs or vintage-inspired pieces, rose gold fixtures will undoubtedly elevate your pink bathroom's style quotient while adding functionality at the same time!
Pink Vanity Unit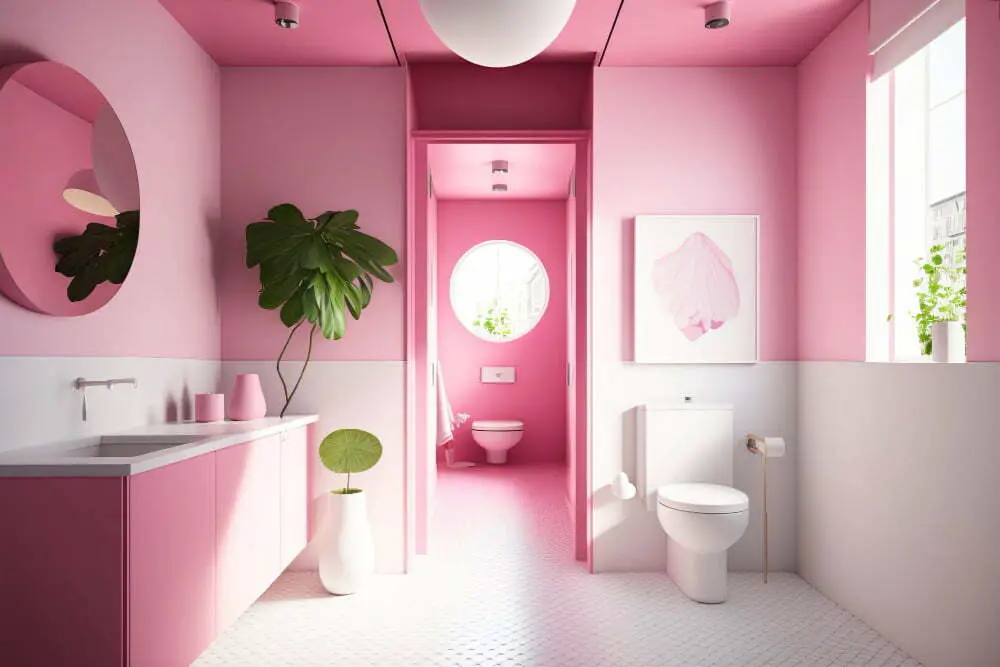 It can be the focal point of the room and make a bold statement. There are many different shades of pink that you can choose from, ranging from soft pastels to bright fuchsias.
You can also choose between different materials such as wood or metal, depending on your style preference.
When choosing a pink vanity unit, consider pairing it with other elements in the bathroom that complement its color and style. For example, you could pair it with white walls and black accents for a modern look or floral wallpaper for something more vintage-inspired.
To complete the look, accessorize your vanity unit with matching items such as soap dispensers or toothbrush holders in coordinating shades of pink.
Blush Shower Curtain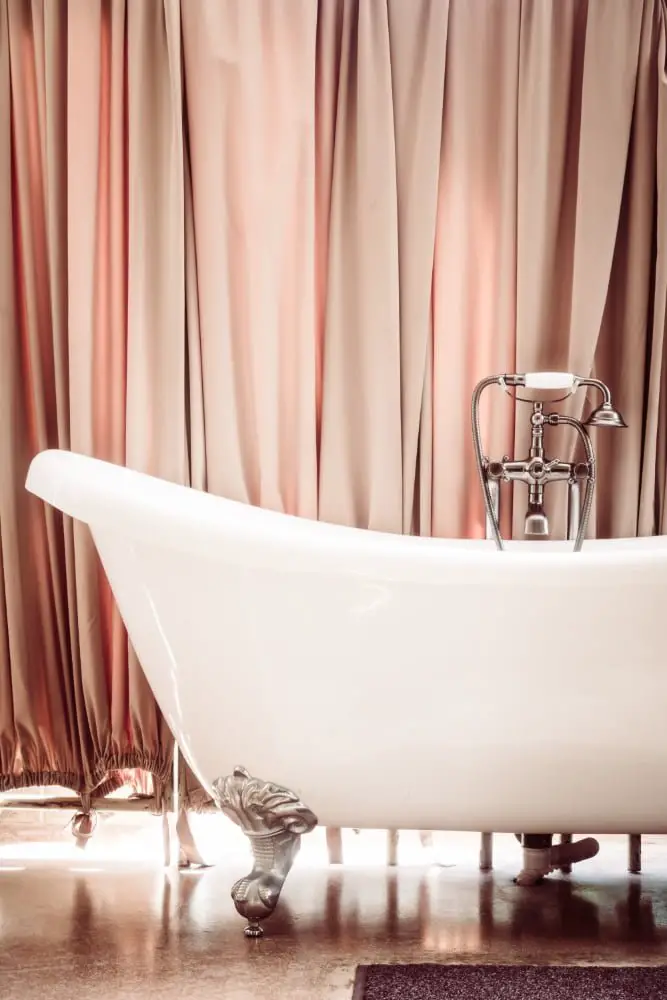 This subtle shade of pink pairs well with white or grey walls and creates a calming atmosphere in the space. You can choose from different materials such as cotton, polyester, or linen depending on your preference and budget.
A ruffled blush shower curtain adds texture and femininity while a simple one with grommets gives off modern vibes. Don't forget to pair it up with matching bath mats and towels for an overall cohesive look!
Pink Bath Rug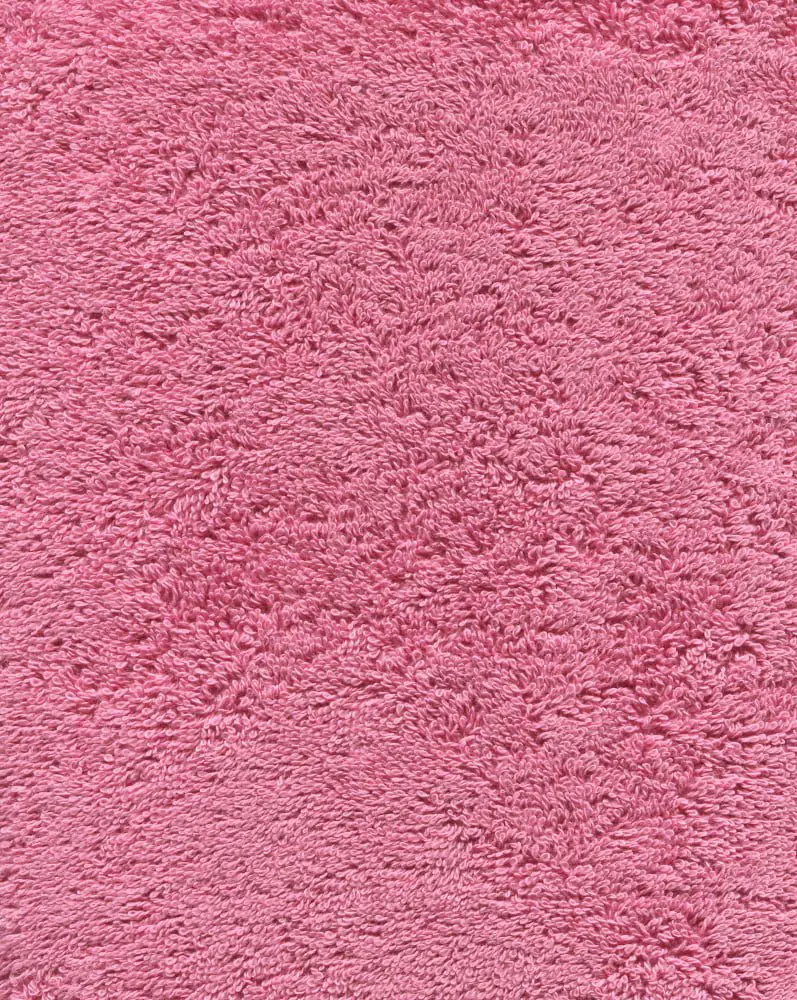 It can also provide comfort and warmth underfoot, especially during colder months. A plush shaggy rug in pastel pink can create a cozy and inviting atmosphere, while a bright fuchsia or hot pink option can make more of an impact as an accent piece.
Consider pairing it with matching towels or other accessories for a cohesive look that ties the room together. When choosing your bath rug, make sure it's machine washable for easy maintenance and durability over time.
Pink Mosaic Wall Art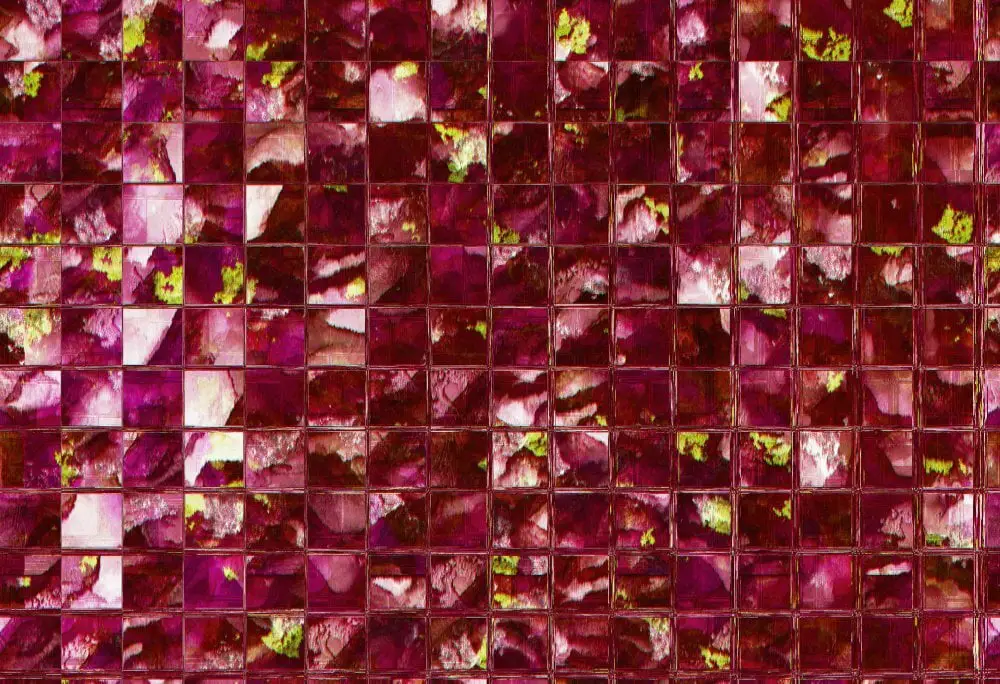 Whether you choose a simple geometric pattern or an intricate floral design, the combination of pink hues will create a stunning focal point in the room. You can opt for pre-made mosaic tiles or even create your own custom design using small pieces of glass or ceramic tiles in various shades of pink.
Hang it above your bathtub, vanity unit, or toilet for an eye-catching display that will make every trip to the bathroom feel like a visit to an art gallery!
Pastel Pink Towels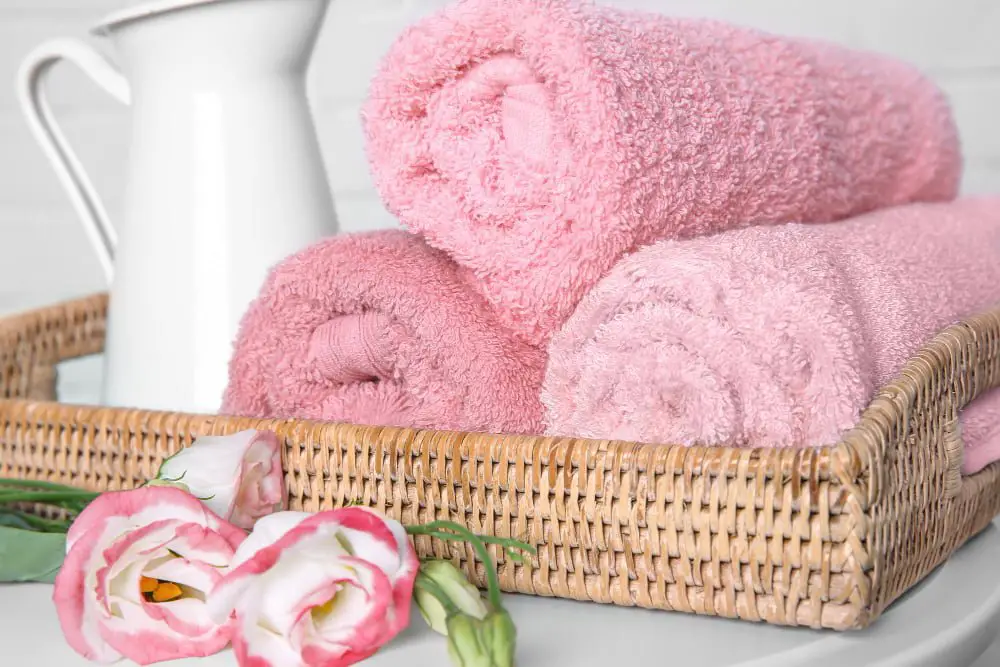 They work well with white or neutral walls and can complement other shades of pink in the room. Pastel pink towels come in various sizes, from hand towels to bath sheets, so you can choose the ones that fit your needs best.
You could also mix and match different shades of pastel pinks for an interesting look or pair them with patterned tiles for added texture. When it comes to materials, cotton is always a good choice as it's soft on the skin and absorbent too!
Pink Storage Baskets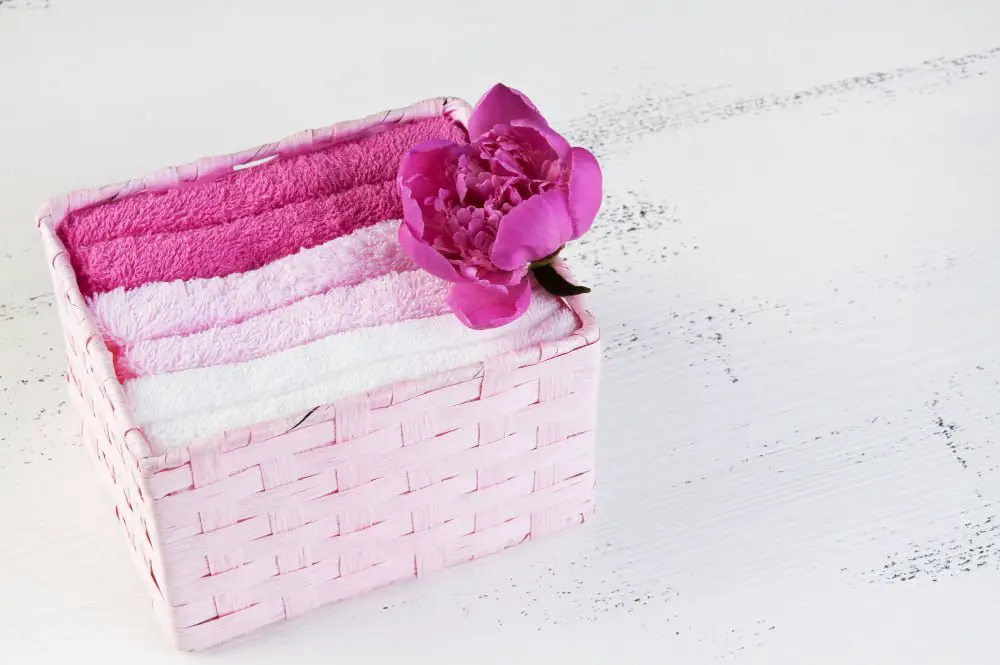 Not only do they provide ample space for storing towels, toiletries, and other essentials, but they also come in a variety of shades that can complement any decor scheme. Whether you opt for woven wicker baskets or sleek metal wire ones, pink storage baskets can be used as standalone pieces or grouped together on shelves or under the sink.
They're an easy way to keep your bathroom organized while adding a pop of color at the same time!
Pink Marble Countertops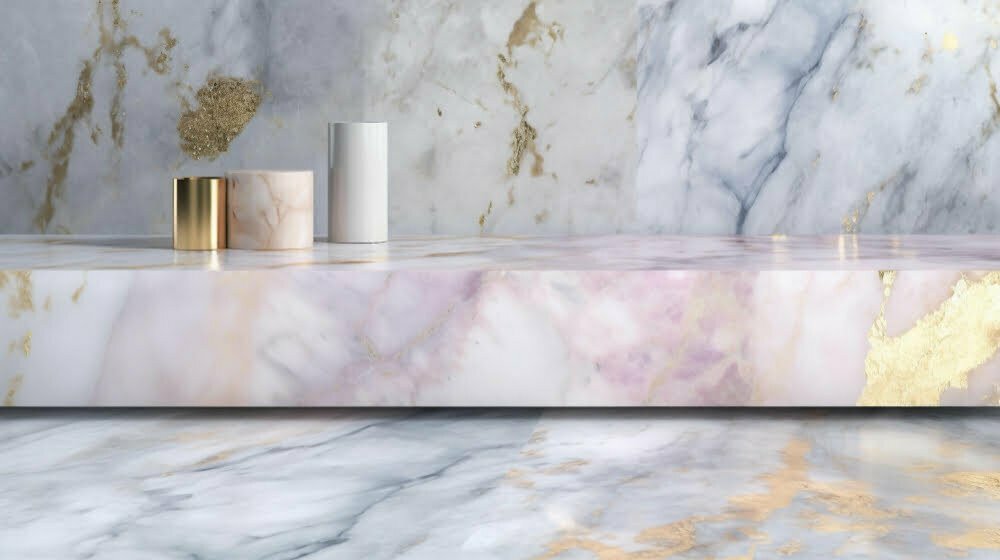 The natural veining in the stone adds depth and texture, while the soft pink hue creates a calming atmosphere. Pairing pink marble with white or grey cabinetry can create an elegant and timeless look, while pairing it with gold fixtures can add a touch of glamour.
It's important to note that marble is porous and requires regular sealing to prevent staining from water or beauty products. However, if properly cared for, pink marble countertops will last for years as a stunning focal point in your bathroom design.
Fuchsia Accent Wall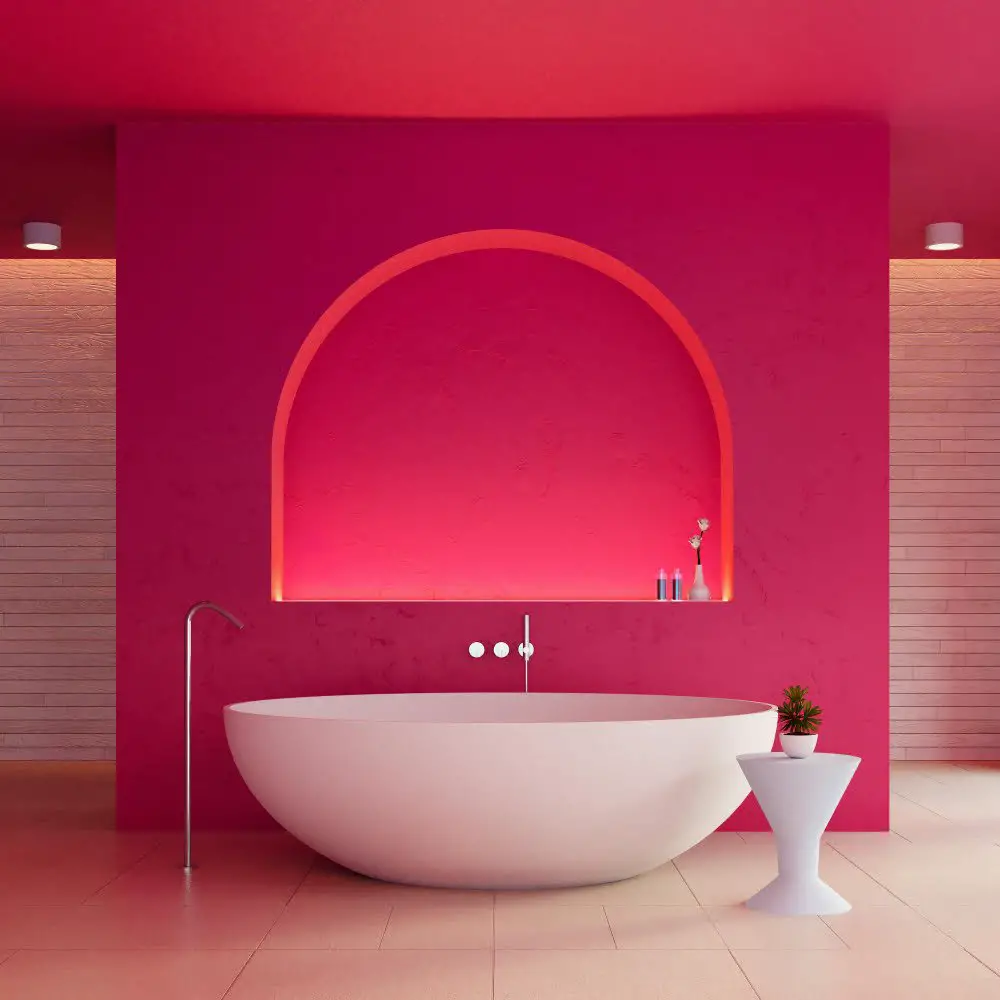 If you're looking for something bold, consider painting one wall fuchsia. This vibrant shade of pink will instantly brighten up the space and create an eye-catching feature in your bathroom.
To make the most impact, choose a wall that's visible from multiple angles or behind the vanity area. Keep other elements in the room neutral so that they don't compete with this statement-making hue.
If you're not ready to commit to painting an entire wall fuchsia, try using removable wallpaper or decals instead.
Pink and White Patterned Floor Tiles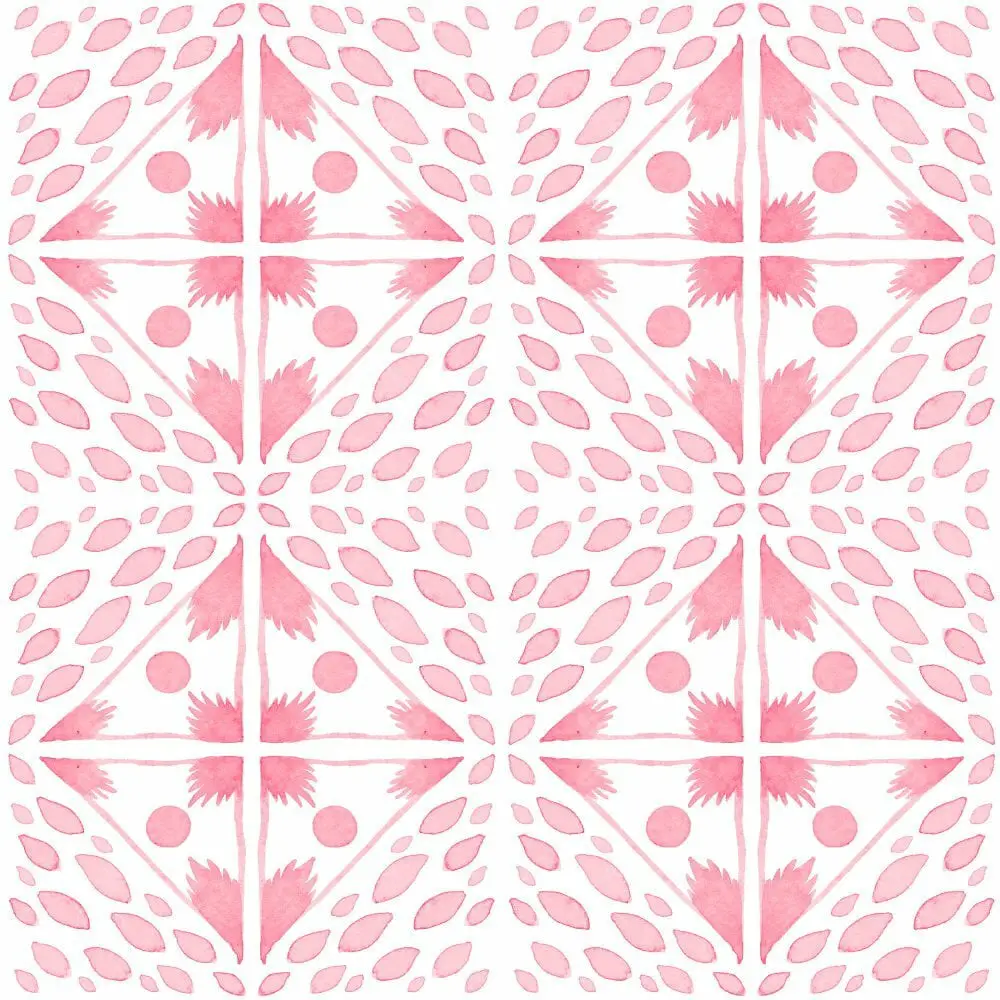 These tiles come in various designs, from geometric shapes to floral patterns, and can be used as an accent or cover the entire floor. Pairing pink and white creates a soft yet playful look that is perfect for any bathroom style.
To keep the focus on the flooring, consider keeping other elements of your decor simple with neutral colors like beige or grey. Alternatively, you could use pops of greenery or metallic accents for added texture and depth.
With pink and white patterned floor tiles in place, you'll have a stylish foundation that will make every day feel like walking on sunshine!
Baby Pink Bathtub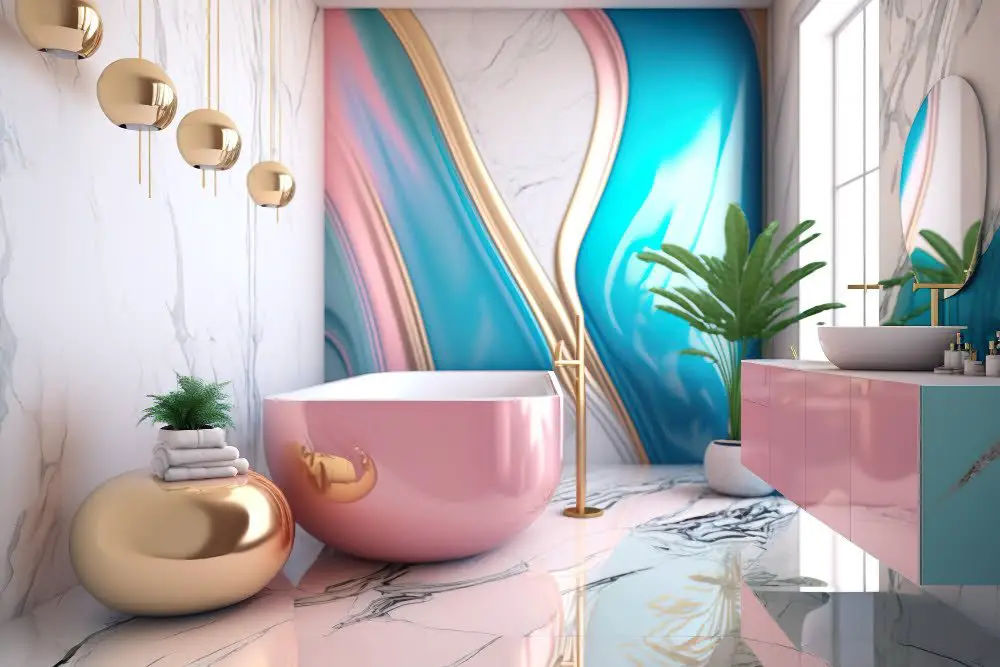 It adds a touch of femininity and elegance to the space, creating a relaxing atmosphere for your daily soak. Pair it with white or neutral walls for an understated look, or go bold with patterned wallpaper or tiles in complementary shades of pink.
To complete the look, add some fluffy towels in matching hues and accessorize with metallic accents like rose gold faucets or silver candle holders. A baby pink bathtub is sure to make your bathroom stand out from the rest!
Pink Frame Mirror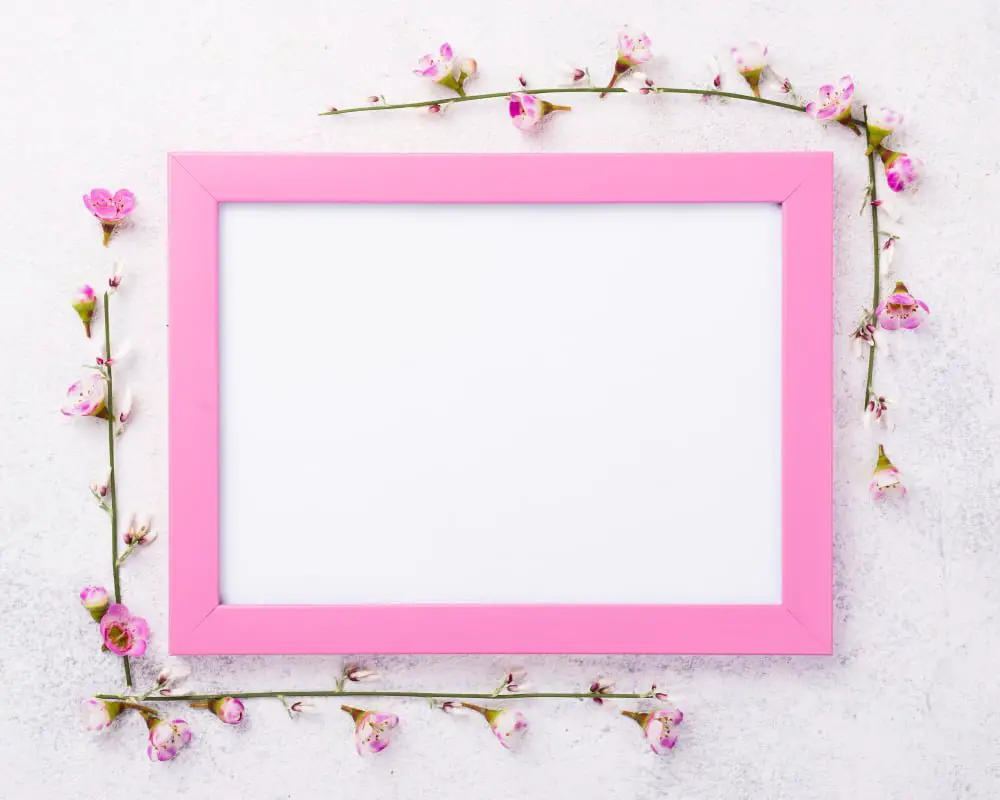 It can be hung above the sink or vanity unit, creating an eye-catching focal point in the room. A pink frame mirror works well with various design styles, from vintage to modern.
You can choose from different shades of pink and frames made of wood, metal or plastic depending on your preference and budget. If you want to create a cohesive look in your bathroom, consider matching the color scheme with other elements such as towels or accessories for an overall harmonious feel.
Flamingo-themed Decor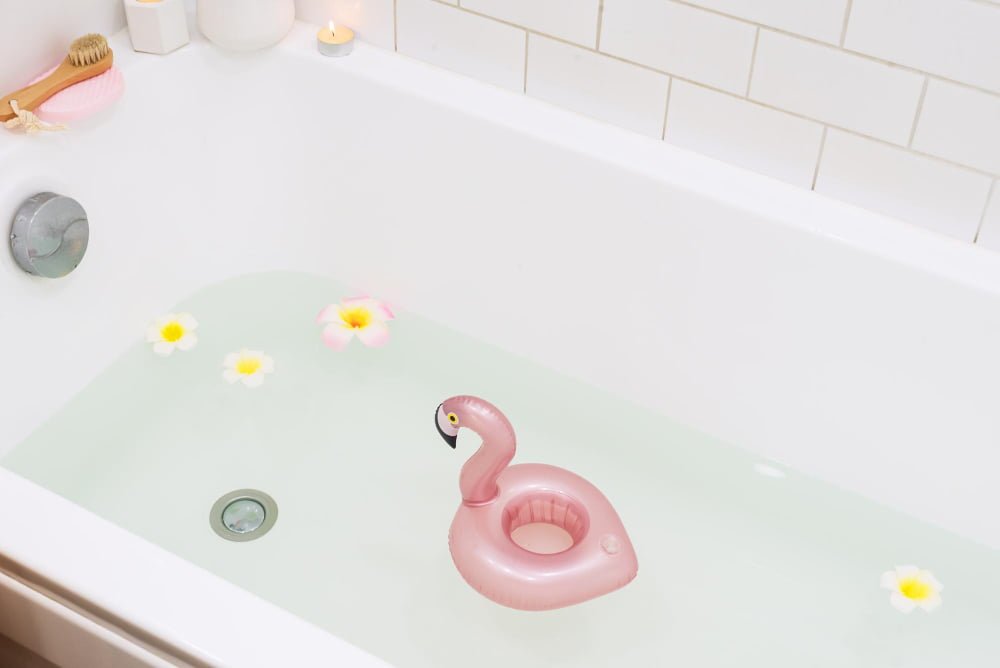 From shower curtains to towels, there are plenty of options for adding flamingos into your design scheme. Consider hanging up some flamingo wall art or placing a few ceramic figurines on the countertop.
You can also find bath mats and rugs with cute flamingo designs that will add a pop of color to any space. Don't be afraid to mix and match different shades of pink with other tropical colors like green or blue for an even more vibrant look!
Pink Tile Backsplash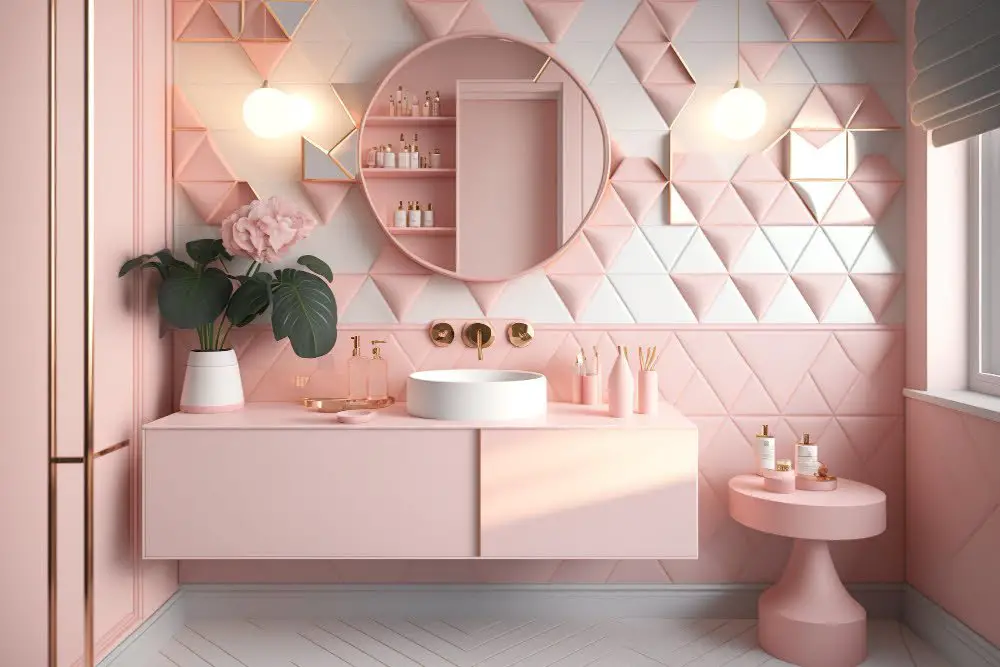 Whether you choose small, square tiles or larger subway tiles, pink can create an eye-catching feature that ties the whole room together. Pair it with white walls and fixtures for a classic look or mix it up with other shades of pink for a bold statement.
A pink tile backsplash also works well in bathrooms with neutral tones as it adds warmth without overwhelming the space. Consider using grout in contrasting colors such as black or grey to make the tiles stand out even more!
Pink Glass Soap Dispenser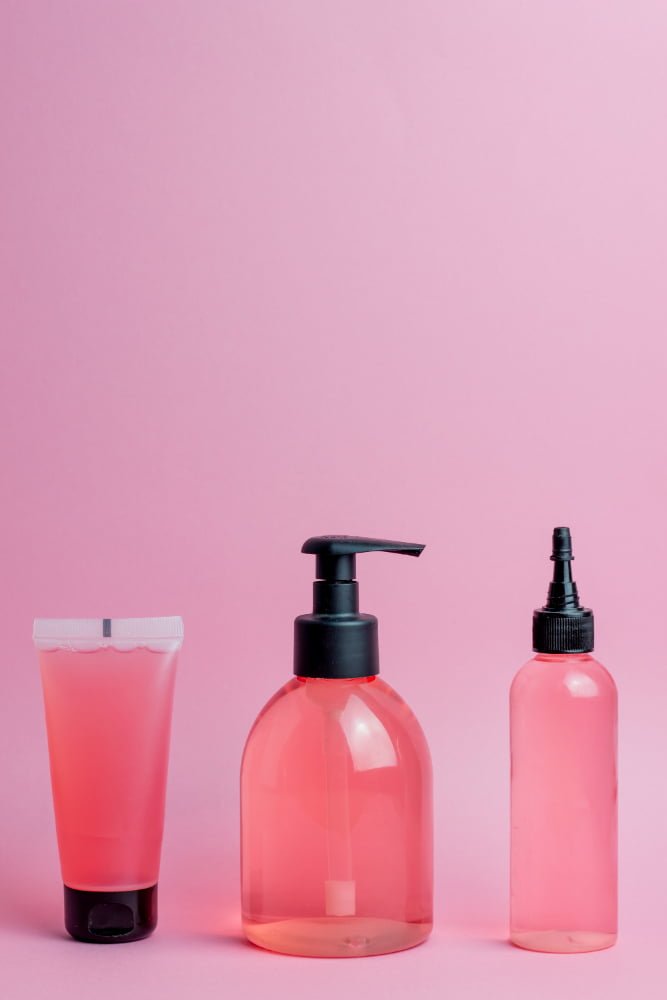 It can be used for hand soap, lotion or even as a dishwashing liquid dispenser. The translucent pink glass adds an element of sophistication while the pump mechanism ensures easy dispensing without any mess.
You can find them in various shapes and sizes, from vintage-inspired designs to modern minimalist ones that will fit perfectly with any decor style you have chosen for your bathroom. A pink glass soap dispenser is not only practical but also serves as an eye-catching accessory that will make your guests envious!
Pink and Grey Color Scheme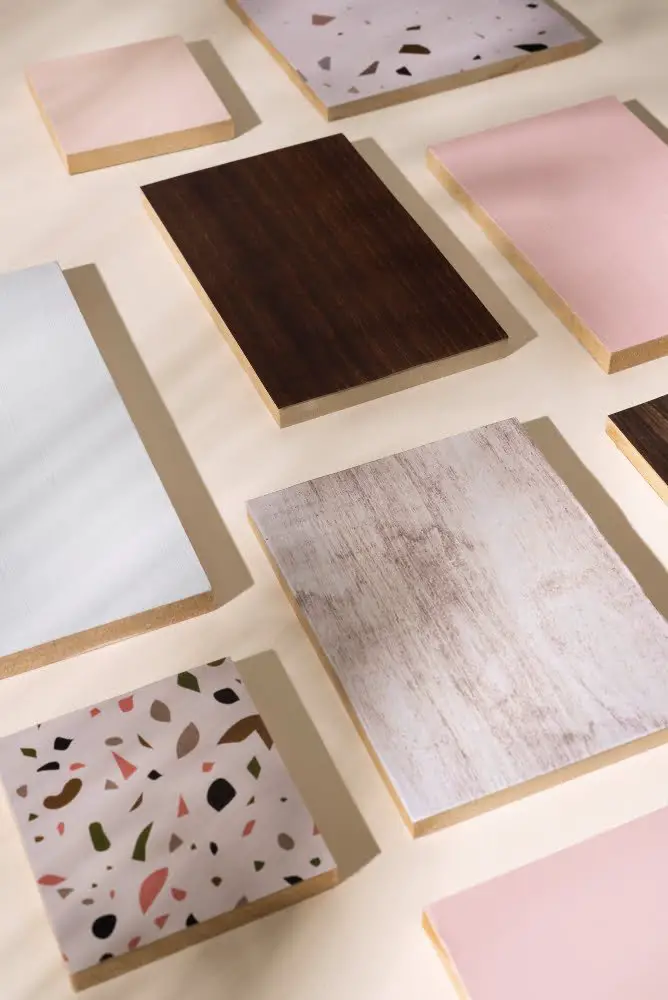 The softness of pink complements the coolness of grey, resulting in a calming atmosphere. You can use different shades of pink, from blush to fuchsia, with light or dark shades of grey to achieve various effects.
For instance, you could paint the walls pale pink and add some darker accents with towels or accessories in charcoal gray. Alternatively, you could opt for gray tiles on the floor and walls with pops of hot pink through artwork or decorative items like candles or soap dispensers.
Whatever way you choose to incorporate this color scheme into your bathroom design will surely make it feel more stylish and modern while still being warm and inviting at the same time!
Pink Ceiling Spotlight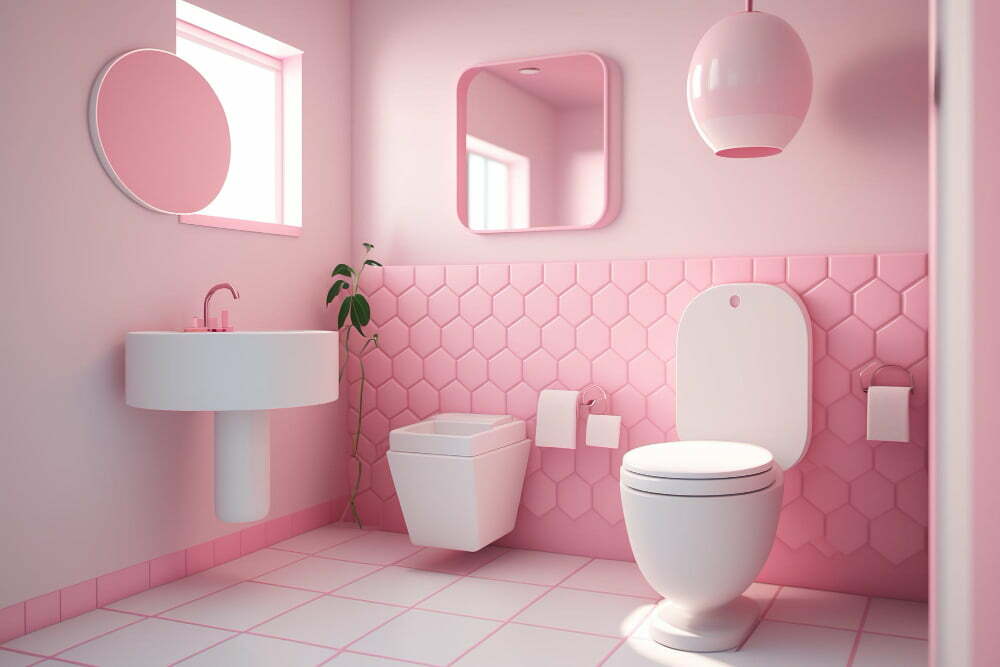 It can be installed in the center of the room or above the vanity, providing ample lighting for getting ready in the morning or winding down at night. A pink spotlight can also complement other pink elements in your bathroom, such as towels, rugs, and wall decor.
If you're feeling bold, consider pairing it with other bright colors like yellow or green for an even more vibrant look.
Pink Potted Plants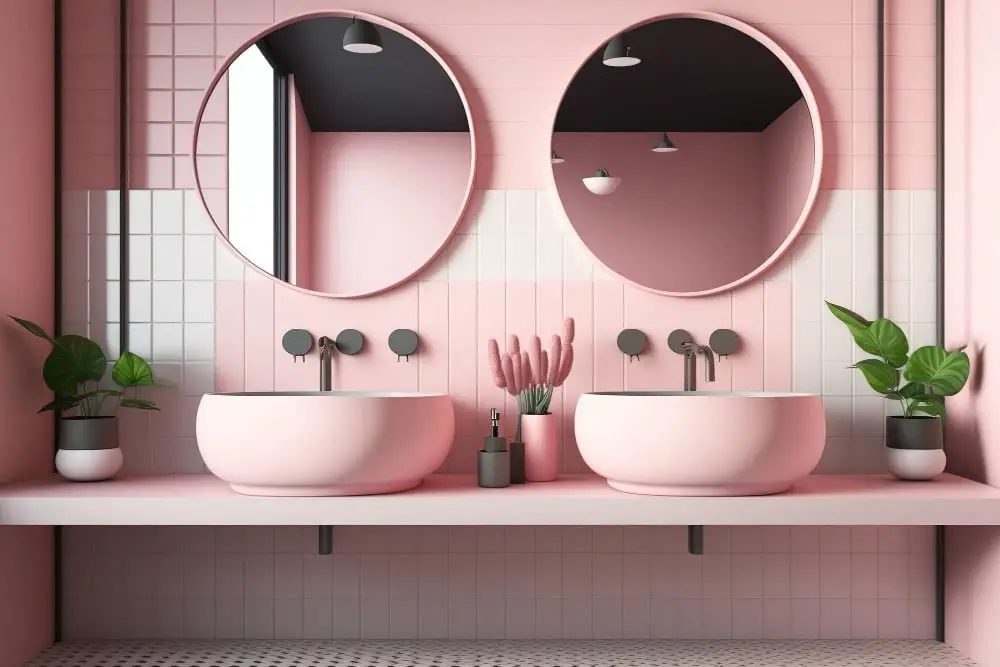 There are many types of pink plants that can thrive in the humid environment, such as begonias, orchids, and bromeliads. You can also opt for succulents or cacti with pink accents on their leaves or flowers.
Pink pots will complement the greenery perfectly and enhance the overall aesthetic of your bathroom decor. Just make sure to choose plants that suit your level of care expertise so they stay healthy and vibrant for longer periods!
Continue reading: