Last updated on November 21, 2023
Immerse your bathroom in a luxe feel with a fascinating blend of pink and gold, because it goes beyond conventional style boundaries to create a paradise right at home.
As the creator of these 20 Elegant Pink and Gold Bathroom Ideas, I sincerely hope it ignites your creativity & proves to be as enjoyable for you as it was for me during its creation.
Dive into the world of pink and gold bathrooms, a luxurious blend of blush tones and glimmering touches that can transform the most private space in your home into a glamorous retreat.
This article will guide you through various design ideas, from opulent gold fixtures to delicate pink wall hues, and even intricate tile patterns.
Whether you're aiming for a bold statement or a subtle hint of sophistication, you'll find a wealth of inspiration here.
Stay tuned as we delve into the details of how to flawlessly execute this chic color combination in your bathroom.
Pink Marble Countertops With Gold Accents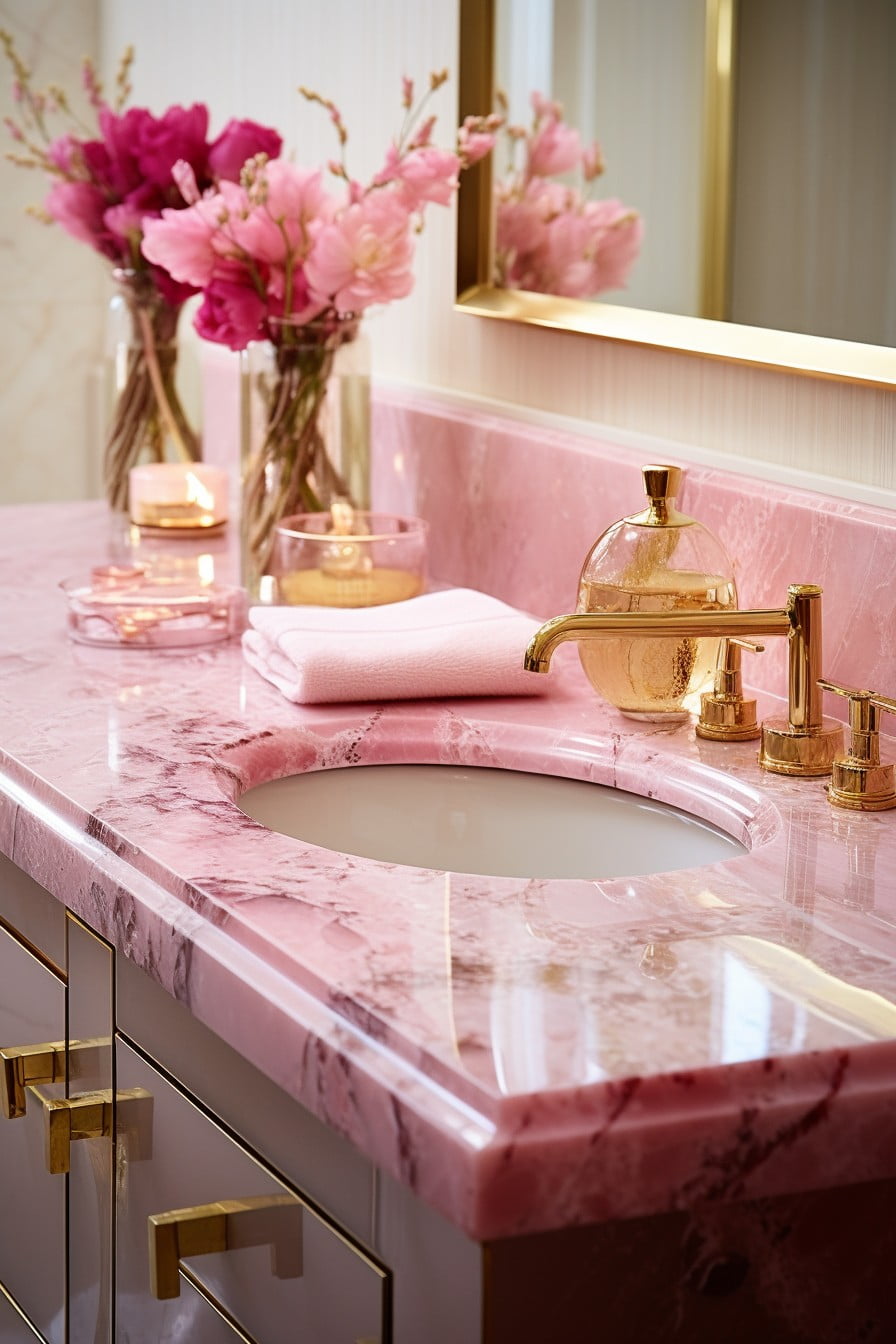 Marble countertops, besides being a symbol of elegance, offer a unique blend of durability and beauty seldom matched by other materials.
The glow of pink marble, in particular, adds a soft and chic touch to the bathroom decor.
To amplify the luxury, add gold accents.
These can be introduced subtly in the form of a refined fleck of gold running through the marble or gold edging around the countertop.
This combination not only provides durability and style but also exudes a warm and inviting ambiance.
When light hits these countertops, they flicker subtly and give off a gleaming finish that can make all the difference in your bathroom aesthetics.
Gold-framed Mirror Against Pink Walls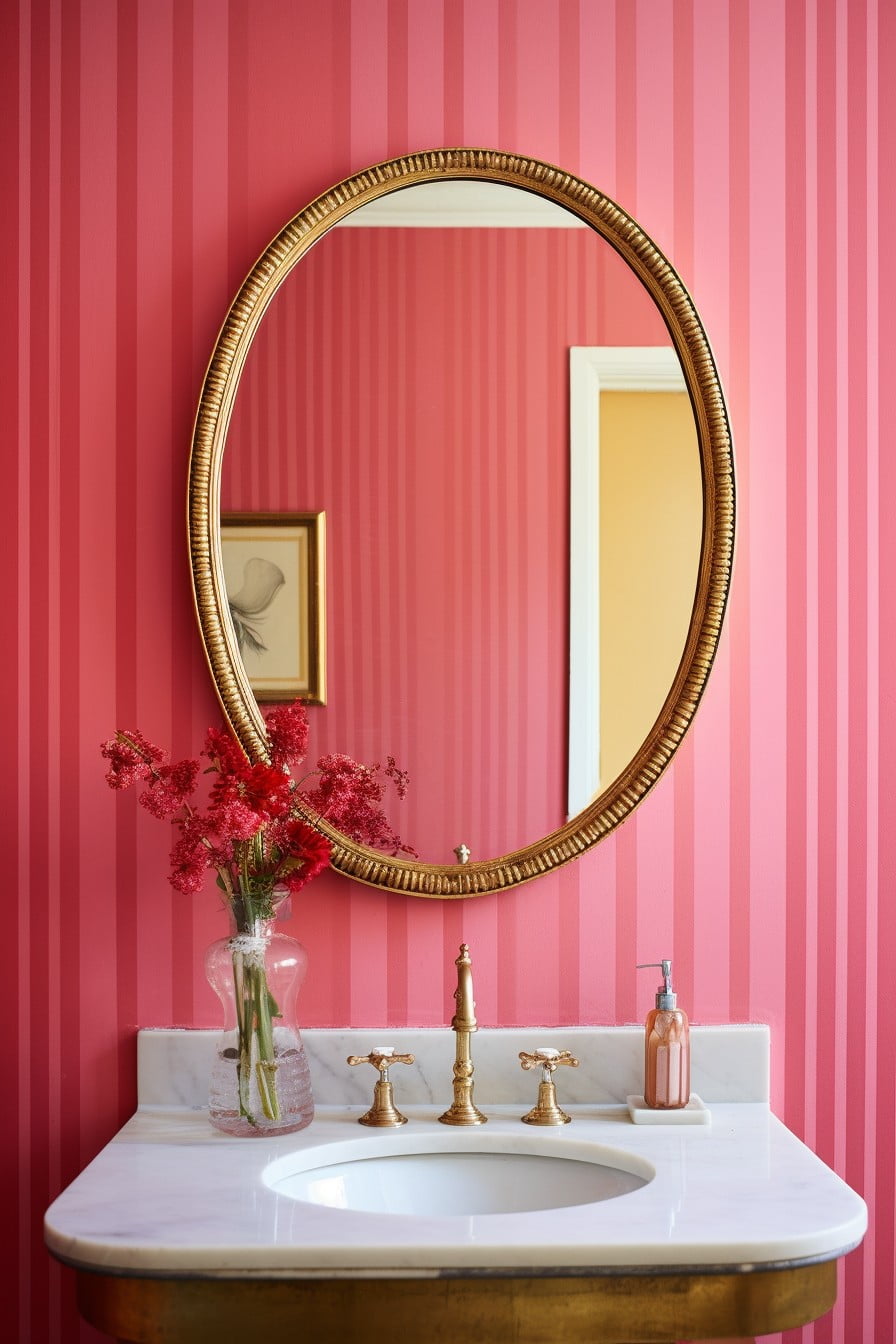 A gold-framed mirror is a versatile decorative piece that can elevate the aesthetic of any bathroom. Rest it against blush-toned walls to create a sophisticated contrast that's both captivating and luxurious.
Taking it a step further, consider a mirror with an ornate design for a hint of vintage charm, which can lend a sense of history to new construction.
When designing your pink bathroom, here are a few points worth noting.
Size Matters: Choose a size that corresponds with the available wall space. Larger mirrors offer a more dramatic effect.
Shape Variety: Don't limit yourself to the traditional rectangular shape. Experiment with oval, round, or even hexagonal for an unexpected twist.
Lighting: Position your mirror across from a window or near a light fixture to bounce light around the room creating an airy, spacious feel.
Mirror Care: Regular cleaning will keep your mirror sparkle against the pink background, enhancing the gold frame's brilliance.
Remember, the mirror is not just practical – it's a significant design element. Make the most of it!
Pink and Gold Mosaic Tile Flooring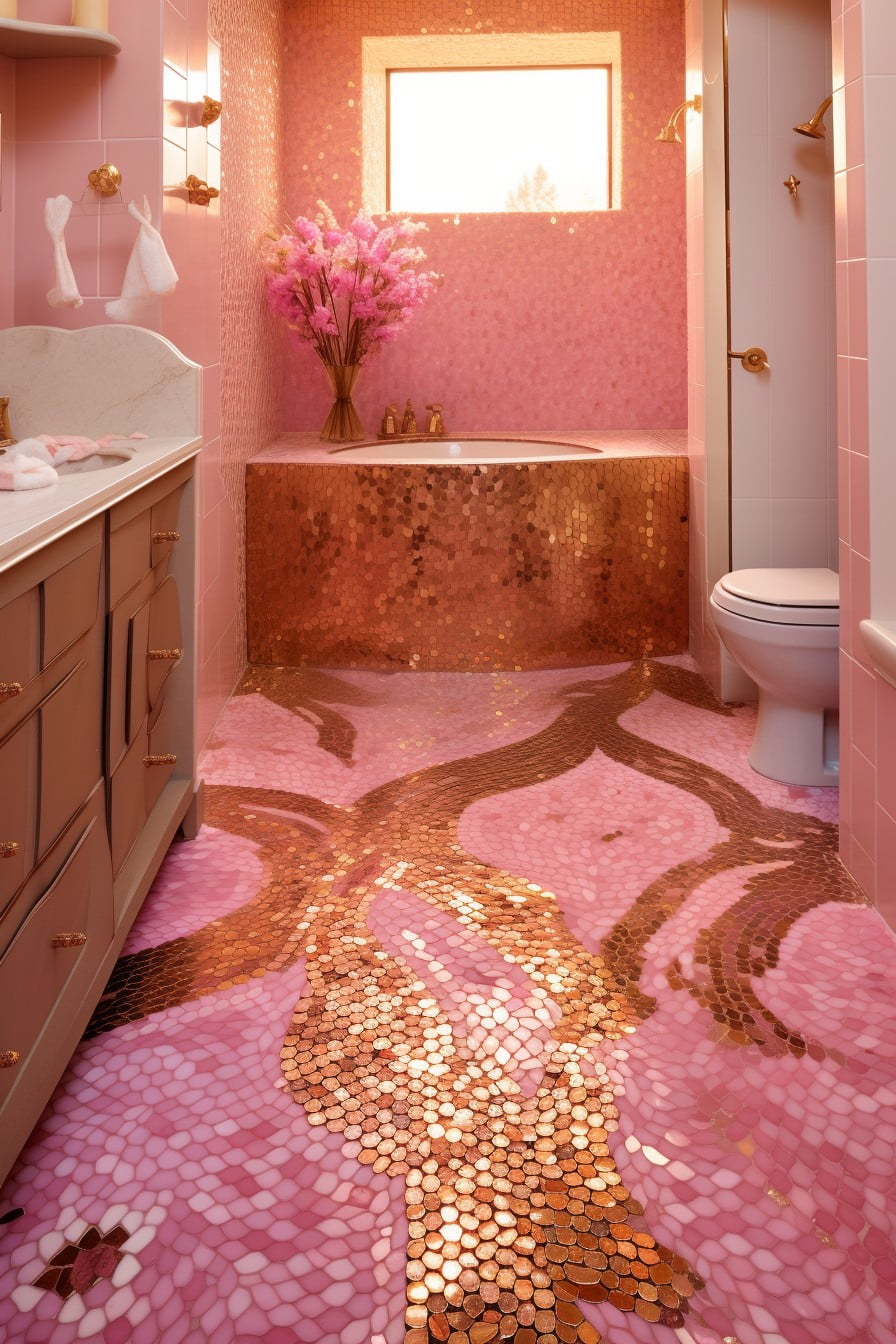 Mosaic tiles bring a level of artistic allure to any space. A blend of pink and gold offers a striking contrast that's both warm and luxurious.
Here are some points to consider:
Material choice: Opt for glass or ceramic tiles with a glossy finish. They reflect light, adding depth and sparkle to your bathroom.
Contrast: Light pink tiles interwoven with intense gold will create a stunning visual impact.
Balance placement: The mosaic-tiled area should be balanced with more subtle elements, to avoid overpowering the room. Consider focusing the feature on a particular area such as the shower floor or wall behind the sink.
Grout color: Choose a neutral tone that complements both pink and gold to prevent any clash.
Tile shape: A mix of classic square tiles with hexagonal or diamond shapes can add extra interest to your design.
Remember, the ultimate goal is to create a visually exciting space that reflects your unique style and taste.
Vintage Gold Fittings With a Pastel Pink Sink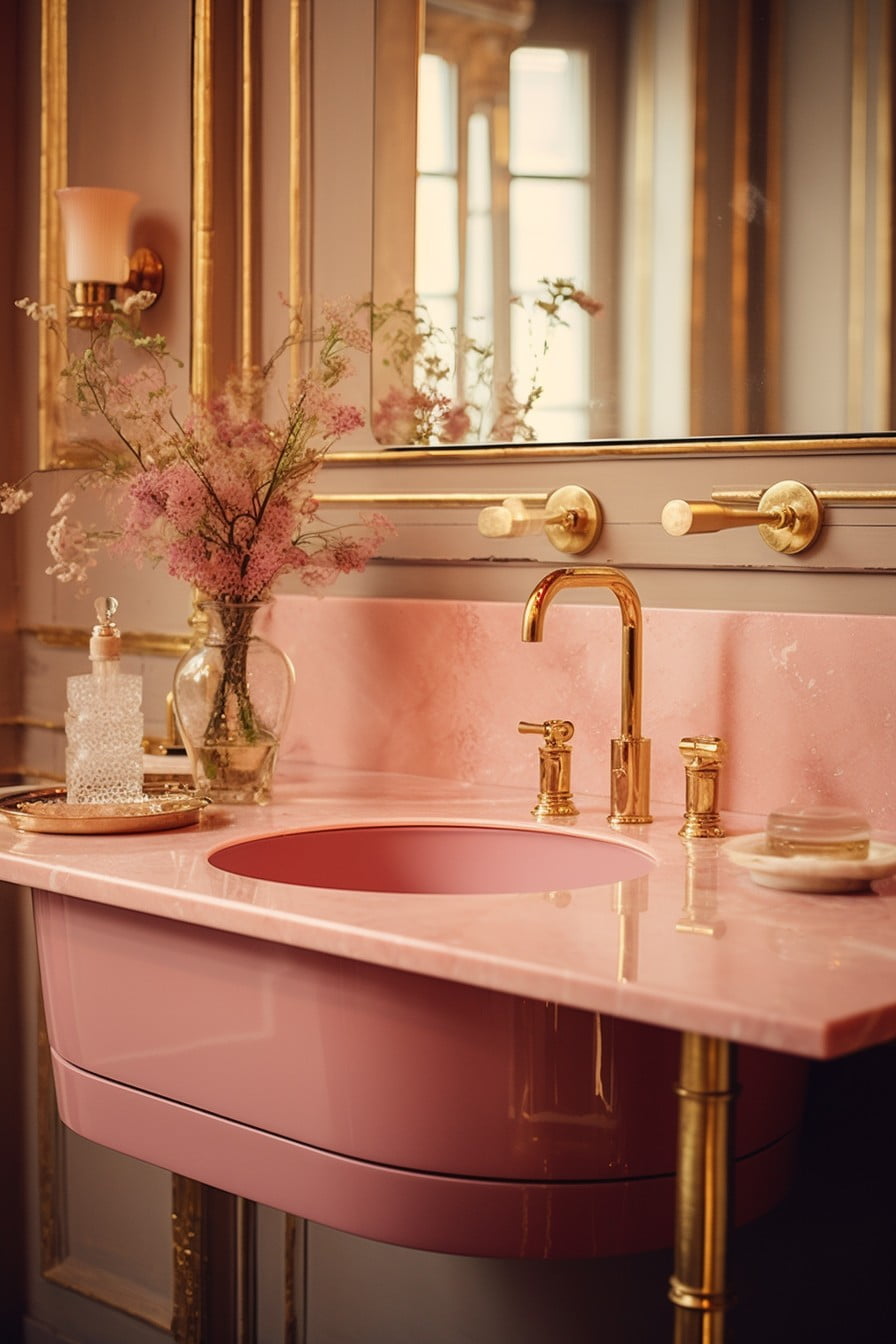 An exquisite combination to consider is pastel pink and gold for your sink and fixtures. The soft, romantic hue of the sink pairs beautifully with the classic charm of gold fixtures. Antique gold faucets deliver an authentic, old-world touch, perfectly complementing the sink's tender pink shade.
Choose fixtures with intricate designs to fully embrace the vintage theme. Consider applying a clear lacquer to prevent tarnish and maintain the gold's lustrous finish. For balance, choose a simple style for the sink—think smooth, curved lines with no excess detail.
Together, these elements bring a sense of refined elegance, blending modern tastes with a nostalgic appeal.
Pink Rose Quartz Bathtub With Gold Clawfoot Details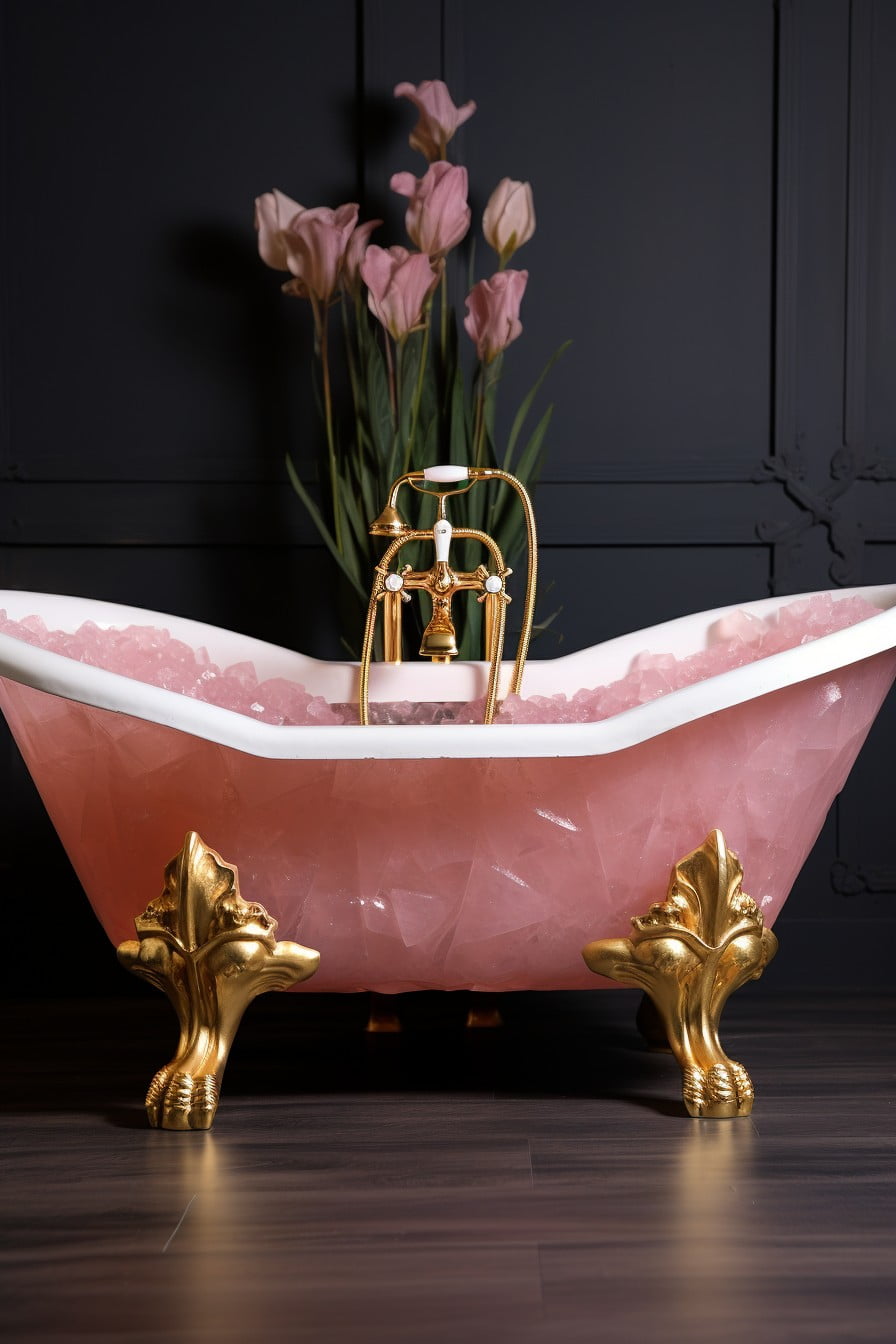 Lending your space an element of luxury doesn't have to be daunting or over-the-top. Enter: the dramatic, yet charming design of a rose quartz bathtub with petite, clawfoot details.
The subtle, calming hues of the rose quartz fit in perfectly with the delicate blush of your bathroom palette. Complemented by the bold brilliance of gold clawfoot accents, they elevate your bathing space to new levels of elegance.
The quartz, in its polished form, gives the tub a silky smooth finish, making your relaxation time even more comforting. Meanwhile, the gold clawfoot details not only act as a beautiful finishing touch but also play a pivotal role in the vintage appeal of the look.
Together, these elements illustrate a harmonious blend of luxury and comfort, creating an atmosphere that's truly opulent.
Gold Shower Fixtures Against a Blush Pink Shower Wall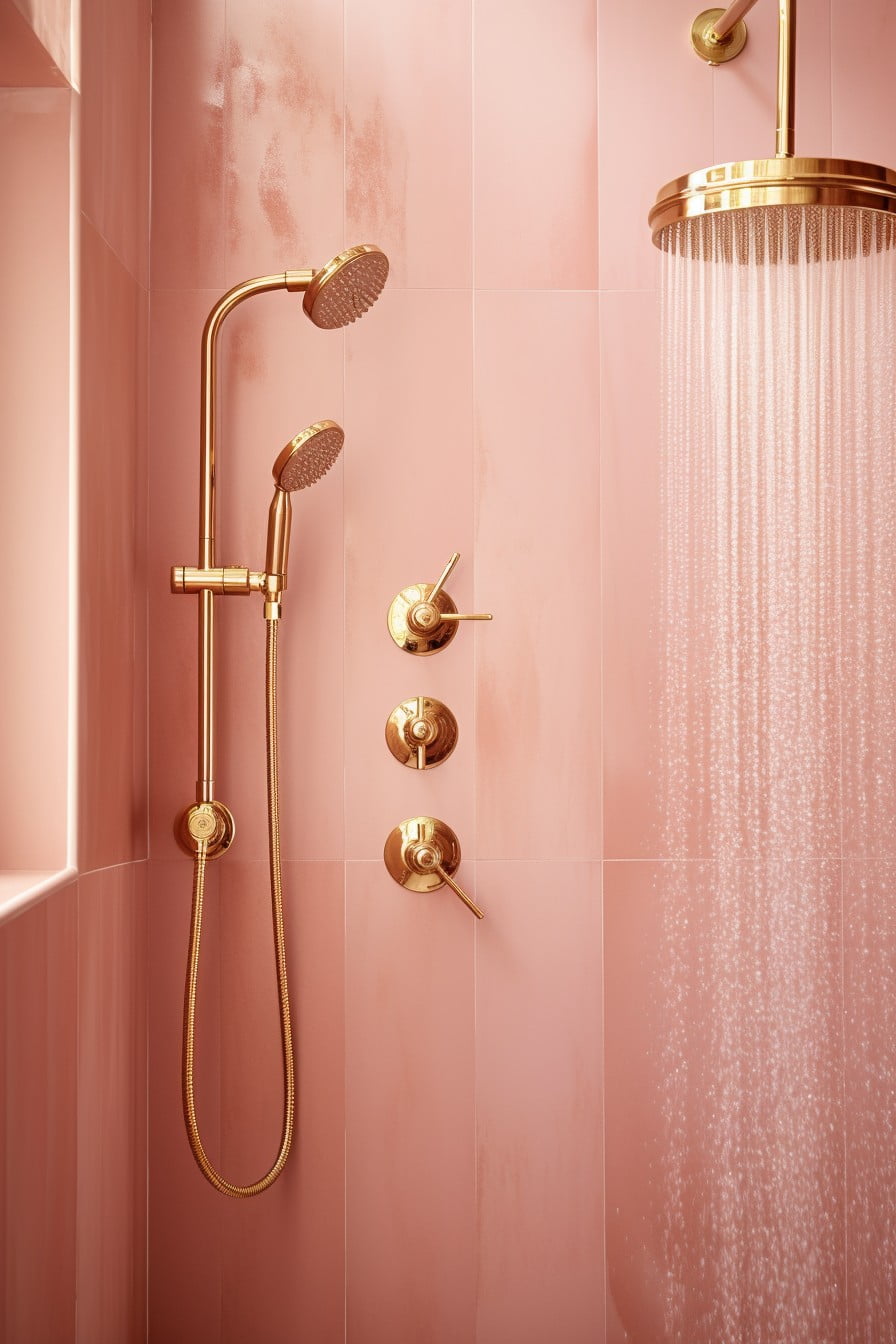 Choosing the right shower fixtures is crucial, not only for their utility but also for their aesthetic purposes. Opting for ones in gold can add a touch of elegance and sophistication in an instant. They become a brilliant accent on a blush pink shower wall, instantly elevating your bathroom's look.
For example, a gold rain showerhead creates an interesting contrast against the soft pink backdrop, making your shower area the focal point of the bathroom. Electroplating gold on fixtures ensures a smooth, glossy finish that resists corrosion.
On the other hand, pull-down gold showerheads add a modern touch while maintaining the classic color combinations. Gold handheld showerheads are perfect if you're wanting to mix practicality with style.
Remember – while gold fixtures present a stunning visual, make sure you choose ones that fit the overall theme of your bathroom. Don't be afraid to mix and match different styles for a unique effect!
Pink Vanity Cabinets With Gold Hardware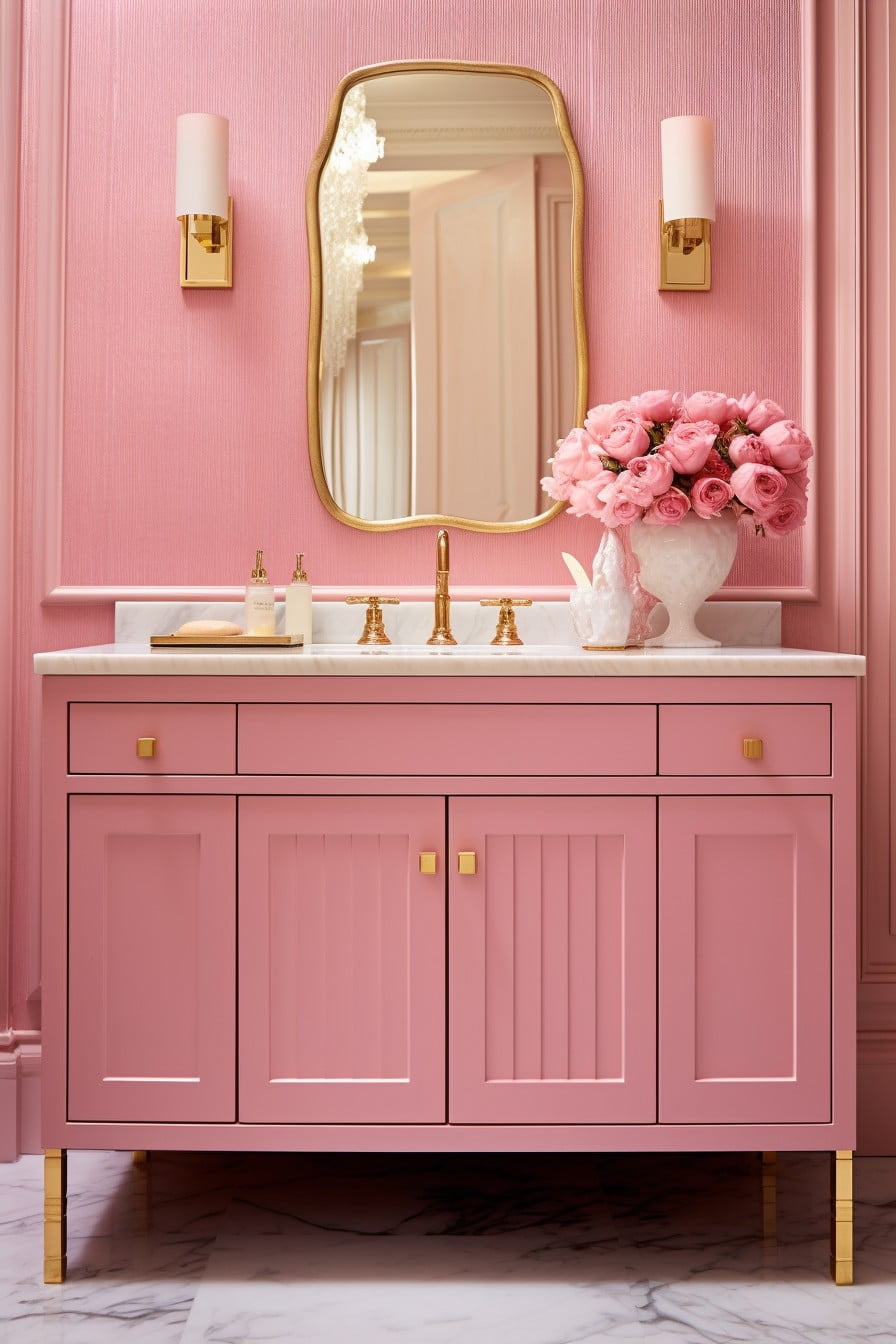 Opting for sophisticated hues of blush or fuchsia can create a vivid impression for your vanity cabinets. To enhance this effect, consider pairing this with gold hardware. Solid gold handles, knobs, or pulls will stand out against the pink backdrop, offering a touch of elegance and a hint of opulence.
Here are some tips to form this striking setup:
Minimalist bar handles: They offer a sleek and modern appeal. Opt for high-shine gold to retain that touch of glam.
Ornate gold knobs: These work best for a vintage or royal aesthetic, often complimenting the bold pink tone.
Brushed gold hardware: This can provide a softer, more understated balance to vibrant, punchy pink shades.
Remember, the vanity is often a focal point in a bathroom design. So don't be afraid to make a statement with your choice of pink and how you accessorize with gold. The pairing can create a luxurious yet calming ambiance when done right.
Gold Light Fixtures With Pink Lampshades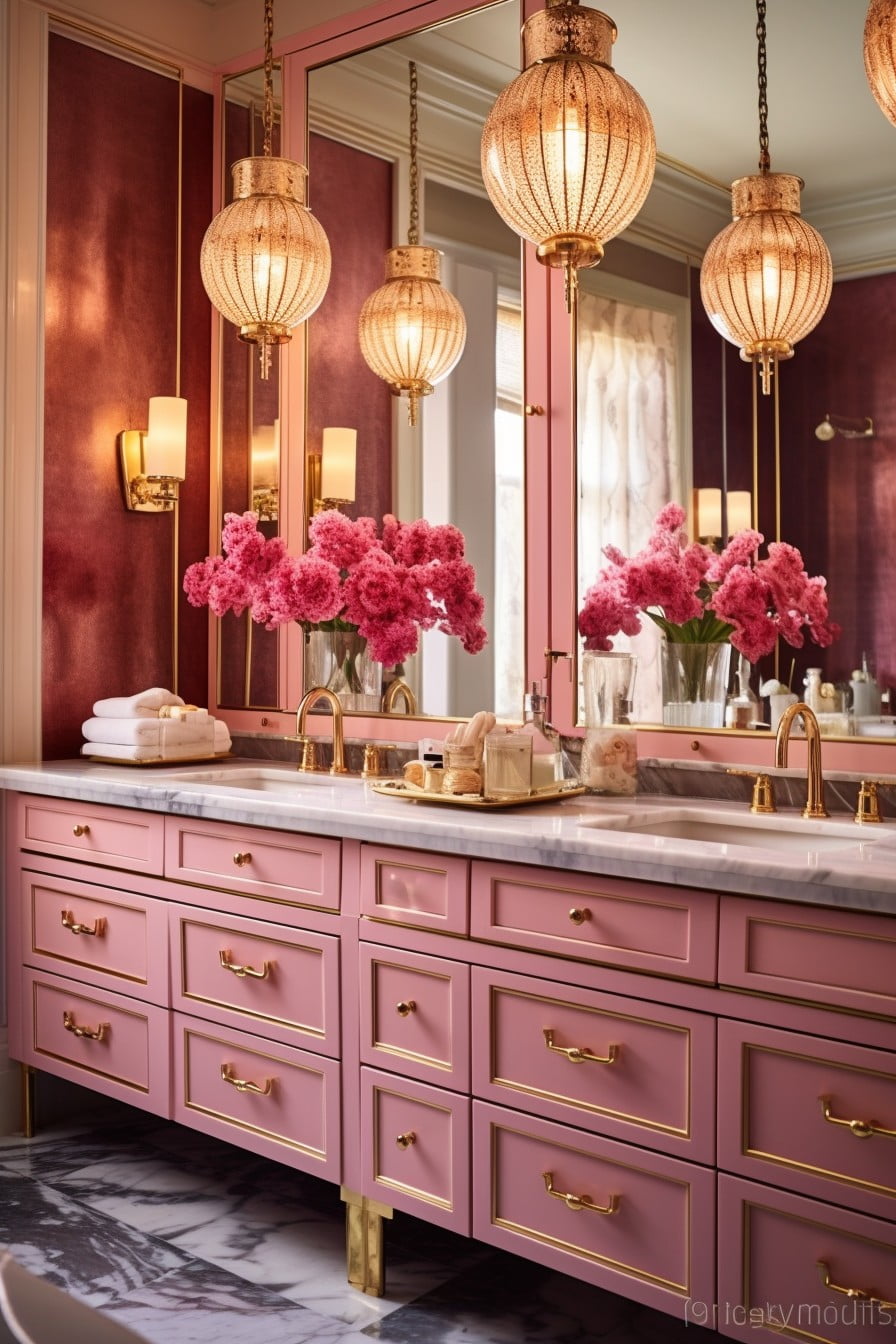 Opting for a vivid contrast while maintaining a luxurious feel, skilfully pairing these two elements will beautifully illuminate your bathroom.
Firstly, a chandelier in a muted gold tone, hung in a central location, acts as an eye-catching centrepiece.
Then, accentuate it with a chic lampshade in a warm, soothing pink hue to add a soft, welcoming glow to the setting.
Wall sconces around your vanity area can also utilise this unique color palette.
Choosing gold as the metal finish for the sconces and complimenting them with pink lampshades will create a cohesive ambiance.
Finally, don't shy away from table lamps that carry the same two-toned theme; although not common in bathrooms, they can serve as striking accent pieces on your countertop.
Remember, combining textures such as frosted lampshades and matte gold finishes can heighten the overall impact while introducing an added layer of depth.
Pink Flowery Shower Curtain With Gold Rings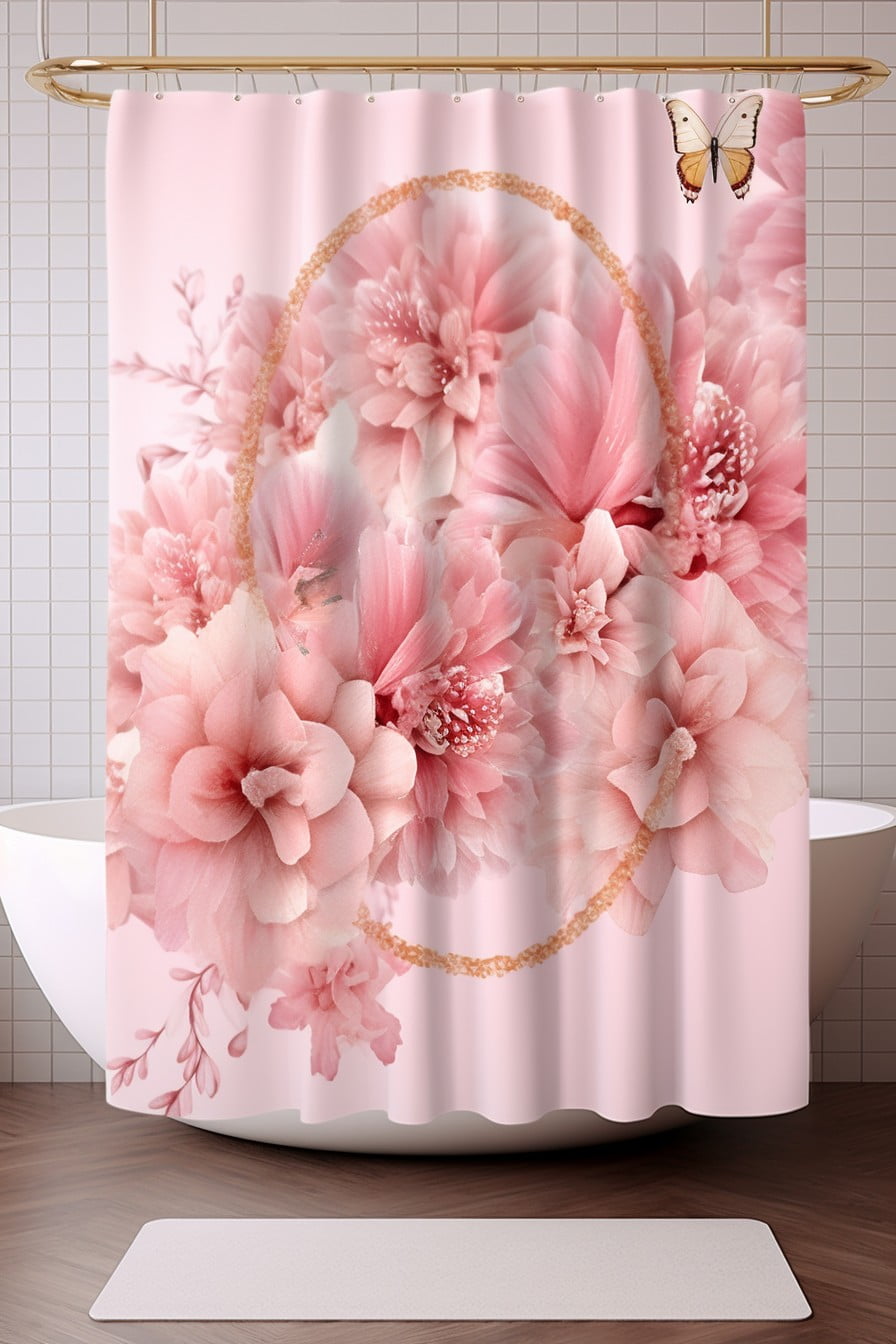 Harness the power of gold rings to elevate the look of a charming pink flowery shower curtain. Choose a material like polyester for durability and easy cleaning.
Opt for a floral pattern in varying shades of pink, from blushing blossom to hot fuchsia, to add depth and visual interest. Gold shower curtain rings will instantly add a chic and classy edge to the shower area. These can come in an array of designs such as smooth, hammered, or even jewel-embellished.
Mix and match shapes and sizes to create a unique look. Remember, it's not just a curtain but a powerful decorative piece that can change the whole aesthetic of the bathroom. Discover your style and transform your bathroom into a stylish and lush space.
Pink and Gold Themed Wallpaper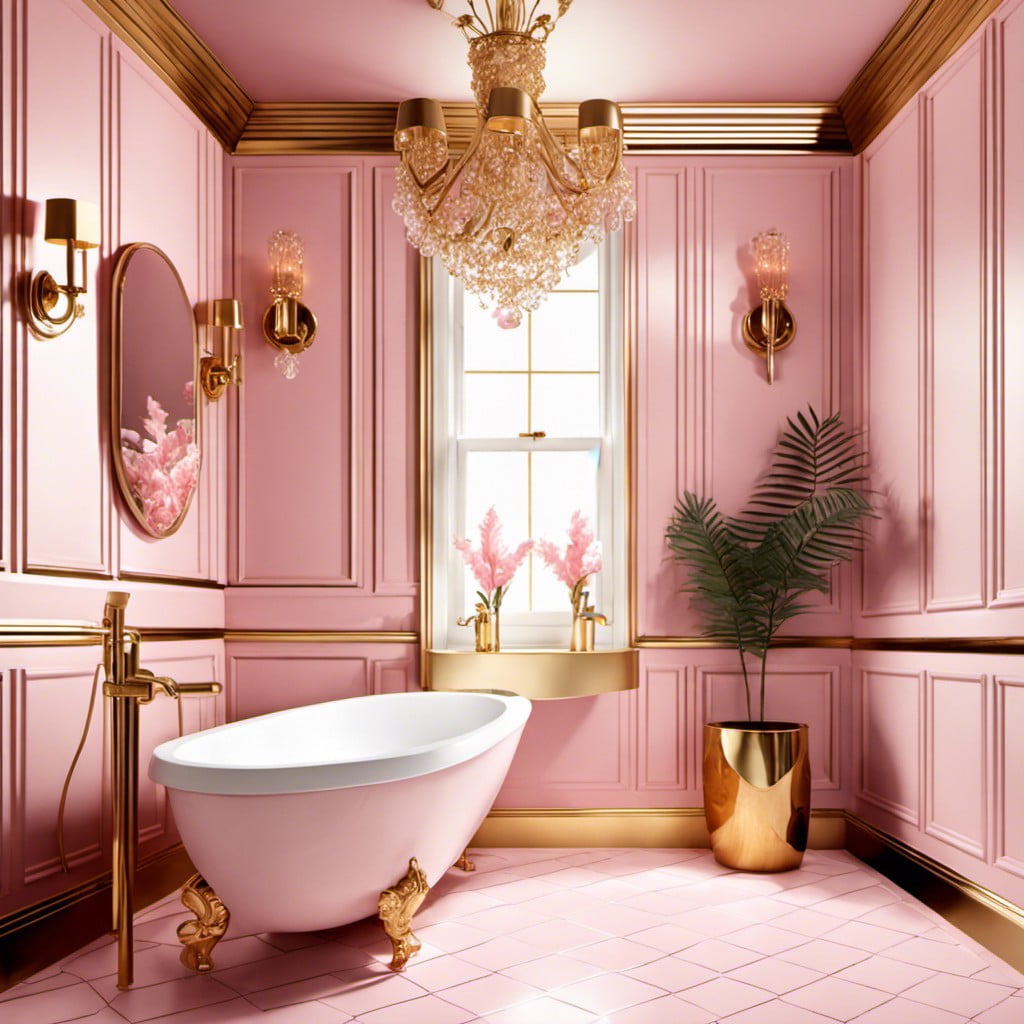 Having your wallpaper follow the pink and gold theme can create a significant difference in achieving a luxurious bathroom aura.
Opt for a blush pink background with intricate gold patterns to add depth and sophistication.
For smaller bathrooms, choose patterns that play with light to create an illusion of space.
A shiny, metallic gold pattern can reflect light thus making the area seem larger.
If you're aiming for a softer appearance, brushed gold figures against a pastel pink backdrop might be your ideal option.
Finally, consider texture. A textured wallpaper can add an extra layer of luxury and make your walls pop.
Pastel Pink Toilet With a Gold Handle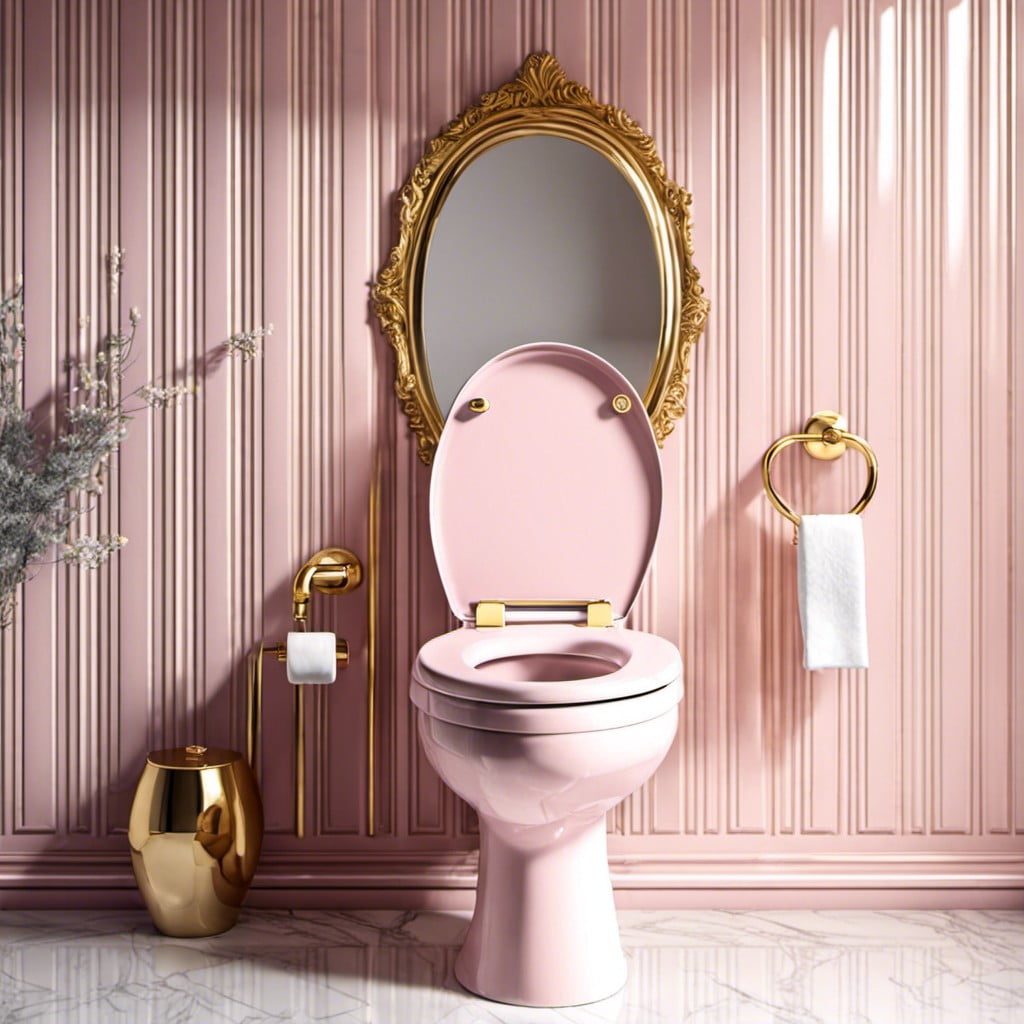 A pastel pink toilet can immediately become a statement piece of your bathroom, especially when paired with a striking gold handle. For a cohesive look, soften the bold colors with surrounding neutral tones.
Whether it's pale pink tiles or matching pastel pink bathroom accessories, this can add to a romantic, elegant, or even a touch of vintage aesthetic. Opting for a gold handle enhances both the opulence and the uniqueness of your design. Confirm its durability and user-friendliness while purchasing.
If you have children, consider a handle shape that's easy to use, yet safe. Above all, ensure the color of the gold handle corresponds with other Golden bathroom fixtures for a harmonized look. A balance between style, function, and color matching will help achieve an eye-catching end result.
Gold Towel Rack On Light Pink Walls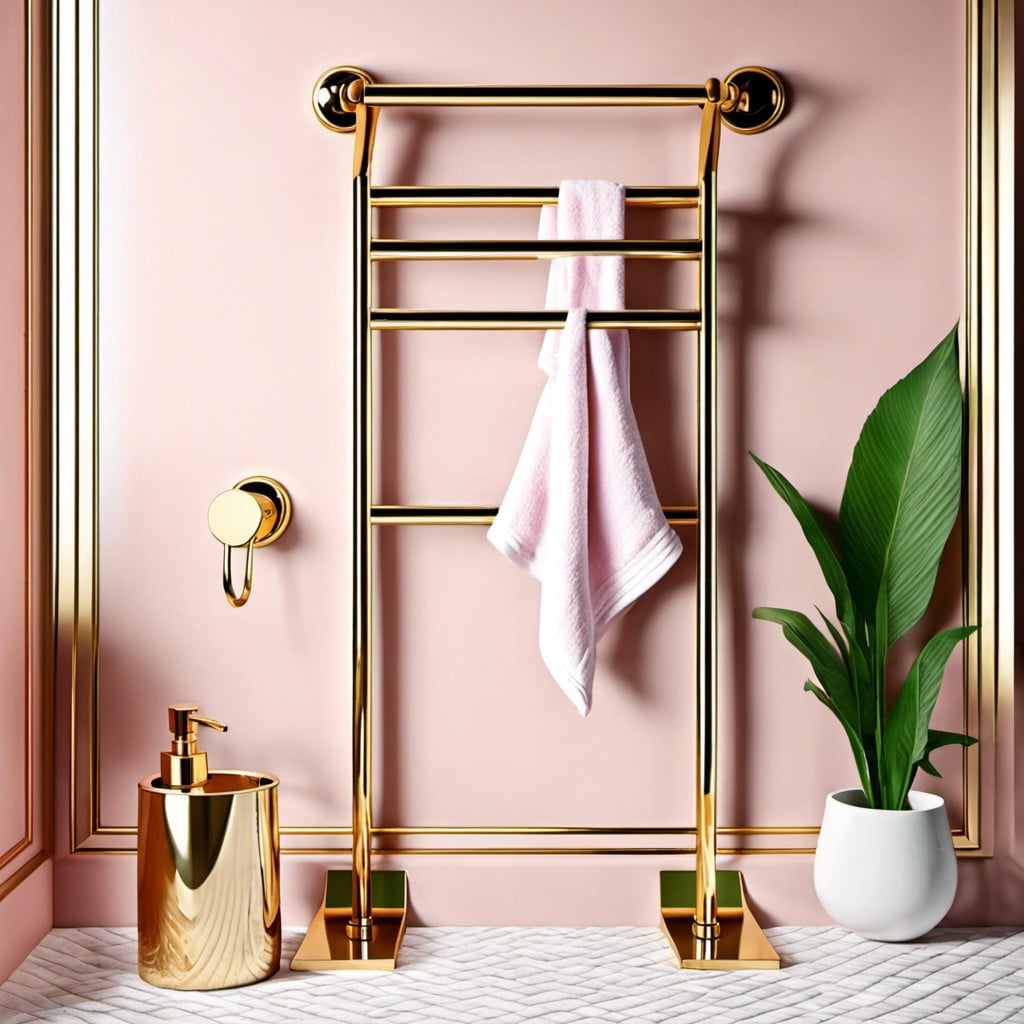 Opting for light pink walls instantly breathes a sense of gentleness and sophistication into your bathroom. To complement this backdrop, consider installing a polished gold towel rack. Not only does this choice add an undeniable touch of luxury, but it also forms a winning color combination that subtly sparkles, confidently affirming the chic decor choice.
Some points to consider in relation to this design choice:
The gold tone of the rack should be chosen carefully. It should neither be too shiny nor too matte to ensure a harmonious balance with the light pink wall.
Placement is crucial. Ideally, position your rack at an accessible height and location. It's about both aesthetics and functionality.
Consider a heated rack. It's a practical option that'll add a nice luxury touch.
Factor in the overall size of your bathroom while selecting the rack. If it's a cozy space, opt for sleek, streamlined designs to maintain a spacious feel.
Match the gold rack with other accessories in the bathroom for a cohesive look – door handles or light fixtures, for instance.
Incorporating these tips will help optimize the charm and functionality of your bathroom.
Shimmering Gold and Pink Bath Mats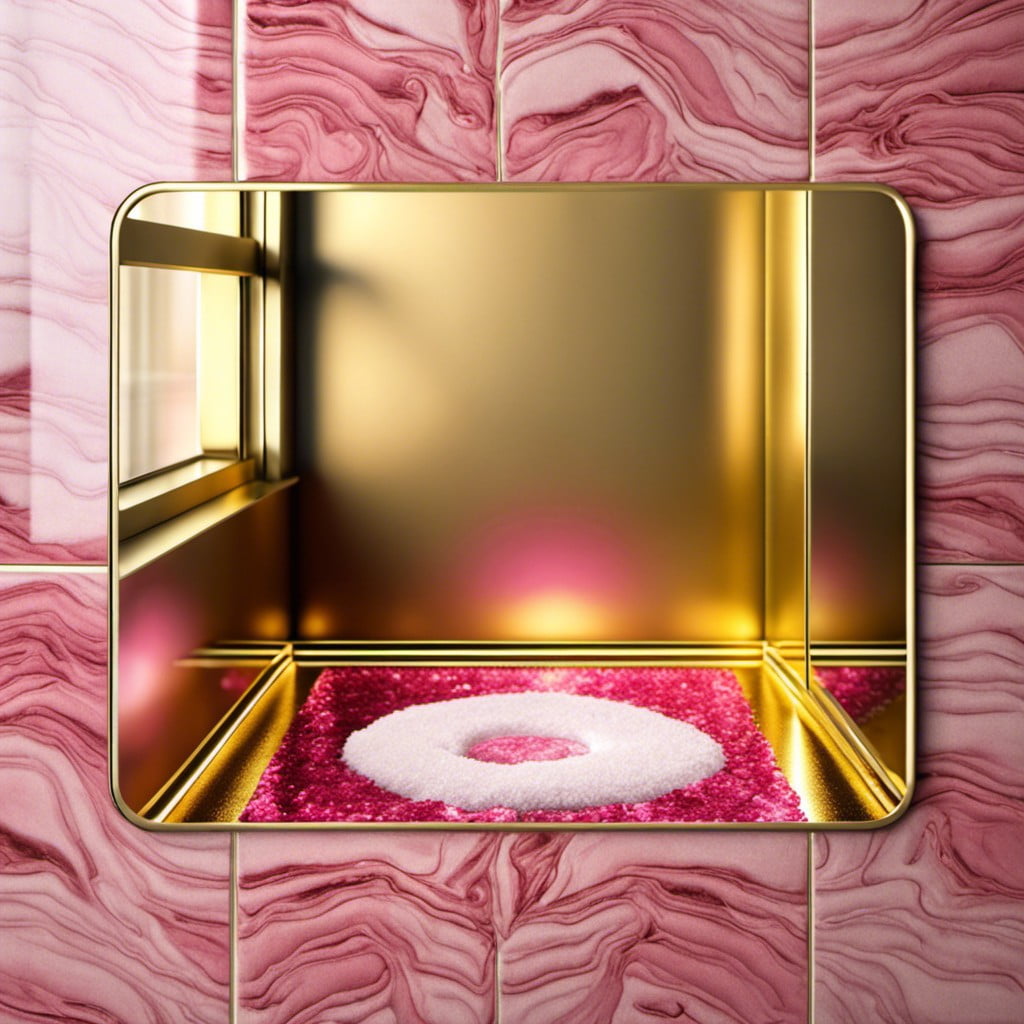 Bath mats aren't just functional; they can also be a significant design element in your bathroom. Striking the balance between style and practicality, consider materials that have metallic threads woven into them. This gives off a subtle shimmer, catching the daylight beautifully. These mats can perfectly highlight the room's golden accents.
Choosing blush pink mats will help seamlessly incorporate the color theme. This soft, feminine shade can add a touch of charm and warmth to the overall setting. While you can opt for a gold and pink patterned design, remember to keep it subtle. An overtly ornate bath mat may become overwhelming rather than blending in.
Also, choose the right size and shape for your bathroom. Round mats under a pedestal sink, rectangular ones in front of a shower, or even a runner along the vanity can work wonders. Lastly, choose mats with non-slip features for optimum safety.
Pink Glass Containers With Gold Lids for Toiletries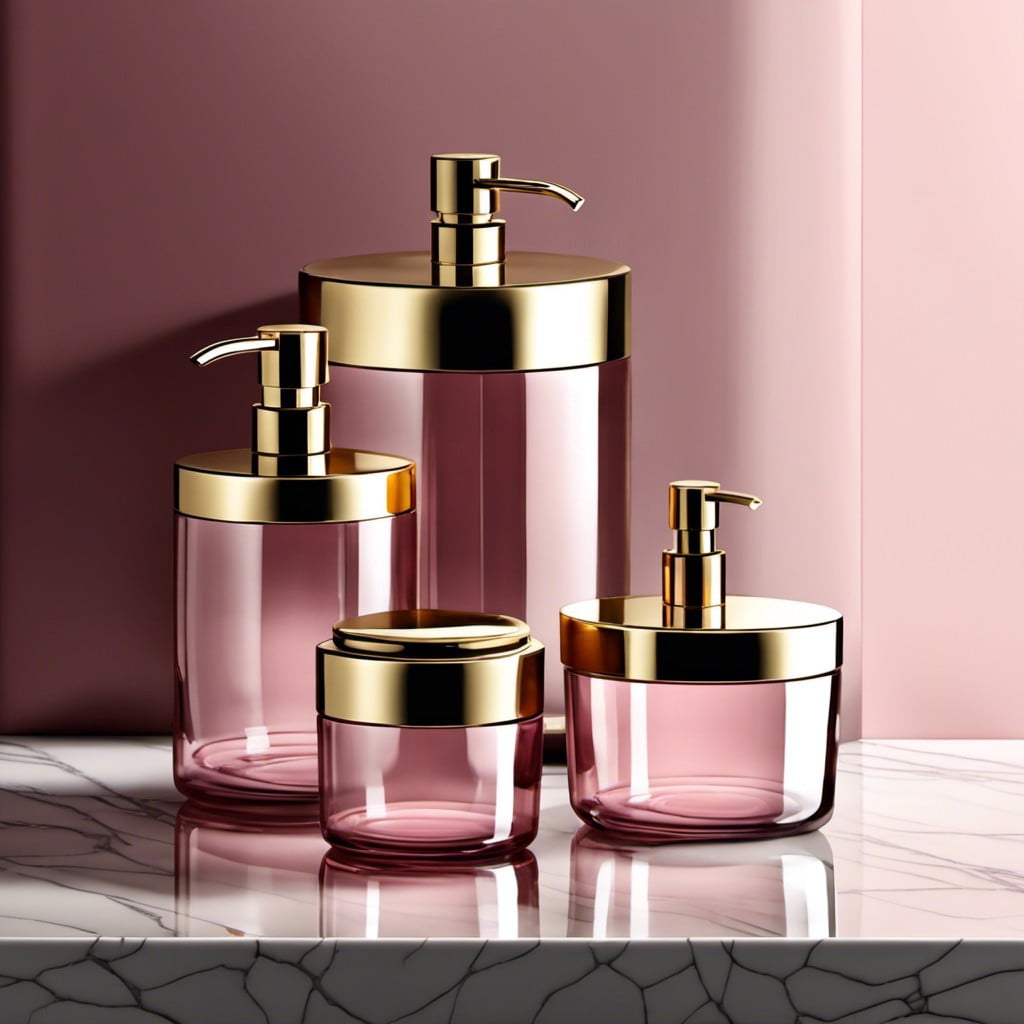 Integrating these containers into the bathroom aesthetic adds a royal touch that also serves a practical aspect. Firstly, they add color and shine to the space, making it appear bright and welcoming. Secondly, these containers help in organizing bath essentials like cotton balls, Q-Tips, and bath salts. This frees up vanity space and maintains a tidy environment. Remember, containers of varying sizes create an eye-pleasing contrast while storing different items. Also, do opt for opaque ones if you prefer to keep the contents hidden. Thus, besides being decorative pieces, they bring functionality and sparkle to the bathroom.
Gold Framed Art On Pink Walls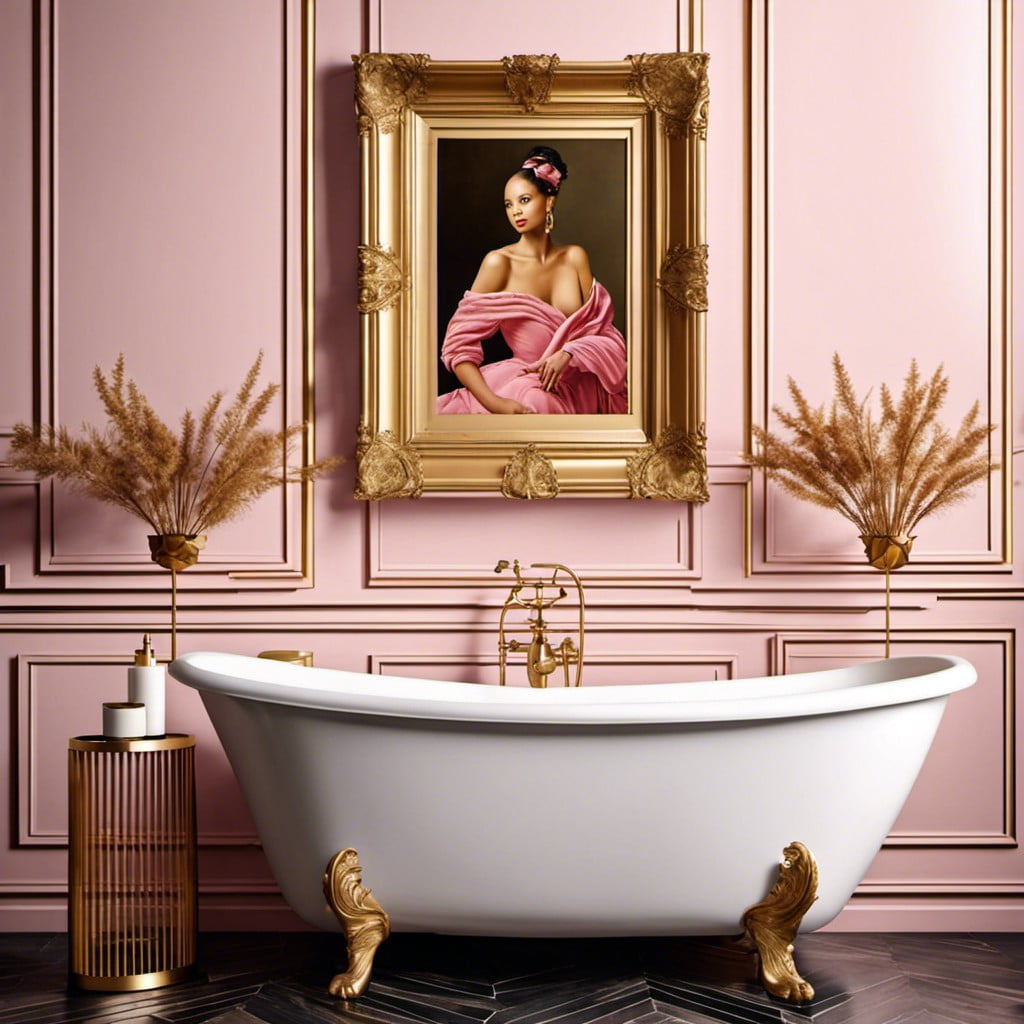 For a classier touch, consider opting for a well-placed piece of gold-framed artwork, which can take the centre stage on your pastel wall. The reflective quality of the frame enhances the richness of the artwork, ensuring it doesn't get lost amid the pink background.
1. Choose artwork with hints of gold or rose shades to create a visual connection with the room's colour scheme.
2. The frame style should complement the bathroom's overall design – ornate for traditional and sleek for a modern look.
3. Position the artwork at eye level or slightly lower for the best viewing experience. Over the toilet or above the towel rack are prime spots.
4. Ensure the wall space around the art isn't cluttered— this piece is the showstopper.
5. Various lighting options can highlight the art even more — a gallery light above or a soft spot light can create a dramatic effect.
6. Bear in mind, any artwork placed in a bathroom needs to withstand humidity, so ensure it's well-sealed and protected.
Flamingo Pink Towels With Gold Monograms
Applying gold monograms to your flamingo pink towels is a statement piece that exudes style and luxury. A well-designed monogram keeps towels organised for each family member, and also uplifts the overall appearance with a hint of personalized flare.
Opt for soft, plush towels to uplift the bathing experience, and consider a bold, script font for the monograms to contrast with the delicate pink. The towels could be tastefully displayed rolled up on a decorative gold tray, or hung neatly on gold hooks.
This visually engaging feature, while functional, is also an aesthetic charmer that makes this bathroom stand out. When it comes to design, the little details matter, and such a deliberate touch can elevate the entire look of the space.
Gold and Pink Patterned Ceramic Sink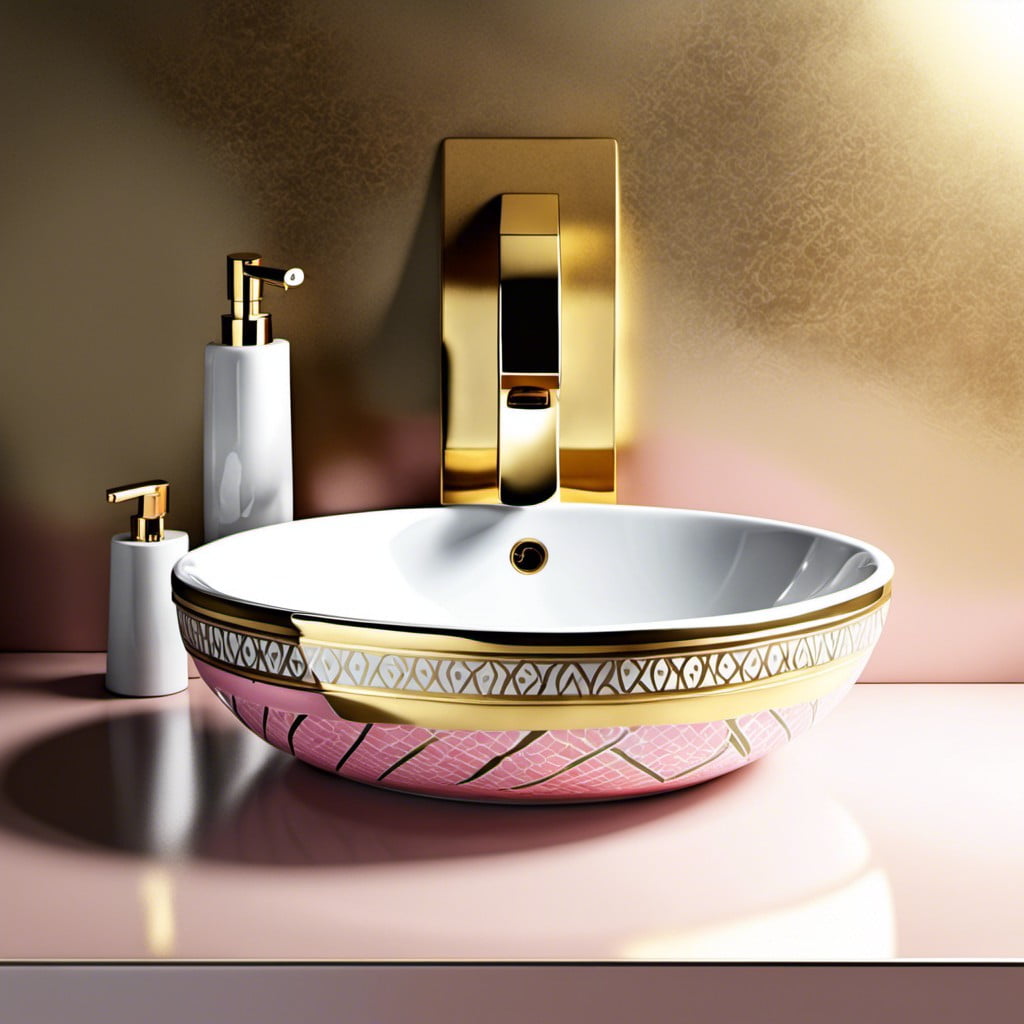 The fusion between gold accents and a pink baseline brings exquisite charm to your ceramic sink.
Let's break this down:
Charming Patterns: Choose dainty floral or intricate geometric patterns to give the piece visual interest. The detailing can be subtle or more apparent depending on personal preference.
Resilient Materials: Ceramic, known for its durability, makes an excellent choice for sinks. Its smooth surface aids in easy cleaning, essential in maintaining the gold and pink hues.
Accentuation: Gold can serve as an accent, highlighting the rims or the basin's outlines, adding a lavish touch.
Customizability: The design can be tailored according to taste, facilitating a one-of-a-kind addition to any bathroom.
Cohesion: Pair it with matching gold fittings to create seamless style continuity.
So, a well-executed selection of a gold and pink patterned ceramic sink can instantly boost the chic factor in your bathroom, while staying practical.
Light Pink Window Curtains With Gold Trim
In offering a soft, romantic tone, these window additions bring in a measured elegance that's hard to match. The light pink hue works as a gentle diffuser, casting a warm, inviting light in your bathroom. The gold trim, a small but impactful touch, harmonizes the overall theme while amplifying the sophistication.
Firstly, this choice marries both sunlight control and aesthetics. By adjusting the curtains' position, it allows you to manipulate the natural light filtering through, creating the desired ambiance at any time of the day.
Secondly, the gold trim acts as a frame. Just like a painting, the window view becomes art, perfectly framed by this metallic touch.
Finally, a synergy between curtains and other furnishings provides cohesion. Having the drapes tie in with other gold accents in the bathroom knits together the entire room's design narrative.
Shiny Gold Soap Dispenser On Pink Countertop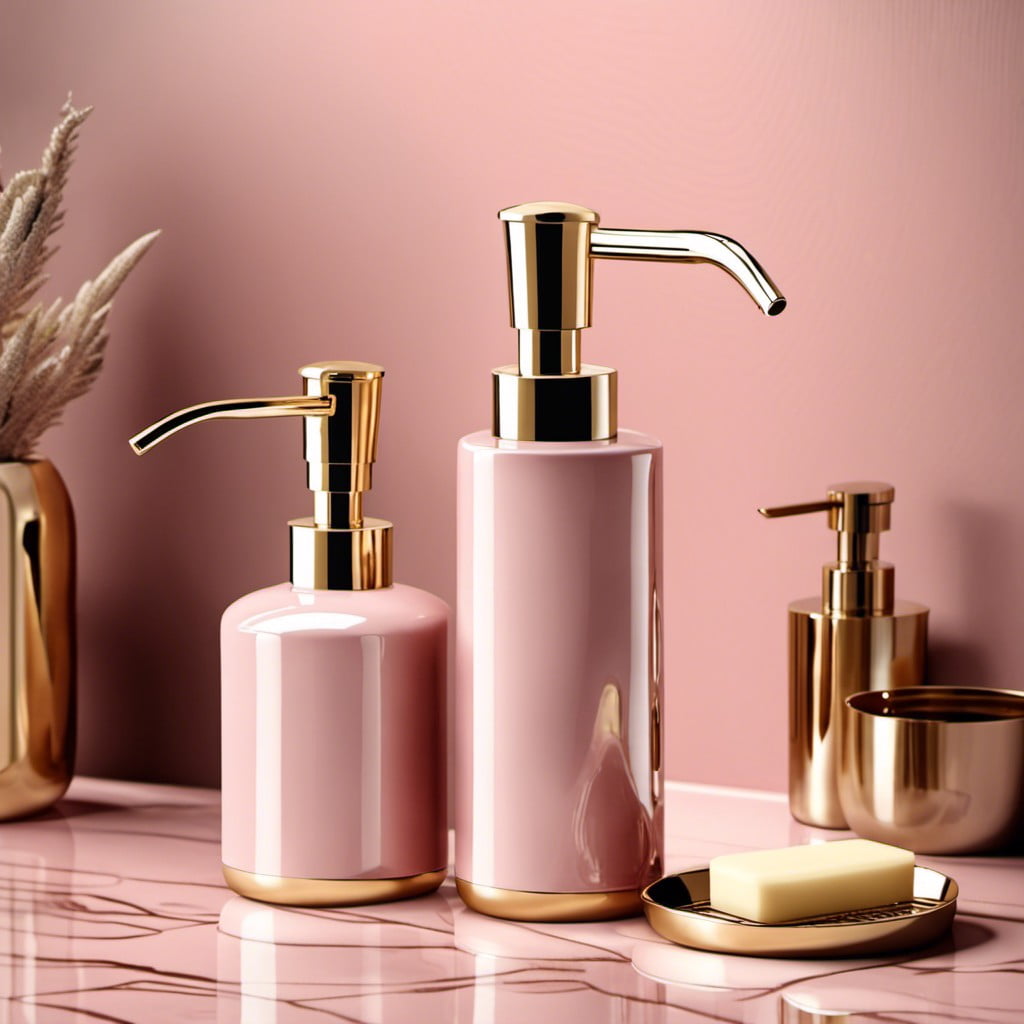 Accentuate the pink countertop by opting for a shiny gold soap dispenser. Such a choice adds an element of glamour to your bathroom whilst maintaining a chic and minimalist aesthetic.
Consider using a geometric-shaped dispenser for an extra style statement, or a gold-leaf patterned one for a touch of romance. Make sure it's placed near the sink for convenience.
This seemingly small detail can make a big difference, as it maintains color coordination and adds a touch of luxurious detail to the space. Without any doubt, it exudes sophistication that'll leave any guest impressed.
Peachy Pink and Gold Tiled Backsplash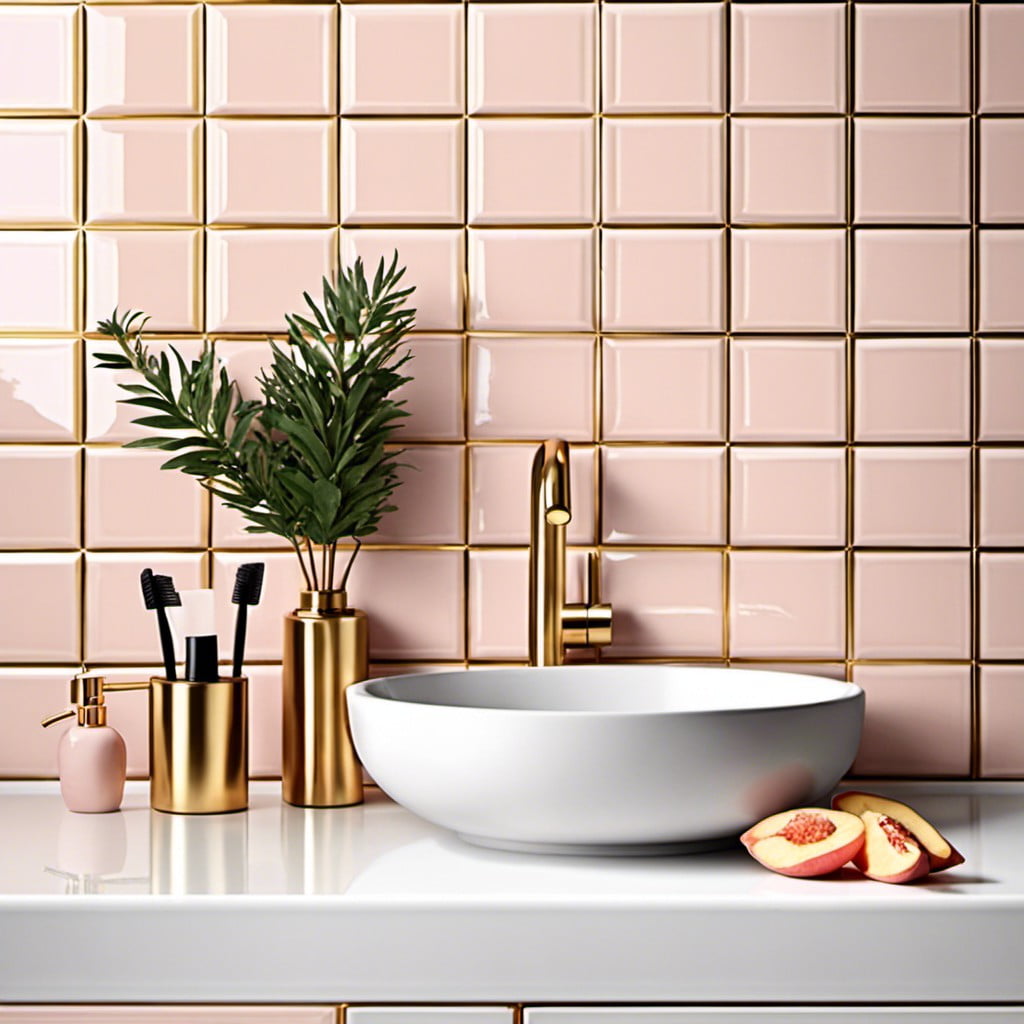 A masterstroke of stylish sophistication, this combo brings warmth and brightness to your bathroom. Opt for subtly speckled peachy pink tiles to complement the natural warmth of gold tiles.
The two offer an aesthetically pleasing contrast without being distracting. Giving a nod to vintage charm, consider a metallic gold grout to tie the whole look together.
Keep the backsplash pattern minimal to maintain a modern, clean aesthetic. This could be achieved by alternating rows of peachy pink and gold tiles, or creating a chequered design.
Remember to protect your design and maintain its fresh appearance by applying a clear sealant over your finished backsplash.
Continue reading:
Recap