Last updated on November 25, 2023
Transform your guest bathroom into a stylish sanctuary because the right color can make all the difference in creating a welcoming environment.
I'm really proud of the 20 Aesthetic Guest Bathroom Color Ideas article I've written along with the unique designs I've created, and I truly hope you find them as inspiring and enjoyable as I did in curating them.
Choosing the right color for your guest bathroom can significantly elevate its look, making it a stylish and inviting space for your visitors. This article will provide you with a curated list of color ideas that are not only trendy but also timeless.
From calming blues to energizing yellows, we'll explore a spectrum of hues that can transform your guest bathroom into a stunning retreat. We'll also delve into how these colors can influence the overall ambiance of the room.
So, get ready to be inspired and find the perfect color for your guest bathroom.
Soft Peach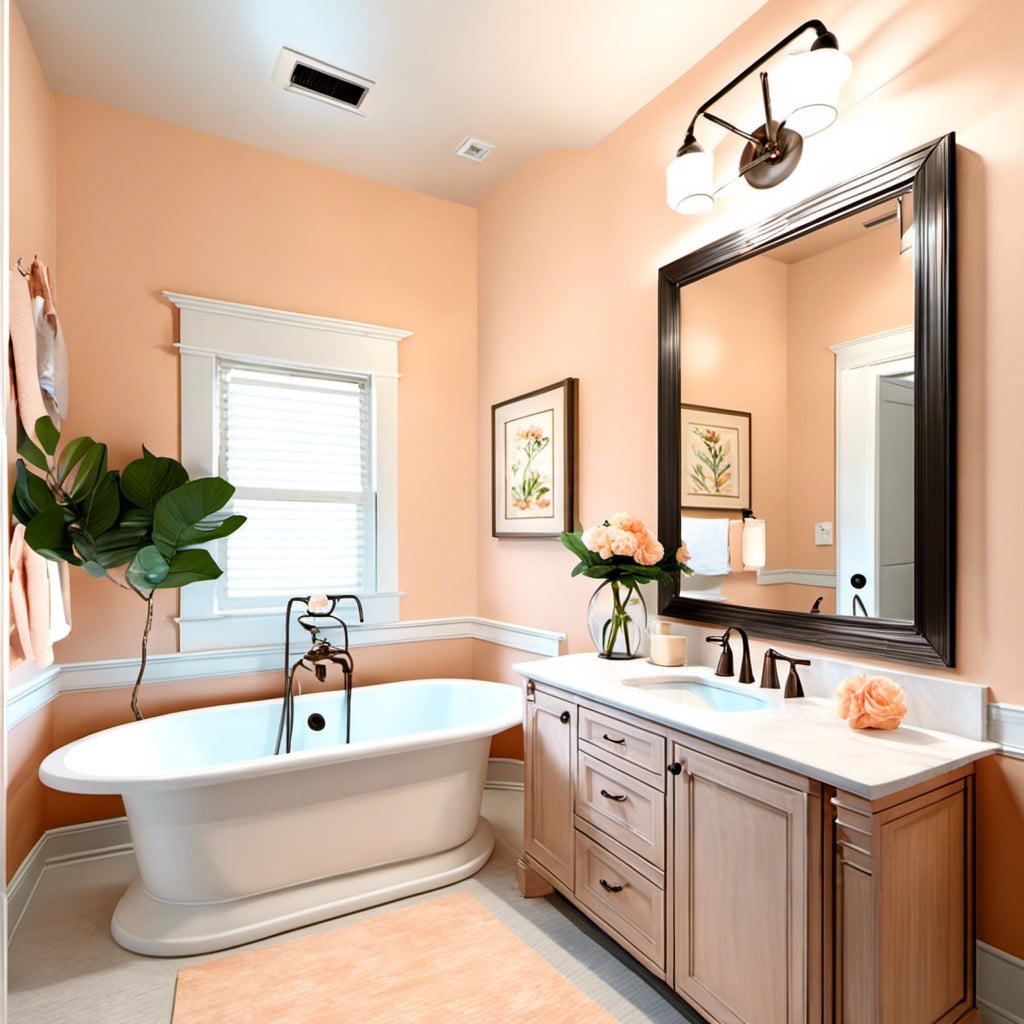 Soft Peach brings a gracefully sweet ambiance to any guest bathroom.
Not too dazzling, this warm color effortlessly lights up small spaces, creating an inviting atmosphere.
Pair it with white bathroom fixtures for a neat contrast.
To further enhance the overall look, you may use gold or brass accents in mirrors, faucets, and lighting fixtures.
The resulting blend turns your bathroom into a cozy yet tasteful retreat.
It's ideal for those aiming to strike a balance between robust vibrancy and subtle comfort.
Remember, adequate lighting plays a critical role in accentuating the softness of the peach color.
Mint Green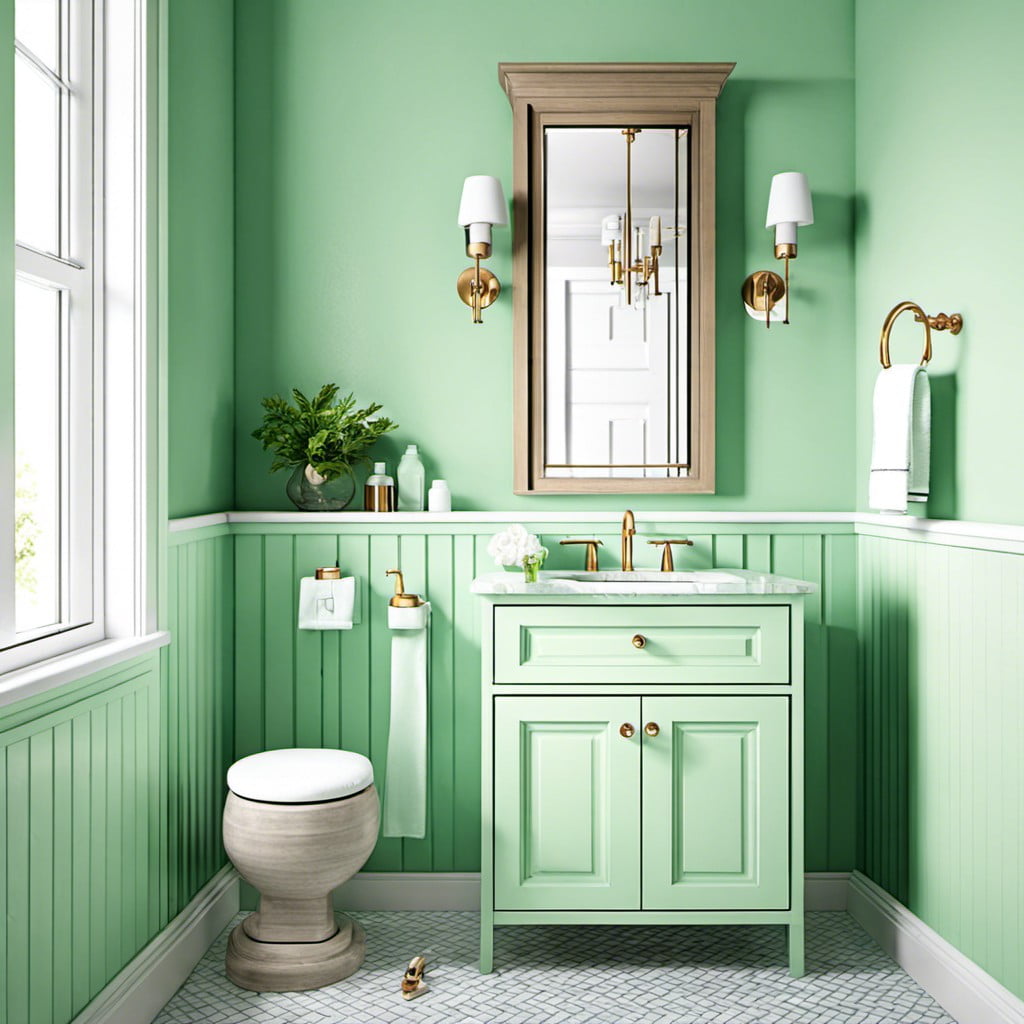 Adding this soft, pastel shade to a compact bathroom brings a fresh and clean feeling, perfectly combined with white ceramic tiles or marble surfaces. It won't overpower the room, maintaining a calm yet inviting ambiance.
Mint green also aligns well with metallic accents like brushed nickel or chrome. In small doses, like on one wall or an accent piece, it adds a touch of color without overwhelming the space. The color is versatile and works equally well with vintage and modern styles.
Its light tone helps to visually expand a tiny bathroom, making it seem larger than it truly is. Last but not least, mint green is associated with tranquility and helps to create a serene, spa-like atmosphere in your guest bathroom.
White and Navy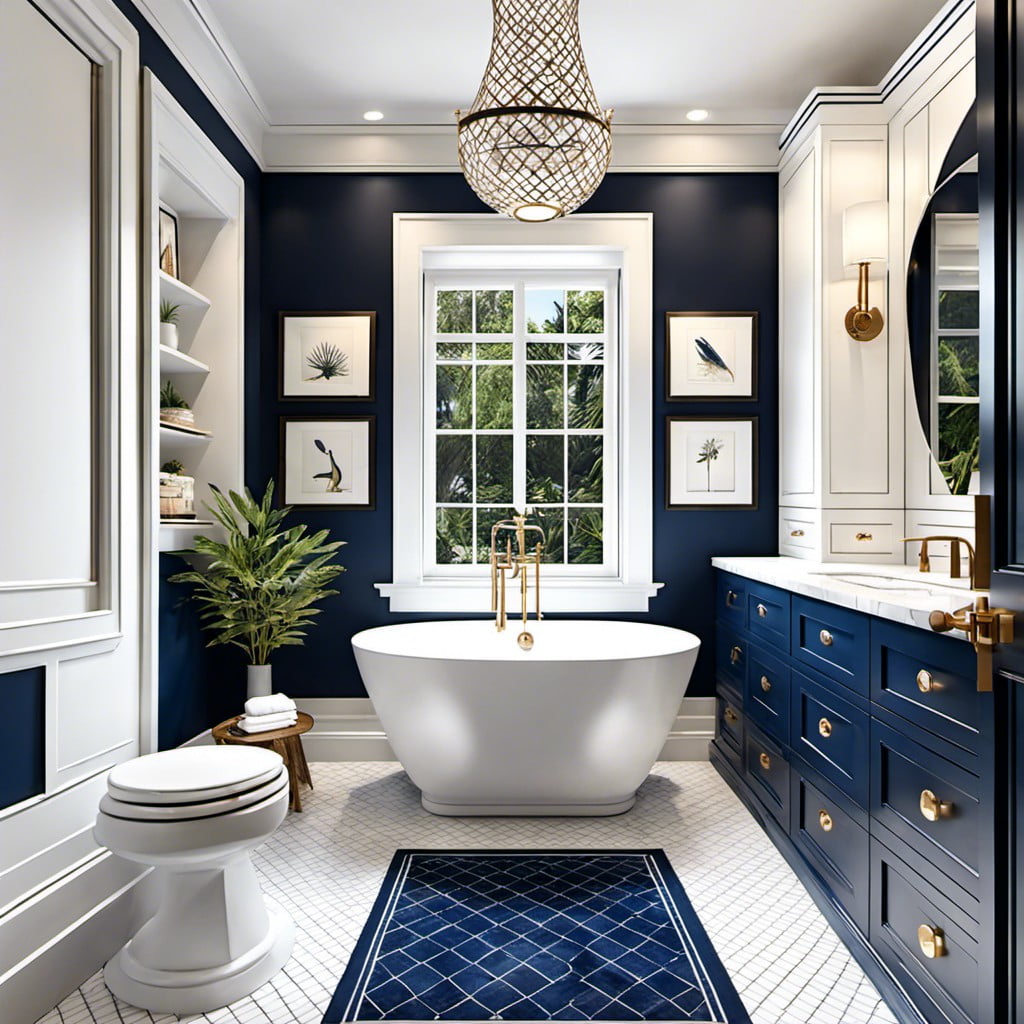 Delving into this marvelous color scheme, it's crucial to understand its ingredients. Crisp whites become the canvas, offering a fresh, clean backdrop.
The navy counterpart then adds depth and elegance to the space. Further, contrast elements, such as white towels or accessories, accentuate the navy, giving the room a vibrant, contemporary edge.
It's a balance, evoking maritime vibes that can be calming and invigorating simultaneously. Moreover, this combo allows for easy tweaks through minor décor adjustments, ensuring your guest bathroom remains trendy without frequent overhauls.
Pale Yellow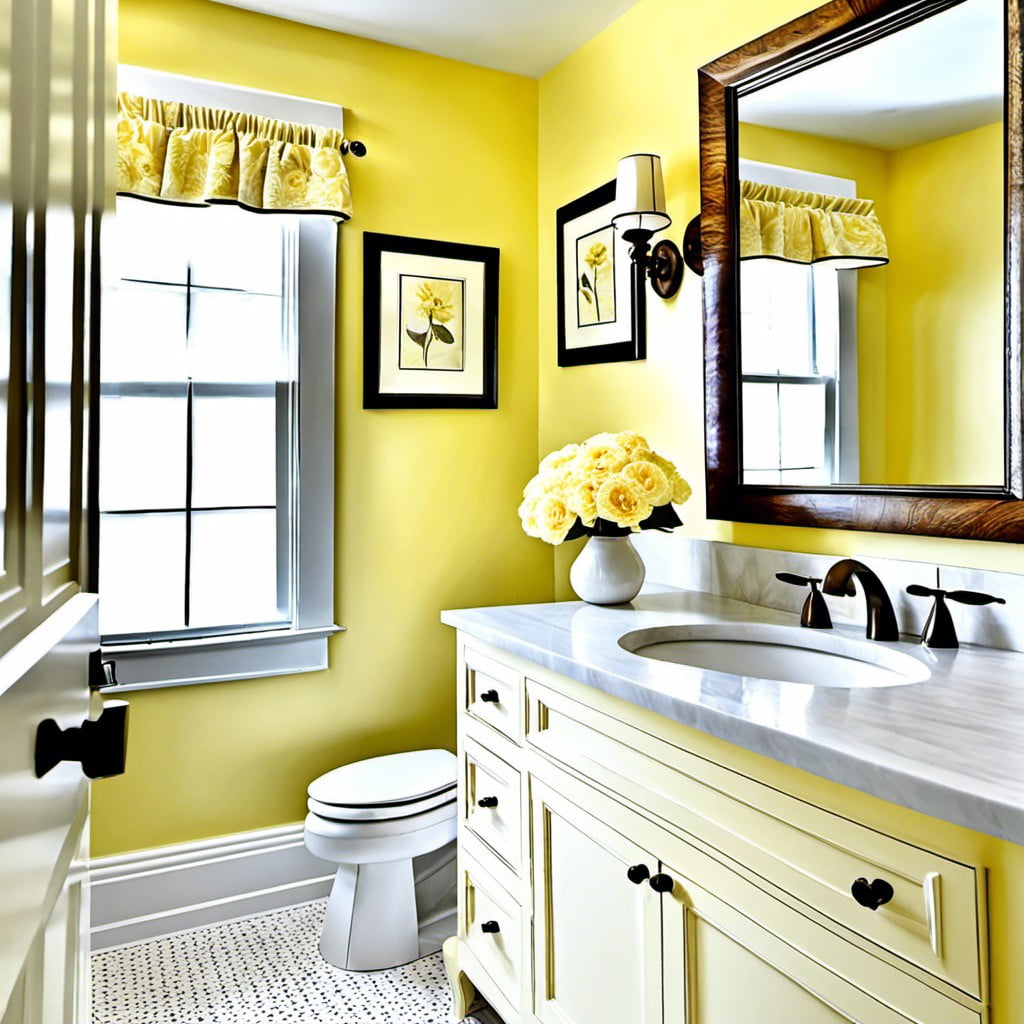 Pale yellow is an optimal choice for a sunny and inviting guest bathroom. It is both light and warming, which allows for a welcoming atmosphere.
Merging pale yellow walls with crisp white trims maximizes light reflection, ideal for smaller spaces. Remember, chrome fixtures and white accessories are excellent choices to complement this shade.
Additionally, combining pale yellow with earth tones in your decoration gives an organic touch that guarantees comfort. A touch of pastel color, such as blue or violet, might add a more calming or sophisticated feel to your bathroom.
Ivory and Aqua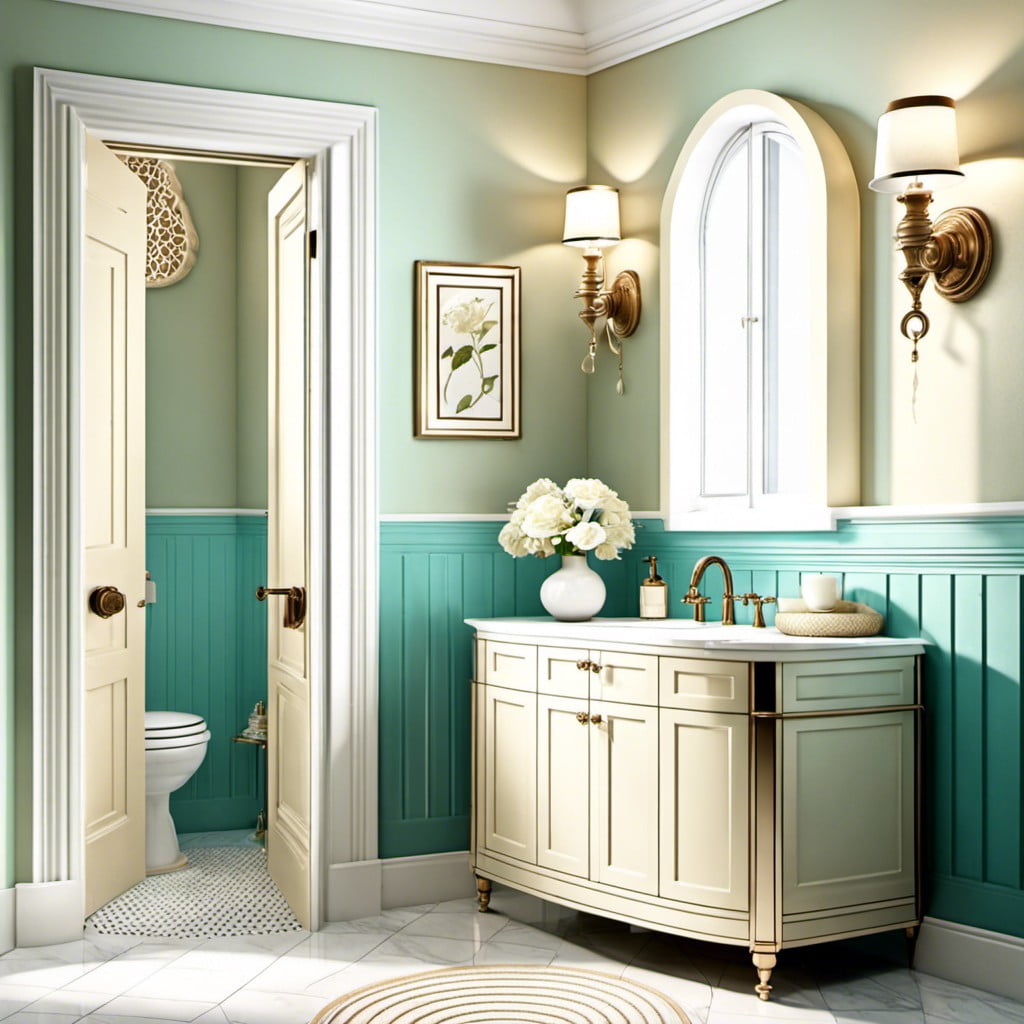 Creating a relaxing oasis in the bathroom is as easy as pairing ivory with aqua. Both hues exude serenity and freshness, perfect color picks for a welcoming guest bathroom.
1. Lush Aqua Tiles: Using aqua tiles in the shower area or as a backsplash adds a splash of color against the soothing ivory wall. Opt for tiles with varying shades of aqua for a dynamic look.
2. Ivory Accessories: Ivory bath towels, soap dispensers, and bath mats keep the space visually light and clean.
3. Matching Fixtures: A blend of ivory and aqua in fixtures, like a Venetian mirror or vintage wall sconces, can reinforce the color scheme.
4. Accent Décor: Adding some aqua or ivory candles, vases, or artwork provides the finishing touch to your restful guest bathroom.
Warm Beige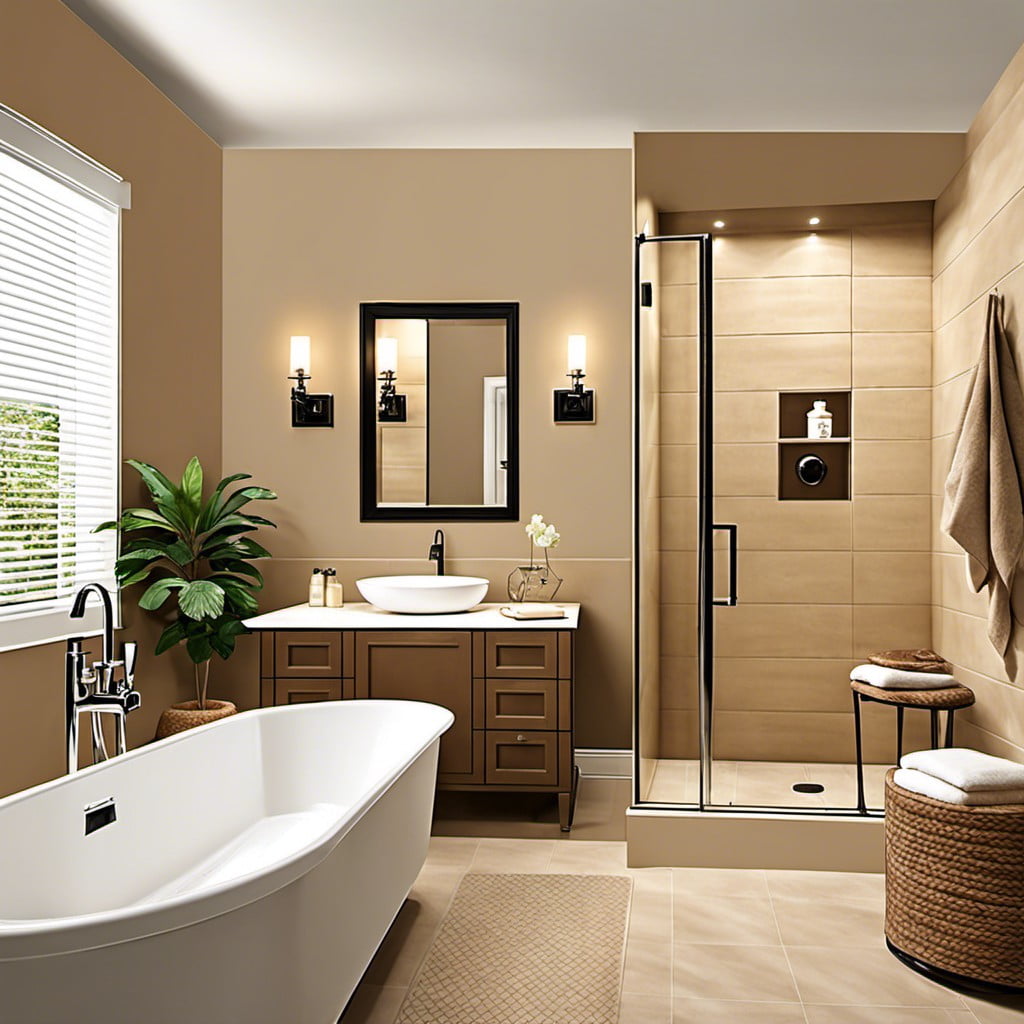 When it comes to achieving a soothing and cozy atmosphere, Warm Beige immensely contributes. With its earthy undertones, it forms a perfect backdrop for bathroom decor, complementing elements such as wooden cabinets, ceramic fixtures or metallic accents effortlessly.
Beige, while being warm and welcoming, also enables a wide scope for enhancements. Pair it with whites for a modern, clean look or opt for darker tones like deep browns or black for a striking contrast to add depth.
Additionally, bringing in nature aspects like indoor plants can enhance the tranquil ambience. Incorporating mirrors will not only make the space look more prominent but also reflect the warm beige tones around the room.
Light Grey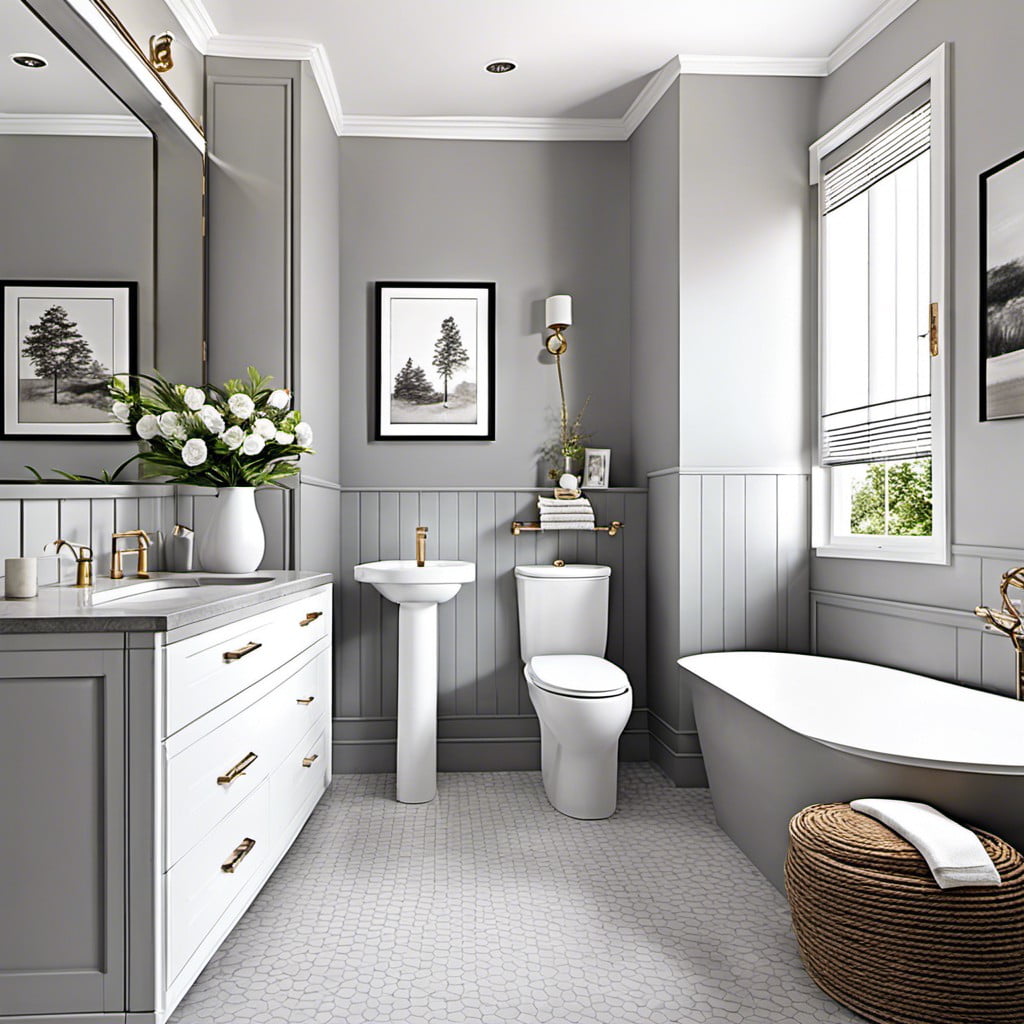 Presenting your guest bathroom in a shade of light grey brings sophistication and elegance. As a neutral, it effortlessly matches with a wide variety of contrasting colors and patterns for accessories and linens.
It's also versatile and can be complemented by metallic accents for a modern feel or wooden elements for a timeless, rustic vibe. The softness of light grey is quite calming, making it a great choice for a serene bathroom where your guests can relax.
For added depth and interest, try combining different tones of grey, using them on walls, tiles and even fixtures. It's key to ensure a good lighting design with this color, to keep it bright and inviting.
Chic Black & White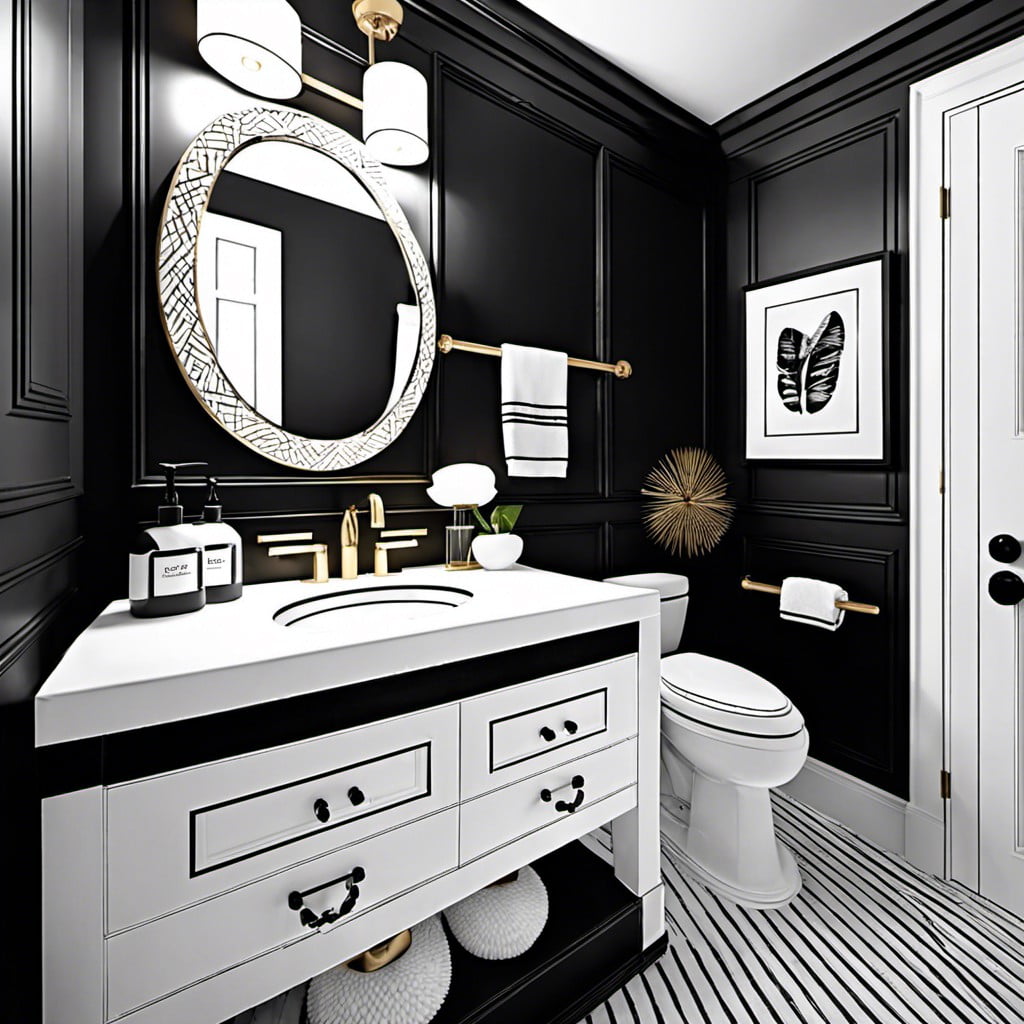 Executing the timeless palette of black and white in a bathroom provides a sleek, sophisticated look. Black adds immediate contrast, creating a striking visual effect, while white brings in freshness and brightness.
Here are a few concepts behind this classy theme:
Mirrors with black frames are not only trendy, they also break the monotony of a white wall.
A black vanity against white tiled walls creates balance and maintains harmony.
Employing a black and white tiled floor establishes a vintage aesthetic, exhibiting retro charm.
Opting for a black ceiling with white fixtures draws the eye upwards, transforming the space while creating an impressive focal point.
Black shower fixtures against white surrounds anchor the room while adding a modern touch.
White may dominate and balance the boldness of black, but including small, black details like a soap dispenser or towel rack can tie the whole scheme together.
Remember, a chic black and white bathroom is all about maintaining balance between these two contrasting shades to create a cohesive and visually appealing space.
Tranquil Blue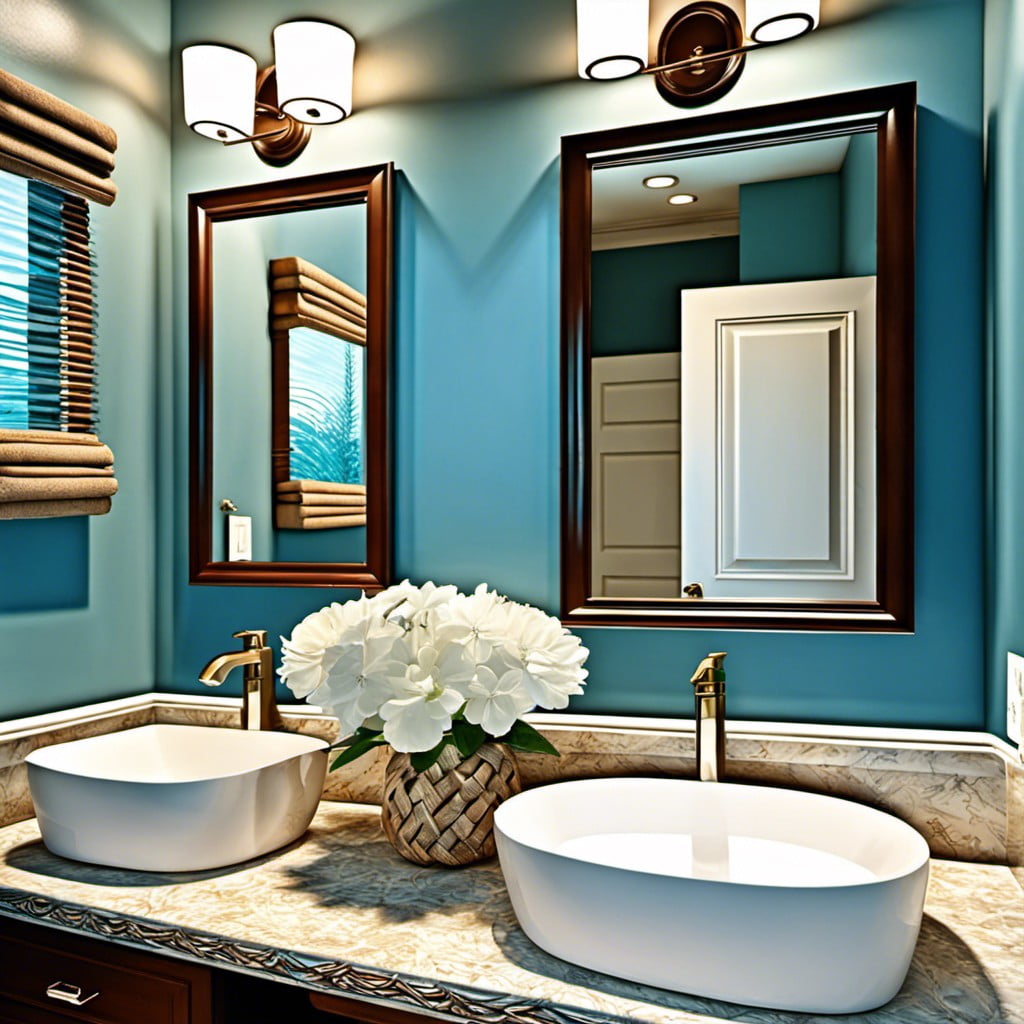 An embodiment of serene oceans and clear skies, tranquil blue instills an aura of calm sophistication. Ideal for creating a soothing atmosphere, this hue can make your guest bathroom feel light, airy, and spacious.
Echo its sea-inspired roots by pairing it with elements like glass and light-toned woods. The contrast of these materials can enhance the visual appeal of your bathroom. Decorative accents such as nautical mirrors or oceanic artwork can be added for additional emphasis on tranquil blue's coastal undertones.
Remember, lighting also plays a significant role. Natural light can further amplify the tranquillity and warmth this color can infuse into a space. If this is not possible, consider incorporating gentle artificial lights.
Subtle Lavender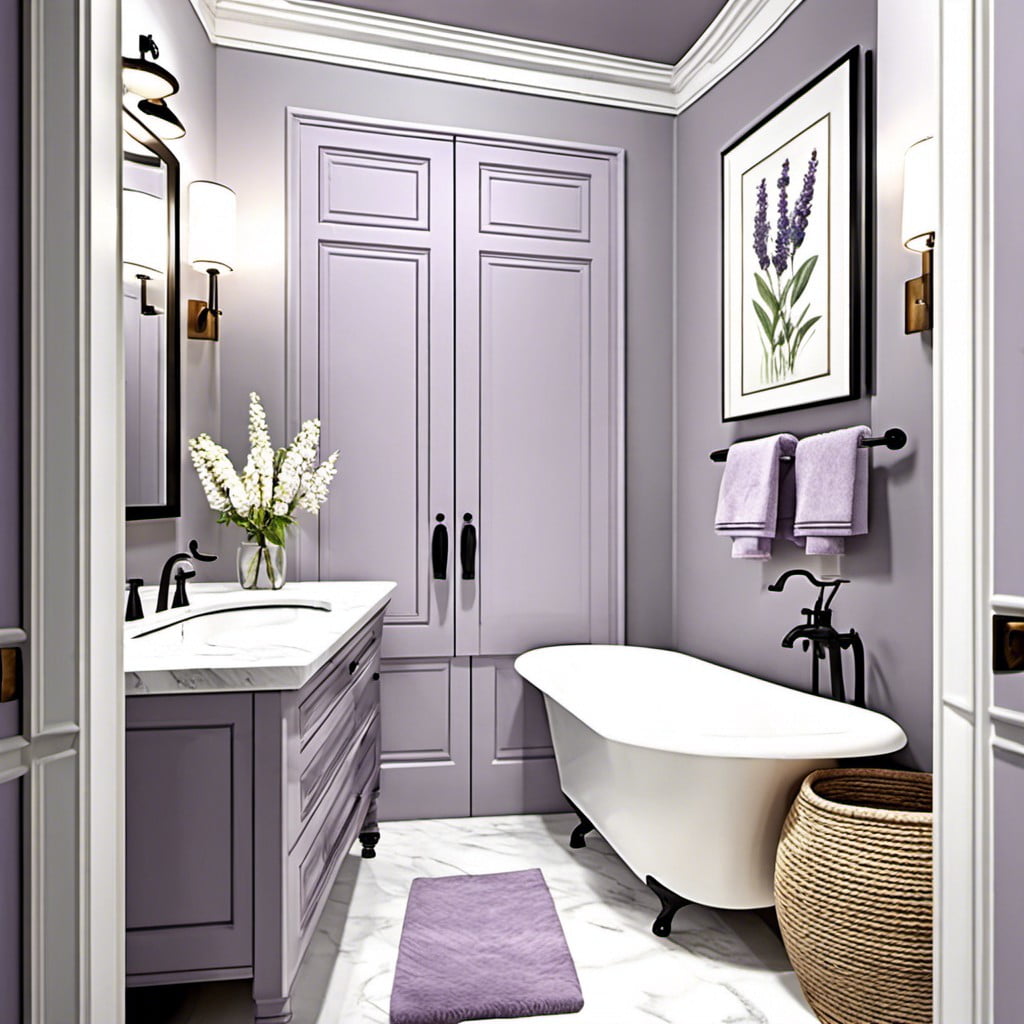 Lavender, especially in its subtle form, carries a whisper of vibrancy without being too loud. It's a delicate hue that manages to create a pleasingly inviting aura for your guest bathroom.
Here are some key points to understand this color choice:
This soft purple hue encourages a light, relaxing atmosphere. It's a popular choice in spas, making it perfect for bathroom transformations.
Pairing lavender with white or soft grey accents is a match made in heaven. Opt for these shades for towels, bath mats, or even your bathroom vanity.
To prevent overpowering the lavender, consider using this shade in moderation. Accent walls or detailing can sometimes be more effective than a full room color change.
Don't fear to play with different textures and materials in lavender shades. Tiles, wallpapers, or colored grouting can give depth to your design.
Complement the lavender theme with aromatherapy elements like lavender scented candles or soaps, adding to the overall soothing experience.
Sunny Yellow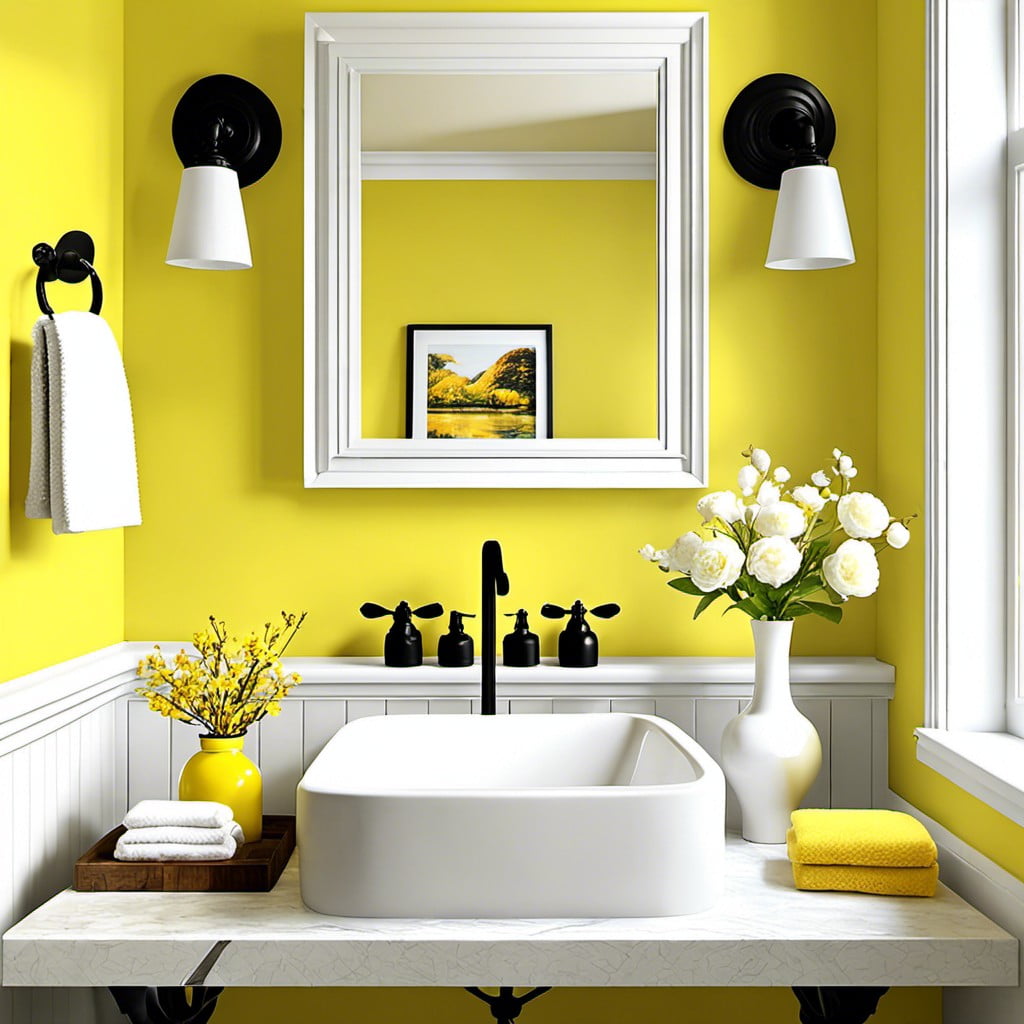 Splash a sunbeam into the guest bathroom to make it pop! Sunny Yellow invokes vibrancy and invigorating energy, making it a perfect choice to start off your guests' day right.
1. Mood Lift: Yellow, often associated with optimism and happiness, can elevate the mood of anyone stepping into the bathroom.
2. Versatility: It pairs beautifully with white fixtures for a crisp, clean look. It can also be teamed with darker shades, such as navy or black, for a bold statement.
3. Bright and Welcoming: With its inherent brightness, yellow makes small spaces appear larger and more inviting.
4. Season-Proof: This color stands the test of time and seasons, bringing warmth in winter and the cheer of summer sunshine year-round.
Remember, the shade you choose can make all the difference. Go with softer shades for a more relaxing feel, or choose brighter hues for a bit of pizzazz!
Crisp White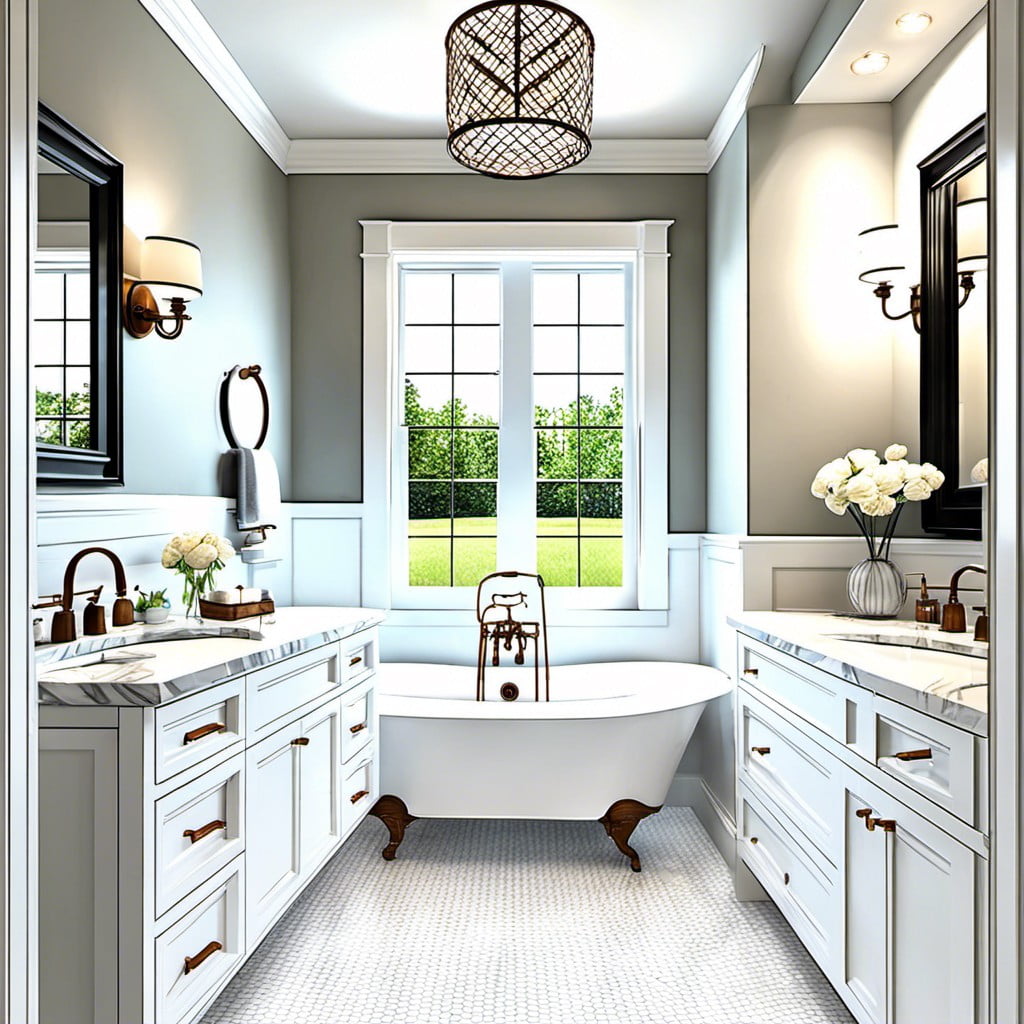 Known for its universal appeal, crisp white breathes freshness into any space. It's a refreshing hue that elevates a guest bathroom, reflecting light to make the room appear spacious, a boon for smaller areas.
It provides the perfect backdrop for bold accent colors; think dark towel sets or vibrant wall art. Maintaining a white bathroom is effortless with modern easy-clean paints.
Lastly, this tone stands the test of time, promising a look that won't go out of fashion anytime soon.
Smoky Blue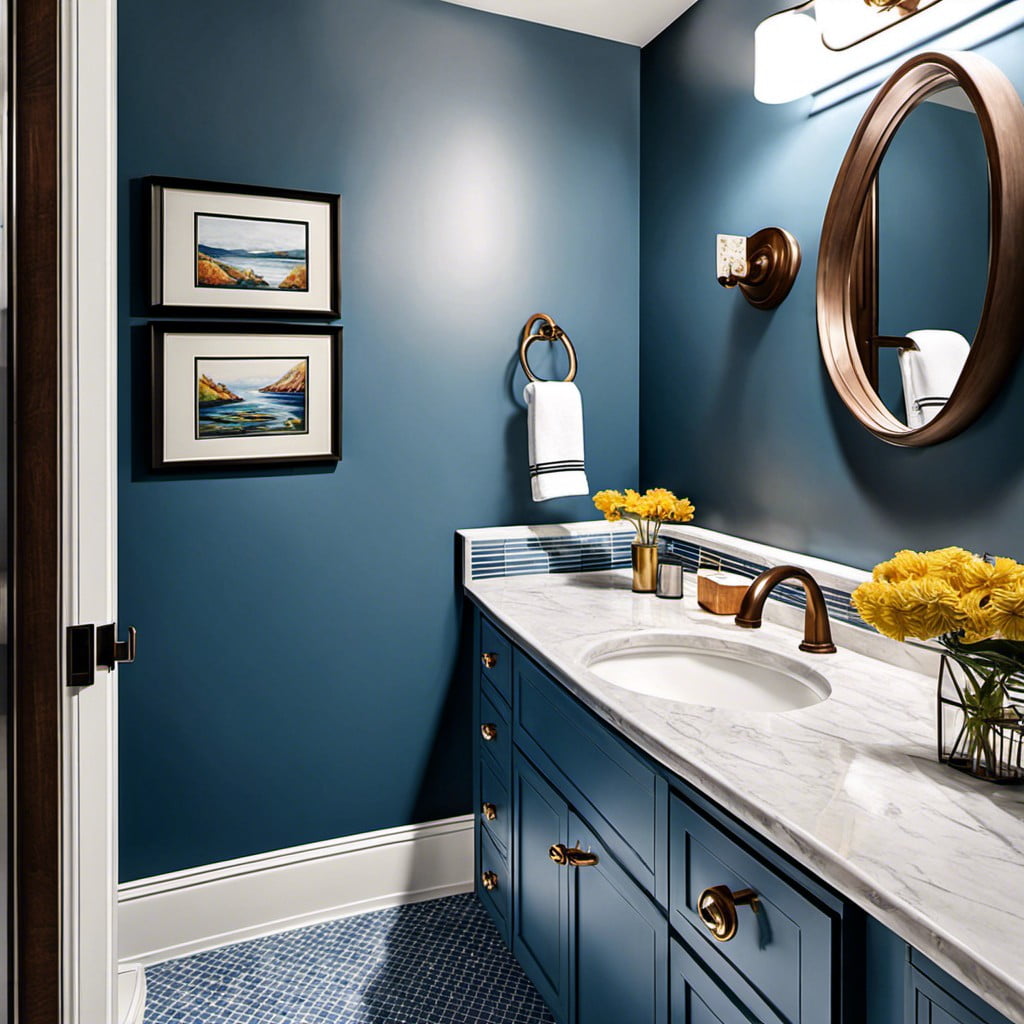 Smoky blue, a soothing and classic shade, is an excellent choice for guest bathrooms. It's pretty versatile and pairs amazingly well with a myriad of other hues. Try coupling it with whites or metallics for an elegant, refined aesthetic, or with earthy tones, such as browns, for a warm, cozy vibe.
It also works beautifully with wooden accents, infusing a cool, calming atmosphere that's just perfect for a bathroom. As a gentle, mid-toned color, smoky blue won't overwhelm small spaces, creating a sense of tranquility without being too dark or intense, making it an apt choice for a guest bathroom.
Include a matching smoky blue bath mat or towels to tie the entire look together.
Rose Gold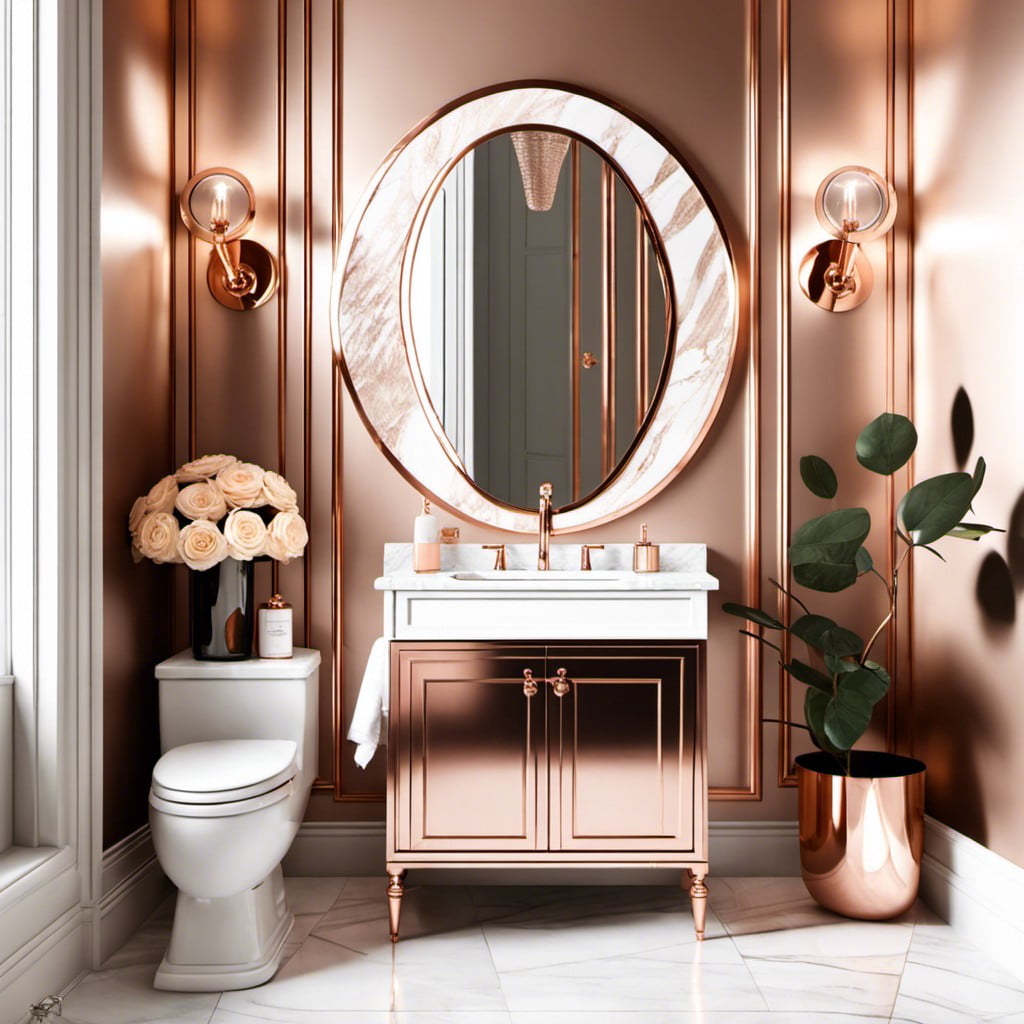 Offering a unique blend of luxury and warmth, this fashionable hue has its own charm. Golden undertones lend it a special richness, while a touch of pink gives it a soft, inviting appeal.
Here's how you can embrace Rose Gold in your guest bathroom:
Wall Paint: Lightly coat walls with Rose Gold paint to create a soothing ambiance. A soft illuminating glow will emphasize the beauty of your fixtures.
Metallic Accents: Opt for Rose Gold fittings to make an impact. Think faucets, towel racks, mirror frames, and light fixtures.
Textile Hints: Choose bath towels, rugs, and shower curtains that hint at this color to keep the scheme subtle yet intriguing.
Accessorize: An elegant Rose Gold soap dispenser, a decorative tray, or even a framed piece of art can help you incorporate this trend.
Remember that moderation is key. Pair Rose Gold with complementary colors like dove grey or crisp white to balance out its warmth. The result is a cozy, chic bathroom that your guests will adore.
Blush Pink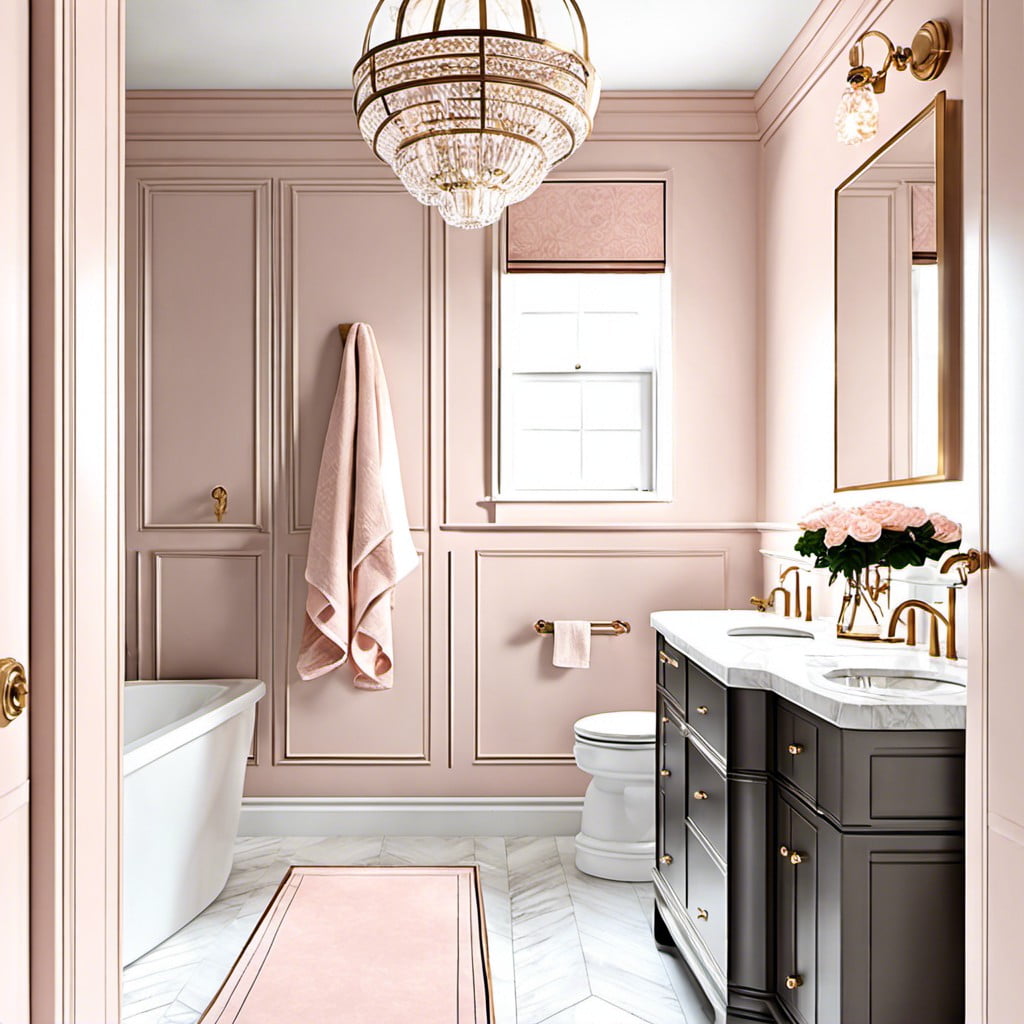 Picture this: a blush pink guest bathroom, emanating a gentle warm vibe – pure elegance in a subtle shade. Soft, muted and incredibly versatile, this color harmonizes wonderfully with numerous other hues.
1. Experiment with gold accents. This metallic shade enhances the warmth of blush pink, creating a sophisticated ambiance.
2. Pair with white fixtures for balance. The contrast between delicate blush and stark white breathes a sense of freshness into the space.
3. Choose textures carefully. Smooth blush pink tiles, a plush bath rug, or delicately tasseled towels – all contribute to a refined and stylish bathroom.
4. Don't shy from patterns. Floral, geometric, or abstract, a bit of patterned accessorizing will enhance visual interest.
Remember, it's all about balancing subtleness with elegance. The right elements can turn this tender hue into a master stroke within your bathroom decor.
Sage Green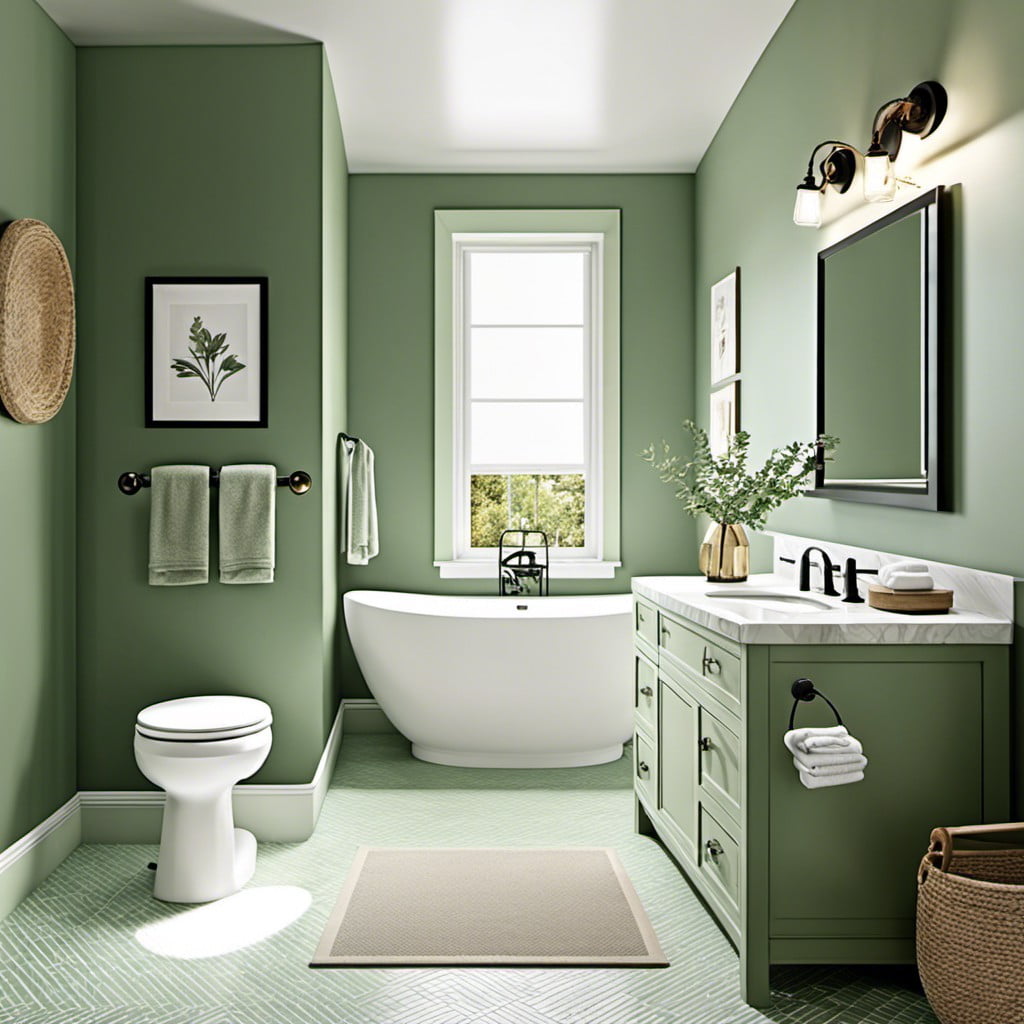 Sage green, with its muted, earthy tone, offers an air of tranquillity and grace to your guest bathroom. This color pairs beautifully with natural, light-colored woods for a rustic feel or crisp whites for a refreshing and modern vibe.
1. Sage green exhibits versatility: Its muted hue allows it to complement almost any decor style, from rustic to modern minimalistic.
2. Natural light brings out the best in sage: If your bathroom has an abundance of natural light, the color may appear more vibrant and full of life.
3. Pairing with neutrals: Incorporating white, beige, or light gray accessories can create a soft and peaceful environment.
4. Enhancing it with metallics: Bronze or gold fixtures stand out wonderfully against a sage backdrop, providing a touch of elegance.
5. Implement two-tones: Consider painting the upper half of the walls white and the lower half sage green, to create an illusory high-ceiling effect.
Stick to these points when thinking about using sage green in your guest bathroom, and you're sure to create a space that's comforting, stylish, and universally appealing.
Moody Charcoal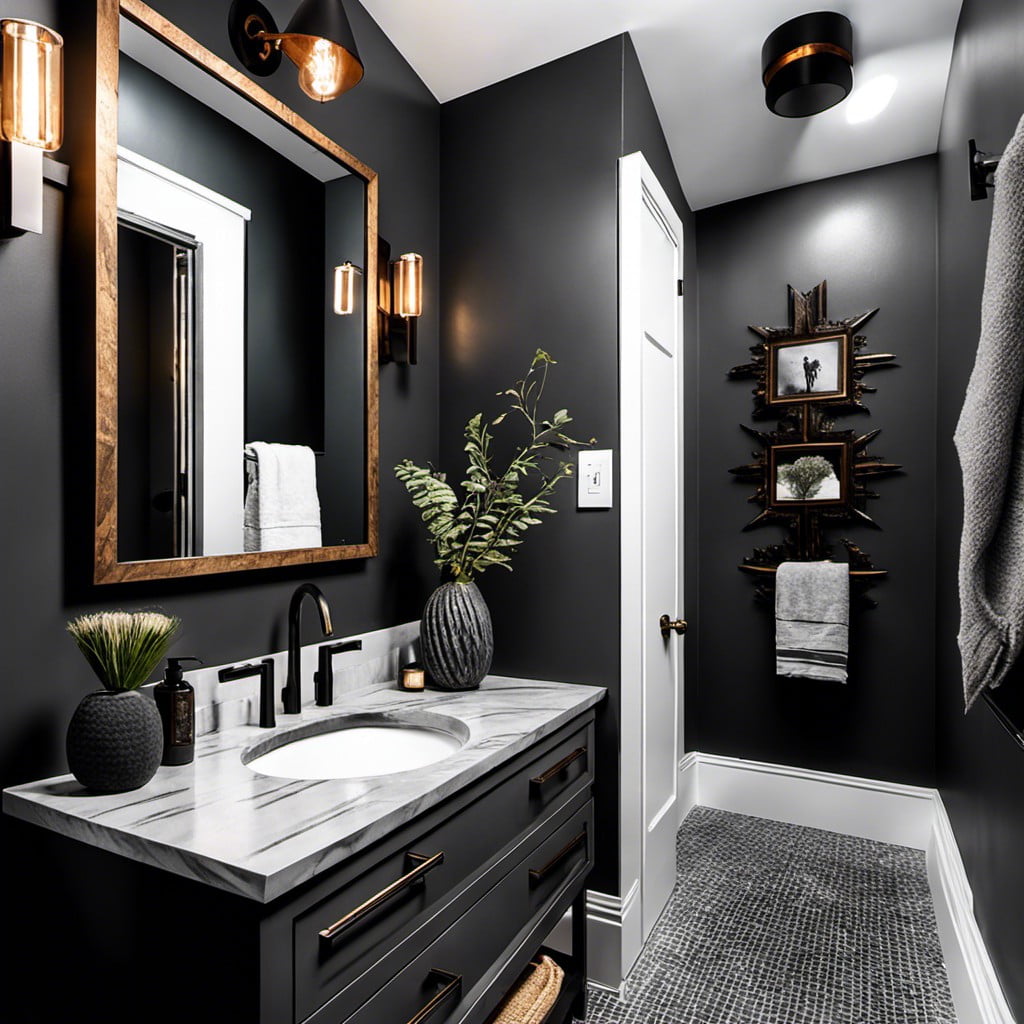 Charcoal exudes sophistication and depth. This color choice works wonders in a guest bathroom by adding a dash of luxurious drama.
Invest in shiny chrome fixtures for a high contrast look, or opt for copper finishes to complement the moody hue. The charcoal shade is not just a style statement, but practical too, drawing less attention to water stain build-ups over time.
White towel sets and soap dispensers add a refreshing countenance. To ensure ample light, consider installing sconces or pendants for a warmly lit ambiance.
Remember, this choice creates a bold character for the bathroom, so be sparing with adding extra color, sticking to neutrals and soft …
Teal and Grey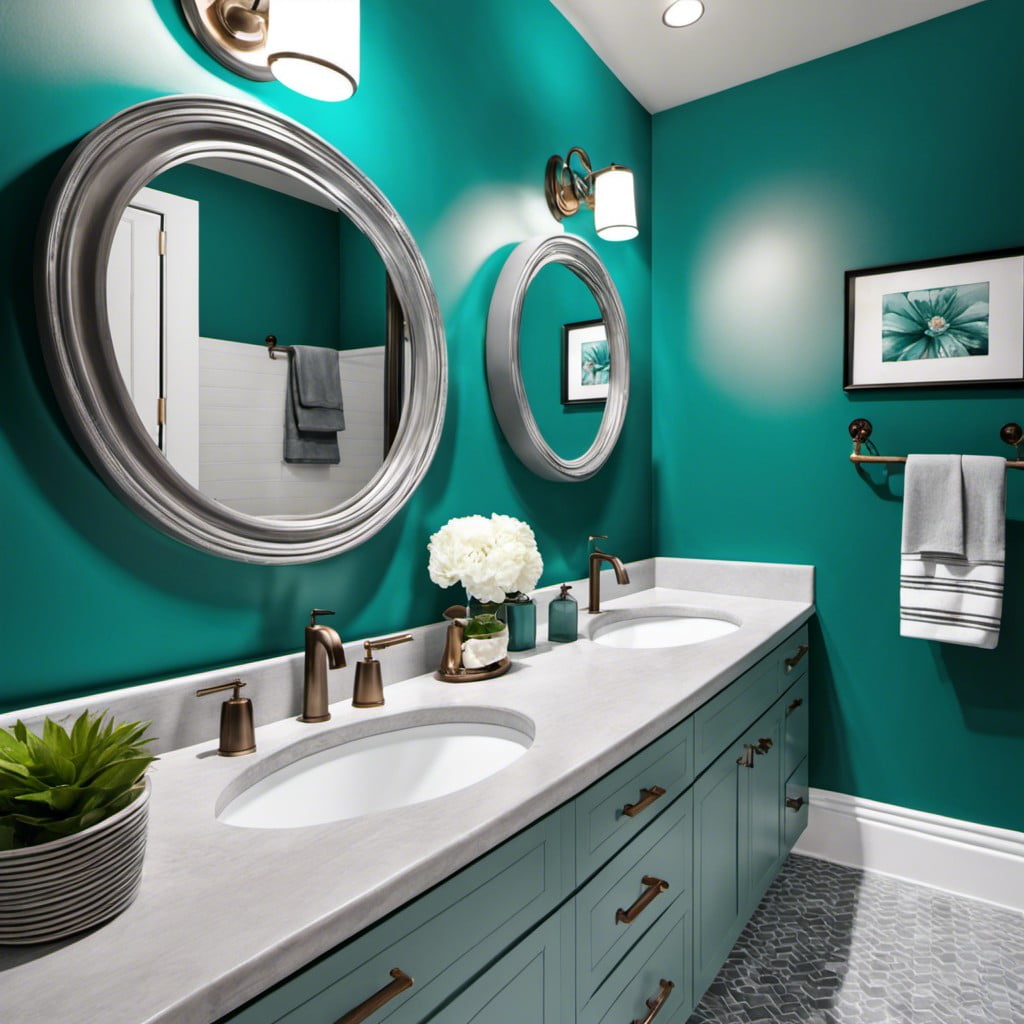 Combining the sophistication of grey with the vibrancy of teal creates a fresh and modern look. A lighter shade of teal can bring an airy, coastal feel into the room, while a darker tone adds a rich and elegant vibe. Grey, be it silver or charcoal, balances the brightness of teal, grounding the space and avoiding a too-overwhelming color pop.
Consider these points:
Pairing a teal accent wall with grey tiles can achieve a clean look.
Adding grey accessories balances the color scheme.
Teal bath towels or curtains against a grey background create a distinctive contrast.
A grey vanity or sink against a teal wall can be an unexpected yet stylish choice.
Forest Green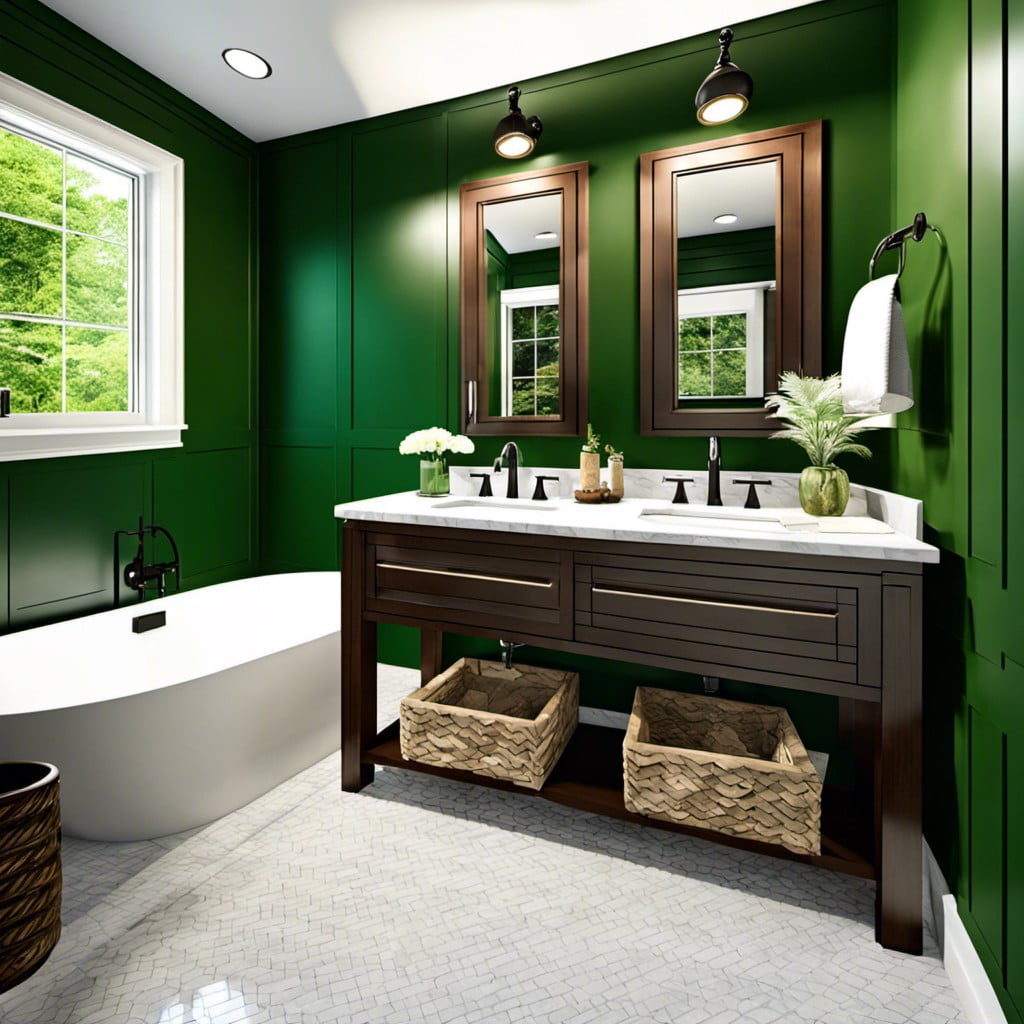 Forest Green, often associated with peace and tranquility, is an exceptionally versatile shade for a guest bathroom. It adds depth and character, especially when paired with the right accessories.
Complements: Warm wood tones or metallics such as copper or gold can balance the intensity of this color beautifully. Think wooden vanity units or gold fixtures and fittings to create a prosperous atmosphere.
Mood: Its calming properties provide comfort to visitors. Combined with soft lighting, it encourages relaxation.
Versatility: It fits just about any design style, from modern to vintage, making it a universally loved color choice.
Décor: White towels and bath mats provide a beautiful contrast, while you can incorporate plants to accentuate the green tones.
Choosing Forest Green is a definitive statement, ensuring that your guest bathroom is not just another standard room – it's a showpiece that lays emphasis on style and comfort.
Taupe and Cream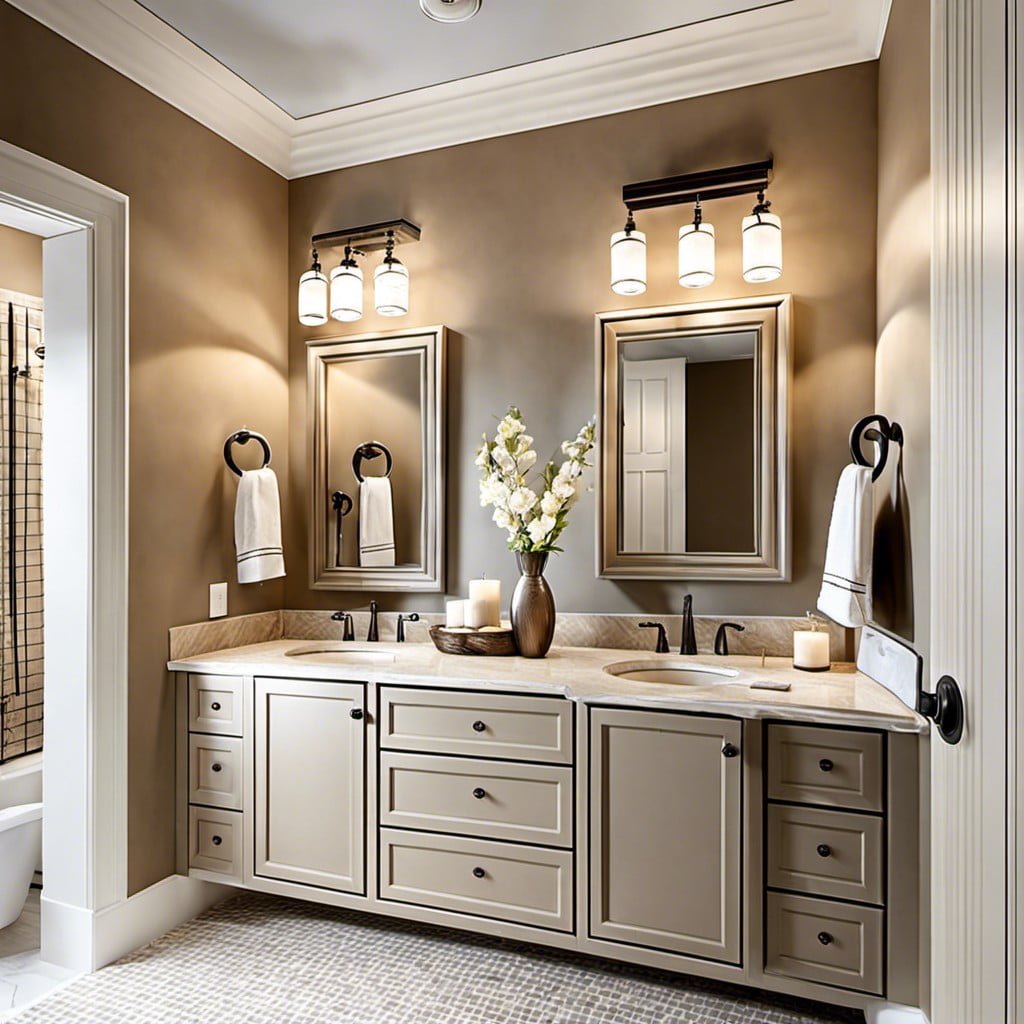 This understated combination can significantly elevate the aesthetic level of your guest bathroom; it blends perfectly with both wooden accents and metallic fixtures.
Taupe is an appealing, cozy color that evokes a feeling of warmth, while cream accents aid in brightening the space.
A taupe and cream color palette is paired ideally with marble countertops or tiles to keep the look sophisticated.
Consider adding a taupe shower curtain or taupe towels, coupled with cream accessories, like soap dispensers or storage baskets.
Remember, you can also play with different shades of taupe and cream to achieve a more personal and unique look in your guest bathroom.
Continue reading:
Recap