Last updated on October 31, 2023
Explore light grey vanity bathroom ideas because this color can elevate your space from ordinary to sophisticated with just a few upgrades.
I take great pleasure in sharing the 20 stylish designs and tips for a light grey vanity bathroom I personally crafted; I sincerely hope it sparks as much inspiration and enjoyment for you, as I experienced when designing them.
Discover the timeless appeal of a light grey vanity in your bathroom. This versatile hue is a fantastic choice for those seeking a chic, contemporary feel.
From pairing with bright, bold colours to creating a serene, spa-like retreat, there are endless ways to style a light grey vanity.
This article will guide you through various design ideas, detailing how to harmonize your vanity with other bathroom elements, choose the right materials, and select complementary colors.
Whether you're renovating your entire bathroom or just looking to refresh your vanity area, these tips will help you create a beautiful and stylish space.
Light Grey Marble Countertop Vanity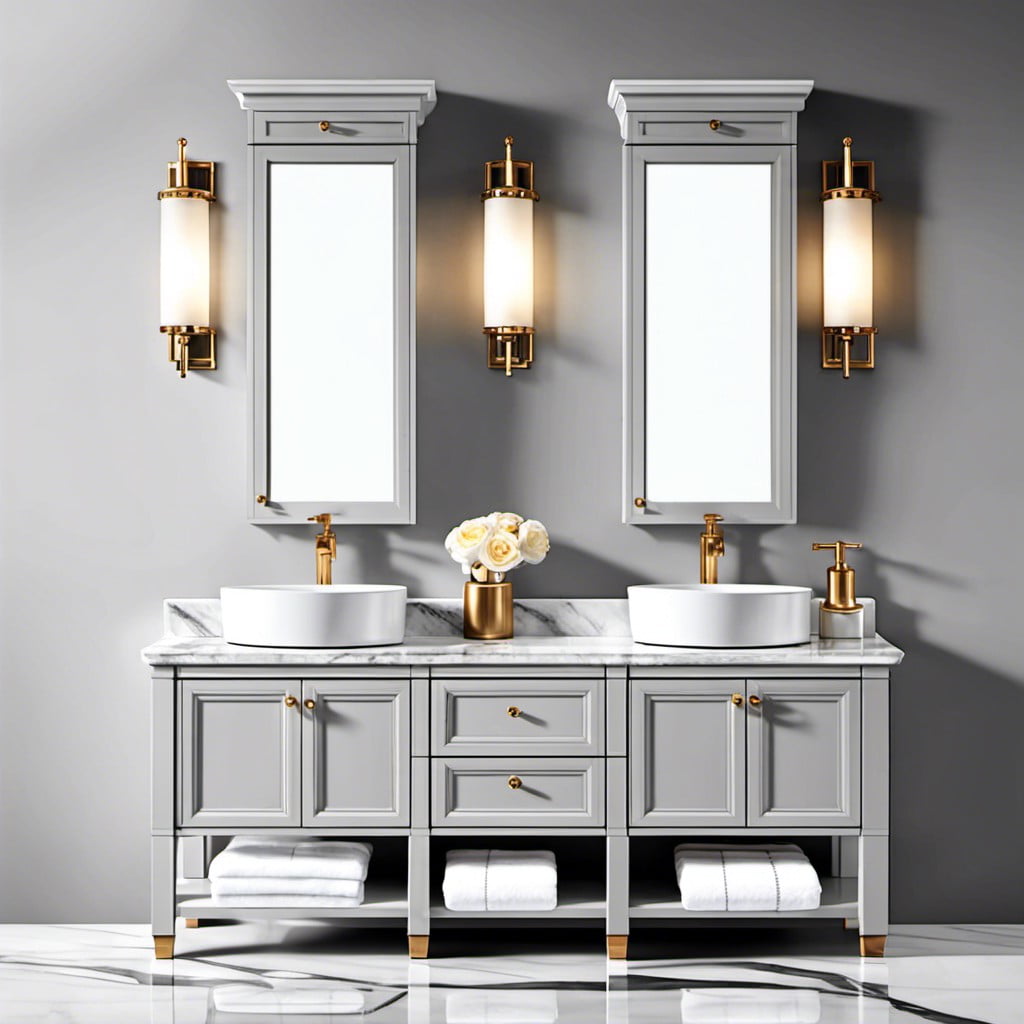 A marble countertop is not only elegant but also durable and easy to clean. When combined with a light grey vanity base, the overall effect is charming and sets a tranquil ambiance.
Here are a few striking aesthetic considerations and practical benefits:
1. The subtle veining in the marble pairs beautifully with the light grey of the vanity, creating a soothing and luxurious design.
2. As marble is a natural stone, each countertop offers a unique pattern, ensuring no two vanities are exactly alike.
3. The soft grey of the marble pairs well with a wide array of colors, allowing for a number of creative design options elsewhere in the room.
4. The durability of a marble countertop means your vanity will look pristine for years to come.
5. Easy to wipe clean, the marble surface creates a hygienic environment, making it a practical option as well.
Remember, a touch of marble goes a long way in adding elegance and tranquility to the bathroom decor.
Antique Style Grey Vanity With Crystal Knobs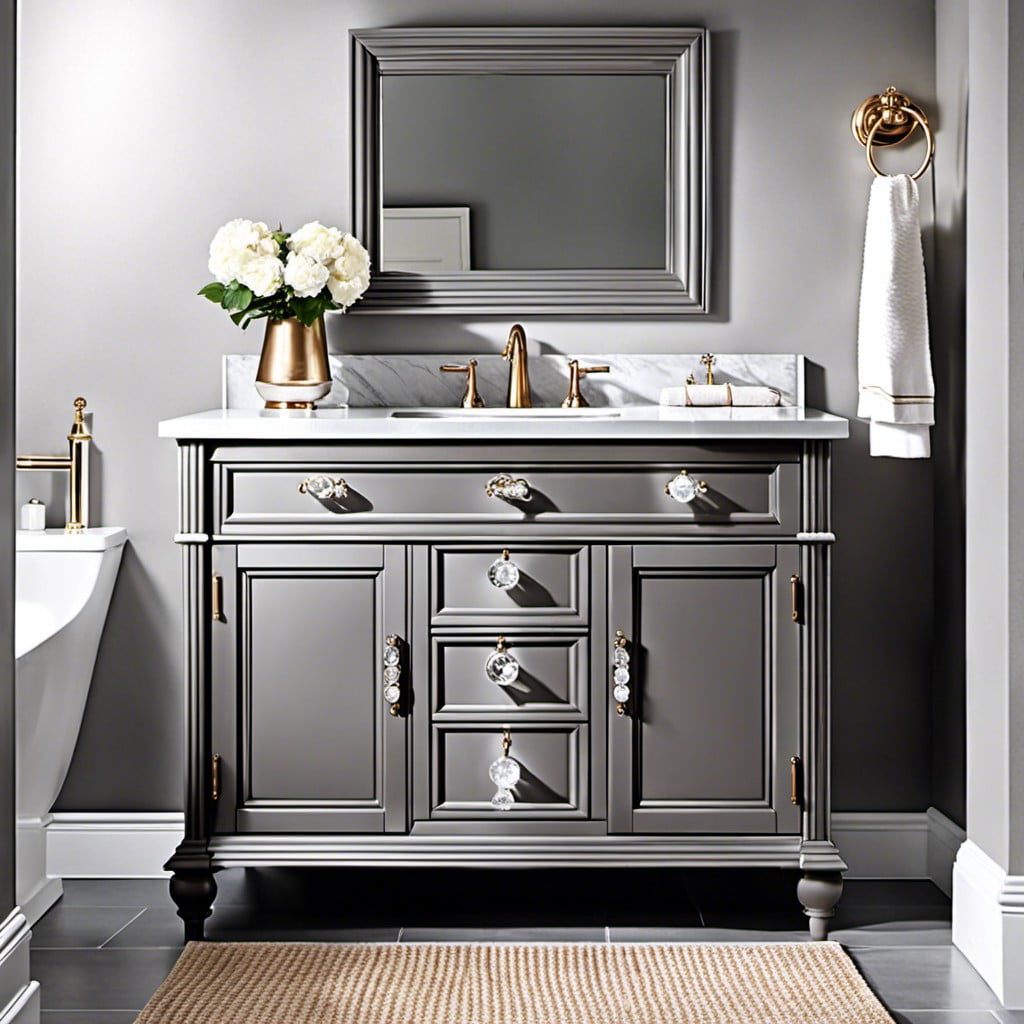 Crystal knobs perfectly complement an antique style vanity, exuding old-world charm and sophistication. Simply choose a vanity in shades of light grey for a chic and timeless appeal.
The depth of this shade balances beautifully with the shiny accents from the knobs, adding a touch of subtle glamour to your bathroom.
In terms of materials, opt for a solid wood construction to maintain the antique vibe. Distressed finish or subtle graining can enhance the vintage flair.
Remember to coordinate the vanity design with the overall decor of the bathroom to create a harmonious look, avoiding abrupt style shifts.
When installing, ensure the crystal knobs catch some natural or artificial light for a truly captivating effect. These sparkling gems will surely provide a delightful visual treat every time you use the vanity.
The gleaming crystals add a layer of luxury, transforming your mundane bathroom into a personal stylish sanctuary.
Organize your toiletries and cosmetics within the vanity compartments for a clutter-free and neat appearance. The beauty of an antique style vanity lies in its amalgamation of functional design and aesthetic charm.
It's not just a mere storage solution, but a style statement that elevates your bathroom decor.
So, spruce up your morning routine with this graceful antique style light grey vanity.
Greyscale Mosaic Tile Backdrop for Grey Vanity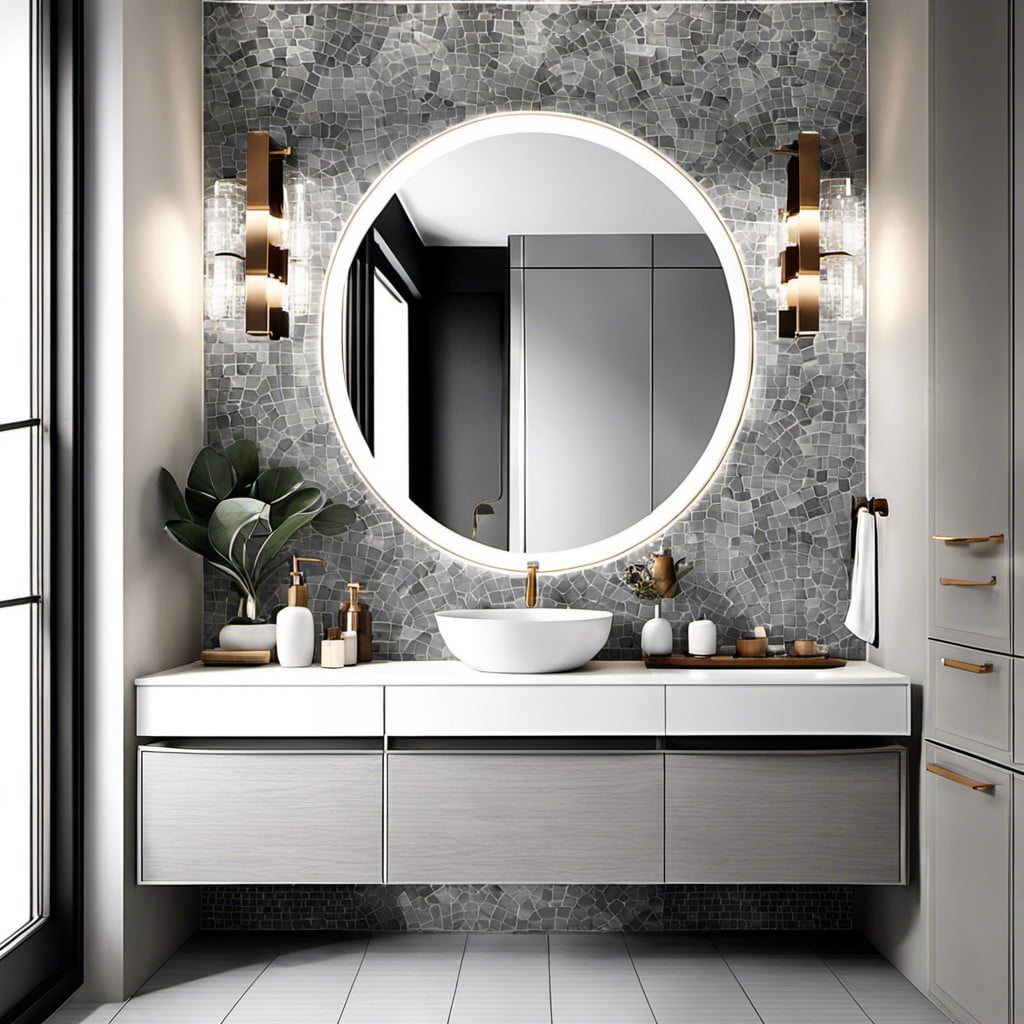 A greyscale mosaic tile backdrop can amplify the moderate elegance of the bathroom, complementing the light grey vanity exquisitely. Here are some concepts to grasp this idea:
1. Creates visual interest: This mosaic gives the space depth and texture, capturing and bouncing the light in interesting ways.
2. Cohesive theme: It offers a seamless look preserving an all-gray palette without being monotonous.
3. Highlights the vanity: The mosaic tiles, varying in tones of grey, can make the vanity a prominent feature, giving an almost 3D effect.
4. Easy maintenance: These tiles are simple to clean and resistant to stains and spills, which is perfect for wet bathroom environments.
5. Versatility: Whether for a traditional or a contemporary bathroom, this concept fits a wide range of styles, based on the tile design chosen.
6. Palette expansion: The tiles can include different shades of grey, from a near-white to a deep charcoal, offering multiple matching opportunities for bathroom accessories and fittings.
7. Mood enhancing: The play of dark and light shades can create a calming atmosphere, contributing to an overall relaxing environment.
8. Personalization: Mosaic tiles offer the chance to create unique patterns, enhancing the overall style of the space on a personal level.
Matte Light Grey Vanity Cabinets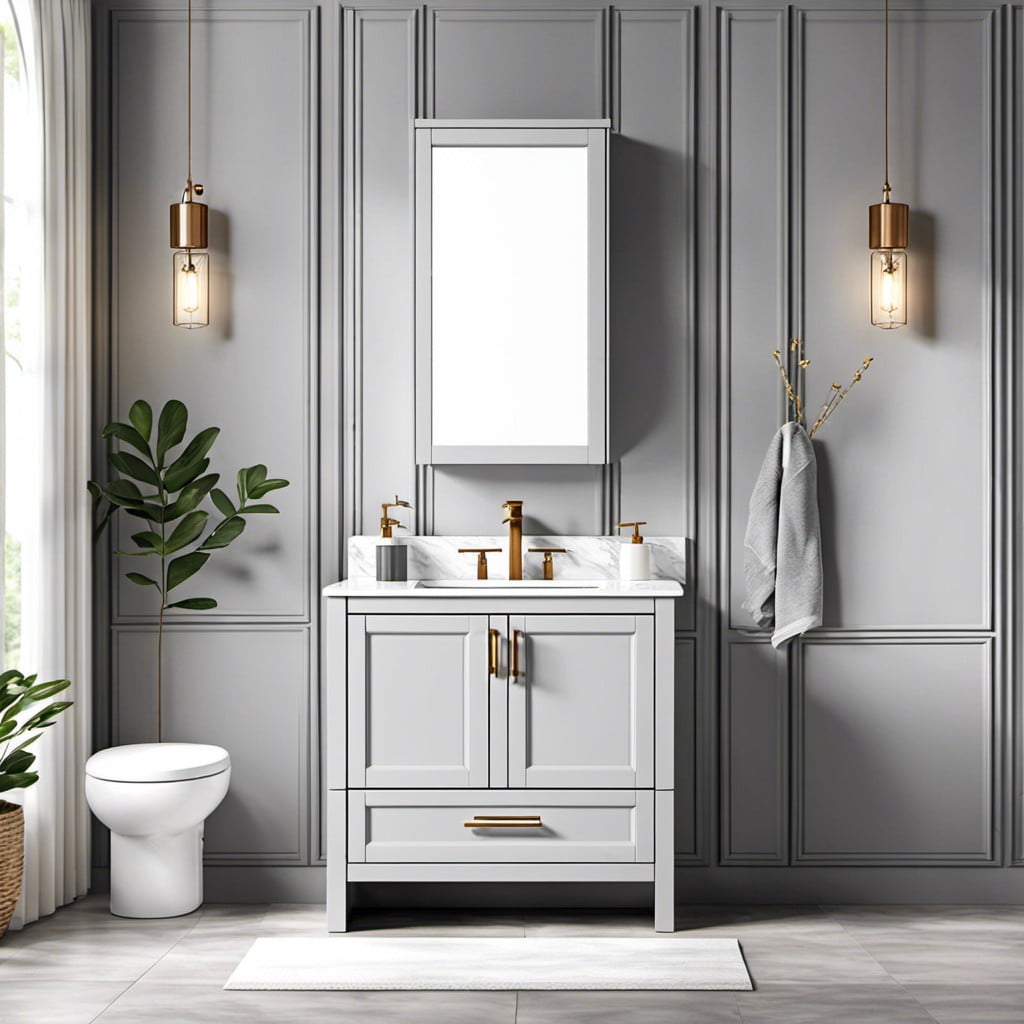 Opting for a matte finish adds a unique touch to your vanity design. It eliminates the shine and mirrors a softer look, which can turn your bathroom into a chic oasis. This texture also readily hides smudges and fingerprints, essential for active households where cleaning cannot be a daily ritual.
Pair your matte light grey vanity cabinet with bold accents such as a brass faucet or stark white countertop. Consider using accent lighting to enhance the muted finish. Incorporate textures such as concrete or stone for a contrast.
Don't underestimate the power of accessories. A unique mirror silhouette, a striking piece of wall art or even the choice of towel hangers can complement a matte vanity. An understated color like light grey allows these features to shine, crafting a bathroom that's both functional and stylish.
Glass Vessel Sink Atop Grey Vanity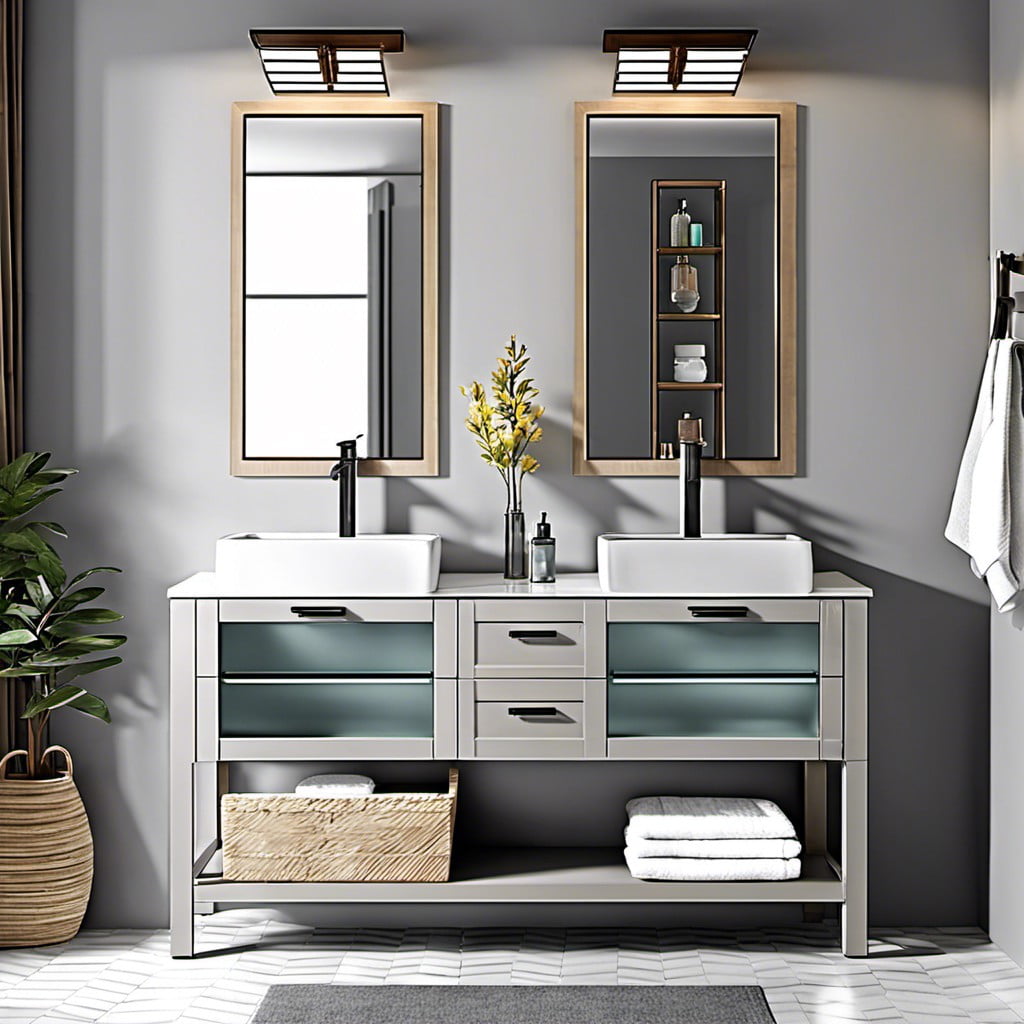 A glass vessel sink sits prominently atop the vanity, its ethereal presence adding a layer of elegance. This décor choice amplifies form and function in one go. Translucent or frosted, the glass adds depth and visual interest. It improvises aesthetics without compromising utility.
Here are a couple of ideas:
Pair it with a cascading waterfall faucet for a spa-like atmosphere.
Use soft LED lights below the vessel to create a stunning night-time glow.
Enhance it with gold or brass hardware for a touch of sparkling contrast.
Opt for clear glass to showcase the stylish plumbing underneath.
If you're aiming for an artistic vibe, select a colored or patterned glass vessel.
This combination ensures the light grey vanity is not overshadowed, instead is complemented by a fixture that is equally charming and functional.
Industrial Style Grey Vanity With Metal Accents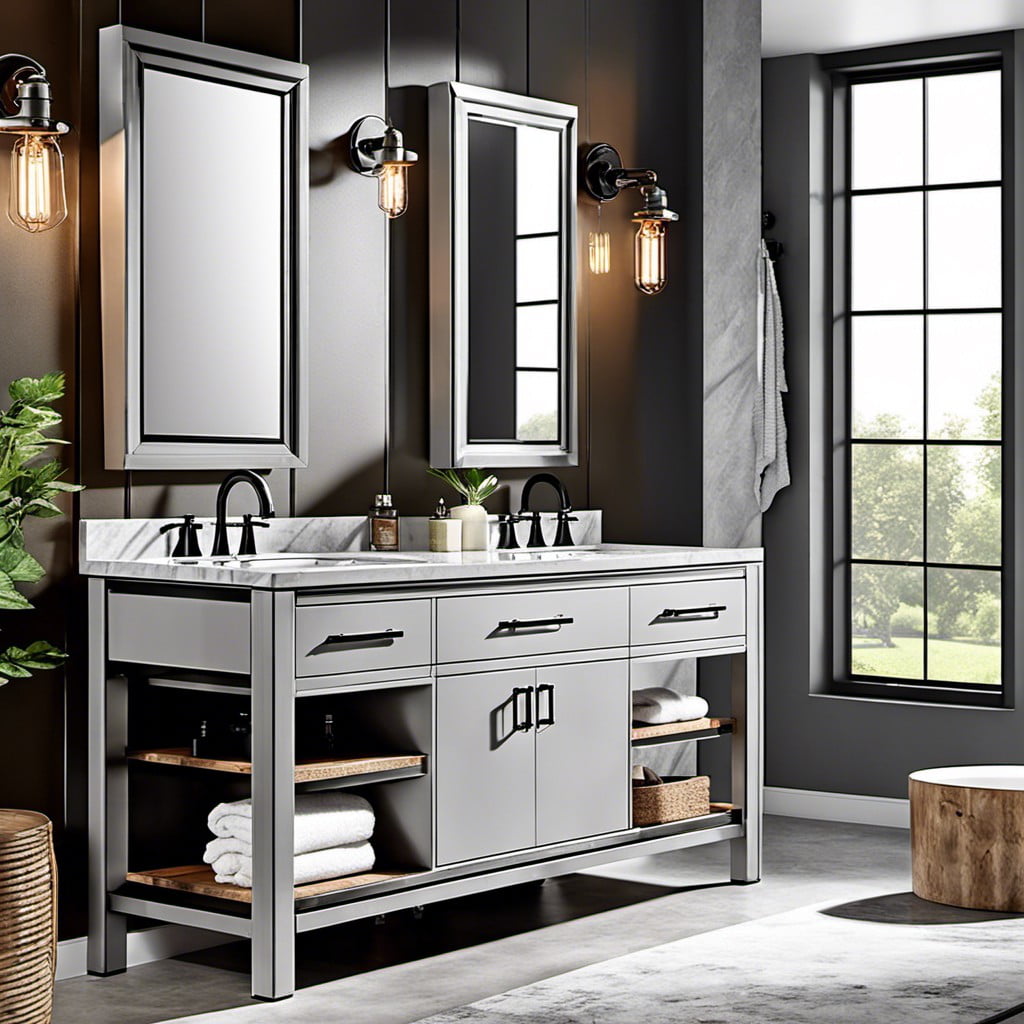 Capitalizing on the raw, unfinished aesthetic, this design choice allows you to experiment with the bold juxtapositions. Stepping away from polish and shine, this look embraces the rugged charm of bare metal elements against the subtler backdrop of the grey vanity.
Here are some key features:
1. Opt for fixtures with an exposed, aged finish, adding character. Brass or chrome are common choices.
2. Pull-out metal baskets under the sink can offer practical storage while complementing the overall aesthetic.
3. A metallic frame around the mirror or a simple, naked bulb pendant light can add more industrial flavor.
4. Wire or metal shelving units can provide extra storage and create a sense of space.
5. Bare metal towel racks or hooks create a synergy between form and function.
Remember, the balance is essential – too much metal could risk the space feeling cold, while not enough may not achieve the desired aesthetic.
Light Grey Floating Vanity for Minimalist Design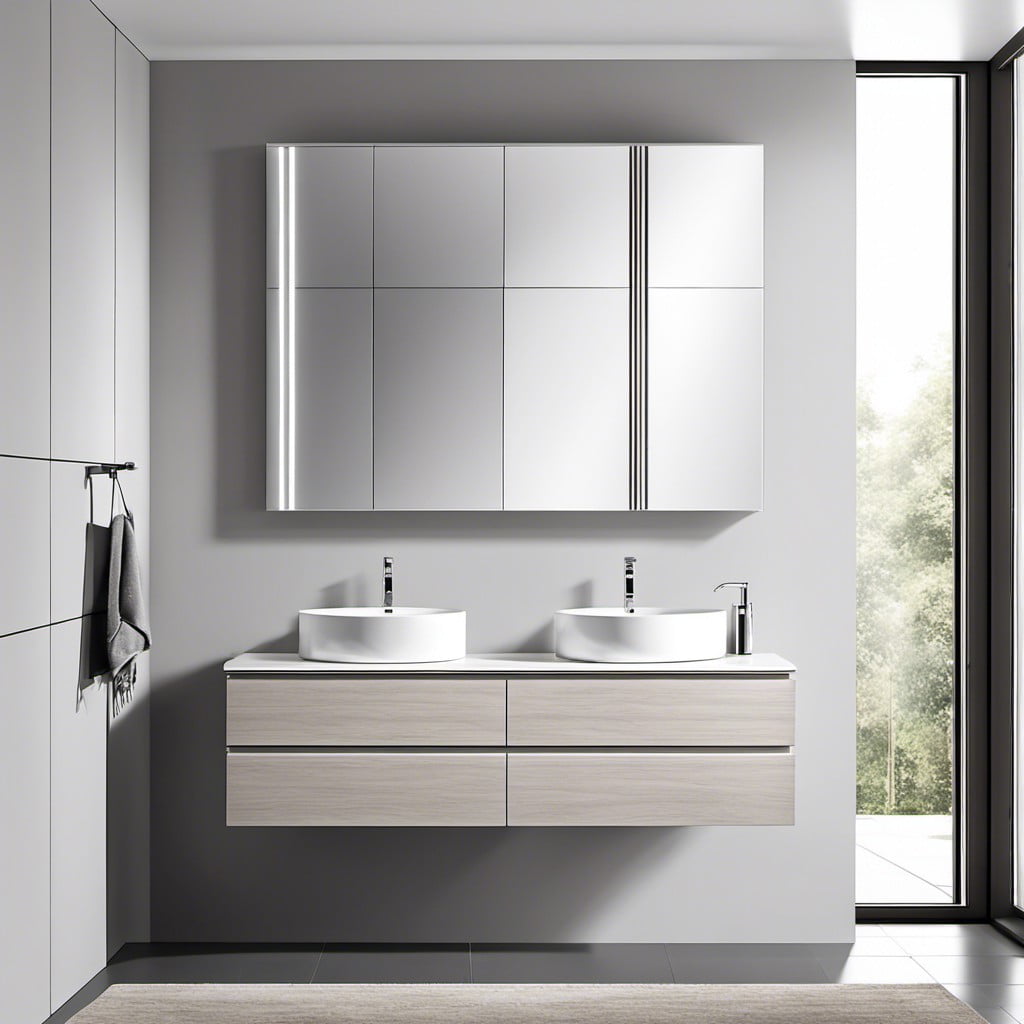 Capitalizing on the minimalist trend, a light grey floating vanity adds a dash of modernity. The wall-mounted design, apart from being a space-saver, creates a sense of openness, providing relief in small or claustrophobic bathrooms. Experiment with streamlined designs and sleek handles for a more contemporary feel. Additionally, consider combining it with under vanity lighting for added visual interest and practicality.
Incorporate clutter-free countertops, utilizing integrated sinks and wall-mounted faucets. This approach ensures a clean, unbroken line of sight, resonating with the minimalist aesthetic.
Grey Vanity With Built-in Make-up Station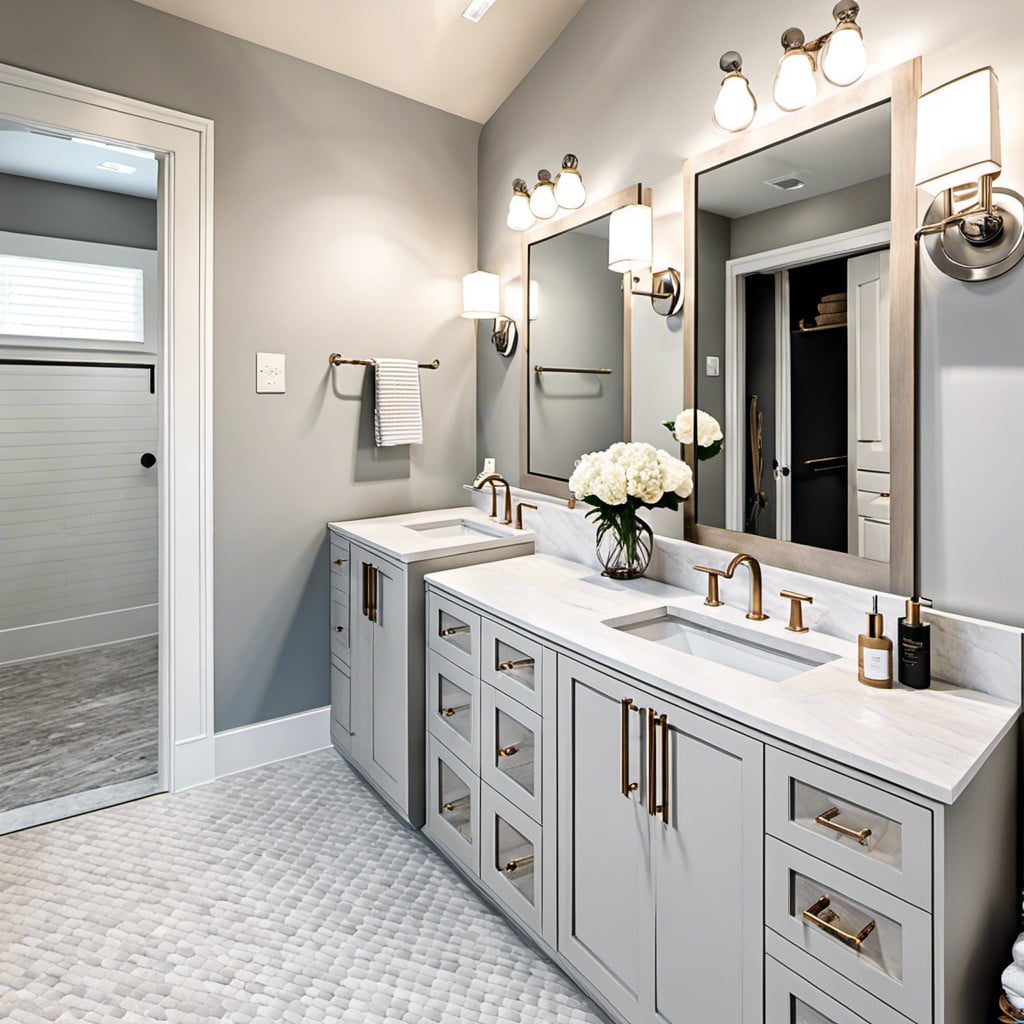 Adding a make-up station to your light grey vanity brings a level of practicality and convenience. With a dedicated space for makeup application, the morning routine becomes hassle-free.
1. Space Saving: Inbuilt makeup stations save you floor space; integrated into the vanity, they streamline all your grooming needs under one roof, without needing extra furniture.
2. Comfort: Typically, they include a space for a small stool or chair, allowing you to sit comfortably while you get ready.
3. Organized Storage: Customizable drawer solutions ensure your makeup and accessories are orderly and accessible.
4. Seamless Aesthetic: Similar grey finish to the vanity harmonizes the overall look, exuding a sleek and polished feel.
5. Easy Cleaning: The majority of light grey vanities are made from materials easy to clean, including the makeup station. Sprucing up after a morning get-ready session is a breeze.
Remember, your make-up station doesn't just serve a functional purpose – it can also add that extra touch of sophistication and class to your bathroom.
Warm Wood Accents Against Light Grey Vanity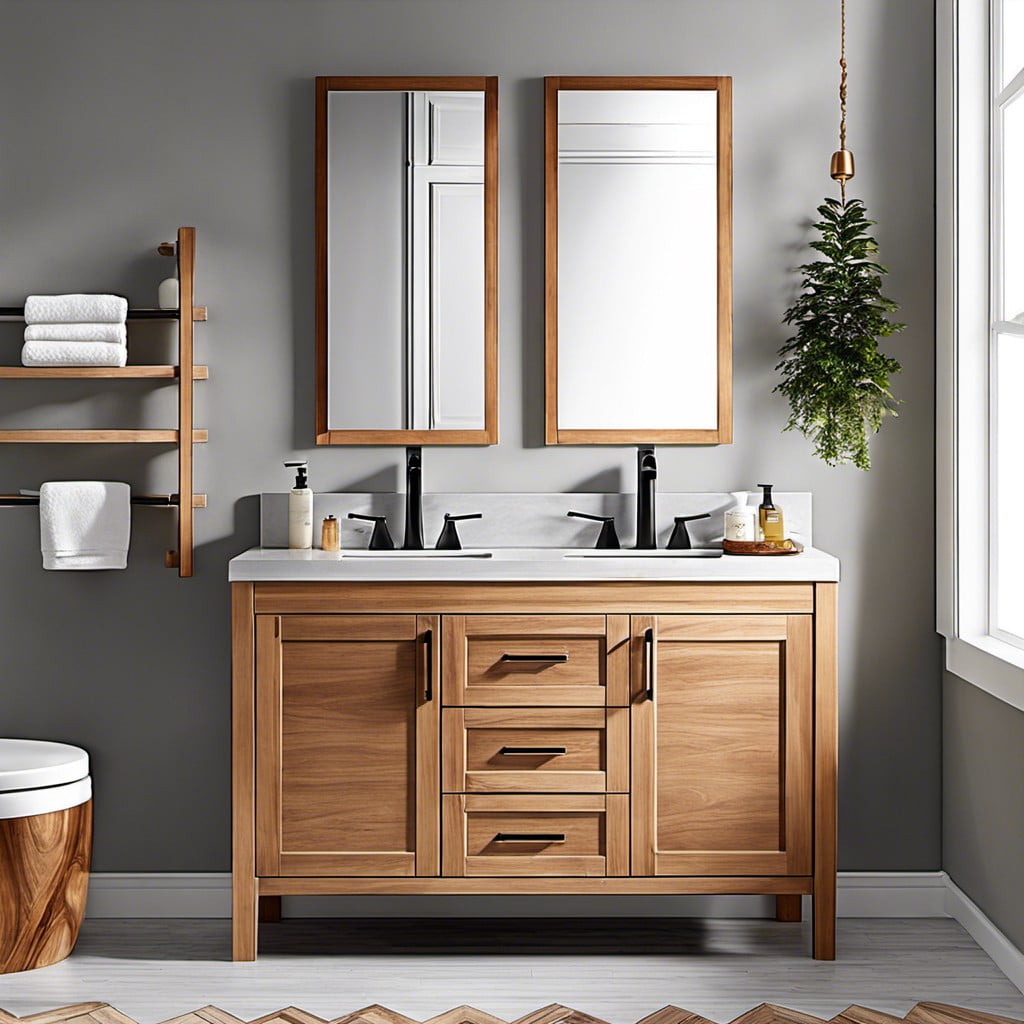 Incorporating warm wood accents can effectively balance the cool tone of a light grey vanity. Using a wooden mirror frame or shelves near the vanity provides an appealing contrast and adds instant warmth to your bathroom.
Even small touches like a wooden toothbrush holder or soap dish can make a significant impact. Consider using wood finishes that complement other elements of your home for a cohesive design.
This combination not only enhances the aesthetic charm but also introduces a calming, natural element into the space. But remember, it's crucial to ensure any wood used in the bathroom is properly sealed and treated to resist moisture and prevent damage.
Silver-framed Mirror With Grey Vanity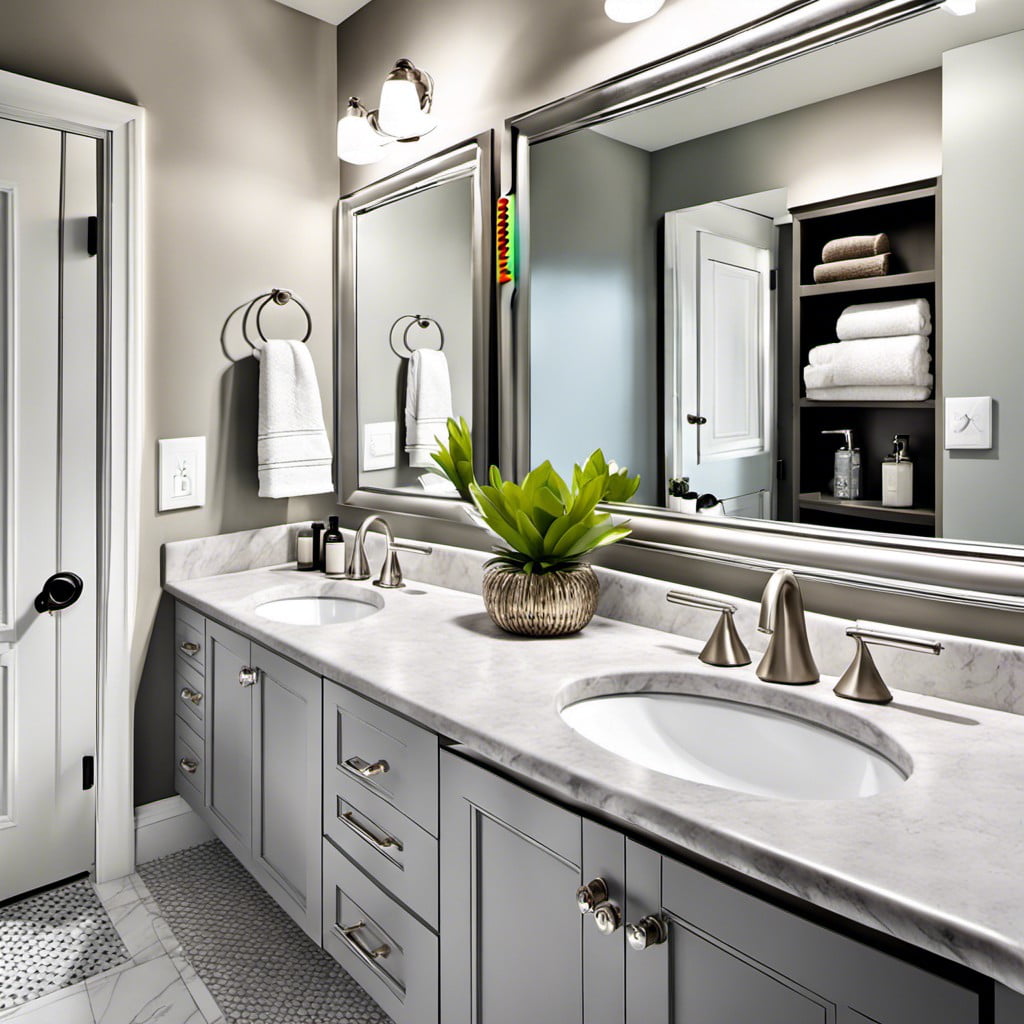 Implementing a silver-framed mirror alongside your light grey vanity creates a spectacular aesthetic that exudes elegance and sophistication.
Here are a few points to consider:
1. The silver frame adds a dash of sparkle, subtly illuminating the vanity area with reflected light, enhancing visibility and rendering a luxurious feel.
2. It balances the cooler tones of the grey vanity, bringing in an element of warmth and richness.
3. The silver can echo other metallic elements in the bathroom, such as faucets or cabinet handles, creating visual harmony.
4. This mirror type lends itself well to traditional, contemporary or eclectic styles, making it a versatile choice.
5. Go for textured or patterned silver frames to add an extra layer of detail, or a sleek, minimalistic frame for a more modern look.
Remember, the key is to use the silver-framed mirror as a functional piece that also enhances the overall appeal of your light grey vanity!
Light Grey Vanity With Dual Farmhouse Sinks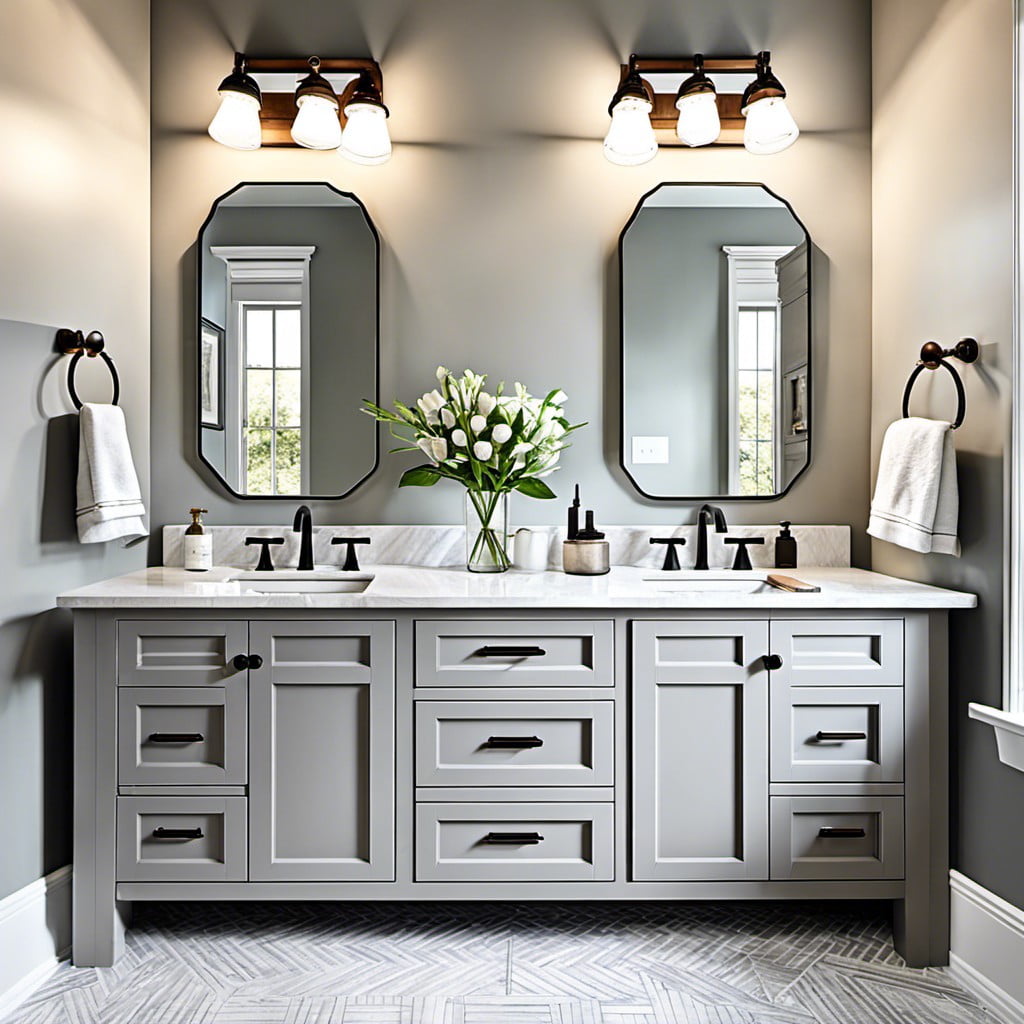 Envision two spacious, farmhouse-style sinks sitting atop your light grey vanity. An idea that pairs functionality with a refreshing aesthetic.
This design offers plenty of room for two individuals to comfortably share the space, easing morning routines.
The farmhouse sinks, with their deep basins and exposed fronts, introduce a touch of rustic charm that softens the sleekness of the grey vanity.
This combination is not just about style; it's also highly practical.
These sinks are known for their large size and capacity, making tasks like washing large pots or giving a baby a bath easier.
Furthermore, grey is a neutral tone that goes well with any decor style, ensuring your bathroom remains timeless.
Accessories in matte gold or black can enhance the industrial mood, while softer pastels could bring out a more country-style feel.
Grey Vanity Paired With Dramatic, Dark Walls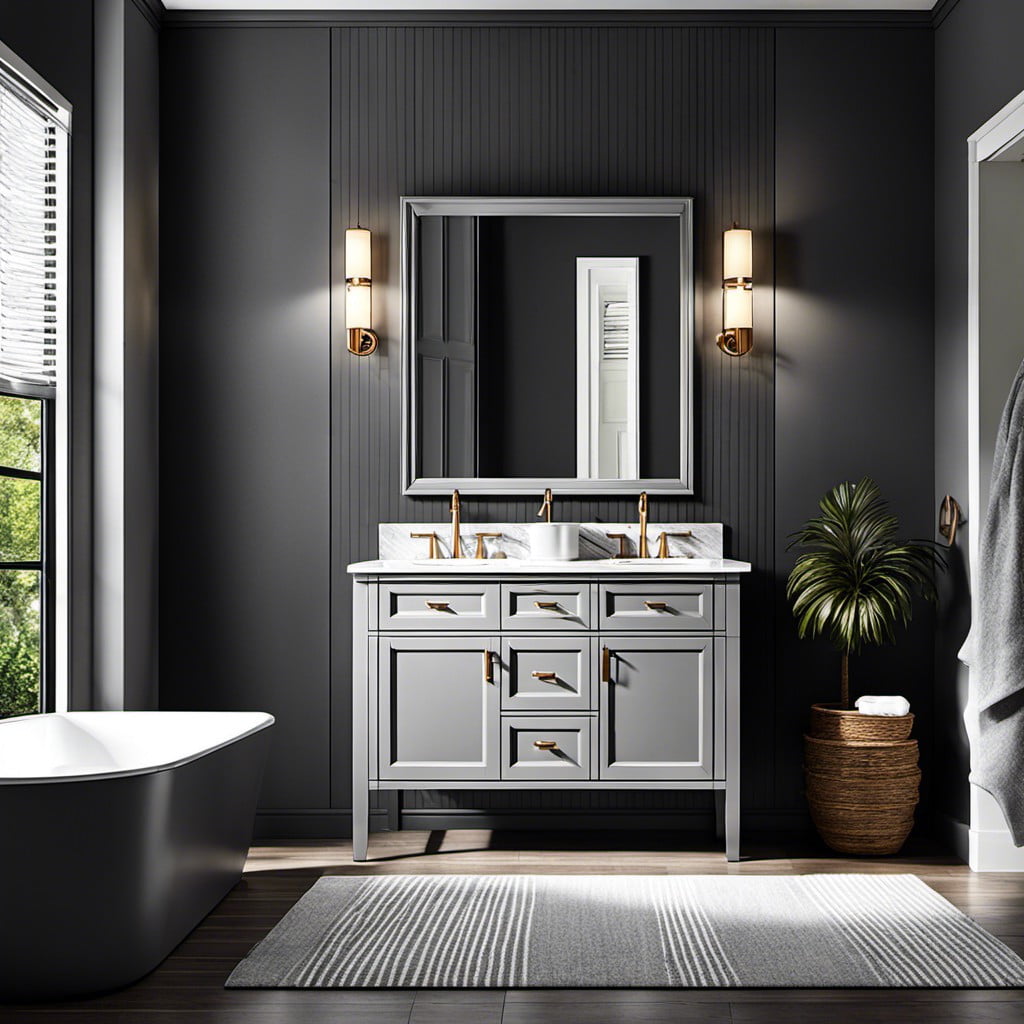 For a truly eye-catching design, partner your vanity with darkly toned walls. This bold move will serve to highlight the vanity as a focal point. Opt for colors like navy blue, deep burgundies or forest green that exude sophistication. This dynamic color scheme creates a striking contrast that is both modern and timeless.
Select matching grey textiles, such as towels and bath mats, to create unity within the room. Metallic accents like gold or brass handles and faucets can add a touch of brightness against the powerful backdrop. Consider also utilizing a mix of task and ambient lighting to further amplify the elegance of this design choice.
Be mindful not to overpower the room with too much darkness. Proper balance can be achieved by using these deeper hues sparingly and strategically to ensure the overall atmosphere remains inviting and comfortable.
Hand-painted Light Grey Vanity for Vintage Appeal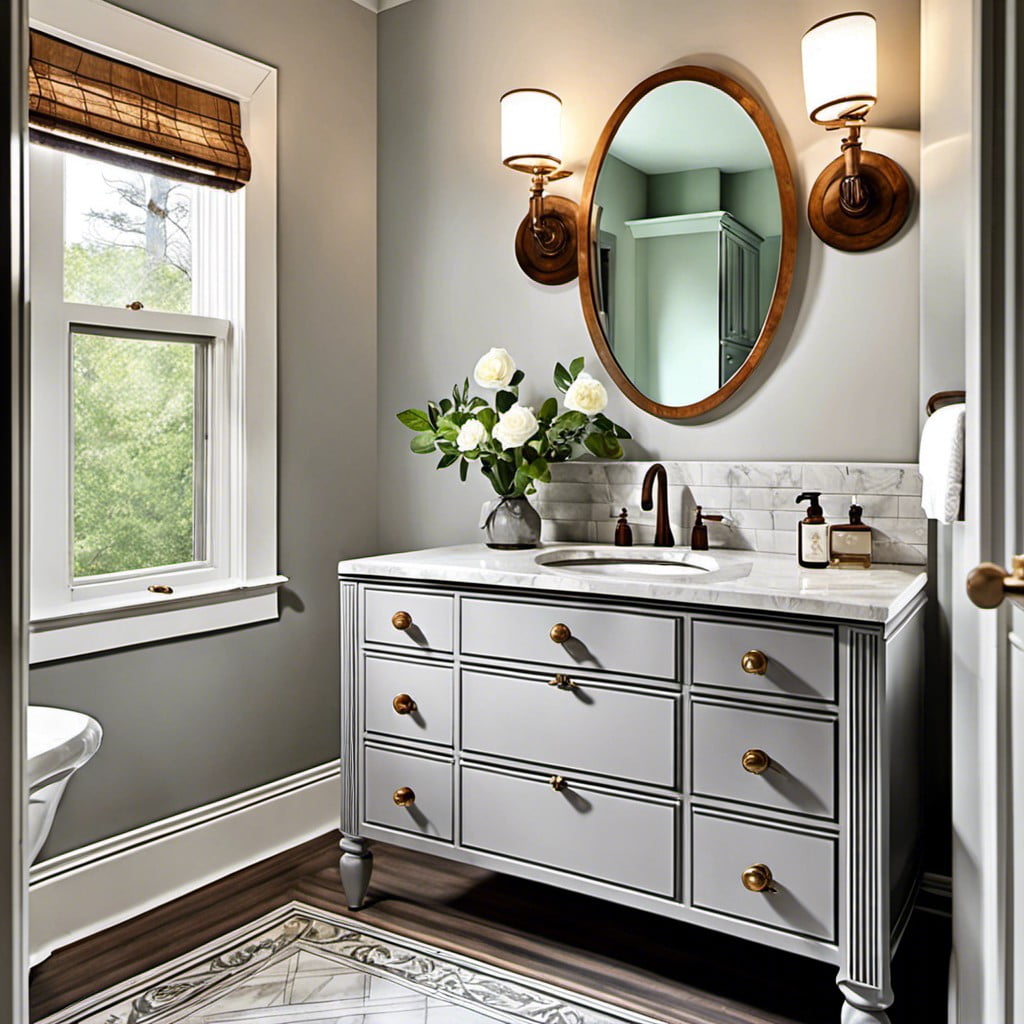 Hand-painting your vanity can add a unique and personalized touch that enhances the vintage aesthetic. Start by choosing a light grey paint suitable for the material of your vanity – an acrylic or oil-based paint usually works best on wood. For a distressed, shabby chic vibe, slightly sand the edges and corners after painting.
Pair this artsy vanity with a classic white porcelain sink and brass fixture to amplify the vintage charm. Brightly hued towels or bath mats can act as accent pieces to break the monochrome palette. Remember, accessories are key to perfecting this timeless look. Earthy elements like a wooden frame mirror or soap holder can offer a distinct contrast and add warmth to the space.
To maintain the vanity, regularly wipe it down with a damp cloth and non-abrasive cleaning solution. This helps the paint job last longer, keeping your bathroom stylish for years to come. With these simple yet effective points, your bathroom will radiate with vintage charm and artistic elegance.
Grey Vanity With Vibrant Colored Bathroom Accessories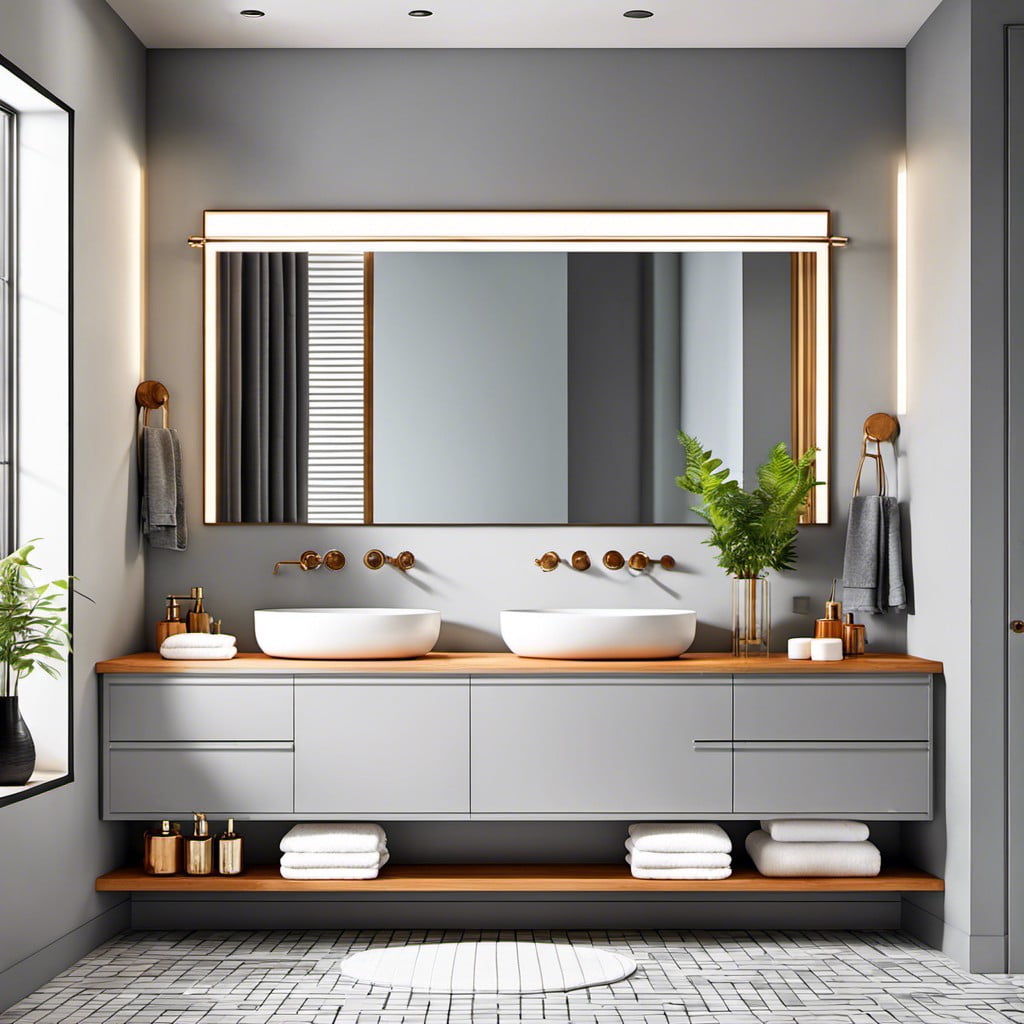 Livening up a bathroom decked out with a grey vanity is a job for vibrant colors. This color scheme lends a beautiful backdrop for accessories in bold and bright hues. Consider a set of jewel-toned towels and bath mat, like sapphire blue or emerald green. Opt for a sleek soap dispenser and matching toothbrush holder in a bright yellow or fiery red. Create contrast with an eye-catching shower curtain in a bold print. Such vividly colored accessories not only enhance the visual appeal but also inject personality into the space. Remember, the key is to choose accessories that add pops of color while complementing the elegant grey vanity.
Stone Countertop On a Light Grey Wooden Vanity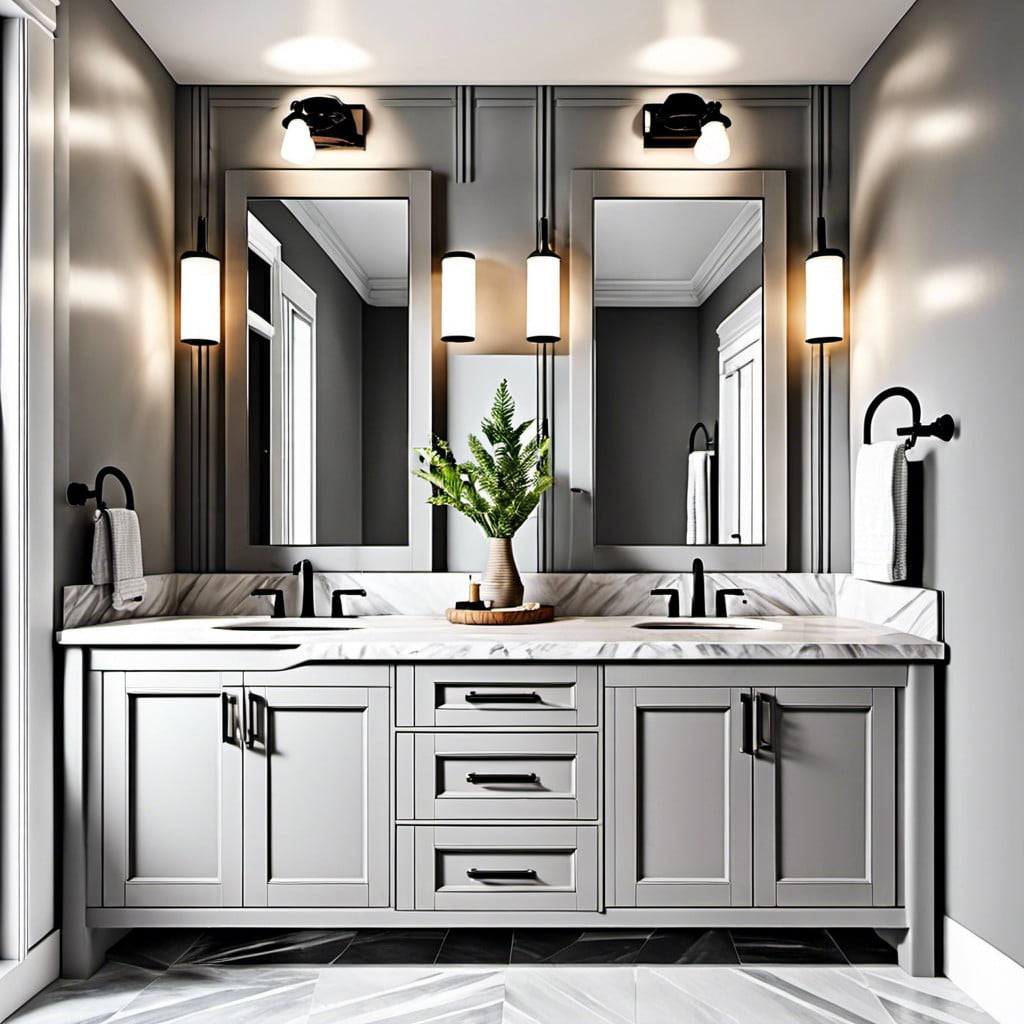 Carving nature into your bathroom aesthetics, stone countertops rapidly add visual interest to your light grey vanity. With numerous types ranging from granite to marble, you can handpick the one that matches your design aspiration. Granite – known for its diverse pattern, offers an earthy charm; while marble provides an unmistakably elegant flare.
These nature-inspired stone countertops also come with practicalities. They are sturdy and durable for handling everyday bathroom tasks with ease. Despite its strength, stone countertops require a sealing treatment, which helps to resist staining and etching over time.
Pairing a stone countertop with light grey wooden vanity, you create a dynamic mixture of textures that can make your bathroom visually compelling. The light grey hue of the vanity cabinet perfectly balances the boldness of the stone, evoking a sense of calmness while maintaining a tasteful allure.
To elevate the design, consider matching the countertop pattern with your bathroom floor or accessories. This cohesion creates an interesting interplay between the items in your bathroom and directs the eye to detail, making your bathroom area a masterpiece of its own.
Grey Vanity With Black Hardware for Contrast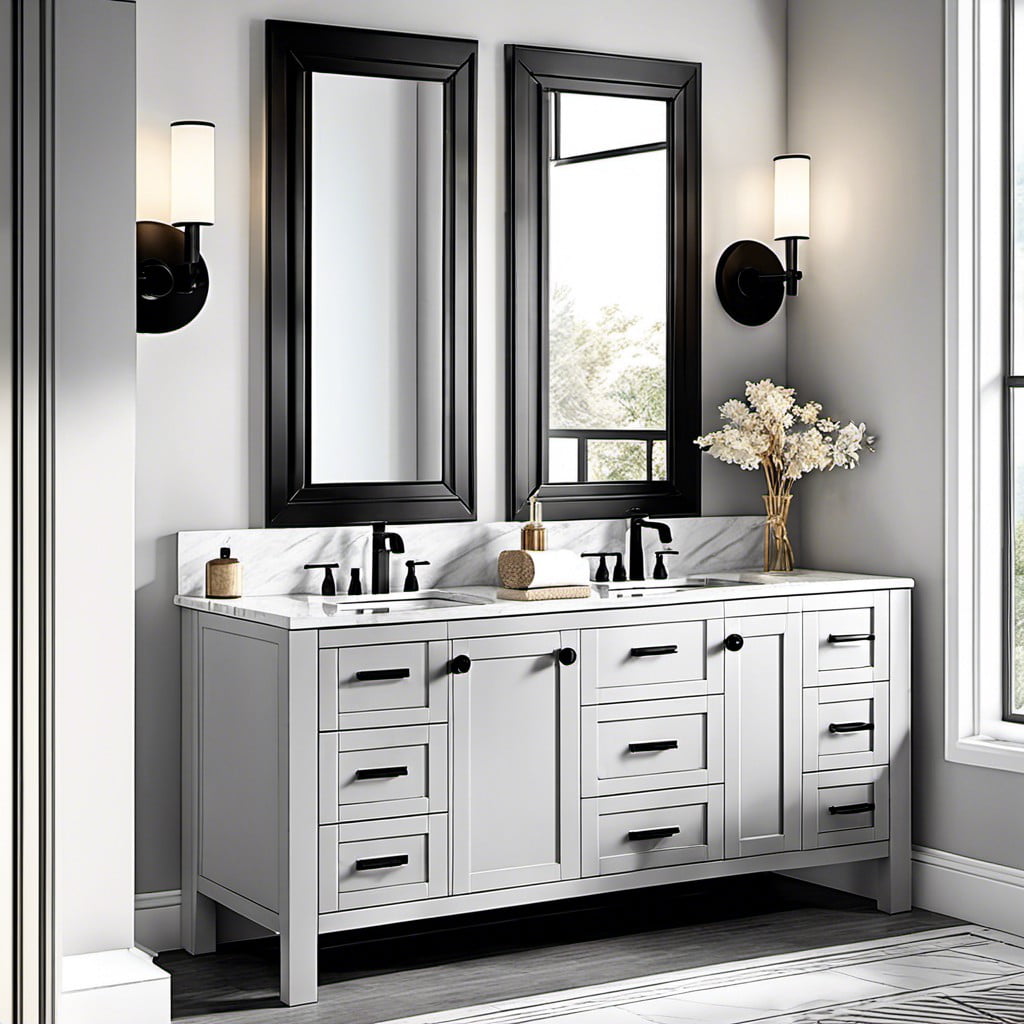 Opting for black hardware provides a striking contrast to the light grey vanity, creating an enchanting play of colors. It crafts a fusion of contemporary edge and timeless elegance. Here's why this duo works wonders:
1. Stunning Aesthetics: Black handles, faucets, and light fixtures pop against the grey backdrop, offering visual interest.
2. Versatile: Fits effortlessly in various bathroom themes, from rustic to modern.
3. Statement Piece: It stands out, becoming a focal point in the bathroom.
4. Easy Maintenance: Black hardware masks small dirt particles or fingerprints, keeping it neat.
Pair this setup with a white countertop or sink to enhance the effect. It's all about the balance of shades, and this pairing gets it right.
Sleek, Modern Light Grey Vanity With White Sink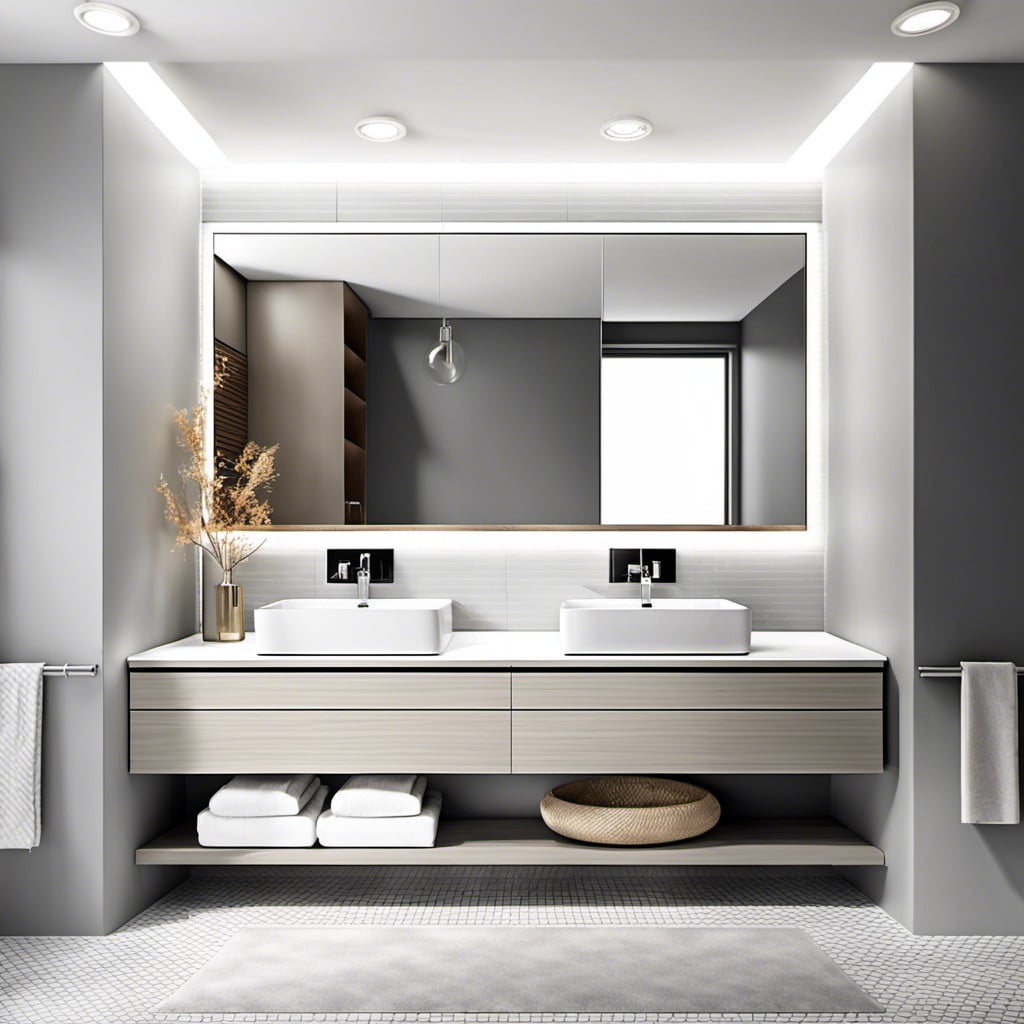 Creating a harmonious mix of color and utility, the white sink pops beautifully against the sleek, modern grey vanity. This design exudes an uncomplicated aesthetic, perfect for homeowners seeking a clean, simple style.
Here are a few essential pointers:
1. A matte or gloss finish on the grey vanity instills contemporary sophistication.
2. Choose a sink design that seamlessly blends with the vanity. Rectangular or oval shapes can both work wonderfully.
3. To highlight the sink, opt for crisp white instead of off-white or cream.
4. Brushed nickel or stainless steel faucets and drawer handles add a polished touch.
5. Consider a minimalist white backsplash to frame the setup without causing distraction.
6. Optimal lighting set up can enhance the overall sleek appearance. Recessed lights, for instance, create a warm, diffused atmosphere.
7. Storage options are pivotal in maintaining the sophisticated minimalism. Plan for hidden storage within the vanity or neat wall-shelves.
Remember, a sleek, modern light grey vanity doesn't require excessive accessories. The whole idea revolves around 'less is more'.
Grey Vanity With Under Cabinet Lighting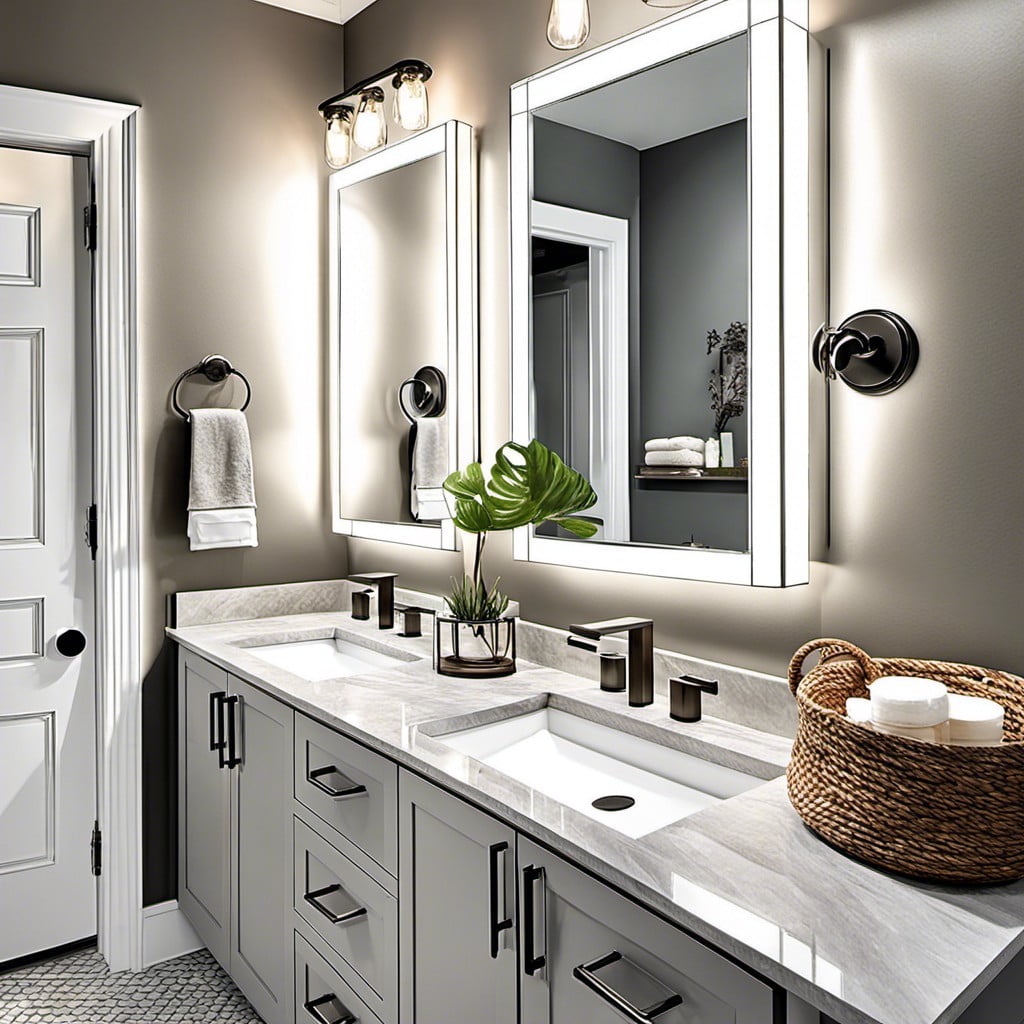 Illuminating your light grey vanity from underneath can instantly upgrade your bathroom's ambiance. This lighting technique not only serves as a functional night light but also highlights the vanity's design detail, elevating its aesthetic appeal.
It's a handy and stylish solution for those late-night trips to the bathroom as it softly illuminates the floor, providing just enough light and leaving the rest of the space subdued.
A warm white light could be employed to keep the atmosphere serene and comfortable. LED strip lights or mounted puck lights are commonly used for this purpose due to their energy efficiency and easy installation.
Remember, the lighting should complement the overall design of your bathroom while providing ample visibility.
Light Grey Vanity With Matching Grey Floor Tiles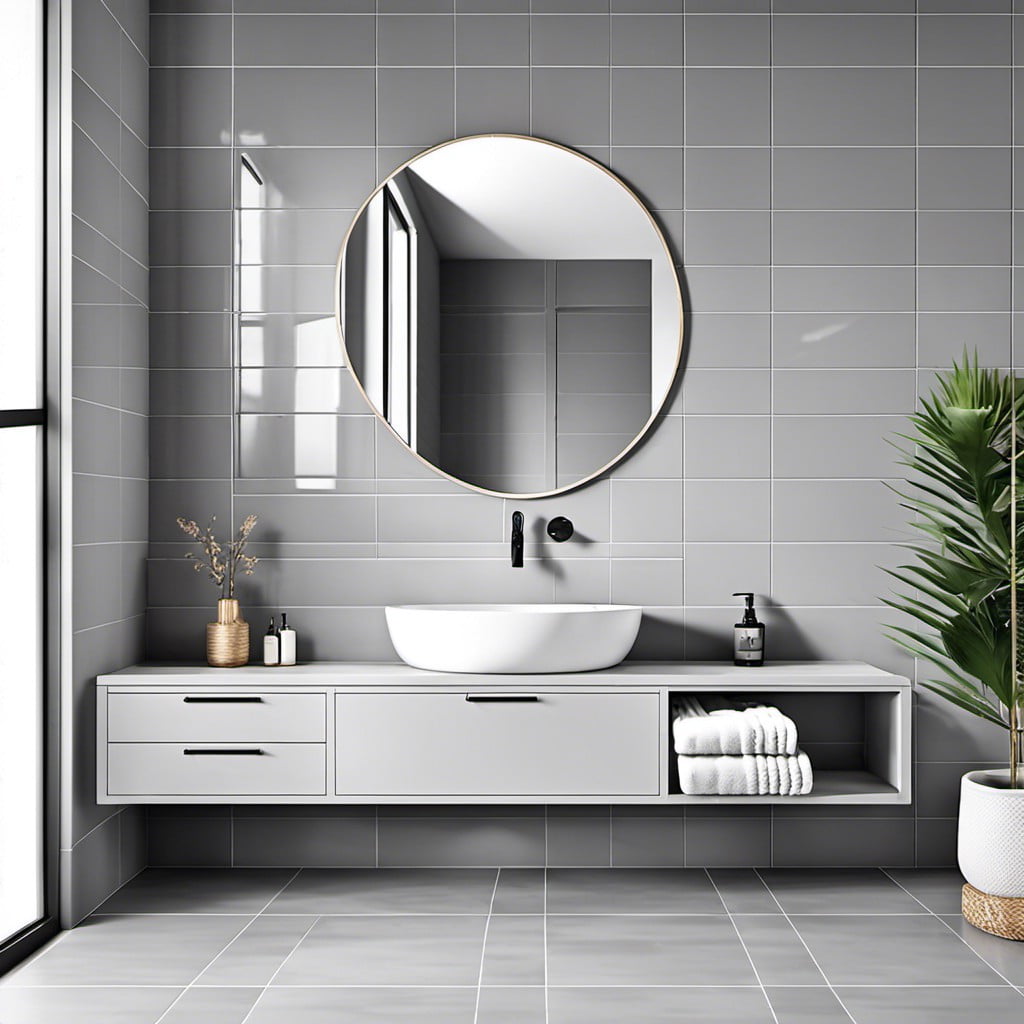 Increasing the cohesive factor in your bathroom design can be achieved by wisely choosing flooring that pairs with your light grey vanity. A matching tile offers a seamless visual flow, creating a calming, well-coordinated environment.
1. Opt for larger tiles to minimize grout lines and create a cleaner, more seamless look.
2. If a uniform shade seems too mundane, consider a floor tile slightly darker than your vanity. This ensures a complementary ambiance without becoming monotonous.
3. Combine different tile formats. For instance, rectangular tiles on the floor interact interestingly with square tiles on the vanity.
4. For more interest, introduce accent tiles. Grey mosaic or patterned tiles can break the uniformity, adding a stylish twist.
5. Integrating a radiant-heat system under the tiles can enhance comfort, giving a cozy and warming experience.
Remember, consistency in your design provides tranquility and elegance. The balance between unity and variety defines your unique bathroom style.
Subway Tiles Wall Surrounding Light Grey Vanity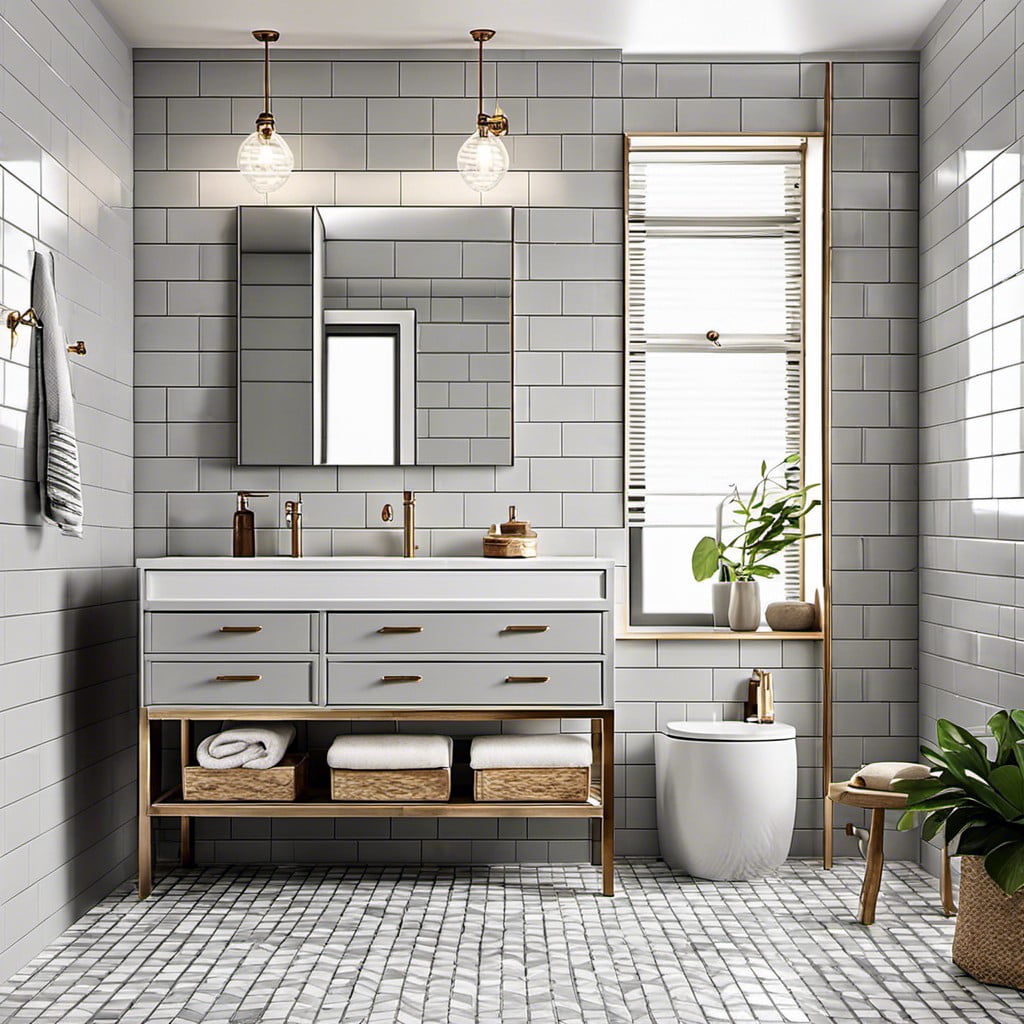 The charm of subway tiles cannot be denied, lending a classic air to any bathroom space. When paired with a light grey vanity, these tiles manage to strike a balance between clean lines, simplicity, and just the right dash of character.
1. Continuous Color: Match the grout with the vanity's light grey hue to create a seamless look and visually expand the bathroom space.
2. High Contrast: Opt for dark grout to highlight the distinct arrangement of subway tiles, creating a striking juxtapose against the light grey vanity.
3. Accent Wall: Use subway tiles on just one wall behind the vanity for a focal point that draws the eye, without overwhelming the aesthetics.
4. Tile Height: Play with tile placement. Extend subway tiles to the full height of the wall for a dramatic look or halfway up for a more casual, relaxed feel.
5. Variation: Consider utilizing a herringbone, stacked, or crosshatch pattern for additional interest and depth.
6. Balanced Light: A light grey vanity combined with white or cream subway tiles ensures a well-lit, vibrant bathroom, making a small room feel bigger.
Remember, the key to success with a light grey vanity against a subway tile wall is to keep the other elements simple and allow these feature pieces to shine.
Continue reading:
Recap