Last updated on November 25, 2023
Revamp your bathroom with neutral tile ideas because these timeless hues can enhance the elegance and add a modern touch to your private retreat.
I am incredibly proud to have authored this article and crafted these 20 unique neutral bathroom tile designs, and hope they inspire you as much as they've inspired me during their creation.
Neutral bathroom tiles offer a timeless appeal, effortlessly enhancing the aesthetic of your space. This article delves into a plethora of neutral bathroom tile ideas, ranging from classic beige ceramics to modern grey stone patterns.
Whether you're looking for a minimalist design or a more intricate layout, you'll find a variety of options to suit your taste. Keep reading to explore the world of neutral tiles, their benefits, and how to incorporate them into your bathroom for a chic, stylish look.
The article also provides tips on choosing the right tile size, texture, and pattern to create a harmonious balance in your bathroom. Let's dive in and start the transformation!
Grey Slate Tiles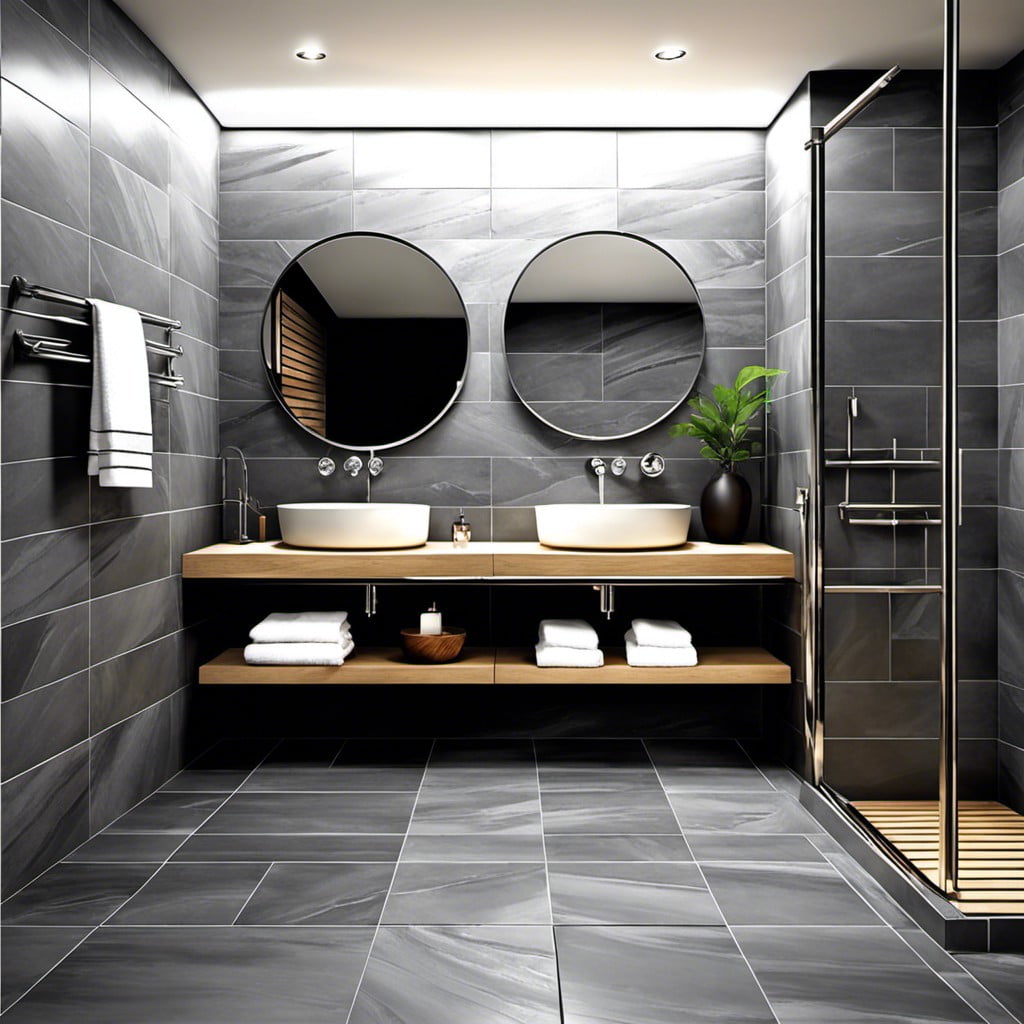 Offering a blend of durability and subtle sophistication, these tiles pose as an exemplary choice for a neutral bathroom aesthetic. Their smooth finish and understated hue beautifully complement white fixtures and fittings enhancing the overall ambience.
Key points to remember when opting for these tiles:
1. They provide a sturdy surface with a non-slip texture that is ideal for wet areas.
2. The variation in the stone's natural hues creates an interesting visual element in a mostly monochromatic space.
3. Being low in maintenance, they retain their looks for a very long time.
4. Versatility is another advantage as it works well for both walls and floors.
5. Compatible with underfloor heating, offering a warm, cozy touch to the space.
6. Consider using darker grout to maintain the seamless aesthetic and reduce the appearance of grime.
Beige Ceramic Tiles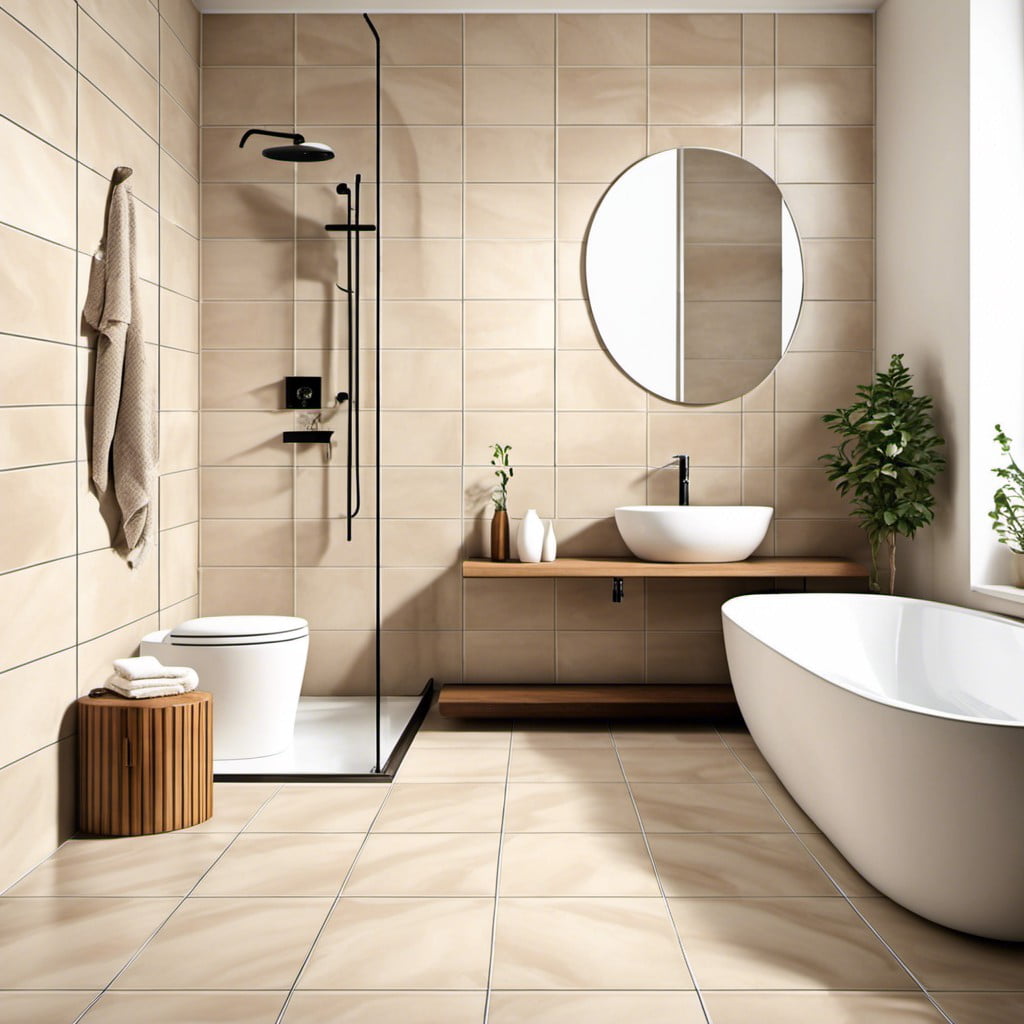 Gaining wide popularity due to their simplicity and versatility, these tiles provide a sophisticated look and an enhanced sense of spaciousness in any bathroom. Here are some key points about them:
Versatility: They blend harmoniously with numerous decor schemes.
Durability: Resilient against staining, cracking, and chipping, they're a long-lasting choice.
Low Maintenance: Easy to clean, they resist dirt and dust impeccably.
Warm Undertones: The warm, inviting undertones of beige can make your bathroom space more welcoming.
Increased Resale Value: Ideal for home improvement, they can boost the resale value of your property.
Size Variety: Available in a diverse range of sizes, they can be custom-fit to any bathroom.
Considering these features, these tiles are a remarkable choice for adding elegance and value to your bathroom.
White Porcelain Tiles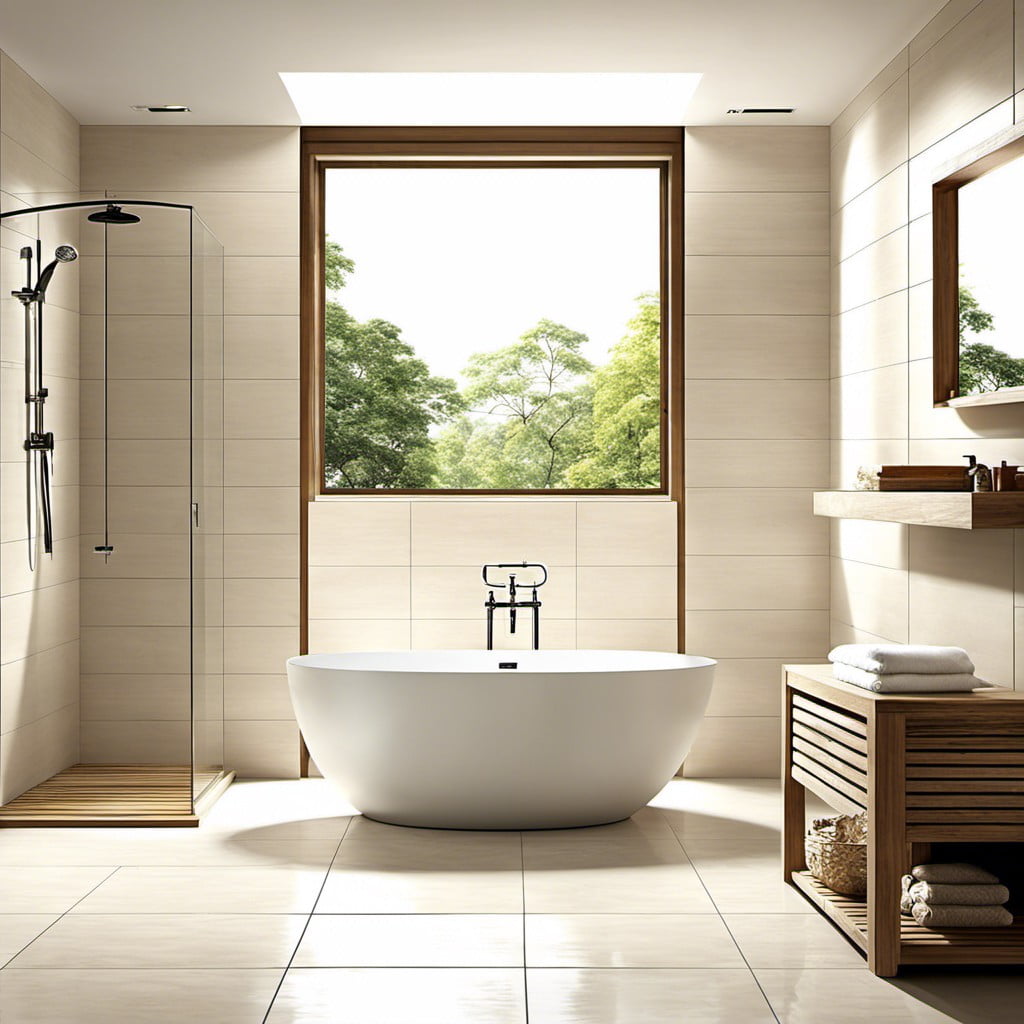 With their sophisticated appeal, these gleaming tiles bring a timeless feel to the bathroom. Their inherent strength and resistance to water makes them an ideal choice for damp environments.
Plus, their ability to reflect light gives a brighter and more spacious look to the interior. Easy in maintenance, a quick wipe down is all they need to retain their shiny appearance.
Match them with chrome fixtures to maintain a cool, modern aesthetic, or pair with warm accents like terracotta or wood for a balanced, welcoming look.
Creamy Subway Tiles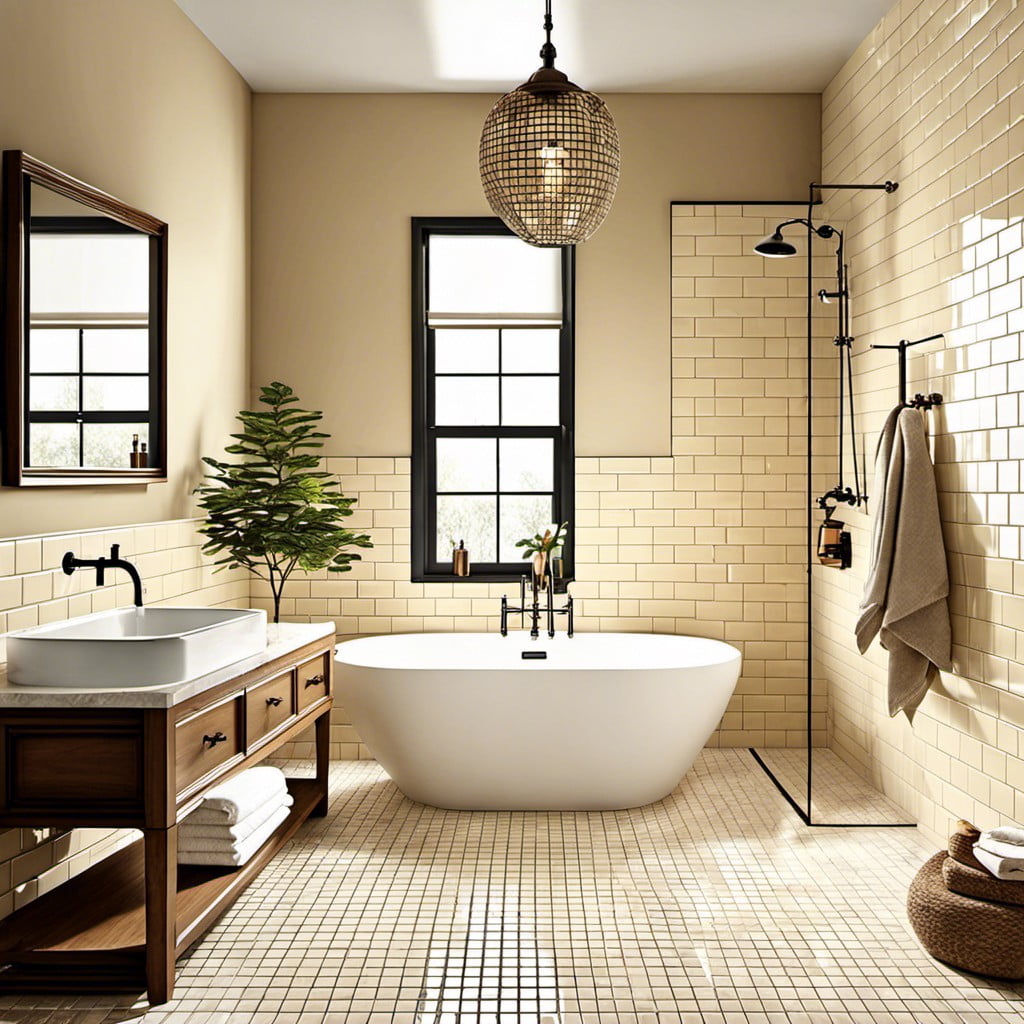 Perfect for a timeless and sleek aesthetic, these tiles form a classic backdrop that complements any design style from minimalist to decadent. The soft hue gives off a warm and cozy feel, while the linear, sleek shape adds a dimensional element. Easy to clean, subway tiles make for a practical choice:
1. Complement Any Design: Pair with bold pops of color or subdued neutrals. They adapt to both contemporary and classic styles effortlessly.
2. Spaciousness: Positioned in a horizontal pattern, they visually broaden tight bathrooms.
3. Long Lasting: Resistant to wear, they retain their soft appearance for years.
4. Affordable: Price-wise, they offer a high-end aesthetic without breaking the bank.
5. Unique Layouts: Install in an herringbone or vertical pattern for a creative twist.
6. Adds Value: Their enduring appeal can increase the resale value of your house.
They offer a harmonious blend of versatility, durability, and timeless design.
Taupe Hexagonal Tiles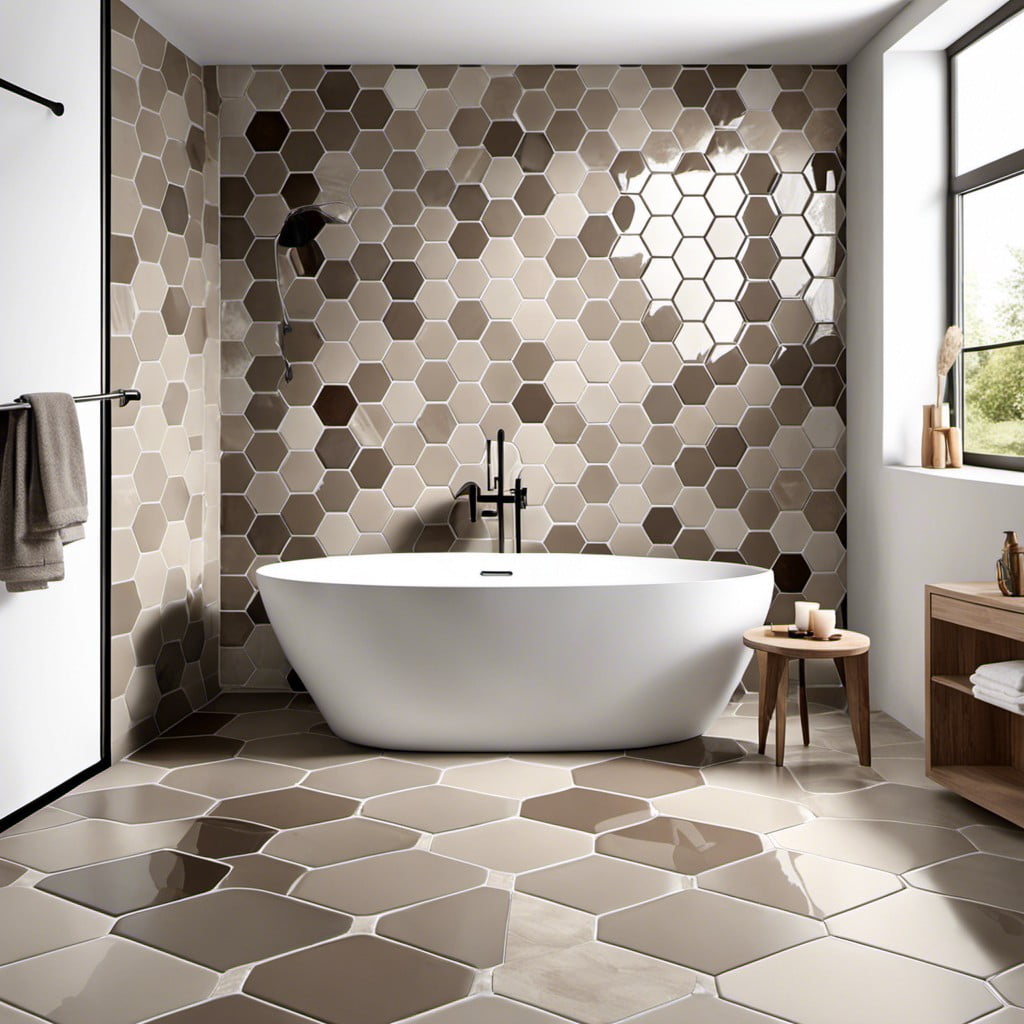 Characterized by six-sided geometric uniqueness, these tiles bring contemporary charm to any bathroom. Their neutral taupe shade offers versatility, blending with various design themes while adding personality.
Not just visually appealing, their durability withstands high traffic, promising longevity. It's their easy-to-clean feature that makes maintaining them a breeze.
Moreover, the layout possibilities are endless – create patterns, focal points, or even an entire feature wall. They can indeed transform ordinary bathrooms into a modern retreat.
Play it well with matching or contrasting grout to elevate the style even further. For a cohesive look, consider using taupe-hued accessories or furnishings. However, the beauty of these tiles allows them to shine even amidst color diversity.
Neutral Mosaic Tiles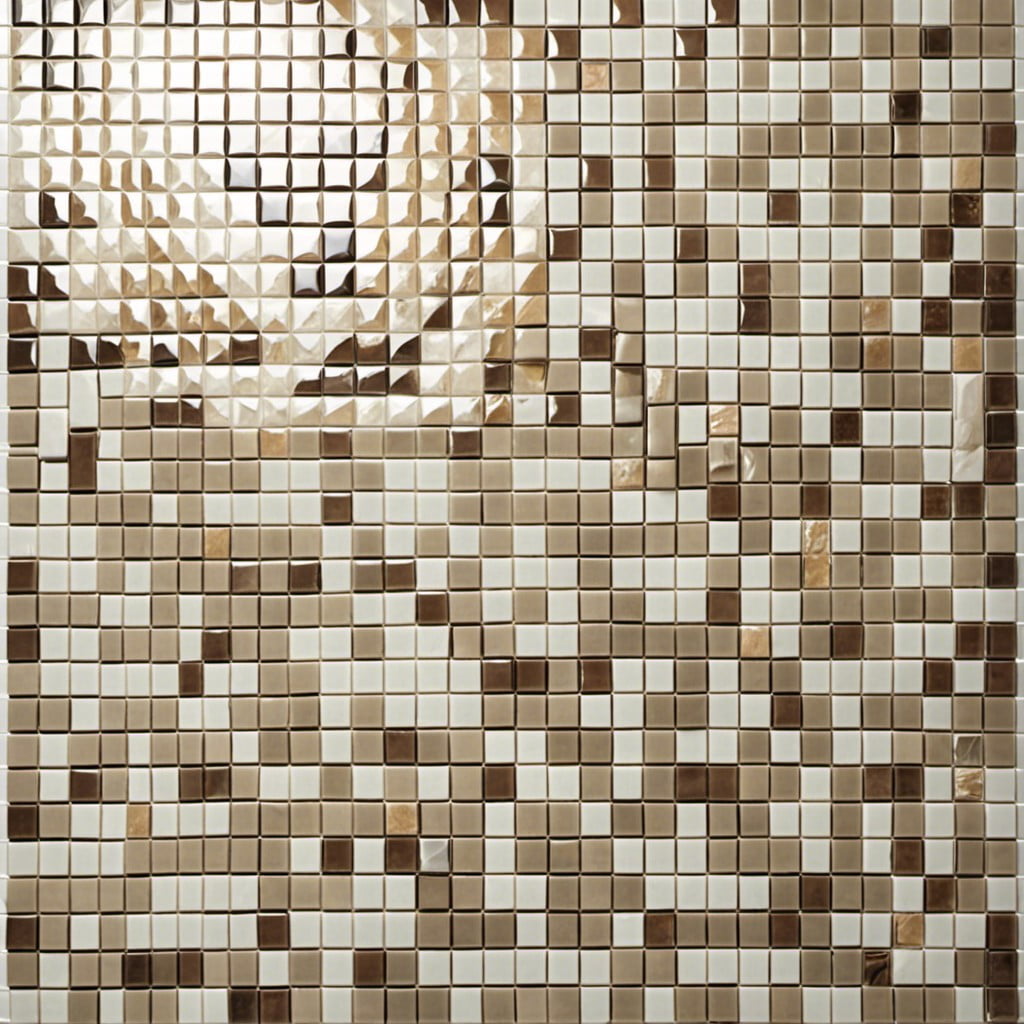 Benefiting from the aesthetic versatility, these tiles offer endless design possibilities. Take advantage of the small tile pieces to form an intricate pattern or a simple geometrical design. The neutral palette offers a calming backdrop that doesn't overpower the space but subtly elevates the overall bathroom's aesthetic.
In terms of functionality, the mosaic's small tiles provide excellent traction, making them ideal for bathroom floors. With proper sealing, these tiles resist moisture remarkably well, making them an excellent choice for shower enclosure walls too.
For easy integration, try matching grout color with the dominant shade in your mosaics. It creates a coherent look and showcases the design without borders interrupting the pattern. However, for a more dramatic impact, contrast the grout color, thus making the mosaics visually pop.
Another interesting approach is to combine various neutral shades within the same design. This move does not only add depth but also helps in achieving a more personalized look. Enriching the textural appeal, mixing glossy and matte finished mosaics makes the overall scheme more dynamic.
Travertine Floor Tiles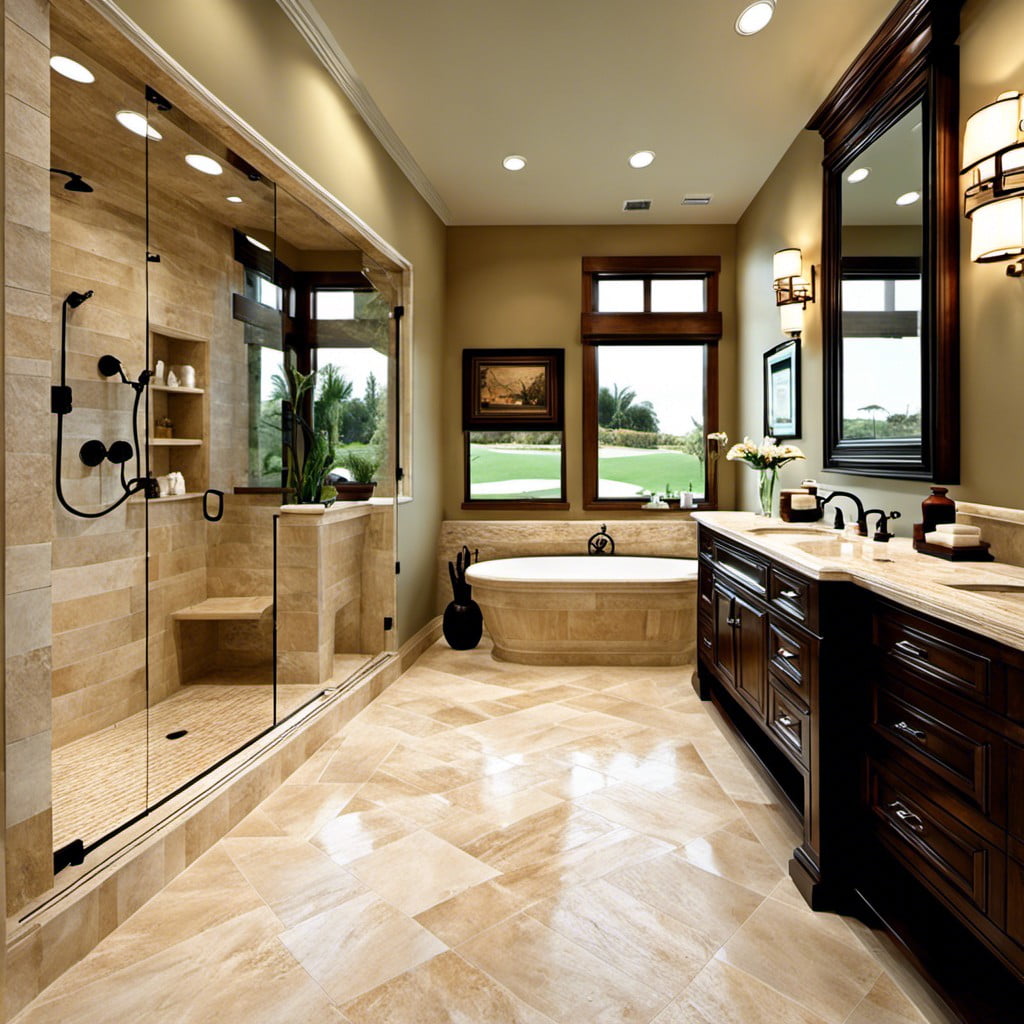 Uniquely characterized by their earthy tones, Travertine tiles serve as a perfect neutral pallet. Harmoniously blending with any décor, they bring a natural, rustic charm to your bathroom.
One of the main perks of Travertine is its inherent durability. Formed by mineral-rich hot springs, these tiles can withstand high levels of foot traffic, perfect for busy households.
Secondly, the porous nature of these tiles can shrewdly disguise any accidental spills or small marks which can be a host's lifesaver.
Additionally, the warm tone options, ranging from creamy light hues to deeper walnut shades, lend themselves to creating a calming ambience – an ideal choice for a bathroom meant for relaxation.
Lastly, they complement varying elements, whether your bathroom fittings consist of brass, chrome, or brushed nickel, travertine's neutral tones will magnificently harmonize, ensuring a balanced aesthetic.
Stone-look Tiles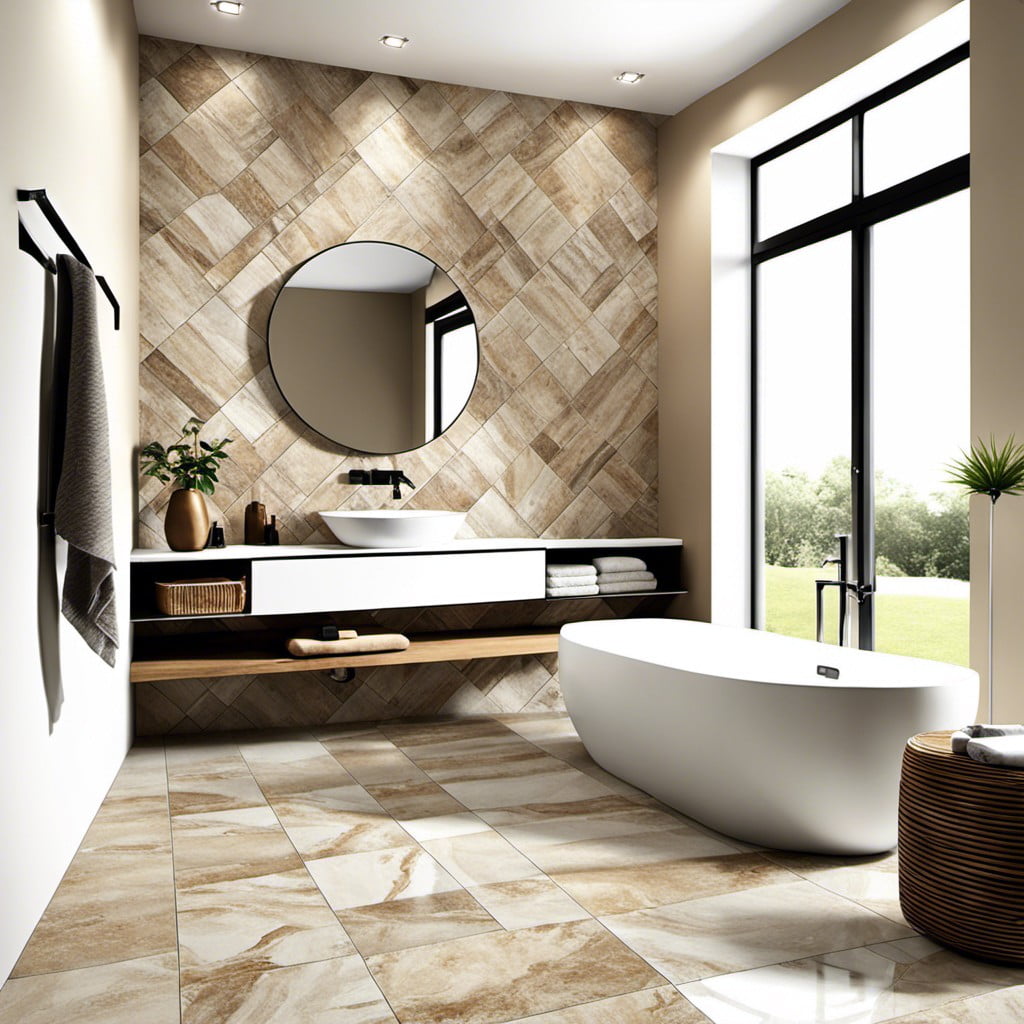 Distinctly echoing natural landscapes, stone-look tiles create a serene oasis in any bathroom, merging classic aesthetics and modern convenience. This tile option embodies the elegance of natural stones like granite and limestone without the need for specific maintenance tasks associated with real stones.
Marvel at the versatility, as these exceptionally durable tiles lend themselves to both walls and floors, opening up an array of design possibilities. Whether you prefer a rugged, rustic feel with darker shades or the calming neutral tones for a spa-like ambiance, stone-look tiles make it happen. From enhancing small areas to helping large bathrooms feel connected to nature, these tiles work wonders.
Always pair with coordinated colors for a harmonious arrangement. For example, a pale stone tile pairs well with soft grays and muted blues for a tranquil, watery theme. Alternatively, combine darker stone tiles with warm wooden accents for a more rustic feel. Remember, proper lighting can emphasize the natural stone patterning, enhancing the organic appeal.
Consider your grout color wisely. Opting for a matching tone will make the tiles appear seamless, resembling an actual cut of stone. A contrasting grout color, however, will add a bold sense of pattern and structure.
Easy to maintain, you'll simply need a mild detergent for occasional cleaning. You get a luxurious appearance, long-lasting resilience, and minimal upkeep – stone-look tiles simply have the best of all worlds.
Sand-colored Matte Tiles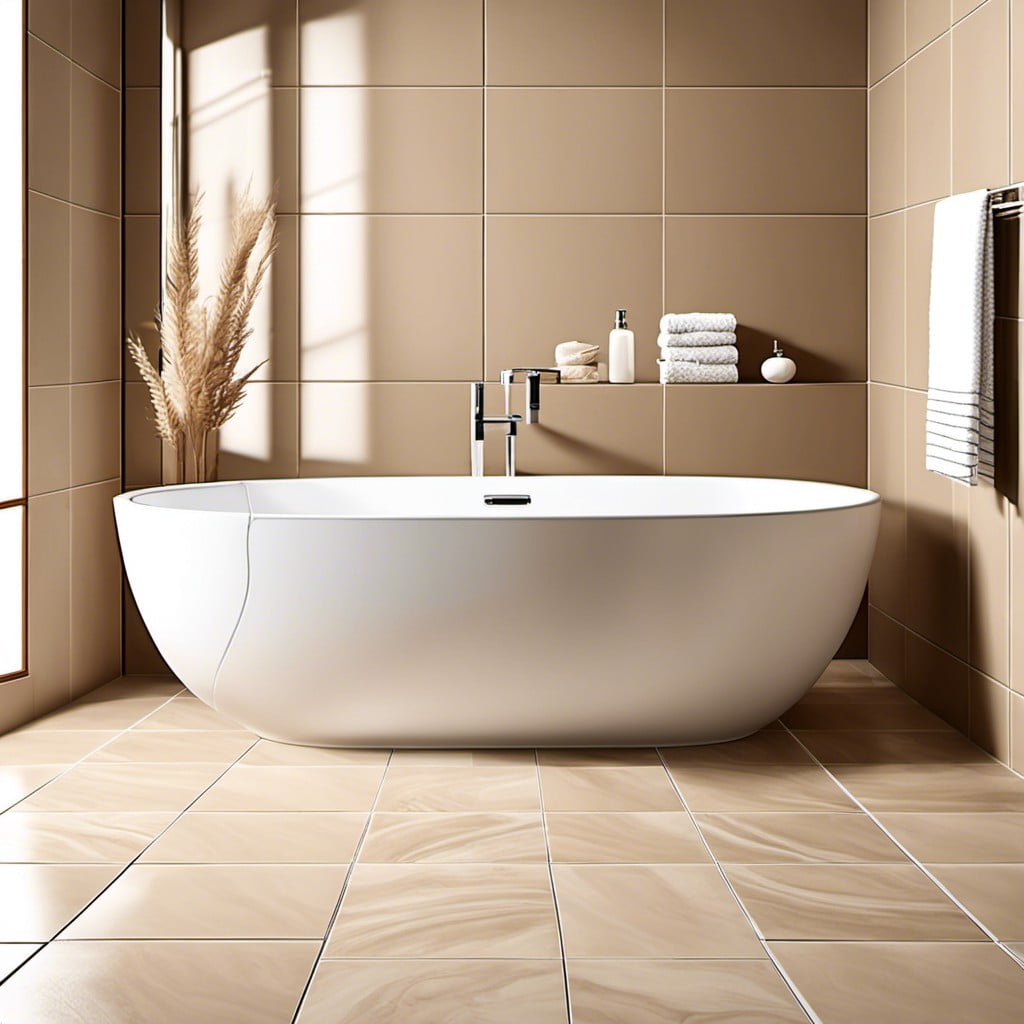 Offering a subtle blend of earthy shades, sand-colored matte tiles bring a certain warmth to the bathroom. Capturing the serenity of a desert landscape, they provide a neutral backdrop that complements both modern and traditional decor.
1. Versatile Aesthetic: Their neutral hue pairs well with a variety of palette selections, proving invaluable for those seeking a versatile design solution.
2. Texture and Feel: The matte finish gives off a sleek, sophisticated vibe while also offering the practical benefit of being less slippery.
3. Durable Material: Once properly sealed, these tiles resist water, making them an excellent choice for bathroom floors and walls.
4. Unique Variations: Just like individual grains of sand, each tile possesses a unique pattern, adding a touch of the organic to your space.
5. Easy to Maintain: Lastly, sand-colored matte tiles are easy to clean and maintain, perfect for daily bathroom use.
Remember, however, that these tiles can make a space seem smaller, so they are better suited for larger bathrooms or ones with ample natural light.
Wood-look Ceramic Tiles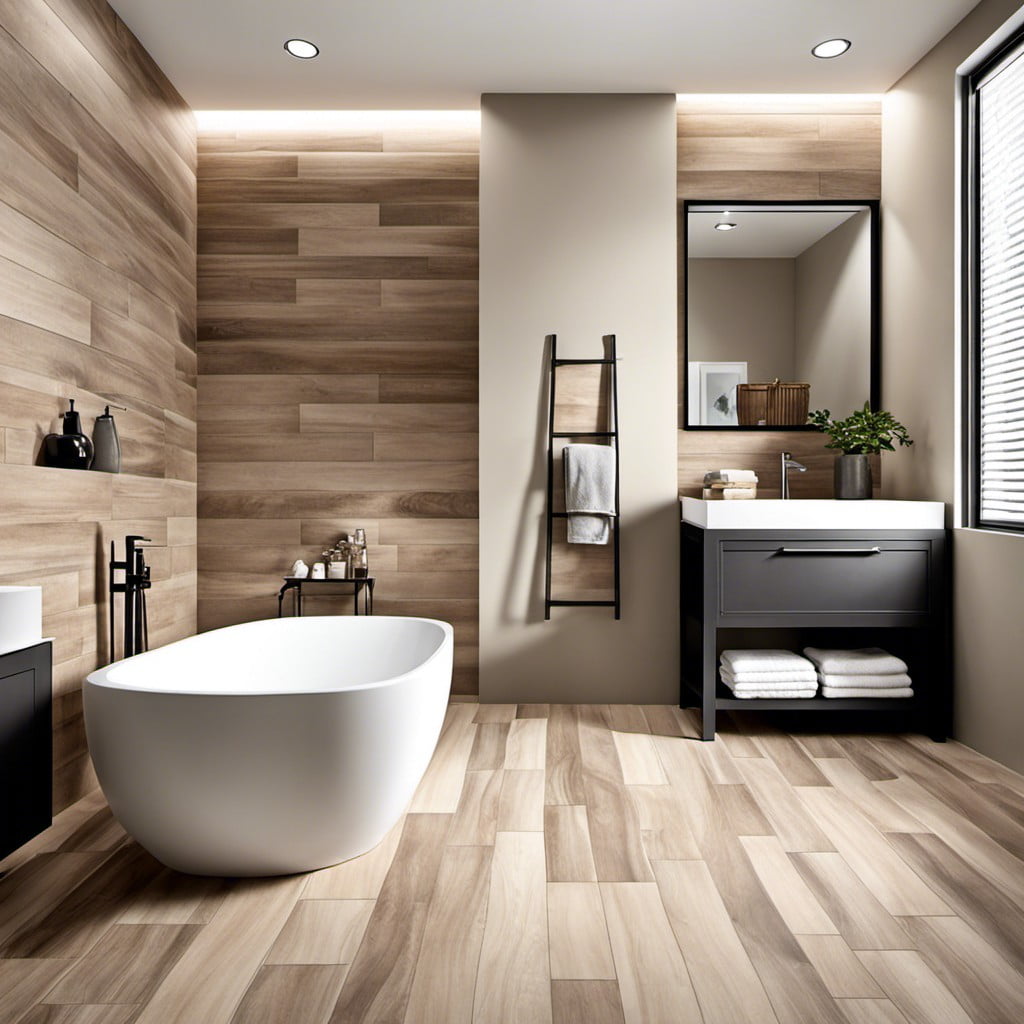 Offering the best of both worlds, these unique tiles bear the realistic aesthetic of classic timber while incorporating the durability and water resistance of ceramic. An array of finishes, from polished mahogany to rustic pine, allows you to conjure any design scheme you choose.
Key points include:
1. Versatile design: Complements traditional, rustic, modern, and coastal decor styles effortlessly.
2. Durability: Resistant to wear, fading, and heavy foot traffic, ensuring longevity.
3. Easy upkeep: Only requires gentle cleaning for maintaining its fresh look.
4. Water-resistant: Ideal choice for bathrooms being unaffected by dampness and humidity.
5. Temperature neutral: Unlike natural wood, these tiles won't feel overly cold on winters mornings.
6. Variety: Available in different shades, ensuring you find the perfect wood tone for your bathroom.
Ivory Colored Pebble Tiles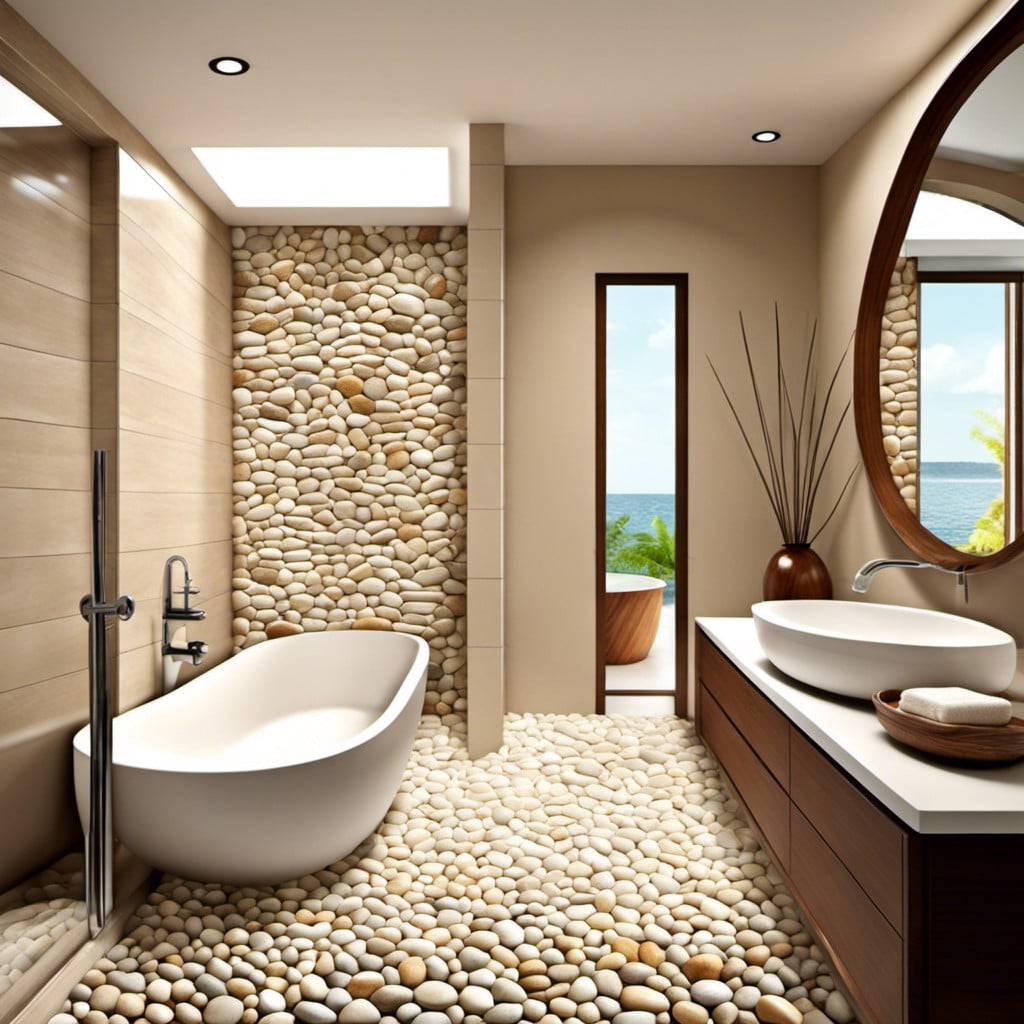 In bathrooms, pebble tiles channel an earthy, calming ambiance and often prove to be a tranquil decorative touch. Transformed into a neutral shade, specifically ivory, yields a versatile, soothing aesthetic usable in different design schemes.
These tiles exhibit a dynamic textured surface, adding a captivating spatial texture that not only provides grip but endows a three-dimensional quality to your bathroom. Their naturally rounded shapes collide to form an intricate, unpredictable mosaic, flooded with ivory warmth.
Maintain a serene palette by pairing these tiles with white and beige accents. Matching them with wooden motifs can inject a tropical, resort-like atmosphere. Alternatively, coupling them with chrome fixtures can form a modern, edgy milieu.
They're easy to clean, water-resistant. Their individual, variable sizes make them adaptable for both wall and floor use. And while somewhat challenging to install compared to conventional tiles, they're valuable for their visual appeal.
Lastly, remember to seal these tiles after installation to protect them from moisture and staining, and to make maintenance easier.
Neutral Terrazzo Tiles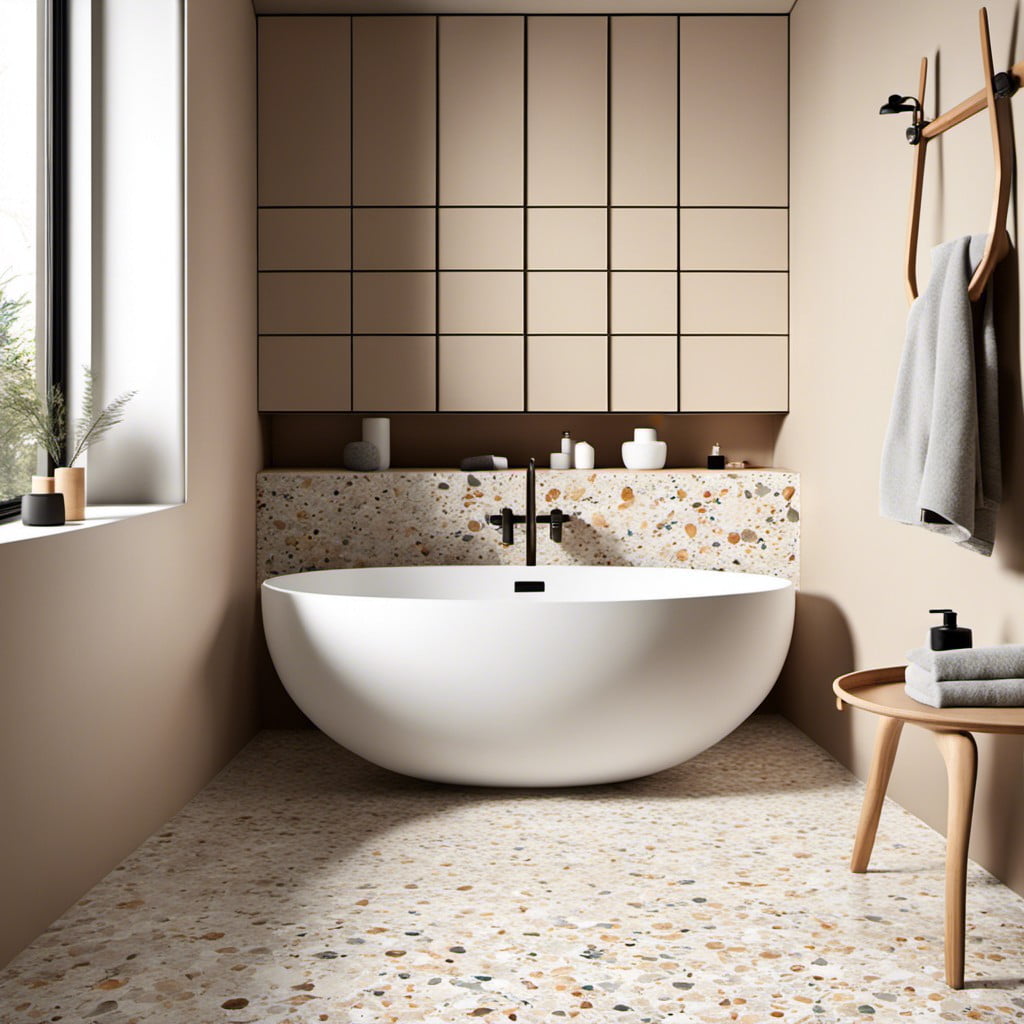 Delving a bit deeper, it's evident why homeowners and designers alike favor these tiles. The interesting mix of marble, quartz, granite, or glass chips embedded in a cementitious binder gives a unique personality to every tile. They are not only durable but also slip-resistant, which makes for perfect flooring in wet areas.
Additionally, their cooling properties make them a desired option in warmer climates. They offer a mesmerizing range of natural tones, blending effortlessly with your bathroom aesthetics. Be it light beige, cream, pebble grey, or ivory, there's a hue to suit every style.
Furthermore, one gets the freedom to incorporate various patterns or borders to uplift the visual drama a notch. Their ability to be refinished and re-polished is another added advantage, thus extending longevity and maintaining a fresh look over the years. For an added spark, consider pairing these tiles with metallic fittings or wooden accents. Don't shy away from exploring the limitless possibilities they offer in uplifting your bathroom space.
Marble Tiles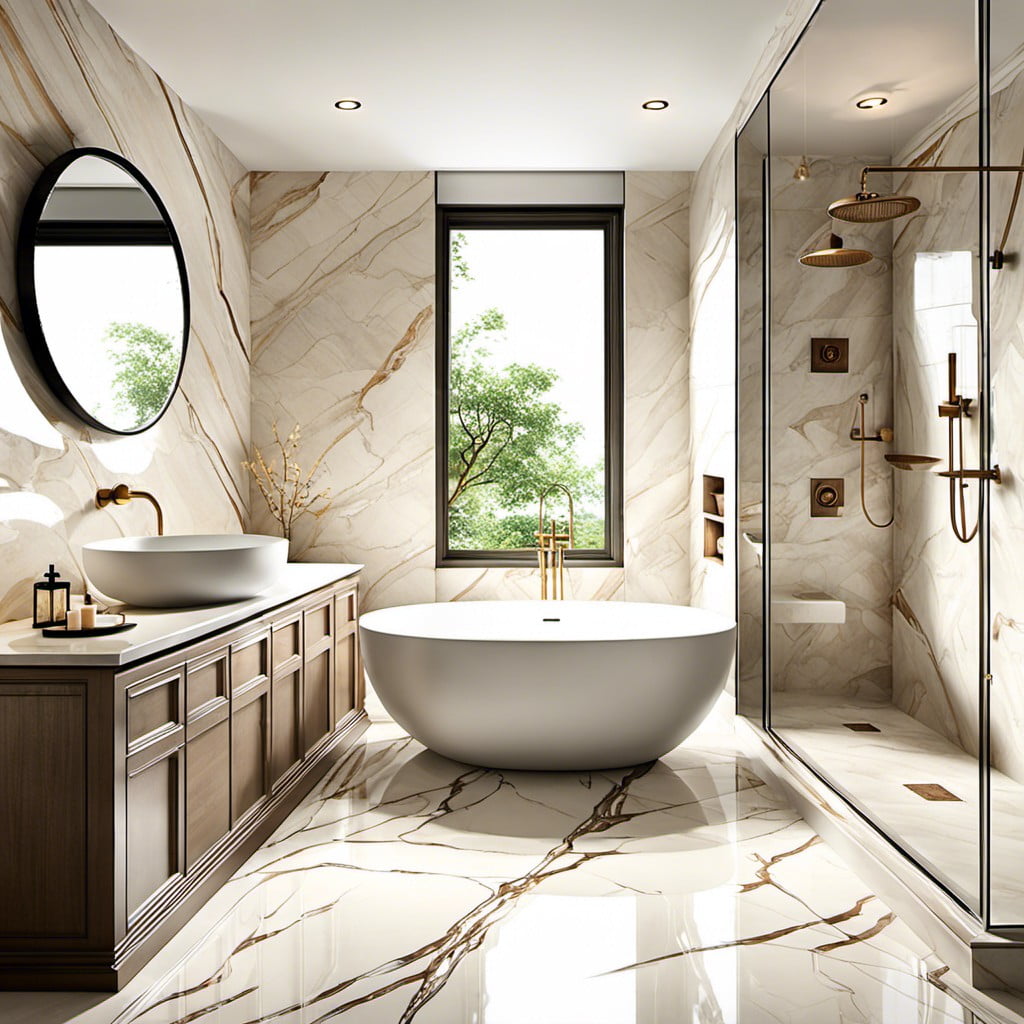 Embodying an unrivaled aura of elegance, these tiles can easily elevate the look and feel of your bathroom. There's a vast range of colors and designs available, from pristine white to dramatic black, each pattern unique to the individual tile.
A couple of points to note about them:
They offer a high level of durability, perfect for places like bathrooms that are constantly exposed to water.
Due to their natural origin, no two tiles are alike offering a distinct pattern for every tile.
They demand a certain level of care and maintenance including sealing to prevent stain absorption.
Though considered a high-end option, they offer exceptional longevity, potentially making them a cost-effective choice in the long run.
Finally, appreciate the versatile installation options they offer. You can create an all-marble look or pair them with other materials for a dynamic style contrast.
Porcelain Tile in Classic Linen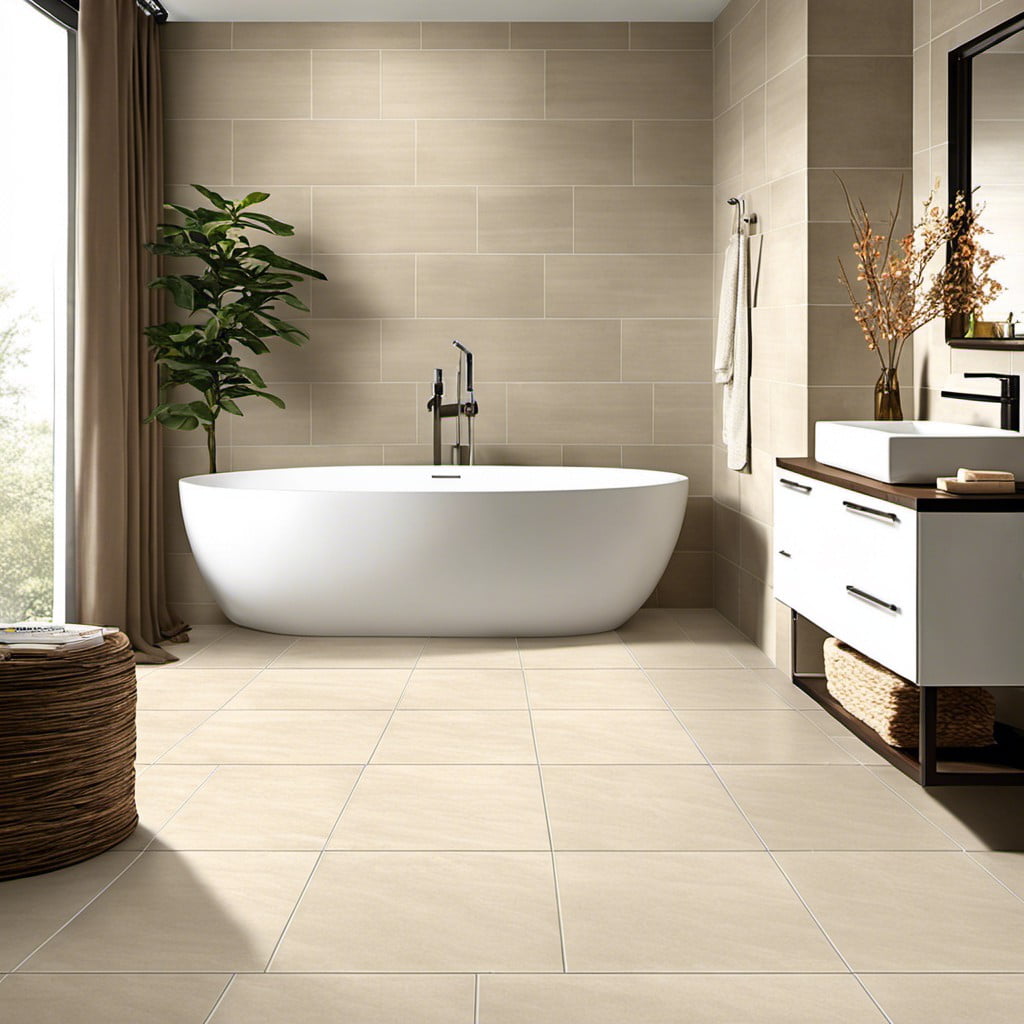 A timeless choice, known for its impeccable blend with diverse styles. The classic linen finish gives an understated elegance, reminding one of a warm, fluffy linen towel. Its smooth surface makes it easy to clean and maintain.
Subtle Texture: It bridges the gap between glossy and matte, providing a gentle luminosity, perfect for a calming ambiance.
Versatility: This tile compliments various color palettes, making it ideal for bathrooms aiming for a neutral theme.
Durable: Porcelain tiles are resistant to wear and tear and are highly impervious to water damage.
Hygienic: With its non-porous nature, this tile reduces the scope for bacterial buildup.
Last but not least, remember – pairing it with contrasting grout brings out the tile design, adding character to your bathroom.
Matte Gold Ceramic Tiles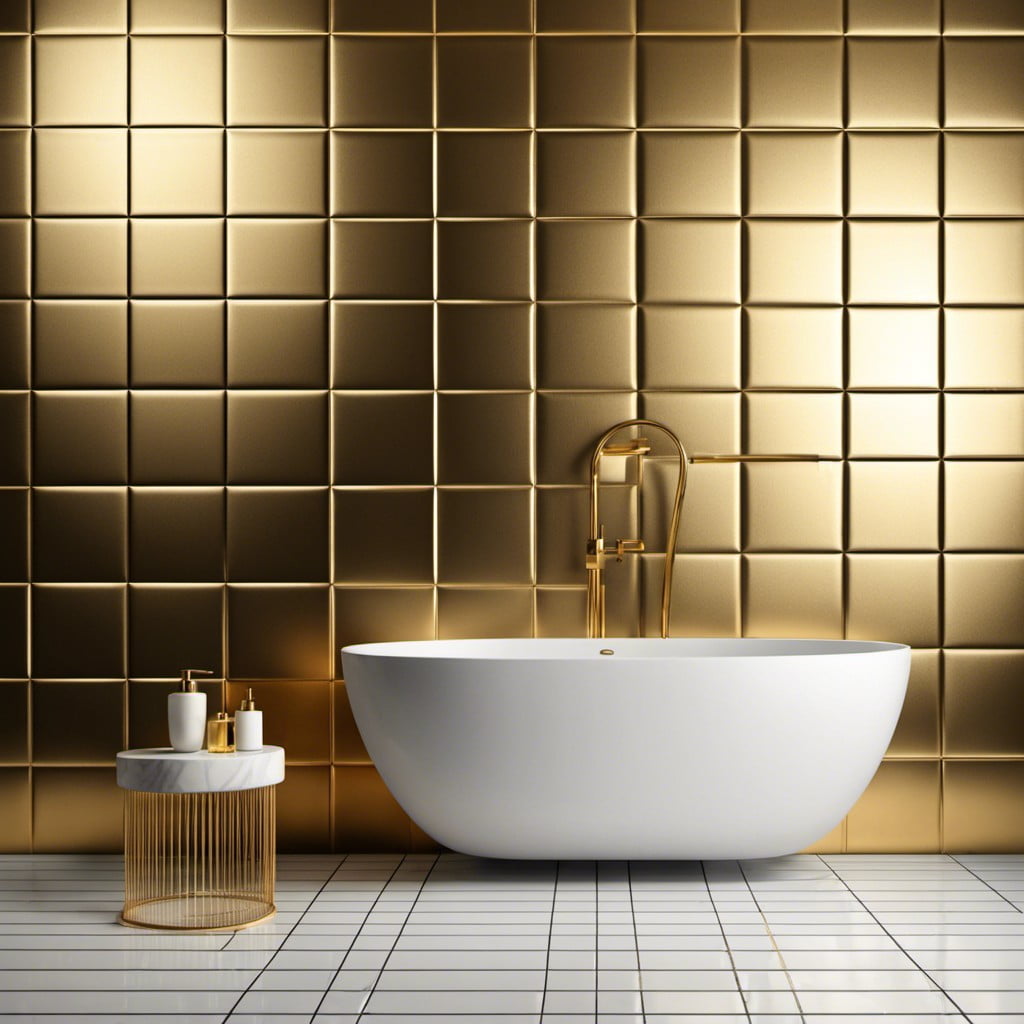 Immersive in their richness, these tiles are the pinnacle of understated elegance. Their mellow gleam adds a subtle spark without stealing the show. The matte finish keeps the look subtle, preventing any unnecessarily shiny surfaces that might clash with the calming neutral palette. This tile's golden texture also gives it the ability to exalt elements around it, lifting the nuances of accompanying decors.
Moreover, its ceramic composition makes it a durable choice, capable of resisting moisture, stain, and wear over time. So, for those keen on longevity as much as aesthetics, these are a perfect addition.
Finally, it's noteworthy that this tile type is low maintenance, easily cleaned with mild detergent, a perfect blend of style and functionality. Ideal, isn't it?
Quarry Natural Terracotta Tiles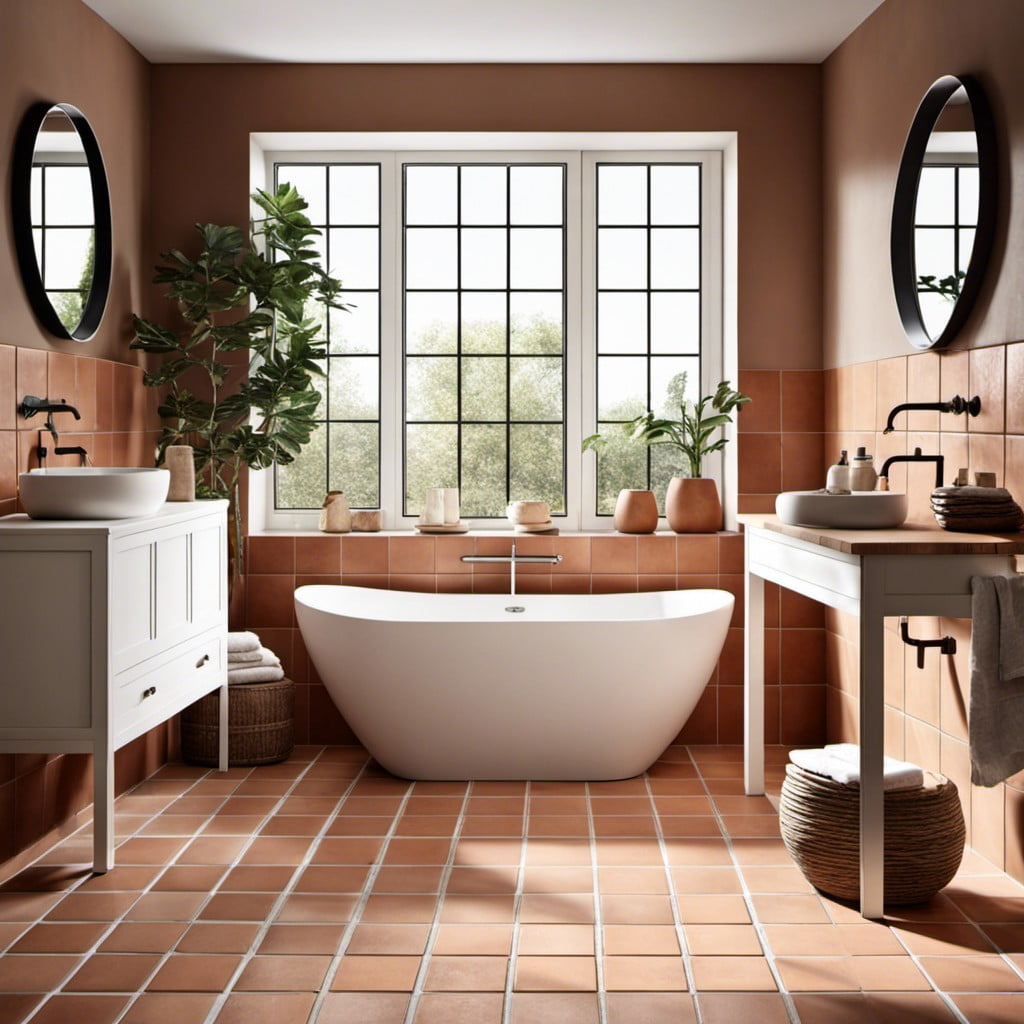 Traditionally fired with natural clay, these tiles bring an earthy tone to your bathroom. Their deep, rich hues add warm and inviting notes, while the coarse texture provides both a practical non-slip surface and a unique tactile fascination.
Ideal for the floor but also suitable for accent walls, they lend an organic vibe to your space.
Key Points:
1. Natural Clay: Unlike synthetic materials, the natural coloring resists fading, ensuring the long-lasting attractiveness of your setting.
2. Warm Tones: The shades of reddish-brown incite a cozy atmosphere that contrasts stunningly with neutral bathroom settings.
3. Coarse Texture: Besides the distinct touch it provides, it also helps to prevent slipping when the floor is wet, combining safety and style.
4. Versatility: While typically used for flooring, it can also be utilized on walls to create intriguing accents. Just imagine your mirror framed with this gorgeous material!
5. Organic Vibe: Perfect for those who love a touch of nature in their interiors, staying true to grounded elements.
Mixed Beige Modular Tiles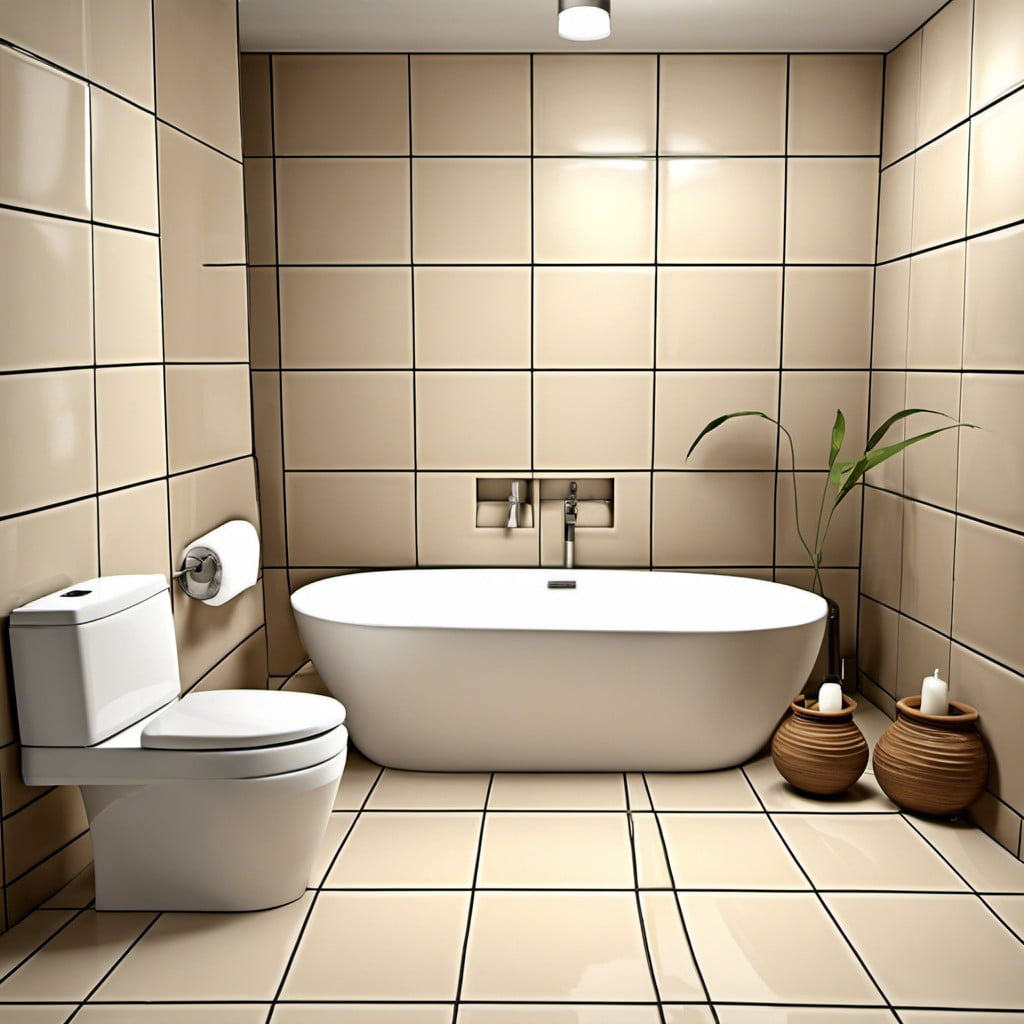 The versatility of these tiles is incredible; they lend an eclectic edge to any bathroom. Their mix of light and dark hues offers a striking balance, and the modular layout allows for a tailored design best suited to your bathroom's dimensions.
Maintenance is absolutely hassle-free, making it a popular choice among homeowners. These chic, contemporary tiles can be paired with minimalist decor for a touch of elegance or bold, dramatic furnishings for a statement-making contrast. The choice is yours! Opt for mixed beige modules to bring in an intriguing design element that is both practical and visually captivating.
Natural Sandstone Tiles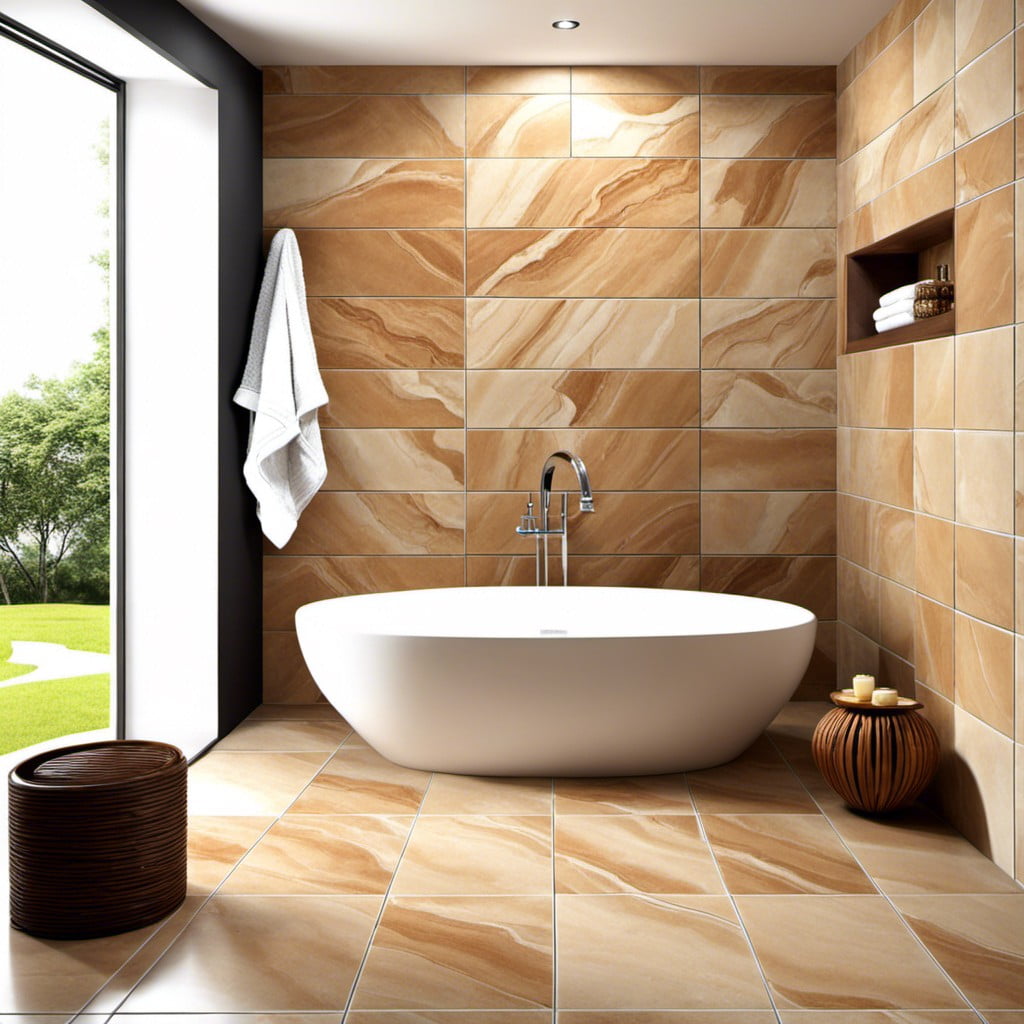 Providing an earthy and rustic appeal, these tiles leave an impression of harking back to nature. They're a durable and long-lasting option known for their inherent beauty, mirroring the hues and textures of a desert landscape. So, here are some concepts surrounding their use.
1. Versatility: Suitable for floors and walls, these tiles enhance all bathroom styles.
2. Color Palette: Shades vary from light beige to rich gold, reflecting natural sandstone color patterns.
3. Texture: The tiles offer a non-slip surface due to their slightly rough texture, making them a safe choice for the wet environment of a bathroom.
4. Maintenance: Regular sealing supports longevity.
5. Decor Pairing: Complement these tiles with plants and wooden accents to reinforce the bathroom's natural theme.
Cream Polished Porcelain Tiles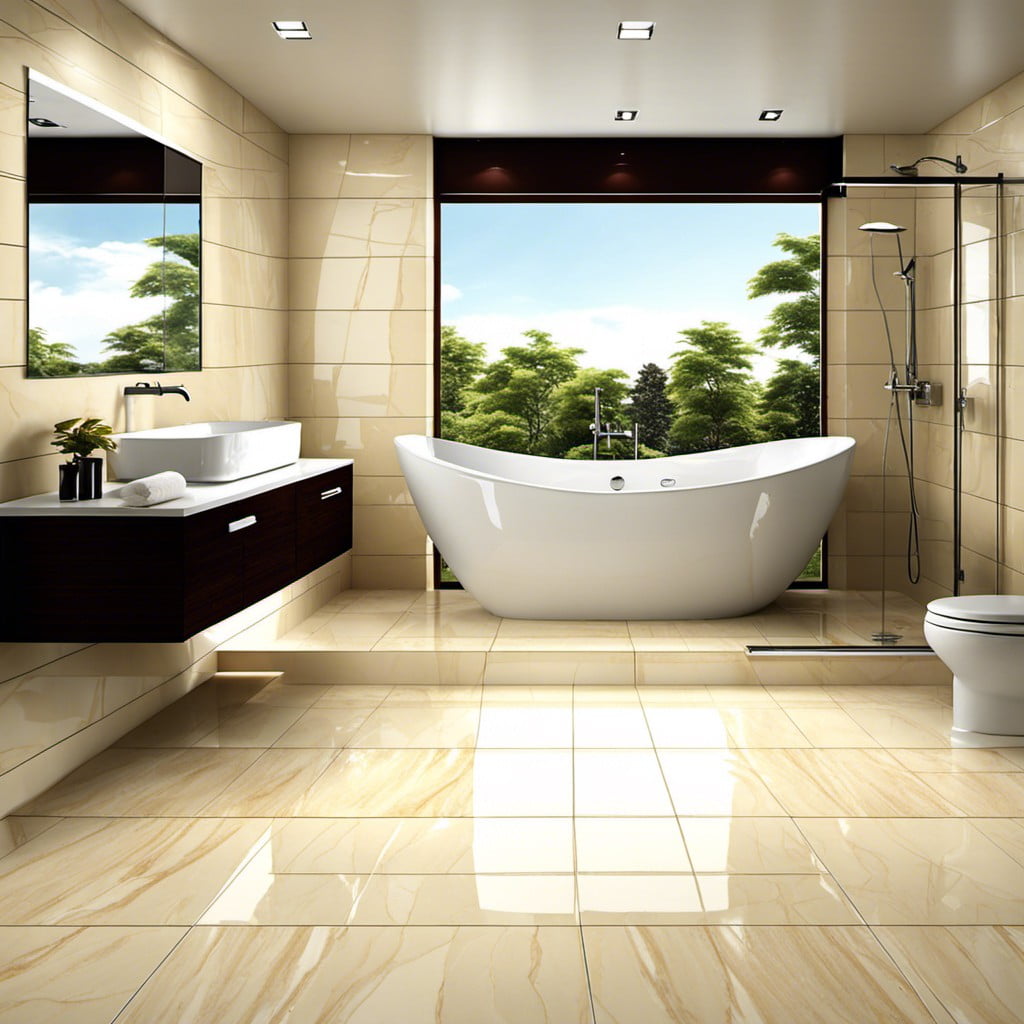 These tiles bring a soothing semblance of tranquility to any bathroom. Their glossy surface reflects light, making even compact spaces appear larger and brighter.
They are not only stylish but also known for their durability and stain-resistance – a practical choice for busy bathrooms.
The refined simplicity of these tiles marries well with any decor style, from rustic to modern. Pair them with wooden accents for a touch of warmth, or go for black fixtures for a more edgy look.
Lastly, consider underfloor heating to luxuriate in the warm feeling underfoot during cooler days.
Beige Brickstone Tiles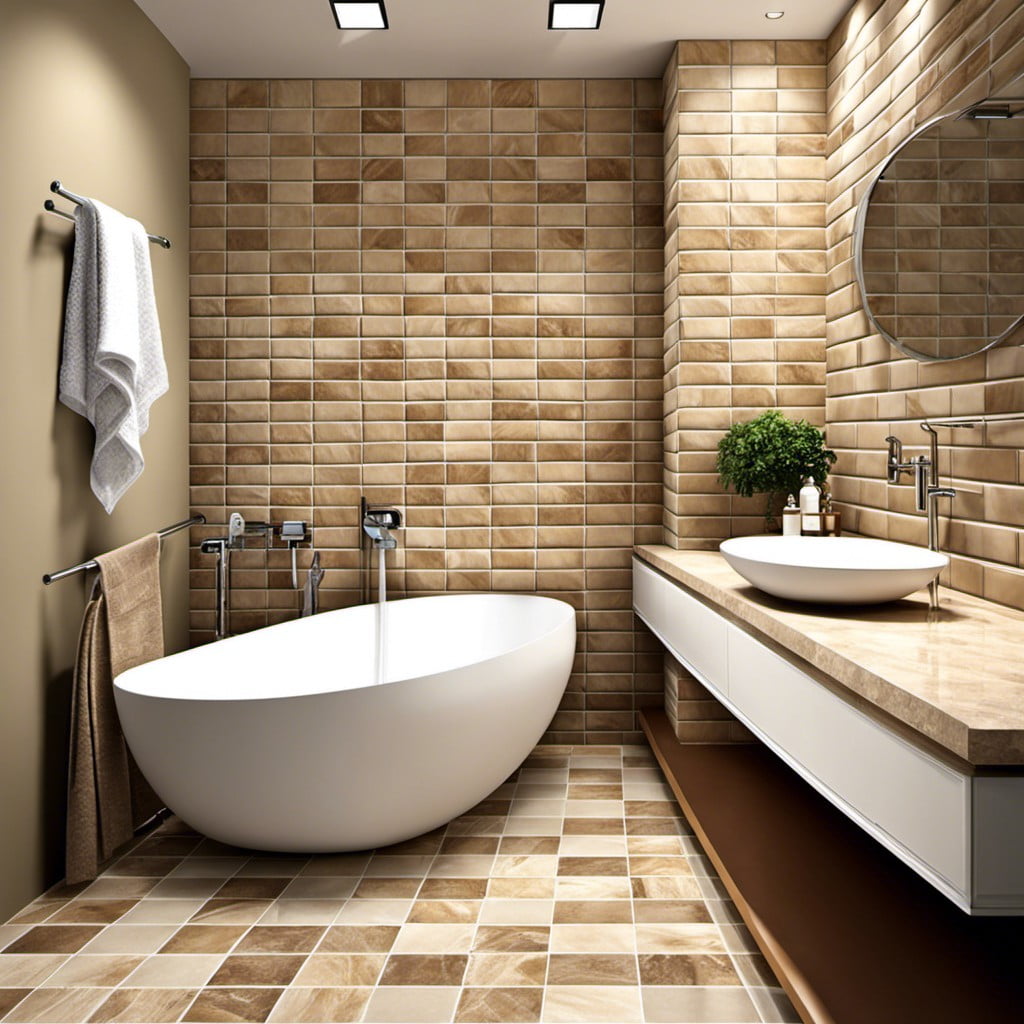 Beige Brickstone Tiles are an exceptional choice for designing a neutral-themed bathroom. Their natural tone complements almost any color scheme, rendering a warm and welcoming ambiance.
These tiles imitate the texture of bricks, introducing an organic aesthetic. This added texture is a tactile delight underfoot, while also providing extra slip resistance—a vital feature for bathroom flooring.
Plus, it's a versatile choice. Enhance a rustic design with its brick-like appearance, or contrast against sleek modern fixtures for an eclectic feel. As for maintenance, a simple wipe down with mild soap will do, it's that easy.
Remember to consider tile size. Larger Brickstone tiles can make small bathrooms appear larger, an added advantage to this stylish choice. Play with mortar color to either emphasize or downplay the brick pattern, ensuring your bathroom design is uniquely yours.
Continue reading:
Recap