Last updated on November 20, 2023
Discover the finest non-slip bathroom flooring ideas because safety should never compromise style in your home haven.
I hope you enjoy and find inspiration in these 20 top non-slip bathroom flooring ideas that I meticulously crafted and illustrated, as much as I relished creating them.
When it comes to ensuring safety in your bathroom, the right flooring can make all the difference. Non-slip bathroom flooring is not only practical but can also add a touch of style to your space.
From rubber to vinyl, and from cork to bamboo, there are plenty of options that combine aesthetics with slip-resistant features.
This article will delve into a variety of non-slip bathroom flooring ideas, offering insights into their pros and cons, installation process, and maintenance tips.
So, whether you're renovating your entire bathroom or just looking to replace the floor, you'll find a solution that suits your needs and complements your home decor.
Rubber Flooring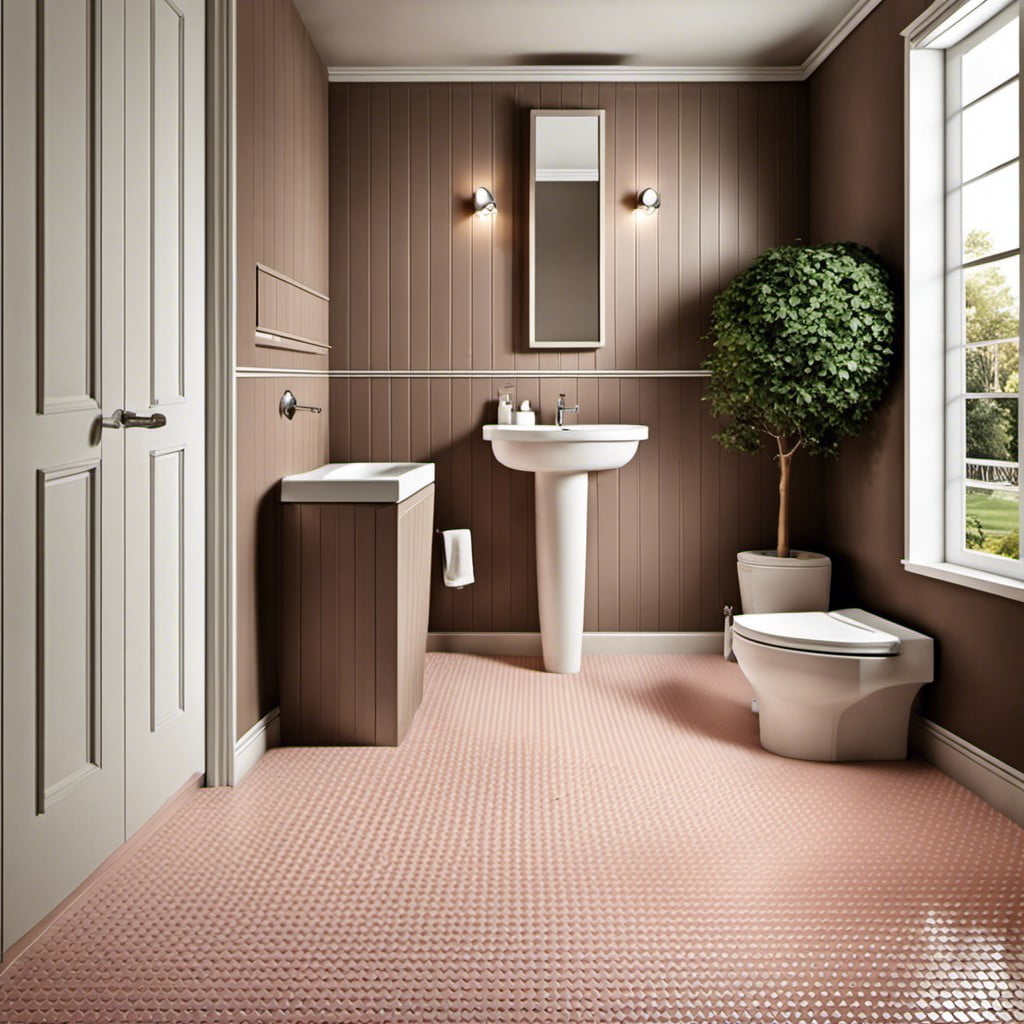 Offering optimal traction, even when wet, rubber flooring is a top-notch choice for ensuring safety. Consequently, this material is often used in gyms and playgrounds, which attests to its impressive durability and resilience. It also provides sound insulation and is comfortable to walk on, reducing the impact on your joints significantly.
Available in a wide array of colors and patterns, this flooring can easily be tailored to your bathroom's aesthetic. The inherent water resistance and easy maintenance are further additions to its appeal, making it one of the safest options for a slip-free bathroom experience.
Vinyl Tiles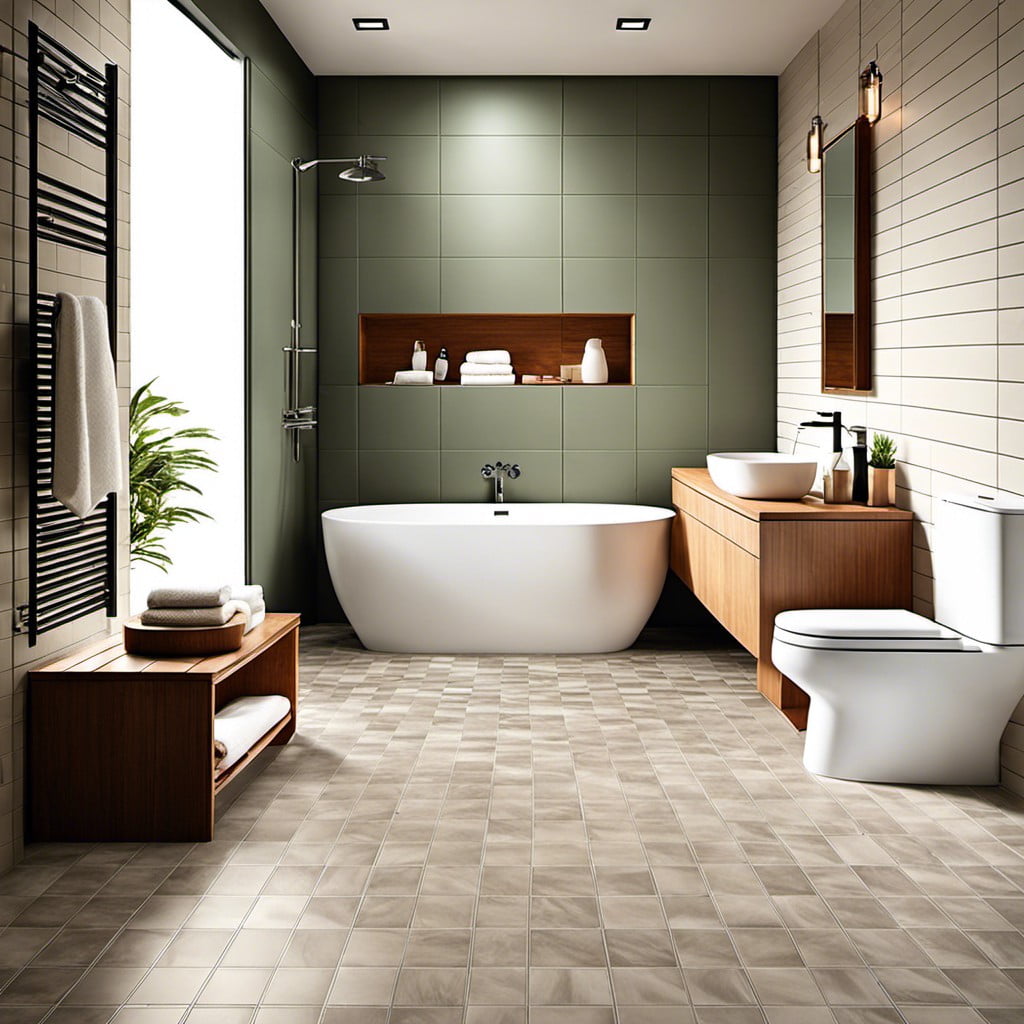 Taking both style and safety into account, vinyl tiles offer a great flooring solution for bathrooms. Known for their water-resistant feature, they provide strong grip under wet conditions. This makes vinyl an option worth considering when thinking about the prevention of slip hazards in bathrooms.
Vinyl tiles come in a plethora of designs and colors, giving you the flexibility to style your bathroom your way. Some mimic the look of natural stone, hardwood, or ceramic offering a premium look at an affordable cost.
In terms of durability, vinyl holds up well against daily wear and tear, making maintenance straightforward. All it needs is a quick sweep and mop, reducing the time you spend on cleaning.
Above all, vinyl is a cinch to install and replace, catering to DIY enthusiasts. Therefore, if you're a budget-conscious homeowner looking for a blend of affordability, versatility, and safety, vinyl tiles easily make the cut.
Textured Ceramic Tiles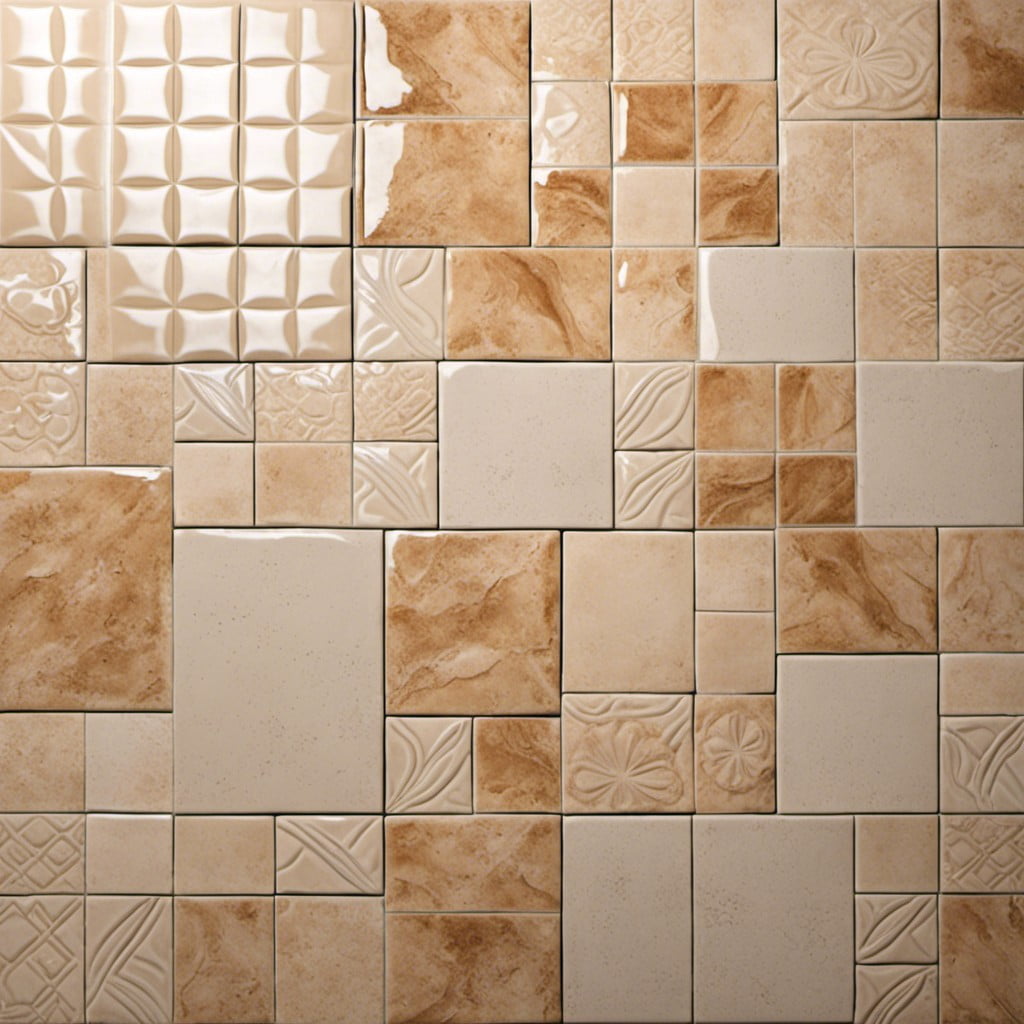 For a bathroom flooring option that's beautiful and incredibly easy to maintain, ceramic tile is hard to beat. In its textured version, these tiles can create an elegant look in the bathroom with the added benefit of being slip-resistant. They're available in endless designs and colors to match any decorating scheme.
For a heated option, radiant floor systems can be installed underneath. Maintenance is simple: regular cleaning using mild detergent is usually enough to keep the tiles in top shape. When it comes to longevity, these tiles often outlive the house itself! The only note of caution is that it can be a bit chilly in cold climates, but that's easily solved with well-placed bath mats or the aforementioned heated option.
Porcelain Tiles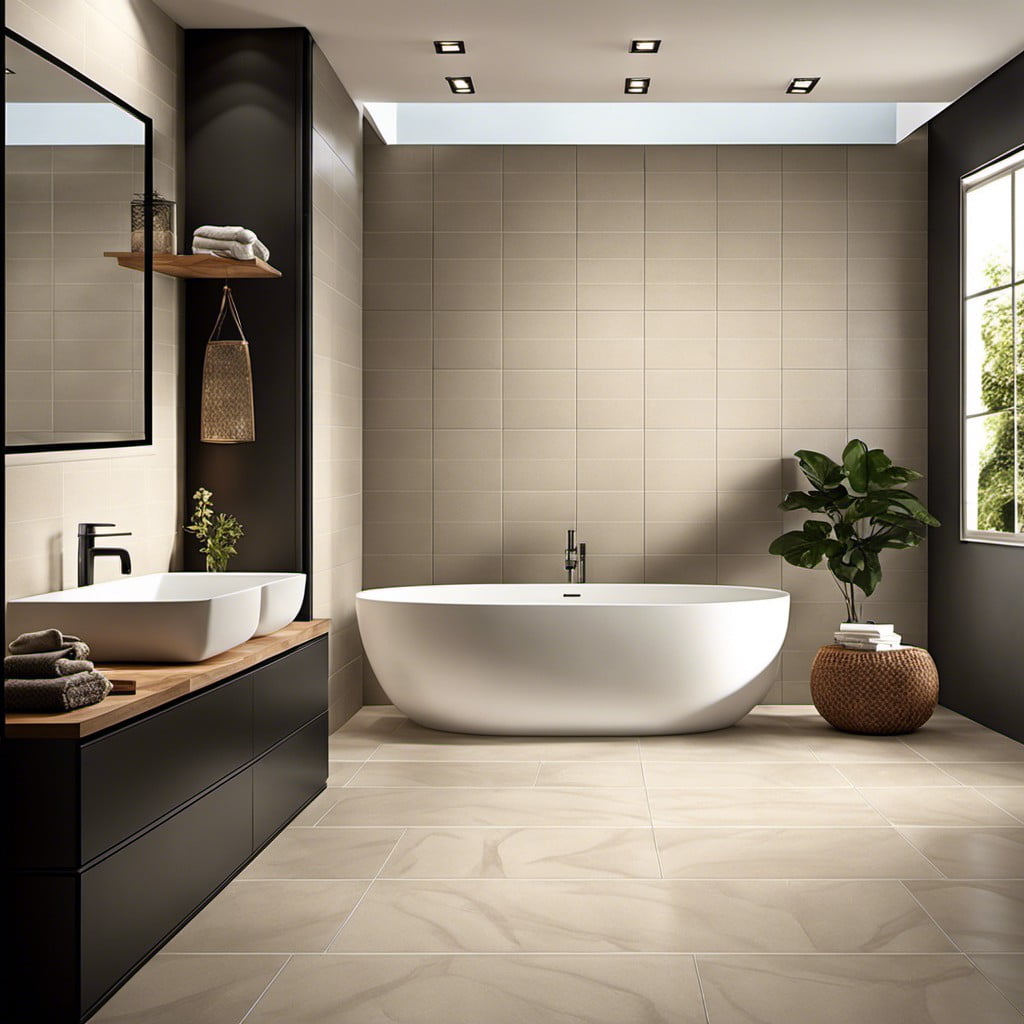 Characterized by their durability, porcelain tiles are a popular choice for bathroom flooring. Due to their non-porous nature, they resist water, making them perfect for high-moisture environments. Plus, these tiles are available in a myriad of designs, allowing for customization to match any bathroom decor.
Being easy to clean and maintain is another highlight of porcelain tiles. They can endure high foot traffic without showing signs of wear. Comparatively, they may be a more expensive option, but their longevity and low maintenance requirement over time can balance out the initial costs.
One key consideration, should you lean towards this option, would be to source tiles with a textured or matte finish to ensure a slip-resistant surface, enhancing safety especially when the surface is wet.
River Rock Flooring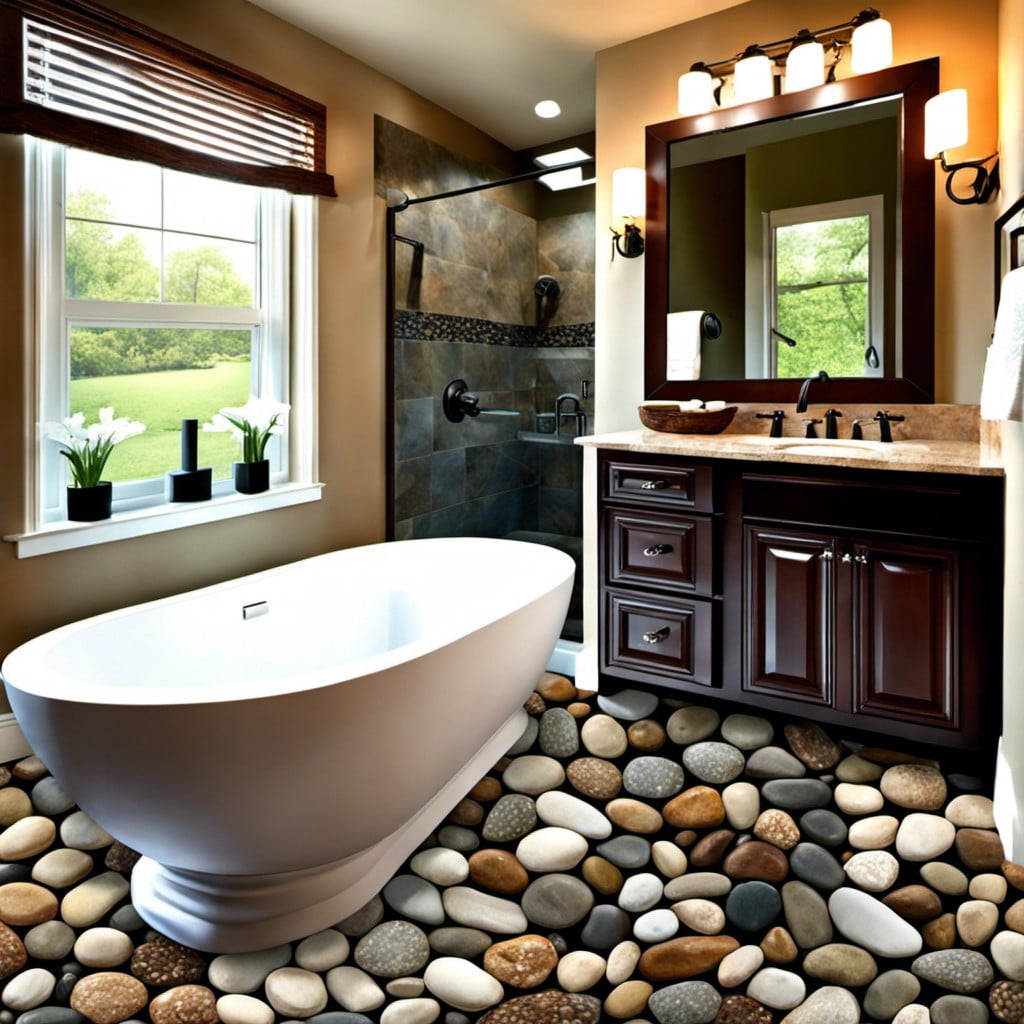 The rounded edges of river rock flooring make it a brilliant option for those who crave a natural, spa-like feel in their bathrooms. It stands out for its realistic textured design and because each stone interacts with light subtly differently, the entire floor is visually intriguing.
Primarily, river rock offers the ultimate non-slip surface, an ideal solution for a bathroom. Moreover, due to its water and moisture-resistant nature, it can hold up well in damp areas. Its maintenance is fairly simple too – just clear the surface with a wet mop or a stone cleaner to maintain its vibrant look.
One thing to keep in mind is the installation process. It's more complex compared to other types of flooring due to the individual placement and sealing of each stone. But the end result – a beautiful, organic aesthetic to the bathroom that securely keeps slips and falls at bay – makes the extra work worth it.
Comfort is another aspect to consider. While some might enjoy the massage-like effect the rounded stones can have on bare feet, for others, the irregular surface might be less enjoyable to walk on. Hence, choosing the size of stones that will be comfortable for everyone in your home is a must.
Polished Concrete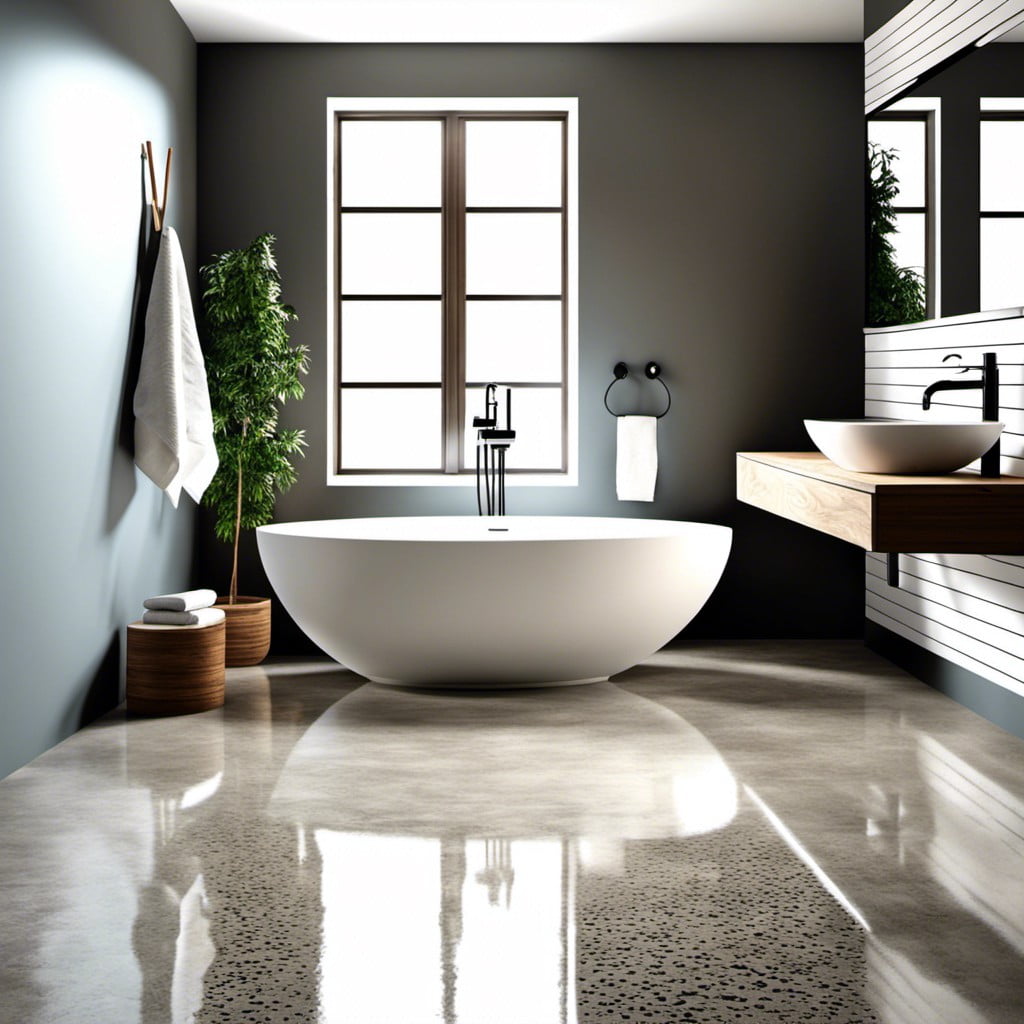 Previously a material commonly used in industrial spaces and basements, polished concrete is now seeing a dramatic surge in popularity within the bathroom space. The high sheen achieved by grinding down the surface provides a sleek, modern aesthetic that integrates effortlessly into any contemporary design.
Here's why it works. The polishing process makes the surface impermeable, providing excellent protection against water, the biggest enemy in the bathroom. It's easy to maintain, just requiring a damp mop to keep it clean and gleaming. Plus, with additives, it doesn't have to be a slippery surface. Special sealants can render it non-slip, an essential for bathroom floors.
And let's not forget the opportunities for customization. An array of colors, patterns, and textures can accommodate even the pickiest decorator's tastes. With polished concrete, your bathroom floor can truly be a one-of-a-kind masterpiece.
As far as installation is concerned, it is recommended to hire professional concrete contractors to ensure a successful and durable outcome. Despite the higher upfront cost, the longevity and durability of polished concrete make it a prudent choice in the long run.
Cork Bathroom Flooring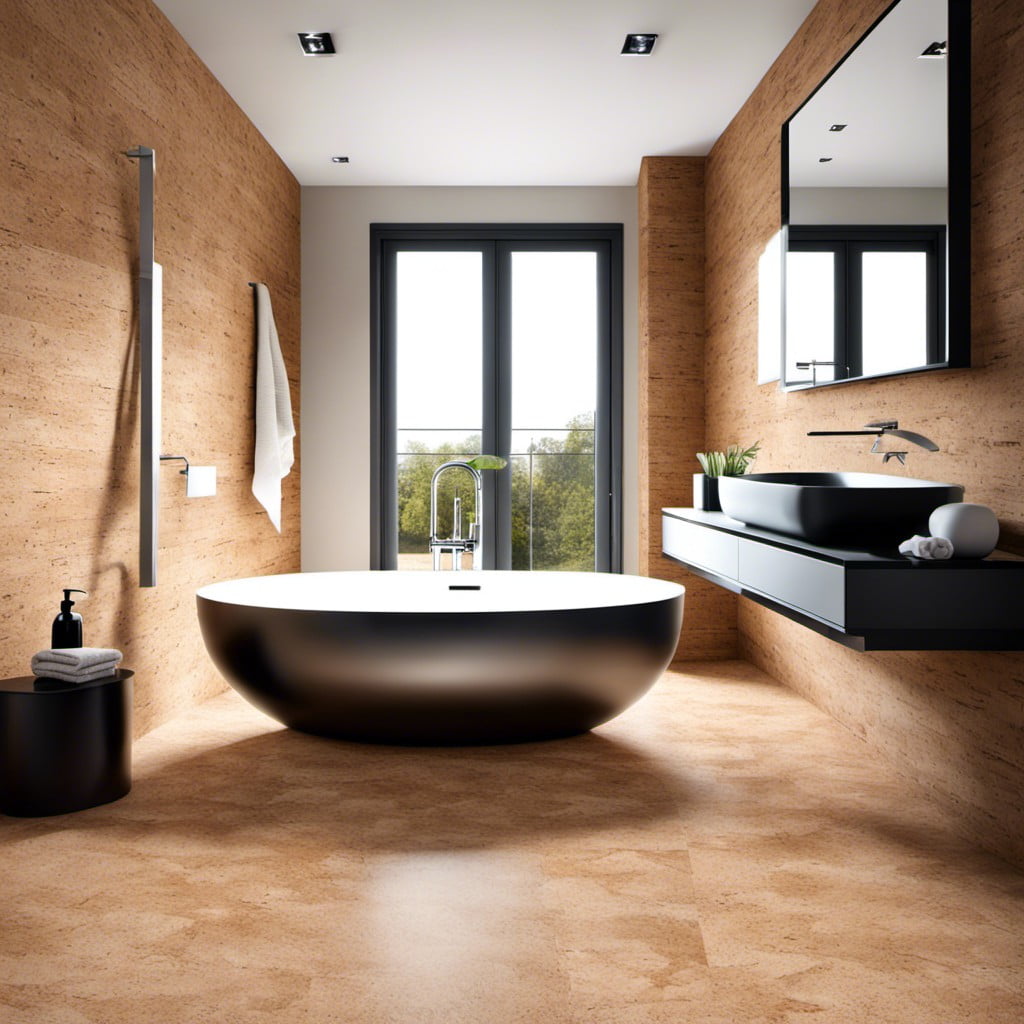 Recognized for its eco-friendliness, cork offers a welcoming, soft surface underfoot, an essential feature for those chill morning visits to the bathroom. To enhance slip resistance, choose cork tiles with a textured or slip-resistant finish.
Cork contains suberin, a natural substance that repels bugs, mold, and mildew. This resistance makes it a healthier choice for those with allergies. Moreover, the insulating properties of cork can help maintain a warm surface even in colder months.
Maintenance is relatively stress-free. Sweeping or vacuuming for routine cleaning followed by a mildly soapy damp mop is all it takes. Cork is also easy to install, making it a popular choice for DIY enthusiasts. While cork is moisture resistant, heavy water exposure can lead to surface damage, so immediately wipe up standing water.
Lastly, the natural aesthetic of cork, with its rich earthy tones and unique patterns, adds an organic touch to match various bathroom styles.
Bamboo Flooring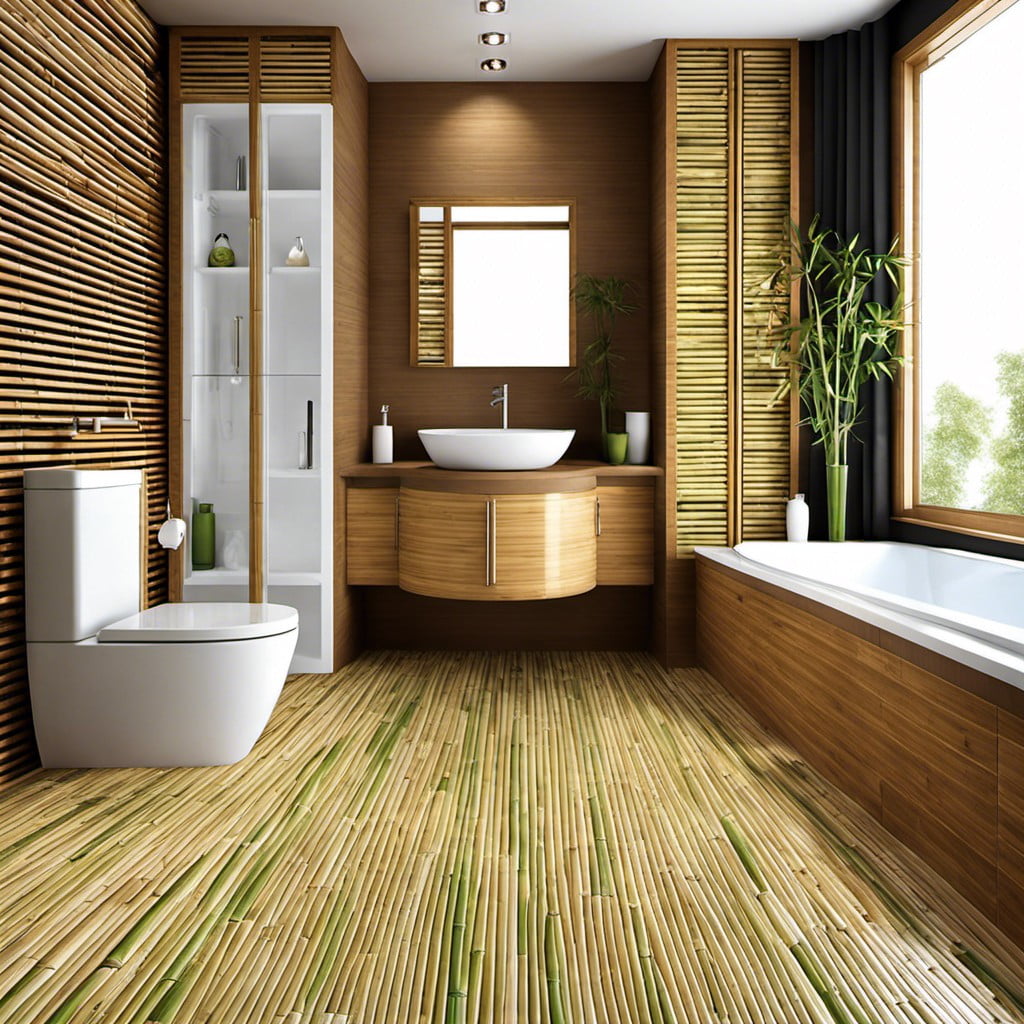 Bamboo is an eco-friendly choice, gaining popularity with the environmentally conscious crowd. It's naturally water-resistant, though not as much as hardwood, and can resist swelling and warping when properly sealed.
This renewable resource adds an elegant aesthetic appeal to bathrooms with its light and airy beauty. Plus, most varieties of bamboo flooring have a non-slip finish making them a safe choice for mitigating bathroom slips and falls.
Because bamboo flooring is quite easy to install, DIY enthusiasts might find it an exciting weekend project. However, remember that like any hardwood, it requires proper and regular maintenance to maintain its sheen and longevity.
Heated Floor Systems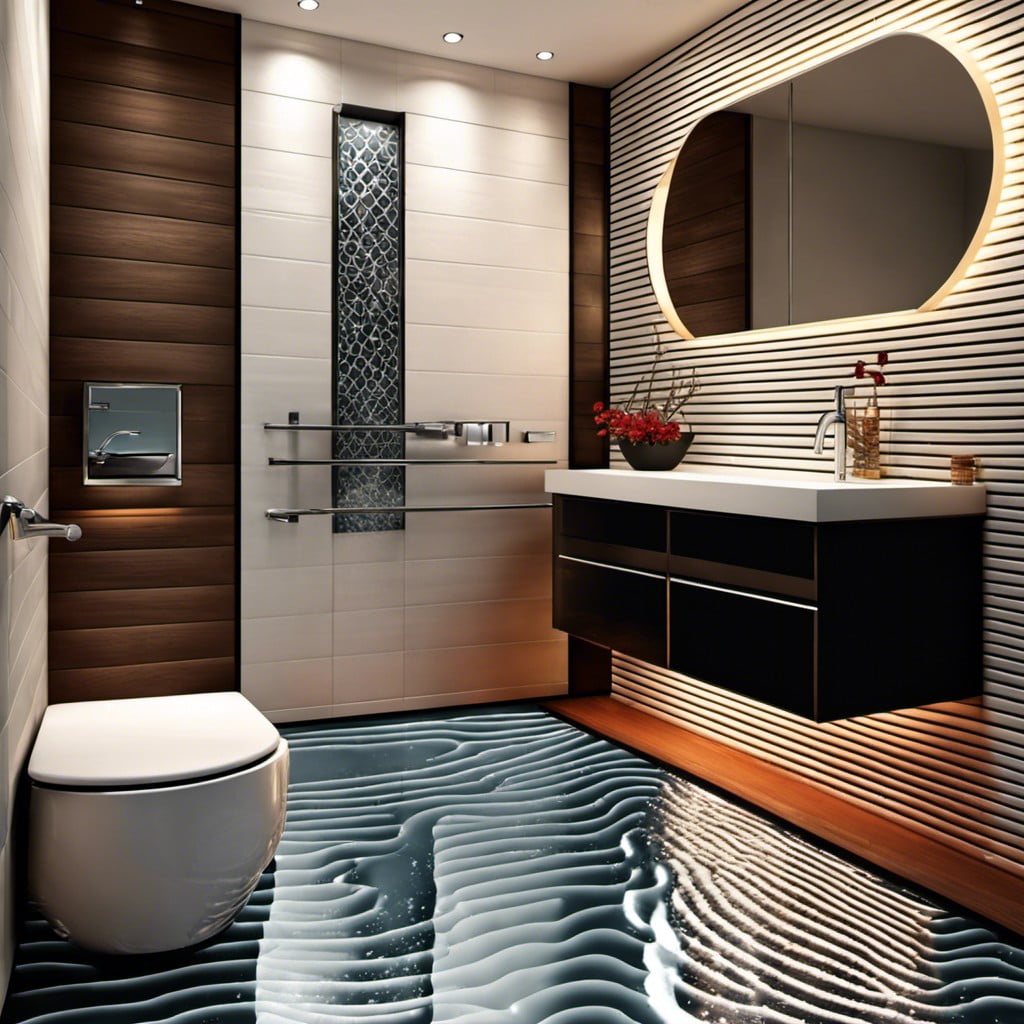 Investing in a heated floor system will not only keep your feet warm but also make your bathroom floor less slippery when wet. It is an energy-efficient method that improves comfort and boosts the home's resale value.
The use of radiant heat systems underneath the floor surface aids in evenly warming up the bathroom. They can be paired with a variety of stylish flooring options, including ceramic tiles, stone, and engineered hardwood.
This system is moisture-proof and perfectly safe to use in a wet bathroom environment. Remember to engage professional installers to ensure the system performs at its best. With heated flooring, stepping on a cold bathroom floor on a chilly morning would be a thing of the past.
Mosaic Bathroom Tiles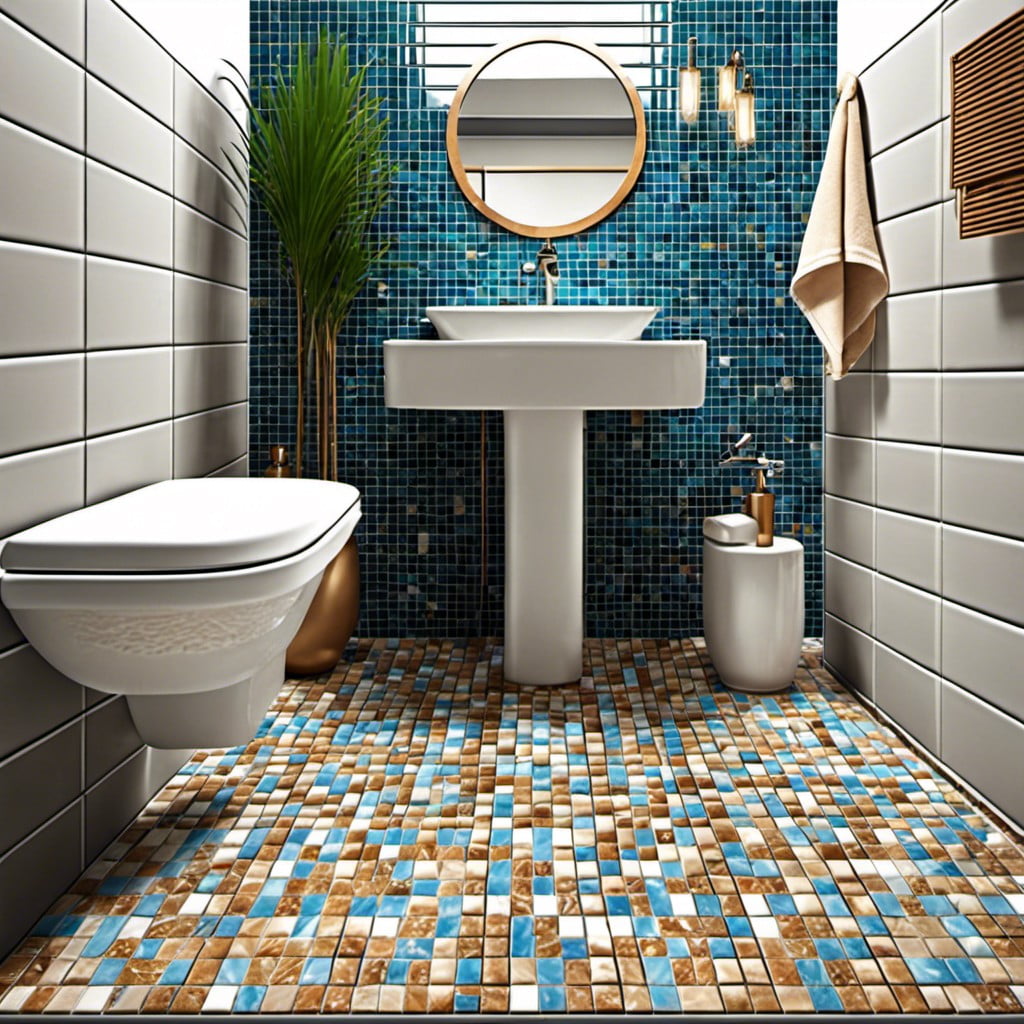 With their multitude of small pieces, mosaic tiles offer chances to play with patterns, adding dynamic and elegant visuals to a bathroom floor. But their benefits extend beyond aesthetics. They strategically provide a non-slip solution as more grout lines enhance slip resistance, providing a safer surface in a wet zone like a bathroom.
Mosaic tiles are versatile and come in different materials, such as ceramic, glass, and stone. Ceramic and stone variants are generally more slip-resistant while glass offers a contemporary appeal.
Installing these tiles might be a more time-intensive undertaking due to their miniature size, but they provide lasting value both practically and aesthetically. To further improve slip resistance, choose textured or matte finish mosaic tiles and use a gritty grout. Always consult a professional for proper installation.
Overall, mosaic bathroom tiles meld form with function, artfully tackling the issue of slippery bathroom floors.
Slate Tile Flooring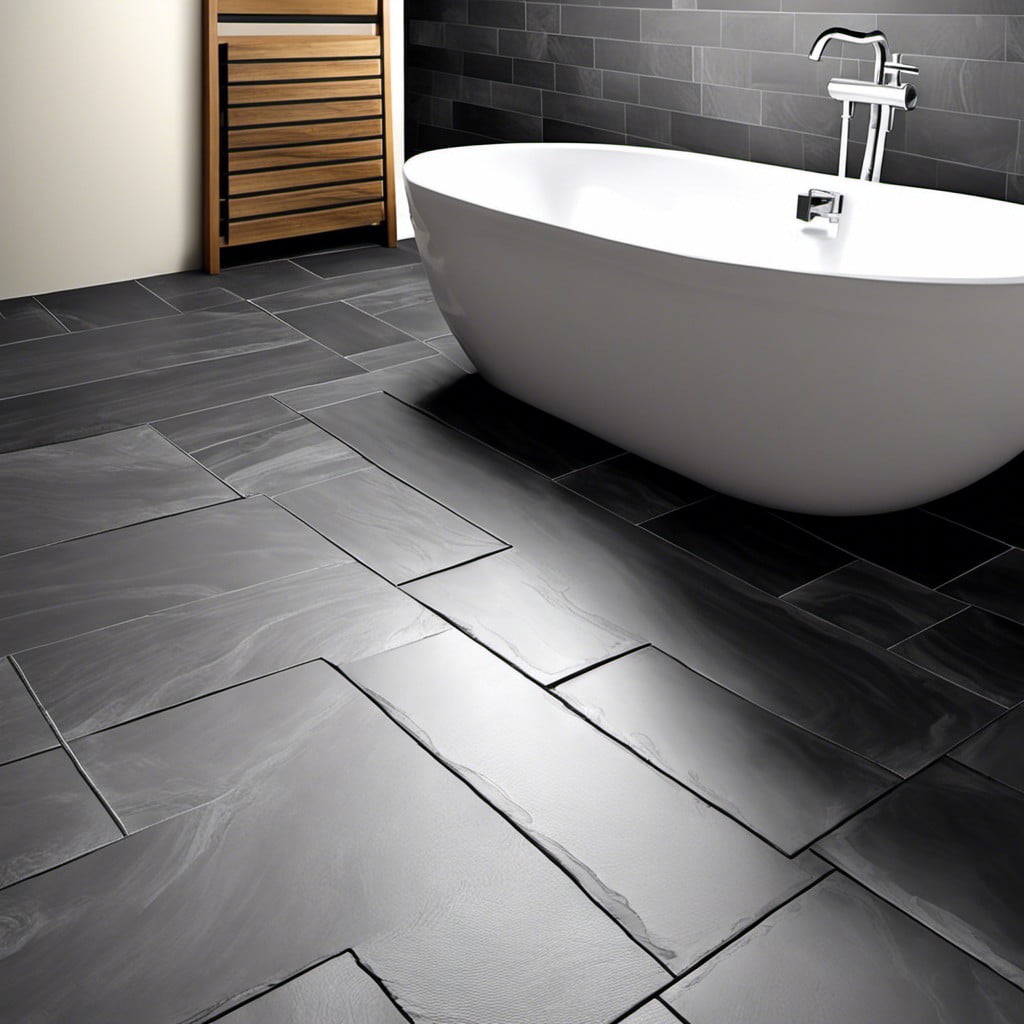 Offering an aesthetically pleasing and rugged surface, slate tiles are a great choice for non-slip bathroom flooring. The tiles naturally occur in numerous colors delivering a unique rustic charm in each piece that's meant to last. Inherently safe for wet conditions, slate's split surface texture promotes grip, making it ideal for slippery areas.
However, it's important to remember these tiles require sealing periodically to prevent water absorption and potential staining. In addition, the uneven surface can be a bit hard on bare feet. It can be easily managed by using rugs in strategic places. Its durability against common bathroom elements along with an appealing rustic look make slate tiles a noteworthy contender in the non-slip flooring game.
Capsuled, slate tile flooring sums up a combination of aesthetics, safety, and long-lasting attributes, punching its relevance into our bathroom transformation agenda.
Acid-Stained Concrete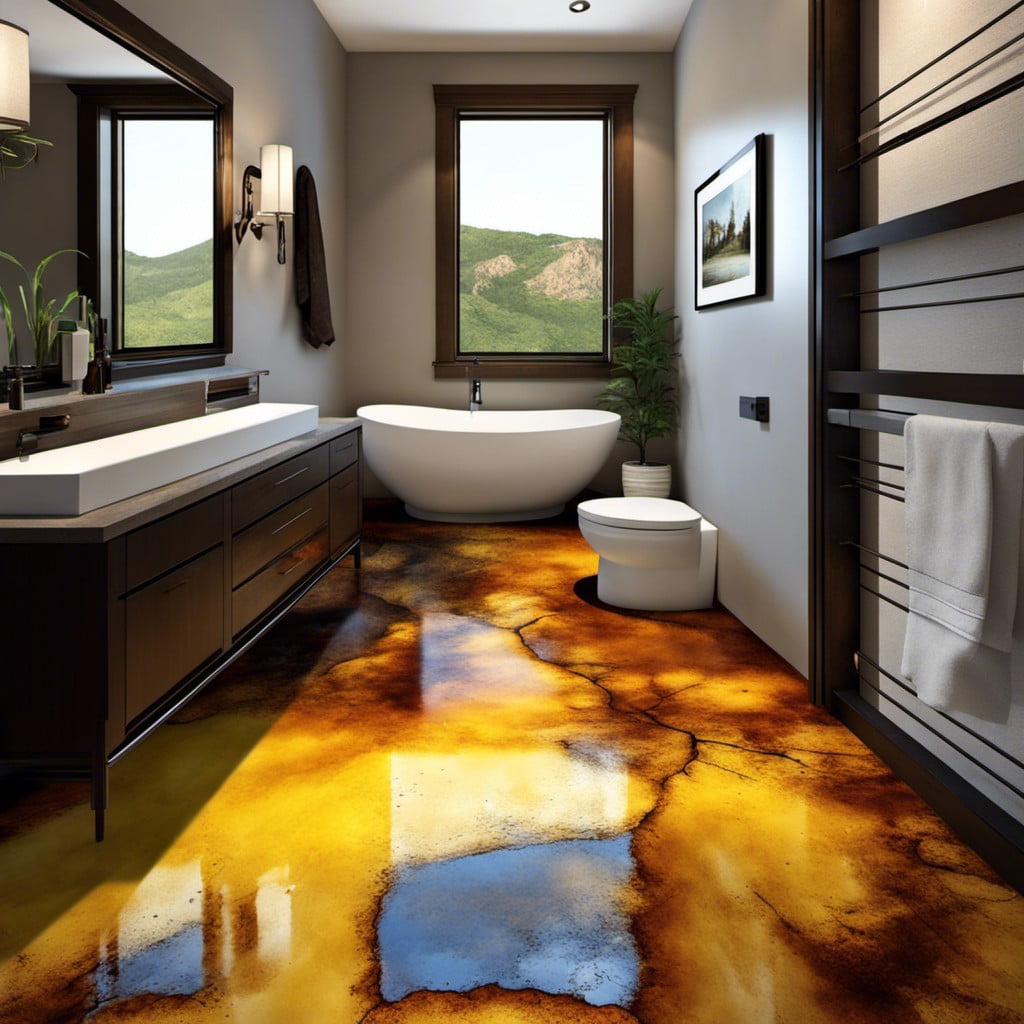 A popular modern choice with a unique appeal, this stylish flooring makes your bathroom slip-resistant and incredibly chic. The staining process gives the concrete a distinctive look with swirls and variegation of colors that add depth and interest to the floor.
Not only is acid-stained concrete exceptionally durable, but it also calls for minimal maintenance and is resistant to mold and staining – a great bonus. Plus, its seamless surface leaves no crevices for water to seep into, reducing the chances of bacteria growth.
In terms of design flexibility, the range of colors from neutral tones to vibrant hues, and finishes from glossy to matte, allows for countless customization possibilities. It's equally useful in radiant heating situations, efficiently transferring the heat up into the room.
Can't forget to mention its eco-friendliness – it uses existing materials and doesn't involve extraction, manufacture, or transportation. Acid-stained concrete might just be the unique, efficient, and artistic solution your bathroom needs.
Engineered Hardwood Flooring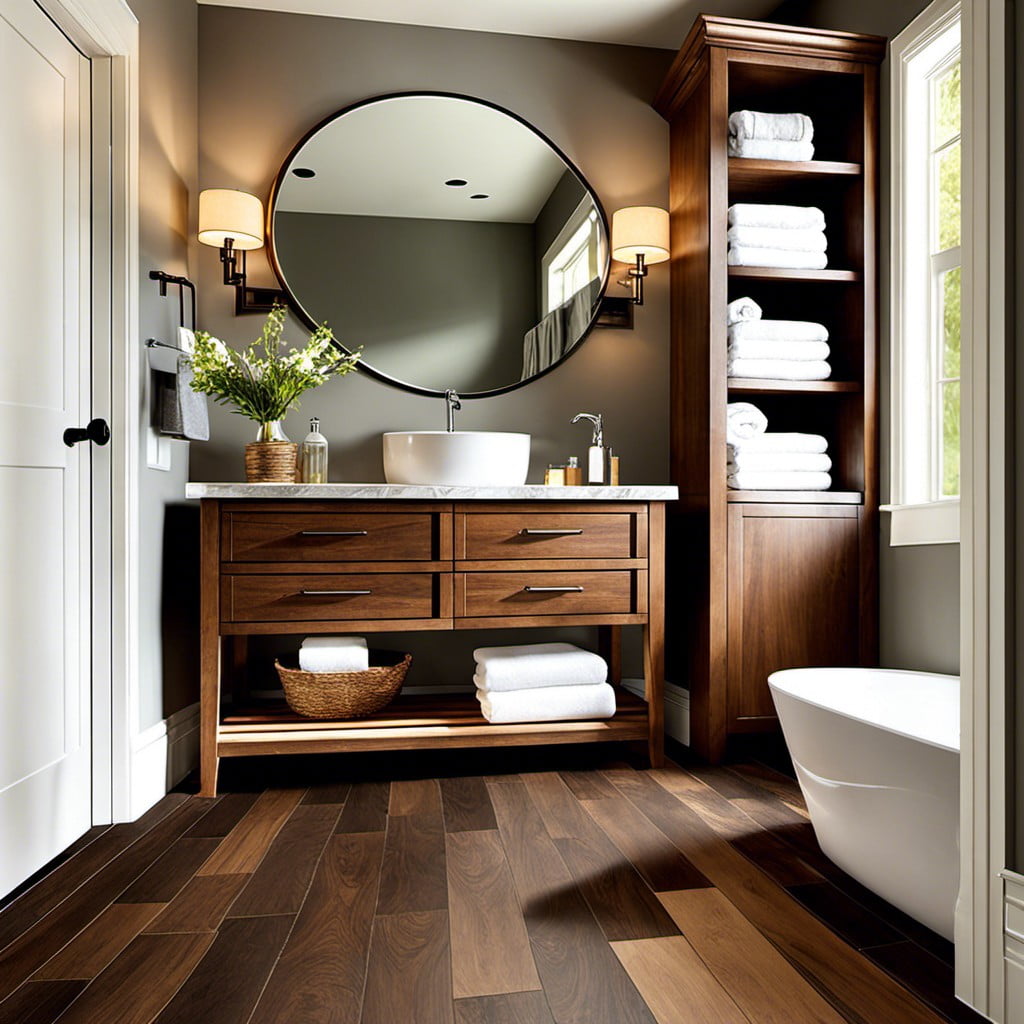 This flooring option brings a warm, luxurious feel to any bathroom. Often a popular choice for living spaces and kitchens, engineered hardwood has made its way into the bathroom due to its enhanced resistance to moisture compared to solid hardwood.
Comprised of multiple layers, its topmost layer consists of high-quality wood, while the core layers are made of plywood. These layers provide resistance against high moisture levels, making it a prime contender for bathroom flooring.
Installation is relatively easy, with options of gluing, nailing, or click-together, providing flexibility based on your preference. Bright or glossy finishes can be added for extra water resistance, and generally, it promotes easy cleaning and low maintenance.
However, it is important to monitor for water leaks to prevent irreversible damage. Direct water spills should be wiped immediately. But with good care, this flooring option ensures durability with the chic elegance of real wood.
Plastic Laminate Tiles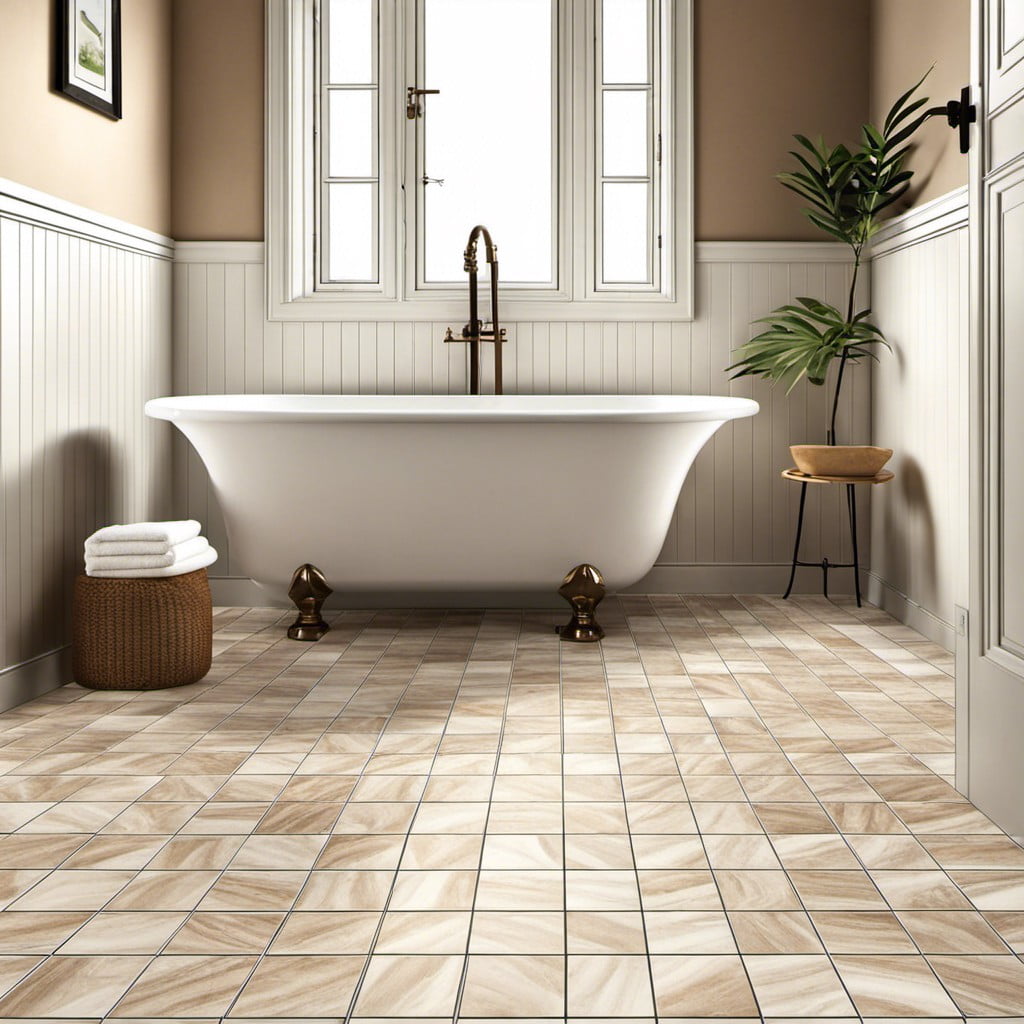 Offering durability and water resistance, plastic laminate tiles are an affordable choice for a stylish bathroom. These tiles mimic more expensive options like wood or stone, providing the same aesthetic pleasure at a fraction of the cost. They not only withstand high-traffic but are also highly resistant to scratches and stains, a plus for families with children or for those keen on keeping their bathroom immaculate. Do keep in mind though, for enduring utility, professional installation is advised, to ensure properly sealed edges warding off potential water damage. Ultimately, this option provides longevity, style, and function at an attractive price point.
Natural Stone Flooring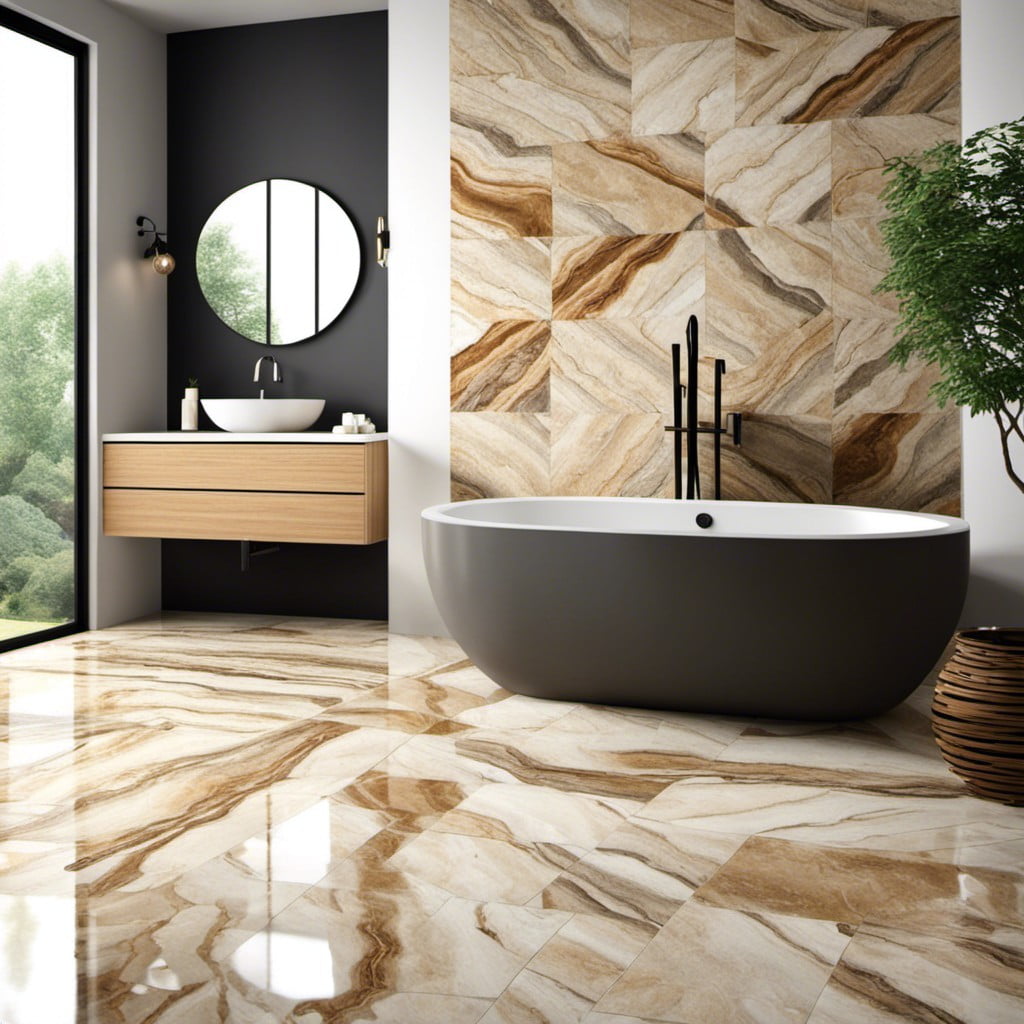 Packed with elegance and luxury, natural stone flooring can take your bathroom to a whole new level. Understanding the different options available can help determine the right pick for your bathroom redesign.
1. Durability: Natural stones are remarkably durable despite their luxurious feel. With proper care and maintenance, they will last a lifetime.
2. Water Resistance: Certain stones like granite and slate have fantastic water resistance, making them ideal for bathroom settings.
3. Versatility: Available in an assortment of hues, textures, and style possibilities. From smooth pebbles to a polished marble look, the options are endless.
4. Eco-Friendly: Made from natural materials, these floors have a low environmental impact.
5. Easy Maintenance: Regular sealing and routine cleaning can keep these floors in top shape.
Choosing natural stone flooring not only transforms your bathroom into a spa-like retreat but also adds long-lasting value to your home.
Terracotta Tiles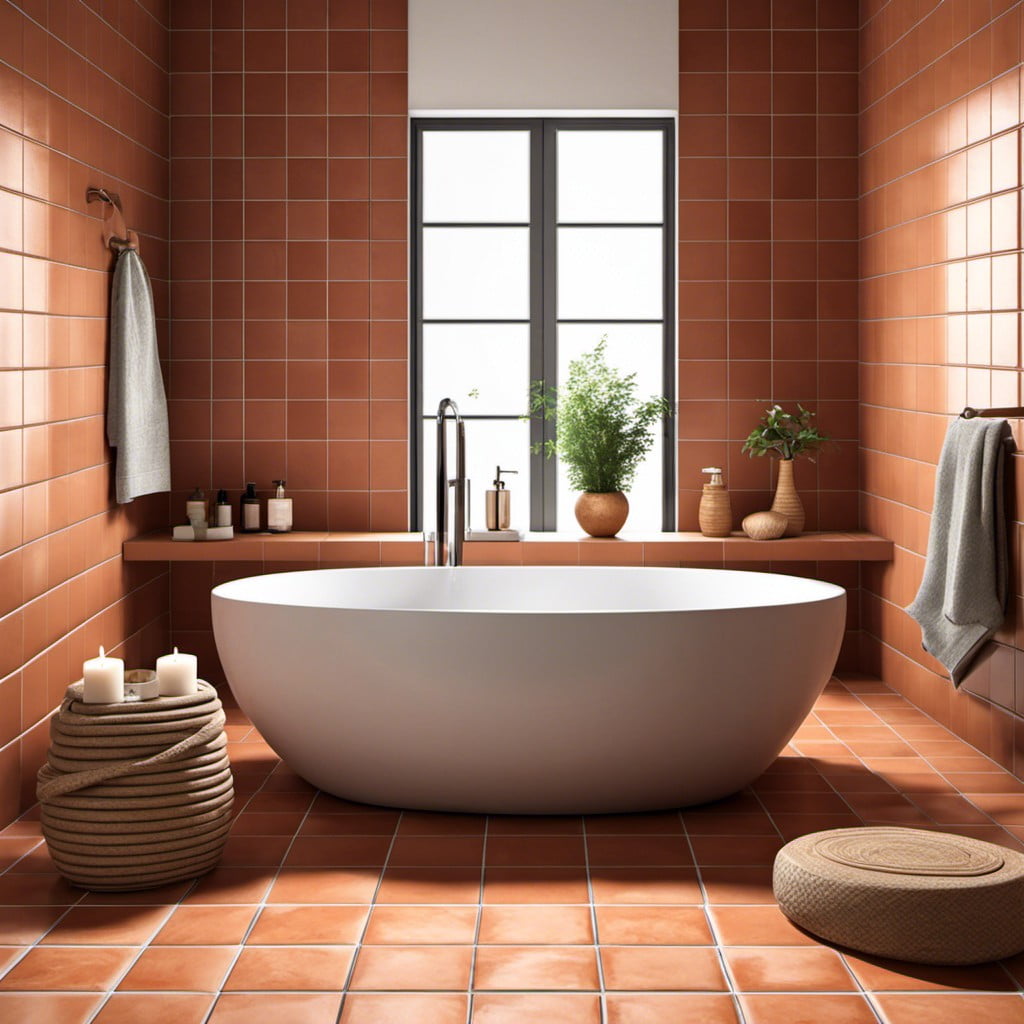 These rustic, earthy tiles are an excellent choice for a warm, inviting bathroom atmosphere. Terracotta, or "baked earth" in Italian, is known for its durability and longevity.
This material is naturally slip-resistant, making it an ideal choice for bathroom flooring. The tiles come in various tones, from pale honey to rich, deep reddish-brown, giving you plenty of options to match your decor.
Careful maintenance is integral to preventing surface wear or water damage – sealing the tiles and regularly applying a quality terra-cotta surface wax will do the trick.
Please note that while terracotta has a charming aesthetic, it is more porous than other tile options, and thus, may not be the best option if your bathroom sees heavy water use.
Glazed Ceramic Flooring
With their coating that's created by baking onto the tile at a high temperature, this type subtly offers additional slip resistance. These tiles are a common pick due to their protective layer safeguarding the underlying material from water and stains – a beneficial trait for such damp spaces.
A reasonable price tag and a variety of designs, from contemporary to traditional, contribute to their popularity. Care and maintenance is relatively fuss-free, regular cleaning will suffice in maintaining their newness. The installation could be a DIY project for those handy with home improvements!
Remember though, good quality glazed ceramics are a must for longevity. Although there's no need to worry excessively about scratch marks, dropping heavy objects can certainly cause damage. Choose wisely!
Epoxy Resin Floors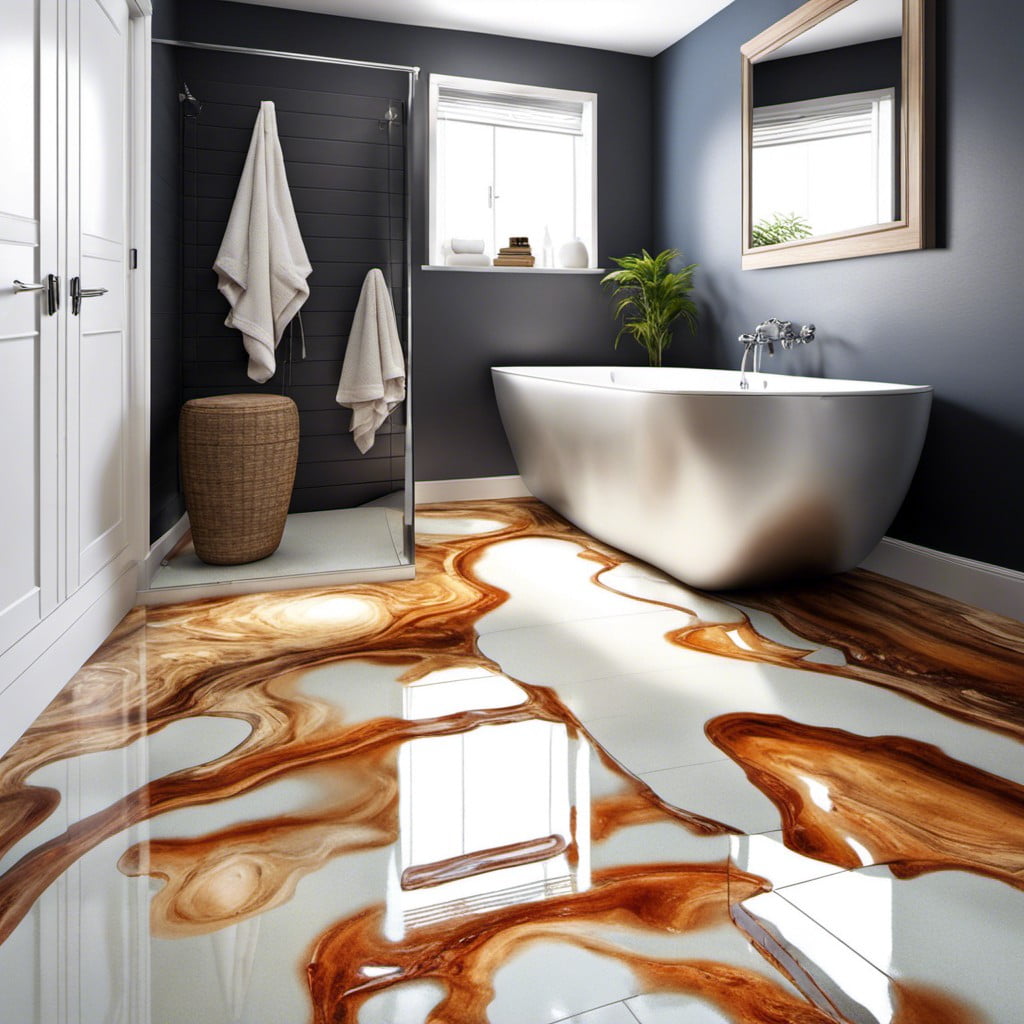 A standout for its resilience, epoxy resin flooring offers an unrivaled waterproof and slip-resistant surface. It's simple to clean and incredibly durable, providing longevity that even exceeds some of its flooring counterparts.
Also, you won't have to sacrifice aesthetics for functionality. Epoxy resin doesn't skimp on style, offering an array of appealing colors and patterns. Ideal for those who envision a sleek, high-gloss finish or even a three-dimensional design, creating an arena for true personalization.
It's a prime choice for bathrooms that see heavy-foot traffic or need an easy-to-maintain option. However, remember that professional installation is recommended to ensure the resin cures appropriately for ultimate effect.
Linoleum Flooring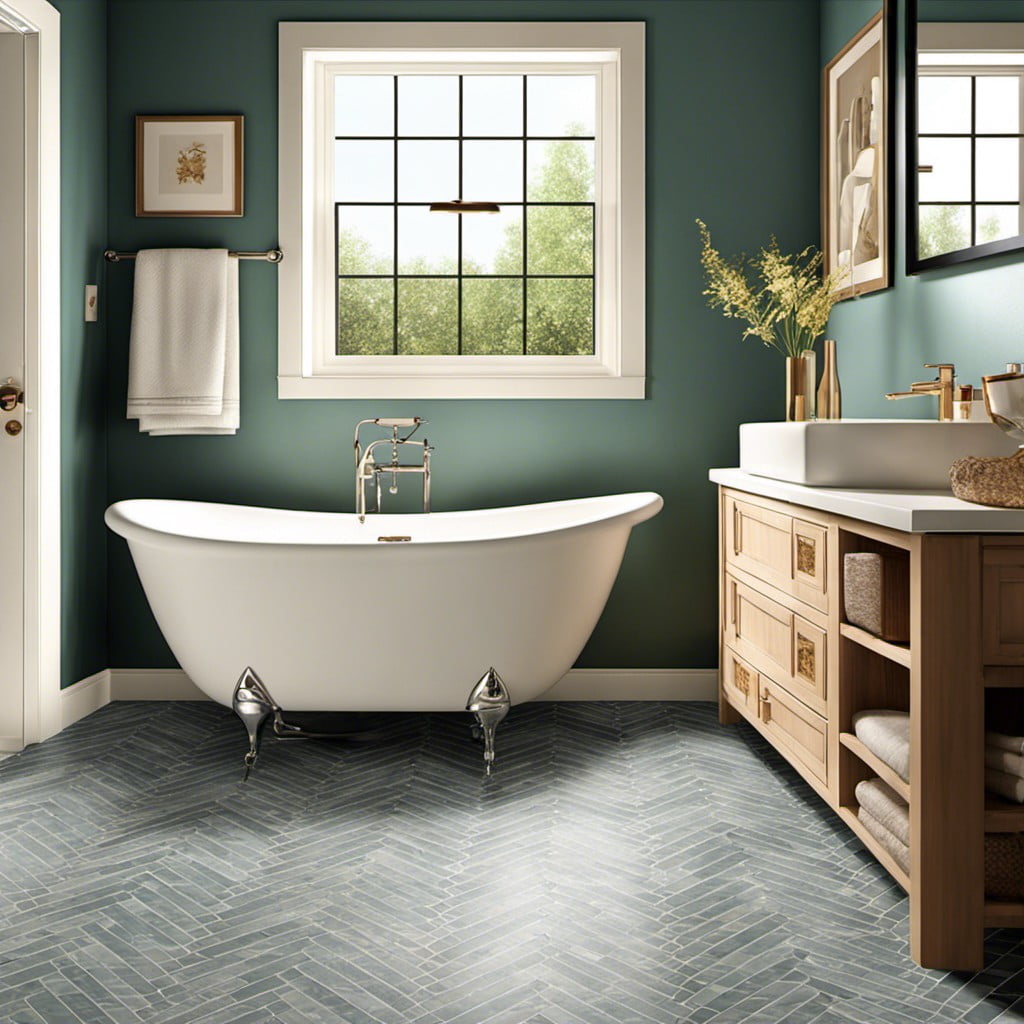 Linoleum boasts a reputation as a sturdy, environment-friendly choice. Crafted from linseed oil, rosin, wood flour, and other organic components, this flooring is durable and resilient to damage. Plus, it offers an inherent slip-resistance due to its slightly textured finish.
Linoleum, easily cleaned with a moist mop, is a practical solution for maintaining hygiene in your bathroom space. It's available in a variety of designs and colors, enabling you to match it with any decor scheme seamlessly. Despite its vintage vibe, it flawlessly fits into a modern or traditionally designed bathroom.
Its installation process is effortless due to its flexibility, and it's possible to cut the linoleum into creative patterns for a custom bathroom floor design. Furthermore, linoleum's properties include being water-resistant which significantly extends its longevity in damp conditions. Lastly, it's an economically viable option, making it popular among homeowners with budget constraints. The only downside might be its susceptibility to fading if exposed to sunlight for extended periods.
Pebble Tile Flooring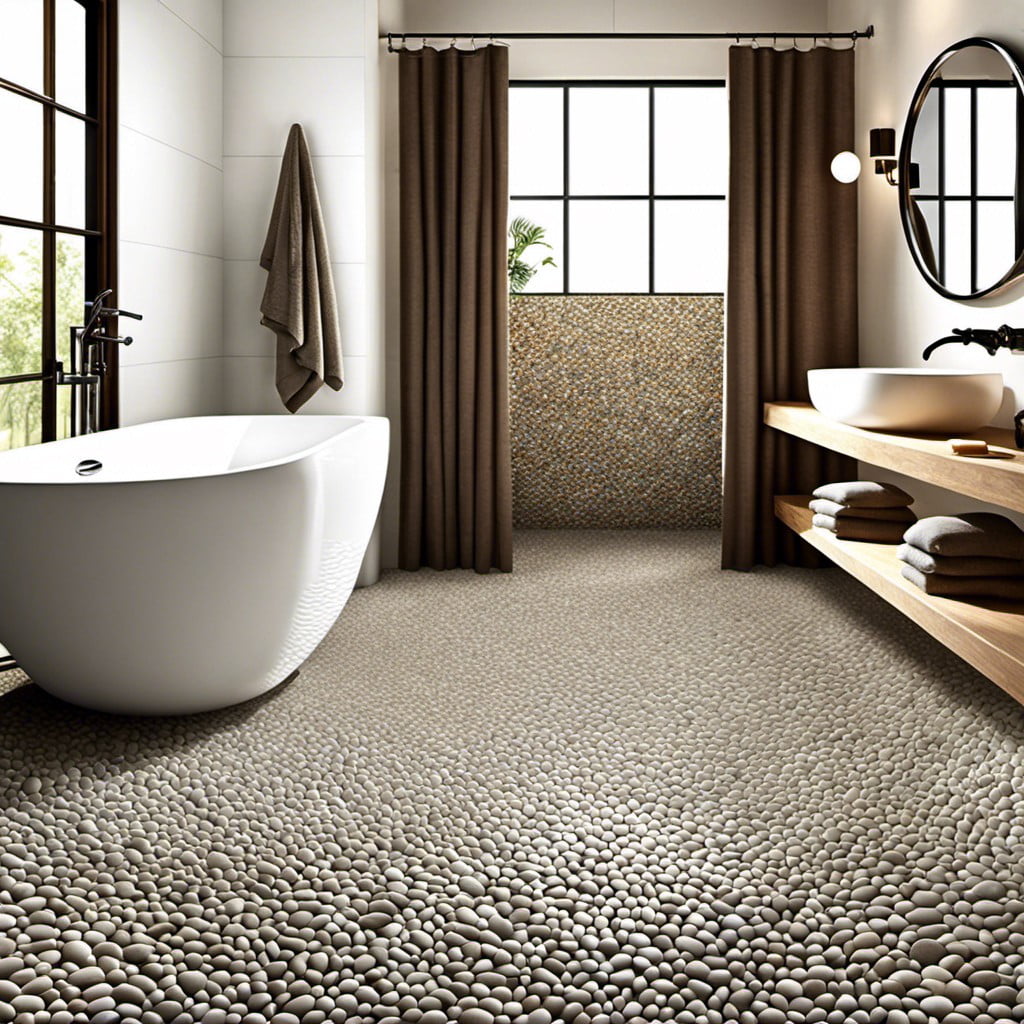 An aesthetically pleasing and natural alternative, pebble tile flooring lends a tranquil, spa-like feel to the bathroom. Unlike traditional tiles, this flooring uses small river stones, sealed to a mesh backing, mapping out a distinct earthy texture underfoot. Its unique design is a natural deterrent to slipping, making it an excellent choice for wet bathrooms.
Care and maintenance are straightforward. Regular cleaning using a brush with stiff bristles will effectively remove dirt lodged in between the pebbles.
Accessibility poses no issues as these tiles are simple to cut, fitting around fixtures isn't a challenge. To ensure a seamless look, consider using pebble tiles that come in interlocking sheets.
One disadvantage to bear in mind, though, some people might find the texture uncomfortable to bare feet. If a soft landing is a top priority, it may be wise to explore alternatives.
Overall, for those craving a touch of the great outdoors in their bathroom, pebble tile flooring becomes an enticingly tactile and practical option.
Continue reading:
Recap