Last updated on December 1, 2023
Embrace the unexpected beauty of dark flooring in your bathroom because it's an unconventional style that creates a high-impact, visually fascinating space.
I'm thrilled to share this article on 20 Elegant Dark Floor Bathroom Ideas that I've personally written and illustrated, hoping you'll find as much inspiration and enjoyment in it as I did creating it.
Diving into the world of dark floor bathroom ideas, one can discover a plethora of designs that can turn an ordinary bathroom into a stylish sanctuary.
Dark floors can add depth, elegance, and a touch of drama to your bathroom, whether you opt for matte black tiles, rich chocolate hardwood, or a slate gray stone finish.
This article will walk you through a variety of dark floor options, offering tips on how to balance them with lighter elements, select complementary fixtures, and maintain the chic look over time.
Stay tuned for a comprehensive guide that will help you navigate the world of dark floor bathroom designs, ensuring your bathroom transformation is a success.
Black Marble Flooring
This lavish material offers more than a touch of elegance. It's particularly stunning when contrasted against white or light-colored walls and fixtures. It exudes a sense of opulence, instantly elevating the aesthetic to luxury status.
Excellent for both contemporary and classic bathroom designs, it's extremely versatile. Keeping it pristine might require a bit more maintenance, but the striking visual impact makes it worth the extra effort. Adding underfloor heating will help keep the cool underfoot in check.
Its natural veining patterns guarantee that each floor is unique – an automatic conversation starter. Whether glossy or matte, it's a certain way to create a spellbinding bathroom. Gorgeous in various formats; large slab, tiles or herringbone pattern. Choose one that best suits your style for a sophisticated final result.
Marble's natural properties can even assist in balance humidity – the icing on the cake.
Slate Tile Flooring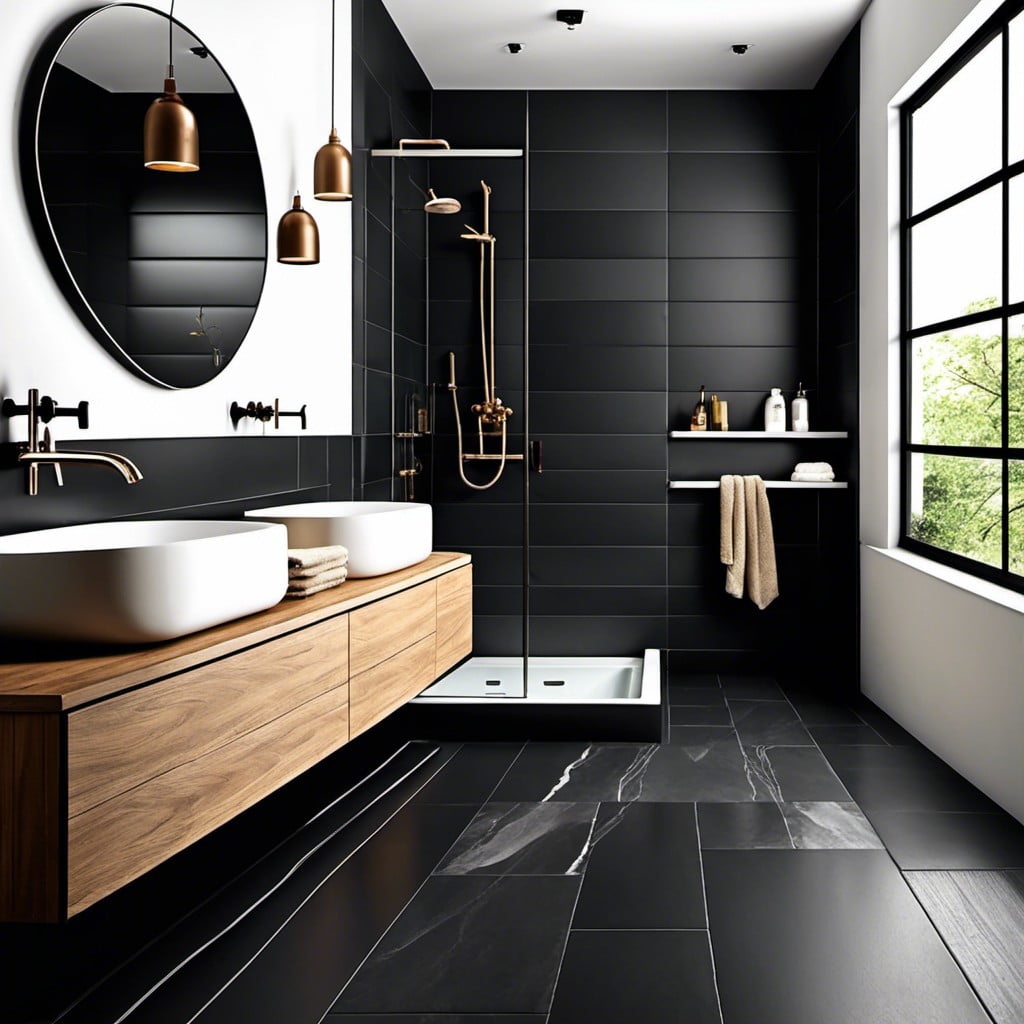 Slate's character pairs well with many room styles, from rustic to modern. Here are the main reasons this naturally beautiful, surprisingly versatile stone flooring option is turning heads in the bathroom flooring scene.
It's robust and durable: Slate is a robust and durable natural stone, resisting water and spills, perfect for a high-traffic bathroom.
Texture: The naturally cleft surface of slate provides a non-slip grip, even when wet, enhancing bathroom safety.
Unique Look: Each piece of slate tile has a unique, naturally occurring pattern. This uniqueness can create a gorgeous, one of a kind look.
Color Variety: Slate tiles come in a range of dark earth tones such as dark grey, black, and pewter. These shades can add a sense of luxury and depth to your bathroom.
Easy to care: Slate is relatively easy to clean, making it a practical choice for the bathroom.
Incorporating all these elements, slate flooring could transform your bathroom into a spa-like retreat, uniting style and functionality in one elegant solution.
Espresso Hardwood Floors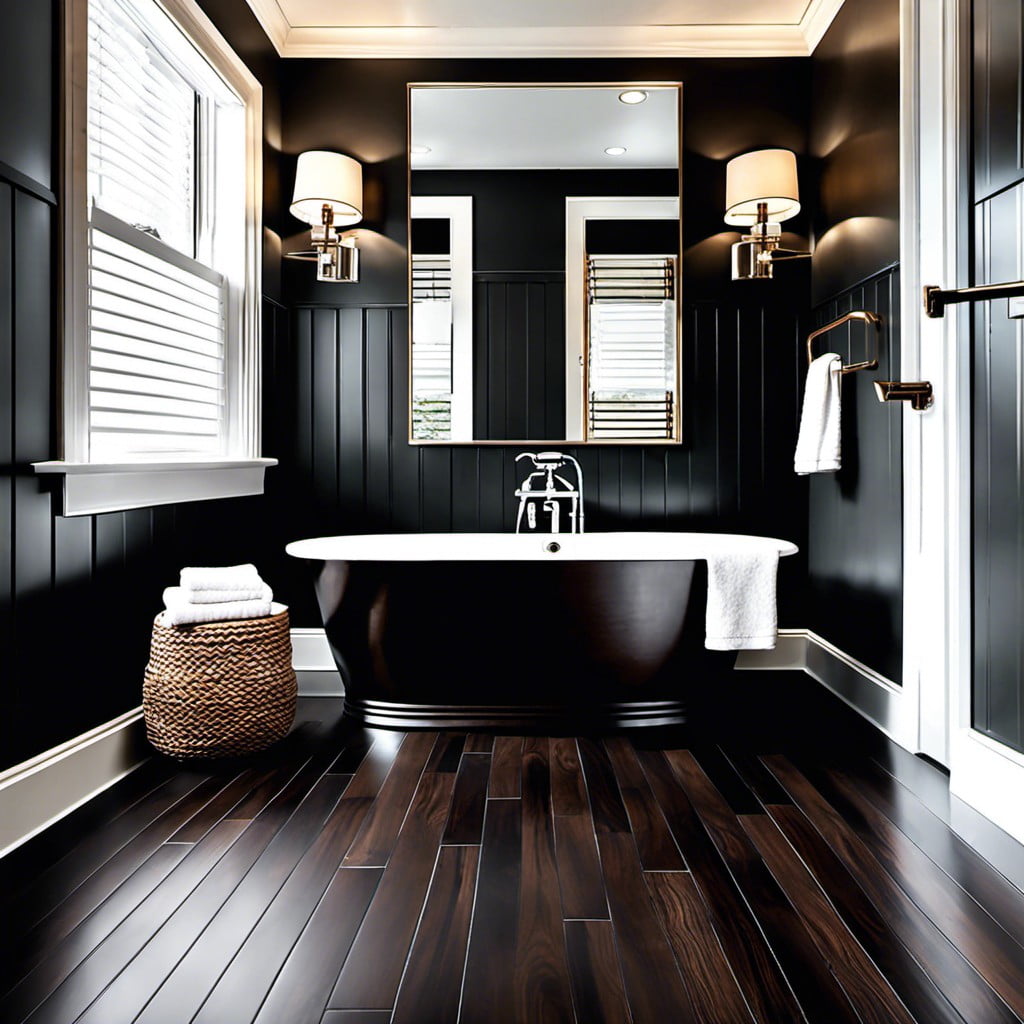 Utilizing an unwavering classic, Espresso hardwood provides the ideal canvas to make a resounding statement in any bathroom. Its rich, dark brown tones convey an air of elegance and sophistication, while subtly invoking a warm and welcoming atmosphere. It's particularly apt for larger bathrooms, where natural light can gorgeously play off its deeply saturated hue, enhancing its eye-catching details.
To protect and maintain its timeless shine, consider applying a water-resistant seal. Matching it with lighter colored walls and radiant accent pieces, such as chrome fixtures or a freestanding white tub, ensures it doesn't overpower or darken your bathroom aesthetic. Opt to keep floor coverings to a minimum to fully showcase this stunning choice in flooring.
Many opt for this distinct flooring type, appreciating its robust, durable nature and ease of cleaning. It's important to note that hardwood, even in the rich espresso finish, can show scratches and dents more easily than some other options. Regular sweeping and immediate stain cleanup will help maintain its pristine luster longer.
Despite the upfront cost and maintenance, the visual impact and classic charm makes Espresso hardwood an investment worth considering for a dark floor bathroom scheme. So, if you are longing to infuse a dose of drama while maintaining an air of comfortable chicness, Espresso hardwood floors may be the perfect choice for you.
Dark Grey Concrete Floors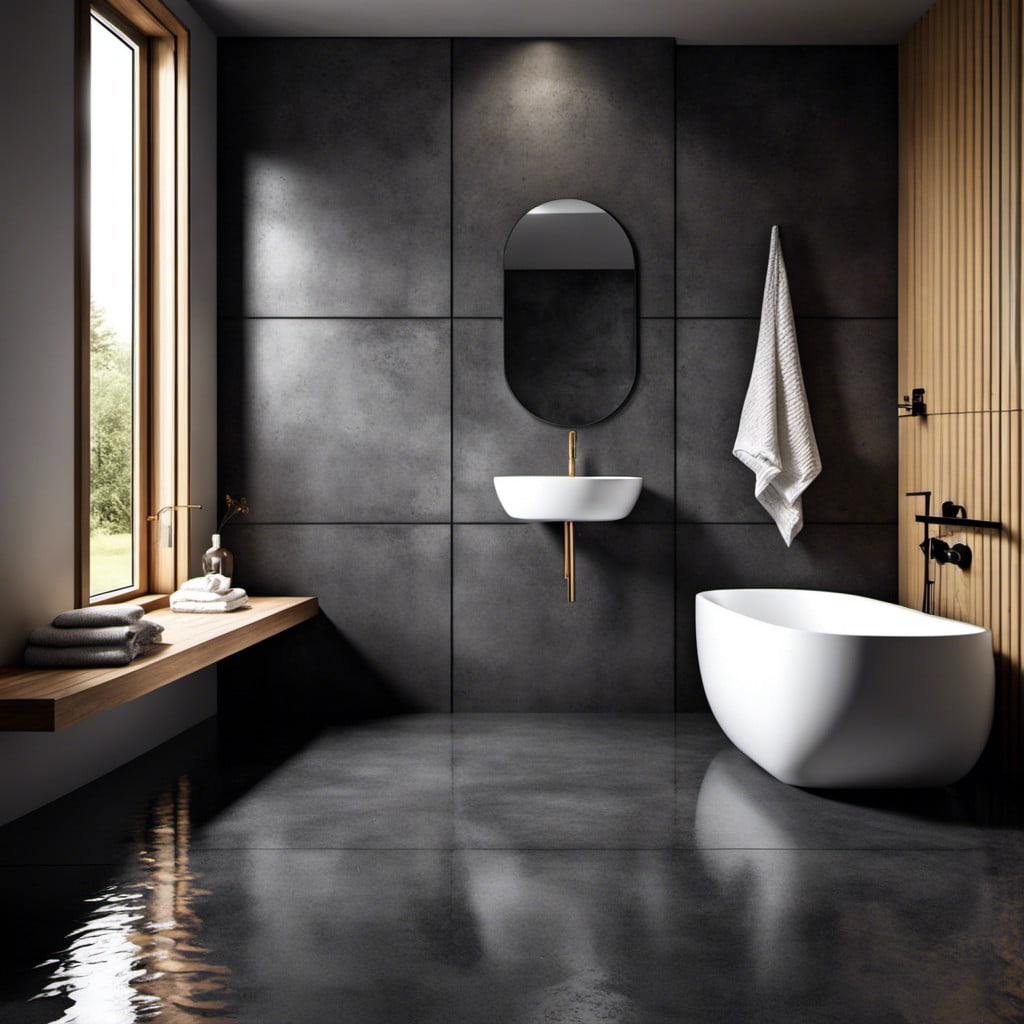 As a less traditional but equally chic option, dark grey concrete surfaces assure durability and ease of maintenance. This raw, industrial-esque material is known for its cool, modern appeal. It can smoothly handle high traffic, making it suitable for family bathrooms.
Despite its sturdiness, this flooring does offer some degree of customization. With staining techniques, the color palette can be adjusted based on personal preference, from lighter greys to almost black. Their matte texture helps absorb light, reducing glare.
To fully harness its potential, pair with white fixtures for a stunning contrast effect. Metallic accents, in gold or copper tones, also complement this backdrop beautifully. Add warmth with rugs, textiles, or wooden details. Lastly, don't forget ample lighting to create a welcoming atmosphere despite the darker hue.
Black and White Mosaic Tile Flooring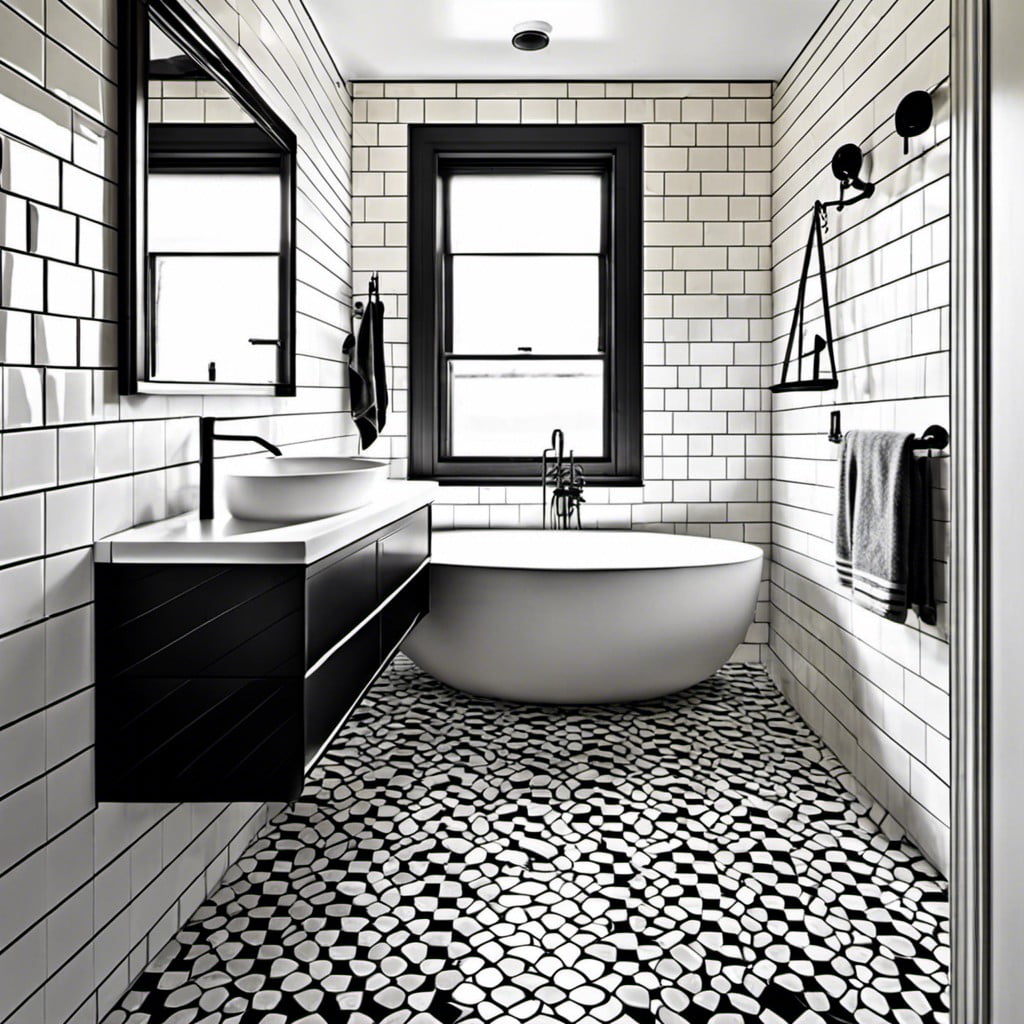 Creating a captivating ambiance with timeless contrasts, this design choice is high on aesthetics. Classic yet modern, it brings instant charm to a bathroom.
Here are some important points to consider:
1. Variety: Numerous patterns to select from – geometric, floral, or abstract ones for a bespoke look.
2. Versatility: Suits both vintage and contemporary settings, enhancing visual appeal.
3. Maintenance: Easy to clean, a regular sweep and mop is enough to keep it shining.
4. Resilience: Resistant to stains, scratches, and moisture – a perfect fit for bathrooms.
5. Focal Point: Becomes the starring feature, making the bathroom stand out.
6. Light Reflection: The white tiles within the mosaic reflect light well, preventing a too-dark aesthetic.
7. Customizability: Allows for personal creativity with endless layout possibilities.
Remember, while it's visually striking, it requires careful installation for a seamless look. It's a minor trade-off for a bathroom that's nothing short of spectacular.
Charcoal Porcelain Floor Tiles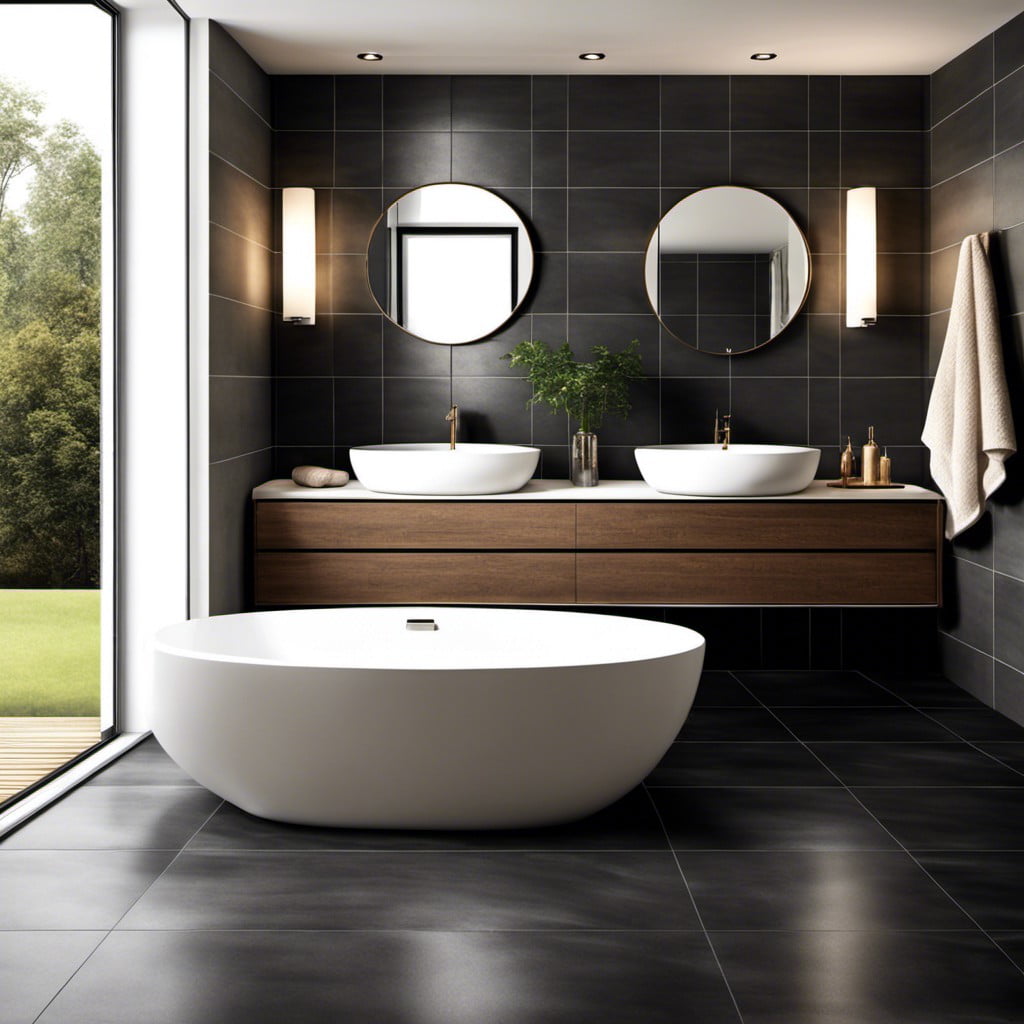 Smooth, robust, and practical, these make an excellent choice for your bathroom floor. The darker tone offers stunning contrast to lighter bathroom elements while effortlessly hiding dirt and debris.
Few materials can compete with porcelain's durability – ideal for high traffic areas. Plus, it's simple to maintain, needing only a regular sweep and occasional mopping to keep it looking its best.
If you seek to inject a bit of warmth into the room, consider pairing with warm-toned accessories or wood-effect vanities. The beauty of this material is its versatility in complementing various design styles from minimalist to industrial.
Bring in some elegance with gold accents or keep it stark and modern by pairing with white fixtures.
Dark Bamboo Flooring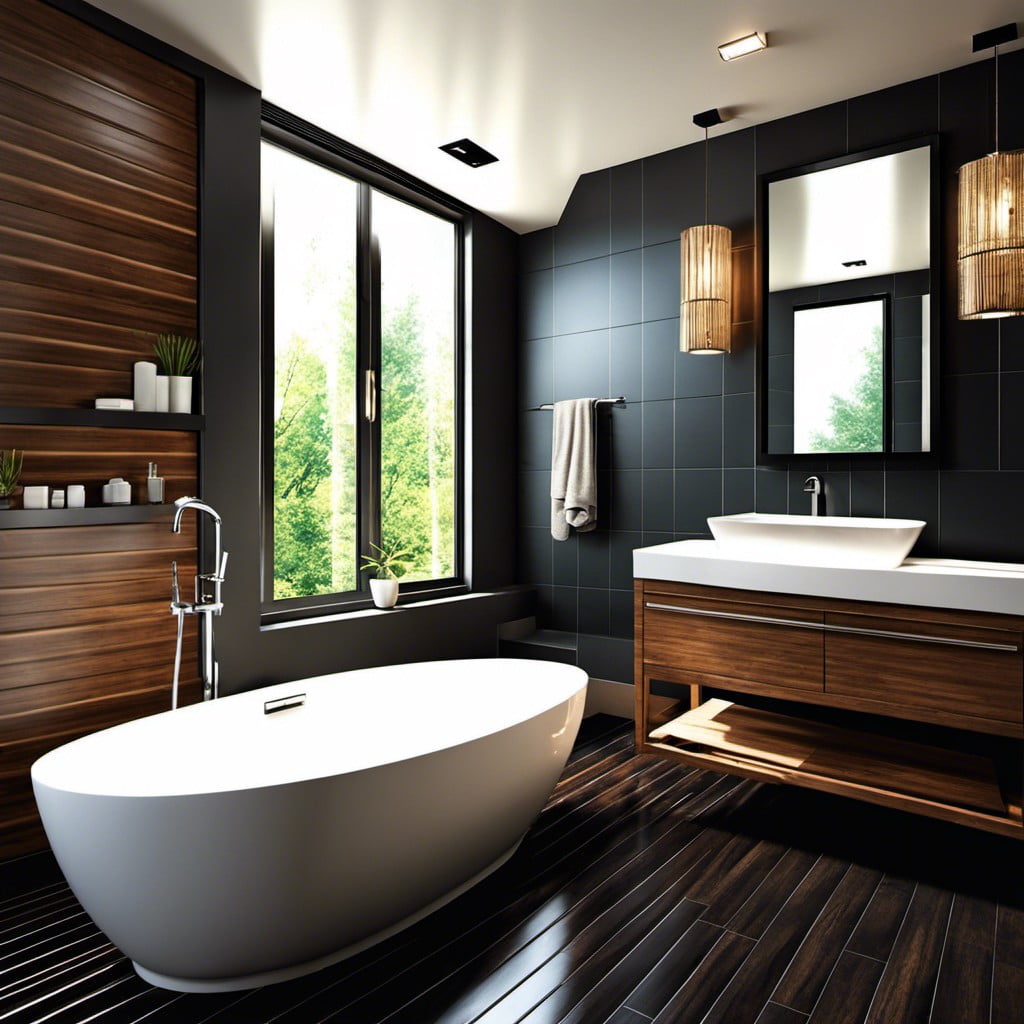 Warm and eco-friendly, bamboo provides an unexpected flooring solution for your bathroom. The dark tones create a striking contrast with light fixtures and furnishings, adding depth to your design. It's a tough flooring option, able to withstand the moisture and humidity of a bathroom.
Despite bamboo's sustainable roots, dark staining methods enhance its robust nature, establishing an exotic feel that's both luxurious and inviting. Bear in mind, though, bamboo requires sealing to defeat potential water damage.
For those aiming to blend elegance with environmentally-conscious practices, dark bamboo flooring harmoniously marries these ideals. From simple strands to complex woven patterns, it delivers versatility and style effortlessly. Careful maintenance ensures long-term appeal, positioning this flooring as an enduring, chic choice.
Black Pebble Shower Floor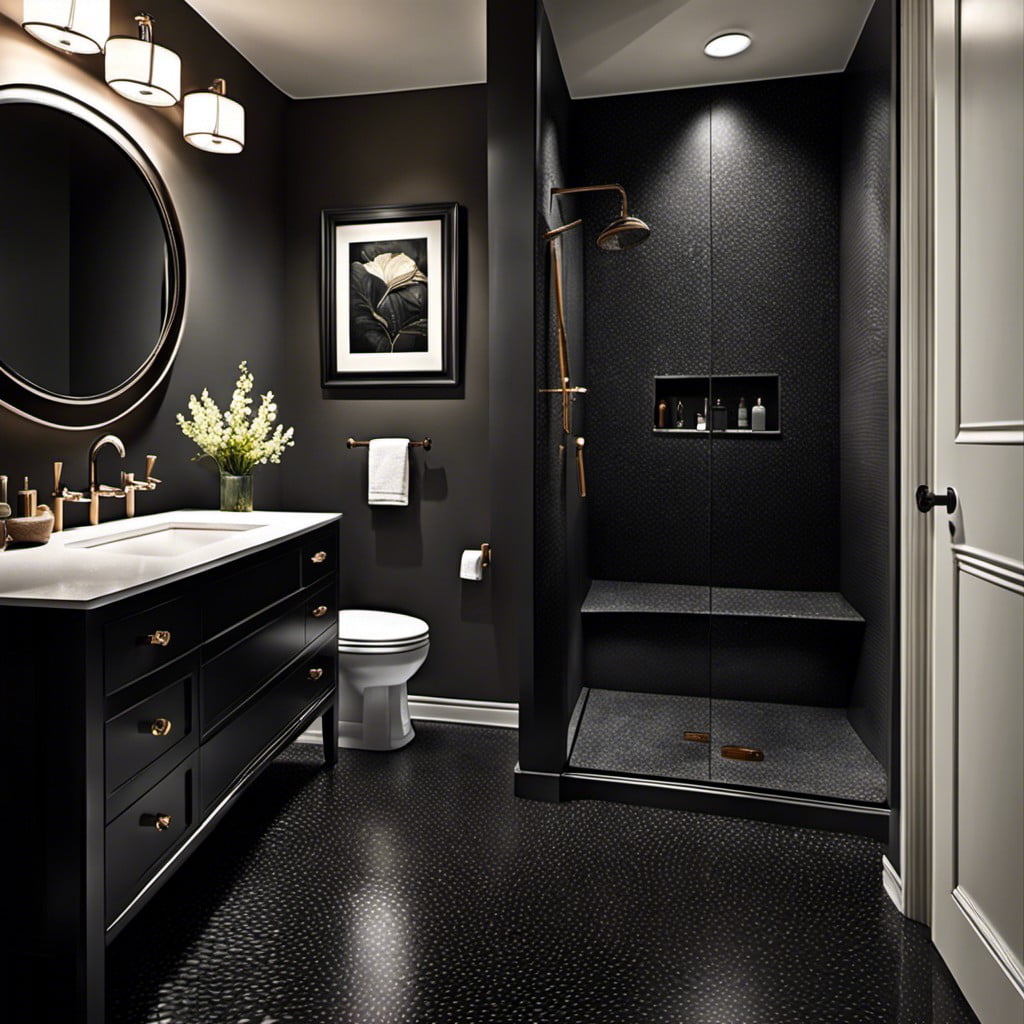 With their distinct visual impact and therapeutic foot massage effect, black pebble floors make an exceptionally eye-catching choice for showers. The rounded shapes in contrasting hues create intricate designs, adding an element of surprise to the overall setting.
These are not merely aesthetic charm; they also provide anti-slip protection, a fundamental feature for bathroom safety. Easy maintenance is another advantage. A simple wipe can keep them clean, and their natural stains resist property secures their appearance for longer.
Consider pairing them with lighter wall tiles for a balanced harmony. Lastly, to ensure longevity, use a sealant to protect against water damage and uphold their stunning midnight glow.
Dark Limestone Tile Flooring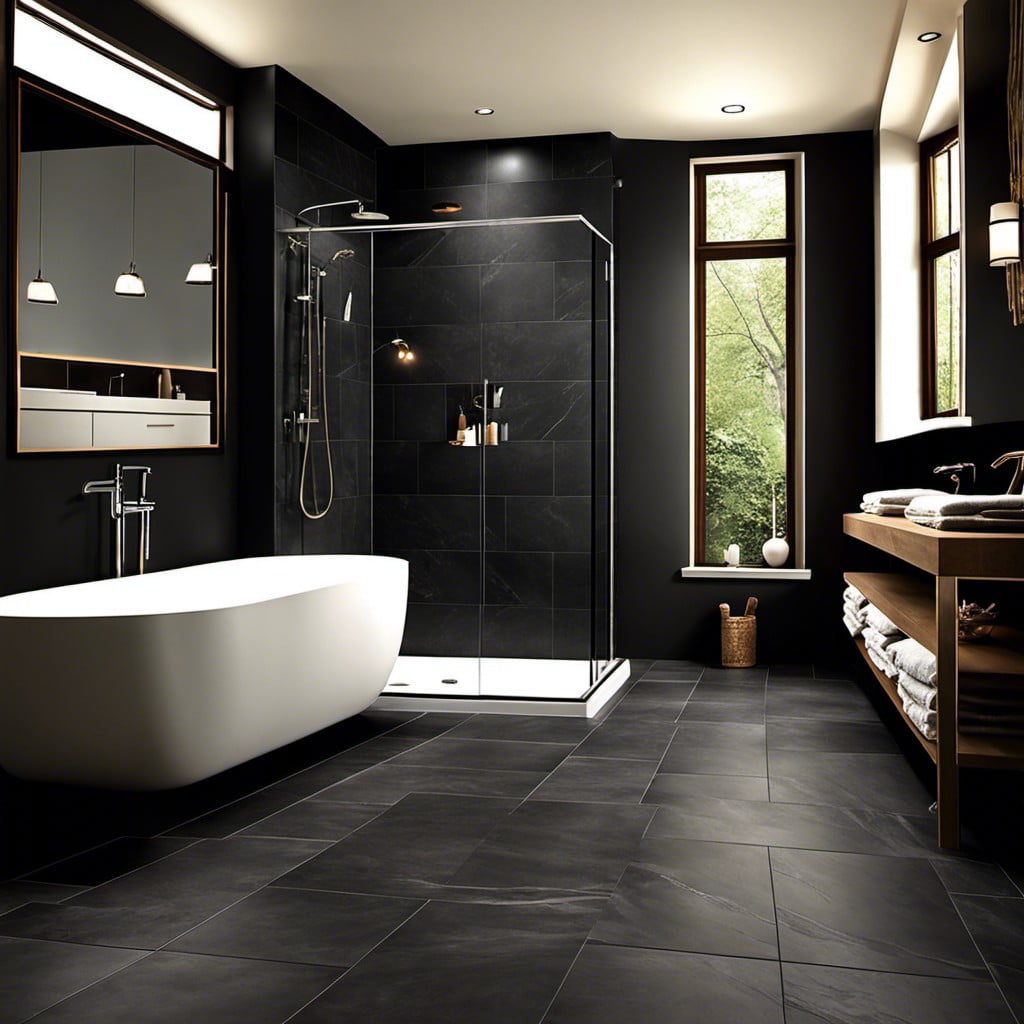 Known for their durability and resilience, limestone tiles offer an exceptionally appealing texture, one that adds depth and sophistication to any bathroom. The natural, raw beauty of limestone evokes a timeless appeal that never goes out of style.
Dark variations of this material, thanks to the sedimentary elements, are a perfect match for those looking to introduce a sense of tranquility and elegance into their bathroom.
A crucial advantage of dark limestone is its versatility. This tile flooring can pair wonderfully with various interior styles, from classic to rustic, and contemporary to minimalistic. Moreover, it compliments different color schemes and bathroom fittings seamlessly due to its neutral hue.
It's also worthwhile to mention the practicalities. Being relatively easy to maintain, dark limestone makes an excellent choice for high-traffic areas. Routine sweeping and damp mopping are generally sufficient to keep these tiles gleaming. Additionally, they offer an unexpected but pleasant, cool touch underfoot- a bonus for those warm summer mornings.
For a unique approach, the tiles can be laid in creative patterns, such as herringbone or chessboard, to invoke a bespoke feel. Another impressive design tip is the use of contrasting grout colors to highlight the dark hue further. This can be experimented upon depending on the overall aesthetic of your space.
In a nutshell, with dark limestone tile flooring, you can effortlessly bring an element of refined luxury to your bathroom, in a practical and durable way.
Black Herringbone Patterned Flooring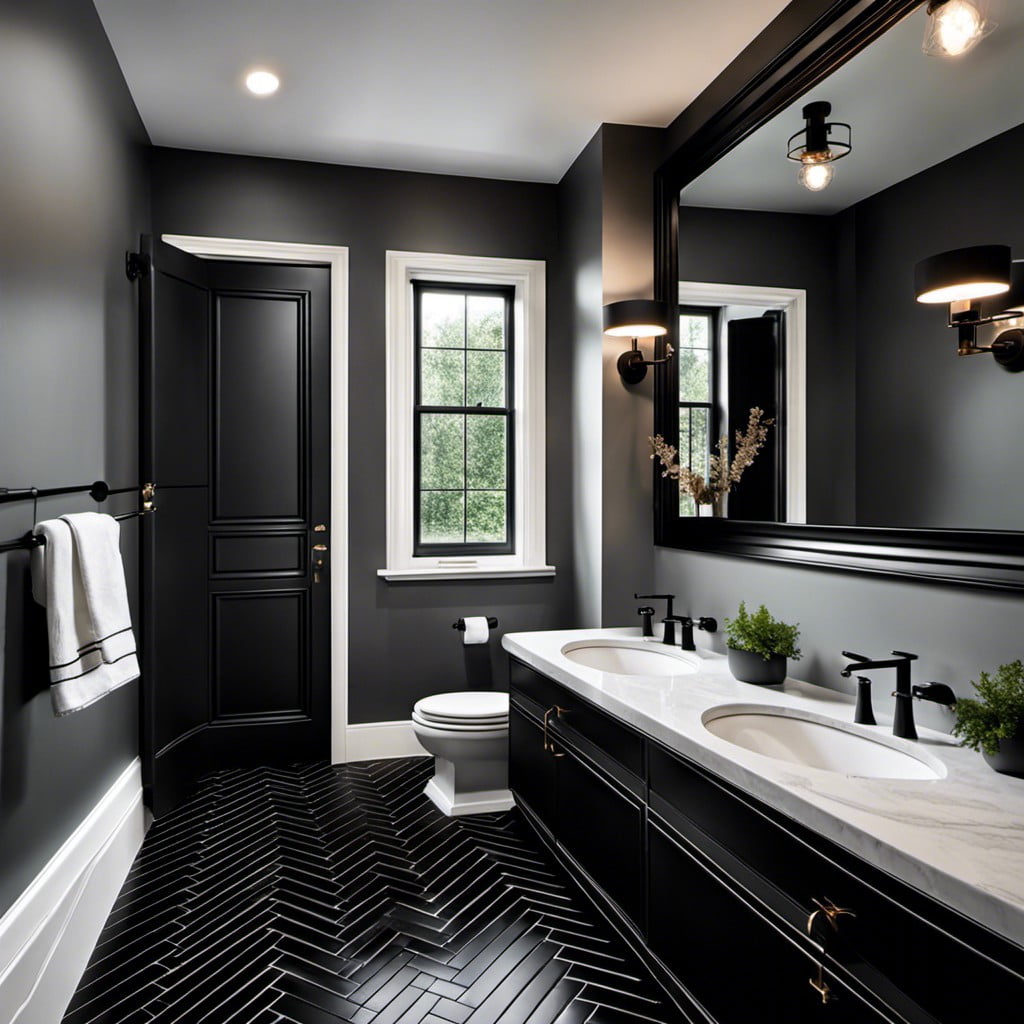 The elegance this design brings to a bathroom is unmatched. This chic pattern, based on the twilled fabric weave popularized in the 17th century, enhances the depth and texture of the flooring. With its geometric design, black herringbone lends a perfect backdrop for both modern or traditional decor.
Here are three unique concepts to consider:
"Contrast is Key": Complement the boldness of black with lighter elements, such as a white vanity or pale-coloured walls.
"Subtle Modernism": For a seamless modern feel, pair this flooring with metal accents such as brushed nickel or stainless steel fittings.
"Intimate Atmosphere": Ensure excellent lighting to avoid a gloomy ambience. Underfloor heating can be a stylish and practical addition that enhances comfort for those colder, barefoot mornings.
Dark Walnut Hardwood Floors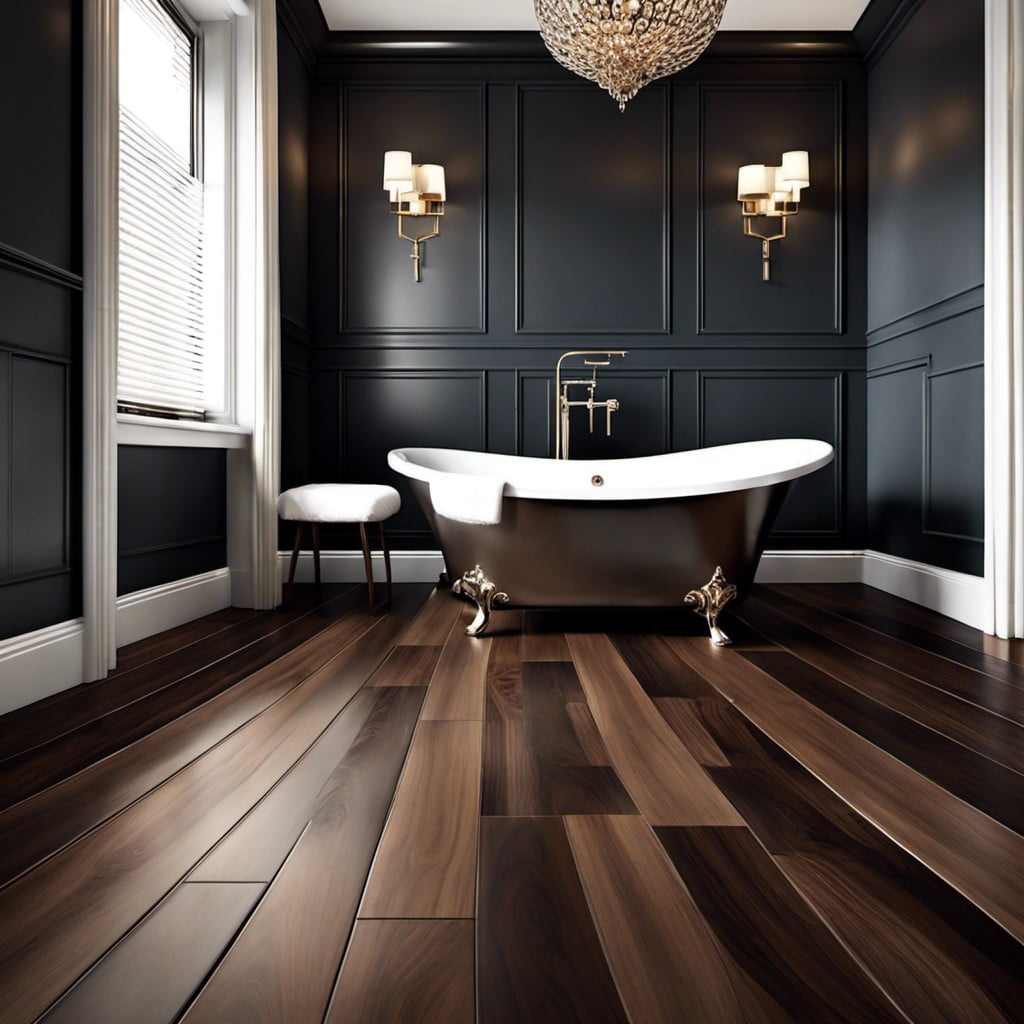 Ah, the beautiful feeling of solidity beneath your feet and the warmth that enlivens all senses! One can never underestimate the magnificent allure of dark walnut hardwood flooring. Indeed, they endow your bathroom with an exquisite, yet profoundly natural atmosphere.
Primarily, it's the hue that stands out – a rich, deep brown which offers a touch of class and sophistication. While managing to robustly withstand dampness, these floors have a spectacular ability to mask minor mishaps of everyday life such as small scratches or water drops, owing to their in-depth coloration.
Furthermore, they are incredibly versatile. Whether your bathroom opts for classical elegance or minimalistic modern designs, dark walnut always integrates seamlessly. Not to mention, these are compatible with a wide array of wall colors and décor styles, providing endless design possibilities.
Environmental factors are equally important in deciding on dark walnut hardwood floors. Walnut trees grow relatively high. Thus, it's a more sustainable option than other hardwoods that require intensive logging. This feature allows you to make an aesthetic, yet ecologically responsible choice.
Lastly, another advantage is the impressive acoustics provided by this type of flooring, making your bathroom a more relaxing, peaceful haven.
In essence, dark walnut hardwood floors are a stylish, functional, and environmentally-conscious choice that offer unparalleled elegance while enhancing the overall design aesthetics of your bathroom. Bear these factors in mind to make the most out of your dark floor bathroom transformation.
Mediterranean Style Black Tile Flooring
Boasting a distinct, earthy vibe, this floor design borrows elements from Southern European coastal regions, capitalizing on its timeless appeal. These tiles are usually characterized by intricate black patterns on a white or light-colored base, reflecting an old-world artistry that seamlessly blends with contemporary aesthetics.
1. Authenticity: Respecting the Mediterranean tradition, these tiles are generally hand-painted, offering each a unique touch.
2. Durability: They are made to withstand high humidity and temperature fluctuations, making them a perfect choice for bathrooms.
3. Versatility: Able to spice up a simple bathroom or meld seamlessly with an already styled space.
4. Variety: Designs can range from simple geometrical patterns to elaborate floral and vegetal motifs, allowing for personalization.
5. Effortless Maintenance: Easy to clean and maintain, a boon in a high-traffic area such as the bathroom.
Natural Stone Flooring in Deep Grey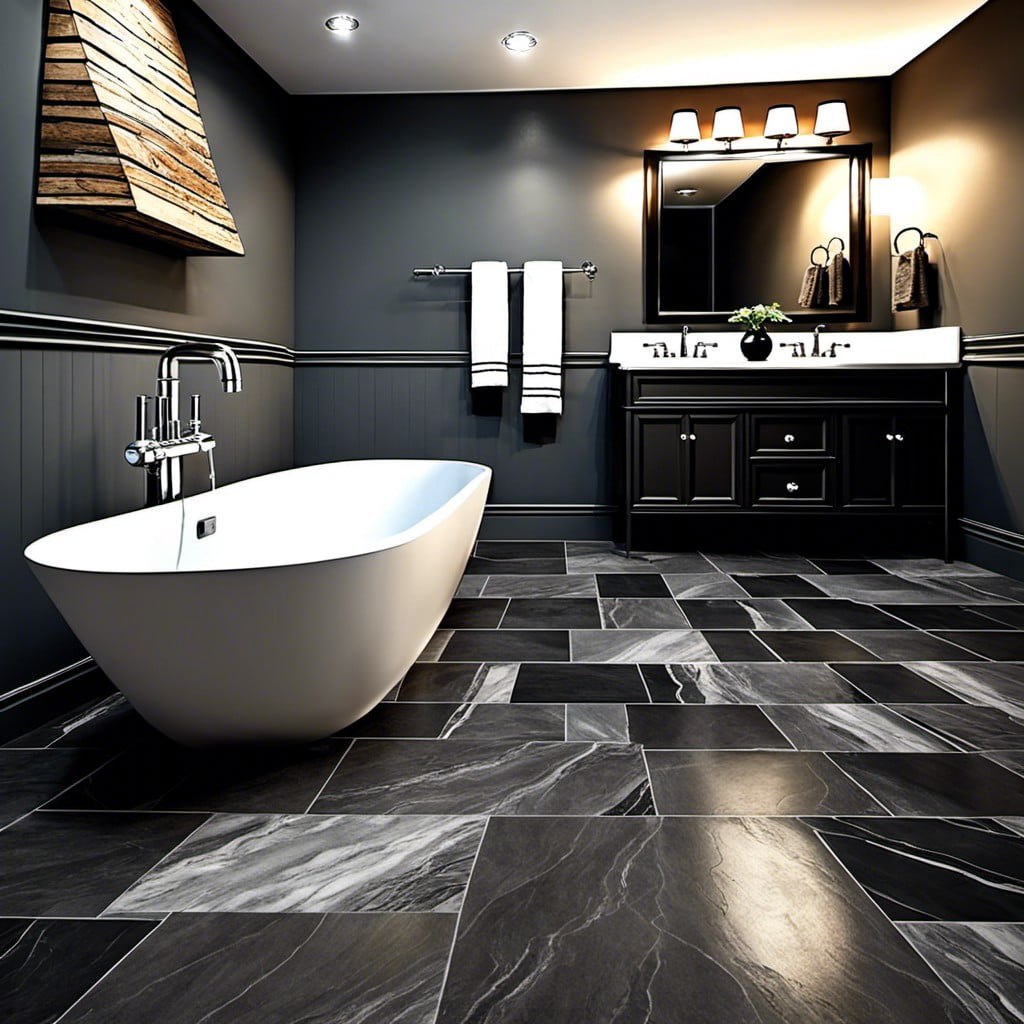 Natural stone flooring, when chosen in a deep grey palette, can add an abundance of understated luxury to your bathroom. It's perfect for those who want to adopt a chic monochromatic scheme while ensuring the durability and strength that stone can provide.
1. Luxurious Aura: Grey natural stone flooring exudes a calm, tranquil vibe which is much needed in a bathroom space. Plus, it can effortlessly elevate the aesthetic, providing a feel of a high-end, expensive suite.
2. Durability: Being a natural element, stone is known for its longevity and robustness. It can withstand heavy footfall and prevent slips when treated with a fitting sealer.
3. Versatility: Its neutral hue allows it to blend in with almost any color scheme. Whether you want a contrast with bright towels or a harmonizing look with other dark elements, you can never go wrong.
4. Maintenance: Geared up with a good quality stone sealer, these floors are easy to clean, and can repel water and stains, making them a practical choice for bathrooms.
5. Unique Patterns: Each stone tile comes with its own unique pattern and texture, providing an exciting canvas and adding a layer of complexity to the aesthetics.
In essence, deep grey natural stone flooring offers a unique blend of elegance, practicality, and versatility, transforming your bathroom into a contemporary haven.
Black Glitter Quartz Tiles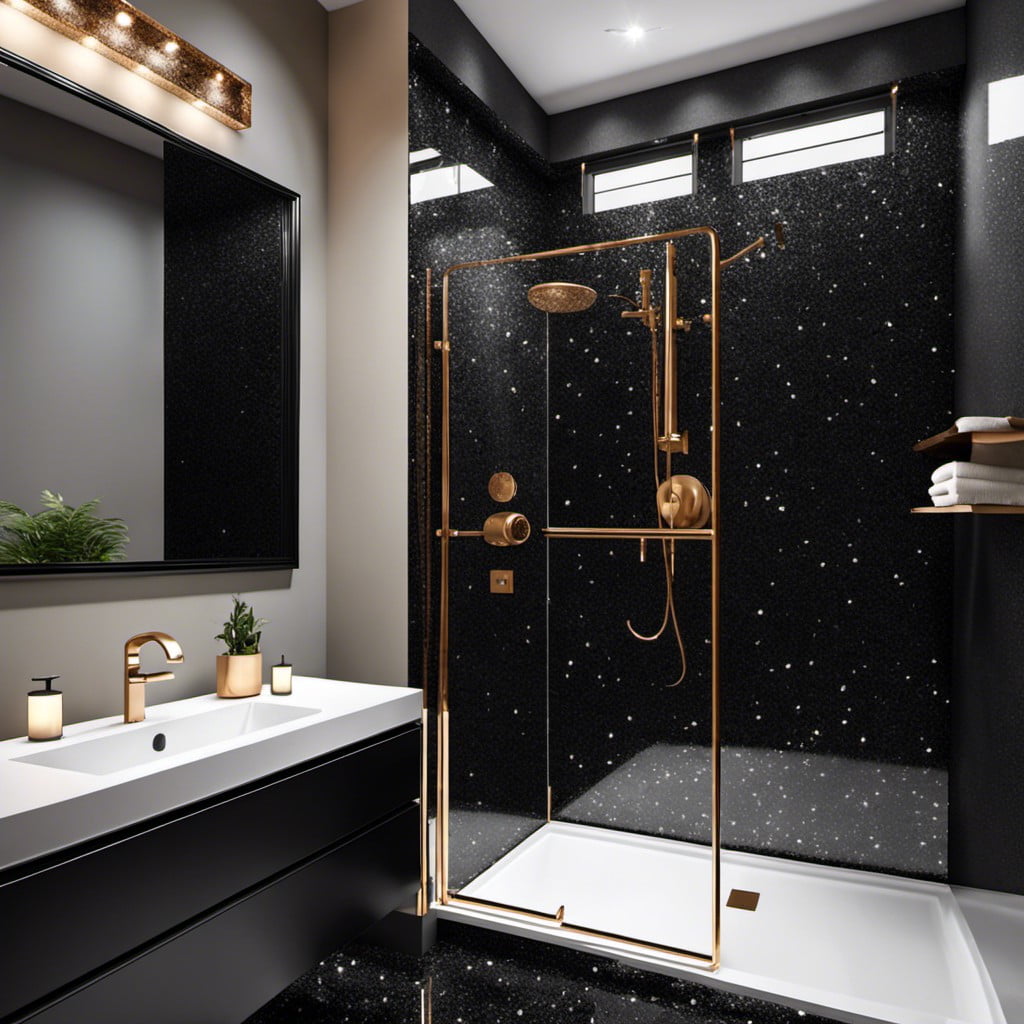 Continuing on our flooring journey, the eye-catching elements found in black glitter quartz tiles are second to none. Their stunning reflective heterogeneity enhances a bathroom's aesthetic appeal.
Here's why they are an excellent choice:
Durability: These tiles are renowned for their hard-wearing and non-porous qualities. This resistance towards water and high durability makes them perfect for a bathroom setting.
Light Reflective: The glittering particles on black quartz can reflect light beautifully, contributing to the overall illumination of your bathroom.
Versatility: Depending on the number and size of the reflective particles, you can customize the look and feel of your bathroom flooring, ranging from subtle sparkles to a full-on glam effect.
Maintenance: Easy to clean and resistant to stains, these tiles effortlessly maintain their pristine look.
Remember, these tiles can be cold underfoot, so consider integrating underfloor heating for a touch of luxury. Also, safety is key, so opt for tiles with a non-gloss finish to prevent slips and falls. Quieten the 'glitter effect' by pairing with more muted walls and bathroom appliances.
Distressed Black Wood Plank Flooring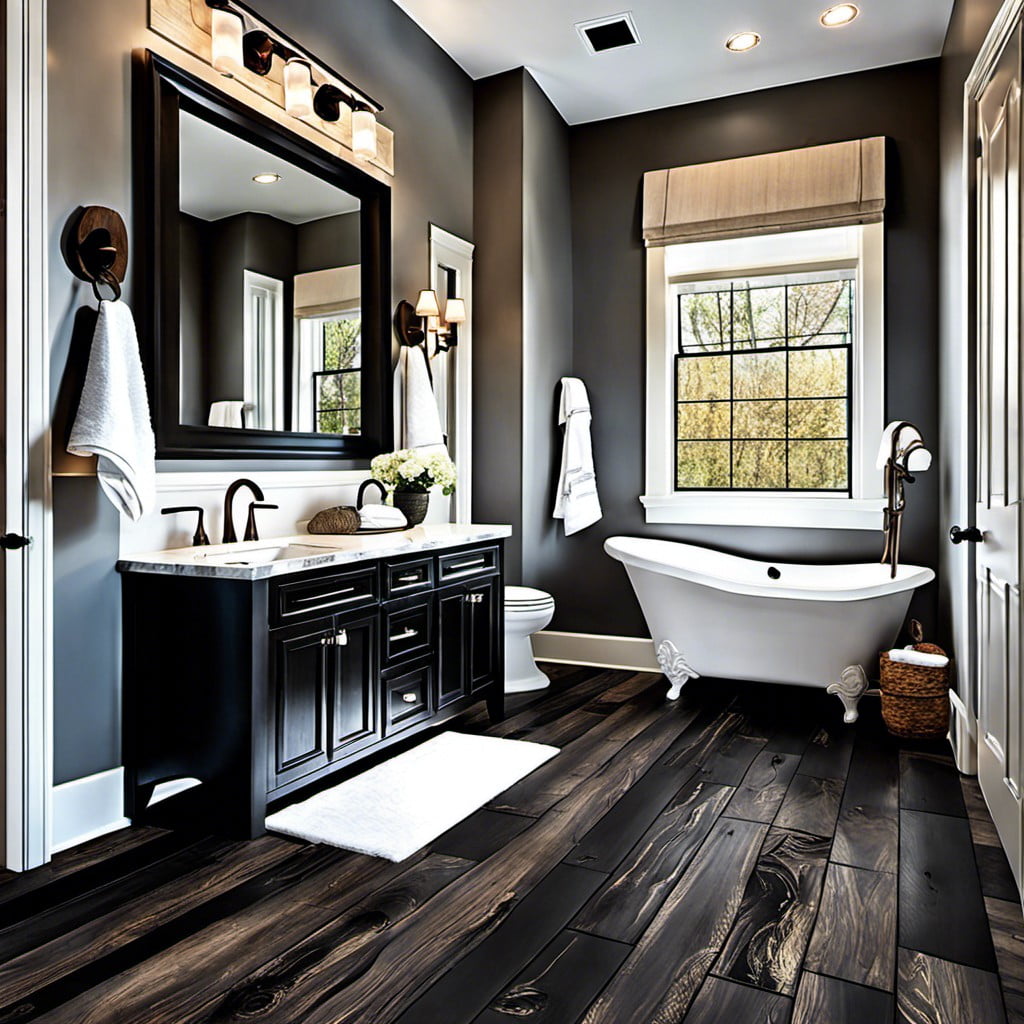 Using distressed black wood planks can add a splash of rustic charm to any bathroom. With their unique imperfections and aged appearance, they provide a bewitching contrast to a modern, clean-lined bathroom design.
Imagine stepping onto this warm, textured surface – it's a delightful way to incorporate a touch of nature in your bathing space. Moreover, its resilience towards dampness and natural anti-skid property enhance safety.
Maintaining this flooring is breeze, simply use a damp mop with a pH-neutral cleaner for the best results. It's crucial to seal the wood appropriately for extra protection against moisture.
This type of flooring is great for those looking for a balance of aesthetics and functionality.
Black Terrazzo Flooring
Elevate your bathroom aesthetics to the next level with this unique and versatile choice. The composite material primarily made from chips of marble, quartz, granite, glass, and other suitable material, set in a cementitious binder. Aesthetically captivating, it offers a luxury feel while being incredibly durable and easy to maintain.
Additionally, it is slip-resistant, making it a safe choice for bathrooms. As each terrazzo floor is bespoke, it allows for creativity in design and can be customized to fit any bathroom decor style. From minimalistic designs to bolder, more graphical styles, options abound. Plus, it's eco-friendly, often using up-cycled materials.
Dark Emerald Green Marble Flooring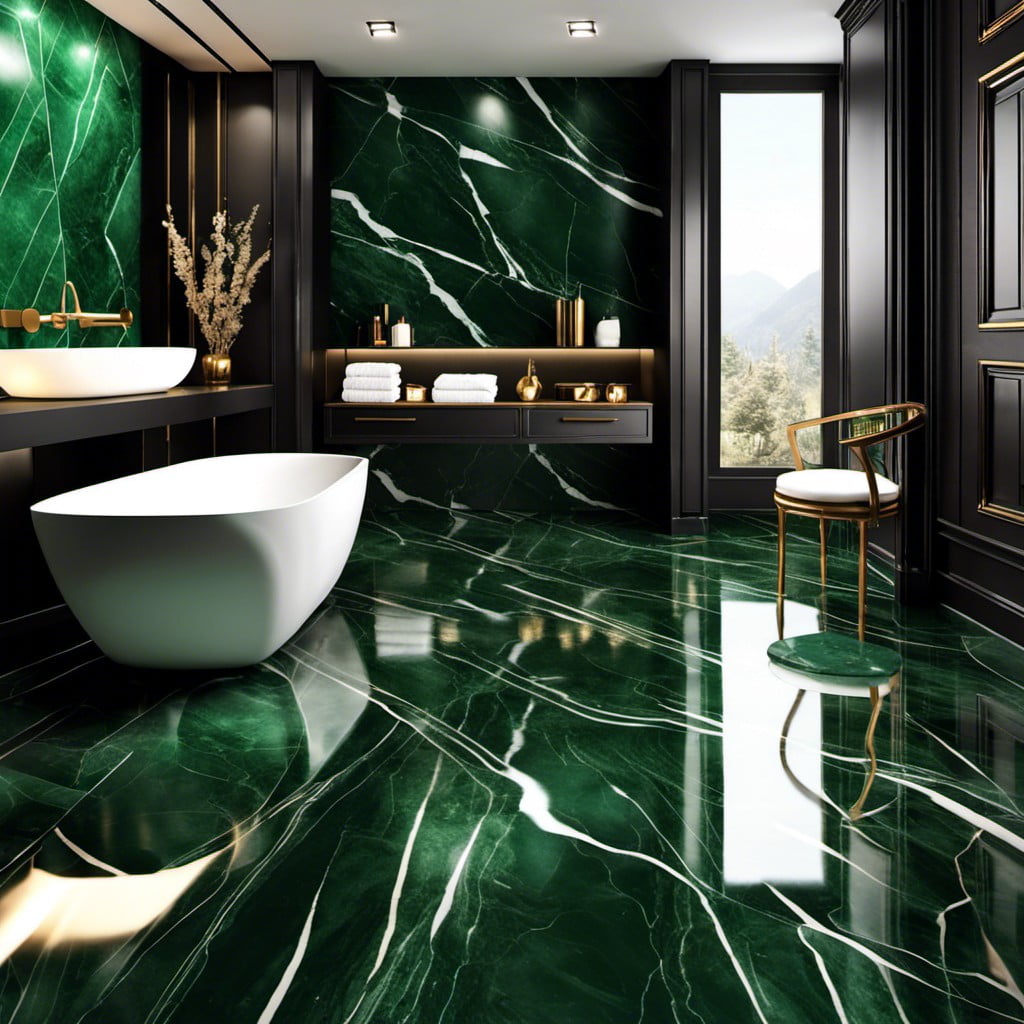 Injecting color into your bathroom doesn't have to stop at the walls. A great alternative to traditional white or grey marble, dark emerald green marble floors infuse the space with a unique touch of luxury. Its deep green tone can bring in tranquility and balance – perfect for creating a serene, spa-like atmosphere.
Consider pairing it with brass fittings to contrast the dark green and add a touch of opulence. And while it's dramatic in its own right, it isn't overwhelming, and you can balance its dark hue by incorporating lighter elements in your décors such as white vanities or cream-colored shower curtains.
Maintaining these floors mirrors the process of standard marble, with resealing necessary only every 12-24 months. Though not as ubiquitous as its lighter counterparts, sourcing green marble may take slightly more time, but its mesmerizing beauty makes the extra effort entirely worth it.
Dark Granite Bathroom Flooring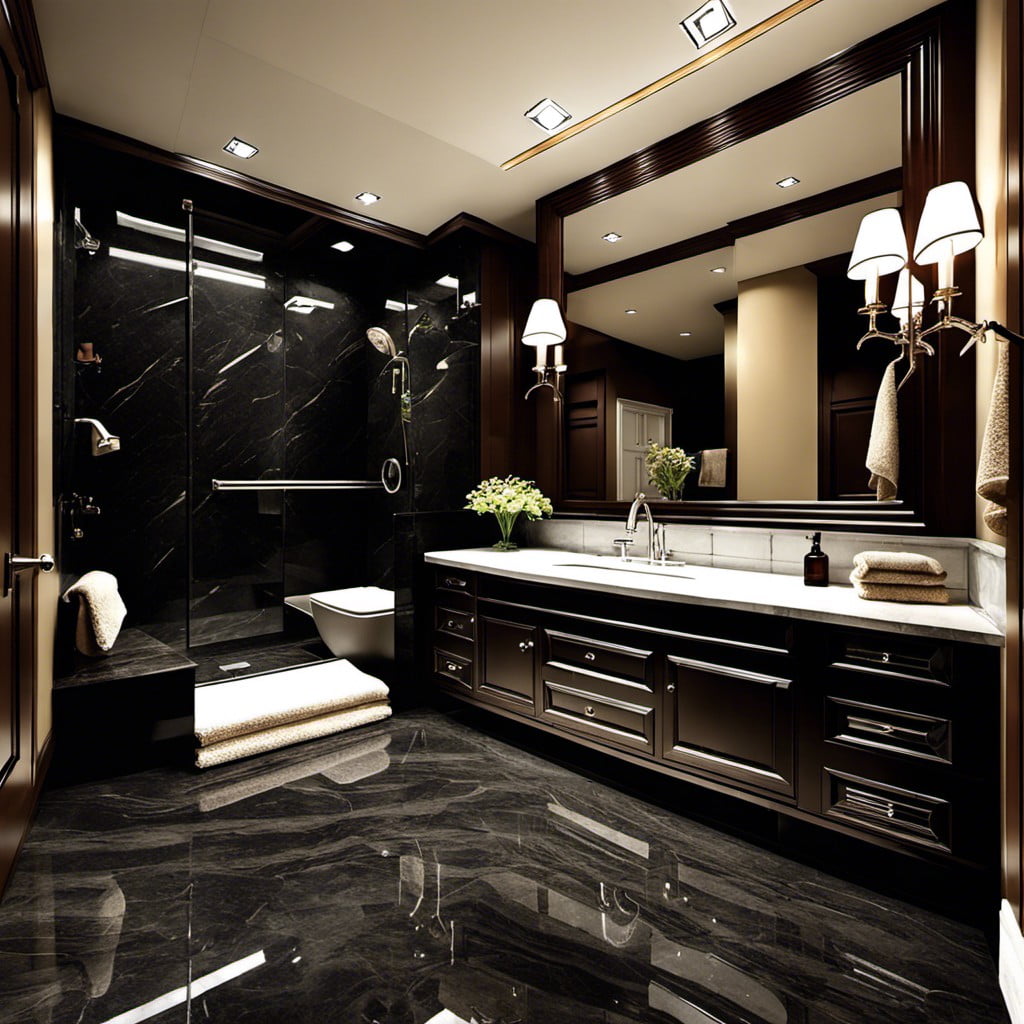 Dark granite is certainly a statement-making choice for bathroom flooring. This material, known for its durability and longevity, blends functionality with beauty creating an elegant and timeless atmosphere.
1. Sustainability: Granite is a natural stone, making it a sustainable option. Its longevity also means that it will not need to be replaced as often, contributing to its eco-friendliness.
2. Durability: Proven to withstand high-traffic areas, it's an ideal choice for both small and large bathrooms. Its hard surface resists scratches, chips, and breaks.
3. Aesthetics: Dark granite, whether polished to a high shine or left in its raw, matte state, creates drama and adds depth to the bathroom. Its unique veins and pattern variations promise a distinct look.
4. Maintenance: Granite is water and stain-resistant, making it easier to clean and maintain. Regular sealing will ensure it retains these properties longer.
5. Versatility: Its compatibility with various styles, from traditional to modern, offers room for creativity. Whether desired look is minimalistic or luxurious, dark granite can cater to it effortlessly.
Remember, a striking feature like dark granite flooring calls for a balance in the color scheme, so consider pairing it with lighter colored walls or fixtures to avoid overwhelming the room.
Pitch Black Matte Floor Tiles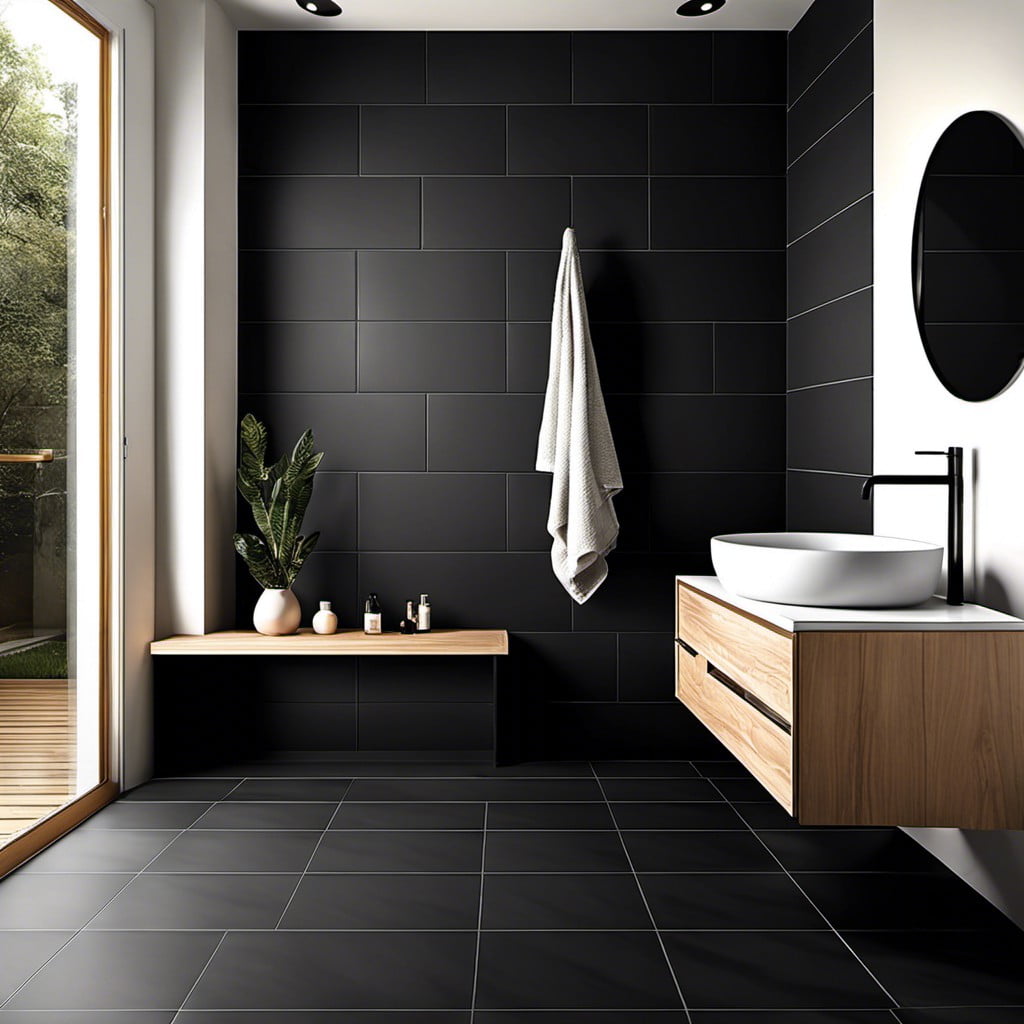 To successfully incorporate pitch black matte floor tiles into your bathroom, a dynamic balance is essential. The deep darkness of these tiles aids in making a bold statement and sets the stage for other elements in the room.
Here are some pointers to bring out the best from this style choice:
Contrast: Complement these tiles with lighter coloured walls or fixtures for a striking visual contrast.
Lighting: Ensuring appropriate lighting is crucial. Layered lighting options can enhance the floor's matte finish and prevent the space from feeling too dark.
Maintenance: These tiles are low-maintenance. Their matte finish hides water spots, streaks, and smudges better than glossy finishes do.
Size Matters: Choose larger size tiles for a cleaner look with fewer grout lines. It gives the space a more seamless and sophisticated appearance.
Texture: A matte finish provides a more natural and textural feel underfoot than its glossy counterpart does, offering both style and comfort.
Remember, using a dark design element like black matte tiles doesn't necessarily mean you're limiting your bathroom's visual appeal. If done correctly, it can add a unique depth and modern twist to the space.
Modern Black Hexagon Tile Flooring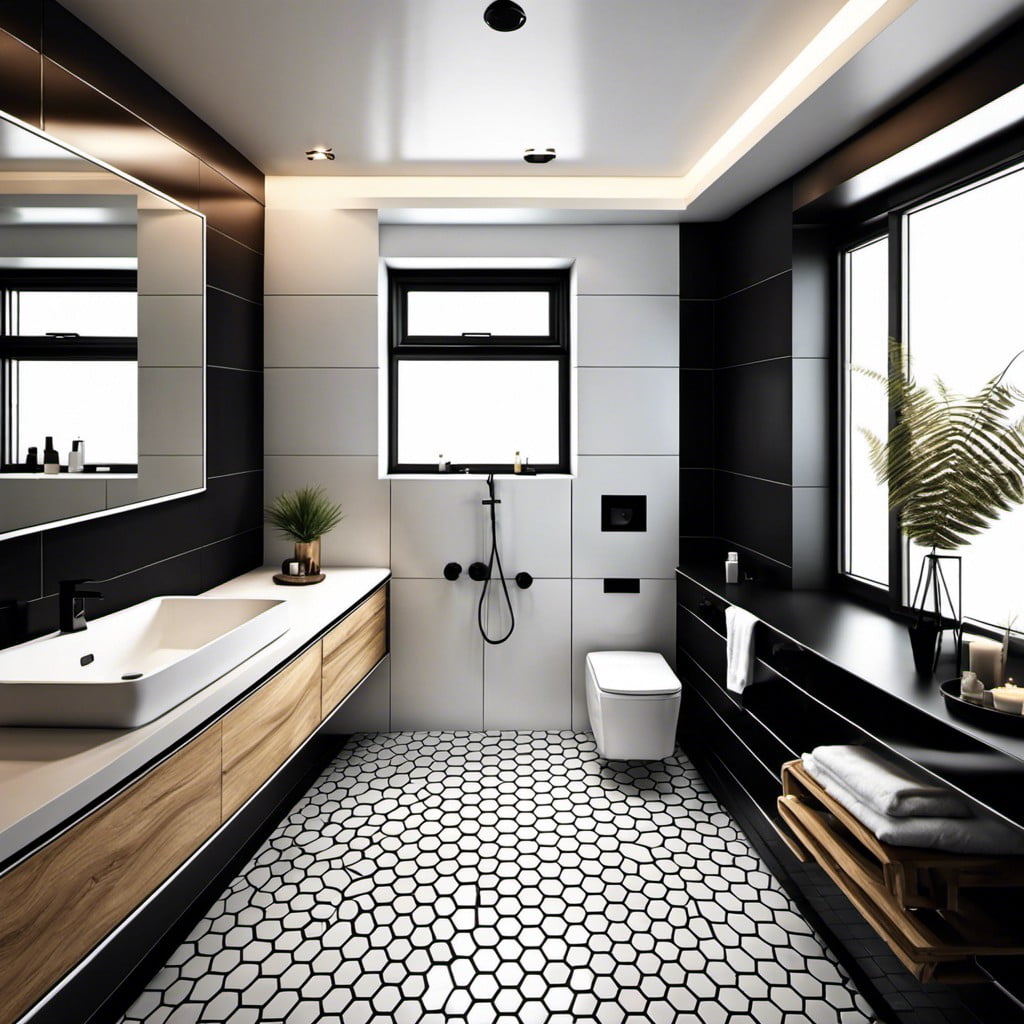 These durable, geometrically captivating tiles provide an artistic and dramatic touch to your bathroom flooring. Available in various sizes, finishes, and patterns, their versatility gives you plenty of design freedom.
1. Bold Aesthetics: Their technical precision creates eye-catching patterns, fascinating the attention of anyone stepping into the room.
2. Versatility: They can be arranged in different layouts – concentric, random, or classical straight – to create unique visuals.
3. Durability: These tiles are known for their resilience, standing up against daily wear, making them an excellent choice for high traffic areas like the bathroom.
4. Easy Maintenance: A quick mop or sweep keeps them sparkling, and due to their immune nature against moisture, they are resistant to mold and mildew.
5. Size Variations: You can choose larger hexagon tiles for a modern, minimalist look, or smaller ones for a traditional and detailed aesthetic.
Continue reading:
Recap