Last updated on November 26, 2023
Explore Spanish bathroom ideas because they offer a timeless blend of old world charm and modern comfort, sure to inspire a remarkable transformation.
I'm proud to present these 20 unique Spanish bathroom designs, meticulously crafted by me, and I truly hope they inspire you and bring as much joy as I experienced while bringing them to life.
Embrace the allure of Spanish design in your bathroom with its warm hues, intricate tile work, and rustic accents.
This article will guide you through the essential elements of Spanish bathroom design, from the selection of earthy colors, the incorporation of hand-painted ceramic tiles, the use of wrought iron fixtures, to the choice of natural materials for a truly Mediterranean feel.
You'll find here detailed descriptions, practical tips, and visual inspiration to transform your bathroom into a Spanish retreat.
Follow along to discover how to create a tranquil and beautiful space that speaks volumes about Spanish aesthetics.
Vibrant Tile Accents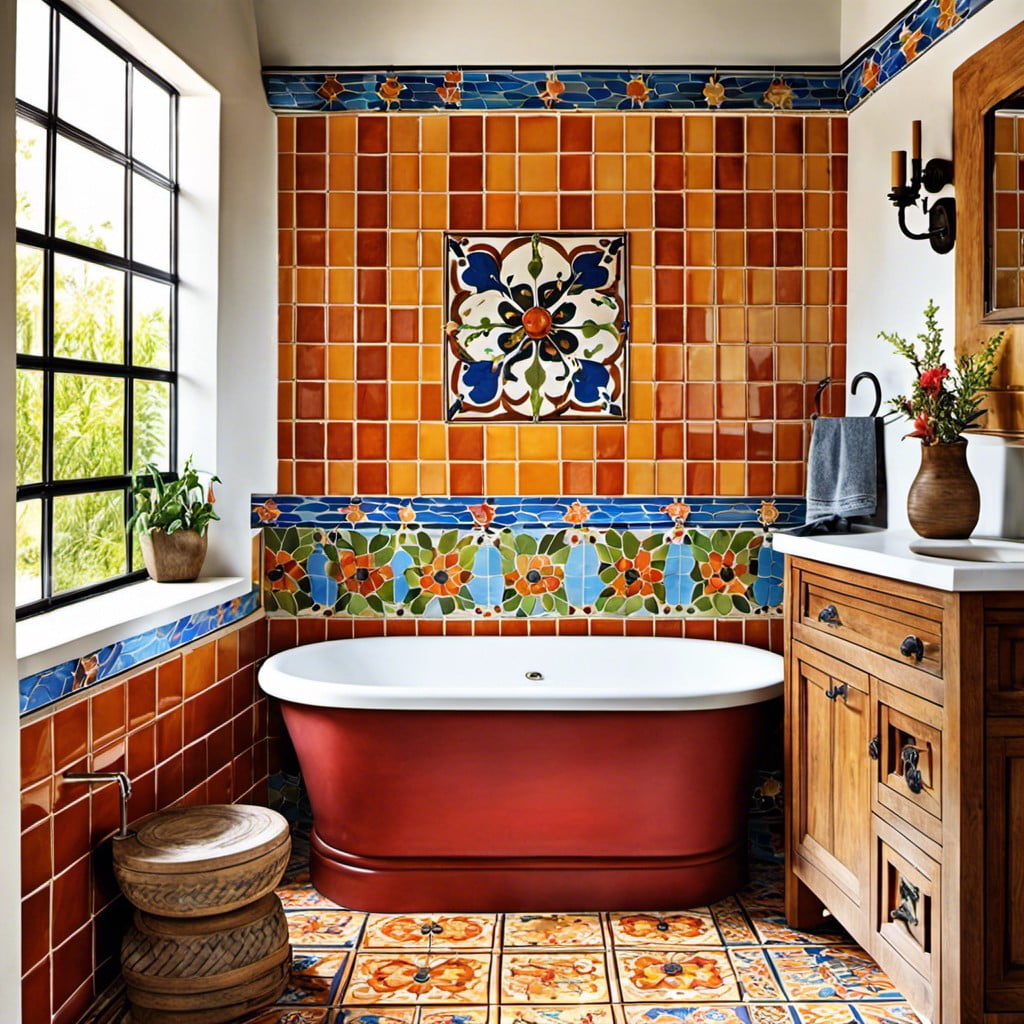 Genuine Spanish design seizes the heart with bright patterns and exuberant colors. The right vivid tilework can embody this spirit, leading to a lively, authentic feel in the bathroom.
Here are some points to consider to achieve this:
Choose tiles with traditional Spanish styles, such as Mediterranean blues, terracotta reds, and bright yellows.
Use feature walls to create a focal point. This can be behind the sink, the shower, or the bathtub.
Highlight certain areas like the sink backsplash or shower niches for a less dramatic statement.
Mix and match different shapes and patterns to optimize the Spanish aesthetic. A combination of square and hexagonal tiles is quite popular.
Consider decorative borders to outline the floor, the shower, or to divide contrasting tile designs.
With the above points in mind, tile accents can give your bathroom a powerful pop of color while staying true to the Spanish charm and essence.
Antique Wood Vanities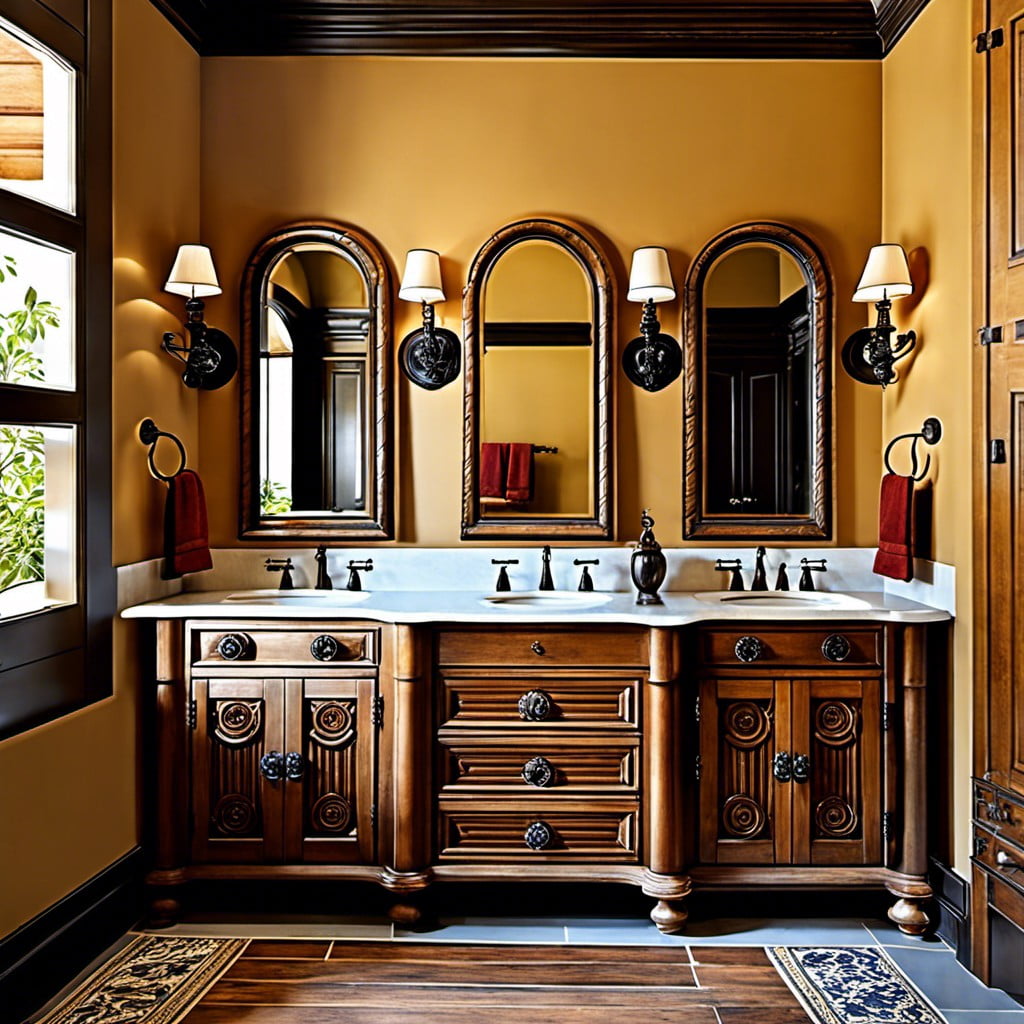 Capturing the rustic charm and elegance of Spanish design is simple with carefully selected antique wood vanities. These pieces should ideally feature intricate carvings or wrought-iron embellishments in line with traditional Spanish aesthetics. The wood type is entirely up to your personal taste, however, dark woods like mahogany or walnut often add an element of maturity and sophistication.
The beautiful grains and textures of the wood lend natural warmth to the bathroom, harmonizing well with other elements like terracotta tiles or stucco walls. Not to mention, the robustness of wood ensures the vanity is both functional and enduring, a stylish testimony to age-old Spanish craftsmanship.
Remember, to maintain the antique look, opt for rustic, bronze, or iron hardwares over sleek modern options. Also, a marble or stone countertop can be an excellent way to introduce contrast, ensuring your vanity stands out as a statement piece in your Spanish bathroom design.
Wrought Iron Mirrors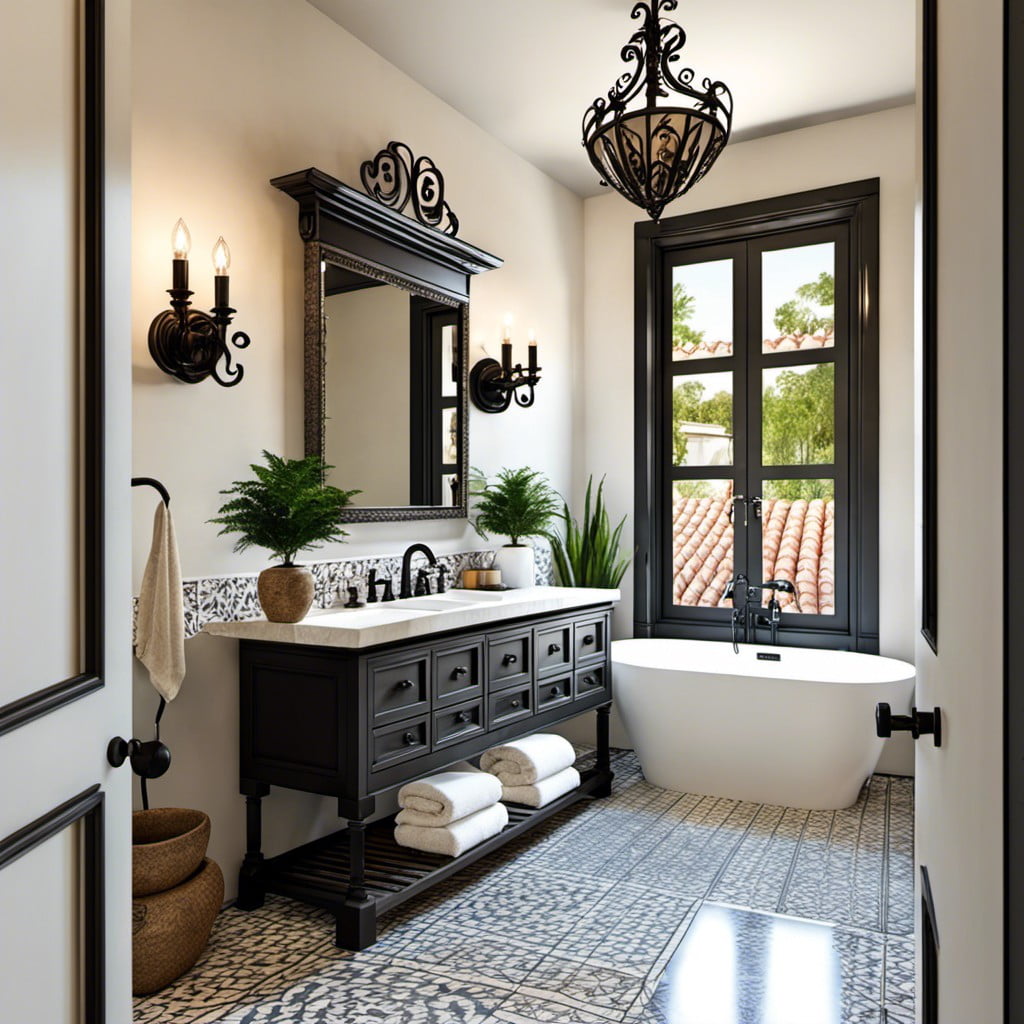 An ideal way to enhance the overall aesthetic of your Spanish-style bathroom is to incorporate a wrought iron mirror into the space. Their unique charm stems from their intricate designs and black metal frames, often featuring complex scrollwork or nature-inspired motifs.
They transform an otherwise plain wall into an embellished focal point. When choosing a mirror, consider the shape and size, keeping in mind how it fits with your overall Spanish bathroom decor. Forum-edge or uniquely shaped mirrors often add an extra touch of authenticity.
A well-placed mirror, especially near a window or light source, can also reflect light throughout the room, helping to illuminate the warm colors typically found in Spanish design.
Patterned Ceramic Basin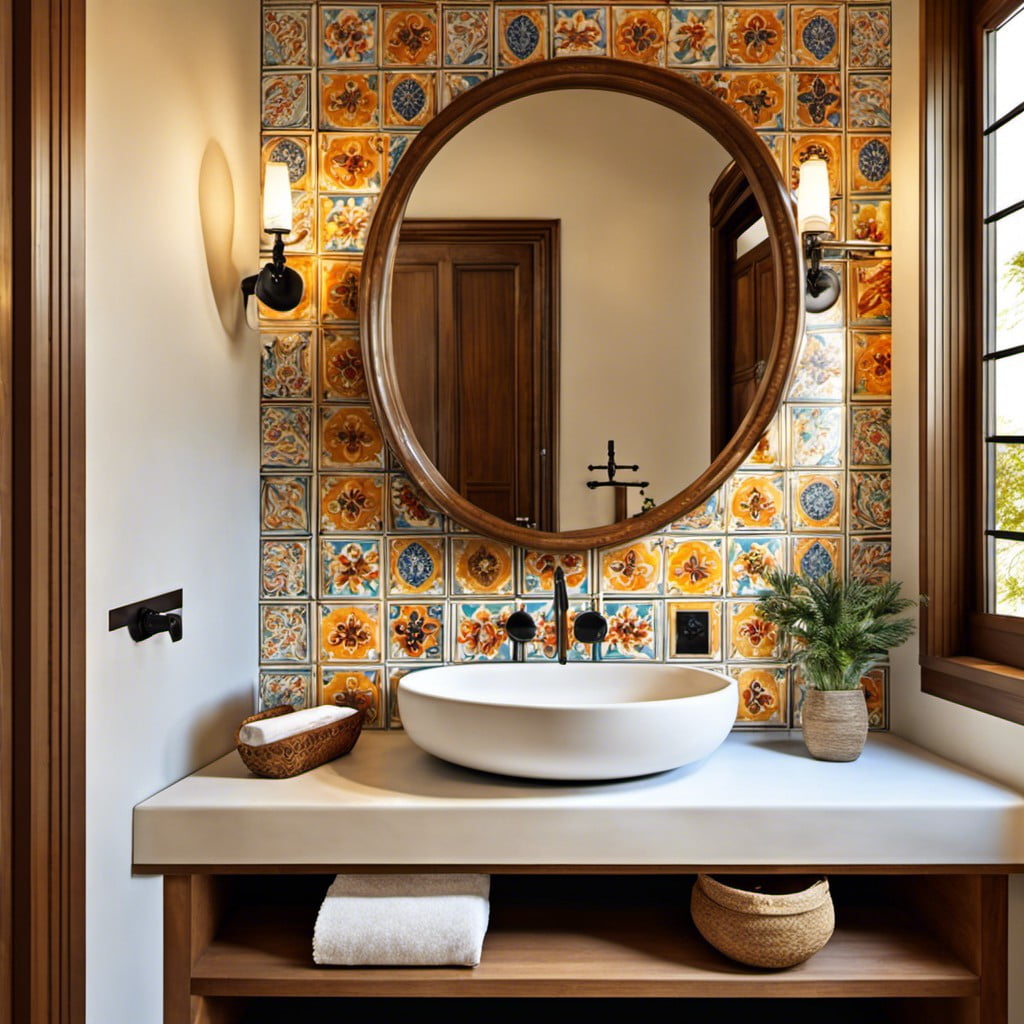 To inject an authentic Spanish touch, opt for basins featuring intrinsic patterns and motifs, often inspired by centuries-old designs. These create visual interest and lend an artistic flair to the bathroom.
From geometric to floral designs, there are a plethora of choices to complement your overall decor style. Such a basin takes center stage, turning a practical feature into a stunning design statement. Additionally, it acts as a unique art piece, increasing the aesthetic value in an unexpected way.
For a more unified look, match the basin's pattern with other elements in the bathroom, tying the whole look together.
Adobe Style Bathtub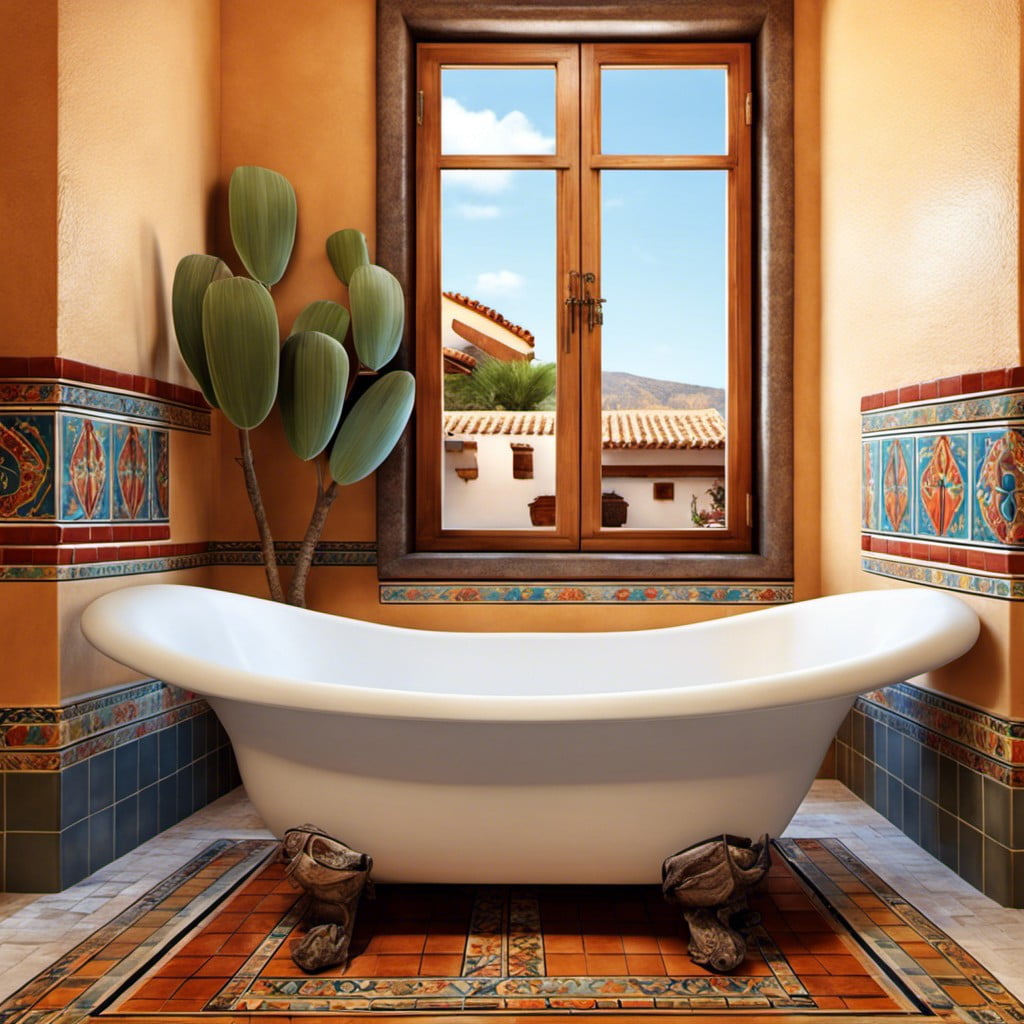 Creating a unique centerpiece in your bathroom can easily be achieved with an adobe-style bathtub. Harking back to the ancient building techniques of the Iberian Peninsula, adobe tubs are characterized by their organic shapes, earthy tones, and rough textures.
Often constructed from natural materials like clay, sand, and straw, these bathtubs exude a primitive beauty that stands out in the modern home. Additionally, their thick walls provide excellent insulation, ensuring that your baths stay warm longer.
Complement the striking natural look of the tub with understated ceramic tiles and copper fixtures to achieve a balanced aesthetic. As a creative touch, consider installing overhead beams, reminiscent of the rustic Spanish hacienda, to further punctuate the old-world style.
By integrating an adobe-style bathtub into your home, you transport yourself to the tranquil Spanish countryside each time you step into your bathroom.
Warm Color Palette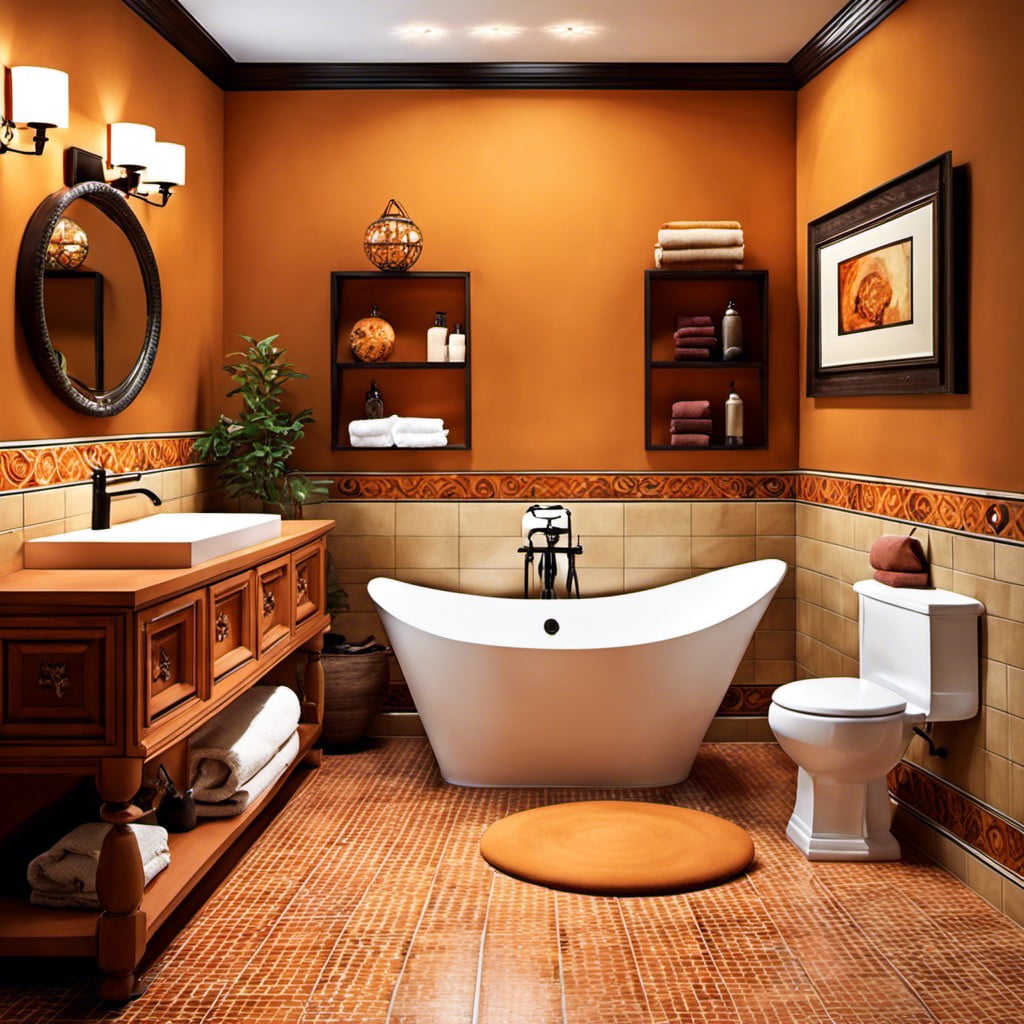 When selecting your bathroom colors, consider those taking inspiration from the heart of Spain itself. Picture the golden glow of a sunlit Mediterranean courtyard or the rich reds and oranges of a Spanish sunset to set the tone.
Choose terracotta, sunflower yellow, and warm coral as dominant colors and for accent hues, think olive green and azure blue as a nod to Spain's verdant landscapes and sparkling coastlines.
These colors combined will infuse the space with a warm and welcoming vibe. Create balance by painting walls in a lighter shade and use the bold colors for accents and accessories.
Adopt this palette to transform your bathroom into a cozy, Spanish-inspired retreat.
Terracotta Floor Tiles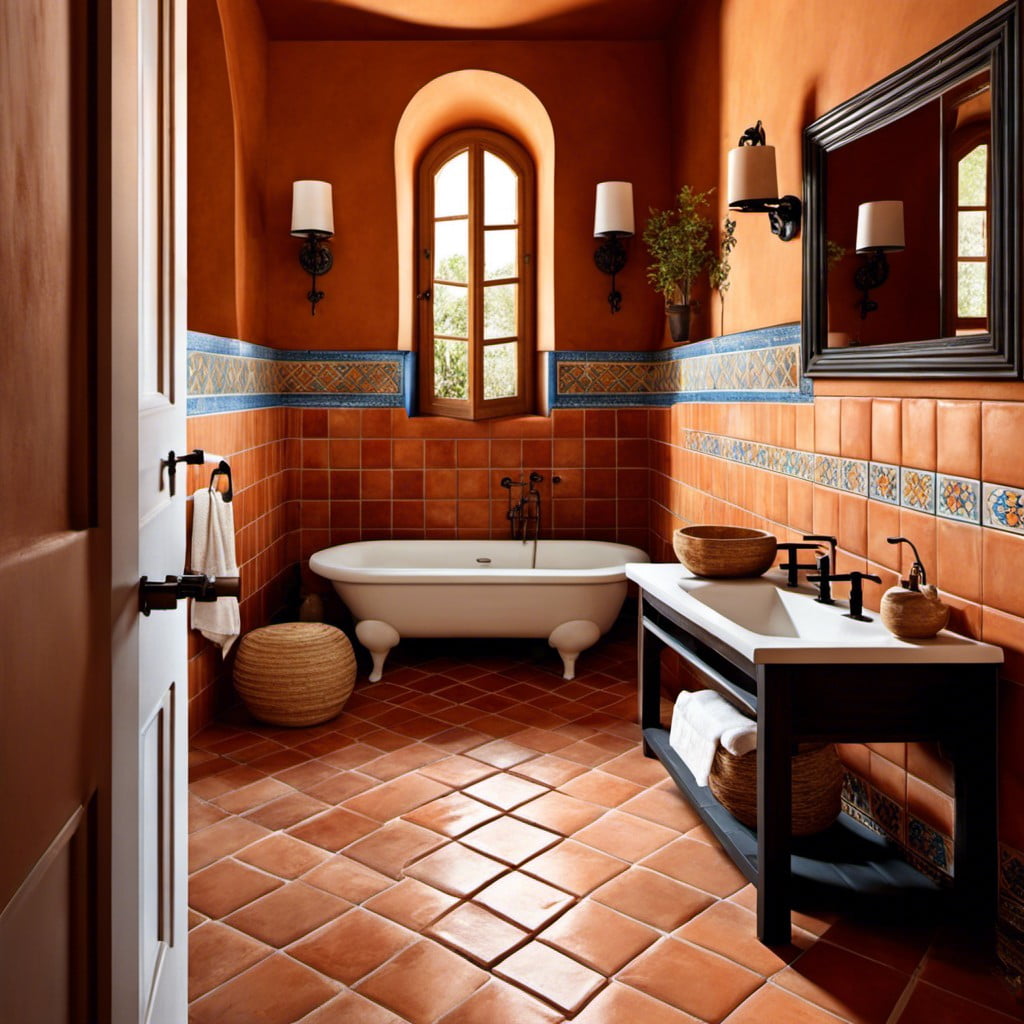 Authentic terracotta flooring is a signature characteristic that imbibes a sense of aesthetic appeal and warmth into your Spanish-inspired bathroom. To attain this authentic look, consider unglazed options, as they offer an earthy, rustic texture that is prominent in Spanish design. Glazed terracotta tiles, on the other hand, can infuse a touch of gleaming elegance.
Bear in mind, terracotta's porous nature can make it slightly vulnerable to stains and water damage, so treating the surface with a sealant after installation is crucial to maintain its charming appeal. It should also be noted that this material retains heat, making it pleasantly warm underfoot – a lovely surprise on chilly mornings!
You can explore various shapes and patterns – traditional square, hexagonal or even octagonal. Taking it up a notch with a bold geometric pattern can produce a unique, personalized touch. Regardless of the chosen style, terracotta flooring delivers a burst of characteristic Spanish charm shaded in rich hues of natural reds and oranges. A surefire way to enhance the allure of your bathroom space.
Spanish-style Archways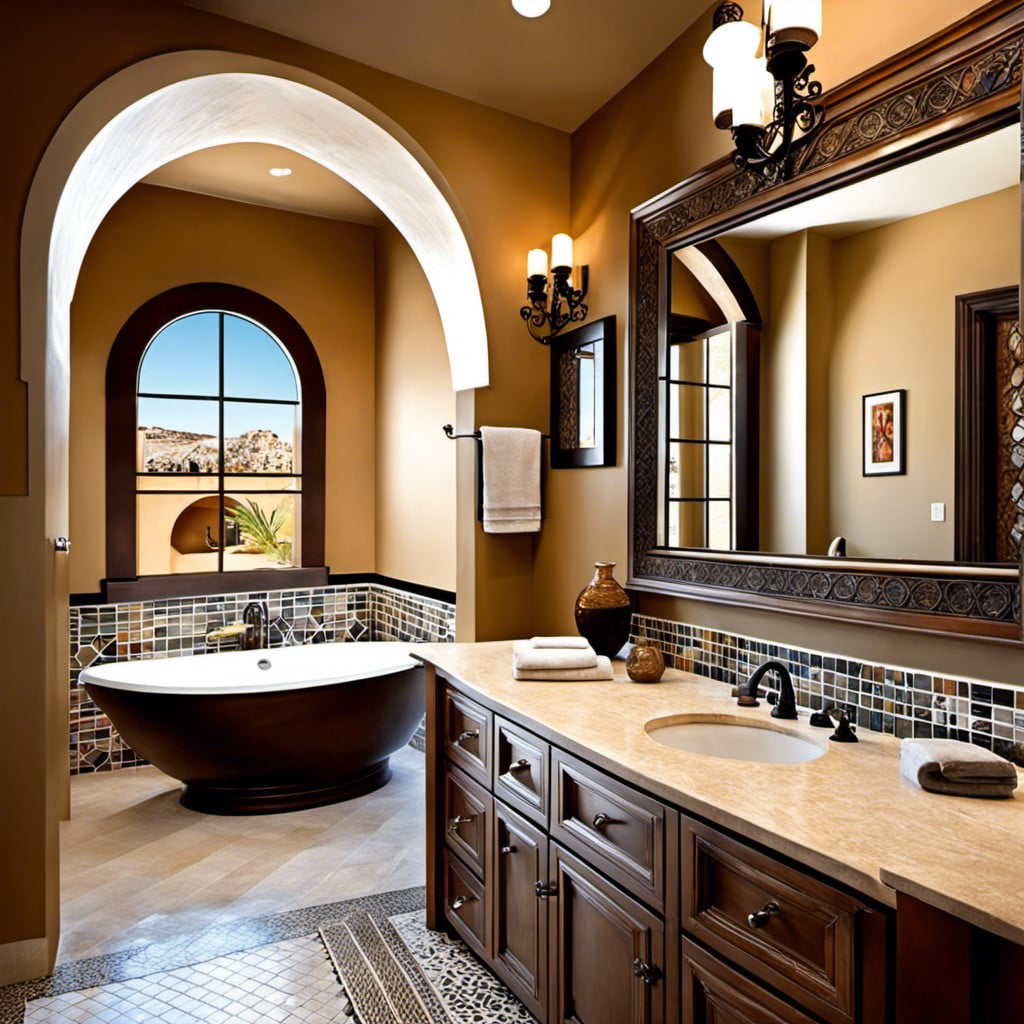 Straight, boxy designs often feel modern, cold, and impersonal. Inject warmth and charm into your bathroom by incorporating Spanish-style archways. Their soft, rounded lines provide a striking architectural feature that beckons to a Mediterranean aesthetic.
Here's how to achieve this:
Opt for smooth stucco or exposed brick for the arch itself, embracing the raw and rustic feel of Spanish design.
Create an illusion of a more spacious bathroom by using archways to separate the bathroom into distinct areas, a technique often employed in Spanish architecture.
Reinforce the theme with wrought iron details, such as a chandelier hanging from the apex of the arch.
The result? A space that stylistically transports you to Andalusia every time you step foot in your bathroom.
Mosaic Backsplash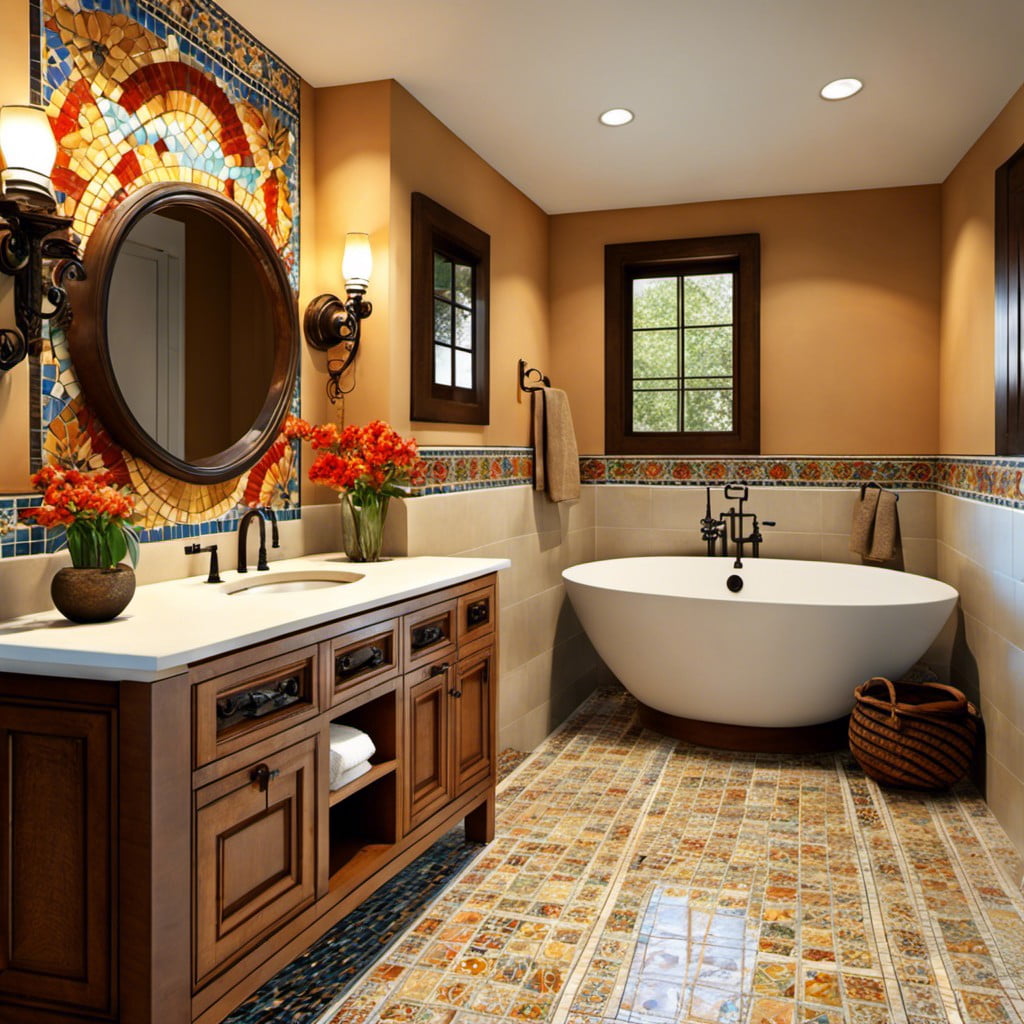 Incorporating a mosaic backsplash brings an element of visual interest to the bathroom. This can be achieved using colorful ceramic or glass tiles which are both durable and easy to clean.
Traditional Spanish design often relies on intricate patterns, rich, deep colors such as cobalt blues and earthy tones. Designing your mosaic might involve a balanced mix of these.
Remember, these tiles will be the star of the bathroom, so pairing it with more subdued, neutral elements could bring out its full potential.
Hand-painted Wall Murals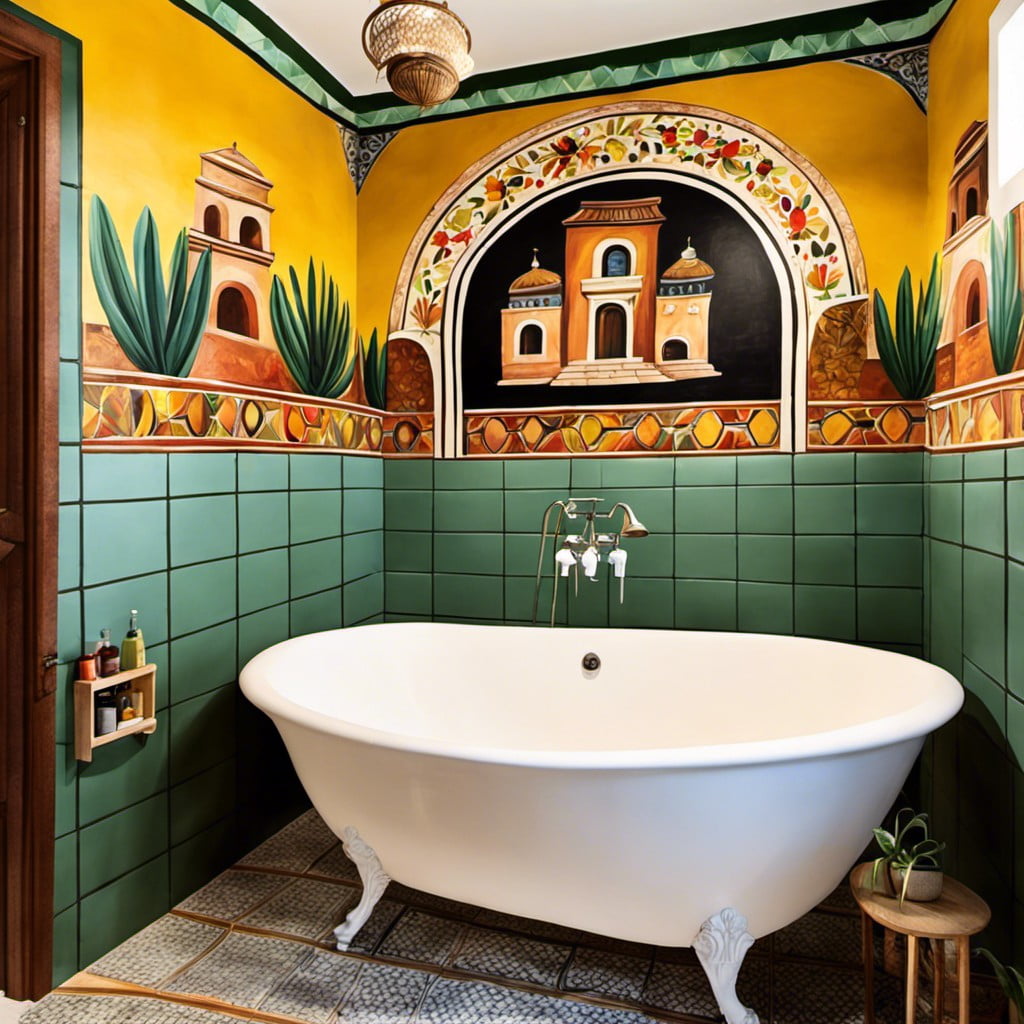 With their lively appearances, these murals bring an element of surprise and authenticity. They are commonly painted directly onto the wall.
Bear in mind that the primary element of Spanish style is handcrafted, artisanal workmanship, so selecting murals created by local artists adds that extra layer of personal touch.
These murals often depict scenes from local folklore, nature, or abstract geometric designs, depending on individual taste.
They provide an artistic focal point and inject a burst of color, greatly complementing neutral-toned tiles or woodwork.
Opt for water-resistant paints, ensuring years of guaranteed vibrancy and durability.
The beauty lies in the unique imprecision – no two murals are alike, each carries its artisans' individualistic flair.
Rustic Stone Countertops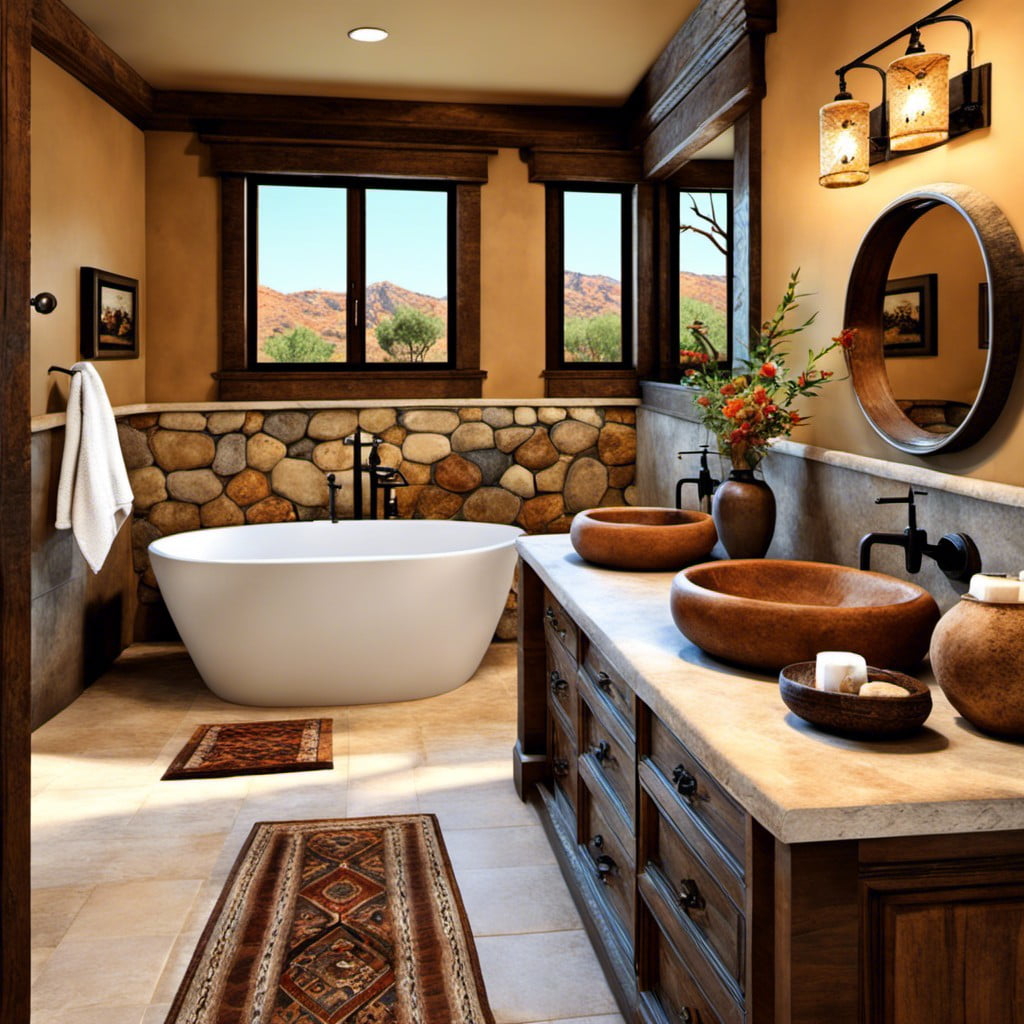 The rustic charm and time-honoured appeal of stone countertops cannot be understated. A definitive choice for those seeking authentic Spanish accents, these surfaces bring a hearty, earthy feel to your bathroom.
Traditionally, they come in darker, warmer tones that complement other Spanish bathroom elements, creating a sophisticated palette. Don't overlook the importance of the texture, as the purposefully uneven and tactile qualities of the stone play key roles in embodying the rustic allure.
The allure of stone is further escalated by its robustness and durability, staying resilient under the bustle of daily usage. Remember, you can even go a step further and inject personal flair by incorporating unique stone cuts or artisanal designs. Exactly the choice for those who appreciate an enduring yet warm aesthetic.
Old World Light Fixtures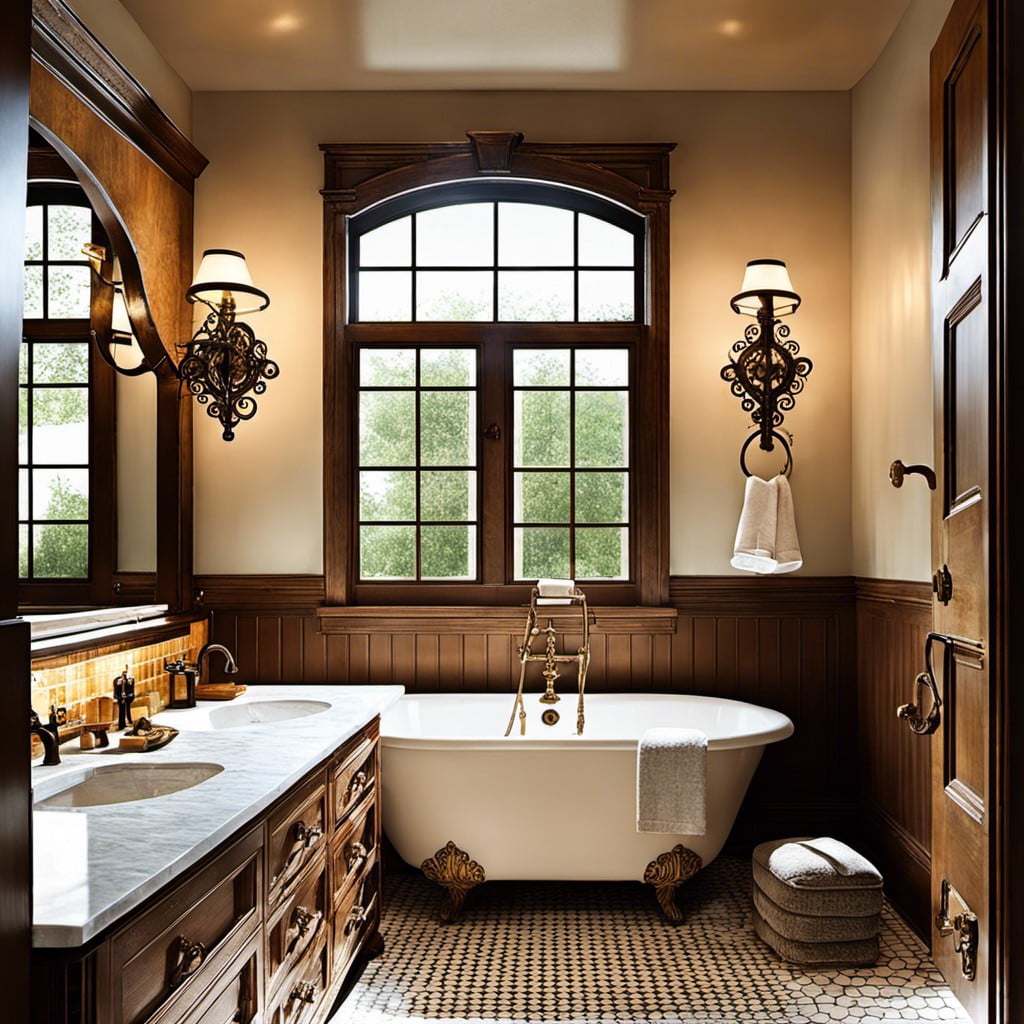 Embodying the Spanish aesthetic, these illuminating elements truly capture the essence of the Old World. Choose fixtures featuring dark metals such as wrought iron or bronze. Opt for designs with ornate detailing, reminiscent of historical craftsmanship. Some light fixtures may even incorporate colorful ceramic or glass elements, bringing in additional vibrancy.
Usually, hanging lanterns or pendant lights are favored. They spread warm, ambient lighting, immediately creating a cosy, atmospheric space. Moreover, these fixtures are as practical as they are charming. Consider a pair flanking your mirror or a larger piece as the centerpiece for overhead lighting.
When strategically placed, the right light fixture can highlight your bathroom's best features, accenting your beautiful tile work or framing an ornate vanity.
Talavera Pottery Decorations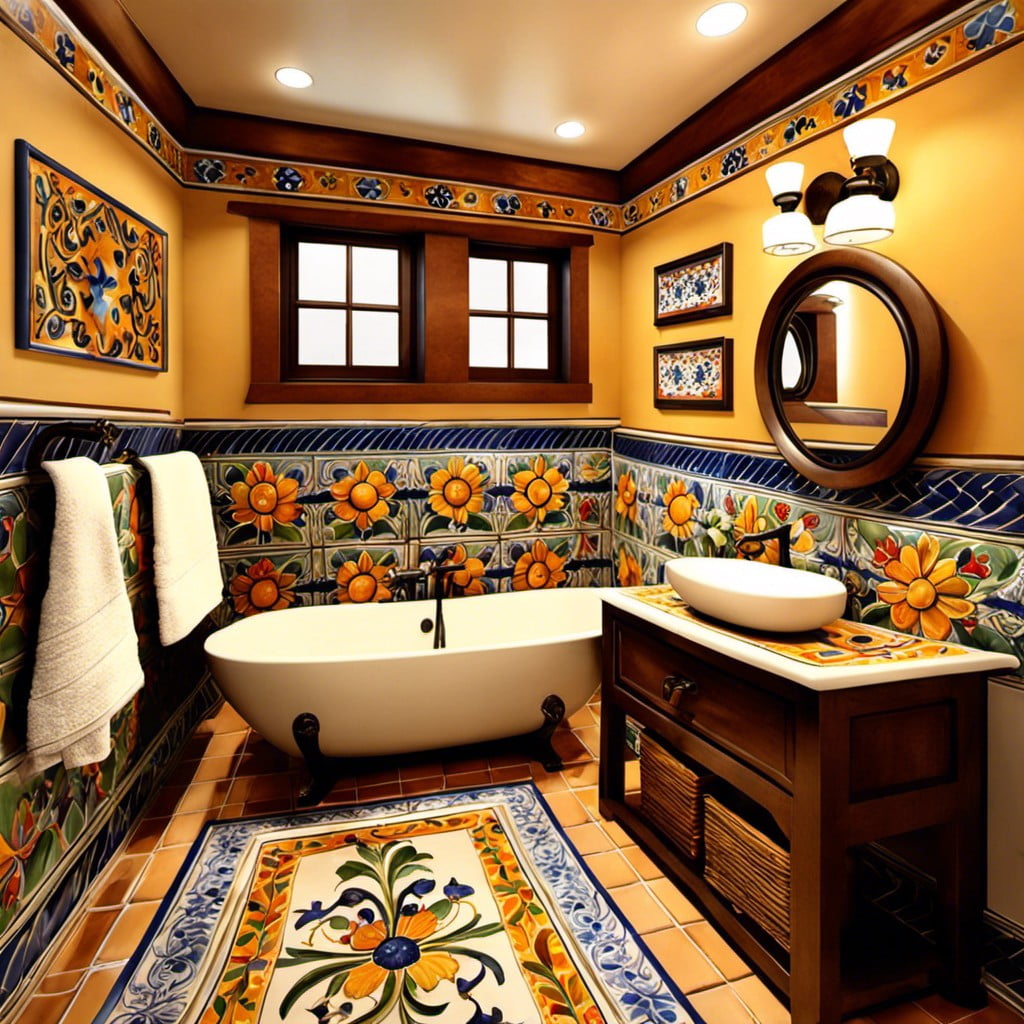 Incorporating this style of decor into your bathroom can truly captivate the essence of Spanish design. Each piece is meticulously hand-painted, boasting vivid colors and intricate patterns that can breathe new life into the room.
Find a place for these unique pieces whether in the form of soap dishes, toothbrush holders, or decorative wall plates. Be sure to choose designs that complement your existing color scheme. With their rich blues, sunny yellows, and fiery reds, these decorative elements can serve as focal points or accent pieces, boosting the overall aesthetic appeal of your bathroom space.
Remember that Talavera pottery, hailed from Mexico, adheres to a strict crafting process. Each piece is painted by hand and double-fired for its characteristic glossiness. This ensures a quality finish, lasting vibrancy, and an authentic slice of Spanish heritage right in your home.
Colorful Rug Accents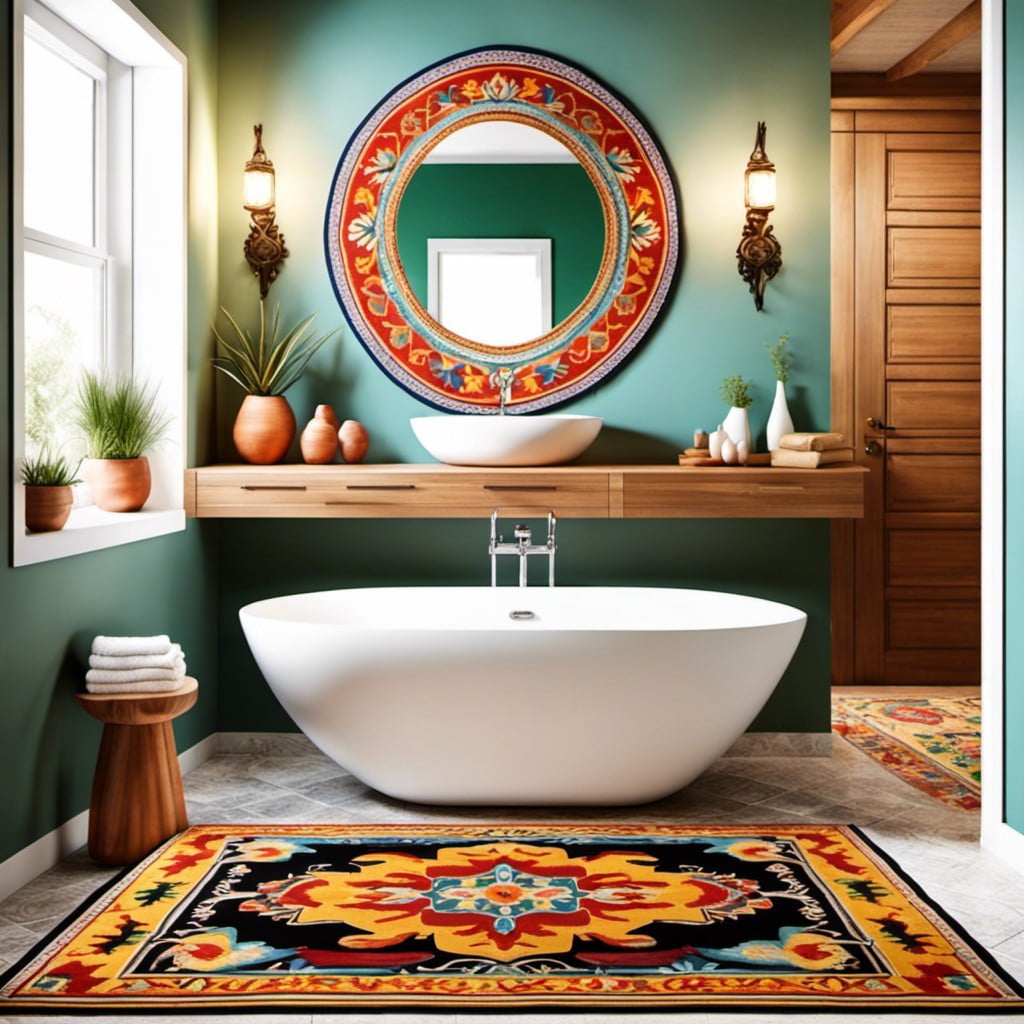 Introducing vibrant hues can enliven the bathroom scene, making it a refreshing space. Persian or Moroccan rugs, with their diverse color symphony, break the monotony and build a visual bridge between the overall design elements. These rugs, besides being visually appealing, are comfortable underfoot and have excellent moisture absorption abilities.
Placement can be experimented with; positioning it in front of the sink, as a pathway, or adjacent to the tub can create distinct styling schemes. To prolong the longevity and maintain the plushness of these rugs, opt for ones designed specifically for bathrooms, as they are equipped to handle higher moisture and footfall.
A mix of utility and aesthetic, colorful rug accents become the pivotal style statement in a Spanish bathroom design.
Decorative Window Frames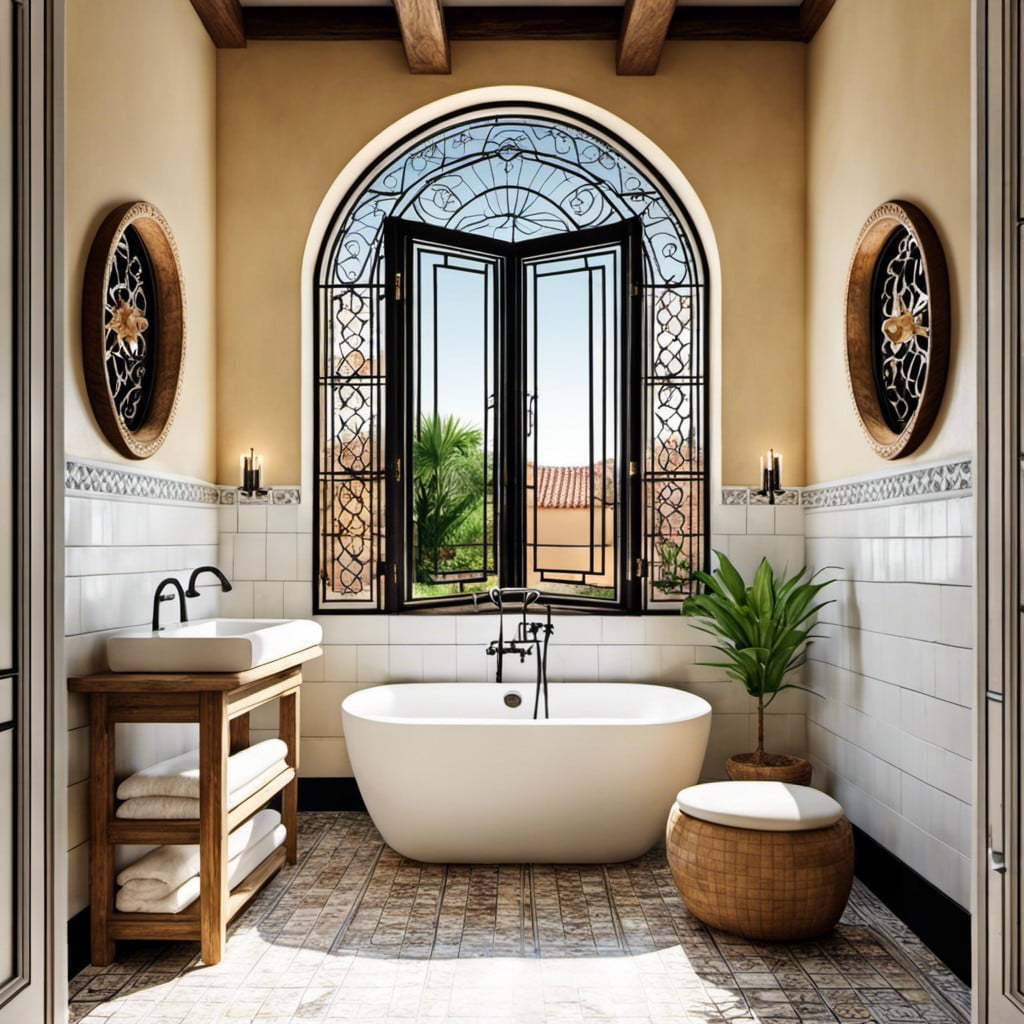 One surefire way to add a Spanish flair is through the windows. Traditional Spanish architecture invites light in through wooden frames adorned with detailed carvings. The curved designs are not only aesthetically pleasing, but also function to enhance the overall Spanish theme in the bathroom.
Wooden frames: In Spanish design, solid wood is highly favored. It brings an organic and natural ambiance into the bathroom.
Detailed carvings: Artisan details add specific character to your bathroom. Incorporate hand-carved motifs inspired by nature or geometric patterns.
Curved designs: Curved window frames can break up the strong linear lines often found in other furniture pieces, creating a balanced space.
Choosing the right window frame can make all the difference. It can create a light-filled oasis that perfectly encapsulates the rich design history of Spain. It also effortlessly blends function with beauty, fundamentally emboldening the aesthetic integrity of your Spanish bathroom.
Copper Bathtub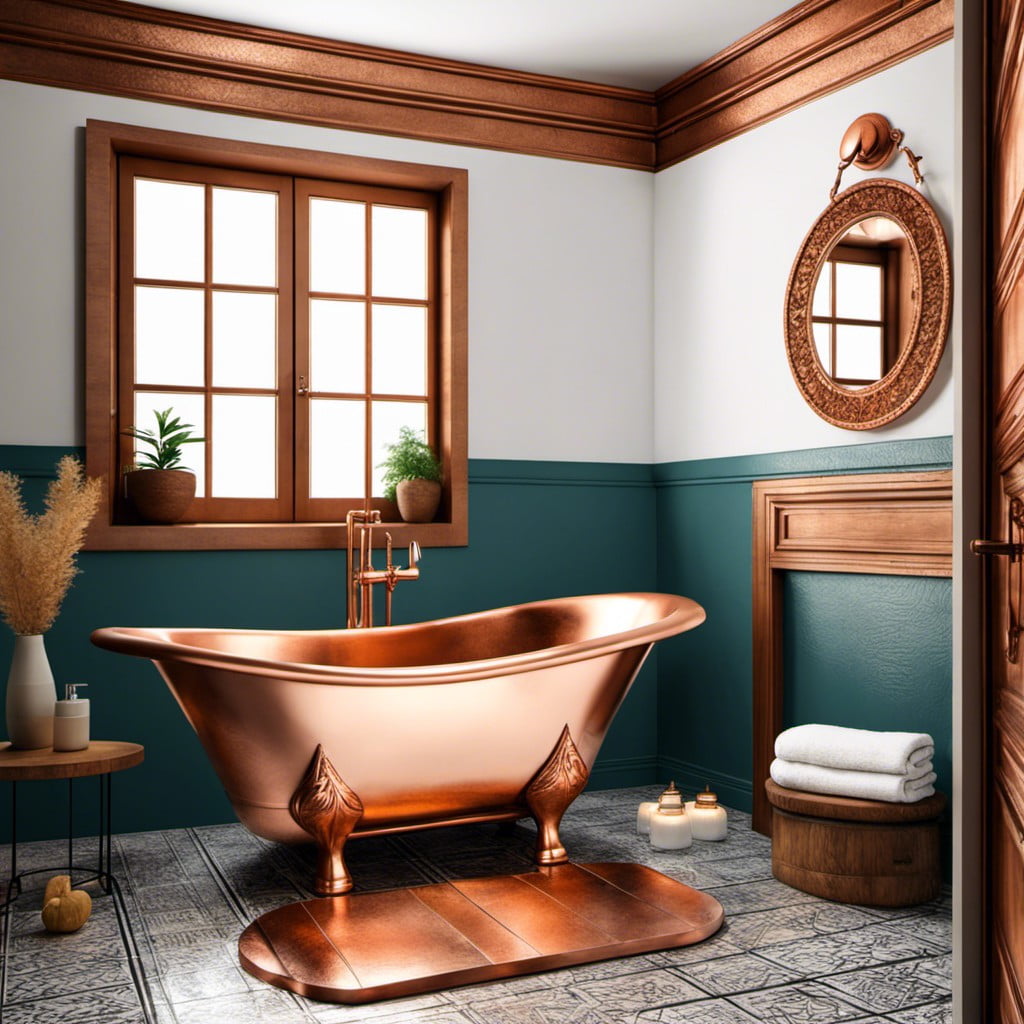 With a warming copper glow, this unique bathtub adds an instant focal point to a bathroom that's imbued with Spanish aesthetics. It's not just looks though – the heat conductivity of copper means your bath water stays warm longer.
There's an undeniable vintage appeal to it which aligns with the old-world charm that's foundational to Spanish design. Due to the tub's naturally antibacterial properties, it's also a very hygienic choice.
For maintenance, a little soap and water does the trick, making it as practical as it is beautiful.
Wicker Basket Storage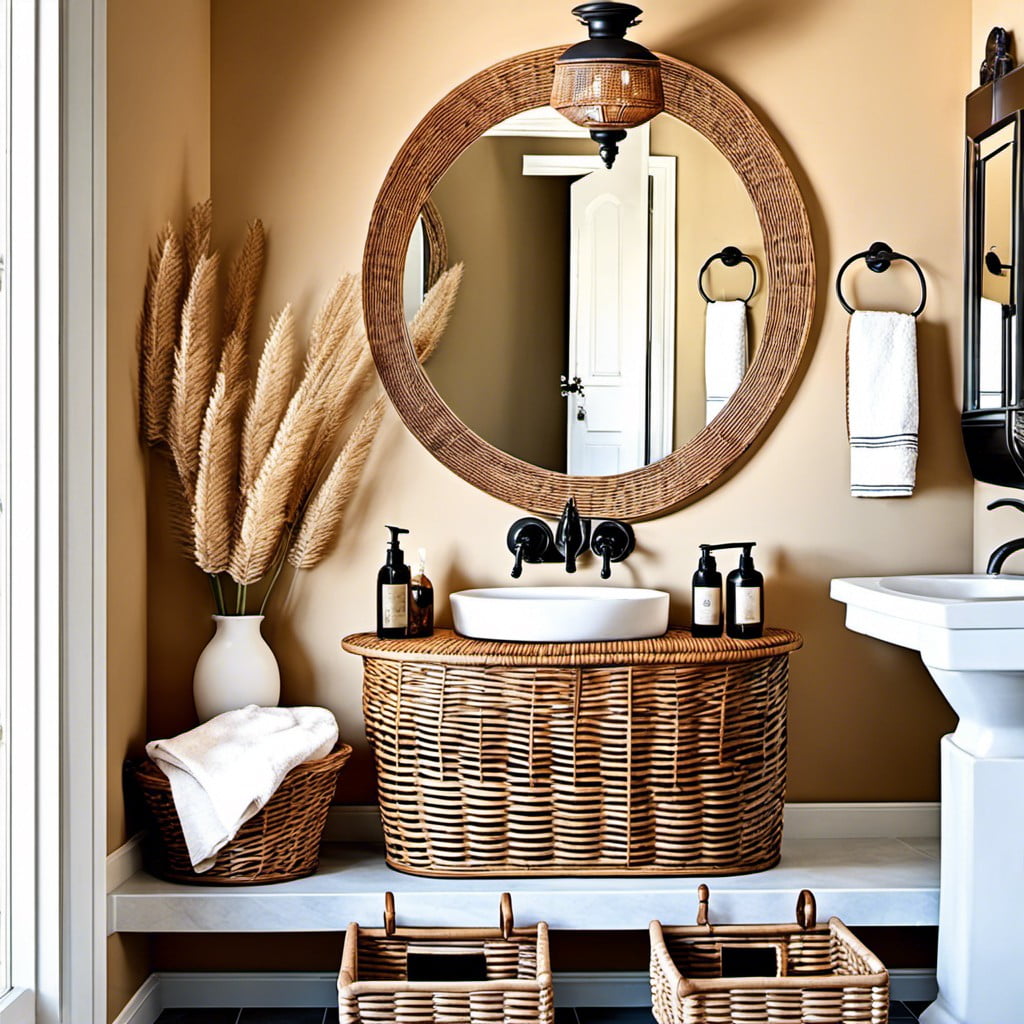 Having already embraced Spanish-inspired design features, incorporating wicker basket storage is an eco-friendly and aesthetically pleasing addition. Here are key points to consider:
1. Versatility: Wicker baskets come in all sizes, shapes, and finishes. This ensures there's no wasted space while keeping your aesthetics intact.
2. Functionality: Aside from storing toiletries, they can serve as discreet hampers, or stash away extra towels and bathrobes.
3. Rustic Appeal: Wicker's natural, woven design adds a rustic element that compliments the Spanish charm of terra cotta and wrought iron.
4. Low maintenance: These baskets require minimal upkeep. A simple wipe-down is enough to keep them clean.
By following these considerations, wicker baskets can transform the functionality and visual appeal of your Spanish bathroom.
Subtle Stucco Walls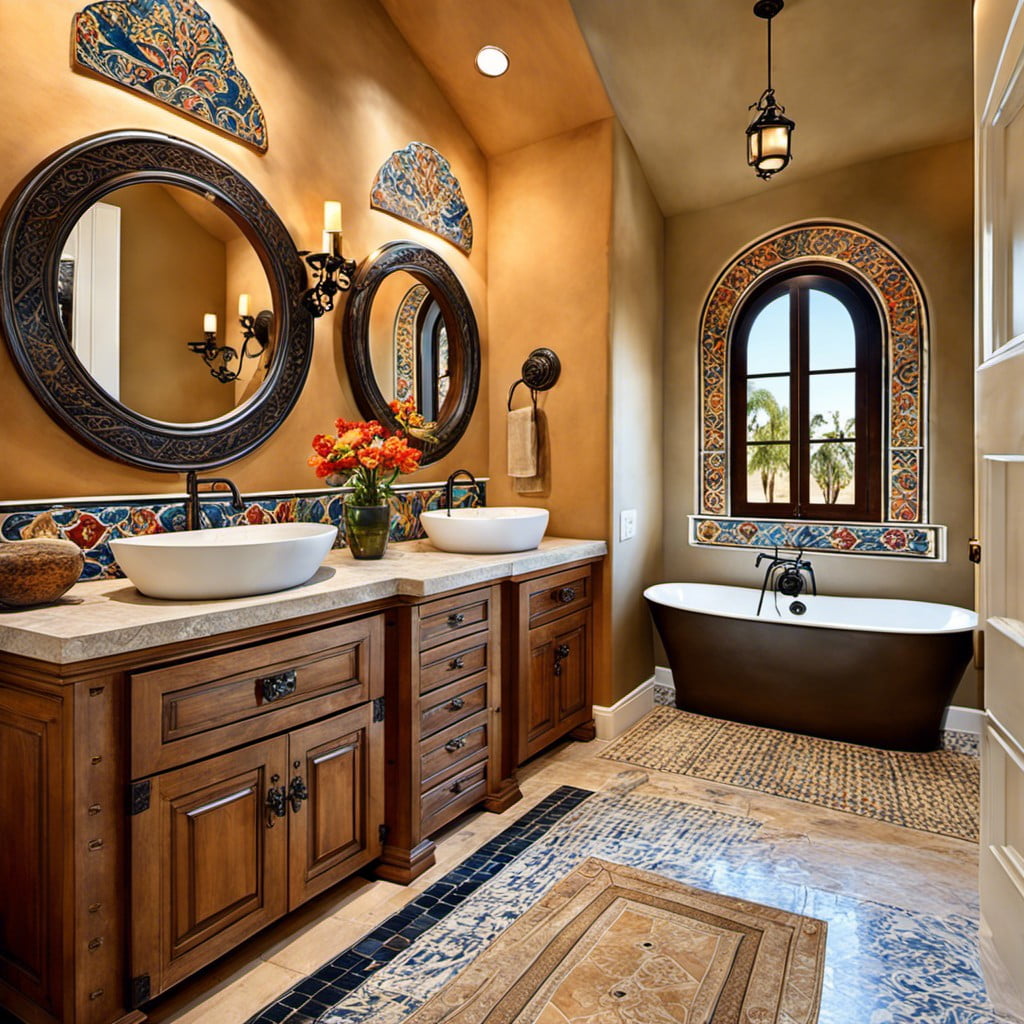 Subtle stucco walls are a key element in any Spanish bathroom, exuding an authentic Mediterranean look. The textured finish not only adds depth but also envelopes the space in warm and earthy tones, reflecting the rustic simplicity of Spanish design.
When it comes to the application, lightly drag the trowel across wet plaster to create subtle, irregular lines for a truly handcrafted look. Remember, the goal is a balance of texture and color that's complementary to your overall scheme.
Consider using natural pigments and earth tones to further highlight this effect. A dusty orange, creamy beige, or even a muted yellow can lend a touch of the Spanish sun without overwhelming the space.
Last but not the least, thoughtful additions like molding or recessed niches can add an extra touch of style and function to your stucco walls. Whether to showcase a decorative tile or to stow some bath essentials, such architectural features can contribute greatly to your Spanish bath's overall appeal.
Ornate Shower Curtain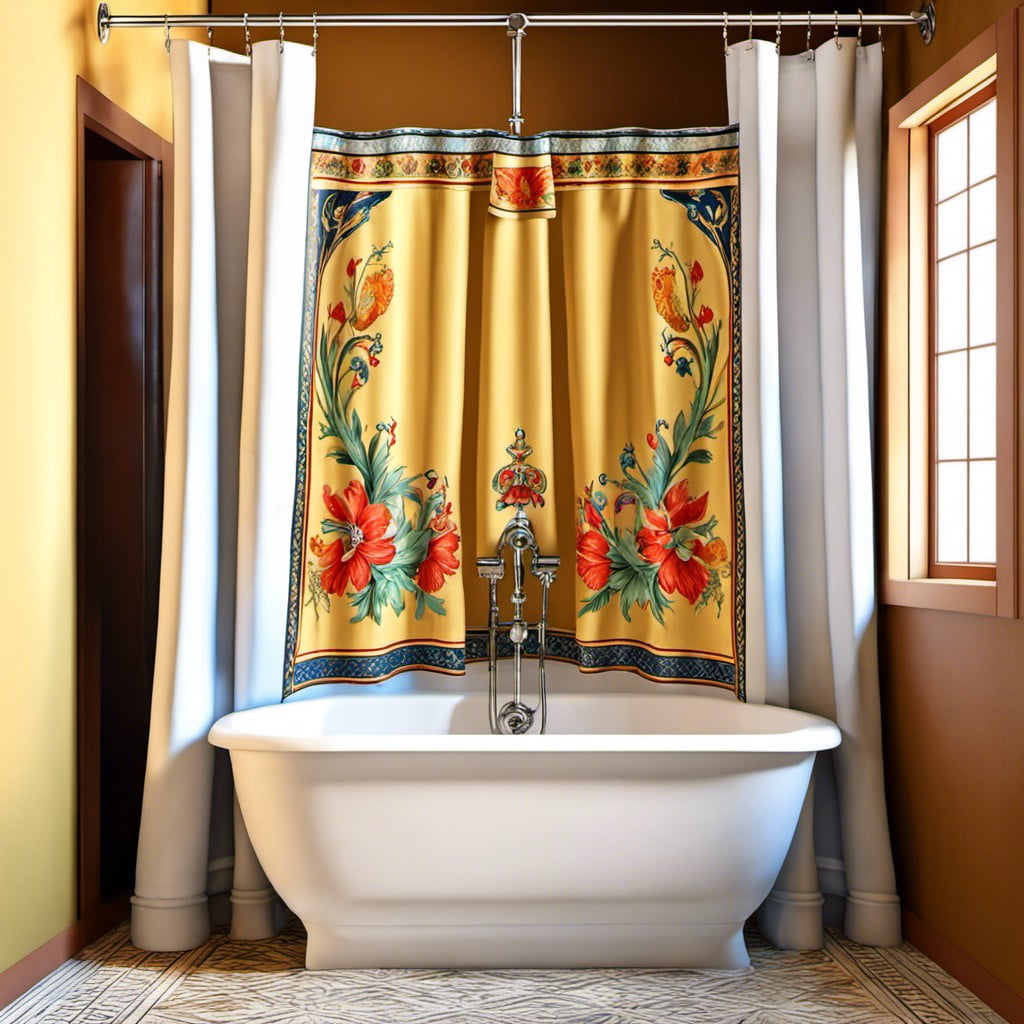 In the realm of Spanish design, detailing is pivotal, and your shower curtain can be a testament to this. Choosing a design with intricate patterns, inspired by traditional Spanish artistry, will create a striking focal point. Look for deep, rich colors, as they are reminiscent of the Spanish aesthetics.
Here's how it can be achieved:
Patterns: Select curtains with Damask or Moorish motifs that are prevalent in Spain's rich history.
Material: Luxurious fabrics like velvet or heavy satin can add an opulent feel that mirrors grand Spanish homes.
Colors: Go for bold, like deep red, bright orange, or regal blue to instantly infuse Spanish vibrancy.
Layering: A draped effect can further enhance the look while providing a beautiful way to add texture to the bathroom setting.
Detailing: Watch for aspects such as tassels or fringes at the base, which can significantly elevate the overall design.
Terra Cotta Pots for Storage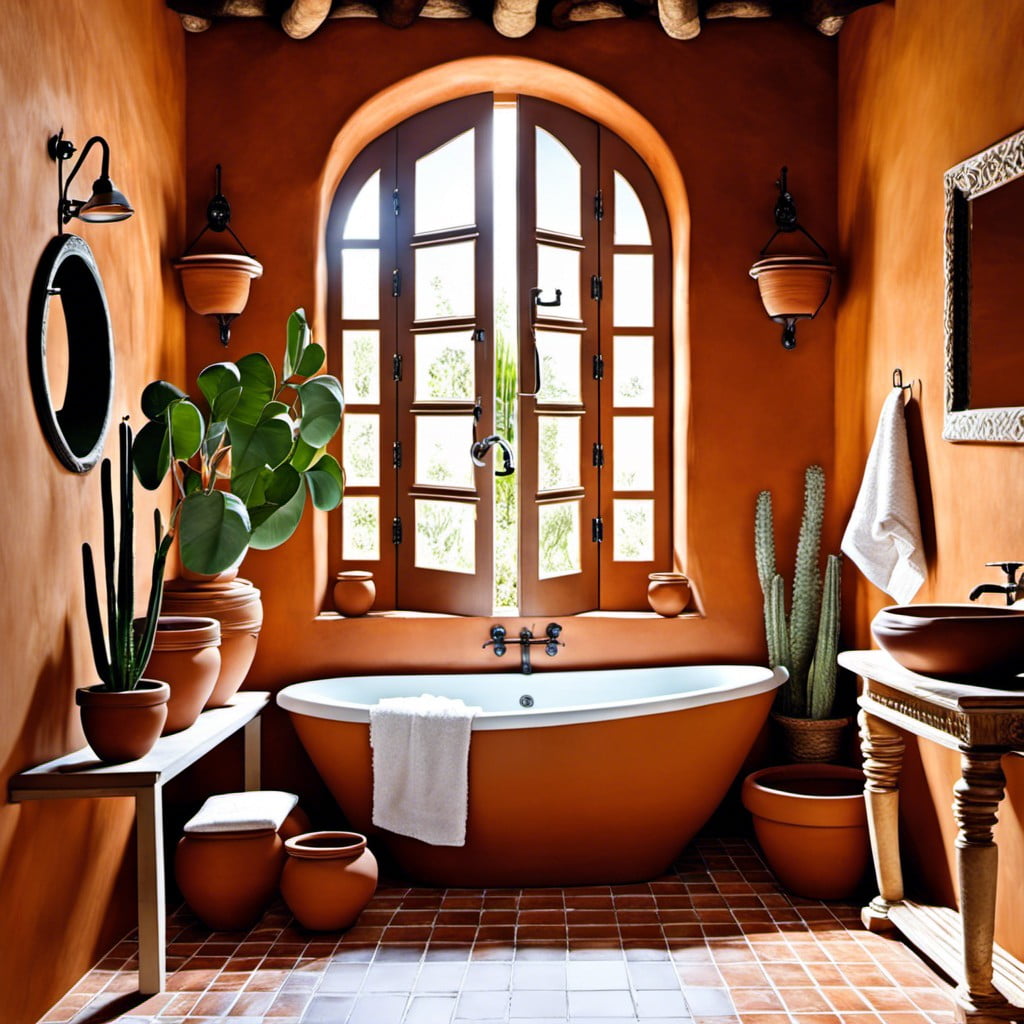 Utilizing these distinctive earthenware essentials, with their earthy hues and rough textures, exemplifies the epitome of Spanish styling. They're not only beautiful but practical.
Try this:
Use varying sizes around the bathroom to hold items such as toiletries or towels.
Opt for designs with intricate Spanish motifs to elevate aesthetics.
Place larger pots strategically on the floor, perfect as a trash bin or laundry hamper.
Smaller pots on shelves and countertops can be perfect repositories for toothbrushes or cosmetics.
Remember, the key is to maintain a balance between functionality and eye-catching Spanish charm.
Continue reading:
Recap