Last updated on December 2, 2023
Transform your bathroom into a serene Mediterranean sanctuary with these vanity ideas, because everyone deserves their own personal spa escape.
Dive into the soothing ambiance of the Mediterranean right in your own bathroom with these innovative vanity ideas. From rustic wooden cabinets to earthy stone countertops, and from wrought iron fixtures to mosaic backsplash designs, this article provides a plethora of ways to infuse your bathroom with the sun-drenched, relaxed vibe of the Mediterranean region.
Whether you're seeking a full remodel or just a touch of coastal charm, keep reading to explore how to transform your bathroom vanity into a picturesque Mediterranean retreat.
Marble Topped Vanity With Brass Fixtures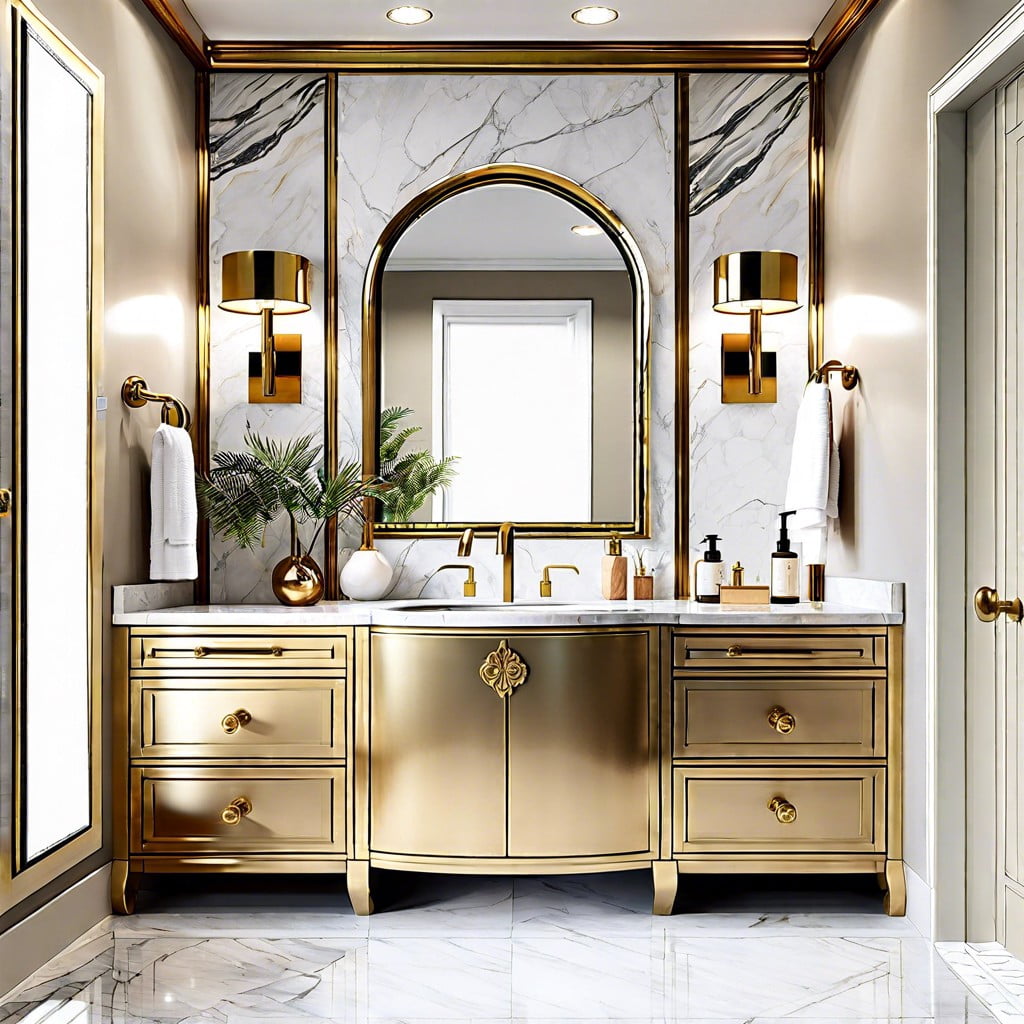 Brass fixtures can provide a fantastic complement to the marble top. This pairing combines the hard, robust nature of the marble with the soft, warm tones of brass.
Opt for a design with clean lines for a modern appeal, or intricate details for a touch of vintage. Make sure to keep the remainder of your bathroom decor fairly minimal to allow this classy vanity to be the star.
For best results, consider accessories in the same brass finish like soap dispensers, mirror frames, and towel racks to unify the look.
Terra-cotta Vanity With Copper Sink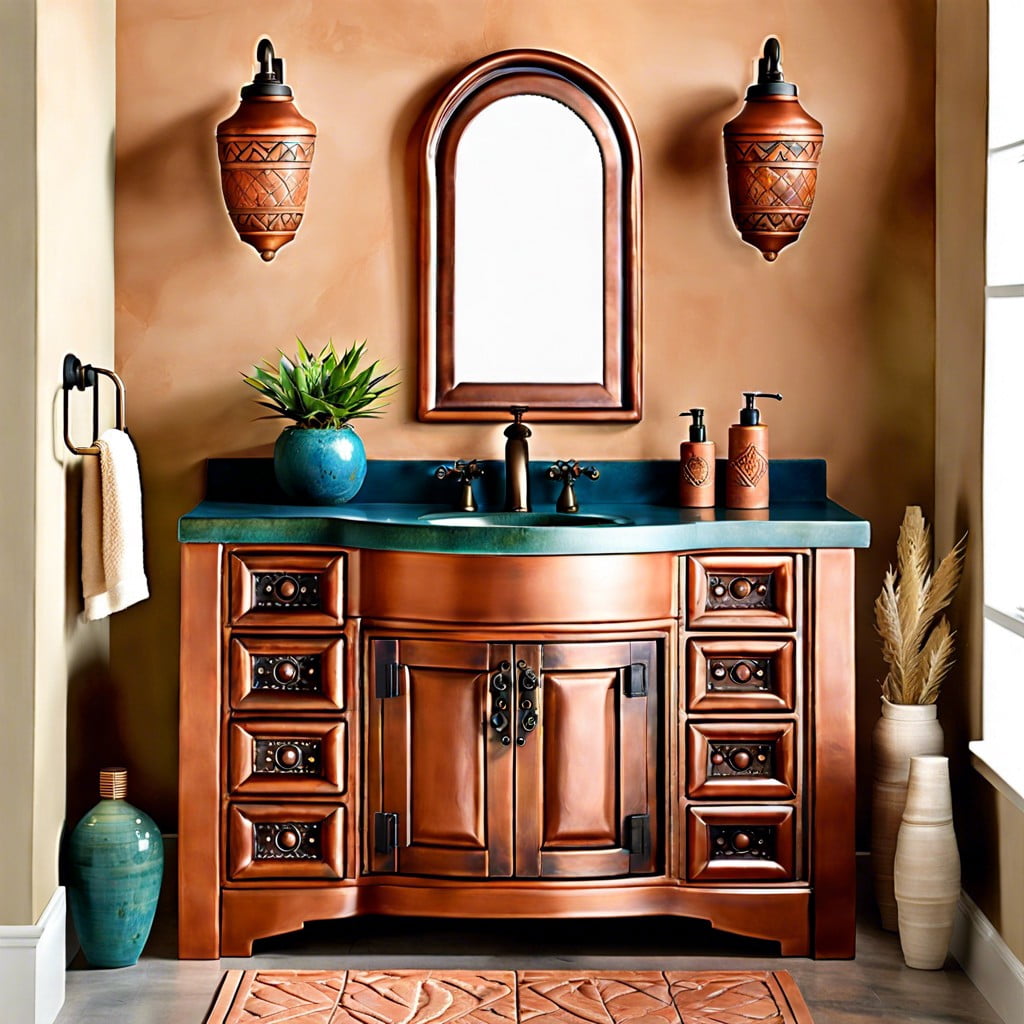 This particular vanity style is the perfect blend of earthy elegance and rustic charm. Terra-cotta, a type of earthenware, adds a warm, natural touch to the vanity. Pairing it with a copper sink complements the earthy tones, enhancing the Mediterranean vibe. Copper, when recurrently touched, develops a beautiful patina over time, adding depth and character.
There are various design options you can explore with terra-cotta. Opt for simple, flat panels for a clean look, or choose elaborately moulded designs for visual interest. Alternatively, intricately carved designs or custom detailing can transport you straight to a cottage in Tuscany. For the sink, consider an undermount style to show off the beauty of the Terra-cotta top.
This option provides ample opportunity to showcase personal style and creativity while maintaining the timeless appeal of the Mediterranean palette. It's a standout piece that essentially fits any bathroom setting while providing practical functionality. Keep it simple with minimalistic brass fixtures, heightening the rustic yet chic aesthetic.
Remember, this choice of vanity looks best when paired with neutral or warm color schemes. So, consider using color palettes that involve creams, beige, burnt oranges, or subtle greens when designing the rest of your bathroom space to achieve a cohesive look.
Vanity With Mosaic Tile Accents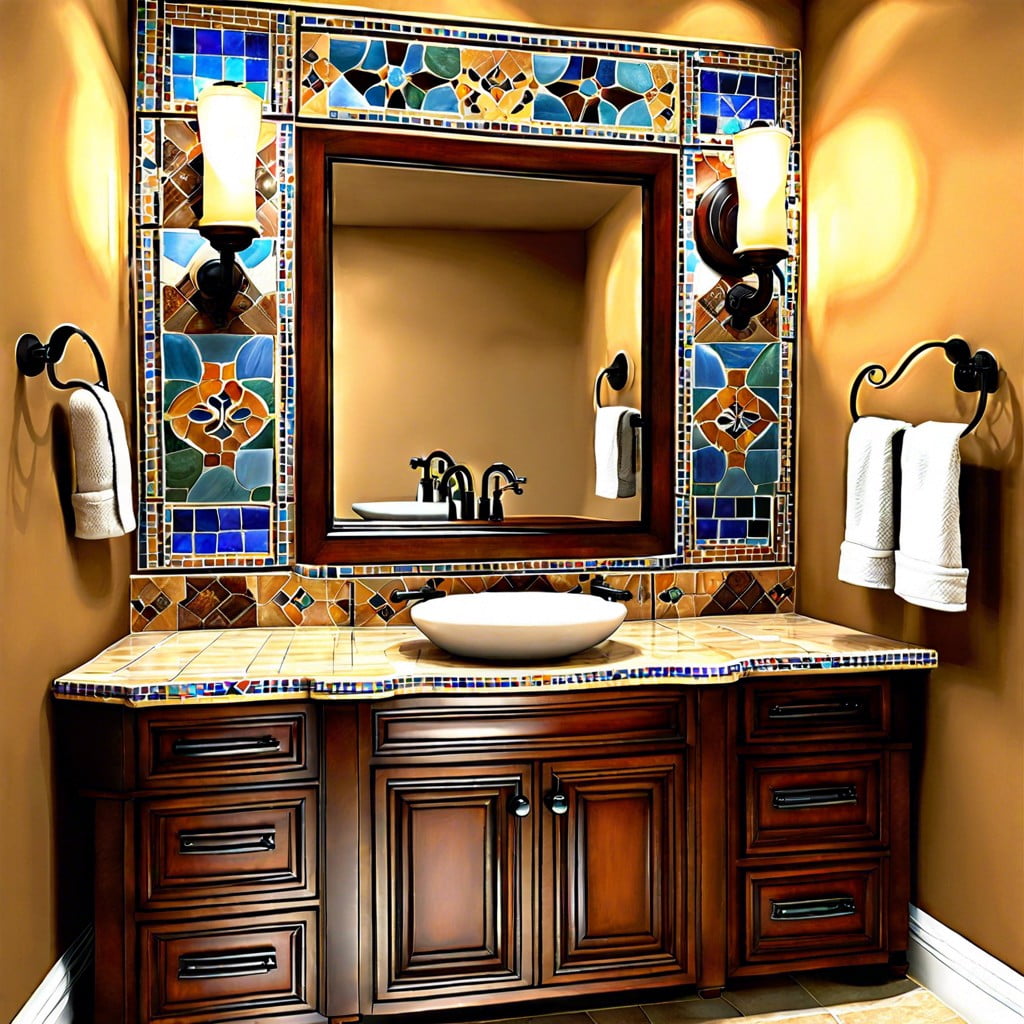 The allure of mosaics lies in their intricate designs and robust colour options. Opt for a striking geometric pattern or a subdued monochromatic theme to suit your style. Utilize these tiles on the base, around the sink or as a backsplash, creating a focal point that arrests the eye as soon as you walk into the room.
Material selection should balance aesthetics and practicality. Consider ceramic tiles for their durability and variety but don't rule out glass or stone tiles. Each presents a unique textural quality to add depth and interest to your bathroom space.
Utilize color thoughtfully. If your overall decor is neutral, a bold mosaic display can offer an inspiring pop of color. And, contrary to popular belief, dark-toned mosaics play just as nicely with smaller spaces, often accentuating vanity size and shape.
Thematic alignment is equally important. Try to tie the patterns on your mosaic to other elements in your bathroom, like curtains, mats or even wall art, offering a cohesive visage that looks well planned and effortlessly stylish.
To guard against wear from constant water contact, always seal your mosaic tiles post-installation. This prolongs their life and retains the original finish, keeping your bathroom looking chic and well-maintained.
So, go ahead, experiment with shapes, sizes, color schemes and don't shy away from being bold. Remember, your bathroom is a personal space, one that should reflect your style and sense of comfort. And nothing says stylish comfort quite like a vanity with mosaic accents.
Distressed Wood Vanity for a Rustic Look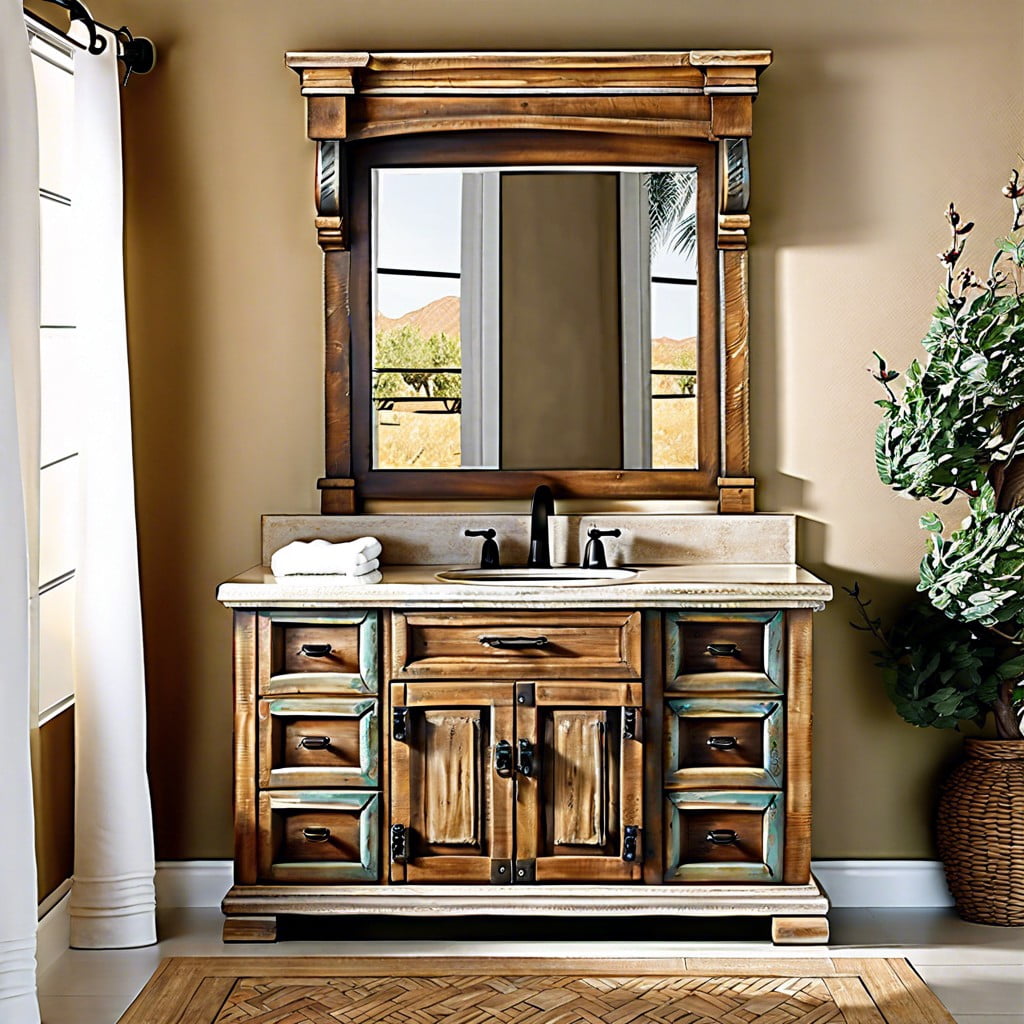 This timeless choice adds a warm, rustic element to your bathroom. For crafting one, consider reclaimed or salvaged wood, which can be sanded and treated to create a smooth, clean finish while preserving unique features like nail holes or saw marks.
To enhance the aesthetic, use an antique brass faucet and weathered bronze knobs. But remember, to maintain longevity, ensure the wood is sealed properly against the humid bathroom environment.
It's more than furniture—it's a statement piece imbuing your space with old-world charm.
White Vanity With Blue Mediterranean Patterns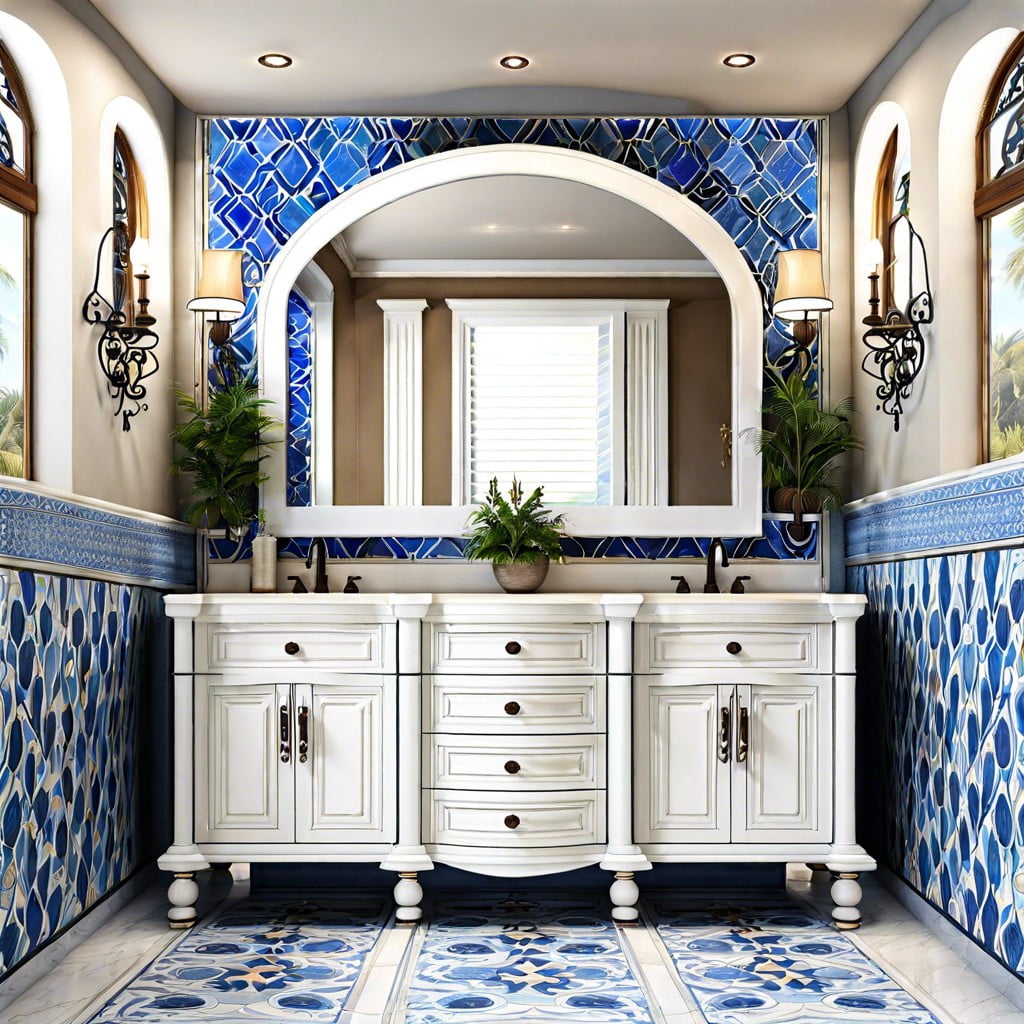 Infusing the notes of the azure sea into your bathroom design can be as simple as opting for an intricately patterned vanity. Give a nod to the classic Mediterranean designs with wave motifs, intricate florals, or tessellation patterns.
To balance the vividness, keeping the base of the vanity white would provide a neutral stage for the patterns to truly stand out. The key here is coordinating the rest of your bathroom decor in a way that allows your vanity to be the star. Consider white or lightly colored walls and floors to avoid competition. Brushed silver or copper hardware would lend a charming aged feel to the setup. Add a matching framed mirror for a cohesive look.
This all-white base with a pinch of blue creates a refreshing, sea-inspired space, perfect for starting your day on a lively note.
Hand-painted Ceramic Vanity Top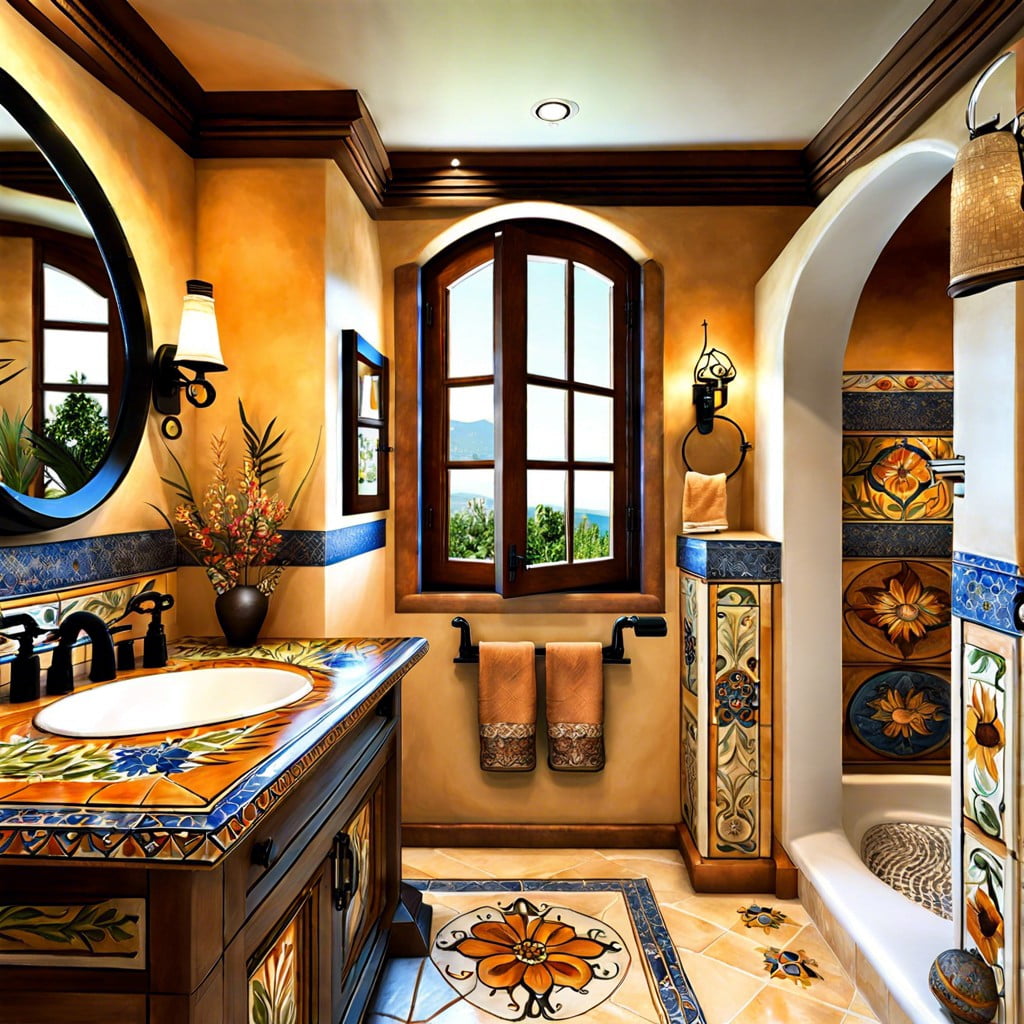 A hand-painted ceramic vanity top can elevate your bathroom's aesthetic appeal while celebrating the area's rich artistry and craftsmanship. This artistic addition introduces vibrant hues and intricate patterns into the room, enhancing the visual interest.
1. Focus on Pattern: Consider classical Mediterranean designs or whimsical floral motifs for an authentic look.
2. Opt for Color: Blues, whites, burnt oranges, and earthy tones are traditionally prevalent in Mediterranean ceramics.
3. Size Matters: Large vanity tops flaunt more complex designs, while smaller ones can feature compact, sophisticated patterns.
4. Consider Durability: Ceramic is scratch and heat resistant, offering long-lasting beauty and durability.
5. Balance with Neutrals: Ensure the rest of the decor complements the vibrant vanity top. A neutral backdrop can help it stand out, and draw eyes towards it.
Remember, choosing a hand-painted ceramic vanity top can not only be a statement piece, but it can also be your homage to the vibrant Mediterranean culture.
Wrought Iron Vanity With Glass Top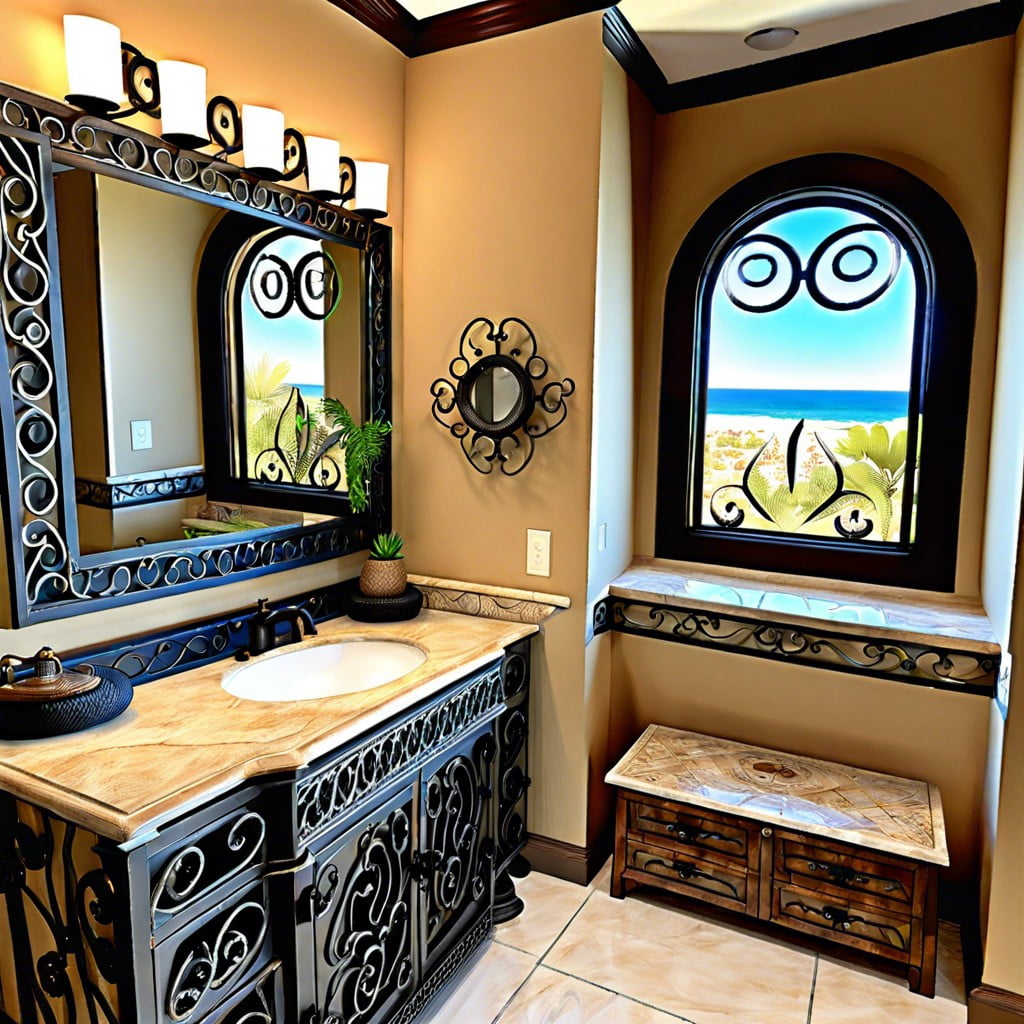 Introducing wrought iron in your bathroom adds a dash of rustic charm that so often characterizes Mediterranean decor. The sturdy material can grasp the weight of a splendid glass top effortlessly, adding a modern twist to the overall style. Allow the transparency of the glass to showcase the exquisite design of the wrought iron base in all its glory.
Ideal for both spacious and compact bathrooms, consider balancing its rugged appeal with softer elements. Pair it with a beautiful ceramic basin, either in a solid vibrant color or a traditional Mediterranean pattern. A vibrant, color-speckled backsplash would continue the theme.
The inclusion of wrought iron also plays up the room's functionality. With its high durability and easy maintenance, it can stand up to the humid environment of a bathroom and continue to serve its purpose for years. Matching wrought iron fixtures, such as faucets or towel racks, can help pull the room together.
Remember to strive for a balanced visual expression. Dim, ambient lighting or candlelight can exaggerate its silhouette for a dramatic effect. A plush rug underneath and soft, fragrant hand towels nearby can soften the industrial feel, creating the perfect blend of strength and luxury.
Vanity With Open Shelving for Linen Storage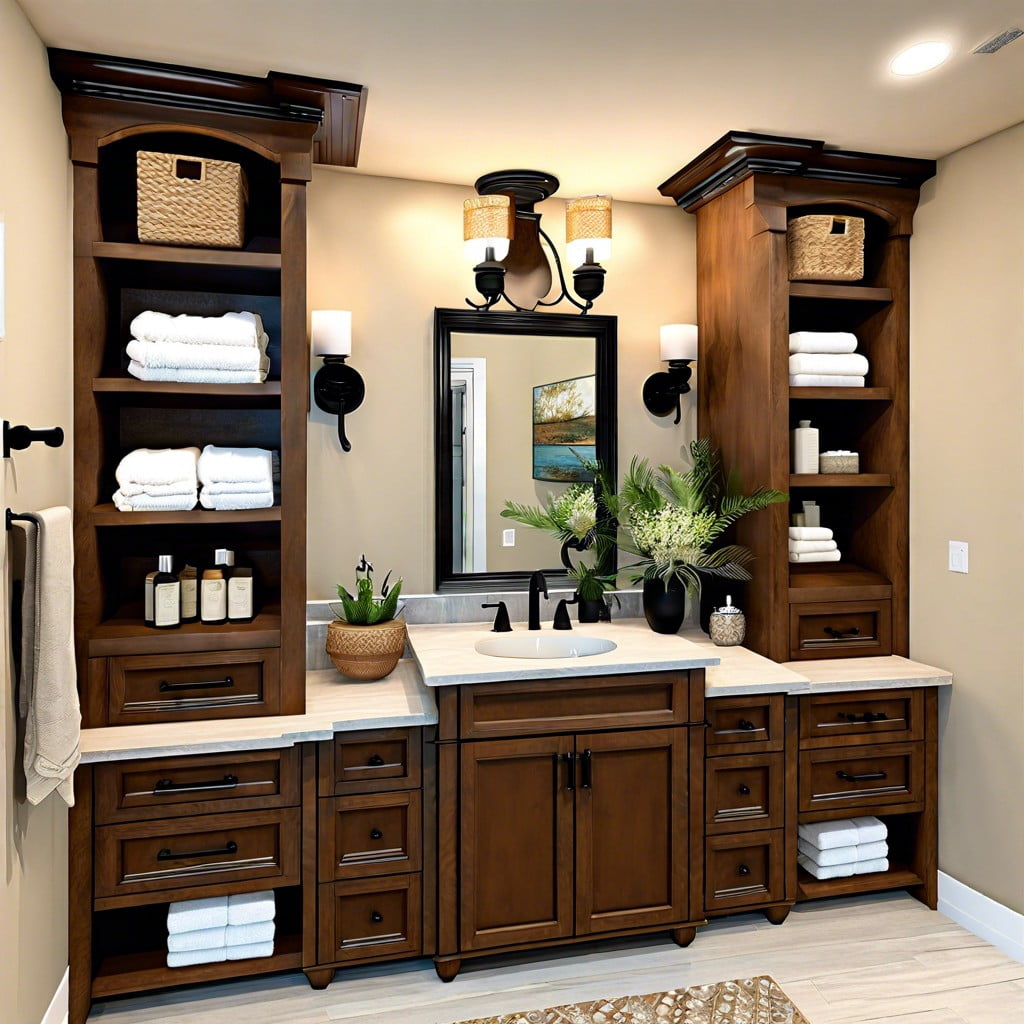 Having open shelves on your vanity provides practical and stylish storage space. Firstly, it ensures easy access to your daily essentials, perfect for fast-paced mornings.
Equally important, your linens can double as decor items, with neatly folded towels adding color and warmth to the bathroom. Glass jars can be used to store smaller items like cotton balls or bath salts, turning them into visual highlights. For a true Mediterranean vibe, opt for washed, porous woods and use woven baskets to add an organic touch.
Stone Basin for a Natural Touch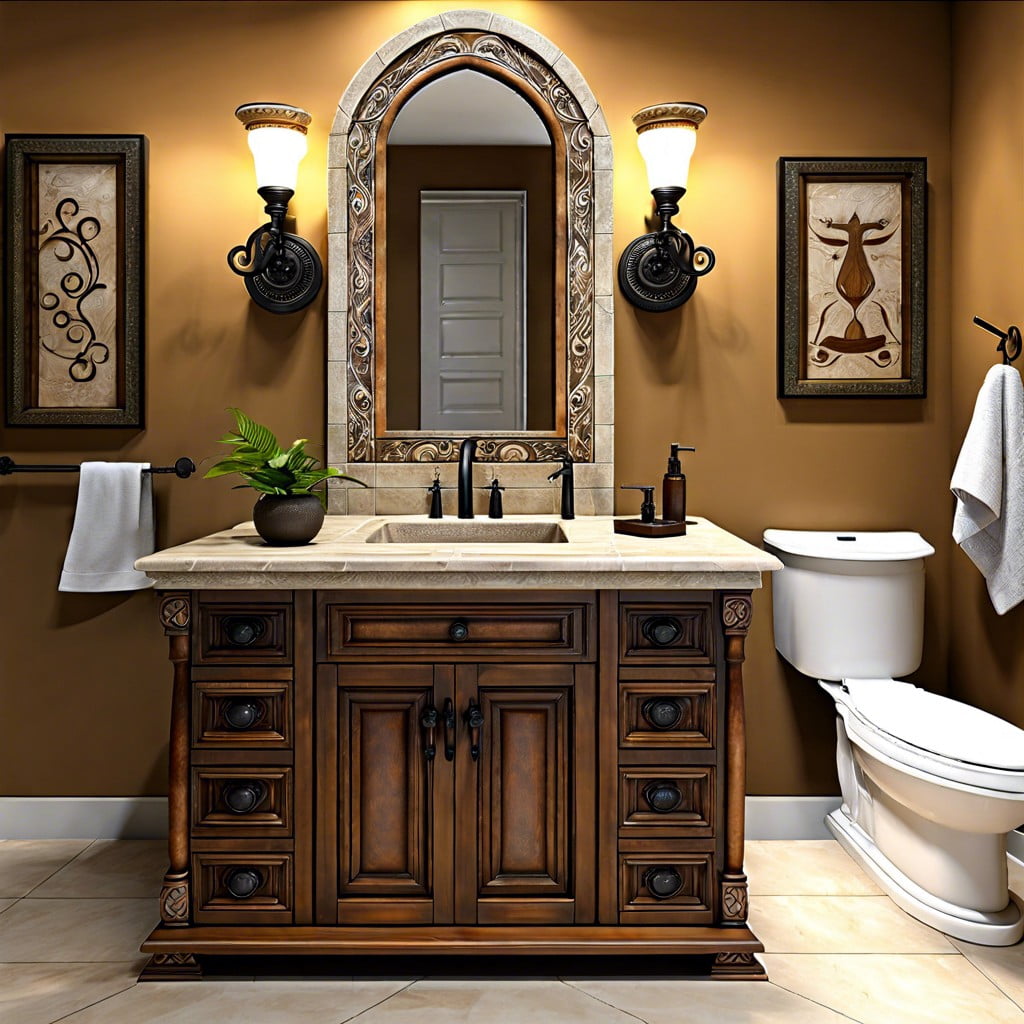 Introducing a stone basin can instantly transport your bathroom to the peaceful beaches of the Mediterranean. Opt for natural materials like limestone or travertine, which feature rugged texture and beautiful color variations.
It's a design choice that harks back to early human history, offering a pleasant juxtaposition in a modern setting. Besides their aesthetic appeal, stone basins are incredibly sturdy and wear-resistant, ensuring a long lifespan for your vanity.
You can pair it with wooden elements to enhance the organic feel or with metal fixtures for a contemporary edge. It's a unique way to bring an earthy, serene character into your bathroom.
Ornate Mirror Above Vanity for Mediterranean Flair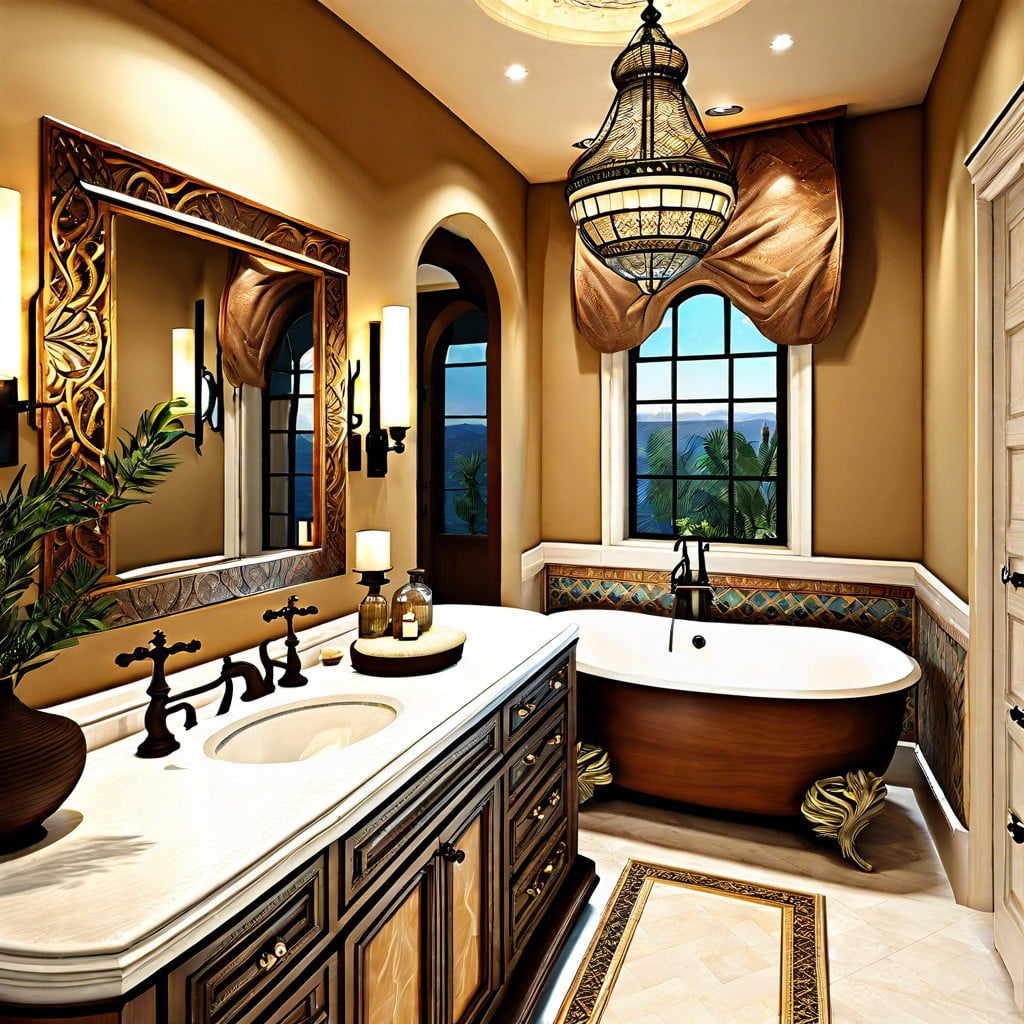 Mirrors are more than just practical essentials. They are transformative elements that can enhance the aesthetics of any space. Choose one with ornate detailing and rich embellishments, reflecting the Mediterranean ethos.
A large mirror doesn't just visually expand the area, but the intricate design adds a taste of old-world charm. Furthermore, a bronze or gold finish would complement the warmth of the Mediterranean palette.
Mix things up a little by pairing it with some vintage sconces on either side for a well-lit, opulent look. Stick to the rule of thumb: the mirror size should not exceed the vanity length.
It's these subtle 'showstopper' elements that can breathe life into your bathroom by characterizing an otherwise utilitarian space.
Vanity With Arched Doors in Alpine White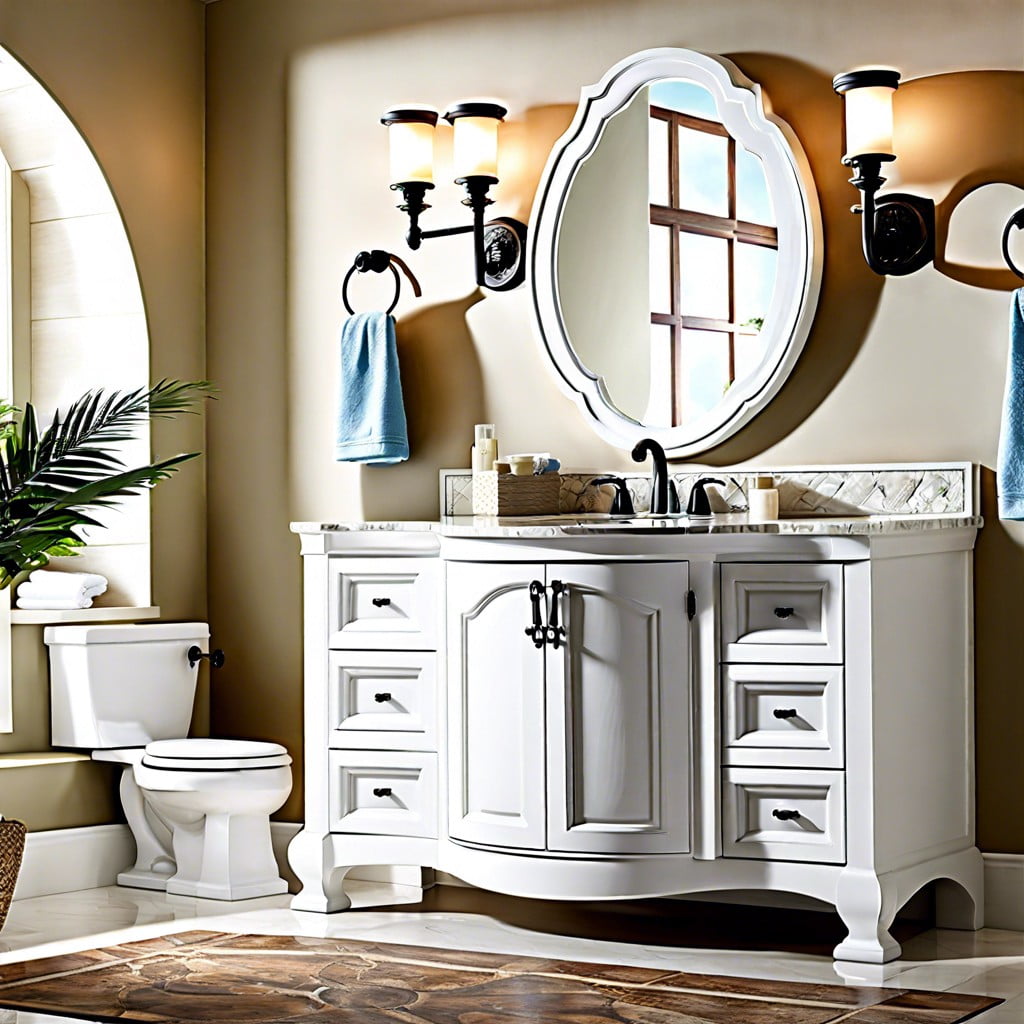 Creating a bathroom space that resembles tranquil Mediterranean havens is easily achievable with the right vanity. Choosing alpine white brings in a sense of calm and has a certain timeless appeal, making it a popular choice.
The defining feature of such a vanity is its arched doors, echoing the classic architectural contours common in Mediterranean households. This distinct design is more than just a decorative addition – it's a statement.
When it comes to functionality, these vanities pack a punch. The doors open up to useful storage space for all your toiletries and bathroom essentials, keeping everything neatly tucked away and promoting a clutter-free environment.
Accompany this vanity with complimentary fixtures and accents, such as brushed nickel handles or brass doorknobs, to bring all elements together for a cohesive Mediterranean aesthetic. Remember to balance the classically inspired vanity with modern conveniences, making your bathroom not just a visual retreat, but also a comfortably functional space.
Fresco Painted Vanity for Artistic Touch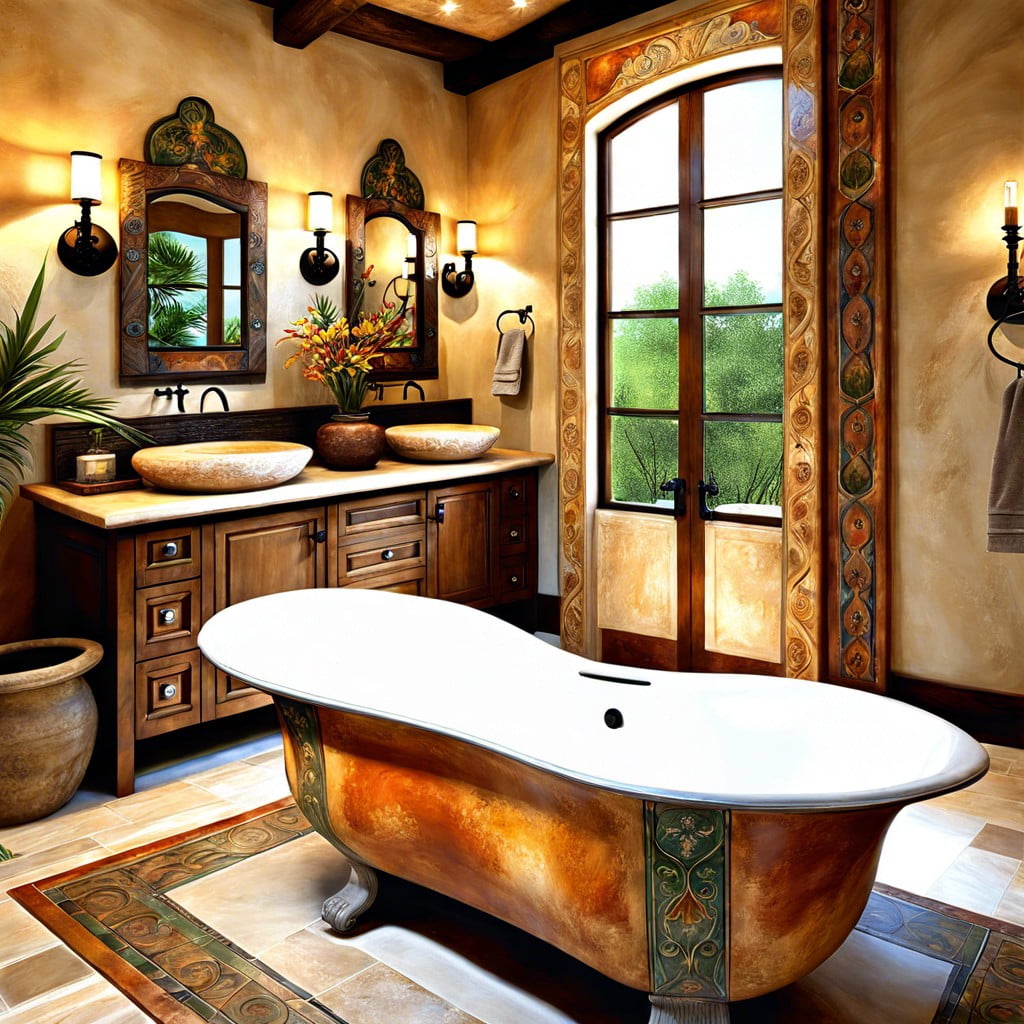 Fresco painting, an art form dating back to the Renaissance, can transform your bathroom vanity into a work of art. It's more than just a vanity—it's a statement piece that infuses rich history and a sense of the dramatic into the space.
Firstly, for an authentic look, choose designs that depict scenes from Mediterranean locales or mythology. Scenes of rolling Tuscan hills or a still Greek seascape can transport you while adding a rich, historical appeal to the room.
Secondly, balance out the bold statement with simplistic fixtures. A brass faucet, for example, doesn't detract from the bold fresco but rather accentuates its artistry.
Finally, due to the delicate nature of fresco painting, ensure the surface is sealed properly. This prevents damage from water and humidity, preserving your unique bathroom feature.
Remember, the goal of a fresco painted vanity is to capture the sophisticated elegance of Mediterranean design, making it a real focal point in the bathroom.
Greek Key Motif On Vanity Drawers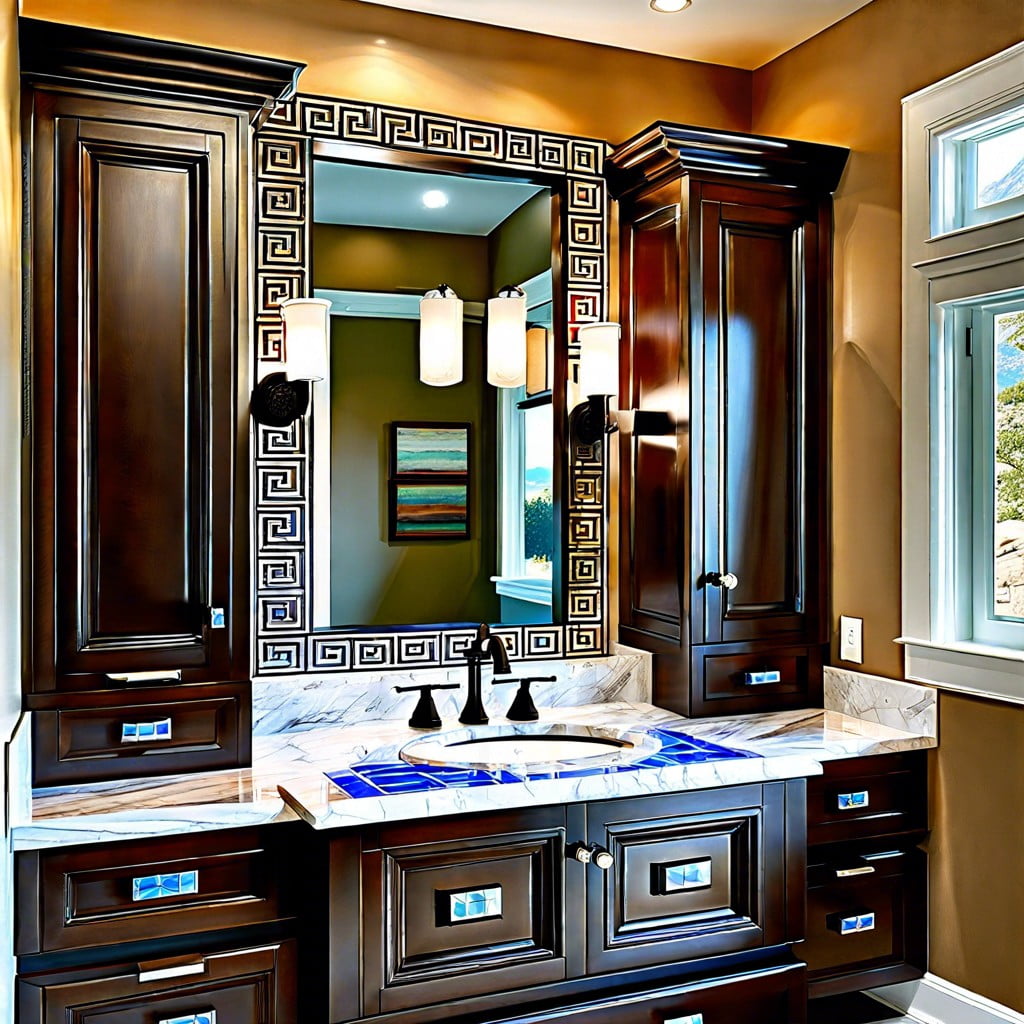 The Greek key motif, also known as meander, has been a classic feature of Mediterranean design for centuries, and it's an excellent detail to incorporate into your bathroom vanity. It adds not only an authentic Greek aesthetic but a sense of timelessness and sophistication.
1. Symbolism: Originally inspired by the twisting Meander river, the Greek key is a symbol of infinity, unity, and the eternal flow of life.
2. Versatility: With its clean geometric pattern, it complements various vanity styles, from sleek, modern designs to more traditional ones.
3. Utilization: You can incorporate it subtly as an inlaid design on drawer fronts or more boldly with metal drawer pulls in this motif.
4. Variations: The pattern can be simple or complex, with straight or rounded corners, and it can be a standalone design or part of a more extensive pattern.
5. Colors: Typically, the Greek key design is done in contrasting colors for visibility, but it can be as subtle or as bold as you like.
6. Material options: You can execute this motif using various materials such as wood inlay, paint, or even metal for a more glamorous touch.
Dual Sink Vanity With Shared Storage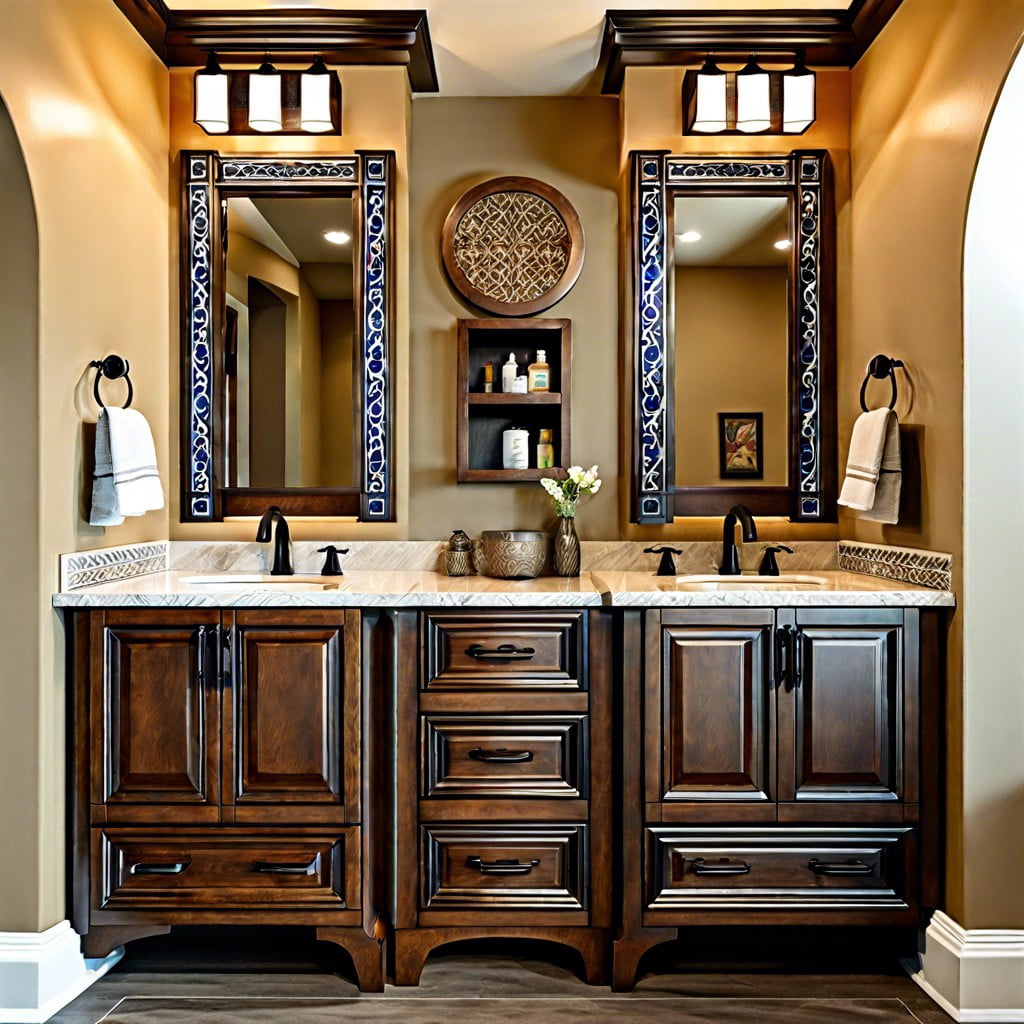 A dual sink vanity becomes an absolute necessity, especially when multiple people need to use the bathroom simultaneously. Opt for a unit with plenty of storage underneath to keep your shared items together. This way, both users can access everything with ease.
Sloped or rounded sink-inlets are recommended for water usage efficacy. There's room for personal belongings too with split drawers or cupboards. To keep things balanced, identical mirrors above each sink bring in symmetry while under-cabinet lighting can provide a ambient touch. Remember, smart organization helps maintain a tidy and harmonious bathroom environment.
Vanity With Interwoven Geometric Patterns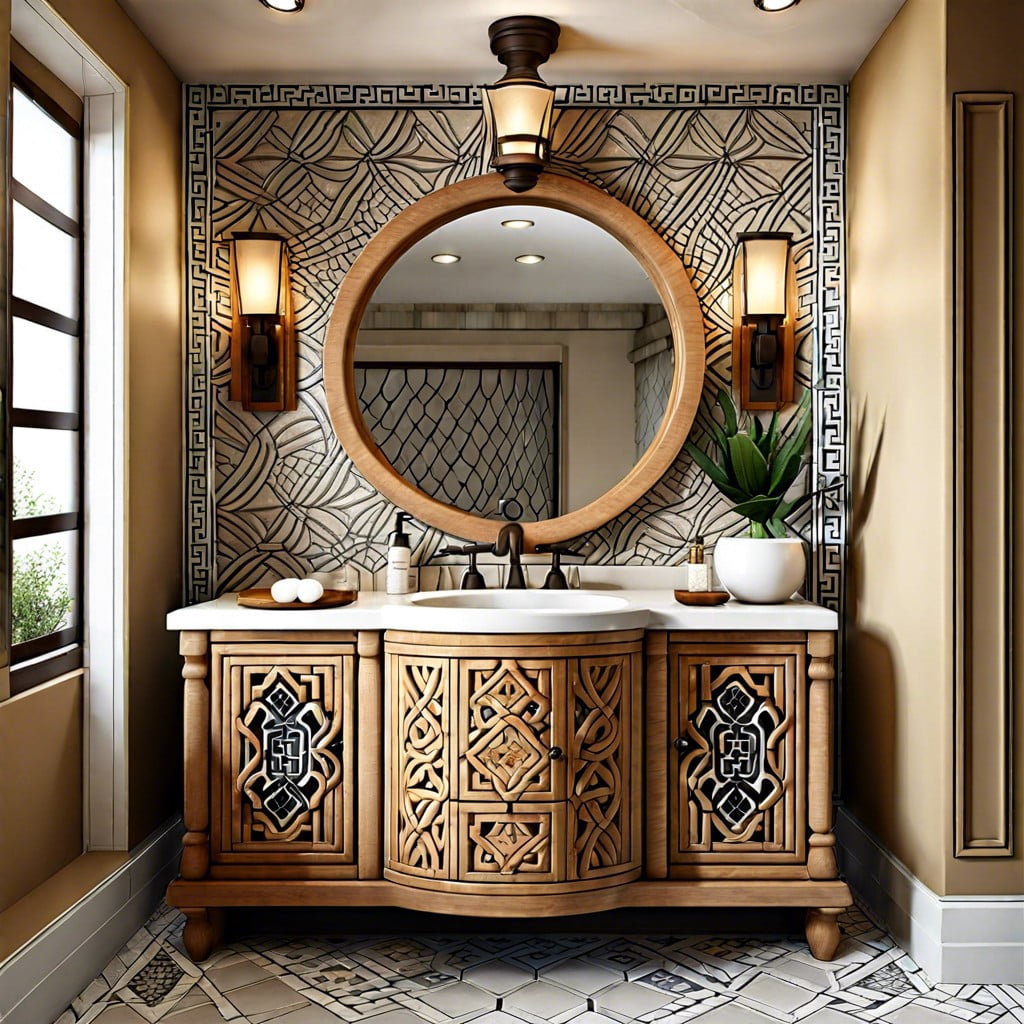 Geometric patterns, deeply rooted in Mediterranean design ethos, can play a major role in boosting the visual interest of your bathroom vanity. Integrated on the cabinet fronts or even the countertop, these intricate patterns can act as an instant focal point.
1. Choose Pattern: Opt for designs that embody the iconic Mediterranean feel, like Greek key, Moroccan lattices, or Spanish geometrics.
2. Color Selection: Stick to earthy colors such as terracotta, azure, ochre, or variations of white to accentuate this design.
3. Material Mix: Blend wood or painted surfaces with ceramic or enameled tiles for a rich texture.
4. Harmonize: Make sure the vanity design coexists harmoniously with other bathroom elements to maintain aesthetic continuity.
5. Craftsmanship: Quality detailing of these rest-on patterns profoundly echoes the Mediterranean's artisanal tradition. Ensure this while commissioning your vanity.
Remember, the interwoven geometric pattern vanity should exude an air of timeless simplicity paired with elaborate detailing – the very heart of Mediterranean design.
Olive Wood Vanity for Authentic Appeal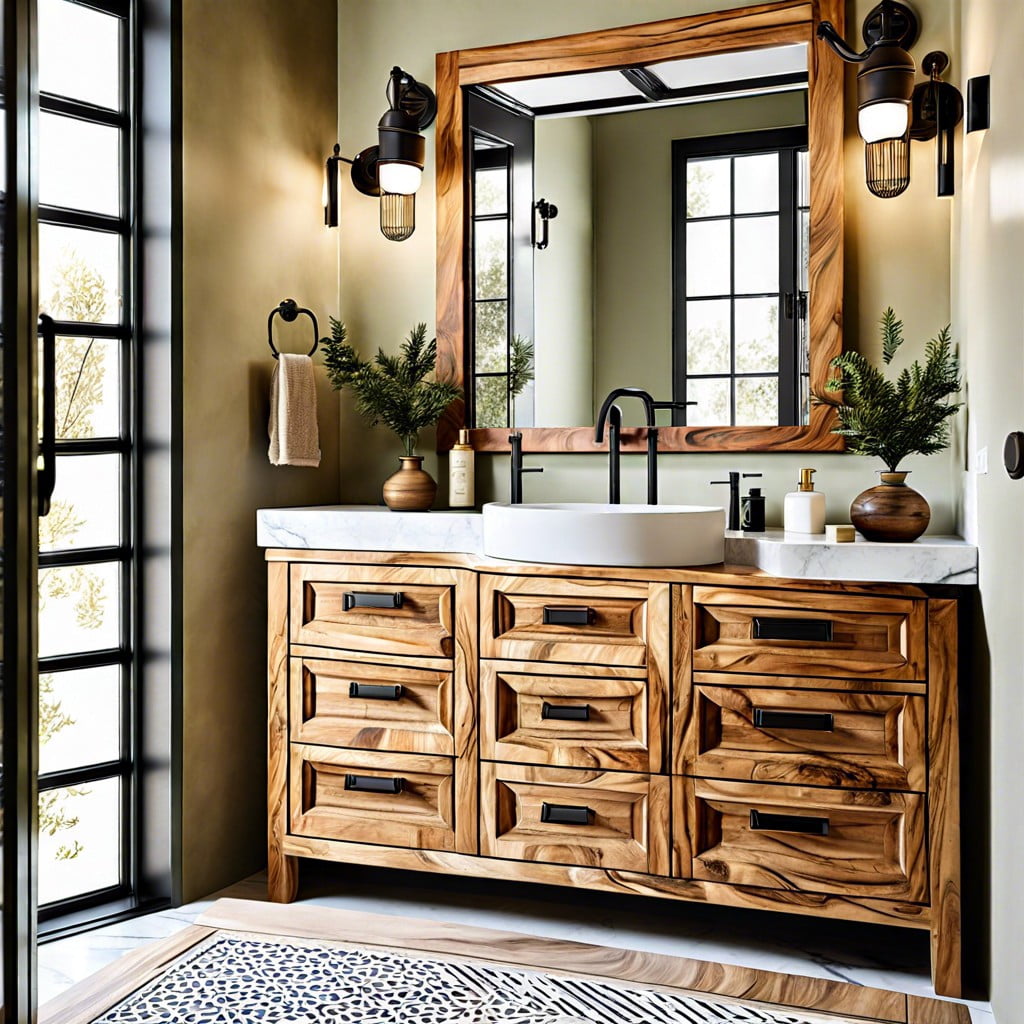 Crafted from authentic olive wood, these vanities effortlessly bring Mediterranean charm right into your bathroom. Its unique grain pattern and the sun-kissed tones can add warmth and richness to your space.
Try pairing it with a simple, white counter top to prevent overwhelming the design. This contrast gives the olive wood a chance to truly shine. Connect the vanity to the broader room with matching olive wood accents such as towel racks or mirror frames.
Remember, the beauty of olive wood lies not only in its appearance but also in its durability. Known for high oil content, it's naturally resistant to moisture – an added bonus for any bathroom vanity.
To maintain its allure, treat it periodically with olive oil that helps enhance its grain and preserve its longevity. This adds an authentic and timeless appeal to your bathroom reminiscent of the warm coastal climate of the Mediterranean.
Vanity With Blue and White Greek Tiles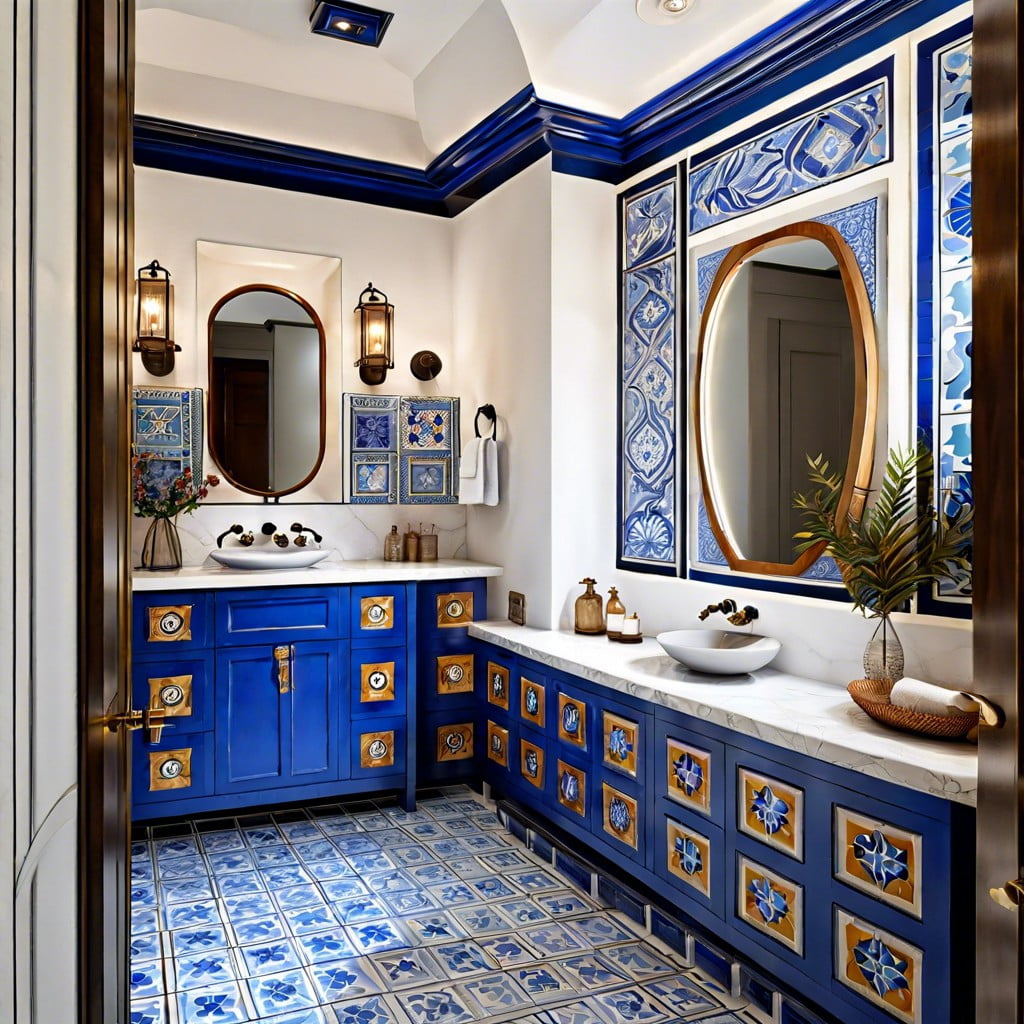 A dappling of blue and white Greek tiles on your vanity stand can instantly evoke an Aegean charm. These tiles, often adorned with intricate, geometric designs, bring in an element of art, history, and culture.
1. Transforming Aesthetics: The eye-catching combination of blue against white can lend a fresh, coastal touch to the bathroom.
2. Geometric Patterns: Typical Greek tiles feature classic geometric, swirls and interlocking patterns that create an engaging visual treat, amplifying the Mediterranean vibe.
3. Versatility: Depending on your preference, these tiles can be used sparingly for a subtle touch, or they can cover the entire vanity for a statement piece.
4. Durability: Greek tiles are not just about aesthetics. They are generally made of durable material like ceramic or porcelain, excellent for areas exposed to water and moisture.
5. Easy Maintenance: These tiles require very little upkeep and are easy to clean, which makes them an ideal choice for a frequently used space like a bathroom.
Remember, the choice of grout color can significantly influence the outcome, so pick wisely to complement the designs on your tiles. Incorporating this vibrant and durable material to your vanity not only personalizes the space but also infuses it with the spirit of the Mediterranean!
Vanity With Gold Accents and Lush Textures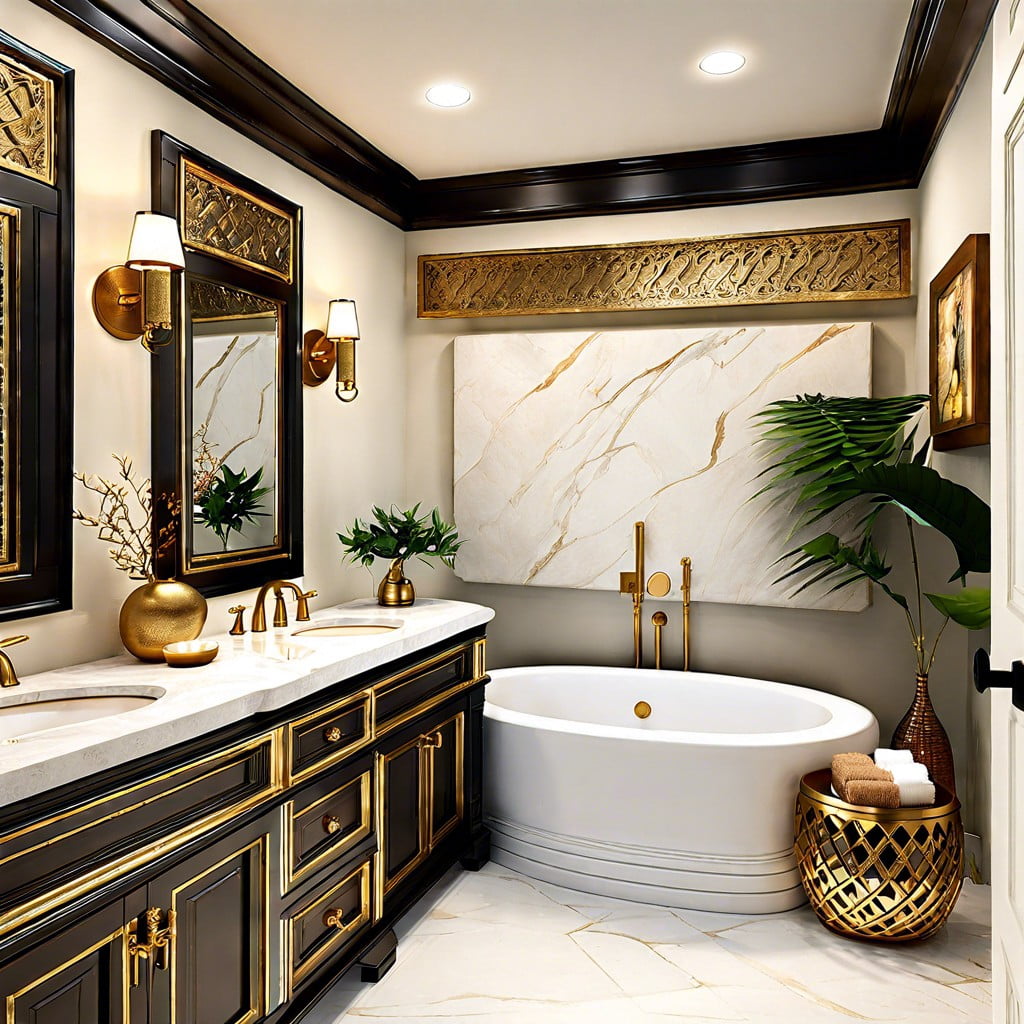 Incorporate gold accents for a rich and exquisite finish. Consider gold-finished faucets, handles, and light fixtures to bring a royal appeal to your space. They stand out against a stunning backdrop of lush textures, such as high-end, plush towels arranged tidily or a well-chosen wallpaper with tactile detail.
For a visual feast, pair these accents with a textured wallpaper in neutral tones. The lightly flocked, embossed, or bead-adorned wallpaper options can add depth and interest. The vibrant shimmer of gold elements juxtaposed against the textured surfaces creates a visual dialogue that epitomizes Mediterranean luxury.
Maintain consistency by opting for bathroom accessories such as soap dispenser, toothbrush holder, and decorative items with gold finishes.
Remember, moderation is the key – too much gold can be overpowering. Aim for a balanced look to ensure elegance reigns supreme, as in true Mediterranean style. These ideas can help you master the gold accent and lush texture combination with grace.
Carved Wooden Vanity With Cultural Symbols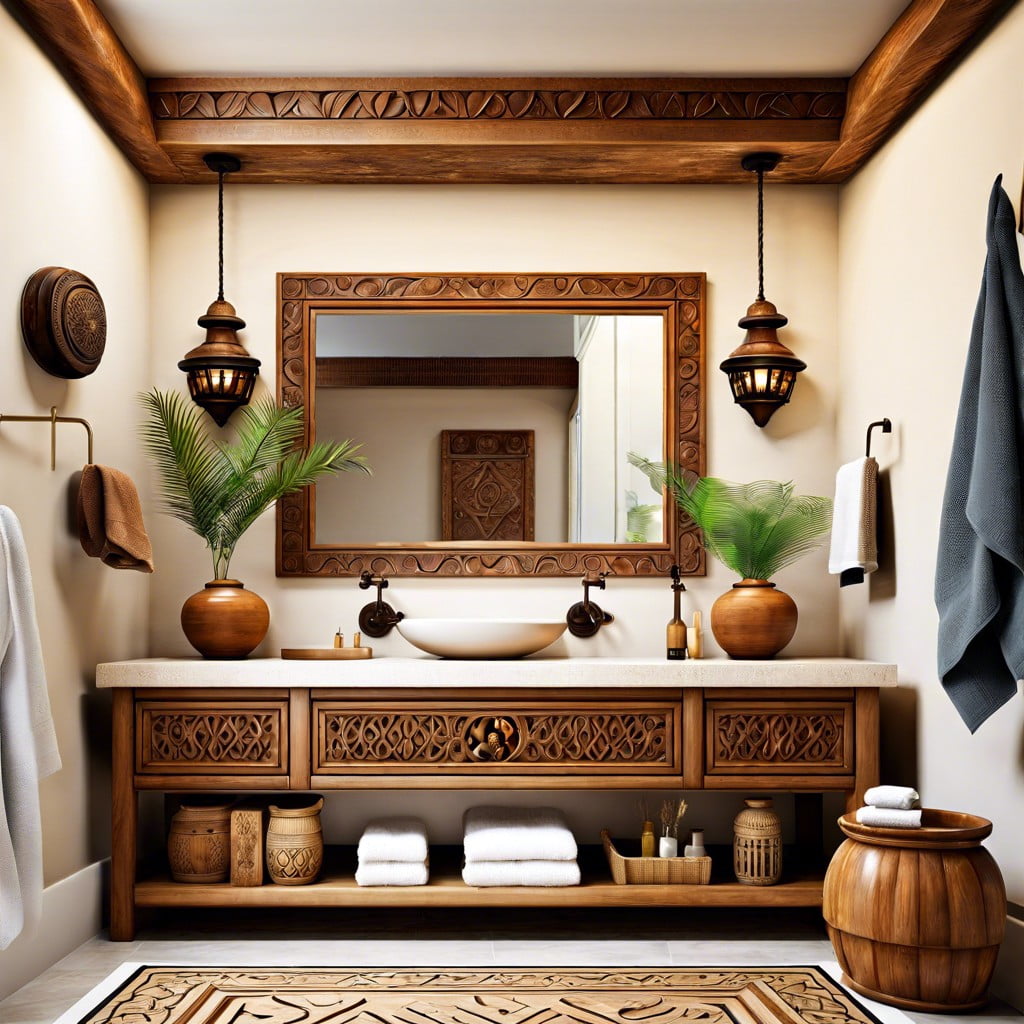 Incorporating cultural symbols into the carving design not only makes your vanity unique but also gives a personal touch to your bathroom. Choose symbols that resonate with your style or have a meaningful connection to your heritage. This can range from a simple olive branch to intricate geometric patterns, each preserving a piece of Mediterranean history within your space.
To amplify this aesthetic, select a wood known for its high-carving ability, such as walnut or mahogany. Their deep grains and earthy hues enhance the overall craftsmanship. Furthermore, to preserve the beauty of carvings, it's advisable to apply a clear, non-yellowing, UV-resistant sealer. This will protect the wood from humidity and increase its longevity.
To harmonize your carved vanity with the rest of the bathroom decor, consider using color tones and metal fixtures that complement the wood. For example, for a walnut vanity, brass fixtures would add warmth and richness to your bathroom space.
Mediterranean Blue Vanity With White Quartz Top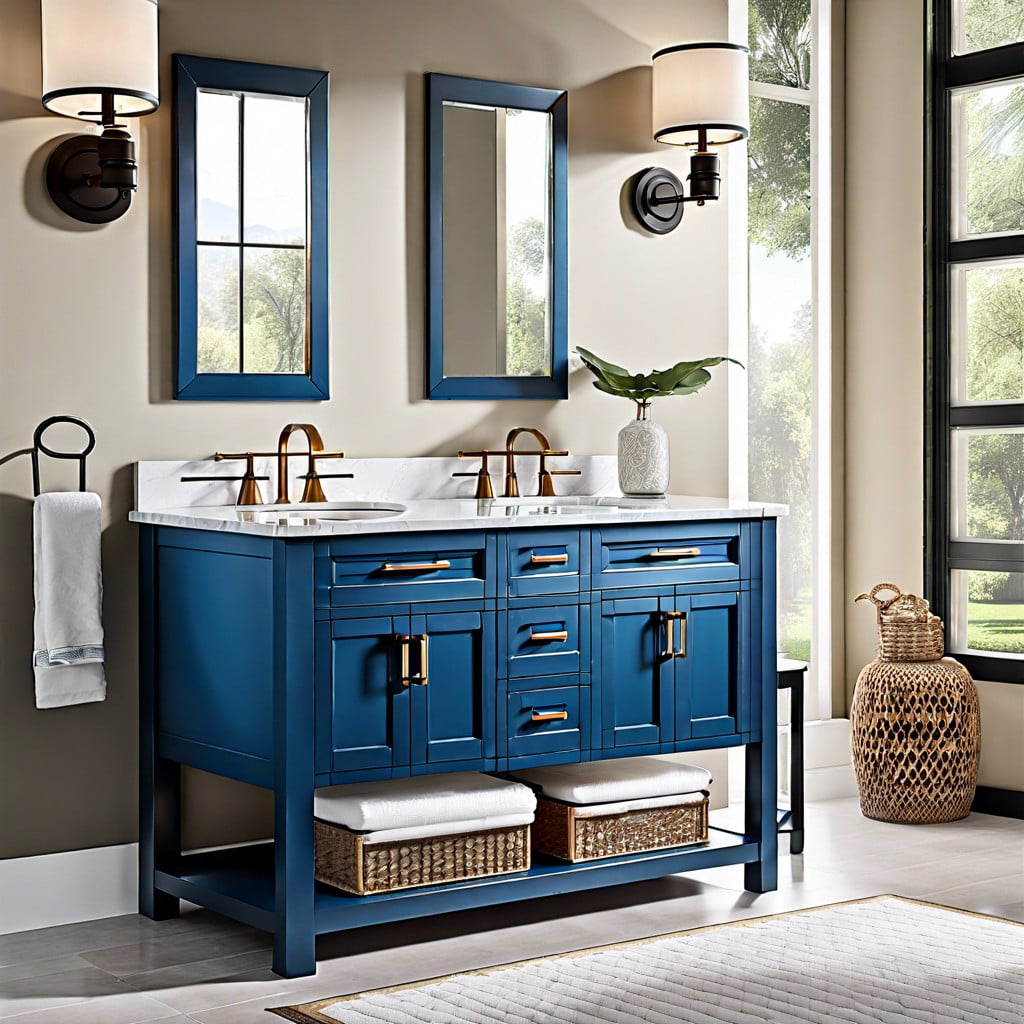 With its radiant blue hue inspired by the Mediterranean Sea, the vanity stands as a striking centerpiece. Topped with elegant white quartz, it creates a refreshing interaction of color that's both vibrant and soothing. This sophisticated combination embraces the essence of the Mediterranean color palette, while also offering durability with the quartz top.
Consider pairing this vanity with brass fixtures to complement the blue, borrow a hint of the clear Mediterranean sky via a skylight, or juxtapose it with rustic floor tiles. White towels and bathroom accessories will also accentuate the clean look of the quartz top.
Importantly, consider the quality of the materials. Quartz is known for its resistance to stains and scratches, as well as its non-porous surface. Make sure the blue paint is high-quality and intended for bathroom use to resist humidity and water. This concept of the vanity is all about symmetry of practicality and style.
As you decorate your bathroom with the Mediterranean blue vanity with a white quartz top, remember to let the piece shine. Avoid overpowering designs and let this fixture be the star of your Mediterranean-inspired bathroom. Balance it with subtle, earthy colors and simple accessories for a harmonious design.
Overall, this vanity choice incorporates a distinctive color story and the practical benefits of quartz, truly representing the best of Mediterranean flair and functionality.
Continue reading:
Recap