Last updated on November 27, 2023
Unleash the ocean's inherent elegance in your shower area with coastal tile ideas because these designs promise to elevate your bathroom's aesthetic while imbuing a sense of serenity only found seaside.
Bring the serene beauty of the coastline into your bathroom with innovative coastal shower tile ideas. This article will guide you through a variety of tile designs inspired by the sea, sand, and sky.
From tranquil blues and sandy beiges to intricate shell designs and wave patterns, these ideas will transform your shower into a coastal retreat.
Whether you're after a subtle beachy vibe or a bold nautical theme, you'll find all the information you need to make the right choice.
Dive in and explore these stunning options to create your own seaside sanctuary.
Sea Glass Mosaic Tiles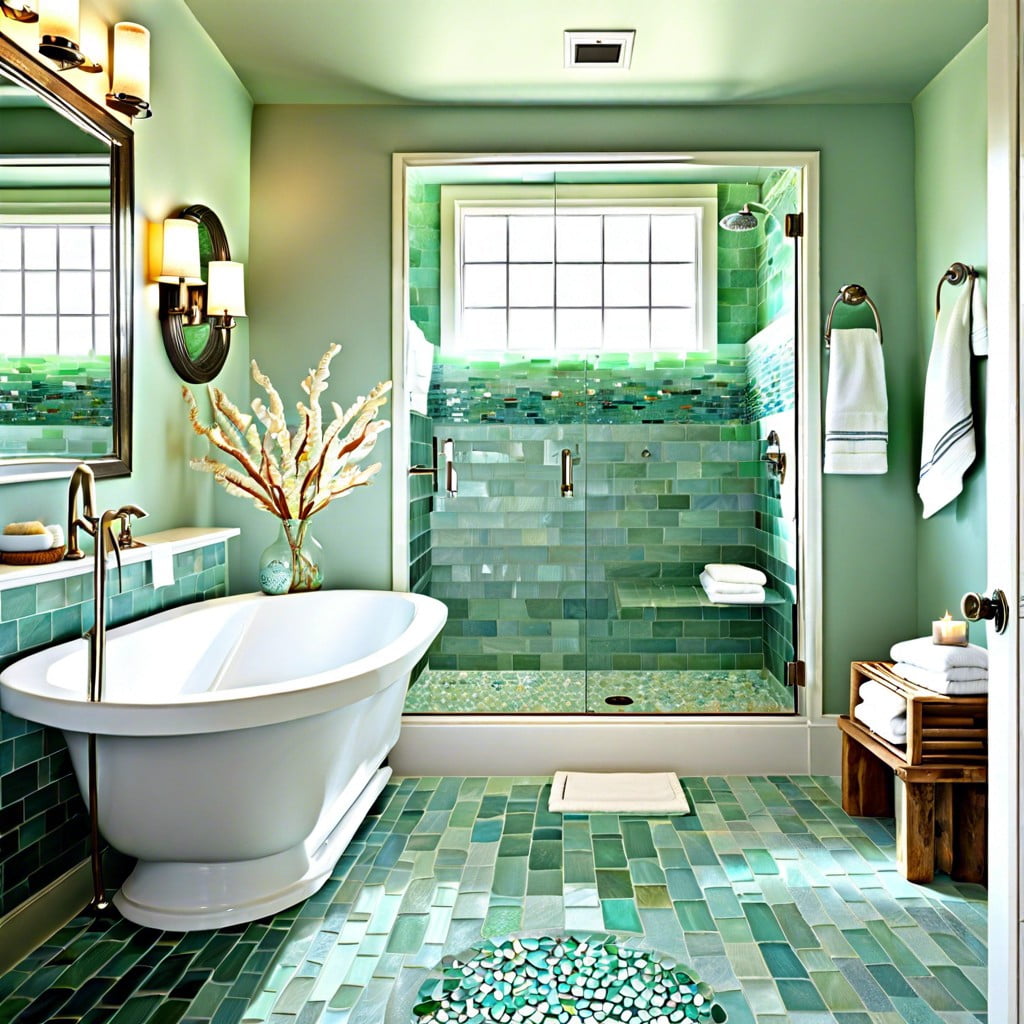 Sea glass mosaic tiles offer a unique mix of natural and polished beauty. Think of them as similar to a mosaic painting, but one that uses various shades of green, blue, and aqua colored glass, shimmering gently to mimic the calm ocean.
They work perfectly on shower walls, both as primarily tiling option or just a splashy accent. These tiles are easy to clean, resistant to moisture, and handle wear and tear effectively.
Because of their light-reflective properties, using sea glass mosaic tiles can also help your bathroom seem brighter and more spacious.
White Subway Tiles With Seashell Accents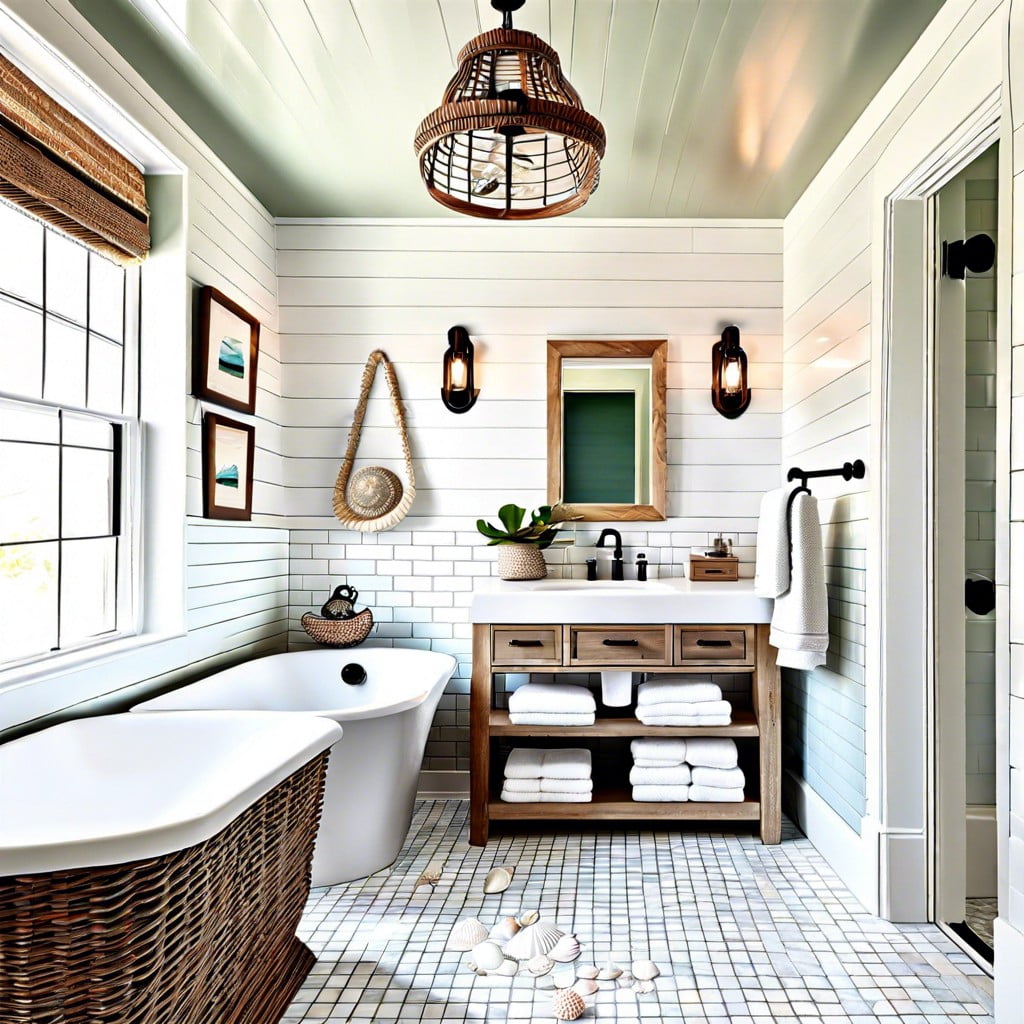 Incorporating genuine seashells as accent pieces in between the crisp layout of white subway tiles can create a statement look. As such, a shower space can capture the natural beauty of the oceanic ecosystem:
1. Unity: The white subway tiles provide harmony while the seashells lend an organic touch, resulting in a well-balanced aesthetic.
2. Variety: Seashells, with their range of shapes and textures, contrast pleasantly with the uniform backdrop.
3. Depth: The darker shades within the seashell interiors add a sense of depth to the overall design, creating a captivating visual interplay between light and dark.
4. Customisation: Depending on personal preference, there's an opportunity to adjust the density and distribution of the seashell accents for either a subtle hint or an all-out celebration of the seaside theme.
5. Natural Elegance: Seashells add an element of natural elegance devoid of any pretentiousness, which works well to balance the pristine sophistication of the white subway tiles.
6. Light Refraction: The semi-lustrous surface of seashells beautifully captures and refracts light, adding a pleasant sparkle to your shower area.
Remember, this arrangement works best with subtle, soothing wall colors, keeping the focus on the shower area. Coordinating the rest of your bathroom decor in similar tones will boost the coastal vibe.
Blue Wave Patterned Tiles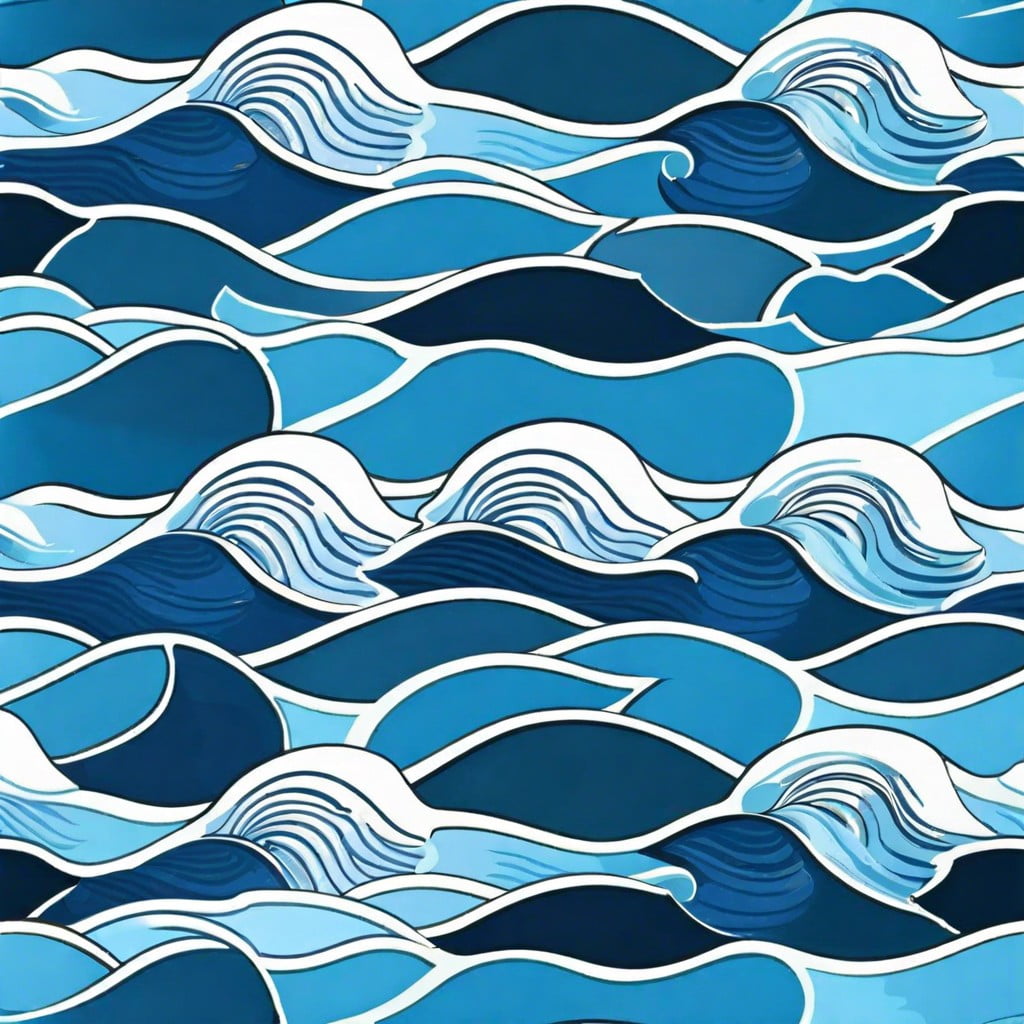 Creating the illusion of constant movement in your shower room is effortlessly achieved with wave-patterned tiles. With aquatic hues from deep navy to light azure depending on your preference, these tiles mimic the ebb and flow of the ocean.
Whether you opt for realistic waves or more abstract, flowing lines, this style can make a stunning feature wall or backdrop. For an elevated look, choose tiles with a glossy finish that will capture the light and provide the much sought after sparkling water effect.
Complement these striking tiles with minimalist, unadorned fixtures and fittings to truly let them shine. Pairing with sandy shades or crisp whites in the rest of your room will further accentuate the marine ambiance.
Coral Reef Inspired Mosaic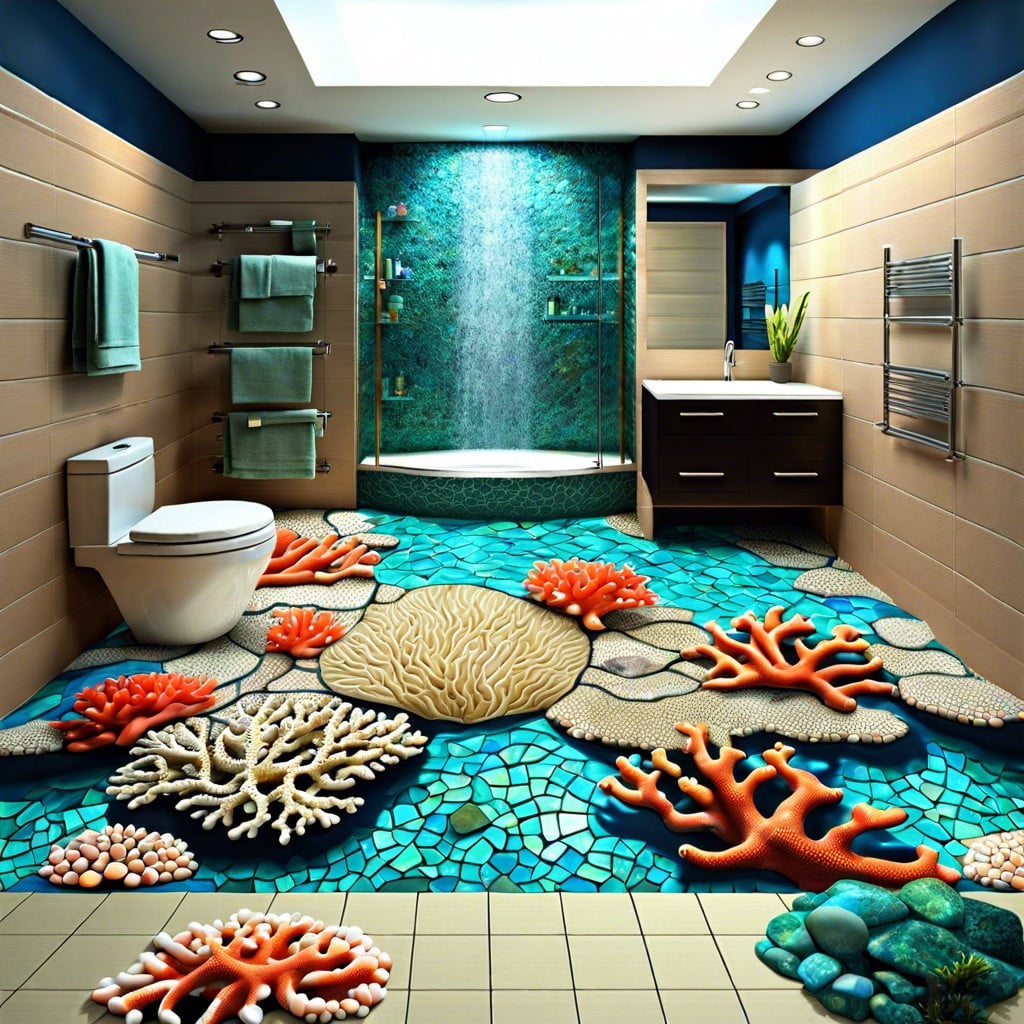 Drawing its vibrant colors and intricate patterns from undersea scenery, this tile style truly brings the oceanic realm into the bathroom.
Here are a few key aspects:
1. Rich Palette: Mimic the varied hues of a coral reef with shades of orange, peach, red, and pink. Complement these with dashes of cool blues and greens.
2. Varied Shapes and Sizes: Create a sense of movement and depth by using tiles of different dimensions, emulating the textured structure of a coral reef.
3. Mix of Materials: Utilize a combination of glass, ceramic, or natural stone tiles to achieve a more authentic look, adding depth and diversity to the design.
4. Focus on Depth: Try darker colors at the bottom graduating to lighter ones at the top to emulate the diminishing light in the sea.
5. Use Accents: Incorporating small mosaic tile "fish" or "sea creatures" sporadically within the pattern will enhance the undersea vibe.
These mosaic designs will truly turn the shower area into a captivating, ocean-inspired retreat.
Sand-colored Stone Tiles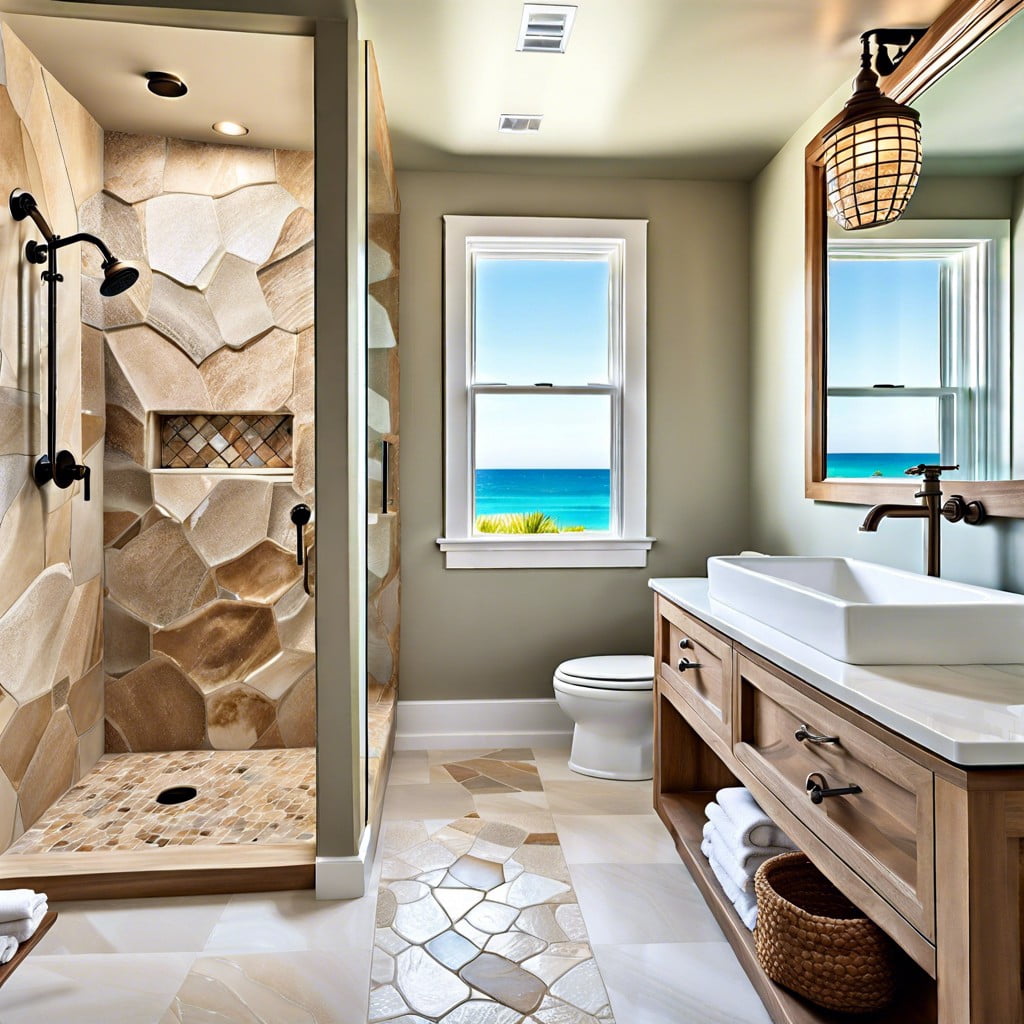 Using sand-colored stone tiles in your shower is like stepping onto a smooth beach each morning. The neutral hue of these tiles brings a calming, earthy feel to your bathroom, automatically creating a warm and relaxing atmosphere.
1. Tone and Texture: These tiles mimic the granular texture of sand, bringing a wonderfully tactile element to your shower.
2. Versatility: Their natural color makes it easy to match with a variety of color schemes and themes.
3. Durability: Stone tiles are known for their resilience and longevity, making them a solid choice for wet areas.
4. Uniqueness: No two stone tiles are identical, thus adding a unique character to your shower.
5. Maintenance: They're simple to clean. A quick sweep and mop will keep these tiles looking fresh.
Remember to choose a grout color that augments the sandy hues and doesn't overwhelm the natural aesthetics of your stone tiles.
Turquoise Accent Tiles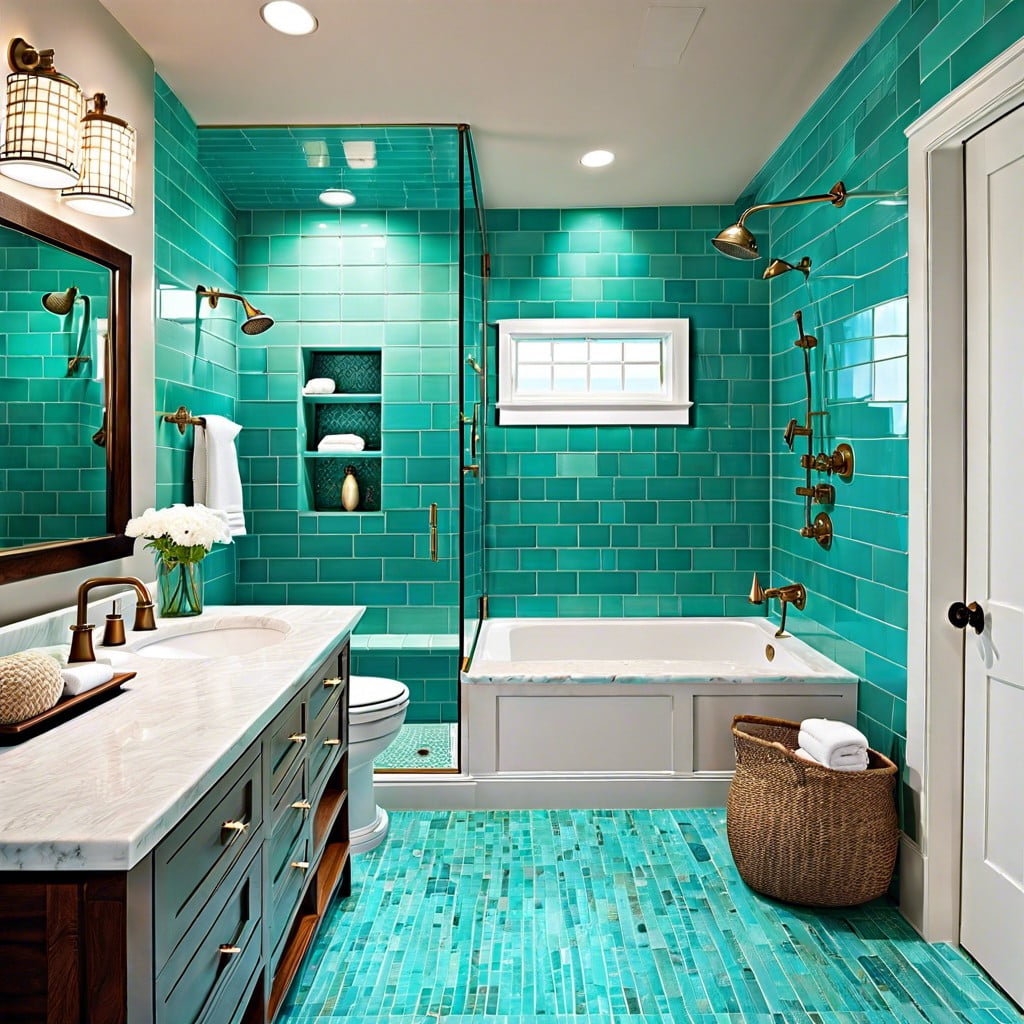 With their vibrant color, these accents can truly make your shower pop. The striking hue, a beautiful mix of blue and green, mimics the mesmerizing color palette of the sea, instantly radiating a coastal feel.
One way to incorporate them into your design is by using them as border tiles, breaking up neutral tones with a touch of oceanic vibrancy. Alternatively, placing these accents in sporadic, unexpected places, can create an engaging visual treat, much like spotting a rare seashell nestled in the sand.
Beachy Pebble Tile Floor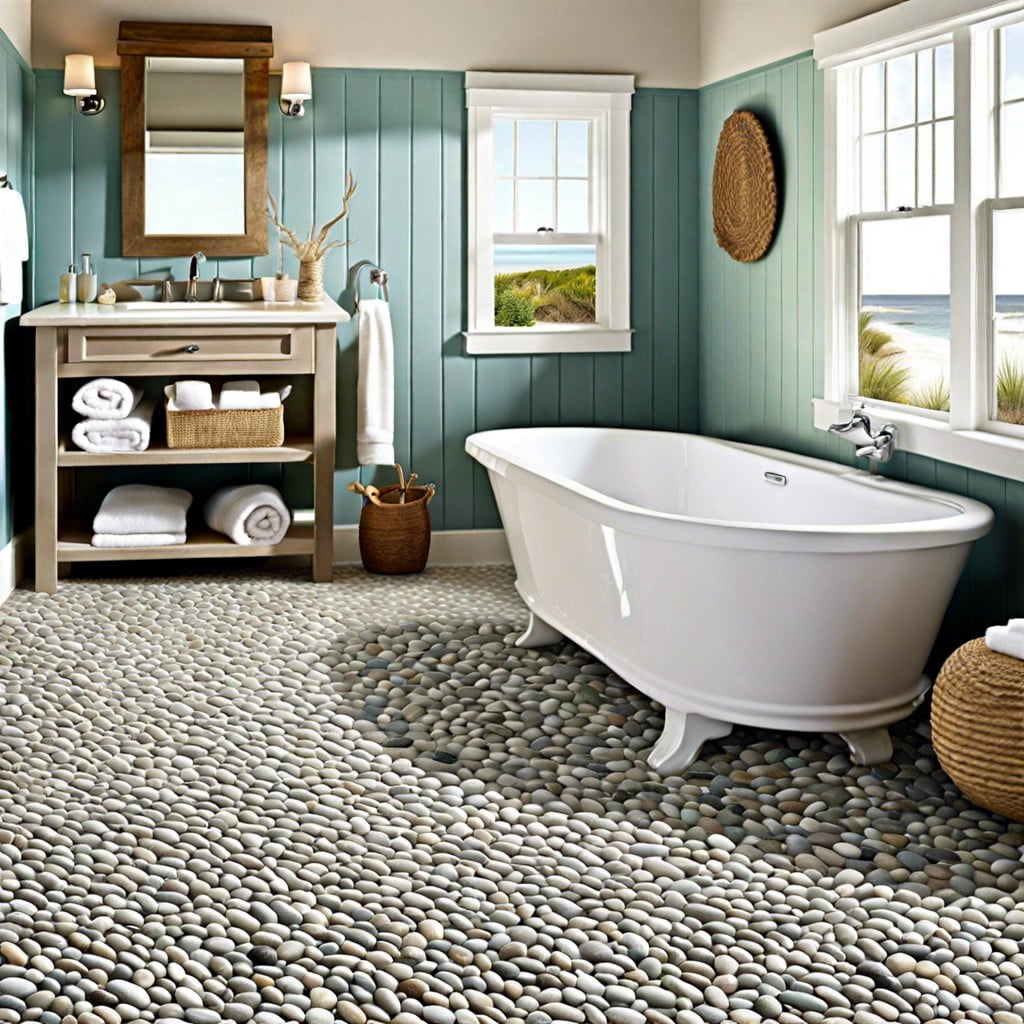 Achieving a beachy pebble tile floor involves several creative facets. It emulates the soothing experience of walking barefoot on a pebble-laden beach, introducing a natural, tactile element to your shower.
1. Selection: Choose pebbles that mirror those found at the beach. Options range from smooth, rounded pebbles to flat, river-rock styles every stone tells a unique story.
2. Color Palette: Stick to neutral tones like beige or tan, or water-inspired blues and greens, to maintain the coastal vibe. A blend of shades can add depth and mimic a genuine beach aesthetic.
3. Layout: Consider a gradient effect, transitioning from deep-ocean colored pebbles at the shower's back to lighter sandy colored ones at the front. This imitates the look of a shoreline, enhancing the coastal feel.
4. Texture: While texture varies by stone, it can have a massage-like effect underfoot, providing a daily spa-like experience.
5. Grouting: Opt for sand-colored grout to lend a realistic touch, almost as if individual pebbles are embedded in sand.
Utilize these guidelines to harness the sea's tranquil essence, transporting the beach into your shower for an immersive coastal experience.
Starfish and Sand Dollar Accent Tiles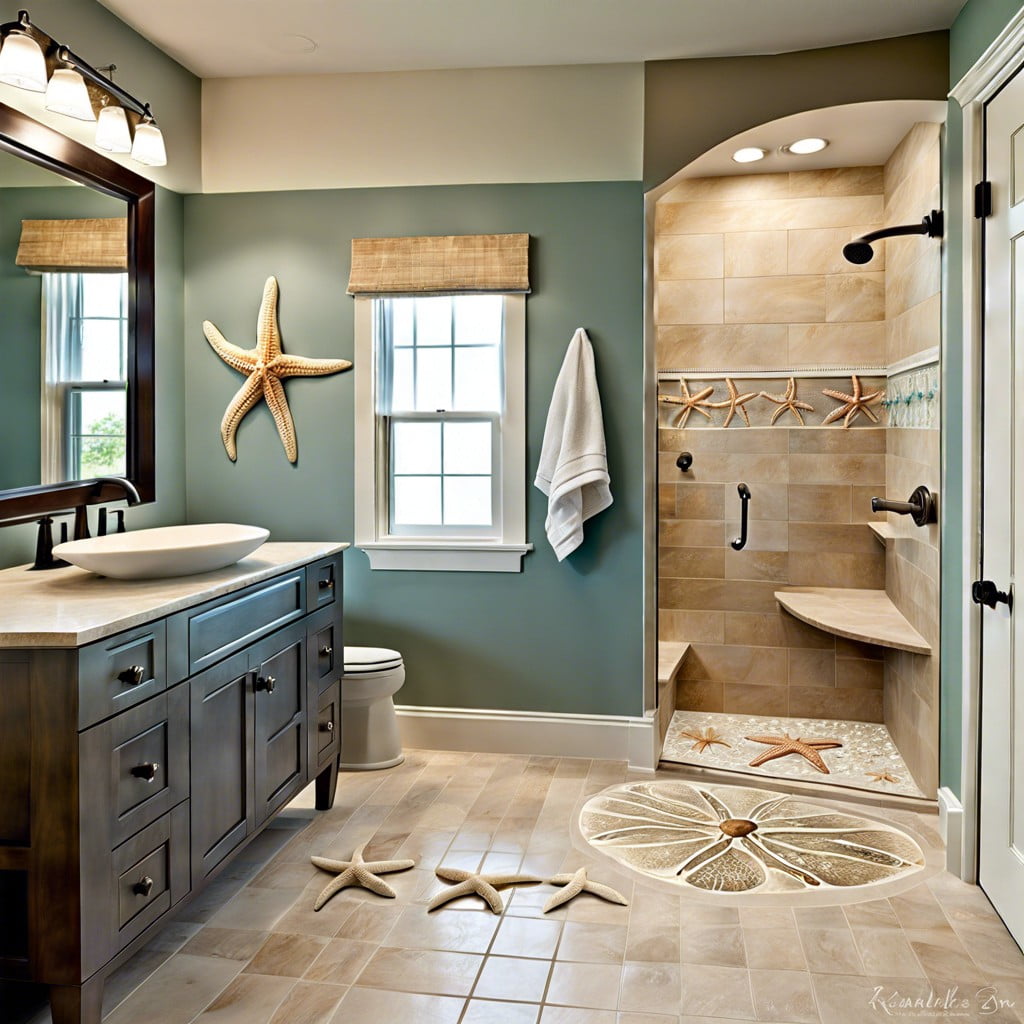 Adding these delightful elements bring a whimsical splash of the beach right to your shower. Suitable for both bordering and dotting among more understated tiles, they instantly make a charming statement.
Crafted from ceramic, porcelain, or glass, both starfish and sand dollars are perfect for enriching a nautical theme or simply revealing a subtle sea-inspired touch.
You can opt for neutral tones to softly complement your shower space or select more vibrant hues to add pops of colour. Remember, small details can make a big aesthetic difference in overall decor.
Seahorse Border Tiles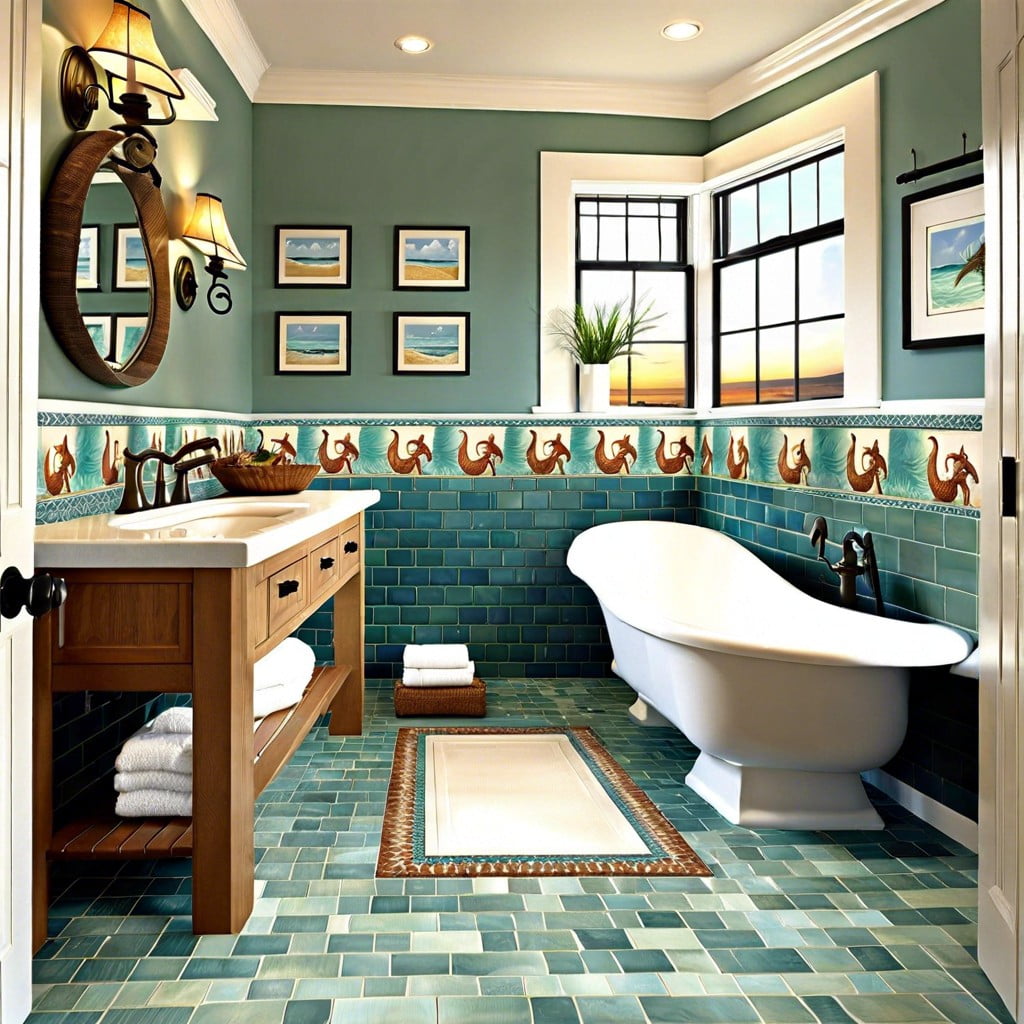 Carving out a distinctive charm, this design choice can imbue your bathroom with a whimsical nautical flair. Seahorse motifs, a beloved symbol of the sea, transport the serene ocean vibes right into your shower area.
Opt for delicate seahorse patterns, either etched or printed, on porcelain or ceramic tiles for durability and ease of maintenance. They function beautifully as borders, demarcating the shower area or accentuating the boundaries of your bathroom.
Many designs offer a range of colors, from soft pastels to vibrant hues, allowing them to blend seamlessly with your existing palette. The intricate details of these tiles not only serve as an aesthetic feast to the eyes but also subtly present an ode to the enchanting life beneath the waves.
Ocean-depth Gradient Tiles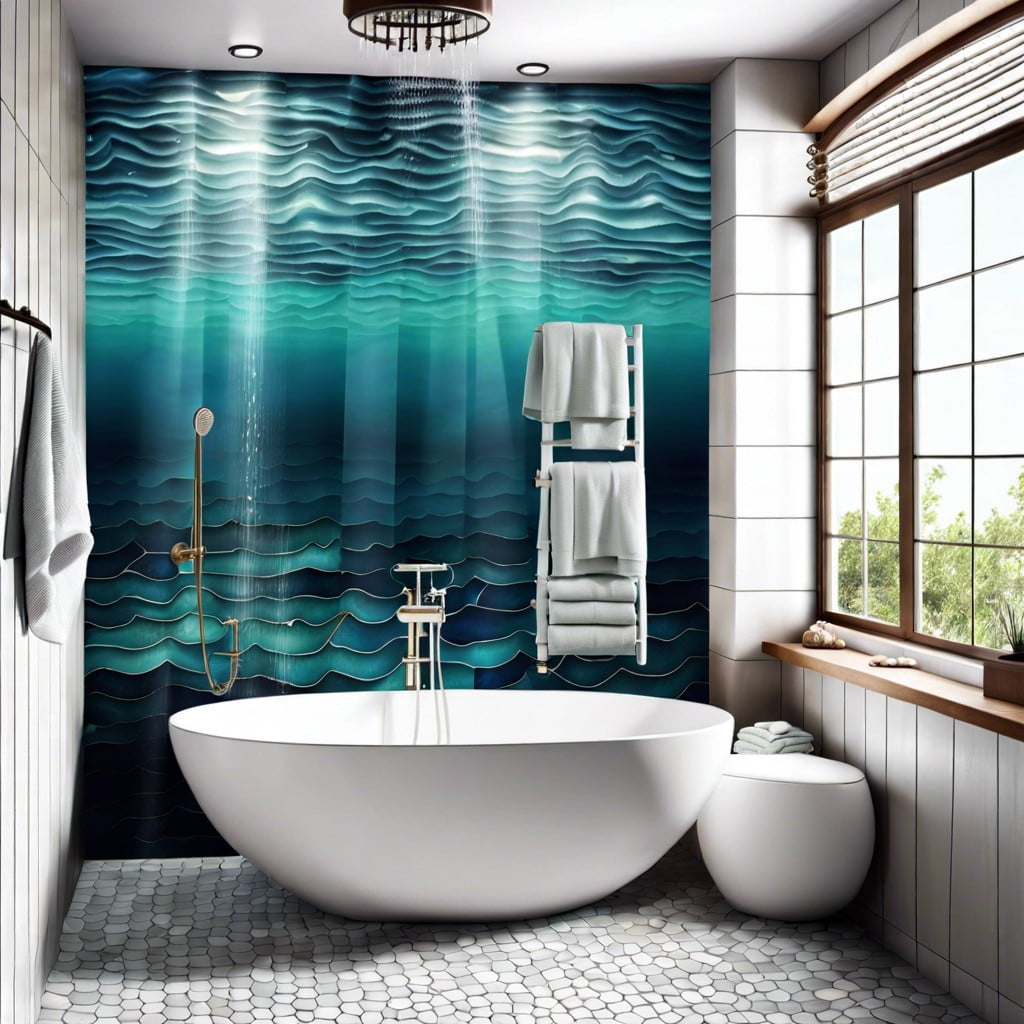 Exploring deeper into a unique choice, these tiles are quite the marine marvel. Mimicking the transition of color in the ocean, they start with a soft aquamarine top, gradually evolving into a darker tone at the bottom. By pulling this aquatic phenomenon onto your shower walls, it creates the sensation of being gently submerged under the sea.
The beauty of these tiles lies in their seamless blend. We recommend using a gradient from top to bottom to simulate the descent into deep ocean waters. It's also beneficial to consider your lighting when installing. Properly placed illumination can help accentuate the gradient transition of these tiles.
The essence of this stylish choice comes alive with complementary bathroom decor. Pair the tiles with muted tone accessories or sandy hues for a true beach ambiance, bringing a piece of the ocean right into your home. These gradient tiles are not just a decoration, but an invitation to a serene coastal escape right in your daily shower.
Light Blue Glass Tiles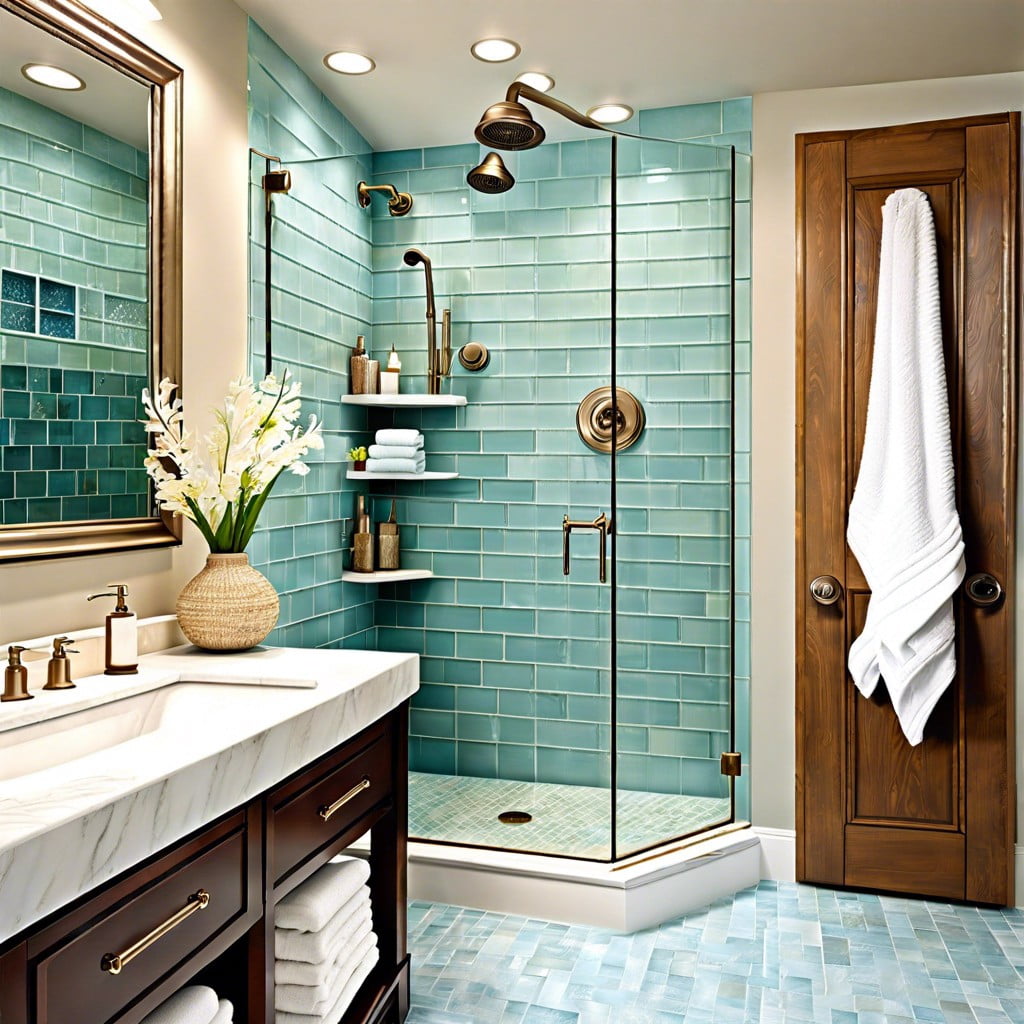 Incorporating this color into your bathroom creates a tranquil oceanic feel. Its translucent property enables light to bounce around, enhancing your bathroom's overall illumination.
With color variations from icy cool to warm tropical, these tiles allow an array of beautiful design directions. Opt for small mosaics, large panels, or a mix of both for a dynamic look. Pair them with white fixtures and soft beige accents to create an ultimate coastal environment.
Remember, the use of grout color can create different effects. A light grout emphasizes individual tiles, while a matching or dark grout presents a continuous, flowing palette.
Seaside Sunset Color Palette Tiles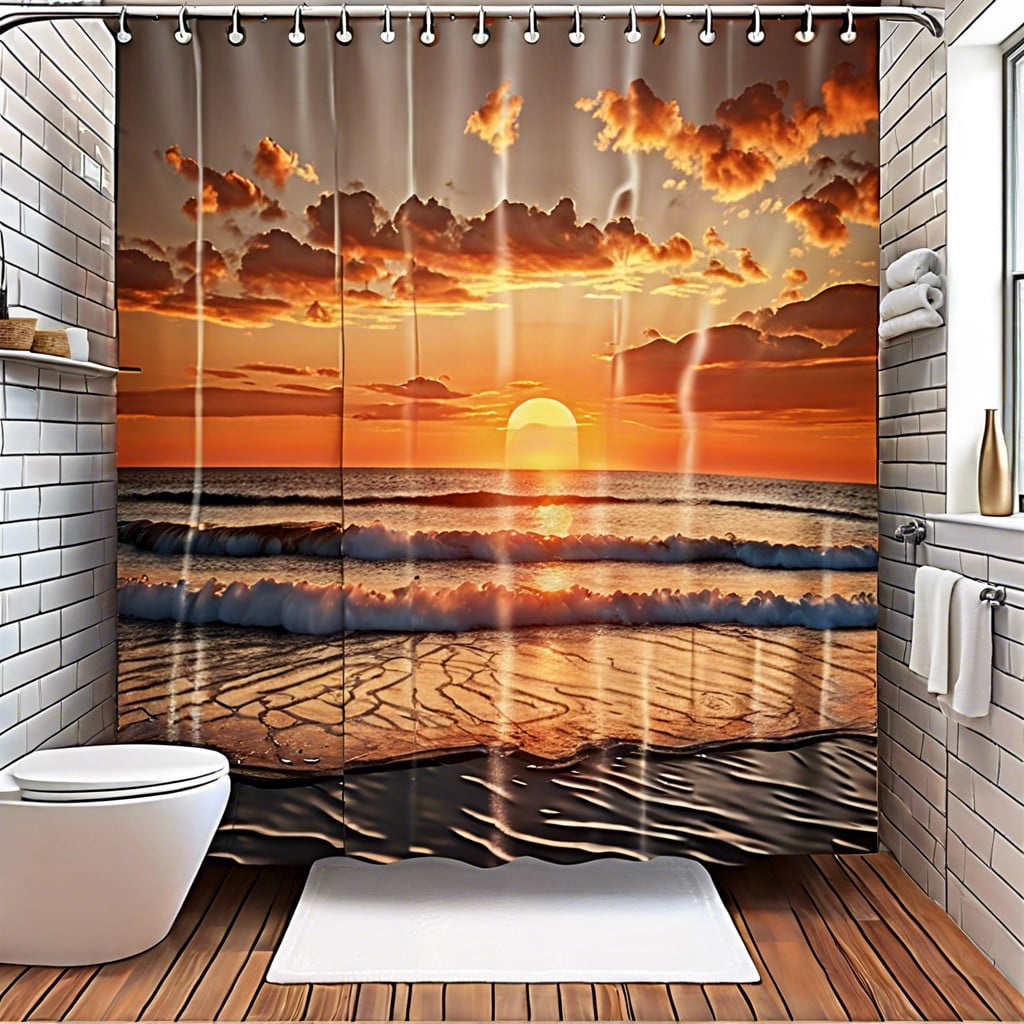 Harnessing the hues of a beach sunset, these tiles bring depth and warmth to your shower space. Synonymous with comfort, the colors range from sunkissed coral, dusky pink, to a burst of orange and purplish twilight shades. The gradient effect generates a soothing ambiance, mimicking the tranquility of seaside evenings.
1. Warm Undertones: Sunset shades have a warm underbase, which gives a cozy and inviting feel.
2. Gradient Effect: Tiles arranged from lighter at the top to darker at the bottom help mimic a natural sunset.
3. Combination Opportunities: These shades pair well with neutral sandy colors, and also contrast effectively with splashes of turquoise or sea blues.
4. Versatility: Versatile enough to blend with various coastal themes, be it tropical, Mediterranean, or classic beachside.
5. Light Interactions: Depending on the lighting, these tiles can add dramatic effects, similar to a real sunset.
Mediterranean Blue Ceramic Tiles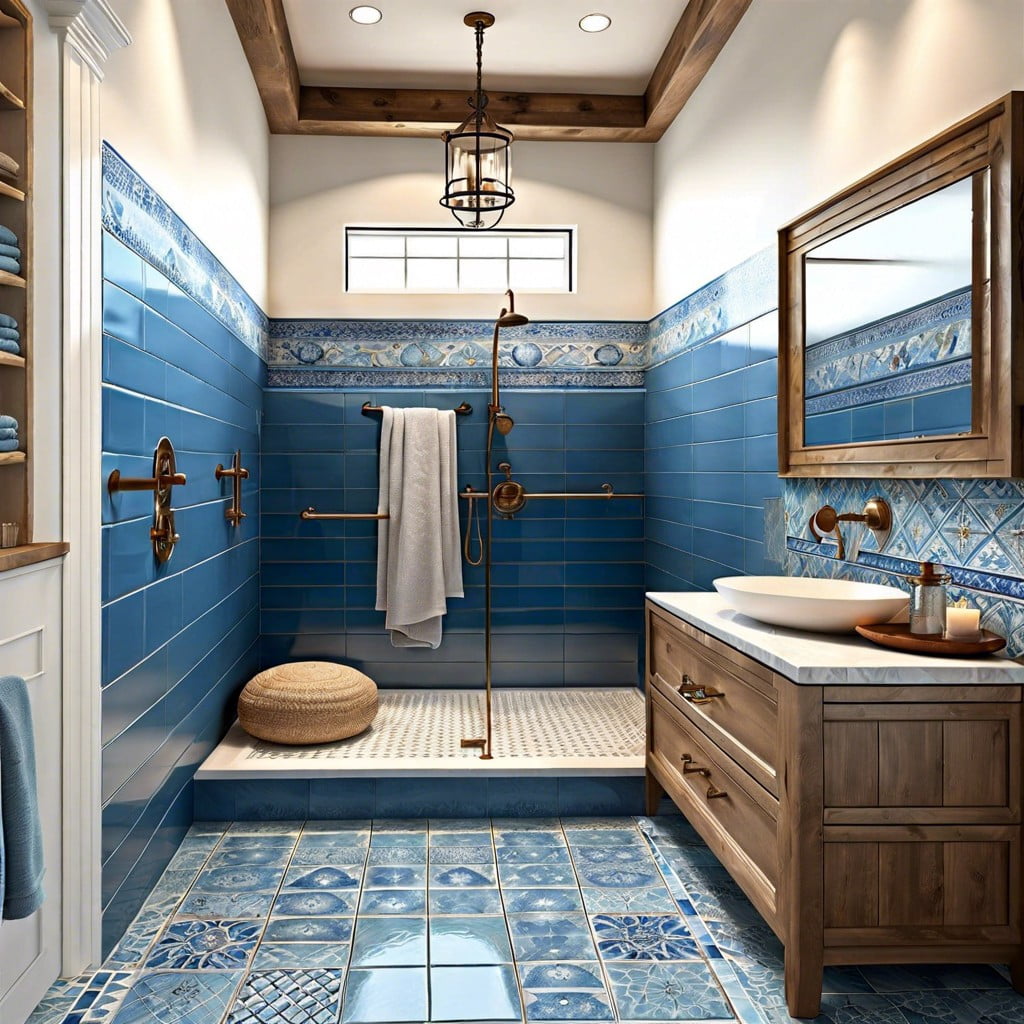 Harnessing the essence of crystal clear waters lapping up the shores of Santorini, these tiles offer a relaxed, yet sophisticated beauty. This choice instantly enhances the ambiance with its vivid, yet soothing shade of blue which is perfect for a coastal style bathroom.
1. Bright Hue: Their eye-catching color offers a cool, refreshing feel in the shower area.
2. Easy Matching: Balancing perfectly with neutral tones, they foster a harmonious color scheme.
3. Variety: They come in various shapes and sizes, catering to your unique preferences.
4. Durability: Owing to their ceramic construction, expect impressive resilience and long-lasting performance.
5. Easy Cleaning: Their general resistance against stains, dirt and odors makes them quite easy to clean.
Whitewashed Wood-look Tiles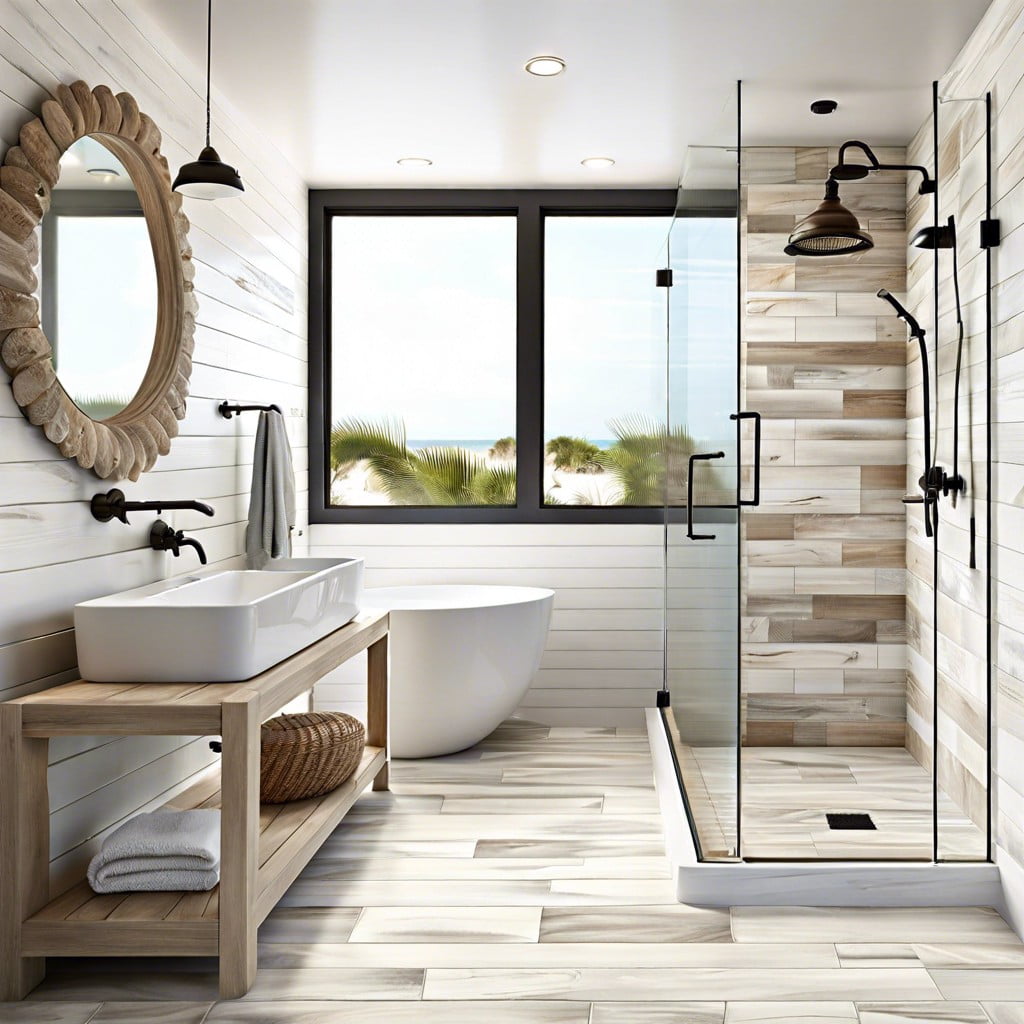 These tiles provide a unique, beach-house feel to your bathroom. The whitewash effect gives the illusion of sun and sea water faded wood, adding an authentic coastal charm.
1. Versatile Aesthetics: The neutral, weathered look matches a wide range of color schemes and styles. Pastels, navy, or even vibrant tropic colors pair beautifully.
2. Consistent Theme: Use matching wood-look tiles on the bathroom floor or walls to maintain a harmonious design.
3. Variety of Shapes: Available in planks, squares, or even hexagons, lending flexibility to your design.
4. Low Maintenance: These ceramic or porcelain tiles are easy to clean and more resistant to water damage than actual wood.
5. Textured Surface: Wood-look tiles often have a textured surface which mimics the feel of real wood, adding another touch of authenticity to your coastal design.
6. Eco-Friendly Option: Choosing these tiles instead of real wood decreases demand for logging, indirectly aiding in forest conservation.
Incorporating whitewashed wood-look tiles into your shower design will easily elevate the breezy, relaxing ambiance of your coastal-inspired bathroom.
Nautical Black and White Tiles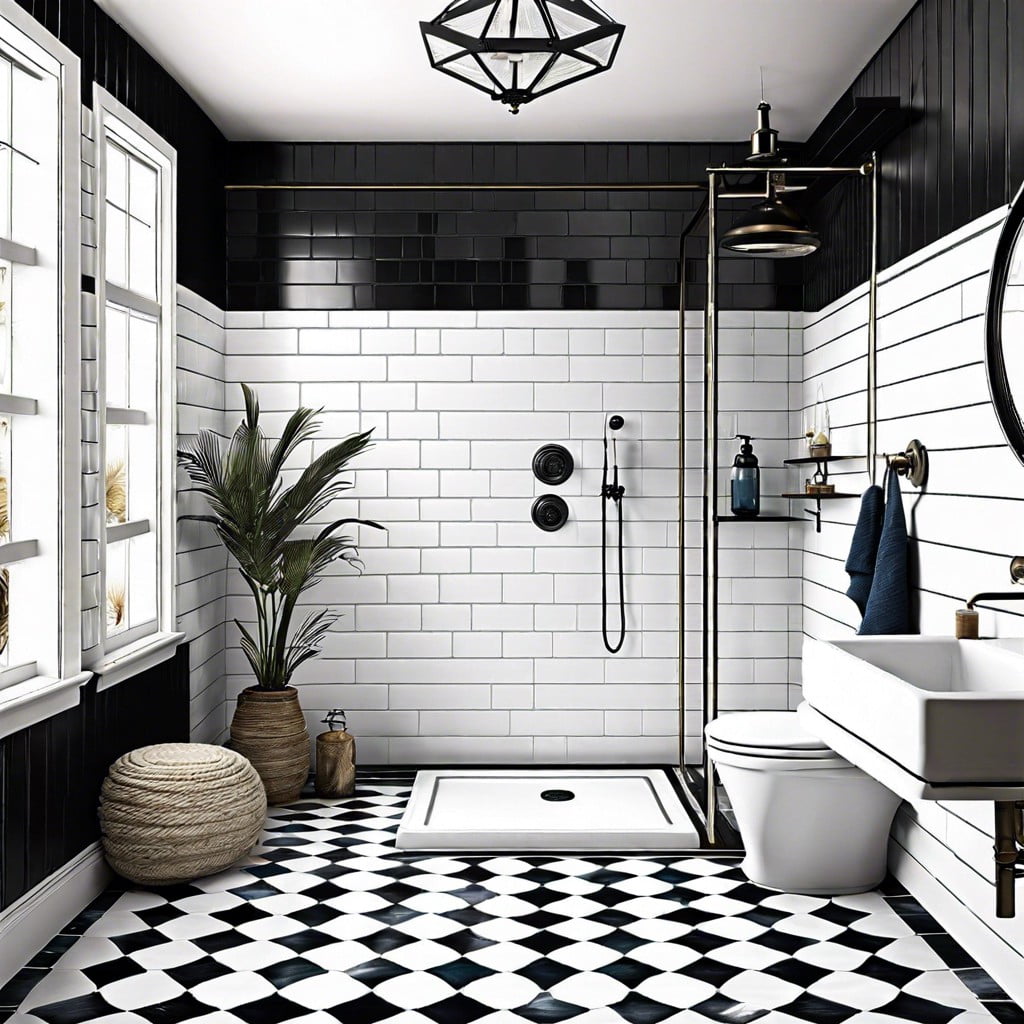 Featuring a bold contrast, the sharply defined shades of this design bring out a shipshape charm that truly captures coastal flair.
To get the most out of this design, consider:
Pairing sleek black tiles with crisp white grout, making every tile distinct.
Incorporating maritime symbols like anchors or helms in black tiles against a white backdrop.
Combining different forms and shapes, such as hexagonal black tiles juxtaposed with white rectangular ones, to contribute visual intrigue.
Including glossy-matte tile mixes to play upon light reflection, creating dynamic surfaces.
Laying tiles in nautical patterns, such as a compass rose or wave motif, to create an engaging focal point.
Utilizing this style in smaller areas like the shower floor or niche, not to overwhelm but to create exciting detail.
These elements seamlessly bring together the seaside serenity and the characteristic boldness of nautical black and white tiles.
Coastal Grey Slate Tiles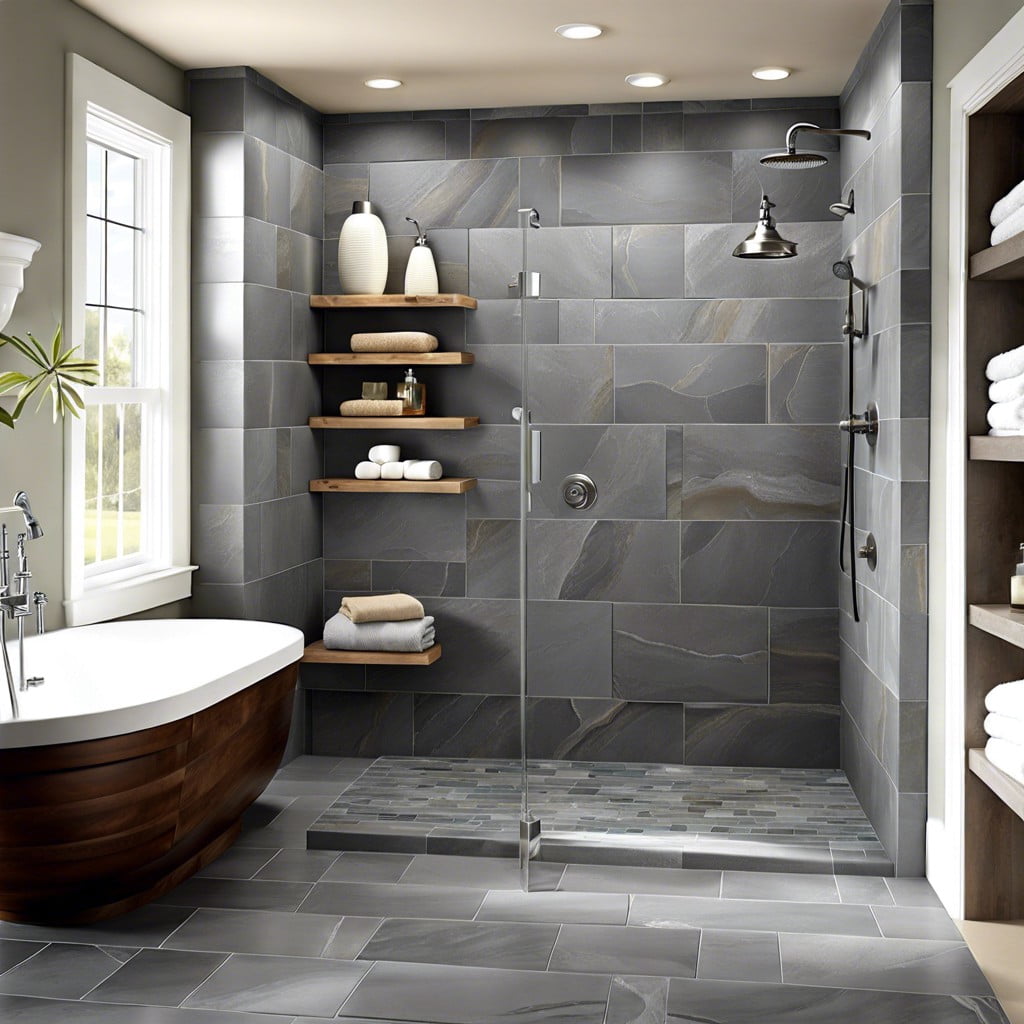 These tiles lend a serene and stylish vibe to your bathroom. Intricately cut, they mimic the wild ruggedness of the shoreline, evoking a profound link with the sea.
Here are the key points to remember about these tiles:
1. Durability: Slate is a natural stone that withstands moisture and wear well, making it an ideal choice for showers.
2. Versatility: They can be used for everything from shower walls to floors offering a unified coastal look.
3. Range of Grey Hues: Mimicking the diverse spectrum of the sea and coastal fog, these tiles come in a variety of greys.
4. Texture: They provide a non-slip surface, making your shower safer.
5. Value: Due to their durability and high-end look, these tiles can potentially increase your home's resale value.
6. Maintenance: Easy to clean with basic home cleaning products, there's no need for harsh chemicals.
7. Design possibilities: Can be paired with everything from rustic wood accents to luxurious metals.
Remember, slate tiles take your shower from being merely a functional space to a coastal-inspired retreat. It's all about the details!
Driftwood Inspired Textured Tiles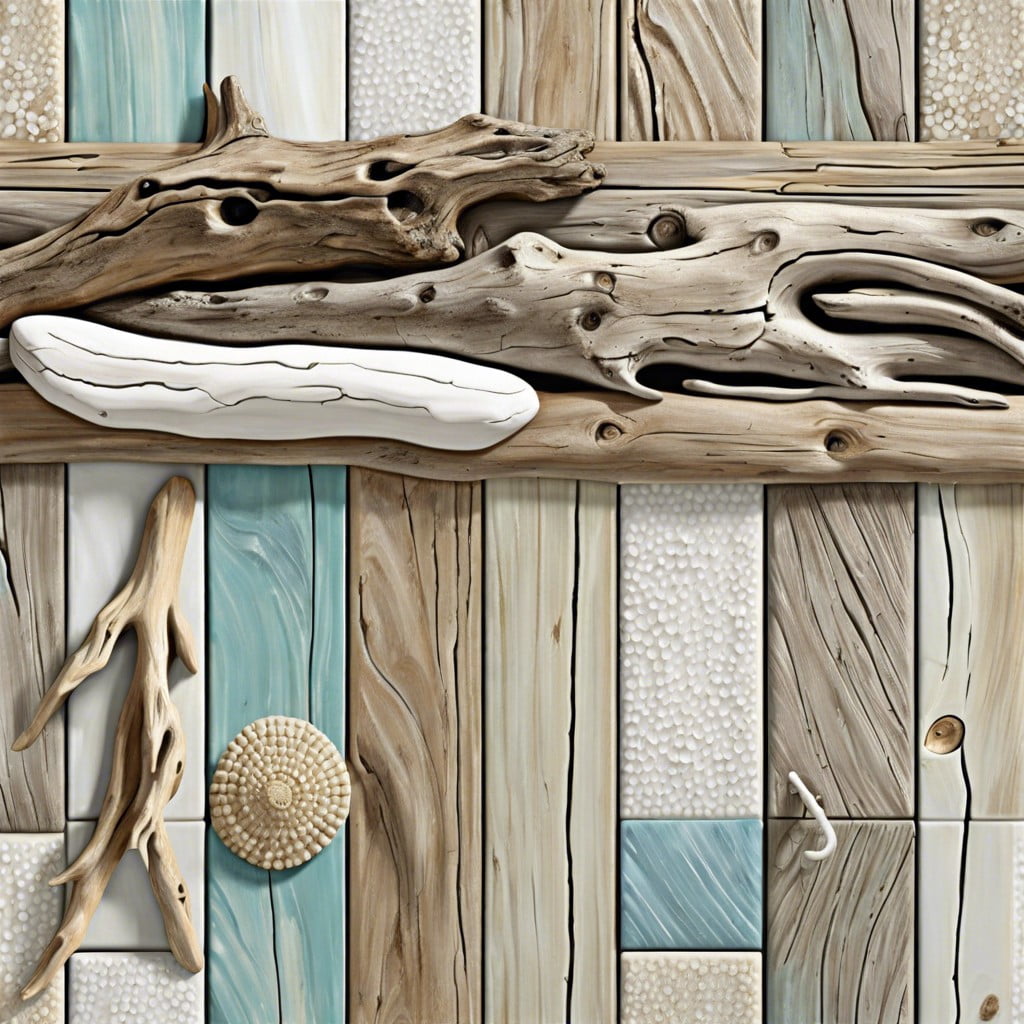 While they may appear rustic at first glance, these tiles hold a charm that easily transfers into a beach-themed bathroom. Emulating the sundrenched, weathered appearance of driftwood, they carry a unique texture that gives depth to the bathroom space.
There are a few things to consider with this type of tile:
Be careful in choosing the color. Going for hues reminiscent of natural driftwood, like light ash, beige or warm taupe, enhances the coastal ambiance.
While attempting to generate an authentic beach atmosphere, steer towards larger tiles. These minimize disruptive grout lines, offering a seamless, wide-board driftwood vision.
Use them on the floor for an underfoot beach experience, or on the wall for a captivating backdrop. They can be used in wet areas, such as the shower, thanks to their easy wet-area installation.
Combine with soft fabrics and nautical accessories. Soft towels in sea tones, baskets filled with seashells, or jute rugs will underline the coastal atmosphere.
Consider underfloor heating. These tiles can sometimes have a cooler touch, so treat yourself with a warm, sandy-like feel, even in cooler months.
Opting for driftwood-inspired textured tiles will transport you to the seaside every time you step into the bathroom.
Naval Style Navy Blue and White Tiles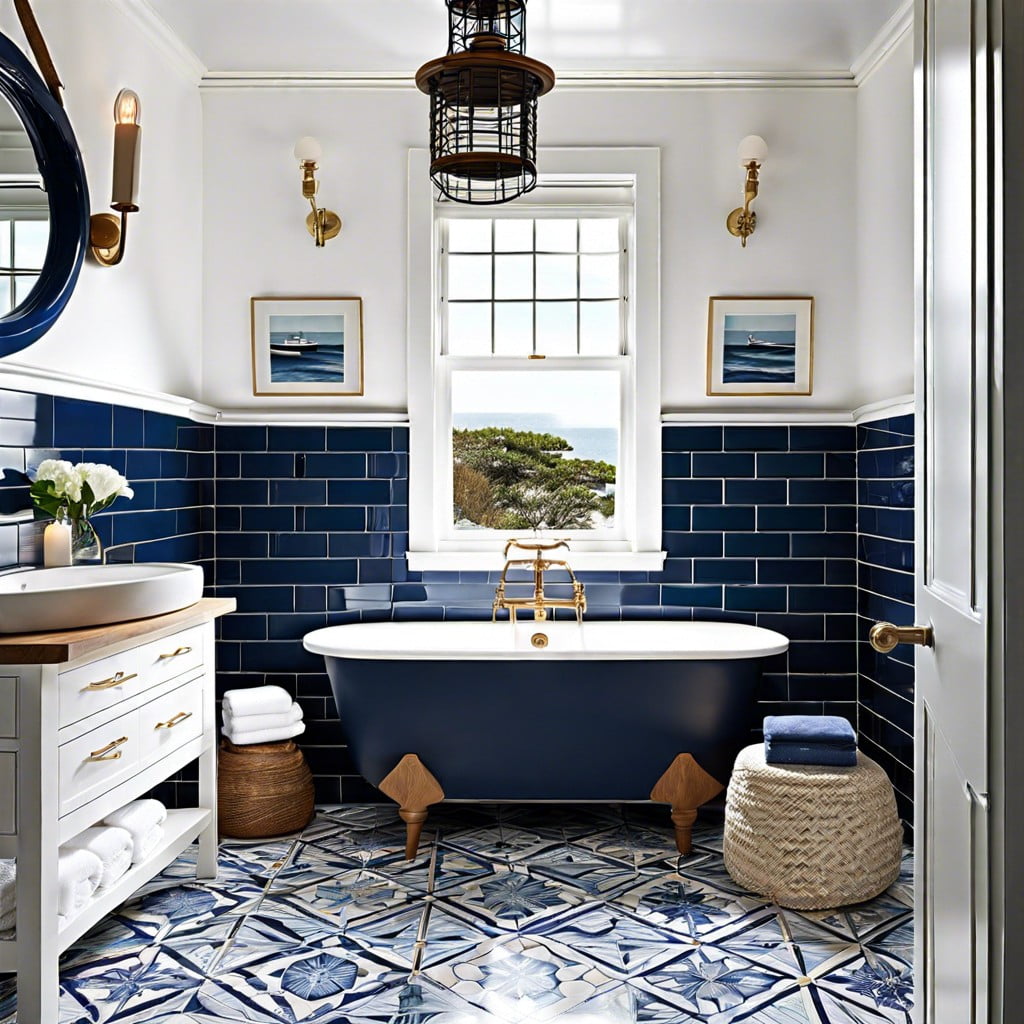 The distinctive color combination of this design instantly brings to mind clear, crisp seawater and the stark white sails of boats gliding along the horizon. It's a robust yet flexible design that carries a strong nautical theme without becoming too overpowering.
Key points:
Strength: The stark contrast between navy blue and white creates a bold, strong design statement.
Versatility: Despite its strong theme, this style can be used in various ways – as a feature wall, a shower accent, or as border tiles.
Classic Appeal: This color combination is timeless, meaning it will remain stylish even as trends change.
Perceived Space: The dark navy can give an illusion of depth, making the shower space seem larger.
Elegance and Cleanliness: The navy and white combination is not only chic but also imparts a feeling of cleanliness, perfect for a shower setting.
Under-the-sea Themed Mural Tiles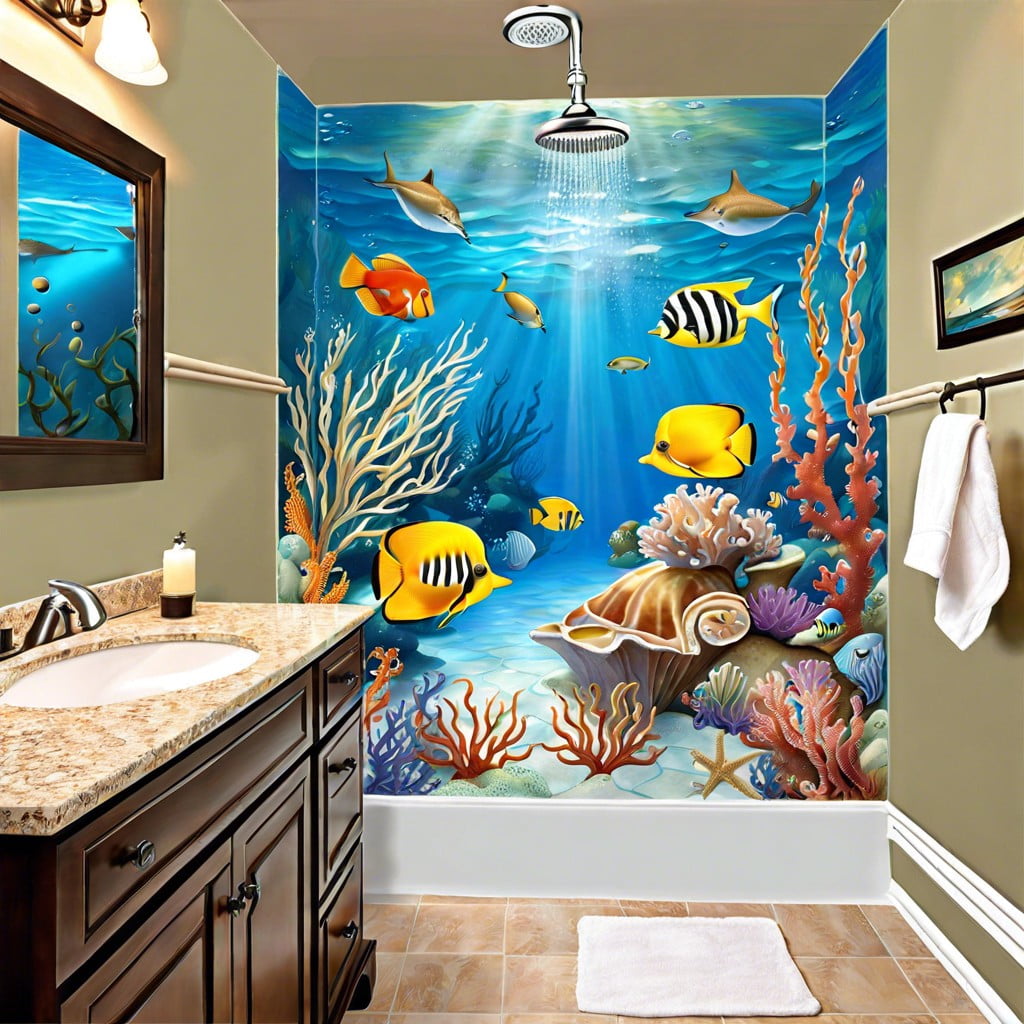 If you're looking to make a dramatic bathroom statement, consider a mesmerizing depiction of underwater life through tiles. These murals can span entire shower walls, showcasing a diverse marine ecosystem in vibrant color and texture detail.
From playful dolphins to vibrant schools of tropical fish, from lush beds of seaweed to fascinating coral formations, everything can become an art piece on your wall.
Ensure the design flows seamlessly; abrupt changes can throw off the tranquil ocean vibe. Balance bold colors with softer, more subdued shades to maintain harmony. If you wish to add some depth and realism, incorporate 3D textured tiles into the mural. Keep in mind, a detailed mural necessitates regular maintenance to keep its beauty intact.
This project might require a larger budget due to the tile complexity and the required expert installation. However, the result is an unprecedented aesthetic transformation that's akin to showering under the sea. It is a worthy project for those seeking an unusual yet visually striking bathroom.
Scallop Shaped Tiles in Pastel Hues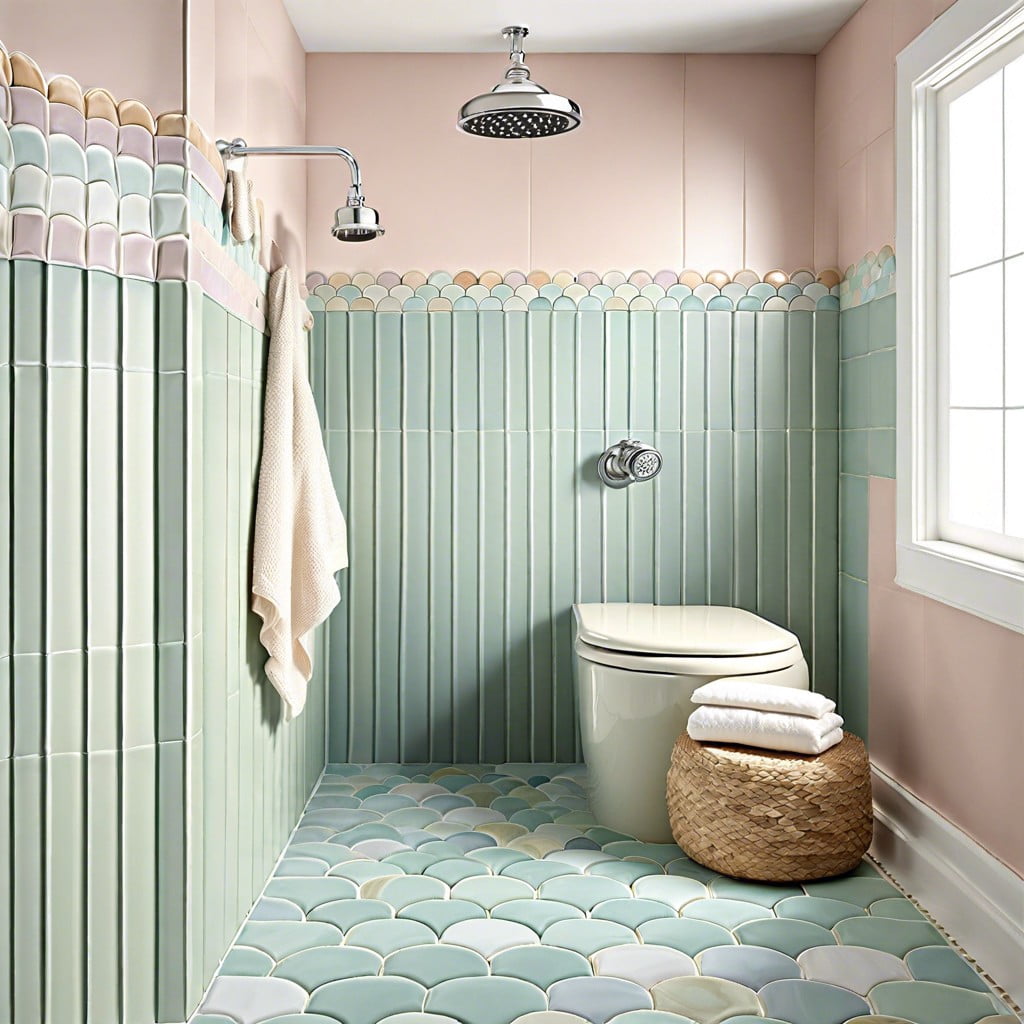 Shaping your shower with scalloped tiles offers a unique aesthetic that mixes charming vintage with modern elegance. The soft curves bring in a feminine touch and a dynamic depth to the overall design. Choosing pastel hues like mint green or blush pink not only gives a nod to the ocean's softer colors, but it also adds a touch of serenity to your bathroom.
They create a wave-like pattern that mimics the ocean's motion, embodying the coastal theme perfectly.
Despite their decorative nature, they are fully functional and can be used in wet areas.
They are available in various finishes, like glossy or matte, depending on your preference.
Easy to mix and match with other tile shapes and colors to add more dimensions to the design.
They give a soothing visual effect, perfect for creating a relaxing shower space.
Remember, less is more. Using them as an accent in specific areas, such as the shower floor or feature wall, can achieve an elegant look without overwhelming the space.
Continue reading:
Recap