Last updated on December 1, 2023
Escape into the rustic charm of a Tuscan-style bathroom because detailed aesthetics and calming color palettes blend to create an exquisite, relaxing space.
I am proud to have conceptualized and written this article on 20 Luxurious Tuscan Bathroom Ideas, creating each unique design with care, and I hope you will find as much inspiration and enjoyment in these designs as I did creating them.
Looking to infuse a touch of Italian charm into your bathroom? Tuscan-style bathrooms capture the essence of this rustic, sun-drenched region of Italy perfectly. With a focus on natural materials, warm hues, and a balance between elegance and earthiness, a Tuscan-style bathroom is a tranquil retreat where you can unwind after a long day.
This article will guide you through the key elements of Tuscan bathroom design, from the right color palette to the ideal materials and accessories. Whether you're starting from scratch or looking to revamp your existing bathroom, you'll find everything you need to create a beautiful, Tuscan-inspired space.
Tuscan Color Palette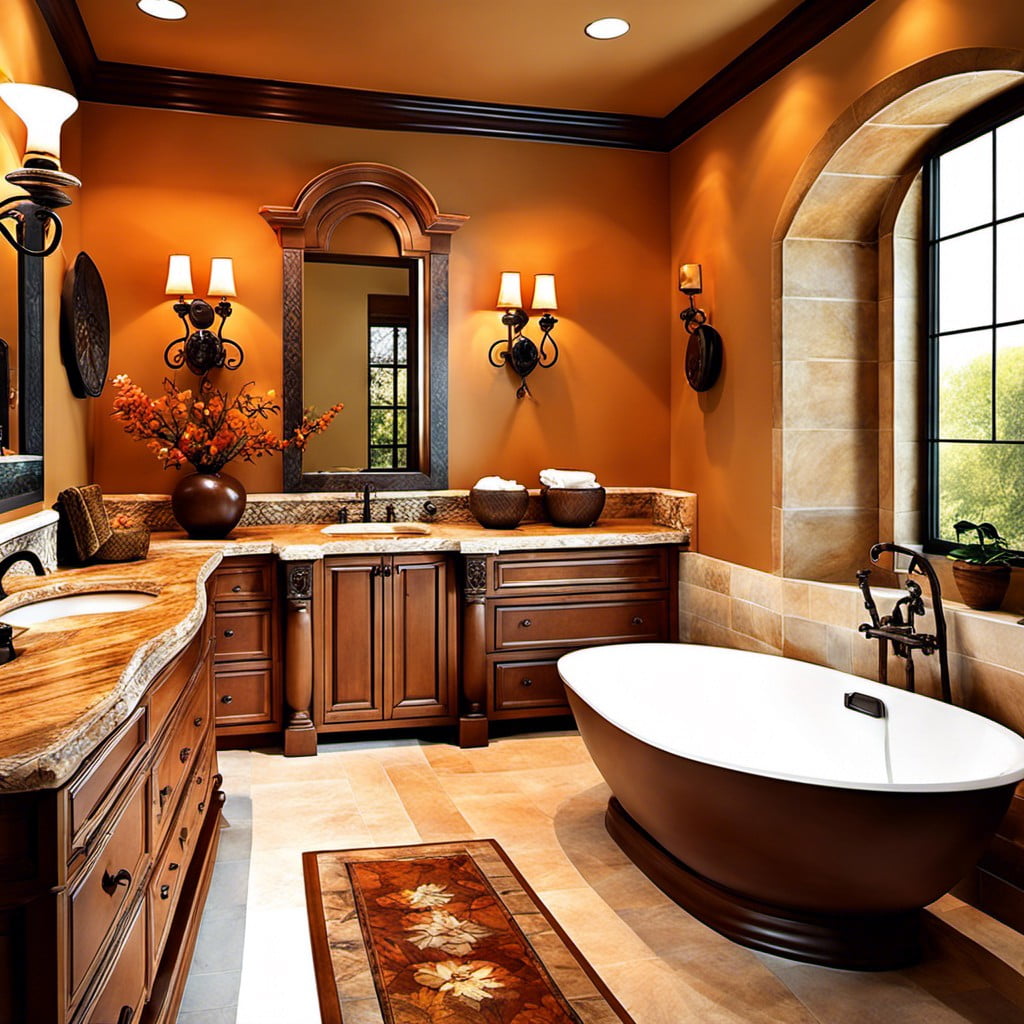 In a Tuscan-style bathroom, the color palette reigns supreme. The hues are inspired by the Chianti landscapes, the bright blue skies, the lush olive groves and the radiant sunsets of Tuscany.
Embrace warm, earthy shades such as golden yellow, terracotta, olive green, rich browns and deep reds. As for the cool tones, opt for the calming blues and refreshing greens inspired by the Mediterranean Sea. These colors, combined harmoniously, set a welcoming and comforting mood – exactly what Tuscan style is appreciated for.
Avoid using harsh, overwhelming colors and aim for balance, using lighter shades to break up the dark tones. For an elegant finish, consider subtle accents in rustic bronze or gold.
Terracotta Tiles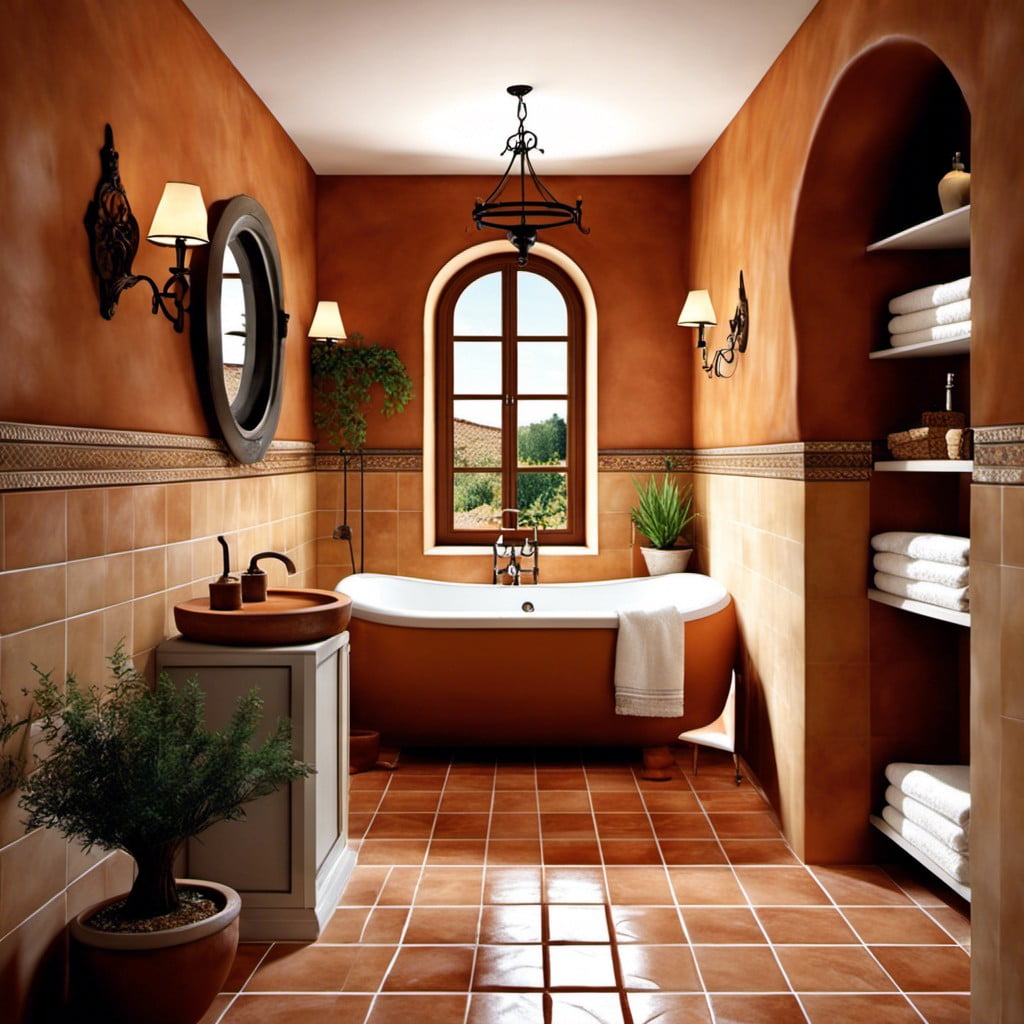 A beloved ICON of Tuscan design, these warm-colored tiles will instantly lend an authentic Italian ambiance to your bathroom.
Serving both functional and aesthetic purposes, they can be used on the floors, the walls, or even as a beautiful backsplash behind the vanity.
Make sure to opt for a matte or distressed finish to capture the aged, earthy character that's prevalent in Tuscan styling.
Pair these tiles with warm, neutral colors for a harmonious blend, or play with vibrant hues to make a bold statement.
Exceptionally durable and easy to maintain, they are ideal for moisture-prone areas like the bathroom.
Travertine Countertops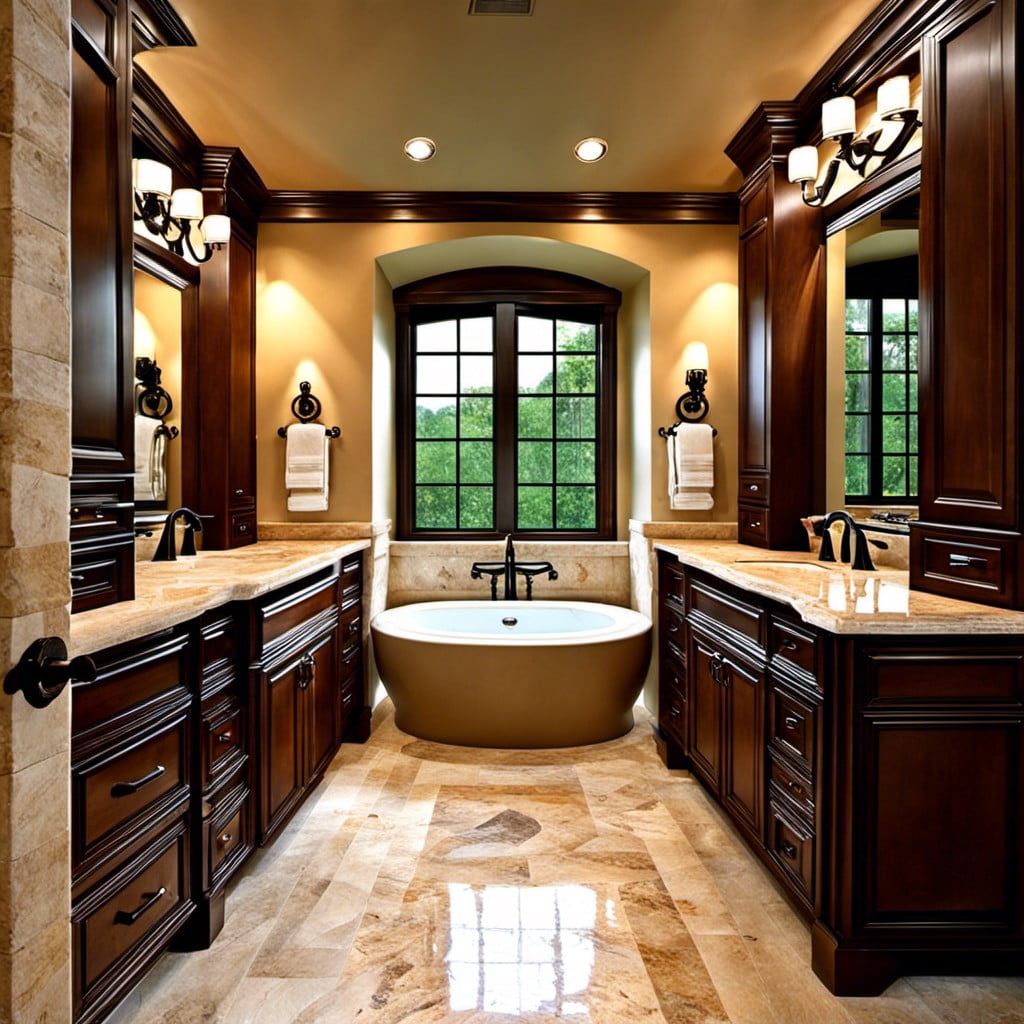 Showcasing hues of beige, tan, and cream, this highly durable material is a popular choice for those seeking to channel the serene ambience of Italy's countryside. It's tough surface makes it resistant to everyday wear and tear, yet its soft, textured appearance adds a warmth and charm unrivaled by other materials.
Its natural hole-filled surface begs for a look-see, lending your bathroom an alluring rustic character. Known for its easy maintenance – a simple wipe-down is all it takes – it delivers a great blend of practicality and esthetics. Bring the outdoors in with a countertop as trustworthy as it is pleasing – a wise choice for combining style and function!
Wrought Iron Towel Holders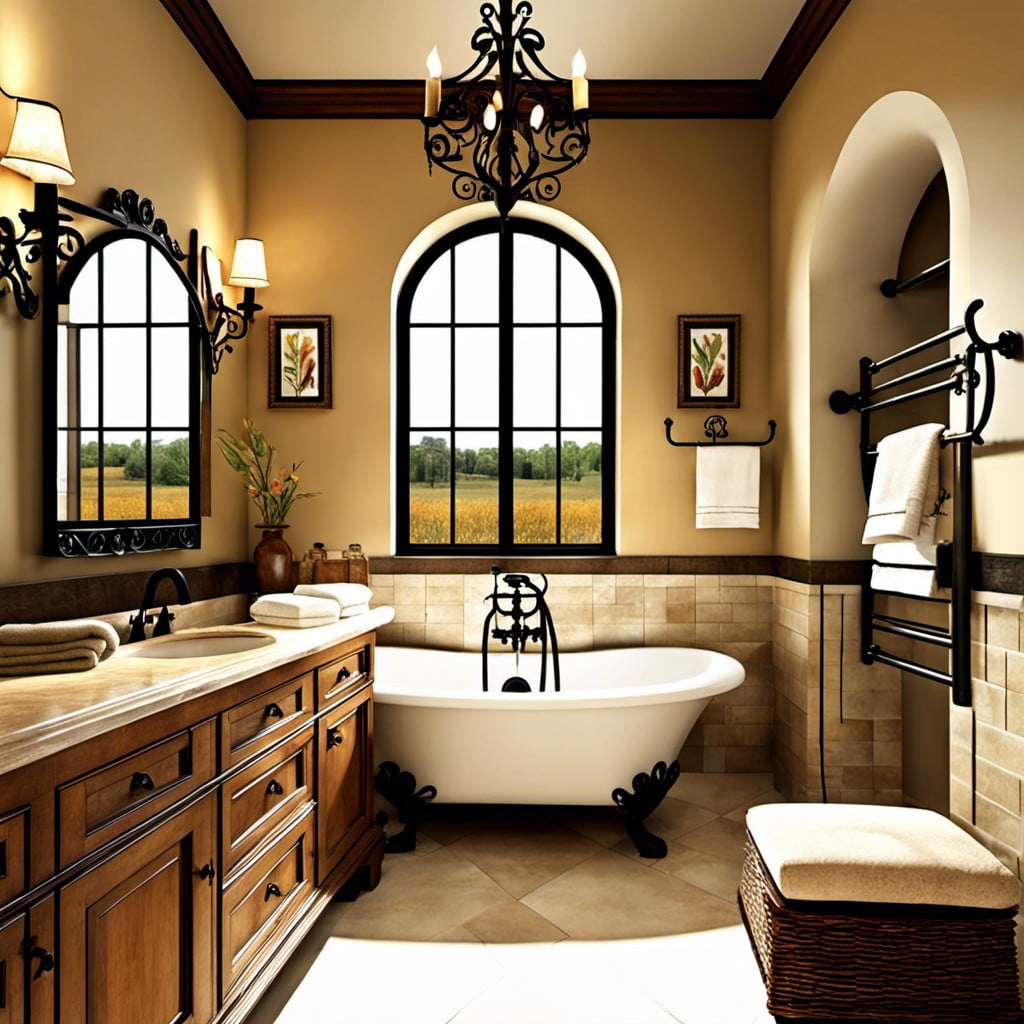 Nothing embodies Tuscan style more than wrought iron. With their elaborate designs and strong durability, it's a no-brainer to incorporate them into your bathroom. This material does not only provide practical value but also infuses your space with rustic charm. Whether sleek and modern or intricate and ornate, there's an option for various aesthetics.
For more personal touch, custom designs are also available, giving you the freedom to choose motifs or shapes representative of the Tuscan region like olives or grapevines. No matter the choice, seeing your plush towels hanging delicately on these stylish holders adds an unexpected polish to your bathroom's overall look.
Rustic Wood Accents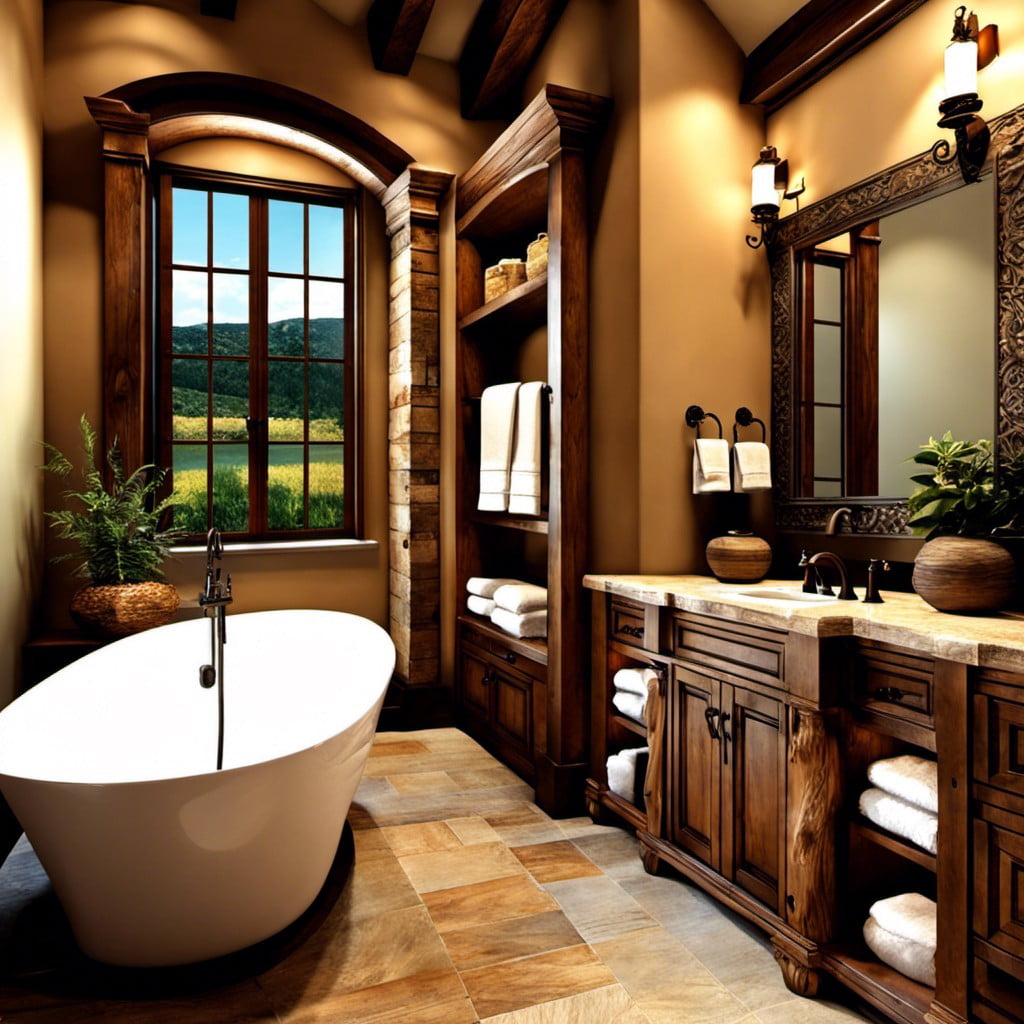 With their ability to lend that much-loved homely charm, hand-carved elements are a perfect choice. Look for pieces made of old Italian farmhouses' wooden beams – they're unmatched in authenticity.
Artisan-crafted furniture also fits comfortably in this setting. Stools, counter tops, even light fixtures work harmoniously when made of or accented with rustic wood. And don't forget about open shelves; teeming with toiletries, towels and houseplants, they not only serve practical purposes but aesthetic ones too.
Lasty, distressed or antique wood frames can make a nice touch on the walls. All these components work together to craft a cabin-like coziness that is the heart of Tuscan style bathrooms.
Vintage Wash Basin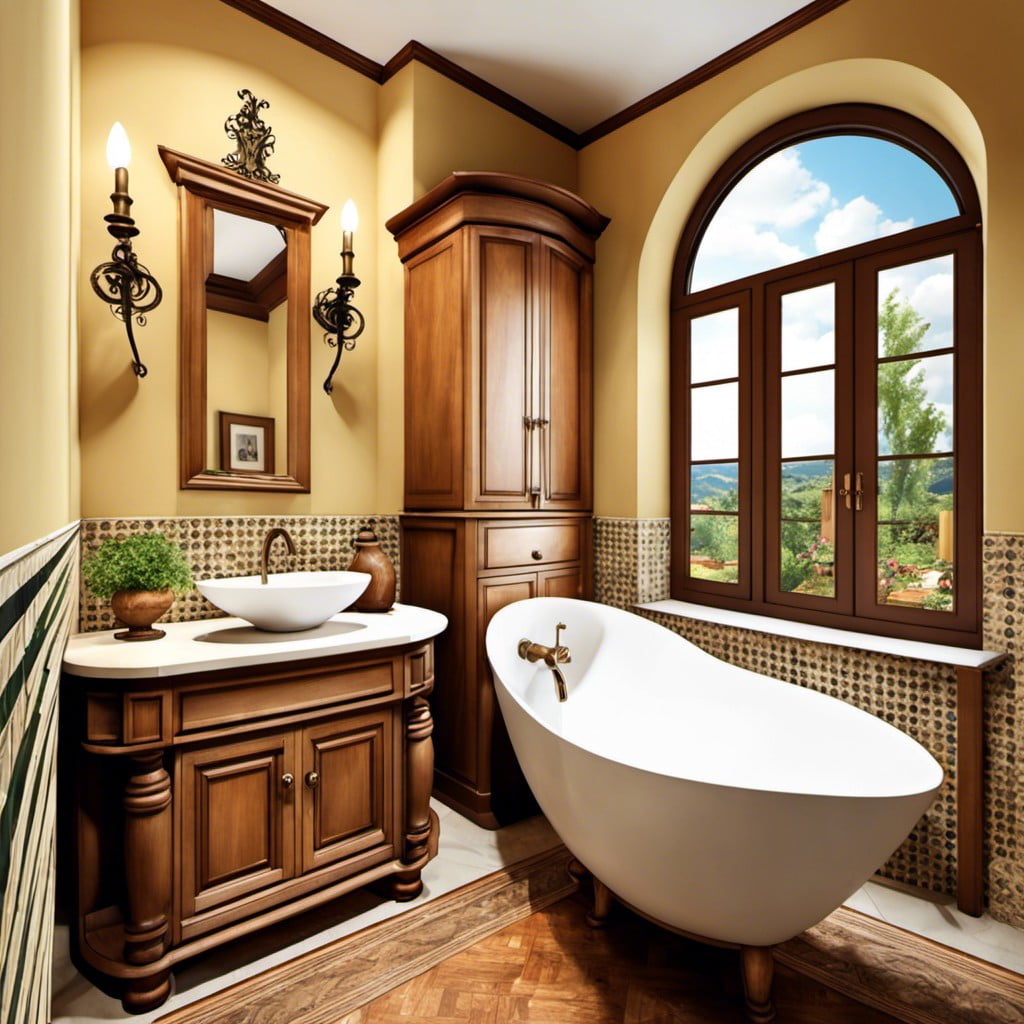 An integral facet of recreating the Tuscan theme is the incorporation of elements that channel the charm of an old Italian villa. A central point of such allure is the bathroom sink, transformed through the use of vintage wash basins. These basins, often in crisp white porcelain or aged ceramic, reflect the elegant simplicity of the Tuscan aesthetic.
Pair these basins with rustic brass taps to enhance the vintage vibe. Their intricate designs often showcase a time-worn patina, which perfectly complements the Tuscan spirit.
For an extra touch of authenticity, consider a basin that features hand-painted details in earthy hues. This finely preserved craftwork amplifies the rustic sophistication, making your bathroom feel like it's tucked away in the rolling hills of Tuscany. You will be enticed by the allure of bygone times every time you step into your Tuscan-inspired space.
Remember, when choosing your vintage wash basin, quality is key. These are durable, stylish, and easy to maintain, making them a fitting blend of functionality and aesthetics.
Natural Stone Bathtub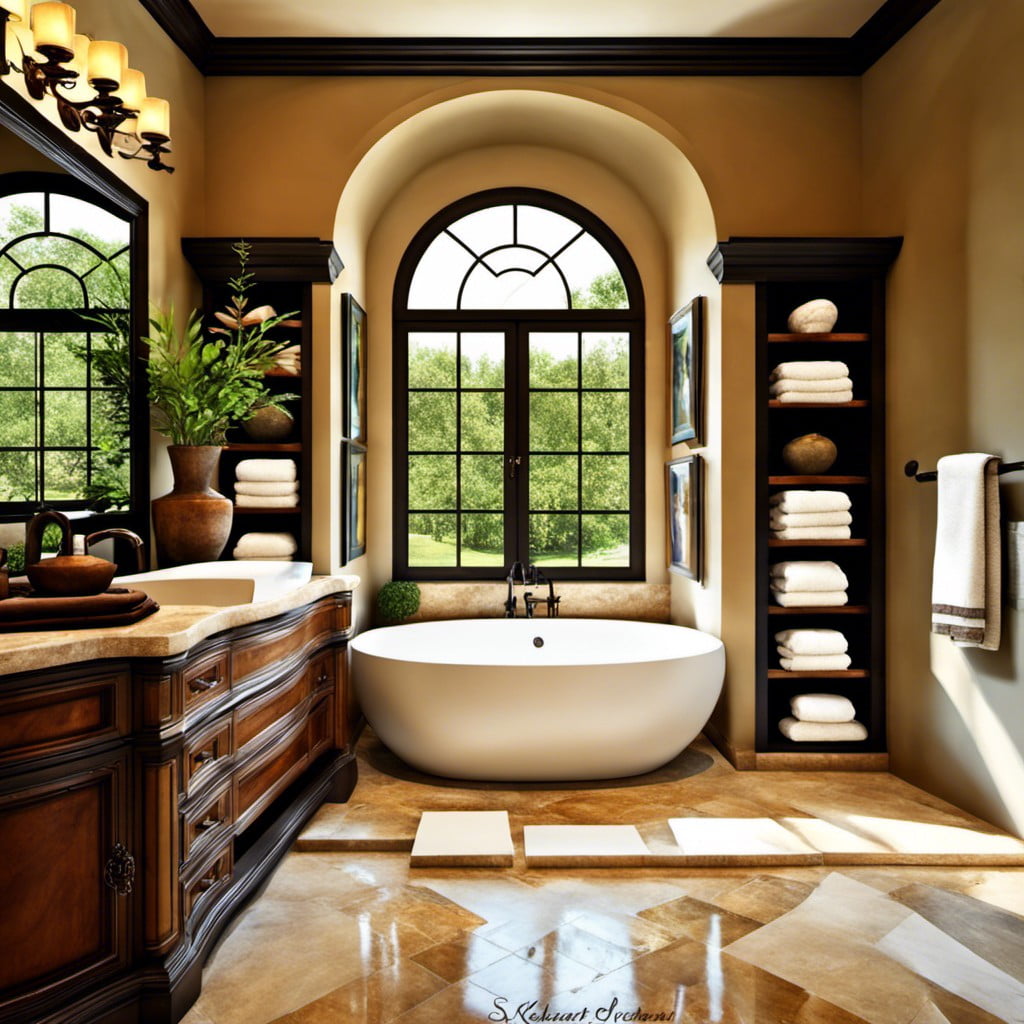 There's something elegant about soaking in a tub carved from the earth's wonders. Offering a soothing retreat after a long day, the natural stone option stands out with its raw yet polished persona. Not just a bathtub, but a centerpiece that exudes a rustic charm and sophistication typical of Tuscan designs.
For the choices, you can get lost in the beauty of limestone, granite or marble tubs. Each unique, featuring natural veining and color patterns giving your bathroom an individualistic style. Opt for deeper cuts to enrich your bathing experience, encapsulating the tranquil Tuscan countryside ambiance.
They might require a higher initial investment, but the natural ability to retain heat longer than traditional material justifies the cost. Plus, they enhance the value of your home tremendously. Think beyond just function, think of it as a tangible expression of timeless comfort blended with natural elegance.
Fresco-inspired Artwork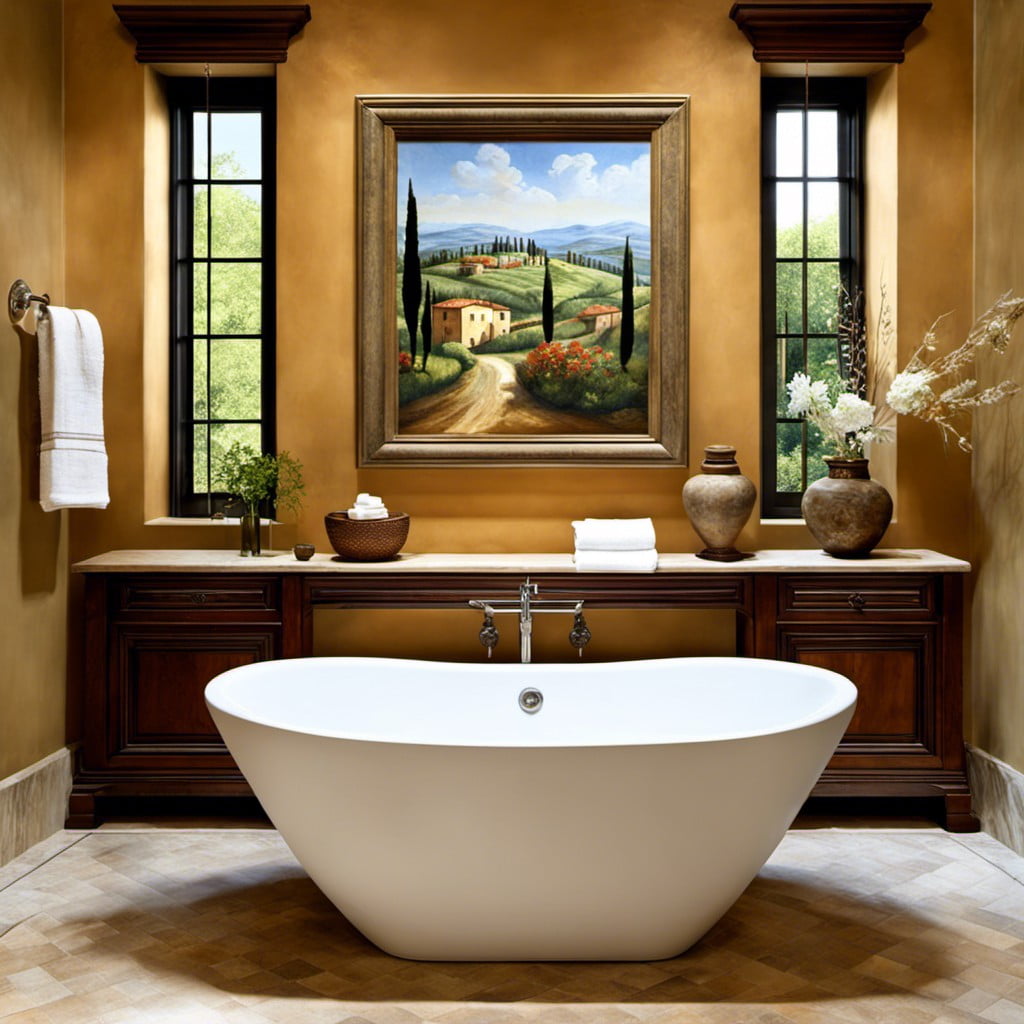 Fresco-like murals are synonymous with the Tuscan region. They can transform any ordinary bathroom into a picturesque Italian masterpiece. These hand-painted works of art often depict sprawling vineyards, colorful Tuscan landscapes, or serene Mediterranean seascapes that can dramatically enhance the look and feel of the bathroom.
Start with a feature wall. It could be behind the bathtub or over the vanity, an arresting painting never fails to impress. Small-scale pieces can also have high impact. For instance, a soft botanic design above the sink or a Mediterranean view in the corner can add an unexpected pop.
If the artwork is out of budget, consider stencils. They're more affordable and deliver a similar effect. Choose a classic vine or leaf pattern and subtly match the paint color to the rest of your bathroom décor.
Remember, the goal is to create a restful sanctuary where one can escape to the soothing Italian countryside without leaving the house!
Ornate Mirror Frames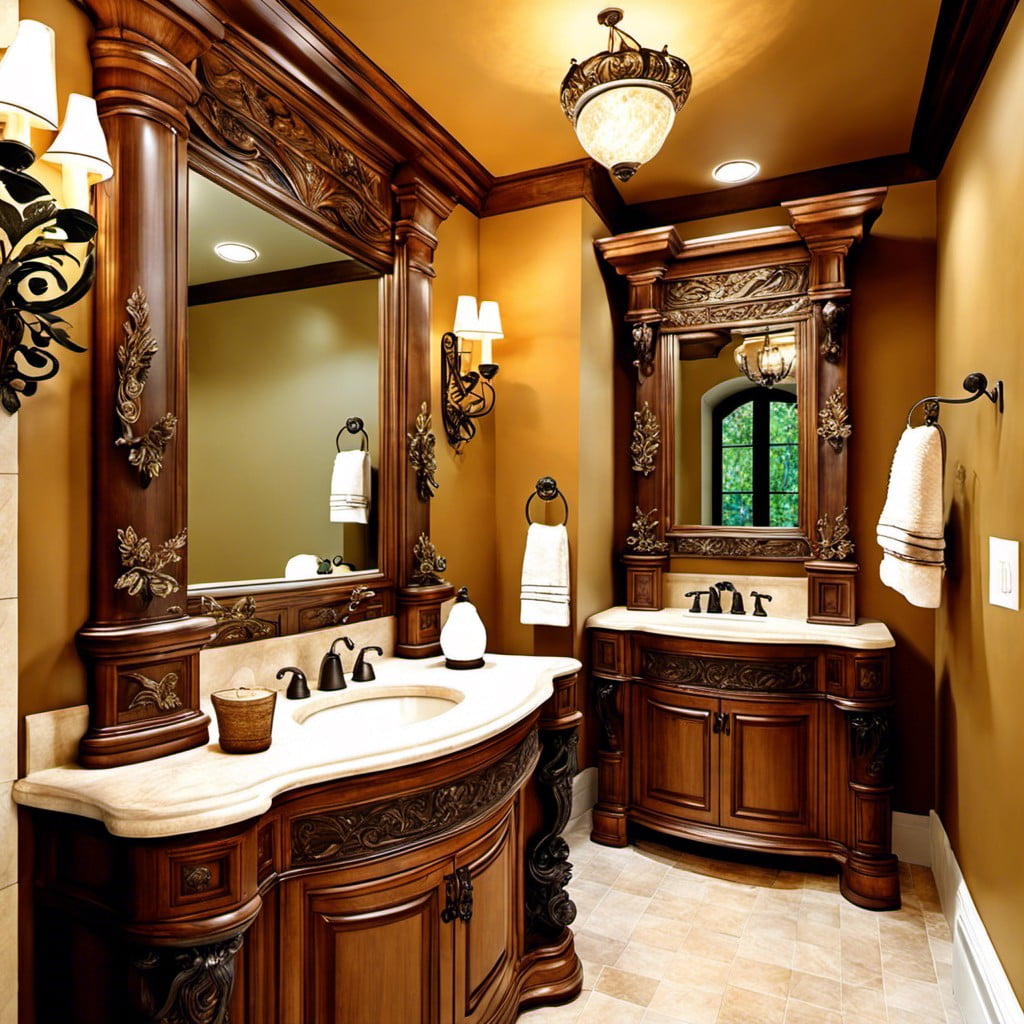 Gilded in gold or painted in distressed white, these frames add a touch of elegance and sophistication, instantly carrying attention to the mirror. The ornate details – curvy lines, intricate swirls, and vintage finishes – tell a story of traditional Tuscany and its affection for romance and finesse.
For the statement piece, opt for larger frames with exaggerated details. To keep things subtle, choose smaller frames with intricate but minimal design patterns. Either choice will add a definite charm, ensuring that your bathroom echoes the true Tuscan spirit.
Consider the color and texture of the wall when choosing your frame. A golden frame against a warm-toned wall creates a luxurious feel. Whereas, a white distressed frame against a stone wall will emphasize the rustic texture.
The key factor to remember while selecting your frame is its association with the Tuscan style – romantic, rustic yet refined, and absolutely timeless.
Italian Inspired Fixtures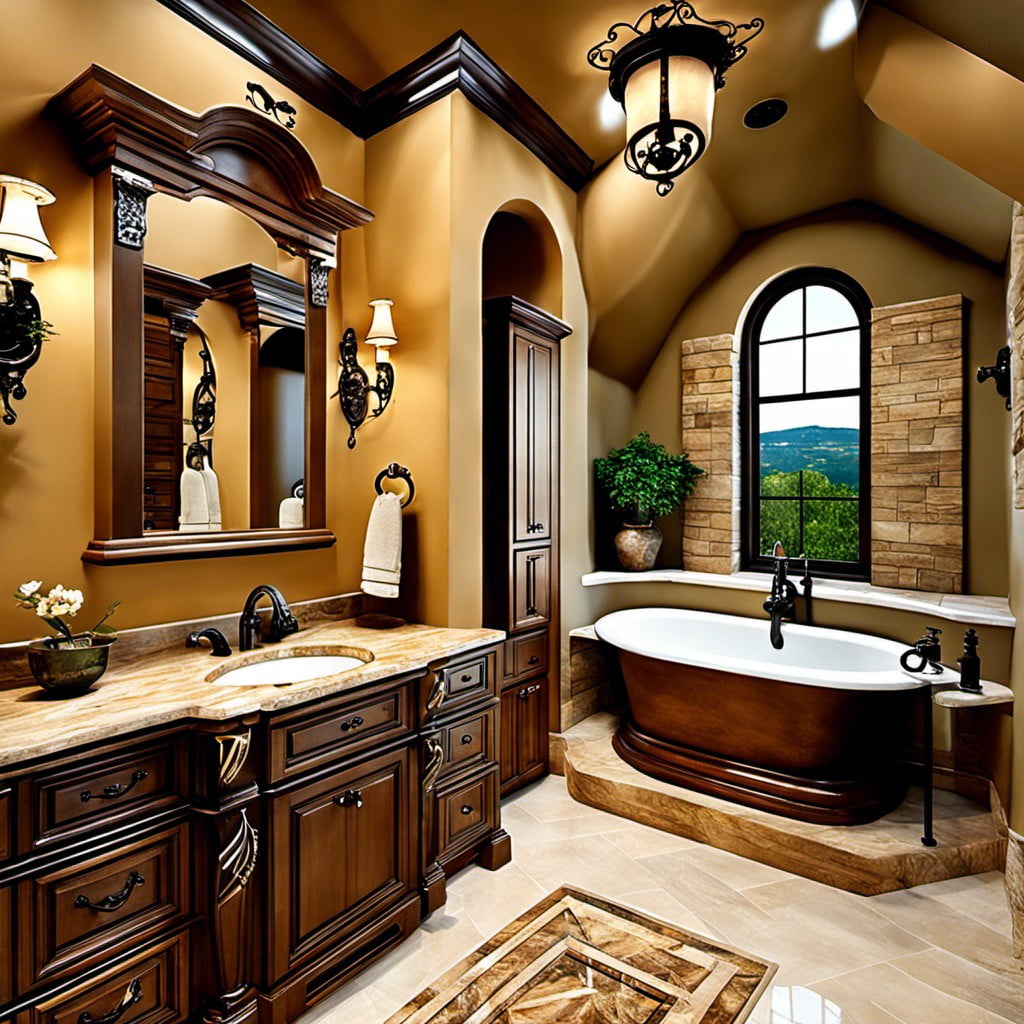 Choosing the right fixtures plays an important role in capturing the authentic Tuscan feel. Imagine rustic, earthy, and robust elements that signify a blend of sophistication and homely charm.
Faucets and showerheads with a rusted bronze or brass finish will bring in that countryside Italian appeal. Opt for designs with unique ornate detailing for a more vintage flair.
Simultaneously, the graceful curves of a classic Italian chandelier can illuminate and emphasize the Tuscan aesthetic, while wall sconces with a bit of worn-out look provide a softer ambience.
Also, consider pull handles and knobs with an aged metal finish for cabinets and drawers. These small fixtures, when chosen carefully, work in harmony to amplify the Tuscan vibe.
Artistic Mosaic Floor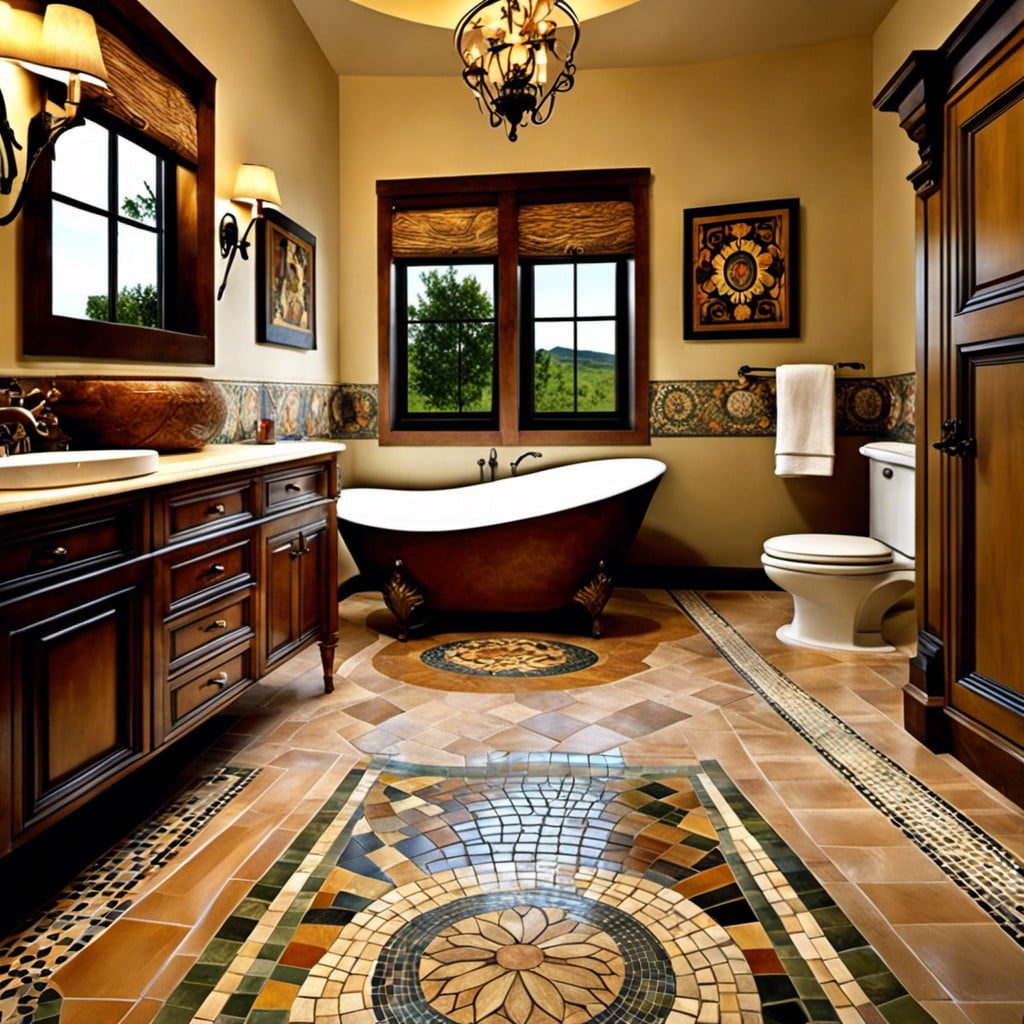 A variety of tesserae, whether ceramic, glass, or stone, provide a beautiful range of colors, textures, and finishes to choose from. Traditional Tuscan designs, which often feature outdoor scenes or geometric patterns, can be incorporated for authenticity.
Complex layouts might require more time and effort, but the result is a truly eye-catching, breathtaking piece of art underfoot. It's crucial to select the right sealant to protect your unique work of art, since bathrooms are moisture-heavy environments. This floor type, though stunning, does require proper maintenance for longevity.
Regular cleaning with appropriate products ensures it retains its elegance over time. Consider hiring a professional for installation to ensure precision and quality.
Pedestal Sink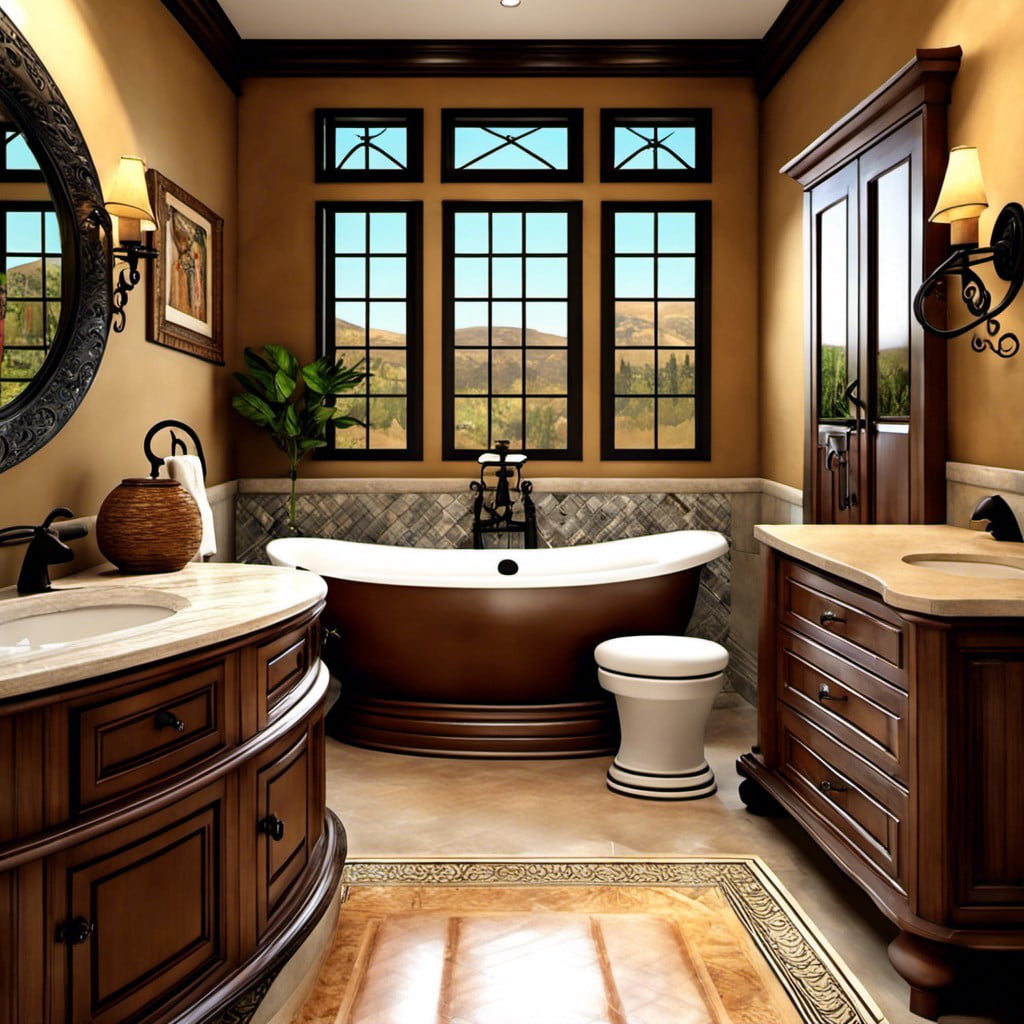 Adopting an authentic Italian charm within your bathroom setting is incompletely without a perfect centerpiece: the pedestal sink. In Tuscan design, this can be a sleek stone creation or a decorative ceramic piece complete with intricate designs. These sinks favor practicality without compromising visual appeal.
– It is not only about aesthetics: Pedestal sinks serve a substantial practical purpose. They occupy less space, making them an excellent choice for more compact bathrooms or for minimalist design aspirations.
– Become a focal point: With their unique design, pedestal sinks often become the room's star, heightening the Tuscan vibe.
– Flexible style range: From marble to terracotta or ceramic, you can select a material that aligns with your taste and complements other decorative elements.
Remember, it's not merely a sink; it's an emblem of Tuscan heritage. Choose wisely and be ready to transform your bathing platform into an Italian masterpiece!
Warm Lighting Fixtures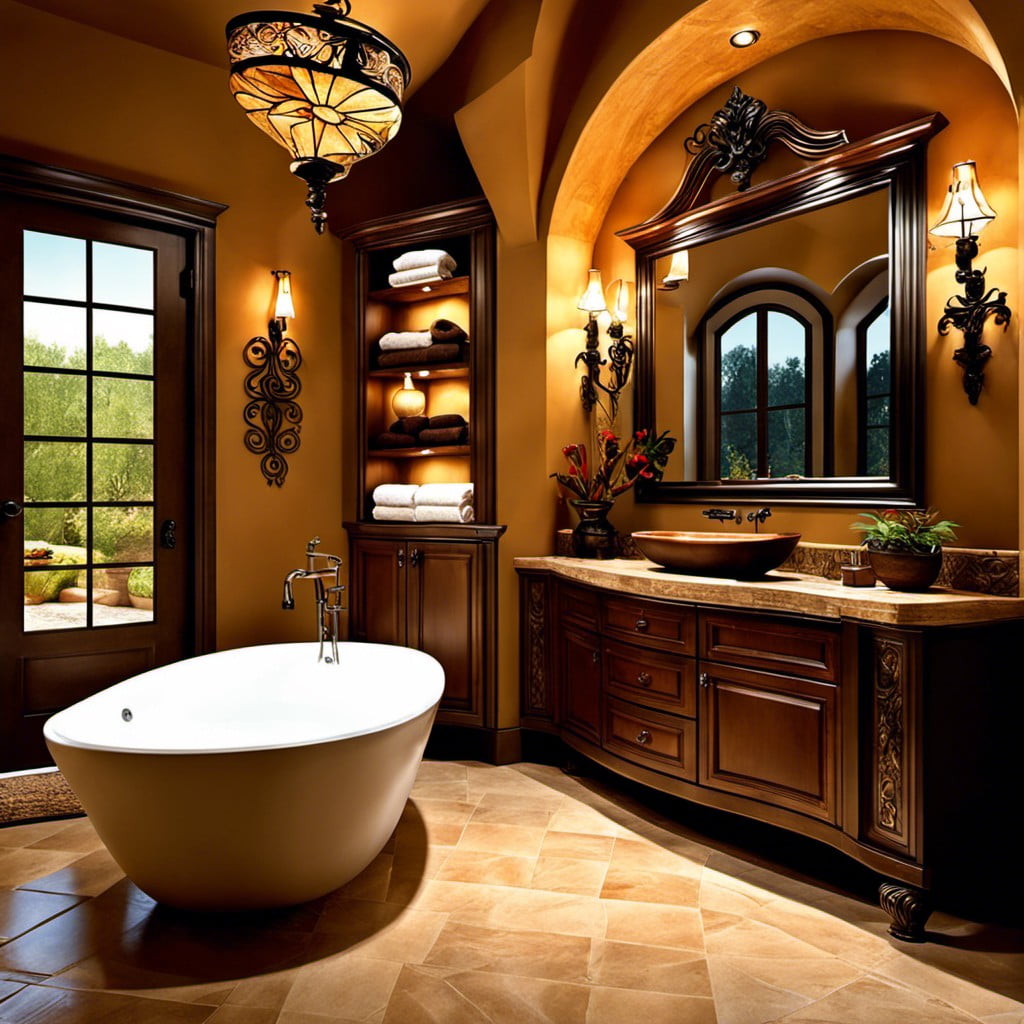 To illuminate your Tuscan bath in a warm and inviting manner, consider options such as a vintage wrought iron chandelier, rustic candle sconces, or a beautiful lantern-style pendant light. Choose a fixture with weathered finishes for an added touch of earthy charm.
Soft yellow light bulbs instead of bright white ones can enhance the tawny, sun-drenched effect characteristic of Tuscan style. Consider using dimmers for control over the lighting intensity to help set the relaxing mood commonly associated with the Tuscan countryside.
Place lighting strategically to highlight focal points, such as over the vintage wash basin or the artistic mosaic floor.
Old-world Cabinetry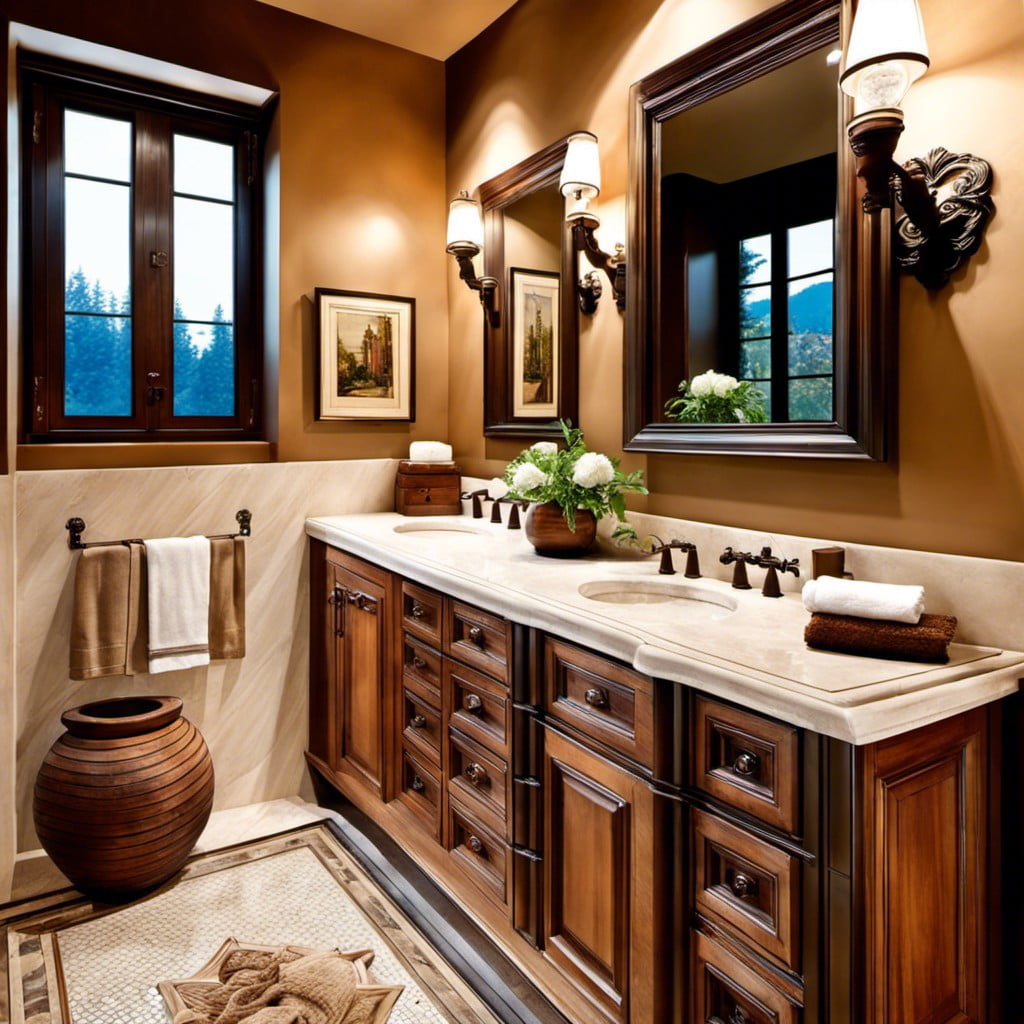 Investing in quality wood furniture, rich in detailing, can introduce the Old-world charm to your bathroom. Opt for cabinets with intricate carving designs or wooden hardware. Choose finishes that display a sense of timeworn elegance, such as distressed or weathered finishes.
Remember to maintain the symmetry, a hallmark of Tuscan design in your cabinet placement, to give the bathroom a sense of balance. Plus, the darker the stain, the more rustic the appearance, so consider walnut or oak shades. For a touch of authenticity, adorn the cabinets with vintage-style knobs or handles in bronze or copper.
Decorative Pottery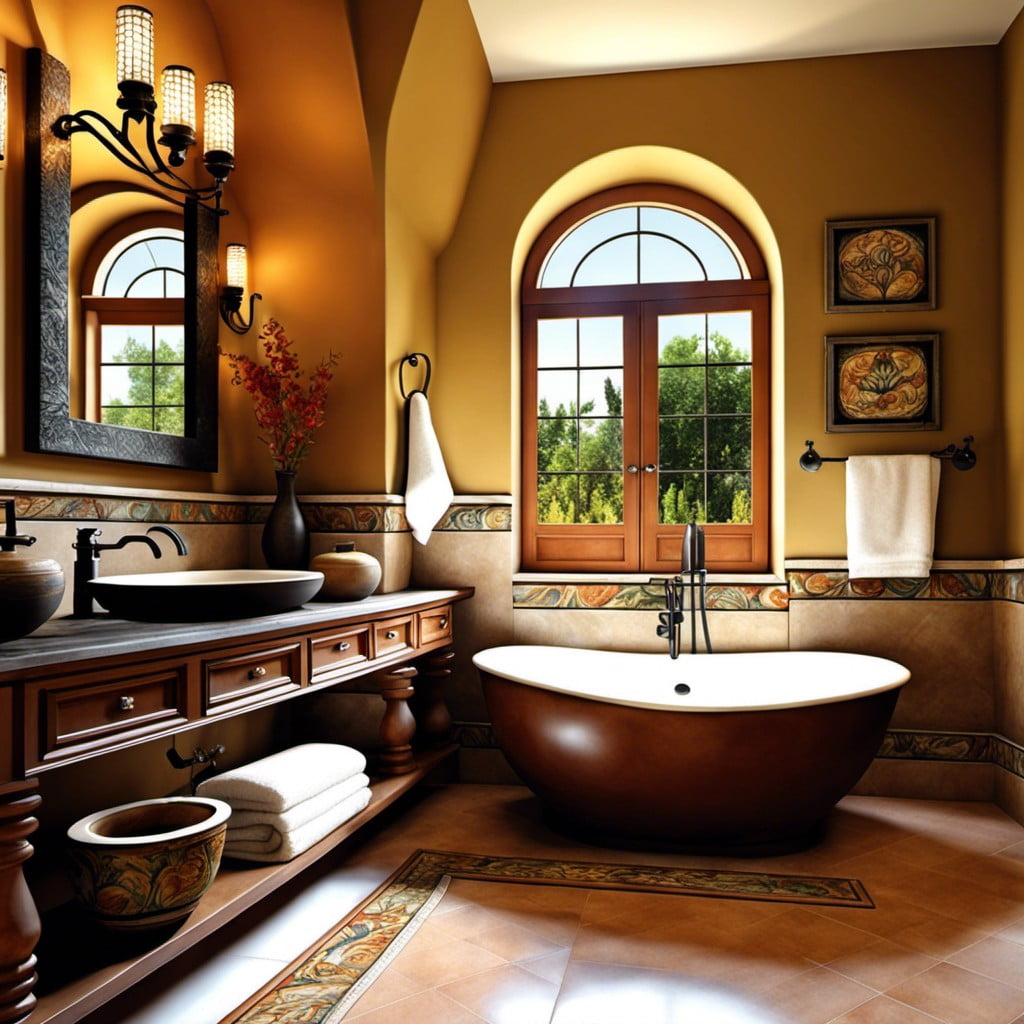 In Tuscan styled bathrooms, traditional pieces often take center stage. For a unique touch, consider incorporating ceramics handcrafted in the classic Italian style, adding both texture and interest to the space.
These could include ornate urns or vases, placed atop the counter or shelving. Looking for something functional? A ceramic soap dispenser or toothbrush holder integrates beautifully while fulfilling a practical purpose.
With designs ranging from simple to intricate, there's plenty of wiggle room to find a piece that speaks to your personal style. As a final tip, remember classic Tuscan pottery often features natural tones of burnt orange, olive green and sunflower yellow. Matching these hues in your ceramics could really tie the room together.
Antique Furnishings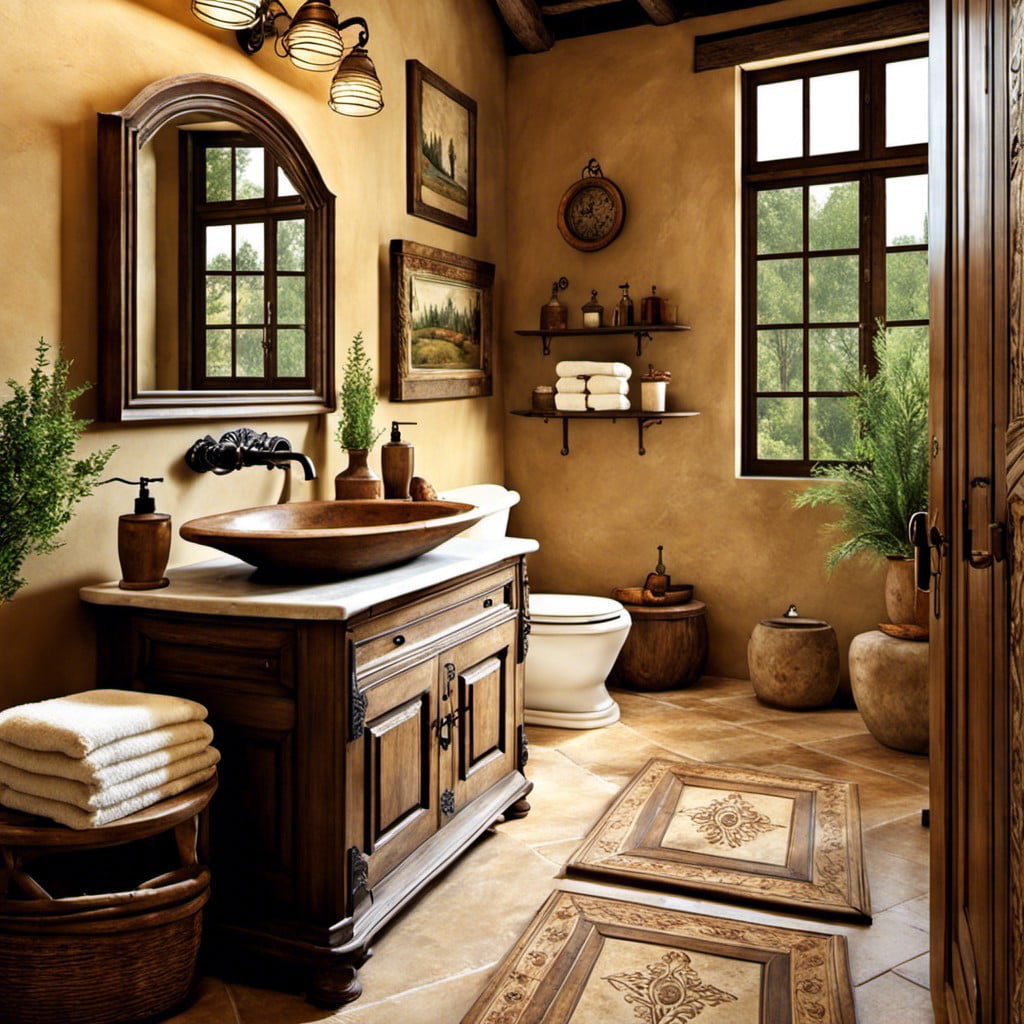 Gathering inspiration from the rustic aesthetic of Tuscan farmhouses, utilizing furniture with an antique finish can enhance the authenticity of your bathroom decoration. Look for pieces that showcase natural wear and tear, or replicate the look with distressing techniques.
1. A chest of drawers, for instance, can double as additional storage for towels and toiletries, as well as contribute to the old-world atmosphere.
2. Consider seating too; a vintage bench or a quaint stool can offer comfort and charm beside the bath or shower.
3. Instead of the usual sleek, modern vanity, an antique wooden table with a fitted sink can serve the dual purpose of functionality and aesthetic appeal.
4. Go for open shelving – It's functional, traditional, and perfect to display decorative accessories like vintage perfume bottles or ceramic vases.
Remember, the goal is to create a warm, inviting space – a sanctuary that radiates tranquility and timelessness.
Weathered Finishes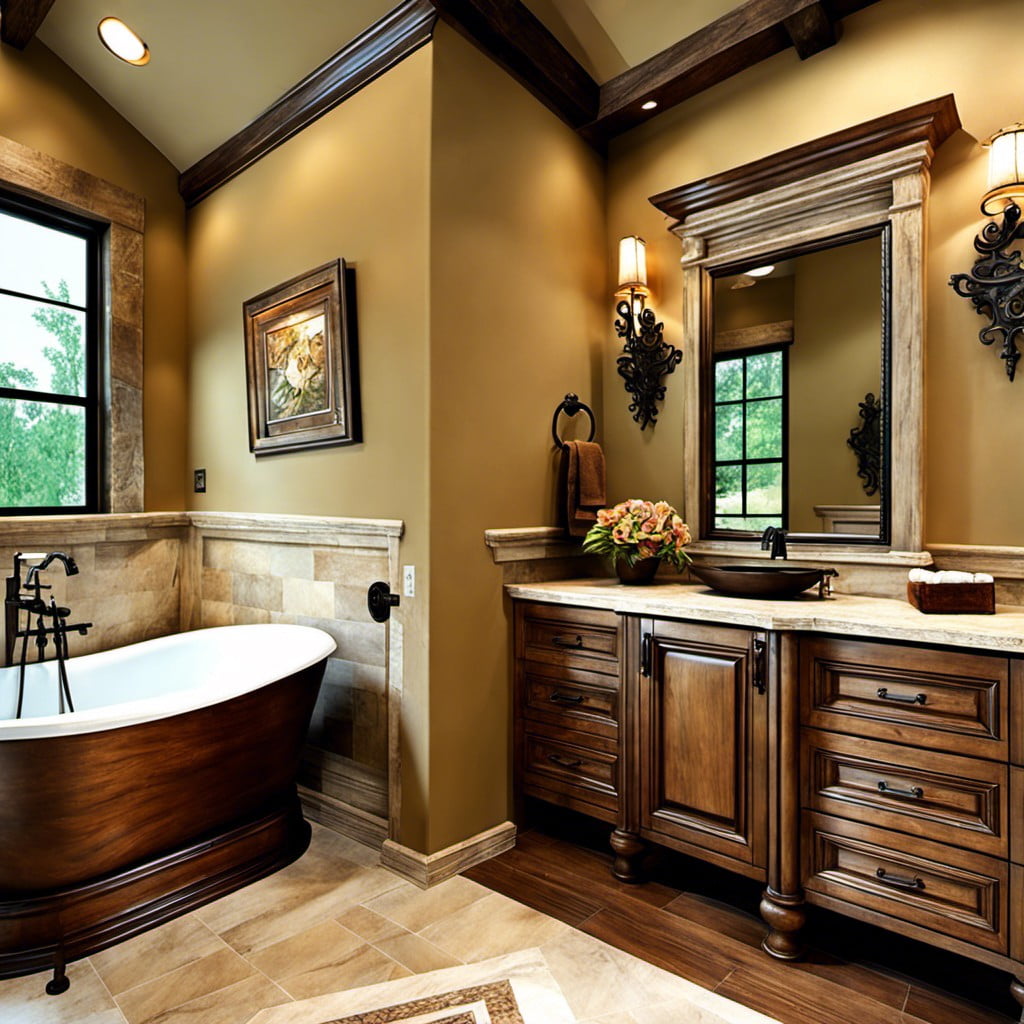 Applied with an artistic technique, these finishes imitate the appearance of naturally weathered wood or stone. To ensure authenticity, choose paint finishes that are matte or flat. This way, surfaces can still evoke a sense of antiquity without leaning towards the overly polished or new.
A compliment to the Tuscan aesthetic, furniture and storage pieces bearing this finish reinforce the dated yet stylish nature of this design. Remember, a bit of natural wear-and-tear showcases character; don't fear a scratch or scuff.
Stone Walls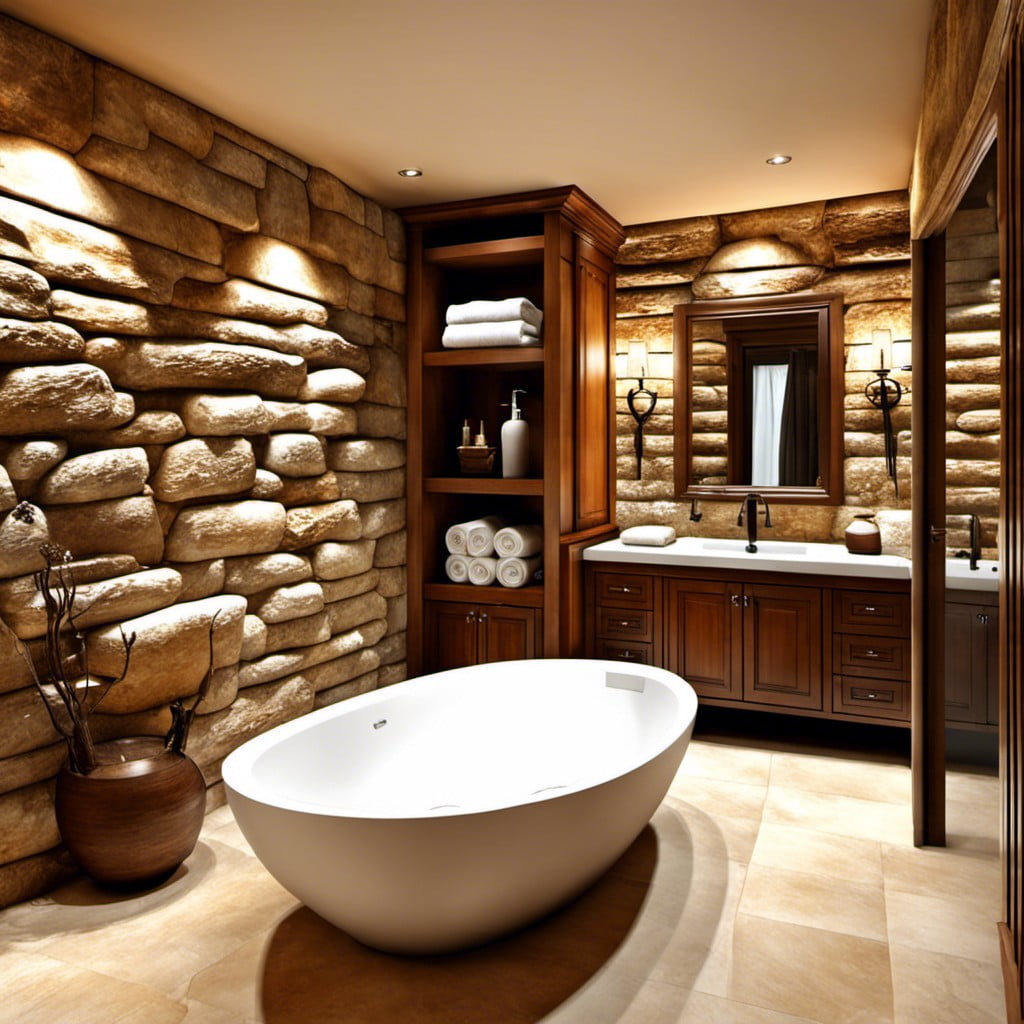 To capture the essence of Tuscany in your bathroom, consider integrating stone walls. This feature creates a rustic, warm atmosphere reminiscent of traditional Tuscan homes.
Not only do they add visual interest, but they're also incredibly durable and timeless. Natural stones like limestone, travertine, and sandstone are the most common choices, but faux stone finishes can also be a cost effective alternative.
The trick is to choose a shade that suits the overall color scheme. Remember, texture is crucial. The unevenness, slight color variations, and the ruggedness of stone walls truly breathe life into the space, leaving your bathroom with an unmistakable Tuscan feel.
For an added layer of authenticity, consider wall techniques such as venetian plaster or faux painting.
Bronze Faucets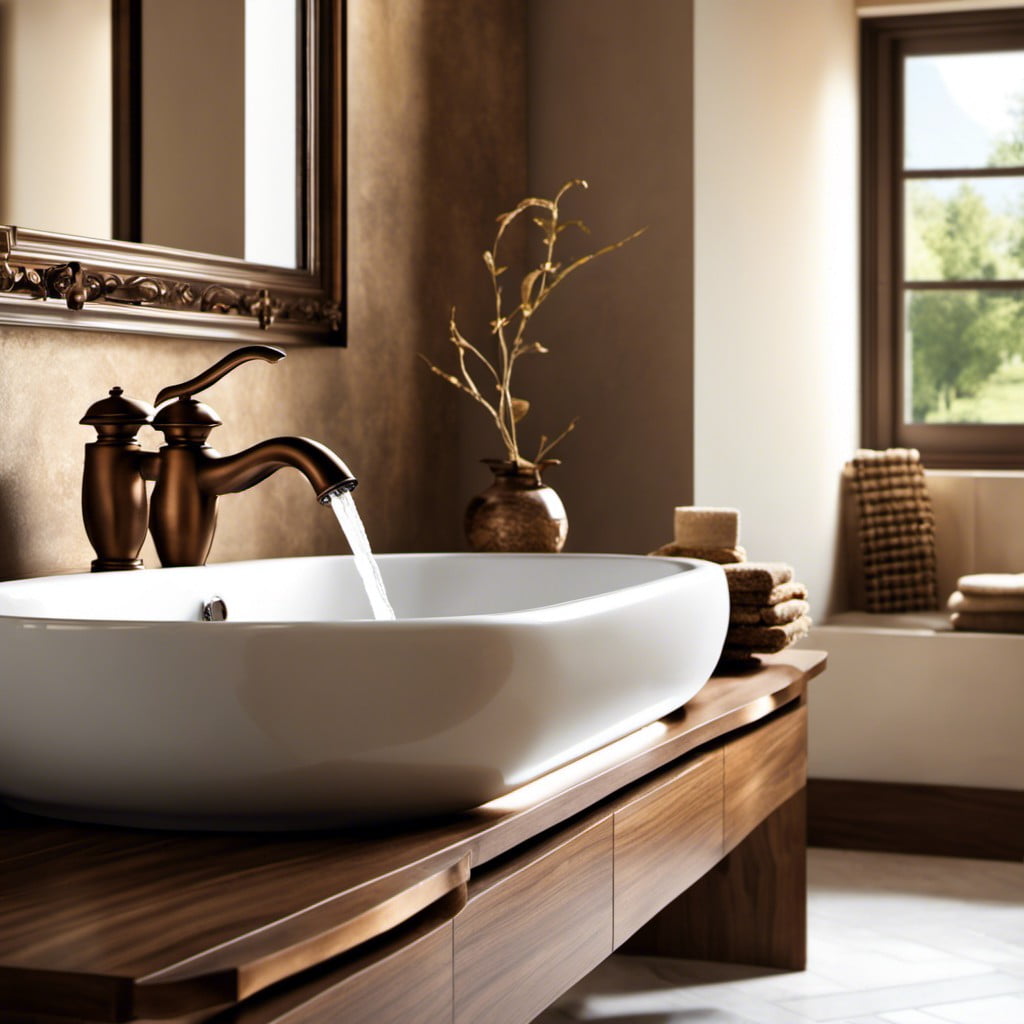 Integrating bronze faucets into your bathroom allows for a smooth blend with the Tuscan aesthetics. Relishing in its old-world charm, bronze faucets deliver a rustic yet majestic touch to the room.
The fine craftsmanship etched onto the faucet's surface lends an artistic flair, complementing the Italian countryside ambiance.
With their robust and durable nature, they shift from mere functionality to elegant art pieces, making a statement. In terms of practical maintenance, the longevity of bronze fixtures shines through, easily withstanding humidity and steam.
Opt for styles with simple, timeless detailing to truly encapsulate the spirit of Tuscany in your bathroom sanctuary.
Consider the aging process of bronze, which gives it a patina that enhances its beauty over time. Bronze faucets, when paired with warm, earthy tones, add a dash of refinement and an unmistakable touch of Tuscan elegance.
Vine-themed Decor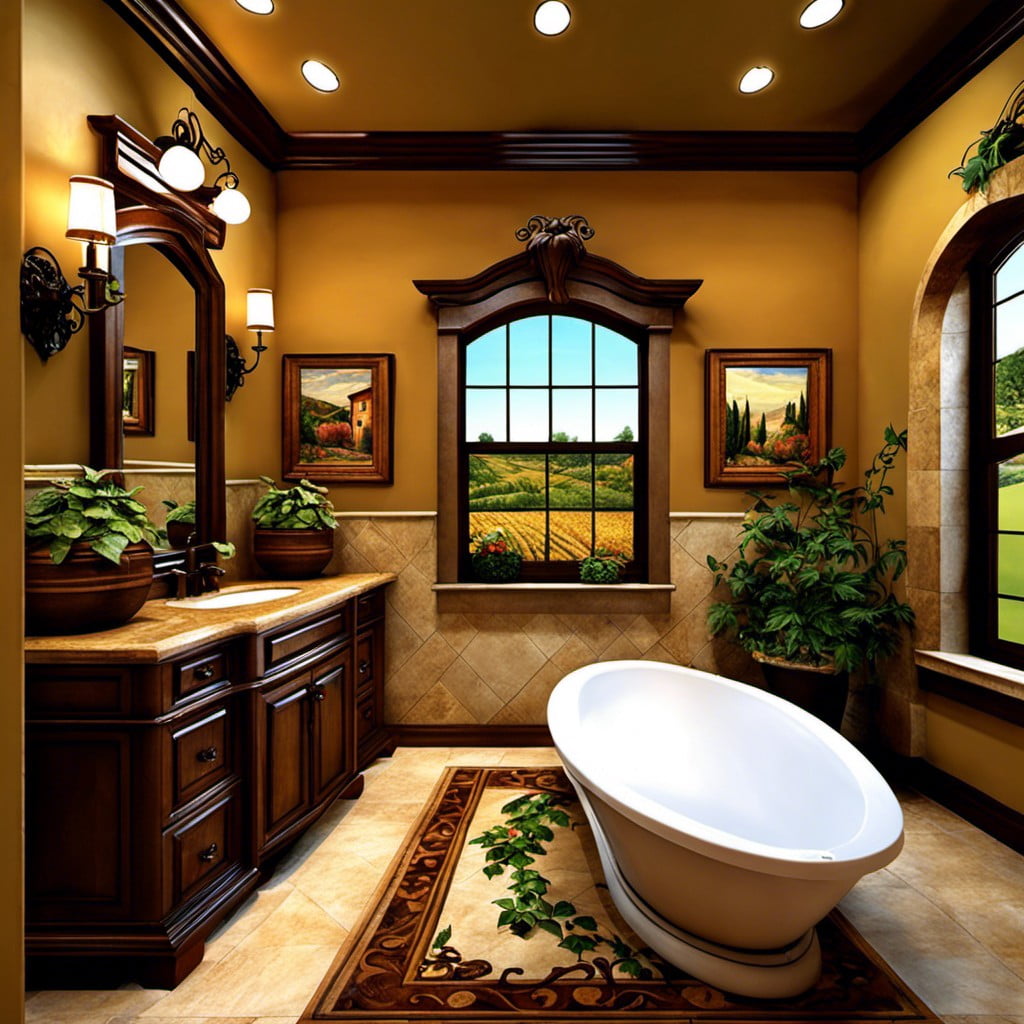 Integrating elements of nature can truly elevate your styled Tuscan bathroom. Engulf the space with a feeling of serenity and elegance by employing tasteful vine-themed accents. Consider these ideas:
1. Create a focal point with a wrought iron vine-patterned wall decor. It adds a vintage charm without being overwhelming.
2. Use vine-embroidered towels for a more refined touch.
3. A shower curtain imprinted with a tasteful vine design can give your bathroom a coherent theme.
4. Consider a vanity mirror framed with winding vines. Not only will it serve its duty, but also act as a statement piece.
5. Decorative soap dispensers or dishes designed with grapevines can add a subtle, stylish flair.
6. Vine-patterned ceramic tiles, either for the floor or walls, make for a captivating visual.
7. Don't forget hardware like cabinet knobs, switches, or outlet covers, where vine motifs offer a final cohesive detail.
Employing these vine-themed elements wisely will introduce an organic sense of the Tuscan charm to your bathroom.
Continue reading:
Recap