Last updated on November 26, 2023
Dive into the world of stylish interiors because wooden tile bathrooms offer a unique blend of rustic charm and modern elegance that can make your home stand out.
As the author and creator of these 23 unique wooden tile bathroom designs, I genuinely hope you find them as inspiring and enjoyable to explore as I did in creating them.
Wooden tiles can infuse a warm, natural aesthetic into your bathroom, creating a calming sanctuary. This article will explore numerous wooden tile bathroom ideas, from the selection of the perfect shade and pattern to the most suitable layout and finishing touches.
Whether you're leaning towards a rustic theme or a more contemporary style, we've got you covered. By the end of this read, you'll have a comprehensive understanding of how to transform your bathroom using wooden tiles, including the best practices for maintenance and longevity.
So, let's dive right into the world of wooden tiles and the magic they can bring to your bathroom.
Rustic Wooden Floor Tiles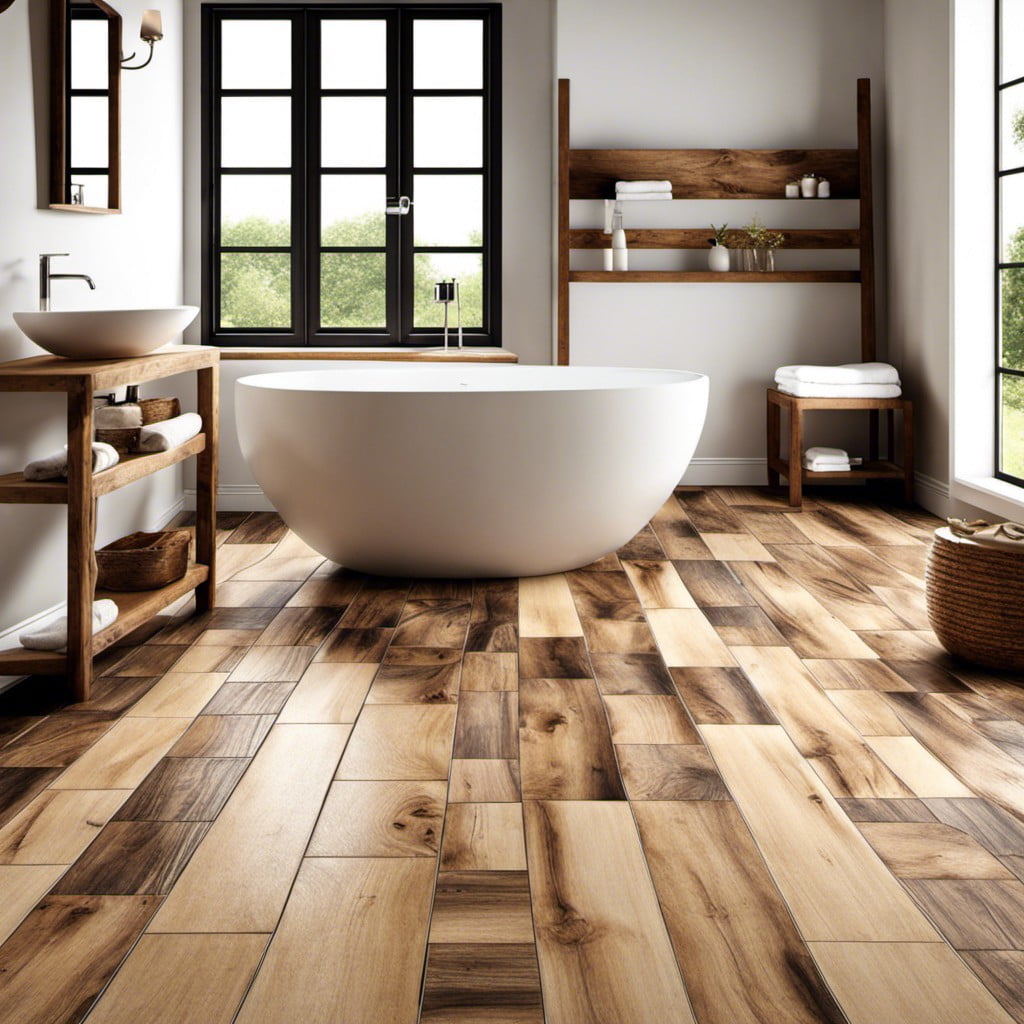 Rustic wooden floor tiles, available in a variety of shades and finishes, can infuse a warm, natural vibe into your bathroom. Known for their distinct knots and grain, these tiles bring the rawness of nature indoors.
Careful selection of tiles' hue can complement your overall color scheme. For instance, warmer colors can harmonize with a white bathroom suite, while cooler shades can accentuate modern chrome fixtures.
Anti-slip finishes are a practical consideration for wet areas. With sealant treatments, these tiles withstand moisture, preventing damage and prolonging life. Regular care, involving sweeping and mopping, helps maintain tile quality and appearance.
Vibrant floor rugs can offer a pop of color, and also prevent water accumulation on the tiles. Remember, with diverse patterns and shades, every rustic wooden floor is unique to its home!
Wooden Tile Wall Backsplash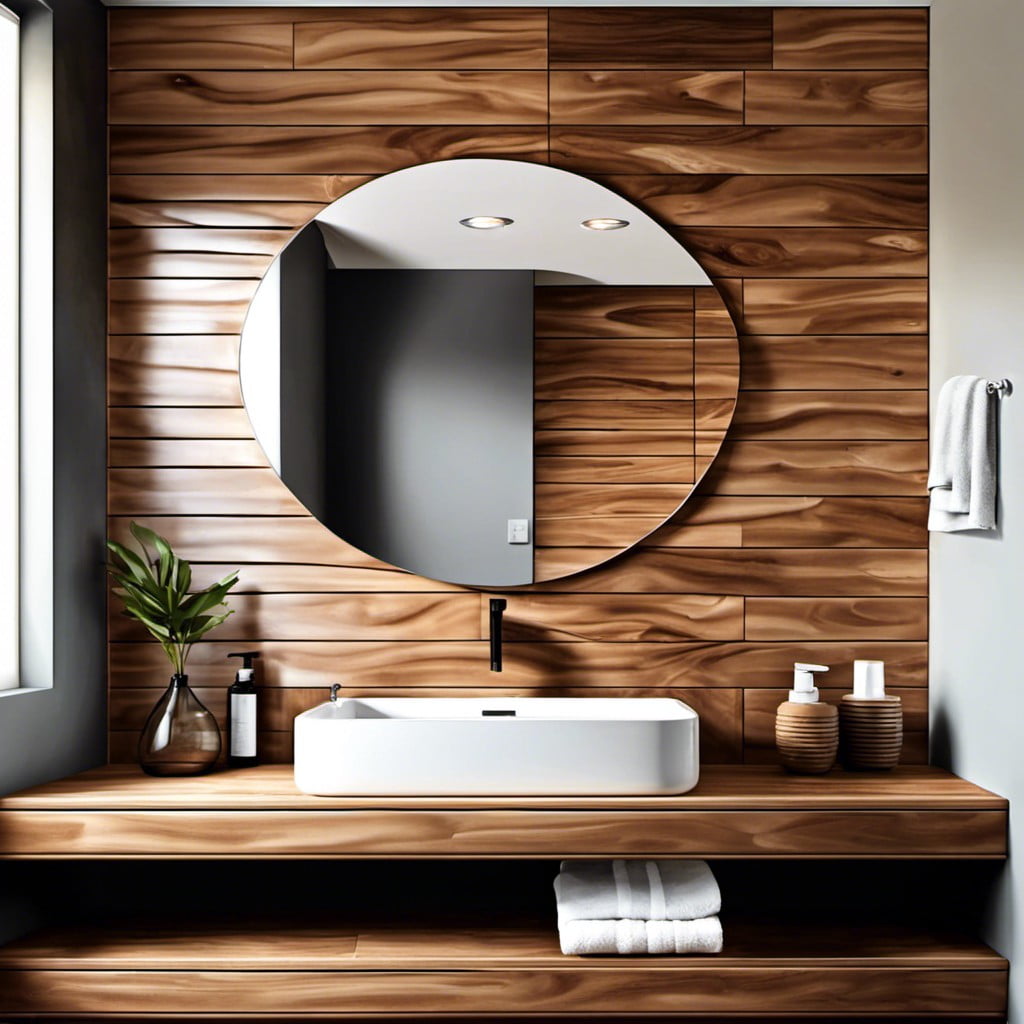 Opting for a wall backsplash in your bathroom offers a plethora of gorgeous design options and adds an extra layer of protection against moisture. When using wooden tiles, this feature not only brings in an earthy, rustic aesthetic but also tends to be easier on the budget than luxury materials like marble or granite.
Here are three important elements to consider:
1. Material Type: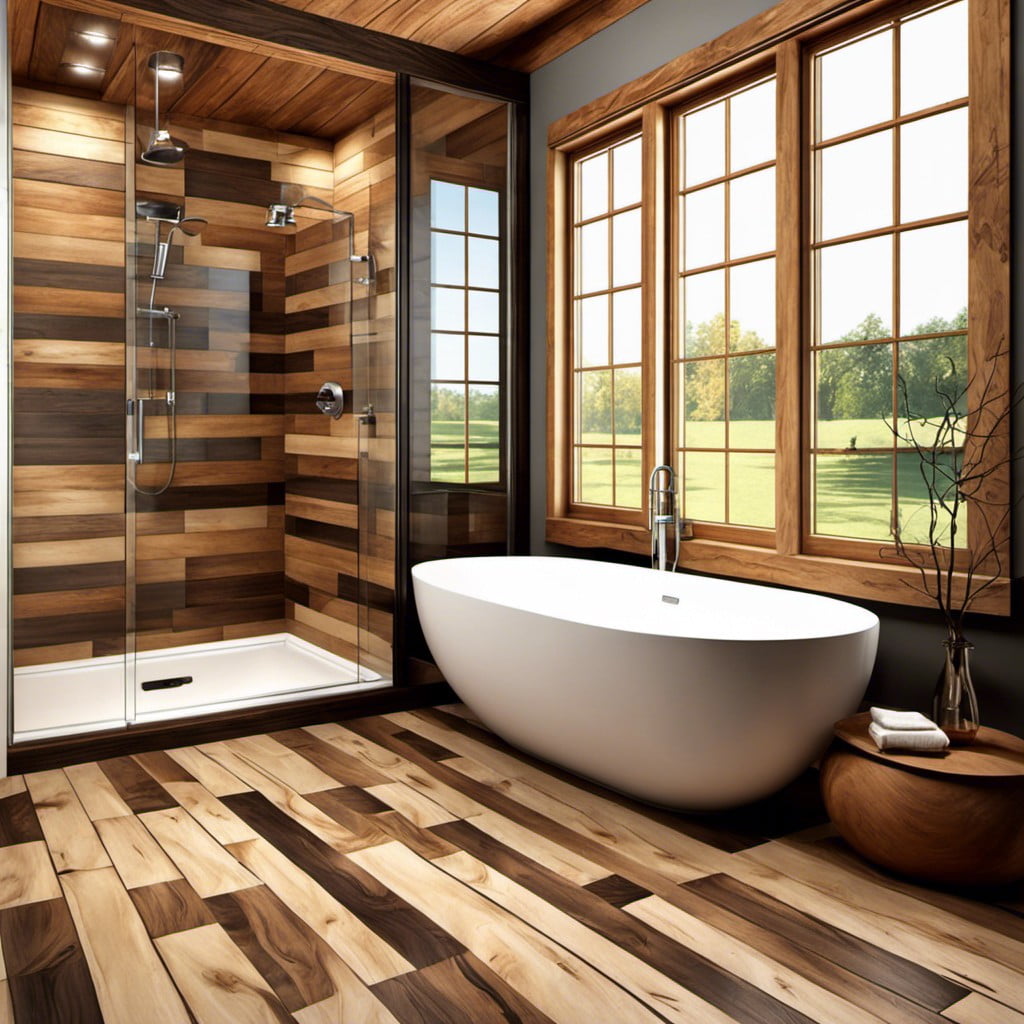 While pure wood can be used, many opt for ceramic or porcelain tiles with wood-grain finishes to combine the stunning look of wood with the durability and water resistance of ceramic.
2. Color and Texture: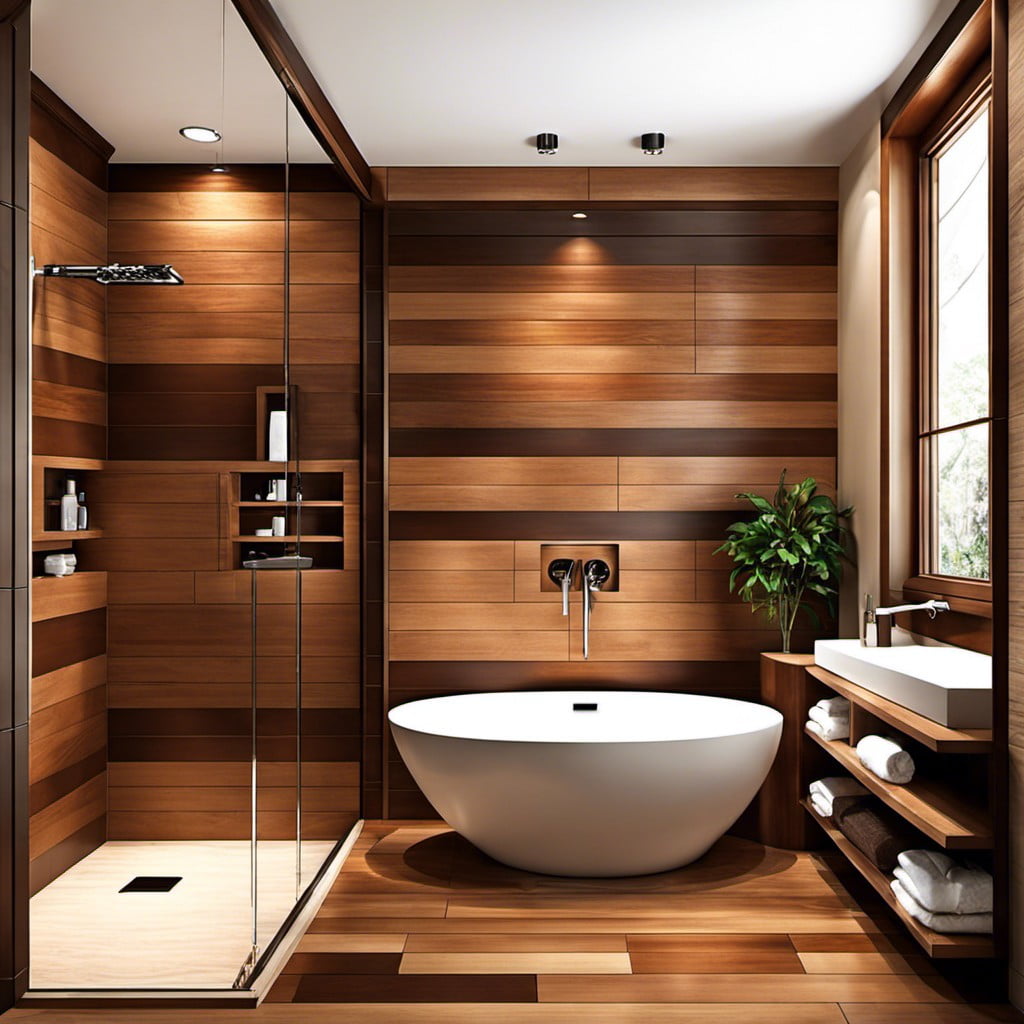 Backsplashes can become a significant decorative element, so consider what colors and textures will complement the overall aesthetic of your bathroom. A light, smooth tile might create a serene and clean atmosphere while a rough-textured, dark wood finish adds depth and warmth.
3. Design Patterns: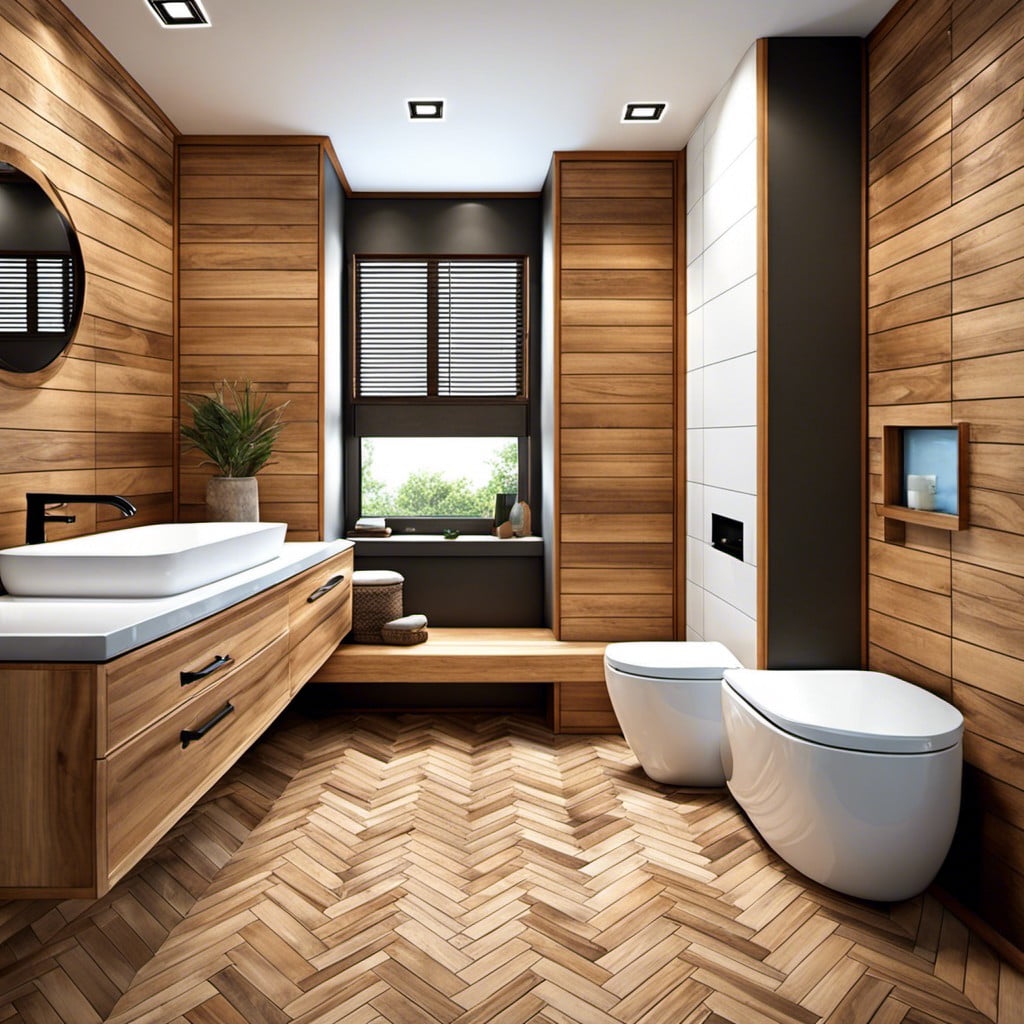 Straight-laid and subway styles can deliver a minimalist, modern look, while more intricate patterns such as herringbone or chevron bring in an element of unique sophistication. Your choice will largely depend on the existing design scheme and personal taste.
Remember, your backsplash should be functional but that doesn't mean it can't be stylish and captivating. When done right, a wooden tile wall backsplash brings a unique charm to your bathroom that can express your personality and artistic flair!
Faux Wooden Ceramic Tiles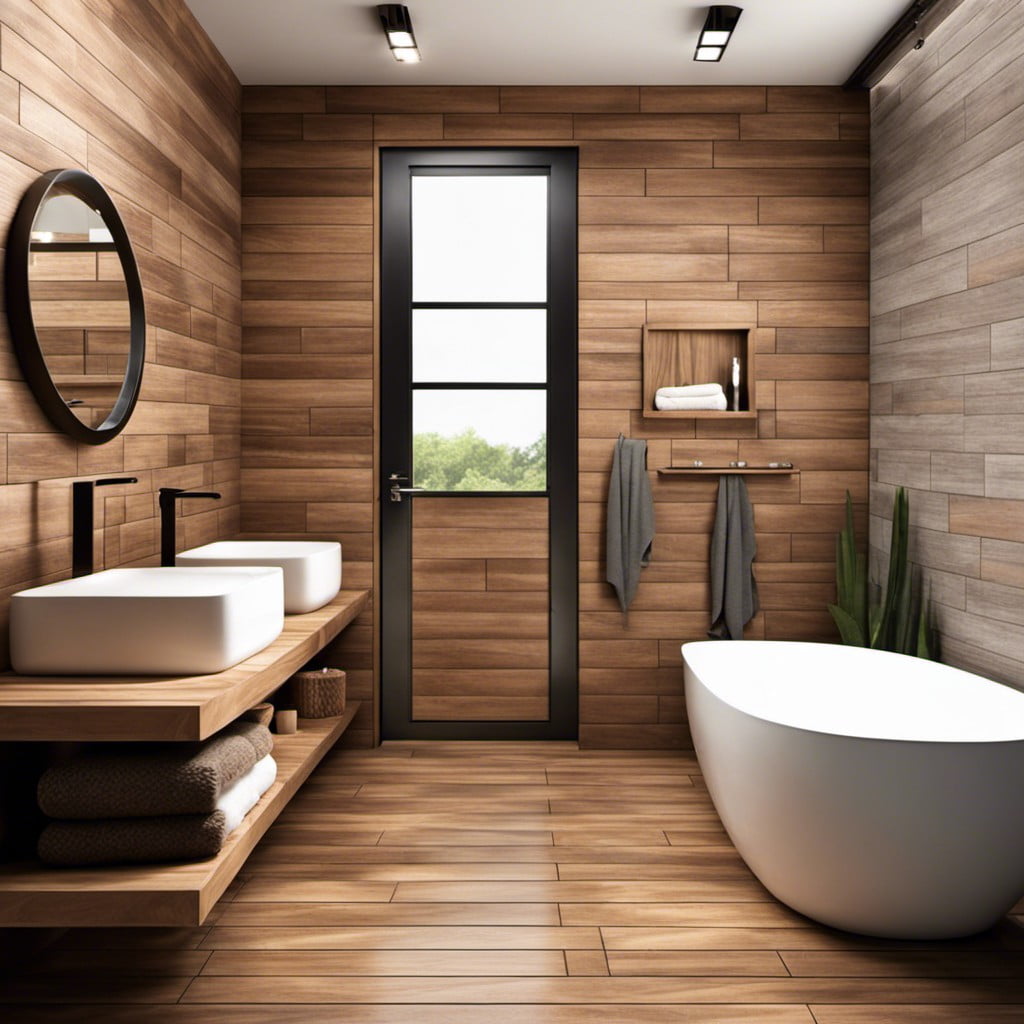 Offering the warmth and rustic appeal of wood without the fuss, faux wood ceramic tiles have become a beloved favorite for bathrooms. These tiles are resistant to water and easy to maintain, taking away the major cons of real wood. With an extensive variety in styles, hues and grains, replicating everything from mahogany to weathered driftwood is effortlessly possible.
Combining the best features of wooden aesthetics and ceramic durability, they make a suitable choice, especially for damp-prone areas around sinks and shower enclosures. Contrasting rustic faux wooden tiles with sleek, modern fixtures can create an intriguing blend of classic and contemporary. For a touch of luxury, pair high glossy faux wood tiles with gold or brass hardware. A faux wooden tile bathroom can be a cozy sanctuary that fuses the charm of nature with practicality.
Light Wooden Panels for Bathroom Ceiling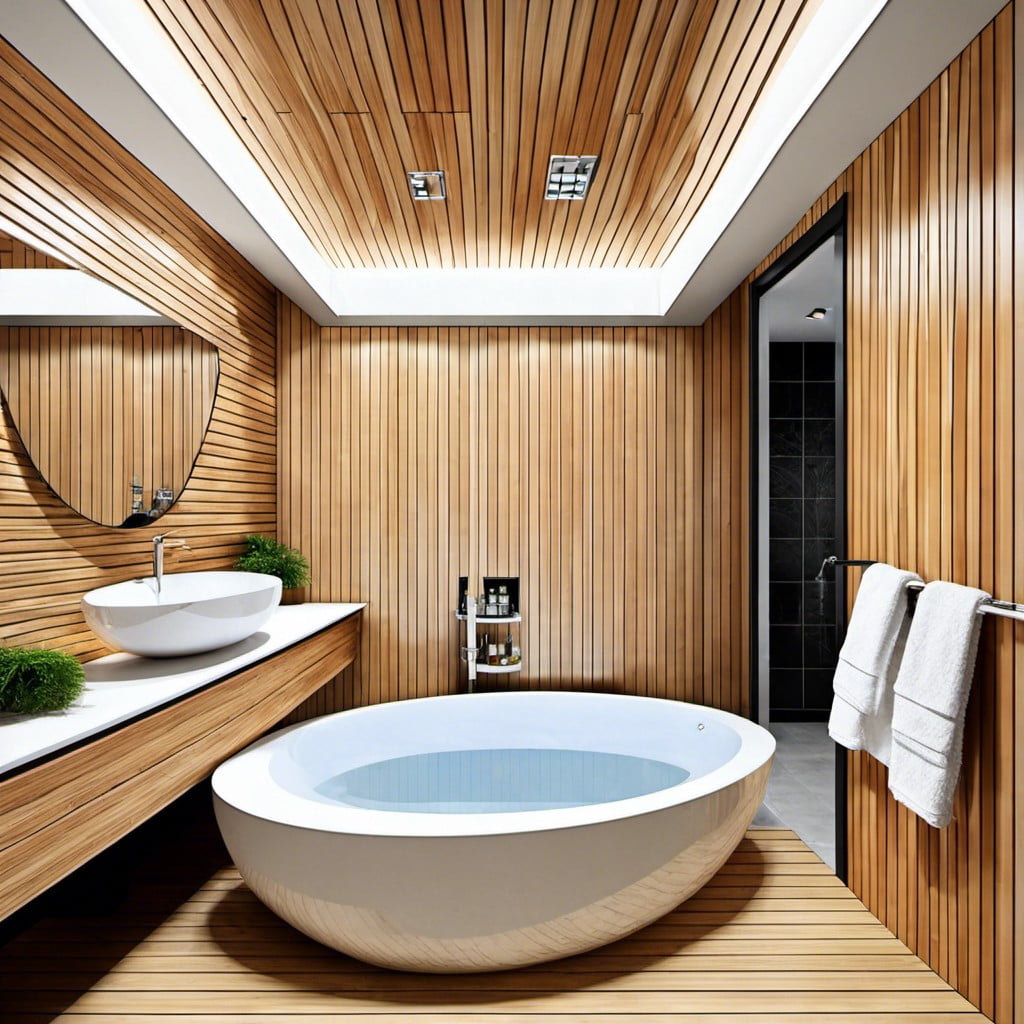 Enhancing your bathroom ceiling with light wooden panels can introduce warmth and attention towards the often-overlooked fifth wall. These panels, often made from materials such as pine, cedar, or birch, are not just aesthetically pleasing but also durable, retaining their charm even in high-humidity conditions.
Choosing a light color accentuates a sense of height and space, making the bathroom appear larger. It also casts a soft, inviting glow that can transform your bathroom into a tranquil oasis.
Ensure to seal these light wooden ceiling panels with a moisture-resistant product to further increase their lifespan and maintain their pristine appearance. Mixing styles, such as pairing these panels with contemporary fixtures or classic subway tiles, can result in a well-rounded design that is trendy yet timeless.
Wooden Tiles Arranged in a Herringbone Pattern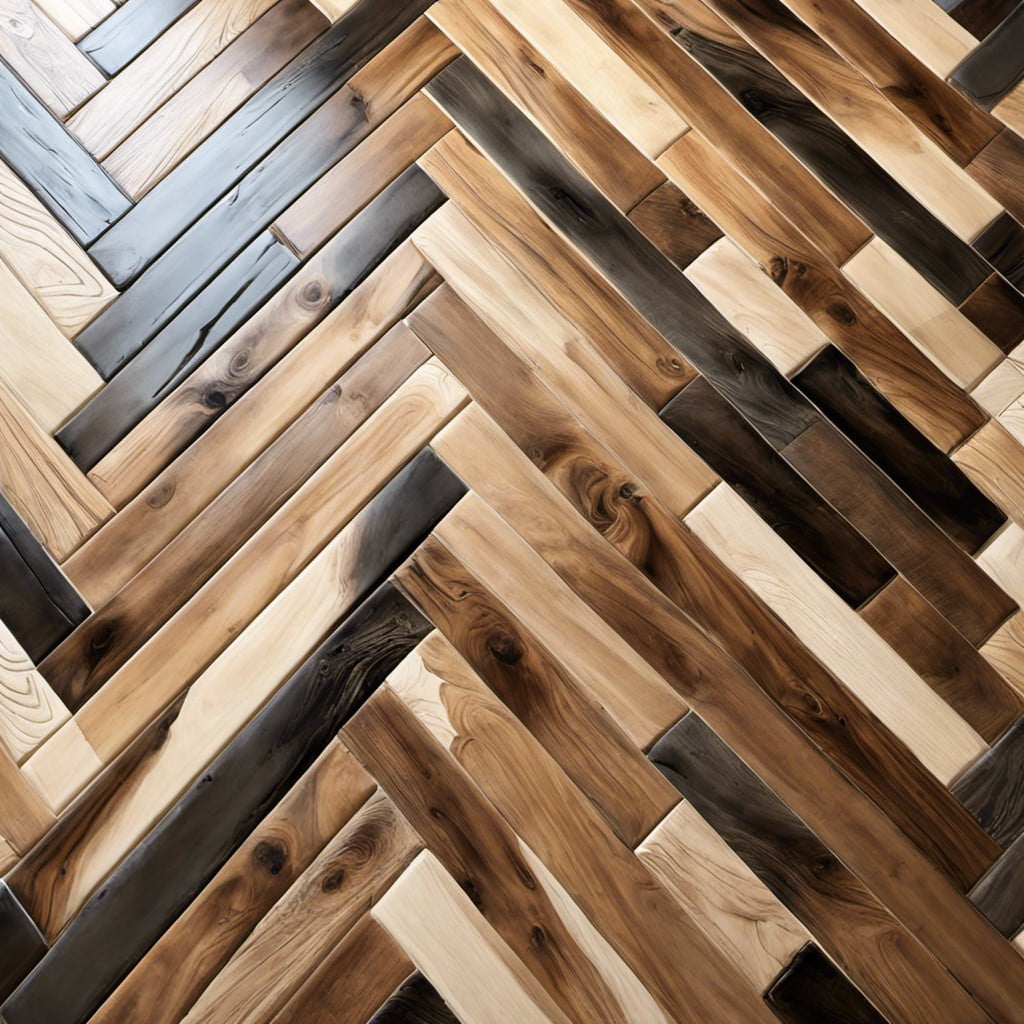 Giving your bathroom an extra dimension, the herringbone pattern lays wooden tiles in an interlocking V-shape. The result is a visually striking geometric design that draws the eye. This unique arrangement does not simply add depth, it also plays with light and creates a sense of movement.
1. Angle Precision: Install the tiles at precise 45 or 90-degree angles for a clean, sharp pattern. Precision in angles ensures the uniformity of the pattern and adds a touch of sophistication.
2. Aesthetic Versatility: Play with the color contrast, it can shift the bathroom ambiance from modern to rustic. A high contrast will pop out the Herringbone pattern, while a low contrast can give a subdued elegant look.
3. Color Consistency: Try to maintain a consistent color palette to maintain the flow and coherence of the overall design.
4. Professional Installation: This pattern tends to be more intricate and complex to lay out than a typical straight set or stack bond, considering a professional for installation might be beneficial.
Start with the pattern, work out the color and contrast, and with a professional's help, you'll have a bathroom that exudes style and sophistication.
Distressed Wooden Tile Accents for a Vintage Feel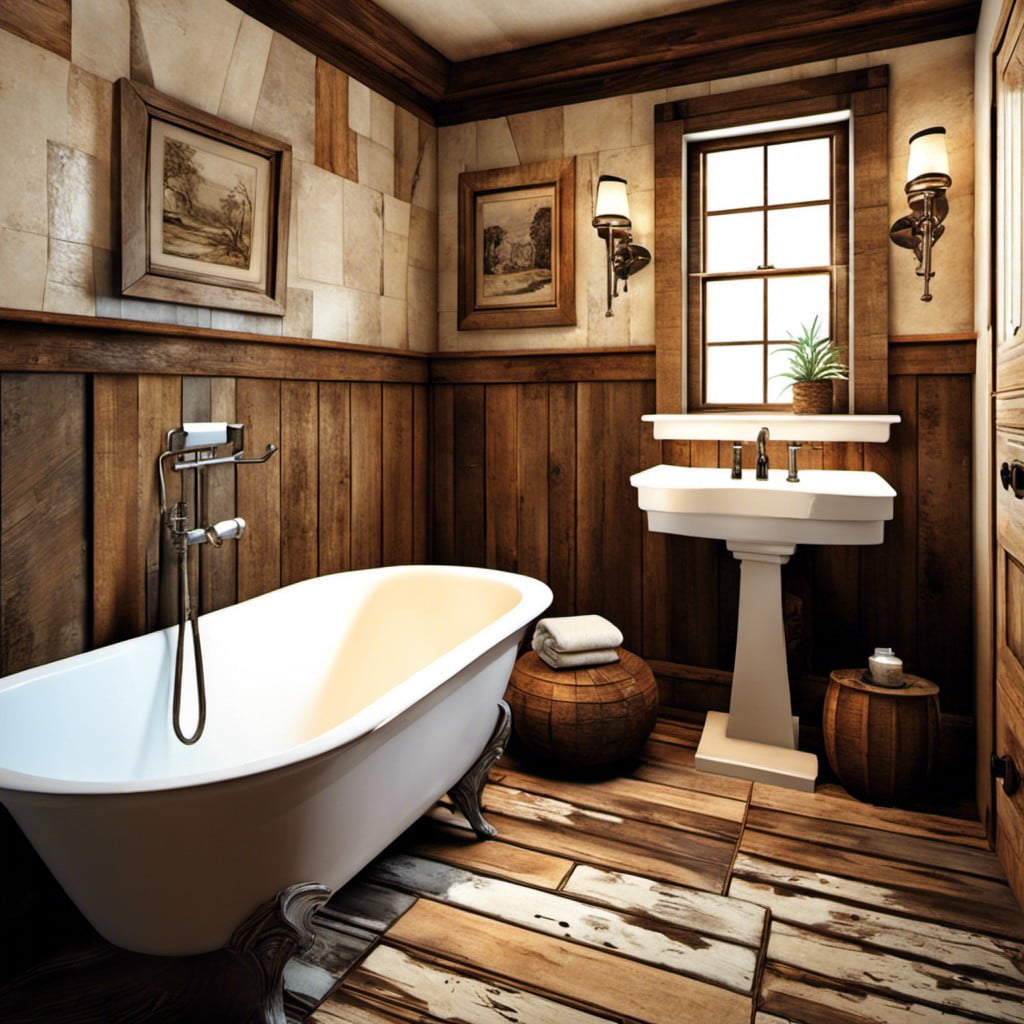 Installing distressed wooden tiles brings a hint of nostalgia and charm to the bathroom. Here are some transformative insights to achieve this:
Opt for tiles with a weathered look: This gives an age-old feel, reminiscent of a well-loved, rustic farmhouse.
Add a classic clawfoot tub: Pair your distressed wooden tiles with a vintage-styled tub to enhance the old-world feel.
Combine with antique fixtures: Bronze or brass taps and handles complement distressed tiles, reinforcing the vintage aesthetic.
Accent with retro accessories: A gilt-framed mirror, a retro pendant light, or a vintage ottoman can pair beautifully with distressed wooden tiles.
Use shades of white: A whitewashed effect on distressed tiles can inject freshness into the space, thus balancing the vintage vibe.
Remember, the ultimate goal is to create a harmonious balance between the distressed tiles and the overall theme of the bathroom.
Contrast Dark Wooden Tiles With White Fixtures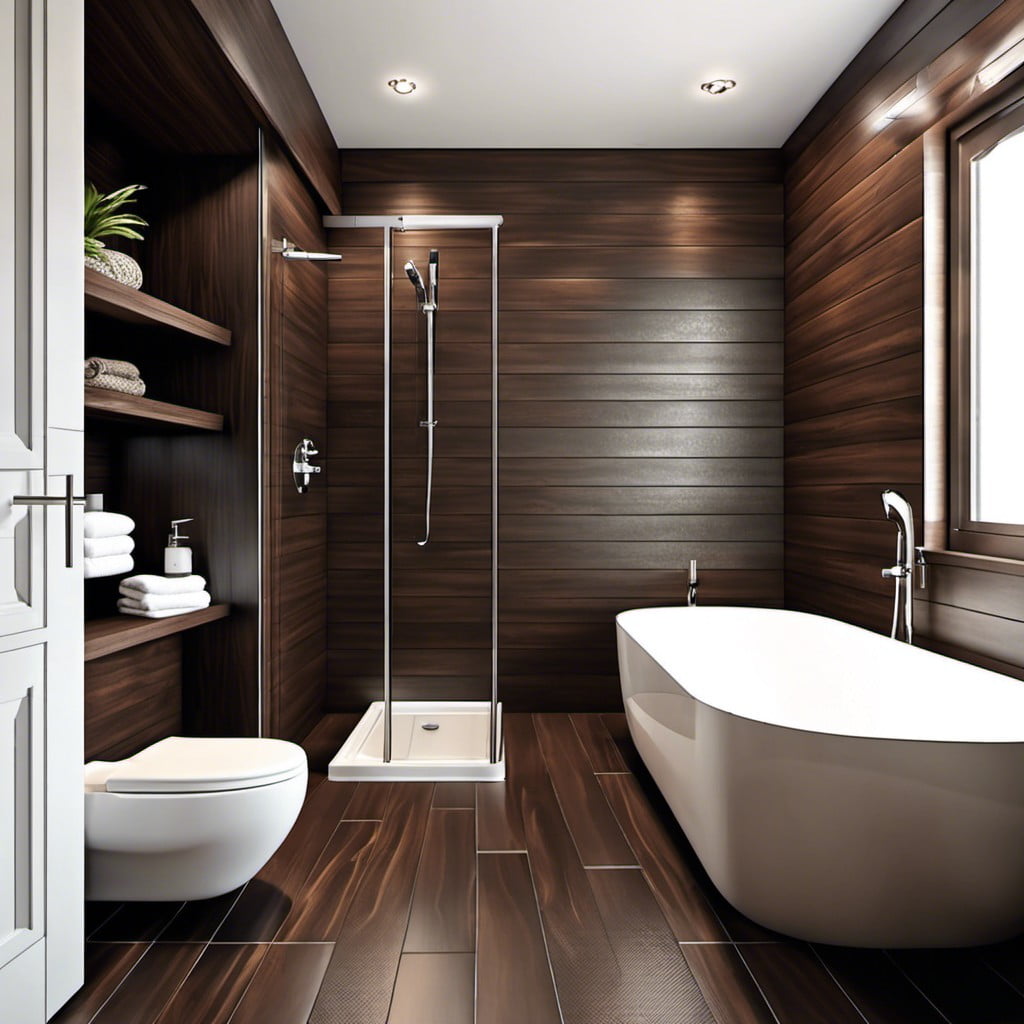 Start by selecting dark wooden tiles that exude a sense of depth and warmth. Opt for a walnut or mahogany tone for the perfect blend of sophistication and comfort. White fixtures, on the other hand, serve as high-contrast elements, lighting up the space while enhancing the wood's natural grain and texture.
Try a pure-white bathtub against a wall of dark wooden tiles, or place a sleek white sink atop a wooden tiled countertop. A pure white toilet against the darker backdrop makes a stylish and modern aesthetic statement. The contrasting white fixtures also assist in maintaining a fresh and clean ambience, which is essential for a bathroom.
For a unified look, scatter in white accessories like towels, soap dispensers, and decorative vases. Alternatively, to warm up the space, opt for brushed gold or bronze fixtures. Consider also the use of lighter wooden elements like a bamboo bath mat or teak shower seat, to keep the theme cohesive.
Remember, it's all about balance. Don't hesitate to play around with your hue intensity until you find the combination that feels right for you. This is a versatile design motif that can easily be tailored to suit your individual style and bathroom size.
Mix Wooden Tiles With Stone Tiles for a Nature-themed Bathroom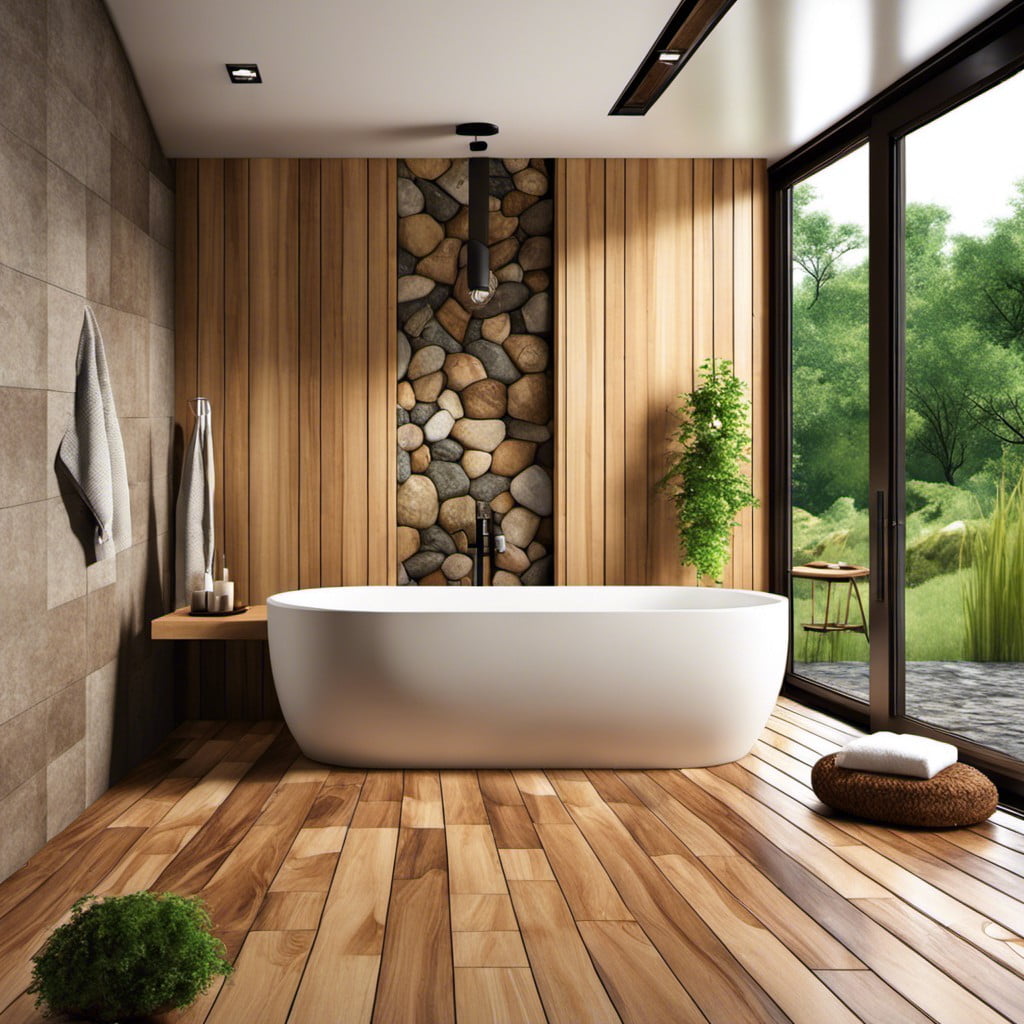 Balancing two natural elements in your bathroom decor can create a calming and welcoming aesthetic. First off, explore tiles that mimic wooden grains in warm tones. These can work well on either the floor or the walls.
Secondly, introduce stone tiles into your bathroom decor, maybe with a natural slate look.
Consider covering the shower walls with stone tiles to serve as a stark contrast against the wood tiles. This combo can create a feeling of stepping into a serene forest or mountain getaway every time you enter your bathroom. You can also experiment, placing a section of stone tiles as an accent splashback behind the sink or creating a stone tiled border along the edge of the room.
For an extra sense of tranquility, play with earthly tones in your choice of wooden and stone tiles. Combine diverse textures to create a tactile, multi-dimensional feel. This appealing mixture not only adds to the overall style but also to the functionality of the bathroom. Remember, part of the beauty of natural design is in using variations of pattern and color to your advantage.
Sleek, Glossy Wooden Tiles for Modern Style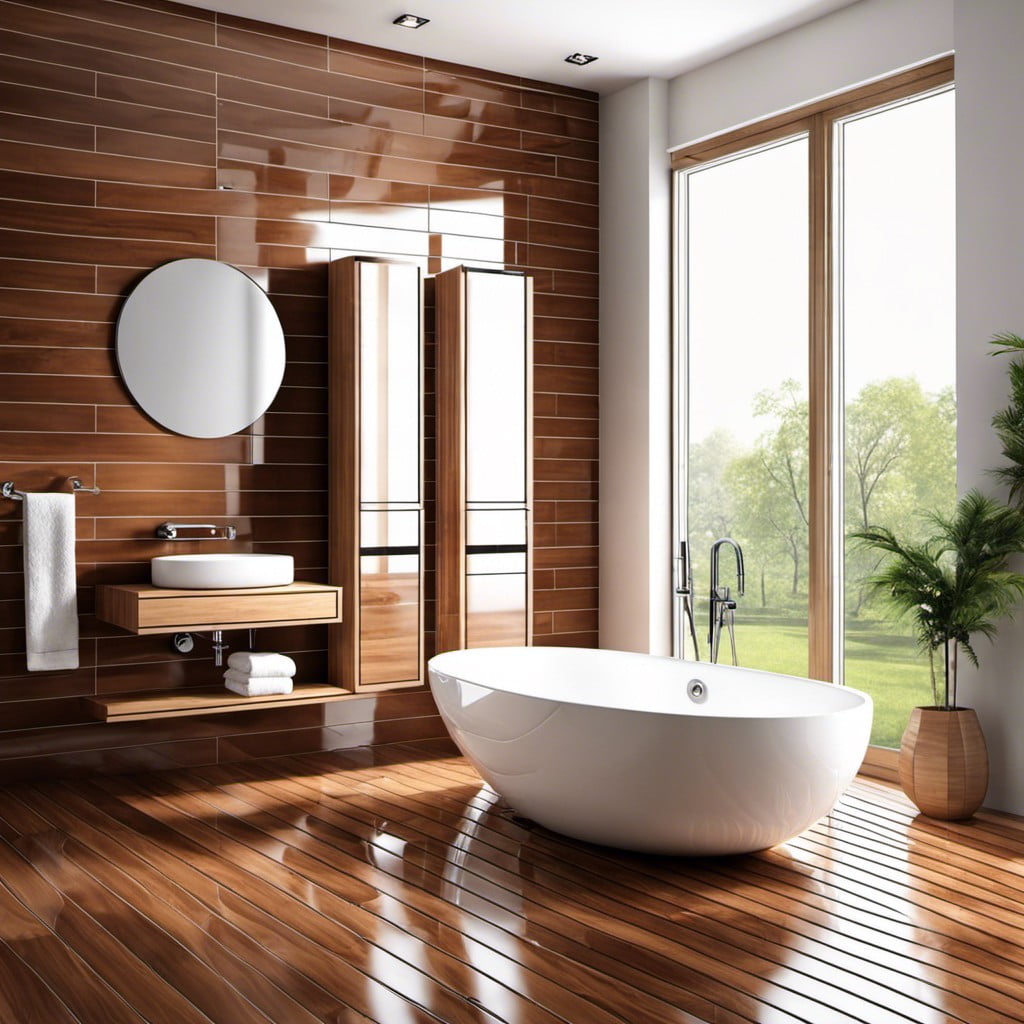 Incorporating sleek, glossy variants into your bathroom design can instantly elevate its overall aesthetic appeal. These have smooth surfaces that reflect light gracefully, offering a pristine, high-end look that is exemplary of contemporary design.
They are also less porous, offering superior resistance against water and mold, ensuring longevity in damp environments. To capitalize on their modern vibe, pair them with minimalist fixtures, monochrome palette, or even vibrant color splashes for a touch of boldness.
Further, their gleaming surface can amplify smaller spaces, making them an excellent option for compact bathrooms. Remember, a bit of shine can certainly go a long way in styling your bathroom to perfection.
Grid-patterned Wooden Floor Tiles
A grid pattern does wonders in lending structure and an understated sophistication to your bathroom. To achieve this look, lay down your tiles in straight lines, neatly aligning each one to form a perfect square grid. It's all about crisp edges here! Not only do the patterns highlight the beauty of the wood, but they make the area appear larger and more organized.
This style works best with contrast – consider lighter colored tiles on a darker grout. The stark difference lends an edge to the design, making it visually striking. If seeking a warm and homely feel go for a tone-on-tone look. Your choice of tile largely depends on the rest of your decor – opt for a gloss finish for modern spaces, or a weathered look for rustic charm. One neat trick: use grout a shade darker than your tile. This subtle contrast visually outlines each tile, accentuating the grid pattern.
Lastly, maintain a balance. Varying tile sizes can disrupt the uniformity of the grid, so stick with a uniform size throughout. Remember, continuity is key to nailing this trend!
Match Wooden Tiles With Wooden Countertops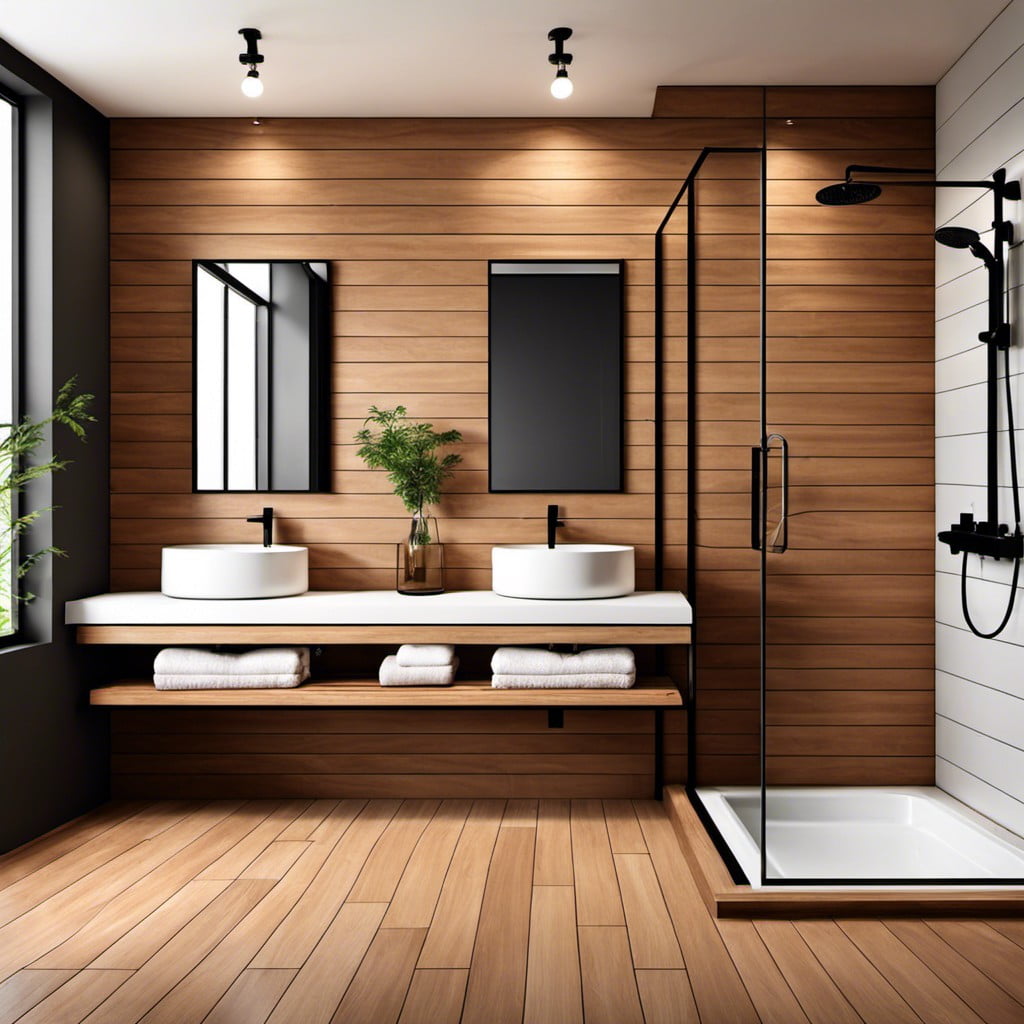 Perfect harmony can be achieved by pairing your tiled surfaces with countertops in a similar wood grain. This gives your bathroom a warm, cohesive aesthetic, turning it into a calming, spa-like space.
1. Select countertops that closely match your tile: This will create a unified look and make your bathroom appear larger and more inviting.
2. Consider durability: Wood-looking quartz or laminate can offer the same aesthetic, with increased resistance to water and moisture.
3. Use the same wood tone for more than just countertops: Extend it to cabinets or open shelves to accentuate the expansive wooden theme even further.
4. Play with texture: A polished countertop combined with rough, weathered tiles can create a dynamic, tactile experience.
5. Balance with light tones: If you've chosen dark wood, include lighter elements in your bathroom design, such as cream towels or a white sink, to avoid an overwhelming dark look.
Remember, your ultimate aim is a seamless charm that can zap away everyday stress with its tranquil appeal.
Dark Wooden Tiles With Underfloor Heating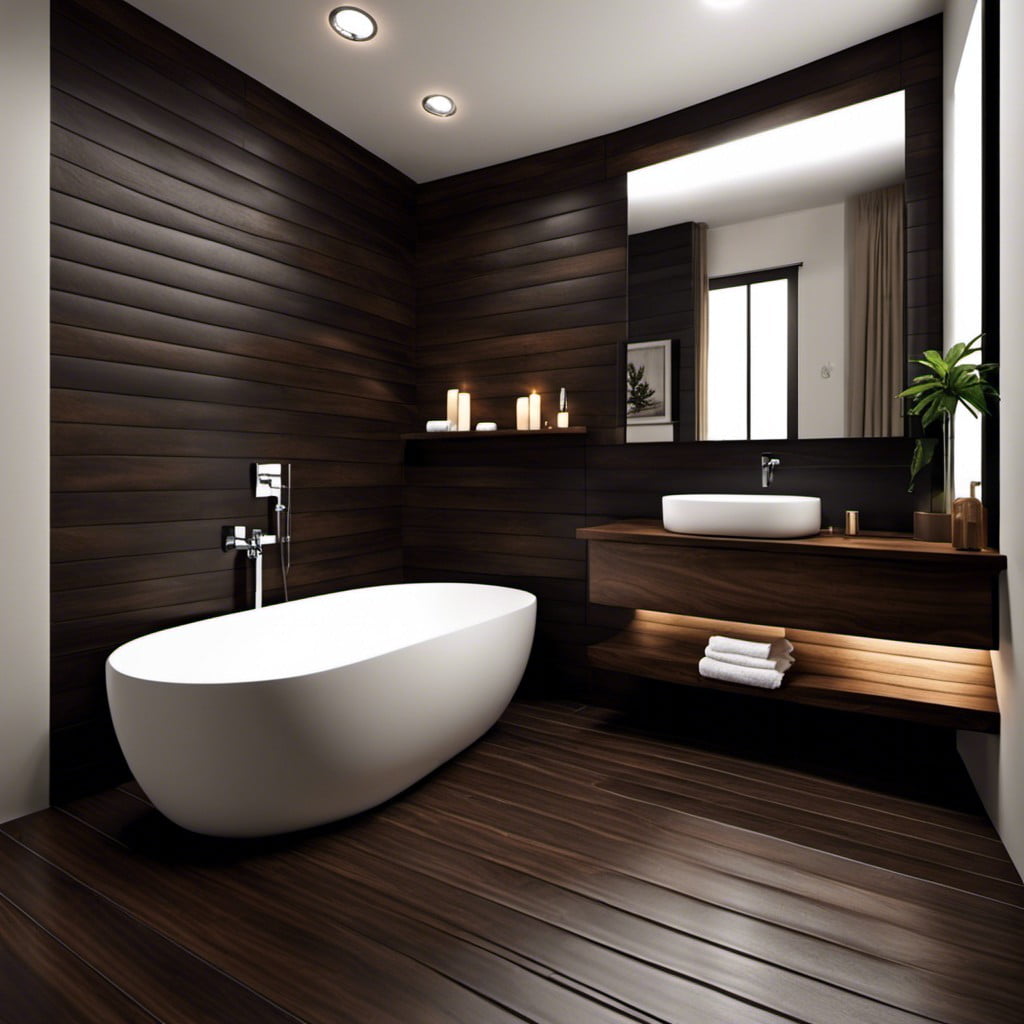 While the charm of dark wooden tiles is undeniable, adding underfloor heating truly amplifies the aesthetic and comfort level. A few things to take into account:
1. Heat Transfer: Wood is a natural conductor of heat, ensuring your floors stay toasty during colder months.
2. Setting: Most underfloor systems come with user-friendly controls to adjust the temperature as desired, providing customized comfort.
3. Durability: Dark wooden tiles resist fading and maintain their rich tones despite the heat, a true testament to their robustness.
4. Energy Efficiency: Underfloor heating evenly warms up the room while providing energy savings in the long run.
The combo not only anchors your bathroom design but also ensures frosty mornings are a thing of the past!
Wooden Tiles for Built-in Bathroom Shelving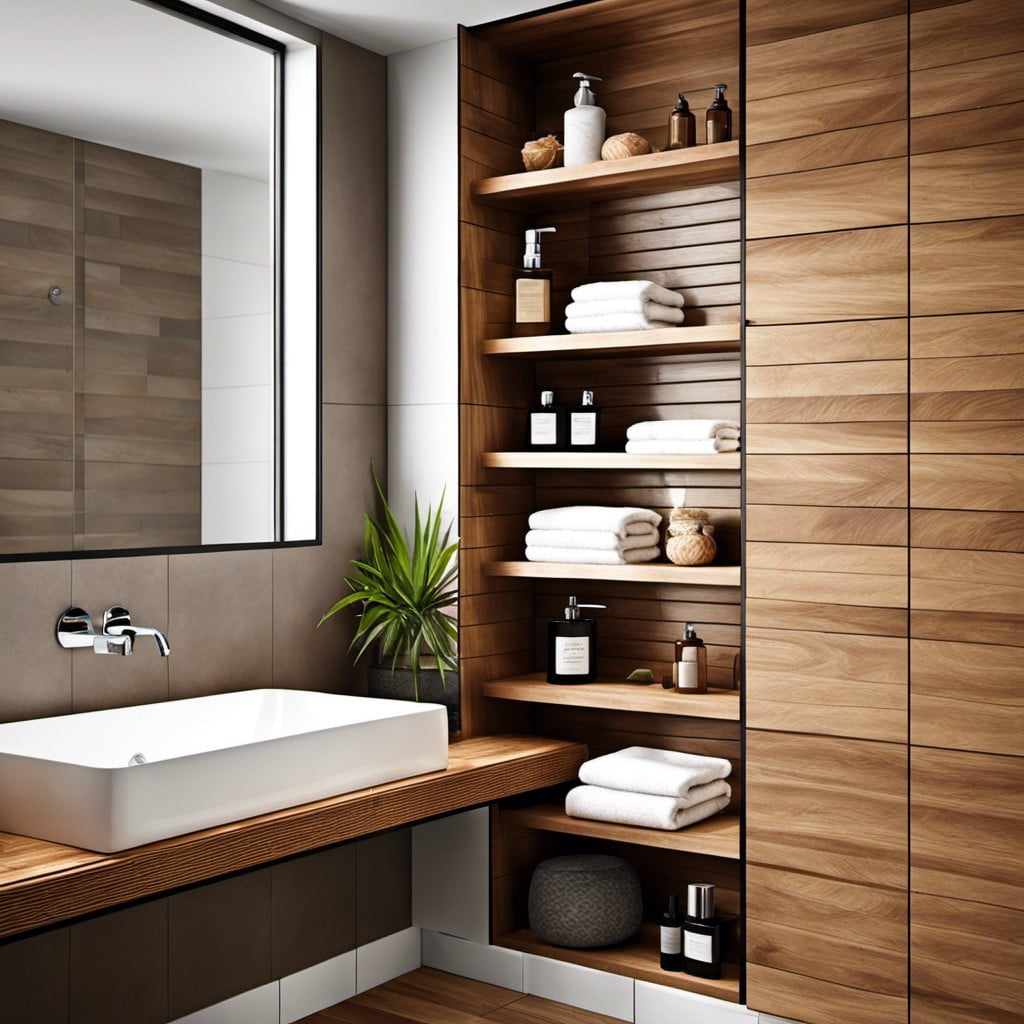 Built-in shelving takes on a whole new design when adorned with wooden tiles. They offer a rich, inviting look without compromising the functionality of the shelves. Here are a few key points to keep in mind:
1. Choose the right tile: Ensure your tile choice complements your existing bathroom decor. A weathered finish can add character, while a polished, more refined tile can bring a sense of luxury.
2. Tile size matters: Depending on the width and height of your shelves, adjust your tile size. Smaller tiles work better for narrow shelves, larger tiles for wider ones.
3. Seal it: Bathrooms are damp spaces. Always opt for a waterproof sealant to protect your wooden tiles from damage.
4. Mix and Match: Don't be afraid to mix different colors or patterns of wooden tiles on your shelves. This can add depth and personality.
5. Add Lighting: If your shelving is robust, consider incorporating small spotlights. The lights will illuminate the wooden tiles, creating a warm, cozy ambiance.
Reclaimed Wood Tiles for Eco-friendly Bathrooms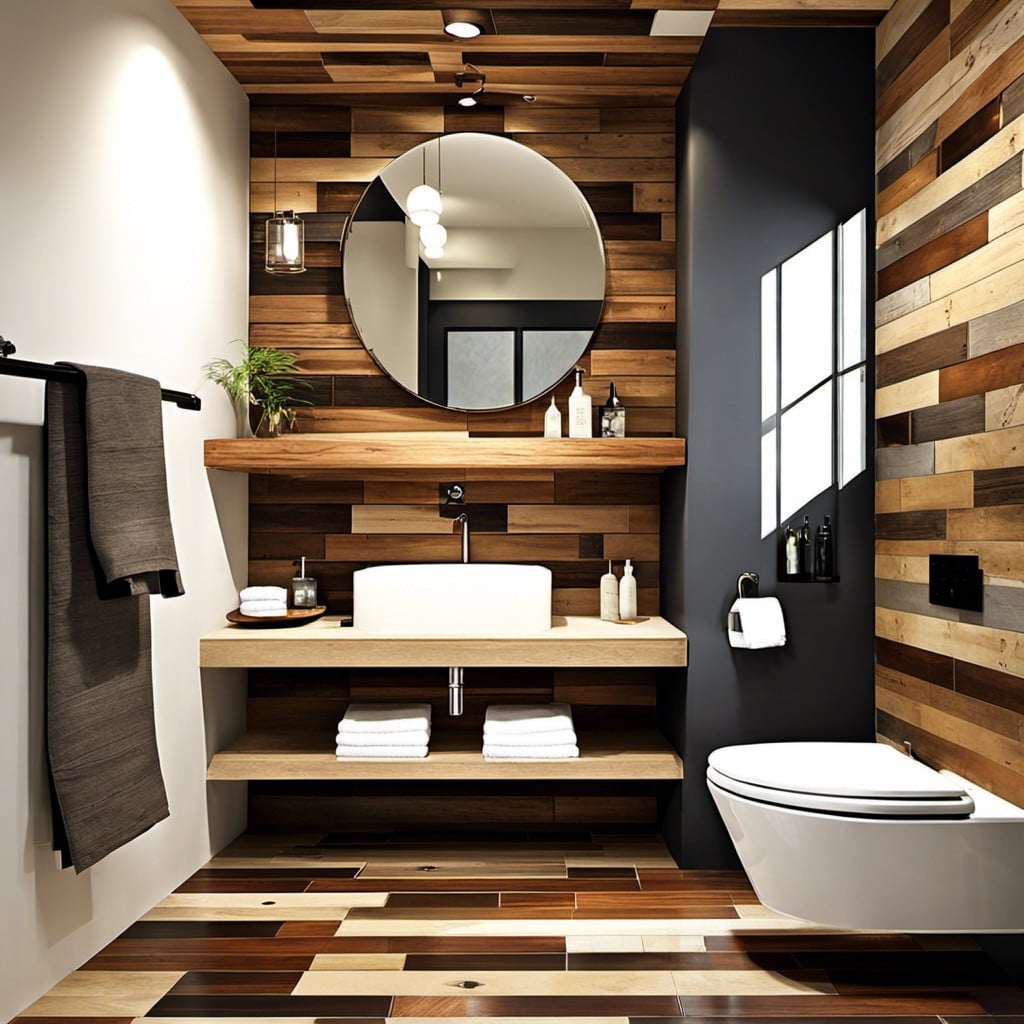 Incorporating reclaimed wood tiles in a bathroom adds a character-filled touch while embracing the eco-friendly movement. These tiles offer a unique fusion of rustic and refined, creating a comforting yet stylish environment.
Here are a few noteworthy tips to blend this sustainable choice into your decor:
1. To maintain balance, pair these tiles with modern fixtures. The juxtaposition creates a pleasing, fresh aesthetic.
2. Consider adding a clear topcoat to these tiles. This helps to protect them from water damage and highlights the natural grain and texture.
3. If walls appear too rustic, alternating the wooden tiles with smoother tiles in a similar shade can soften the look. You can achieve a pattern or random distribution based on your preference.
4. For added interest, use reclaimed wood tiles of varying colors and grain patterns. This visually enriching look amplifies the ambiance.
Remember, reclaimed wood adds history, warmth, and charm while reducing your global footprint. It's a winning pick for those passionate about sustainable design and individualistic style.
Wooden Tiles in a Chevron Pattern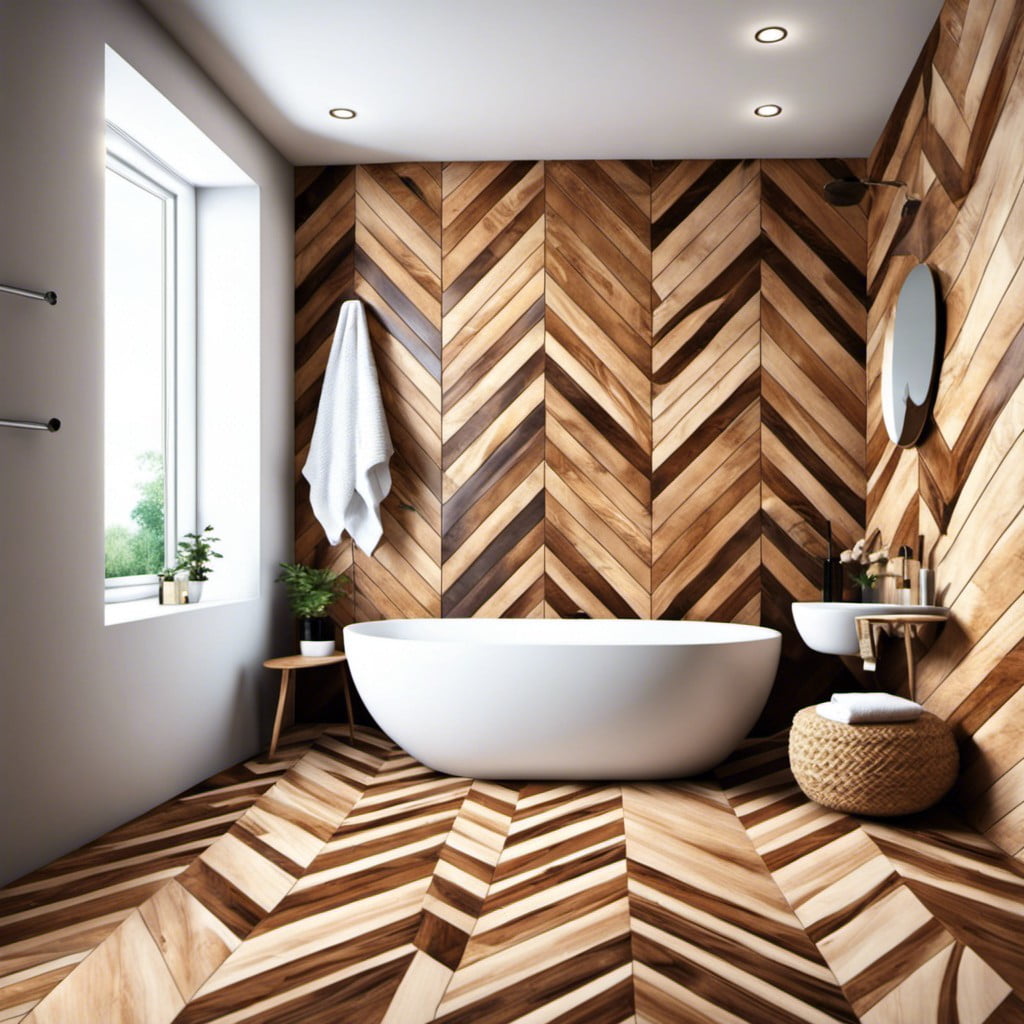 A chevron pattern instantly elevates the aesthetics of the bathroom, adding a hint of sophistication. It introduces fascinating geometry into the space, drawing the eye and creating a stylish point of visual interest.
1. Directionality: Chevron pattern lends a sense of directionality, creating an illusion of movement and space.
2. Adaptable: Whether used on walls or floors, this pattern offers versatility that complements a range of bathroom styles.
3. Aesthetic: The chevron pattern can be understated or bold, depending on the color and texture of the wooden tiles used.
4. Versatility: While it's commonly used for a vintage vibe, it's equally effective in modern bathroom designs, depending on the finish of the wooden tiles.
5. Installation: The pattern requires angled cuts, so it's essential to have a skilled tile layer.
In planning your chevron-patterned bathroom, remember these tips to ensure a successful design.
Wooden Tiles With a Maritime Finish for a Coastal Feel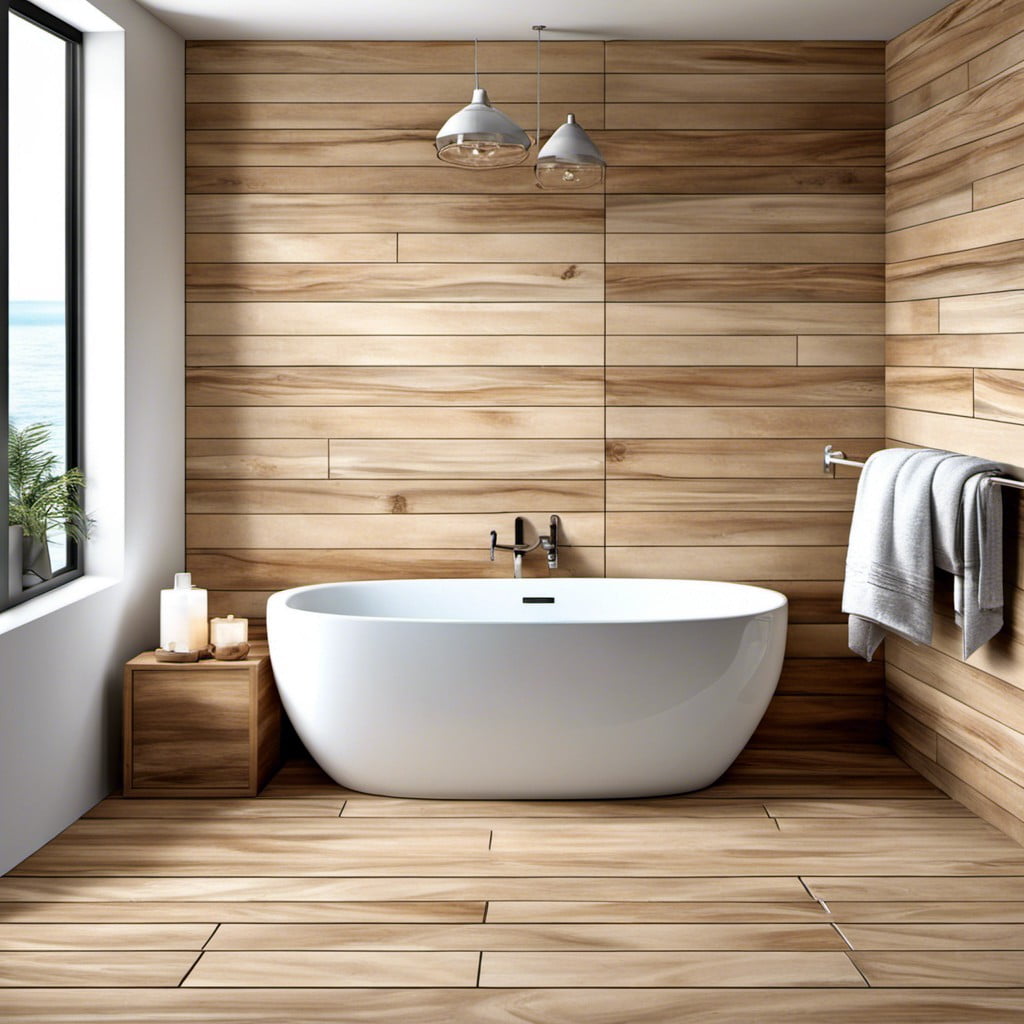 For conjuring up a coastal vibe, maritime finish on wooden tiles offers an exceptional solution. The charm of this finish lies in the weathered and washed-away texture it provides, resembling the well-worn decks of beachfront cottages and ships.
First, select from shades of blue, white, and natural wood to echo the colors of the beach. Texture is paramount with this approach – a rough, grainy texture adds authenticity to the maritime look.
Be cautious with the choice of fixtures and accessories. A great idea is to stick to simple, functional pieces in metal or rustic materials to maintain the seaside theme.
Consider incorporating coastal motifs subtly. Rope designs, anchor imagery or shell shapes can be used in towel holders, drawer pulls, or lighting fixtures for a touch of oceanic flair.
Balance is the key. Too much of anything can make the bathroom look overly-themed. Find the right amount of weathered wood, maritime colors, and rustic elements for an elegant maritime feel that transports you straight to the seaside.
Contrast Light Wooden Tiles With Metallic Fixtures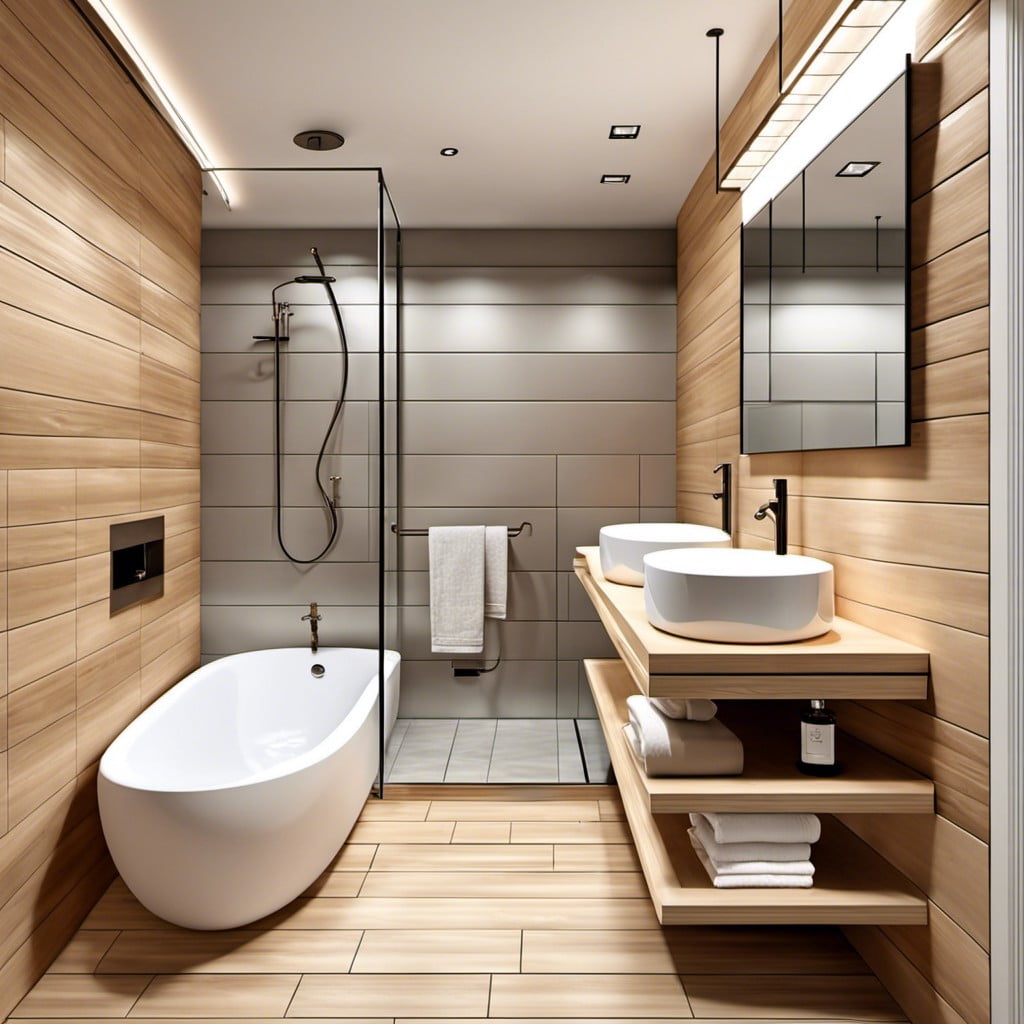 Emphasizing the innate warmth of light wooden tiles, adding metallic fixtures can bring a sophisticated edge into your bathroom space. Here are a few points that embody the concept:
1. Pick out fixtures that have a mirror-like shiny surface such as polished nickel, chrome or stainless steel to create a modern, sleek contrast against the grain of the light wooden tiles.
2. Opt for textures like brushed bronze or brass for a rustic, yet cozy aesthetic. These fixtures will still stand out, but offer a softer contrast, complementing the warmth of the wood.
3. Using metallics to accessorize further emphasizes this stylish contrast. Consider elements like towel rails, soap dispensers, and mirror frames.
4. Think about placement: centralized, eye-catching features like a metallic faucet can become a focal point against a light wooden tile backdrop.
5. Be mindful of lighting. The glow from metallic fixtures can heighten the light-wood contrast, providing a luxury touch.
Ultimately, merging light wooden tiles with metallic fixtures results in an interesting interplay of natural and industrial elements, creating a unique, diverse aesthetic to awaken your bathroom space.
Create a Wooden Tiled Feature Wall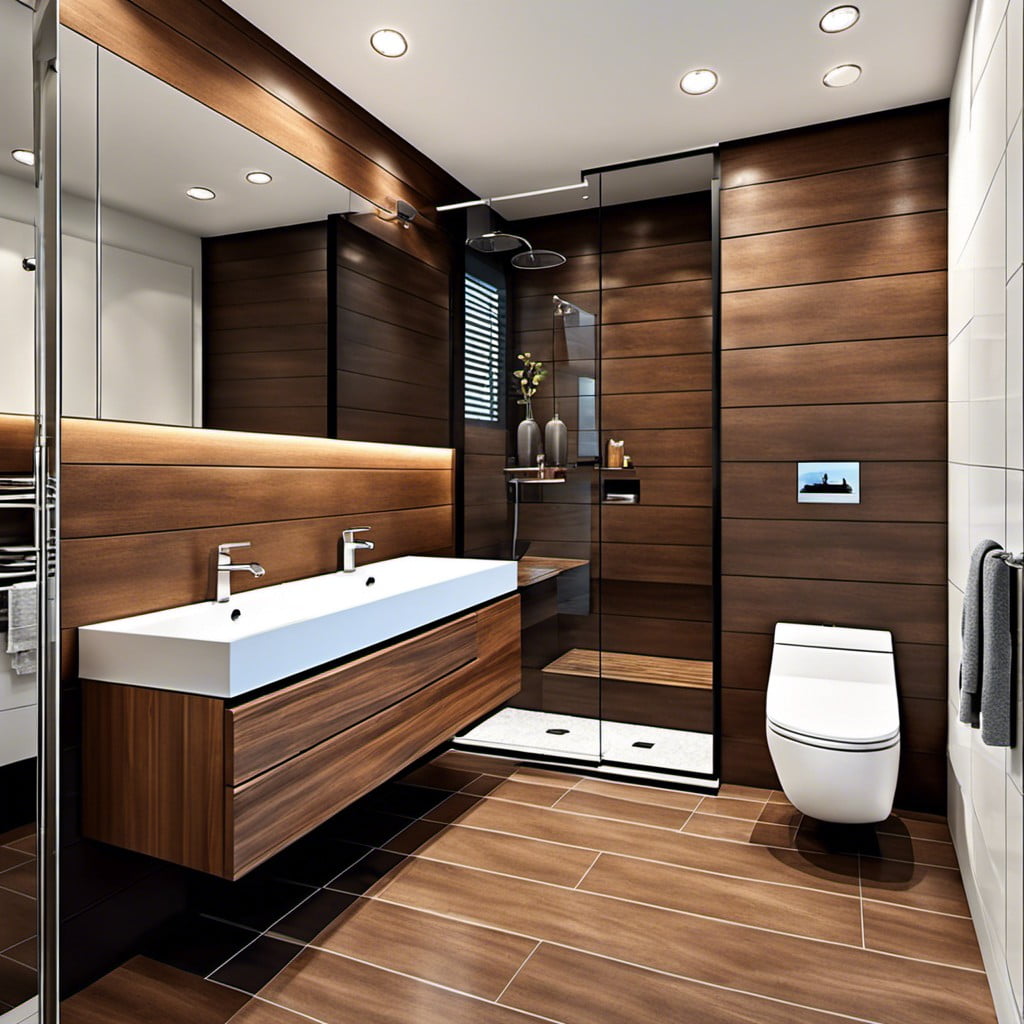 Opting for a feature wall in your bathroom can truly revolutionize your space. Consider utilizing wooden tiles to inject warmth and character into the area. The best part? You have complete creative freedom over the design.
Firstly, decide on the wall you'd like to transform; a popular choice is often the one behind the bathtub or the sink. Now, add your pick of wooden tiles. You could keep it sleek with uniformly cut, glossy wooden tiles, or perhaps you'd like to execute a slightly laid-back, rustic vibe with tiles of different shapes and sizes.
Remember, the style of your tiles can absolutely set the tone for the rest of your bathroom, so choose wisely. For instance, distressed wooden tiles can evoke a vintage feel, while shiny, dark mahogany tiles can turn your bathroom into a modern escape.
When matched with complementing fixtures and accessories, a wooden tiled feature wall will serve as a stunning focal point, adding depth, texture, and sophistication to your bathroom. The final result? A stylish and unique bathroom that stands out from the crowd. So, get creative with wooden tiles and watch your space transform!
Incorporating Wooden Tiles Into a Japanese-style Bathroom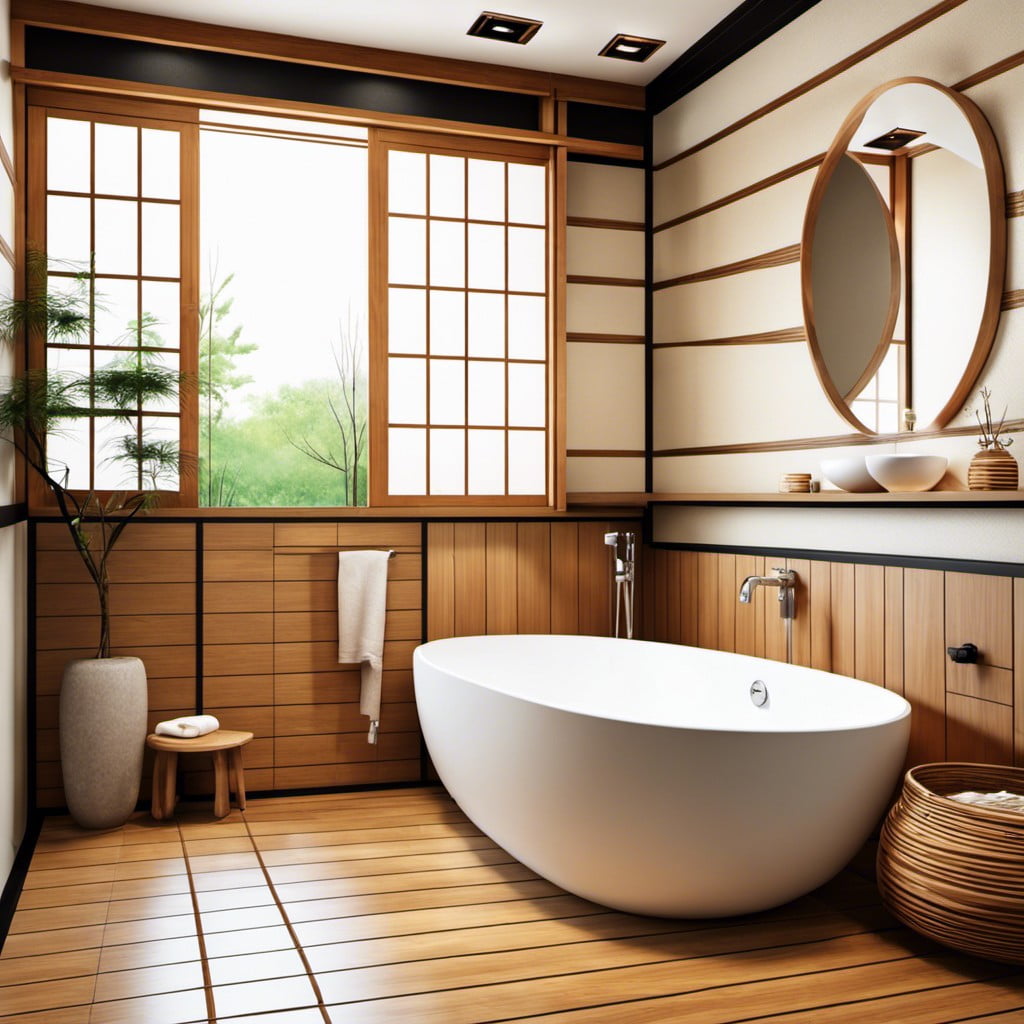 In Japanese decor, the emphasis often lies on a balance between simplicity and nature, accentuated by clean lines and minimal clutter. Start with airy, light-toned wooden tiles, preferably with a weathered finish, to infuse a sense of tranquility.
Next, consider the bathtub area. A platform made of the same wooden tiles, slightly raised from the rest of the floor, becomes an ideal location for a soaking tub. To go with the overall theme, opt for an oval or rectangular tub in a contrasting earthen tone.
The use of wooden tiles can extend to a feature wall. Here, you may opt for darker wooden tiles, creating depth and visual interest while lending a natural and organic feel. Complement this with a rectangular mirror with a slim, unadorned wooden frame keeping the focus on simplicity and minimalism.
Finally, consider incorporating a wooden tile slat window treatment. This allows control over the amount of diffused light entering the bathroom while maintaining privacy. The wooden slats tie in seamlessly with the wooden tiles, creating harmony and extending the Japanese aesthetic.
Remember, Japanese-style bathrooms thrive on the less-is-more philosophy. Avoid excessive fixtures and focus on maintaining open, uncluttered spaces. A bathroom decorated in this way not only makes a style statement but also provides a soothing retreat.
A Combination of Wooden Floor Tiles and Natural Greenery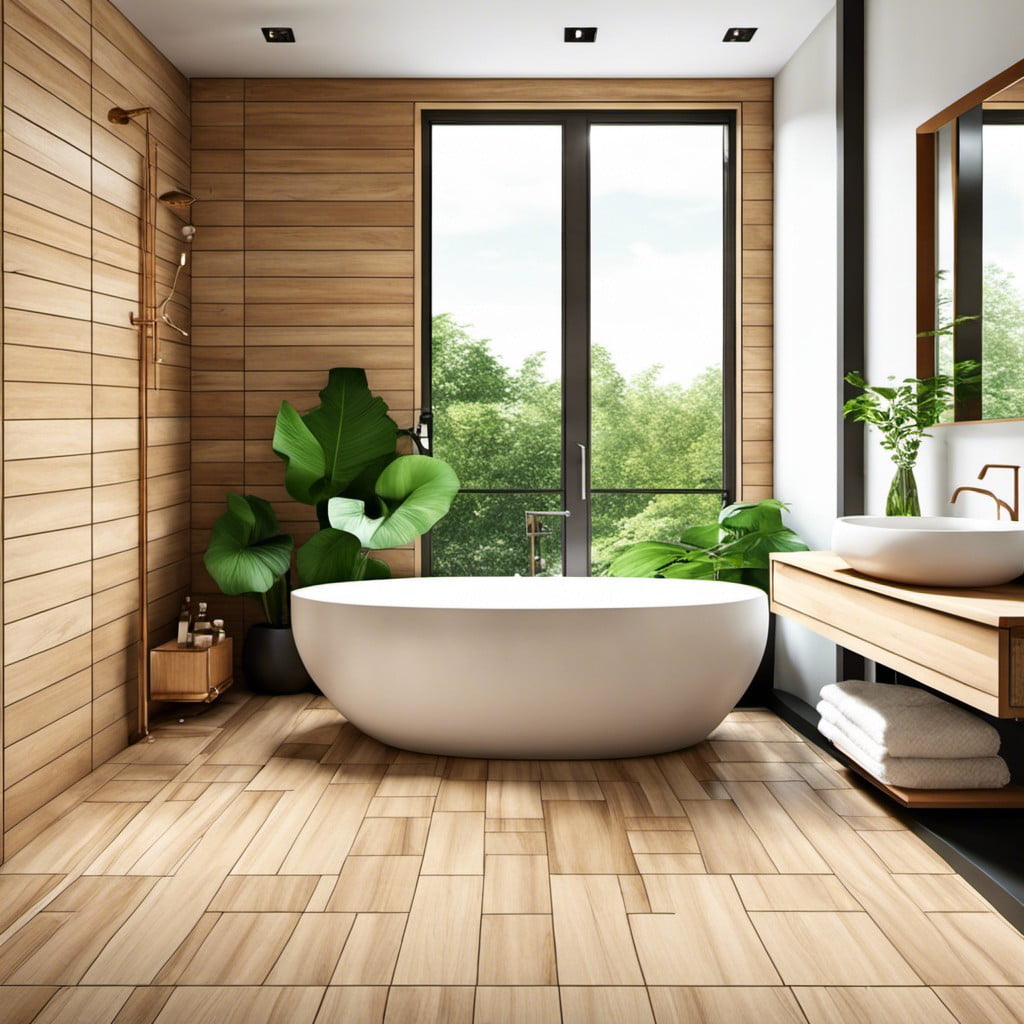 Green plants can enliven the natural tones of a wooden-tiled floor, establishing a calming and refreshing ambiance in the bathroom. Opt for low maintenance plants that thrive in high humidity environments. Consider ferns, orchids, or even aloe vera. For smaller bathrooms, consider hanging plants or vines, saving floor space.
Remember, the key is in the placement of these green accents. Place larger plants near the window or bath for most impact, while smaller plants can occupy countertop space or be suspended from the ceiling. Opt for stylish and minimalistic plant holders consistent with the color theme to keep the look cohesive.
This combination not only improves aesthetics but also air quality, making your bathroom a true relaxation sanctuary.
Continue reading:
Recap