Last updated on November 24, 2023
Scan through this article to unveil unique white bathroom window curtain ideas because they have the power to instantly lift the aesthetic appeal of your bathroom.
White bathroom window curtains can truly transform your space, adding a touch of elegance and freshness.
This article will delve into a variety of ideas, from minimalistic and modern to vintage and rustic, that you can effortlessly incorporate into your home.
Whether you're looking for a simple, sheer curtain or an intricate patterned design, we've got you covered.
We'll explore different materials, styles, and even some DIY options.
So, let's dive in and discover the perfect white bathroom window curtain for your home.
White Lace Curtains for Vintage Charm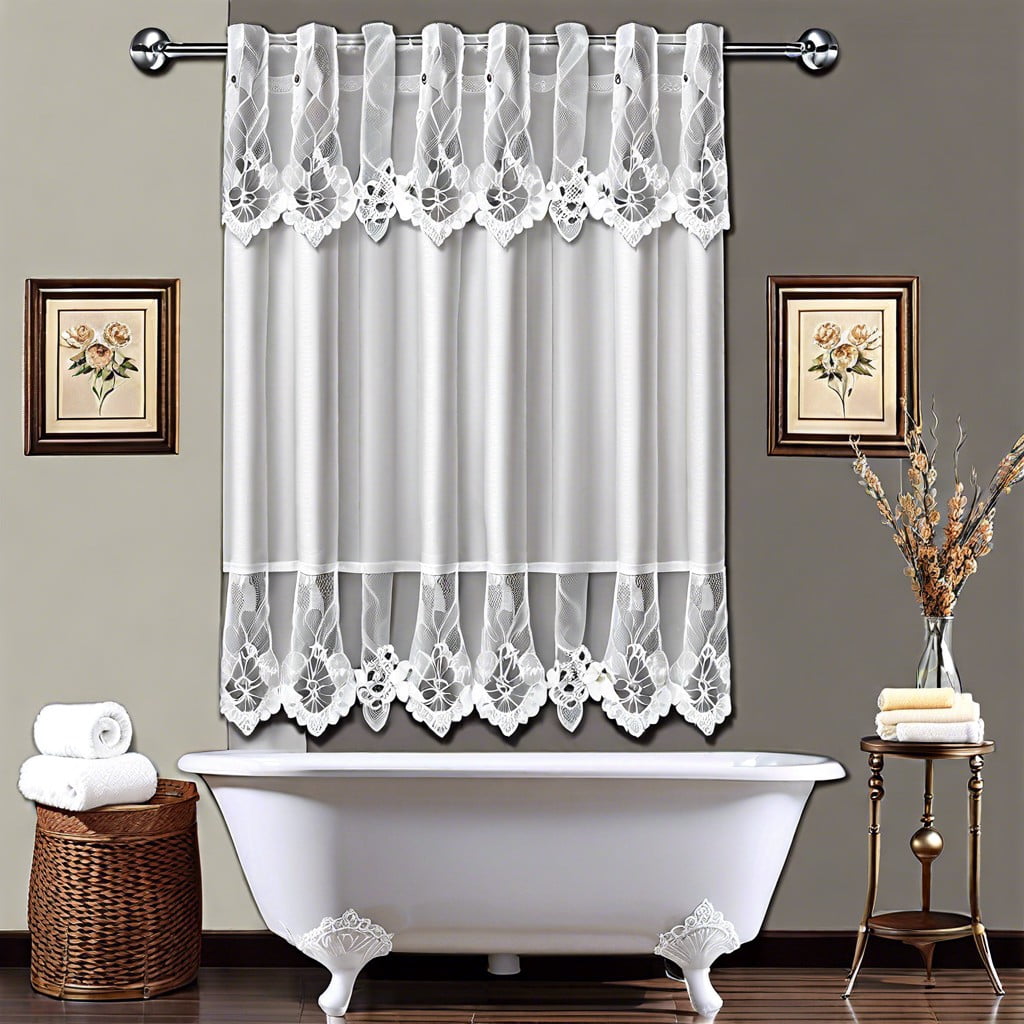 Gracefully drape white lace curtains on your bathroom window for a dash of nostalgic beauty. This design shines with its intricate patterns and delicate fabric.
The lightweight nature of lace allows for ample daylight to filter through, bathing the room in a soft, welcoming glow. The aesthetic appeal, combined with its functional benefits like privacy and light control, makes this a desirable accessory.
Always consider your bathroom decor: if your space leans towards vintage or shabby chic, then these curtains capture the essence perfectly. Keep in mind, regular cleaning and maintenance are essential to preserving lace's delicate charm.
Carefully select matching hardware and hooks to enhance the overall effect. Pair the curtains with matching bath mats or towels for an entirely captivating and cohesive look.
Voile Sheer Window Curtain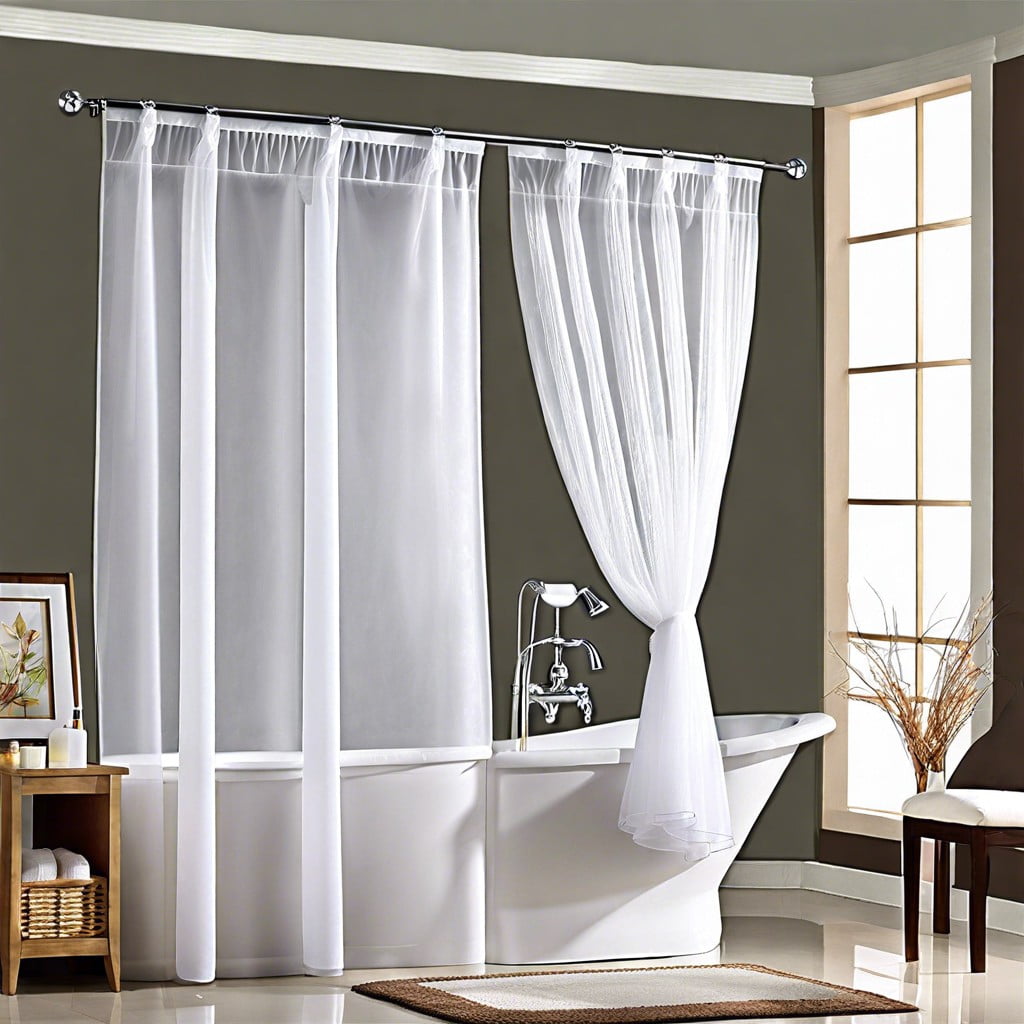 Light, airy, and etherial, Voile curtains are a great match for any bathroom design. Made from semitransparent material, they allow a gentle amount of light, creating a relaxed atmosphere. The appeal of this curtain type lies in its sheer simplicity – clean lines, no patterns.
1. Voile material: It is a soft, sheer fabric, usually made from 100% cotton or cotton blends, adding a light touch to your bathroom decor.
2. Natural Light: Transparent yet discreet, these curtains skillfully filter sunlight, creating a pleasant ambiance while maintaining privacy.
3. Versatile: Whether layered underneath heavier drapes for dual privacy and light management, or used alone for a minimalist aesthetic, their versatility is unparalleled.
4. Easy to maintain: Voile curtains are machine-washable making them a practical choice.
5. Styles: Available in a variety of forms like tab top, tie-top, or sleeve top, you can select the perfect style to complement your bathroom aesthetics.
Cotton Duck White Curtain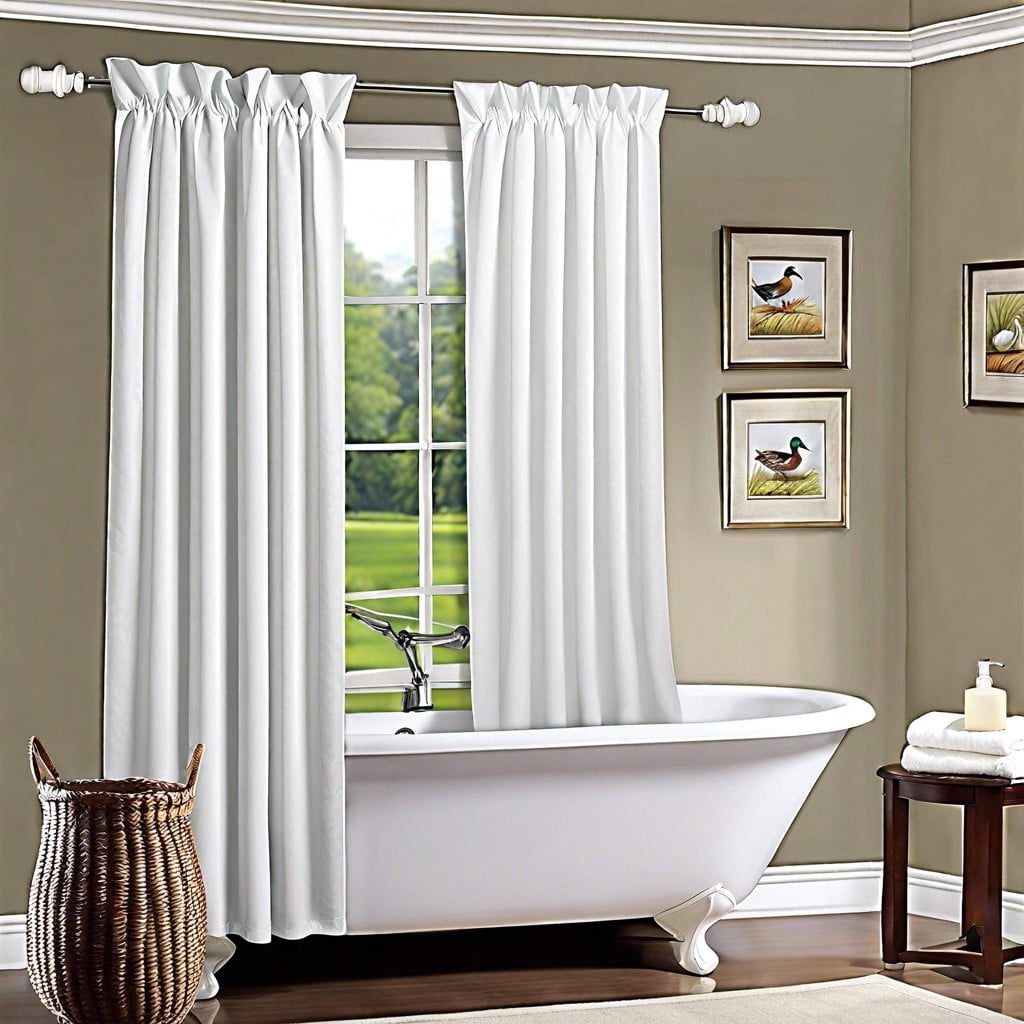 Crafted from durable, tightly woven fabric, this curtain is the perfect blend of function and elegance. Known for its sturdiness, it affords excellent privacy without blocking natural light completely. The simplicity and cleanliness of the white color amplify the aesthetics of your bathroom, making it feel more spacious and inviting.
Here are some points to consider:
1. The dense texture makes it resistant to wear-and-tear, ensuring it holds up well even in damp bathroom environments.
2. Its neutral hue is versatile, effortlessly complementing any bathroom color scheme.
3. Despite its solid weave, it allows some light diffusion to maintain a bright, airy atmosphere.
4. It requires minimal maintenance, just a regular machine wash would suffice.
5. You can pair it up with matching accessories for a chic, cohesive look.
Remember to consider the overall style of your bathroom when deciding the curtain's length and considering hardware selections, such as rods and rings.
White Ruffled Curtain for Farmhouse Style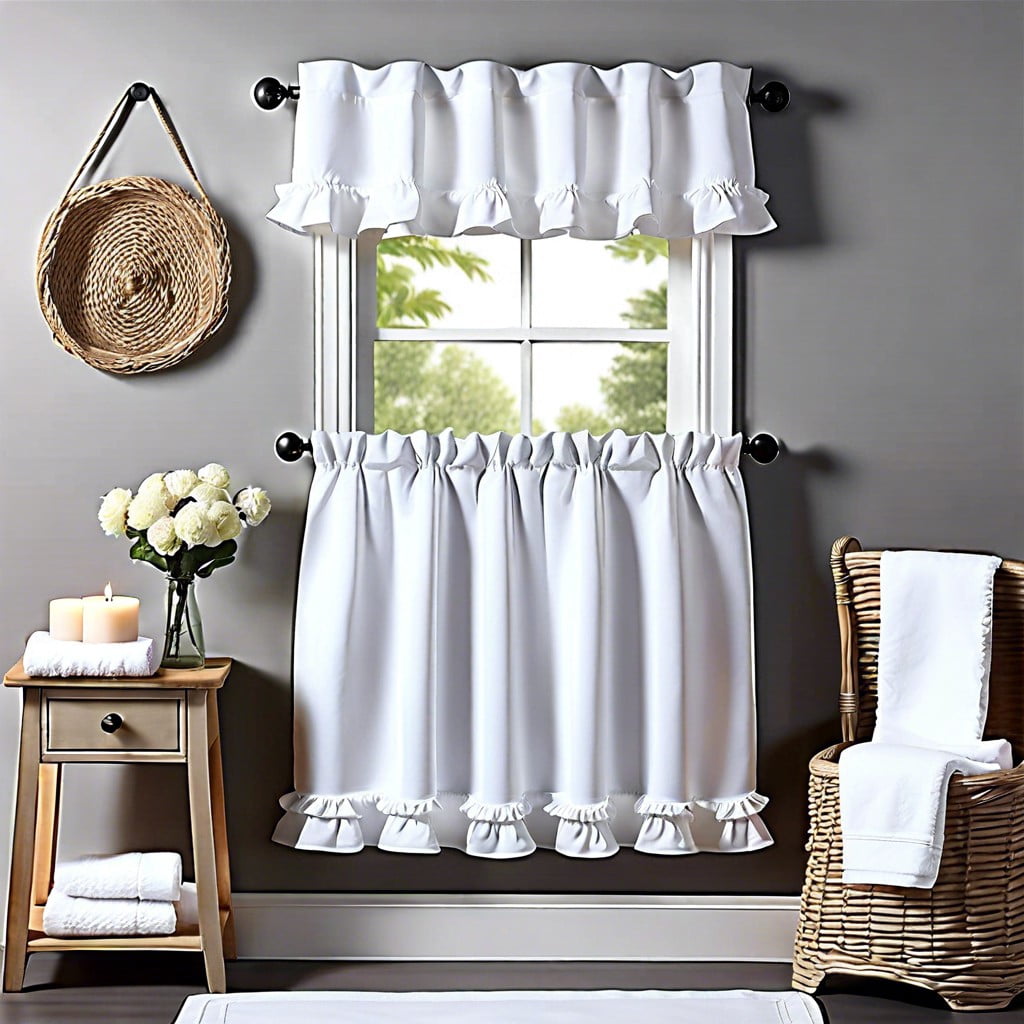 Going for a farmhouse style? Ruffles are synonymous with this casual yet charming aesthetic. Picture tier upon tier of white cotton cascading down the window, adding texture and visual depth to the bathroom.
The crispness of white keeps it fresh and bright, maintaining bathrooms as a clear, clean space. The beauty of this design is its versatility – pairing perfectly with rustic wooden elements or balancing out more modern, minimalist decor.
Plus, maintaining these curtains is no hassle; crafted from 100% cotton, they're machine washable, making it easy to keep them as pristine as their first day. Balance the softness of ruffles with robust fixtures like wrought iron towel rails or brass faucets to enhance the farmhouse ambiance.
Lastly, lighting plays a crucial role. With the filtered glow through ruffled white curtains, the room takes on a homely warmth, completing the blissful farmhouse panorama.
Linen Curtains for a Luxury Touch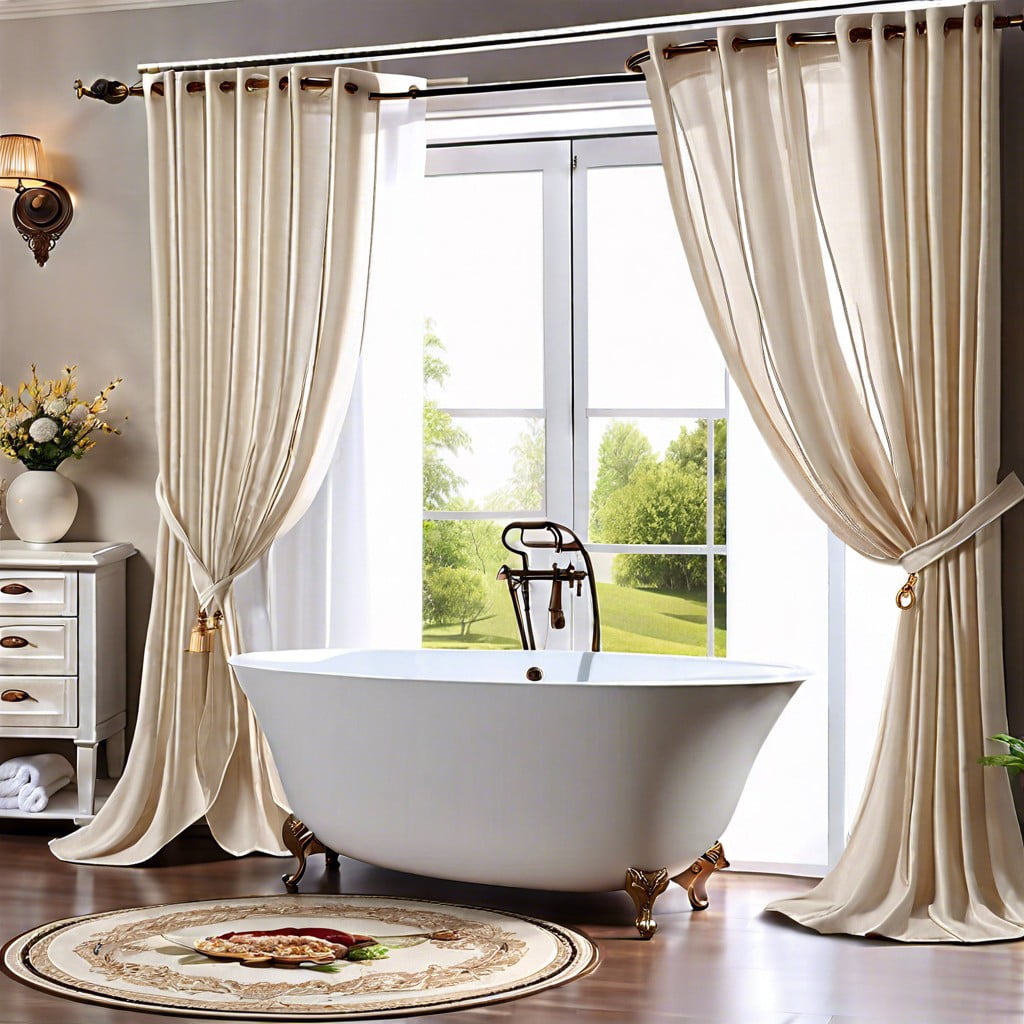 Crafted from high-quality fabric, linen curtains inject a sense of luxury into your bathroom decor. They offer durability and a beautiful, textured look, adding depth to the window space.
With natural resistance to mold and mildew, they are an ideal choice for damp environments.
Their semi-translucent properties allow gentle filtering of light, creating a warm, inviting atmosphere. Available in an array of weaves and finishes, you can choose one that enhances your bathroom ambiance. An embroidered linen curtain, for instance, adds a dash of sophistication.
Easy to care for, they can be machine washed and dried, making upkeep a breeze. Despite their high-end appearance, linen curtains are versatile and can complement a range of decor styles, from modern minimalistic to rustic or traditional.
Pair them with brushed gold window hardware for a truly luxurious appearance that elevates your entire bathroom aesthetic. Consider implementing a waterproof liner for added longevity.
White Patterned Curtain for Visual Interest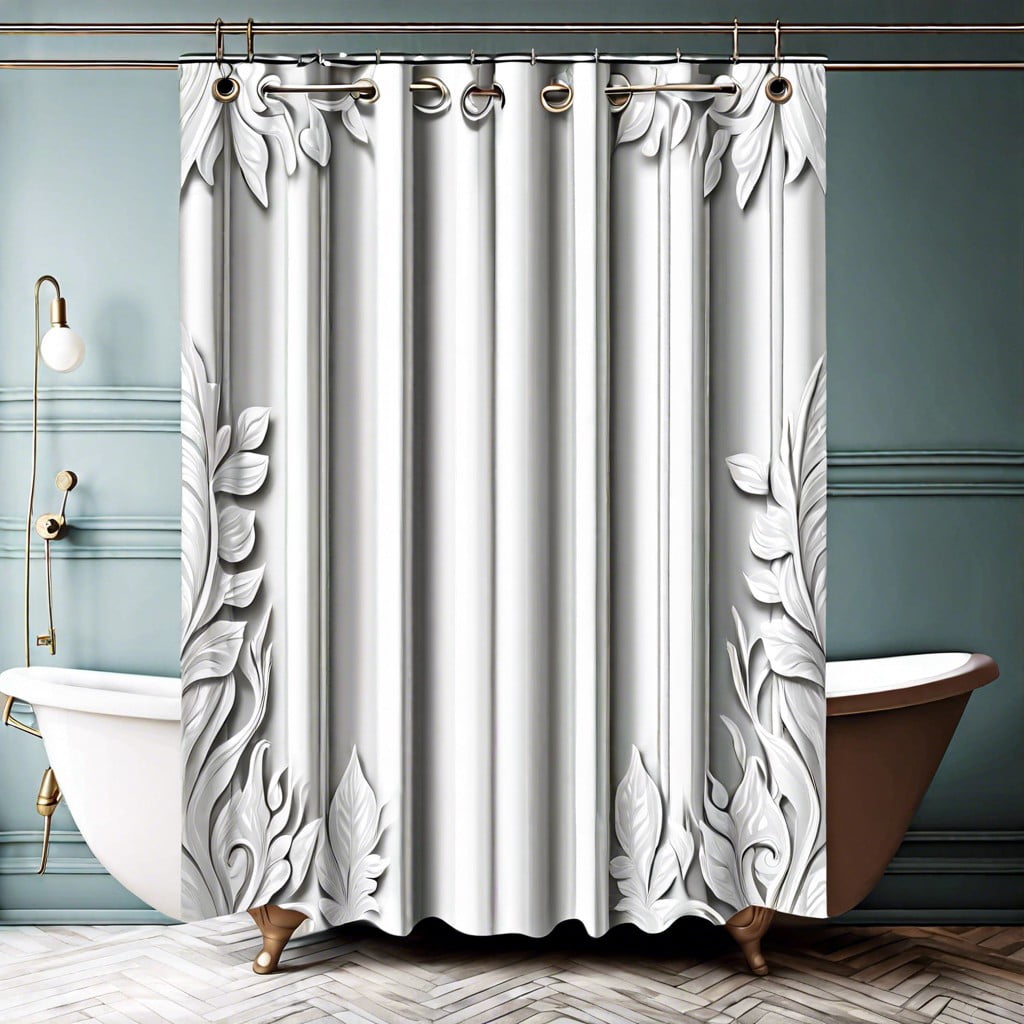 Introducing patterns brings life to a plain white bathroom. Patterned curtains are not only attractive but can tie together the different elements present in the space. They can match a pattern found on tiles, rugs, or even the towels. Geometric patterns, for instance, add a touch of modernity, while floral patterns can evoke a more traditional mood.
Pale grey or beige motifs on a white curtain provide a subtle touch, without overwhelming the environment. If you seek to create a focal point, opt for a bolder design like damask or paisley. Always consider the spacing of the pattern, too. Smaller bathrooms benefit from smaller, repetitive motifs, leaving larger patterns to spacious bathrooms where they can truly shine. With patterned curtains, transforming an ordinary bathroom into a stylish space becomes a breeze.
White and Grey Striped Curtain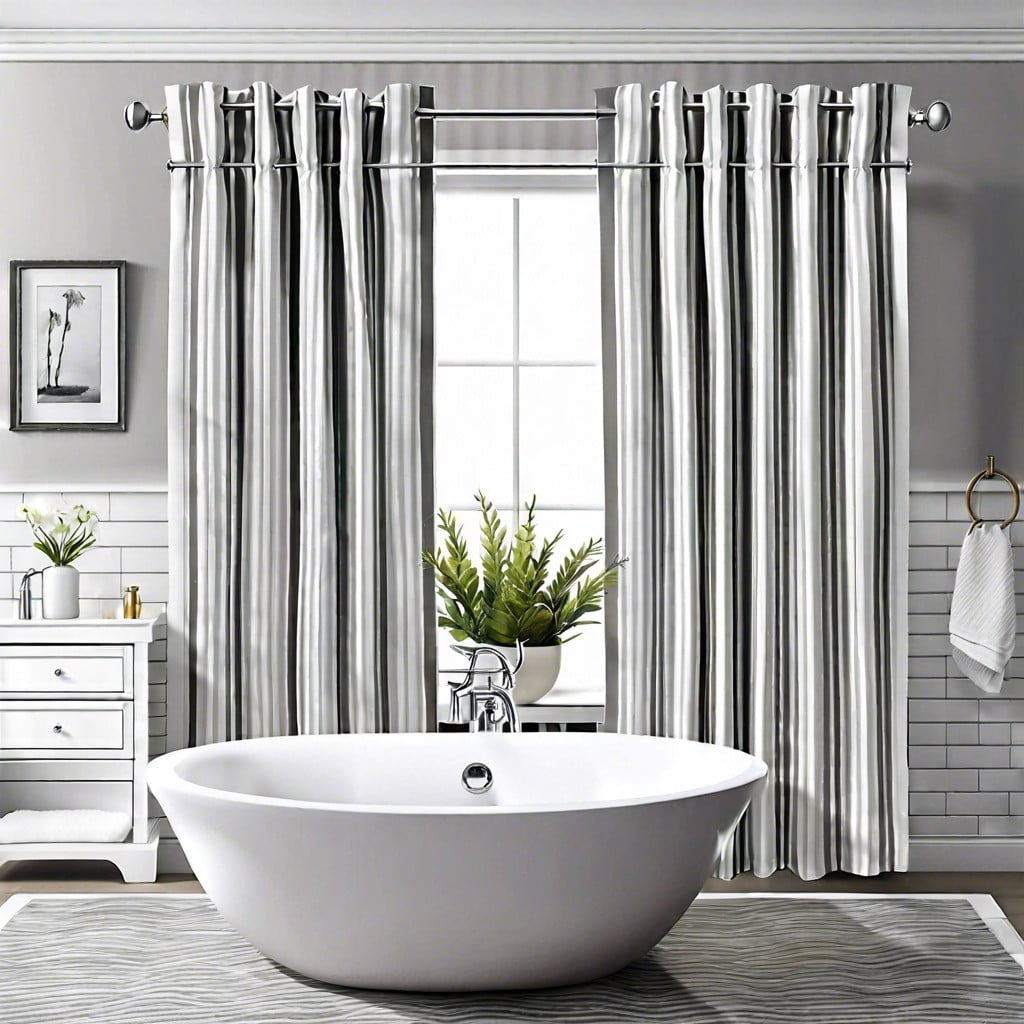 With a simple, timeless design, it's hard to go wrong with a striped pattern. This option offers a modern, balanced feel, particularly with the muted contrast between white and grey.
If your bathroom leans toward contemporary decor, incorporating this curtain can underscore the theme while adding a dash of style. Consider woven fabrics for a touch of texture, or go for silky materials if you prefer a smoother look.
Light grey stripes can softly break the monotonous white, while darker shades can give a bolder statement. Vertical stripes can visually heighten the space, and horizontal stripes can expand it.
Carefully select the spacing and width of the stripes based on your decor preference and the bathroom's size. Curtains with a grey stripe at the bottom can be an excellent choice if you want to keep the curtain clean longer.
Embroidered White Curtain for Detailed Elegance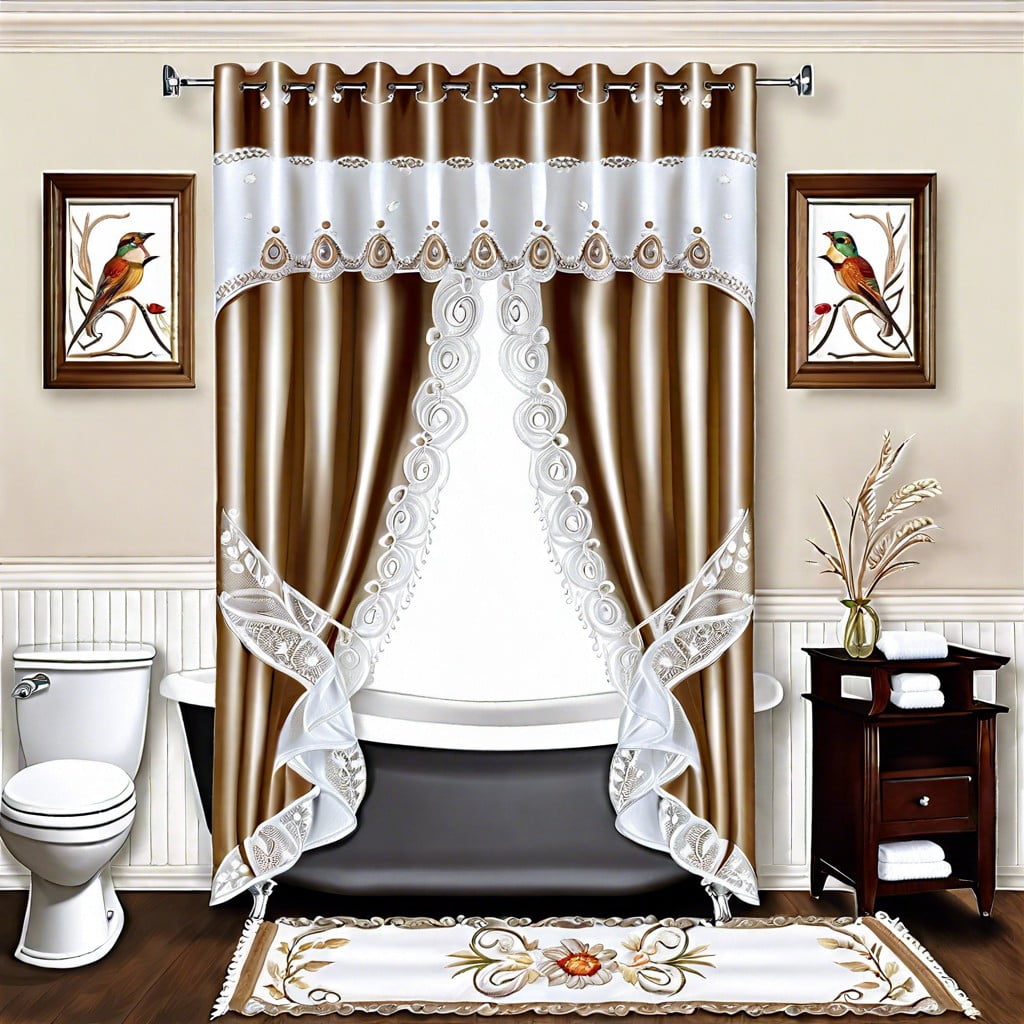 Embroidery brings in a rich texture, adding an essential layer of depth to your window treatments. An embroidered white curtain can be a timeless choice that adds unparalleled elegance.
Consider curtains with intricate floral or geometric patterns carefully stitched onto a white backdrop. This design approach enhances the lightness and cleanliness of the white curtain without compromising on the boldness that an accent decor should have.
Ensure to select a pattern and design that coordinates with the overall bathroom decor. Subtle silver or gold thread can add a hint of luxury. For a softer look, choose designs in shades of pastel or neutral tones. The curtain's elegance lies in its intricate details, working well in both minimalistic and more lavishly decorated bathrooms.
Remember to match the curtain's material to its function. If privacy is a top priority, opt for a thicker fabric. For more light, a finely embroidered tulle or sheer can be more suitable. Properly cared for, these embroidered curtains can be long-lasting, providing your bathroom with enduring elegance.
Silk White Curtains for Sophistication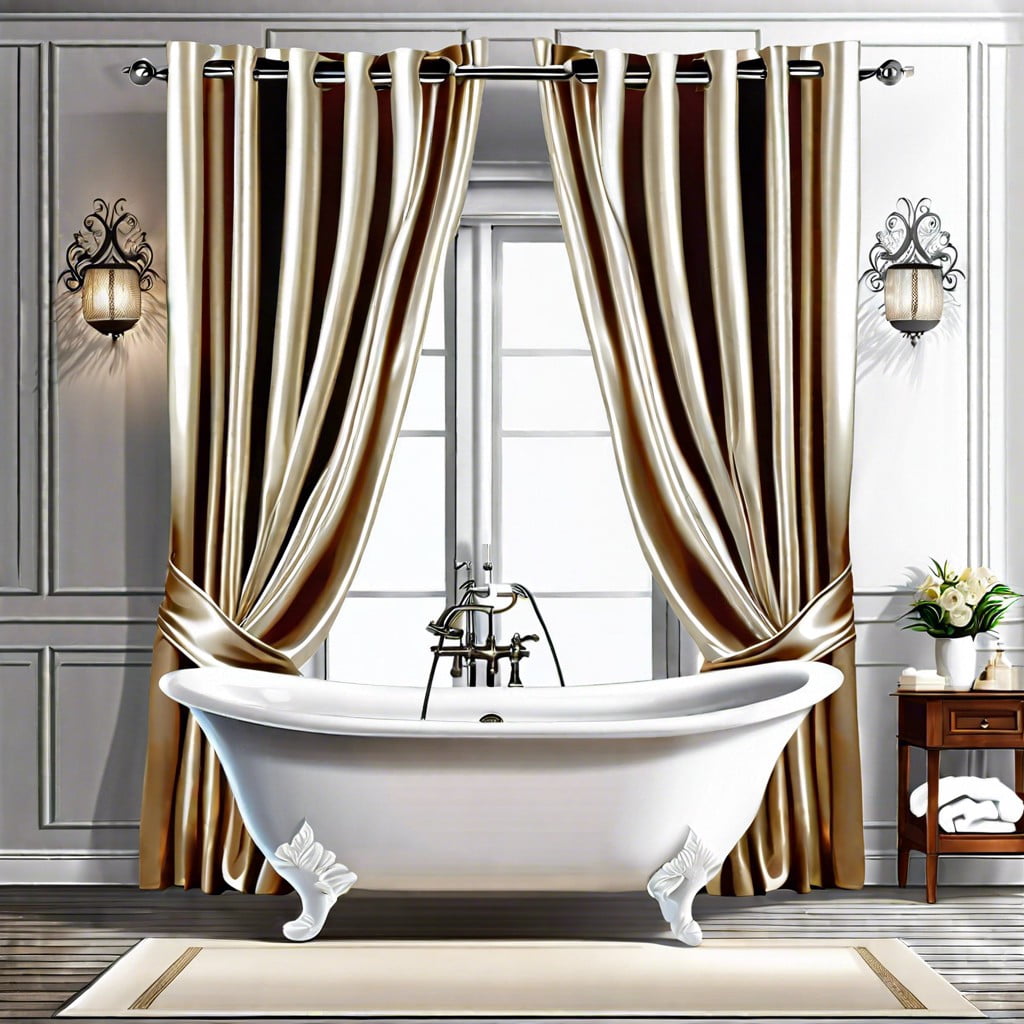 Silk curtains are an excellent choice if you're aiming for a sophisticated appeal. Uniquely lustrous, they instantly elevate the decor, creating a distinctly refined and luxurious feel. They hang smoothly and are particularly appealing in a room where elegance is desired.
Apart from their aesthetic appeal, silk curtains offer functional advantages. They act as good insulators, helping to maintain the temperature of your bathroom, keeping it cool in summer and warm in winter. Remember, if you're concerned about the silk curtains getting wet in a bathroom environment, considering a water-resistant treatment or lining could be a practical solution, ensuring your curtains' durability without compromising on their exquisite look.
Additionally, silk curtains offer opacity without compromising on natural light. If your bathroom receives an abundance of sunlight, these curtains will subtly filter and diffuse the light, casting a flattering, serene glow in the space.
However, keep in mind that silk curtains require a little extra care to maintain. They may need to be professionally cleaned and are typically more expensive than other curtain types. But for those looking to create a space evocative of spa-like luxury at home, silk curtains might just be the high-end touch you've been seeking.
White Roman Shades for Clean Lines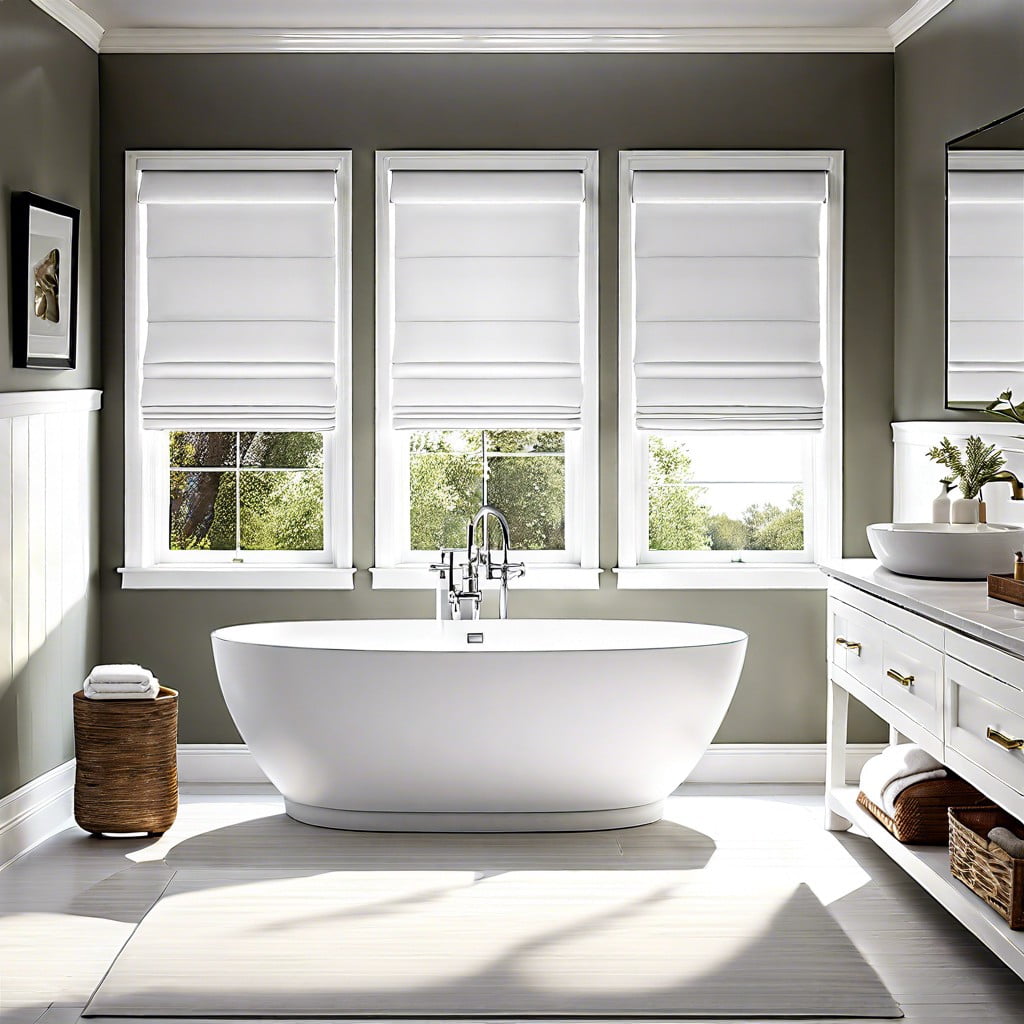 Roman shades are incredibly versatile; they can transition easily from a traditional to a modern aesthetic. Effortlessly elegant, they maintain a sleek appearance that adds sophistication to any bathroom. They offer both function and beauty – let's delve into how.
1. Clean Aesthetic: The lack of dangling cords or rings gives these window treatments a simple, streamlined look.
2. Light Filtering: Adjust to your desired level of light and privacy by tweaking their height.
3. Selection Choice: Indulge in the bounty of fabric choices in terms of texture – from smooth silken to rough-hewn cotton.
4. Easy Maintenance: They are simple to clean, just lower them fully and lightly dust or vacuum them regularly.
5. Customizable: You can tailor their size, length, and fabric to suit your bathroom's window and décor.
Remember, with their neatly folded panels, Roman shades in white can infuse your bathroom with the perfect balance of grace and minimalism.
White Bathroom Curtains With Black Border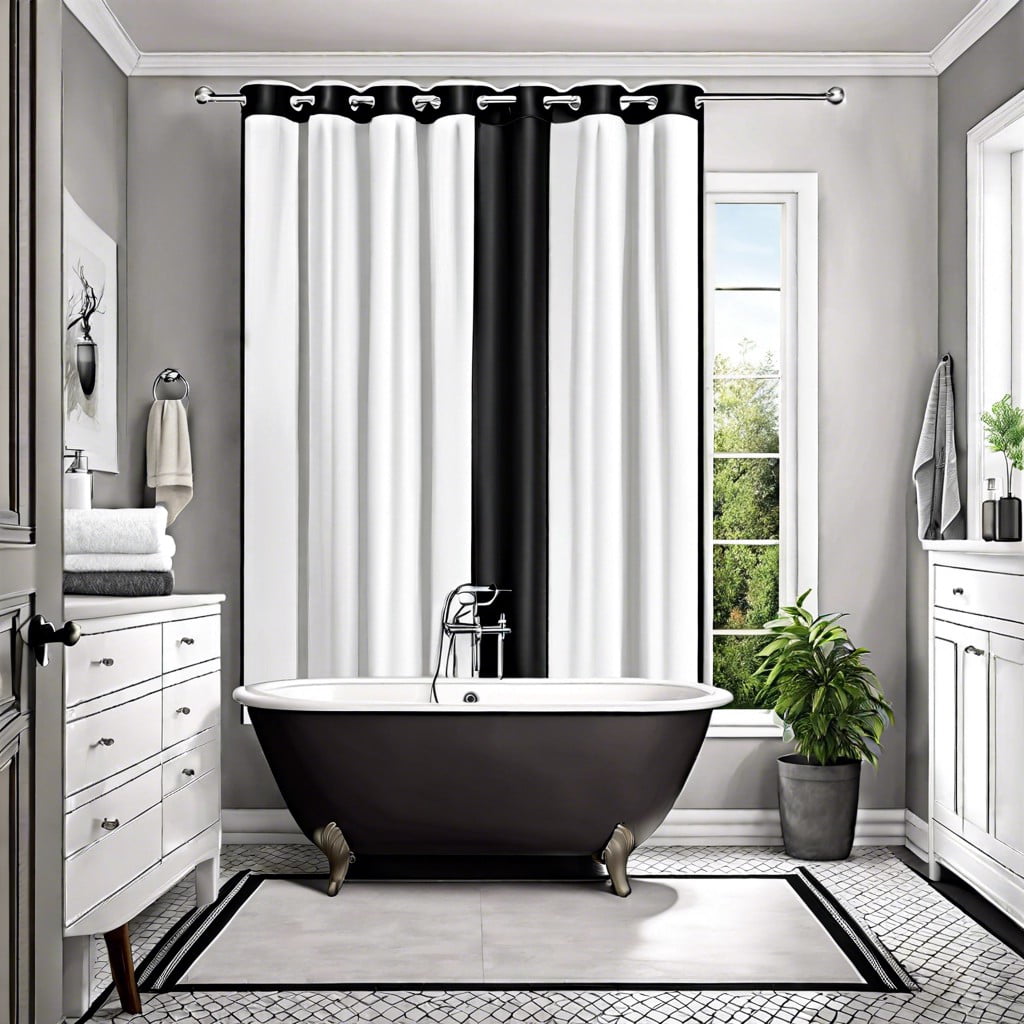 A tastefully chosen black border can impeccably contrast and elevate the pristine aesthetics of a white curtain. Some key points to consider:
1. Choosing the Right Shade: A jet-black border adds a striking contrast while charcoal or grey provides a softer complement.
2. Border Thickness: The width of the border can change the curtain's appearance dramatically. Thin borders create a refined, elegant look; thicker ones provide a bold, modern vibe.
3. Material Matters: Matte-finished borders lend a subdued feel, whereas glossy borders bring a bit of glamour and bling to your bathroom setup.
4. Coordination is Key: The black border can tie in with other black accessories or fixtures in the bathroom for a coherent look.
5. Pattern Play: Consider a black patterned border, such as polka dots or geometric designs, to spice things up.
6. A Clean Finish: Ensure the border is seamlessly stitched for that professional, clean finish. A well-crafted black-bordered white curtain can be the last sophisticated touch your bathroom needs.
White Muslin Curtain for Minimalistic Simplicity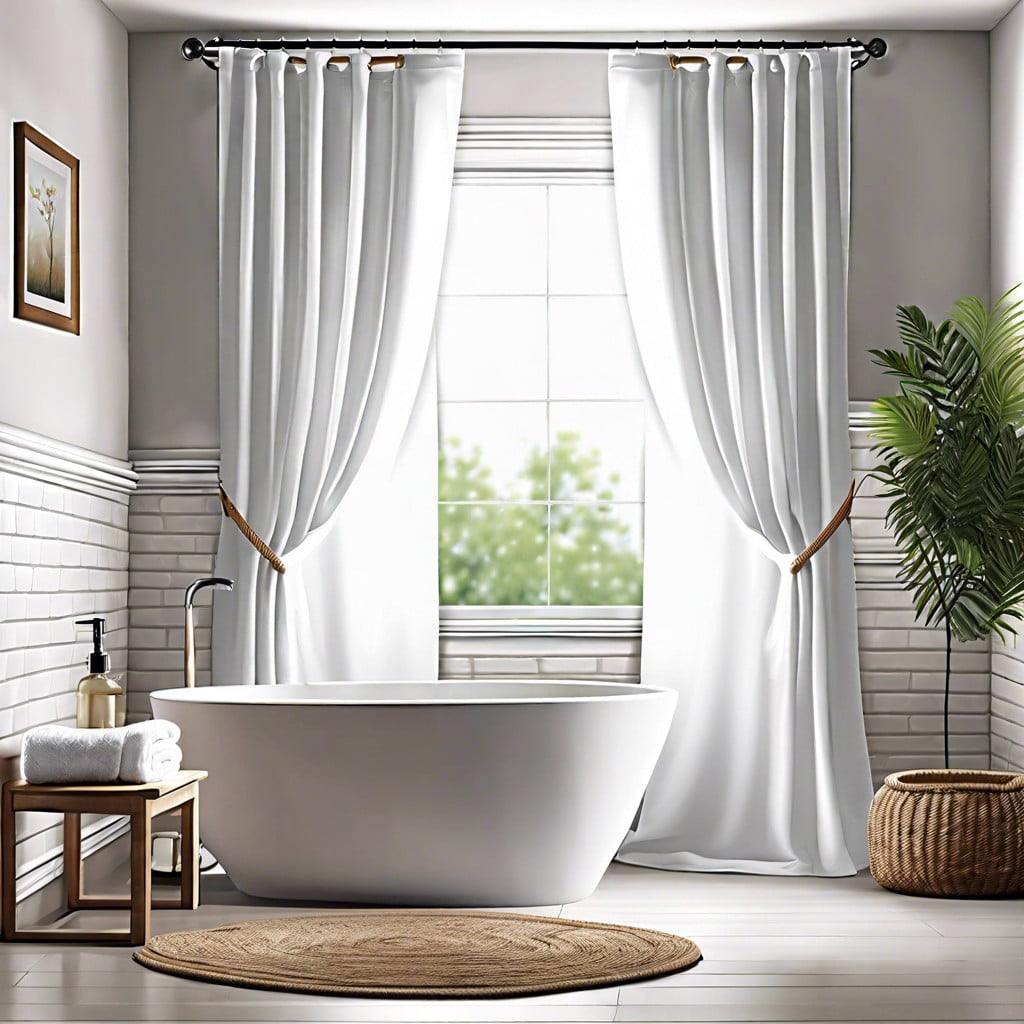 Muslin fabric offers a simple, yet understated aesthetic. It subtly frames your bathroom window while introducing a sense of tranquility. Given muslin's lightweight texture, it allows for a generous amount of natural light to flood the bathroom, establishing a soothing ambiance.
Being readily available and budget-friendly, muslin curtains are easy to replace or customize. You can add a delicate trim or keep them bare for a more down-to-earth look.
Moreover, muslin curtains are easy to care for. They can be tossed into the washing machine for a quick and convenient clean-up. These are practical, unpretentious, and effortlessly stylish – just what every minimalist seeks.
White Wooden Blinds for Window Privacy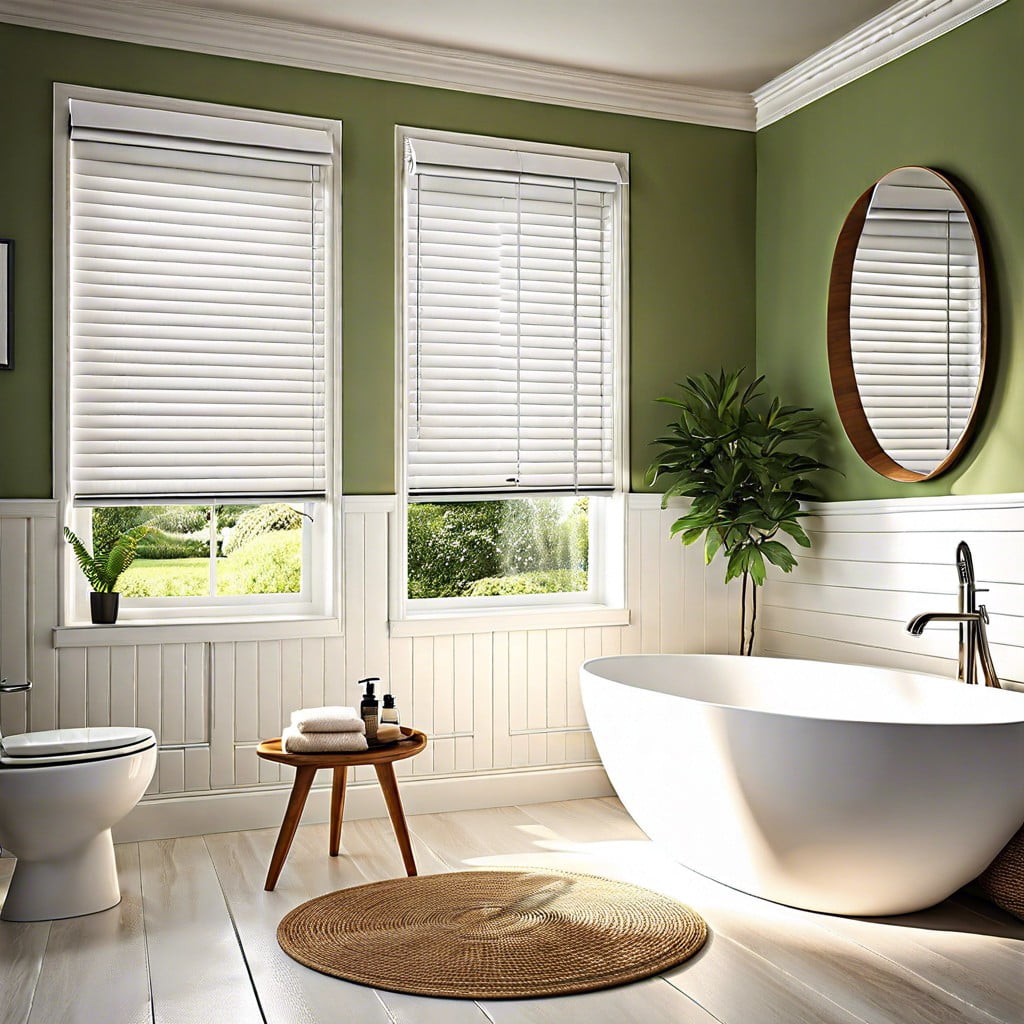 Designed with sleek slats, these blinds lend an air of intrigue and minimalist allure to your bathroom. Besides exhibiting a sophisticated look, the wooden blinds ensure high privacy, making them an excellent choice for a bathroom setting.
Firstly, they are adjustable – enabling you to control the light passage for a personalized ambiance. Second, their easy maintenance is an absolute benefit. A damp cloth efficiently wipes off accumulated dust. Lastly, their durability is a significant advantage, making them a long-lasting decor investment. Thus, for private and classy window treatment, these blinds stand out uniquely.
Matching White Curtain and Shower Curtain Set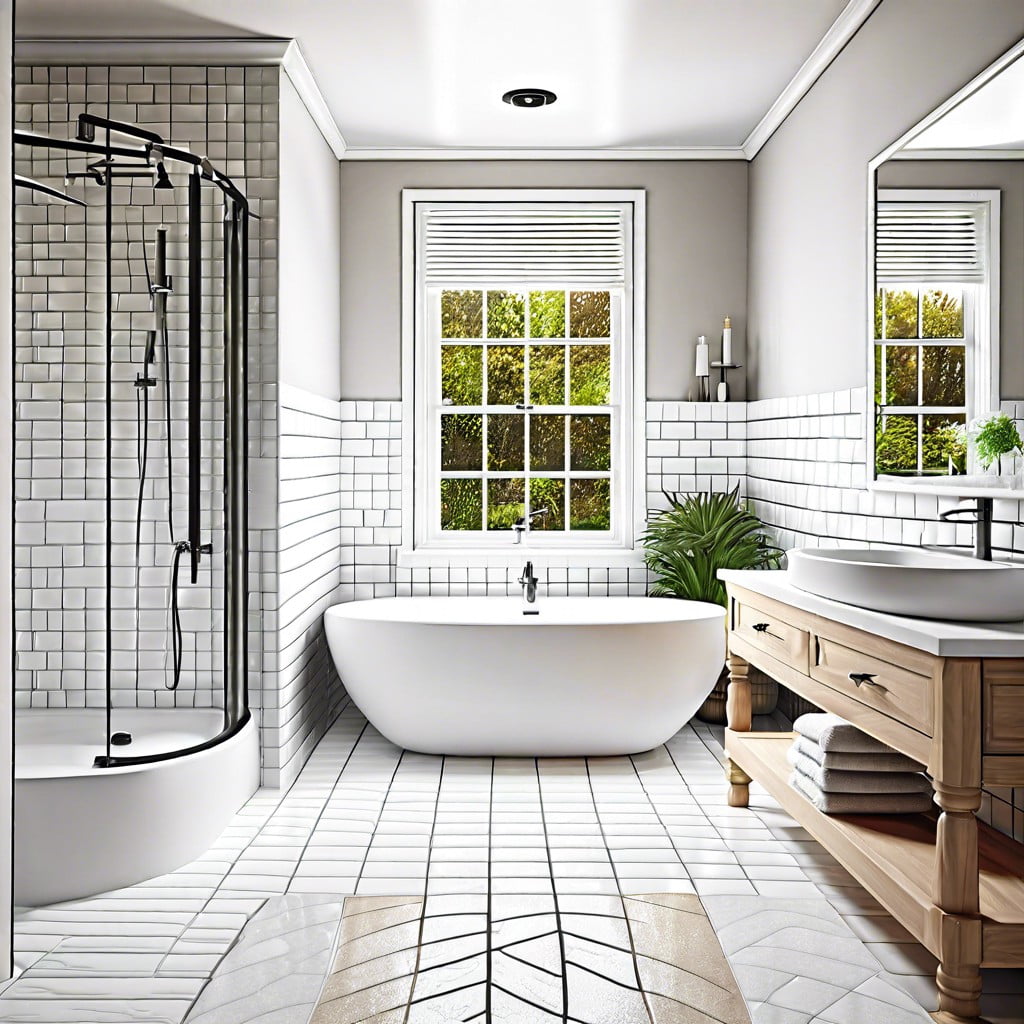 For a cohesive look within your bathroom, consider a matching set. This takes the guesswork out of coordinating different elements. It guarantees a harmonious balance and consistency, adding an instant touch of sophisticated coordination to your bathroom décor.
With the inherent flexibility of white, you have the freedom to choose among various designs and patterns, be it floral, stripe, or damask, to fit your personal taste or existing bathroom accessories. The important thing is the consistency it brings which effortlessly ties the room together.
Another key point is that most sets are often designed to be both functional and decorative, serving the dual purpose of ensuring your privacy and elevating your interior aesthetics.
White Honeycomb Cell Shades for Insulation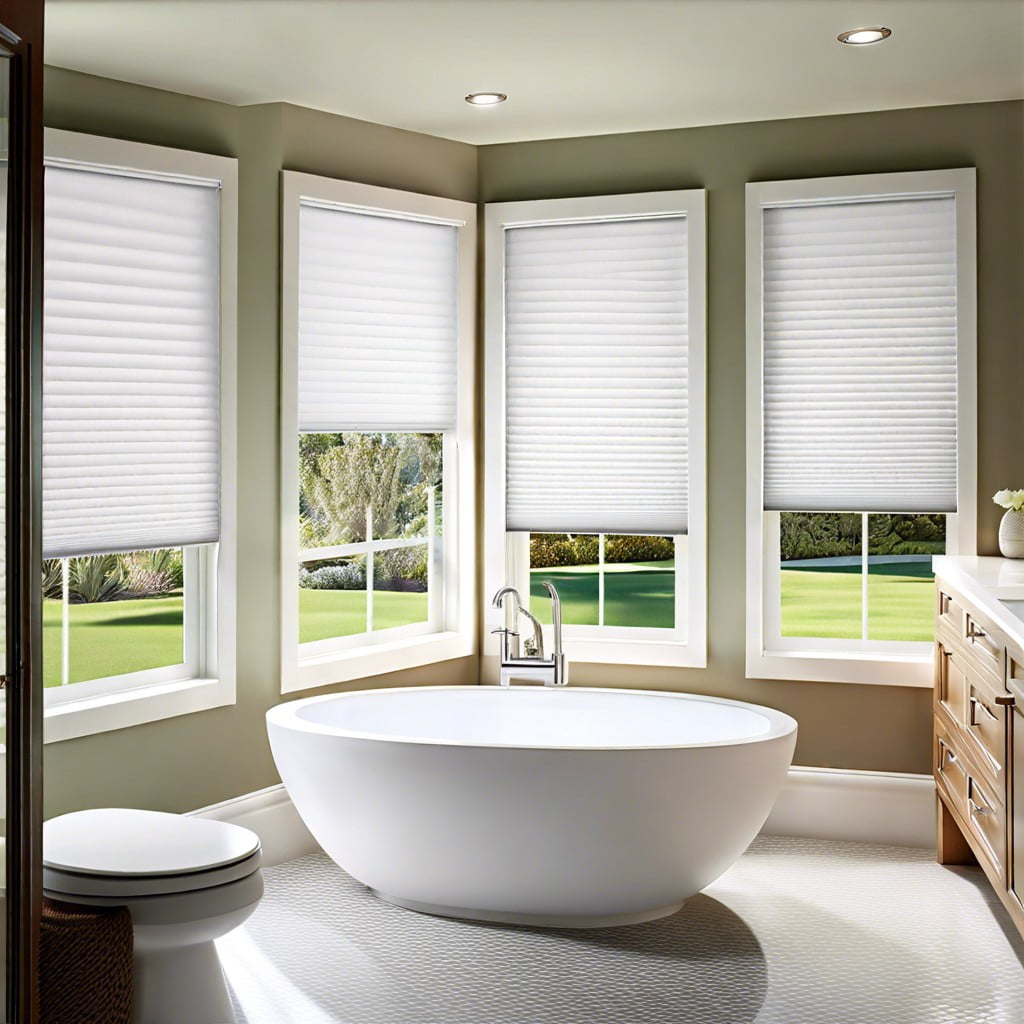 Known for their unique geometry, these shades provide a double or triple layer of insulating air at the window, making them marvelous energy savers.
They look particularly chic in white, offering a clean and versatile aesthetic that can suit diverse bathroom décors.
Not only do they control light beautifully but also provide privacy when needed without blocking all the daylight.
Easy to operate, they can be completely retracted for a clear view outside, leaving the window unobstructed.
Consider these for your bathroom if energy efficiency, elegant design, and multipurpose usability are your key considerations.
White Curtain With Seashell Trims for Coastal Style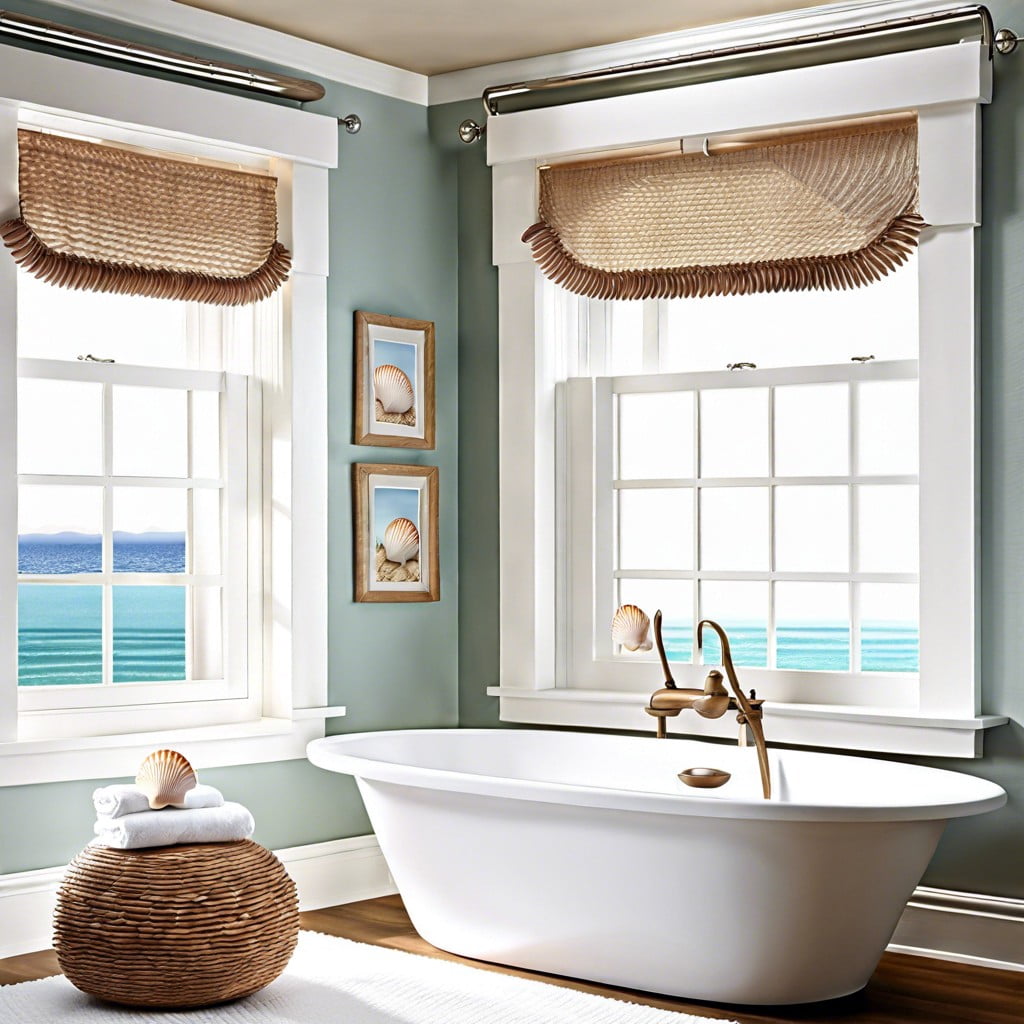 Infusing your bathroom with a touch of the seaside is simpler than you might think. Picture this- a light, airy curtain adorned with delicate seashell trim. There's no denying the coastal charm this design exudes.
Start with a crisp white fabric for your curtain base. To keep it fresh and clean in the bathroom environment, choose a material that's lightweight, water-resistant, and easy to wash.
Identify the type of seashells you'd like to use. Smaller ones like scallops or augers work best for a sure yet subtle seaside appeal. Consider color too – a mix of ivory, white, and pale pink shells often gives a pleasing, understated aesthetic.
Attach the seashells as a trim along the bottom hem of the curtain. This allows them to catch the eye without overwhelming the overall design.
Lastly, remember to pair your seashell-trimmed curtain with complimentary bathroom décor. Pale, sandy hues and nautical motifs are a perfect fit.
Remember, the key to the coastal style is a balance of ocean-inspired elements and simplicity. And with the seashell curtain, you've got the beach right in your bathroom.
Bamboo White Roller Shades for Eco-friendly Touch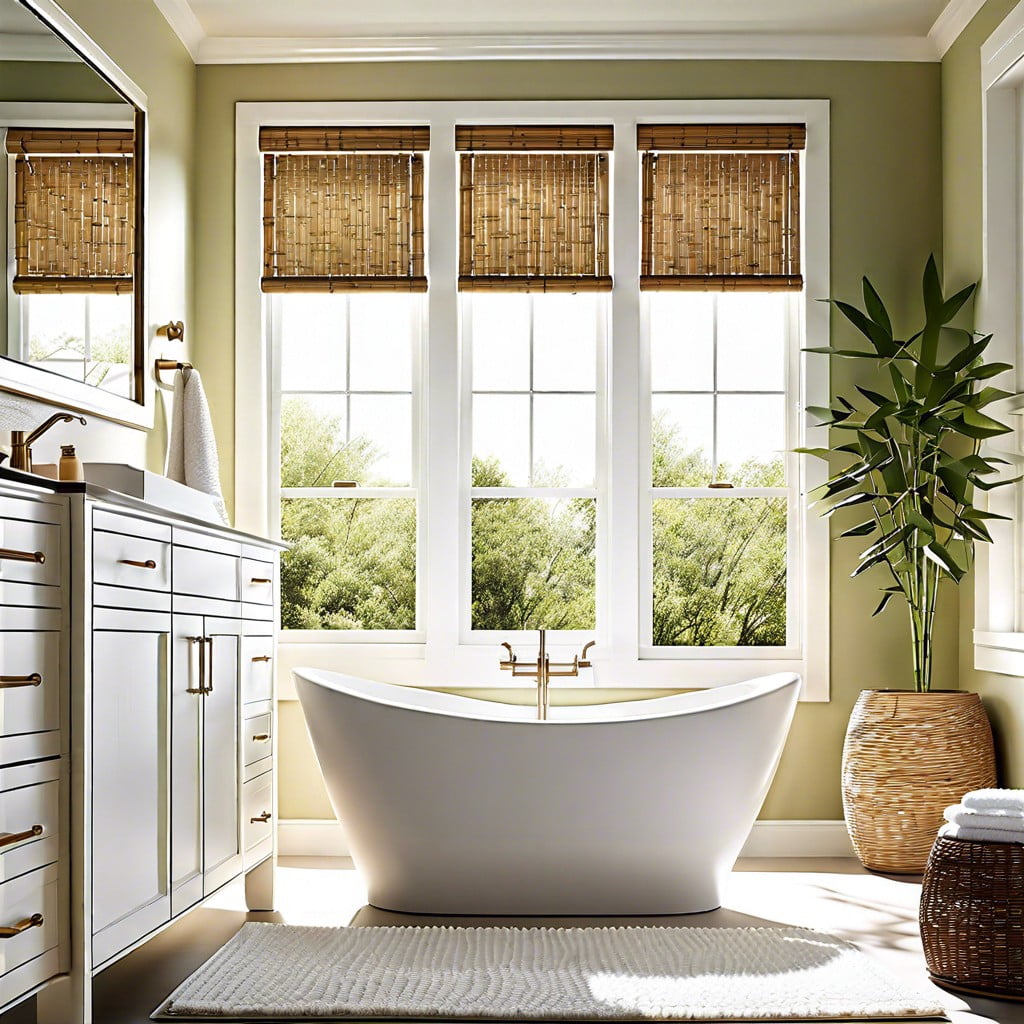 Opting for Bamboo roller shades not only serves practical purposes but contributes to the sustainability cause. This natural, rapidly renewable material integrates seamlessly with any bathroom interior, providing a clean, classic, and green aesthetic.
1. Eco-friendly Choice: Sourced from nature, these shades help lower your carbon footprint.
2. Depicts Minimalism: Anything excess is left at bay for a sleek, streamlined look.
3. Easy-To-Adjust: Pull them down for privacy or push them up to let the light in effortlessly.
4. Versatile: Complements any color scheme and style, whether it's modern or traditional.
5. Durability: Withstand humidity and moisture, making them ideal for bathroom use.
Remember to take measurements correctly to ensure a perfect fit. These shades uplift the bathroom décor while serving an eco-conscious spirit.
Semi-translucent White Curtain for Diffused Light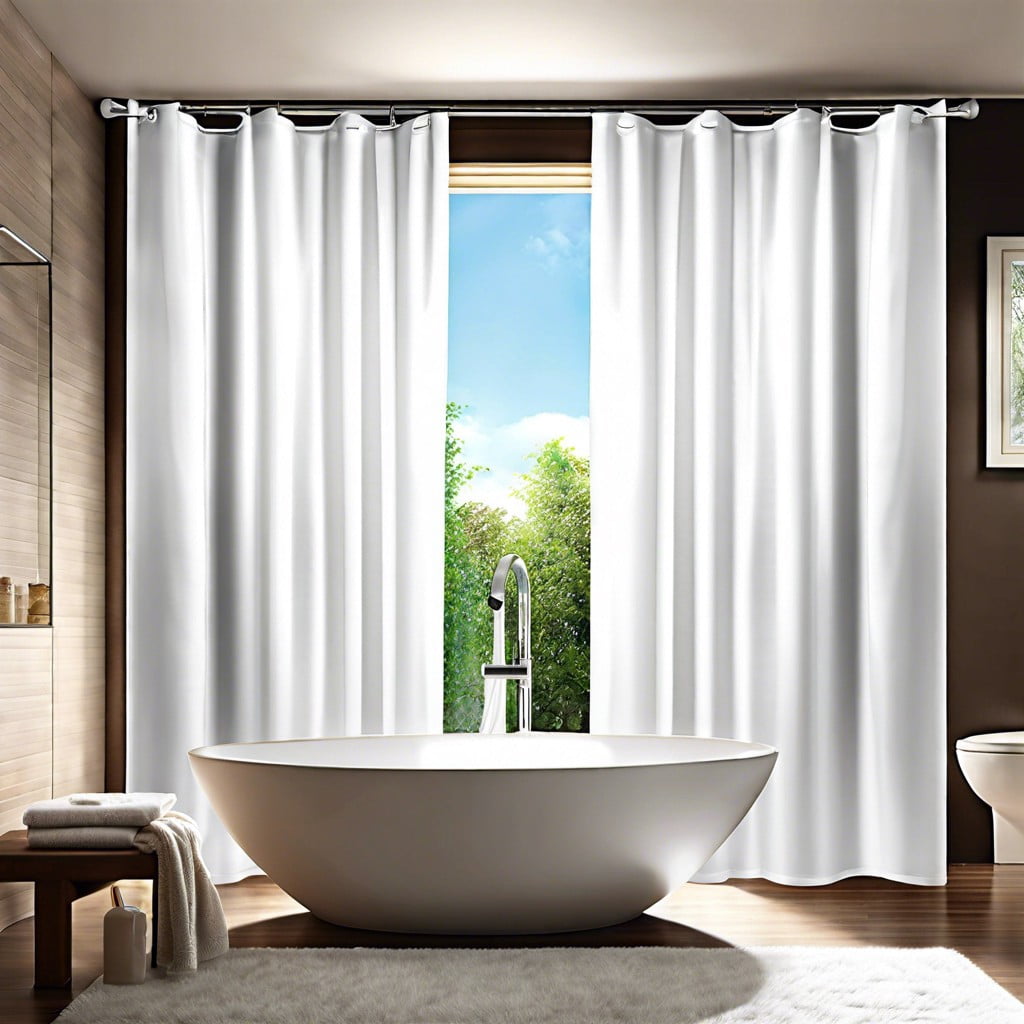 Utilizing semi-translucent curtains offers a light, airy feel to your bathroom, working beautifully with the white color scheme. These types of curtains help to filter natural light into your space, providing an appealing, comforting glow. Unlike heavy-duty blackout curtains or blinds, semi-translucent curtains maintain privacy without blocking out light completely. They offer an excellent balance; enough opacity to prevent outlines and silhouettes being visible from outside, yet still allowing soft, diffused light to illuminate the bathroom.
Matching these curtains with light paint colors can enhance the luminous atmosphere, making your bathroom feel bigger and brighter. For a more customized touch, consider pairing with patterned tiles or colorful accessories. Your bathroom should be a tranquil oasis and selecting the perfect curtain plays a vital role in achieving this ambience.
Monogrammed White Curtain for Personalization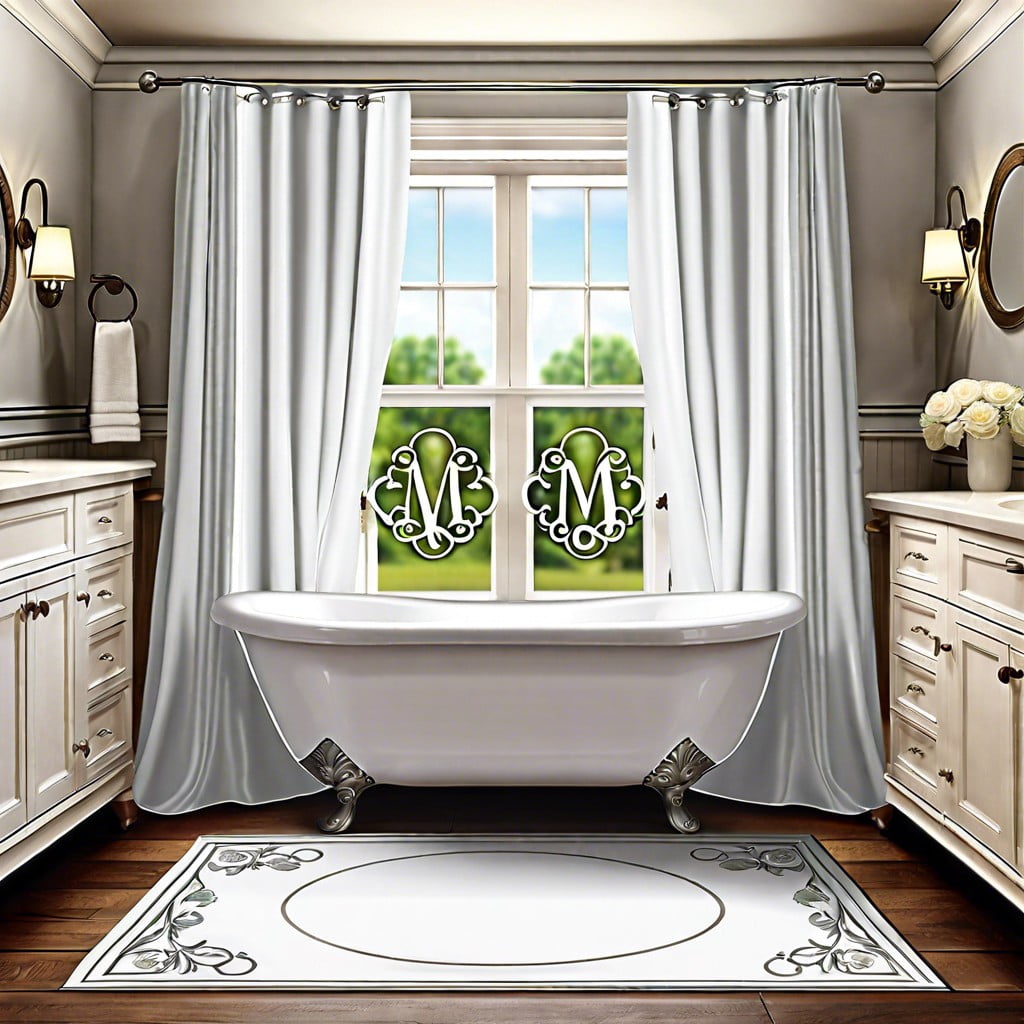 Adding a personal touch to your white bathroom window curtains can create a distinctive aesthetic that truly represents your style. Monogramming is a fun and sophisticated way to achieve this.
1. Unique Design: Choose a monogram design. It could be your initials, family crest or a symbol that resonates with you.
2. Subtle or Bold: Consider the size and color of the monogram. A subtle, same-color monogram maintains a minimalist vibe, while a bold, contrasting color adds a vibrant element.
3. Placement: Decide on the optimal spot for your monogram. Popular choices often include the curtain's top corner or the center.
4. Quality: Ensure the monogram is embroidered well to maintain elegance and longevity.
5. Coordinate: For cohesive aesthetics, mirror the monogram on other bathroom textiles such as towels or bathrobes.
Remember, your curtain becomes more than a window covering with monogramming; it evolves into an engaging piece of art that reflects your individuality.
White and Gold Moroccan Pattern Curtain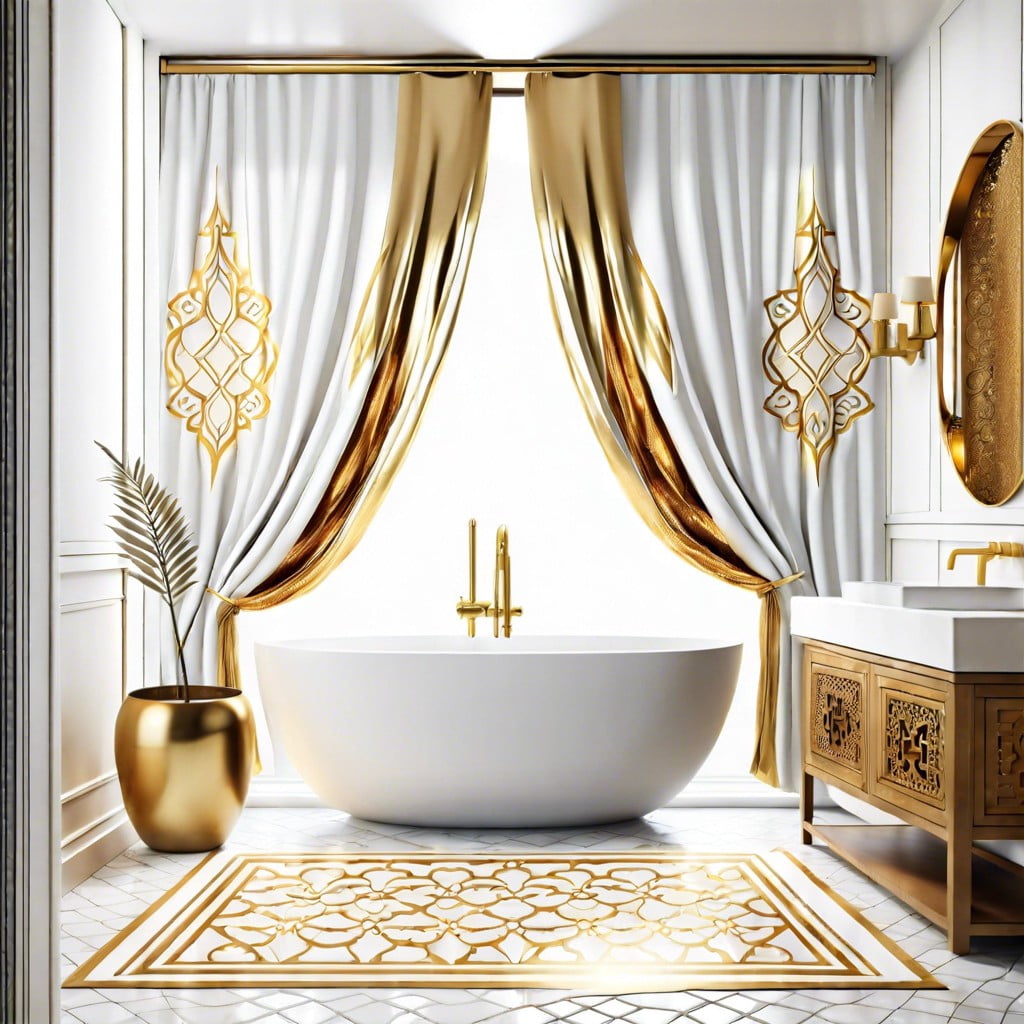 A quintessential choice for an elegant aesthetic, this curtain blends traditional Moroccan elements with modern flair, creating an eye-catching design which adds visual interest to your bathroom.
Due to its gold pattern, the curtain perfectly complements brass fixtures and fittings, and can be easily paired with warm-toned towels and bath mats.
Besides, if you're feeling daring, you might want to consider gold-finished curtain rings to emphasize the Moroccan pattern.
This curtain is also highly functional. The white base ensures plenty of natural light gets into your bathroom, while still offering essential privacy.
Meanwhile, the gold design stands out against the white, making it a focal point. They can be machine-washed, scoring high on convenience too.
Last but not least, keep in mind the balance. Too many patterned elements in the bathroom can create visual chaos.
Hence, keep the rest of the decor minimalist if you decide on a bold piece like this one.
Their unique combination of color and pattern means they can effortlessly become the star of a white bathroom, rendering additional decorations unnecessary.
Continue reading:
Recap