Last updated on October 30, 2023
Emerald green breathes life into your bathroom because it creates a luxurious and relaxing atmosphere akin to a spa retreat.
I'm thrilled to share these 20 Emerald Green Bathroom Ideas I designed with the hope they inspire you and bring you as much joy as they brought me while creating them.
Emerald green, a color synonymous with luxury and sophistication, is the perfect hue to transform your bathroom into a chic, relaxing sanctuary.
This article will guide you through a variety of design ideas, from incorporating emerald green tiles, to painting your walls, to adding subtle accents with accessories.
Whether you want to create an opulent oasis or a contemporary retreat, these tips will help you achieve your dream emerald green bathroom.
Stay tuned for all the details, including the best color combinations, materials, and styles to complement this stunning shade.
Emerald Green Tiled Accent Wall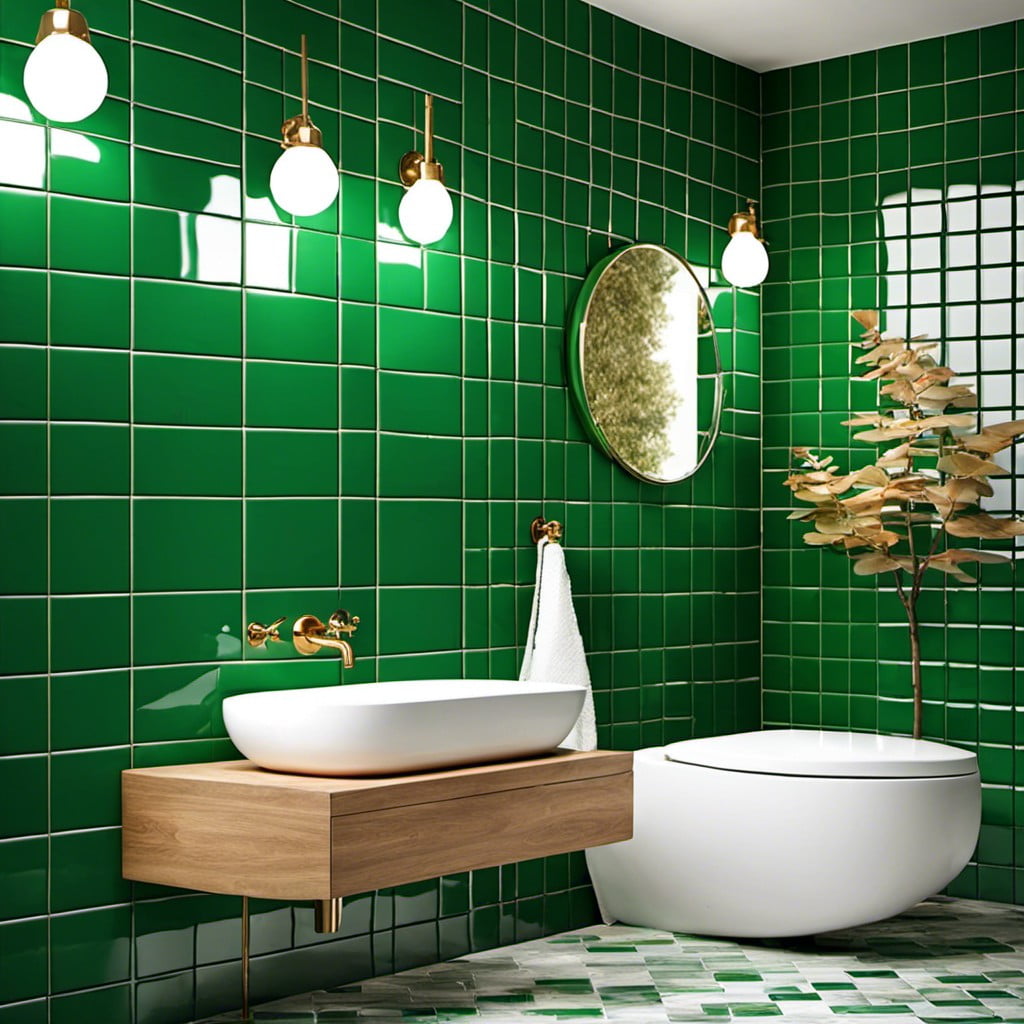 An accent wall tiled in emerald green becomes a focal point, instantly elevating the aesthetic appeal of your bathroom. Tiles add texture and depth, imparting a luxurious vibe. But it's not all about the looks; these tiles are also highly practical. Resistant to moisture and easy to clean, they can keep up with the high-traffic nature of bathrooms.
– Opt for glossy tiles for a reflective surface that will make your space feel brighter and larger.
– Subway tiles offer a timeless look, while hexagon or fish scale shapes can create a trendy, eye-catching pattern.
– Use grey or white grout for contrast, or match the grout to the tiles for a seamless look.
– Don't limit your accent wall to the space around your bathtub or shower – consider tiling the wall behind your vanity or toilet too.
– Try to balance the bold green with neutral elements in the room, such as white fixtures or a wooden vanity, to avoid overwhelming the space.
Emerald green is reminiscent of lush landscapes, adding a piece of nature to your interior while bringing a sense of calm and relaxation. An accent wall in this color won't only add a pop of color but also inject personal style into the space.
Green Marble Countertops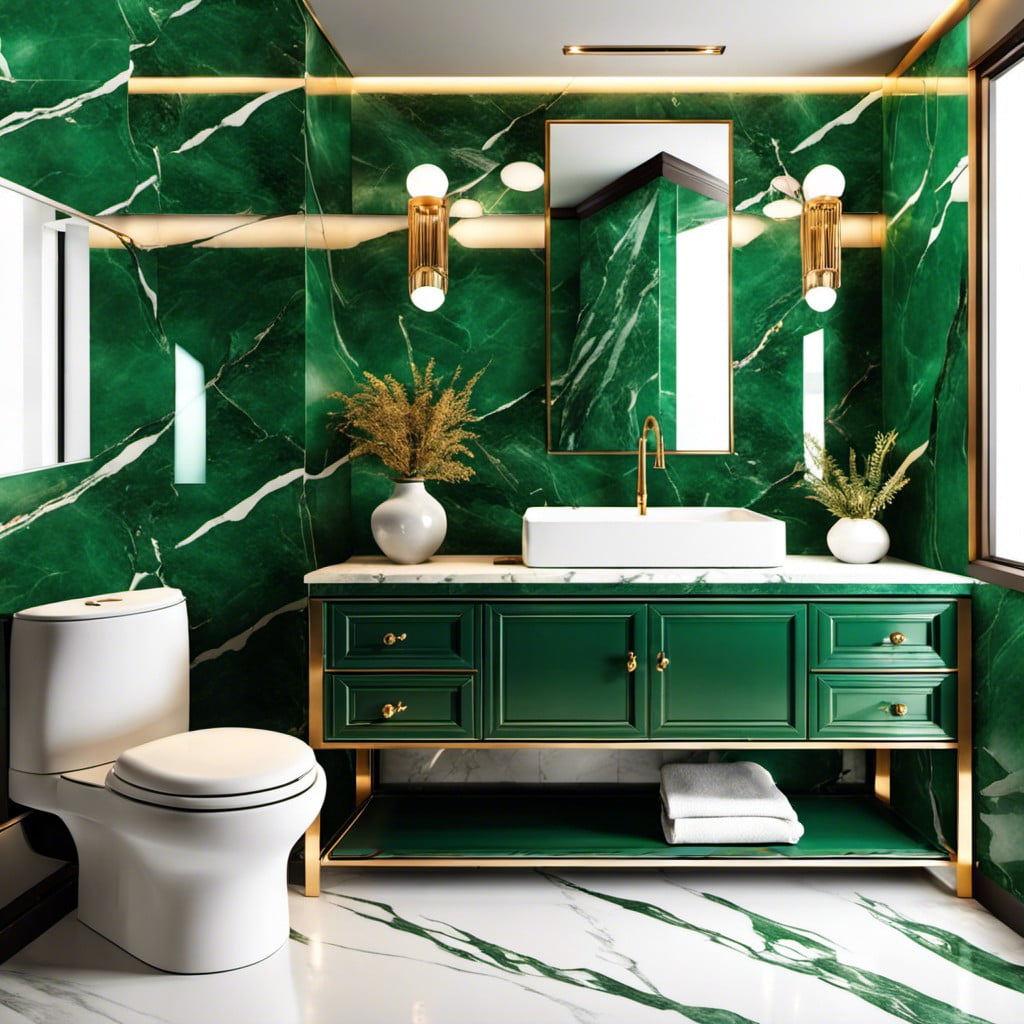 Marble countertops already signal grace and sophistication and adding a dash of emerald green takes it to the next level. Here are ways to make them shine in your bathroom:
1. Pair with Gold Accents: Gold fixtures against the green marble create a stunning contrast and an air of luxury. Consider gold faucets, drawer pulls, or even a gold-rimmed mirror.
2. White Cabinets: To balance out the rich green and prevent color overload, consider fresh white cabinets beneath your countertop.
3. Clutter-Free: Let the emerald green marble be the star. Keep the countertop clutter-free or with minimal, tastefully chosen objects.
4. Natural Light: Let in as much natural light as possible to make the green countertops vibrant and alive during the day.
Remember, the key to pull off this opulent look is a balance, allowing the green marble to be the undeniable focal point.
Green Clawfoot Bathtub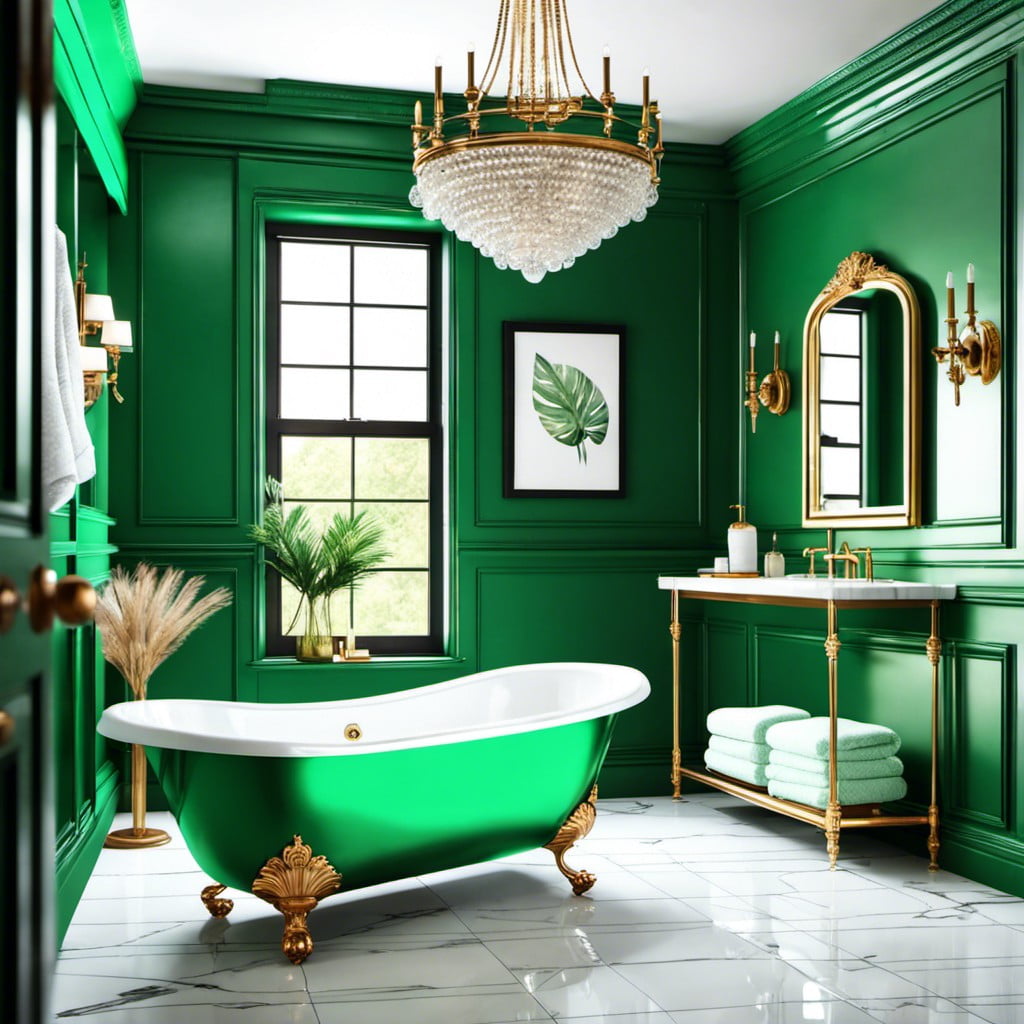 A clawfoot bathtub, robed in emerald green, provides a classic yet whimsical touch. The radiant hue infuses the bath environment with tranquility, akin to a forest retreat.
Here's how you can magnify the charm:
1. Pai metallic Fixtures: Brass or copper faucets and showerheads set a complementary tone, accentuating the green.
2. Contrast Elements: White bath linens and a shag bathmat offer soft contrast, amplifying the tub's bold presence.
3. Tile Play: Select tiles with subtle green undertones. This strategy creates visual harmony without dulling the tub's vibrancy.
4. Light: Several wall sconces emitting soft white light create a shining halo ring around the bathtub, ensuring it gets the spotlight it deserves.
5. Décor: Vintage soap dispensers, potted ferns or ivy can create a coordinated, yet unstated echo of the bathtub's verdant charm.
By mindful use of these elements, the emerald green clawfoot tub becomes a timeless focal point in your bathroom, fostering an atmosphere of relaxed luxury.
Emerald Green Vanity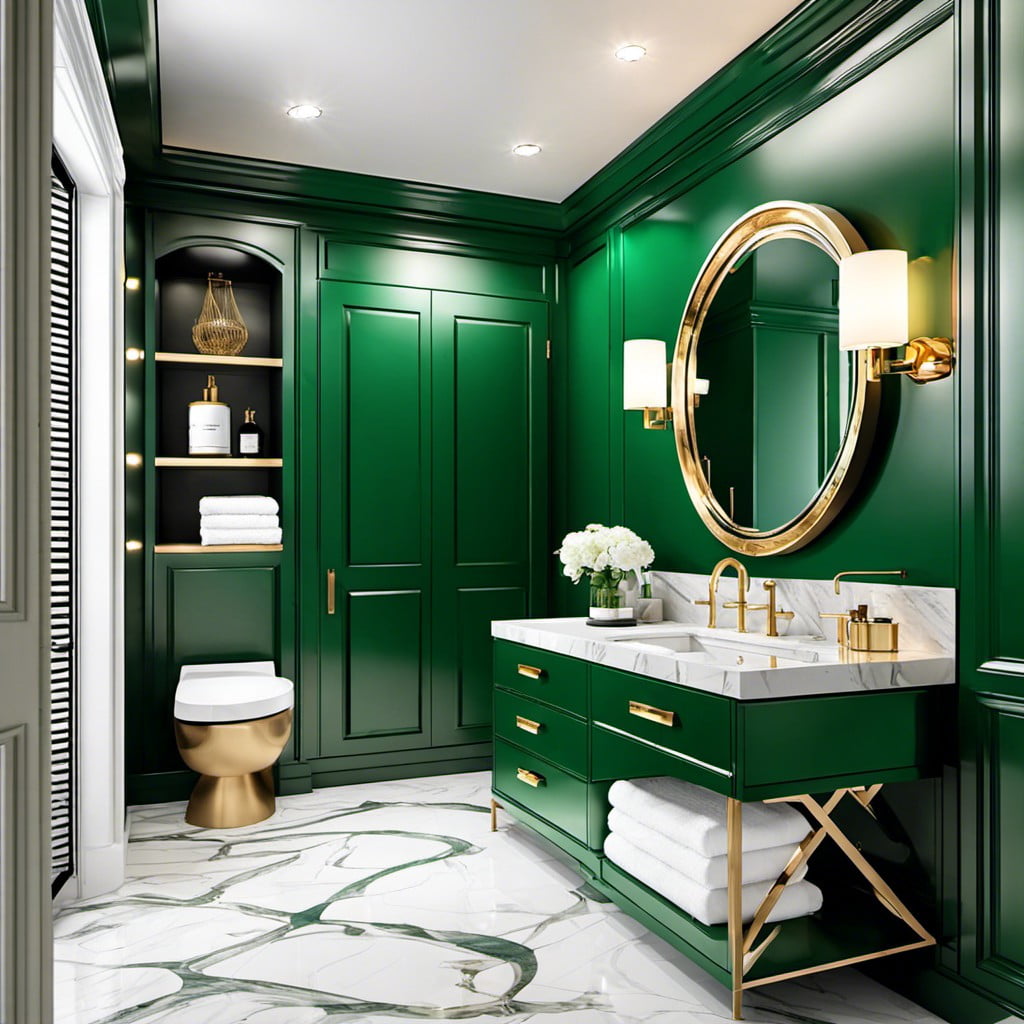 An emerald green vanity might just be the bold pop of color your bathroom needs. This striking piece can function as the showstopper, balancing out the neutral tones in your space.
Consider opting for modern and streamlined styles, or go vintage with a furniture-like design for a classic feel. Match the vanity with brass or gold fixtures for a luxury vibe.
For a cohesive look, you can pair your vanity with an emerald green mirror frame or even with matching green towels hung on brass towel rails. Try scattering around coordinated green accessories, such as planters or soap dispensers.
Finally, ensure you pick the right finish; matte can create a modern look, while a glossy finish gives a polished, elegant feel. It's all about letting your vanity stand proud and be the centerpiece of your bathroom, characterized by your unique style.
Green Glass Shower Enclosure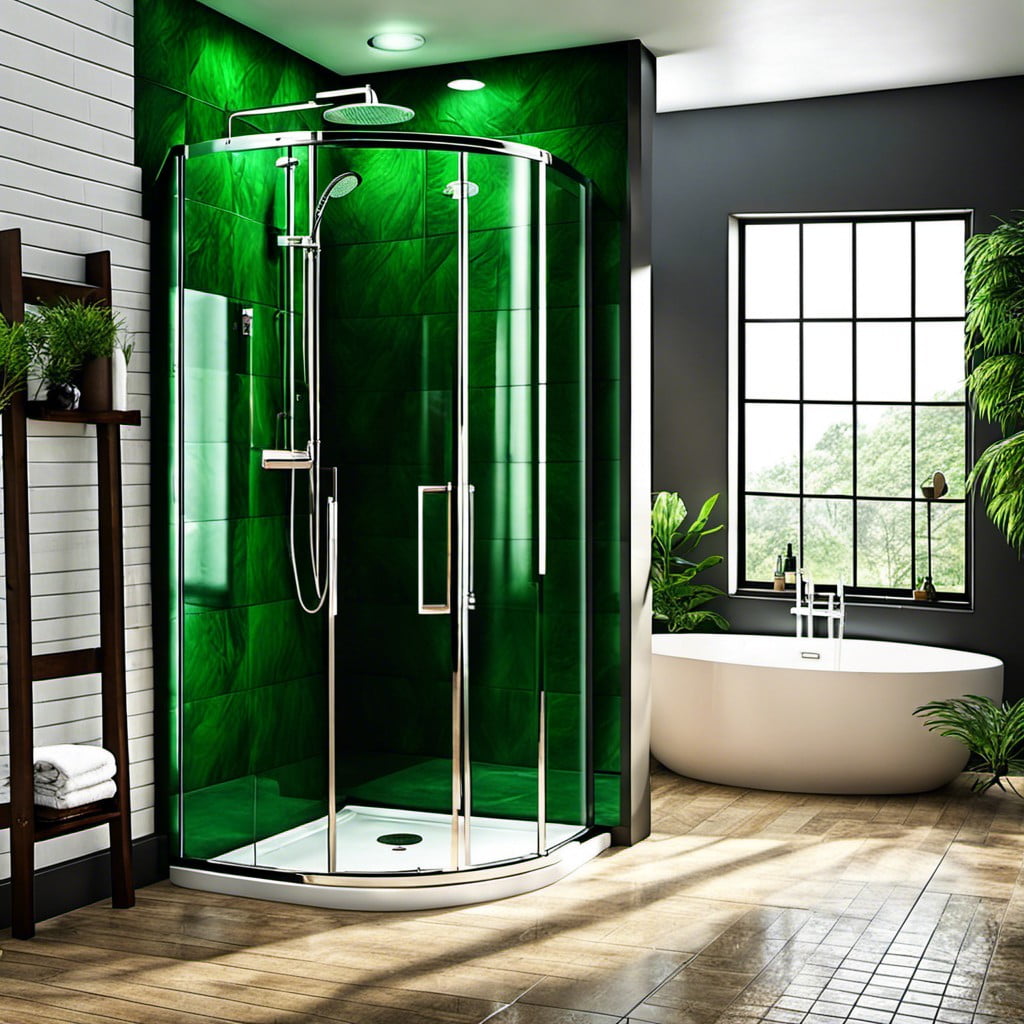 Achieving a high-end, luxurious look is possible with the addition of a shower enclosure made from green glass. This choice incorporates a unique pop of color, while also offering an unexpected focal point to the space.
The green hue can vary from a lighter, pastel tone to a deeper, more vibrant shade, depending upon your personal preference. Coupling this with either brass or silver fixtures can draw out hints of color, catching the eye in an elegant way.
Add a non-slippery white or light marble floor to offset the green, creating a harmonious contrasting effect. This seamless blend into your bathroom design allows for functionality without compromising on style.
For upkeep, it's simply a case of regular cleaning to ensure the green glass maintains its sparkle.
Emerald Green Subway Tiles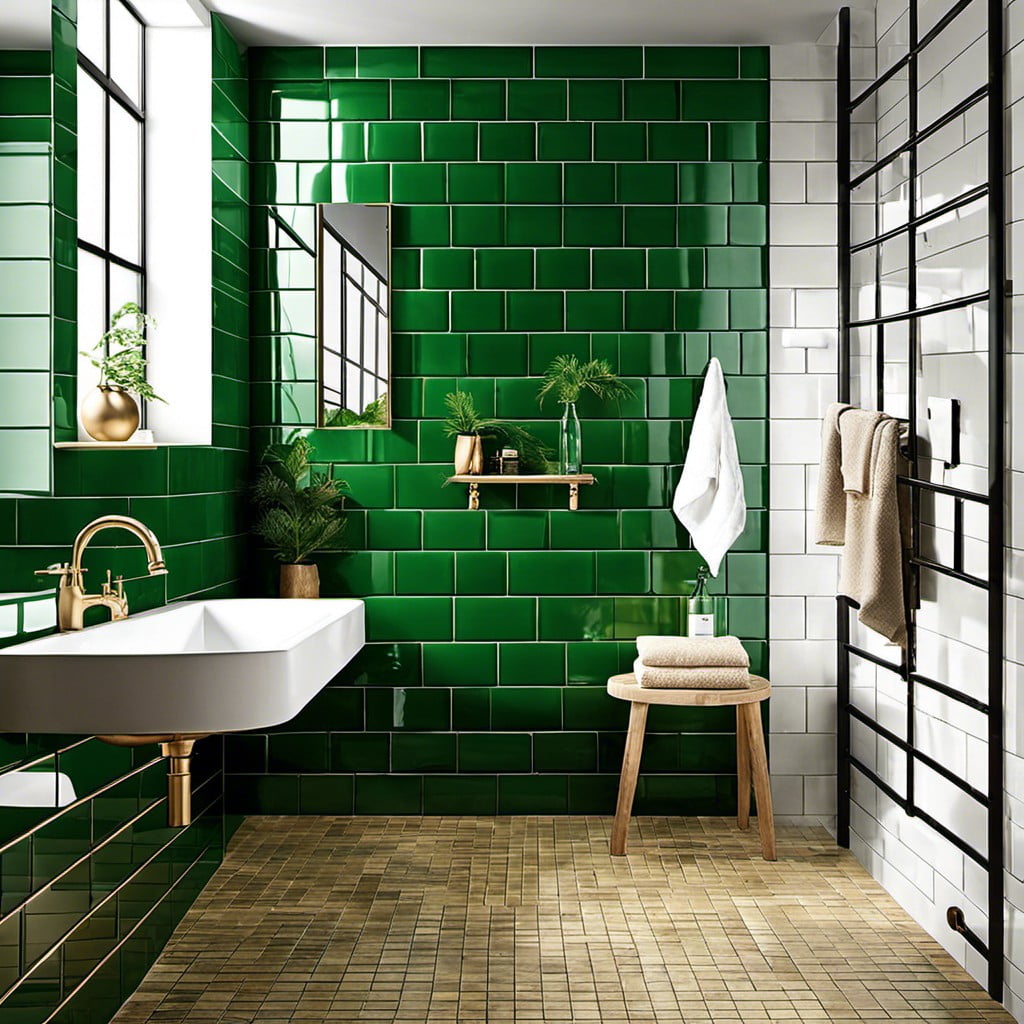 These transformative tiles lend a classic yet modern touch to your space. When arranged in a standard, brick-like pattern, they create an eye-catching structure that effortlessly stands out.
For a more dramatic look, consider a herringbone or diagonal pattern. The glossy finish of subway tiles pairs wonderfully with brass or matte black fixtures, adding an extra level of sophistication.
Remember, grout color can significantly impact the overall aesthetic. White grout enhances the crisp geometric lines, while darker grout can offer a striking contrast, highlighting the emerald's richness.
Further, complement the vibrancy of the tiles with neutral elements – a white sink, soft beige walls, or wooden elements to create a balanced look.
Lastly, proper lighting is crucial to illuminate the tiles and bring out their magical depth that could elevate your bathroom aesthetic up a notch.
Chrome Fixtures With Green Accents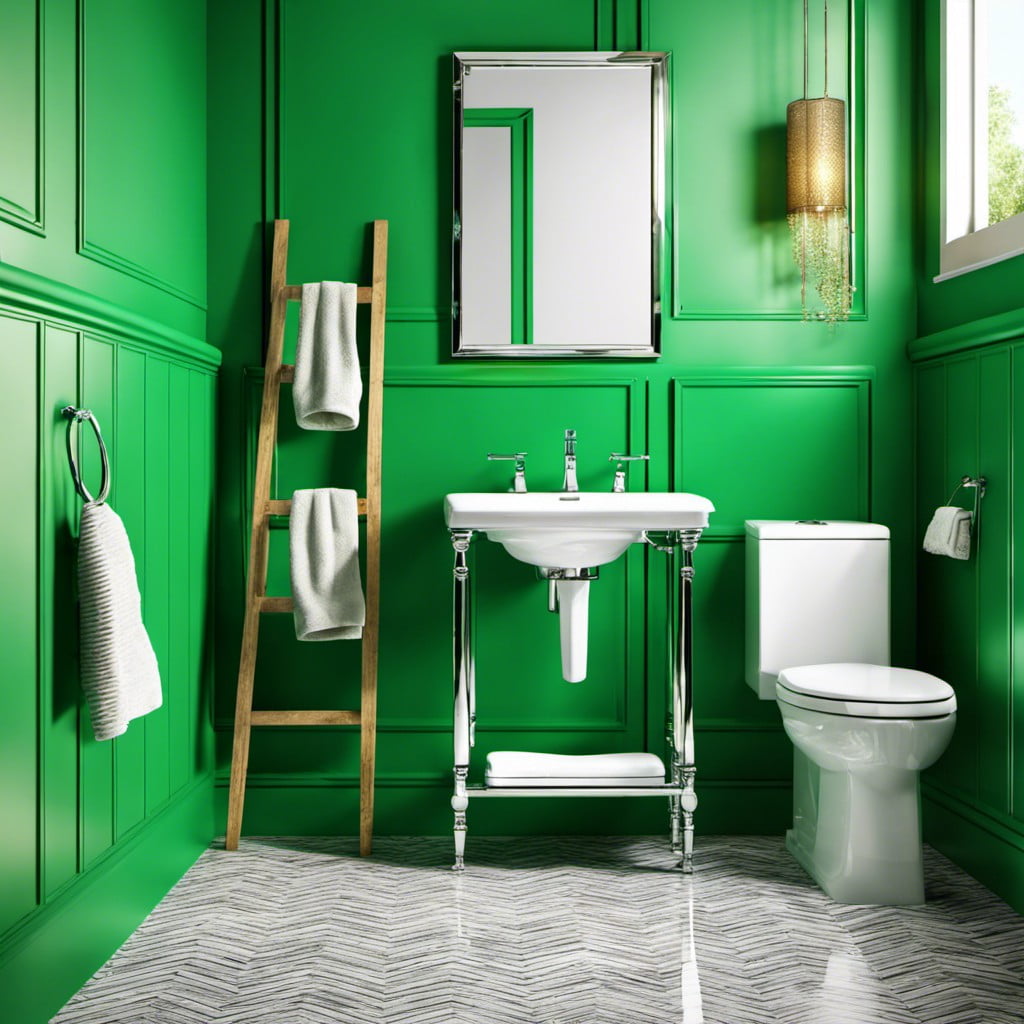 Adding in chrome fixtures provides a sleek contrast to emerald green and plays up the rich tones perfectly. Here are a few points to consider:
1. Faucet: Go for chrome finished faucets to provide a sparkling interaction with the emerald backdrop. It enhances both the luxury and modern vibe.
2. Showerhead: A round rainfall showerhead in polished chrome offers a clean, minimalist feel, perfectly complementing emerald green.
3. Light Fixtures: Chrome light fixtures with geometric designs can add a layer of sophistication to the entire space.
4. Towel Holder/Rack: Incorporate a functional chrome towel rack to maintain the stylish appearance.
5. Handles and knobs: Even the smallest fixtures can have a big impact. Chrome handles and knobs add a gleaming touch to green cabinets and doors.
Remember, every detail counts. These chrome additions will be instrumental in achieving an eye-catching contrast with the emerald green elements of your bathroom.
Art Deco Theme With Green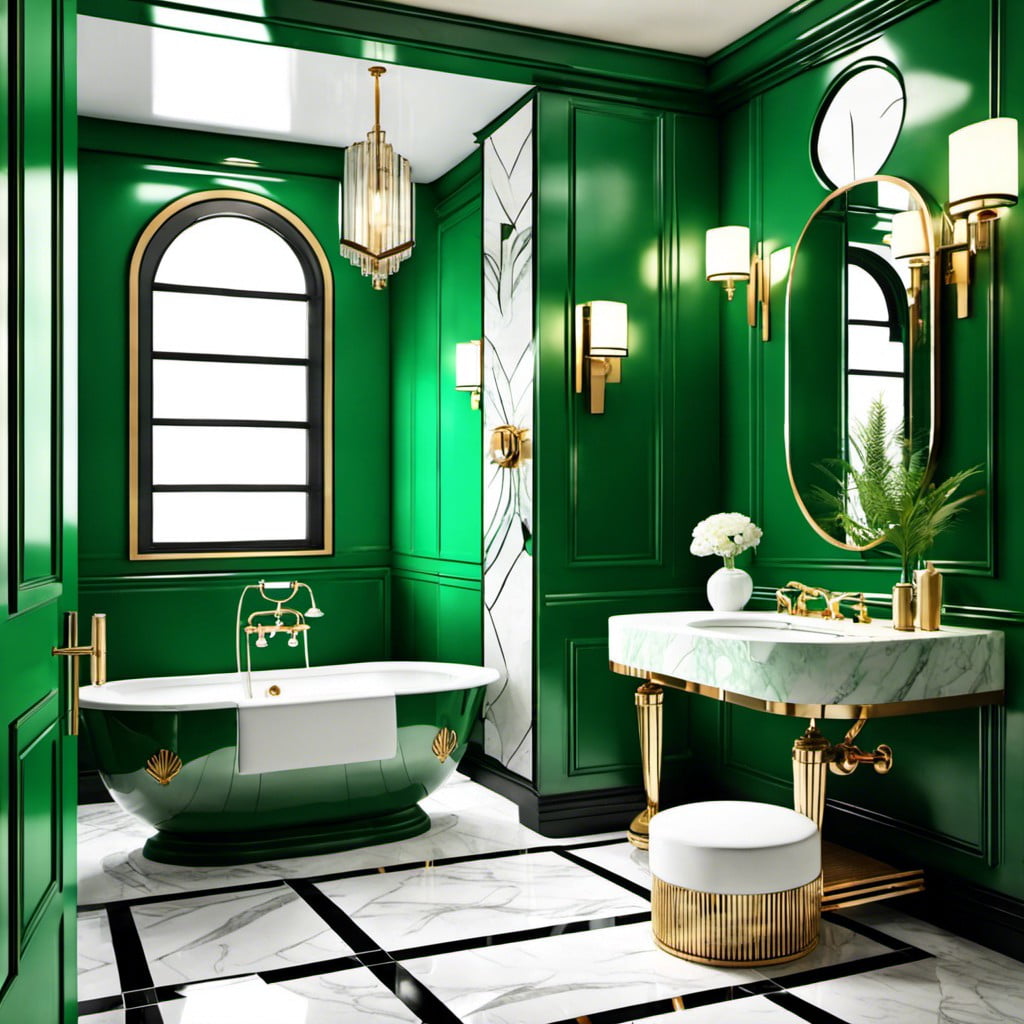 Harness the elegance that Art Deco brings by incorporating it into your bathroom design, using emerald green as your base color. The key here is highlighting geometric shapes, rich color, and lavish detail, a signature of Art Deco style.
Start with a statement wall depicting abstract shapes, or keep it simple with green block tiles in a geometric pattern. Consider brass or gold fixtures for that vintage accent they lend. Be it your mirror frames, faucets, or even drawer handles; these elegant metals are certain to pop against the rich green.
And let's not forget the lighting. Pendant lights or chandeliers with art deco attributes not only serve a functional role but also play into the vintage aesthetic.
Remember, Art Deco celebrates luxury and opulence, so don't shy away from introducing touches of glamour. Master the balance, and your bathroom will reflect an era of sophistication, dipped in a trendy emerald hue.
Emerald Mosaic Floor Tiles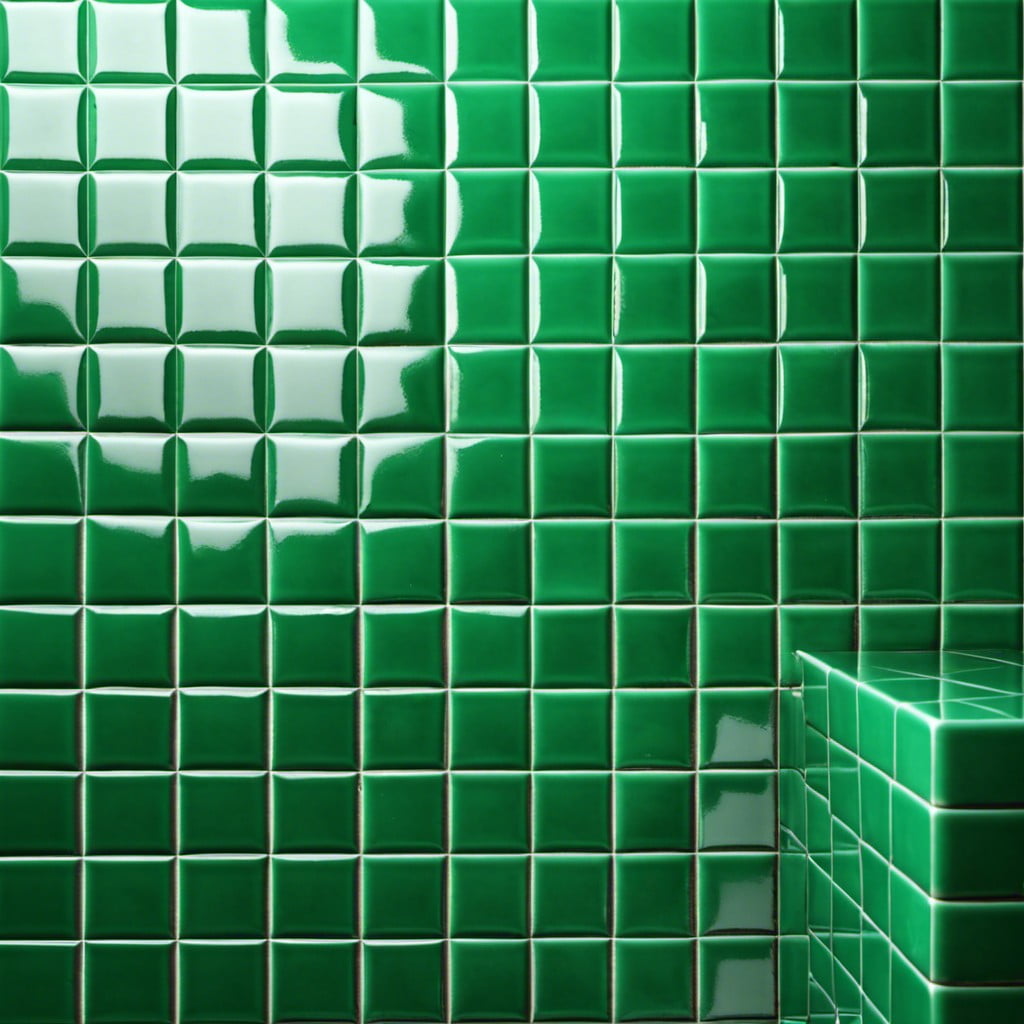 Stepping into your emerald oasis starts from the ground up. Mosaic floor tiles create a unique and engaging pattern that becomes the underfoot art of the bathroom. For a truly otherworldly feel, opt for glass mosaics with their subtle shimmer.
Consider different shades of emerald together for a multi-dimensional effect. Perhaps, combine with small sections of white or beige to break monotony.
Remember, smaller tiles result in more grouting, which can become a design feature itself, especially when contrasted with the emerald – imagine a silver or gold grout.
Installing these tiles can be a do-it-yourself project if you're handy, or you might choose to hire a professional for a pristine finish. Maintenance is straightforward: a quick mop with non-acidic cleaner keeps them sparkling.
In this case, it's true that luxury often comes in small packages: even though the individual tiles are small, their collective beauty can redefine your bathroom.
Try keeping rest of your decor simple and let the floor command the attention it deserves. Having an emerald mosaic tile floor truly transforms your bathroom into an exquisite escape.
Green Abstract Wall Art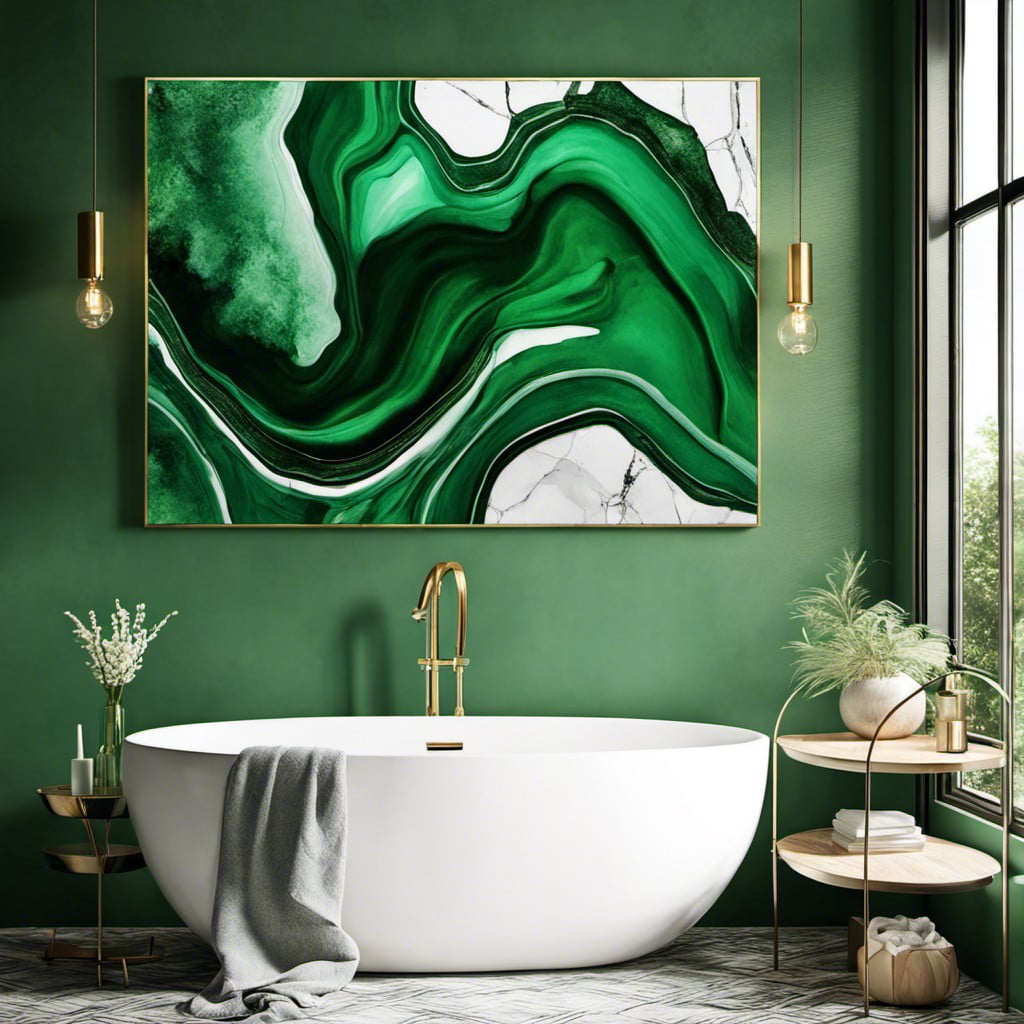 Adding abstract wall art can seamlessly transform the bathroom into a spectacular vista, combining aesthetics with emotion. Look for pieces that mirror the rich, bold shades of emerald green in stylish, abstract patterns. Don't be afraid to opt for larger pieces that can act as a statement feature, contrasting well with neutral elements in the space.
It's also a clever idea to combine textures within the art piece – perhaps a mixed media piece featuring gold or silver elements. These metallic touches can tie in with your hardware and lighting fixtures, boosting the chic factor of the room.
Remember, while placing artwork, always ensure it's in a position where it won't be affected by the bathroom's humidity. Incorporating clear glass for protection can help preserve the art in its original condition. Last but not least, let your chosen piece reflect your personal style; after all, it's what makes your space uniquely yours!
White and Green Checkered Flooring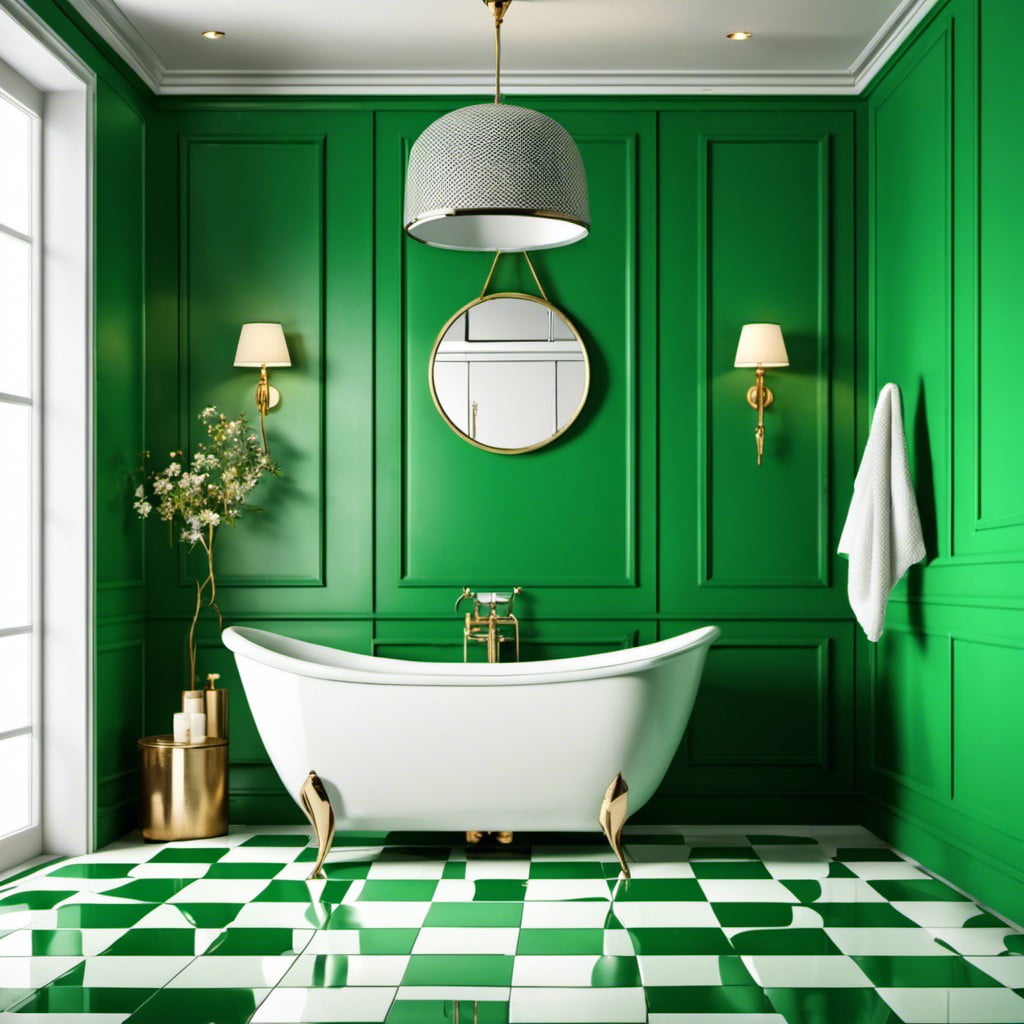 With an eye-popping, retro vibe that never goes out of style, this option introduces a geometric element into the bathroom space. The stark contrast between the emerald and white squares adds depth, making the room feel larger.
To diversify the look, consider using varying shades of green. You can create a more subdued, elegant look by selecting a softer hue, or go bold with dark emerald. For a luxurious touch, opt for high-gloss tiles which will reflect light and brighten your bathroom even further.
Remember to pair this pattern with simple walls to avoid visual clutter. Lastly, consider underfloor heating; it ensures comfort underfoot and disables moisture buildup, thus extending the lifespan of your lovely checkered design.
Green Glass Vessel Sink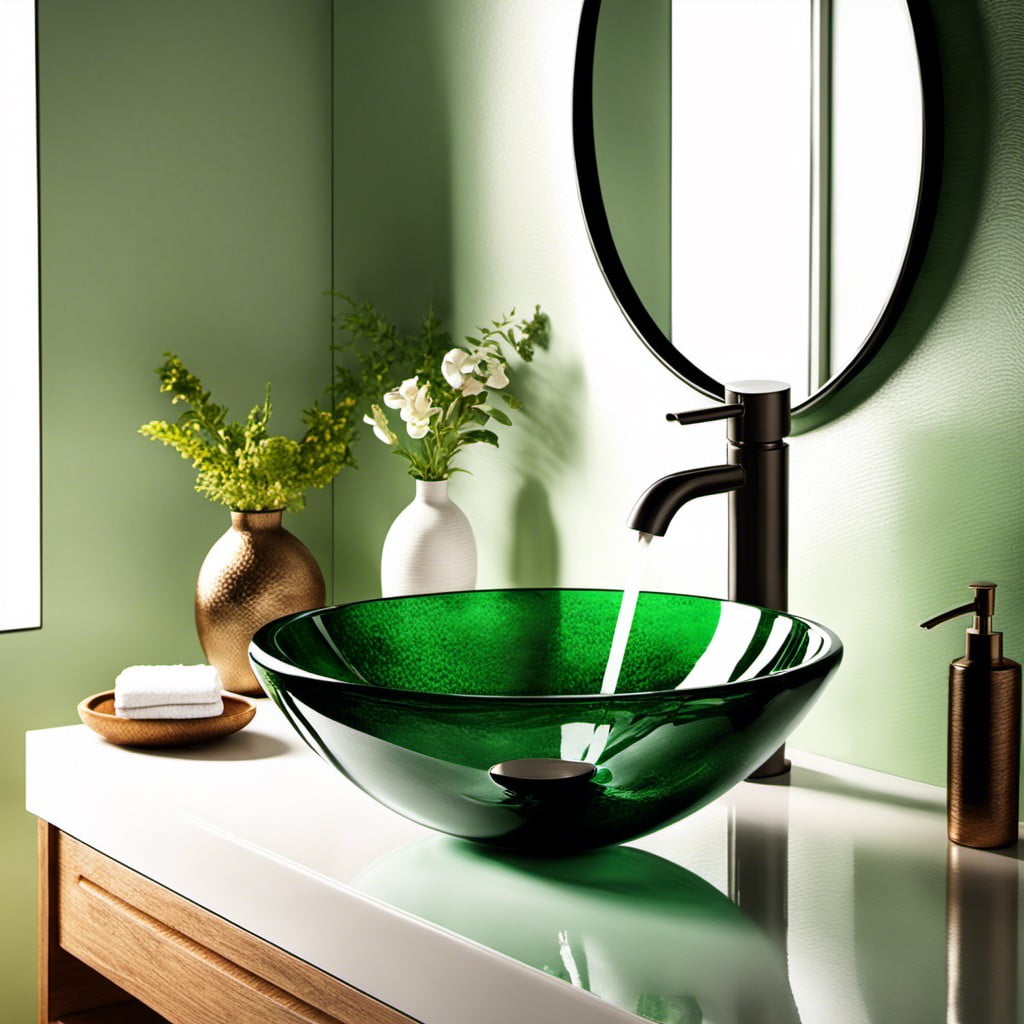 Placing it atop a sleek vanity or rustic countertop, this standout piece can effortlessly breathe life into any bathroom aesthetic. It carries sophistication and artistry while still maintaining functionality.
The translucent quality of the glass unveils a deep, lush hue that brilliantly captures light, both natural and artificial, providing a radiant glow that can elevate the ambiance from ordinary to appealing.
One could opt for handcrafted designs with swirls and patterns that play with the light, adding a touch of playful elegance. Alternatively, a smooth, polished variant offers a pristine look, enhancing the space with its tranquil, serene essence.
For a harmonious look, consider pairing it with chrome or rose gold fixtures. If you're looking to create a bold contrast, black matte or brushed brass fittings can work wonders.
Lastly, remember to keep the surroundings neutral so the sink remains the focus. A palette of whites, grays, or beiges should do the trick. And, of course, a touch of greenery will complement the theme perfectly, bringing an added layer of freshness to your bathroom.
Emerald Green Ceiling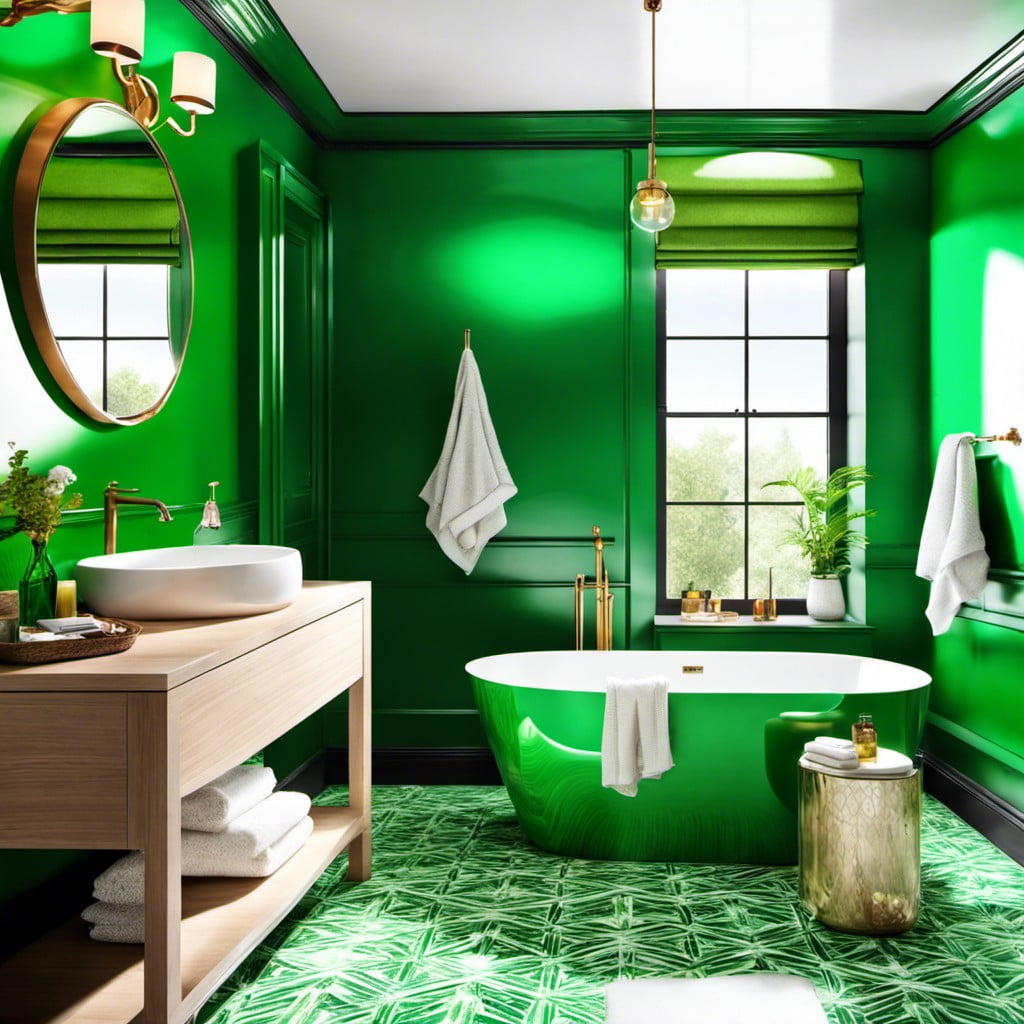 A stunning visual effect can be created by painting the ceiling emerald green. This bold choice will not only capture attention but will give a depth to your space while adding a touch of elegance and drama.
In smaller bathrooms, it's all about light reflection. Opt for a high-gloss finish to reflect natural light and make the room seem taller and brighter. Larger bathrooms, on the other hand, can handle matte finishes to create a cozy, enveloping atmosphere.
To balance out this bold statement, keep the rest of the decor simple. Think white walls, light wooden cabinets, and minimalist lighting fixtures. With the ceiling as the star of the show, subtle décor will accentuate the elegance of the emerald green, not compete with it.
Remember, even though emerald green is a vibrant hue, it doesn't mean the lighting should be compromised. Properly chosen lighting fixtures will enhance the color magnificently. Spotlights or statement pendant lights can create mesmerizing effects.
Green and Gold Accents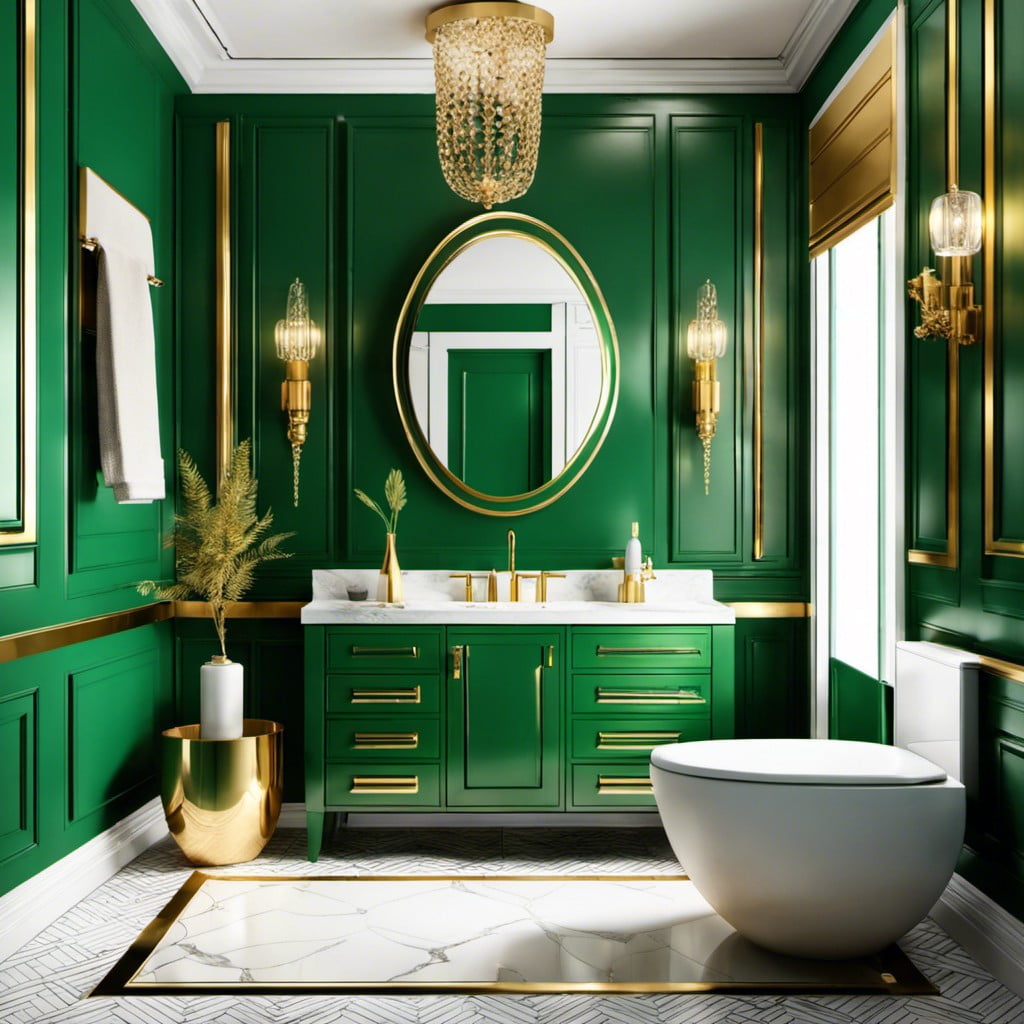 These opulent pairings deliver a sense of luxury to your bathroom. Evoke a regal feel by incorporating gold fixtures such as faucets, towel racks, and light fixtures against the lush backdrop of emerald green.
Gold rimmed mirrors or picture frames can also add an elegant touch, while gold accented accessories like soap dishes, tissue box holders and trash cans can subtly tie the theme together.
For those not shy of a bold statement, consider an emerald green bathtub with gold claw feet. The reflective properties of gold bring warmth and depth, creating a truly inviting corner of the home.
Remember, balance is key. Too much green can be overwhelming, while an excess of gold may appear garish. Play with different shades and textures, intersperse the gold cleverly to accent, not dominate, the verdant palette.
Emerald Green Shower Curtains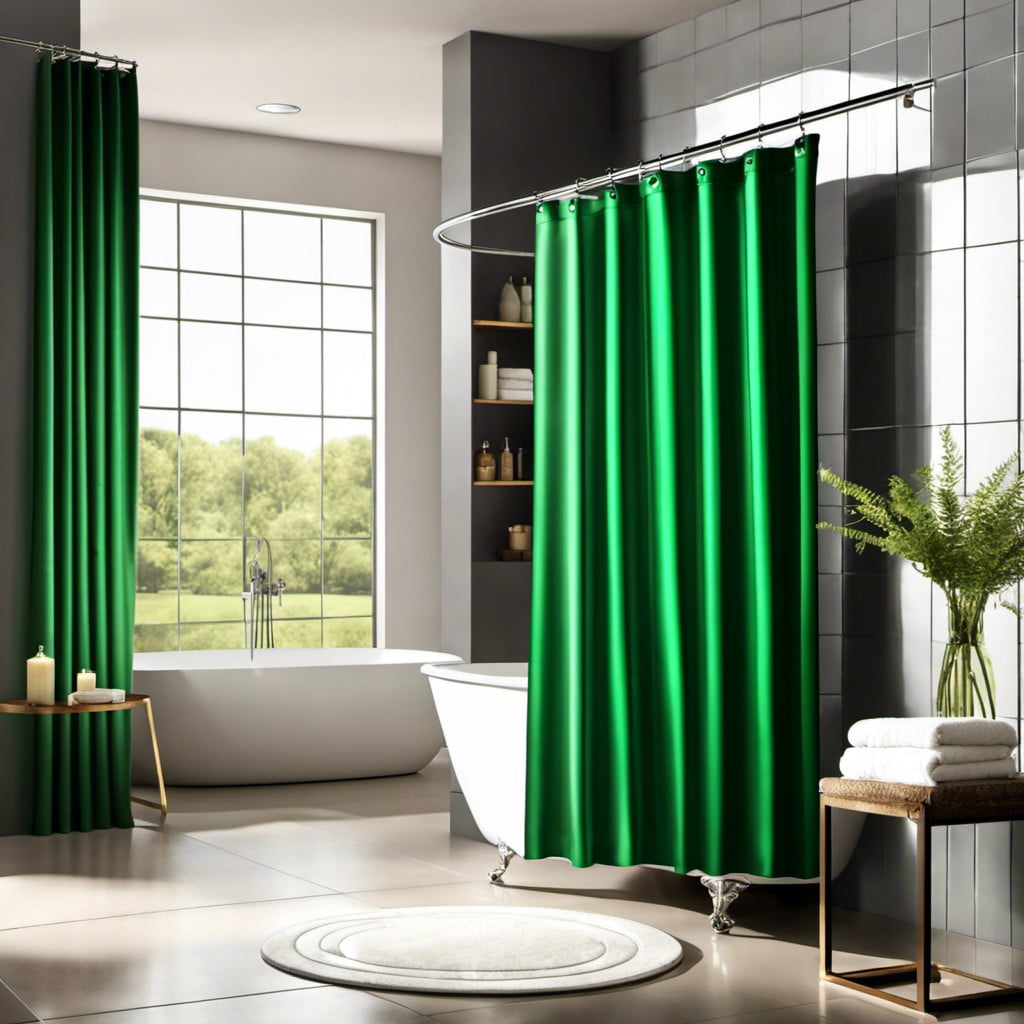 A properly chosen curtain can act as a vibrant centerpiece in your bathroom, creating a fresh and inviting atmosphere. Opting for a patterned emerald green curtain adds an artistic touch that elevates the overall design. Moreover, using such an essential, functional item as a key decorative tool enables a practical and stylish transformation.
Consider fabrics with a distinctive texture or intricate patterns to instill a unique character into your bathroom. From botanical prints to geometrical designs, the choices are diverse. Remember, while offering privacy, the curtain should also easily harmonize with the other green elements enhancing the cohesive look of your bathroom.
Picture walking into a bathroom with the gleaming green curtain hanging elegantly by the bathtub – it's an instant mood enhancer!
Antique Green Mirror Frame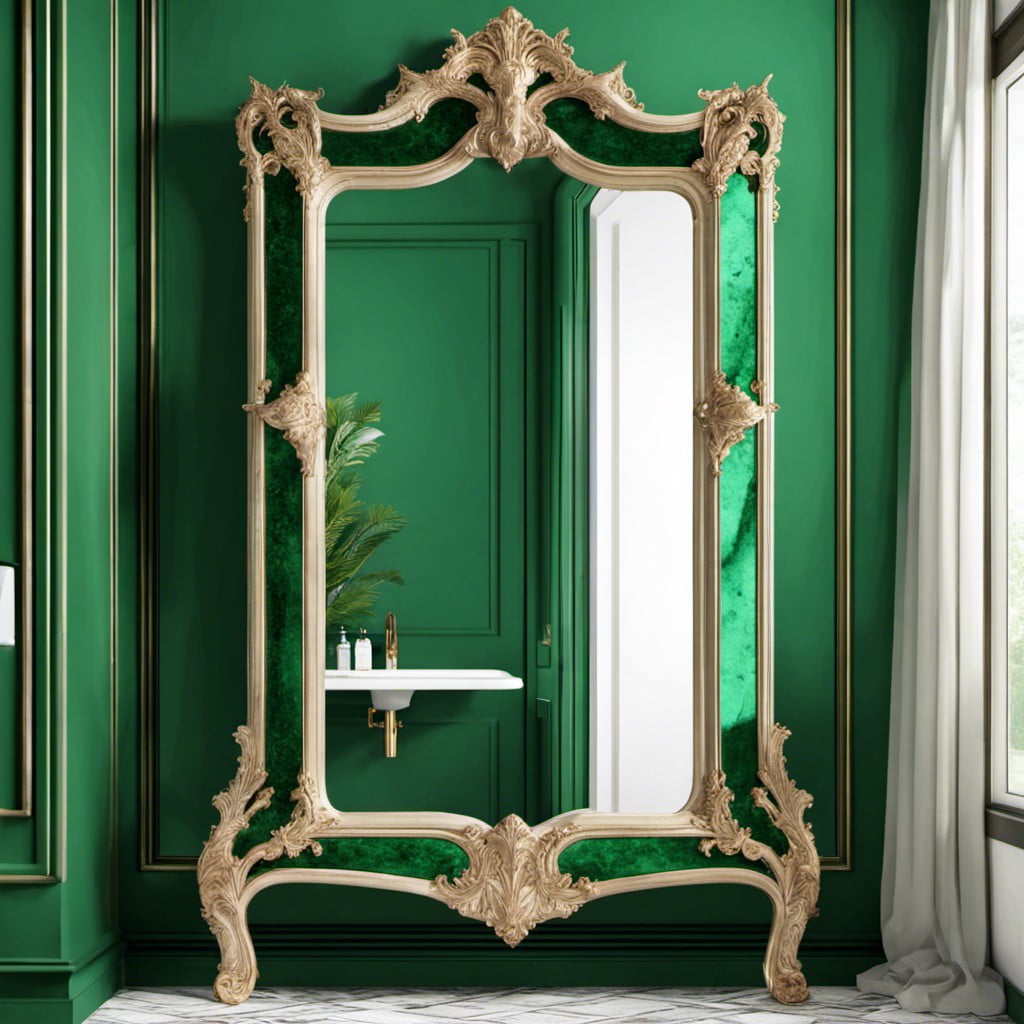 An antique mirror creates a captivating focal point and infuses an old-world charm into a bathroom setting. When framed in emerald green, its visually striking appeal is amplified. Consider a distressed finish on the frame to further accentuate its vintage allure.
The reflective mirror enhances the lush green color, illuminating the space beautifully.
Here's how to integrate this concept in your space:
Position the mirror strategically to reflect natural light, making the emerald green color pop.
Couple the mirror with cream colored walls, ensuring that it stands out.
Match the mirror with similar antique or vintage style fittings and accessories to maintain a consistent theme.
Play with various shapes and sizes – a large, bold mirror can be a dramatic statement piece, while a smaller one adds a subtle touch of elegance.
Finally, use warm lighting. This adds a radiant glow to the mirror's frame while enhancing its luxurious appeal.
Remember: every detail contributes to the overall aesthetic.
Emerald Green Floating Shelves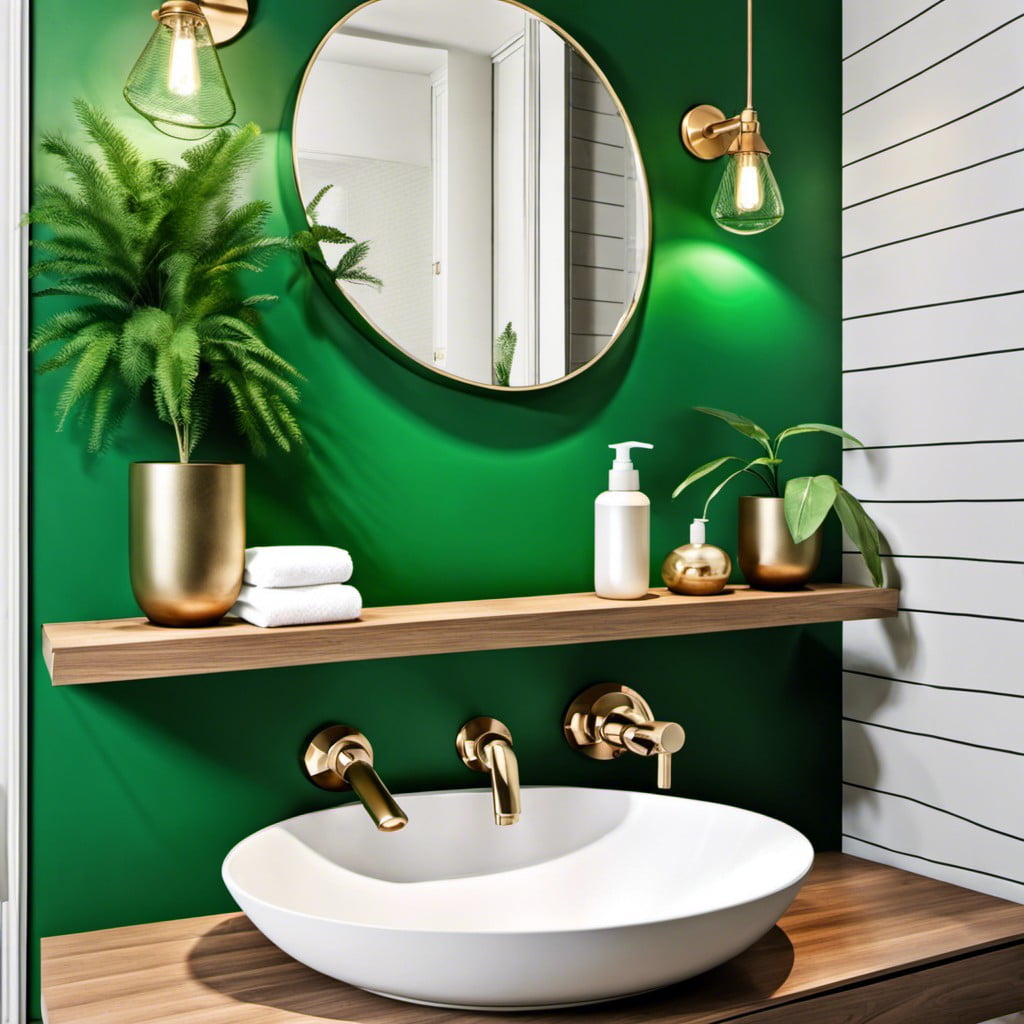 Adding these shelves to your bathroom not only serves a functional purpose but also adds an alluring aesthetic element. Choose from different shapes, like rectangular or hexagonal, to match your design vision. For a coherent look, align them with the vanity or mirror.
Incorporate shelves in materials such as glass for a contemporary touch, complimenting the rich emerald green color. To emphasize the luxurious effect, decorate with gold-rimmed accessories like soap dispensers or small plant pots.
For a minimalistic approach, keep decorations sparse and let the emerald green shelves become a focal point themselves. Use them for necessary storage, like towels, and beauty products hidden in chic containers.
A note-worthy idea is to introduce LED strips underneath if you want to give a modern and upscale twist. The soft light shining down will make your emerald green shelves a striking feature and enhance the overall ambiance in your bathroom.
Tropical Wallpaper With Green Hues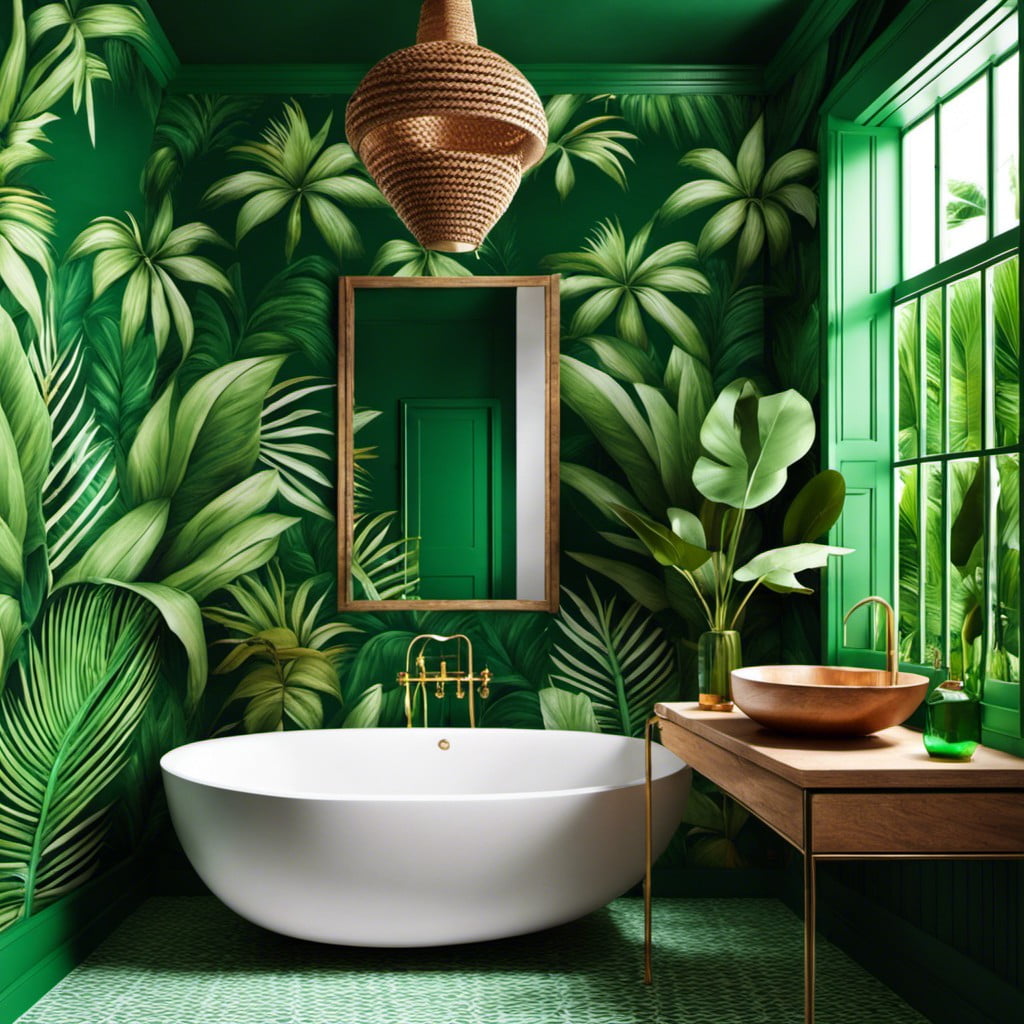 Adding a splash of the tropics adds drama, warmth, and a touch of whimsy to your bathroom decor. Choose wallpaper with larger leaf patterns to create a bold statement, or small and delicate prints for a more understated look. Consider banana leaves, monstera, or palm fronds; these designs bring a slice of paradise into your personal space.
If you desire a quieter feel, opt for patterns with a predominantly white or light background. If dramatic effect is your goal, dark backgrounds with bold green prints are your best bet. Placing this type of wallpaper behind a mirror or vanity adds a unique charm and draws the eye in. Just remember, tropical patterns are innately busy. Balance is crucial. Use neutral elements throughout the rest of the space to ensure your bathroom doesn't feel overcrowded.
Green Plants for Fresh Ambiance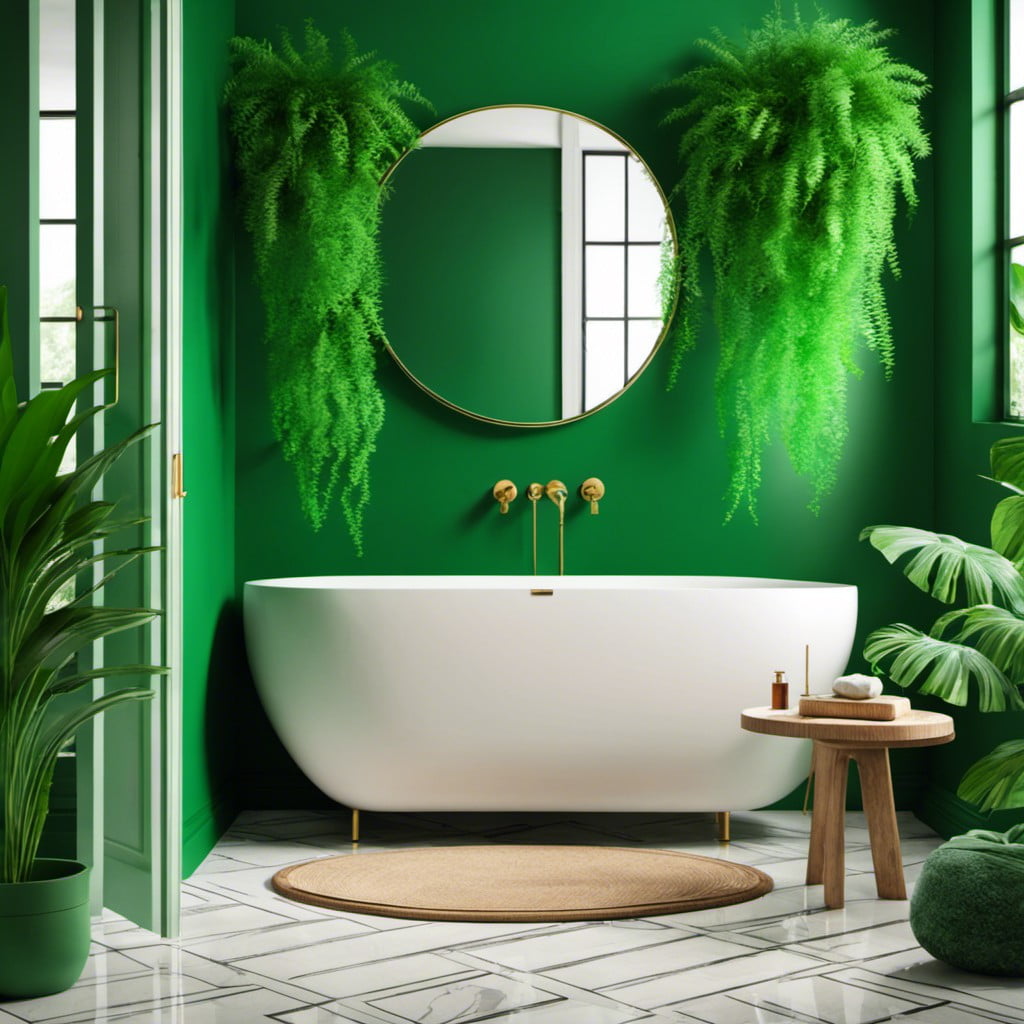 Houseplants are more than just a decorative touch; they enhance your bathroom with a refreshing, natural ambience. Select humidity-loving species that thrive in bathrooms like Boston ferns, bamboo, or aloe vera. Not only will these greens flourish in this environment, but they will also help purify the air, ensuring the space is perpetually fresh and vibrant.
Additionally, you may consider hanging plants, such as the trailing Heartleaf Philodendron, for a captivating visual effect. Don't neglect small corners and surfaces – a mini tabletop garden with succulent varieties can be a delightful addition to sink tops or shelves. Pair these green mates with your emerald decor for the ultimate indoor oasis.
Emerald Green and Wood Combination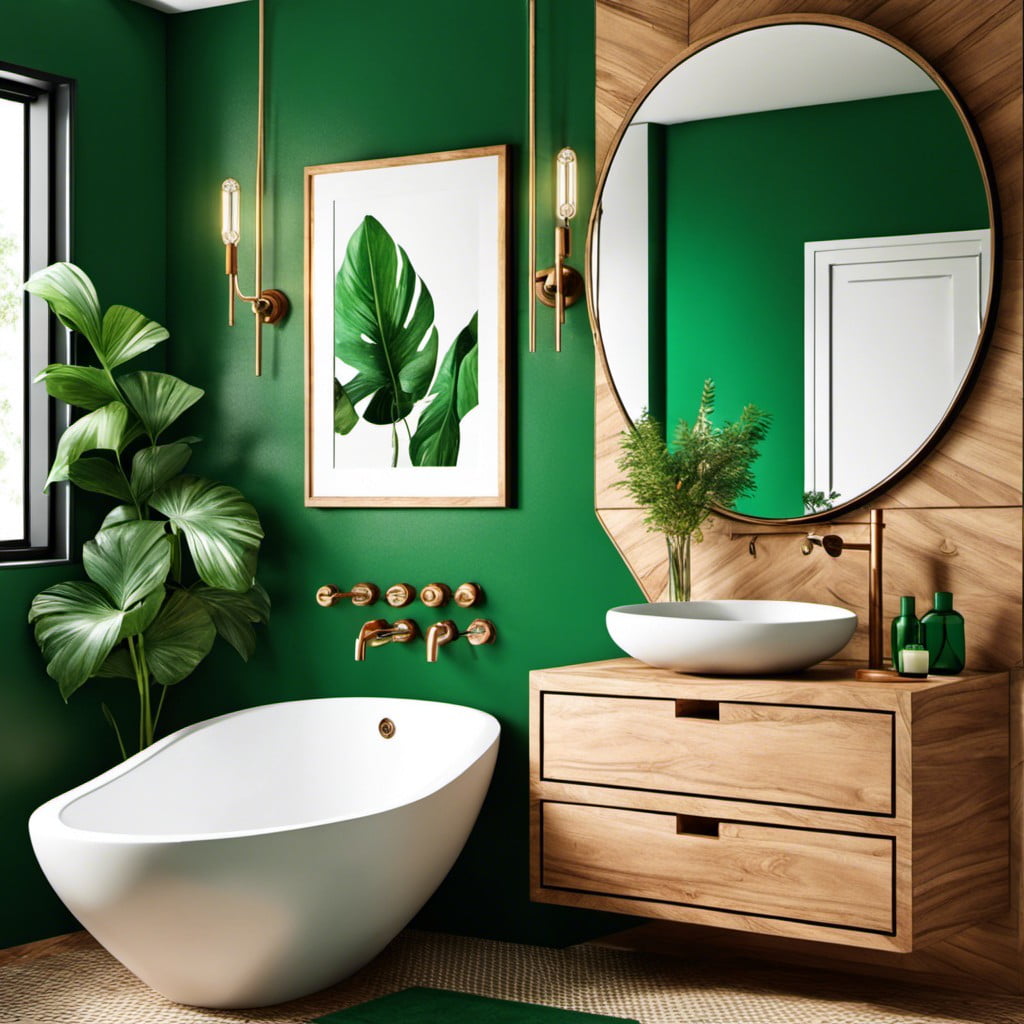 Harmonizing emerald green with natural wood tones can create a visually soothing palette. Wood finishes like oak, walnut or cedar complement the richness of emerald green, introducing an element of warmth and earthiness.
Opt for wooden bath racks, stools, or wall shelves. Carry the styling over to a wooden framed mirror or a vanity unit. Even simple elements like wood-handled brushes or soap dispensers can further enhance the theme.
Remember, this combination strikes a balance between modern sophistication and organic homeyness.
Continue reading:
Recap