Last updated on November 17, 2023
Transform your bathroom into a rustic haven with these farmhouse bathroom lighting ideas because even the most minimal changes can bring a dramatic shift in your home's ambiance.
I'm proud to have personally crafted this article and unique designs on Farmhouse Bathroom Lighting Ideas for you and I hope they inspire as much joy and creativity in you as they did in me while creating them.
Farmhouse bathroom lighting can dramatically transform your space, accentuating the rustic charm while providing ample illumination. This article will guide you through a variety of lighting options that perfectly blend with a farmhouse aesthetic, from vintage-inspired pendant lights to modern sconces with a rustic twist.
Whether you're renovating your entire bathroom or simply looking to update your lighting fixtures, you'll find comprehensive details here to help you select the ideal lighting solution for your farmhouse bathroom.
Rustic Barn Lighting Pendants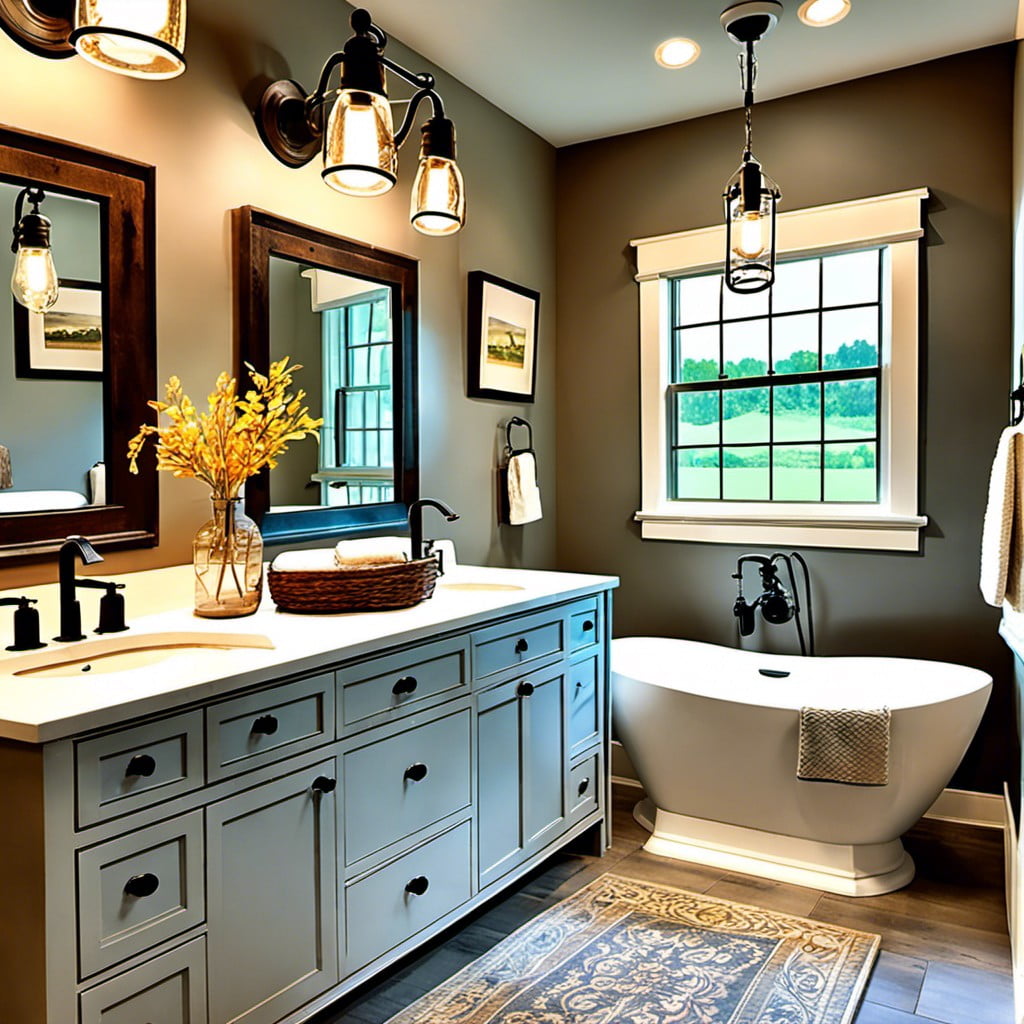 Brimming with old-world charm, these pendants can create a warm and welcoming ambiance. Their ruggedly elegant design speaks volumes about your taste in home décor.
They effortlessly blend modern amenities with a traditional design. Crafted using metal or wood, they usually feature a distinctive weathered finish.
Choose from a variety of styles, shapes, and sizes to suit your space. Remember, opting for bulb types that emit a soft, warm glow can enhance their rustic appeal.
Hang them above your bathroom vanity for a relaxed, countryside vibe, or use them to illuminate your bath area. They're both functional and decorative, setting the perfect tone for a farmhouse bathroom.
Vintage Metal Lanterns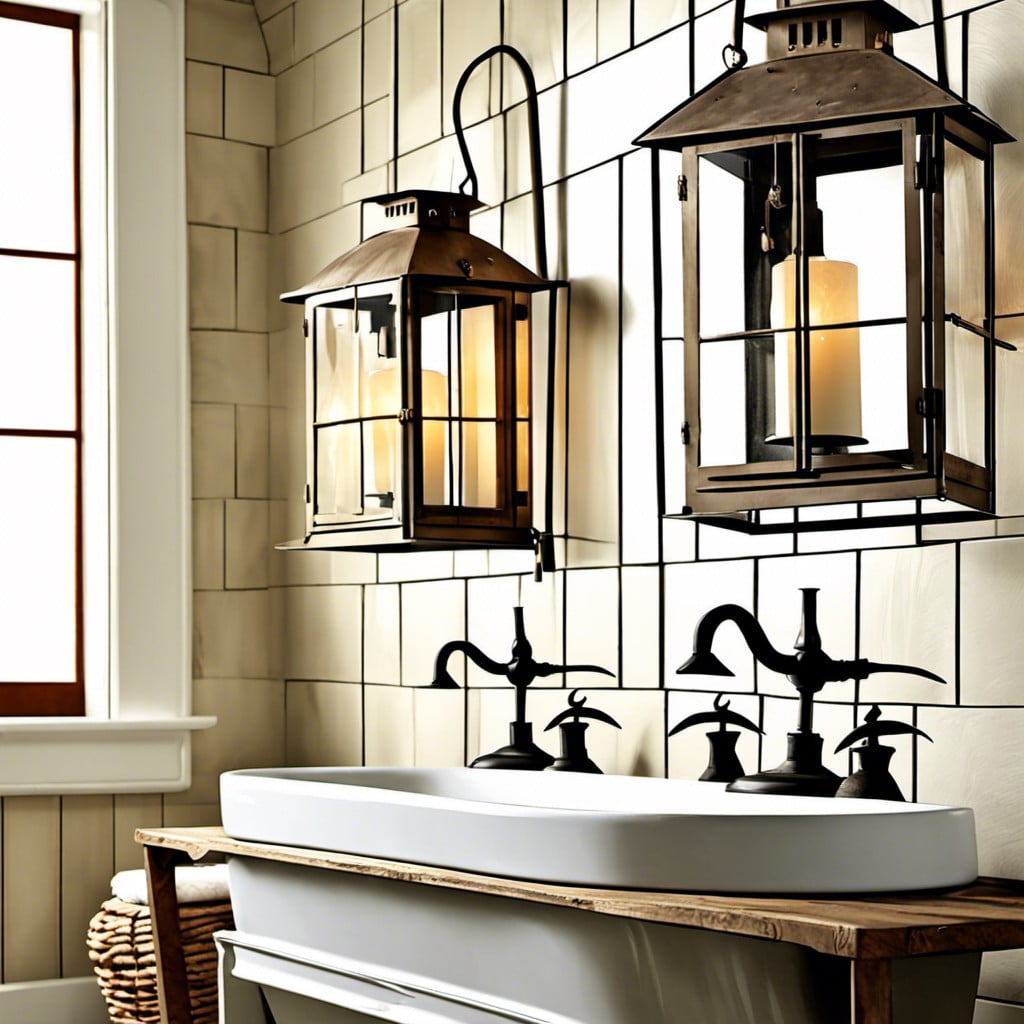 Evoking an atmosphere of bygone days, these fixtures enhance the overall rustic aesthetic of your farmhouse bathroom.
They feature durable metal construction, available in a variety of finishes from matte black to distressed silver.
Typically holding a single light bulb, they emit a charming, ambient light.
Their distinct design provides beauty without obscuring functionality.
For versatility, consider hanging them from the ceiling or placing them on countertops.
Varying the sizes of the lanterns can also bring in an extra layer of visual interest.
Mason Jar Wall Sconces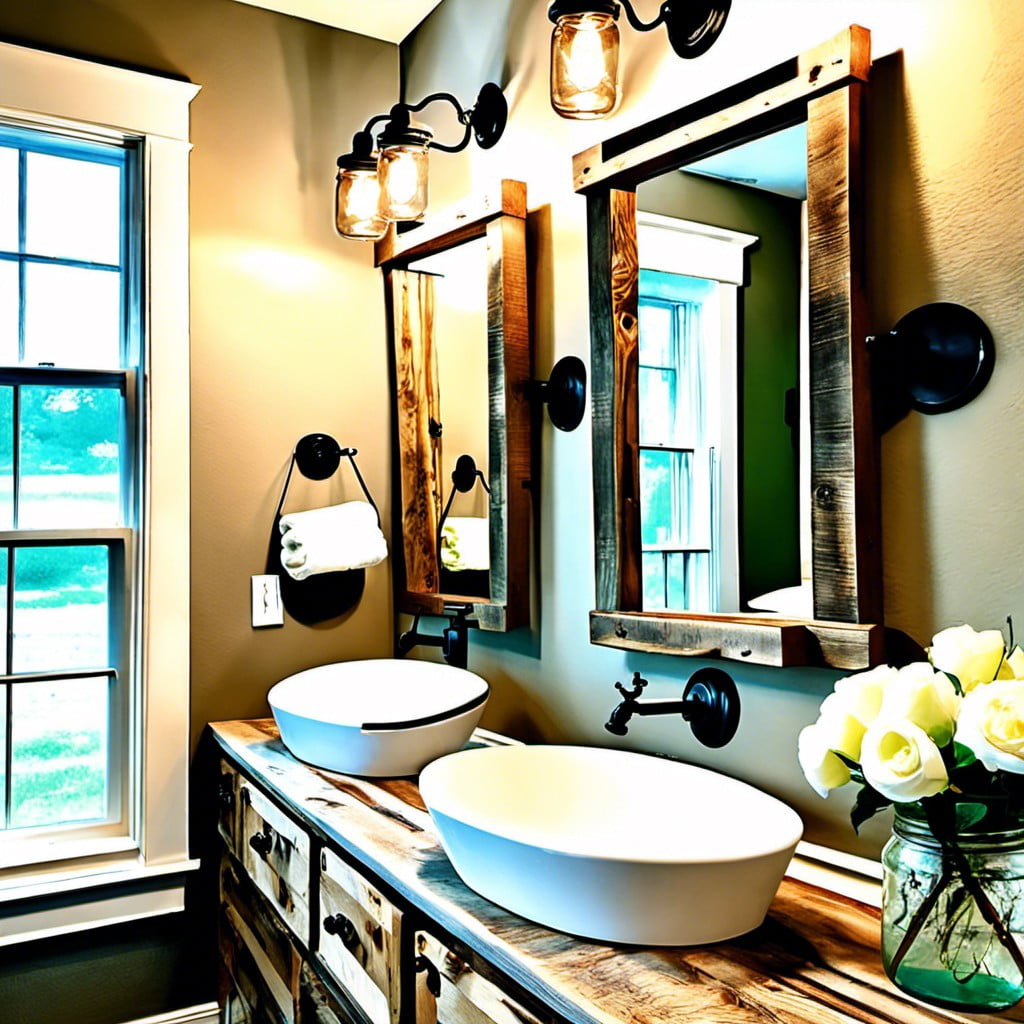 Great for delivering a quaint rustic charm, these DIY-friendly lighting fixtures can give a bathroom a perfect farmhouse feel. Crafted using vintage Mason jars, the design typically involves attaching one or more jars to a wooden panel, which is then secured to a bathroom wall.
Three key aspects bring about the appealing charm:
Customizability: You can use jars of different sizes and colors, allowing for a truly personalized accessory.
Versatility: Their functionality goes beyond providing light, doubling as containers for flowers or bathroom essentials.
Simplicity: With some basic DIY skills, anyone can make their own Mason jar wall sconce, often with materials already in the home, repurposing old objects for a more sustainable choice.
Remember, these lights look best when paired with Edison bulbs, enhancing the overall vintage appeal.
Wooden Chandelier With Bulbs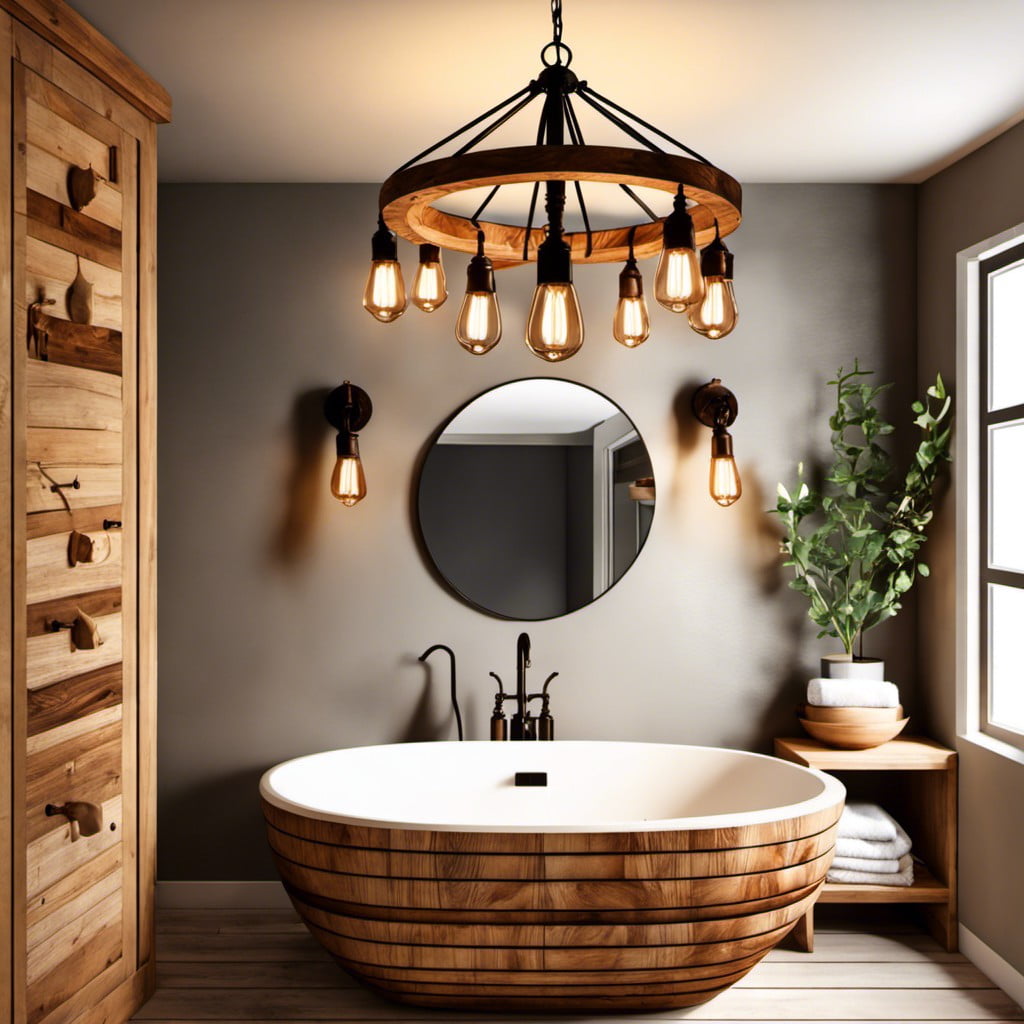 With a nod to rustic charm, this lighting fixture adds an element of warmth and tradition to the bathroom. Its design usually involves natural, untreated wood that carries an intrinsic old-world, countryside appeal.
The bulbs dangle from the wood like twinkling fruits on a tree, creating a visually stunning spectacle. Upcycled or reclaimed wooden lumber is an excellent choice for the environmentally conscious homeowner.
These fixtures come in various designs, from sophisticated carvings to rugged logs, allowing a perfect match to your existing aesthetic. While it offers a visually intriguing element, it also efficiently illuminates the bathroom with a spectrum of light, from gentle glow to bright, luminescent shades.
Don't forget to lean towards LED bulbs for energy-efficient lighting and a color temperature that complements the wood's natural hue.
Iron-caged Vanity Lights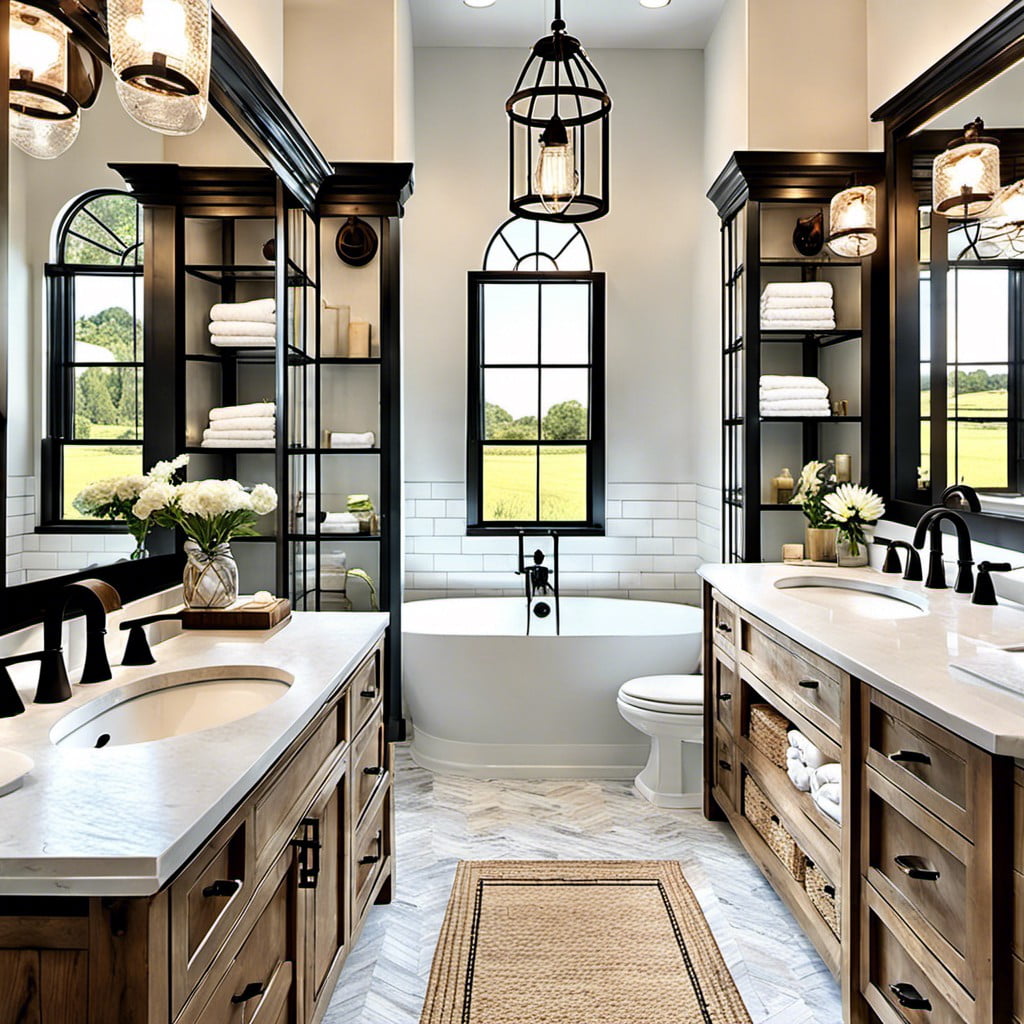 With a stripped-back design that exudes traditional charm, these light fixtures can instantly elevate your bathroom aesthetics to a whole new level. Here's why they're a hot pick for a farmhouse bathroom:
1. Durability: Structured with iron, these lights pledge vigorous longevity, braving moisture and resisting corrosion effortlessly.
2. Versatility: Apart from offering an array of designs, from single to multiple light configurations, they come in numerous finishes such as rust, bronze, and matte black, giving you plentiful options to choose from.
3. Classy Elegance: With its cage-like design, it exhibits a unique blend of country-style simplicity and modern refinement to give your space an exquisite touch.
4. Light Diffusion: Its open cage design not only adds to its visual appeal but also aids in maximum light diffusion, making your bathroom appear bright and spacious.
5. Easy Maintenance: Its strikingly open structure makes dusting and cleaning a breeze. Keep it sparkling in a jiffy to savor its timeless allure.
Remember to pair them with warm-toned bulbs to induce a cozy, welcoming glow that complements the typical warmth of a farmhouse interior.
Weathered Copper Fixtures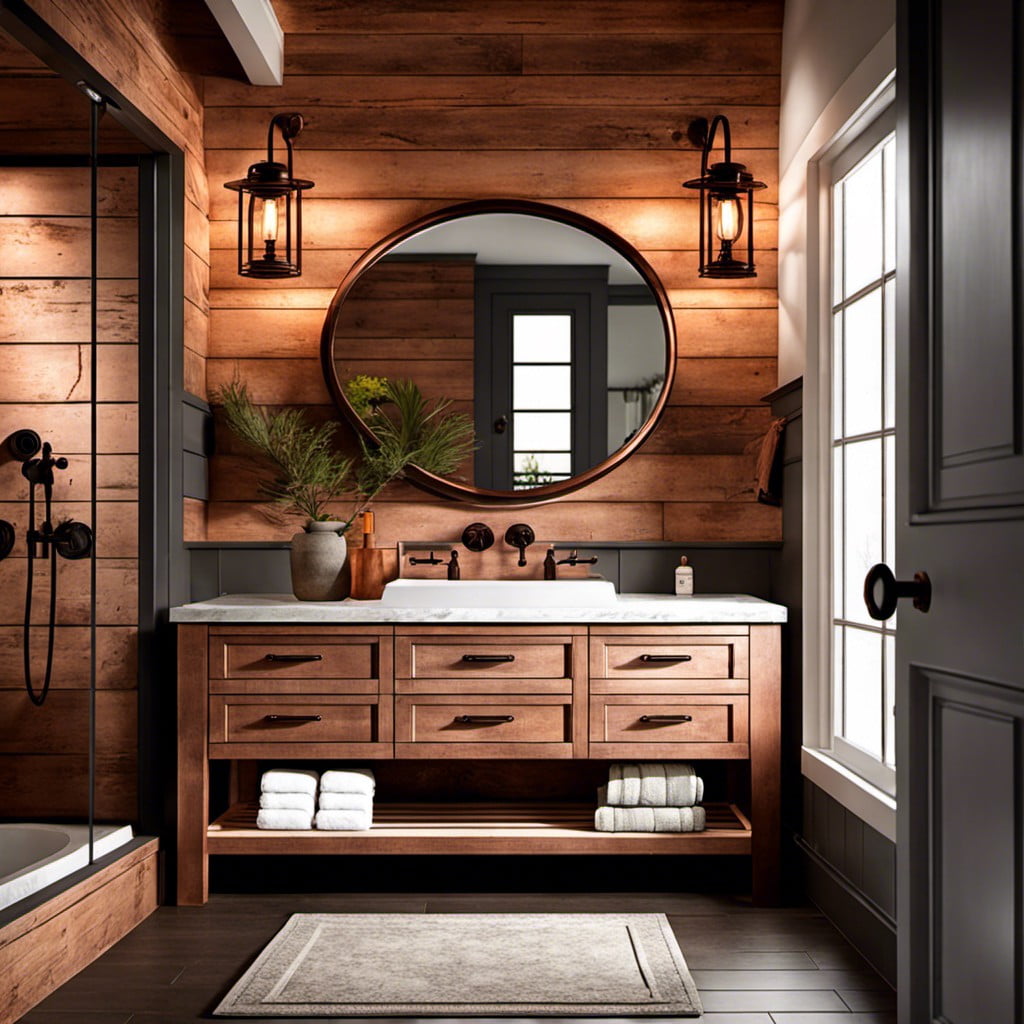 Harnessing the well-loved authenticity of age, these fixtures become centerpieces of unadorned charm in any farmhouse bathroom. The green and brown patina that develops on the copper surface over time adds unbeatable character to your space.
1. Unique Heritage: Underlining a connection to past generations and times when things were made to be both beautiful and last.
2. Visual Impact: The rich, warm tones serving as focal points, adding warmth and liveliness to the space.
3. Versatility: Easy incorporation in multiple styles – be it vintage, modern, or countryside, and various settings, from wall sconces to chandeliers, vanity lights to standing lamps.
4. Easy Care: Requires minimum upkeep. Just an occasional wipe with a soft, dry cloth is enough to maintain the sheen.
5. Durability: Known for its incredible resilience, whether against time, use, or rust.
Though weathered, never outdated, copper fixtures beautifully balance tradition and trend in your farmhouse bathroom.
Bronze Farmhouse Chandelier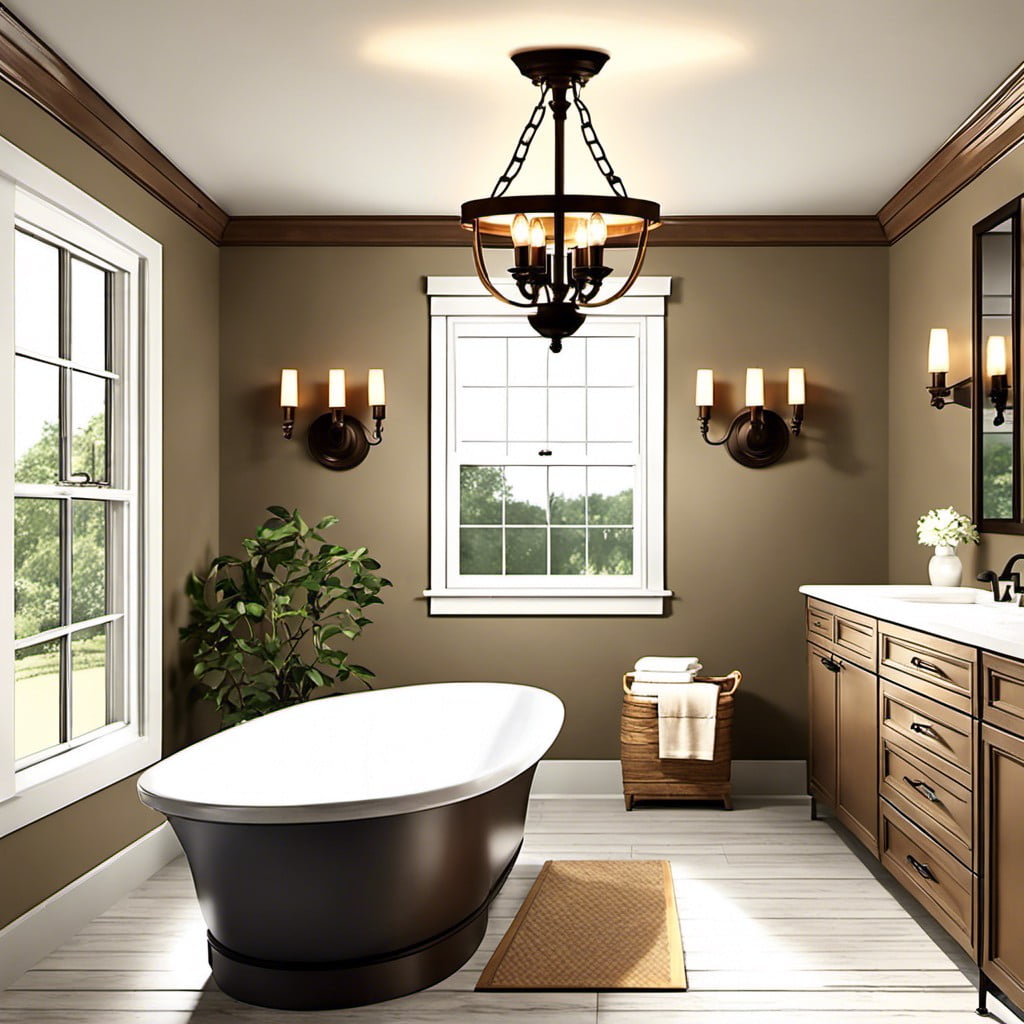 Bronze chandeliers bring an elegant, warm glow that complements the farmhouse vibe perfectly.
The gentle, subdued hue of bronze can anchor the space and set the tone for a relaxing retreat.
These fixtures often feature intricate designs, whether geometric, floral, or more abstract patterns.
Coupled with frosted or Edison bulbs, they disperse a soft, ambient light radiating a pleasant, calming atmosphere.
Suitable for larger bathrooms, bronze chandeliers can serve as a stunning central piece around which other design elements revolve.
Remember, maintaining balance is key – pair them with lighter-toned furnishings for a harmonious feel.
Rustic Beam Lighting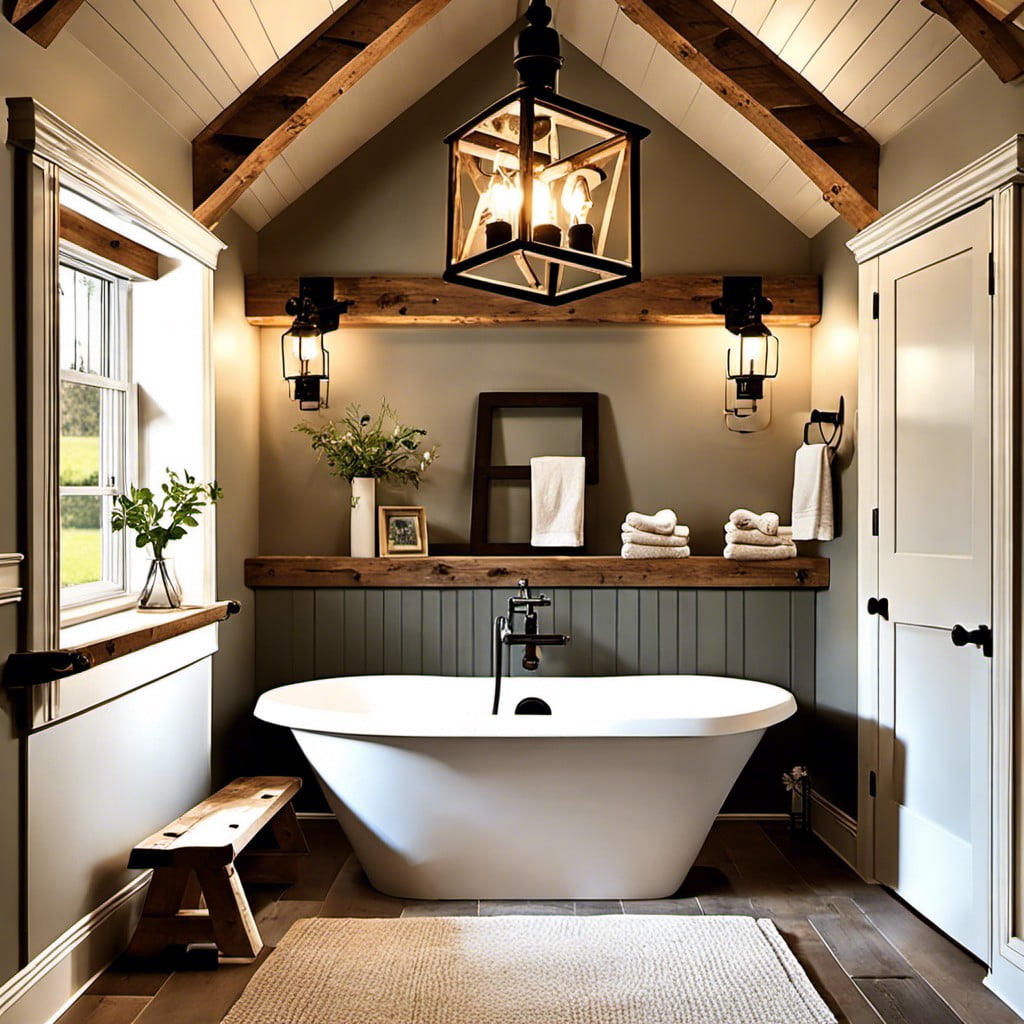 Adorned with industrial elements like metal brackets or wrought iron fixtures, this lighting style enhances the warm, welcoming vibe of any farmhouse bathroom. The raw wooden beam is an outstanding element, which is both functional and visually impressive.
1. Traditional Aesthetic: Rustic beams hark back to a classic, time-worn aesthetic. This type of lighting bestows a warm feel to your bathroom without sacrificing elegance and functionality.
2. Versatile Placement: Attaching the light fixtures directly to the beam allows for flexibility – it can hang above the vanity or bathtub, serving as both a main light source and a statement piece.
3. Variety of Styles: Rustic beam lighting comes in numerous designs. You may opt for Edison bulbs for an old-world charm, downlights for a more modern touch, or lantern-style fixtures for a country-chic look.
4. Easy Customization: Add personal touches like patina finishes or warm-toned wood for a customized look.
5. Harmonious Blend: Pair the rustic beam with other natural elements in your bathroom like stone sinks, wooden cabinets, or terracotta tiles to create a harmonious aesthetic focus.
Remember, with the right fixture and placement, rustic beam lighting can transform your farmhouse bathroom, creating a nostalgic yet chic atmosphere.
Nautical Cage Bath Lights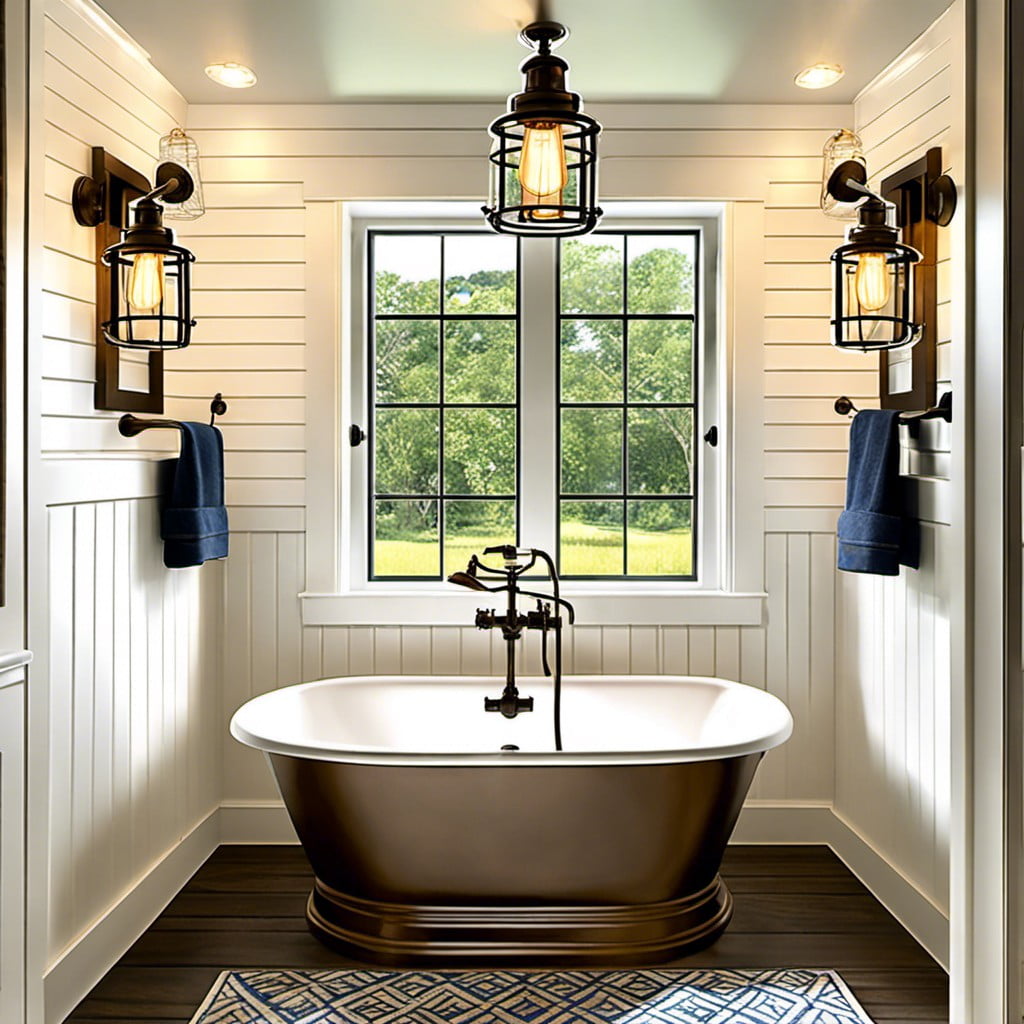 Venturing into the bathroom lighting design can prove maritime-inspired as you introduce nautical cage bath lights. With a design heavily influenced by seafaring themes, they add a distinctive coastal charm, offering not just style but also function in damp spaces. Perfect for both small and large bathrooms, they give off a soft, diffused light, creating a warm and inviting atmosphere.
A bold metal cage, often in finishes like black or oil-rubbed bronze, entraps the bulb, serving the dual purpose of a decorative and protective element. This hard-wearing design hints at the fixtures' origins on ships, where they had to withstand harsh sea conditions.
Coupled with retro filament bulbs, nautical cage bath lights offer a brilliant way to engage with the past while keeping up with the modern-day expectations of functionality and chic appeal. Remember, the charm is in the visual impact, demanding equal focus on placement and design contrast. The light's rustic metal finish works well against a lighter background, enhancing the seaside feel.
Installing these lights at multiple levels, depending on your bathroom layout, can enhance the depth and dimension, creating a distinct, sophisticated vibe. And if energy efficiency is a concern, opt for LED-compatible models to ensure your rustic-seaside-themed bathroom remains as green as possible.
Barn Wood Light Fixtures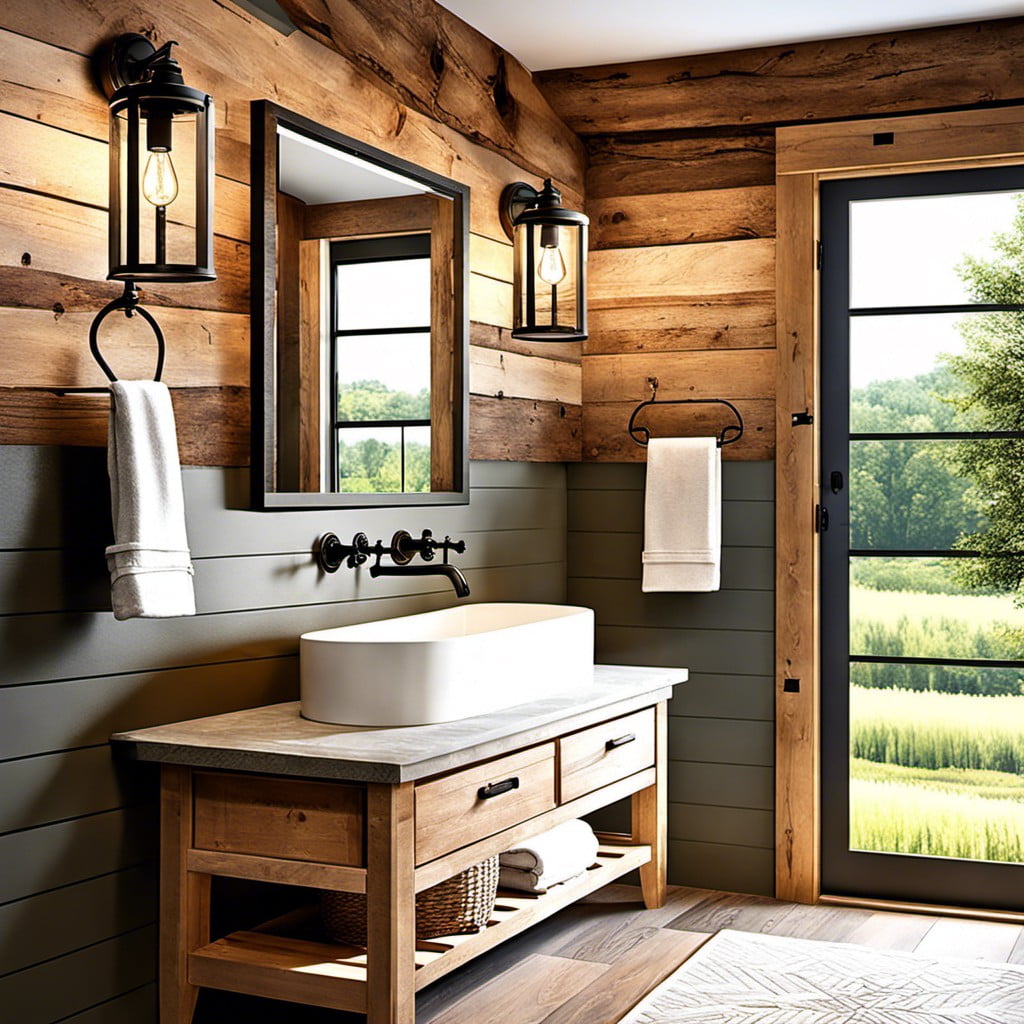 Barn wood light fixtures serve as a natural, rustic element in your bathroom. These can imbue a relaxed, farmhouse vibe while providing warm lighting. Reclaimed wood carries authentic weathering, adding unique texture and pattern.
1. Naturally Weathered: Each piece of barn wood carries unique markings, creating authentic rustic charm.
2. Versatile Designs: Can range from minimal to complex fixtures. Choose between single bulb holders or full chandeliers to match your bathroom's style.
3. Environmentally Friendly: Reclaimed wood reduces the demand for new timber, promoting sustainability.
4. Customizable: Wood can be painted, stained or treated to match your decor.
5. Resilient: Barn wood, being aged and weathered, is incredibly sturdy and long-lasting.
Galvanized Metal Wall Sconce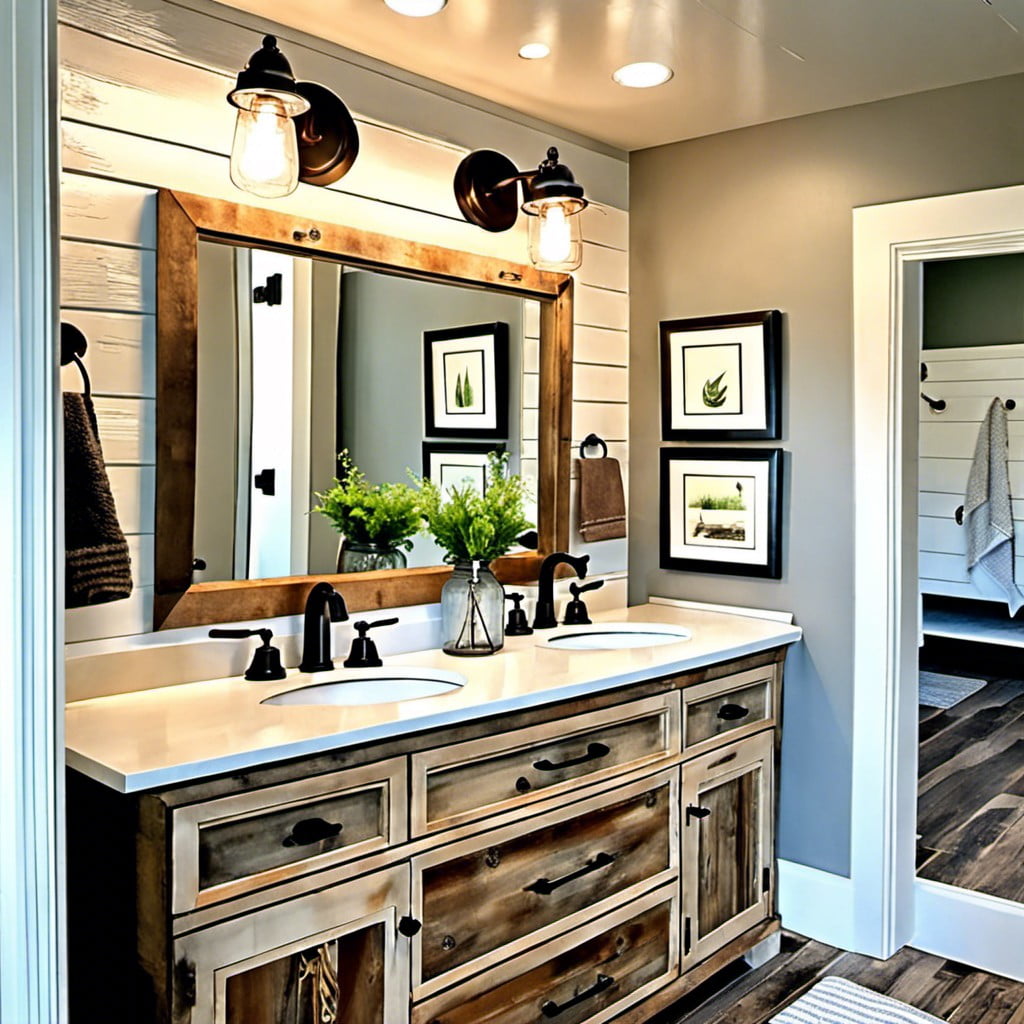 Emanating a unique industrial charm, galvanized metal wall sconces suit many farmhouse bathroom designs. Their finish, typically in dull silver, blends well with both vibrant and neutral color palettes, providing the requisite versatility.
Using these sconces secures an eye-catching, illumination solution. Place them above your bathroom mirror for an inviting glow, enhancing functionality and creating an image of depth. To accentuate their rustic aesthetic, pair with incandescent bulbs.
Remember, the beauty of these sconces lies in their 'less is more' design. The absence of frills and unnecessary details enhances this aesthetic, keeping the focus on their unpolished charm. Solid materials guarantee lasting durability, while the variety of designs ranging from simple to sophisticated offer a host of options.
Incorporating galvanized metal wall sconces brings not only light to your bathroom but also adds a dose of picante farmhouse flair. They embody a fusion of the raw, rural vibe with modern design elements, shaping a unique style narrative that echoes throughout your countryside bathroom floodlit paradise.
Copper Wire Cage Pendant Lights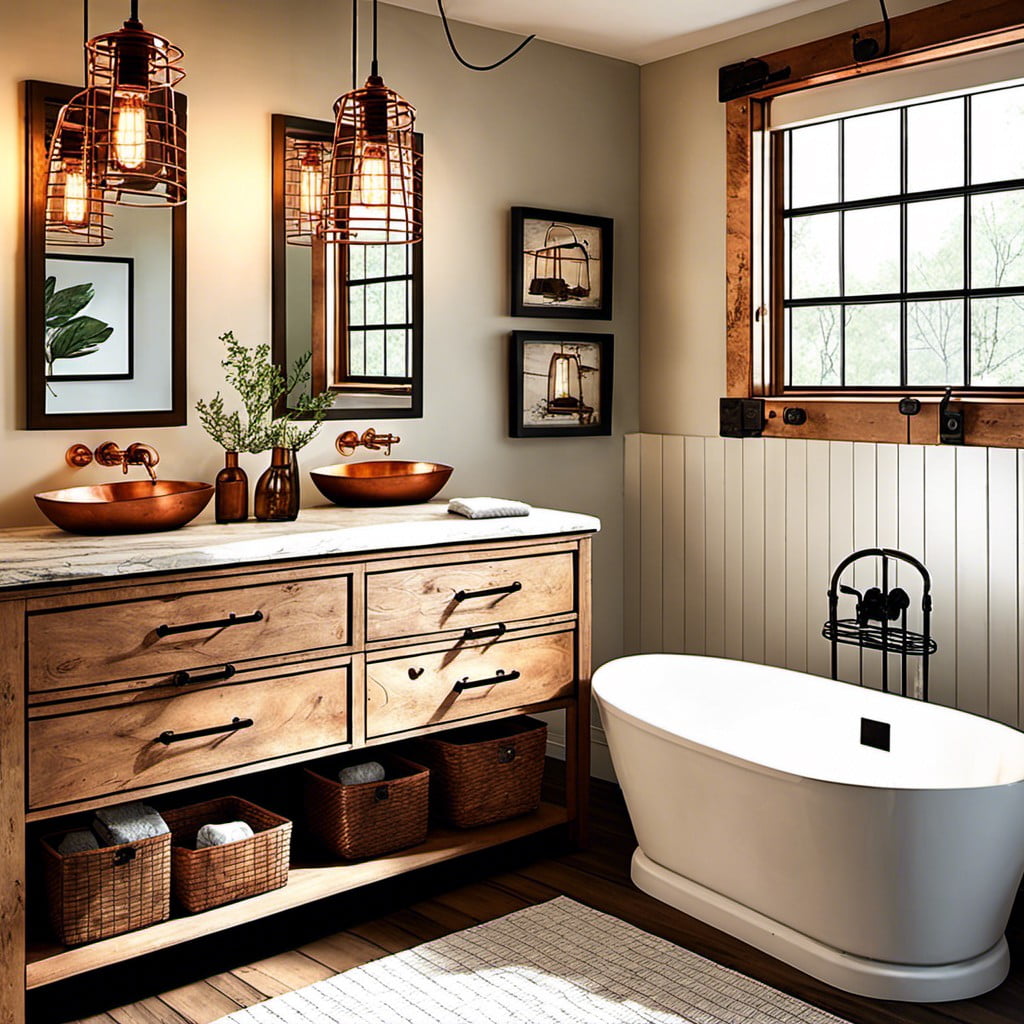 Pairing the industrial appeal of their structural design with the warming glow of Edison-style bulbs, copper wire cage pendant lights introduce a modern edge to a farmhouse bathroom. They excel at creating keen visual interest while maintaining coherence with the overall rustic atmosphere.
Imagine them suspended over a freestanding tub or bathtub area, the delicate balance between the copper's earthy tones and the stark modernity of the caged design effortlessly elevates the entire space.
Practical yet still maintaining a style component, they allow light to pour out unobstructed, ensuring bright, sufficient illumination. The open design also means easy access to change bulbs whenever required, eliminating unnecessary hassle and maintenance.
For an authentic rustic appeal, opt for lights that feature 'weathered' or 'aged' copper cages. The deeper tones and texture add layers of complexity to an otherwise simple fixture, playing into the overall ambiance of your bathroom.
And lastly, remember, copper is known for its excellent durability and resistance to corrosion, making these lights not just a charming but also a reliable addition to your rustic bathroom.
Repurposed Antique Ladder Light Fixture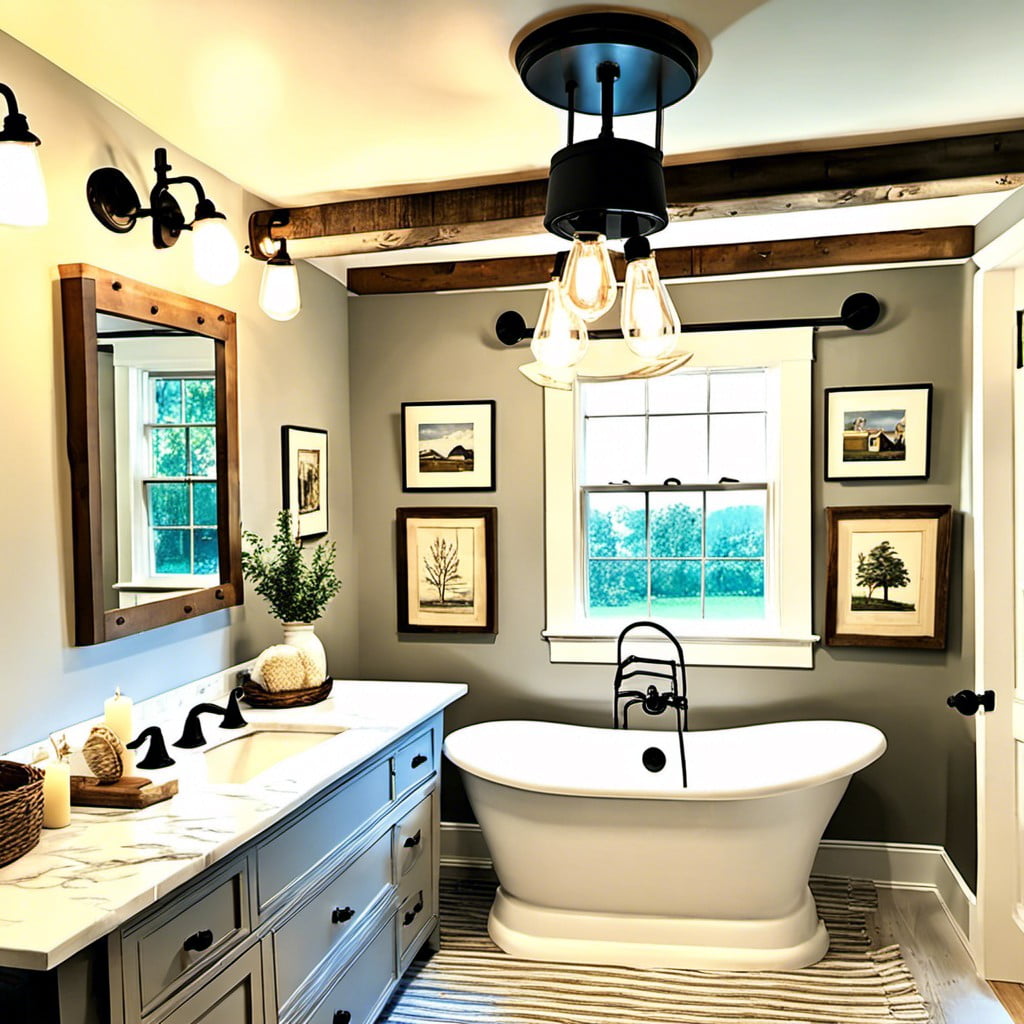 Dropping a vintage twist in contemporary decors can work wonders. Take an old ladder, for instance, it can provide an eye-catching light fixture. With the right bulbs and attachment points, it creates a warm, homely atmosphere.
Key points to remember:
Choose a ladder size that fits your space. A light fixture that's too large can overpower the bathroom.
Antique ladders offer naturally weathered appeal, but any ladder can be visually aged with a bit of paint and sanding.
Select Edison style LED bulbs for a genuine rustic look. They provide adequate lighting and consume less energy.
Ensure it's securely mounted. Safety should always come first.
Pair it with vintage style bulbs for a unique blend of old-world charm and contemporary style.
Add rust-resistant coating to prolong longevity in a humid bathroom environment.
This simple DIY project will highlight your taste and creativity.
Porcelain Enamel Wall Sconce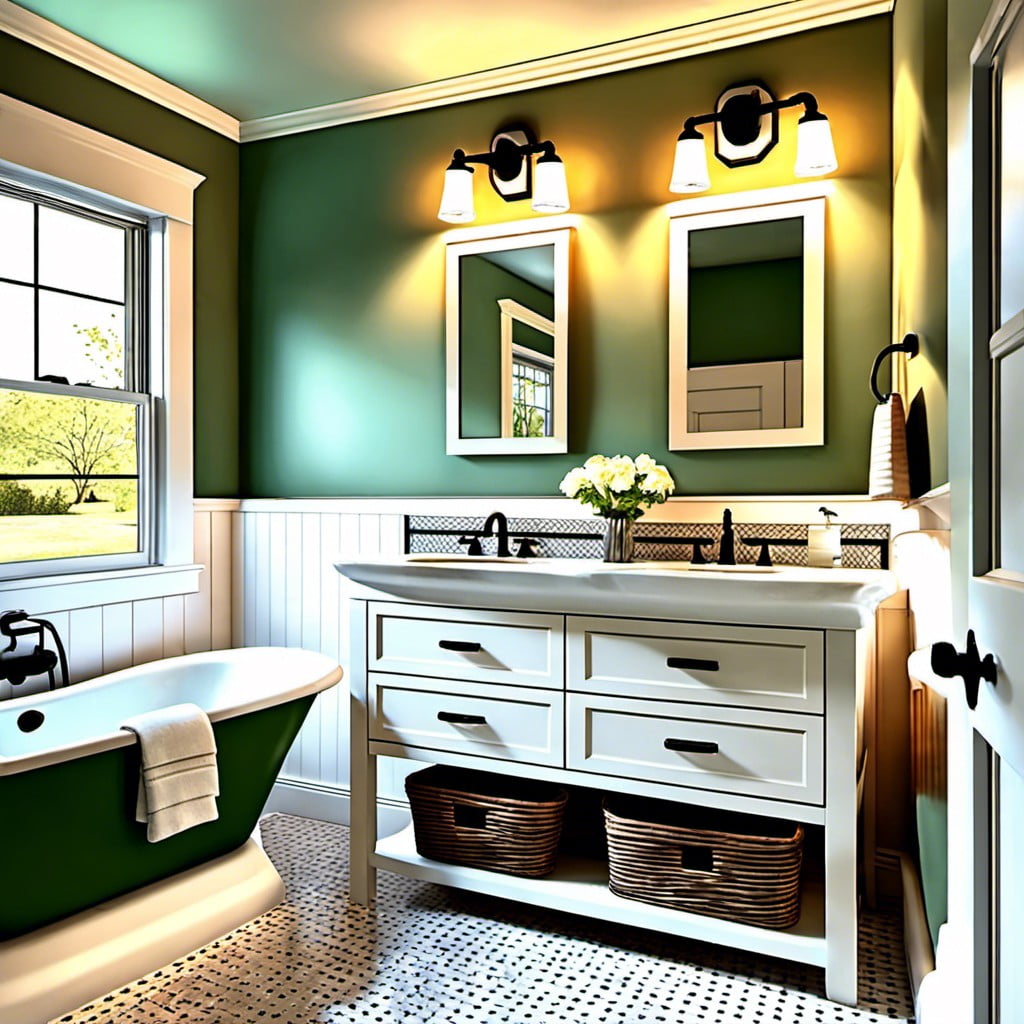 Strong and durable porcelain enamel, a substance produced by fusing powdered glass to a substrate at high temperatures, gives wall sconces a distinct look. The elegance and shine of a porcelain enamel wall sconce would indeed provide a stunning focal point in a farmhouse style bathroom.
Here are some points to elaborate:
1. It adds a vintage charm – Porcelain enamel, due to its classic appeal, injects a desirable old-world charm into the bathroom.
2. Easy to clean – It's quite easy to maintain, thanks to its smooth glossy surface. All you need is a soft cloth and a mild cleaning agent.
3. Variety of colors – It comes in a wide range of colors which makes it easier to match with your existing bathroom theme.
4. Long-lasting – Porcelain enamel sconces are highly durable, capable of withstanding various environmental conditions without fading or corroding.
5. Versatile – Can blend with other fixtures perfectly, whether it be metallic shelf brackets, wooden frames, or a rustic vanity.
6. Illumination – Their light projection is excellent and can lighten up a space effectively.
By installing porcelain enamel wall sconces, your bathroom can truly embody the essence of farmhouse aesthetics – simplistic, comforting, yet incredibly stylish.
Milk Glass Pendant Light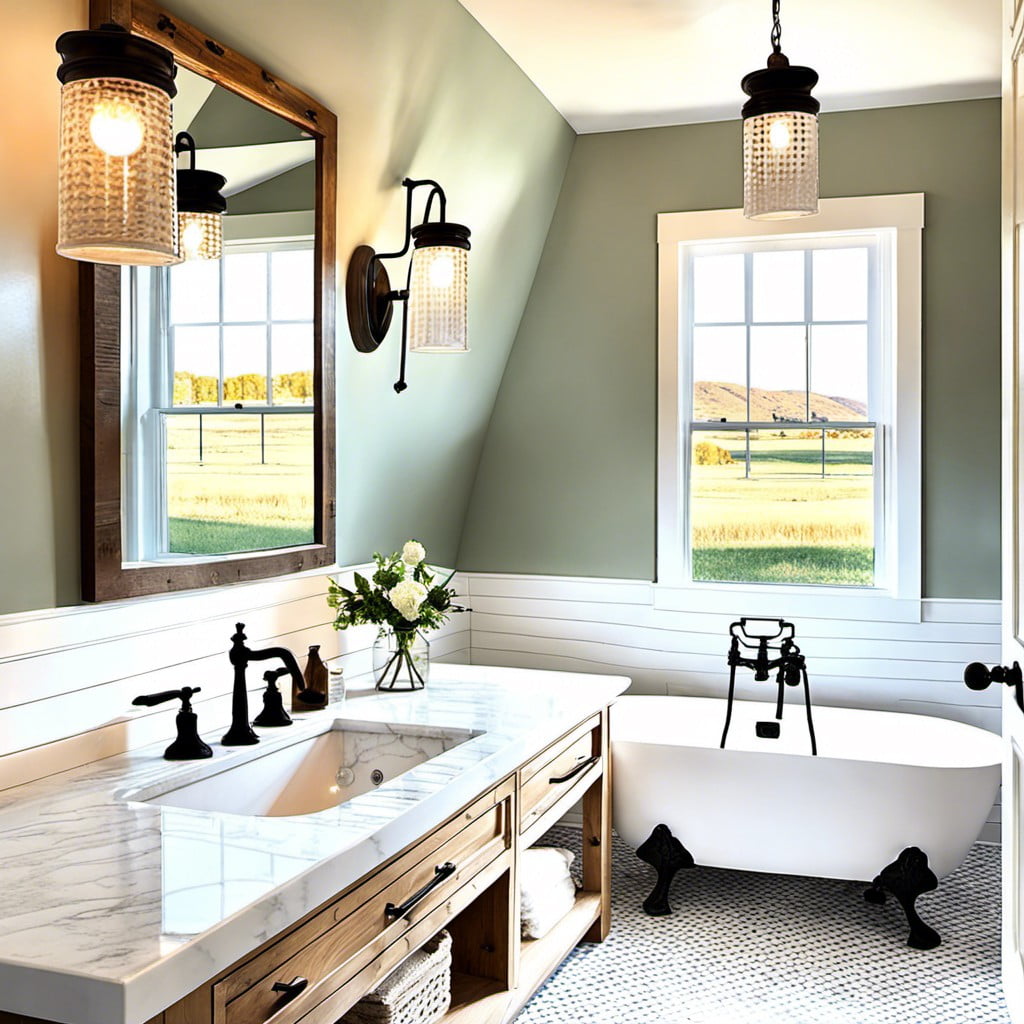 While inherently delicate in appearance, these lighting fixtures are profoundly versatile. With their sleek white finish, they can complement nearly any bathroom's color palette, whether it's bright and cheery or soaked in rustic nuances.
They can be hung individually for a subtle touch, or in clusters for a statement-making centerpiece. Furthermore, their semi-translucent quality ensures a soft, welcoming glow, perfectly diffused for a comforting ambiance in your bathroom.
Keep in mind, you're free to accentuate the light balance of a milk glass pendant by choosing bulbs with different luminosity levels. For a more uniform and enchanting design, consider coordinating these pendant lights with other milk glass elements around the bathroom, such as shelving, mirror frames, or soap dispensers.
Reclaimed Wood and Pipe Light Fixtures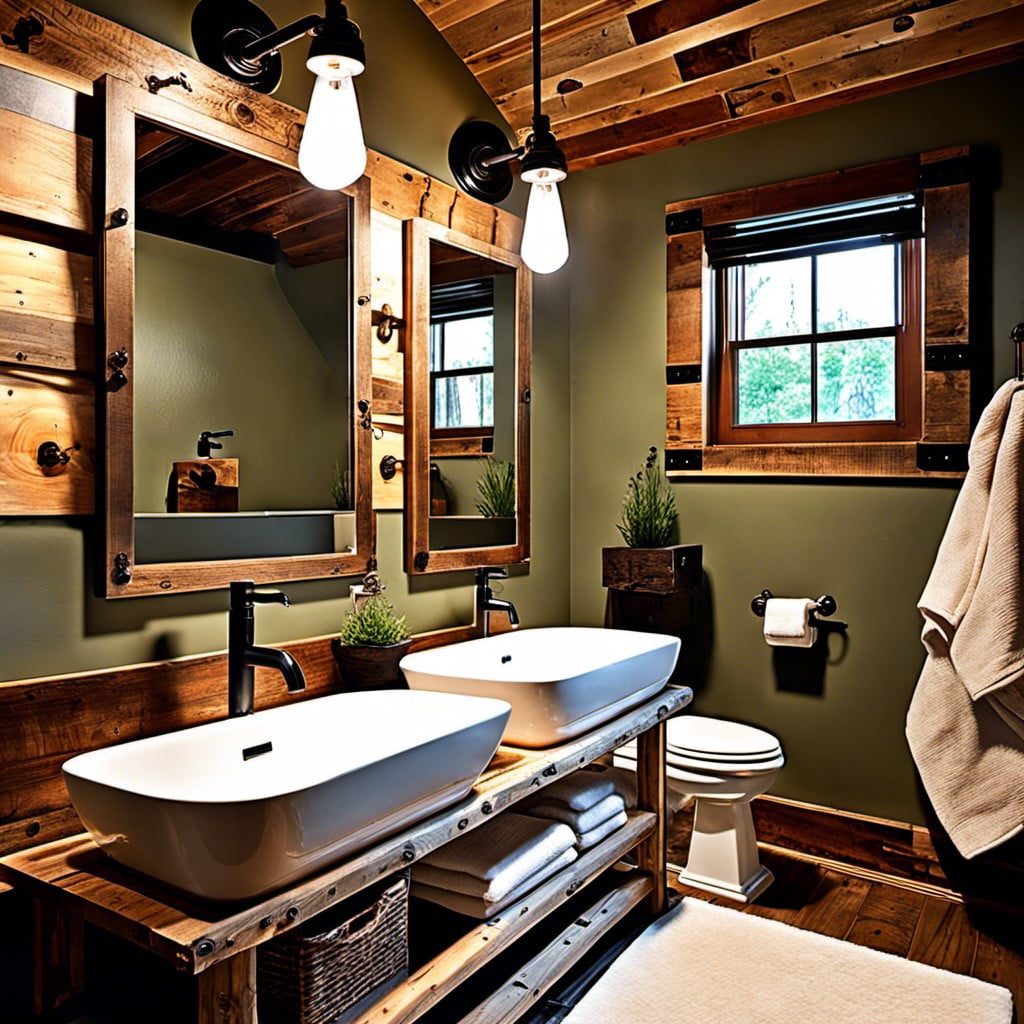 To equally merge the country charm with the industrial edge, these fixtures utilize the unpolished look of raw iron pipes contrasted against the warmth and organic feel of wood. The pairing of these two materials delivers an aesthetic balance that's inherently unique to every piece.
1. Industrial aesthetics: The exposed pipe design gives off a definite factory inspiration, perfect if you're looking for an industrial twist within a farmhouse setting.
2. Versatility: Due to its fusion design, it fits into a variety of settings, not exclusively in a farmhouse ambiance.
3. Customizable: Many of these fixtures are handcrafted, allowing you to customize the color, finish, and size to best fit your space.
4. Easy to style: Its versatile design makes it simple to pair with various décors from classic vintage to a more contemporary farmhouse style.
5. Durable: Made with genuine wood and metal, these light fixtures are durable and resilient, ideal for a frequently used space like a bathroom.
Recall, placing this kind of fixture over a vanity or sink can create unique shadows and highlights, enhancing the rustic ambiance. Equally, using Edison bulbs could augment the industrial theme, and using warm light could heighten the cozy farmhouse feel.
Antique Brass Vanity Lighting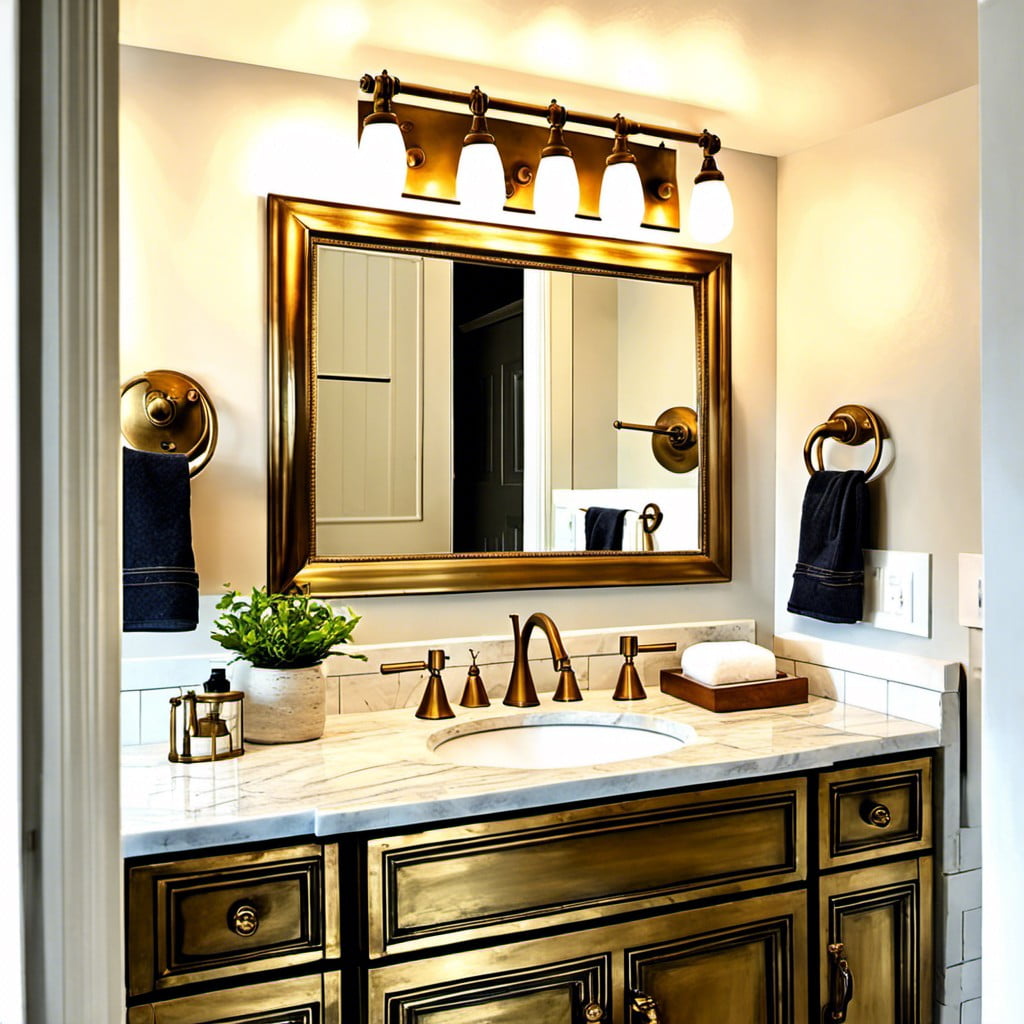 Despite its vintage connotation, the charm of antique brass shines bright even today, infusing an age-old allure to your bathroom space. Here are some notable features and concepts:
Surface Detailing: The textured or brushed surface of this material refracts light subtly, creating a soft and warm ambiance.
Versatility: Brass goes well with various decor themes – whether you aim for a minimalistic palette or a vibrant, floral one.
Durability: Brass is known for its robustness and longevity; it withstands moisture, resisting rust and wear.
Classic Appeal: The brass finish adds a historical depth to your space, harking back to a timeless elegance.
Variety: Antique brass lighting fixtures are available in numerous shapes and designs, allowing you to select the perfect piece that aligns with your aesthetic.
Embedded with Glass: Some designs include glass elements, which complement the brass framework and help distribute light evenly.
Uniqueness: Each item varies slightly in its finish, reflecting the authenticity and artisanal quality of the piece.
With these key points, you can see how antique brass vanity lighting fixtures do not only provide illumination but also infuse a touch of heritage into your farmhouse bathroom.
Distressed Window Pane Lanterns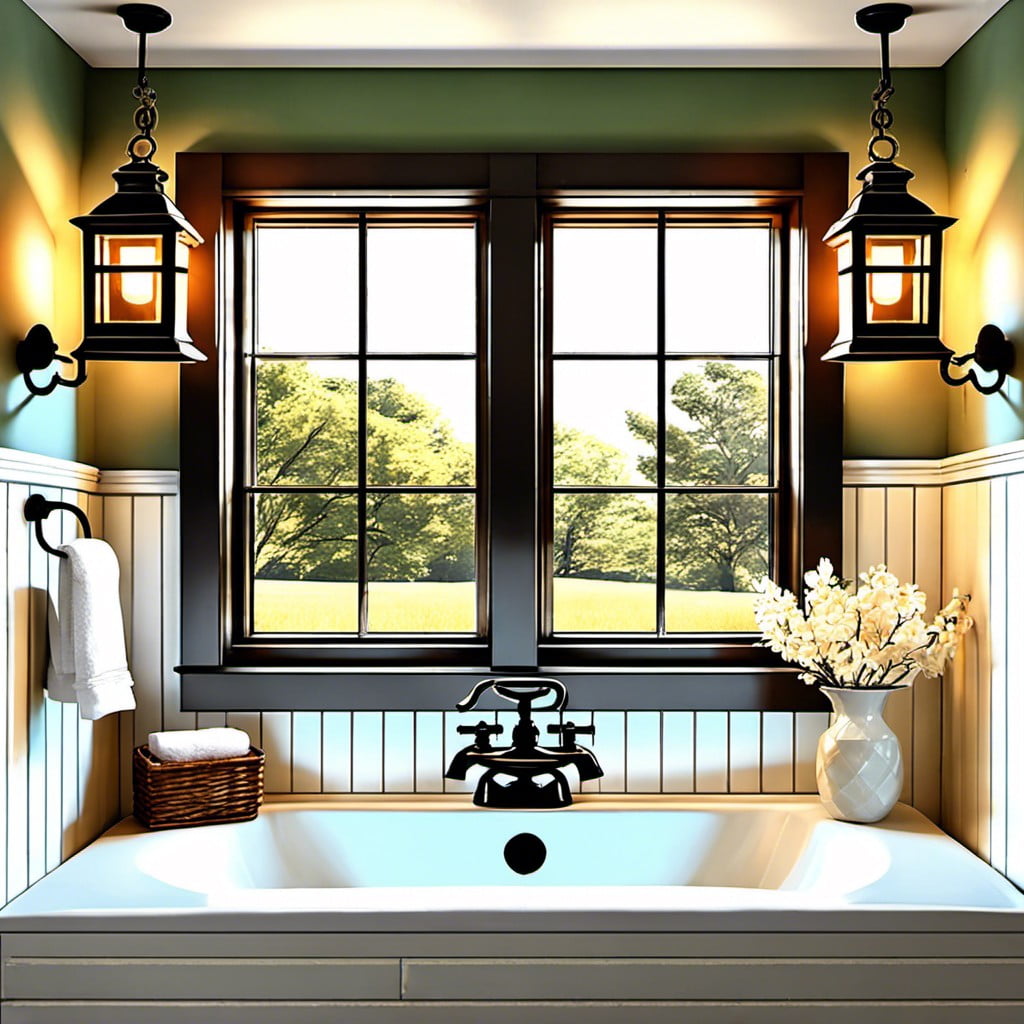 The charm of these pieces lies in their antique appeal, which significantly enhances the rustic farmhouse ambiance of a bathroom. If you're looking to achieve a cozy and intimate atmosphere, these lanterns are a top choice.
They emanate a warm and welcome radiance that instantly uplifts the mood. You can hang them above the vanity mirror or place them on a shelf. Their distressed look and window pane design subtly reflect light in different directions, providing a unique lighting effect.
Made from weathered wood or metal, they emulate a story of past, perfectly complimenting your vintage farmhouse theme. Choose lanterns with glass panels to maximize light dispersion.
Handmade Wire Basket Ceiling Lights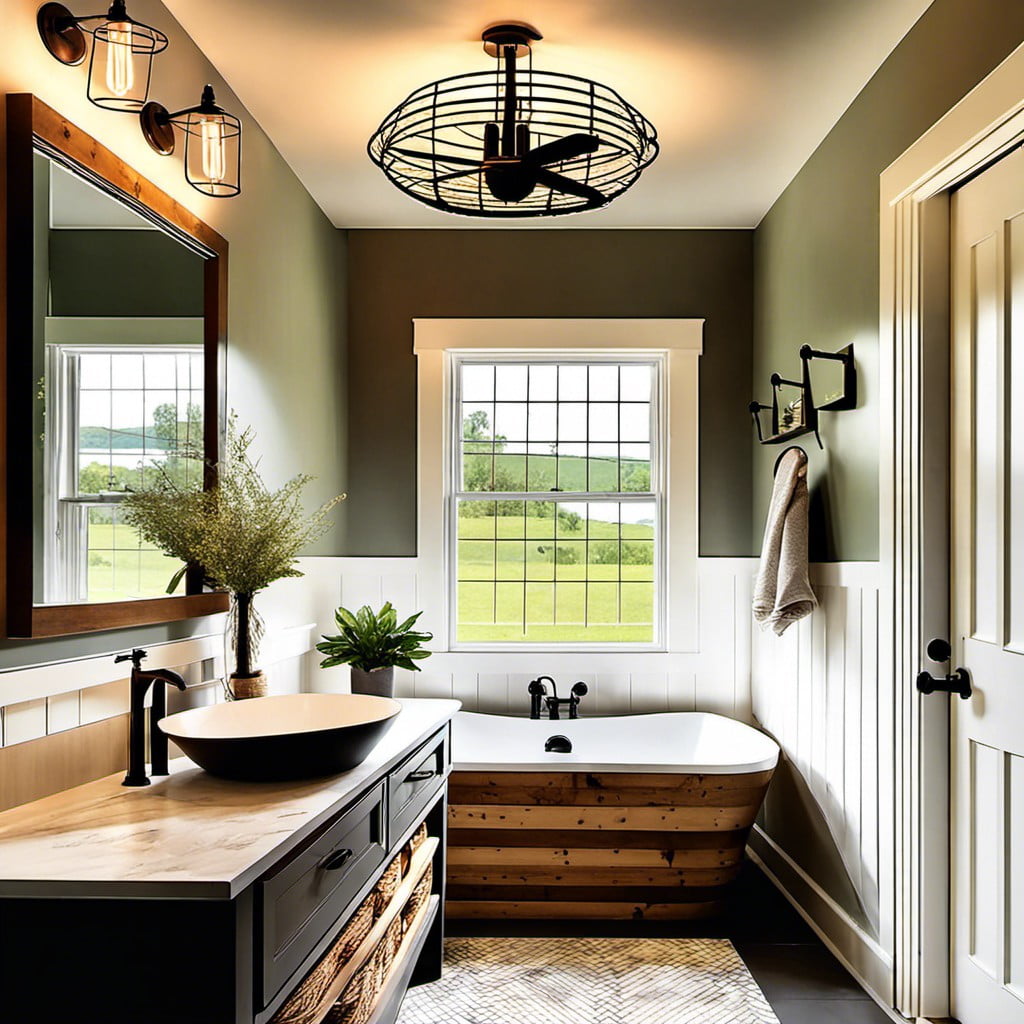 Choosing the perfect lighting for your farmhouse bathroom doesn't have to be stressful. Consider handmade wire basket ceiling lights for a unique, rustic touch. These fixtures are often crafted from vintage-style wire baskets, giving your space a distinct, handcrafted feeling.
1. Craftsmanship: The handmade aspect of these lights adds an authentically rustic aura to any bathroom. They're not just functional, but also a work of art in themselves.
2. Customizable: These fixtures can be tailored to your liking – select cage designs, wire shades, or preferred finishes to match your bathroom theme.
3. Intricate Design: The wire design not only looks stunning but also disperses light in beautiful patterns, enveloping the room in a warm, inviting glow.
4. Durability: Crafted from sturdy wire material, these lights stand the test of time, adding value to your home for years to come.
In a nutshell, the charm of handmade wire basket ceiling lights lies in their craftsmanship, personal touch, intricate designs, and durability. They serve as perfect statement pieces, subtly announcing your taste for all things rustic and chic.
Farmhouse Style Floor Lamps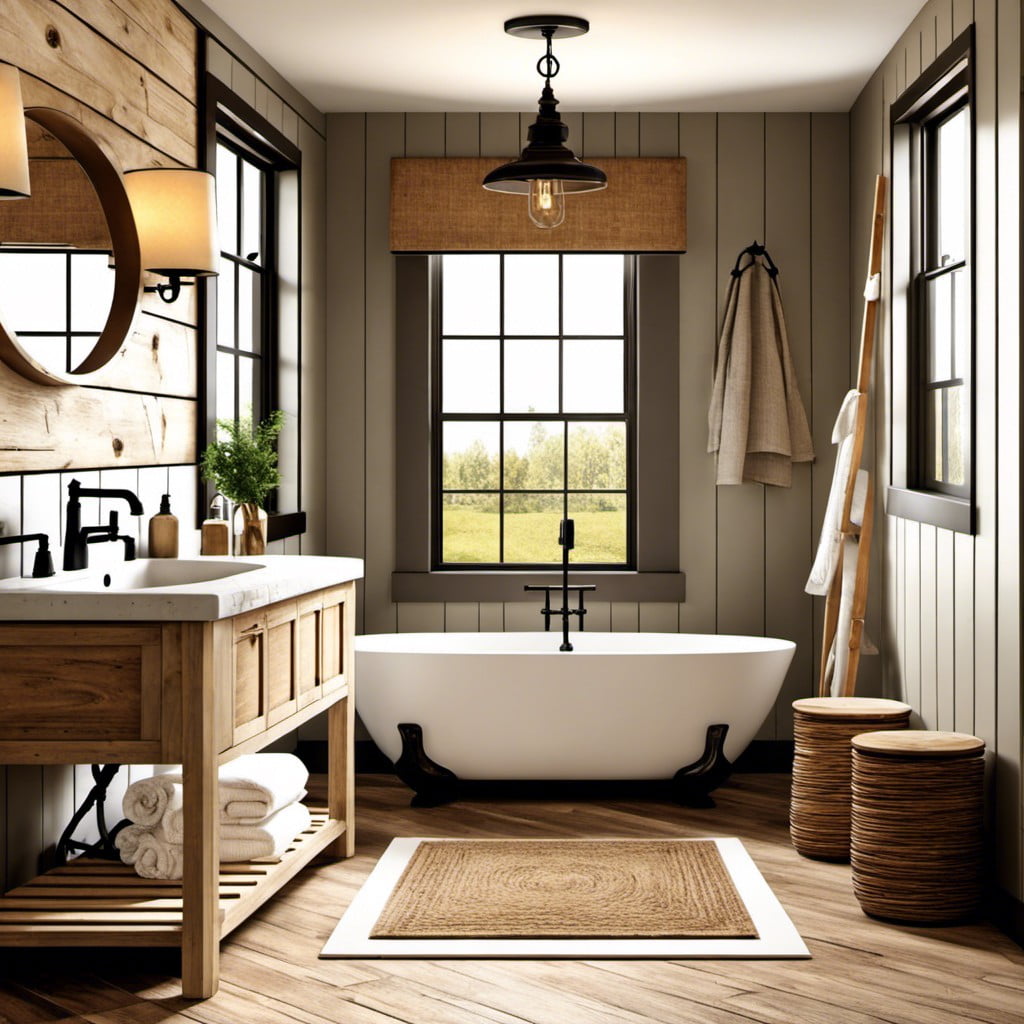 Featuring worn textures, distressed finishes, and warm, soft lighting, these unique pieces evoke an undeniable charm and authenticity.
Typically crafted from repurposed wood or metal, they provide excellent reading or task light alongside your favorite armchair or in a quiet corner.
Opt for a design with a neutral fabric shade to diffuse light and create a cozy ambiance.
Some designs may even incorporate elements like metal cages or wire frames, hinting at their industrial heritage.
Adjustable height settings and angles offer great flexibility making them a perfect functional piece, while their innovative forms serve as an appealing aesthetic element.
Easy to switch out, they can be a quick game changer for your bathroom's overall aesthetics.
Continue reading:
Recap