Last updated on November 16, 2023
Explore rustic beauty in your bathroom because these log home bathroom ideas unify style, comfort, and nature in unique ways.
I'm proud to share this article and distinctive designs on 20 Innovative Log Home Bathroom Ideas for Modern Spaces, crafted meticulously by me; I hope they ignite as much creativity and enjoyment in you as they did in me throughout their creation.
Transforming a log home bathroom into a stylish yet rustic oasis is easier than you might think. This article will delve into a plethora of ideas that can take your log home bathroom from ordinary to extraordinary. From utilizing natural elements to introducing modern touches, you'll discover ways to create a harmonious blend of style and function.
Whether you're interested in a complete overhaul or just a few simple updates, the following tips and tricks will provide you with all the details you need to create a bathroom that's not only practical but also a beautiful reflection of your personal style.
Rustic Wood Vanity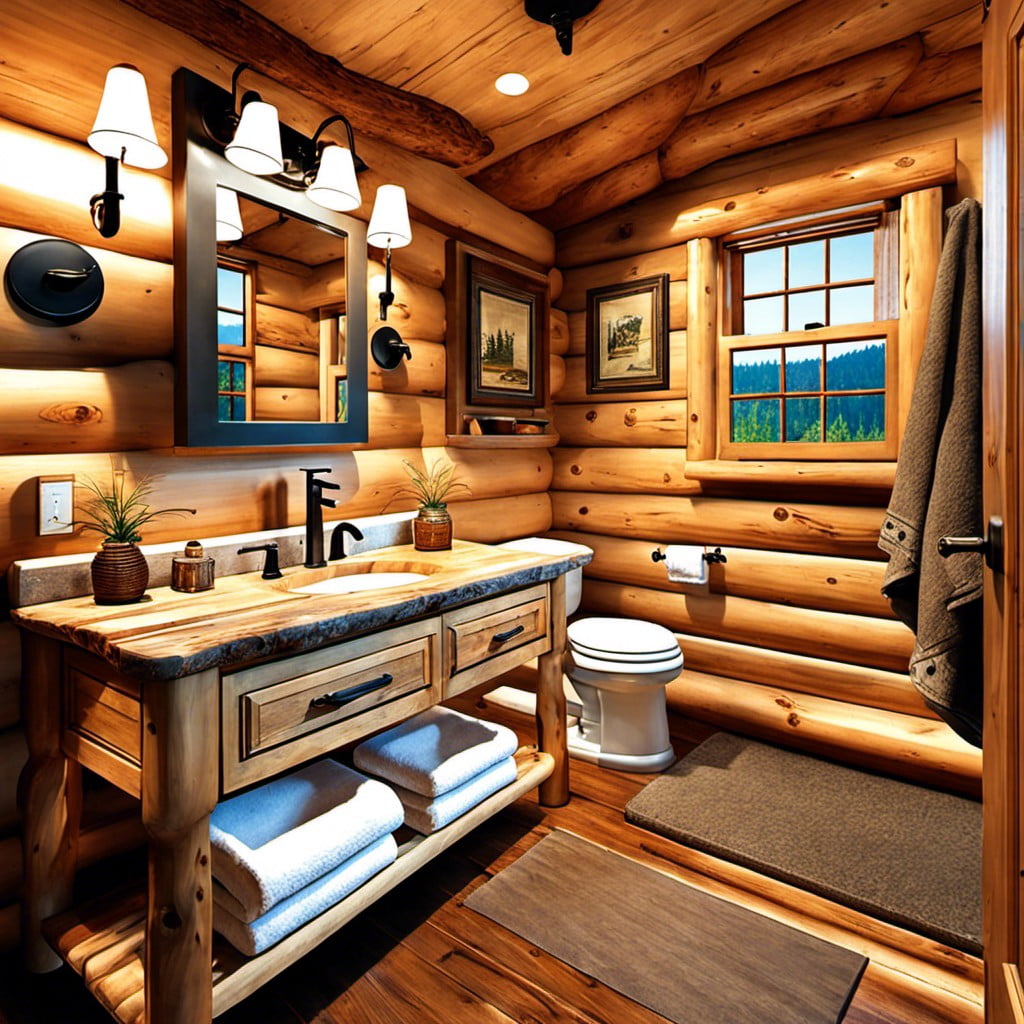 A standout feature in any log home bathroom, the vanity, chosen carefully, can be the key to creating a captivating rustic aura. Opt for natural, untreated wood to maintain the authenticity of the log house. A raw, live edge countertop can be paired with hammered copper sink for that added flair.
When it comes to storage, consider open shelving to keep towels and toiletries at hand while enhancing the visual space. Remember, simplicity is your best bet for this style- simple black or iron handles and fixtures will blend seamlessly yet provide the functionality.
For the final touch, introduce a little greenery atop your vanity with some forest-inspired potted plants.
Stone Tile Flooring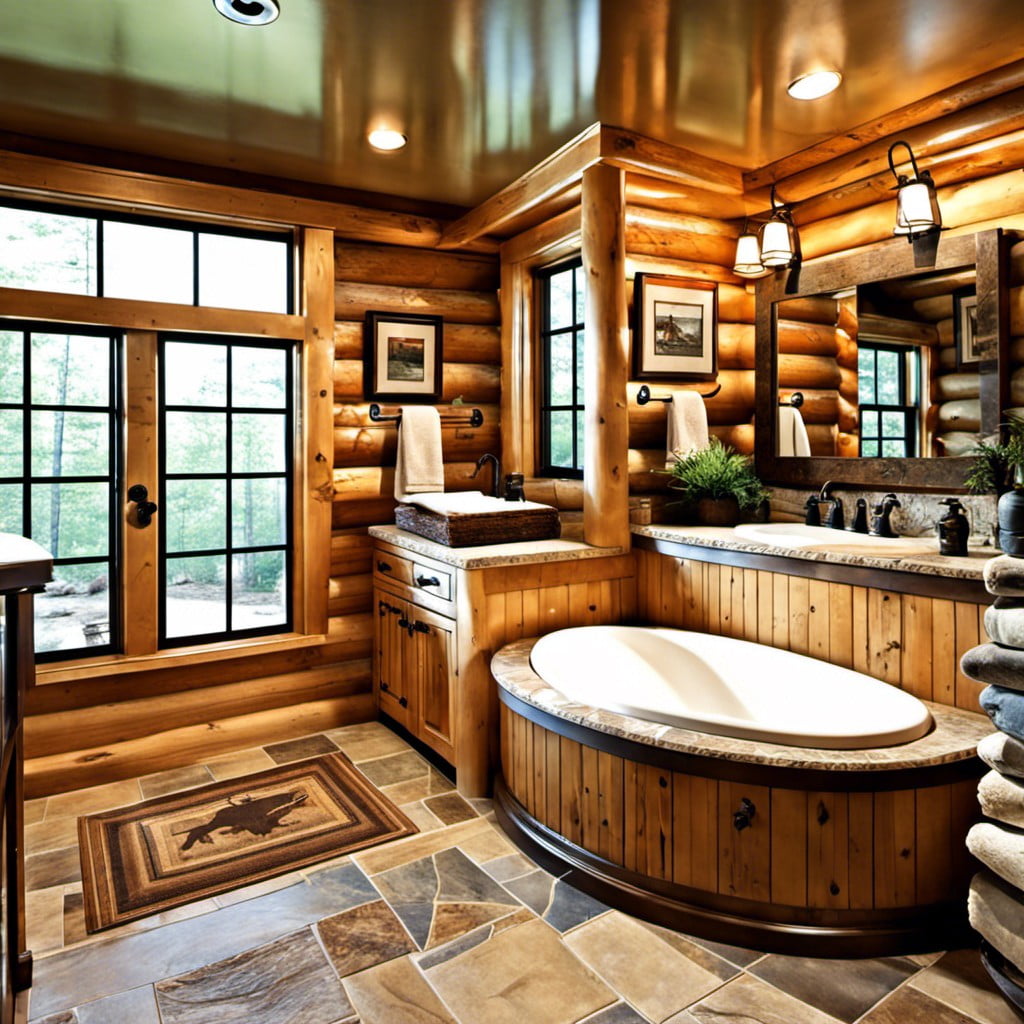 The organic nature of stone tile flooring beautifully complements the rustic charm of log homes. Not only does it come in a variety of shapes and colors, but it also adds an element of sophistication and durability.
This type of flooring withstands high traffic, often seen in bathrooms, with no significant wear or tear over time. The natural variations in each tile ensure each floor is truly unique, playing up the sense of individuality in your design.
Furthermore, the cool nature of stone tiles provides a refreshing break from the warm, heavy wood tones. Choose from pebble, slate, travertine, or marble according to personal preference and each one will seal the deal in capturing that authentic log home bathroom vibe.
Plus, these tiles are easy to maintain and, in many cases, increase the home's value.
Clawfoot Bathtub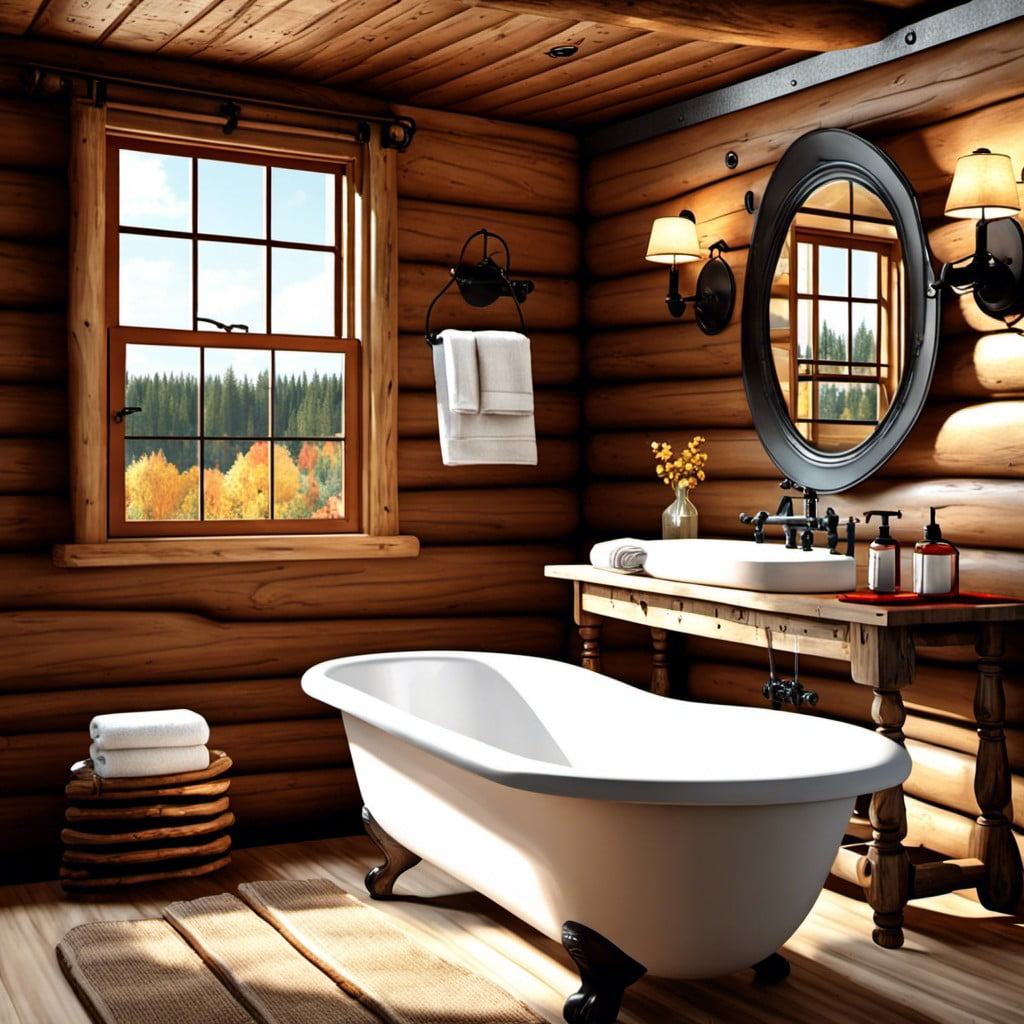 Forging a perfect blend of vintage beauty and luxurious functionality, these unique tubs elevate your bathroom's aesthetic immensely. One might think a clawfoot tub is only suited for an old-fashioned, Victorian-style setting, but its versatility allows it to mesh well with the rustic ambiance of a log home.
Imagine enjoying a soothing soak, surrounded by warm wood and the earthy scents of the forest outside.
Key features of a clawfoot bathtub to consider are the material it's made from, color and finish. Cast iron and acrylic stand as popular material choices, both offering durability and distinct styles. A crisp white finish is the classic choice, though copper or colored options can create an attractive focal point.
Consider complementing the tub with a freestanding, vintage-style faucet. They typically come in finishes like brass or brushed nickel, which flawlessly match a rustic theme. You can also accessorize the tub area with a wooden bath caddy for that extra rustic charm. The caddy can hold your essentials – a good book, a candle, or your favorite wine glass, everything you need for a relaxing evening retreat. With thoughtful selection and placement, a clawfoot tub can transform your bathroom into a glorious spa-like haven within your log home.
Wall Mounted Antler Lights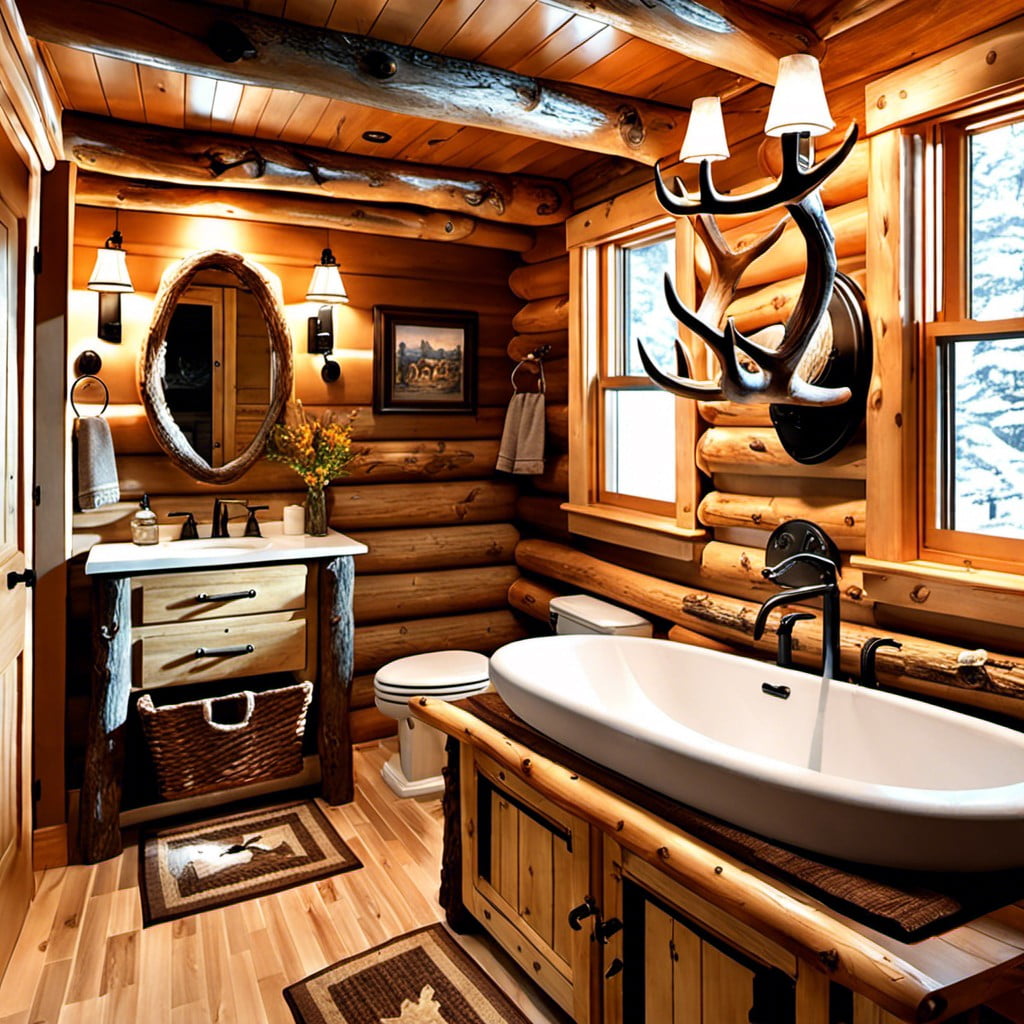 Naturally shedding their antlers each year, deer have provided an abundant material for crafters to work with, and when it comes to rustic décor, these are second to none. With no two antlers being the same, each light set is entirely unique.
For the perfect rustic ambiance, opt for warm and soft LED lights. This will cast a soothing glow perfect for relaxing bubble baths. These lighting fixtures are versatile and come in a variety of designs. Go for a whitetail deer design for smaller bathrooms to avoid overcrowding or pick a moose or elk design for spacious bathrooms for an elaborate effect.
For an eco-friendly option, there are numerous faux versions that mirror the texture and color of the real deal. So, no matter what, you can achieve this look without compromise. It's a decorative detail that provides functional lighting without sacrificing the log-cabin theme.
Exposed Log Walls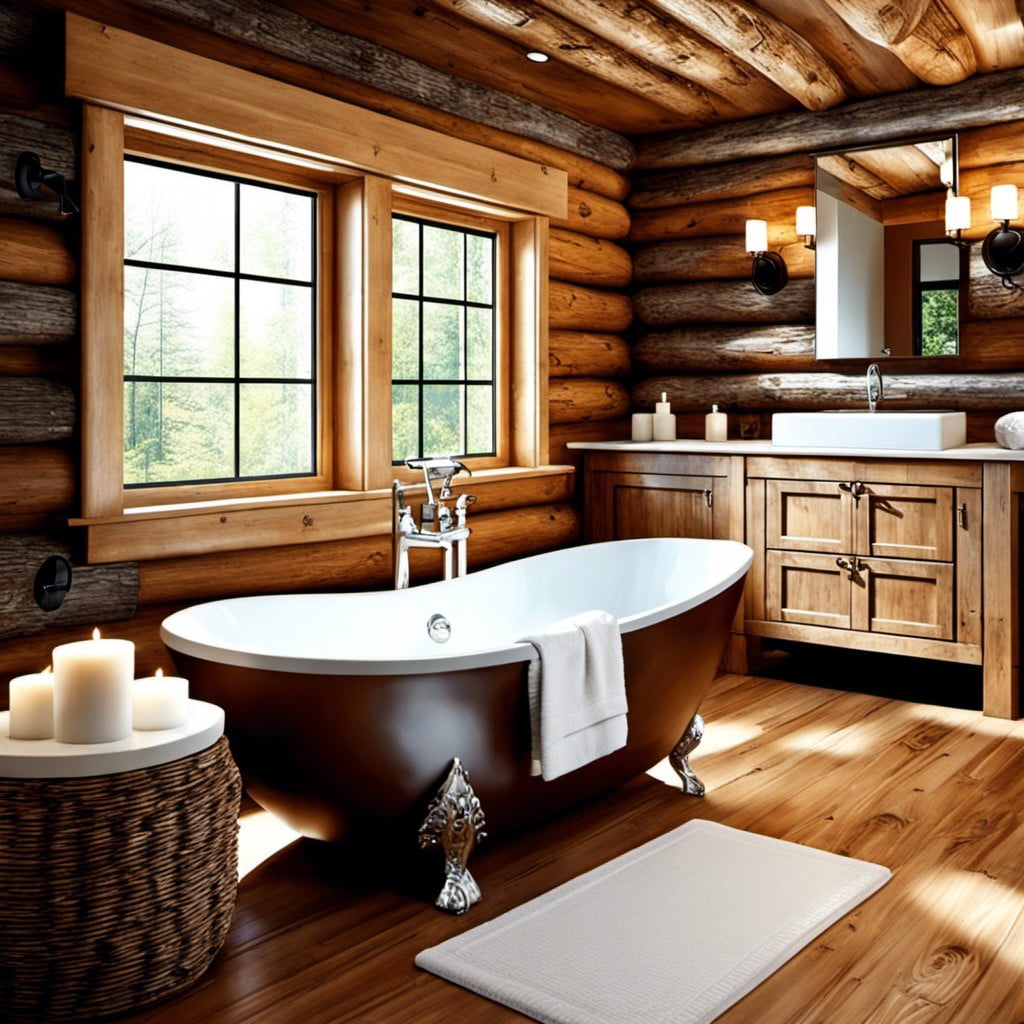 Accentuating the inherent charm of a log home, integrating the raw beauty of exposed log walls in your bathroom can provide a naturally rustic aesthetic. Particularly accommodating to both lighter spruce and darker walnut, these walls can create a compelling contrast, enhancing other elements in the space.
They can effectively pair with white ceramic fixtures, such as sinks and bathtubs, for a balanced look. Also, they can be adorably adorned with wrought iron hooks for hanging towels and robes, offering practicality along with visual appeal.
Moreover, they work splendidly with wall-mounted vintage-style lanterns for lighting, intensifying the cabin-feel. Experimental tendencies? Try adding a splash of color with green plants or vibrant towels.
Meld nature's brilliance with cozy comforts to exhibit a harmonious intermingling of styles. Be it a minimalist modern touch or the allure of antiquity, exposed log walls are a versatile canvas for your design endeavors.
Wrought Iron Towel Racks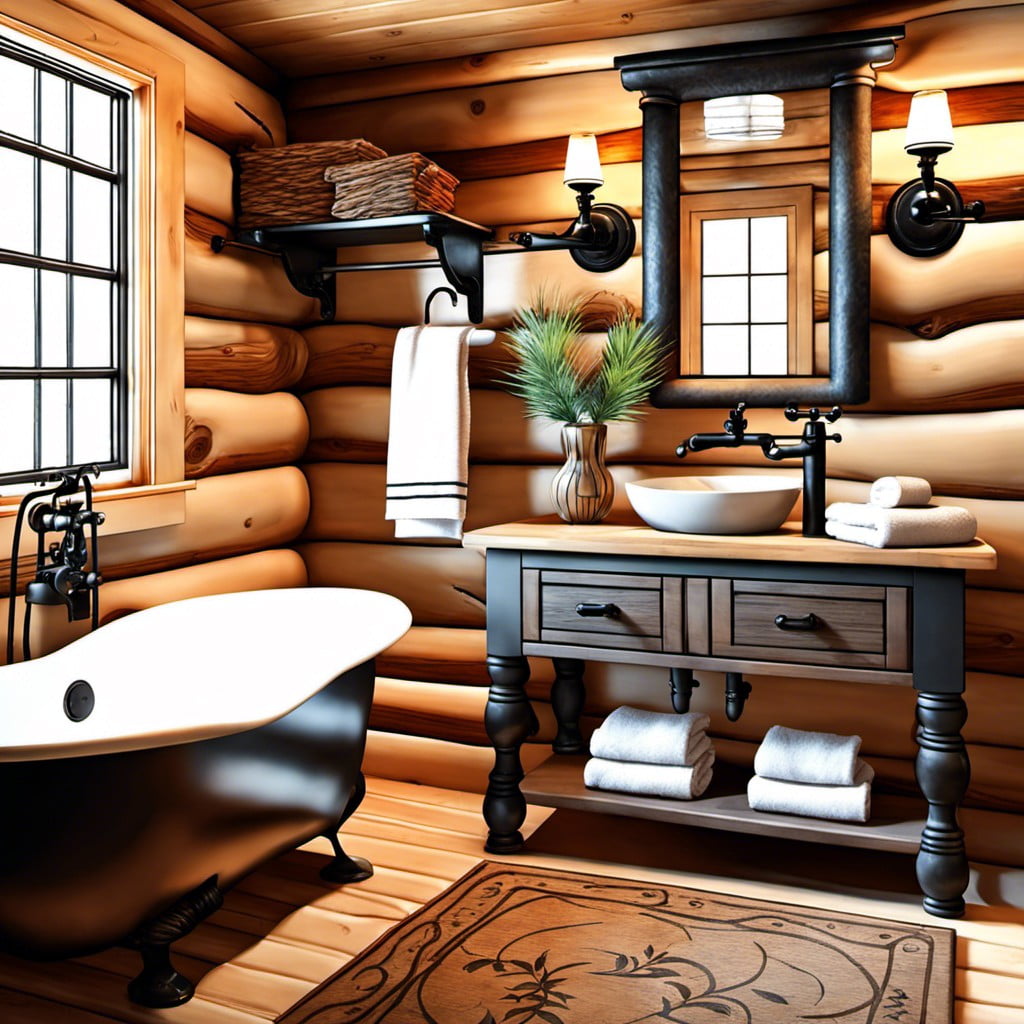 Delight in an old-world charm with the addition of these timeless fixtures. Perfect for a log cabin aesthetic, they provide utilitarian function while also introducing a unique decorative element. Functional doesn't have to mean mundane; these racks can be as ornate or as modest as the overall bathroom décor dictates.
Consider an artistically twisted design to break the monotony or maintain a simple, clean line for a minimalist feel. For more visual impact, select fixtures with a blacksmith's touch, like hammered textures. Small details like this can greatly enhance the overall allure.
For placement, think about ease of reach from the shower or bath. These racks can go on walls, or back of the door to save space. Those with larger bathrooms may even wish to consider a freestanding rack, offering a striking visual feature while also proving incredibly handy. As practical as they are charming, wrought iron towel racks elevate the everyday into the extraordinary.
Wood Framed Mirrors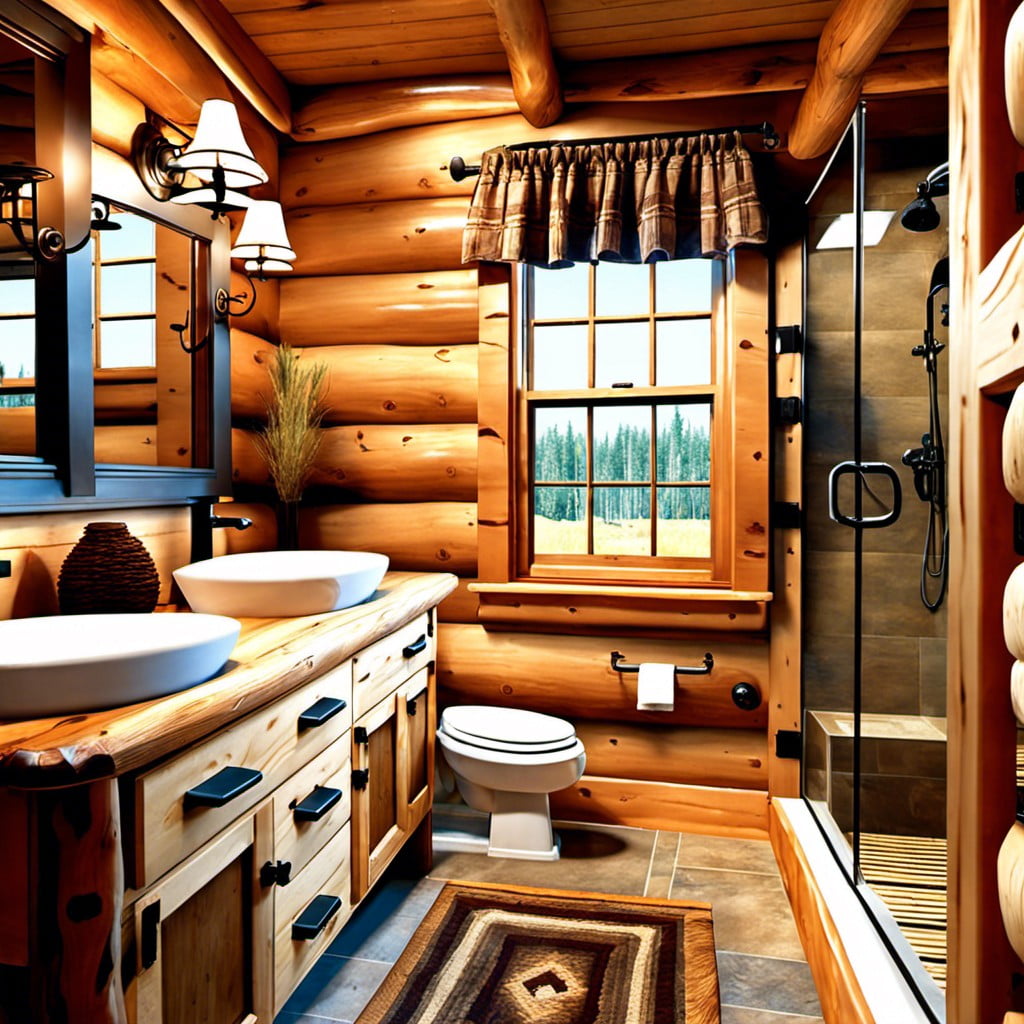 Incorporating these versatile pieces brings a warm, rustic touch to the bathroom. With their exceptional charm, they offer a nod to the log cabin ambiance while being functional.
Opt for a raw, unpolished frame for a rugged look or a stained, smooth frame for a refined feel. Remember, the beauty lies in the grain and knots of the wood that make every mirror unique.
You can even choose different shapes and sizes to complement other elements in the room such as vanities and lighting fixtures. These fixtures not only reflect light, making the room seem more spacious, but also provide a practical element for grooming or makeup application.
Log Cabin Shower Curtains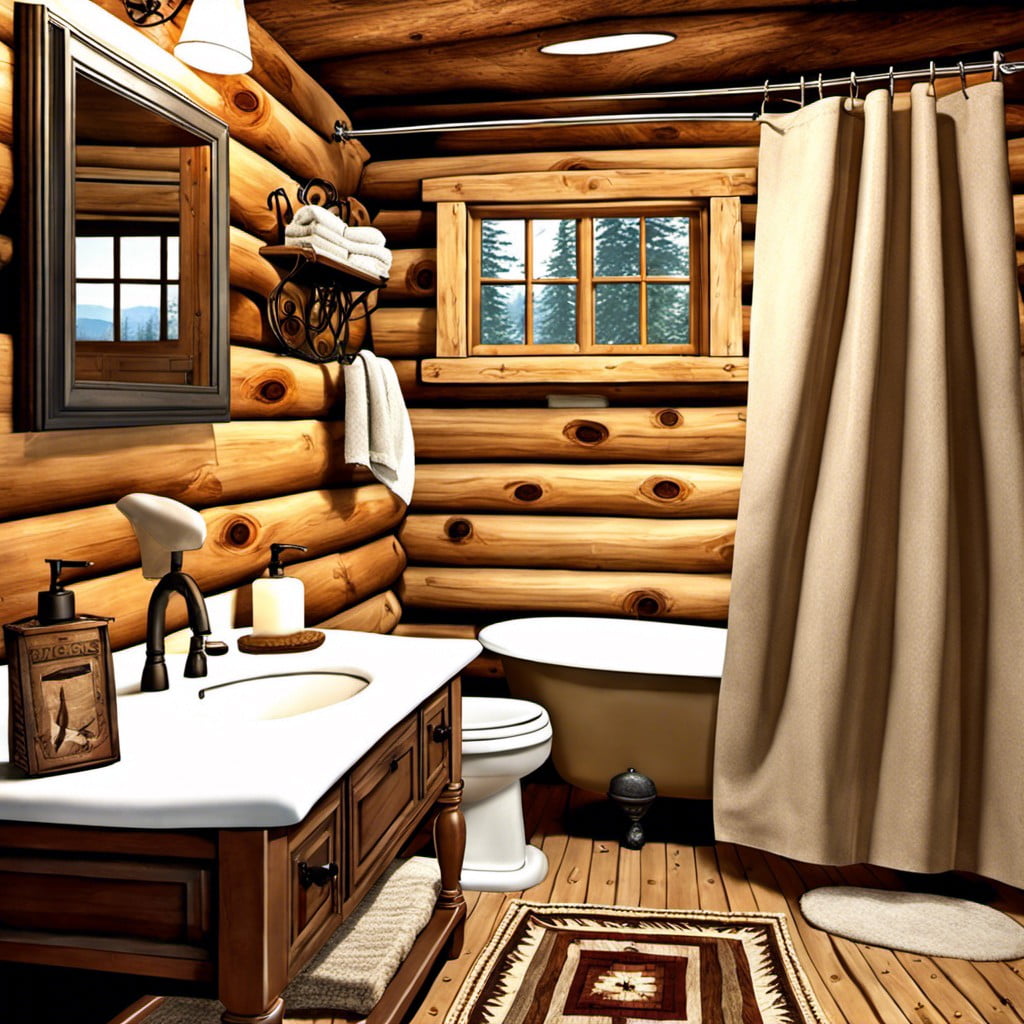 Injecting a dose of character into any log home bathroom is simple with the right shower curtain. Offering both function and style, they are an affordable, effortless route to enhancing the rustic charm of the space.
Here are a few important things to consider:
Choose a design that harmonizes with the overall cabin's theme. Think woodland scenes, pinecone or animal prints.
Opt for earth tones or darker hues to complement the rich, warm tones of the bathroom's wooden elements.
Materials matter. For a rugged, rustic look, select fabrics like canvas or burlap. For easy maintenance, try water-resistant materials.
It's all in the details. Brass or wooden rings for hanging, or matching rustic curtain hooks can amplify the cabin feel.
No matter your choice, the right shower curtain can pull together your bathroom's style while maintaining the rustic feel of a log home. Clear, distinct, and matching the overall style is the way to go. Be creative, mix and match, until you find the perfect balance.
Natural Stone Sink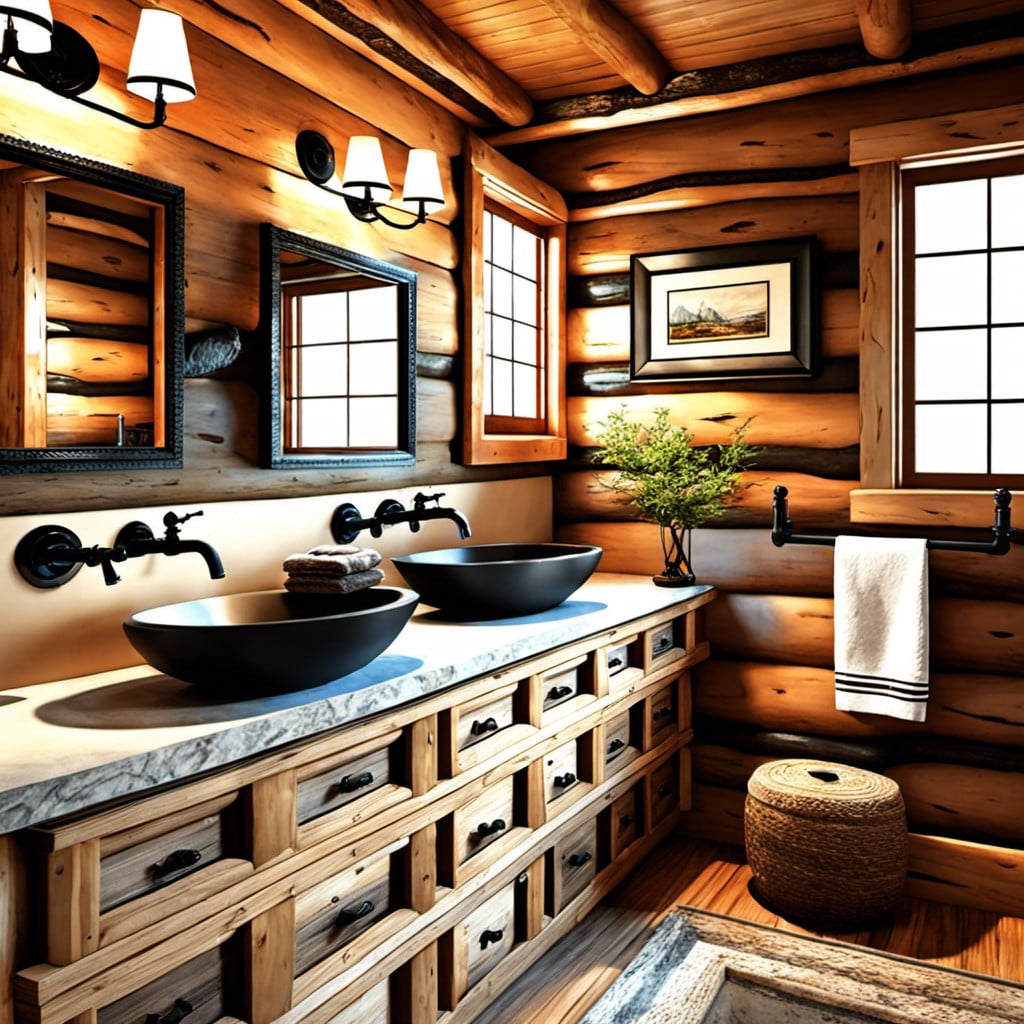 Each piece is a work of art, crafted by nature and perfected by skilled artisans to retain its raw, authentic texture. In terms of durability, it stands unparalleled as it easily withstands everyday wear and tear.
It blends seamlessly with the log home aesthetic, enhancing the rustic charm. You may opt for sleek granite for a polished look, rough-edged travertine for a more primitive aura, or perhaps a rugged quartzite adorned with striking patterns.
Complement this with a bronze or wrought iron faucet to preserve the rustic theme.
Ladder Storage Shelves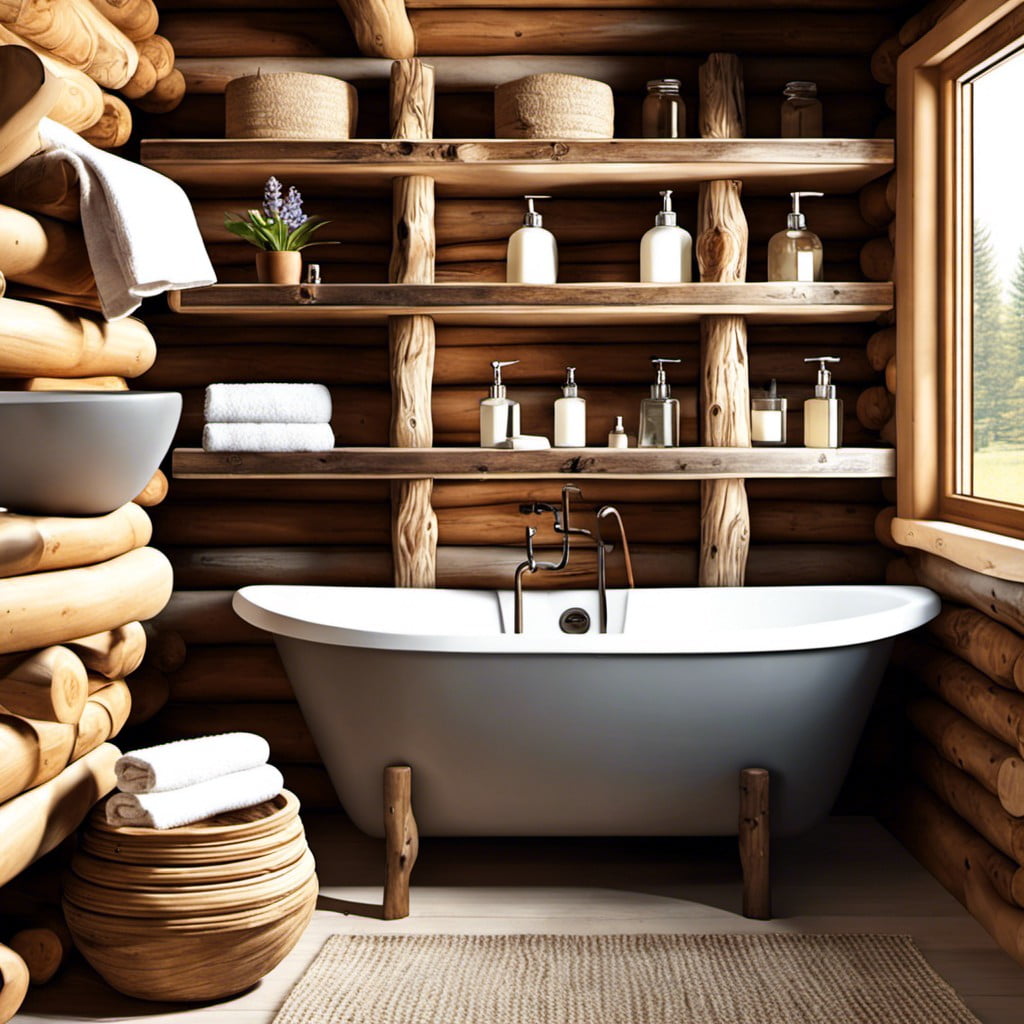 Utilizing the height of your bathroom can be a game-changer for storage. Opting for this choice opens up a lot of possibilities, whether for bulky items like towels and bathrobes or smaller ones like cosmetics and toiletries.
When considering materials, reclaimed wood adds a touch of authenticity and history. However, it's important to seal such shelves properly to withstand the bathroom's humid environment.
For a different impact, use ladders with a weathered or distressed finish to add a unique layer of rustic charm. Display your items with care to avoid a cluttered look; select a few standout pieces to showcase. Hanging eucalyptus or lavender on a rung can make your bathroom not only look good but smell good too.
Wooden Bathroom Counters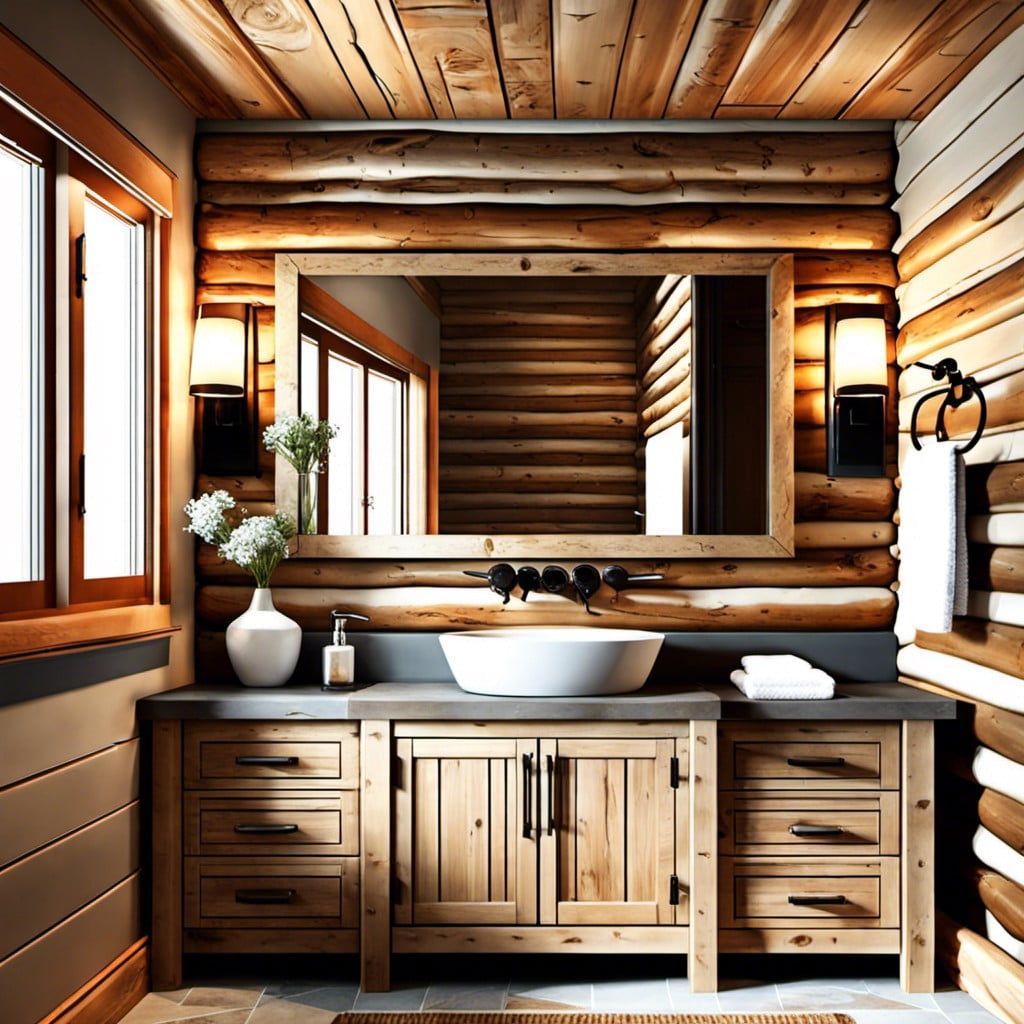 A touch of the outdoors brought inside, this feature can take your log home bathroom to the next level in classic chic style. Opt for a hardy wood type, such as oak, to withstand the humid bathroom environment. Coat it with a water-resistant finish, like polyurethane, to shield from splashes and spills.
Ensure its construction is sturdy to handle the heavy-duty tasks. For an added touch of character, consider an inclusion of a live edge detailing. This speaks of elegance meeting functionality while accentuating the overall rustic aesthetic of your log home.
Mason Jar Storage Containers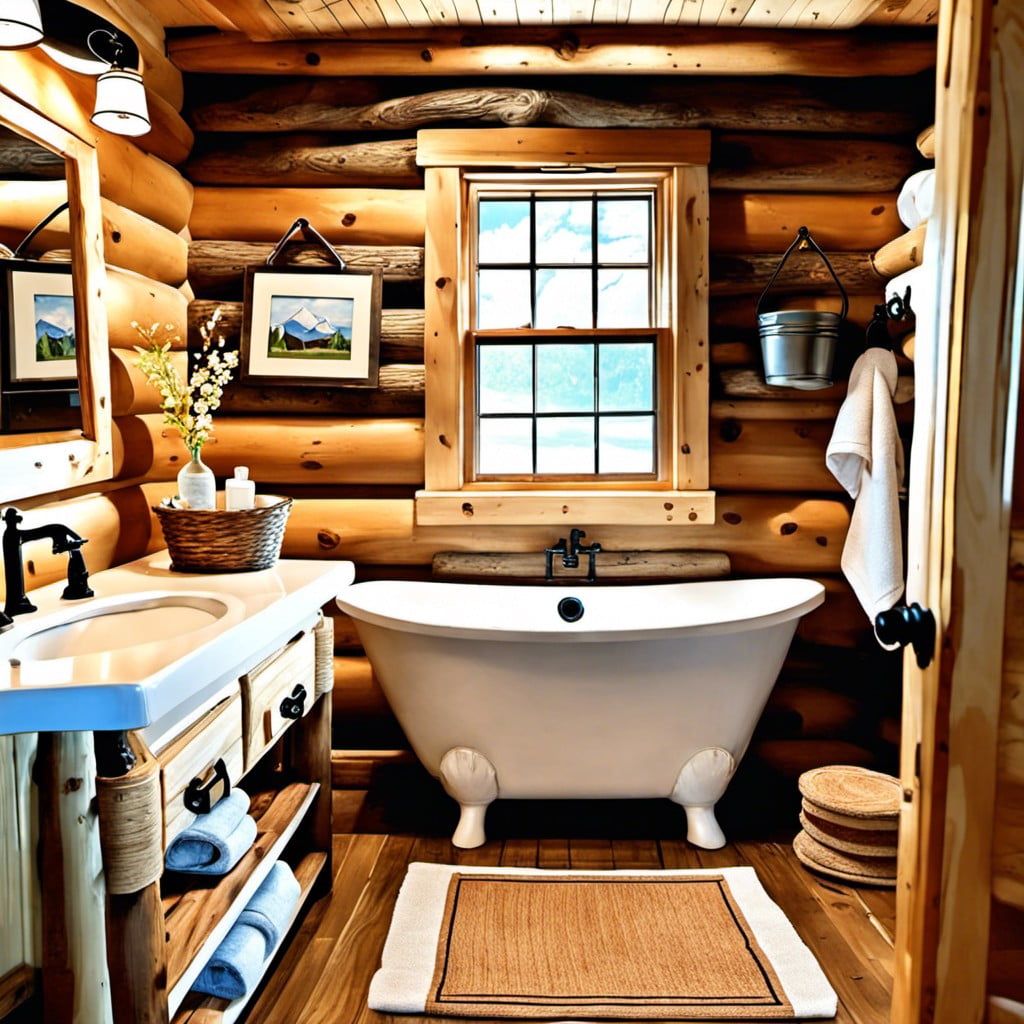 To continue the theme of rustic charm, using Mason jars for storage is another exceptional idea. As functional as they are stylish, they add a touch of vintage flair to a log home bathroom. Not only can they be used for storing essentials like cotton balls and q-tips, but also work wonderfully for homemade bath salts or lotions.
They are available in multiple sizes for different needs and ensure your belongings are clearly visible and within reach. Moreover, they uphold the eco-friendly nature of log homes by reusing glass containers.
For an added layer of interest, consider adorning them with twine or rustic tags. Small decorative touches like these ensure a cohesive aesthetic throughout your space. And remember, simplicity is key in a log home bathroom, just as your Mason jar storage emphasizes.
Timber Frame Ceiling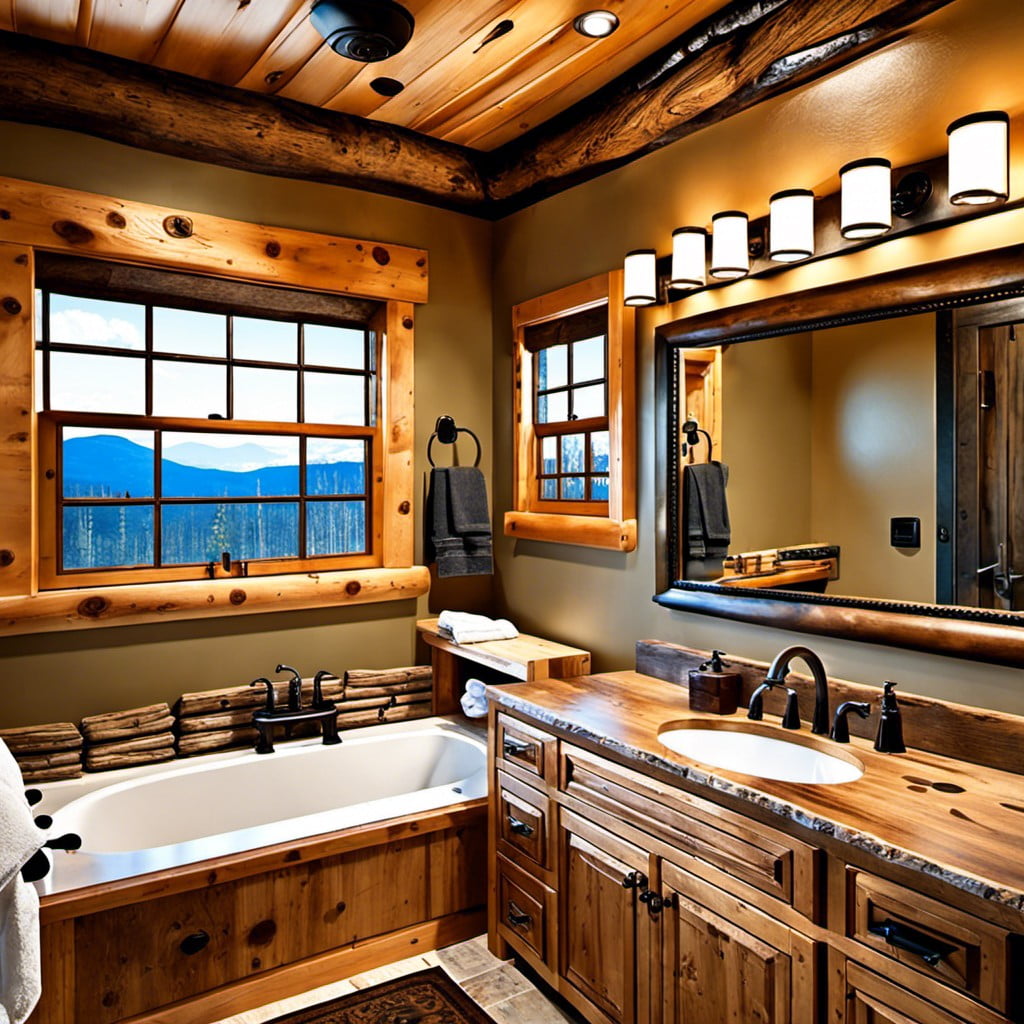 The beauty of a timber frame ceiling lies in its grandeur, evoking the feeling of being one with nature. It serves as a solid structure providing insulation to the bathroom, ensuring it remains warm during colder days. Uniformly distanced beams add a geometric dynamism to the room.
When considering lighting, ambient lights that wash the wood with a soft glow enhance the grain patterns, and recessed lighting fosters a modern vibe. For ventilation, installing a skylight amidst the timber beams brings in natural light while ensuring privacy. Pairing a timber frame ceiling with light-colored walls can make the bathroom look spacious and airy.
Maintaining the timber is straightforward, a protective coating of varnish every few years will do just fine. As for those who like unique trends, consider whitewashing it to add brightness while preserving the texture detail.
Sliding Barn Door Entrance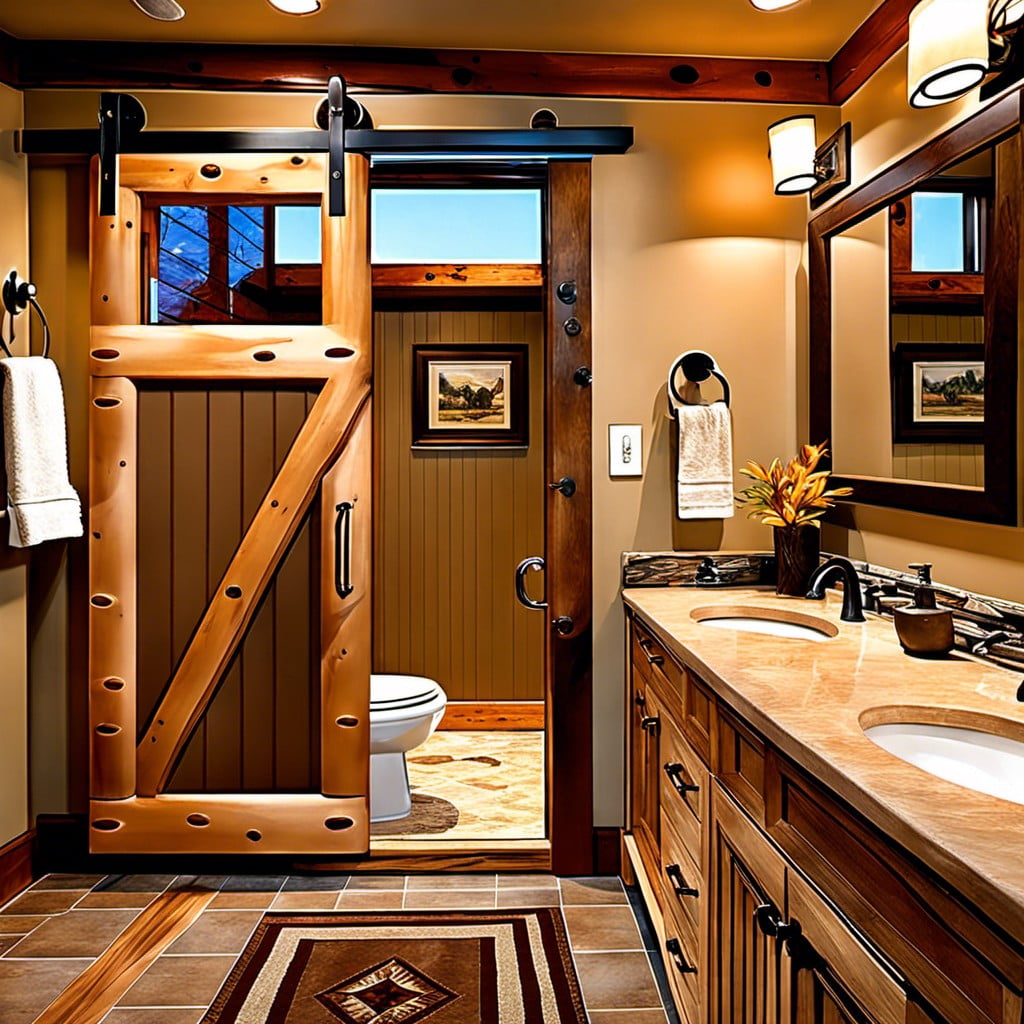 Emphasizing authenticity while adding a modern flair, a barn door can be a dynamic addition to your log home bathroom. The rustic elements of weathered wood paired with a sleek sliding mechanism is both practical and striking.
Ideal for smaller bathrooms where space is a premium, sliding doors require less room than traditional swing doors. Further, the choice of wood stain can readily complement exposed logs and other wood-centric bathroom elements.
For a unique customization, consider a frosted glass inset that lends a touch of elegance to the rugged appeal of a barn door. Remember, sturdy hardware is crucial in the installation process to ensure longevity and ease of use.
River Rock Shower Stall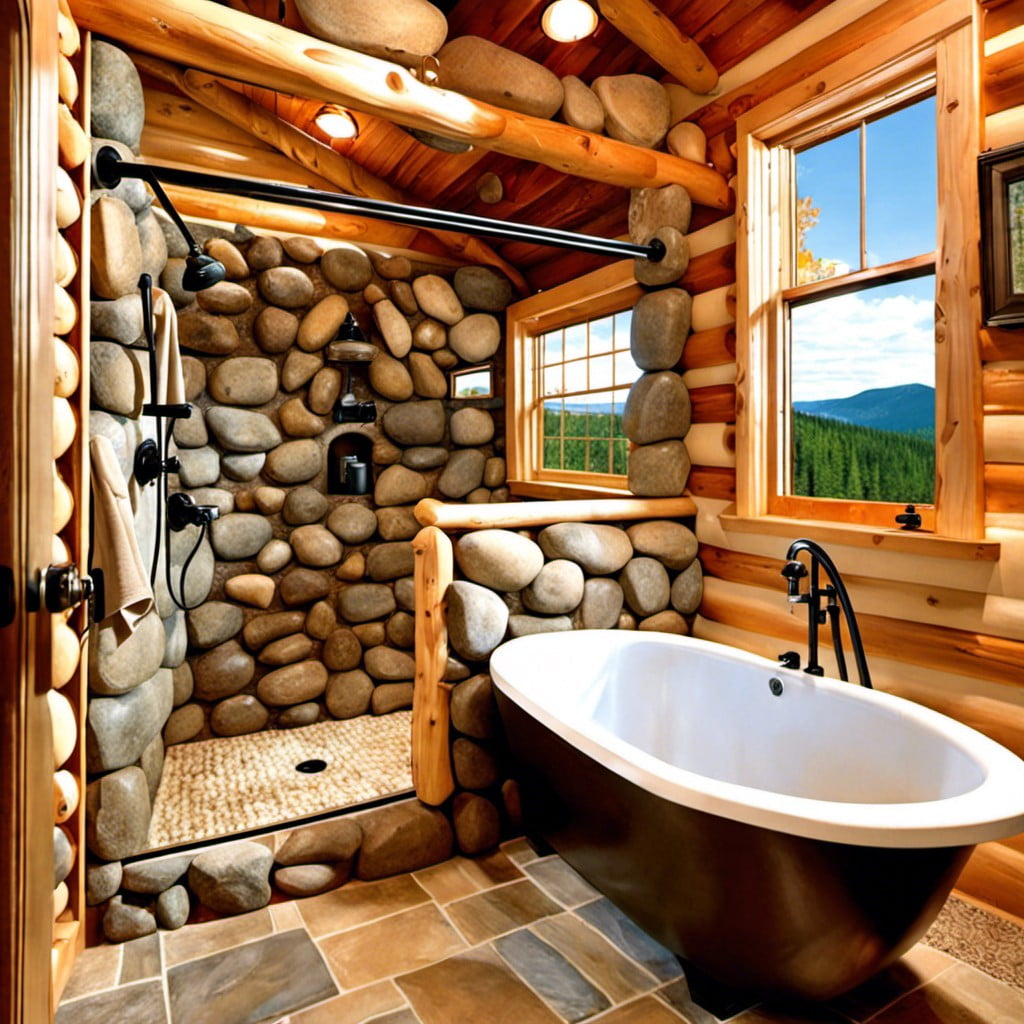 Incorporating these versatile natural elements gives the bathroom a tranquil, spa-like appeal. They're not only aesthetically pleasing but also provide a massaging effect on your feet, giving you an at-home spa experience. What makes them even more appealing, is the non-slip surface they offer, making them a practical addition to your log home bathroom.
Moreover, they're easy to clean and maintain with the right sealant, offering durability. You can go for a homogenous look with similar-colored stones or make it dynamic with a mix of vibrant colors. The key is to complement them with other elements in your bathroom such as the tiles or the wood accents.
Bronze Rustic Faucets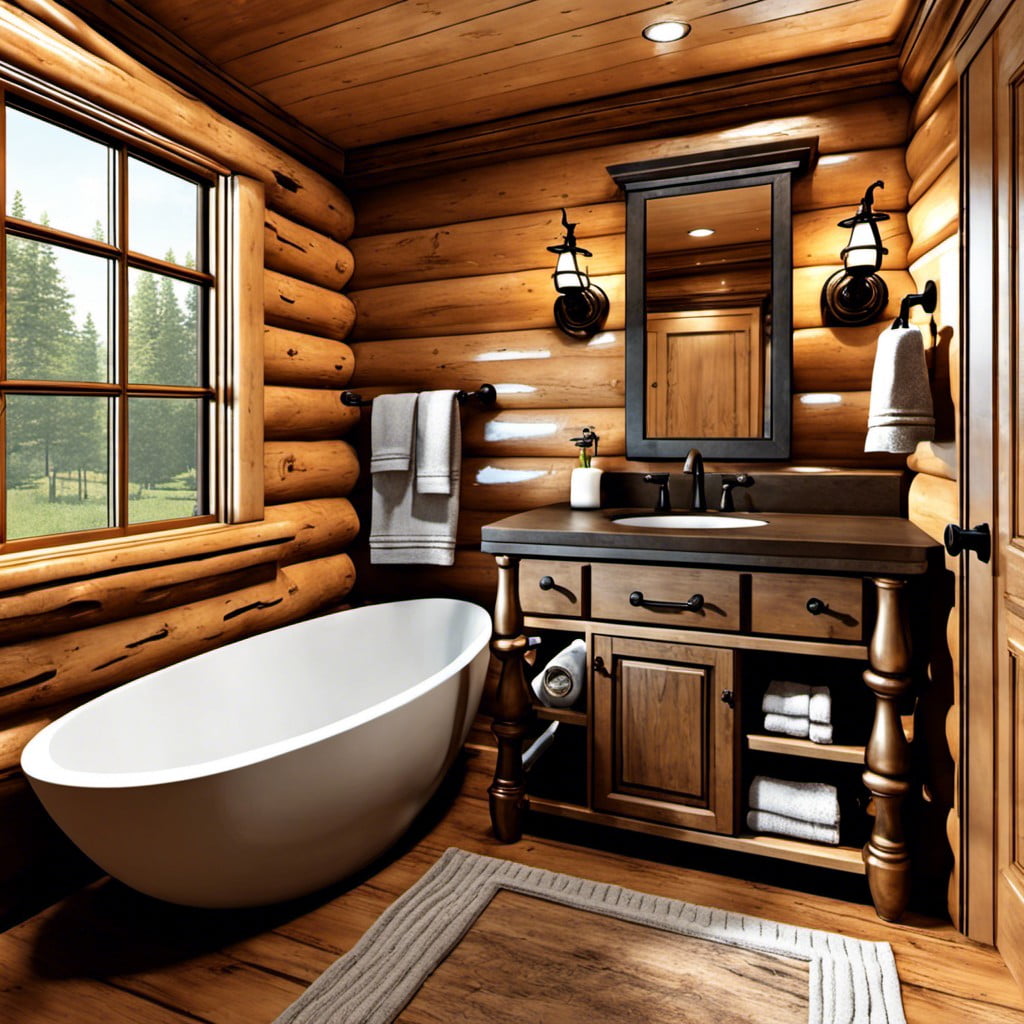 Choosing the right material and design for your faucet should complement the rustic charm without losing modern functionality. Bronze, with its robust character and warm hues, easily fits these criteria. A bronze faucet with an antique finish can create a vintage ambiance.
Firstly, the warmth and richness in the bronze add an instant rustic touch. Its darker tint harmoniously blends into the palette of the wood-dominated log home while adding a bit of contrast.
Secondly, bronze faucets are not only about aesthetics. They're known for their durability and resistance to tarnish and corrosion, which makes them perfect for bathrooms.
Lastly, you'll find those designs in abundance, from waterfall faucets to traditional styles with double handles.
Their unique appeal in design and functionality can transform your bathroom into a balanced blend of old-world charm and modern convenience.
Timber Window Frames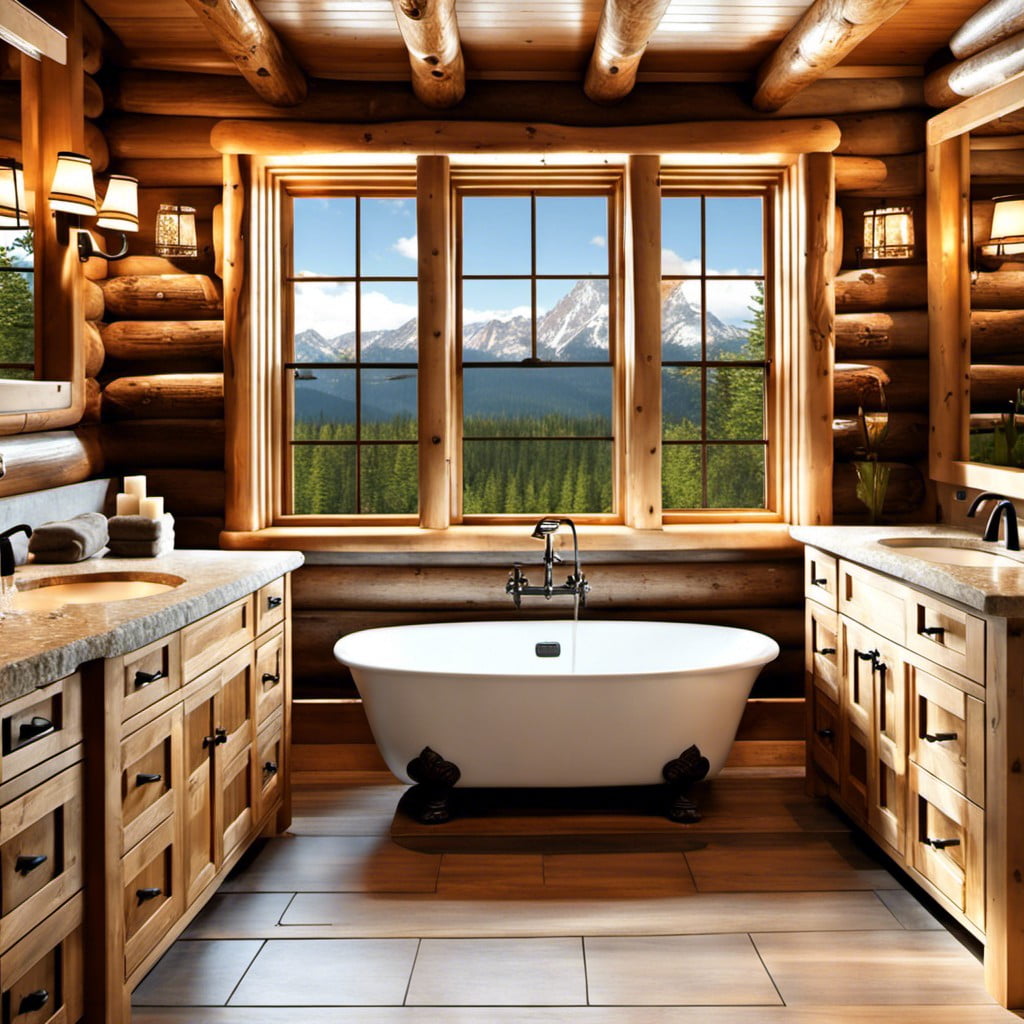 In line with the overall rustic vibe, selecting the right window frames is paramount. Opt for timber which is both durable and aesthetically pleasing. Not only does it add an undeniable charm, but also blends seamlessly with the log home setting.
Consider different designs that allow for maximum natural light- be it casement, double-hung or picture windows. Each choice presents its own set of advantages, affecting the amount of ventilation and view. Weather conditions and desired insulation should also influence your selection.
Remember, the beauty lies in bespoke details. Include intricate carvings on the frame for an added vintage touch, or leave it simple and sleek for a more streamlined look. Last but not least, complement the frame with suitably rustic window treatments- think wooden shutters, or heavy linen drapes.
Floating Wooden Shelves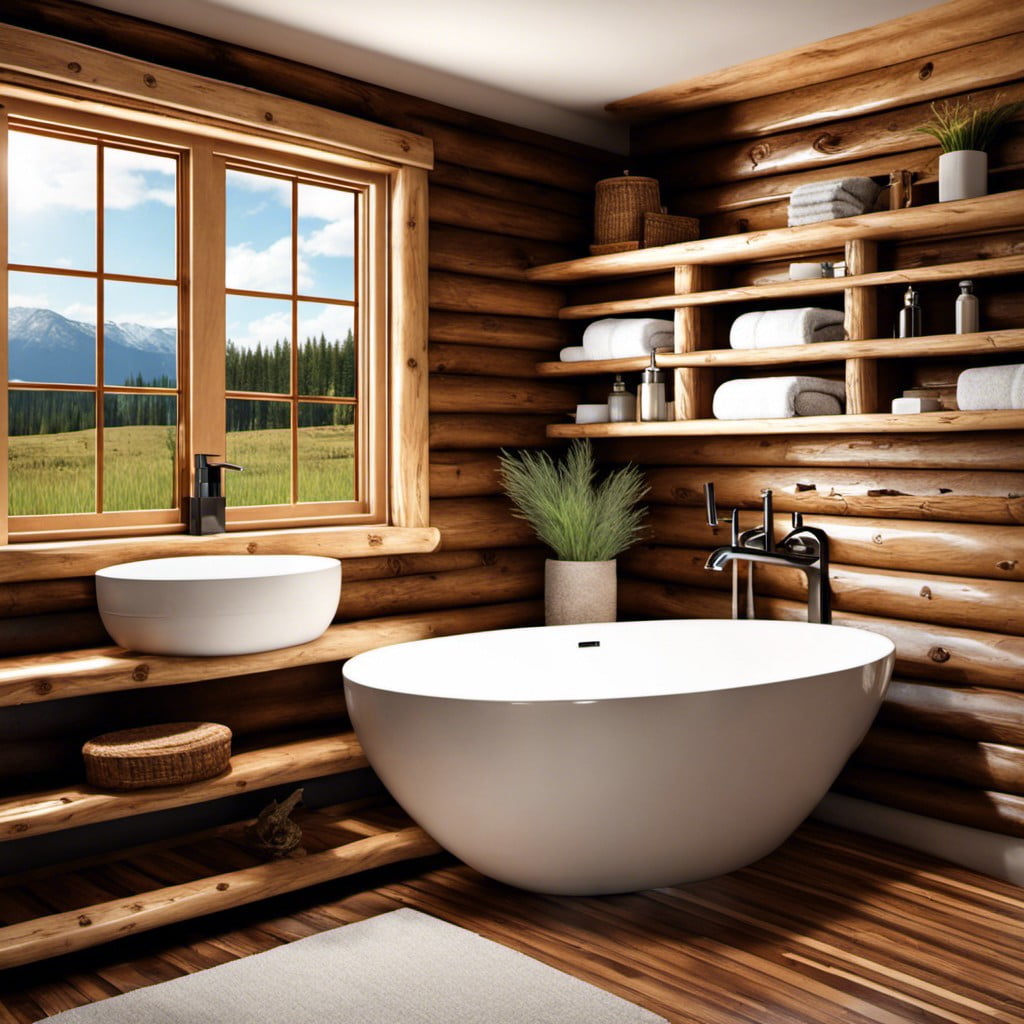 Opting for floating wooden shelves can inject a dash of rustic charm. Thick, rough-hewn shelves maintain the log cabin aesthetic, while the wall mounting creates an illusion of freestanding items. This type of shelving enhances organization and storage capacity.
With varying styles from reclaimed to smooth, they offer versatility to display everything, from lush green plants to vintage mason jars or an array of tastefully arranged toiletries. Remember, moderation is key to maintain balance and prevent a cluttered look.
Integrating floating shelves is a savvy way to unite form and function, amplifying your bathroom's log home environment.
Moose and Bear Bathroom Decor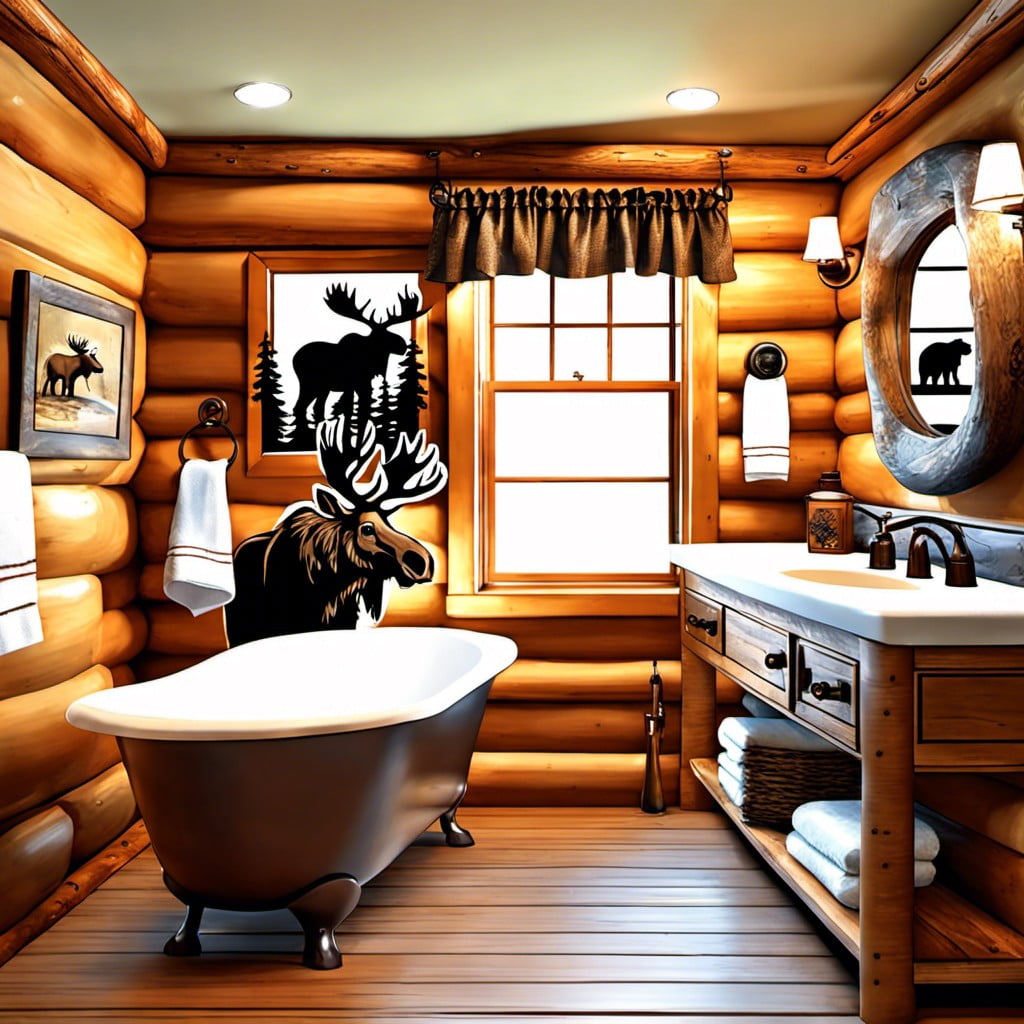 Embracing the exceptional beauty of nature, consider enhancing the room with playful scenes of moose and bears. Opt for hand-painted ceramic bath accessories depicting these wonderful woodland creatures.
Towel rings or toilet paper holders sculpted in their likeness inject a novel yet stylish appeal. Populating your space with finely embroidered hand towels and bath mats featuring these majestic animals adds texture and a delightful outdoor vibe.
Alternatively, a hand-carved wooden bear, for instance, may serve as both a functional and decorative accent. Wall decals and art prints, depicting bucolic scenes of bears or moose, can be brilliant additions too, vividly encapsulating the intrinsic charm of your woodsy abode.
Remember, a touch of such wildlife themes is sure to stir up a grand rustic feel, effectively taking your log cabin bathroom up a notch.
Hand-carved Wooden Soap Dishes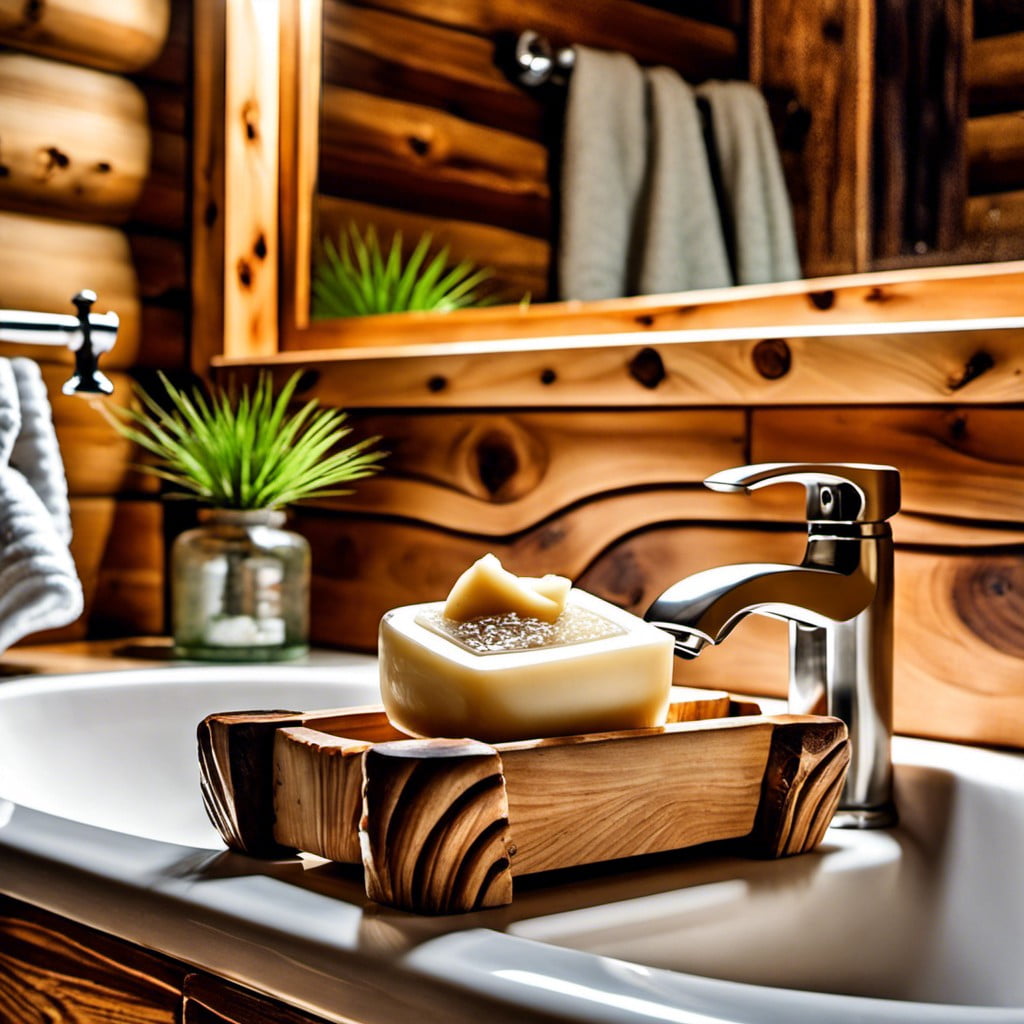 These tactile accessories bring an artful element to any washroom. Opt for intricate floral designs or more minimal geometric patterns depending on the overall theme of your bathroom.
Incorporating such finely crafted elements pours a touch of personality into the design. To ensure the longevity of this stunning wooden piece, look for dishes with a varnish or sealant – this not only anchors the wood grain but also makes it more resilient to water damage.
For an extra dash of rustic charm, search for soap dishes that have been constructed from reclaimed or salvaged wood. This not only comes with an eco-friendly perk but each piece holds a unique back-story too.
Altogether, they act as a functional yet appealing addition, ensuring your soap stays in place while simultaneously enhancing your bathroom aesthetic.
Continue reading:
Recap