Last updated on November 2, 2023
Upgrade your bathroom to a shabby chic oasis because this style boasts a perfect blend of antique charm and contemporary comfort that provides a uniquely inviting space.
"I am proud to present my original article and designs on 20 Stylish and Budget-Friendly Shabby Chic Bathroom Ideas, and I hope you'll find them as inspiring and enjoyable to explore as I did creating them."
Transforming your bathroom into a shabby chic haven is an exciting project that can totally revamp your space.
This article is packed with innovative ideas, from repurposing vintage furniture to adding rustic elements that will instantly infuse a shabby chic vibe into your bathroom.
Here, you'll find a plethora of suggestions on color schemes, décor, and accessories that will help you achieve that sought-after shabby chic aesthetic.
Whether you're starting from scratch or looking to update your current bathroom, this guide provides all the details you need to create a stylish, shabby chic bathroom.
Distressed Antique Mirror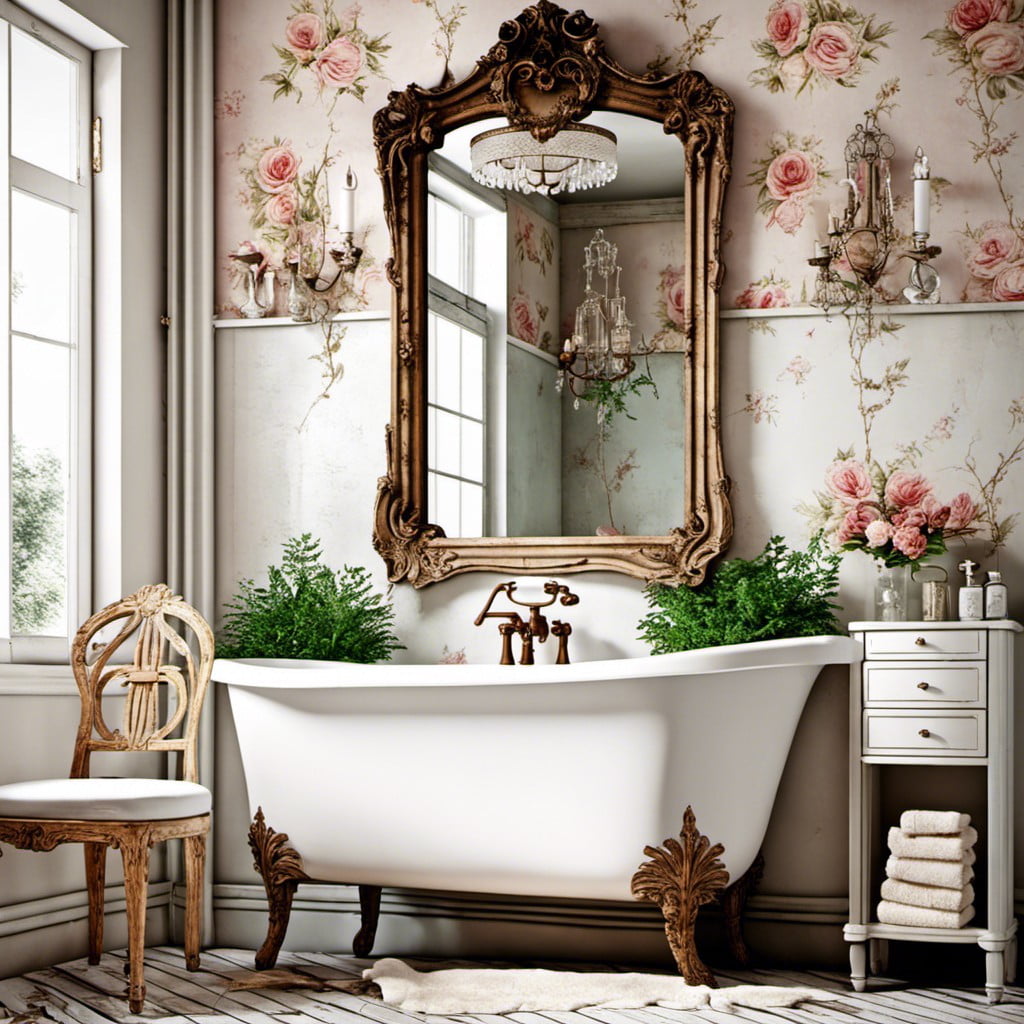 With its unmistakable signs of bygone eras, a well-selected distressed antique mirror becomes not just a functional object but a focal point of your bathroom. Hunt for a model with an elaborate frame, showing some wear and tear – the more weathered, the better.
Positioned above the sink, it reflects the soft lighting, adds depth and space illusion, while achieving that coveted aged look. Its uniqueness transforms it into a piece of art, and its imperfections become the evidence of its history.
This kind of addition infuses a strong shabby chic vibe and personality into the room. Want to take it a step further? Pair the mirror with a matching distressed picture frame or wall décor to heighten the vintage aesthetics.
Vintage Porcelain Sink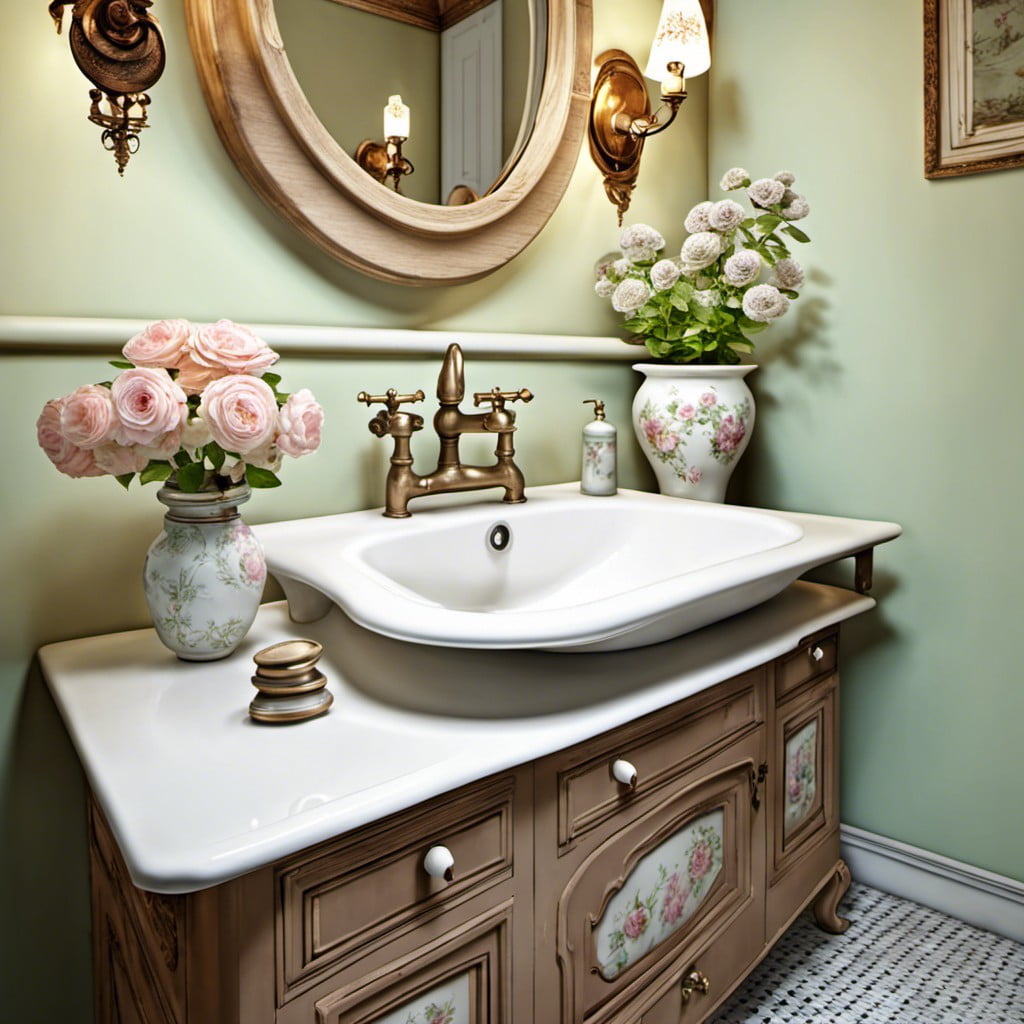 Utilizing a vintage porcelain sink breathes a new lease of life into the bathroom. Its timeless design underscores the shabby chic aesthetic, providing an elegant contrast to modern elements.
They often boast intricate detailing that enhances the room's uniqueness.
To obtain this quintessential piece, explore flea markets or antique shops.
For optimal results, pair the sink with brass or nickel faucets to showcase an authentic vintage appeal.
If the porcelain shows signs of wear, embrace it as this naturally aligns with the distressed look inherent to shabby chic design.
Always ensure professional installation to uphold the structure's integrity and longevity.
Claw-foot Bathtub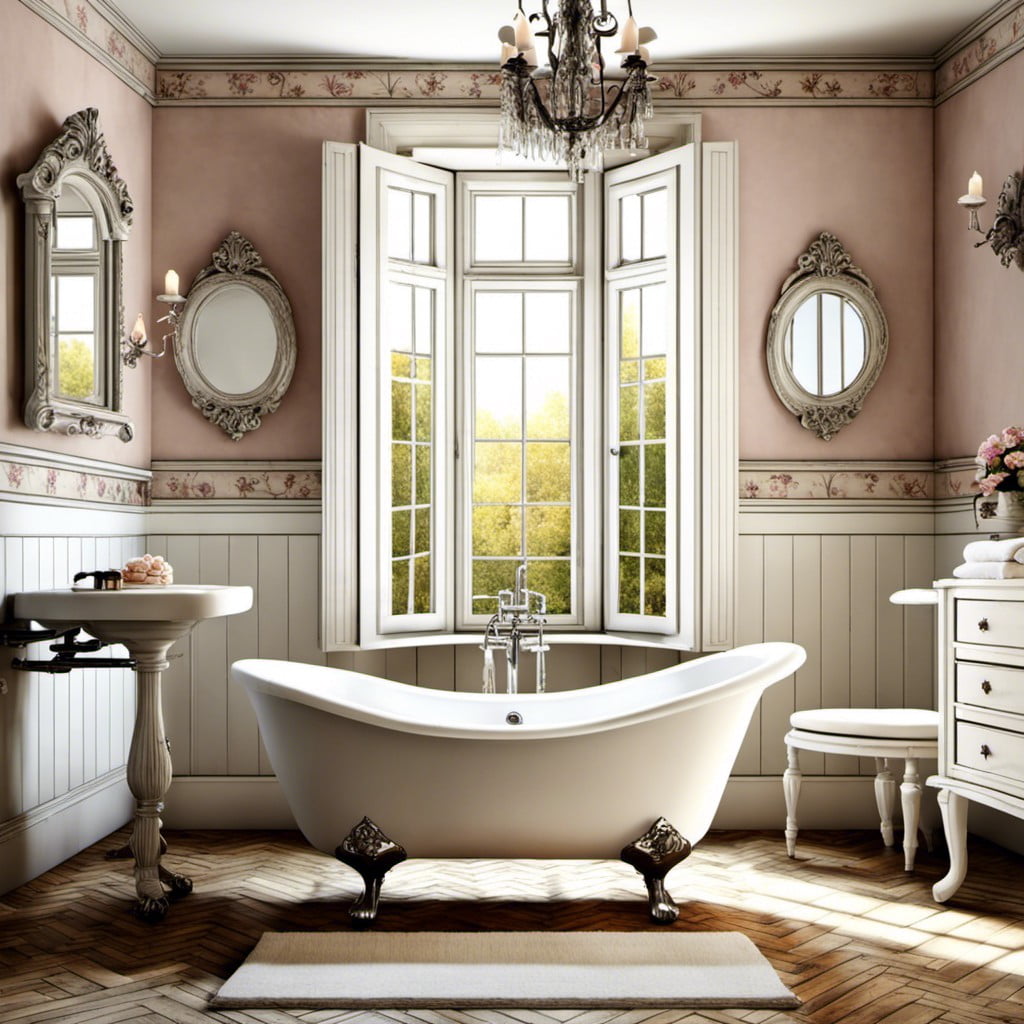 Characterized by their ornate feet, these standalone tubs offer a distinctive feature that effortlessly encapsulates shabby chic aesthetics. Their luxurious persona derives from their Victorian-era heritage, making them a timeless choice. Elevate the bathtub's vintage appeal using a soft pastel shade or keep it classic with a crisp white finish. Either way, it provides an alluring focal point in your bathroom, exuding elegance and charm.
To incorporate more of that coveted retro ambiance, consider installing a vintage-style faucet, choosing from brass, nickel, or chrome. A handheld shower attachment adds function without compromising the nostalgic appeal.
For practicality, add a refurbished wooden stool or small side table. This can hold bath essentials, perhaps housed in antique glass jars, maintaining the room's character while spot-on comfortable bathing sessions. Meanwhile, a fluffy bath mat in a complementary shade beneath the bathtub adds warmth, texture, and a pop of color to complete the look.
Floral Wallpaper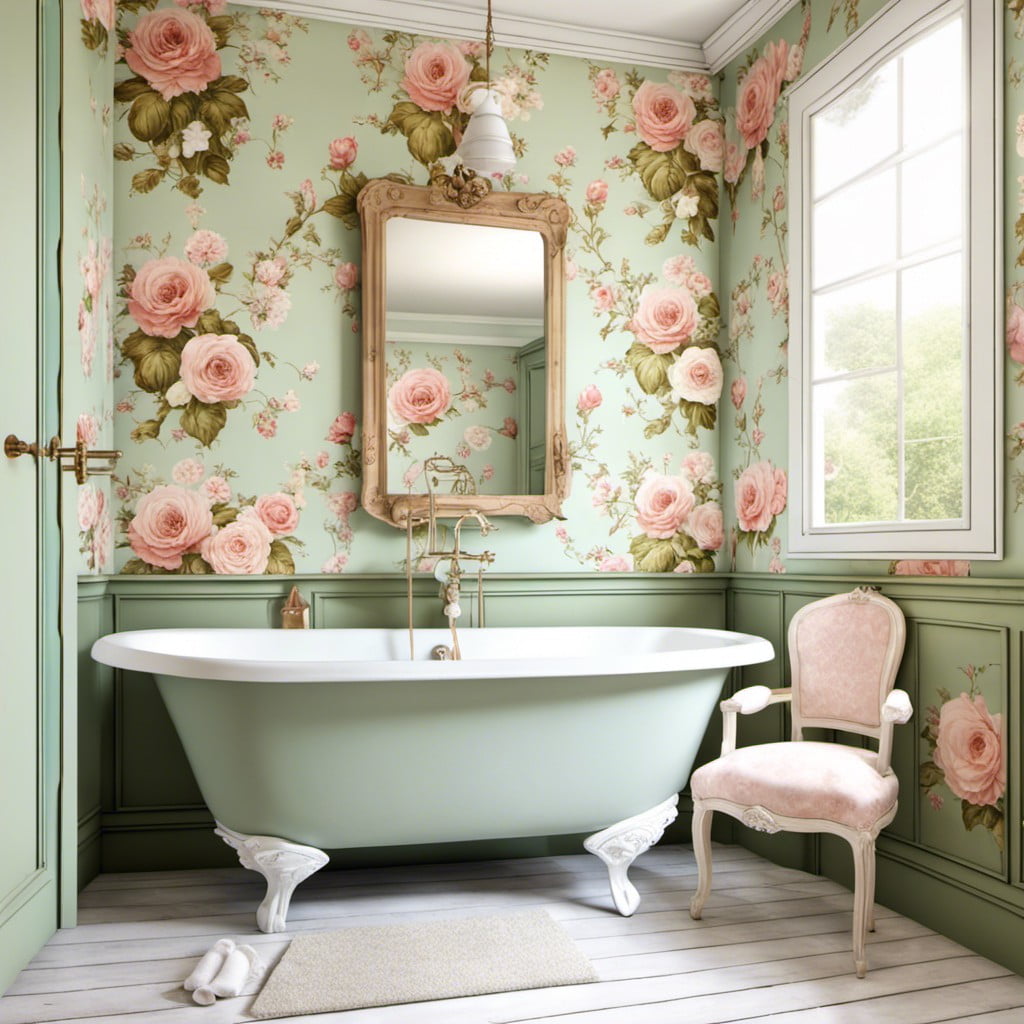 Floral patterns can be a wonderfully nostalgic and romantic addition to your private oasis. Choose faint pastel hues or washed out designs for the perfect shabby chic look.
Go for big, blossoming prints to create a charming, English-cottage feel, or try understated, delicate motifs for a more subtle effect. The key is to find a pattern that matches the other vintage or repurposed items in the room, creating a cohesive aesthetic.
Consider pairing the wallpaper with distressed or antique-looking frames and wall-hangings to bring out an authentic, shabby chic vibe. This cozy addition will make your bathroom a space you love to retreat to.
Remember, quality is important, pick a wallpaper that's water-resistant and durable enough to stand up to a bathroom's conditions.
Weathered Wood Shelves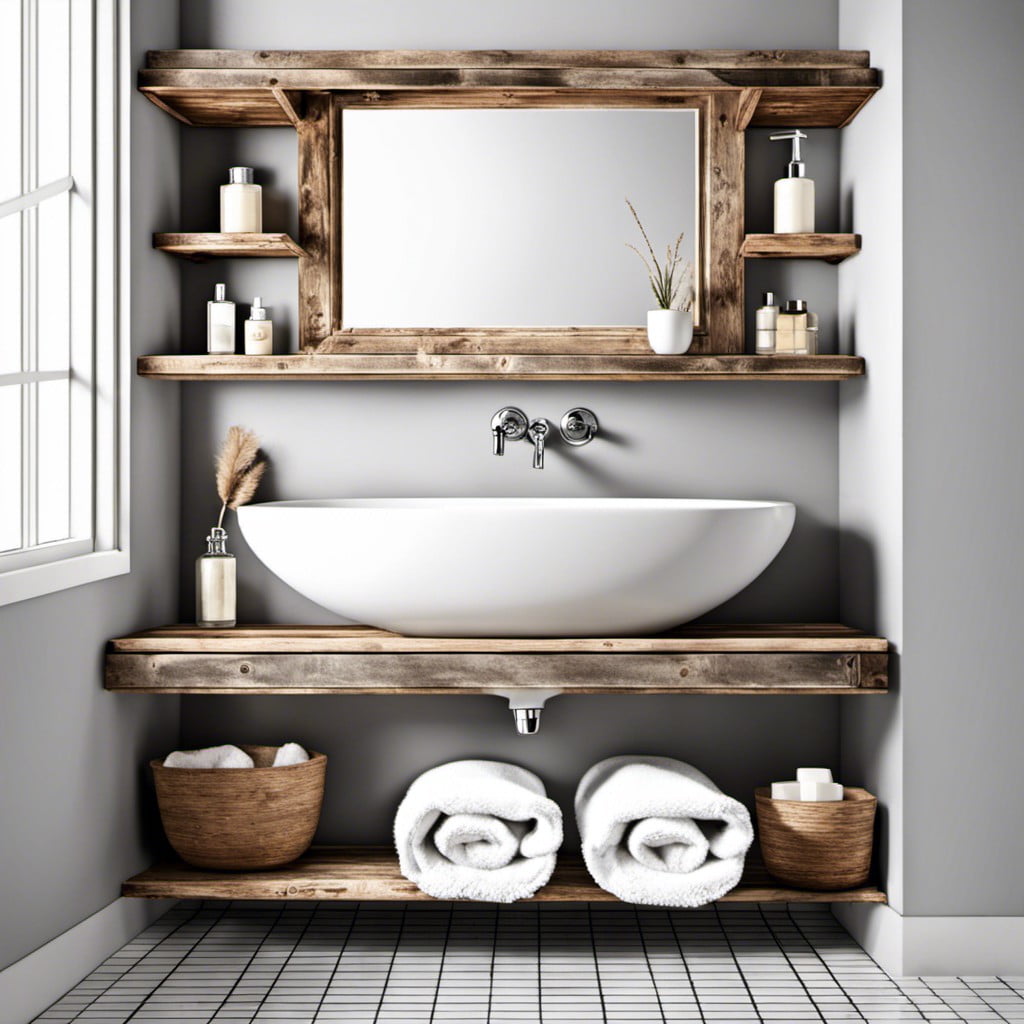 Opting for these rugged yet cosy features inject a sense of warmth and nostalgia into your bathroom. They are not only aesthetically pleasing, but also provide ample storage space for your bathroom essentials. Depending on your preferences, you can choose reclaimed barn wood or lightly whitewashed finish to achieve the look.
Multipurpose: Not only a decorative element, they provide storage for your bathroom essentials.
Customizable: Depending on your space, create a single shelf or a series of them.
Versatile: Display decorative items like antique perfume bottles or use for practical storage.
Zero Waste: Reclaimed and salvaged wood make for eco-friendly alternatives.
Stylish: These features amp up the shabby chic vibe and provide a pleasing contrast to softer decor elements.
Antique Vanity With Marble Top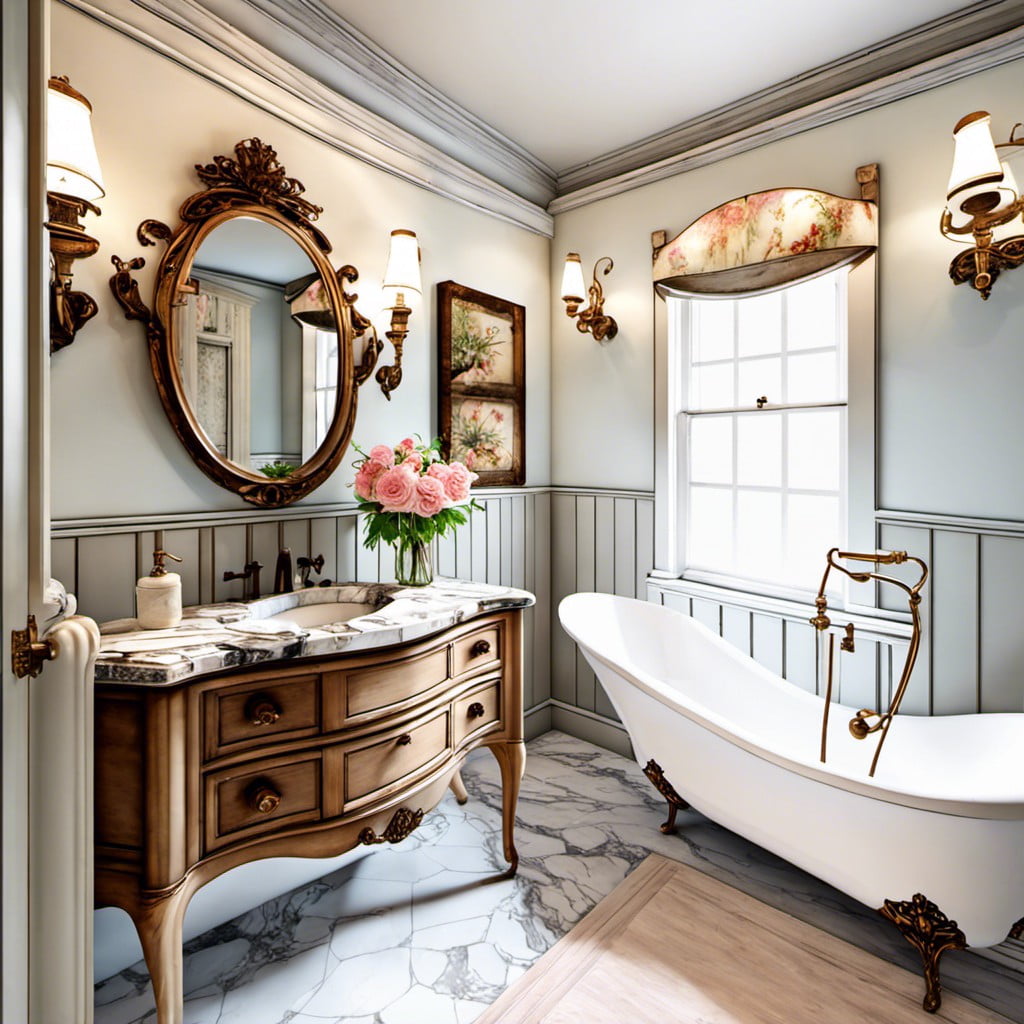 This timeless furniture piece brings an element of elegance and charm. Perfect for a shabby chic bathroom, it melds the old-world charm with modern function. It's all about the details: look for curved lines, intricate wood carving, and a distressed finish to underline the vintage feel.
Meanwhile, the marble top subtly balances out the aged look with a glossy sleek touch, adding a bit of luxury. Opt for a piece with ample storage, helping to keep your bathroom tidy. Remember to be selective with your choice of tapware; vintage style brass will pair nicely without overwhelming the look.
White Lace Shower Curtain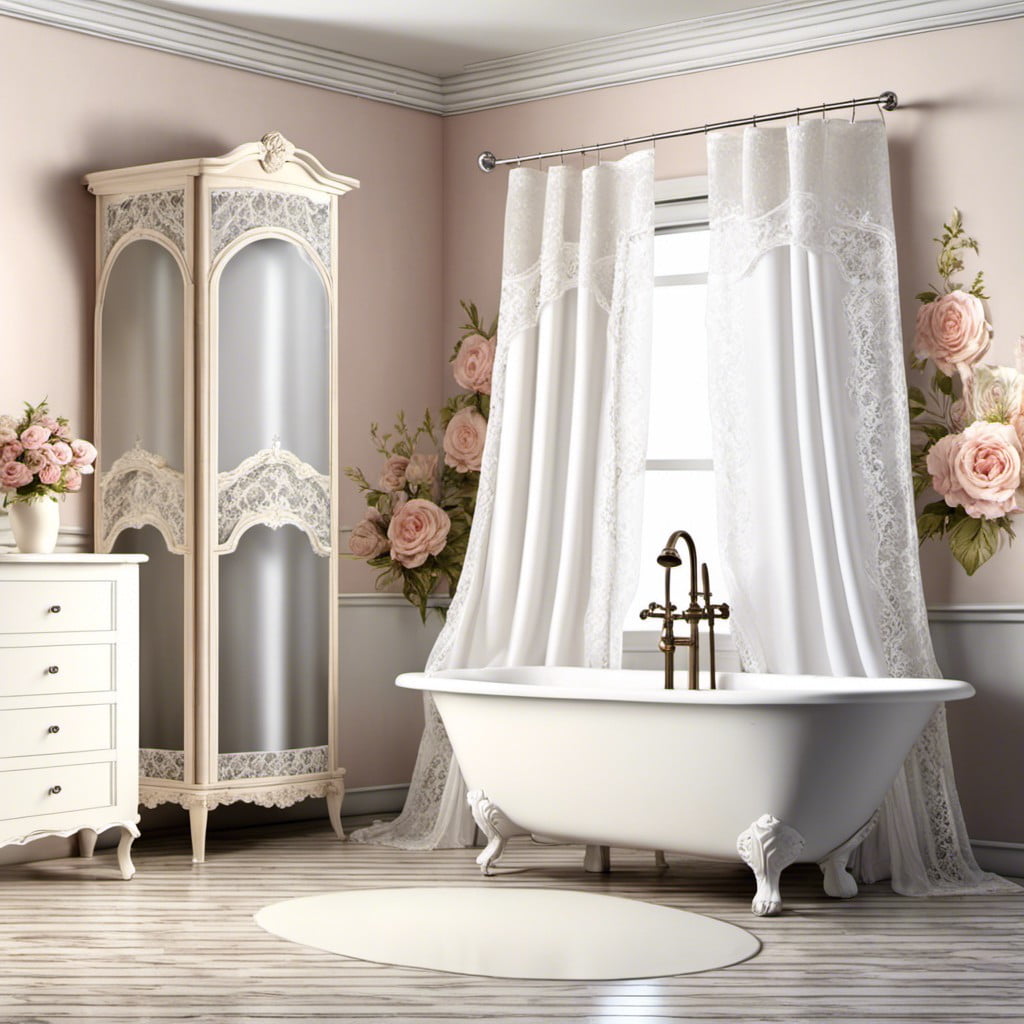 A perfect, yet cost-effective tool to add elegance and charm to your bathroom is a white lace shower curtain.
This simple touch of glamour can bring a light, airy feel to the room while amplifying the shabby chic aesthetic.
Consider designs that feature ruffles, scalloped edges, or floral patterns to deepen that vintage, romantic allure.
It's easy to maintain and pairs beautifully with rustic or antique bathroom accessories.
Whether against a backdrop of pastel colors or stark white walls, it holds the power to transform the space dramatically.
Remember, it's the intricate details that bring the entire shabby chic look together.
Repurposed Ladder Towel Rack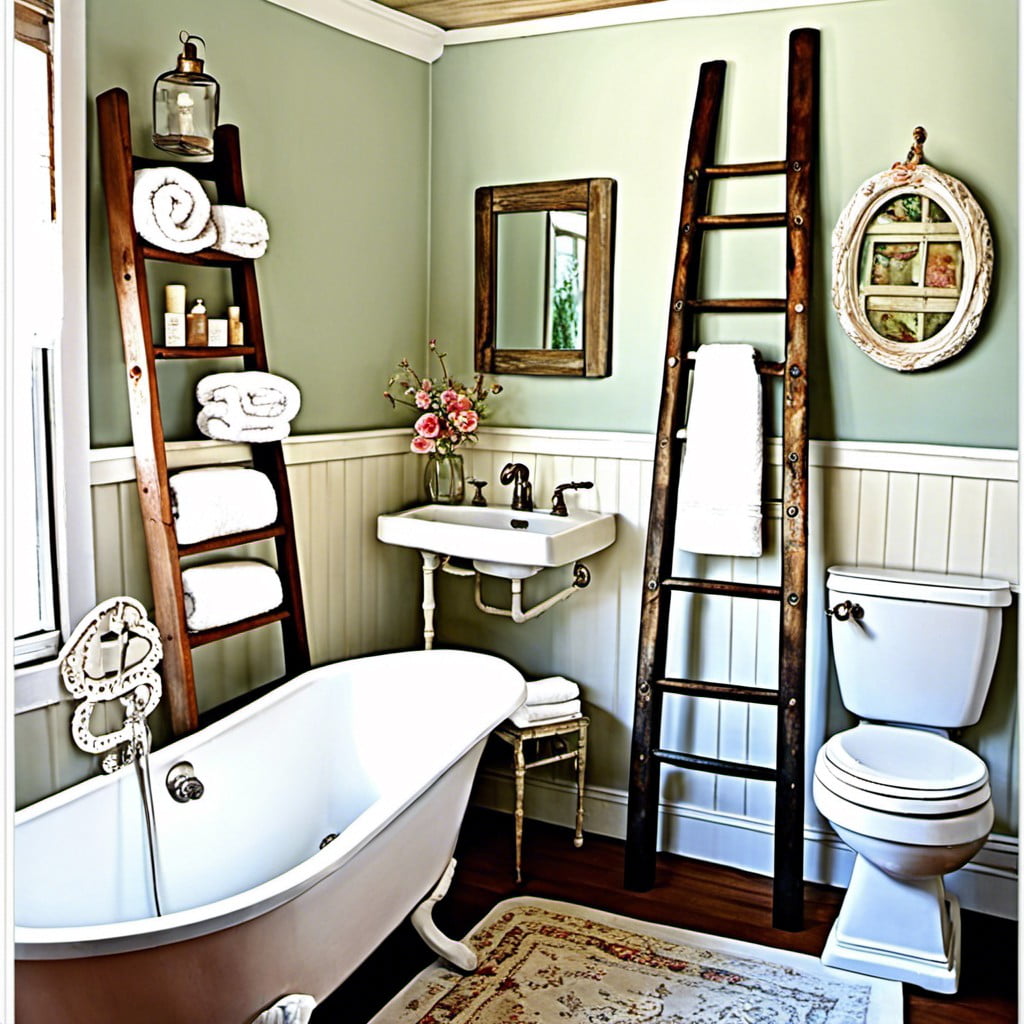 A repurposed ladder offers a unique and rustic take on a towel rack. Simply lean it against a wall for an effortless shabby chic aesthetic.
Select a ladder with natural, peeling paint to enhance the weathered look, or paint it with a pastel, matte finish for a softer feel.
The rungs provide ample space to hang towels, keeping them within reach while also adding a decorative element to the room.
You can even add small hooks to the sides to drape bathrobes or hang small baskets for additional storage.
As well as being an affordable and sustainable choice, it's a breeze to install – no drilling or wall-mounting necessary.
Last but not least, it's easily changeable, meaning you can switch it out as you please without leaving permanent marks or needing to re-decorate.
Pastel Color Scheme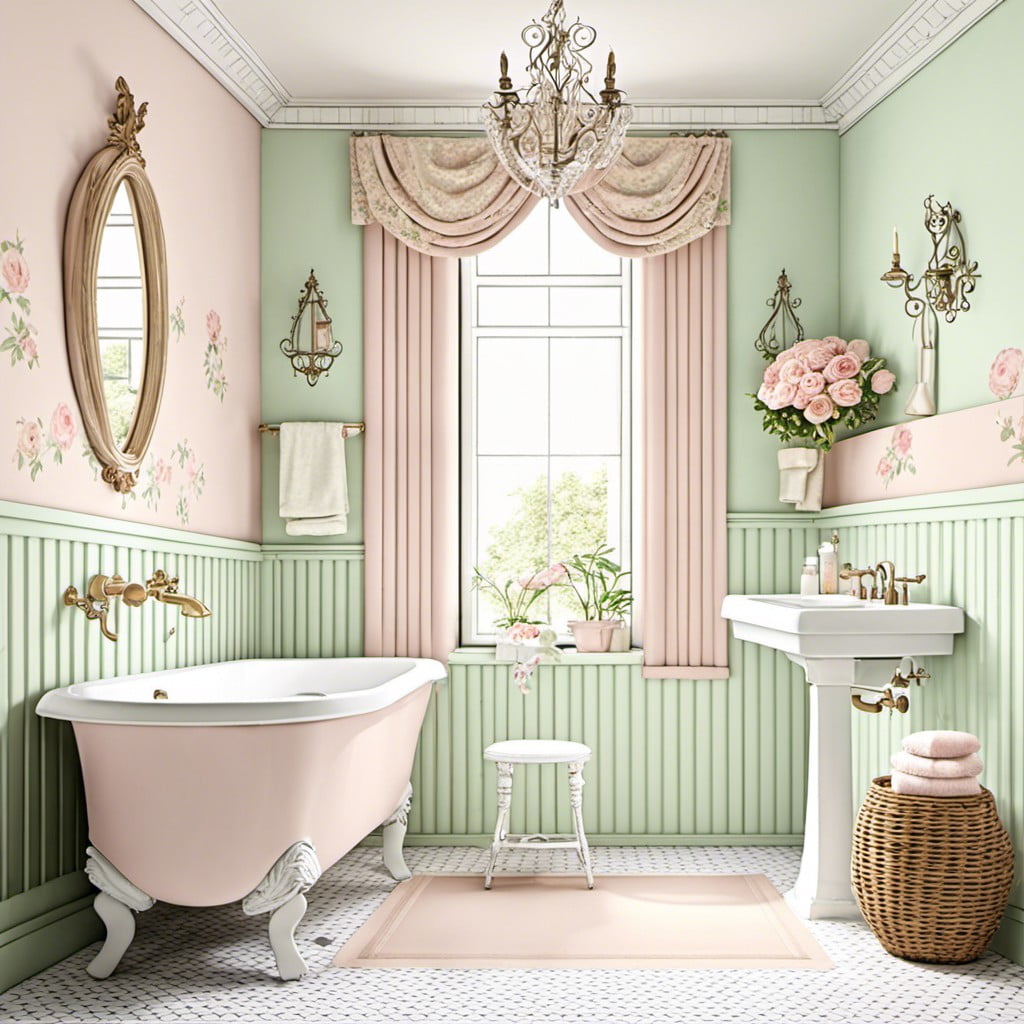 Faded blues, pinks, and yellows are the go-to choices for creating that coveted soft and romantic ambience. When balanced properly, these hues can infuse a serene and inviting aura into your bathroom.
Try considering a muted pink for walls, while a soft blue can be ideal for smaller details like shelving or a small vanity. Keep in mind, further weathering or aging of your pastel surfaces with a bit of sanding or scratching can help to emphasize the shabby chic vibe.
Remember, the key is to subtly mix and layer these pastel tones to ensure a harmonious balance is achieved. Coordinating your towels, rugs, and other accessories with your color scheme will help to pull the whole aesthetic together.
Wicker Baskets for Storage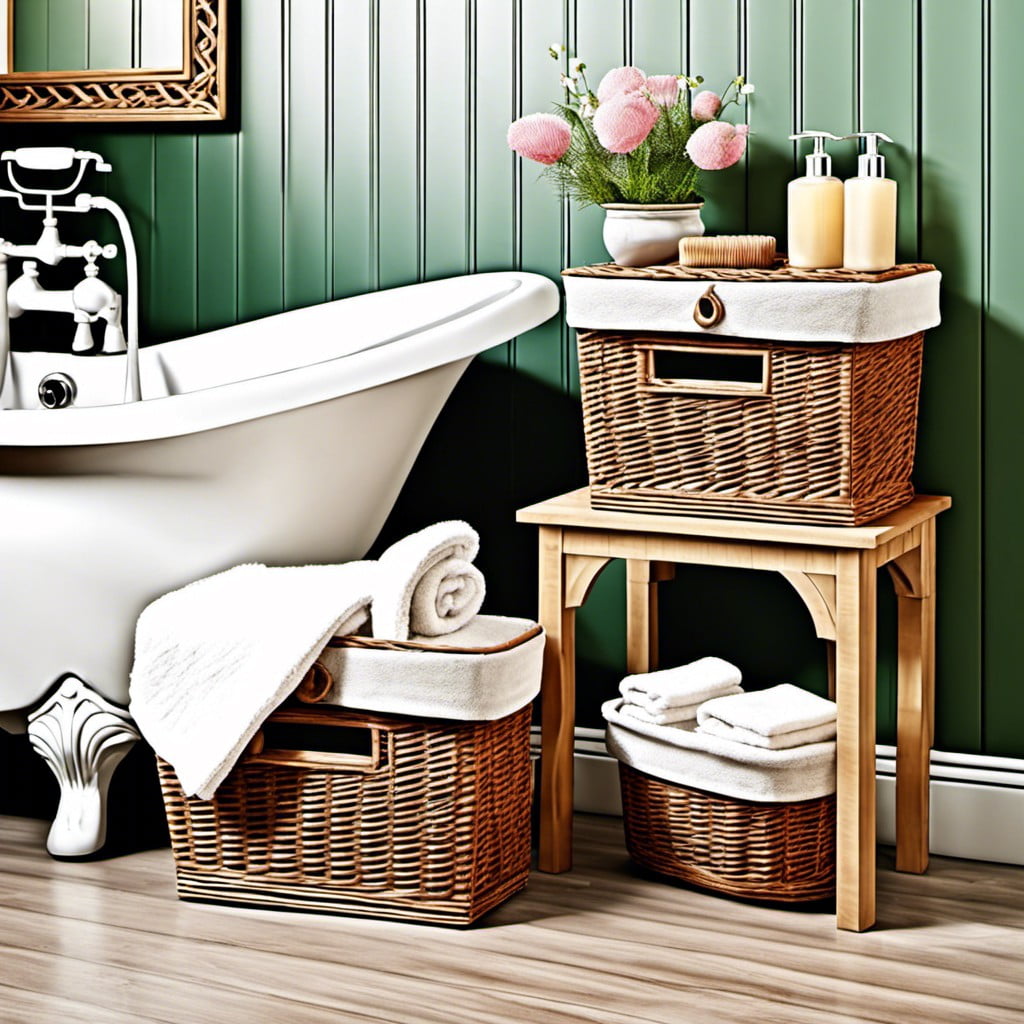 To introduce an authentic shabby chic aesthetic into your bathroom, think beyond traditional cabinetry. Wicker baskets offer both visual appeal and practicality. Their handwoven texture adds an enticing element of dimension, contrasting well with smoother surfaces like porcelain and marble.
Plus, their inherent rusticity can be complemented by ribbon accents or vintage luggage tags for an extra charming touch. Bigger baskets can house towels and toilet paper, while smaller ones can keep everyday essentials like toothbrushes and skincare items neatly organized.
Be sure to explore different colors and weaves to match your particular taste. Remember that the key to a well-curated shabby chic abode lies in the variety of its details.
Ornate Metal Fixtures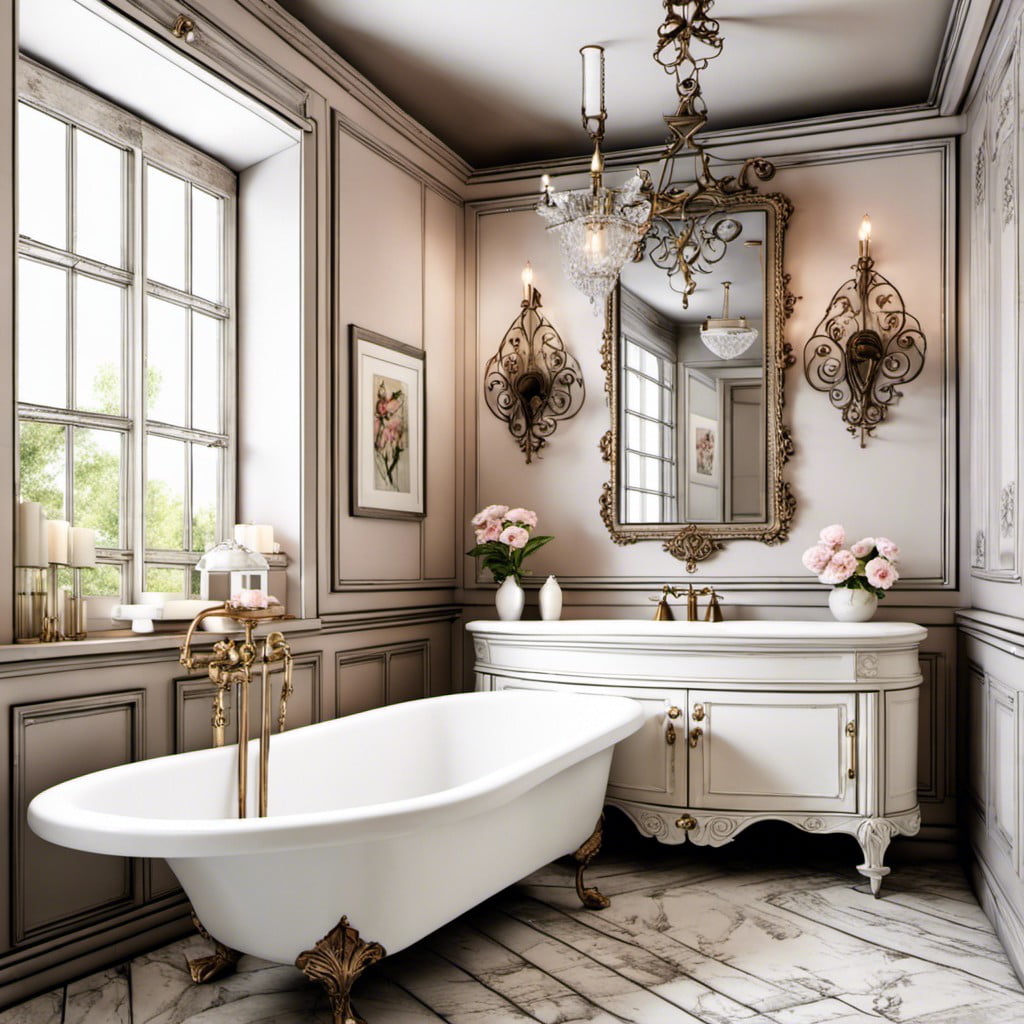 Choose a beautifully detailed faucet for your sink and not to overlook a matching shower head. These additions will bring a touch of elegance and charm. Bronze, silver, or brass, depending upon your preference, can add a wisp of history. They speak of times gone by when everything was handcrafted.
Look for intricate design work and heavy materials for authenticity. Search antique shops and thrift stores to find original pieces, or buy new ones with an antique look. For a matching waste bin and toilet roll holder, branded sets in antique finishes work well.
Finally, consider adding a decorative towel rack or a stylish ornate hook for robes and towels. They're functional and can add to the overall aesthetics of the bathroom.
Mason Jar Soap Dispensers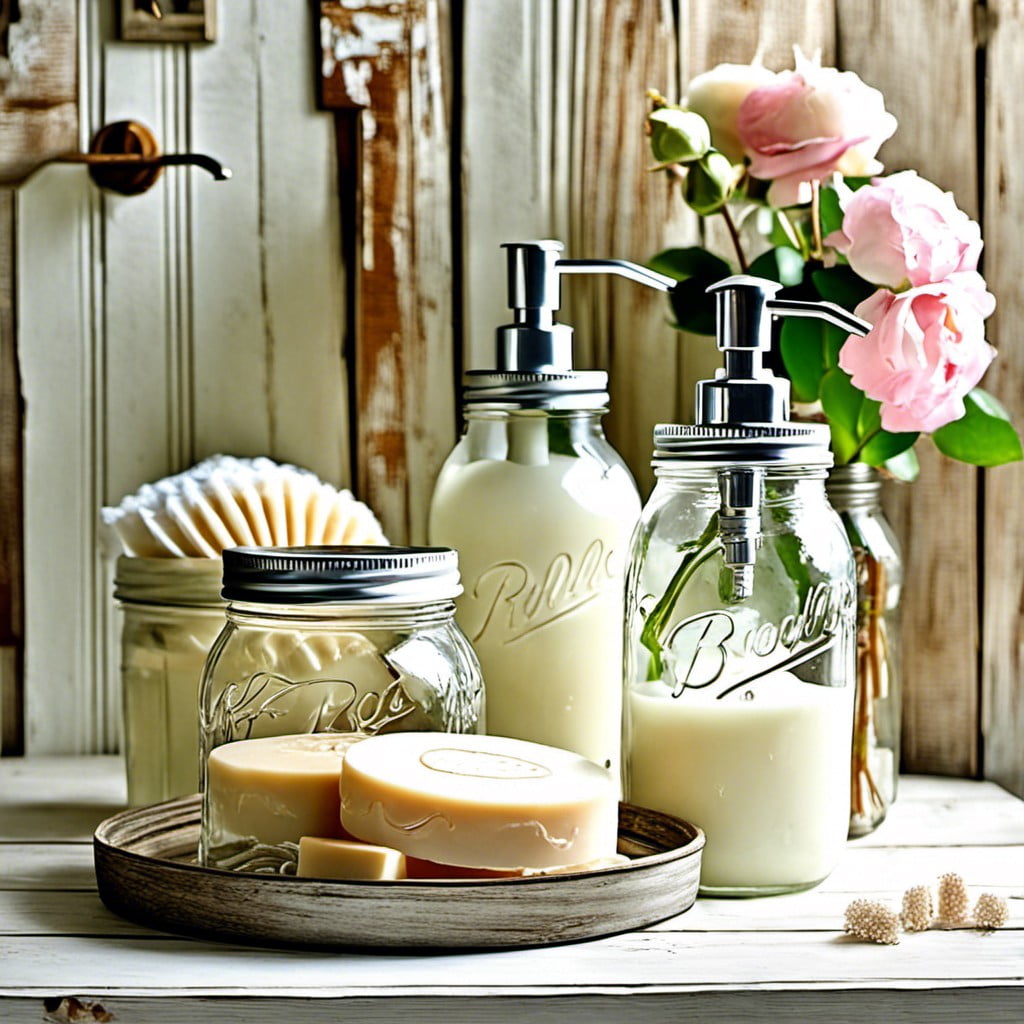 Crafting your own soap dispensers from mason jars is a delightful touch. Start with a clean mason jar and a pump from any old dispenser. Make sure the pump fits snugly into the lid of your mason jar. Fasten it using a hot glue gun, which ensures it won't wobble or leak.
Then, fill it with your favorite liquid soap. This is an easy, inexpensive way to add a unique, homemade touch to your bathroom. It not only recycles materials but also allows you to match the dispensers with your color scheme.
Consider creating a set that includes a dispenser for hand lotion and another for hand sanitizer.
Salvaged Window Frame As Wall Decor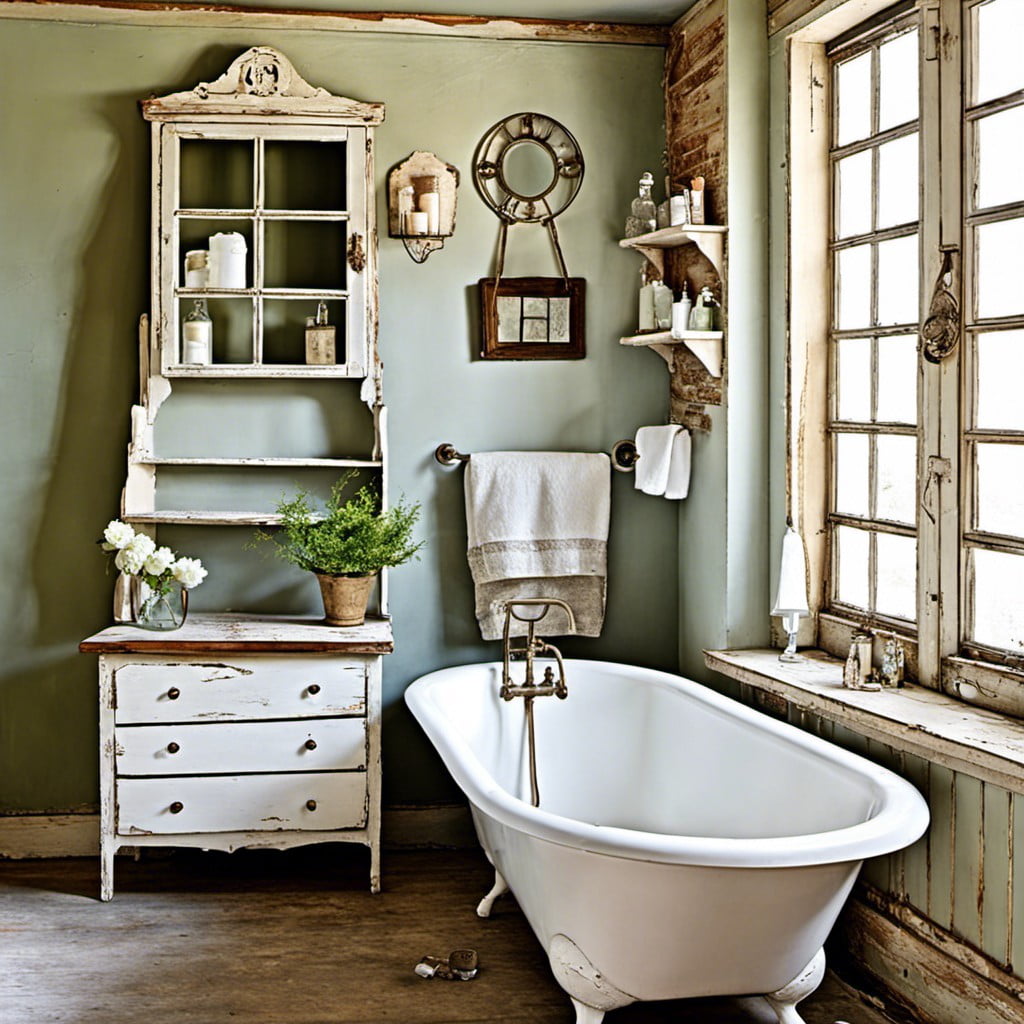 One way to incorporate a real sense of history and rustic charm is to use salvaged window frames as wall decor. This can be achieved by:
1. Sourcing: Find an old window frame at a salvage yard, antique shop, or flea market. Aim for a style and finish that complements the existing decor.
2. Checking: Examine the frame for any necessary repairs. Check for any weak points, loose glass, or chipping paint. A gentle sanding might be required to smoothen it.
3. Cleaning: Clean the frame thoroughly to maintain its vintage appeal yet ensure it's free of dust and grime.
4. Mounting: Mount it on the wall securely, ensuring the weight is distributed evenly. It could be placed above the sink or bathtub.
5. Decorating: Accessorize the window frame. It can be left bare, to focus on its vintage charm. Or add dried flowers, vintage prints, or small hanging trinkets to enhance its appeal.
These steps will transform this window frame into a resonant and eye-catching piece of wall decor.
Chandelier Lighting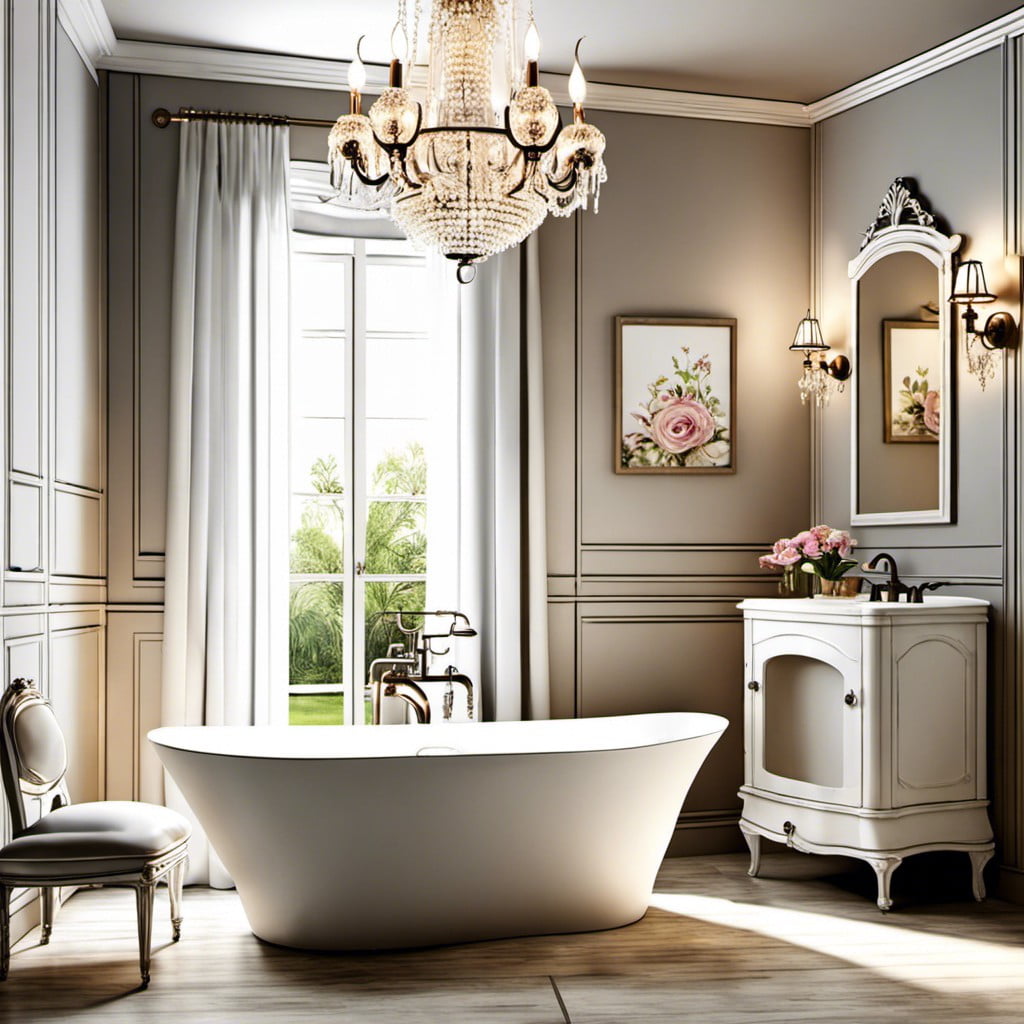 To illuminate the bathroom with a sense of grace and elegance, consider installing a chandelier. Not only does it cast a warm and welcoming light, it also adds an unexpected touch of luxe.
1. Crystal Chandeliers: These often feature ornate designs with intricate detailing, casting a beautiful shimmering effect around the room when the light hits the crystals.
2. Iron Chandeliers: They deliver an old-world charm. Opt for distressed finishes to further amplify the shabby chic vibe.
3. Pendant Chandeliers: For smaller bathrooms, these offer the grandeur without overwhelming the space. Select designs with vintage accents for the best shabby chic result.
Remember, the goal is to blend functionality with aesthetics. So, while choosing the chandelier, ensure it complements the other elements present in the room and provides adequate lighting.
Victorian Style Rug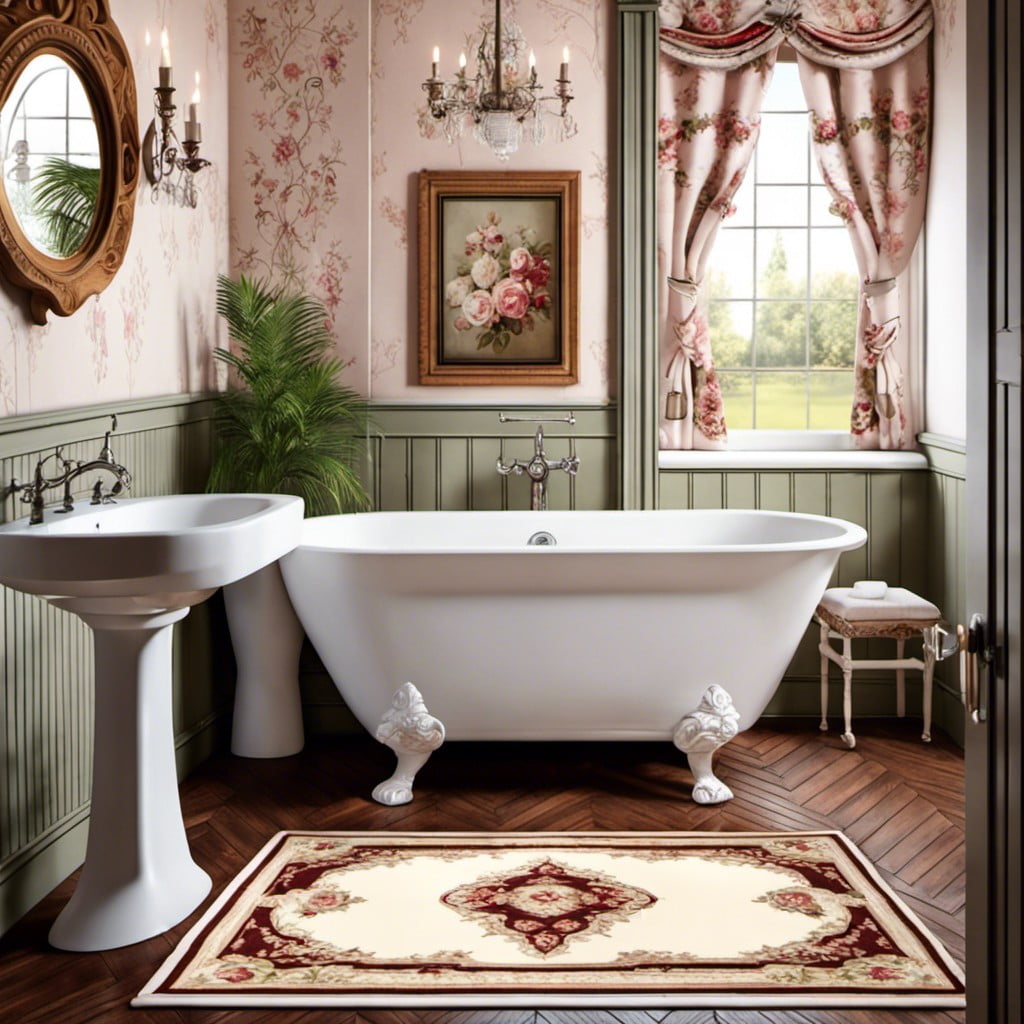 Boldly-patterned and plush underfoot, a Victorian-style rug adds a layer of comfort and sophistication to the bathroom.
When selecting one, take your time to find a pattern that resonates with the overall shabby chic aesthetic.
Floral motifs, ornate geometric patterns, and rich color palettes are synonymous with rugs from this era.
Choose an area by the sink or bathtub – locations that could benefit from additional warmth and visual impact.
Ensure the rug is treated to withstand the humidity typical in bathrooms to maintain its luster over time.
Natural fibers like wool are premium choices due to their durability and ease of cleaning.
By integrating such an exquisite element, the rug effortlessly fuses practicality with vintage luxury.
Lace Trim Bath Towels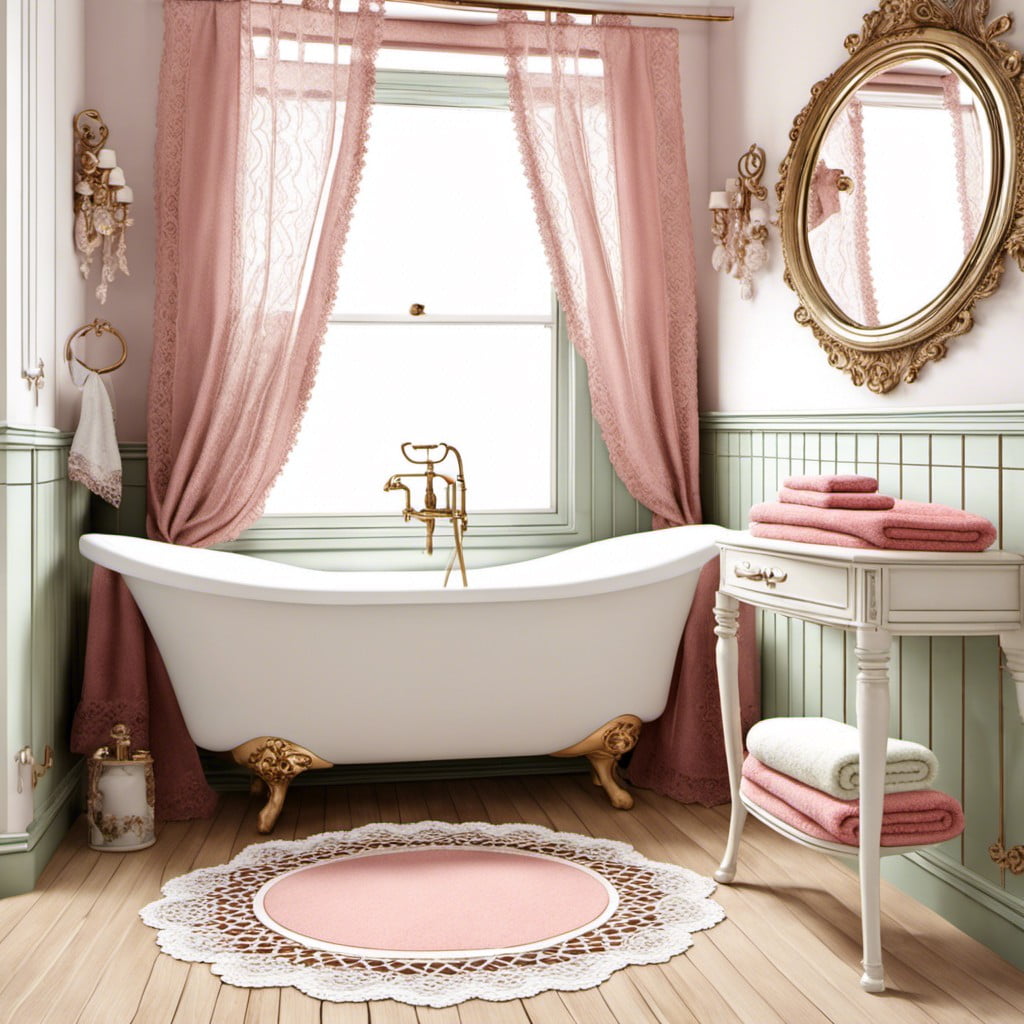 Opting for bath towels with delicate lace trim not only enhances your shabby chic aesthetic but also provides a touch of softness to the bathroom's overall feel.
Here are a few nifty pointers to consider:
1. Selection: Opt for oversized towels in soft, neutral hues like white or cream. The goal is to add texture while maintaining a light, airy atmosphere.
2. Display: Don't just stash these beauties in a cabinet. Drape over a rustic wooden ladder lean against the wall for an artistic, functional display.
3. Care: Delicate fabrics require gentle care. Always check label instructions to ensure your beautiful towels retain their quality.
4. DIY: Feeling creative? With essential sewing skills, you can even add lace trim to standard bath towels for personalized DIY flair.
With these helpful tidbits, your bathroom will exude that charmingly distressed, feminine style shabby chic is known for.
Candlestick Holders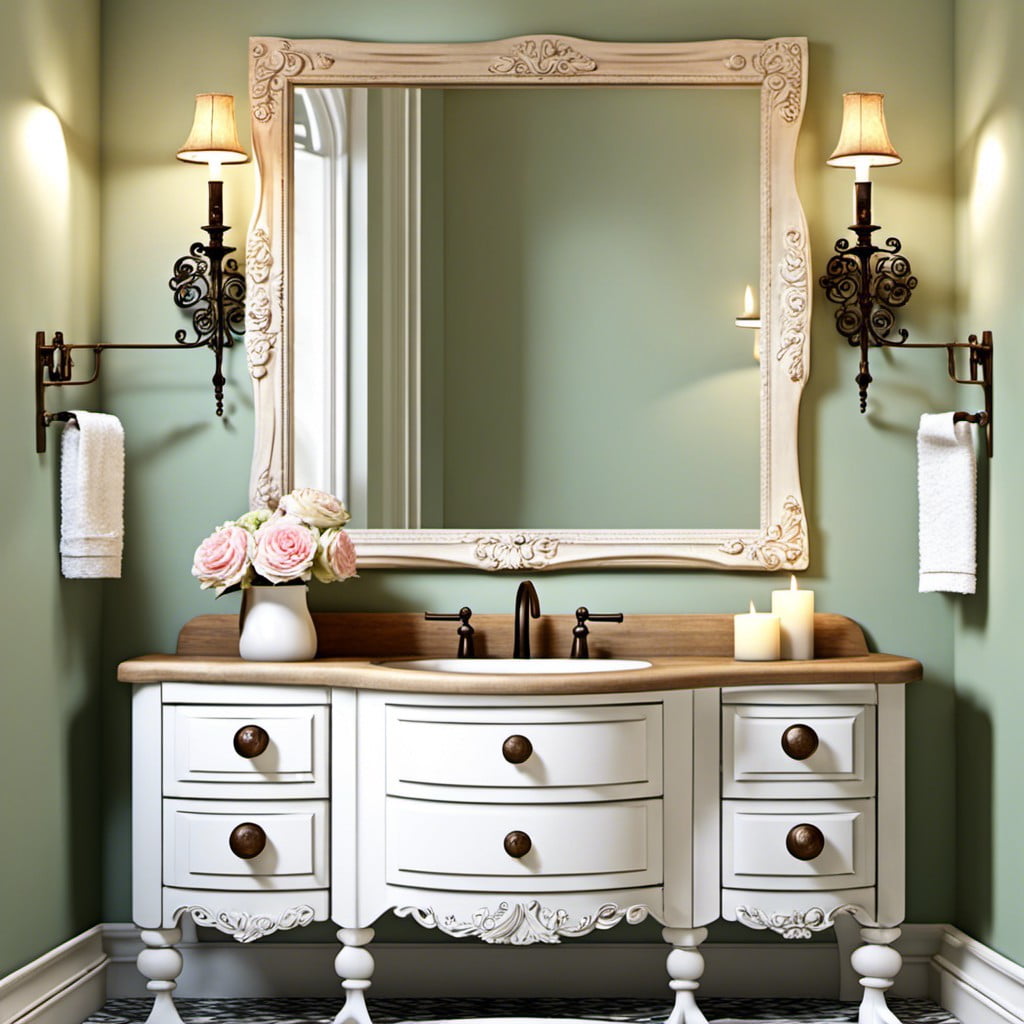 In continuing with our shabby chic décor concepts, let's dive a little deeper into the charm of including candlestick holders in your bathroom. Opt for a pair in tarnished silver or brass for that added antique look.
Not only do they provide the function of holding candles to create a warm and inviting ambiance, but they also lend a certain elegance to the room. Try using tall, thin taper candles for a classy and sophisticated feel.
Finally, remember that their placement can play a crucial part in determining the atmosphere of your chic space; placing them on the vanity, tub, or even on a floating shelf can accentuate different elements of your bathroom.
Rustic Wood Stool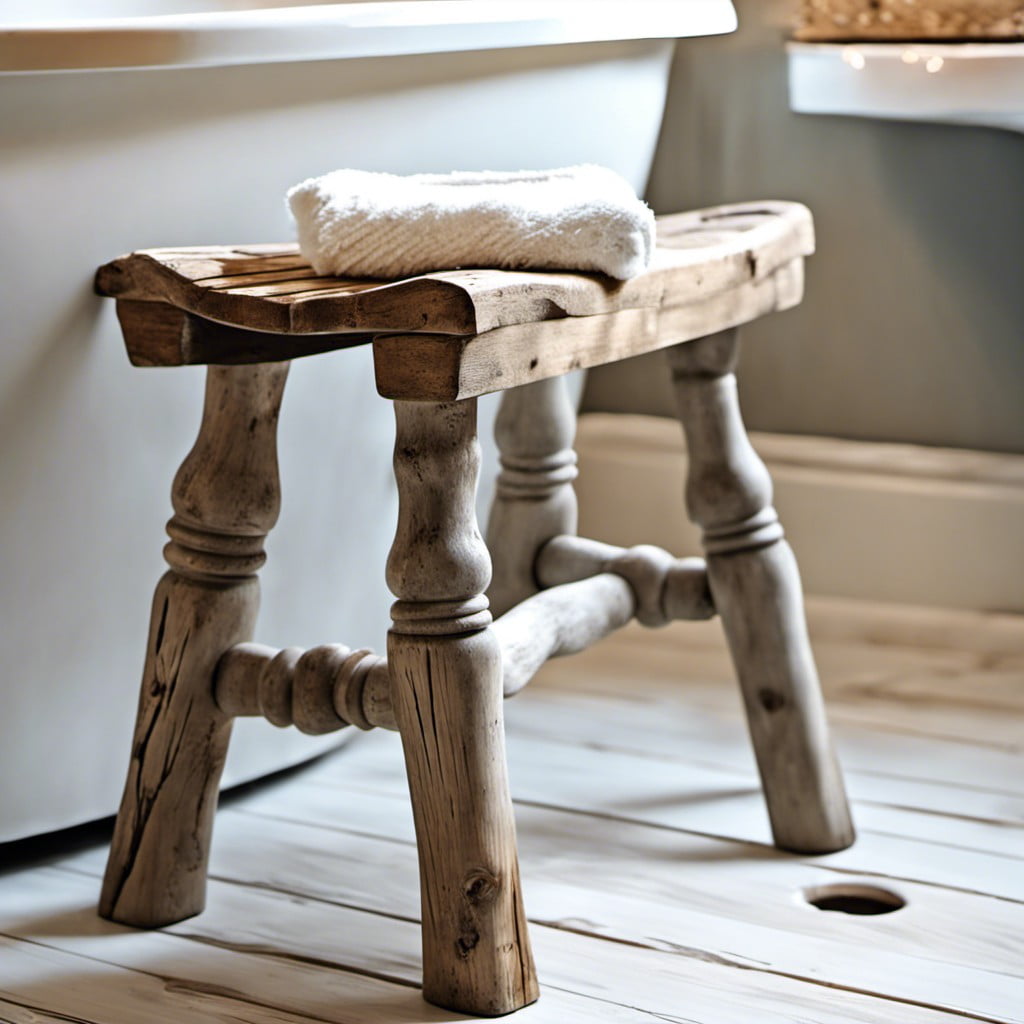 This unique feature can function as seating, a base for a decorative floral display, or even a miniature table for bath essentials. A stool made from reclaimed barn wood brings an unexpected, all-natural element into the style mix. It completes the aesthetic vision with its weathered textures and earthy tones.
Here are some key points to consider:
1. Choose a stool with an organic, imperfect shape to add a sense of raw beauty.
2. Opt for a less polished finish; the resulting patina lends a time-worn charm to the mix.
3. Make sure the stool is sturdy and safe to use, despite its rough-around-the-edges appeal.
4. Keep it natural, avoid painting or varnishing to let the wood's character shine.
5. Consider the size and height. It should be functional as well as fashionable, and scale well with other elements.
Remember, the beauty of shabby chic is in the imperfections. So, these elements of wear and tear are more than welcome. They create a space that feels lived-in and loved, adding layers of depth to the overall design.
Shabby Chic Wall Art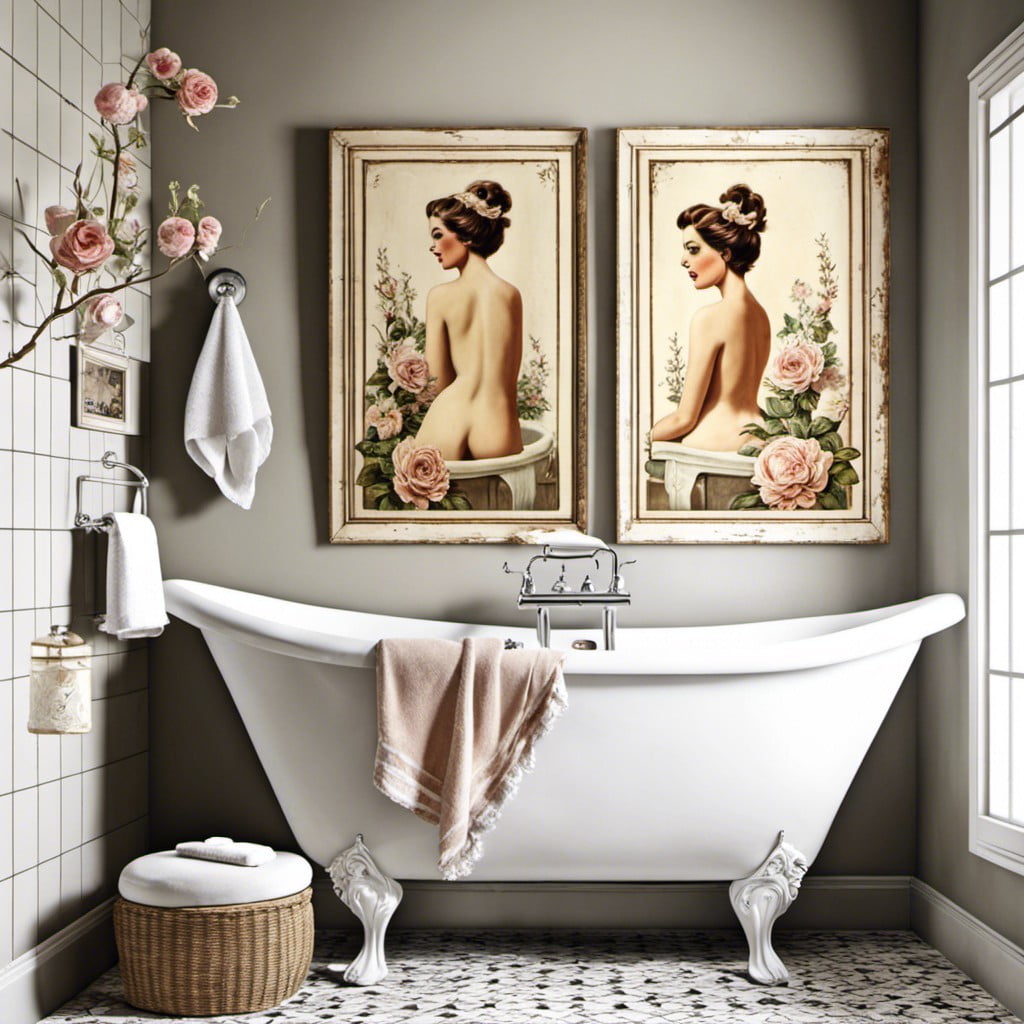 Harnessing the intrinsic charm of pieces showing signs of wear, Shabby Chic Wall Art is more than just hanging vintage prints or antiquated frames. Often, it's about creatively using an eclectic mix of items, from tin signs and ornate mirrors to weathered window frames and distressed wood plaques.
Adorn your bathroom walls with a collection of these treasures, each telling its own history. The beauty of this approach is that no specific rule applies, allowing complete individuality. Mix and match different styles, dimensions, and textures.
Reuse an old decorative wooden panel that's faded over time. Or, try arranging a gallery wall with vintage botanical prints. These not only add subtle elegance and sophistication but also bring indoor nature's refreshing vibe.
This type of wall art personalizes your space, making it unique and emblematic of your style while adhering to the core Shabby Chic philosophy; Comfortable, relaxed, and timelessly stylish.
Hand-painted Porcelain Tiles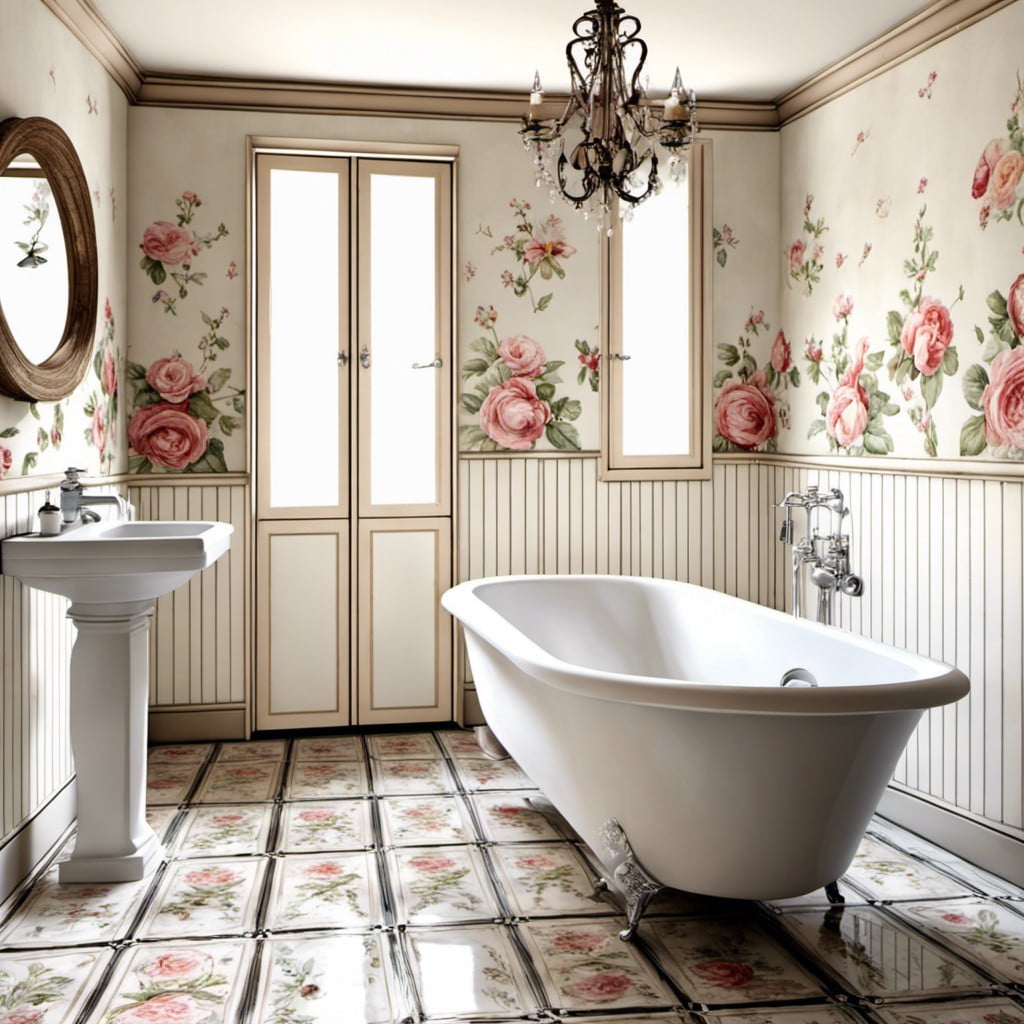 Embedded with an array of designs and colors, these tiles are a one-of-a-kind tool to elevate your bathroom's charm.
When opting for these tiles, ensure their pattern and color scheme aligns with the room's overall hand-picked decor.
For optimal impact, place them thoughtfully – around the sink or as the bathtub's backdrop.
The blend of artistically designed porcelain tiles with other shabby chic elements is an assured way of weaving a tale of vintage elegance while still maintaining modern functionality.
Not only are these tiles visually appealing, but they are also durable and easy to maintain, making them a win-win element in any shabby chic bathroom.
For an extra flair of craftsmanship, consider incorporating tile designs that reflect stories, such as traditional folklore or nature-inspired patterns.
However, the artistry of these tiles lies in the details, so always ensure a quality installation to bring out their beauty in full magnitude.
Whether you opt for muted pastels or bold patterns, one thing is certain, hand-painted porcelain tiles are the ultimate shabby chic statement.
Continue reading:
Recap