Last updated on November 3, 2023
Switching to a rustic bathroom sink is a game changer because it effortlessly imbues your space with warmth and character.
I'm thrilled to share these 20 rustic bathroom sink ideas, each uniquely designed by me, hoping you'll find inspiration and enjoy them as much as I did creating them.
Embracing the charm of rustic design in your bathroom can create a warm and inviting atmosphere. One key element to focus on is the bathroom sink. From repurposed furniture to natural stone basins, there are numerous ways to incorporate rustic elements.
In this article, you'll discover a variety of rustic bathroom sink ideas that blend functionality with aesthetics. Detailed descriptions, benefits, and how to integrate each idea into your existing decor are all included. Whether you're renovating your entire bathroom or just want to add a touch of rustic charm, these ideas will guide you through the process.
Copper Bucket Sink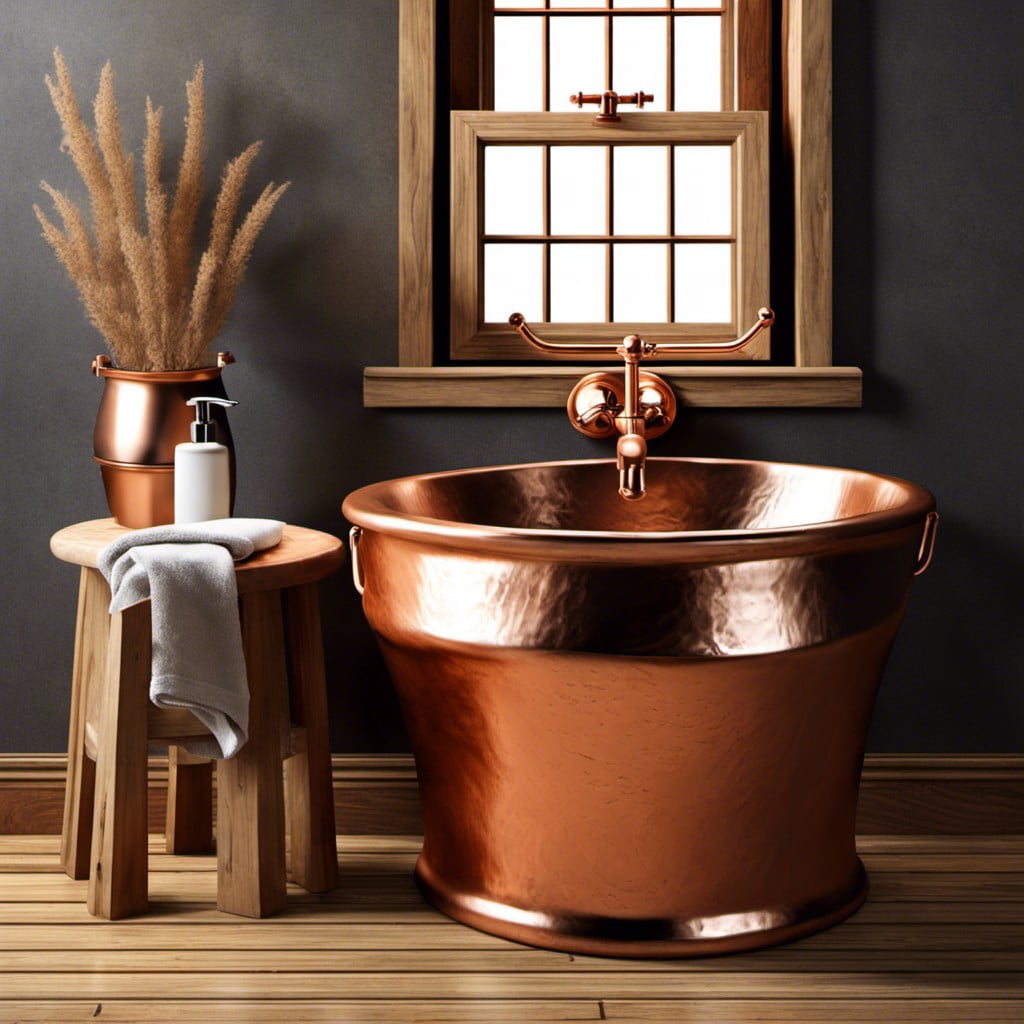 Adopting this unique design concept is guaranteeing a standout feature for your bathroom. A copper bucket has an inherently rustic allure, mimicking the old-world charm of country homes.
The brilliant for-your-eyes-only patina of copper ages beautifully over time making every sink unique. Its natural antimicrobial properties guarantee a sanitary surface that requires minimal maintenance.
Not only does it offer a functional solution, but it also adds a charming touch to the overall visual appeal. Installing a vessel-styled copper bucket sink can be fairly straightforward through proper mounting and appropriate sealing methods.
Pair it with a wrought iron faucet to complete the traditional rustic feel. Finally, this option promotes recycling, thus adding a green aspect to its charm.
Recycled Barn Wood Vanity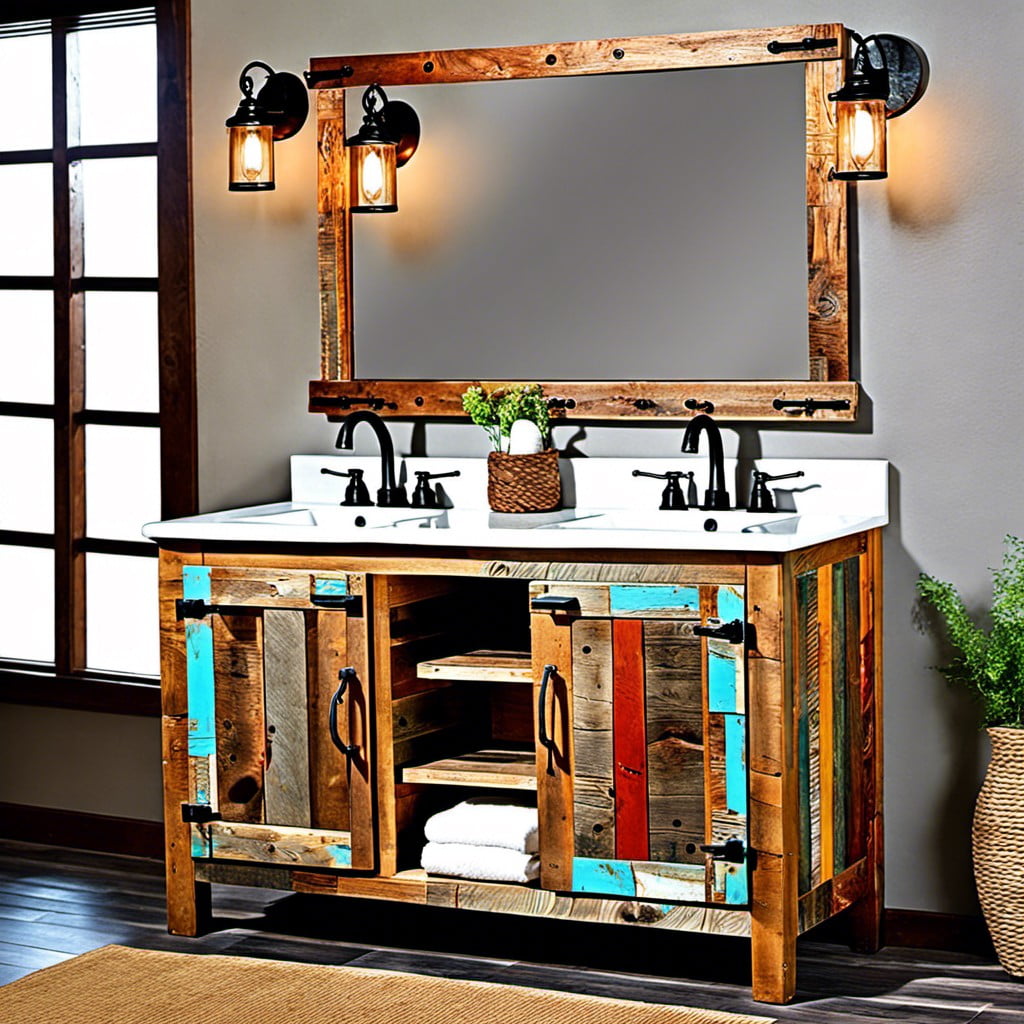 In retaining the rough-hewn quality of barn wood, your vanity selection can burst with rustic charm. The knots and grains in the wood accentuate its age and history.
The rich, warm hues can easily complement a white ceramic sink for a delightful contrast of color and texture. Choosing a light shade for your walls would lend an airy, spacious feel to your bathroom while drawing attention to the vanity as a focal piece.
Adding wrought iron hardware details can add a touch of authentic antiquity, making the vanity not just functional, but a real conversation starter. Remember, sealing the wood is essential to protect it from moisture and guarantee durability.
Let the barn wood vanity take center stage, handpick other elements to simply enhance its raw, natural beauty.
Stone Basin Sink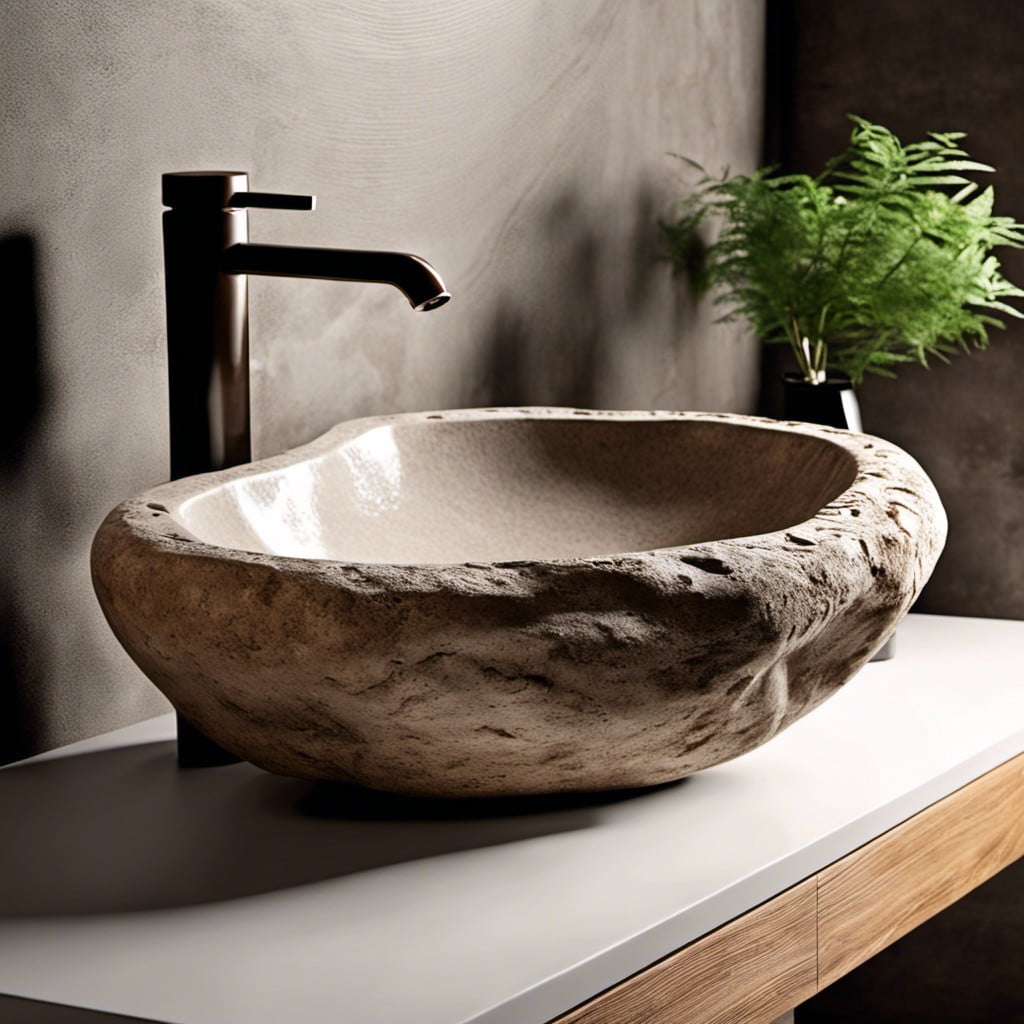 Incorporating the artistically unique and earthy feel of a stone-like quartz, granite, or marble basin can elevate your bathroom. Uneven edges and unpolished finishes keep the rustic appeal intact, expressing a rugged yet stylish look.
Here are a few concepts that make this option intriguing:
1. All-natural materials: Stone basins offer a natural vibe to any bathroom, introducing elements from the outdoors into your space.
2. Variety in pattern: No two stone basins are alike, allowing for individuality and creativity in your bathroom design. Whether dominated by swirls of color, specks, or veining, each sink is a work of art in its own right.
3. Texture contrast: The rough texture of a stone basin contrasts beautifully with smoother bathroom surfaces, enhancing the rustic charm.
4. Durability: These sinks, constructed from robust material, are known for their longevity when well maintained.
Remember, while stone basin sinks add an extraordinary flair to a rustic bathroom, they require specific care to prevent staining and maintain their pristine appearance.
Rustic Galvanized Tub Sink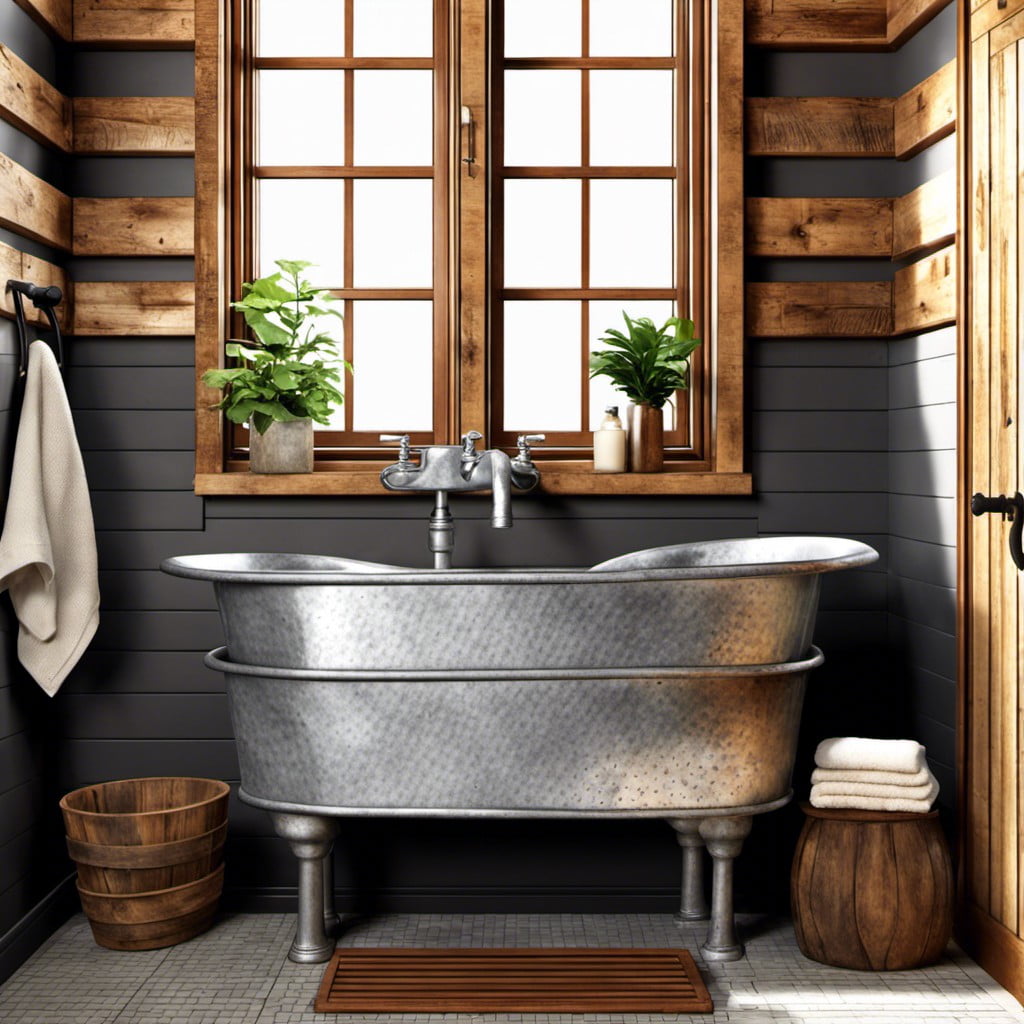 Incorporating this sink style into your bathroom promotes a sense of rural allure that's utterly captivating. Begin by opting for a large galvanized tub as your sink – either round or oval. Their robust metallic look gives an authentic, countryside feel.
For mounting, consider hanging it from an iron rod against a wooden base, lending an industrial touch to the rustic ambiance. Remember to balance this bold design choice by keeping the surrounding elements simple.
A vintage faucet completes the look and blends flawlessly with tub's chic, well-worn aesthetic.
Antique Dresser Turned Vanity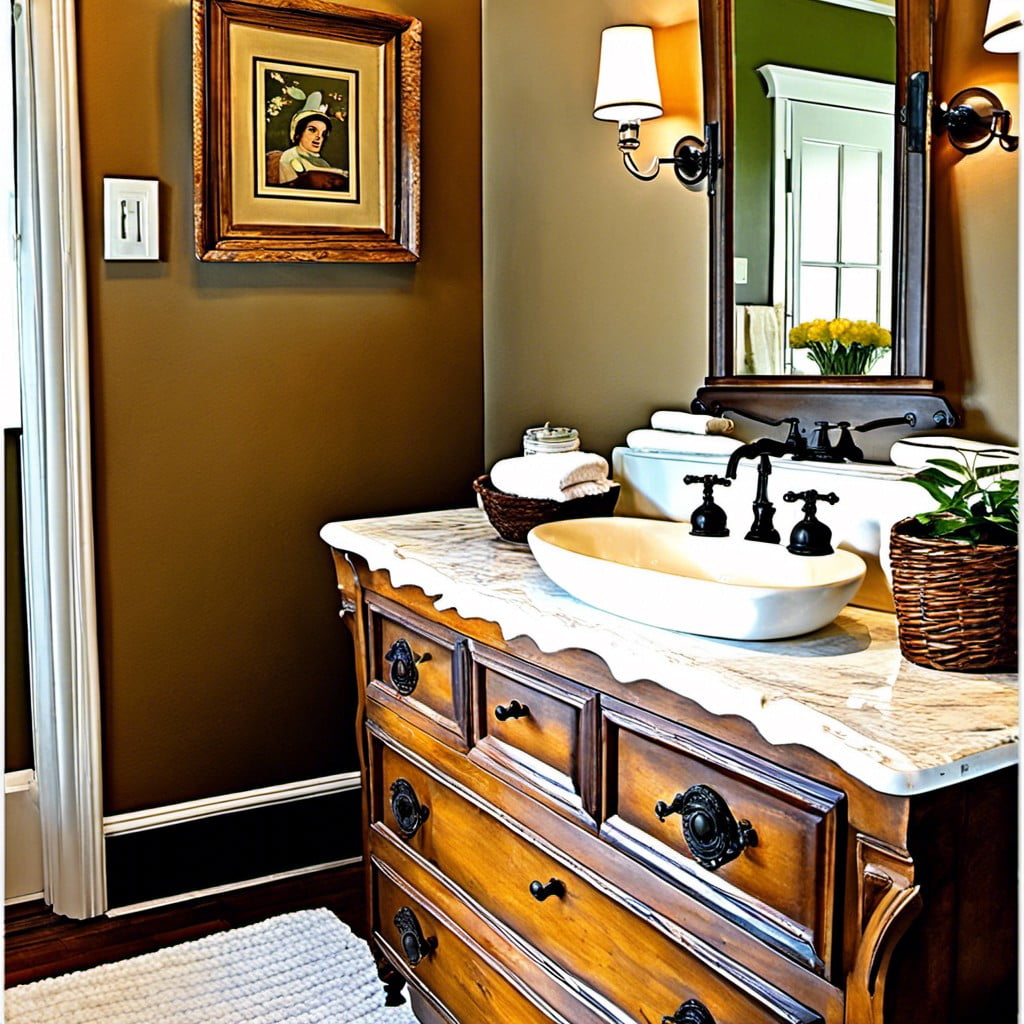 This transformation involves reclaiming an old dresser and converting it into an eye-catching vanity to hold your rustic basin. Look for solid wood pieces with character and charm, like unique carvings or intricate hardware, which will add an element of interest.
1. Select a vintage dresser with appropriate dimensions matching your bathroom space and sink size.
2. Cut out a space for the sink using the measurements of the sink – either to drop in or to sit on top of the dresser.
3. The back of the dresser might need adjustments to accommodate plumbing fixtures. Make the necessary cuts for pipes.
4. Don't overlook the drawers. Some might need to be tweaked or removed to create space for plumbing. But keeping some functional storage is always a smart move.
5. Finally, seal and protect. Bathrooms can be moist and humid environments, so ensure to apply a good sealant to your dresser. This keeps the rustic look and prolongs the life of your new vanity.
Remember, every antique dresser is unique. Be ready to tackle unexpected challenges and personalize your bathroom with this vintage touch.
Hand-carved Wooden Sink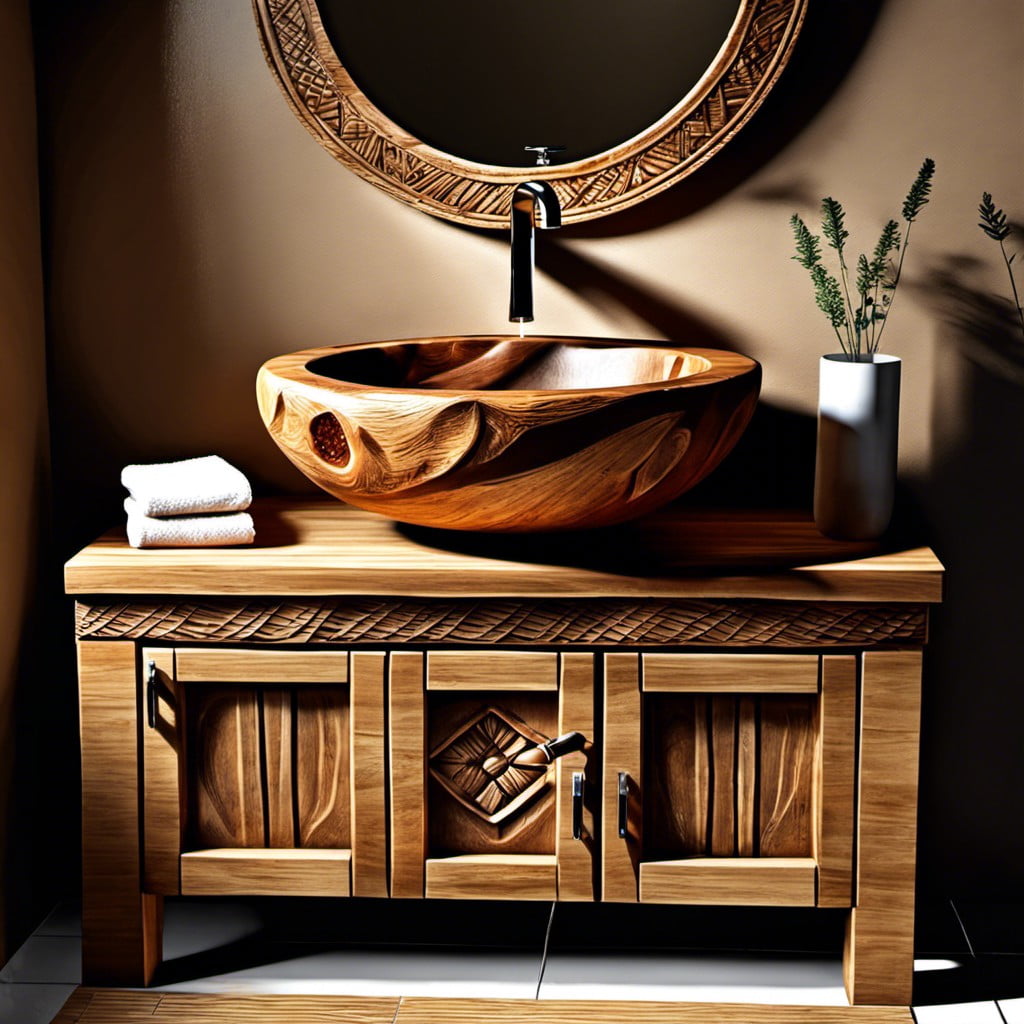 A hand-carved piece brings exclusivity and a unique touch to your bathroom. Its organic shape reflects the wood's natural grain, providing both warmth and functionality, while still preserving the raw beauty inherent in nature.
1. Material Selection: Opt for hardwoods, such as oak or walnut, which boast durability and resistance to moisture.
2. Artisanal Appeal: The use of traditional carving methods offers a tactile surface that is virtually irreplaceable in mass-produced items.
3. Tailored Fit: You can have the sink custom-made to your specifications, adapting to all sizes and styles.
4. Aging Gracefully: Over time, the sink will develop a patina, deepening in color and character.
5. Functional Art: Besides serving its basic purpose, a carved sink doubles as an eye-catching statement piece.
Remember, caring for your sink properly can extend its lifespan and maintain the distinct charm that only solid wood can offer.
Classic White Farmhouse Sink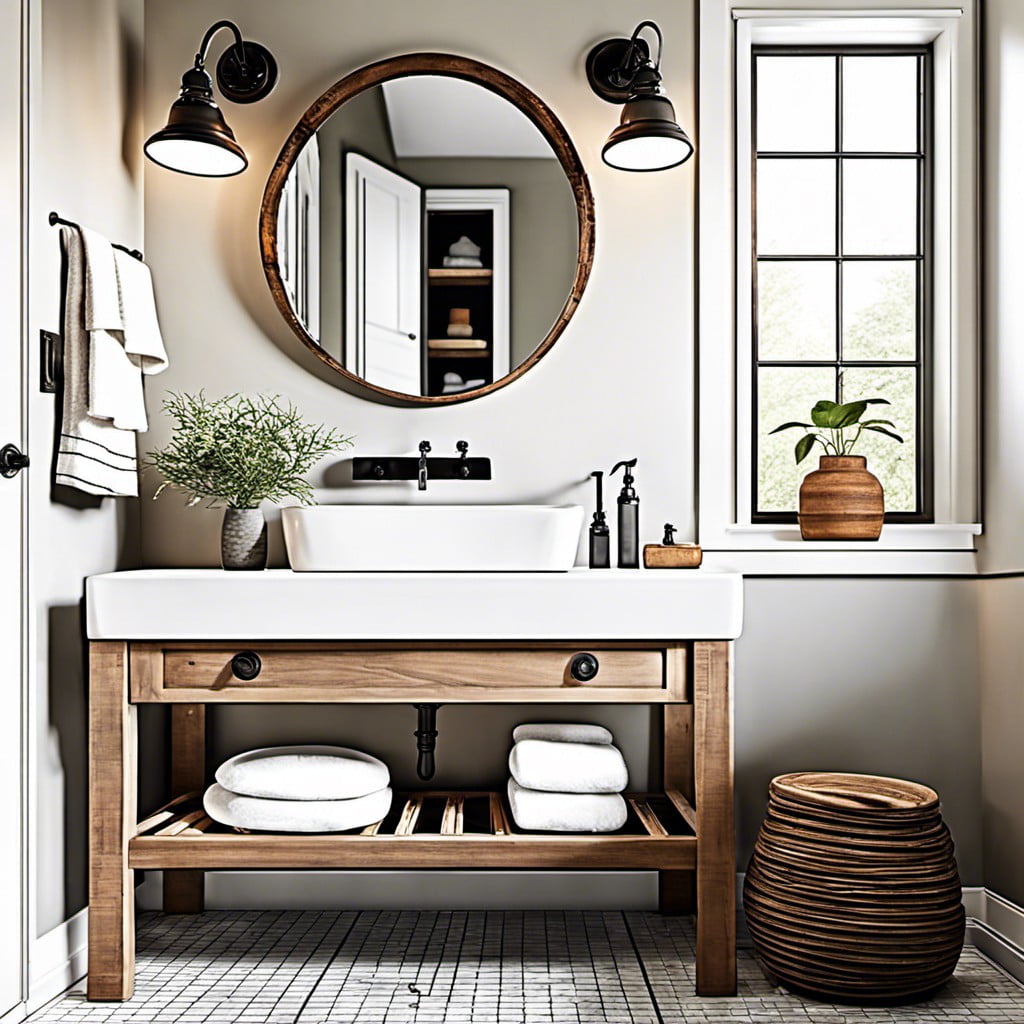 A white farmhouse sink is a versatile design that blends in any rustic bathroom decor, providing a subtle charm with its clean line and simple style. They're designed for practicality and functionality, offering comprehensive coverage for large vessels.
1. Material Choice: Known for their enameled fireclay or heavy-duty cast iron construction, they handle daily wear and tear proficiently.
2. Design Variety: They offer options, from the popular double basin style for increased functionality to single ones for a more minimalist look.
3. Universality: Their neutral color palette makes them an excellent match for any choice of rustic vanity, whether that's reclaimed wood or a more polished butcher's block.
4. Easy Maintenance: White sinks are easy to clean, efficient at hiding water spots and soap streaks, thereby maintaining an uninformed look.
5. Size: Extra large and deep, they make washing large items or filling vessels effortless, offering practical use for a busy bathroom.
Undeniably, their uncontested appeal lies in their enduring design, easy maintenance, and versatility, making them a perfect rustic addition to your bathroom.
Wagon Wheel Sink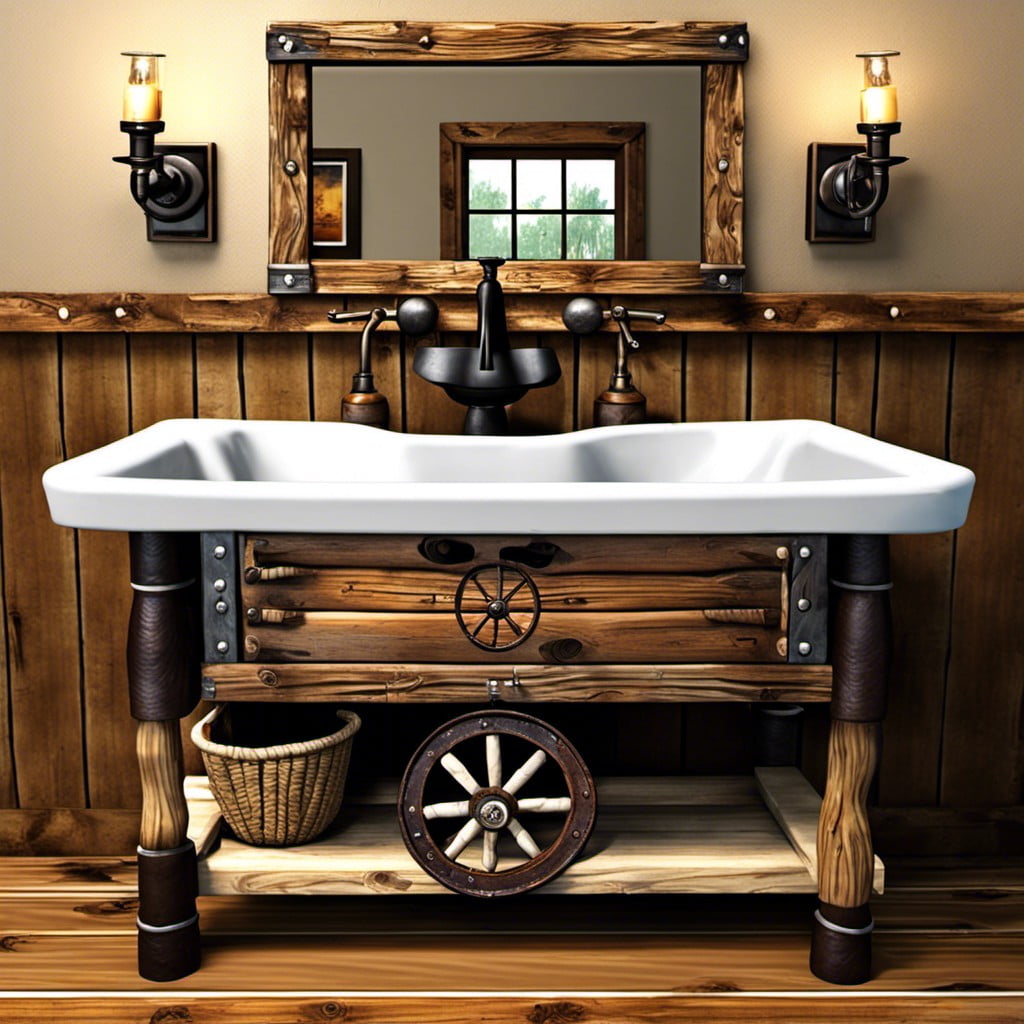 Although a seemingly unconventional choice, adapting an old wooden wagon wheel as the base for your bathroom sink creates a truly unique and stunning piece. The charm of it lies in its naturally weathered finish, bringing in that authentic rustic feel.
By fitting a simple, understated basin into the wagon wheel, you can achieve a balanced mix of rough, natural aesthetics with smooth, modern functionality. This also allows for ample counter space, perfect for storing bathroom necessities.
For a well-rounded vintage look, pair this up with rustic faucets and hardware made from worn brass or oil-rubbed bronze. Finally, remember to treat the wood with a moisture-resistant finish to ensure its longevity. The wagon wheel sink combines visual intrigue, repurposing philosophy, and practical design in one magnificent feature.
Industrial Pipe Vanity With Concrete Sink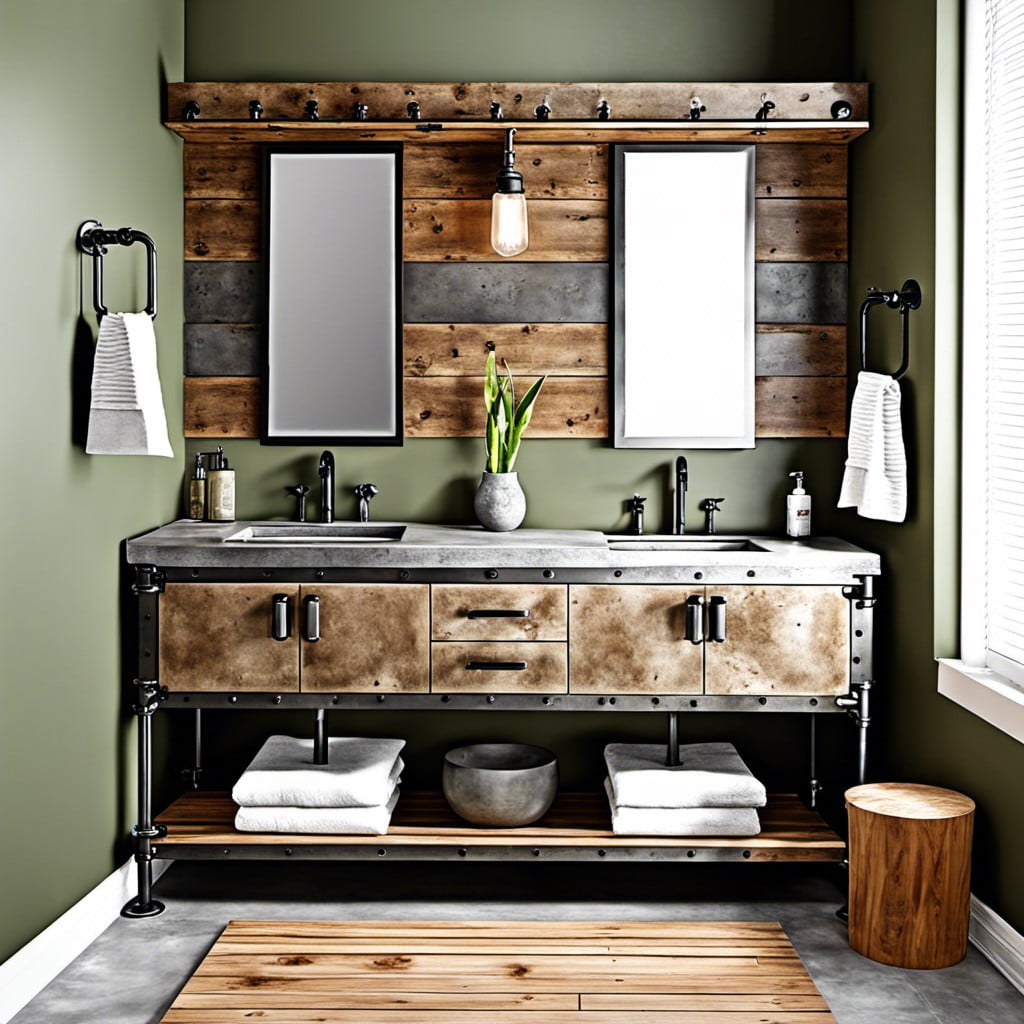 Pairing industrial pipes with a concrete sink offers an edgy yet strangely elegant appeal. This design showcases strength and durability. The vanity utilizes metal pipes, which mimic the contours of plumbing pipes, forming both the structure and the aesthetic. This delivers an extraordinary style-charged impact.
The concrete sink juxtaposes the pipes with its smooth, cold touch. However, the neutrality of its color effortlessly merges the industrial and rustic vibes. A well-done concrete sink is capable of lasting for decades, mirroring the sturdiness of the industrial pipes it is paired with.
Do not be misled into thinking this combination only suits urban settings. The beauty of these elements lies in their versatile charm. Whether it's a country cottage or a modern city apartment, the industrial pipe vanity with concrete sink can blend splendidly.
Personalize and tweak it to reflect your style: paint the pipes a metallic copper or black for a more refined look or leave them in their raw rustic state for a raw edge. Regardless of the setting, this choice complements various décor elements harmoniously, imbuing your bathroom with a character all its own.
Wine Barrel Sink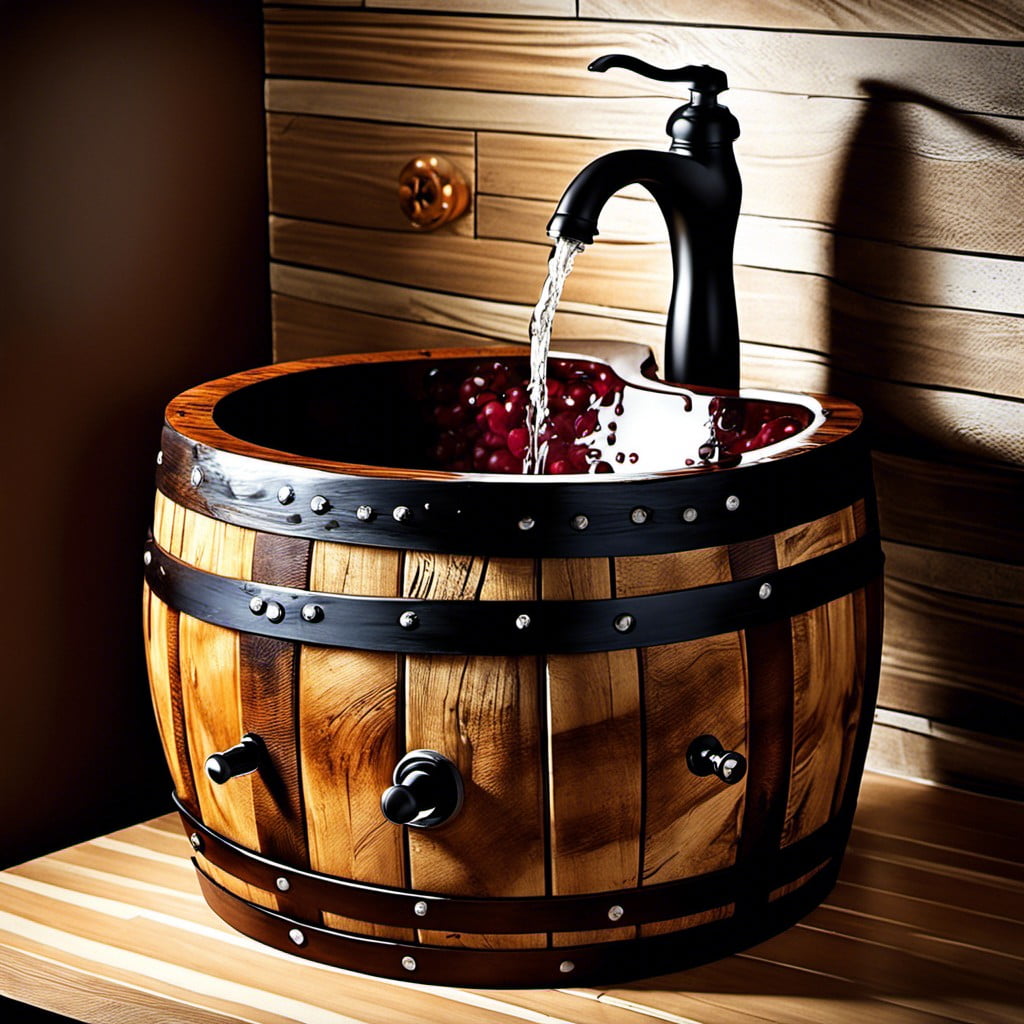 Emphasizing an authentic winery feel, this sink design predominantly employs decommissioned barrels. The patina of the timber lends a rich, textured charm and the metal hoops offer an industrial contrast to balance it out.
A circular basin seamlessly fits into the countertop while maintaining the continuity of the design. Appropriate plywood reinforcement strengthens the structural integrity of the barrel. Finishing with a matching wall-mounted brass faucet accentuates the vintage vibe.
Consider using this one-of-a-kind design to infuse character into your bathroom.
Vintage Claw Foot Tub Sink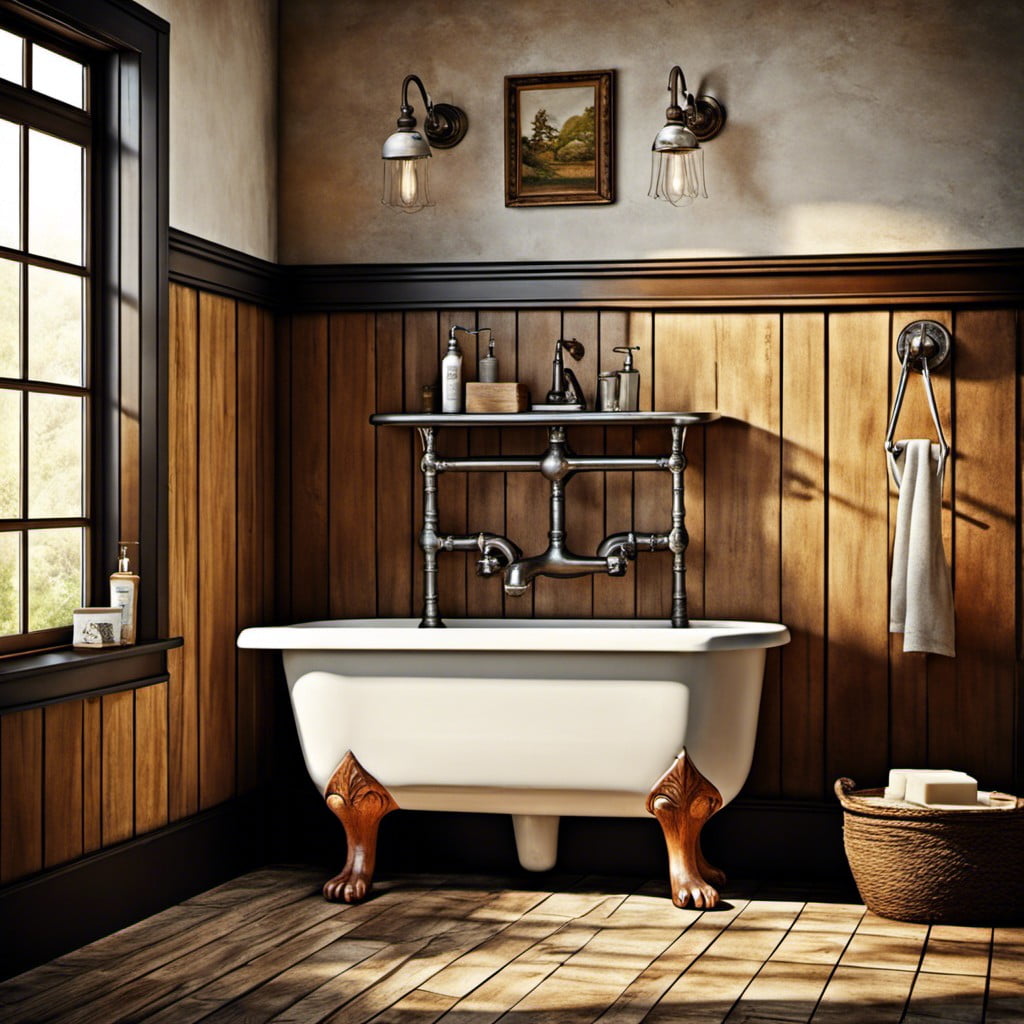 With an air of a bygone era, this design breathes a nostalgic charm to your bathroom. Think regal, think ornate, and you're already visualizing the ideal claw foot tub sink. Luxury and comfort meet functionality with the tub's curved edges providing ample space. Finished in glossy porcelain or distressed metal, it effortlessly matches your rustic theme.
Mount brass or copper faucets and include a vintage-inspired showerhead for a complete look. Lastly, don't forget the underside. Leave it plain, add a bold color, or distress it to match the overall décor. This vintage element is a statement piece that elevates the surroundings instantly.
Mosaic-tiled Sink in Earth Tones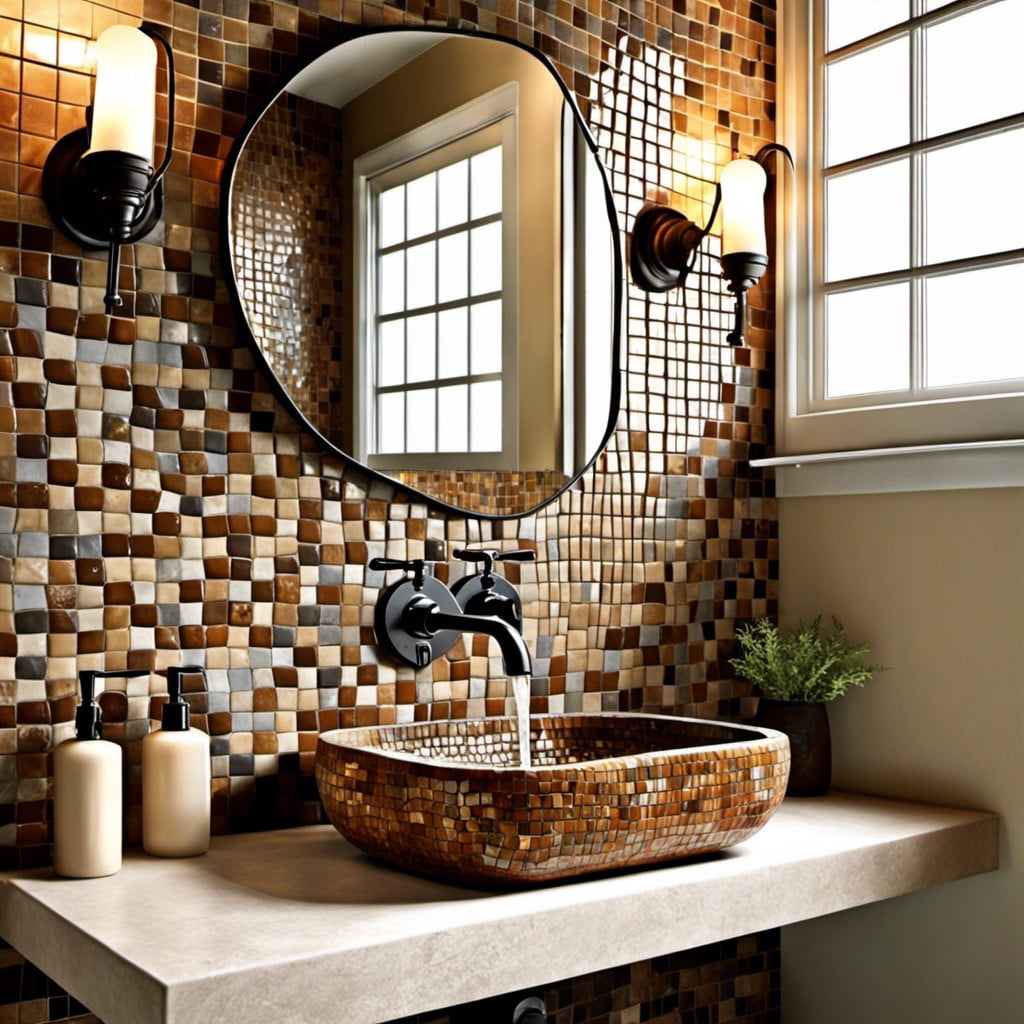 Using mosaic tiles in a spectrum of earth tones adds a certain beauty to your bathroom. Tiles help create a serene, natural atmosphere, reminiscent of a pebbled stream bed or a forest floor. They are also practical, being easy to clean and highly durable.
Opt for a mix of browns, greys, and creams to capture the essence of the great outdoors. Depending on your aesthetic preference, the mosaic can cover either just the sink, the whole vanity, or even extend to the bathroom wall for a statement piece.
Bear in mind, tile arrangement matters. You could go for a random pattern, a specific design, or an ombré effect transitioning from light to dark tiles. And remember, always seal your grout well to prevent staining and maintain a fresh look.
For a touch of sophistication, consider a bronze or brushed nickel faucet that complements the earthy color scheme. Choose accessories in a similar vein – a mirror frame or shelf in distressed wood or wrought iron adds further rustic appeal.
When done correctly, a mosaic-tiled sink in earth tones can elevate a rustic bathroom from simple to extraordinary. The sink becomes not just a functional element, but a work of art that ties the whole room together.
Log Pedestal Sink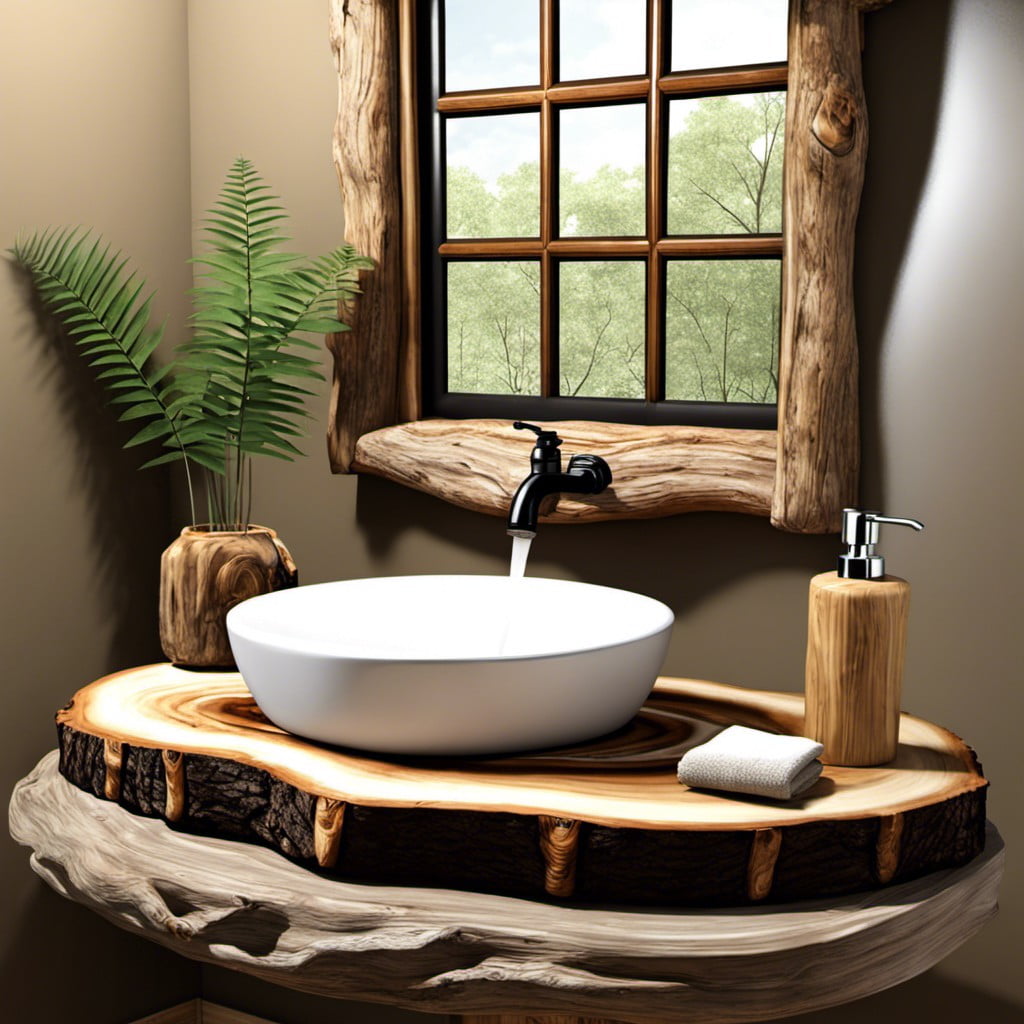 Using a log pedestal can bring a sense of nature right into the bathroom. It's all about choosing a suitable log for the space. Hardwoods like oak or maple make great choices because of their durability and strength.
Infuse some uniqueness by leaving the bark on or stripping it off partially for a more polished look. You might want to consider getting the log treated to prevent decay and keep insects at bay.
The sink basin can either be recessed into the log or sit on top, depending on your preference. A clear sealant is handy to protect the wood from water damage while enhancing its natural beauty.
Keep the décor balanced by pairing this earthy sink pedestal with more refined materials like brushed nickel faucets, soft textiles, and minimalist lighting fixtures. It's an easy way to mesh rustic charm with modern luxury.
Reclaimed Wood Floating Vanity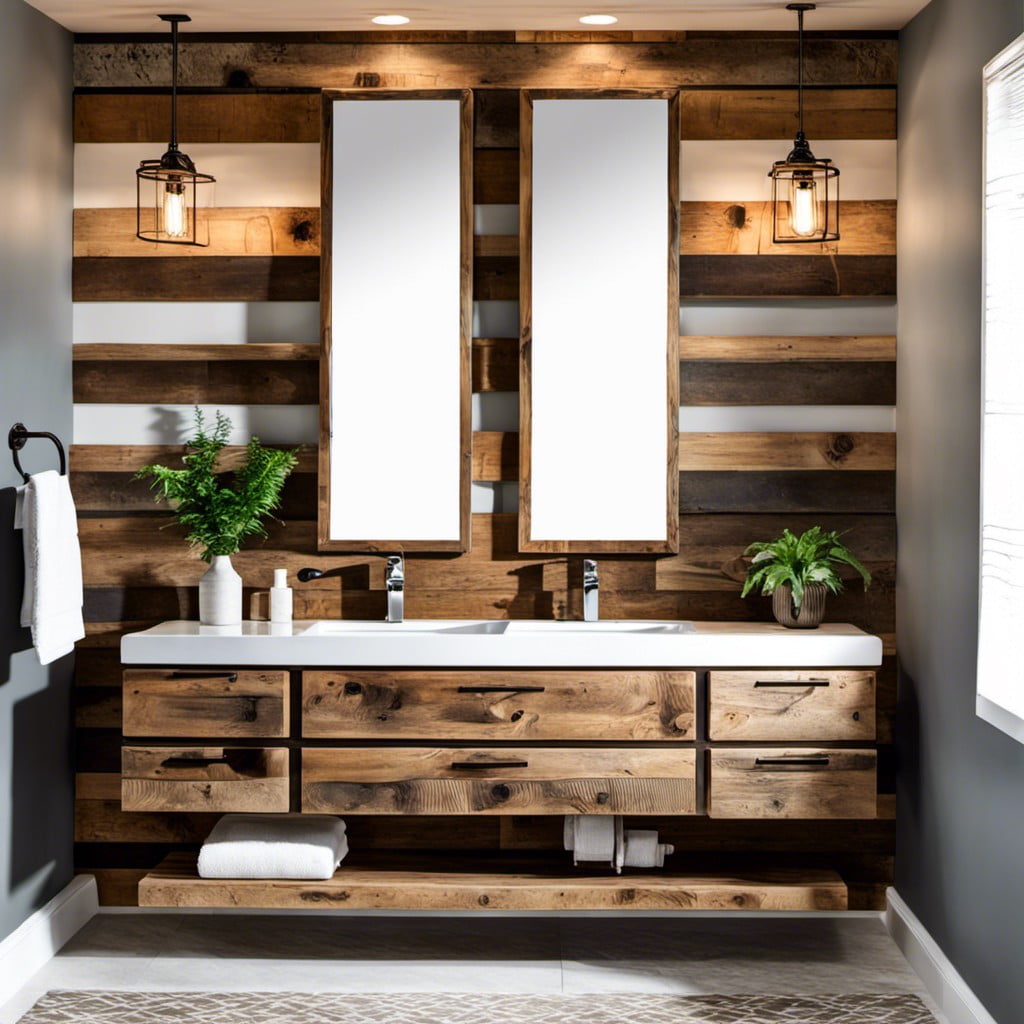 If you're thinking eco-friendly and aesthetically pleasing, this vanity is an excellent pick. Sourced from old barns or warehouses, this wood brings a rich, warm charm and history into your bathroom design. Going for a floating style adds a modern touch to the rusticity, giving it a 'chic' appeal.
1. Use aged-wood: Its distinct texture and natural degradation add an authentic old-world character.
2. Maintain the patina: Preserve the wood's original finish as it contributes significantly to the rustic appeal.
3. Custom design: Tailor it to your taste; it can be simple or ornate, large or small.
4. Pair with a basic white sink: This allows the vanity to be the star of the show. Use a vessel sink for a more contemporary look.
5. Decor: Add a vintage-looking faucet and some antique embellishments to compliment the design.
6. Storage solution: Use the inside of the vanity for neat storage away from the sight, helping maintain a clean and uncluttered look in the bathroom.
7. Sealing: Ensure the wood is well sealed to handle moisture and prevent damage over time.
Antique Metal Wash Bin Sink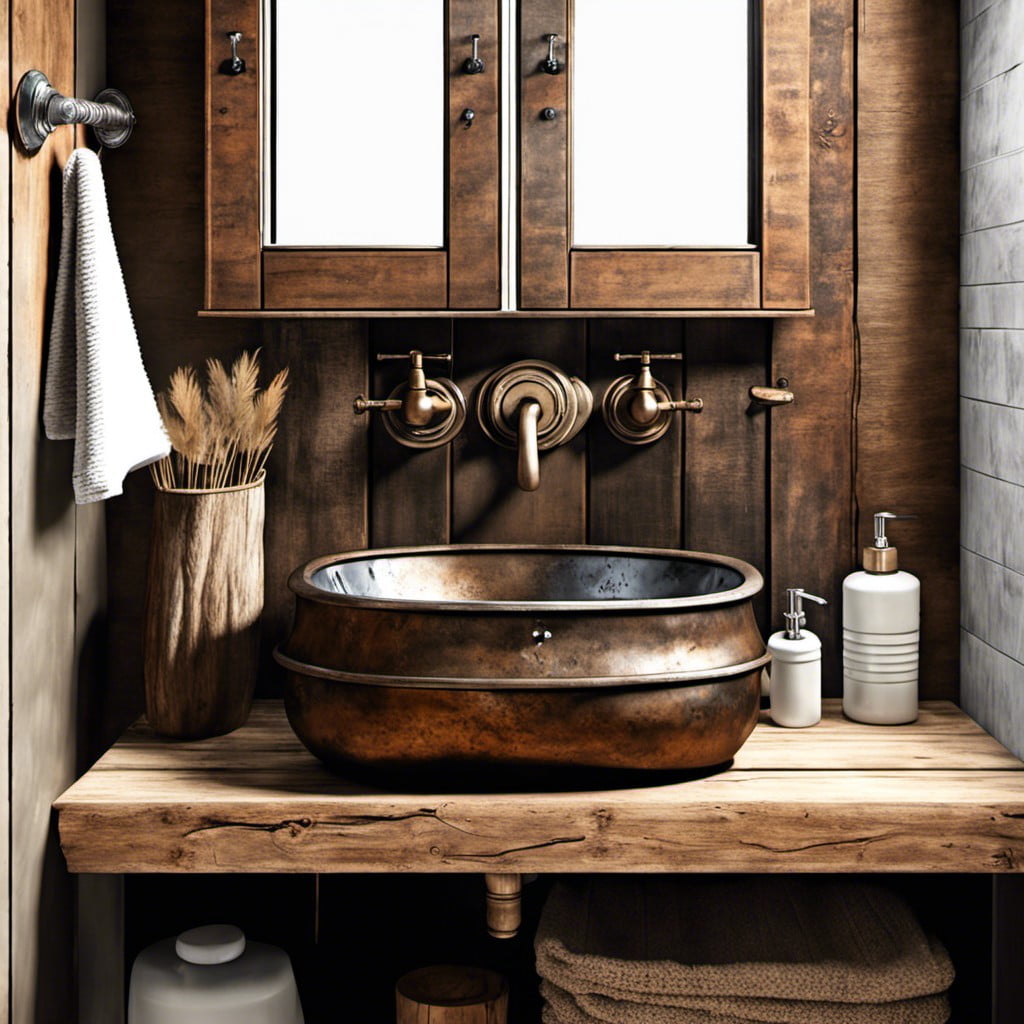 With sturdy craftsmanship evocative of bygone eras, this rustic option is a winner for those seeking a unique addition to their bathroom decor.
Here are some noteworthy points:
Practicality: Contrary to popular belief, metal wash bins are surprisingly practical due to their durability and ease of maintenance.
Vintage Feel: They inherently carry a vintage charm that readily infuses a pastoral aesthetic.
Versatility: These bins can sit atop a wooden or metal stand to align with your preferred height and style.
Easy Installation: Not requiring complex plumbing, they are quite straightforward to install.
Diverse Options: They come in a variety of sizes, shapes, and finishes, allowing them to be tailored to your specific needs and preferences.
Aesthetic Appeal: The rustic patina over time intensifies the bin's appeal, further accentuating its vintage allure.
Remember, this rustic gem could be the missing piece in your quest for a beautifully distinctive bathroom.
Primitive Pottery Bowl Sink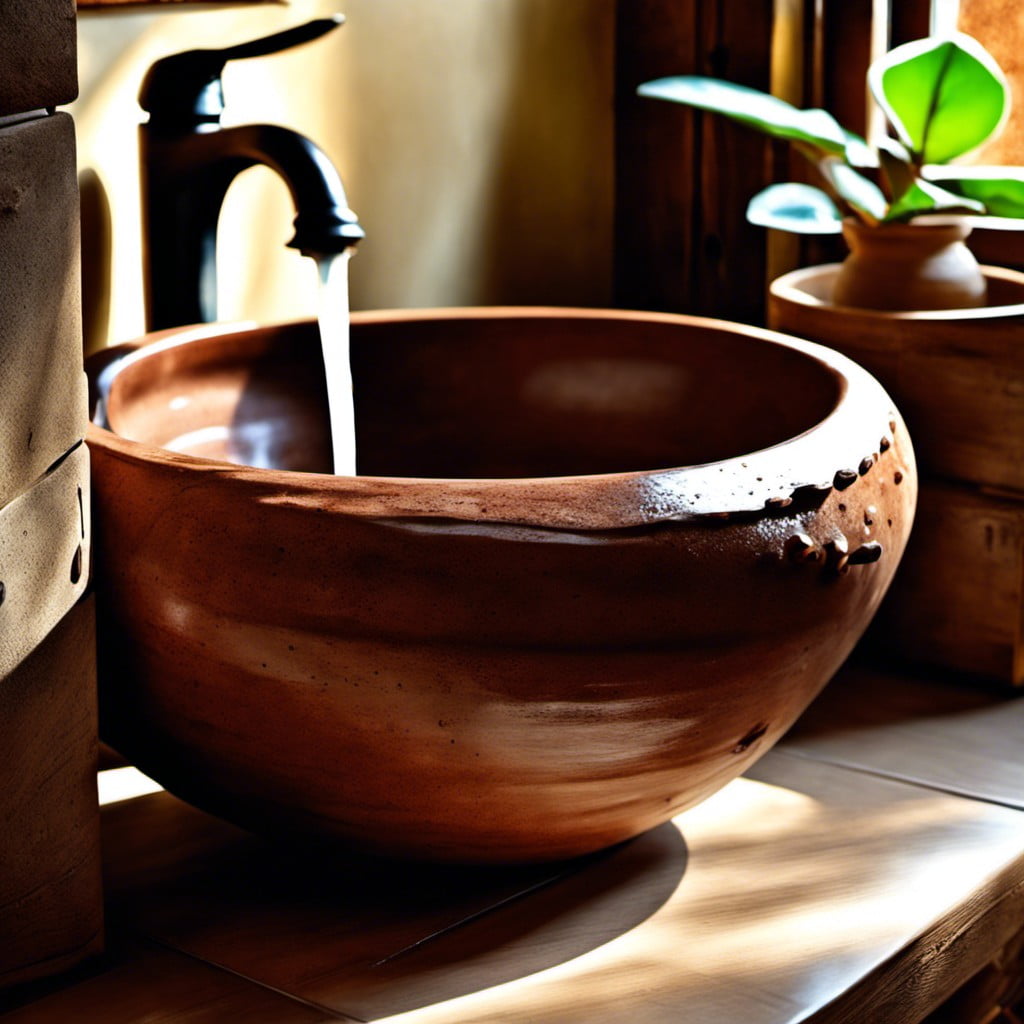 Considered as an embodiment of earthy resilience, this type of sink brings an elemental touch to your bathroom design.
Authentic Craftsmanship: Each bowl is skillfully handcrafted by artisans, making every piece unique.
Earthy Appeal: The uneven surface and muted hues evoke a connection with nature and add a down-to-earth charm to your space.
Easy Maintenance: These bowls are typically treated to resist water and stains, ensuring durability.
Design Flexibility: Coordinate with rustic fixtures or contrast with contemporary elements for a visually interesting blend in your bathroom.
Versatile Installation: You can opt for a countertop placement or a built-in style, depending on your design preference.
Hand-painted Ceramic Sink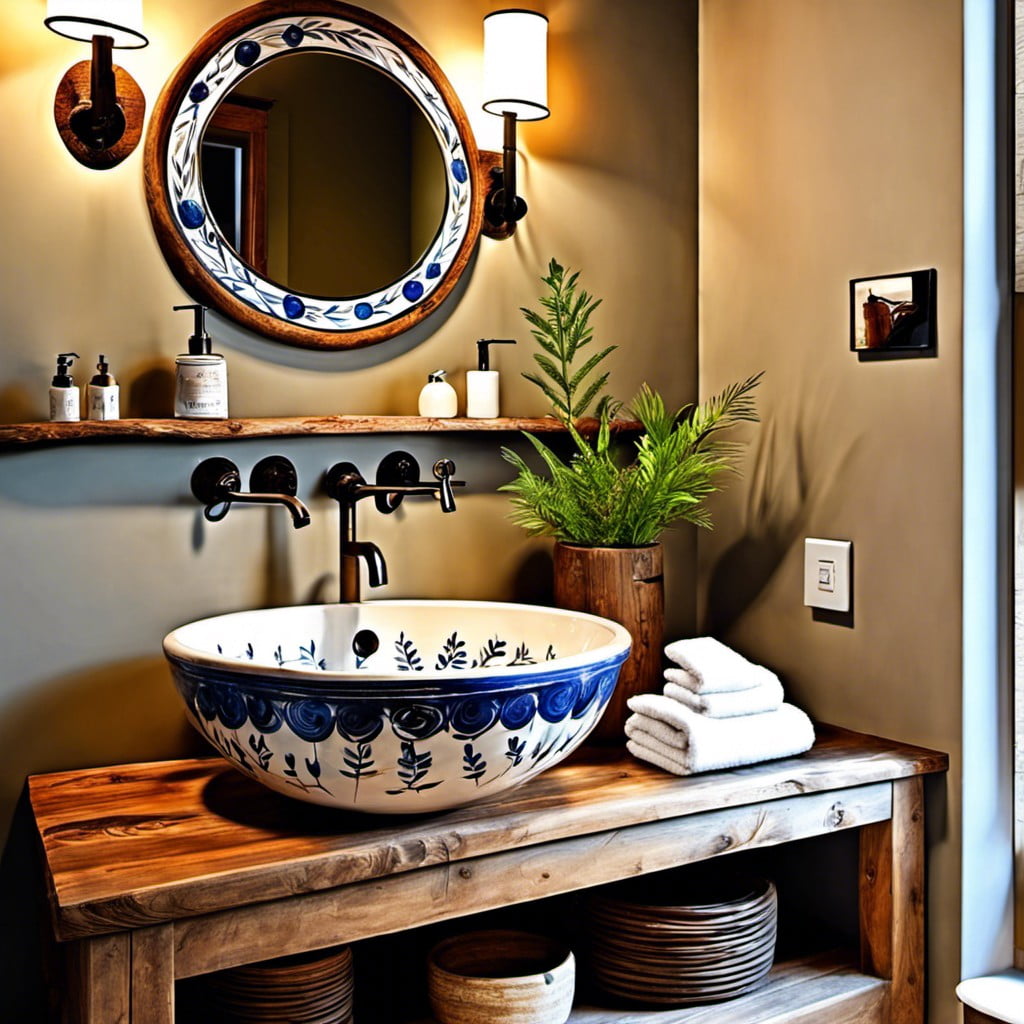 Splash vibrant patterns and colors into your rustic bathroom concept with a touch of whimsy and personal flair. These one-of-a-kind pieces bring alive the artisan's studio directly into your intimate space. As they exhibit an array of designs from intricate florals to abstract motifs in a mix of glazes and textures, each sink becomes a personalized art installment. It's a way to appreciate artistry while fulfilling a functional need.
Despite the delicacy they portray, these ceramic sinks are sturdy and meant for everyday use. The glaze used in their creation serves as a protective barrier, ensuring longevity and easy maintenance. Their installation is straightforward and customizable to your plumbing layout.
Pair them with simple, rustic elements such as fixtures in matte or tarnished finishes and a vanity table made of natural, unfinished wood to bring out their unique character without overwhelming your bathroom design. Add complementing tile work or a wall color that picks up nuances in the sink's design to tie everything together into one harmonious space.
Keep the surrounding decor understated, allowing your hand-painted ceramic sink to play the starring role—creating an audacious but cohesive blend of rustic charm and artistic eccentricity.
Cast Iron Wall Sink With Rustic Hardware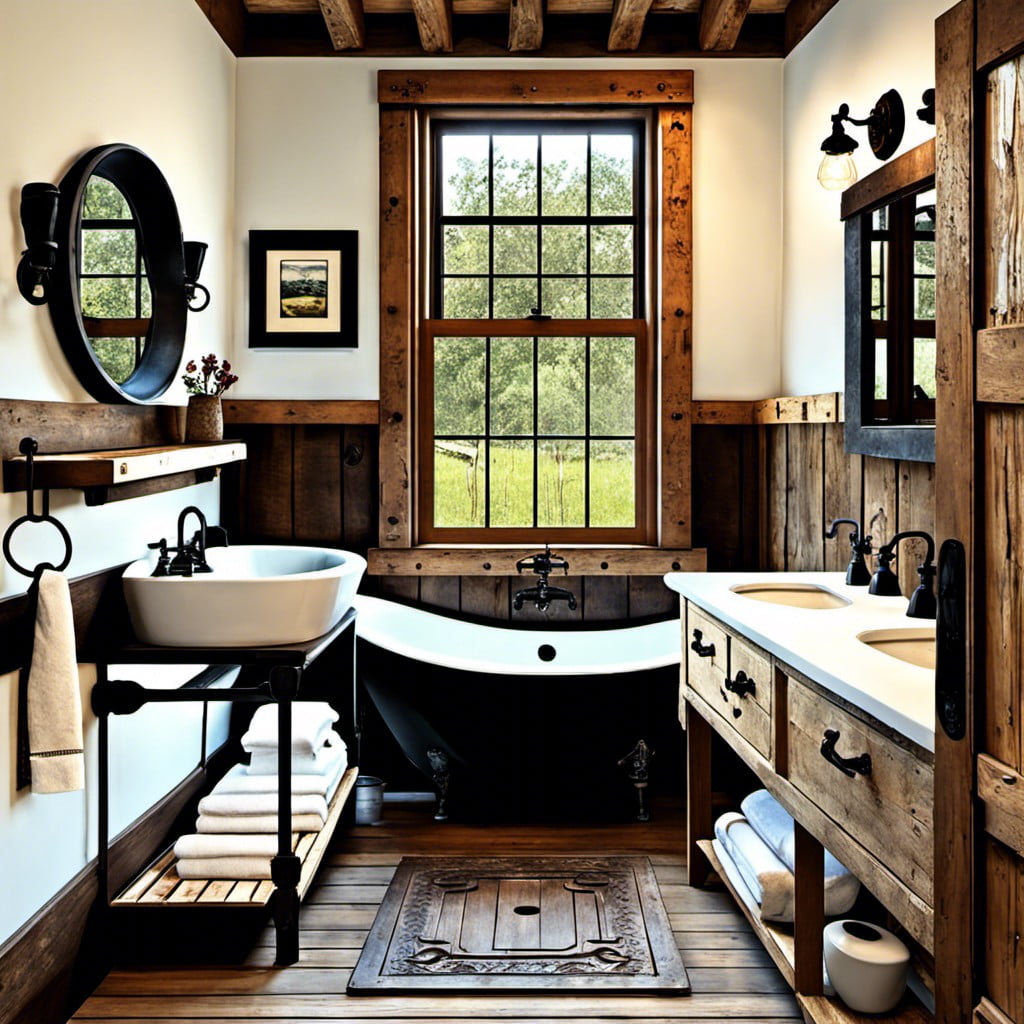 Choosing the perfect fixtures can wonderfully accent a cast-iron wall sink. Opt for bronze or brushed nickel faucets and handles that embody a rustic charm. Prioritize durability, as these elements not only add aesthetic value but also serve practical functions.
Space-saving qualities of wall-mounted sinks make them ideal for smaller bathrooms. With the bulky cabinet base gone, you free up floor space, lending an airy feel to the room.
Incorporating reclaimed wood shelves under the sink enhances the rustic ethos. These can serve as practical storage spaces, holding wicker baskets of towels, or displaying potted succulents for a touch of green.
Consider a patina finish on the cast iron to give it an aged, weathered look that feels authentically rustic. Regular cleaning and upkeep ensure longevity, keeping it charming and functional for years to come.
This choice blends elegance and practicality while keeping firm roots in the rustic theme. It's the perfect example of how you can mix old-world charm with contemporary design needs.
Pallet Wood Countertop With Onyx Basin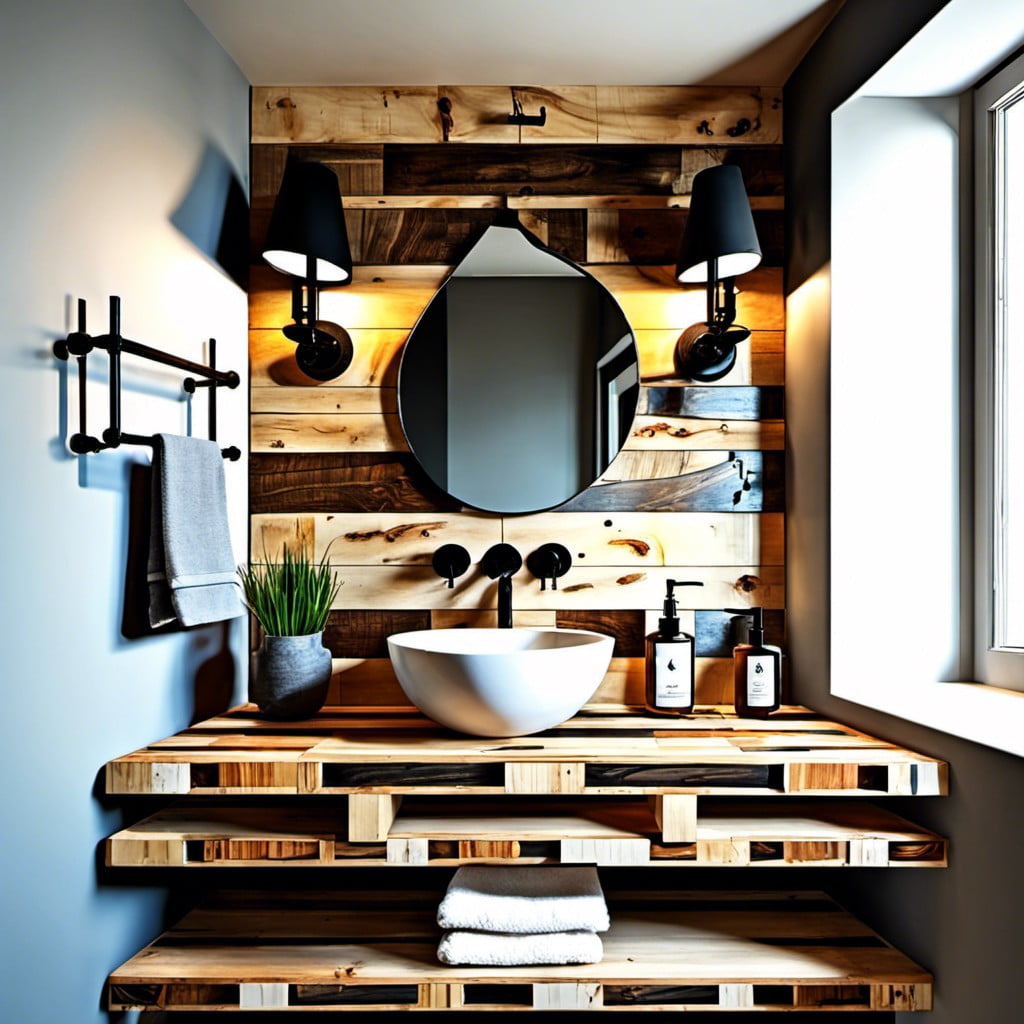 Featuring the unmatched, rustic aesthetic of pallet wood marries beautifully with the sleek elegance of onyx basins. Here's how they intertwine:
1. Enhances Unique Aesthetic: The juxtaposition of raw, reclaimed pallet wood and polished onyx creates a visually captivating contrast, artfully fighting monotony in bathroom decor.
2. Environmentally Friendly: Reusing pallet wood serves as an eco-friendly practice, while also providing a natural, warm element to your bathroom.
3. Cost-Effective: Not only is the wood inexpensive, but it also incorporates phenomenal durability and longevity.
4. Diverse Style Options: You can design and tint the wood according to your desired shade, matching your overall bathroom theme.
5. Luxurious Appeal: An onyx basin is an epitome of luxury. Its translucent quality and vibrant patterns add an opulence seldom seen.
6. Durable Basin: Onyx is vitally durable and easy to clean, ensuring your basin stays in its best condition for years.
7. Easy Installation: Both pallet wood countertop and the onyx basin can be installed without the need for complex procedures or excessive tools.
Remember, the success resides in pairing the rustic, imperfect charm of the pallet wood countertop with the shiny, near-flawless finish of the onyx basin – making every day a little less ordinary.
Driftwood Vanity With Glass Vessel Sink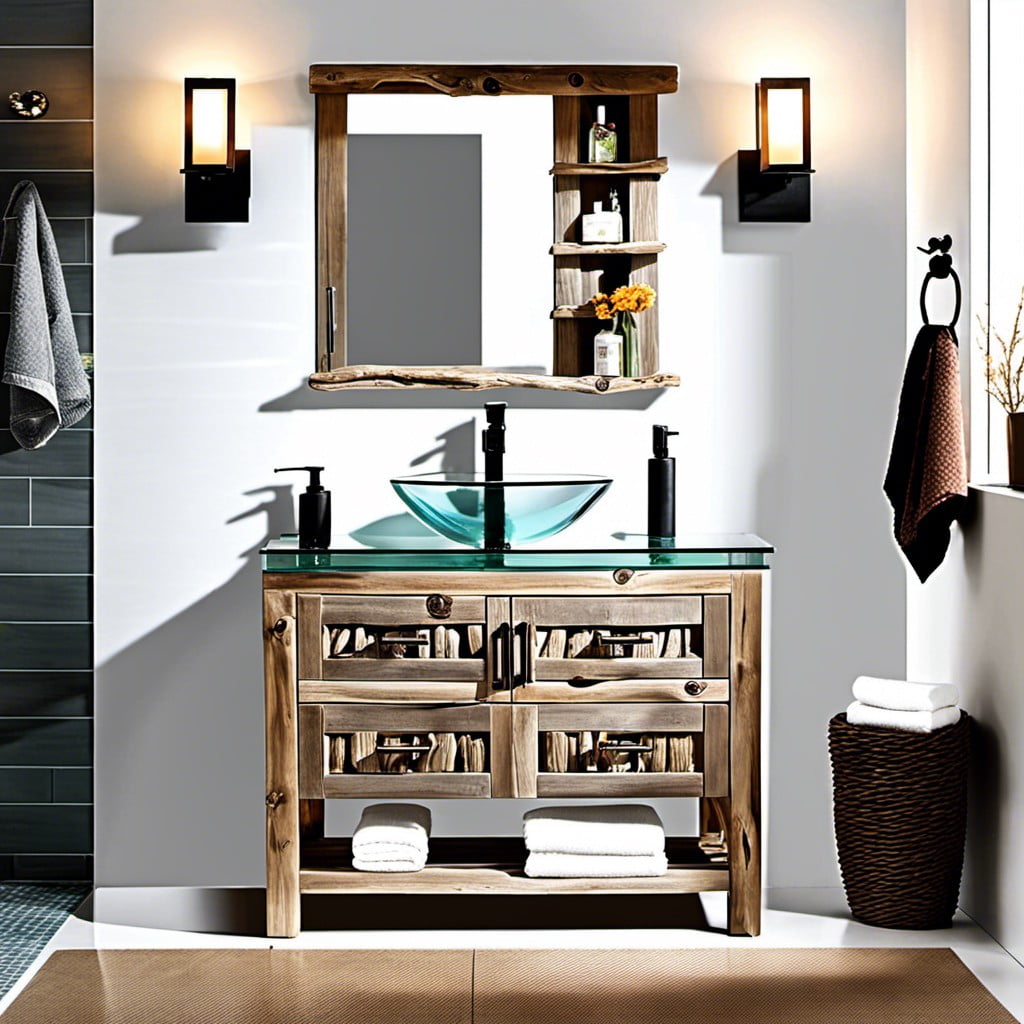 Offering an eclectic blend of natural elements and modern aesthetics, this design choice is a cool way to add a touch of coastal charm to your bathroom. Salvaged driftwood, polished and sealed to withstand moisture, becomes a captivating vanity base. But that's not all. An elegantly crafted glass vessel sink sits atop the driftwood, garnering attention and adding a dash of sophistication. This combination strikes just the right balance between earthy and opulent.
Considerations:
Choose driftwood pieces with intricate designs to act as the focal point.
Opt for clear or colored glass for the vessel sink to complement the overall color scheme.
To maintain the rustic style, select a simple, single-handle faucet in a brushed nickel or bronze finish.
Ensure that the driftwood is correctly treated and sealed to withstand moisture and prevent decay.
Plan the plumbing logistics thoughtfully, as the openness of this vanity style will expose the underlying pipes.
Continue reading:
Recap